Vintage Summer Decor with Cabin Style
looking for vintage summer decor ideas? This americana, lake cabin styled home tour will inspire you with fresh decorating, Repurposing & DIY ideas!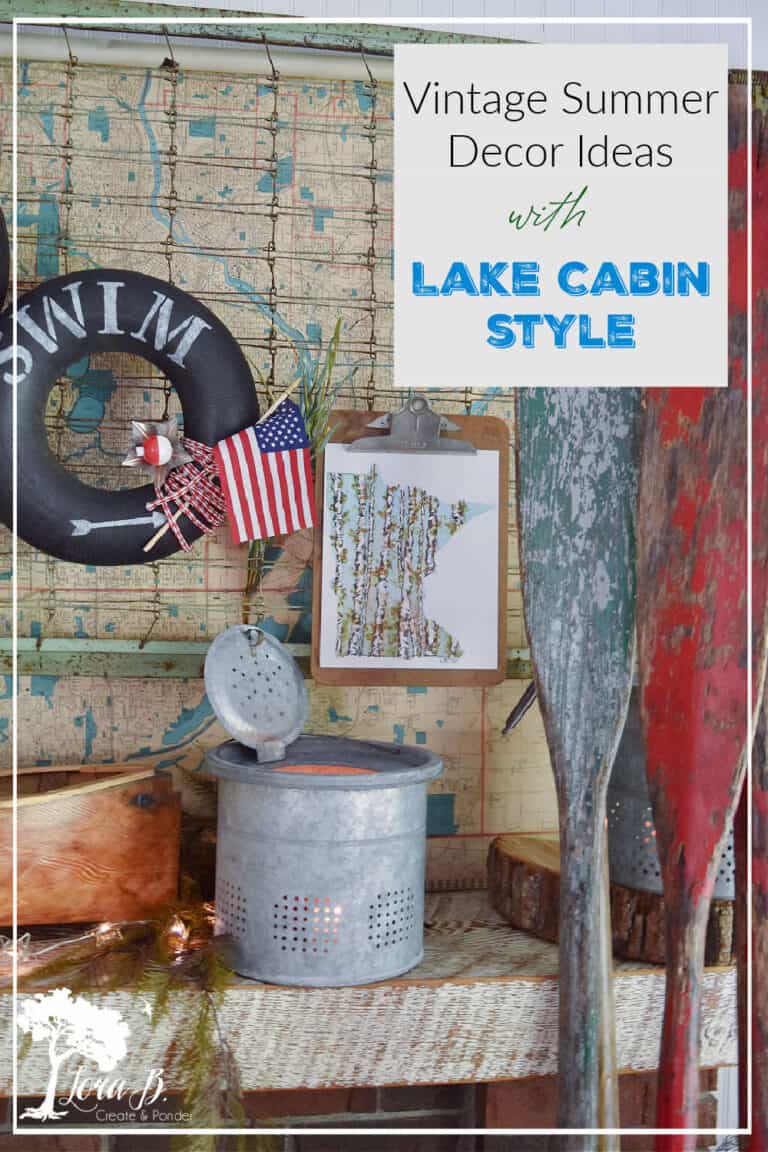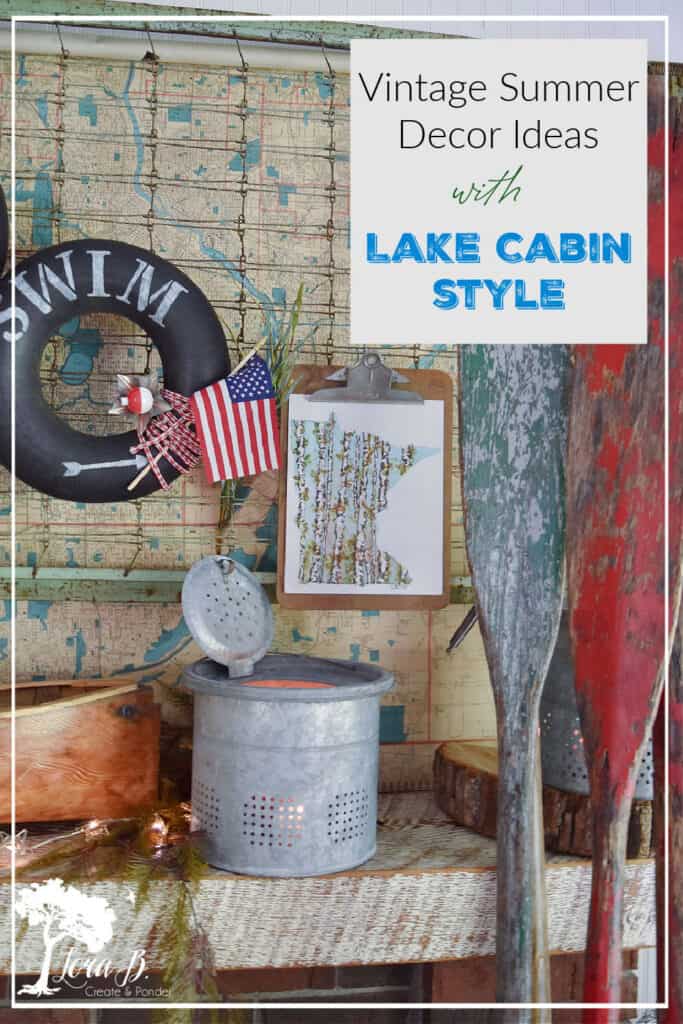 When you live in the "Land of 10,000 Lakes", decorating around a lake theme is natural. Here in Minnesota, if you don't live or have a cabin on a lake, there's always one nearby to enjoy. Since I'm really missing our family cabin this year, I decided to fill our home with it's nostalgic pieces. Hopefully this Vintage Summer Decor with Cabin Style will inspire your home or cabin's decor, too!
Today's home tour is part of a week-long Blogger's Best Summer Home Tour, hosted by the wonderful Kelly from The Tattered Pew. If you're visiting from Le Cultivator, I'm sure you loved Emily's Patriotic Summer Home Tour! Emily is a vintage lover like me and styles her home so beautifully! Hopefully you can catch all the rest of the inspiration at the end; such a talented bunch of ladies!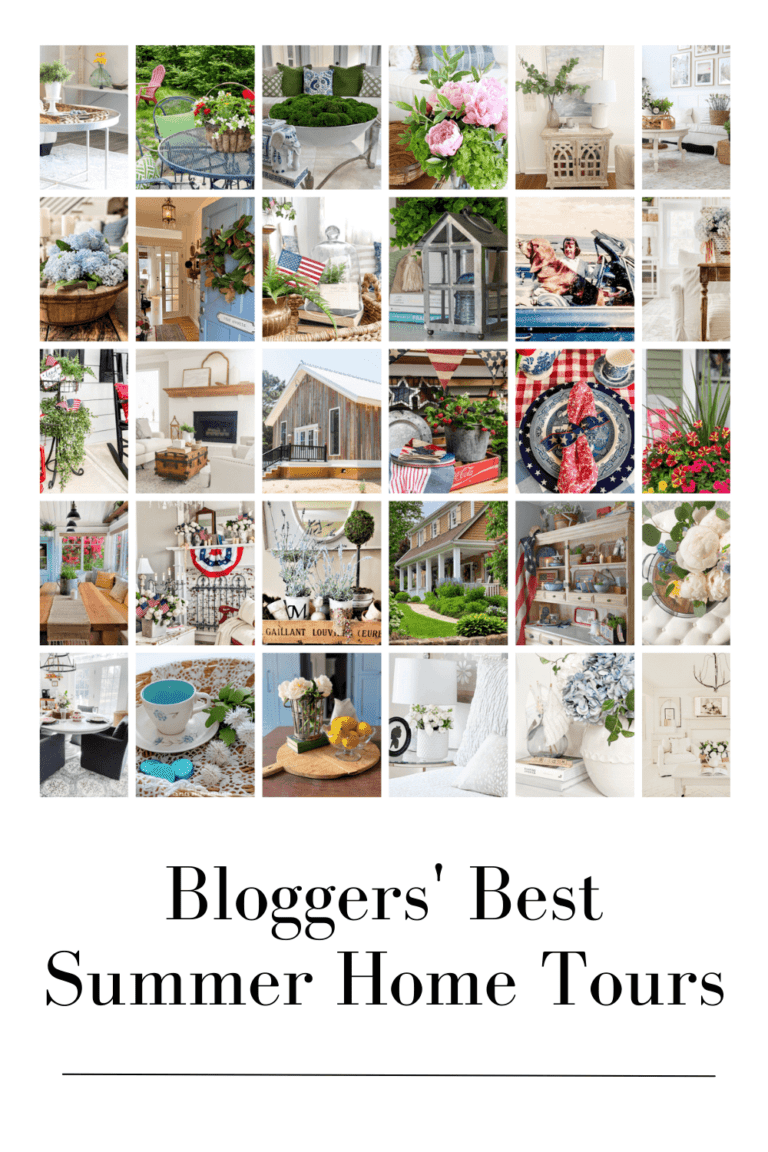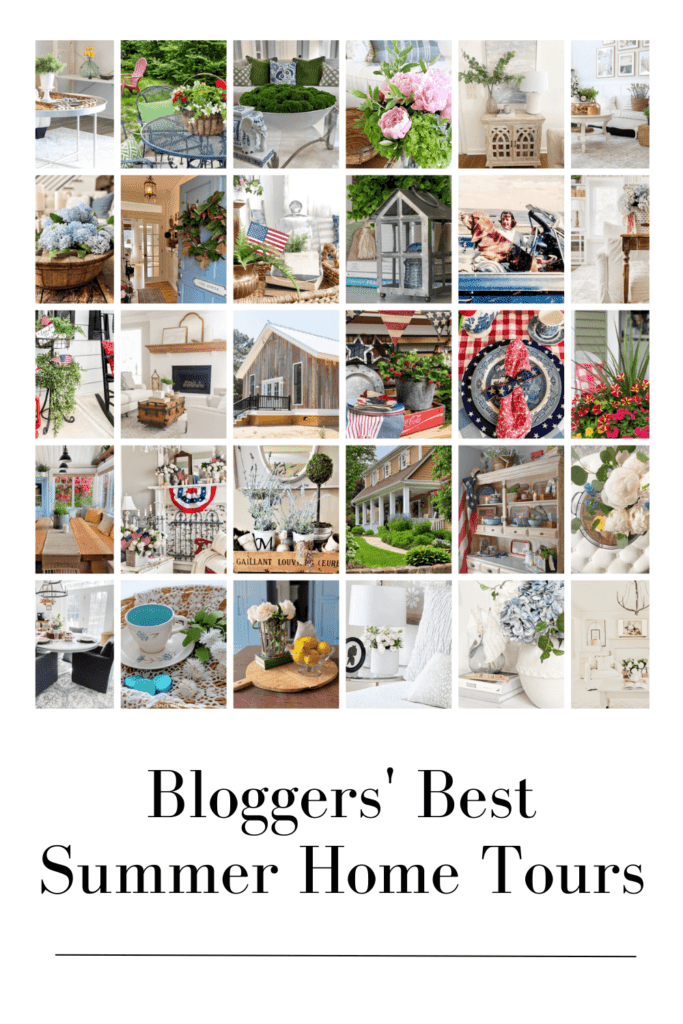 First, an Introduction
If you're new here, let me introduce myself! I'm Lora, a vintage junk-loving creator. I sold vintage for many years, the last 5 owning my own store with a friend. I love anything with "potential" that needs a little love to bring it back to decorating status;) These days instead of selling, I share my years of experience and tips here on the blog and on my social channels.
My family and I live in a 100+ year old Fake Farmhouse on a couple acres. It will never be completely done, and I am constantly switching up the decor for the seasons. Mr. Fix-it engineers all the repurposing ideas I come up with; we're a pretty good team despite his usual doubting;)
Welcome!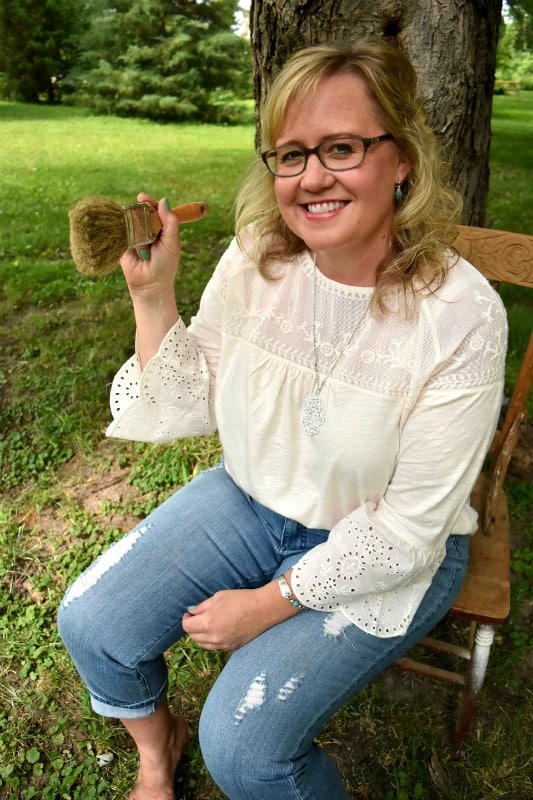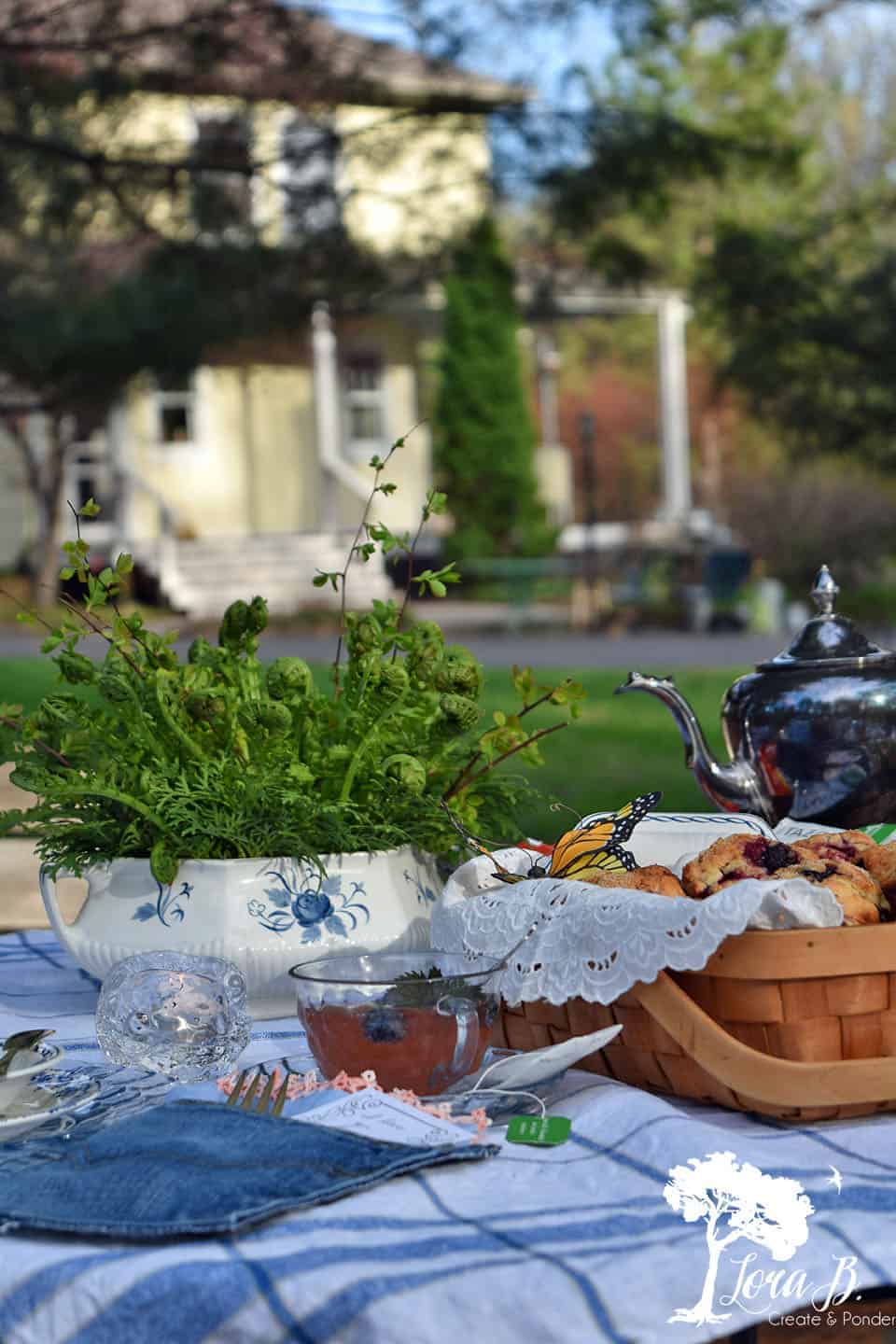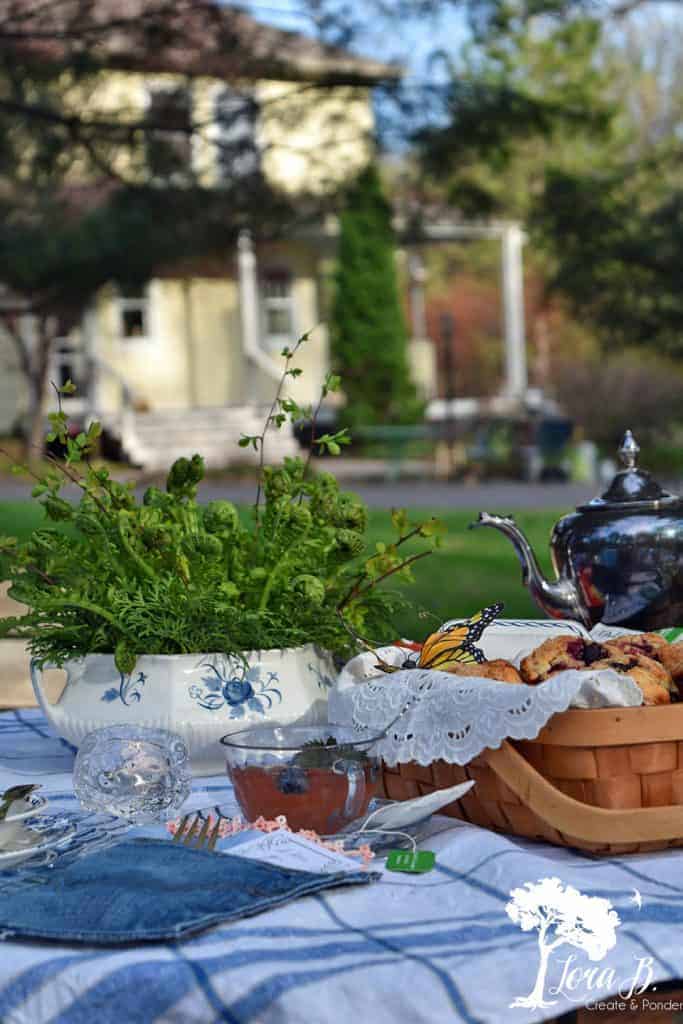 Vintage Summer Decor with Cabin Style
For your convenience, this post contains affiliate links. If you make a purchase, I may receive a commission. There is no additional cost to you. My full privacy policy is here.
What is Cabin Style?
Cabin style can take many angles. I've decorated my living room with winter cabin style before, using cozy elements ("How to Decorate to Thrift the Look, Winter Cabin Style"). I also had fun decorating a friend's north woods cabin with vintage camp style ("Decorating a Northwoods Cabin with Vintage Camp Style").
This year's summer decorating is all about lake cabin style. Summer's spent at our lake cabin was a special way to grow family memories. Generations of cousins grew up playing in and on the water and I wanted to use as many of our cabin's vintage pieces as I could. Of course, I added plenty of my own curbside finds, too!
Lake cabin decor accessories:
water skis
oars
minnow buckets
tackle boxes
inner tubes
maps
bobbers
Vintage Summer Decor Tour
So, sit back and enjoy a nostalgic lake country cabin tour…in my house! Our cabin is now a special memory that we can cherish…and decorate around. Enjoy the ideas!
Summer Mantel Decor
My summer mantel decorating started with a vintage Twin Cities map I've had forever. The blues and greens with red lines started my lake-y color theme. We suspended the map behind my favorite green bedspring that allows me to switch things up easily without making holes in the wall (my best design secret).
Last year's inner tube wreaths were the perfect focal point ("DIY Lake Themed Patriotic Wreath"), along with a couple Minnesota prints I found at a local shop. Old minnow buckets got a candle inside to turn them into pretty, glowing luminaries.
An old boat I rescued from the curb makes a great statement, along with a bouquet of vintage oars from our cabin and curbside. Perfect colors to go with the map, too!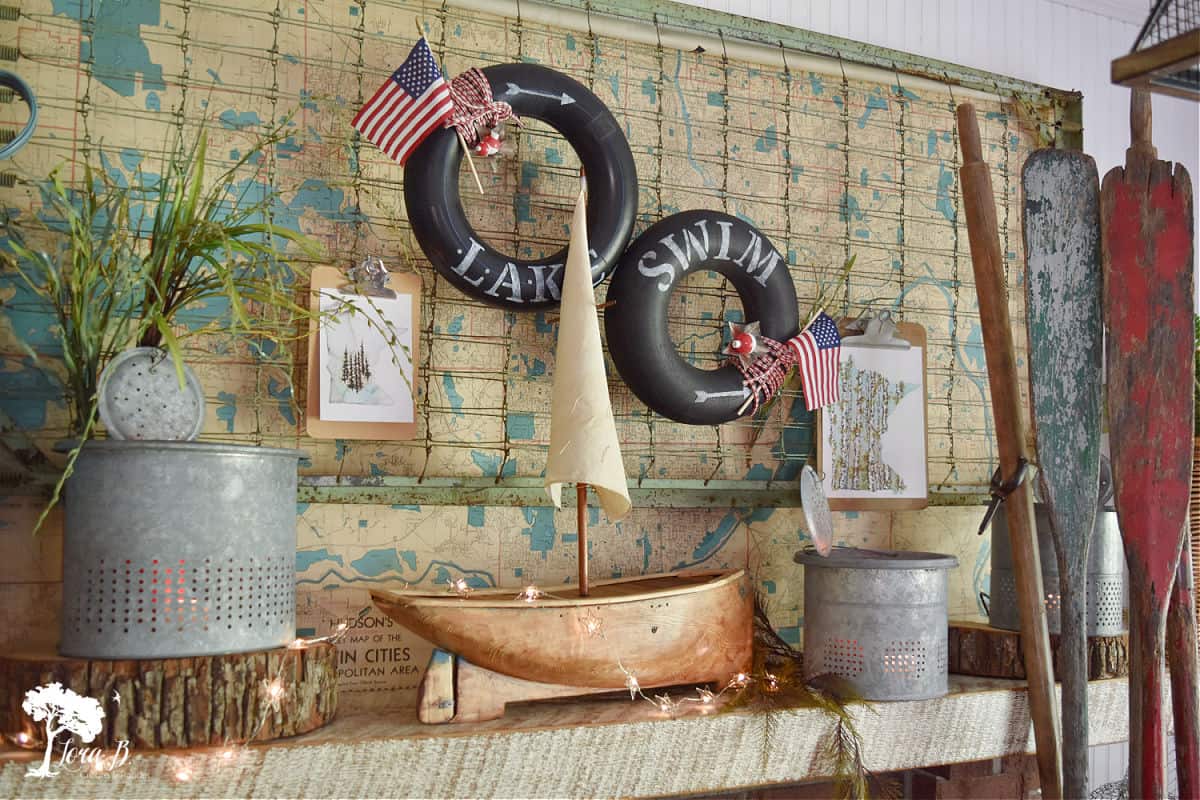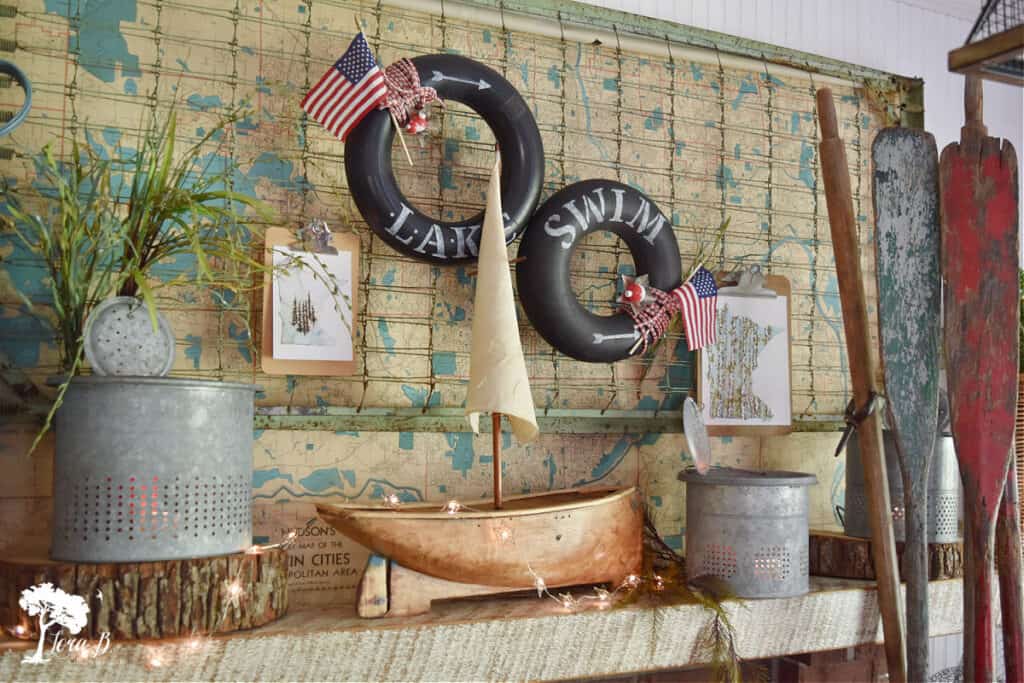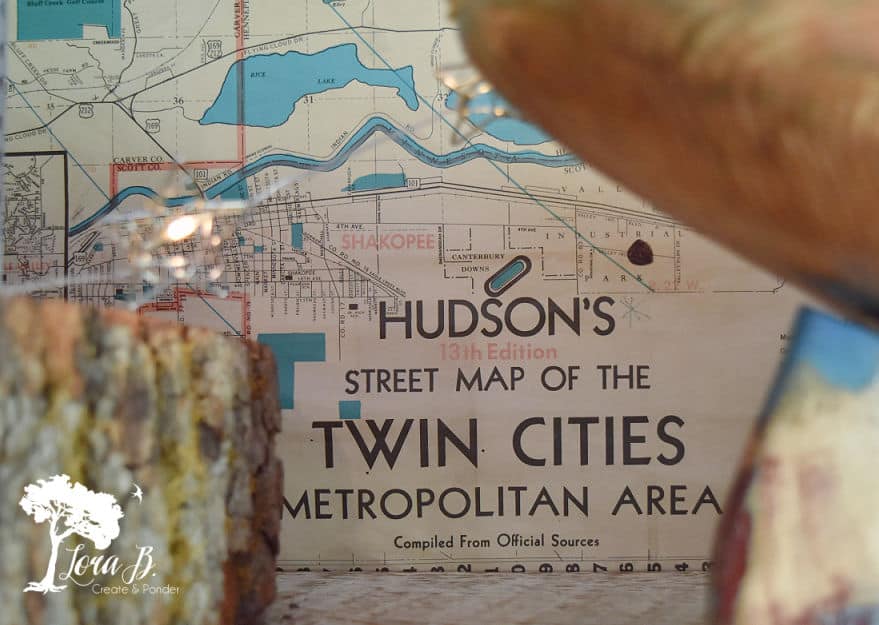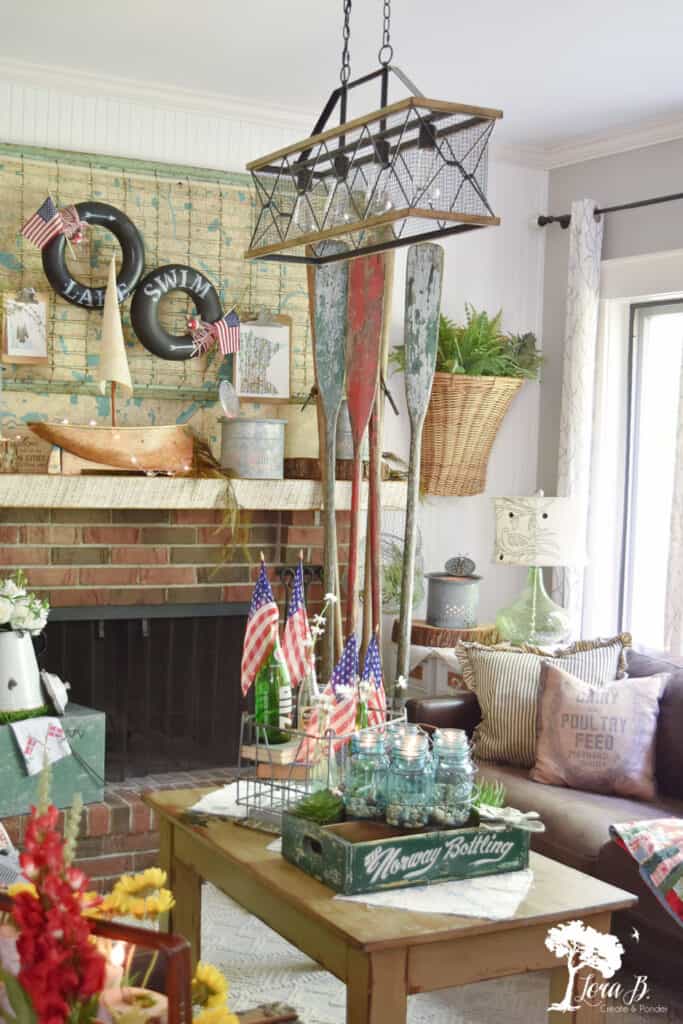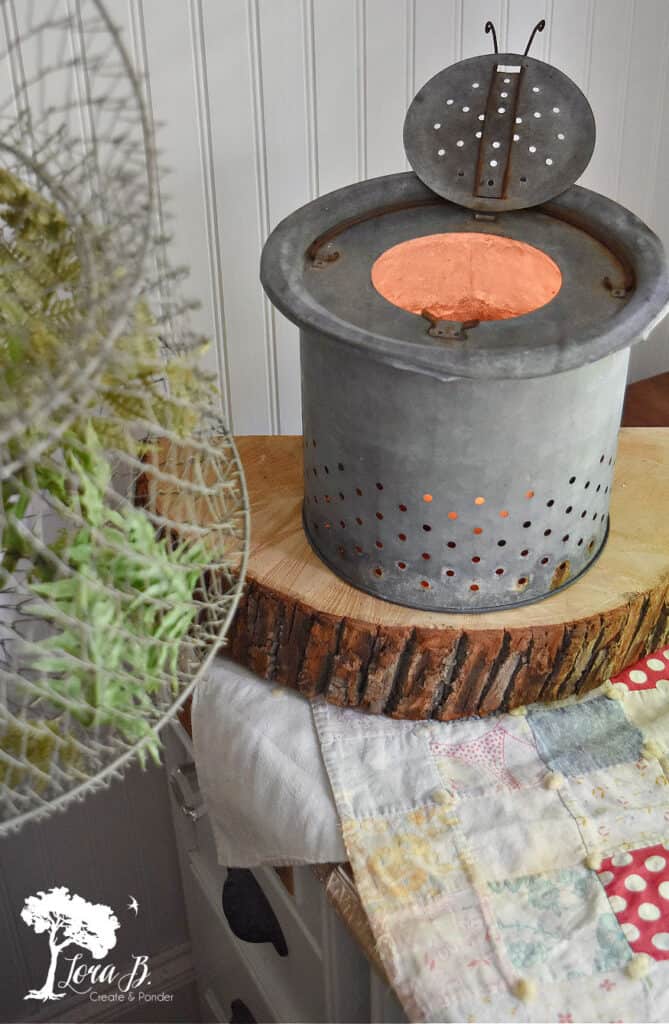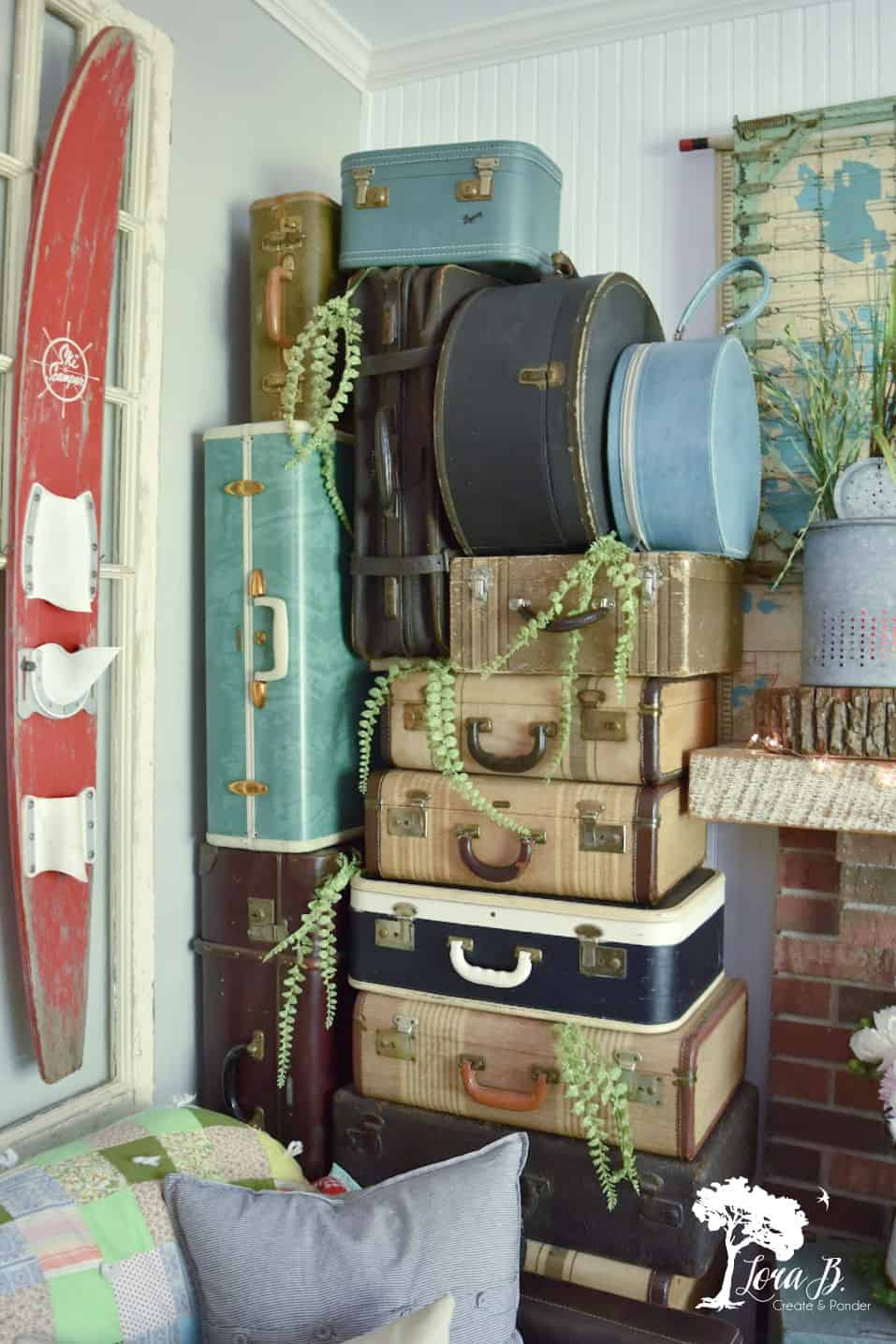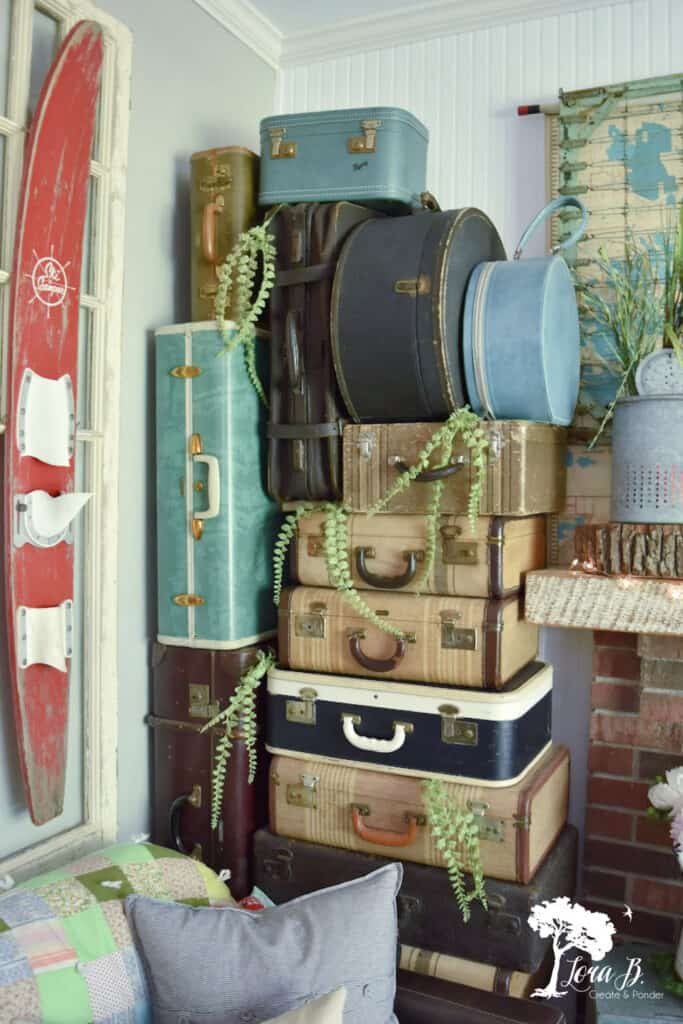 I added a few of my green and blue suitcases to my towering collection. Maybe this is turning into a hoarding addiction? But not as long as it looks cute, right? I added some seaweed to go along with the theme;)
Old Quilts, Pop Bottles, and Vintage Skis
Summertime patchwork quilts with their crazy colors and fabric combinations have always found me. They visually and literally hug you with a cozy welcome. I use them everywhere in the summer. Some that can't be saved in full get cut up and repurposed into runners, coasters, placemats…or an extra colorful splash anywhere.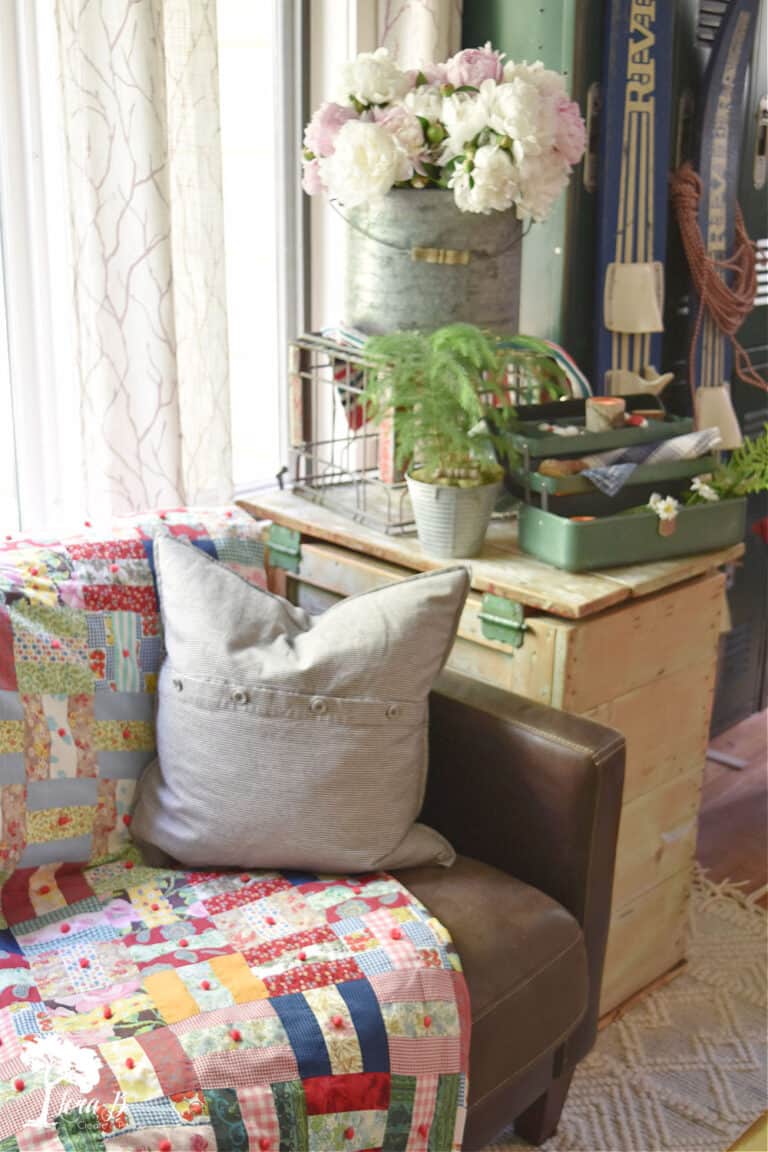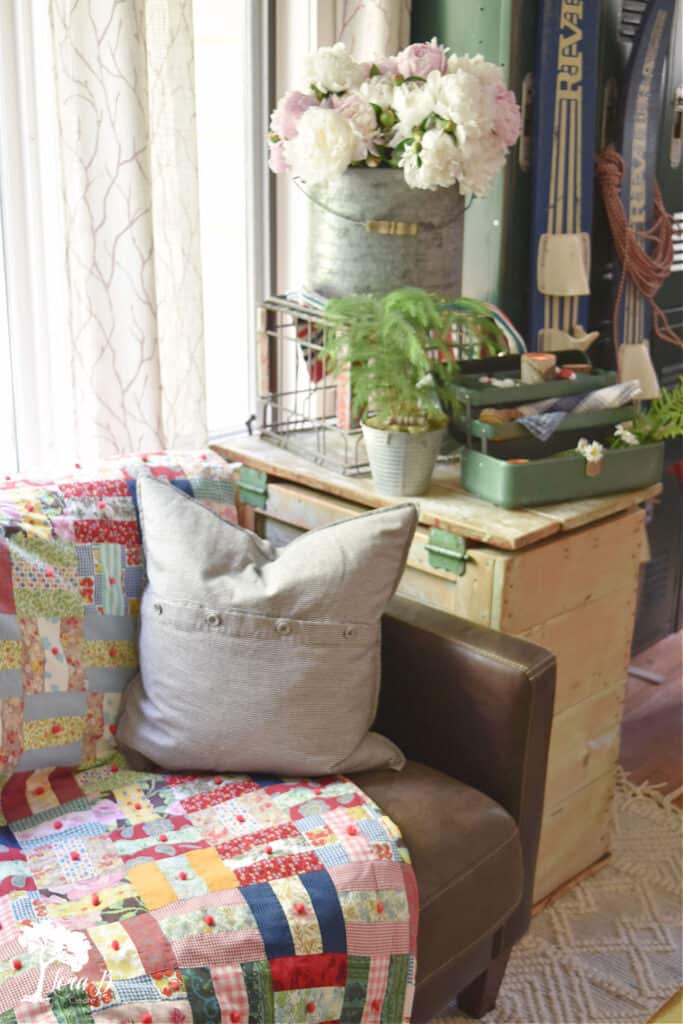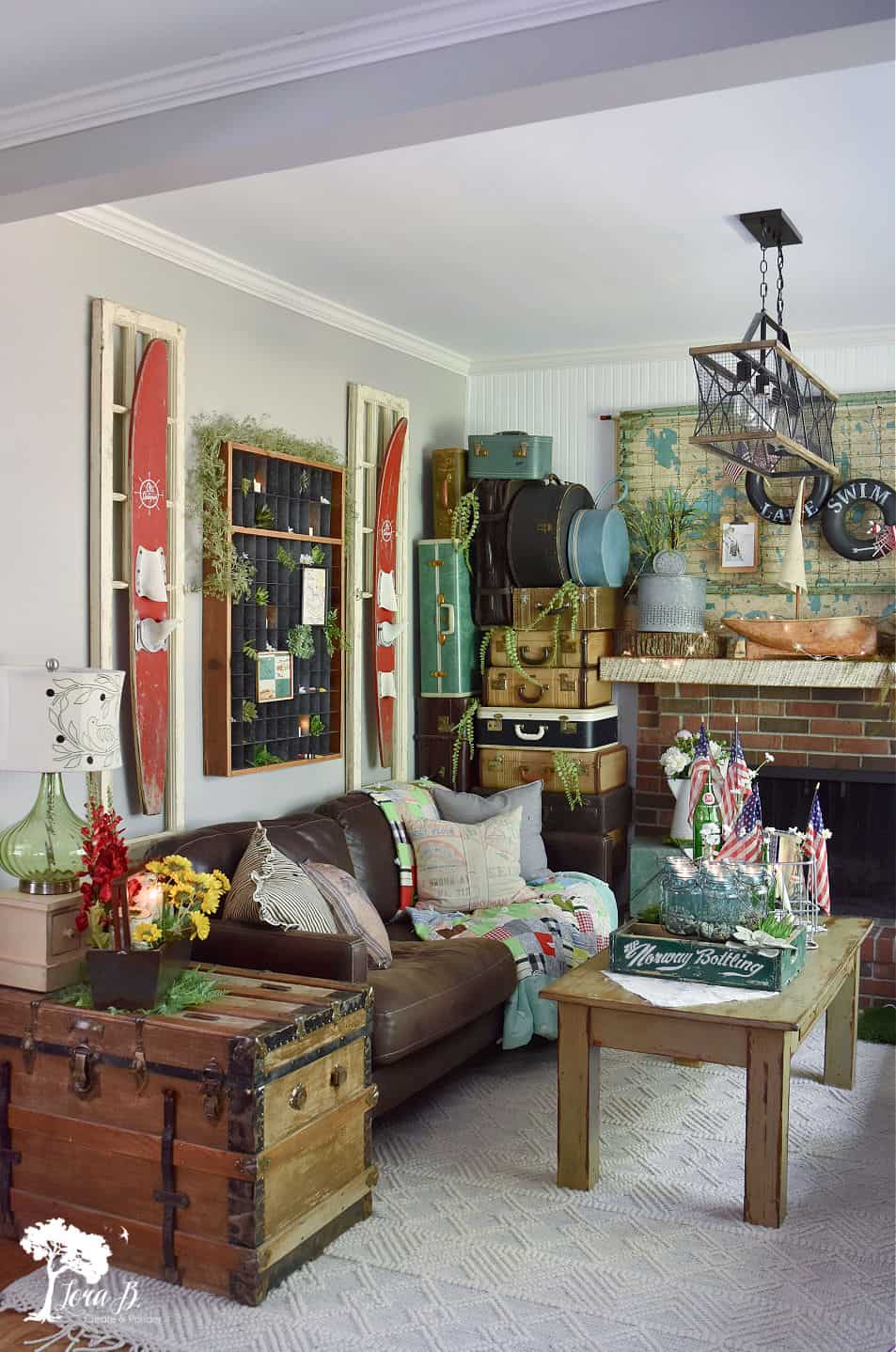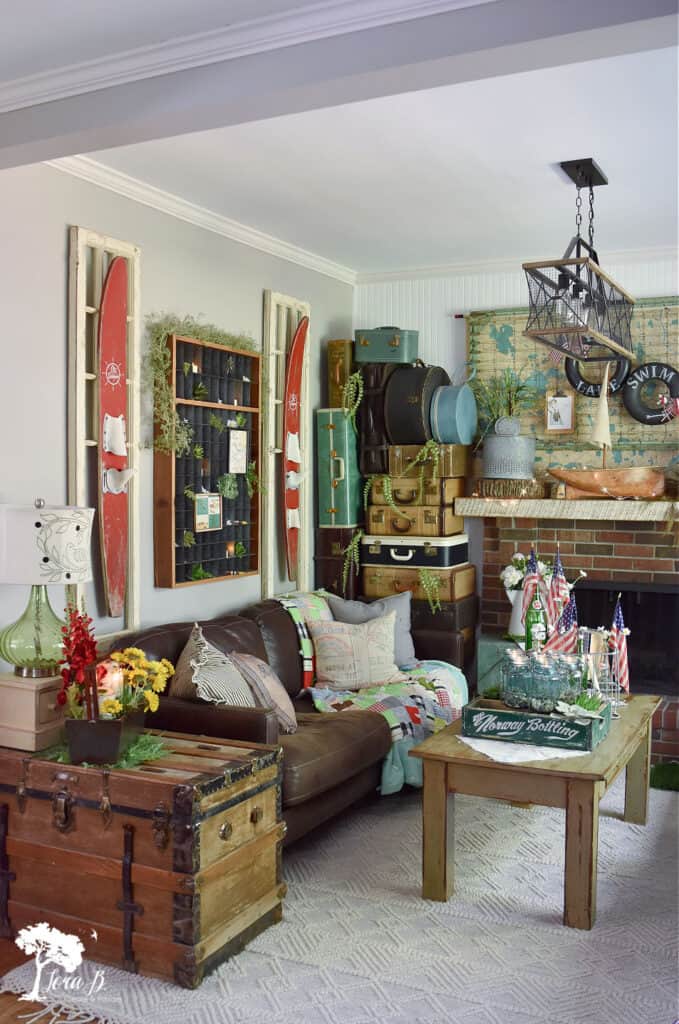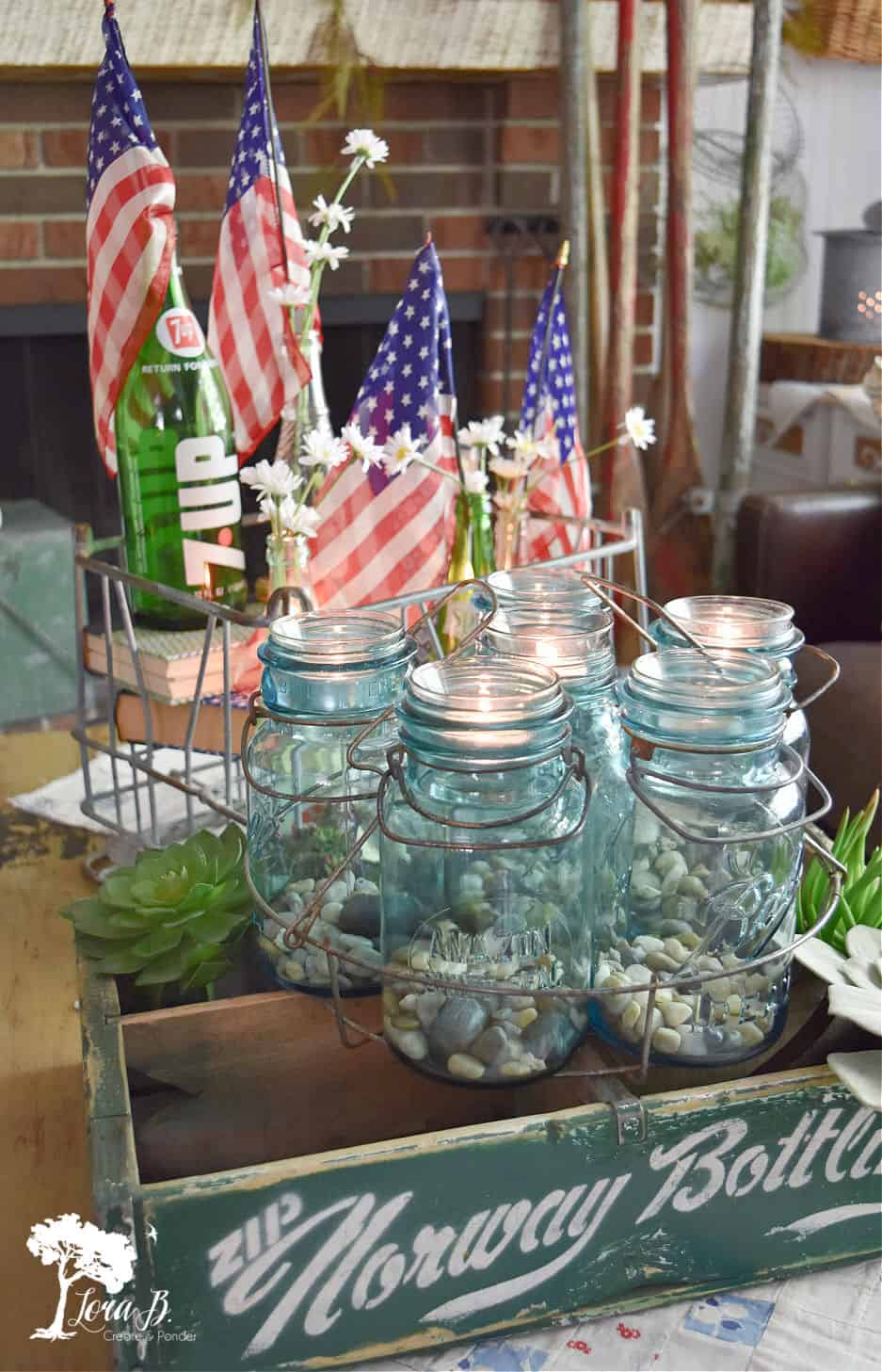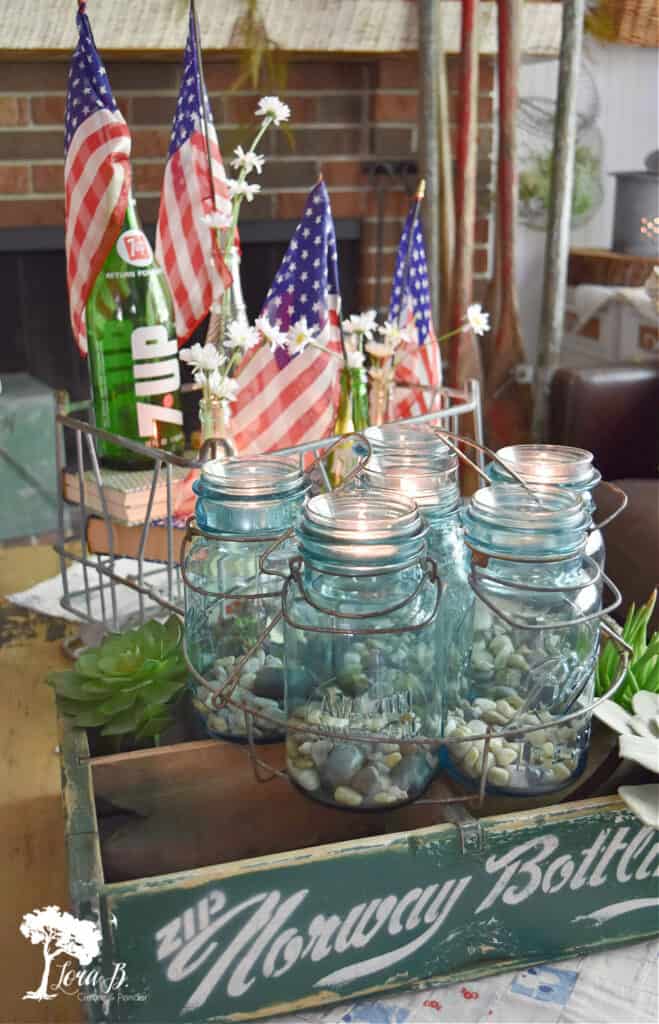 Old pop bottles and blue mason jars add a reflective element that remind me of the lake. Our cabin was on Norway Lake, so when I spied this old crate I knew it had to come home with me.
When the peonies are in bloom, they fill the house with their beauty and aroma! Old enamelware was a cabin classic, whether it had red, blue, or black edging. My mom loved it and used it for function and decor.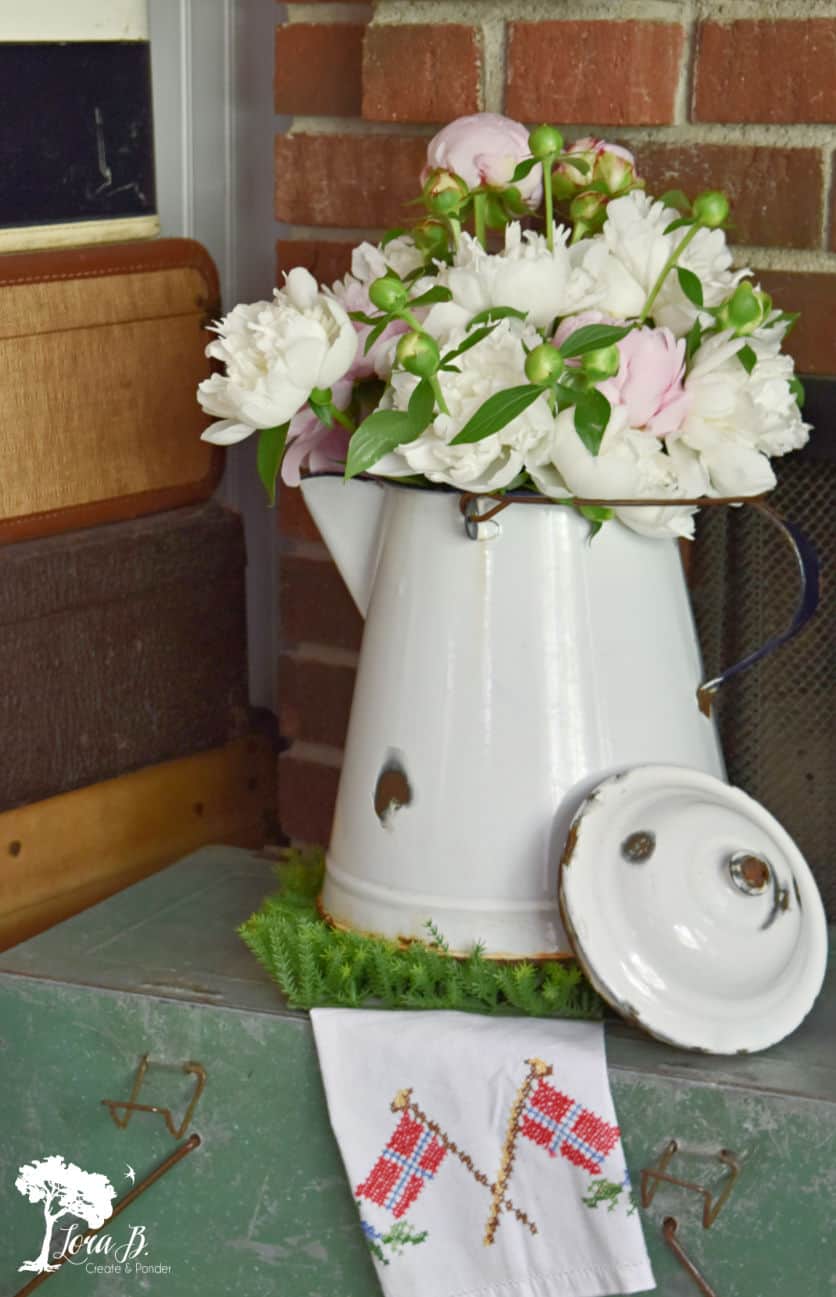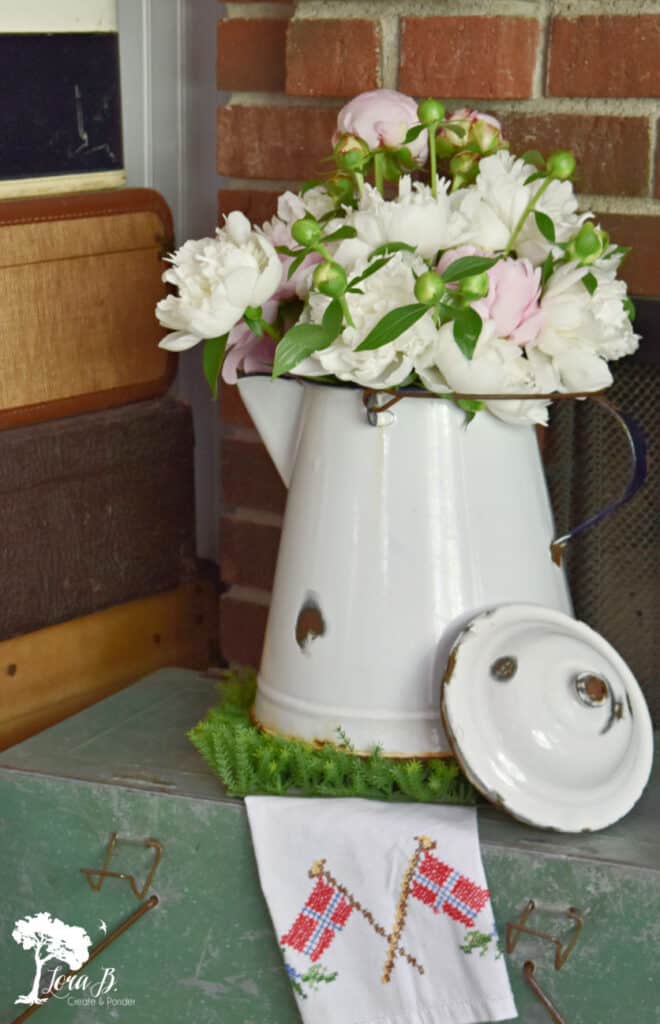 Decorate with Your Favorite Vintage Collections
Along with the old skis and oars from the cabin, I brought out my vintage fan collection for summer. They're perfect displayed on top of my green lockers. For more tall furniture display ideas, read "7 Ideas for Decorating the Tops of Armoires, Bookcases (and any tall furniture)."
The sorting cubbies on the wall are styled simply with a couple of old framed prints, succulents and daisies. Battery powered votive candles are perfect to add a little glow safely.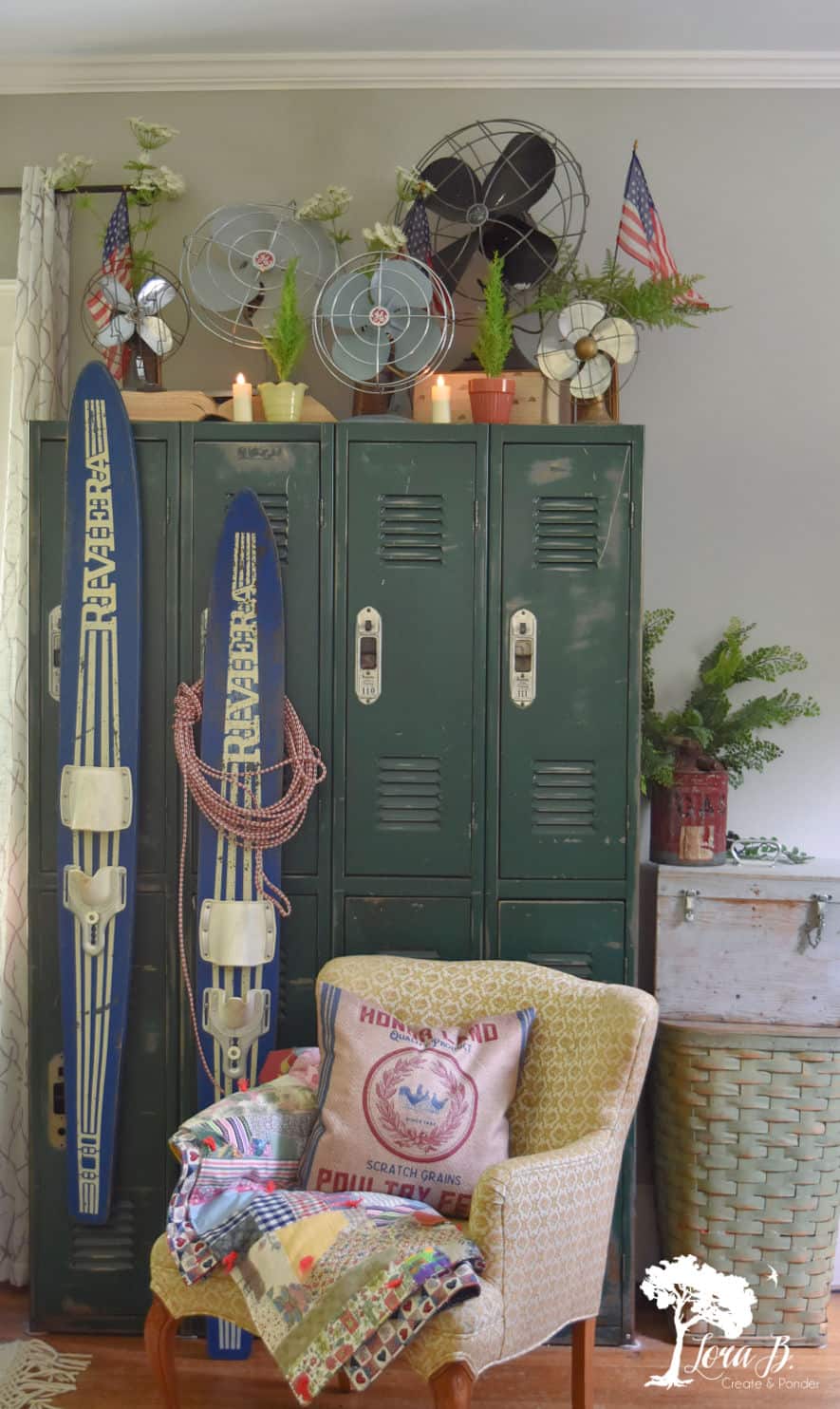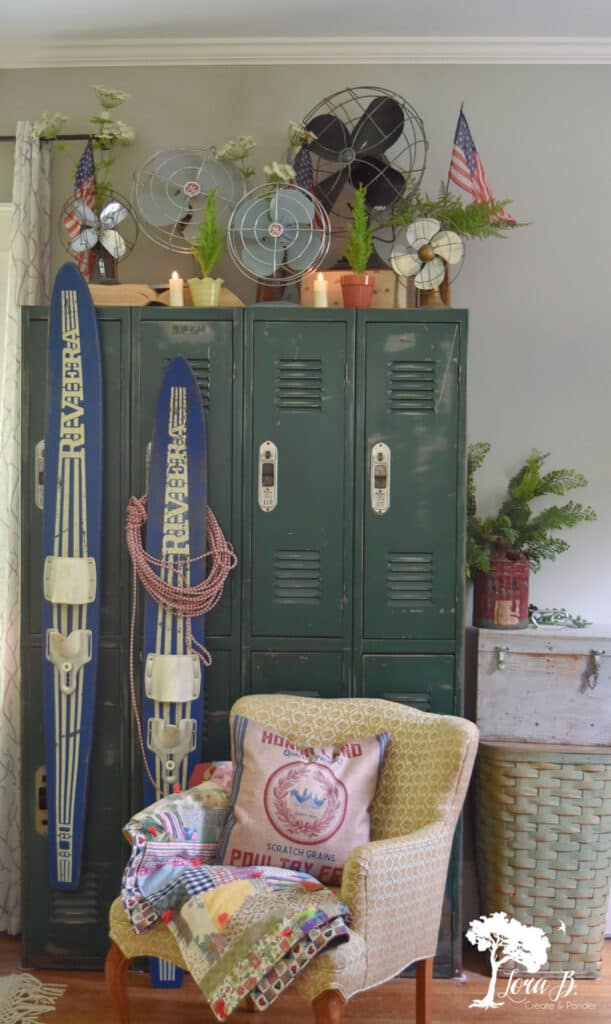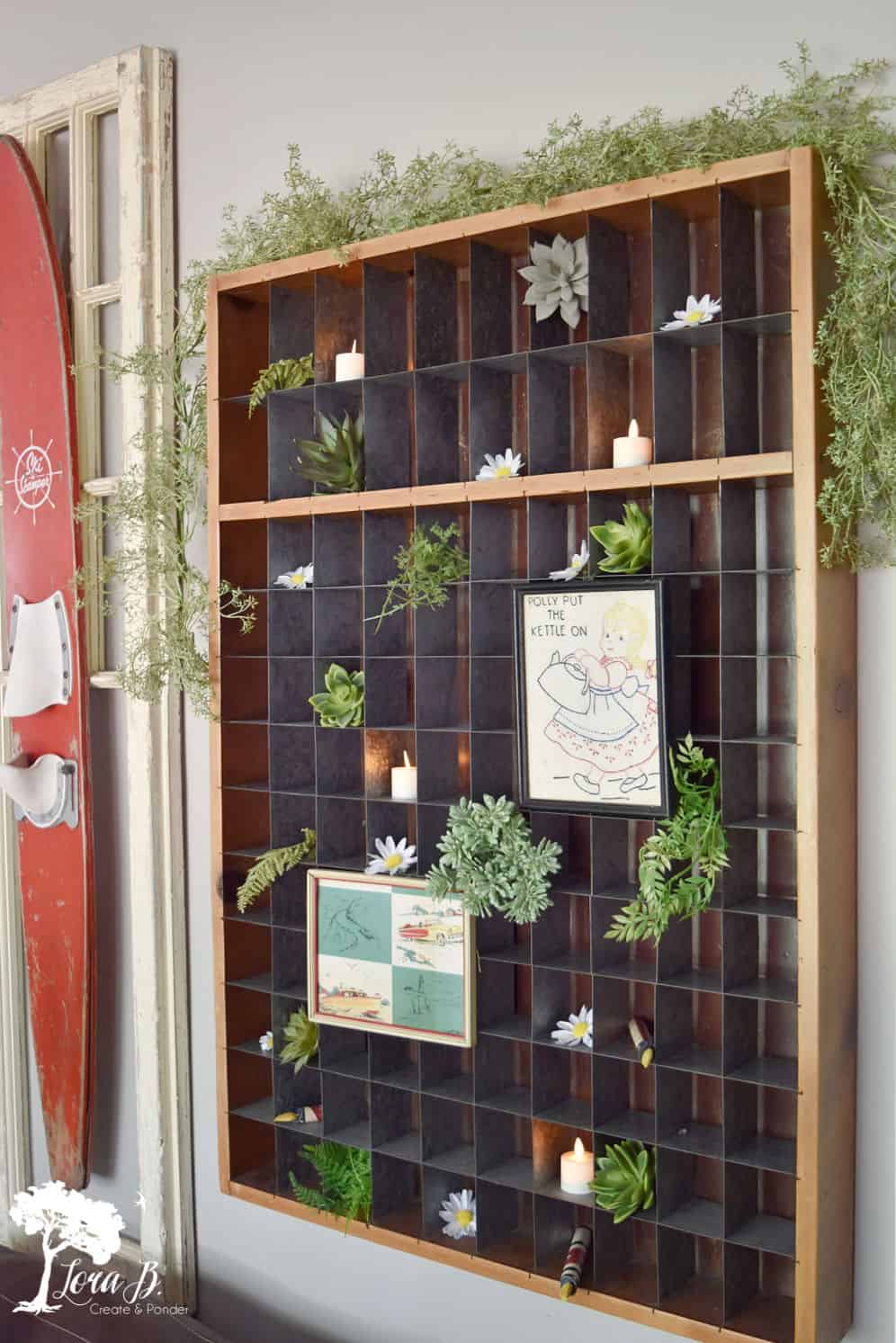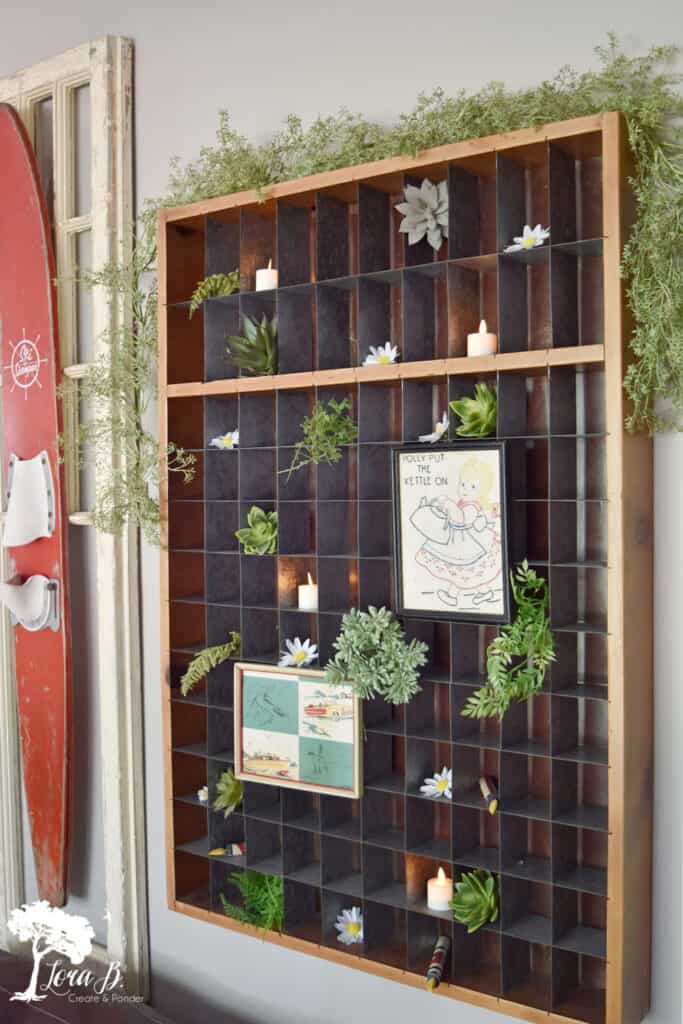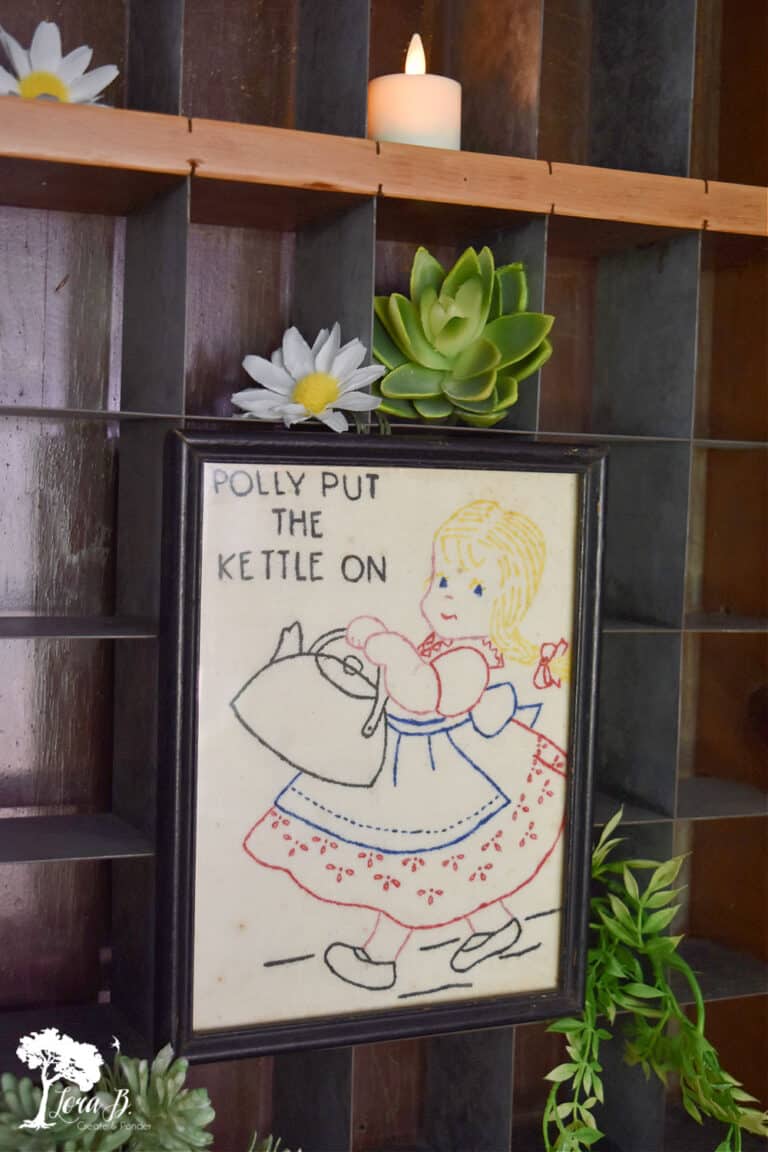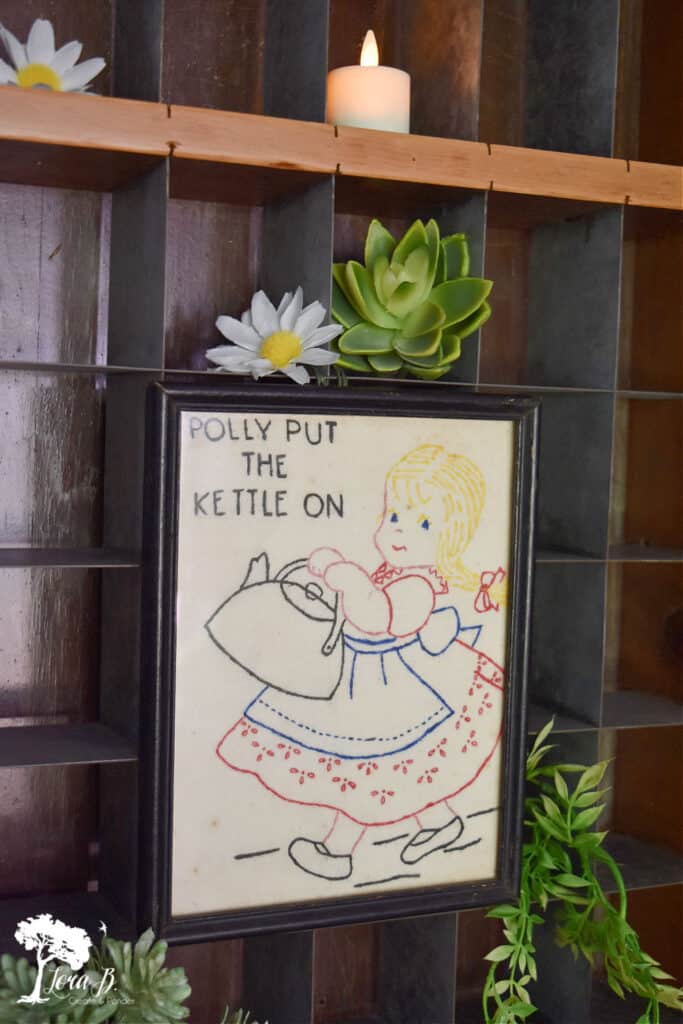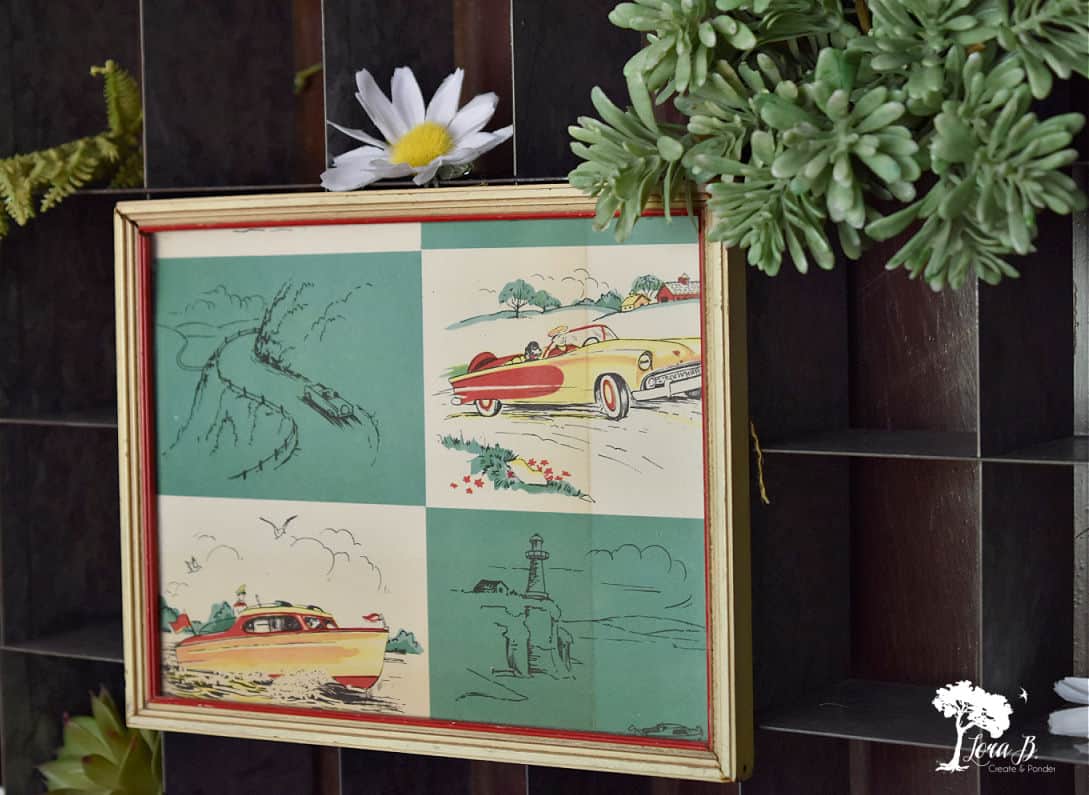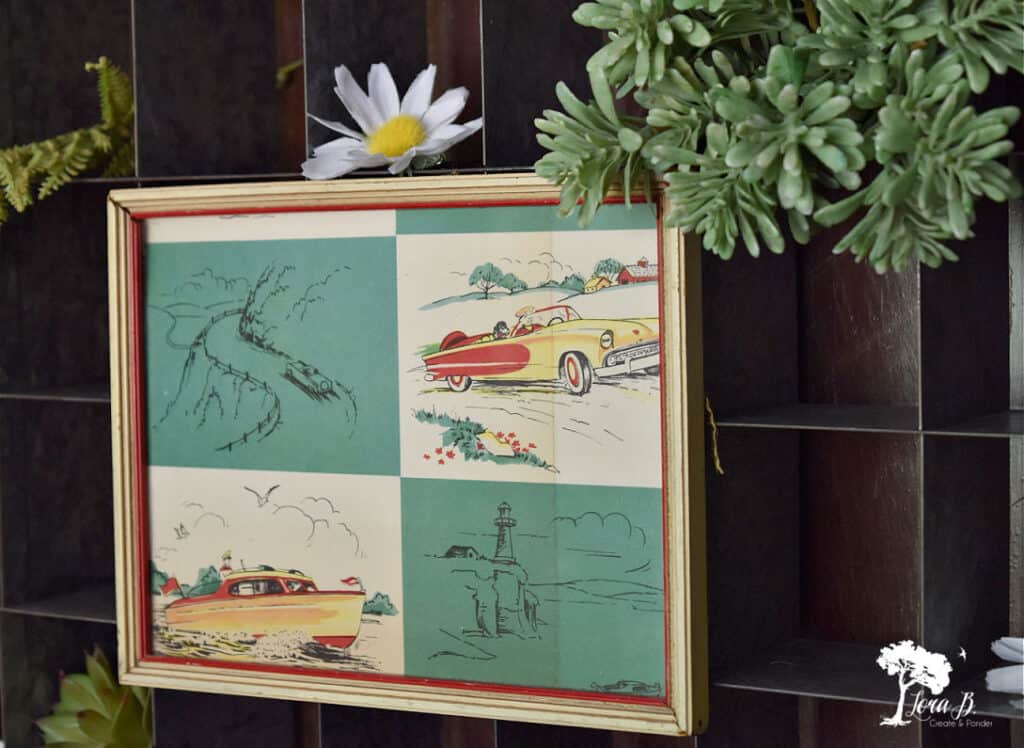 Vintage Cabin Themed Dining Room
This is a home tour, so let's move on to our adjoining dining room, which is small, but packs a punch.
I was so excited to fill my new-to-me hutch with cabin memories and patriotic flair. You can see how I transformed this FB marketplace find into my style in "DIY Hutch Makeover Tips (with Vintage Style)". This hutch is the perfect combo of storage and display; just what I needed in this room.
Most of the decor in the dining room came from the outdoor picnic table I set for Memorial weekend, "Vintage Americana Patriotic Tablescape Ideas". I love that Americana and patriotic decor can be used to decorate from Memorial Day all the way to Labor Day; hooray for the red, white and blue!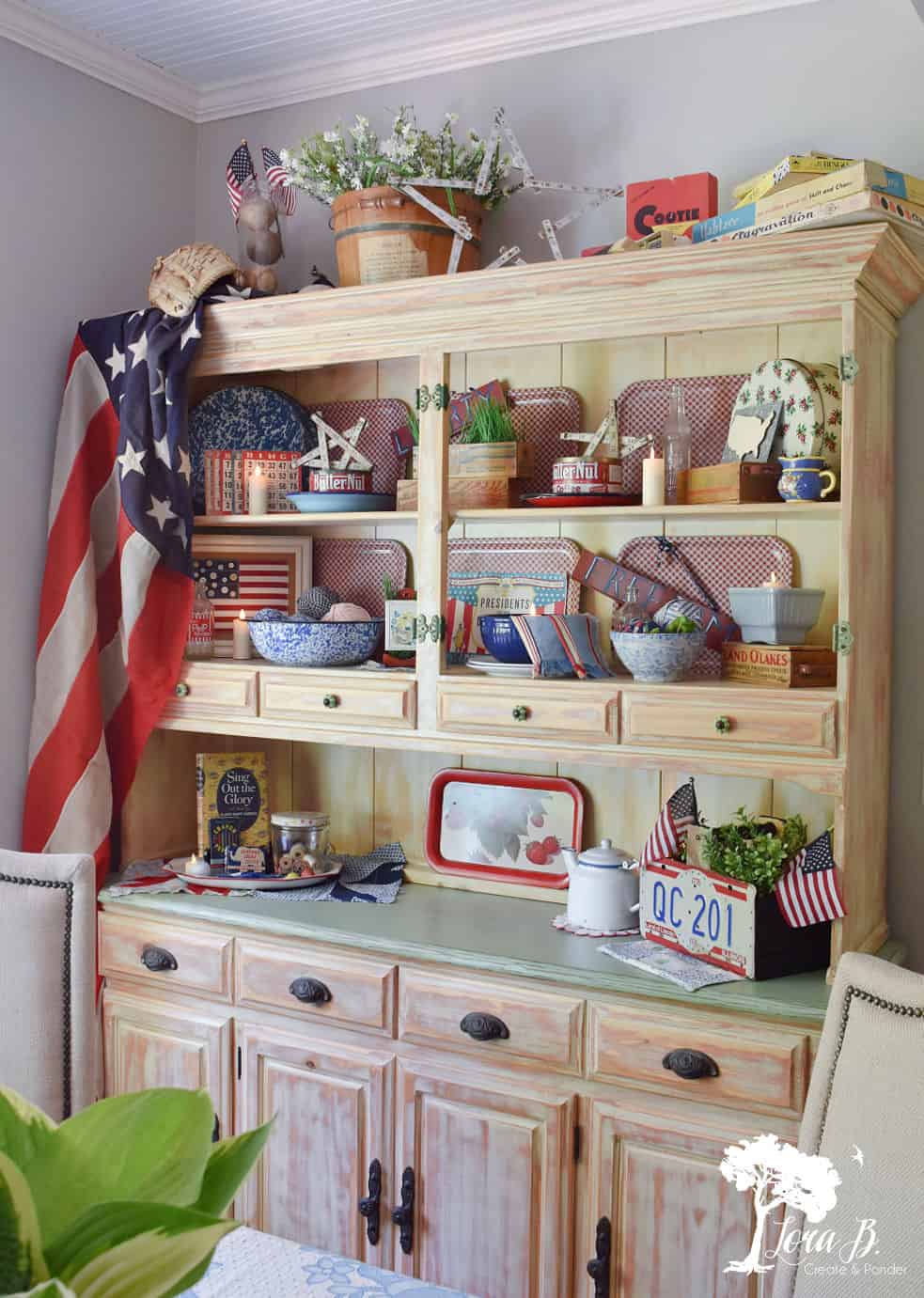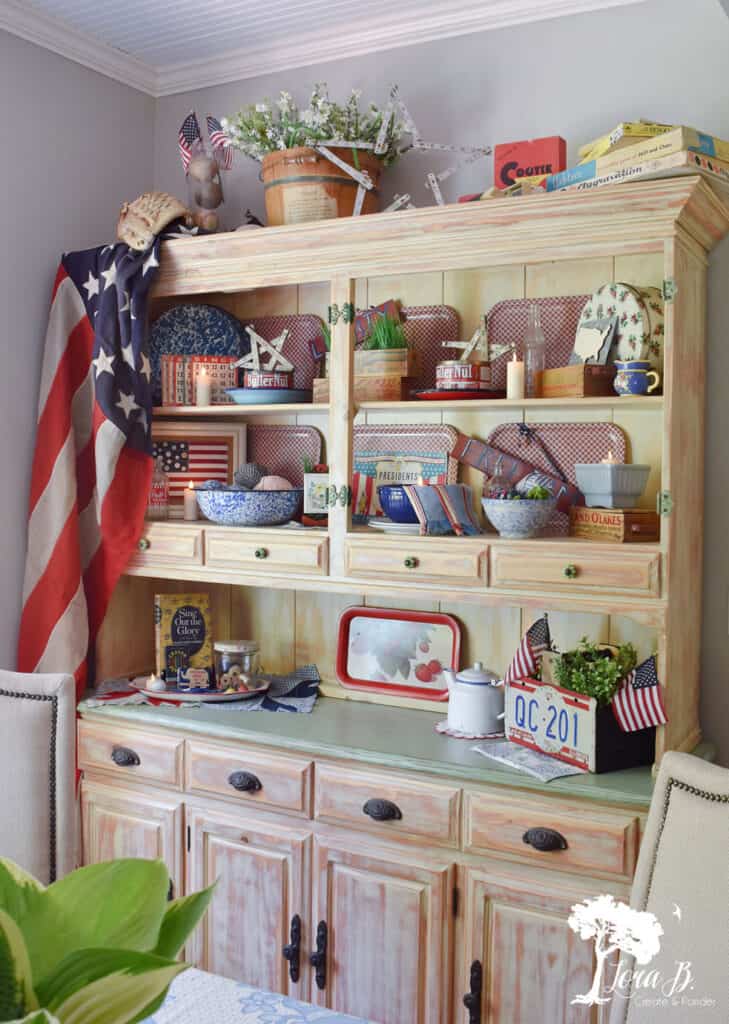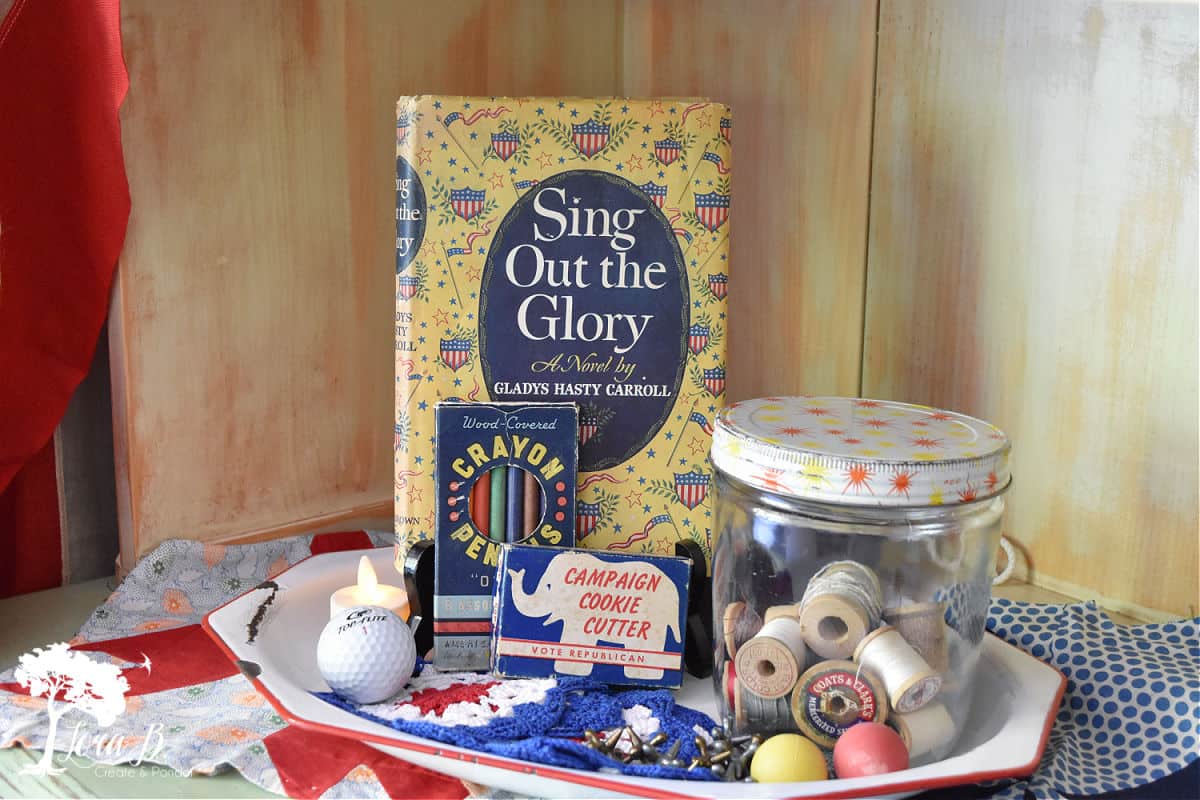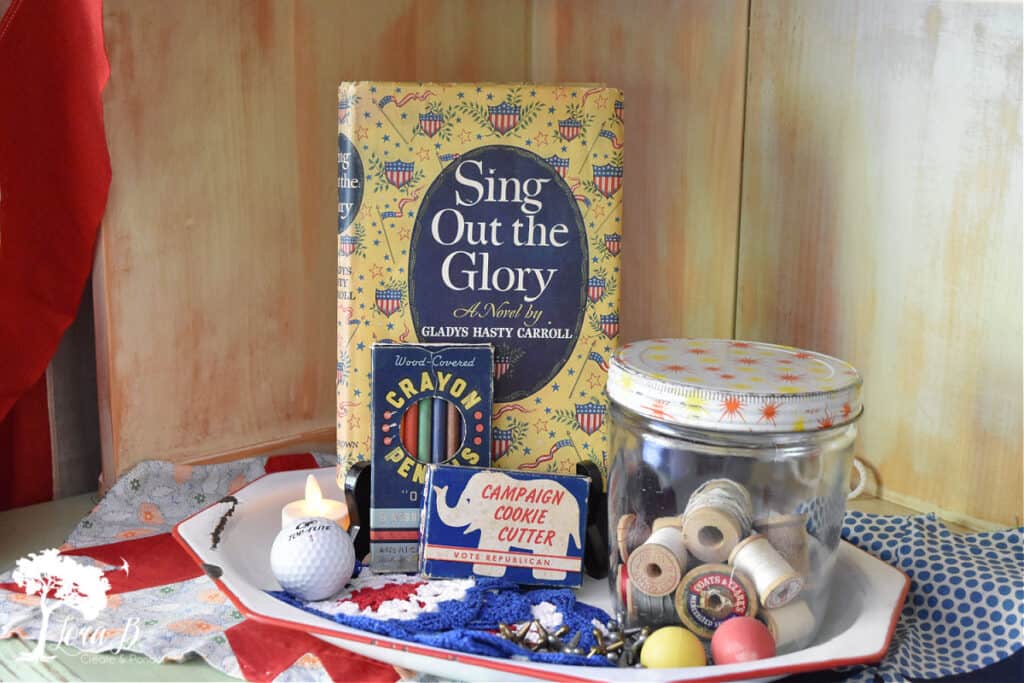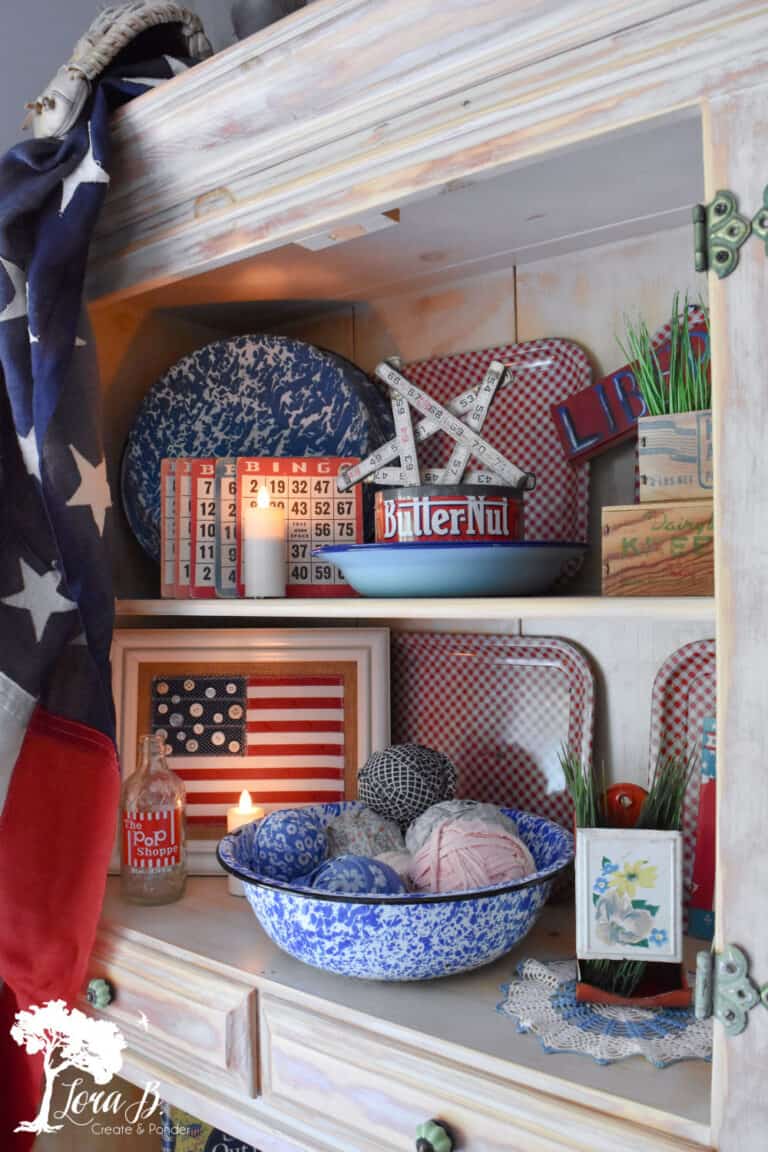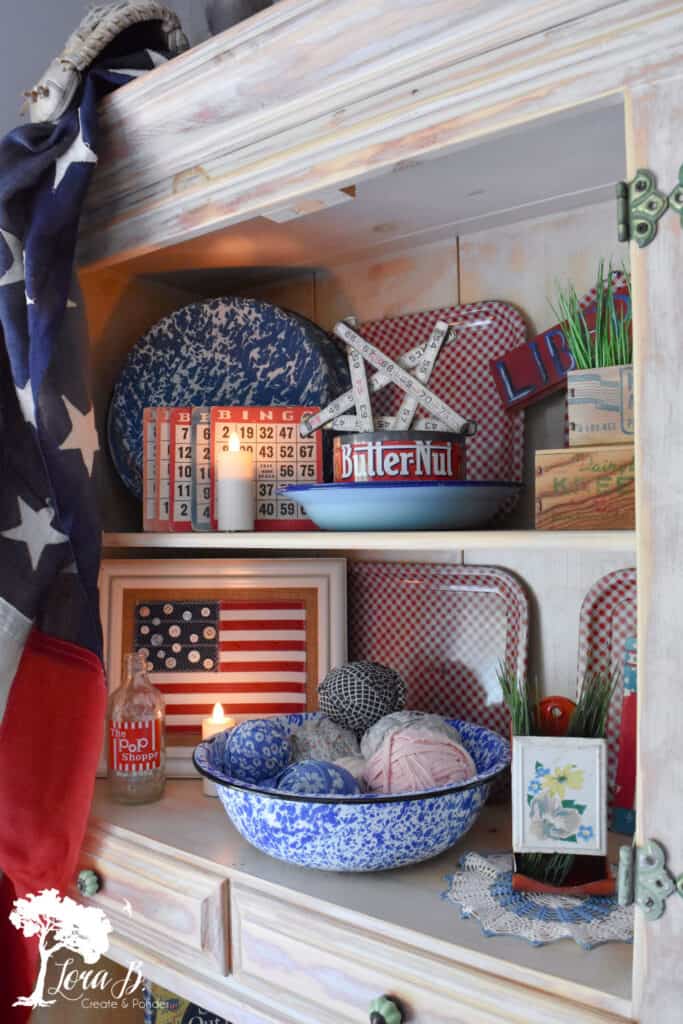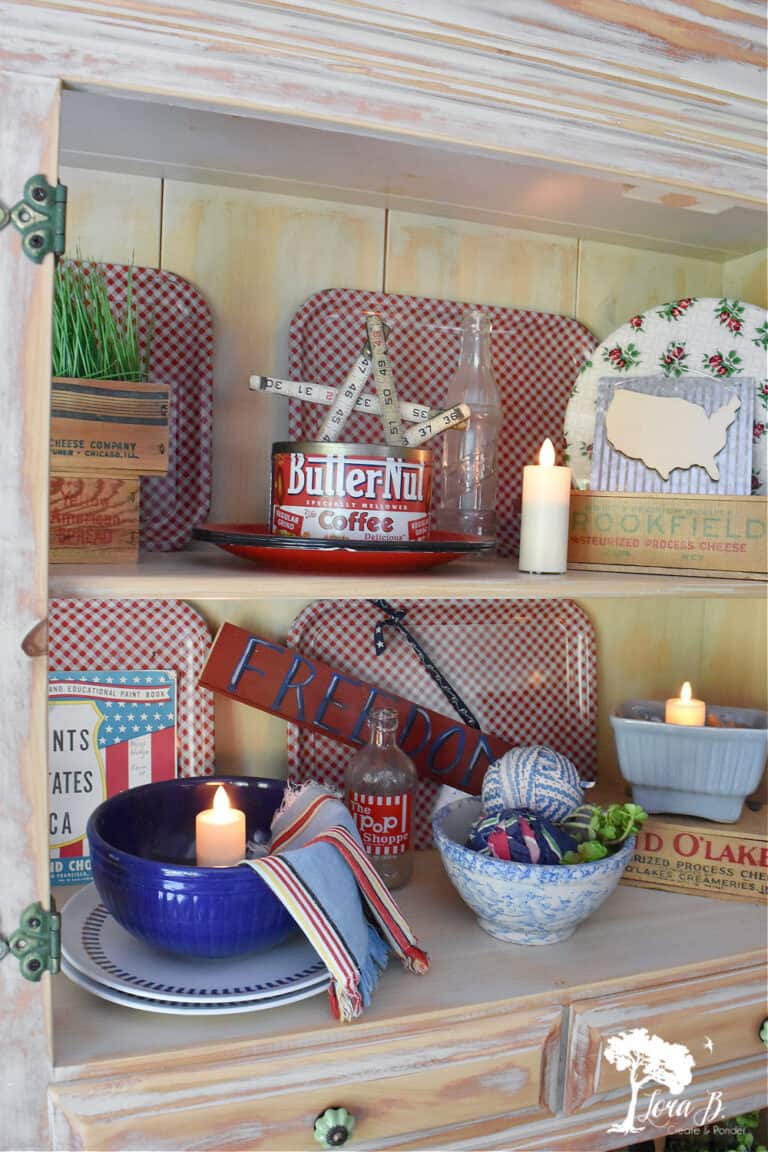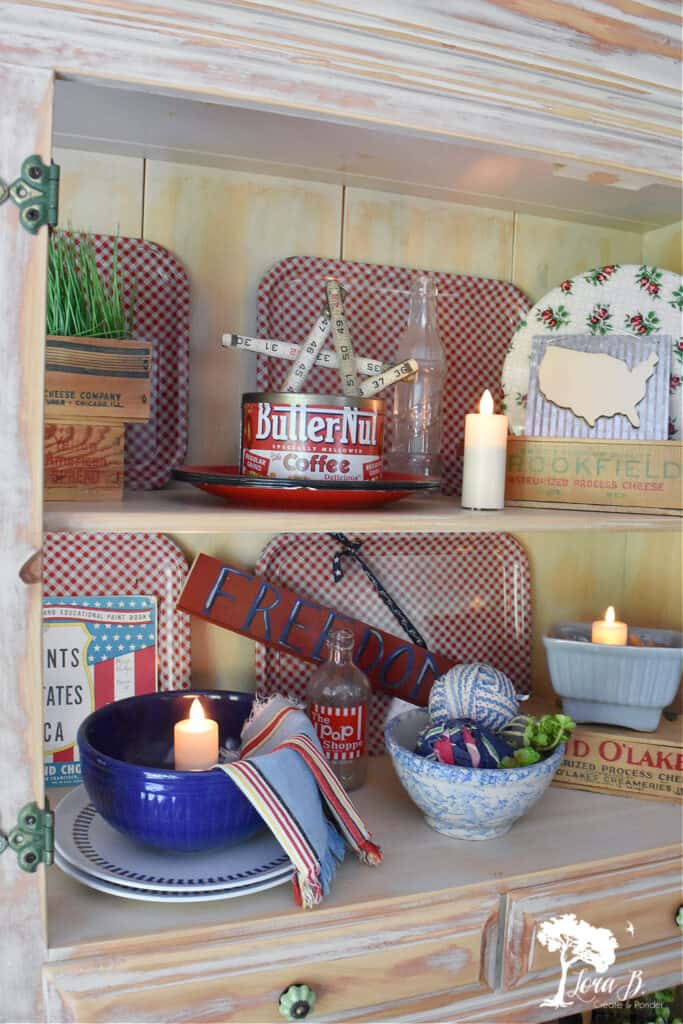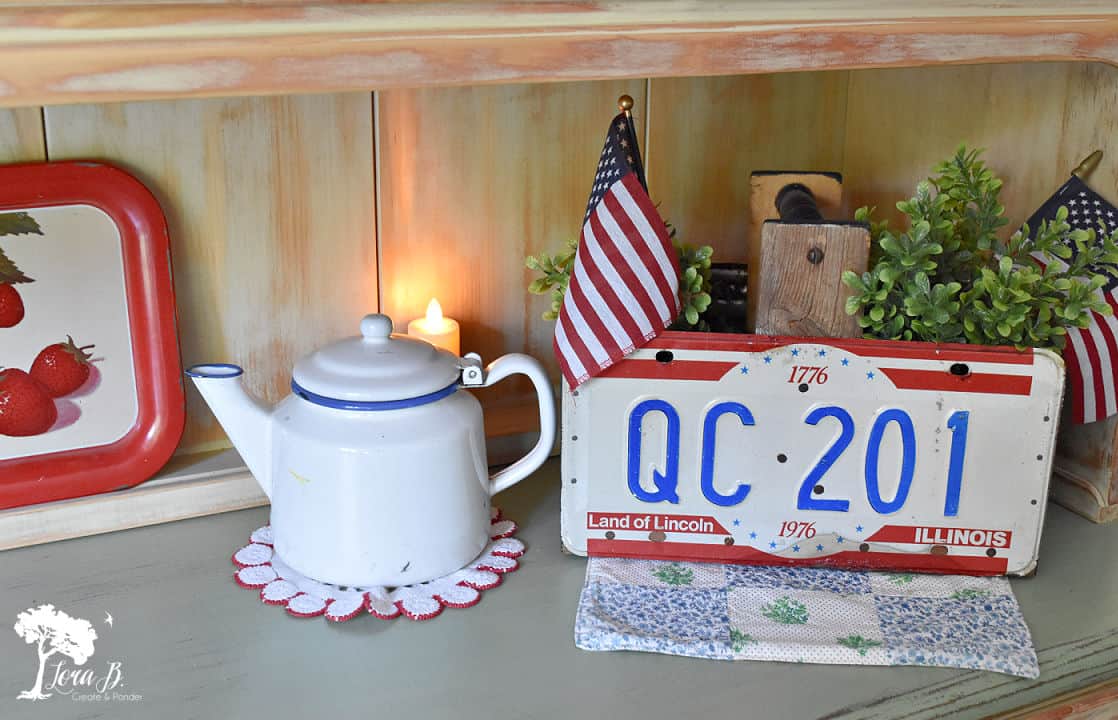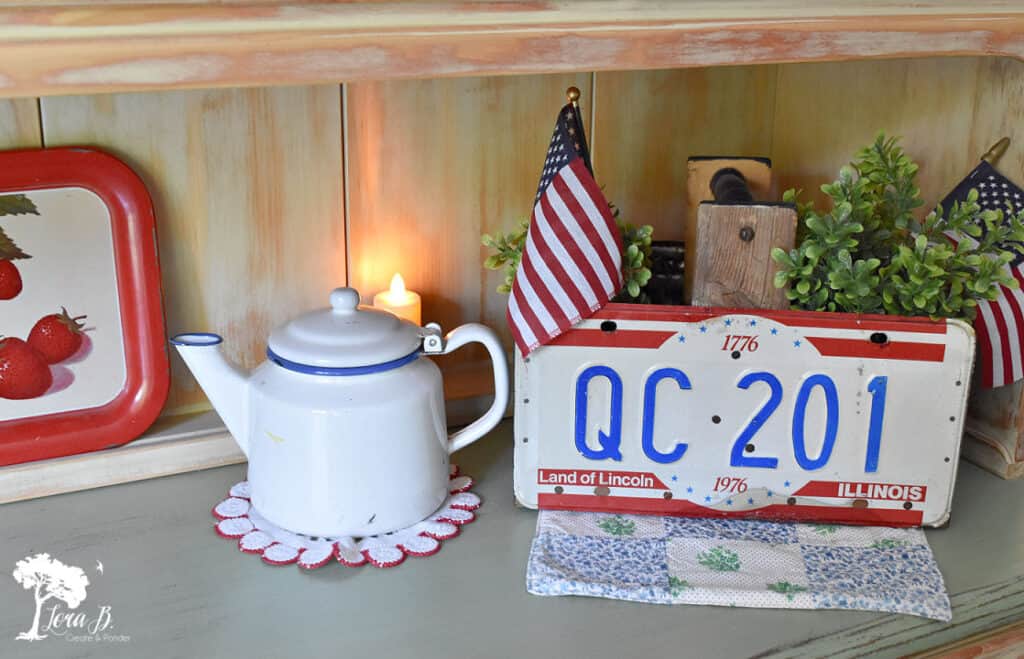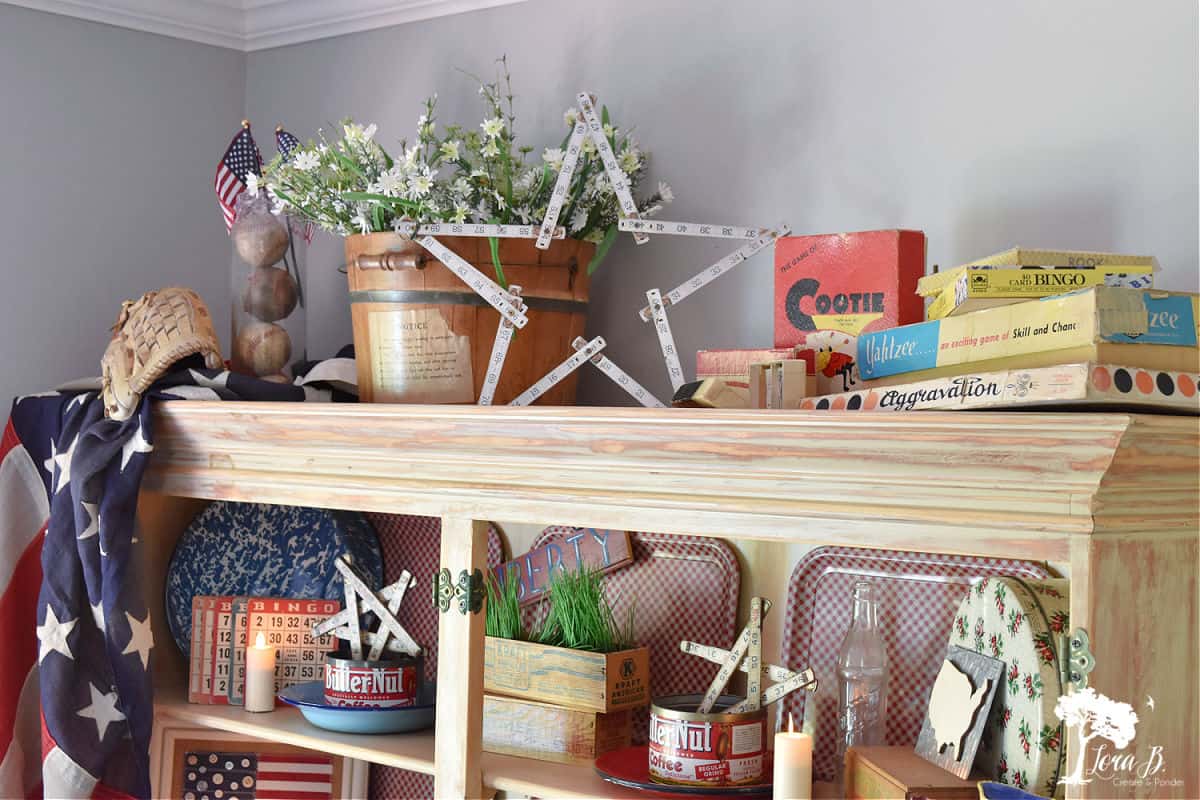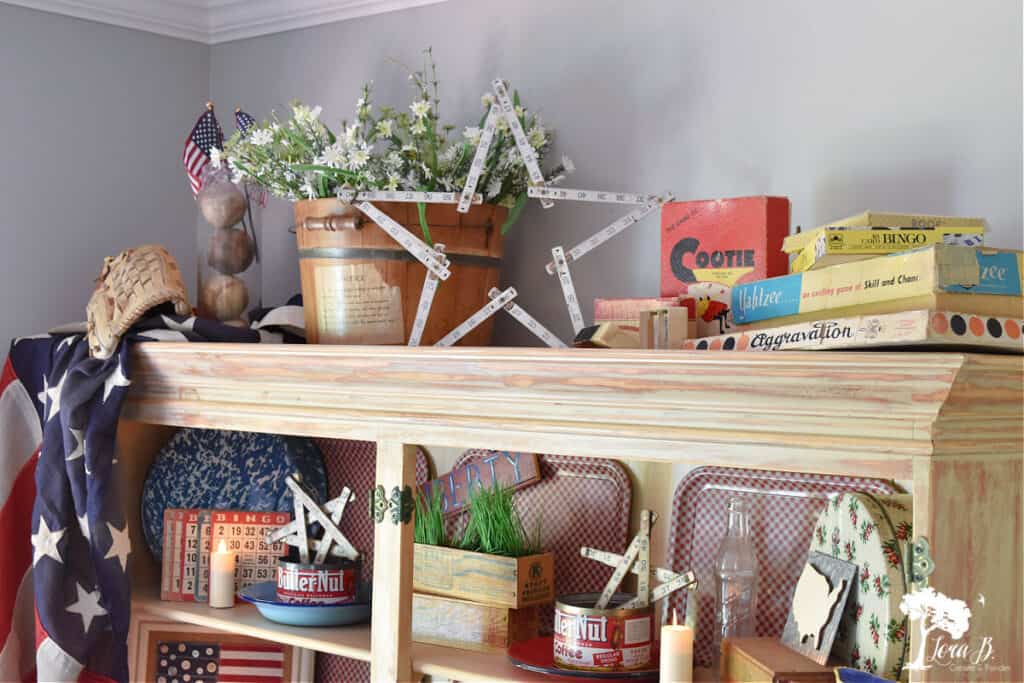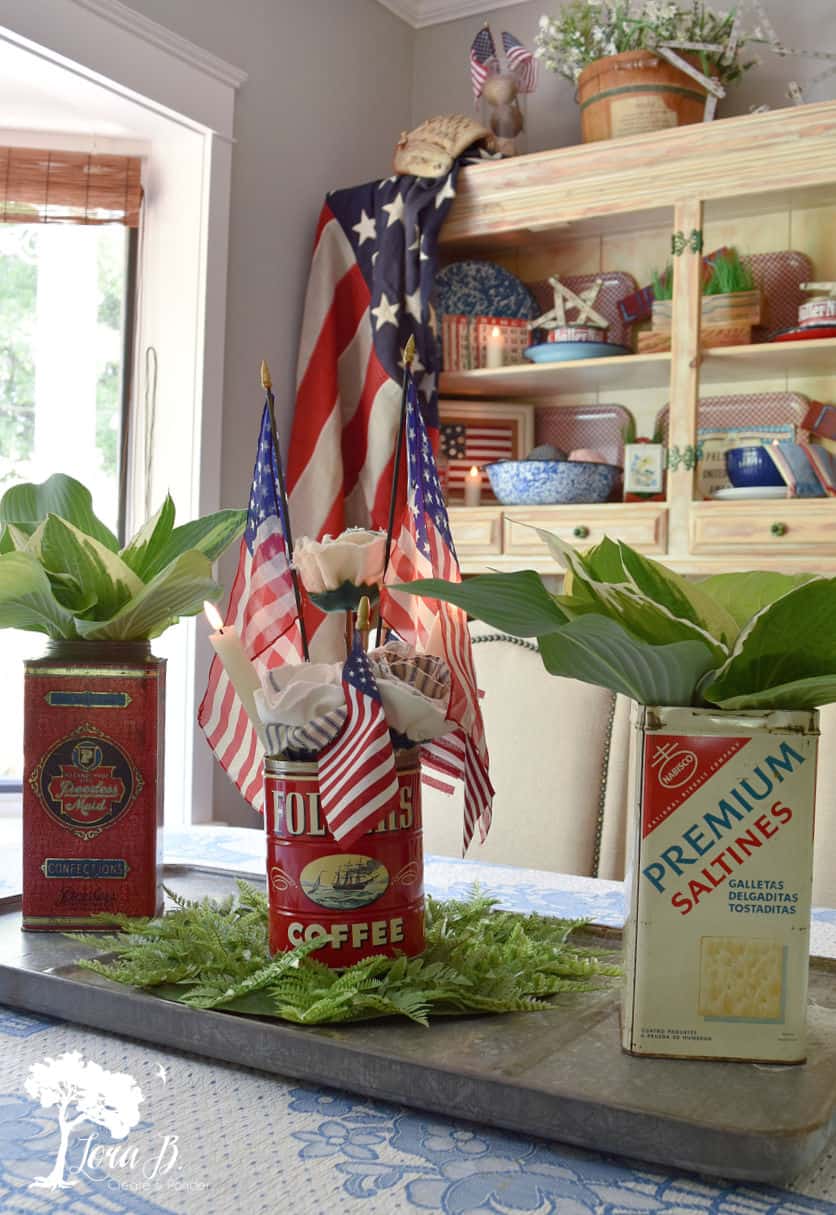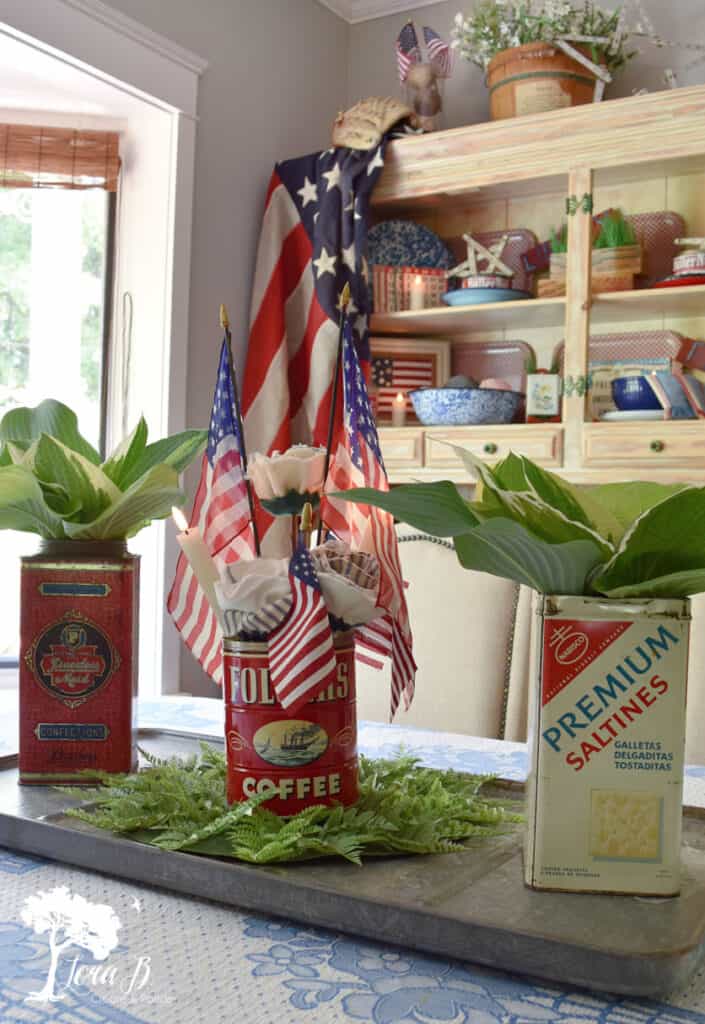 Old cabin games gather on top of the hutch. So many fun memories of late nights staying up playing games. Do you see any that you played up there?
Hosta leaves plucked from the yard make for easy, long-lasting bouquets. I tucked mason jars with water into the old food tins. My mom picked up this old blue and white bedspread from an estate sale years ago; it makes a great, no-iron tablecloth!
Spread the Patriotic Decor All Around
I have a lot of stuff, so I spread it around;) The top of our old upright piano displays vintage music things with a Patriotic flair. DIY blue jean bunting is easy to make and fun to decorate with all year long. The easy how to is on my Instagram HERE. Follow me while you're there, too!
The cute Happy 4th printable garland can be found in my free Insider's Resource Library. If you enjoyed your visit, become an Insider to keep the ideas flowing and get access to my printables! (see the sidebar, below, or the pop up box)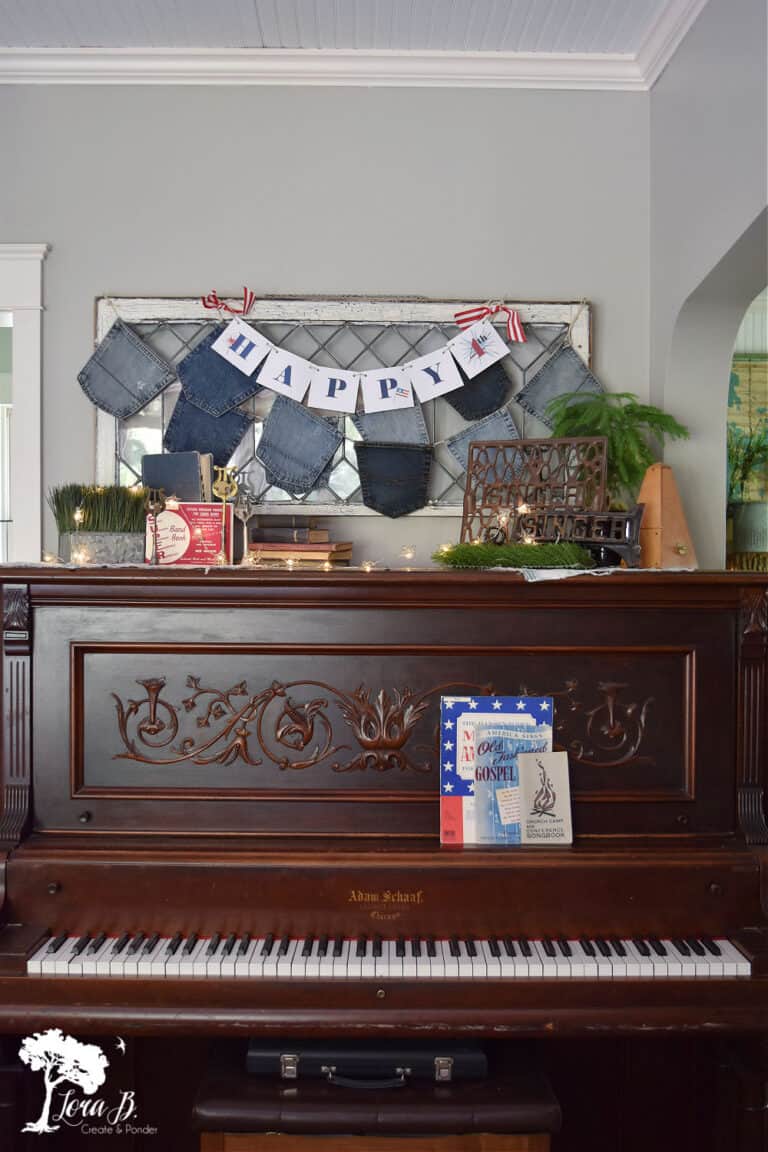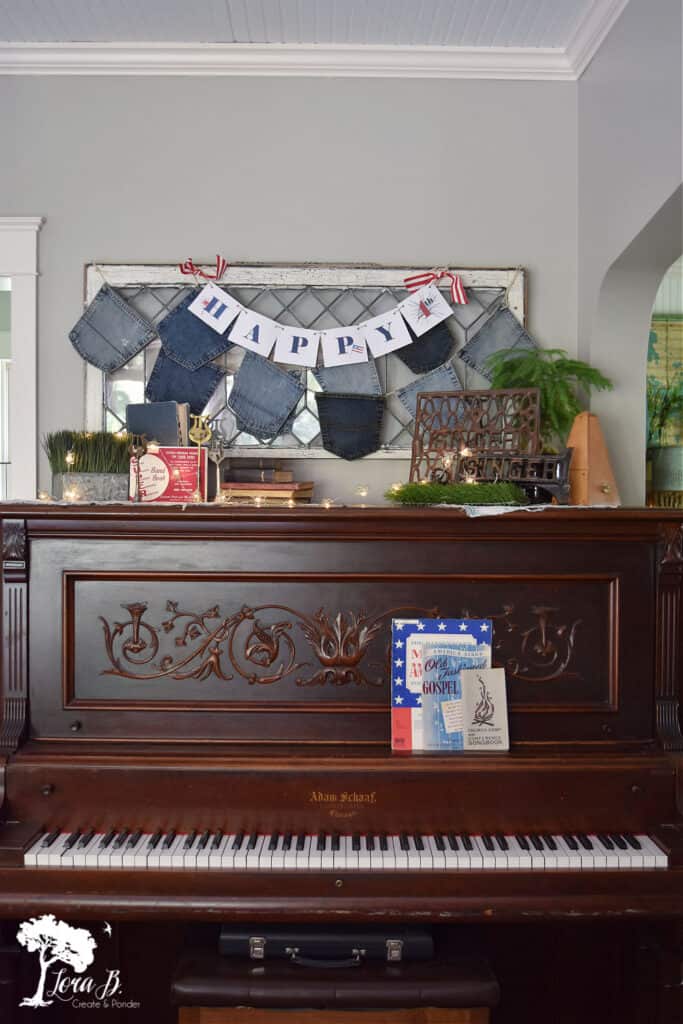 Our bay window displays a couple of cute pillows I made for our decorated porch ("A Patriotic Porch Pinterest Challenge") and some DIY repurposed tennis rackets ("Patriotic Tennis Racket Upcycle").
Vintage kid's pull carts turned into charming serving trays with handles. They make fun serving trays for a summer buffet.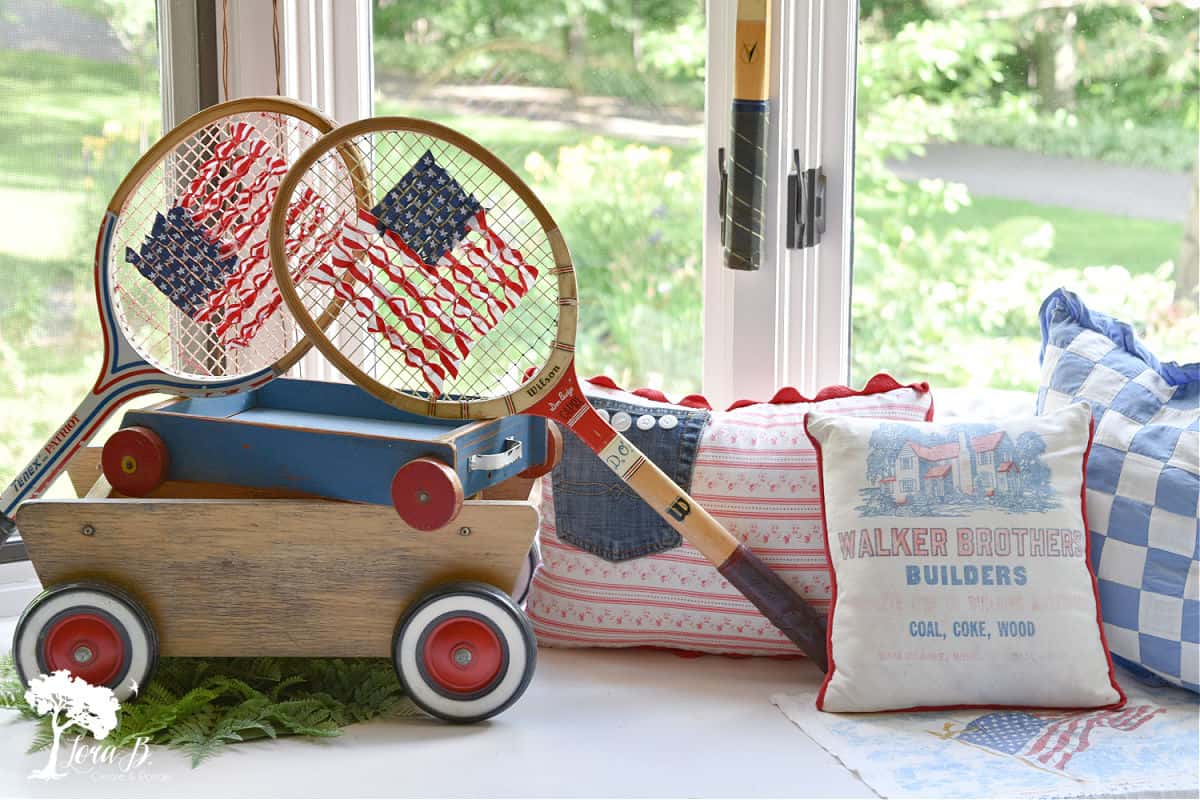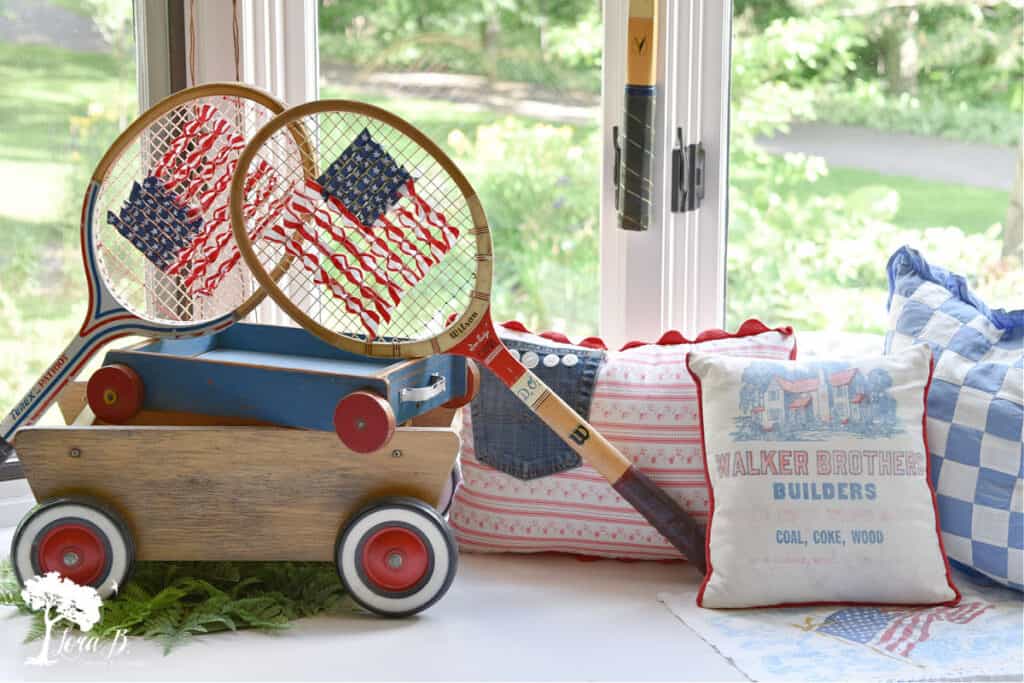 That's a wrap! Don't you love how much fun you can have with summer decor? You can bring out the nostalgic pieces you have memories attached to and enjoy them. Just having these old cabin pieces around for awhile is helping me remember old stories and experiences from my childhood. It's been a year since my mom passed and 2 years since we had to sell the cabin; would you ever have though about decorating to help you grieve? I think it's a great combo!
I hope you enjoyed your time here! Visit Jen at Noting Grace next for her Summer Simplicity Home Tour; she decorates her home so beautifully and has some wonderful vintage pieces!
Thanks for reading Vintage Summer Decor with Cabin Style. Enjoy the rest of the Blogger's Best Summer Home Tour!

Bloggers' Best Summer Home Tours
Visit each summer home tour by clicking the links below.
Monday's Tours

The Tattered Pew / Cottage On Bunker Hill / She Gave It A Go
Cottage In The Mitten / Stonegable / My Wee Abode
Tuesday's Tours

Thistle Key Lane / Midwest Life & Style / White Lilac Farmhouse
My Thrift Store Addiction / Willow Bloom Home Blog / Dabbling and Decorating
Wednesday's Tours

Bricks 'n Blooms /Amy Sadler Designs / Peacock Ridge Farm
White Arrows Home / Pasha Is Home / The Ponds Farmhouse
Thursday's Tours

Simply2Moms / Country Peony / Southern Home and Hospitality
Shiplap and Shells / Eleanor Rose Home / Cloches and Lavender
Friday's Tours

Le Cultivateur / Lora Bloomquist Create & Ponder / Noting Grace
My Family Thyme / Vintage and Grace Living / County Road 407

Please pin and share!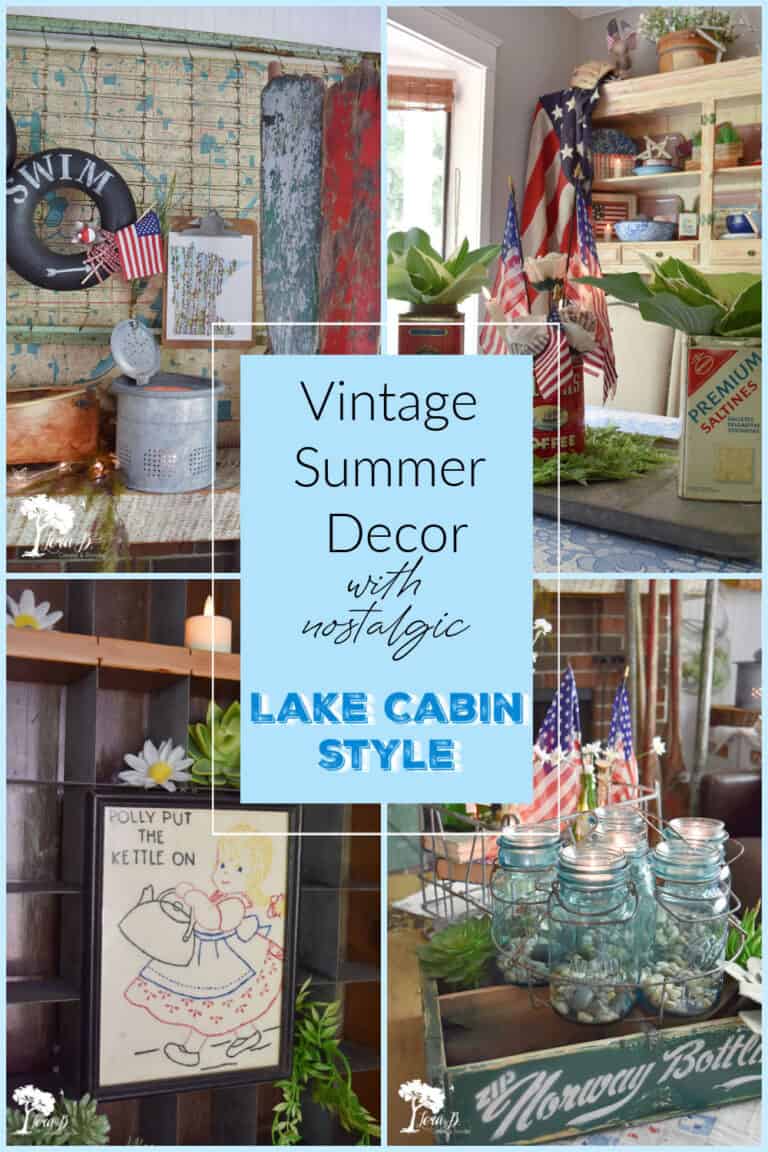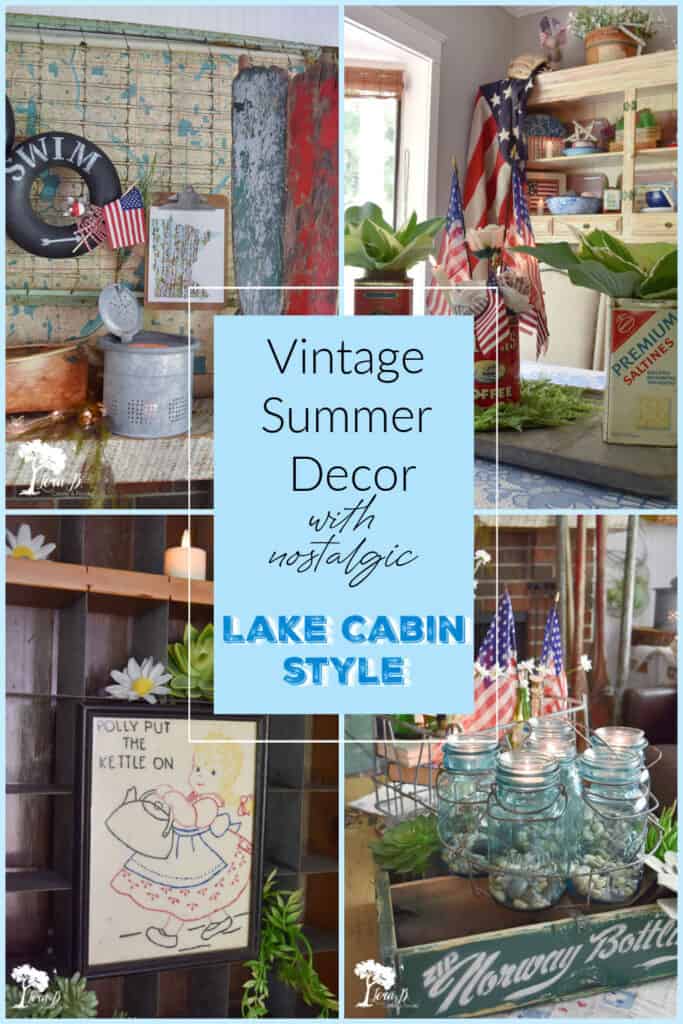 Sharing at these lovely parties: