A Patriotic Porch Pinterest Challenge
Get fun fourth of july decorating ideas with vintage style!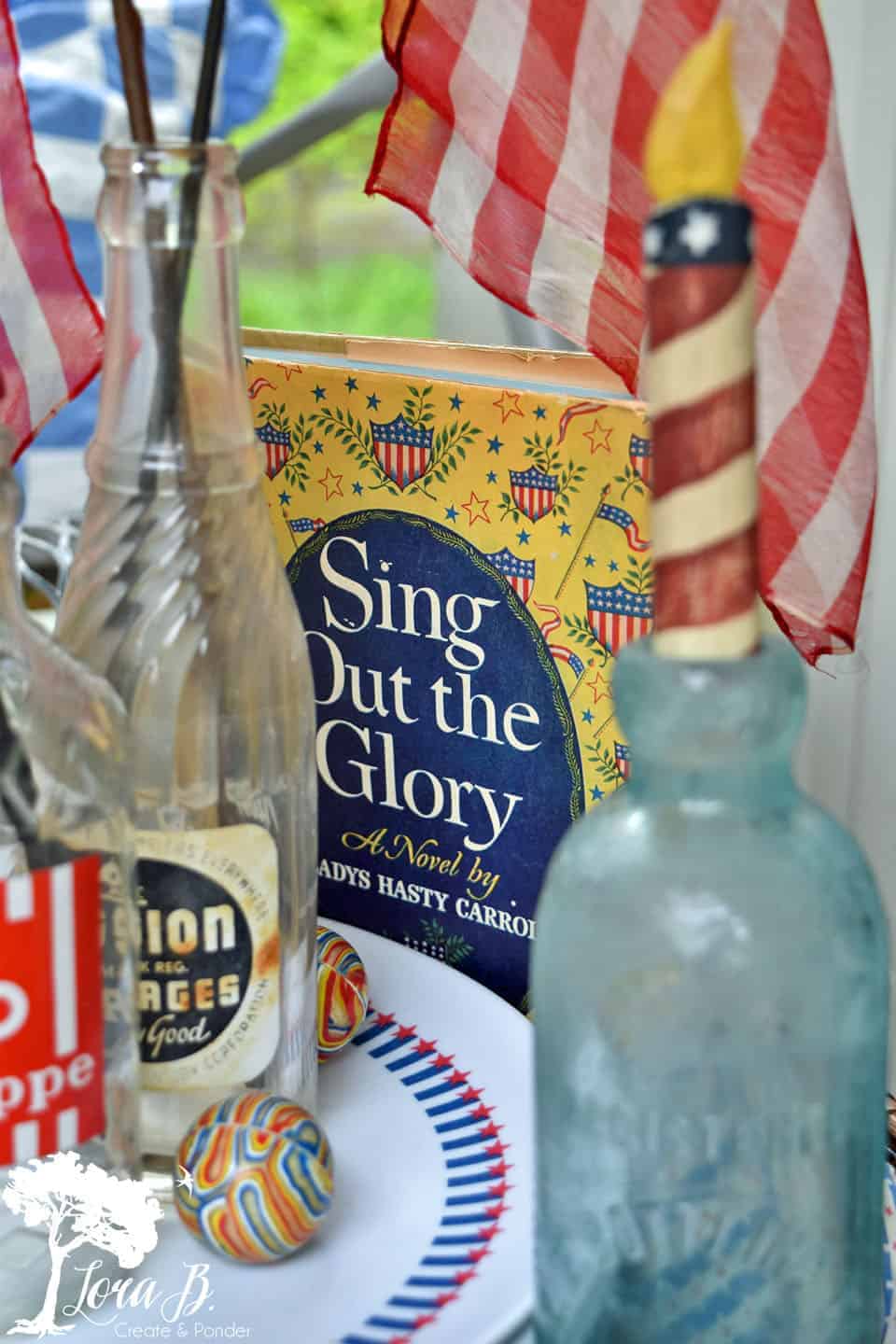 Summer is the time to ramp up the fun factor with your decorating! Pull out the red, white and blue and everything nostalgic and create some new family memories. Whether you're hosting a family reunion with hoards of people or just hanging out at the cabin with your inner circle, adding some extra touches to your outdoor/indoor spaces is definitely on the menu! I've got tons of amazing inspiration for you today, blog hop style: A Patriotic Porch Pinterest Challenge is only the beginning!
Thanks to our gracious hostess, Cindy, of County Road 406 for organizing this fun get-together of festive creativity! Every month this talented group of bloggers are challenging ourselves to decorate around 1 inspirational photo. This month we went patriotic to celebrate the summer holidays!
If you're stopping over from Blue Sky at Home, I'm sure you enjoyed Carol's festive Fourth of July vignette. It's so fun to see everyone's personal style come through.
Now on to our challenge pic! The patriotic porch we are all decorating around was styled by the super talented Mary from "Home is Where the Boat Is". Mary harkens from a retail background like me, and she knows how to style a beautiful scene with all the amazing details! Take a look at her whole post and see the fun red, white and blue cakes in canning jars she made to go along with this patriotic setting;)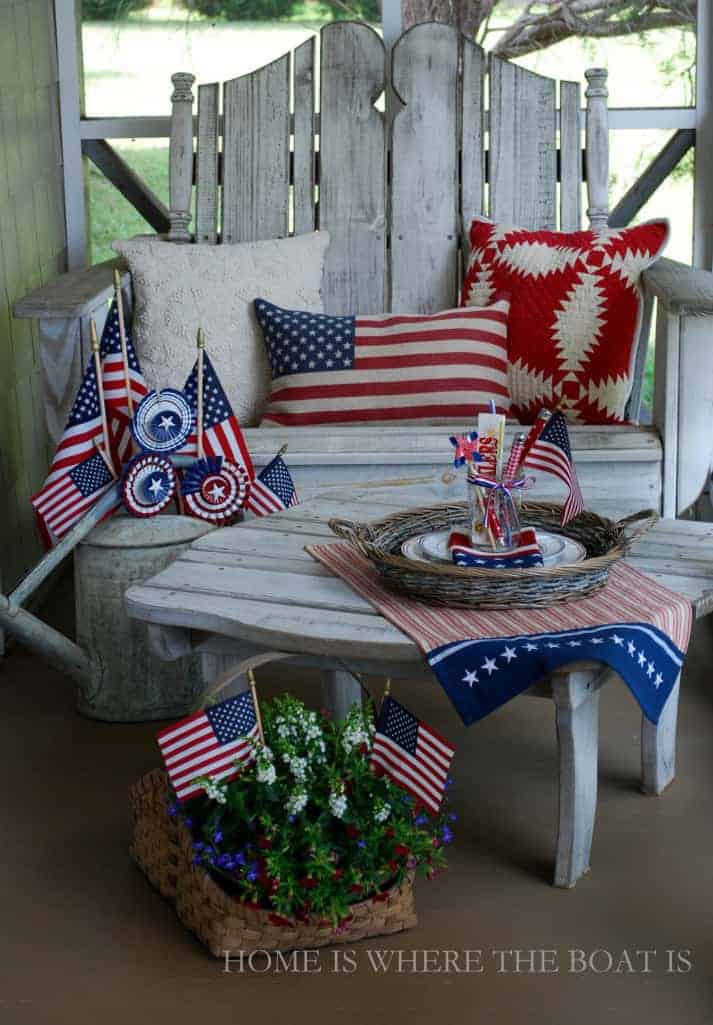 I love Mary's adirondack-styled bench and the vintage screen porch this setting is in. What a relaxing spot to enjoy a summer read!
The First Step to Recreate a Pinterest Challenge is to Examine the Styling Elements
I'm hoping that through this Pinterest Challenge, you'll see that decorating is a process. It's not a one and done kind of thing. Even as I was creating this scene, it took several tries before I was happy with the result. I'll share some of that process as I go, hopefully to encourage you to keep at it until you're satisfied!
Here are the elements in Mary's pic that I noticed and wanted to recreate: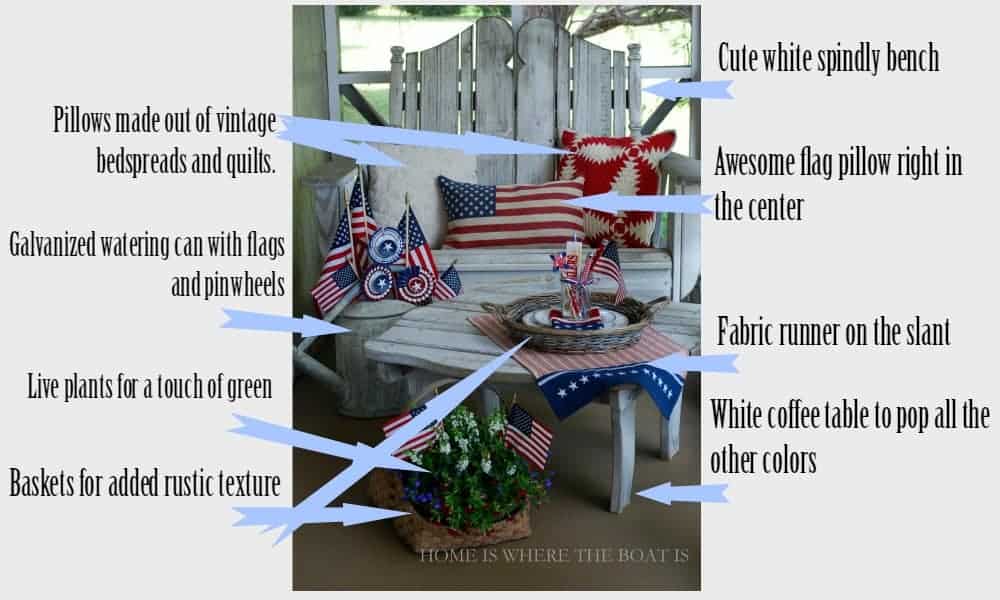 Once you've evaluated all the elements in the picture, decide how you want to make it your own. Are you going to use all the same foundational pieces? Are you going to use the same exact colors? Where are you going to create this setting; location?
A Patriotic Porch Pinterest Challenge
Recreate the Pinterest Challenge, Using Your Own Personality and Style
Red, white and blue set against a white backdrop is definitely classic, but I like to soften the edges a little and add the toned-down colors of pink and light blue in my patriotic styling. I took the idea of pillows made out of vintage bedding and ran with it! I decided to create a scene that celebrated vintage americana textiles with old quilts, feedsacks, and flags.
All About the Pillows…Create a Color Scheme
I had a tattered family quilt that was in need of repurposing. It was the perfect color scheme I was thinking about: red, white and blue with some pink and even a touch of soft yellow. On the first run of this vignette, I draped it over the back of the swinging bench. Cute, but it didn't look like our imitation photo; I needed pillows. I also dug up an old clothespin bag who's typography had faded to the perfect stage of pink for my liking and had a bonus red piping around. The crisp blue and white quilted pillow cover reminded me of the graphic red and white pillow in Mary's pic.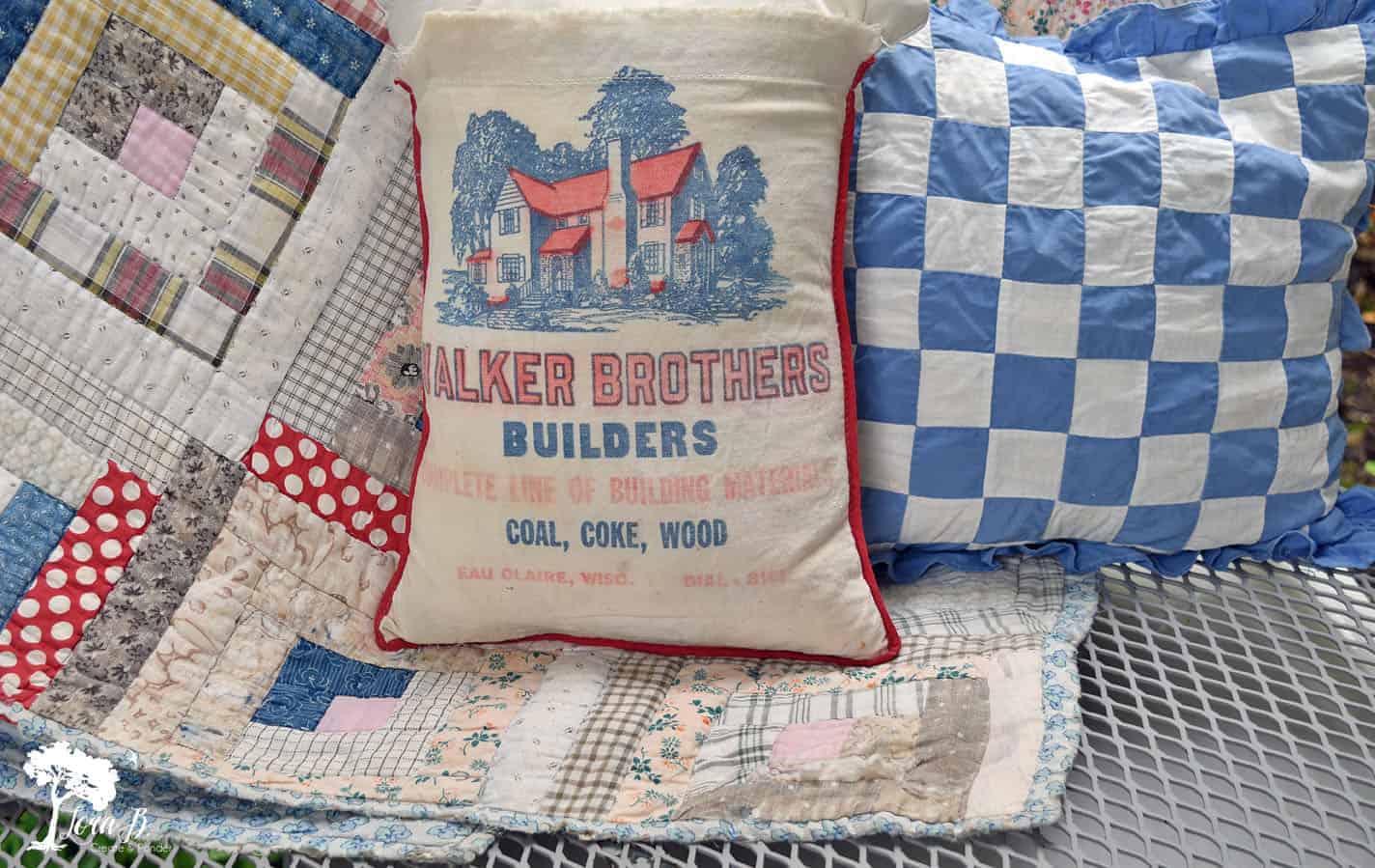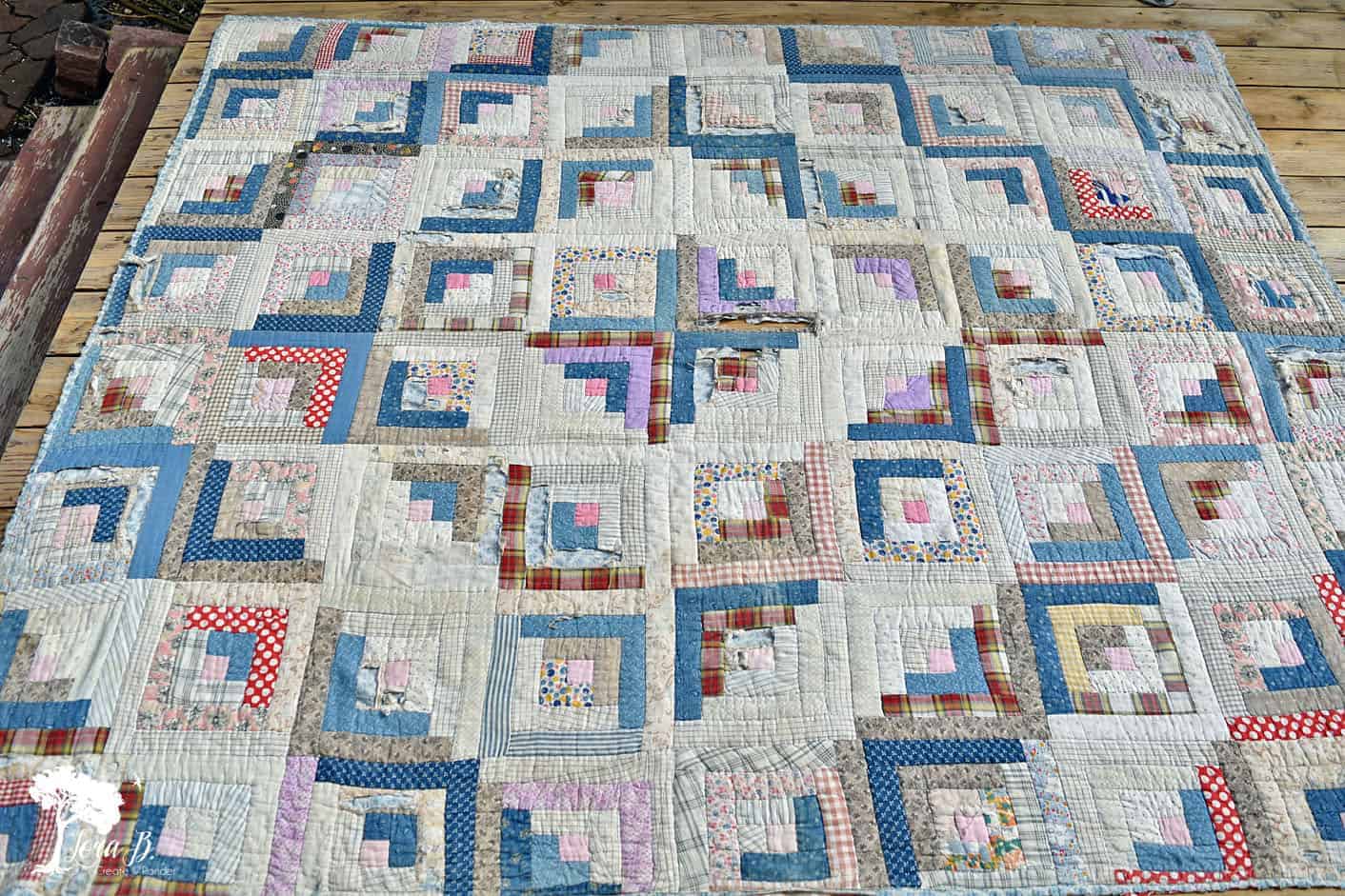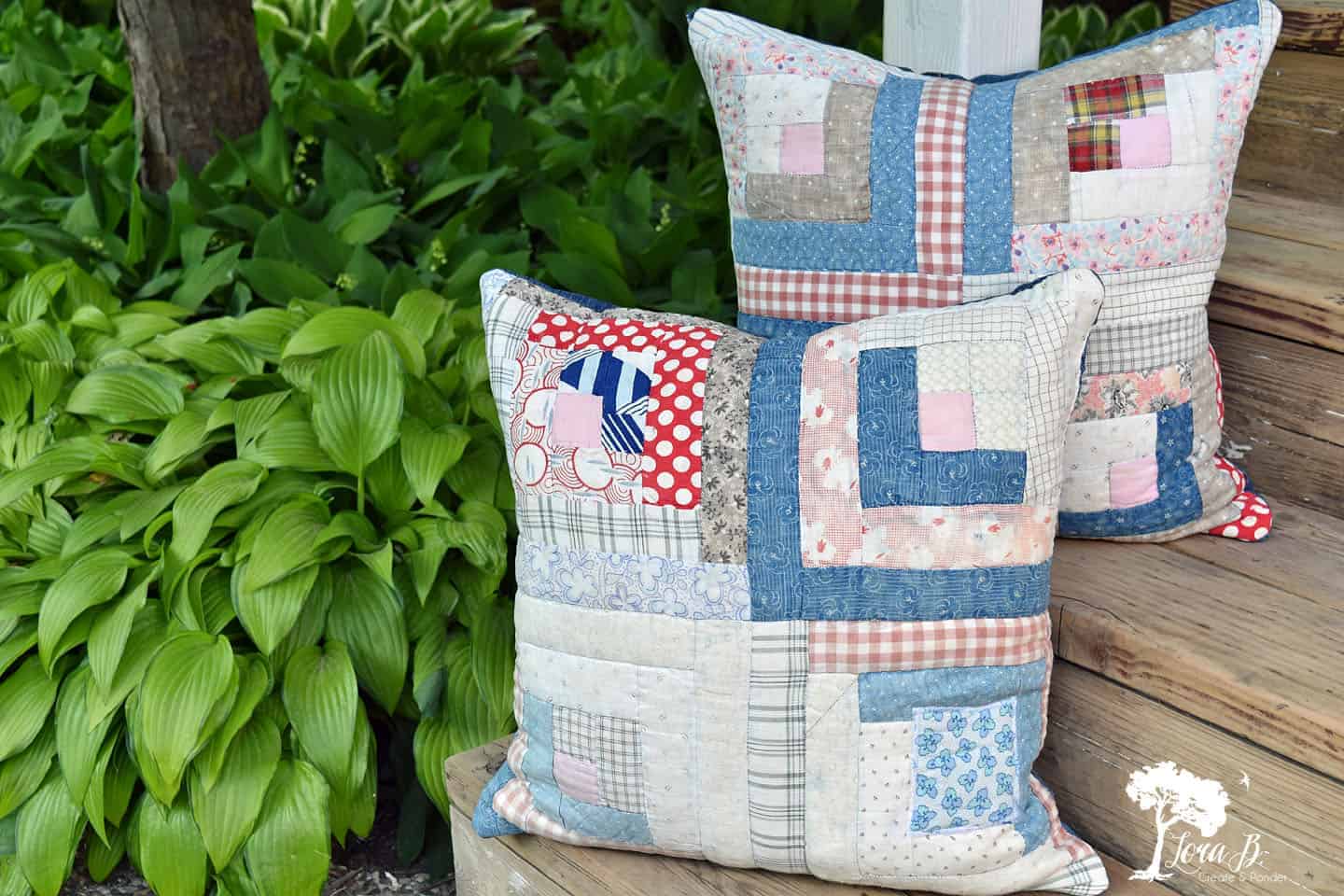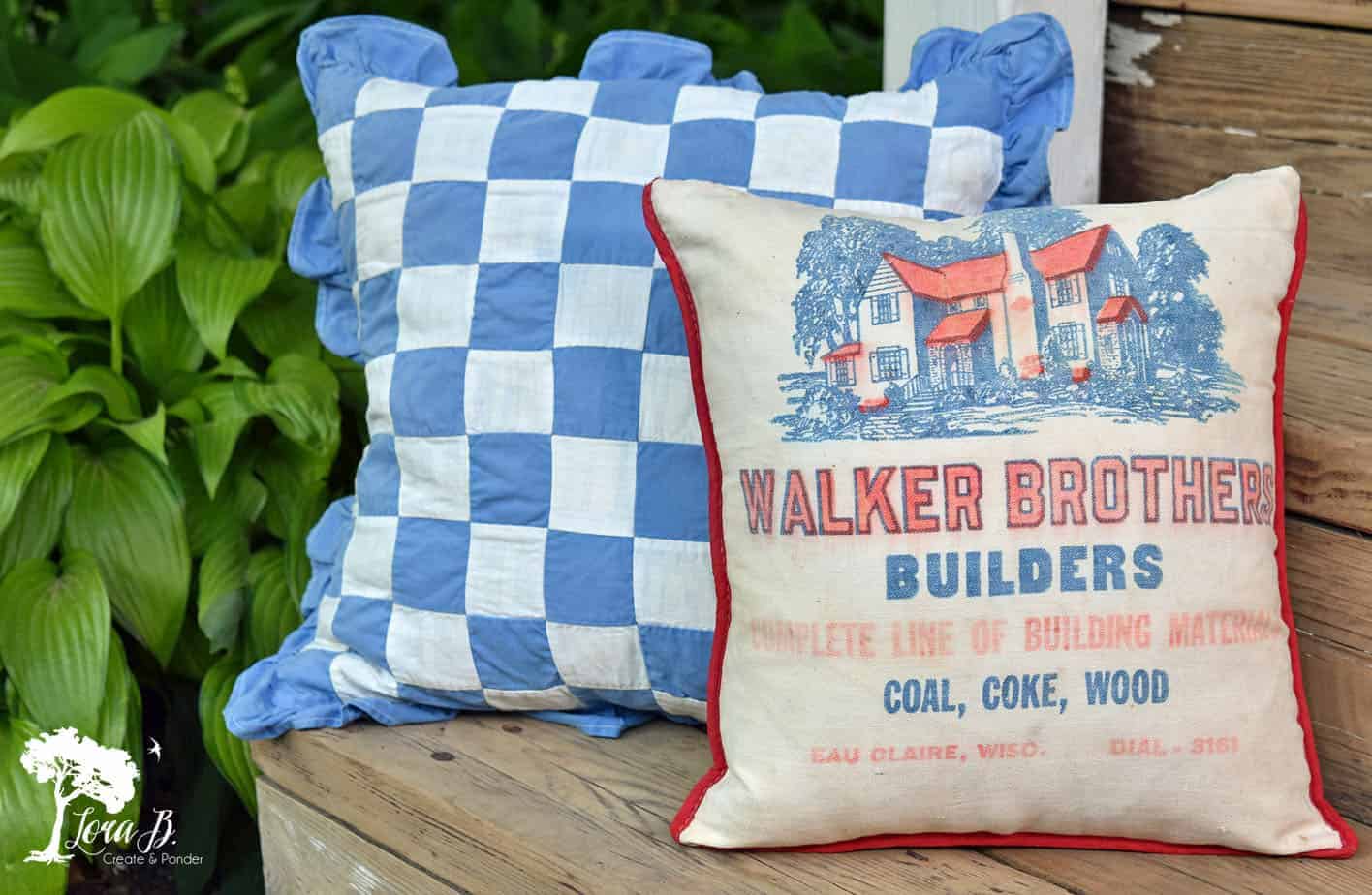 But I still needed a flag pillow for the center of the whole scene! The denim pockets I used for my "Blue and White Tea Party for Mom" were calling me. I whipped up a stylized version of an American flag with some bits and bobs I had laying around: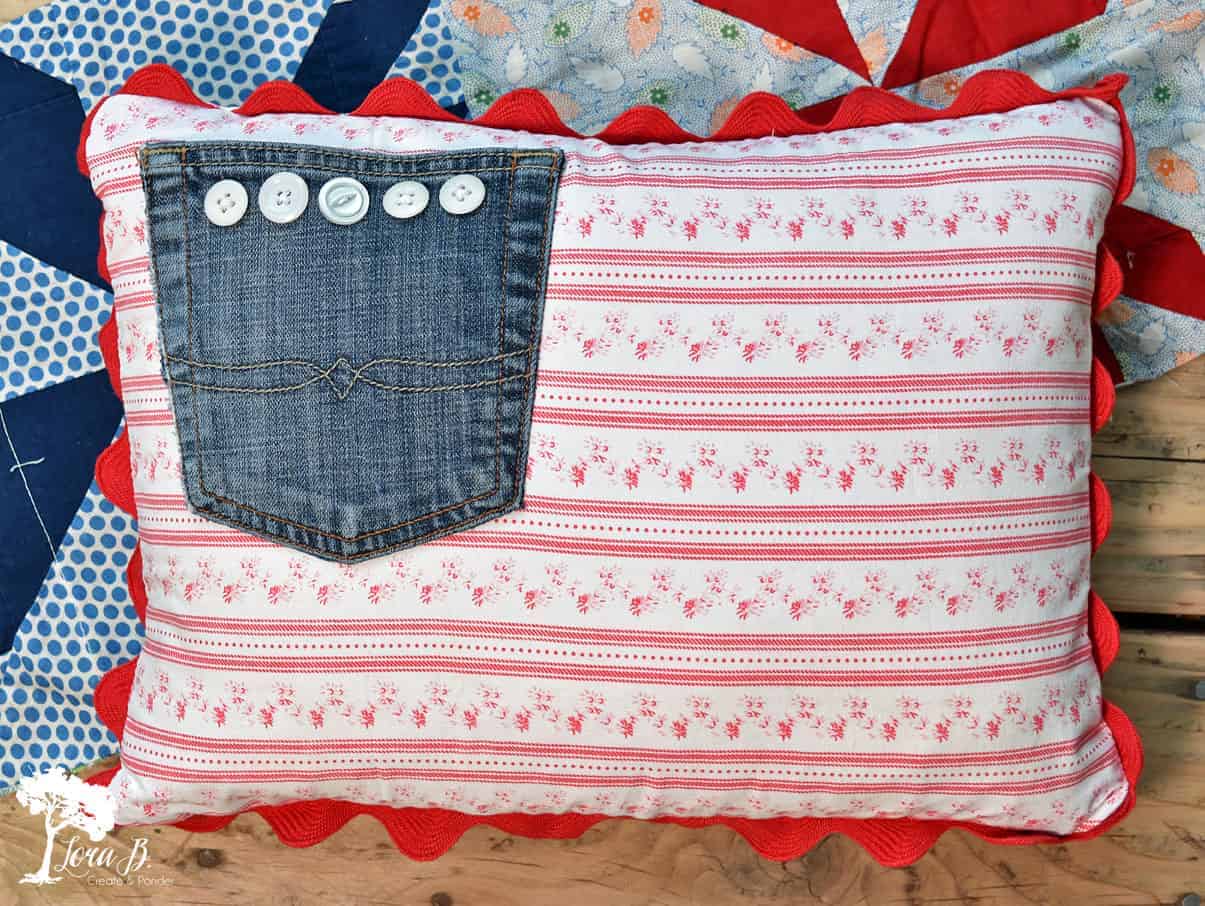 Once the pillows were made, the bench part of the vignette was complete! I did 5 pillows compared to our imitation 3, but you can never have enough vintage textile pillows, right?
Decide on the Foundational Pieces You'll Use for your Pinterest Challenge Pic
We have been tirelessly working on sanding our whole deck before our impending last child's grad party, so things around our yard are a little…out of place (to say the least). This Patriotic Porch scene was styled right outside our back door and had to be done in stages, a.k.a. real life;)
For the foundational pieces in the picture, I used a curbside find swinging bench that I'd sprayed a light gray with a new-to-me cut down enamelware-top vintage kitchen table. (I can't wait to work on this one a little) I added one of my favorite little stools to get my grandma's galvanized watering can a little higher. This stool is the perfect combo of pink and red, so it fit in nicely!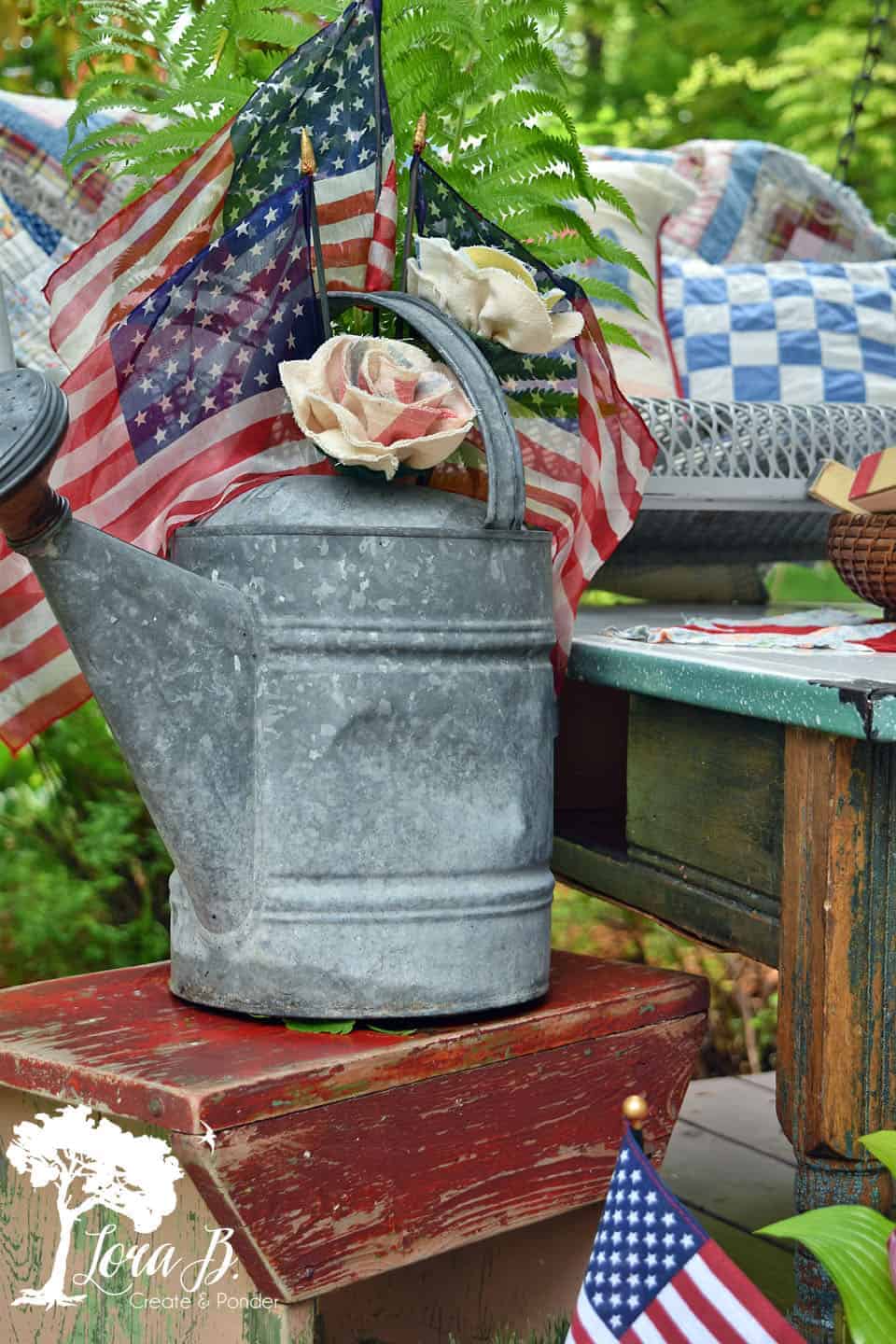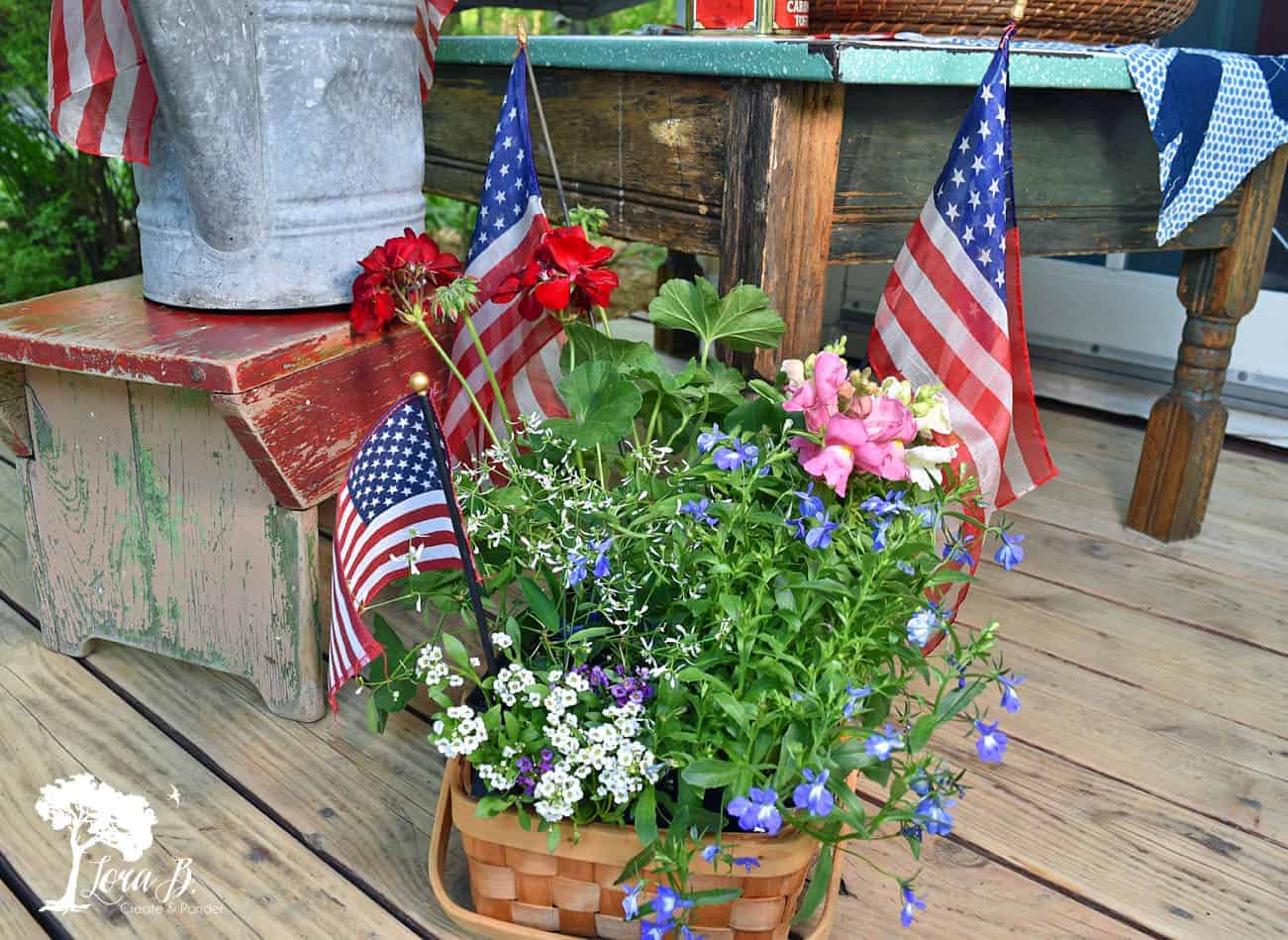 I picked up my first flowers at the garden mart, combining the red and pink, along with the lighter blue and white. Vintage gauzy flags and new ones stick out of the dirt just like in the picture.
Rather than the round pinwheels in the Pinterest pic, I used some lovely roses made from vintage feedsacks I'd picked up at the spring Junk Bonanza. I like these so much, I think I need to try to make some; I'd kind of like a whole wreath of them! An old marching band baton in red, white and blue adds to the watering can fun.
Learn how to make the DIY Fabric Roses here.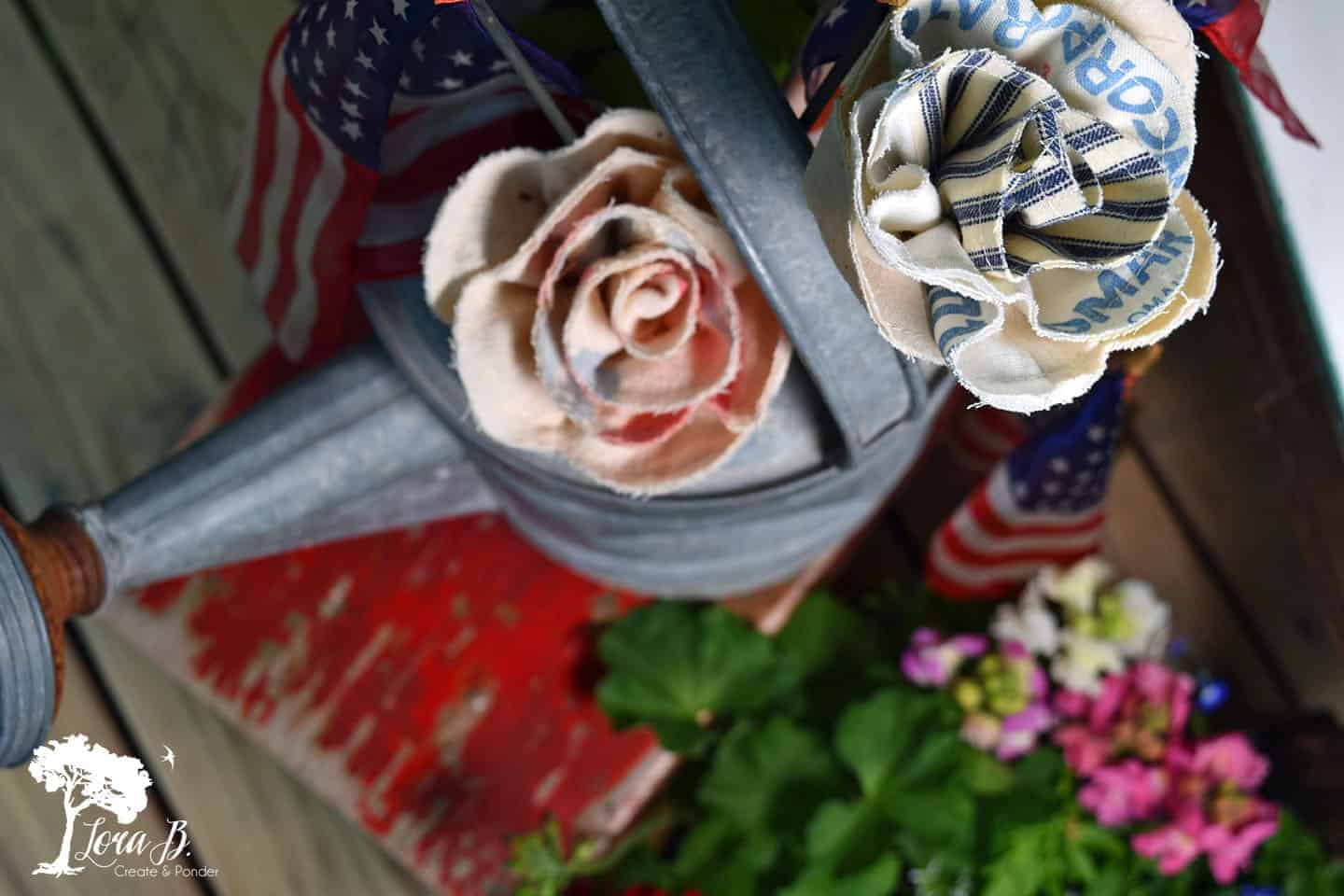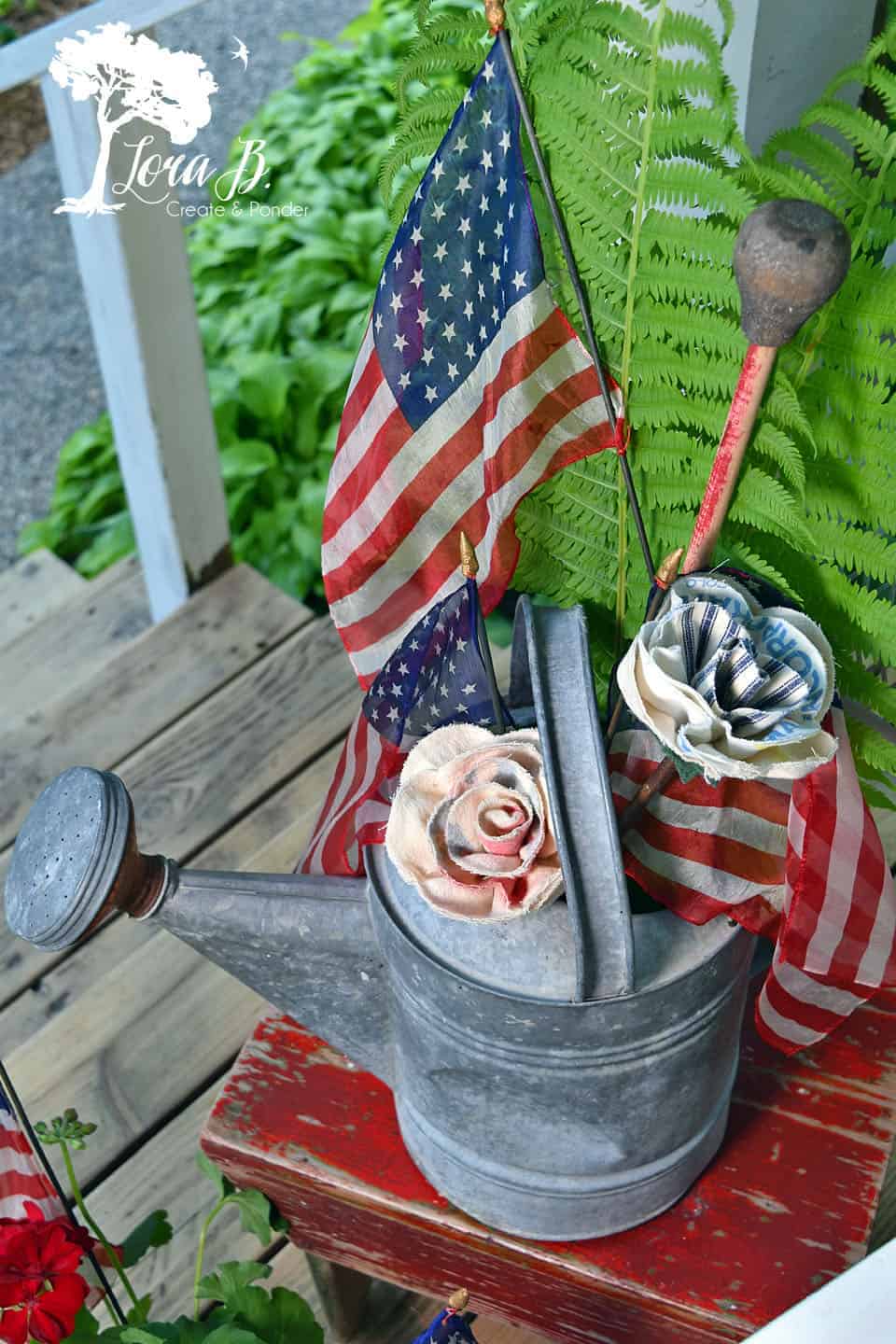 Add Classic Americana Touches to Your Pinterest Scene
The inspiration photo featured patriotic place settings on the coffee table in a basket. At first glance, I hadn't realized this. Instead of using ball jars, I thought it would be fun to use old glass pop bottles with their awesome graphics. I popped a couple of flags into the pop bottles for more of a centerpiece.
I also pulled out some vintage card games and some colorful superballs to add a bit of family fun vibes.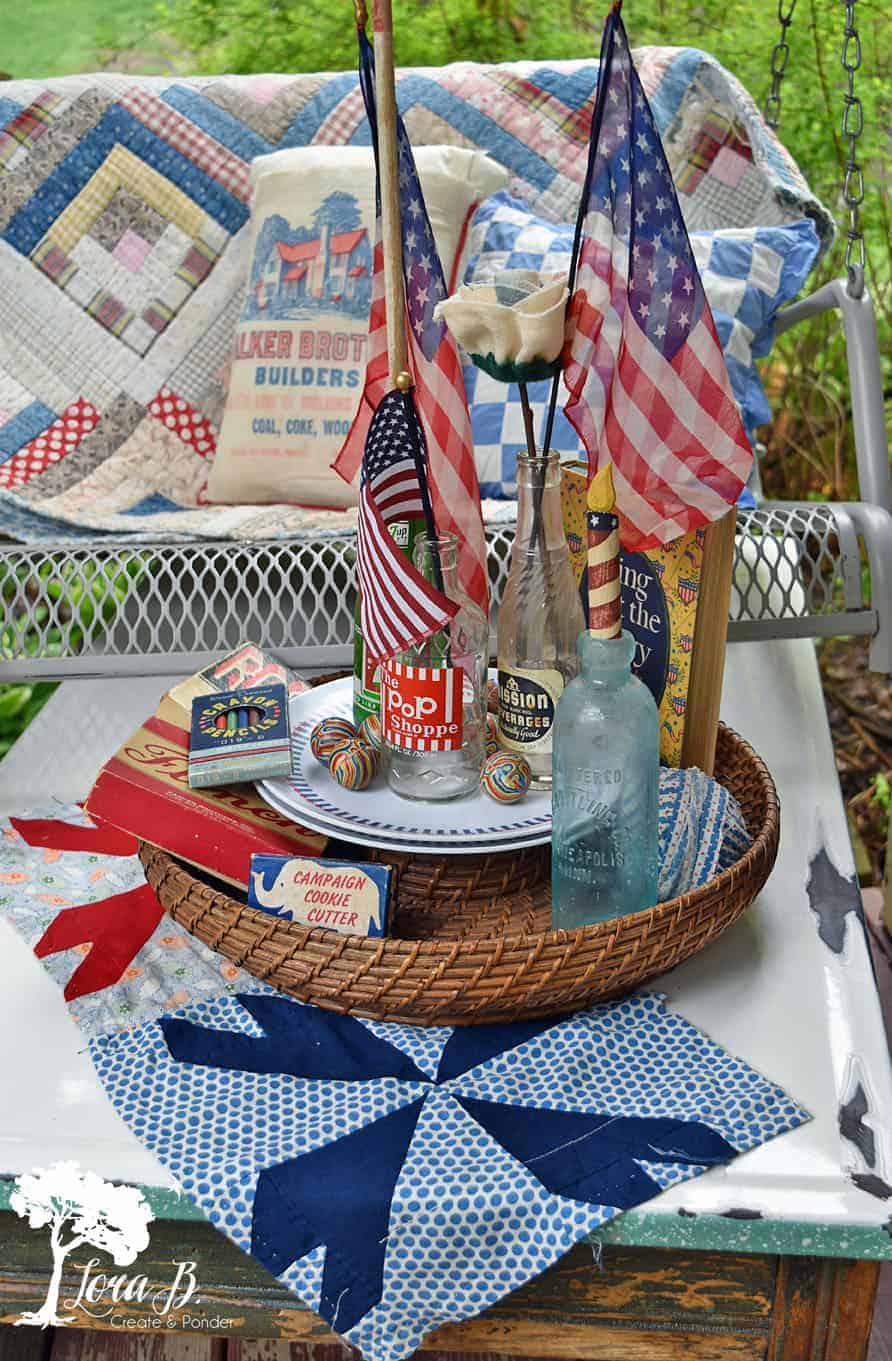 Can you spot the "before" or first run of this scene? Remember how I said decorating is a process? The chippy deck boards can be seen, the quilt before it became pillows, and the flags in the centerpiece. (FYI…I like chippiness on my vintage furniture…not on my deck;)
Look Back at Your Inspiration Pinterest Challenge Photo for Reference
Something just wasn't right. I looked back at the 'Home is Where the Boat Is' pic and realized everything on my coffee table was too tall. I also liked how she'd tied some cute ribbon around the jar. Back to the basement to dig up some grosgrain ribbon. Each pop bottle got treated to a ribbon and a straw, for a more place setting-type of look.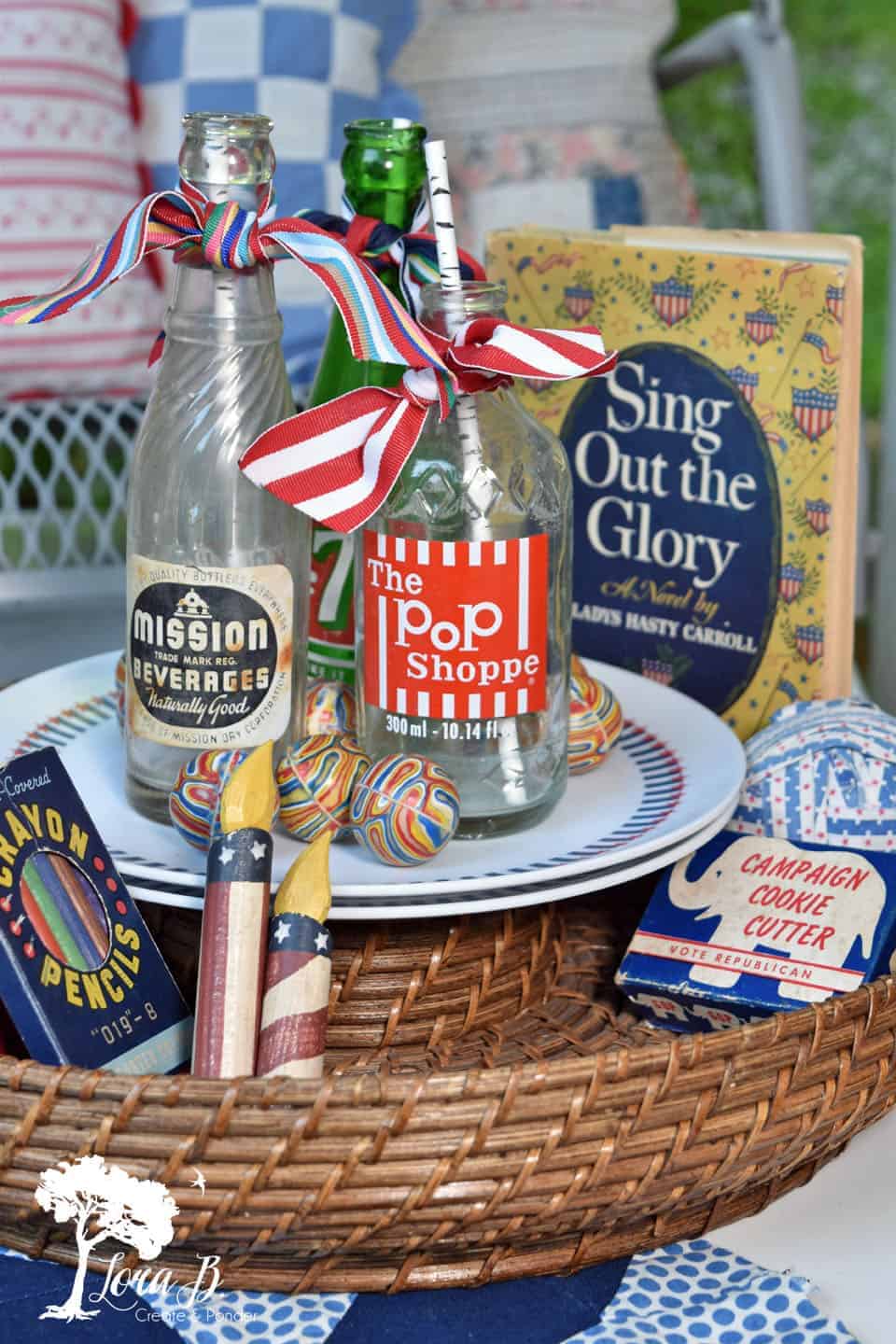 The vintage caramel tin also got a re-do the second time around. The first time around it was a vessel for some tulips, next it became a game-time treat;) Boy, did that licorice smell good; I maybe had to sample one!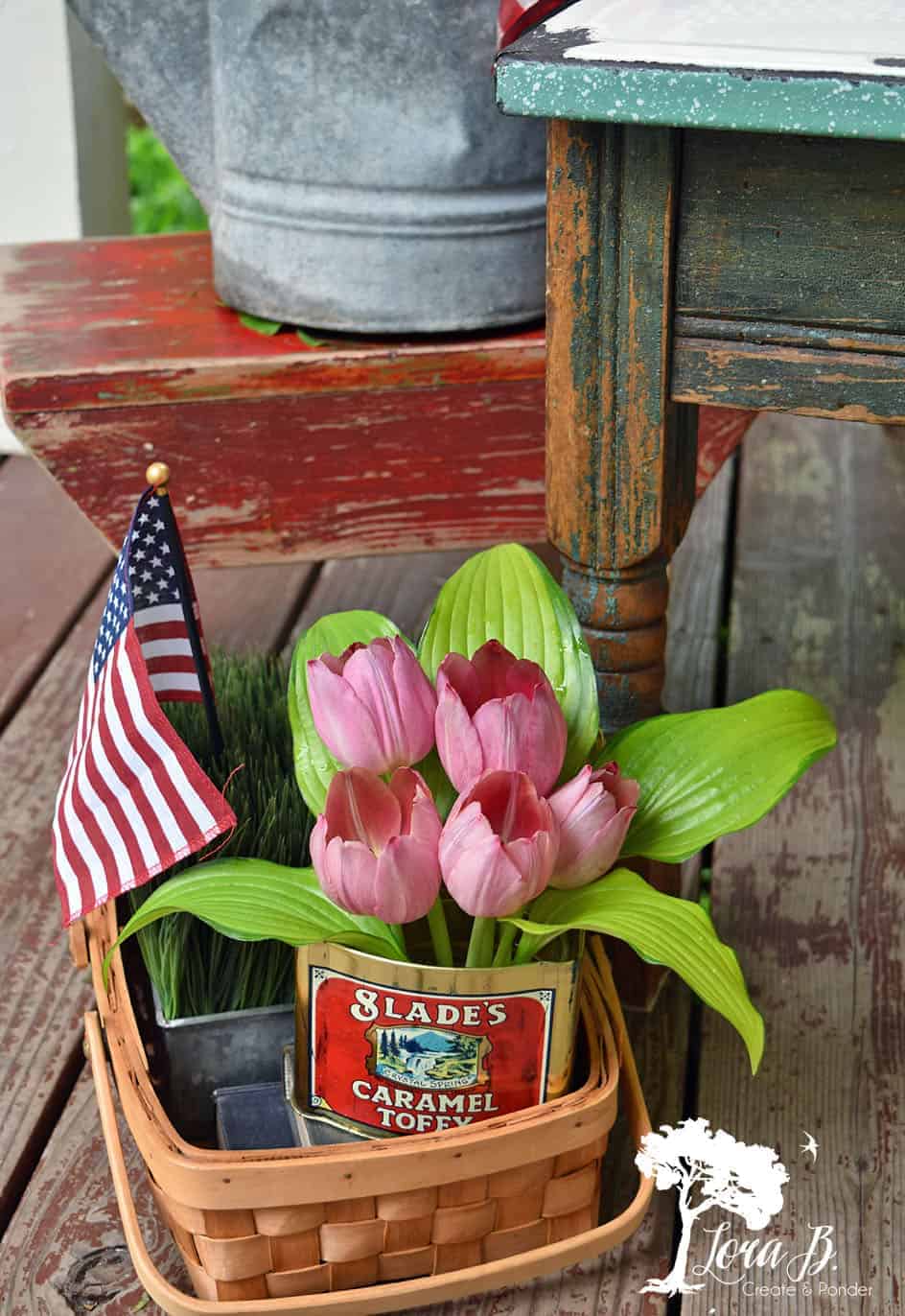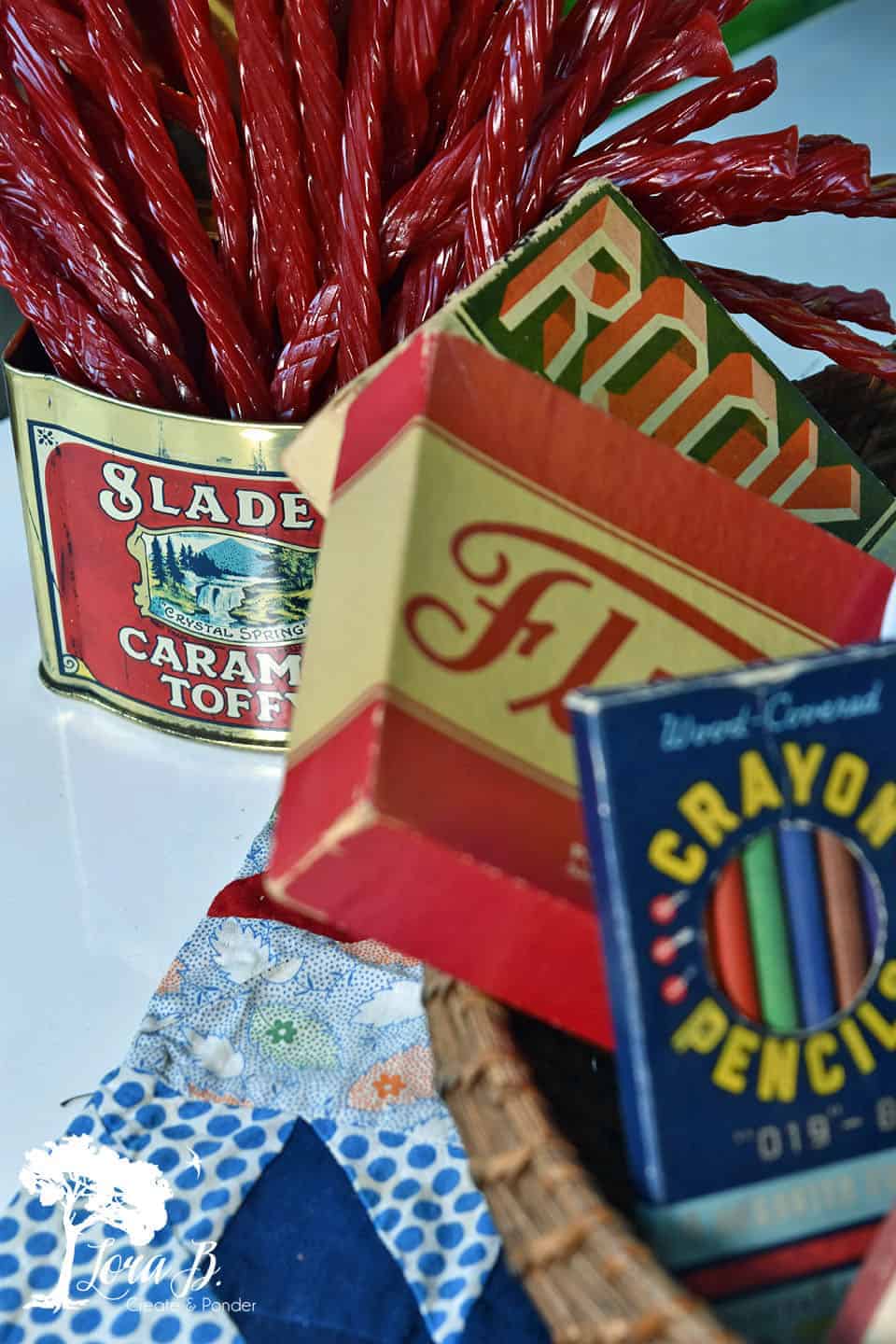 I hope you're beginning to get some insight into this process. Decorating takes time and creativity, but it's all fun! It helps when you have a Pinterest picture to guide you and then to make it your own.
Ready for the big reveal? The add pink + a whole lot of vintage textiles version?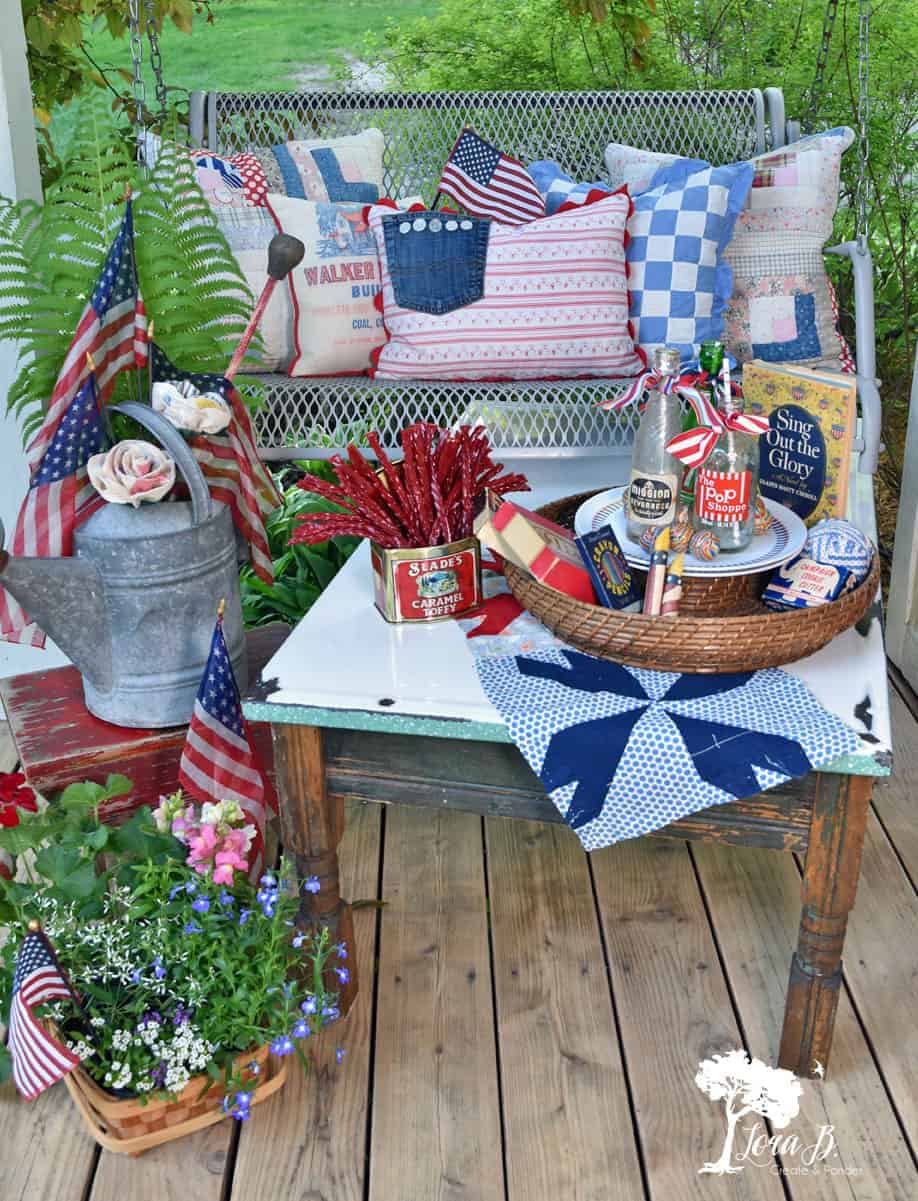 And then for true Americana, magazine-cover charm, add the family dog;)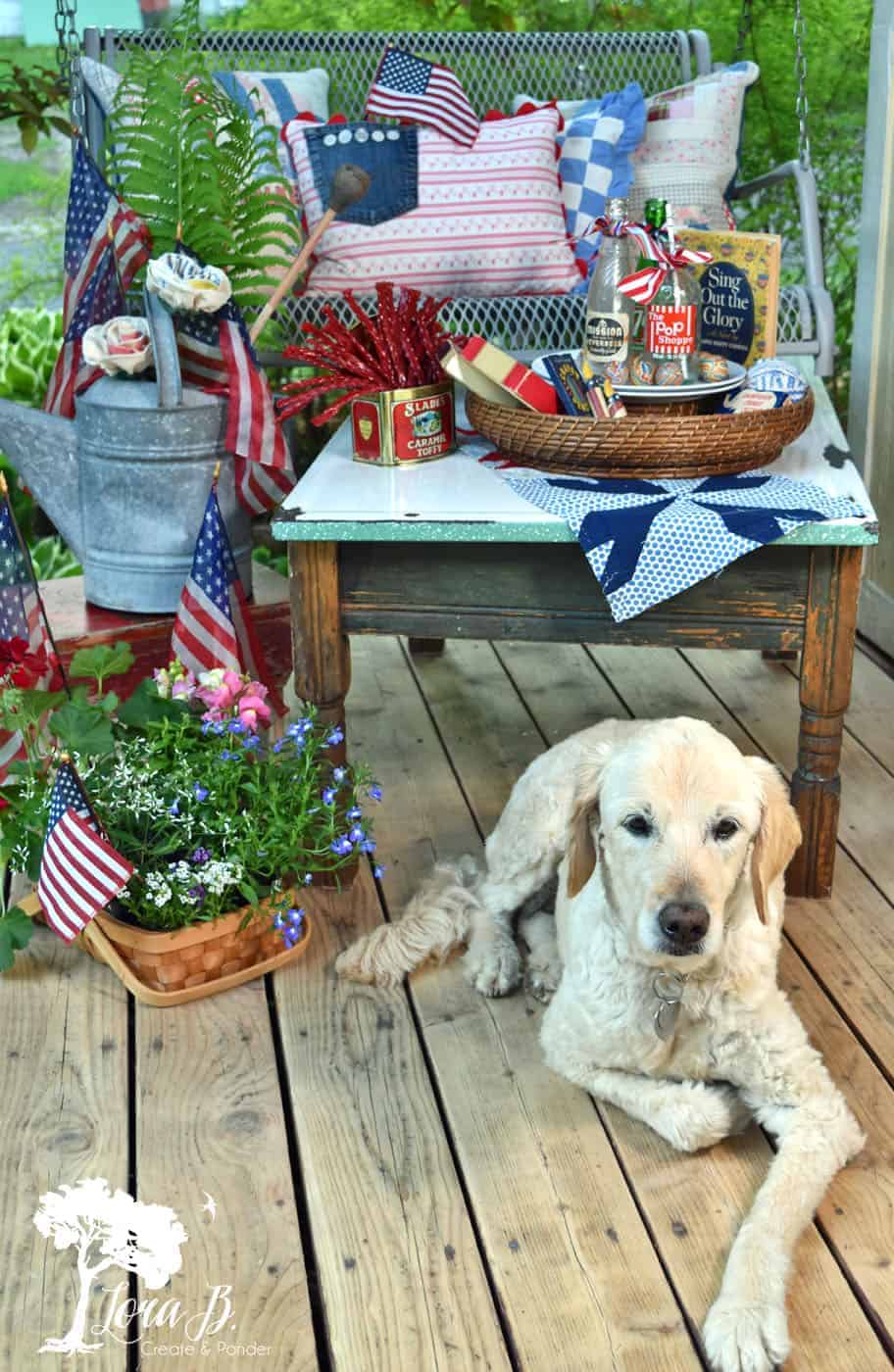 (who then got a little licorice treat for her patient posing)
I hope this walk-through of recreating a Pinterest-worthy picture inspires you to find your own to work from! I can't wait to see what all the other creative ladies came up with! It's so fun to see everyone's personal style stamp on these challenges!
Become a Lora B Insider to get FREE Resources!
If you enjoyed the decorating tips in this post, you probably would enjoy becoming a Lora B Insider! You'll get free access to all my decorative and helpful resources, plus stay creatively motivated with my weekly email! I've even got a printable to make a cute diy 4th of July garland!
If you're blog hopping in order, visit Julie at My Wee Abode next; I'm sure her Fourth of July decorating ideas for those with smaller porches will be helpful! Thanks for reading A Patriotic Porch Pinterest Challenge. Hopefully you're encouraged to enjoy the decorating process in all it's stages, too!
Pin, Share, and enjoy the rest of the Patriotic Porch Challenge!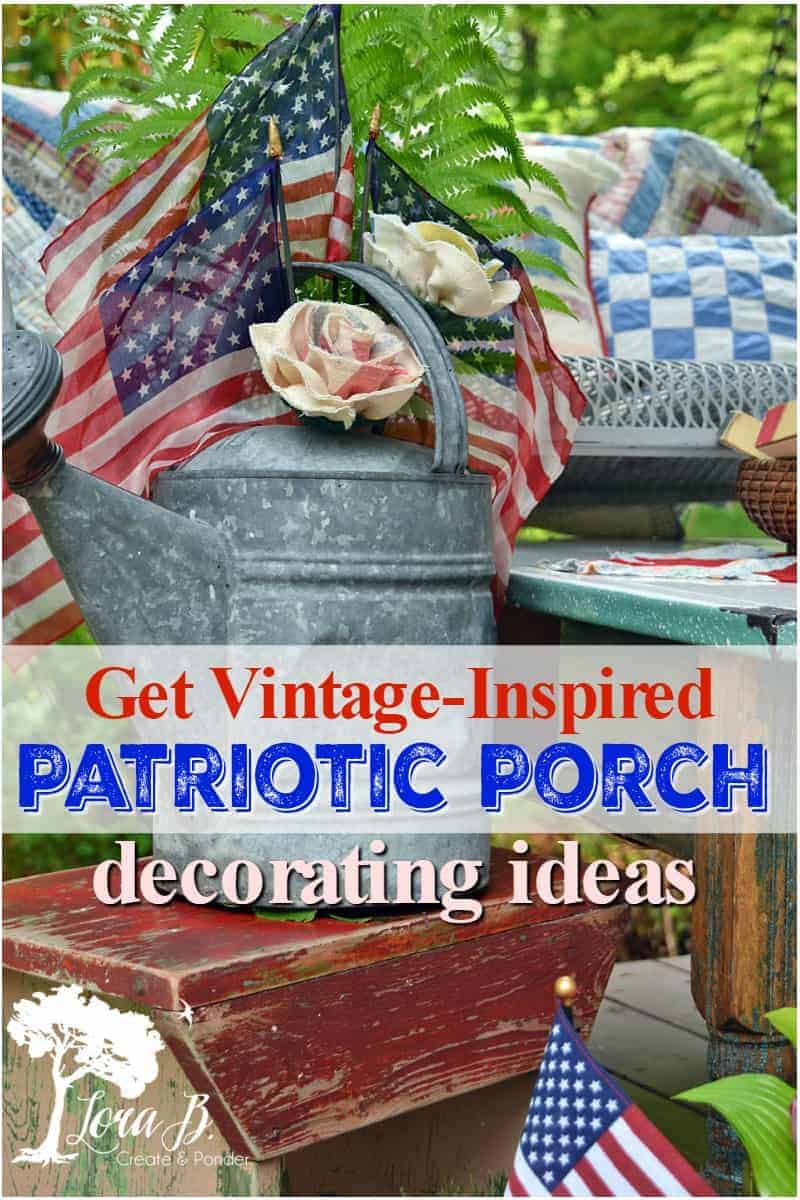 You are invited to the Inlinkz link party!

Sharing at these lovely parties:
Wall to Wall DIY Wednesday