7 Ideas for Decorating the Tops of Armoires, Bookcases (and any tall furniture)
What do you put on top of an armoire? How do you decorate the top of a bookcase? Here are 7 tips for decorating the tops of tall furniture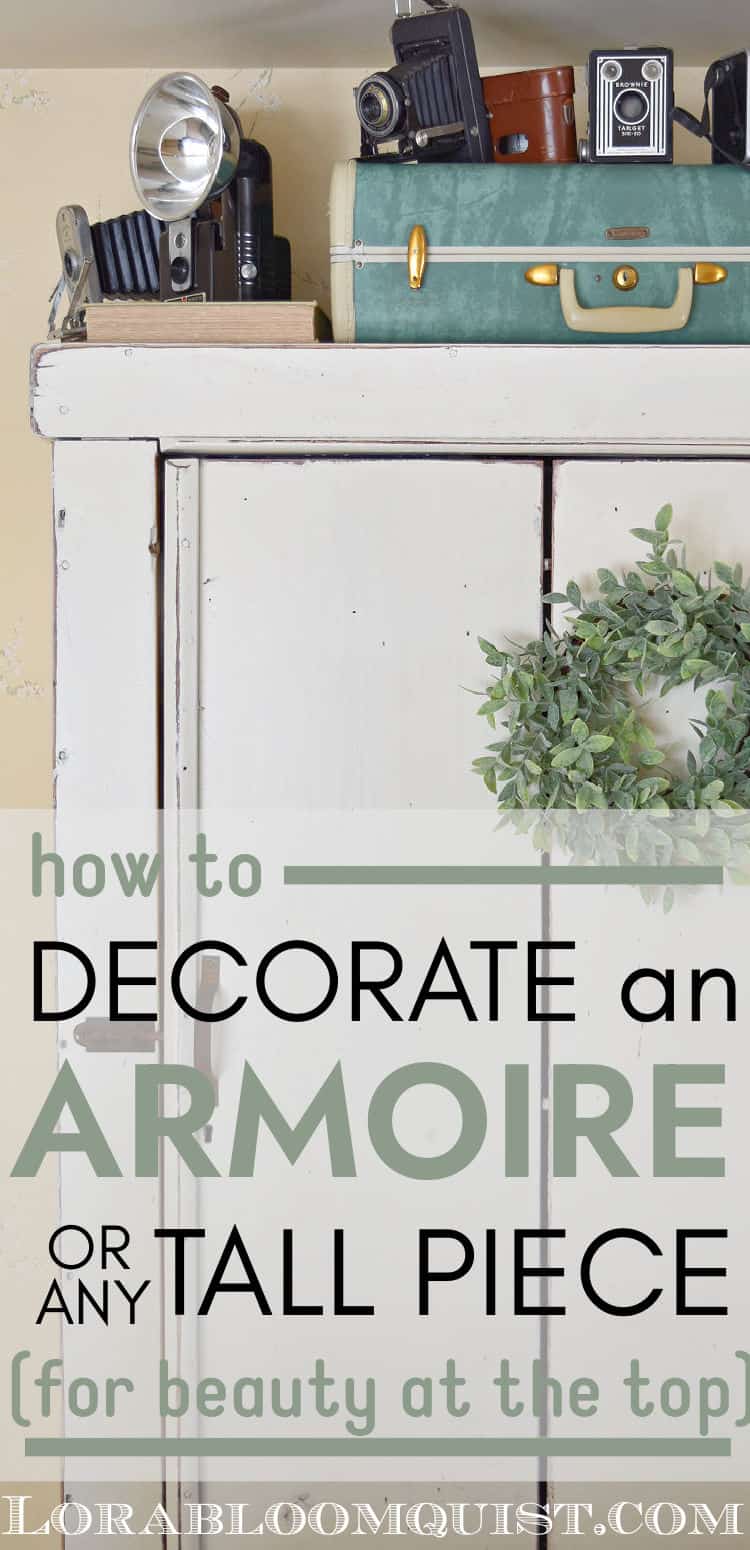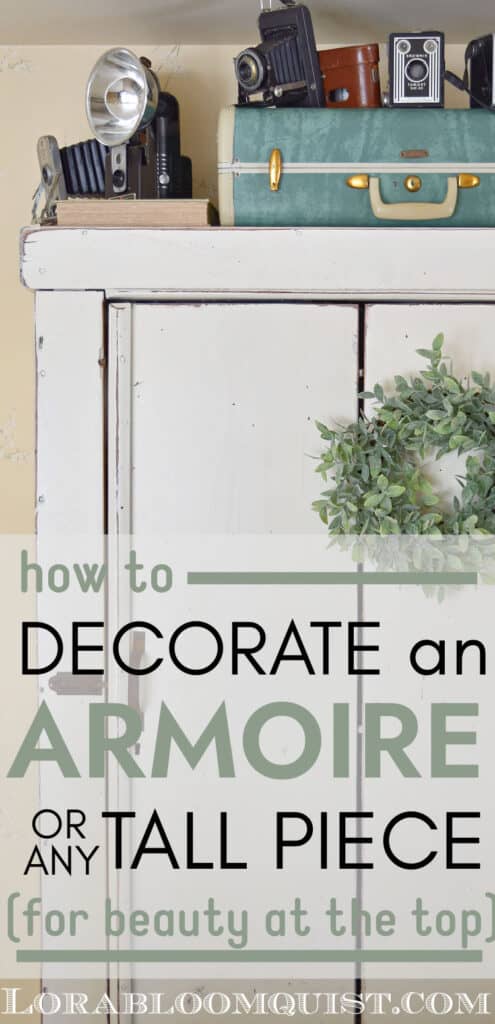 Do you have a tall piece of furniture in your home: an armoire, a bookcase, a hutch, or even a set of lockers? Sometimes it can be difficult to know how to decorate the tops of these pieces. Hopefully after today you won't have to wonder anymore! Here are 7 Ideas for Decorating the Tops of Armoires, Bookcases (and any tall furniture).
7 Ideas for Decorating the Tops of Armoires, Bookcases (and any tall furniture)
For your convenience, this post contains affiliate links. If you make a purchase, I may receive a commission. There is no additional cost to you. My full privacy policy is here.
Place One Large Accessory on Top
This idea is a classic. Place one large accessory on the top of your tall furniture, so it fills almost the entire space. A basket, an interesting crate, something that is open on the top. Then fill it with quilts, wool plaid blankets, dried hydrangeas, ferns; anything textural. Simple and classic.
If your large accessory doesn't quite fill up the whole space, add something on either side. This is a great way to get extra storage, while still looking pretty.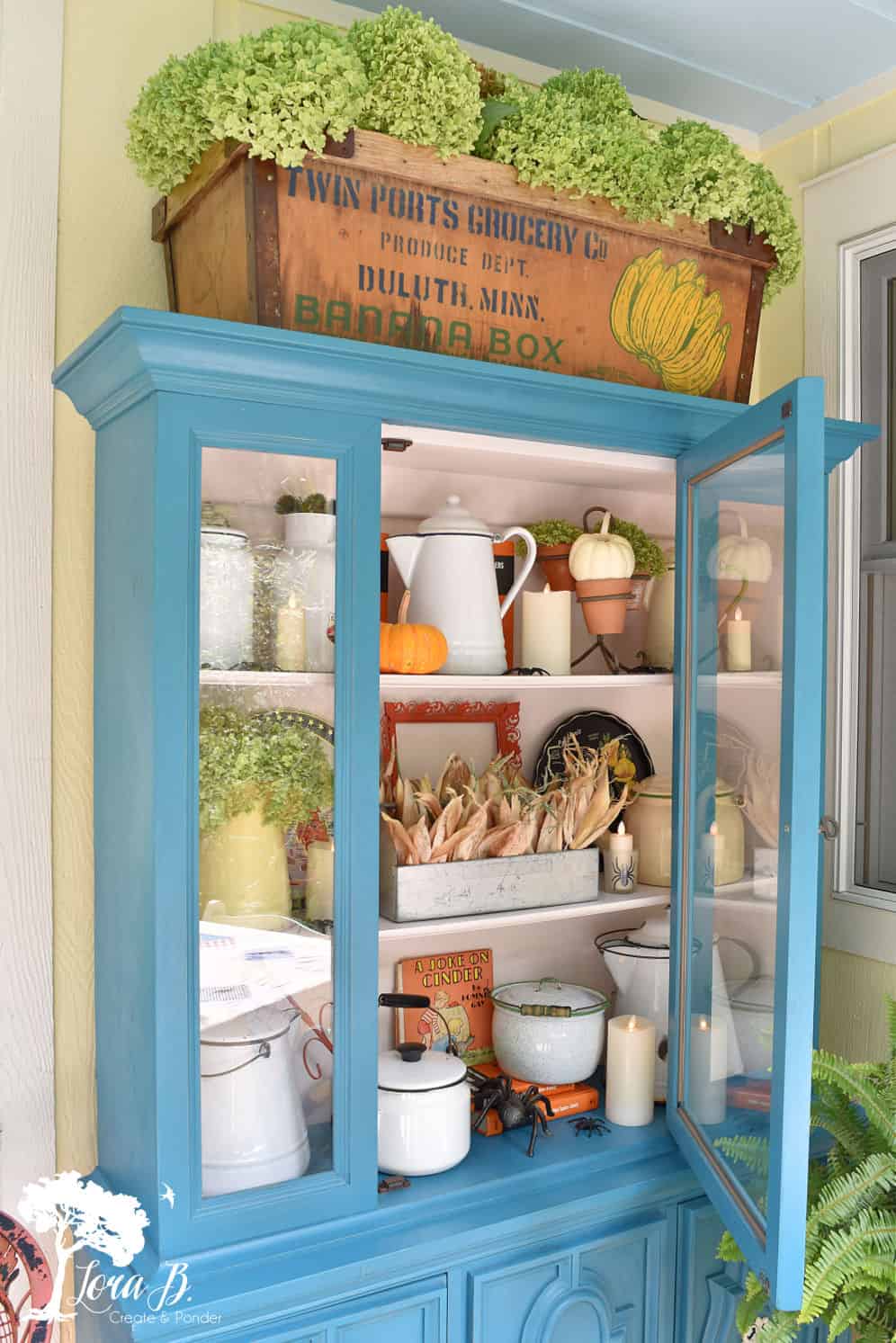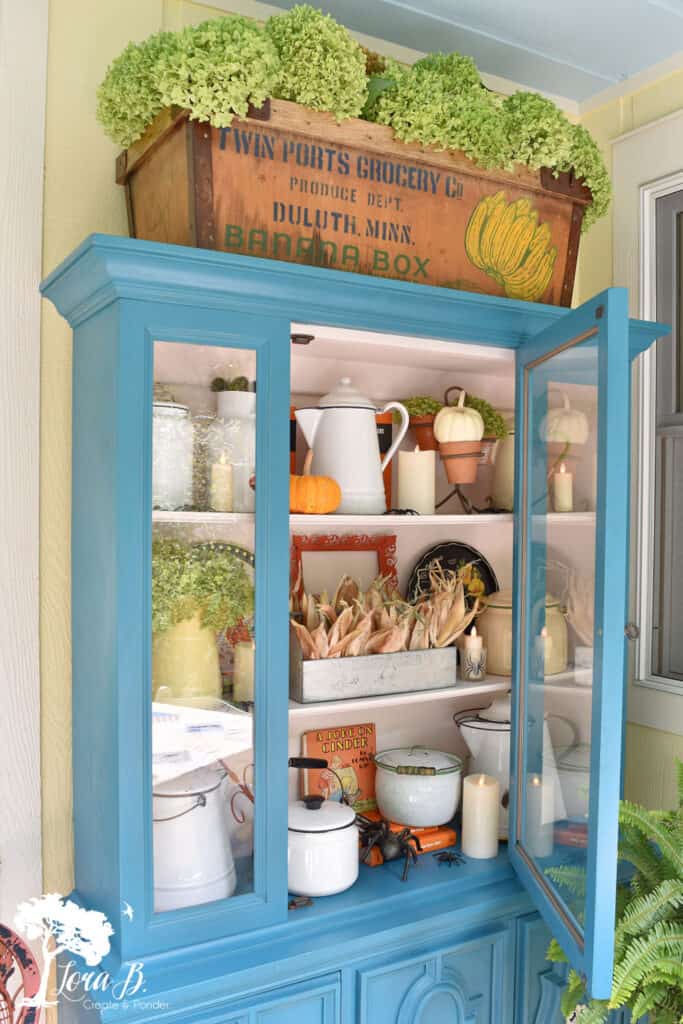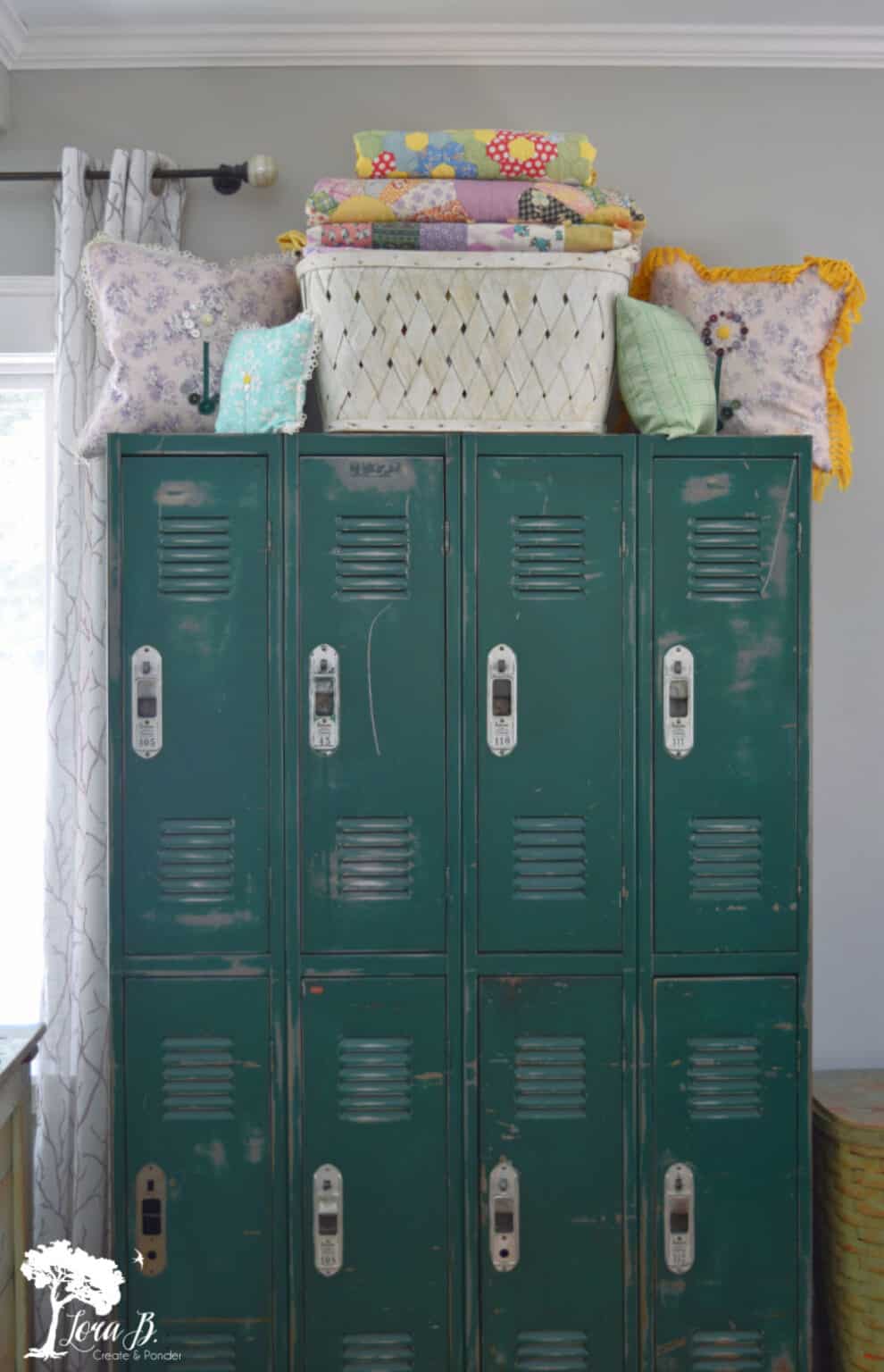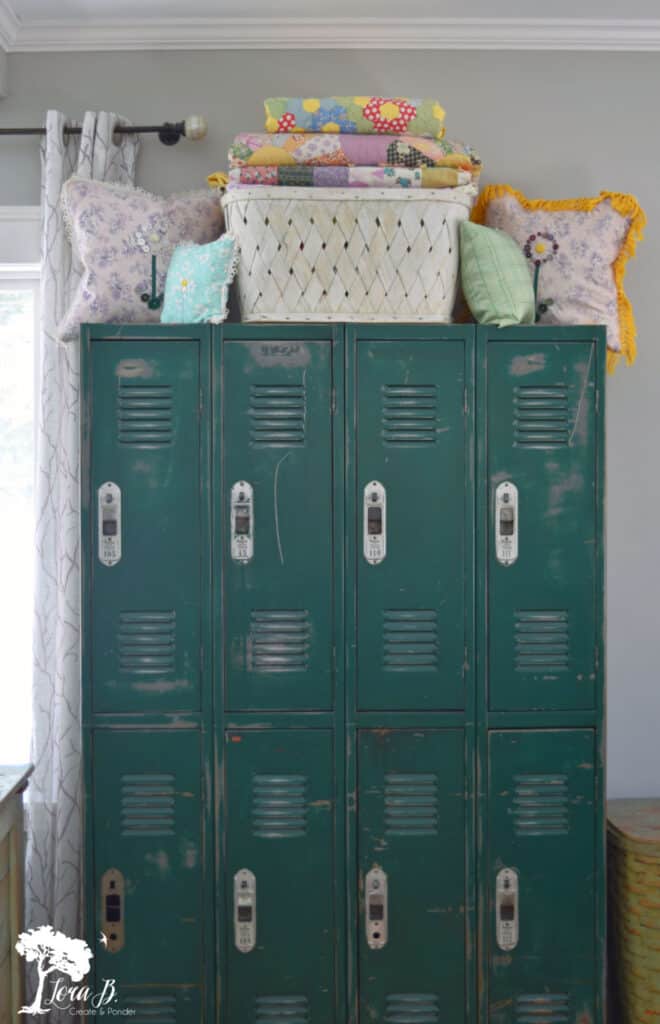 Feature a Collection on the Top of Tall Furniture
The top of a large piece of furniture is the perfect place to feature a collection of medium-sized or large accessories. You can enjoy seeing your collection without having the clutter of it down low on a tabletop. It's also a great place to enjoy a collection you don't have room to store somewhere else!
Here are some collection display ideas:
globes
suitcases
cake plates
cameras
baskets
pottery
wooden crates
vintage toolboxes
stools
birdcages
typewriters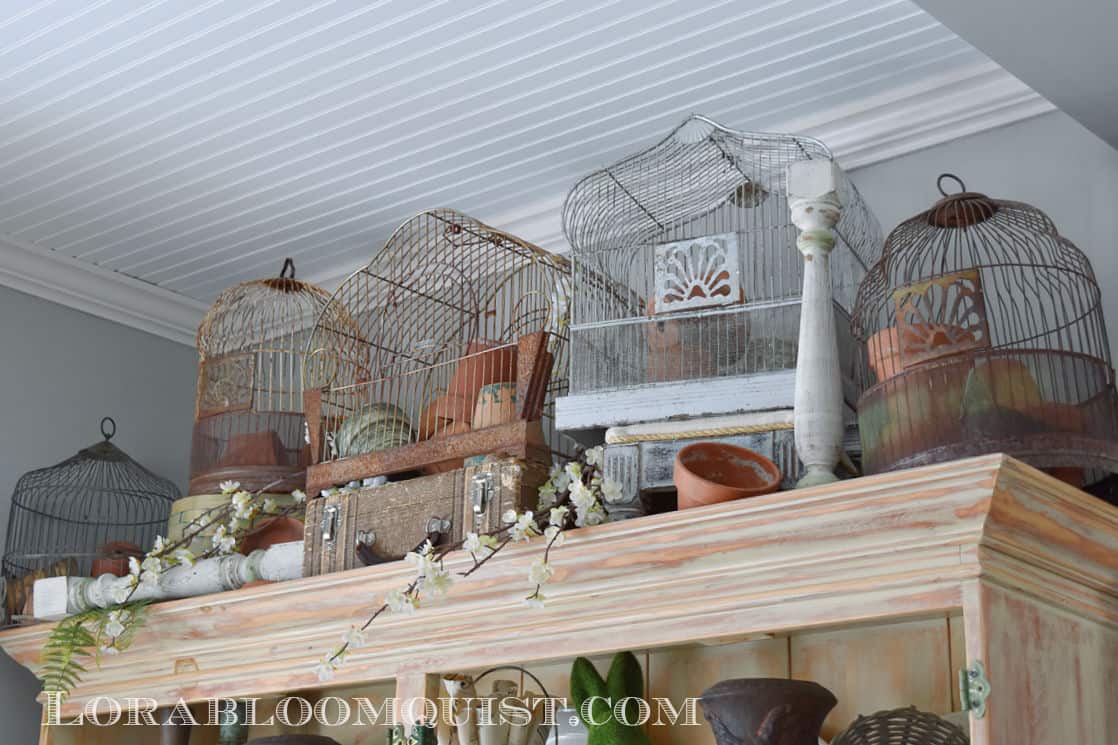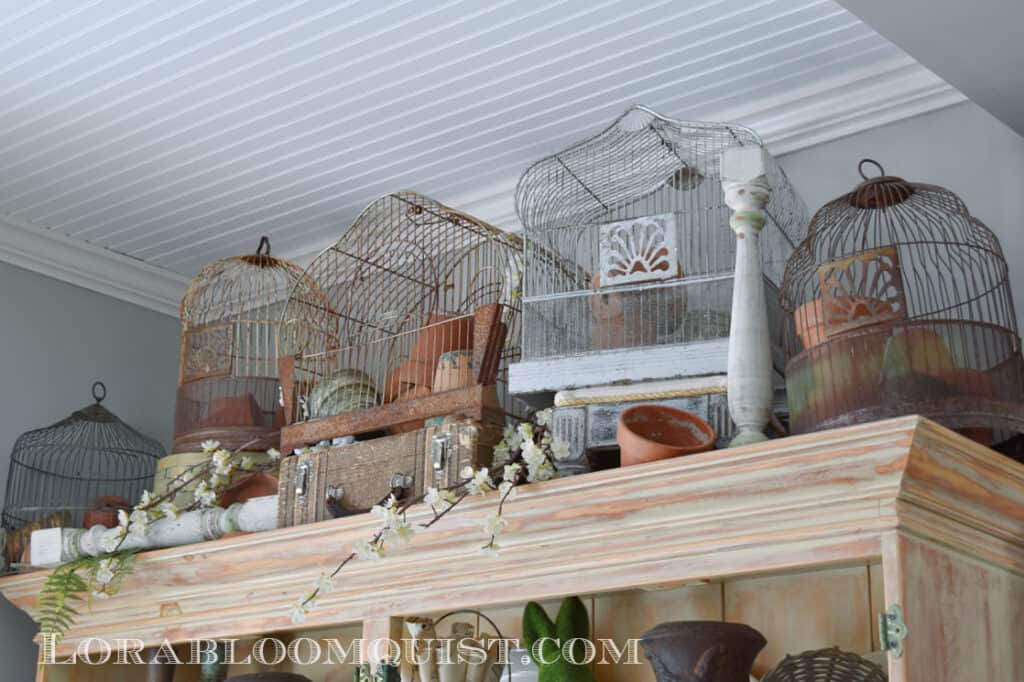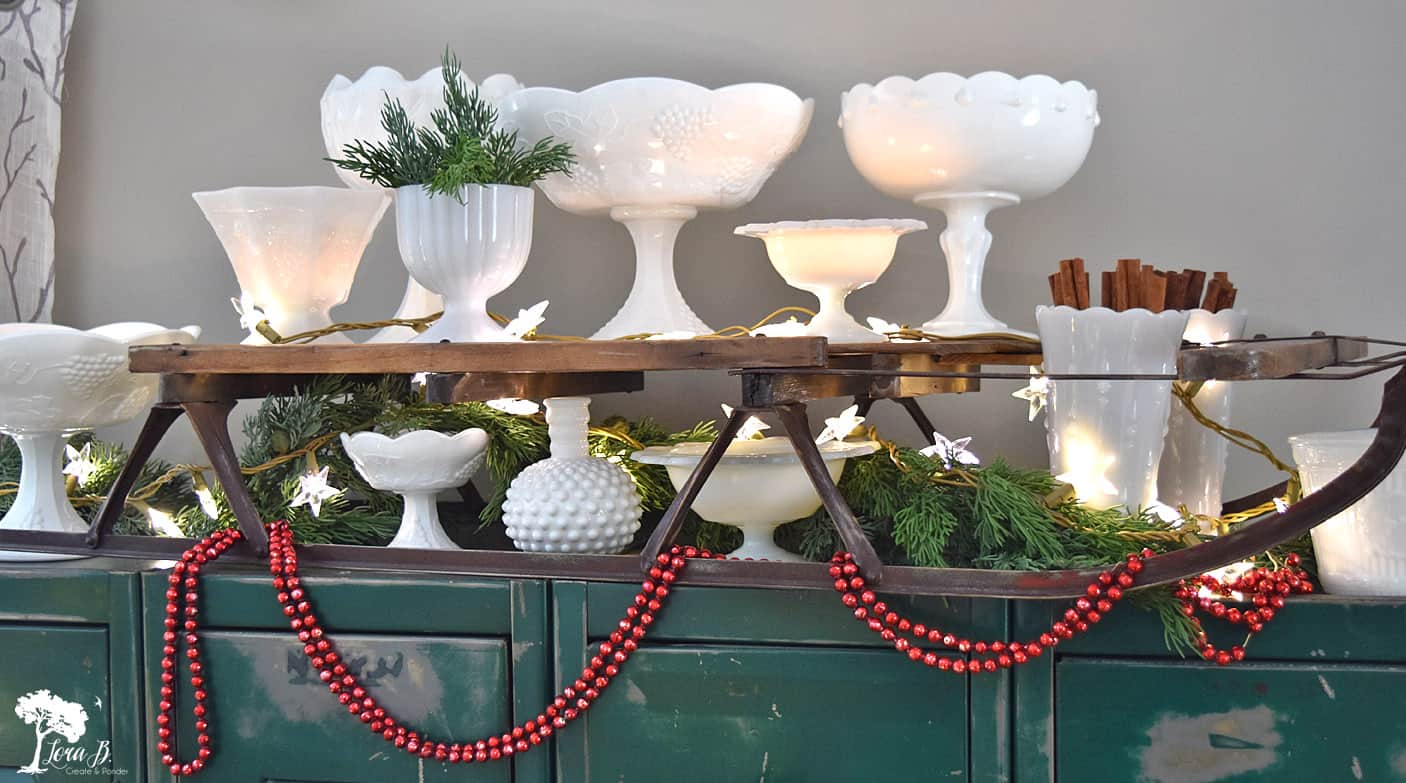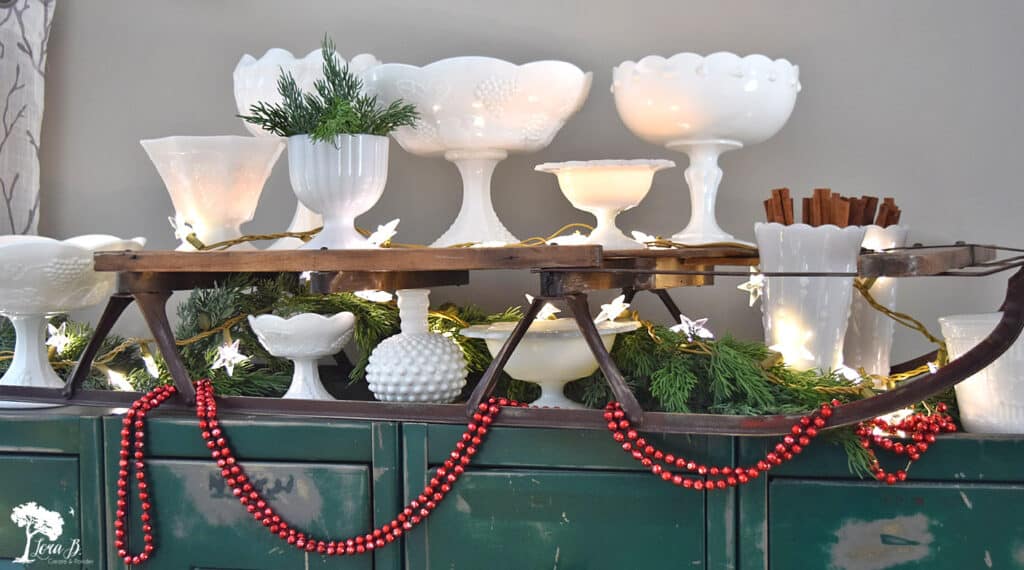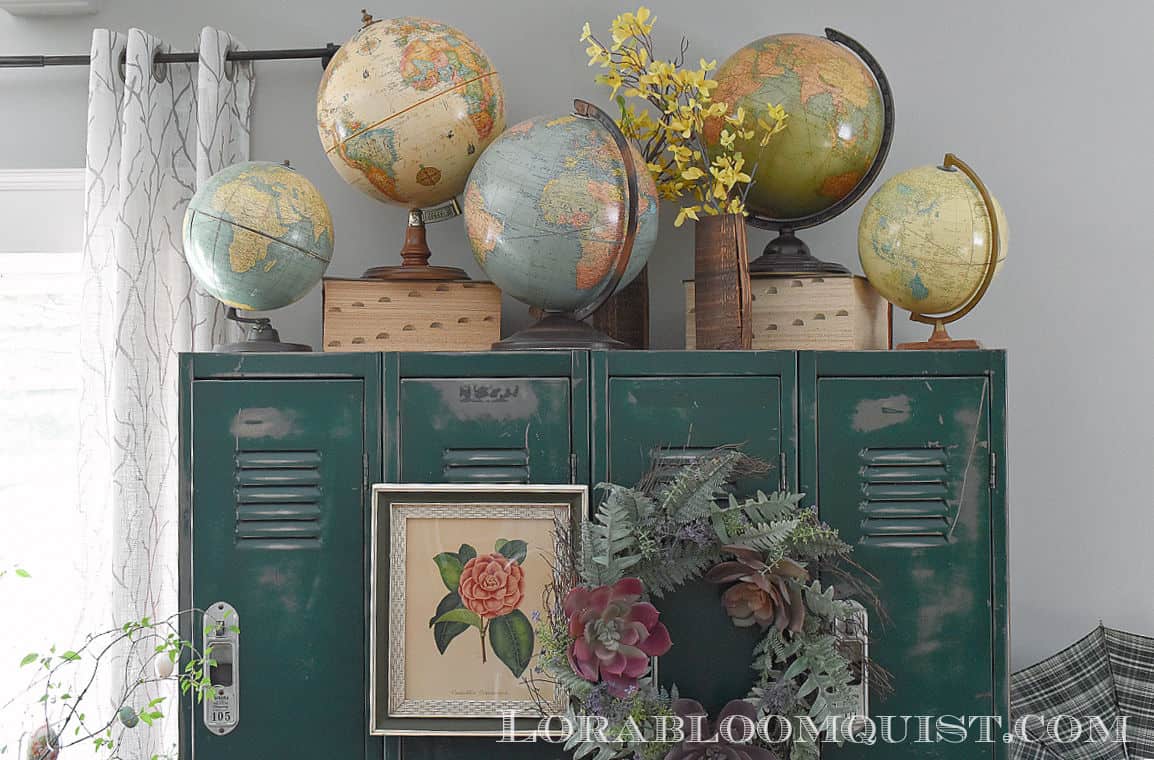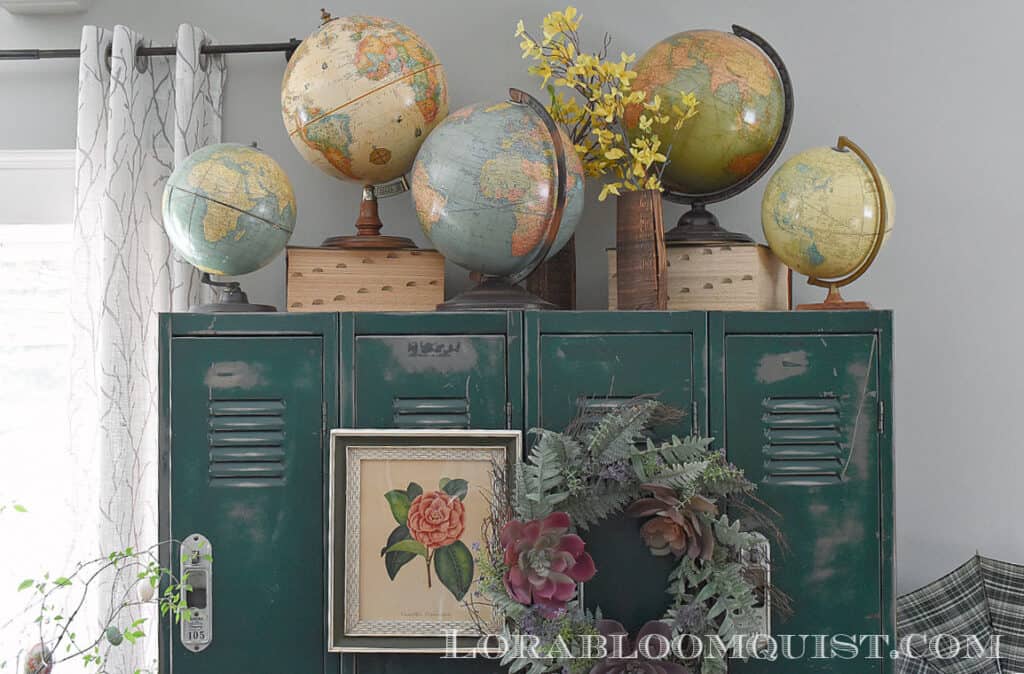 Style your collection with different levels, using books or small boxes to get various heights. This is a great way to keep your low down tabletops more clear for function, yet still enjoy all those wonderful vintage collections!
Create a Vignette Story with your Display
Start with three anchor accessories that all have something in common, a theme. Stand and place them in an appealing way. You could add two more; odd numbers are best. Then fill in and around with textures like artificial plants, rolled blankets and other fillers.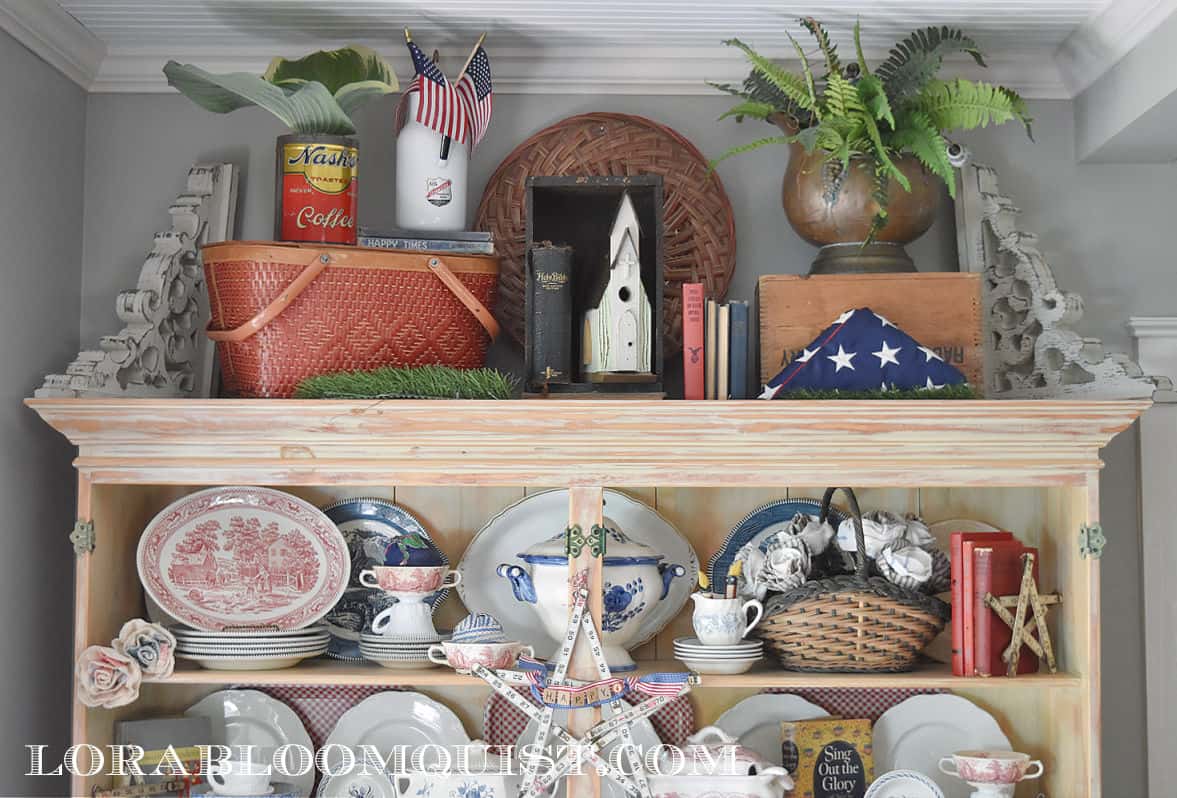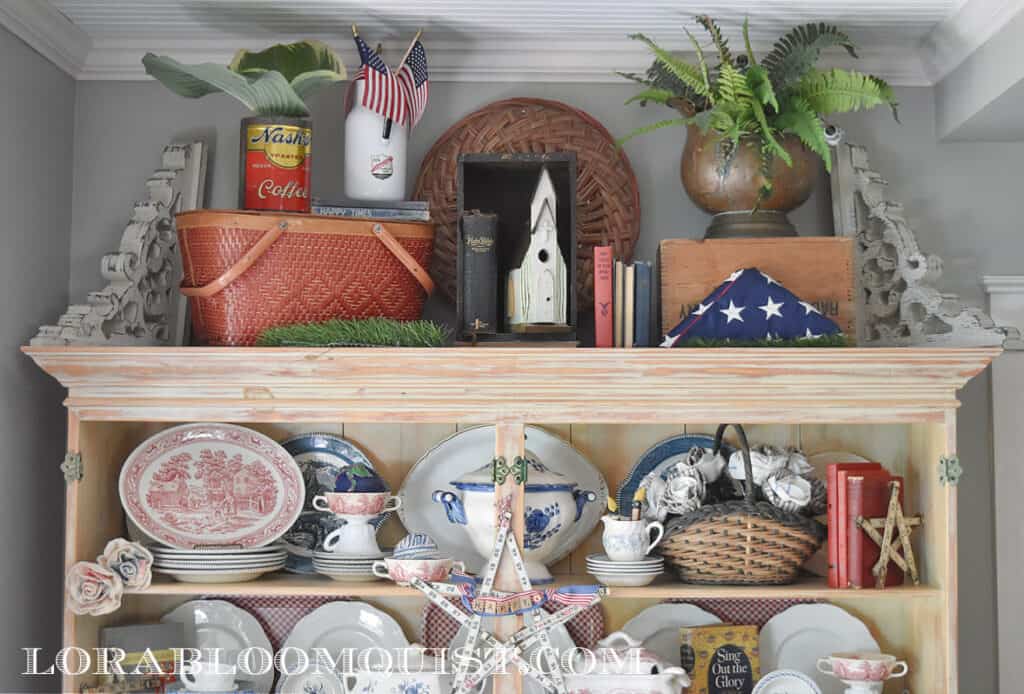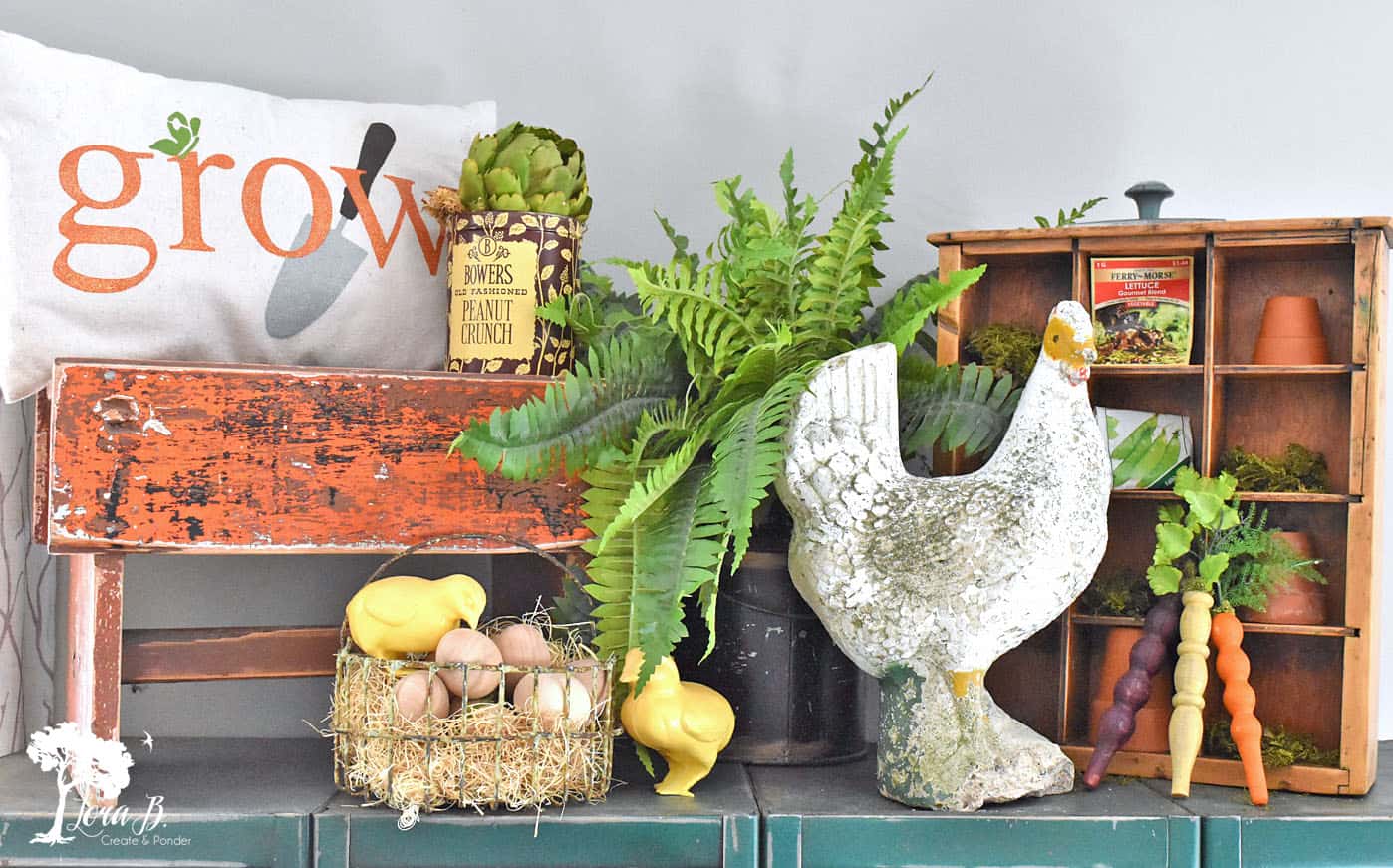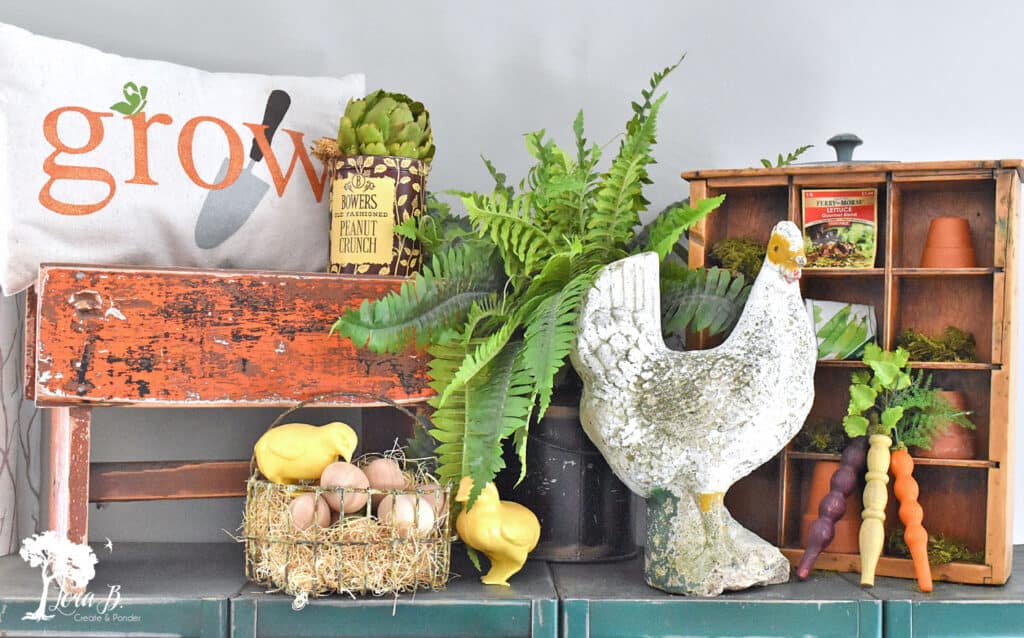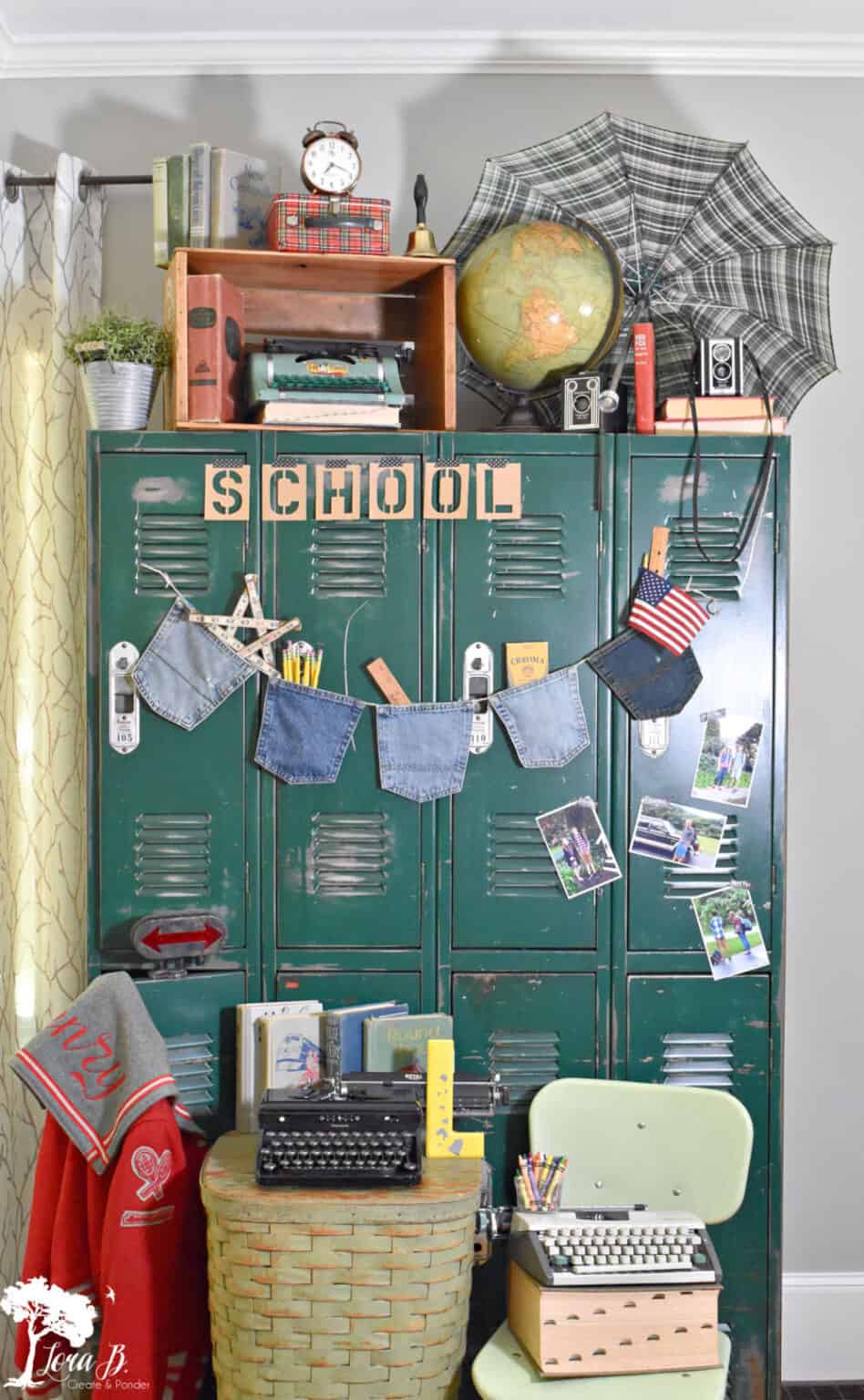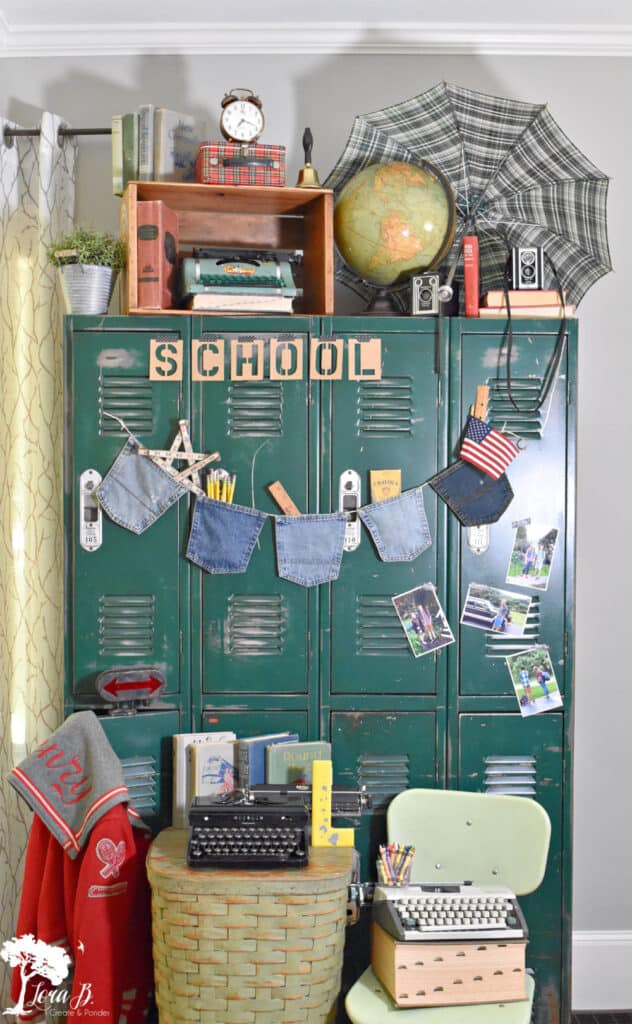 Hang an Architectural or Wall Art Accent Behind
To add depth to your display, hang or lean an architectural accent or wall art behind the display you create. You don't want this piece to be the main character, just a supporting actor. You can also hang a garland or a sign on it for even more interest.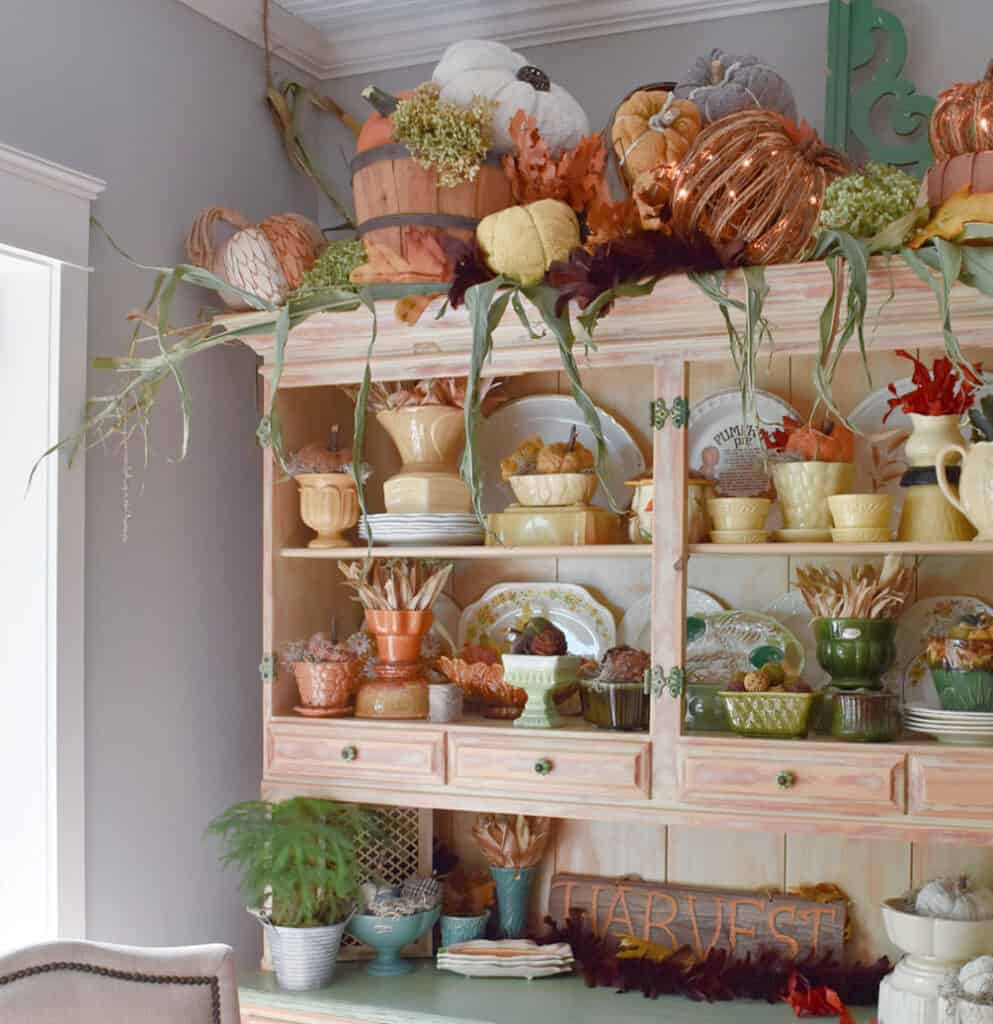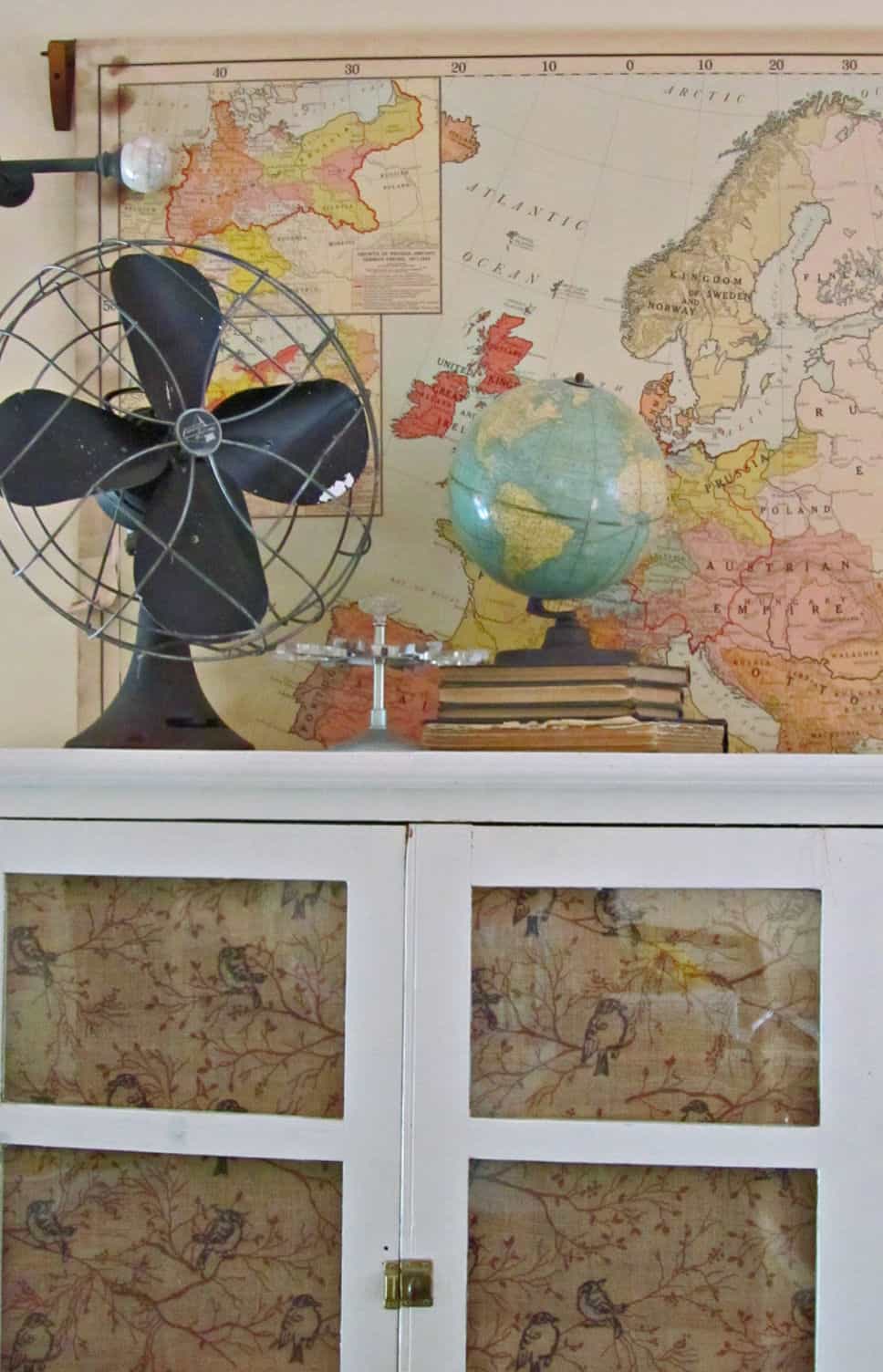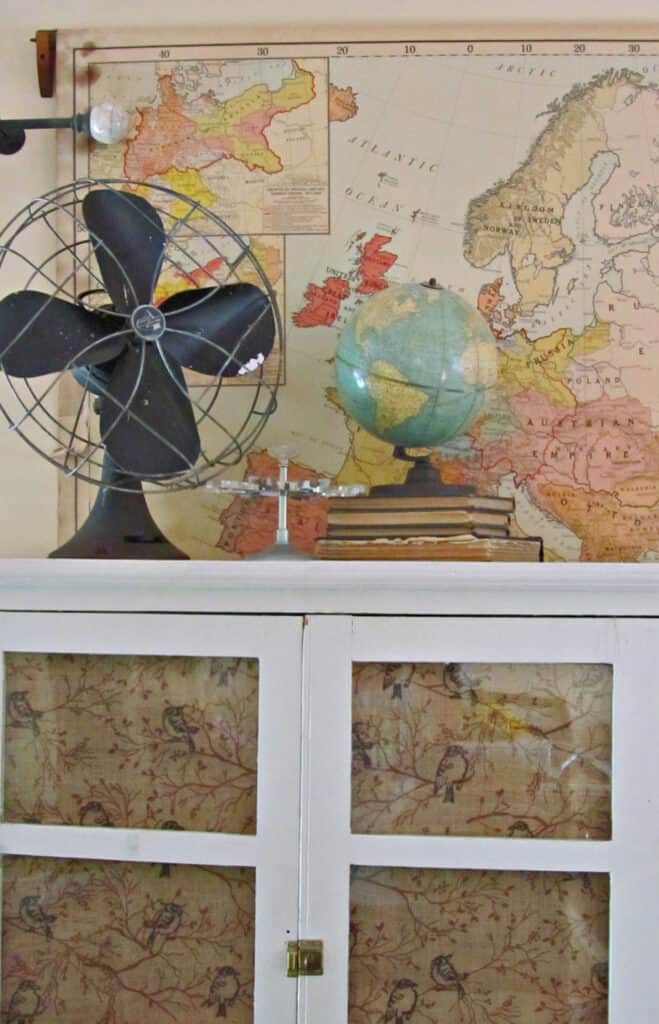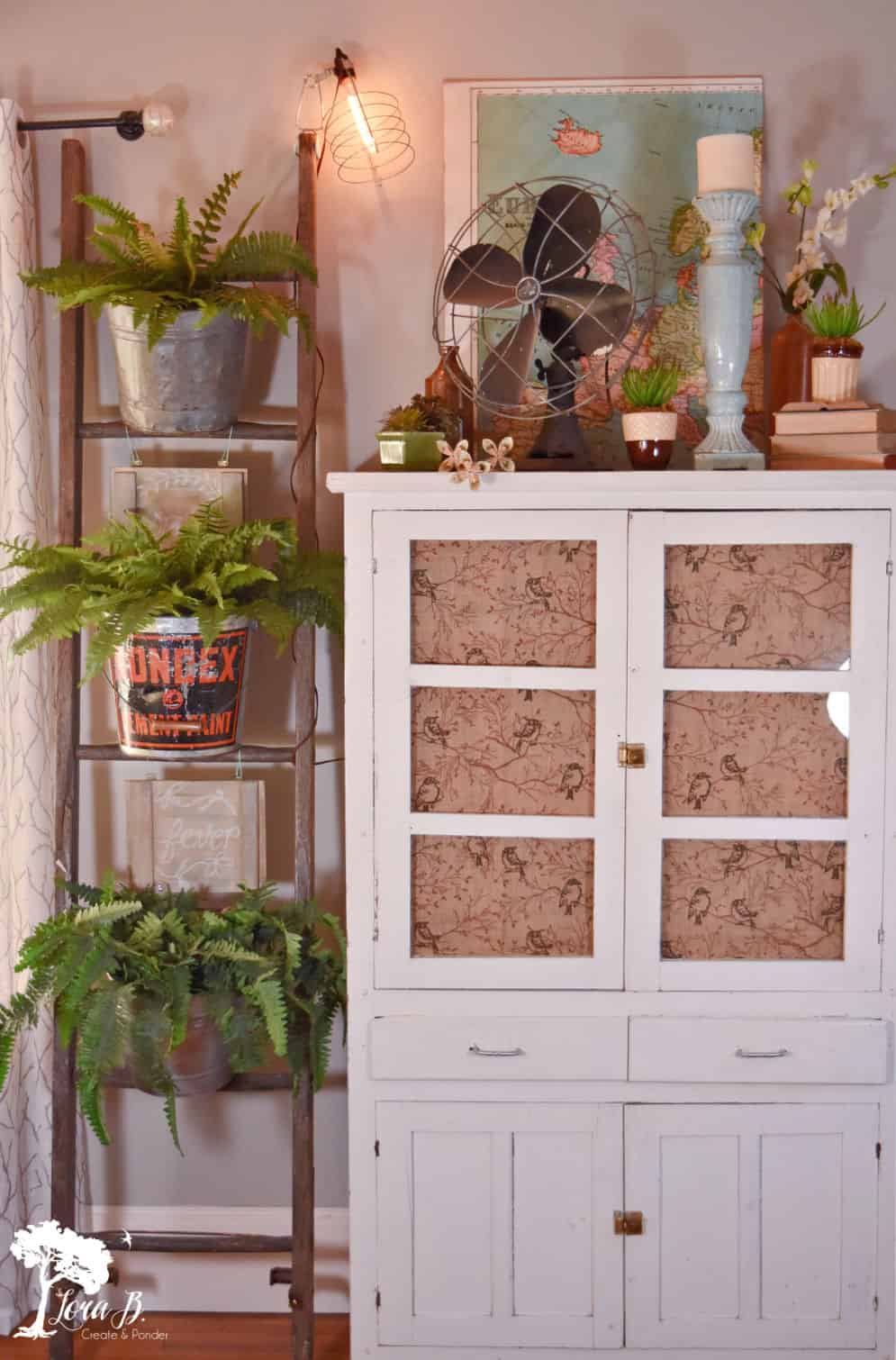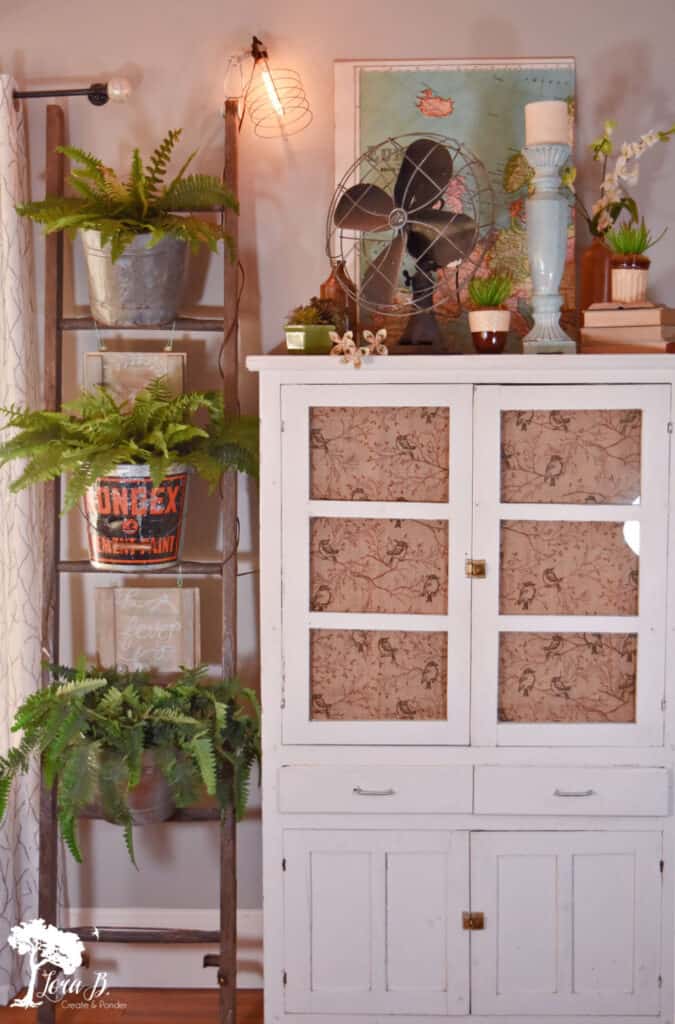 When Decorating the Tops of Armoires, Size Matters
The top of an armoire, bookcase, hutch or any tall piece of furniture is not the place to show off your small accessories. Choose medium to large accessories to display. Small items will get lost; you can feature them inside the hutch or on the bookcase. At the top, focus on larger-scaled items.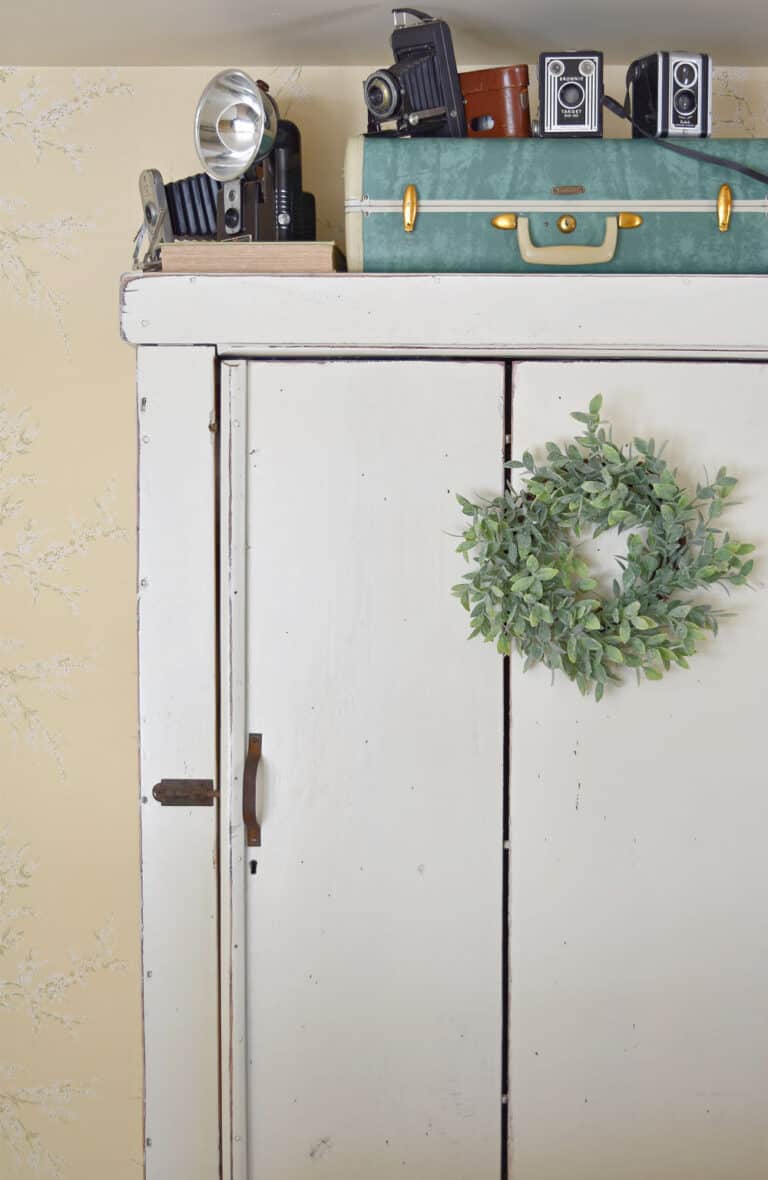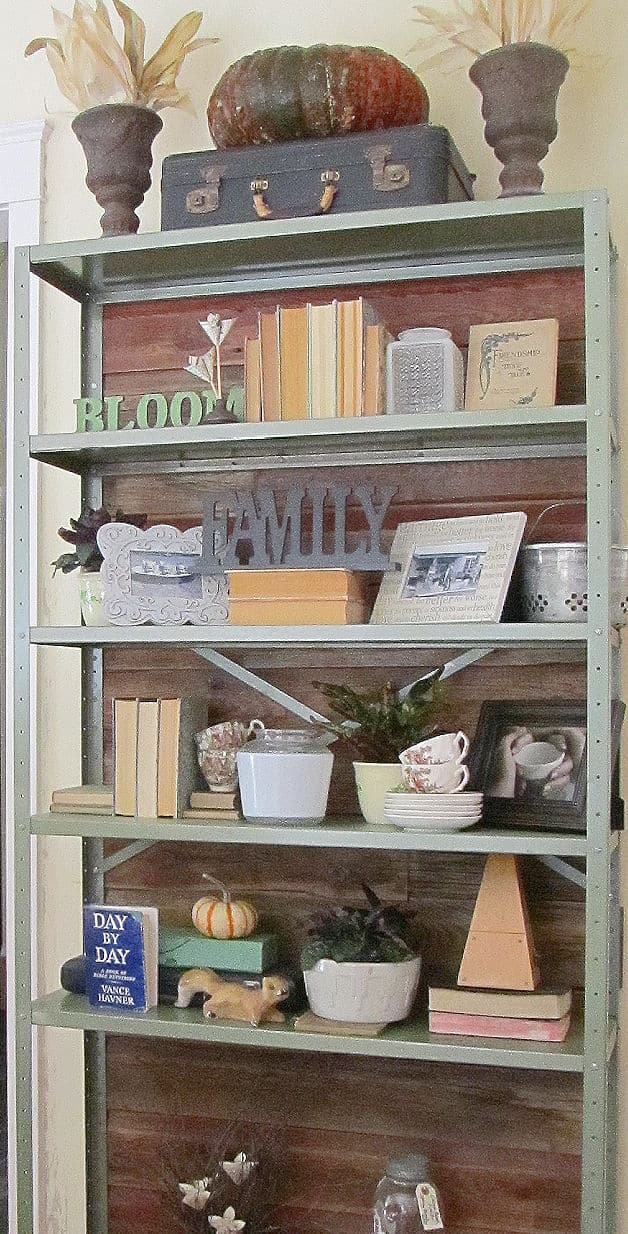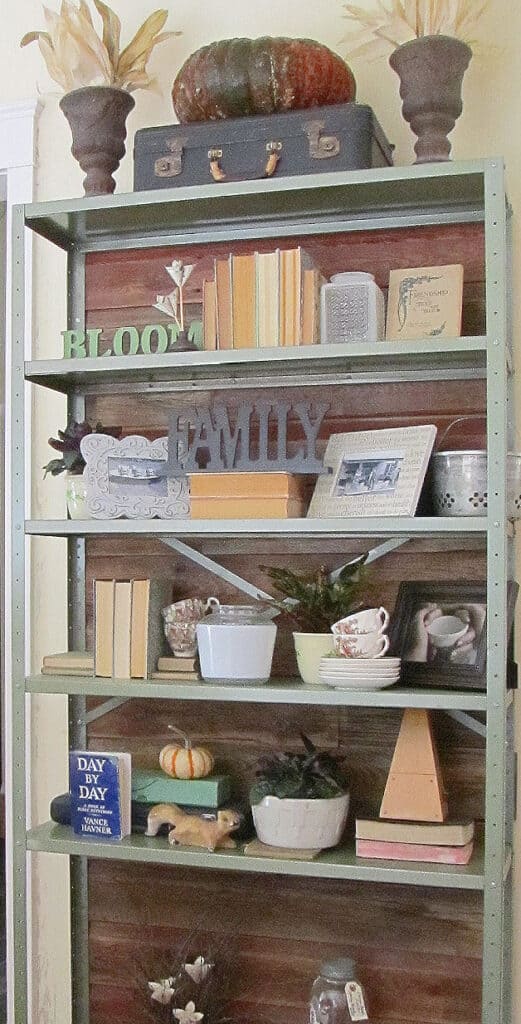 Think About Texture When Styling your Display
Large pieces of furniture are a big mass of hardscape in your home, whether they are wood or metal. To balance that out, choose accessories with a different texture. Metal accessories look great on a wood piece; pottery and old wood looks amazing on a metal piece. Finish it off with plenty of organic textures to soften the edges: faux plants, dried flowers, linens, branches, sticks. Your organic fillers can reflect what season you are in.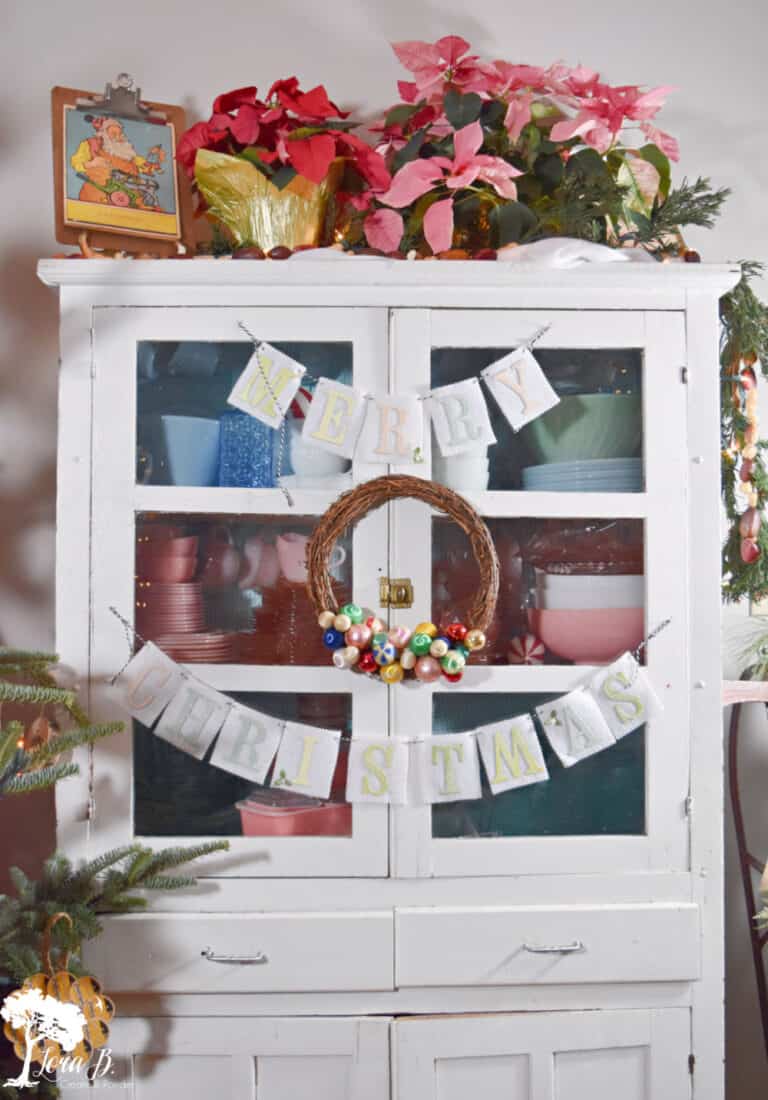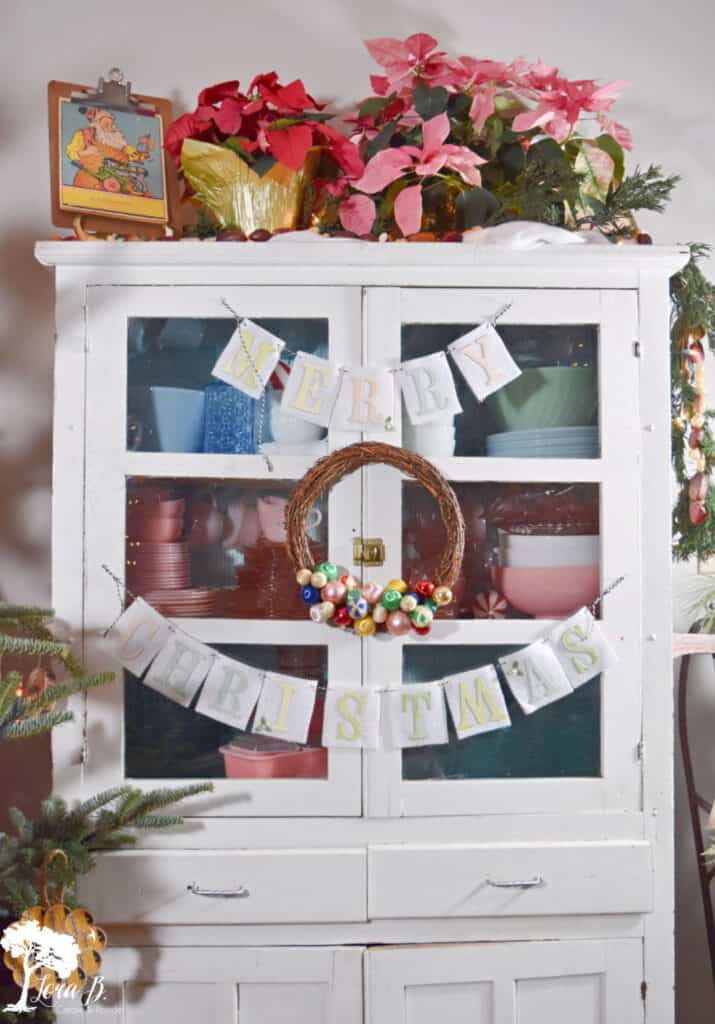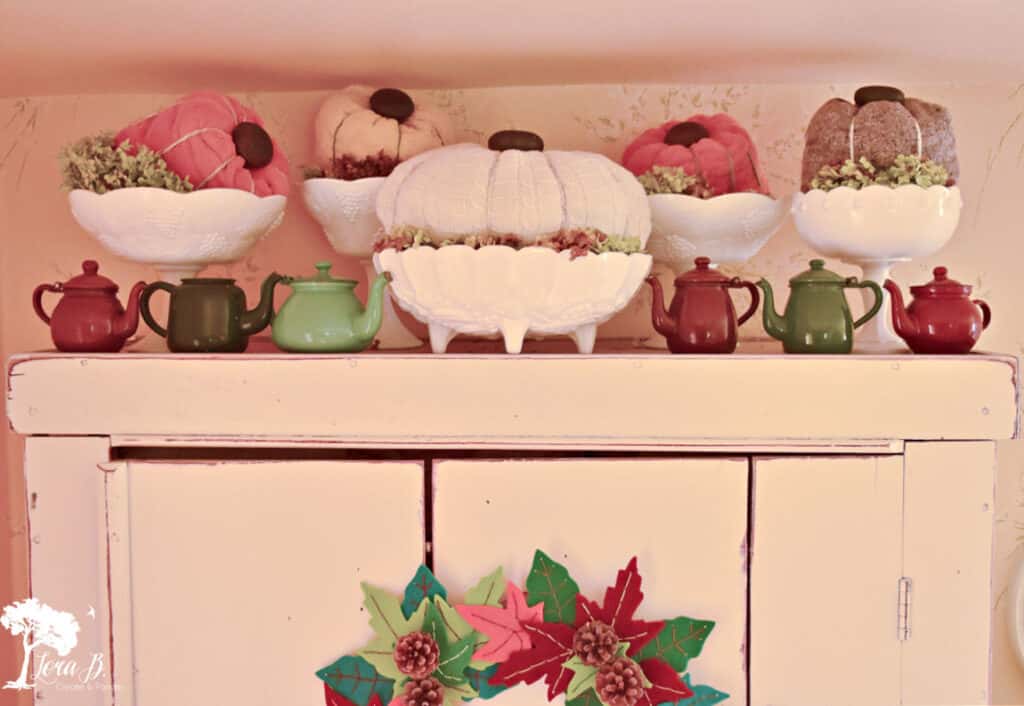 Let There Be Light at the Top
Definitely optional, but adding a light source up high can add amazing ambiance to your room's decor. A small lamp can be tucked into your vignette, or a string of fairy lights can be woven through faux foliage. Having light up high adds a special treat to a room, and will ensure your pretty display gets noticed at night.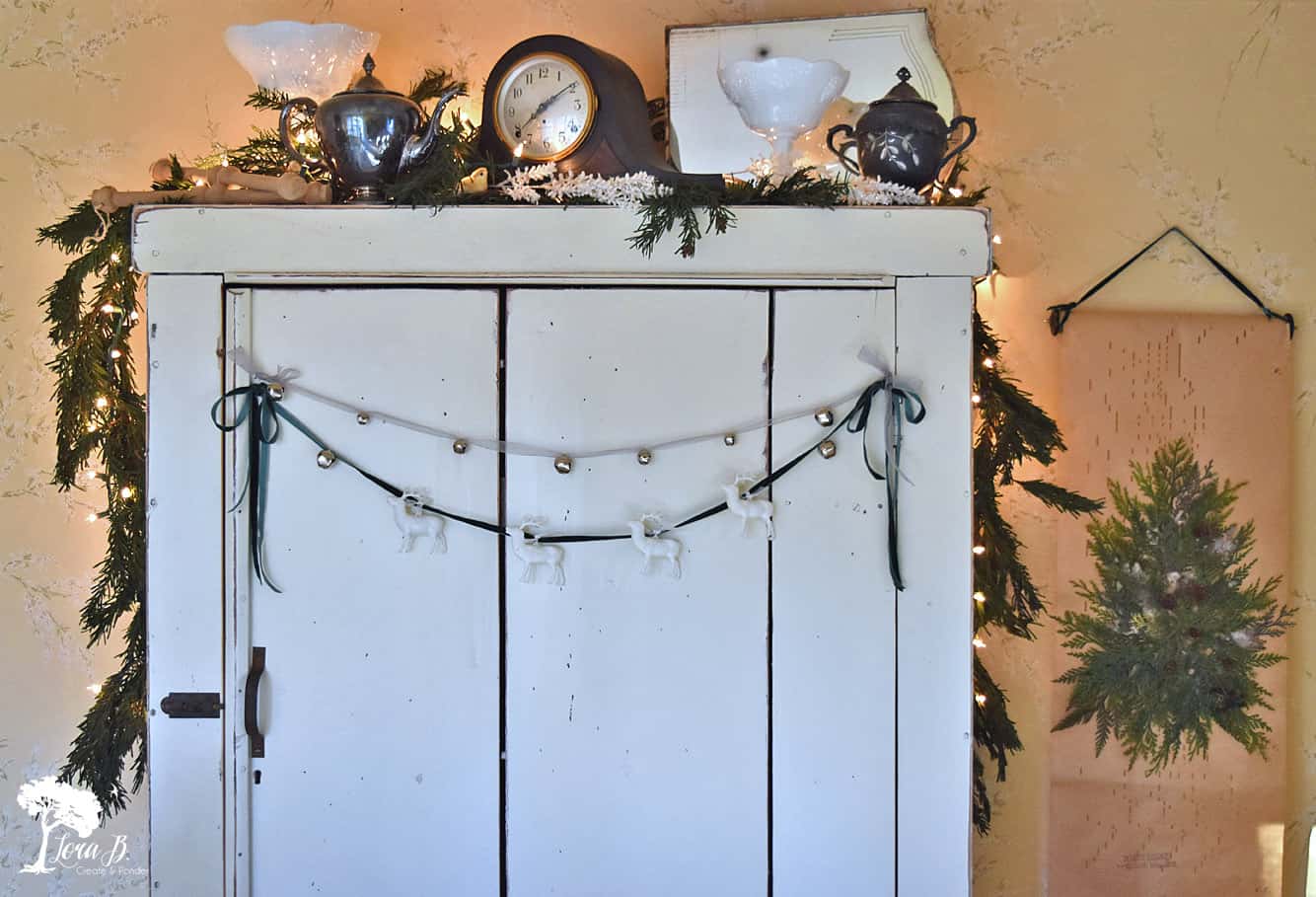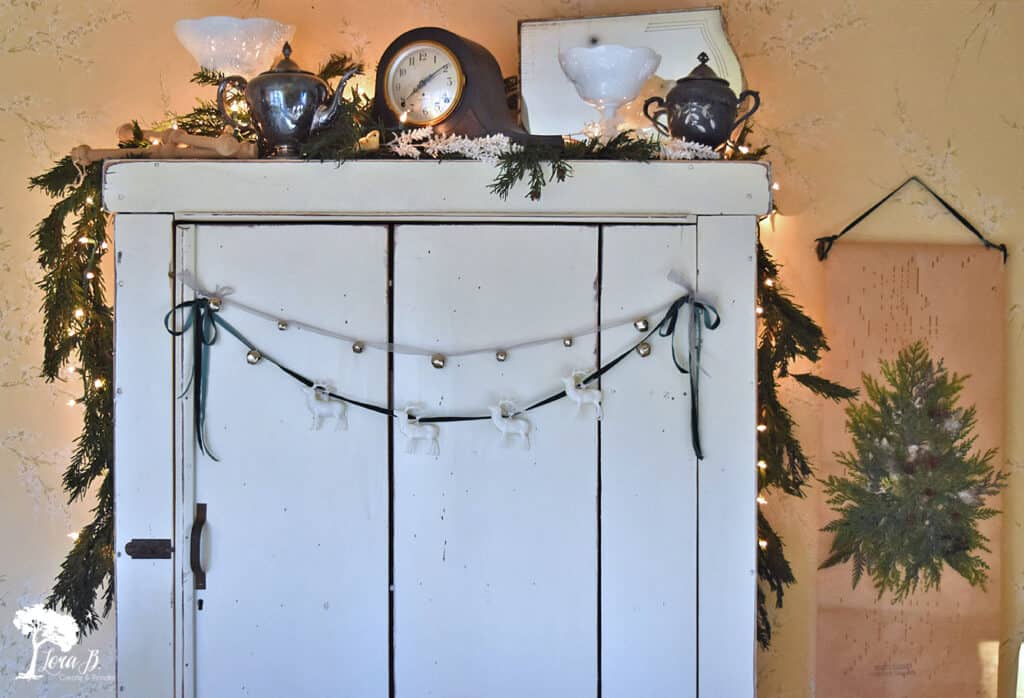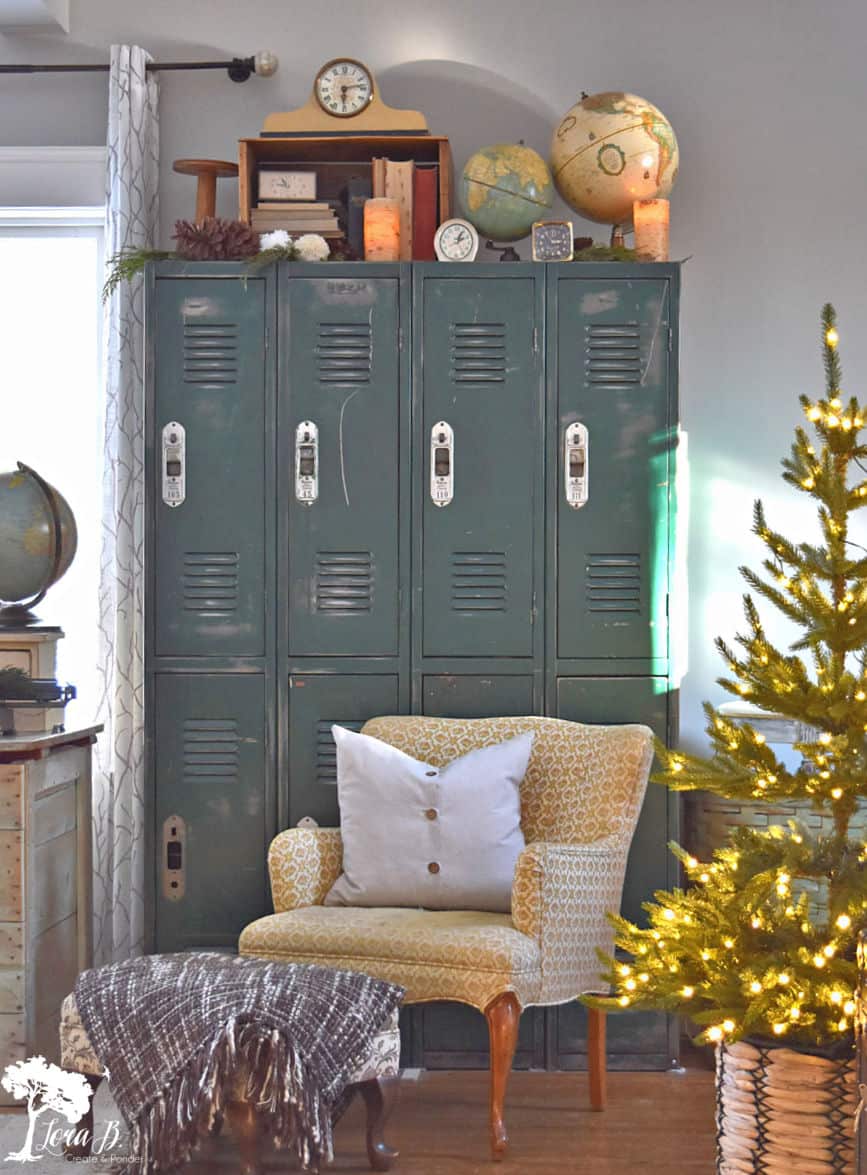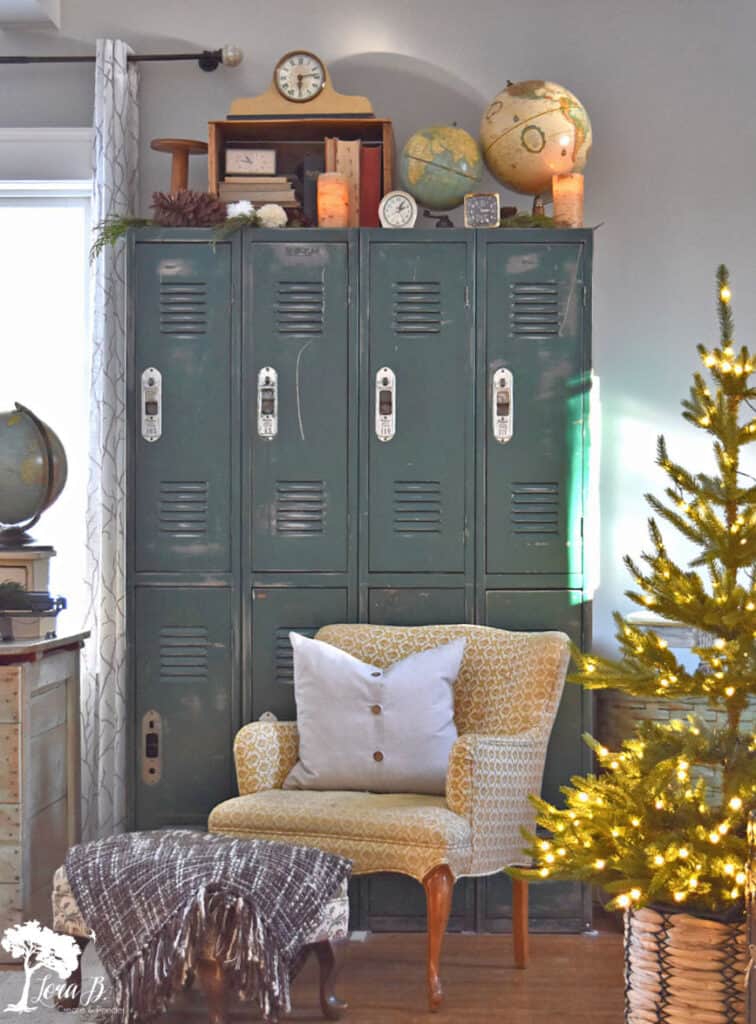 If you've ever struggled with how to decorate the top of your tall furniture pieces, I hope these tips gave you plenty of ideas. Living in a space-challenged home, I love being able to enjoy my larger accessories up high without sacrificing precious square feet and table space down below. And you've got the storage or display space inside the piece of furniture, too! Win, win.
For more of my decorating and styling tips:
"10 Styling Ideas That Make Glass Front Cabinet Displays Beautiful"
"Styling Tips: Using the Rule of 3, Multiplied"
"Best Ideas for Using Vintage Architectural Salvage in Your Decor"
"3 Steps to Displaying Your Collections Beautifully"
Today's post is part of our monthly Thrifty Style Team series, hosted by Julie at Redhead Can Decorate. We've had a couple new ladies join our team, which is always fun. Enjoy all their creative inspiration down below!
Thanks for reading 7 Ideas for Decorating the Tops of Armoires, Bookcases (and any tall furniture). If you enjoyed your visit, become an Insider to keep the ideas flowing!
pin, share, and enjoy the rest of the inspiration!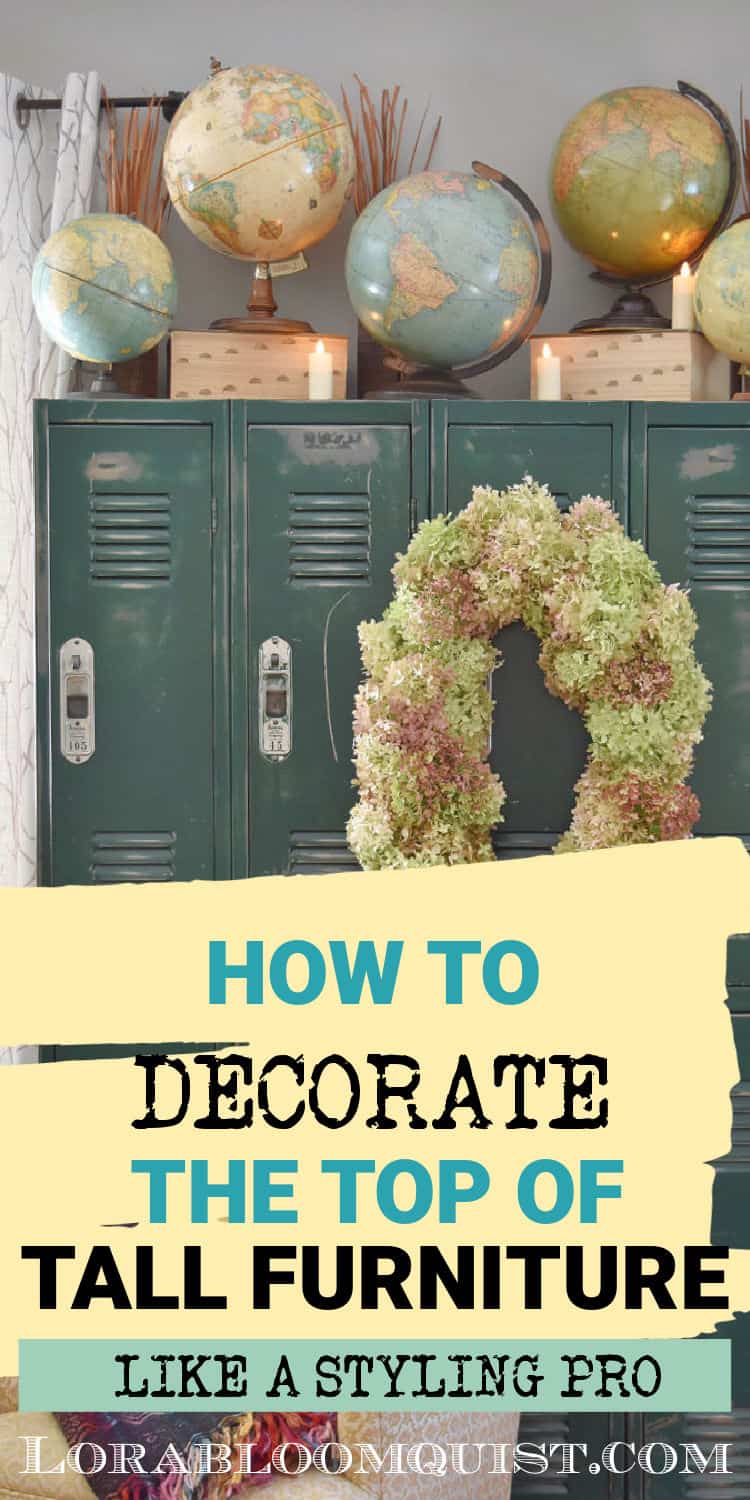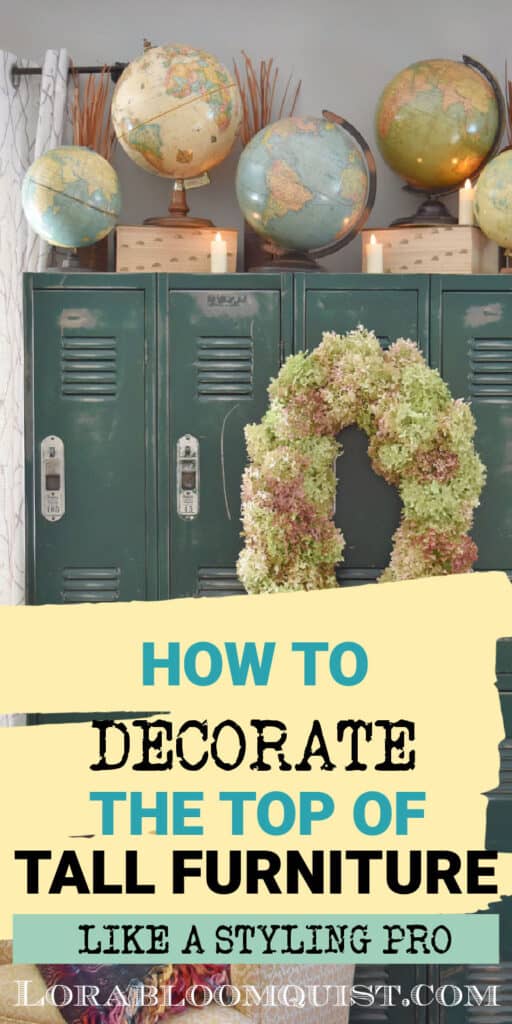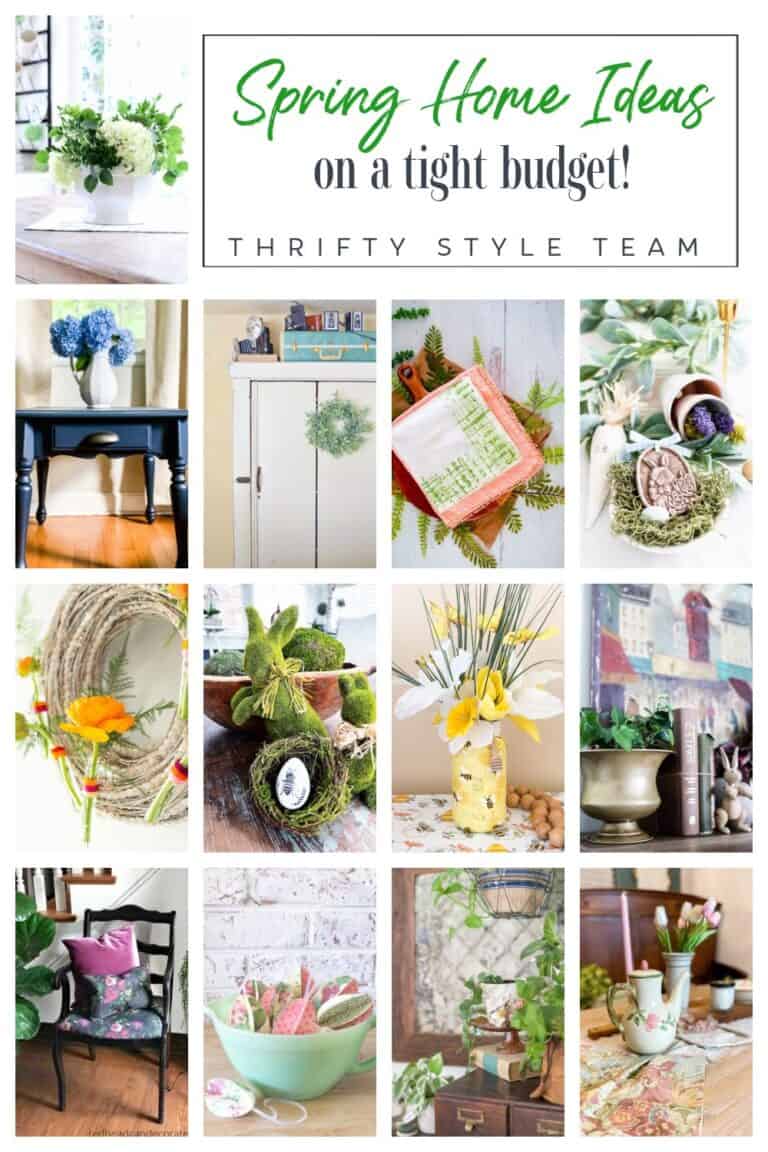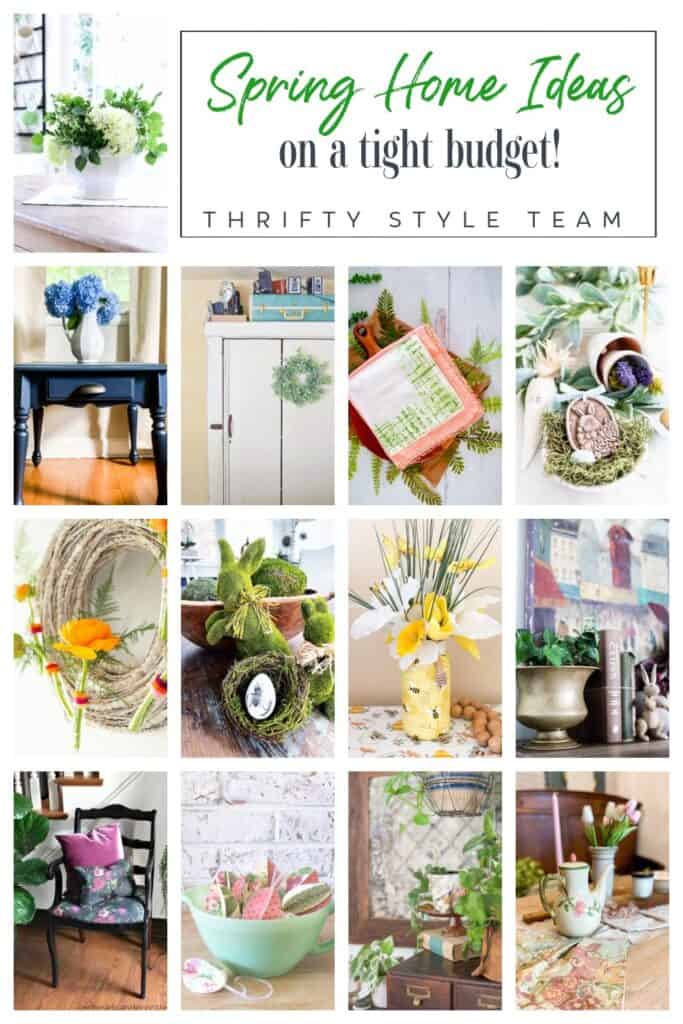 Redhead Can Decorate, "3 Simple No-Sew Home Decorating Ideas Using Fabric"
Our Crafty Mom, "Bumble Bee Craft Spring Floral Mason Jar"
DIY Beautify, "Salt Dough Rabbit Ornaments for Spring"
2 Bees In A Pod, "Stamped Eggs for Spring"
Postcards From The Ridge, "3D Paper Egg Ornaments"
The How To Home, "DIY Hand Stamped Napkins"
The Tattered Pew, "5 Thrifty, Chic and Simple Spring DIY Projects"
Cottage on Bunker Hill, "Inspired Antique Brass Planter"
VinYet, Etc, "Thrifty Vintage Planters – Springtime Plants"
Amy Sadler Designs, "Easy DIY French Country Table Runner"
Songbird, "Easy Fresh Flower Spring Wreath"
My Family Thyme, "An Easy Side Table Makeover With Fusion Mineral Paint"

Sharing at these lovely parties: