Best Ideas for Using Vintage Architectural Salvage in Your Decor
Get fun decorating ideas for using vintage architectural salvage elements in your home decor. You'll be inspired to hit the flea market!
Does everyone love vintage architectural salvaged finds as much as I do? I know the home magazines definitely feature rooms decorated with them often. And of course you can find made-to-look-old new versions easily, too. Today's post celebrates this decorative treasure in a big way. I'm hoping that once you see all the inspiration in this Best Ideas for Using Vintage Architectural Salvage in your Decor, you'll run to the next flea market or vintage store and find more for your home!
I'm joining my Lifestyle of Love friends today to share our love of decorating with architecture. Thanks to Cindy at County Road 407 for rounding up this great group of ladies! I can't wait to see all their inspiration and ideas. If you're visiting from Le Cultivateur, I'm sure you loved Emily's salvaged candlestick holders. The rest of the links are at the end.
Best Ideas for Using Vintage Architectural Salvage in Your Decor
For your convenience, this post contains affiliate links. If you make a purchase, I may receive a commission. There is no additional cost to you. My full privacy policy is here. 
What exactly is Vintage Architectural Salvage?
The first thing that comes to mind when you hear the term architectural salvage is something off of an old building. Which is definitely true, but I like to expand the term a bit. (yep…here I go redefining decorating terms again;)
I think architectural salvage is any part off of something larger. It's like you broke the piece down to it's skeleton and are using one part of the whole to decorate. I always say "The parts are more interesting than the whole".
When you decorate with vintage parts from larger pieces, it gives your home a great industrial, artistic vibe. Definitely one of my favorite ways to decorate my home, as you'll see!
Use parts from these items for an architectural look:
buildings: homes, factories, barns,
parts of vintage furniture: bedsprings, cupboard doors, trim pieces, mirror frames
outdoor structures: fences, windmills, gates
old machines
cars, vehicles
Architectural Salvaged Elements Can Be Used Alone as Art
These architectural elements usually have so much surface patina and interesting structure, they can be used alone as art. Hang them on the wall, lean them on your mantle, or place them on your bookshelves or coffee table. Their chippy, rusty, timeworn selves are beautiful to those of us who love old things!
Architectural elements I use often:
old wheels
floor grates
lampshades
individual bedsprings
spindles
Repurpose Salvaged Architectural Elements
One of my favorite things to do is repurpose these old treasures and turn them into something else. Whenever I can find vintage ceiling tin, I can't wait to apply it to a piece of furniture or a frame.
Table legs, porch posts and spindles can easily be upcycled into wonderful candlesticks. Their architectural charm can be used anywhere in your home.
Use Your Vintage Salvage as a Backdrop or Foundation for Decor
I love to switch up my decor often, but don't want to put a bunch of holes in my walls. Using a piece of vintage architectural salvage as a backdrop or foundation works great. I use small nails or tie whatever decorative elements to the architectural item.
Here are some of the items I place on my salvaged pieces:
wreaths
garland
framed prints: groupings or single
empty frames
floral arrangements
Build Salvaged Architectural Pieces into Your Home
If you want to give your home vintage character, build architectural pieces into your home's bones. Our fake farmhouse is 100+ years old, but had been stripped of it's old house architecture. We've added the character back in by hanging old doors and turning old windows into cupboards.
Every interior door in our house is from another old house, and each one is different. I love all the different styled doors and the character they bring to our home.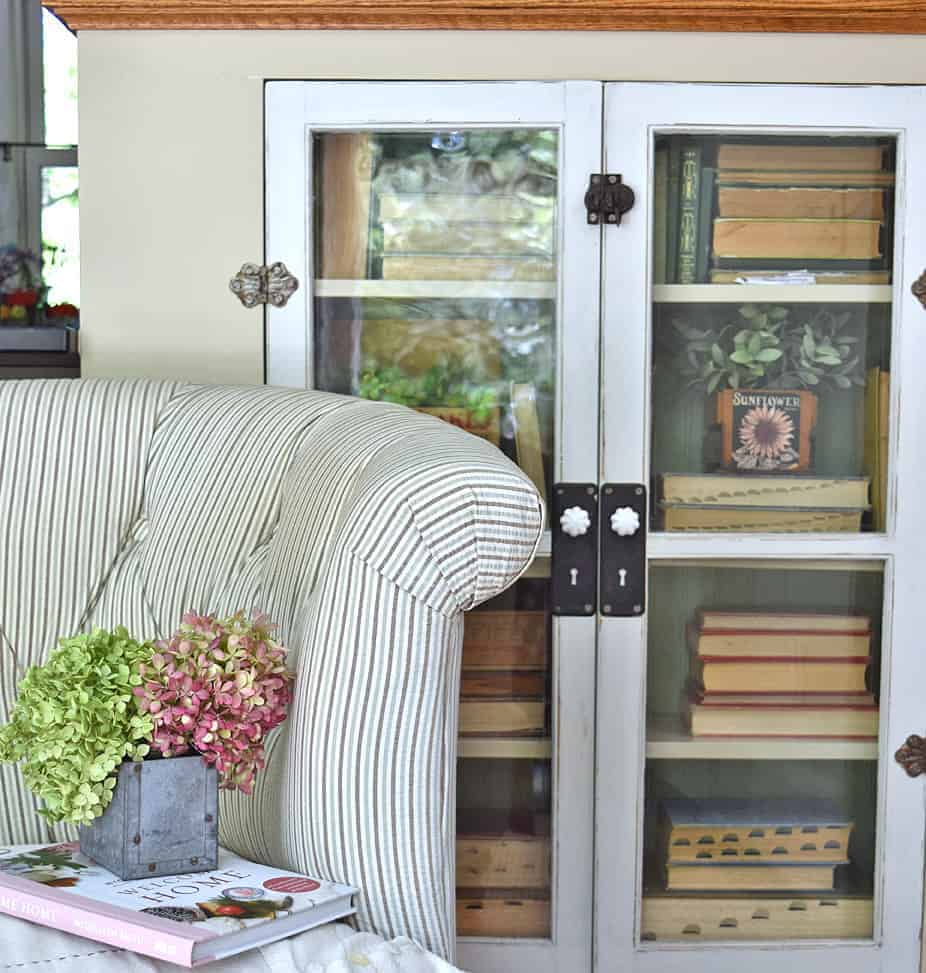 For Ultimate Wall Decor Possibilities, Add a Shelf
If you love to have lots of decorating possibilities, like me, combine your architectural salvaged wall art with a shelf below or above. You'll be able to style the shelf and architecture together, trailing garland or foliage throughout. Your layering options will be multiplied with the combo!
And if your shelf is a piece of architectural salvage, than all the better!
As you can see, vintage architectural salvage is the backbone of my home's decorating! This was a"this-is-your-life" post of the many "junk" (as I fondly call them) pieces we've had in our home through the years. I hope it made you want to head to the flea market, or your favorite vintage shop and pick up some more architectural salvage!
Become an Insider down below to keep the ideas and inspiration going!
Hopefully you got plenty of new ideas in this Best Ideas for Using Vintage Architectural Salvage in your Decor! Pin away! If you're hopping in order, visit my friend Amber at Follow the Yellow Brick Home next!
Please Pin, Share, and Enjoy the Rest of the Inspiration!
Sharing at these lovely parties: