Kitchen Cupboard with Antique Doors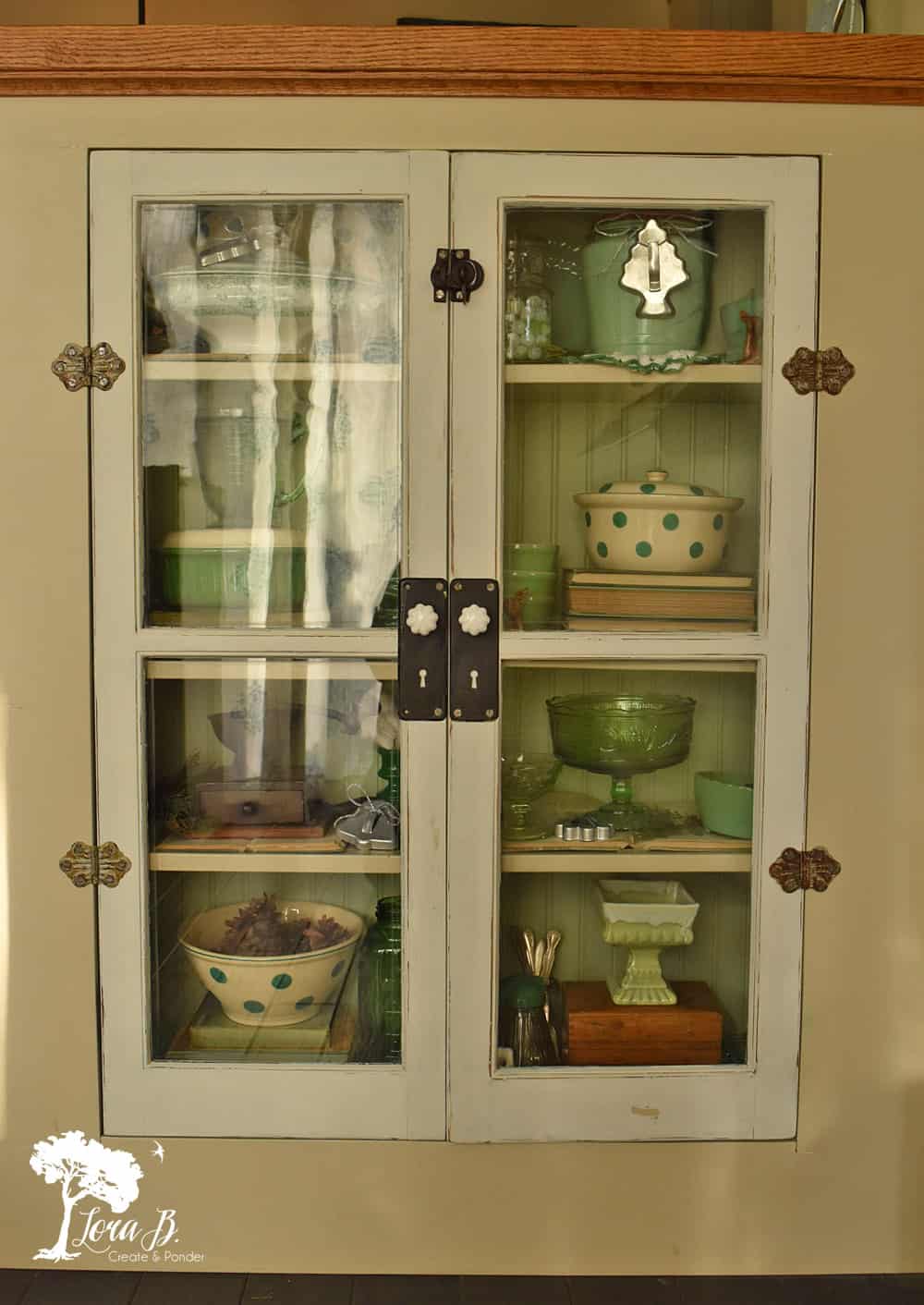 Do you have projects that you had planned to do, but have never quite gotten around to doing them? This cupboard in our kitchen was built for these antique doors that came off an old piece that came from my grandma's basement. Not having the doors on wasn't so bad because I still enjoyed the open shelves. But I'm so glad I finally invested the time to get this project done! Here's what I did:
I had originally wanted to strip the thick, dark, green paint off them and liked the idea of wood doors on the painted cupboard. I had taken the paint off of two with a heat gun and accidentally cracked one of the panes of glass. Luckily, I had three doors left to choose from. I decided to play it safe this time and simply sand the dark green paint off with 80 grit sandpaper. I also sanded all around the edges, smoothing the worn doors, and evening out the surface for the Farmhouse White Miss Mustard Seed Milk paint I used on them.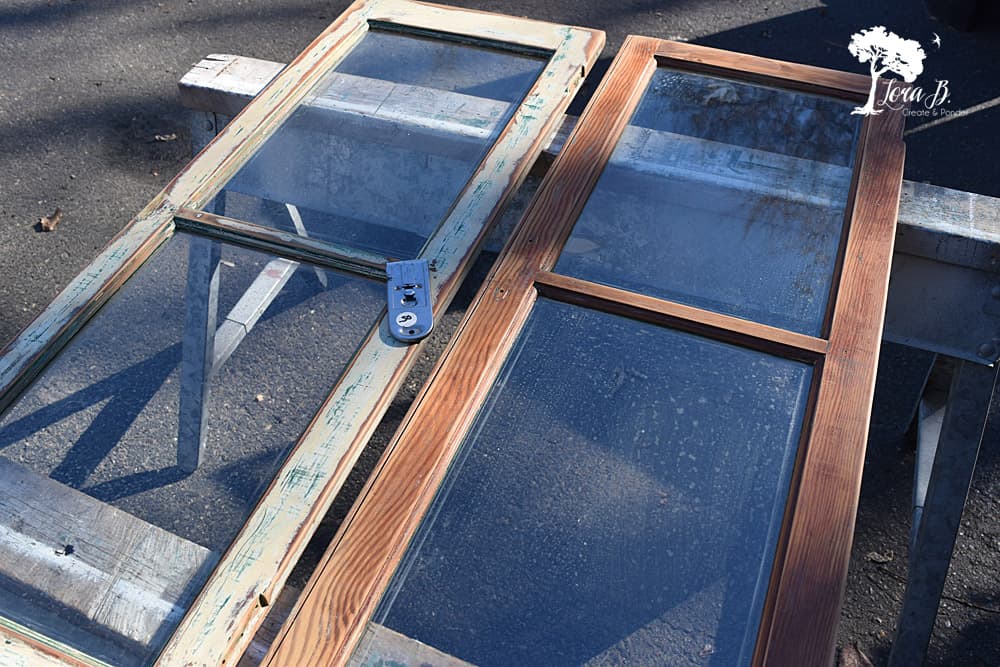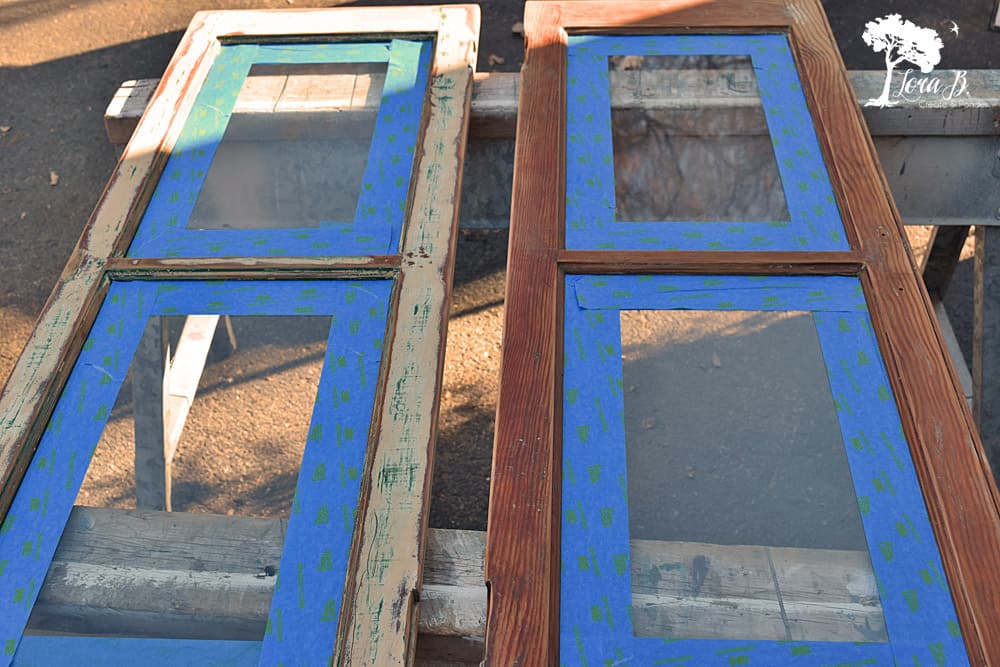 I spent a ton of time scraping the old, green paint from all the edges, and wanted to limit my scraping time again, so I made sure to use painters tape all around. I really hate taping, but I hate scraping worse, so it's the lesser of two evils:)
Getting the glass fairly clean was a challenge, too. I used paint thinner, and then straight ammonia. There still seems to be a line of scratch around the perimeter, but they're old…and I like character (and needed this project done).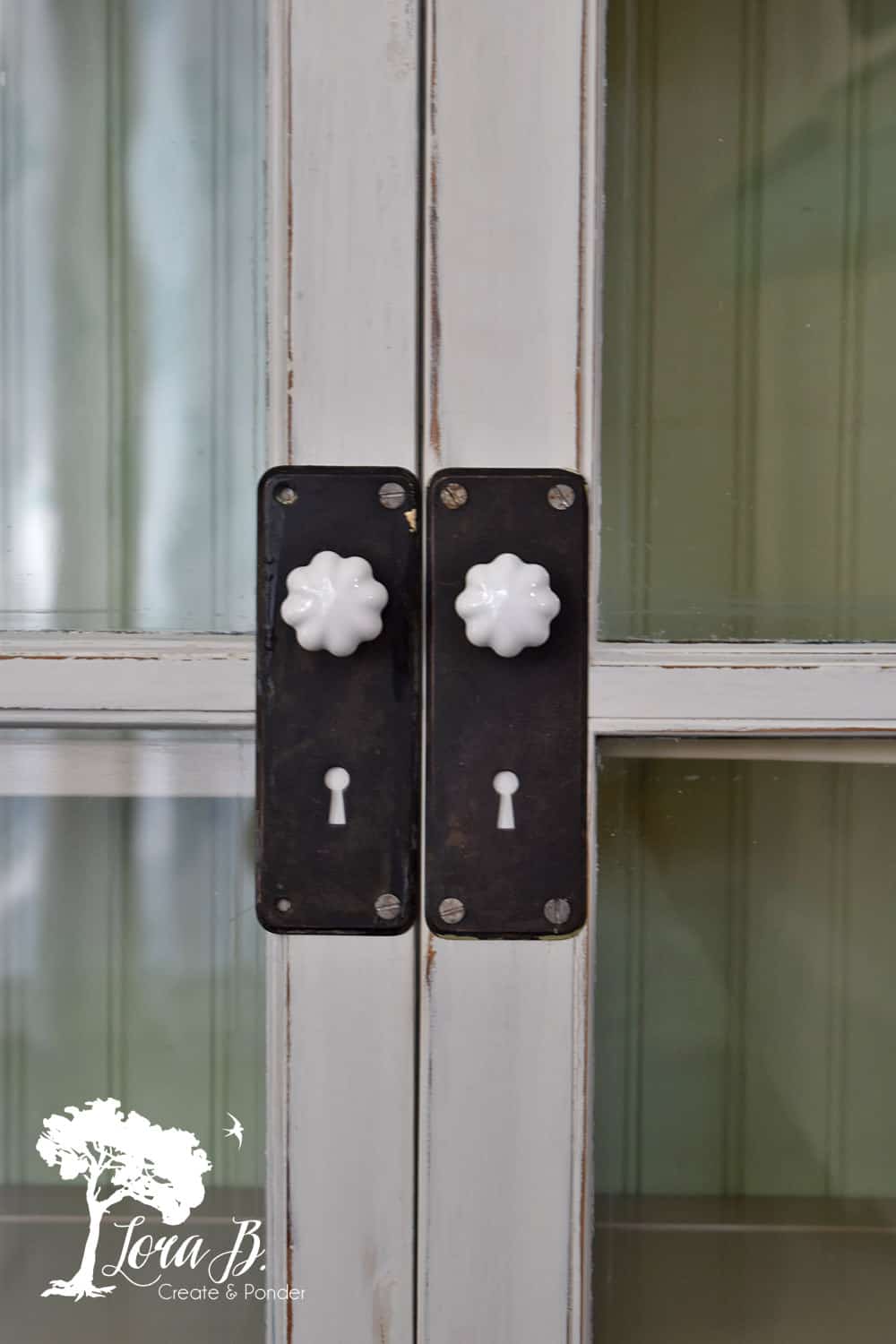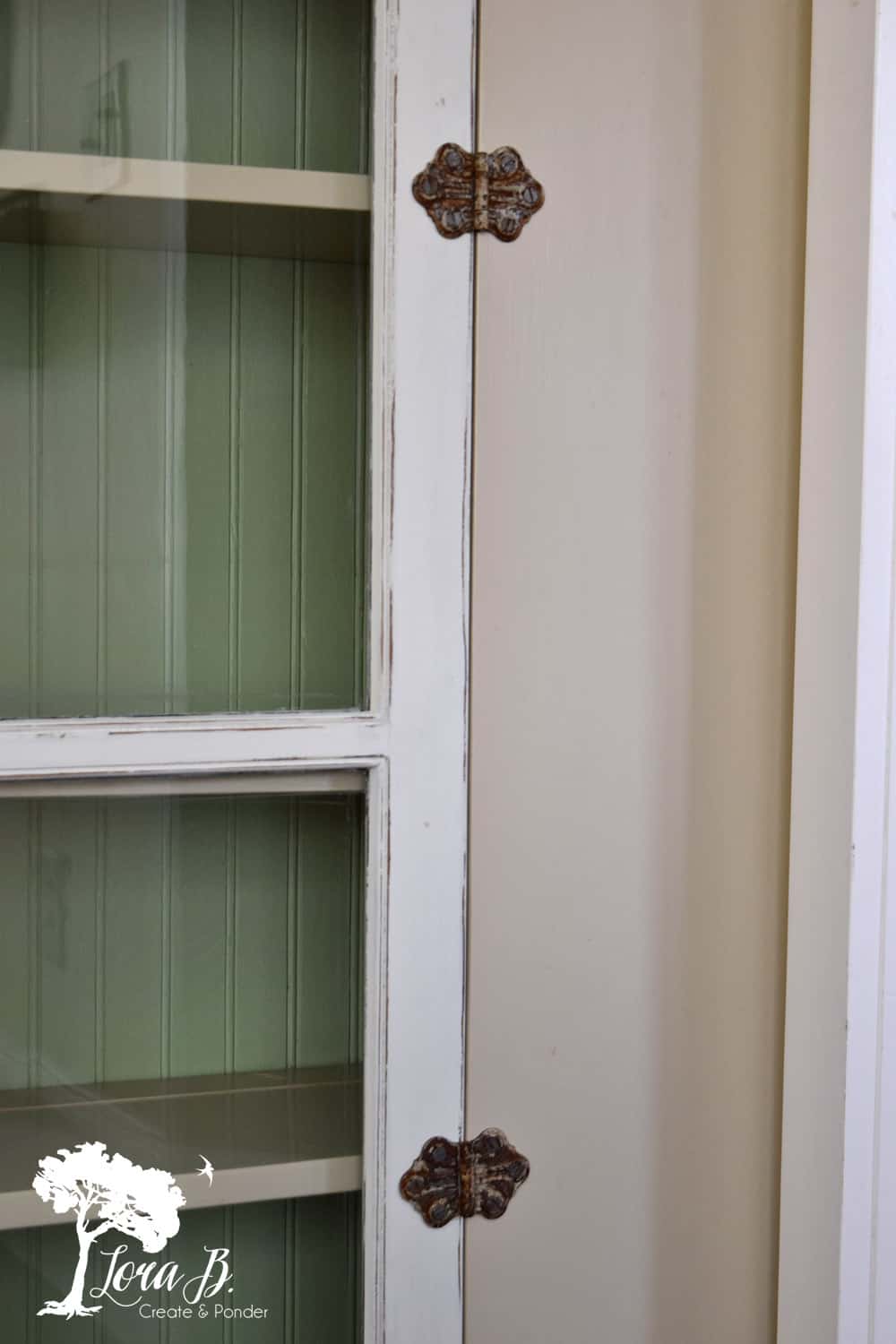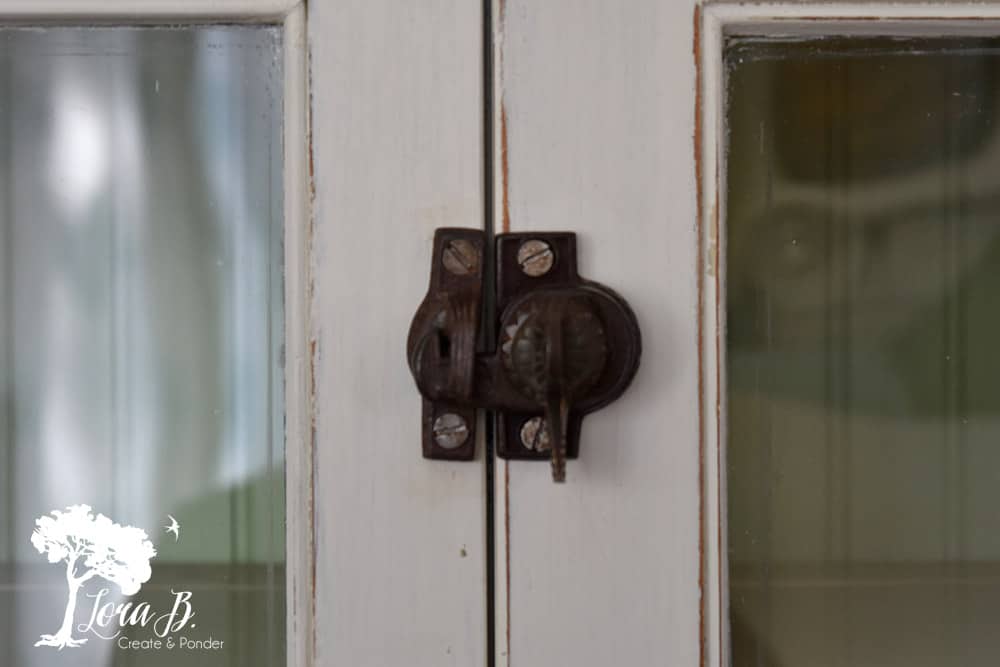 I had fun deciding on the hardware combo. The perfectly chippy clamshell hinges I pulled off an old garage cupboard last spring during curbside cleanup days. I hunched over in some guys driveway for at least 30 minutes trying to unscrew completely rusty, old screws. I always wonder if the old guys looking out at me shaking his head in dismay at this crazy blonde girl taking parts off of his old car part cupboard! The door plates were store leftovers, as were the cute, little scalloped, milkglass knobs. The detailed hinge was in our "parts" bin in the garage. We still have plenty of goodies left for me to have fun with for my own house!
The Christmas bins haven't come out of the attic yet, but I decided I wanted this special piece to be filled with my favorite color, vintage green! I'll add some fake snow and snowflakes to make the display seasonal, but I'll probably leave it this way through the winter, and just add/delete different fillers.
I love enjoying some of my treasured memories from grandmas, friends, and estate sales in a seasonal display like this, and what better way than behind some wavy glass cupboard doors with perfectly patinaed metal hardware?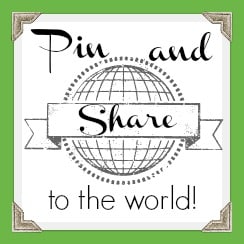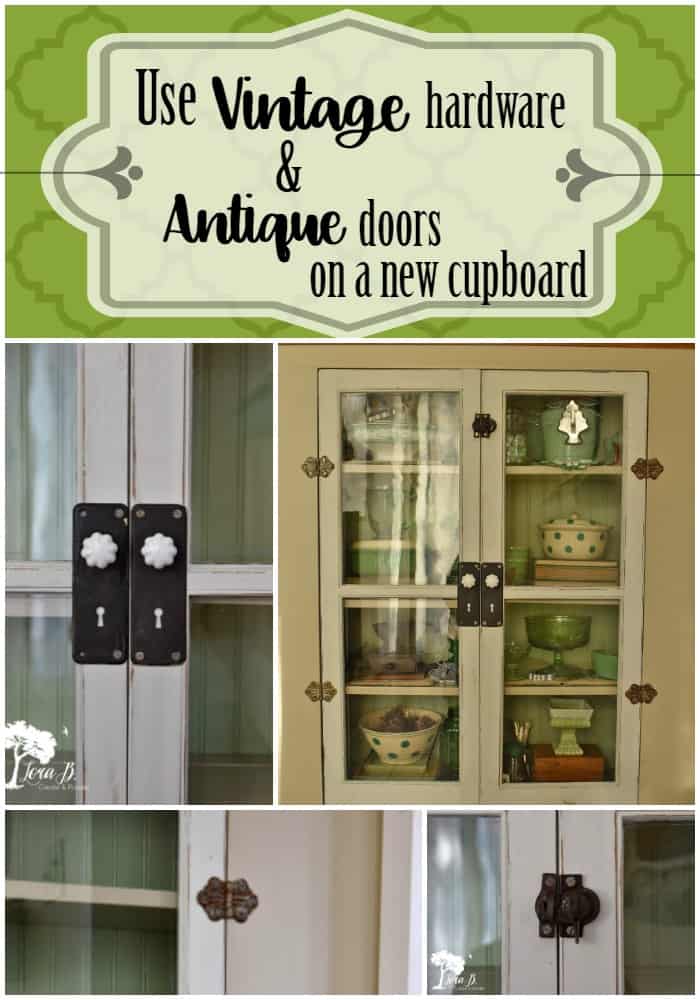 Linking up with: