How to Decorate to Thrift the Look, Garden-Inspired Decor
Learn how to decorate to thrift the look with Garden-Inspired decor. Secondhand finds and DIY projects combine to style shelves beautifully.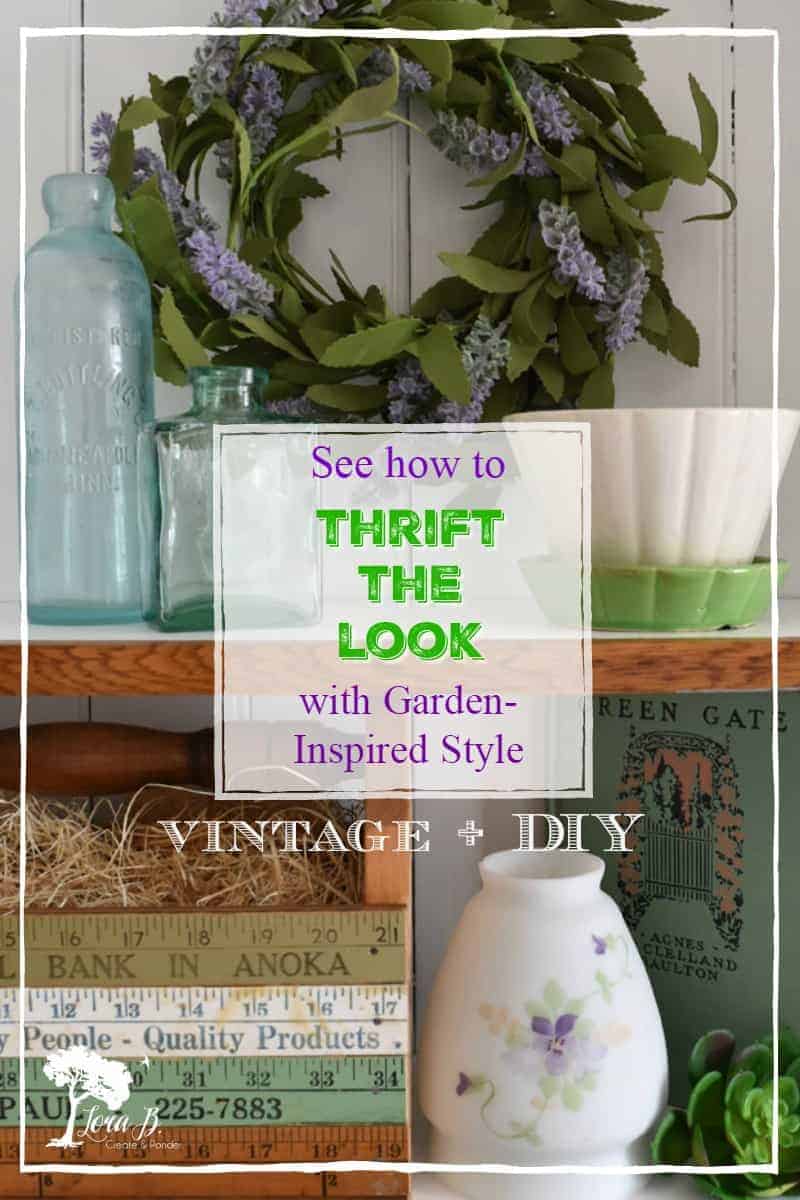 Garden-Inspired decor is appealing to so many of us, especially at the beginning of Spring! Luckily, you can achieve this fun look with secondhand finds and a little DIY. Today I'm joining some friends from our Creative Vintage Darlings Facebook group to inspire you to do a little Garden-Inspired Decorating! (You can join our group HERE). Hope you enjoy How to Decorate to Thrift the Look, Garden-Inspired Decor!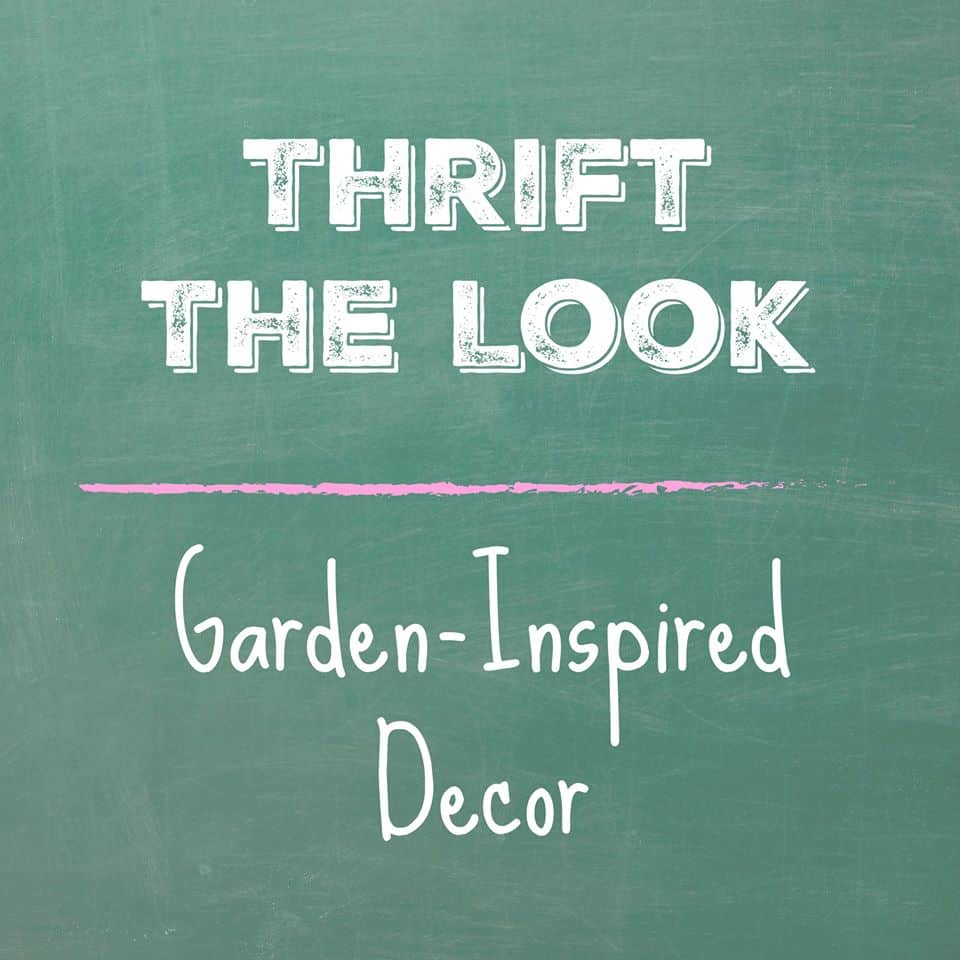 For these Thrift the Look Challenges (you can see more of them HERE) we each choose a themed inspirational picture to design around using thrifted, or secondhand finds. I'll have everyone's post links at the bottom; I can't wait to see what my friends came up with! Thanks to Sarah at SadieSeasongoods for organizing us!
To look for my inspiration pic, I immediately went to one of my favorite Instagrammers, @Careyscountrygarden. Carey's home is full of the junky, vintage primitives I love, all with garden-fresh style. Much of her home is decorated with white and green so she can easily add other colors and textures seasonally. Definitely follow her on IG!
I honestly had a really hard time choosing one of her pictures to style from; I think I debated between 6 different ones. But I finally decided on a gardeny, pretty pink and green collection she styled in her bedroom's primitive cupboard. The vintage glass lampshade is what won me over: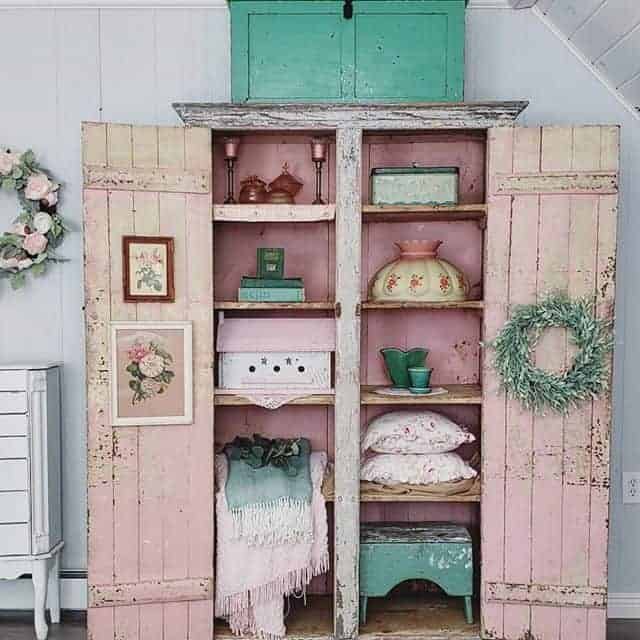 Thanks, Carey for giving me permission to use your pic!
How to Thrift the Look, Garden-Inspired Decor
For your convenience, this post contains affiliate links. If you make a purchase, I may receive a commission. There is no additional cost to you. My full privacy policy is here.
This time around we thrifters were especially challenged, since the thrift stores are currently closed! But never fail, thrifters usually have a secret stash they can pull from, so that's what we all did this time around! Basically everything I own is secondhand!
First Step to Decorate to Thrift the Look is to Analyze the Inspirational Pic
In order to imitate the look, we need to pull it apart and see what's going on, decoratively. What accessories are there? Textures? What colors are being used? What's the backdrop, the foundation?
Here are the elements that popped out to me in Carey's picture: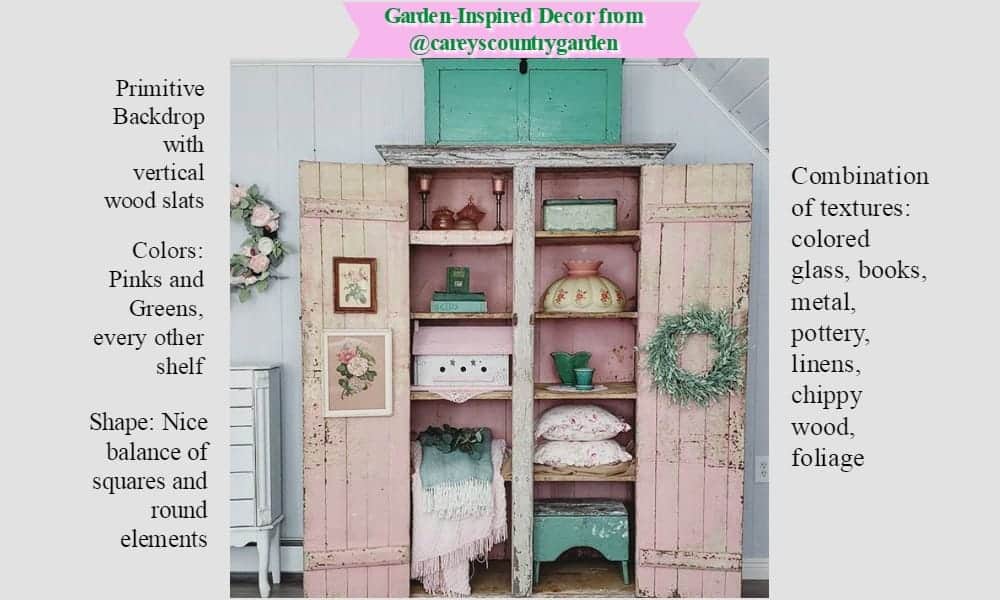 Did you notice all these things? Carey is an excellent stylist. She has the eye of an artist in everything she does and has a great stash of junky, vintage items to work with!
Next, See What You Have to Decorate to Thrift the Look, and Make it Your Own
I decided to use an old cupboard we've built into our upstairs hallway as a backdrop. It's right outside our bedroom door, so similar placement to the inspo. pic. I recently painted over the green insides and switched it to a fresh white. The movable shelves would be perfect to replicate this look.
Rather than Carey's pink and green color scheme, I decided to have my favorite blues and greens with a bit of purple for Spring.
Then it was time to scrounge around the house (and porch) to find all the thrifted and secondhand finds to achieve this look! Here was my pile: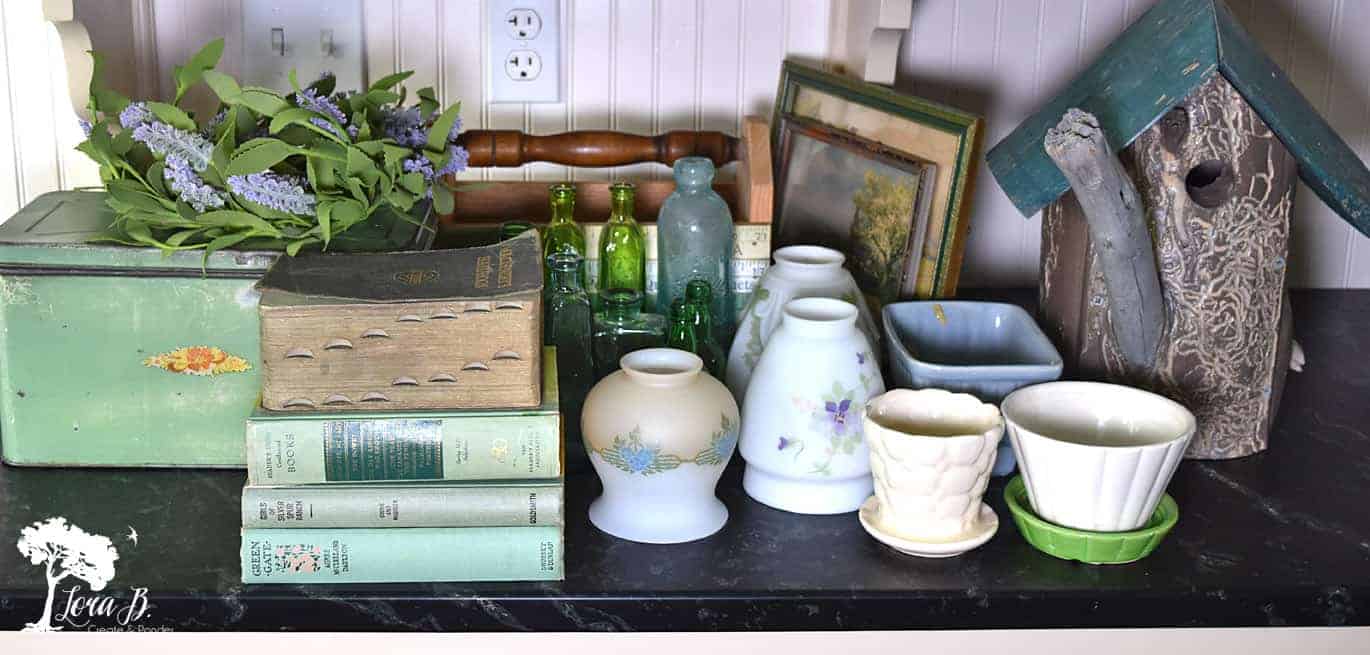 Think I had all the textures and shapes that Carey's pic had in my color scheme. I was excited to use these pretty antique painted lampshades; they had been the reason I chose this picture!
Upcycle and DIY to Thrift the Look
Secondhand finds often do not have the look you want. And sometimes you don't quite have the exact piece to fit the style you're going for. Time to improvise and DIY!
Instead of the cute green stool in the pic, I decided to use a little tool caddy for a gardeny look. I think I picked it up at a garage sale for $2 or less. It's shop-class, simplistic self left a little to be desired: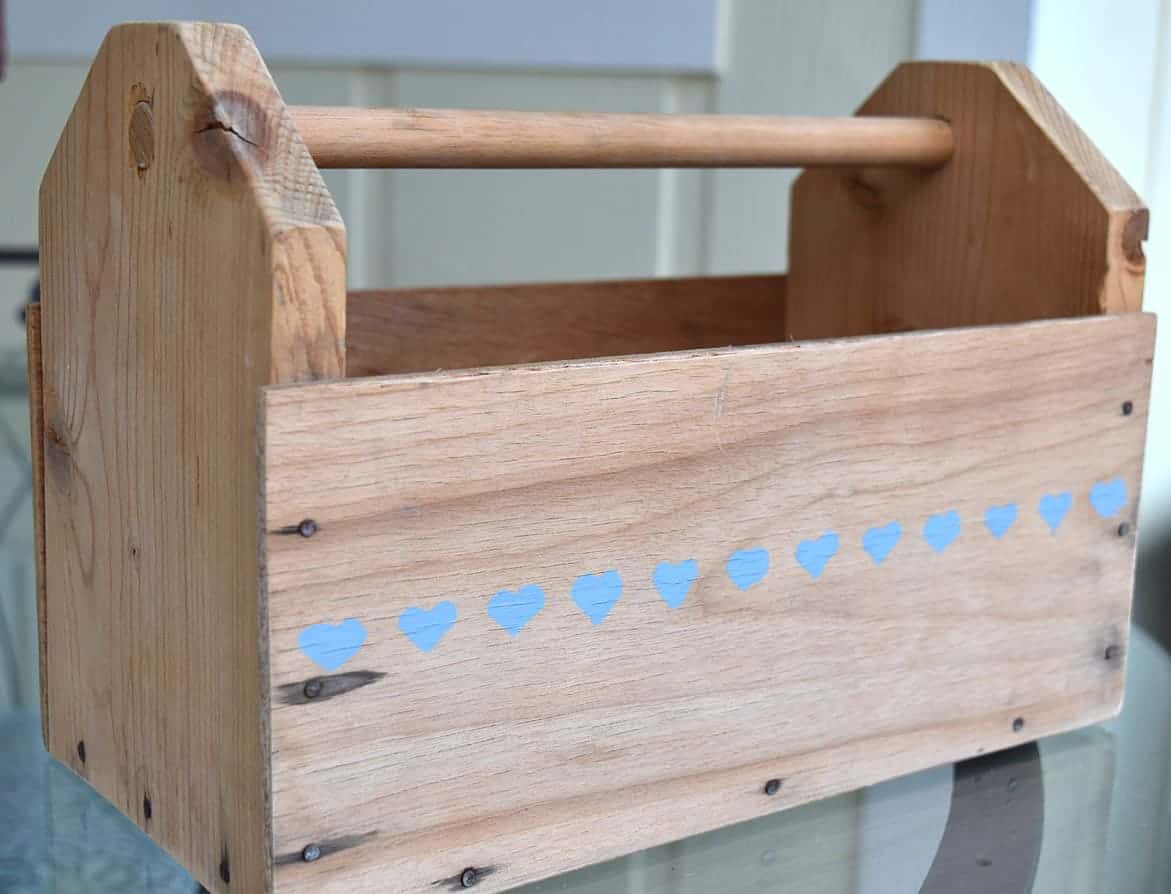 Mr. Fix-it and I gave it a new, beefier spindle handle and added some yardsticks. With a coat of poly, it's adorable! (I use THIS poly on everything)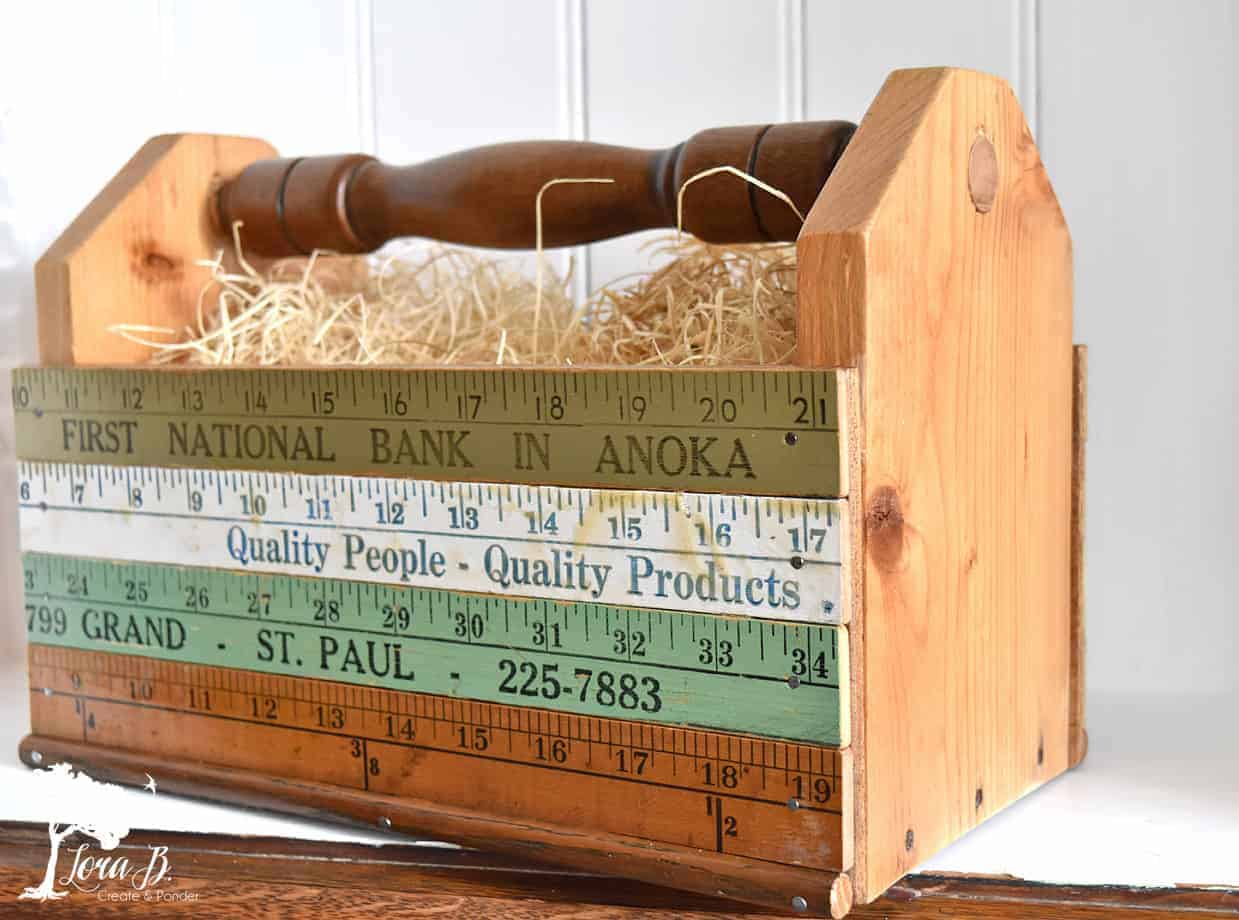 I also needed some pretty pillows to add to the garden-inspired shelves. Church sales and garage sales are cheap ways to find pillow forms, often in the original packages for less than $1. Definitely be on the lookout; way cheaper than getting them at the store.
Some cute fabric from the stash, along with some vintage textiles and some simple sewing skills later: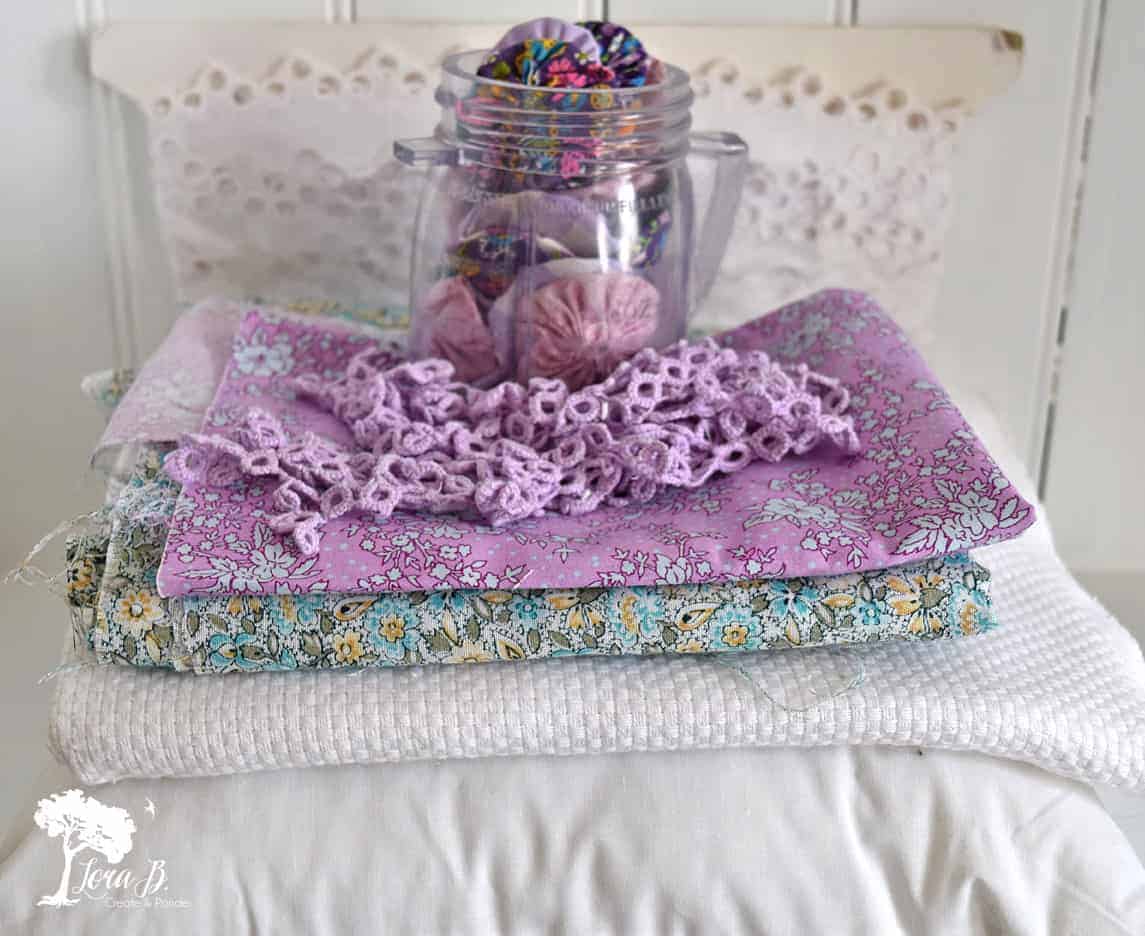 Now, Put it All Together and Style your Vignette!
This cupboard actually has glass front doors, but for this look, I'm not using them so I have more width to design with. Unfortunately, I don't have a wide angle lens and can only get so much of the cupboard in while plastering myself against the hallway wall! This hallway spot is still under construction, hopefully you'll see the complete look in a couple weeks!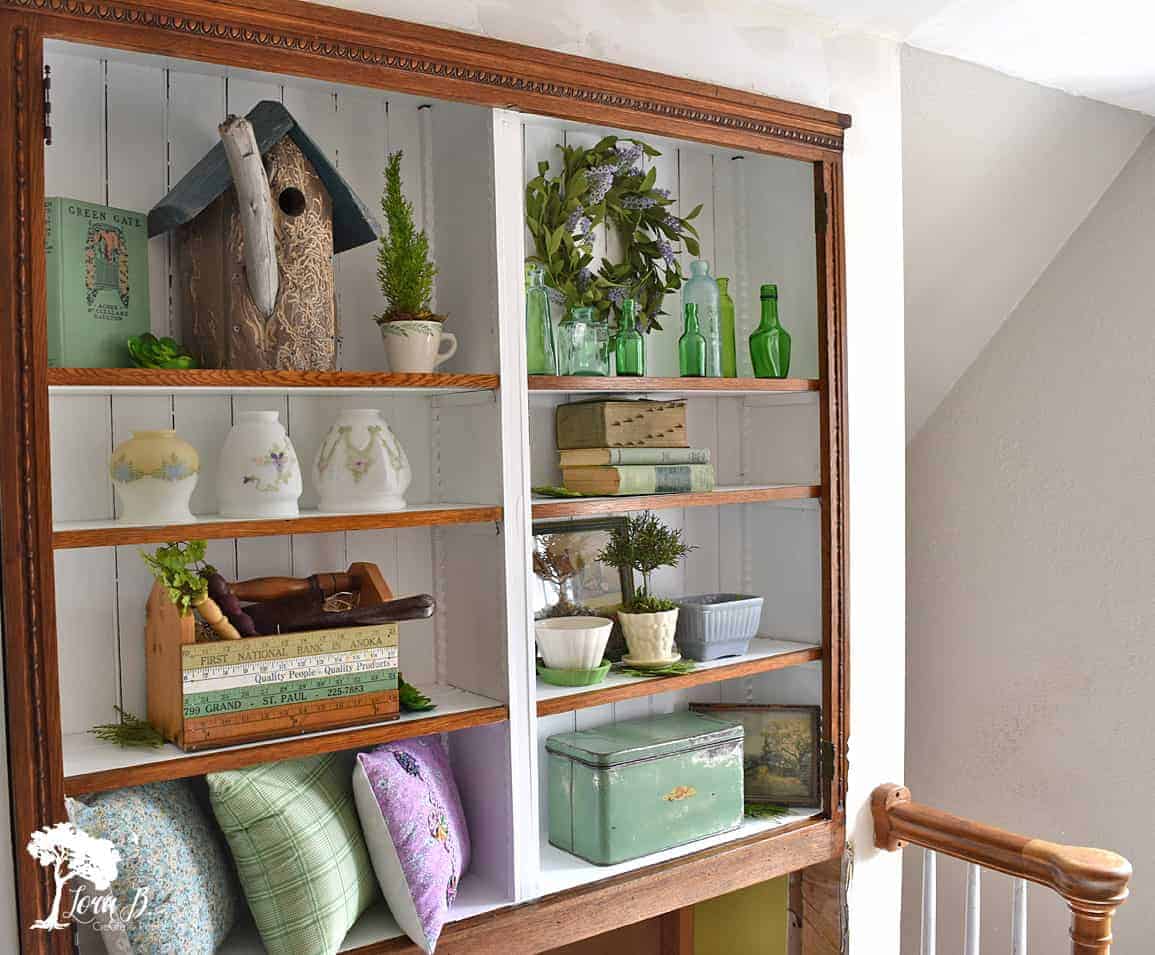 (And now you're wondering. I actually have another repurposed dresser that will be built in underneath this built-in. We just need to get the walls sanded and painted first.)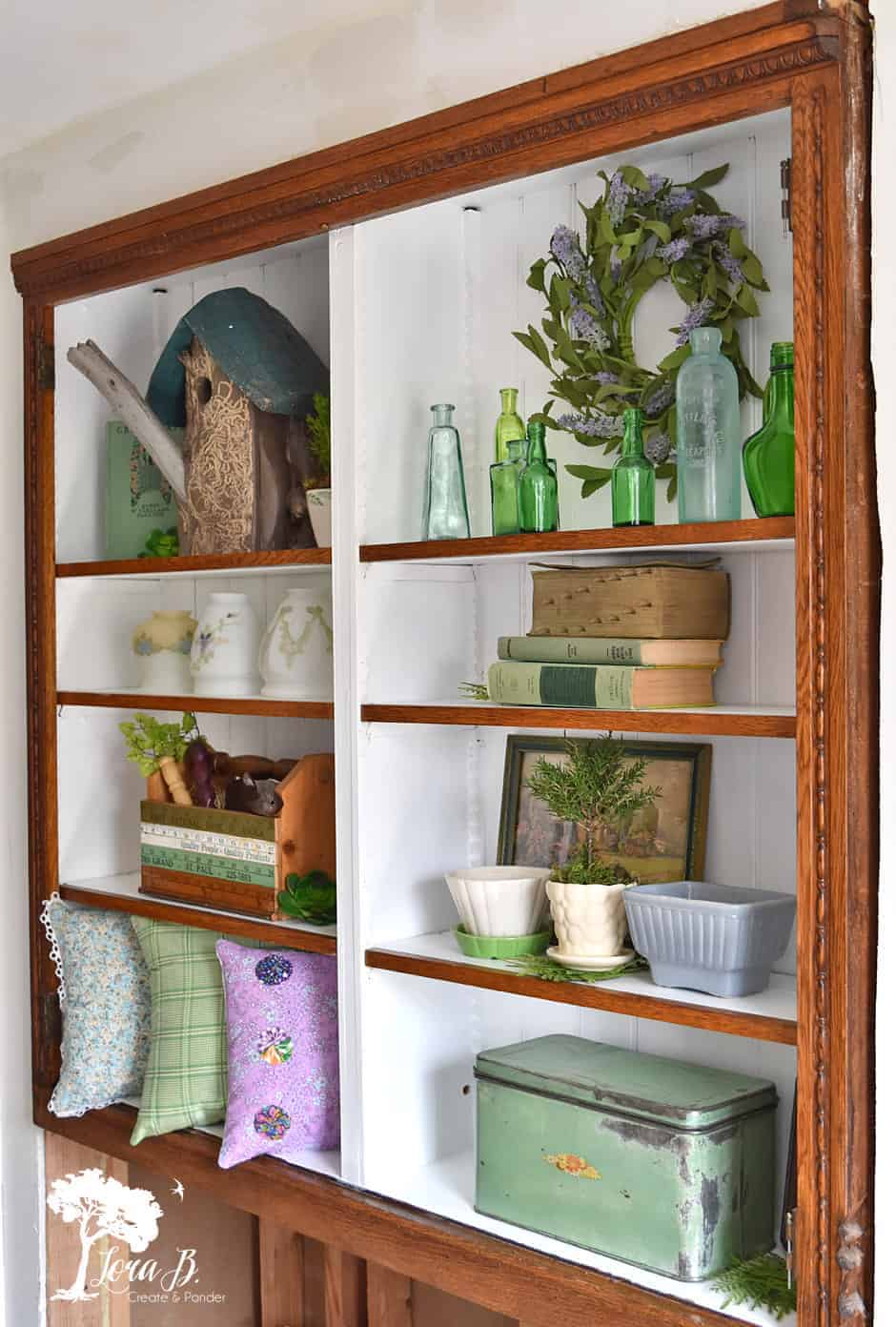 Garden-Inspired Decor with thrifted, secondhand, and DIY!
This is the most straight-on shot I could get, so you can compare it to the inspiration pic: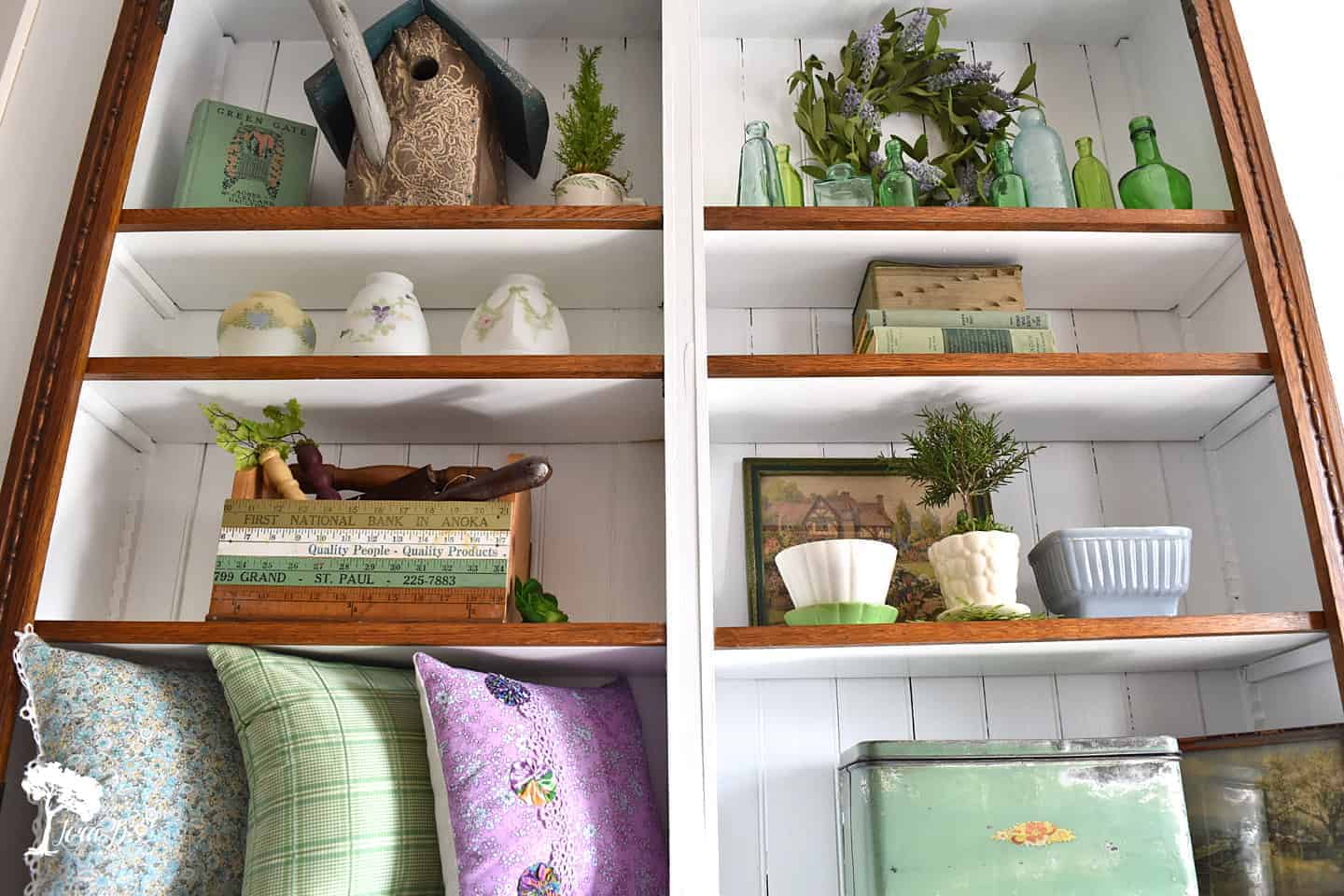 Think it has a similar look, a similar vibe, yet with a different color scheme? I love how the colors all pop against the fresh white paint.
Where are all the Secondhand Finds From?
Yes, this challenge is called thrift the look, but you can find secondhand finds from many different places, besides the thrift store. Let's see if I can remember where I got my treasures!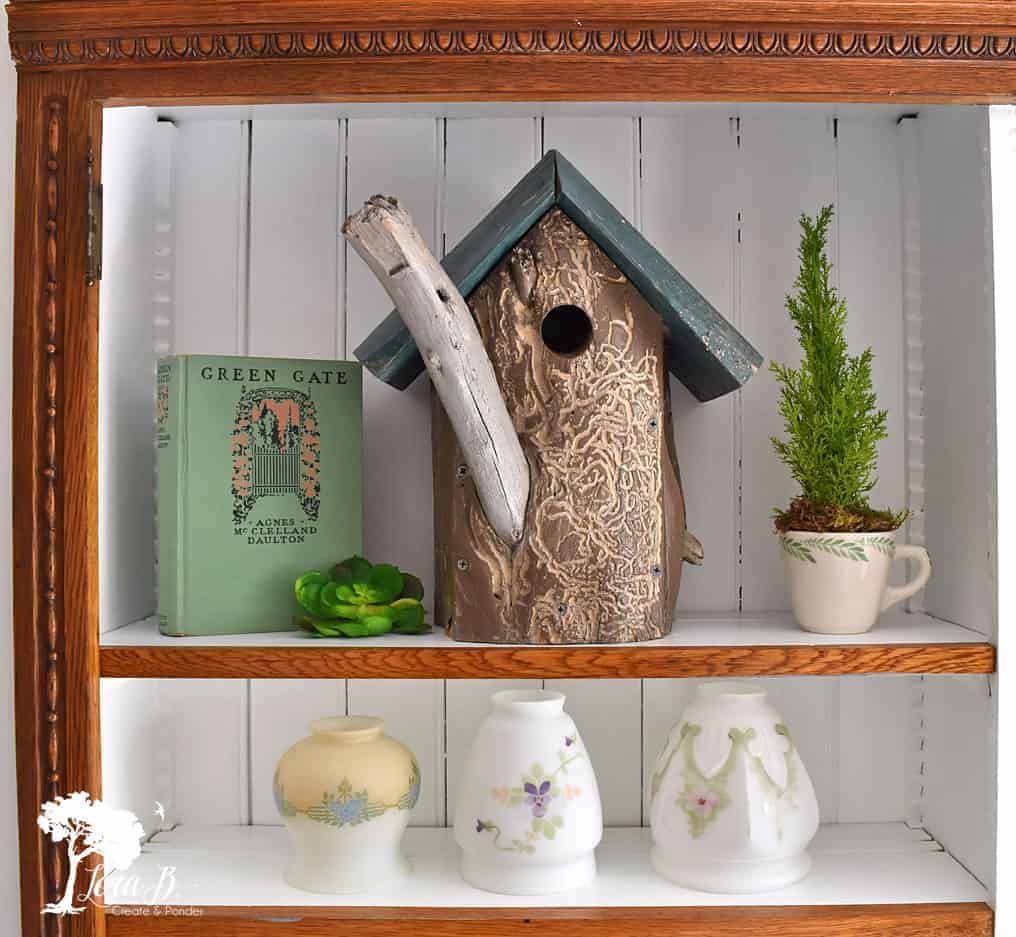 The cool birdhouse was made by my husband's uncle; I picked it up at their estate sale. The pretty glass lampshades were from an estate sale of a friend also. She let me come before the sale started so I could help her with pricing, and then after to take my pick before she donated the rest.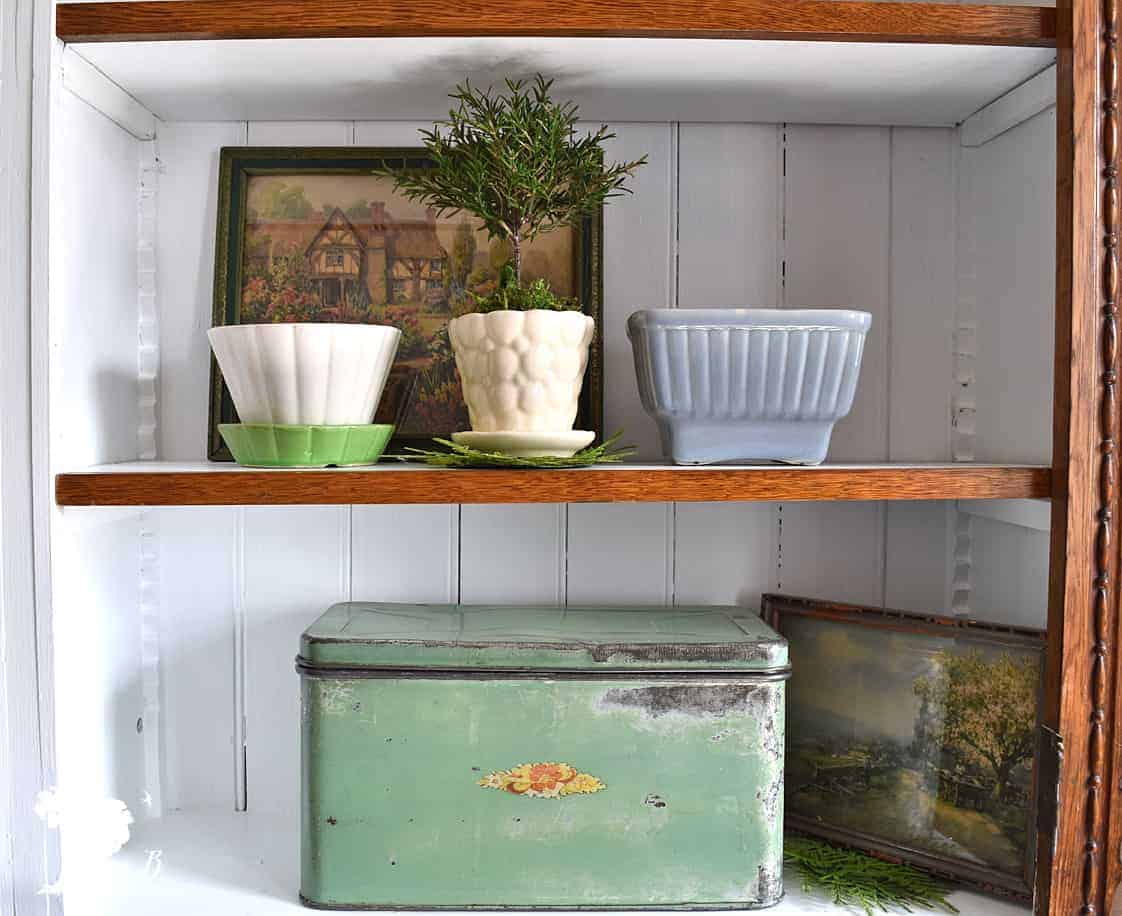 The vintage pottery and metal kitchen container came from my most recent haul at an estate sale. You can see the hoard I got in "Latest Vintage Finds and How to Refresh Them". I've been collecting the pretty vintage framed prints for awhile. You can find out more about them in "R.A. Fox Prints". Whenever I see cottages with gardens surrounding them or bucolic, pastoral scenes, I scoop them up if they're cheap (usually church or estate sales).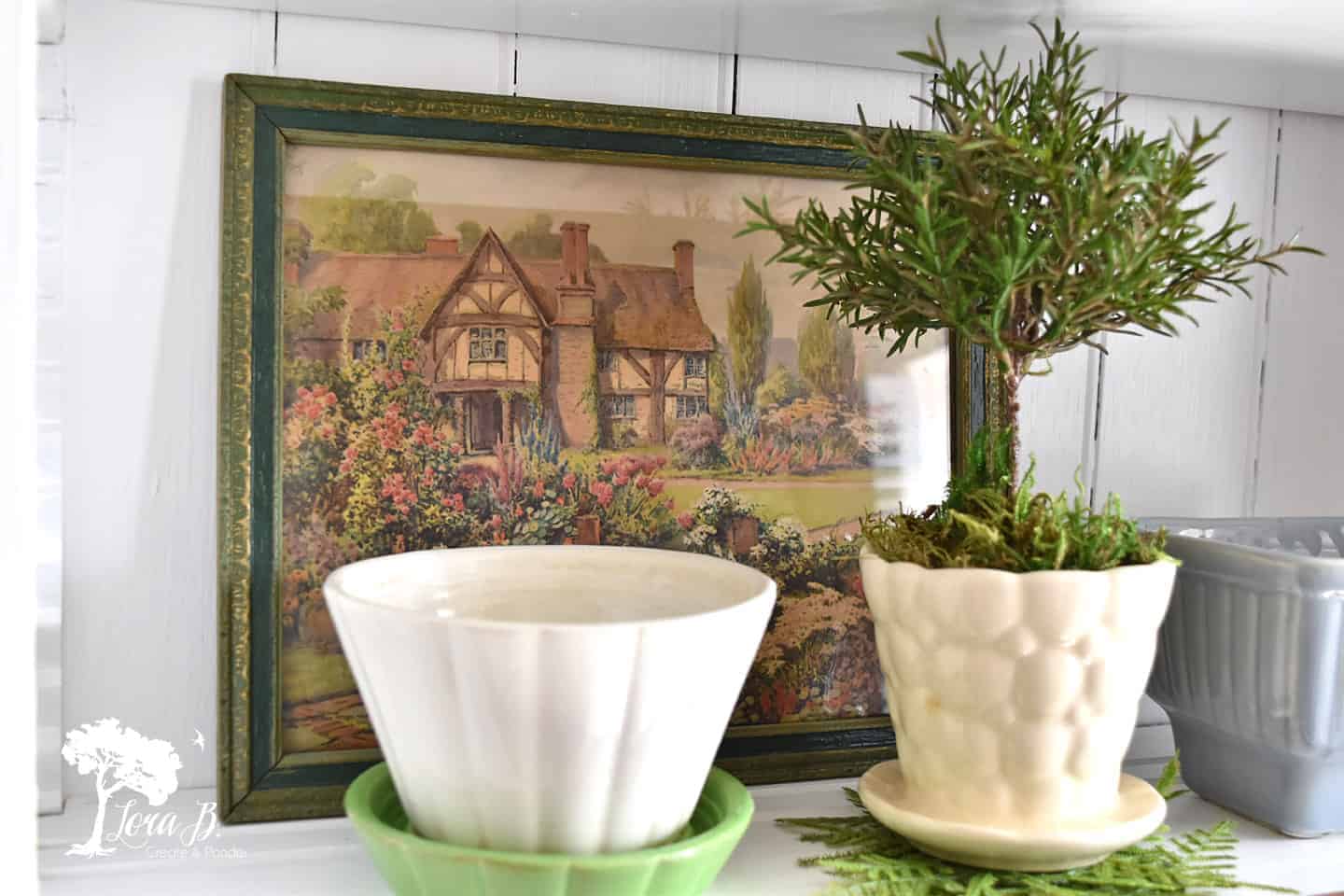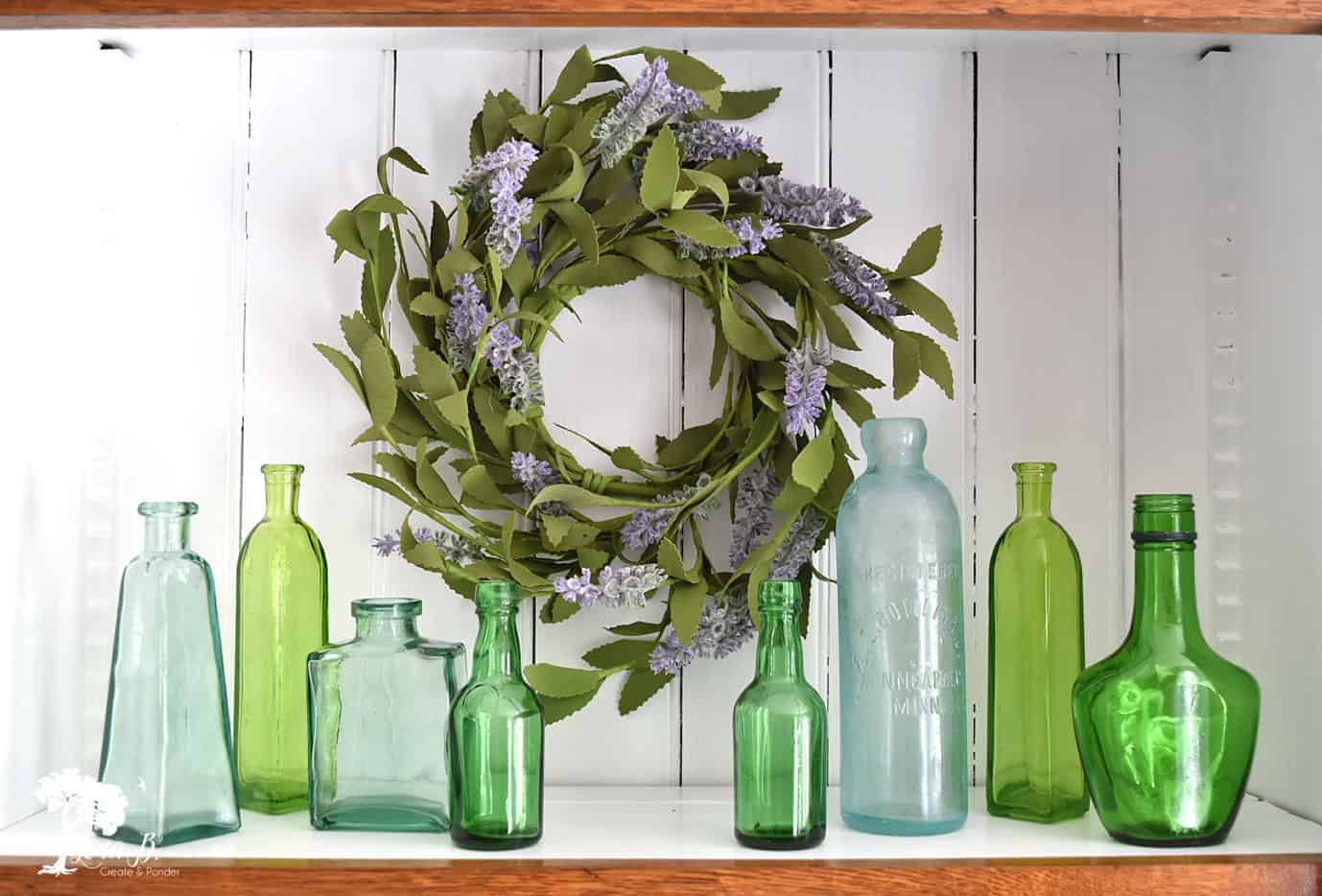 Colored glassware is cheap and plentiful if you buy them secondhand. Amassed together in a similar colorway, they make a beautiful display-especially when the sun is shining! I think I picked up this array at garage sales for about .50 or less each.
Let's Talk Foliage for Garden-Inspired Decor
Greenery, faux flowers and foliage is definitely needed to pull off a garden-inspired look. Yes, you can sometimes find it secondhand at thrift stores. I mentioned in "3 Things to Look for at the Thrift Store" to always be on the lookout for foliage, especially if it's off-season. But ultimately, you really should purchase some pretty foliage; it makes a big difference in your styling. I used little ferny coasters instead of doilies in my styling here.
Become a Lora B Insider and get my FREE "How to Thrift the Look" Checklist
If you enjoyed this post, you should become an Insider! Insiders receive FREE access to all my seasonal printables, plus tips and tricks on decorating, repurposing and secondhand hunting!

Shop to Create the Look: click on pics for more info (referral links)
Are you in the garden-inspired decorating mood now? I hope so! If you've got a stash of decorating accessories, why not find an inspirational picture to design around? With a little creative DIY-ing, you can enjoy a whole new Springtime look in your home! Thanks for visiting and reading How to Thrift the Look, Garden-Inspired Decor!
Pin, Share, and Enjoy the Rest of the Inspiration!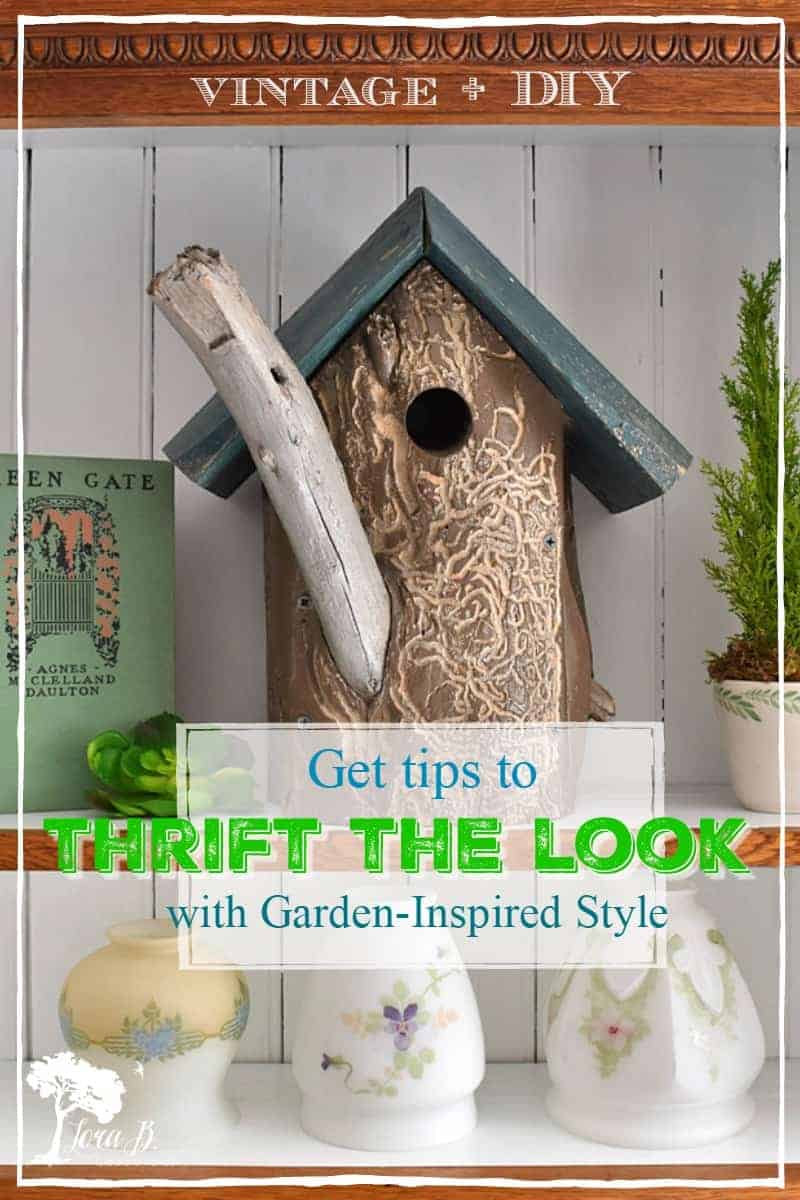 Thrift the Look, Garden-Inspired Decor Blog Hop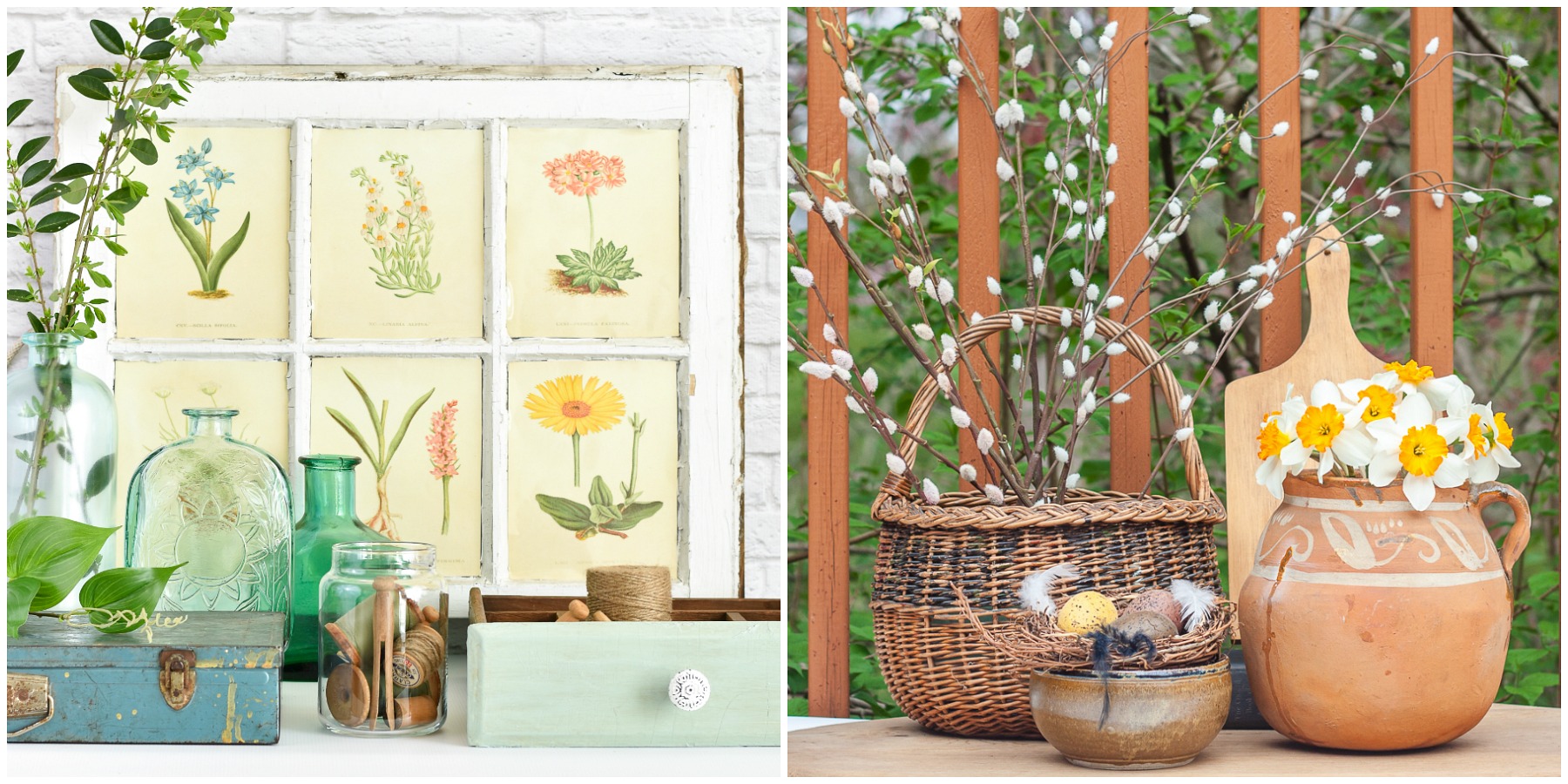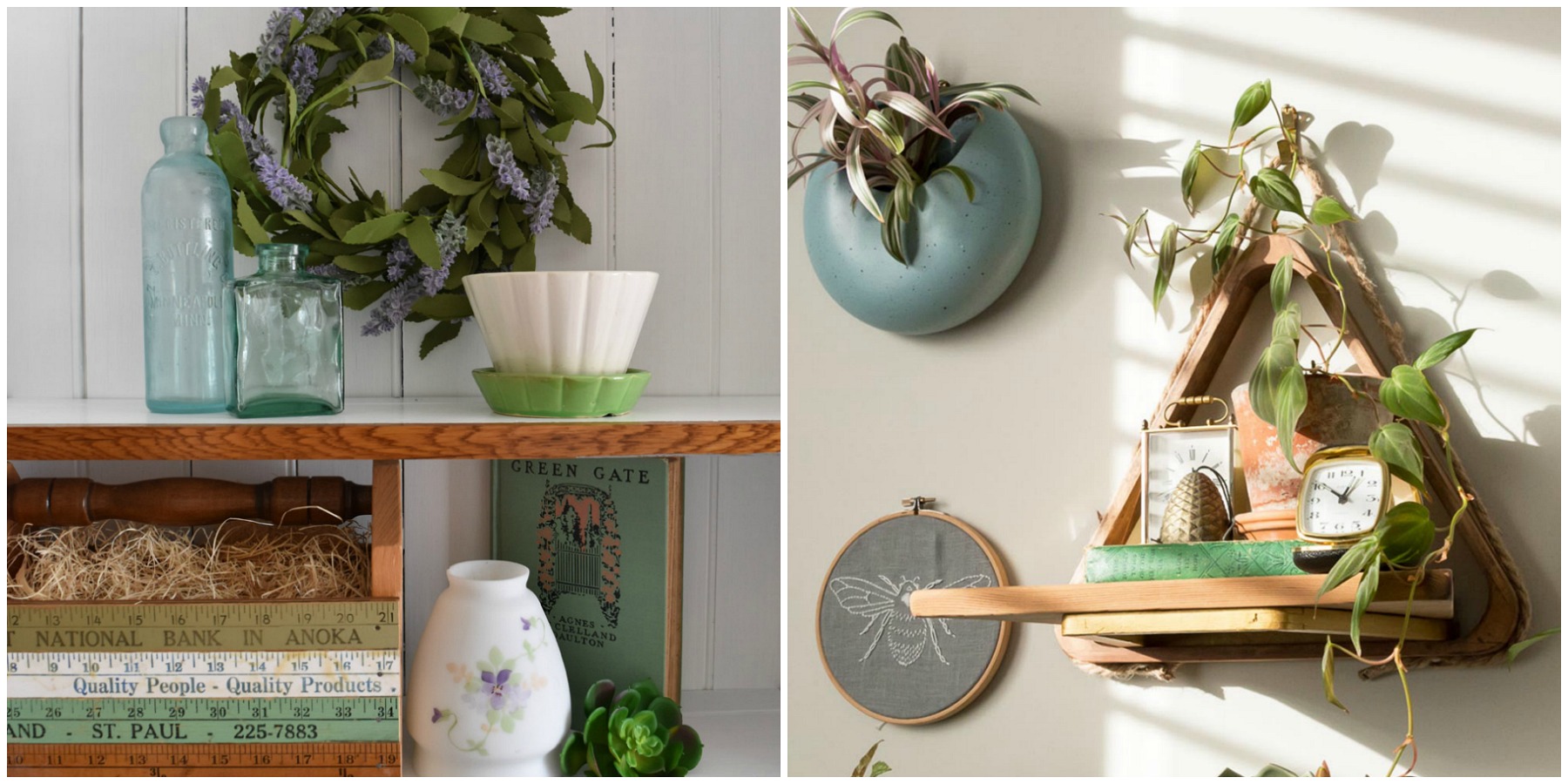 Lora B. Create & Ponder | Home to Heather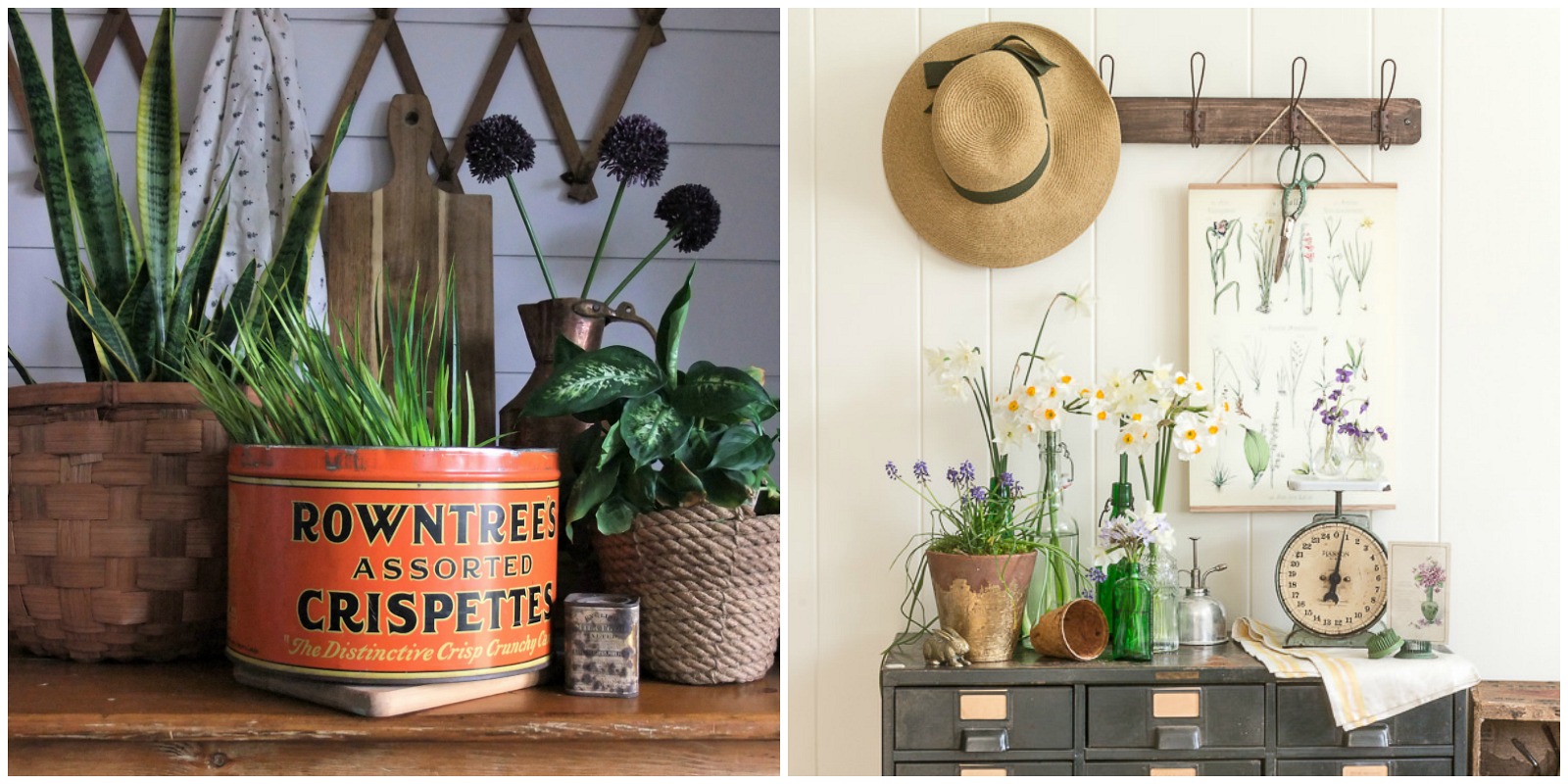 One House, 2 Barns | Postcards from the Ridge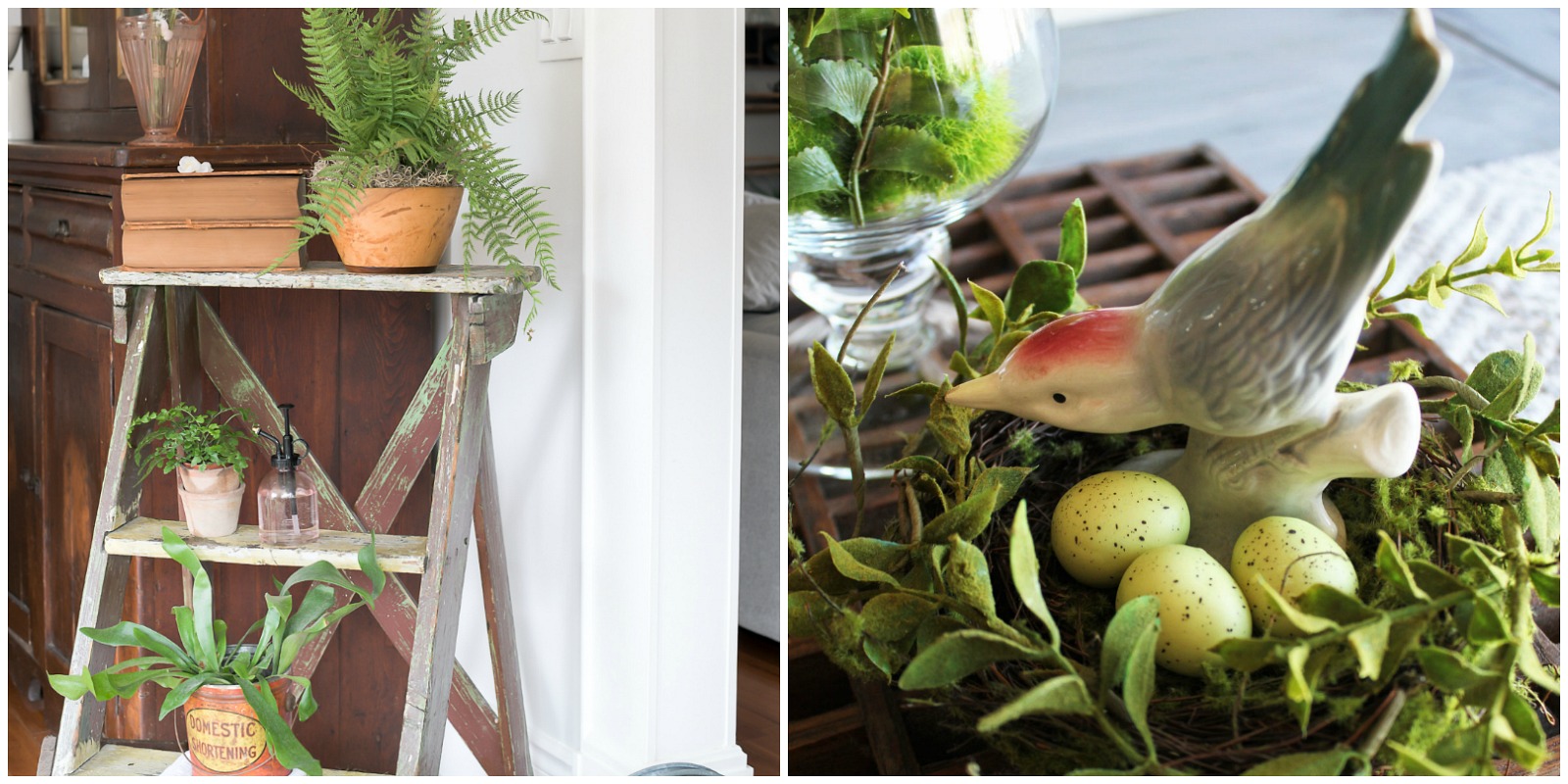 Vin'yet, Etc. | Itsy Bits and Pieces
Audrey Would | Little Vintage Cottage

Sharing at these lovely parties: