Latest Vintage Finds and How to Refresh Them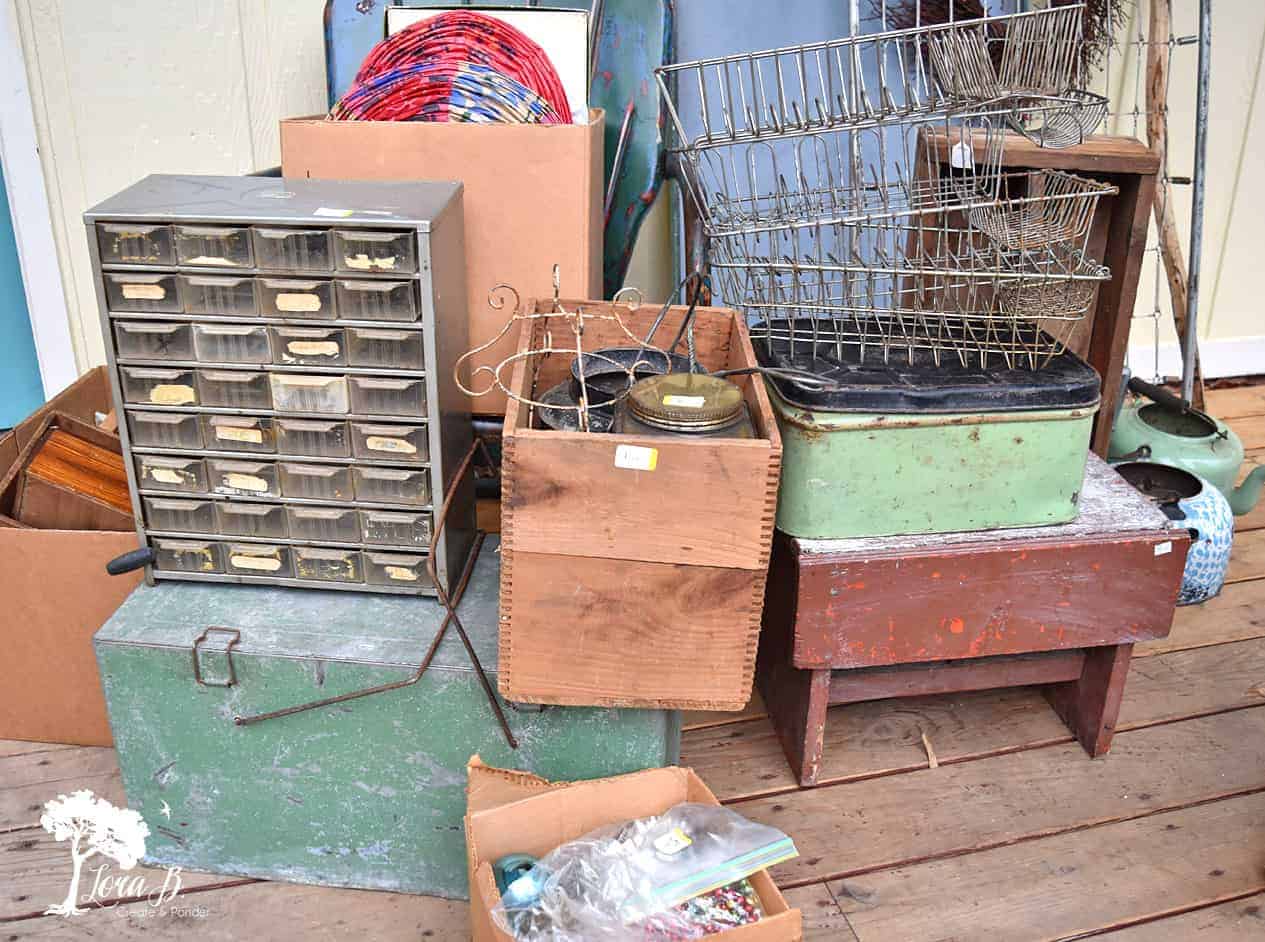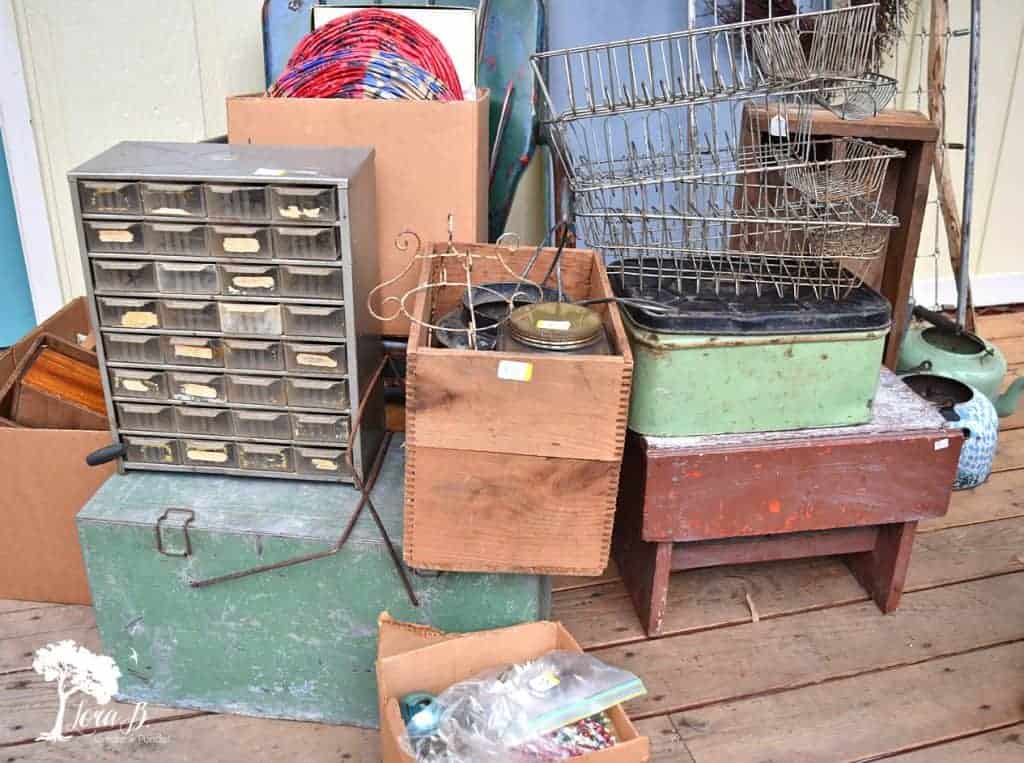 How long has it been since you hit a really good secondhand sale, where you wish you could bring almost everything home? It had been awhile for me, until I happened across a private estate sale who happened to be run by the former dealer herself! I think she and I must have the same taste, because I came home with way more than I should have. As I unloaded the junkmobile, I decided to snap some pics and share the fun with you! Here are my Latest Vintage Finds and How to Refresh Them.
Latest Vintage Finds and How to Refresh Them
For your convenience, this post contains affiliate links. If you make a purchase, I may receive a commission. There is no additional cost to you. My full privacy policy is here.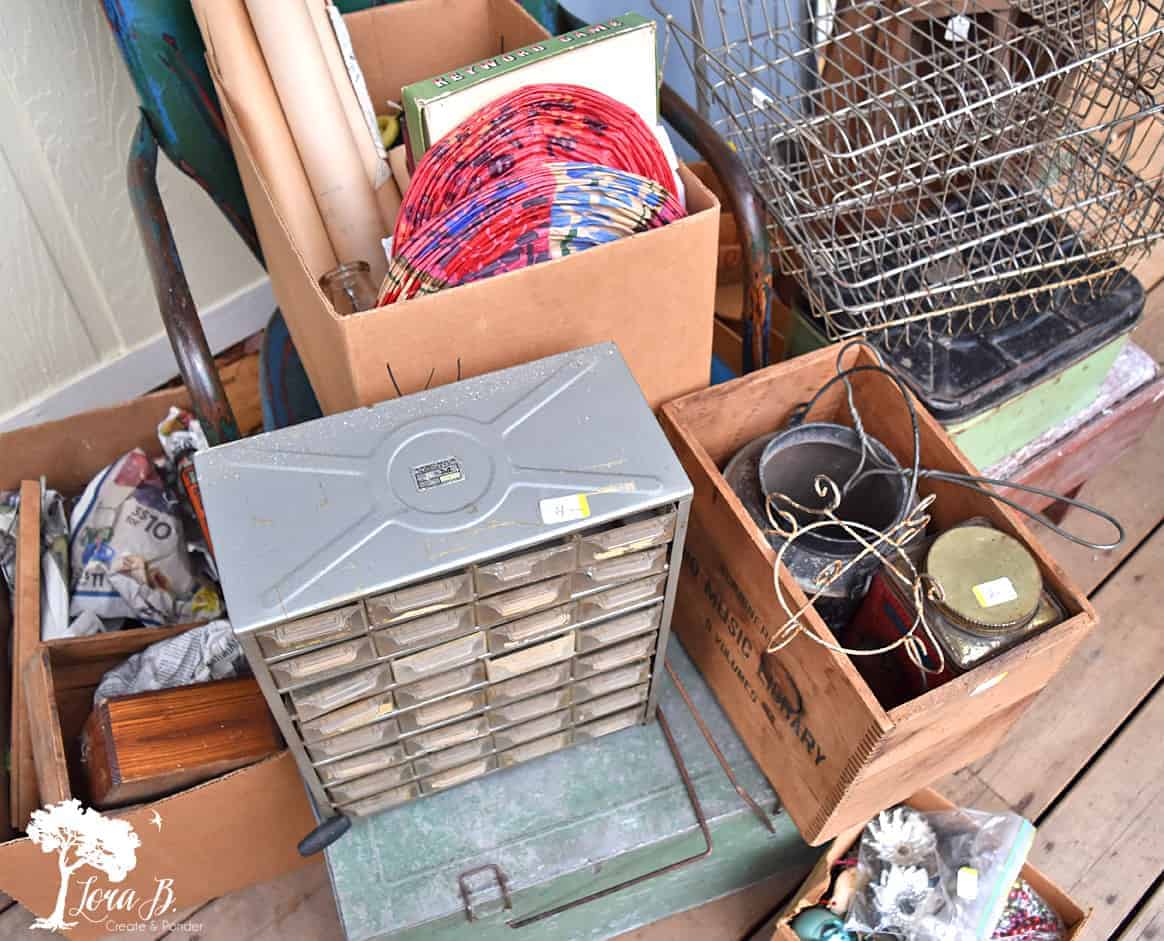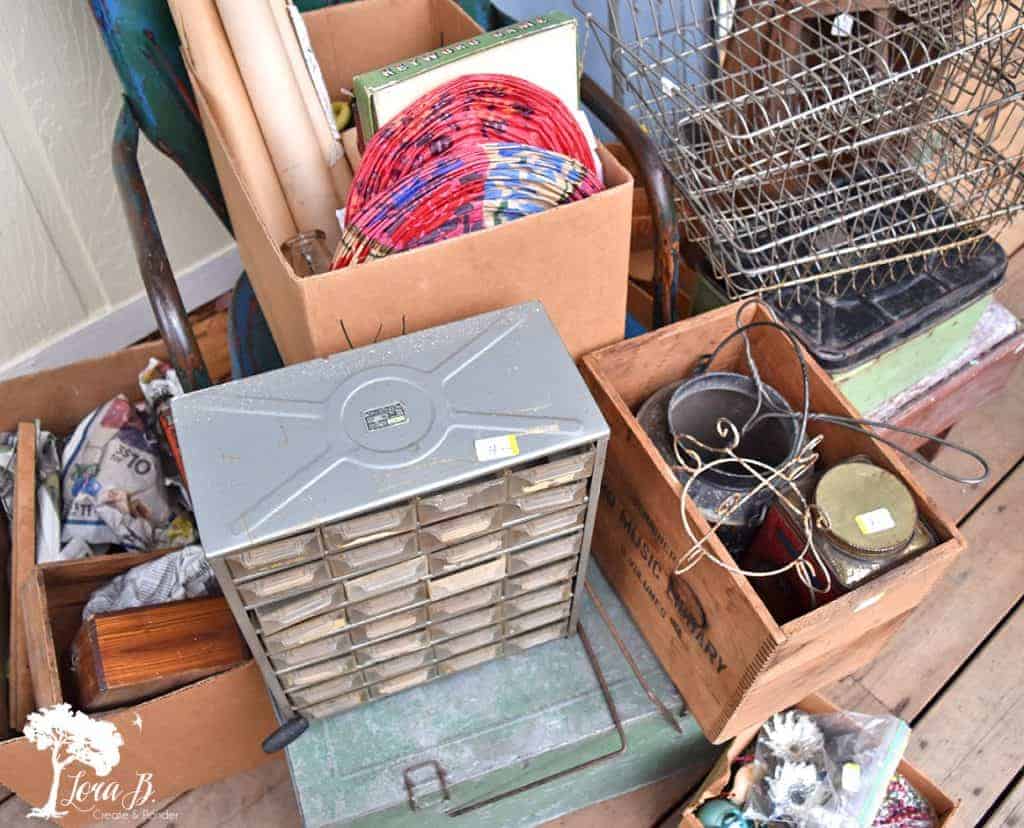 My latest vintage finds are a mish-mosh of different textures, but definitely reflect some of my favorite things. Luckily I didn't bring home any furniture in need of a redo! These finds are all in the medium to small category, but definitely are not in nice enough shape to start styling with yet. They need a little refreshing!
As I unloaded everything, I divided the loot into categories so I could give you tips on how to refresh them. Every junk refresher has her favorite tricks of the trade; I'll let you know what I'll be doing to bring these cuties back to life!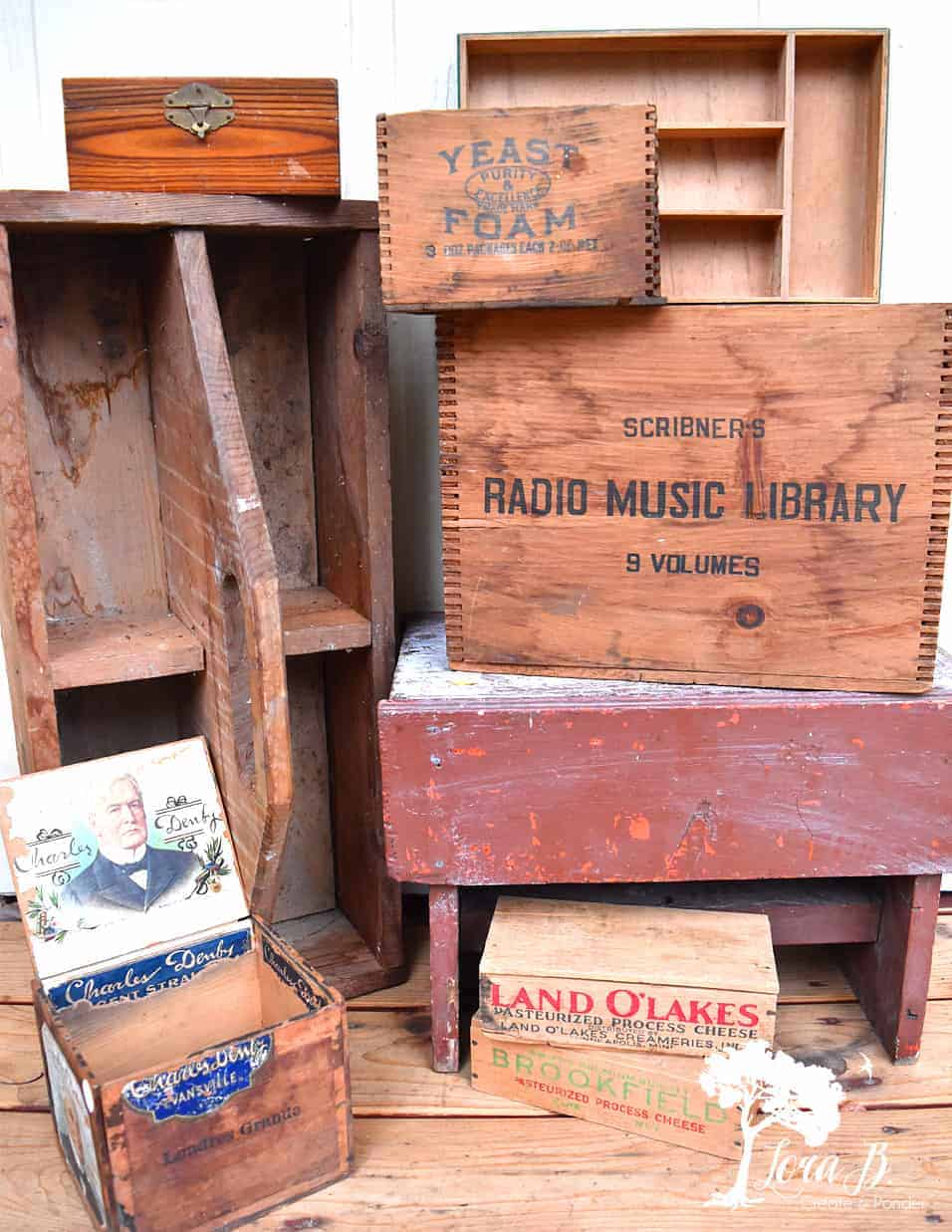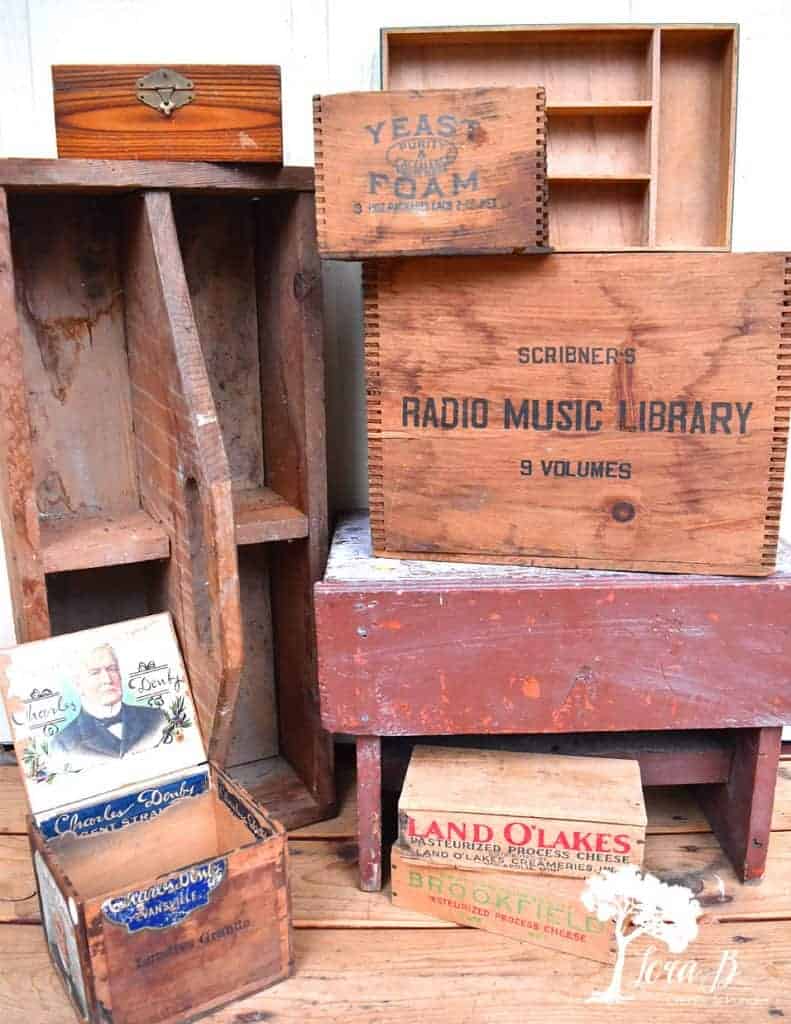 Latest Vintage Finds: Wooden boxes, stools, and a tool trug.
These classic wooden objects can be the foundation of many decorating vignettes. Their vintage graphics up their appeal. To begin, I will sand the bench and the tool trug with some 100 grit sandpaper in my palm sander (you can find mine HERE; it works well for smaller hands). I want to reveal some of the orange paint peeking out on the stool and smooth out it's rough edges. Then I'll seal it all with a couple of brushed on coats of my favorite poly (find it HERE).
I've never had a tool trug like this for myself; I always sold them before. I'm excited to sand this one up and brighten it with some Miss Mustard Seed's Farmhouse White Milk Paint (get it HERE). I'm trying to decide if I should put a layer of my favorite green underneath. I want to be able to use it all through the year so want it to be fairly neutral, yet fresh. Once done, it will probably get a coat of the poly, too, so it can easily be wiped out.
The dovetailed boxes need to be glued and clamped to tighten up their pretty corners (get the glue HERE). I may sand the rough edges a bit and will probably give them all a coat of poly, too. I like to seal in any musty old vintage smells. I love vintage items, but don't want my house to smell like old things!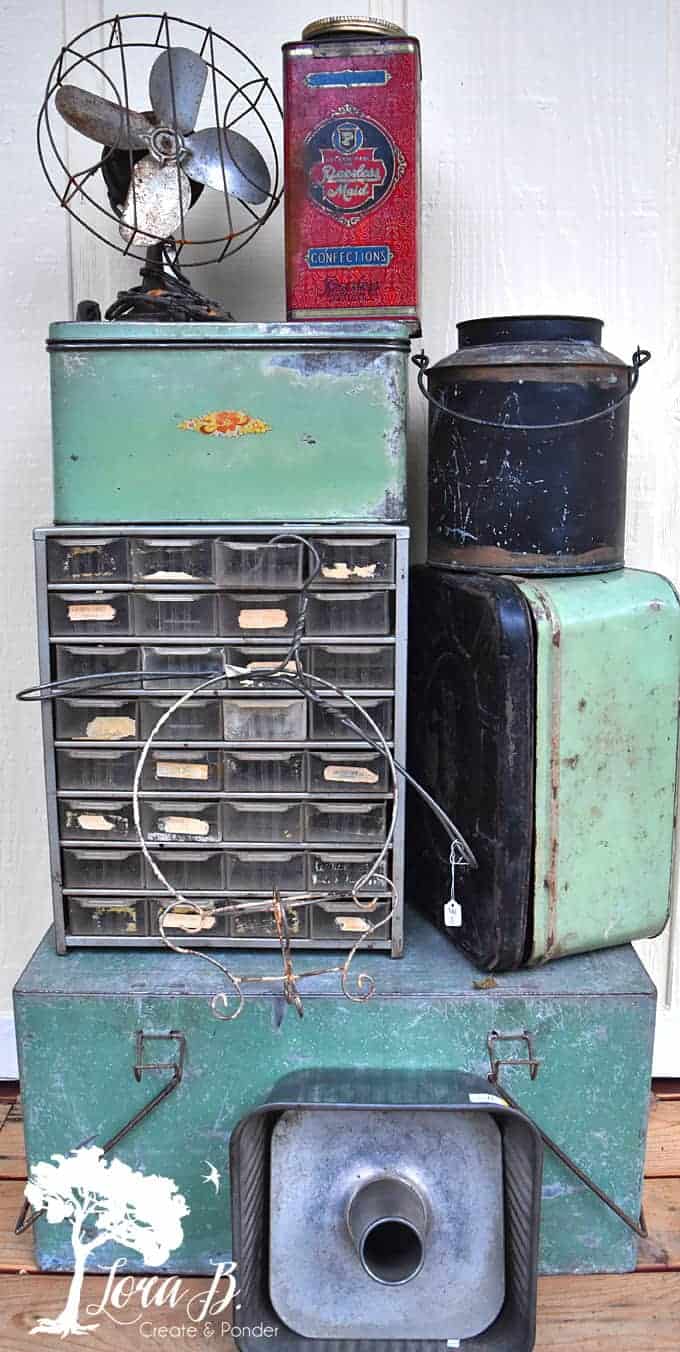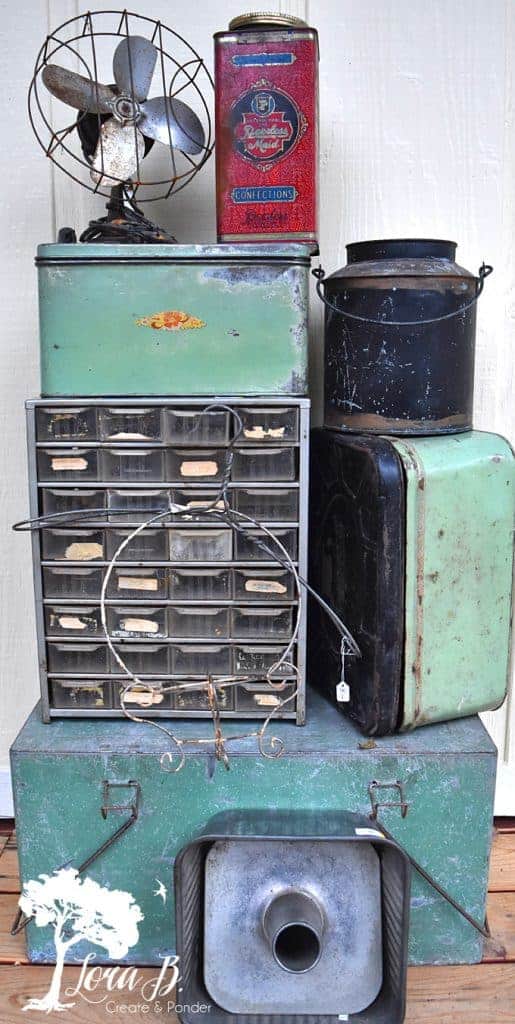 Latest Vintage Finds: Patinaed Metal
Can you see I have a weakness for that lovely vintage green? Think I was definitely dreaming of Christmas with these finds! I'm hoping to pop a couple of cute mini trees in some of these containers and the organization drawer is becoming an advent calendar!
To start refreshing these finds, I'll snip the scary cord off the cute little fan. Then I'll spray it with a degreasing cleaner (you can get it HERE). This stuff will clear all that thick grease off those wonderful finds I score in garages and basements in a couple minutes! I like fast when I'm cleaning things up, because it's not as fun as making pretty!
I'll soak all those plastic drawers in some Mrs. Meyers multipurpose cleaner (I like the fresh fragrance of THIS ONE) and scrub them out with an old toothbrush. The old tape labels might need a little extra help to come off; they can be fussy. I use THIS for stubborn adhesive issues.
Then I'll get to work scrubbing up the metal pieces with an S.O.S pad (find them HERE). These steel wool pads clean up the rust nicely, but can also take off the vintage paint, so BE CAREFUL. Scrub gently. I wouldn't use them at all on the graphics on the red coffee container, but would use them around the top lip and the bottom rim. It's all in how hard or soft you press with these cleaning pads. They have blue soap in them already. Rinse all the metal items with hot water and dry with paper towels so they won't rust further.
I will probably give these metal pieces a brushed on coat of poly, too (get it HERE). It just brings out the gorgeous patina of these pieces and deepens their color. It seals in any scary old lead paint and makes them easier to wipe down and clean. O.k…it's one of my favorite things! When we owned the store, my biz partner and I called it liquid gold:)
Latest Vintage Finds: Pottery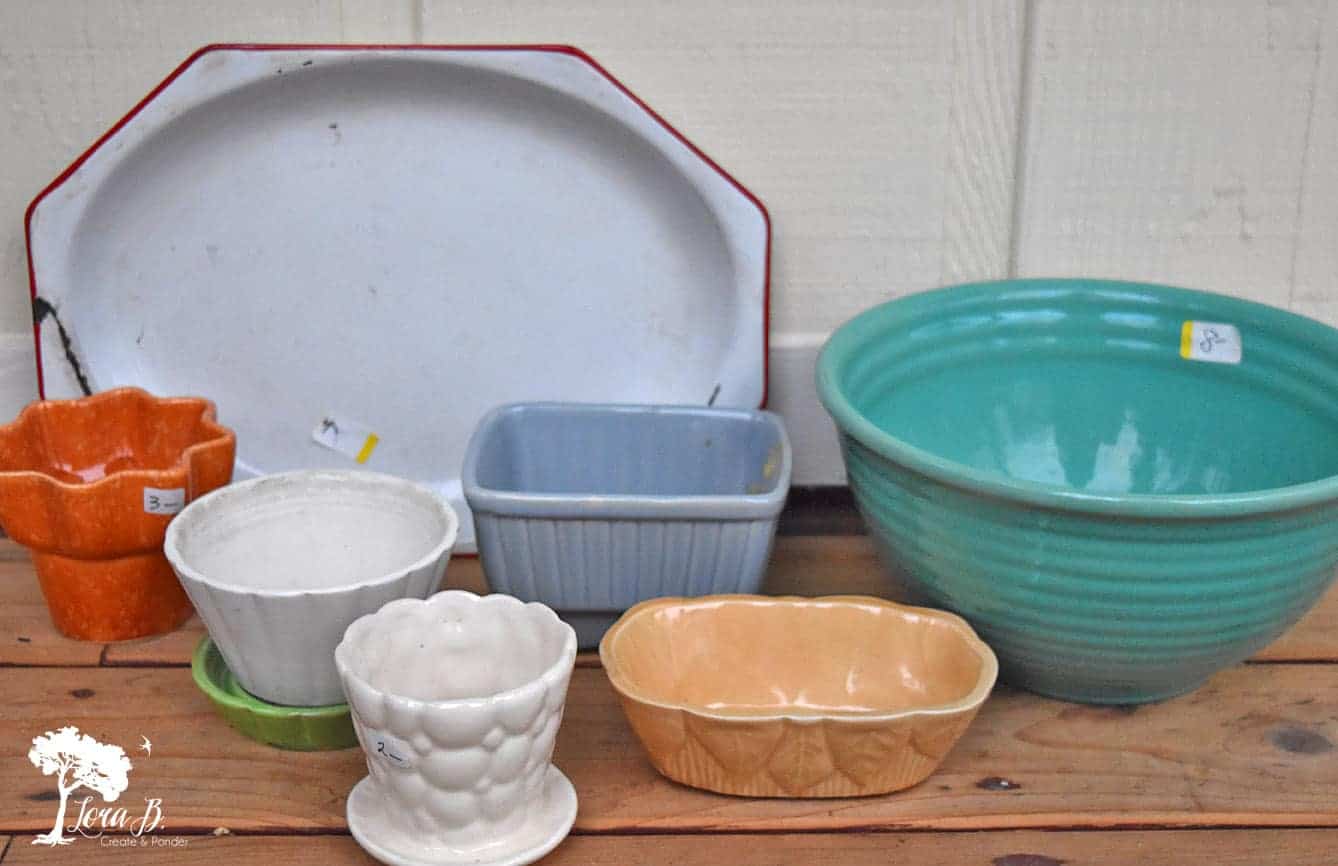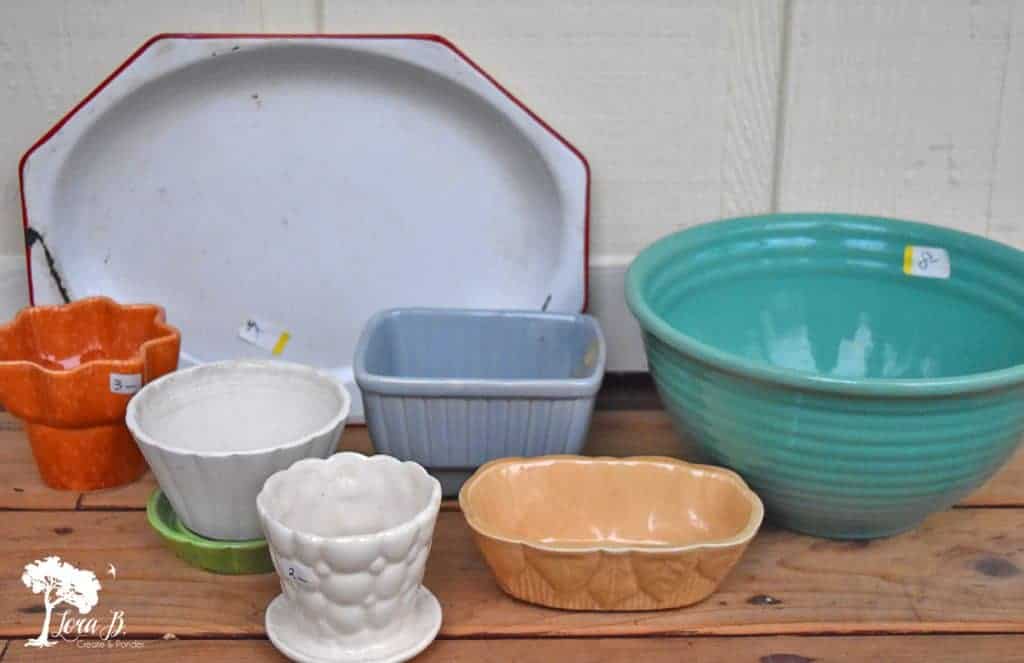 Luckily all this pottery needs is a little wash in my big farmhouse sink! (yes, we splurged and have the classic model HERE; I love it) The cute white with red platter in the back is enamelware. I will scrub it up with a gentle cleanser, HERE, (that I also use to safely clean my sink). I can't wait to use it for Christmas and Valentine's; I love it's fun shape!
Who else loves vintage pottery? The pretty colors, the subtle texture…I'm amassing quite a bit of this collection. I'll blame it on my Grandma; she got me started looking at the bottom identification labels when we used to garage sale together!
Latest Vintage Finds: Kitchen Ware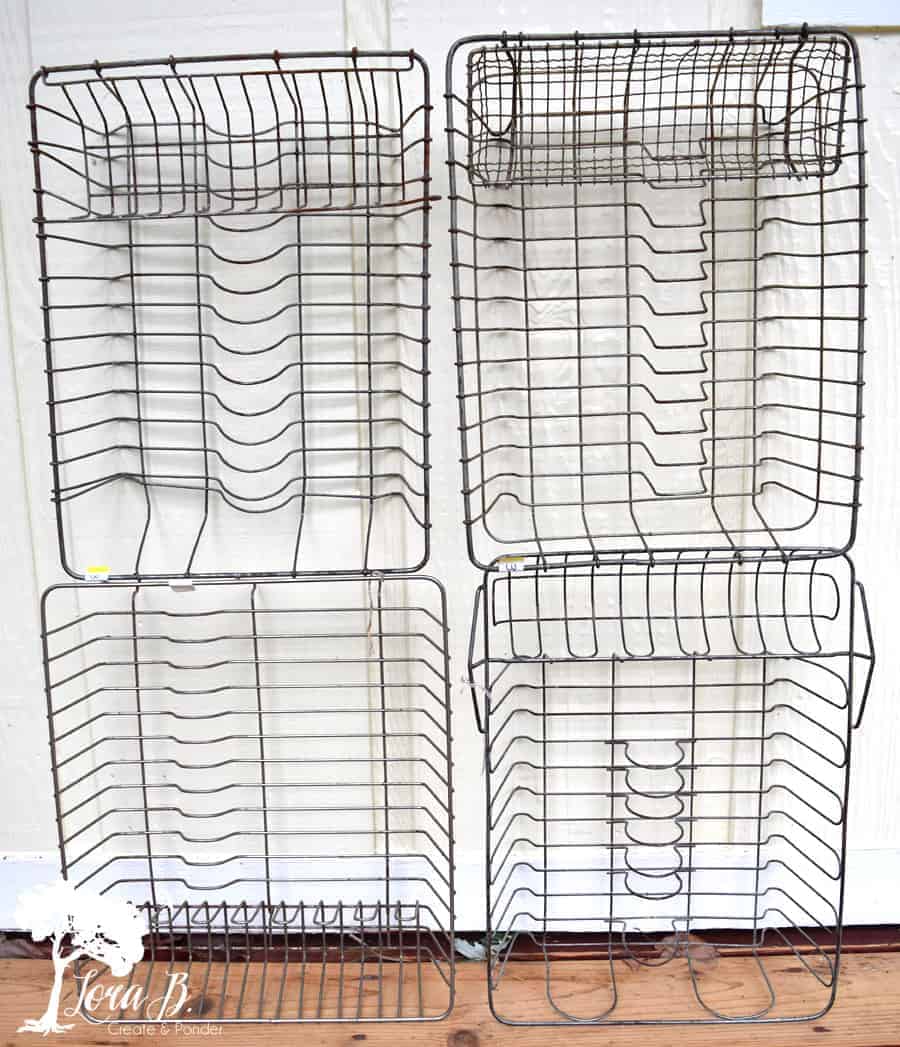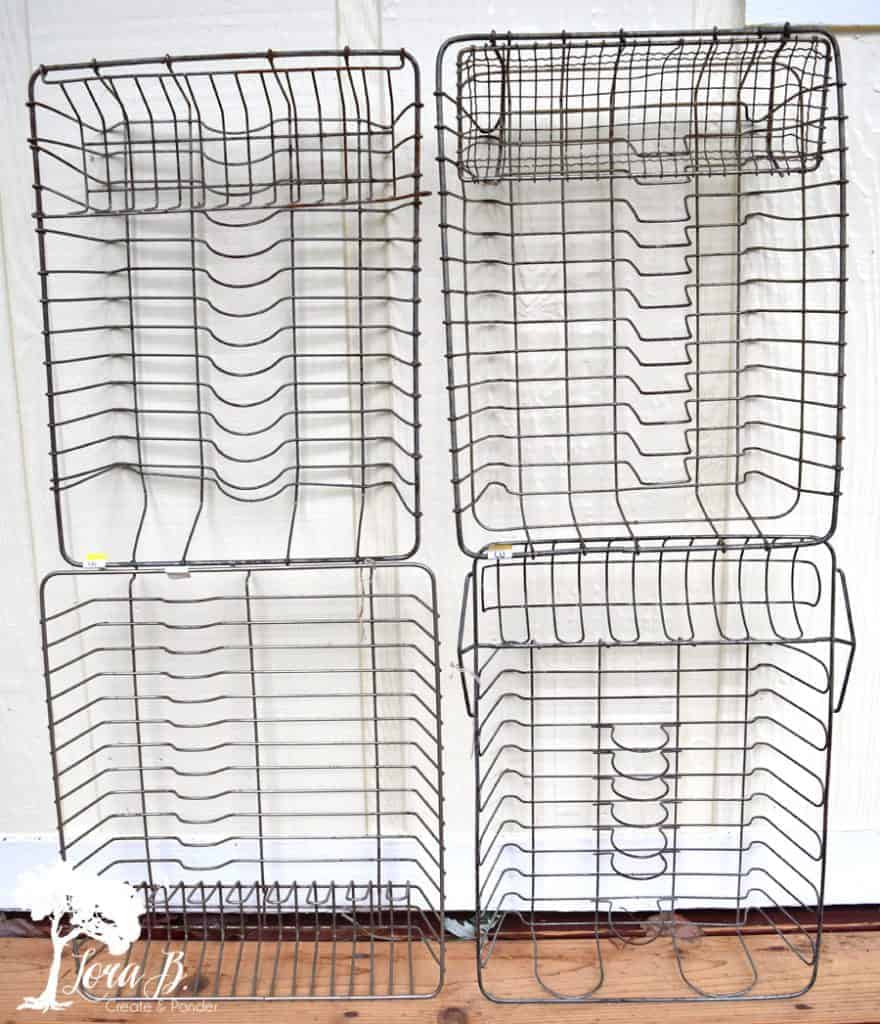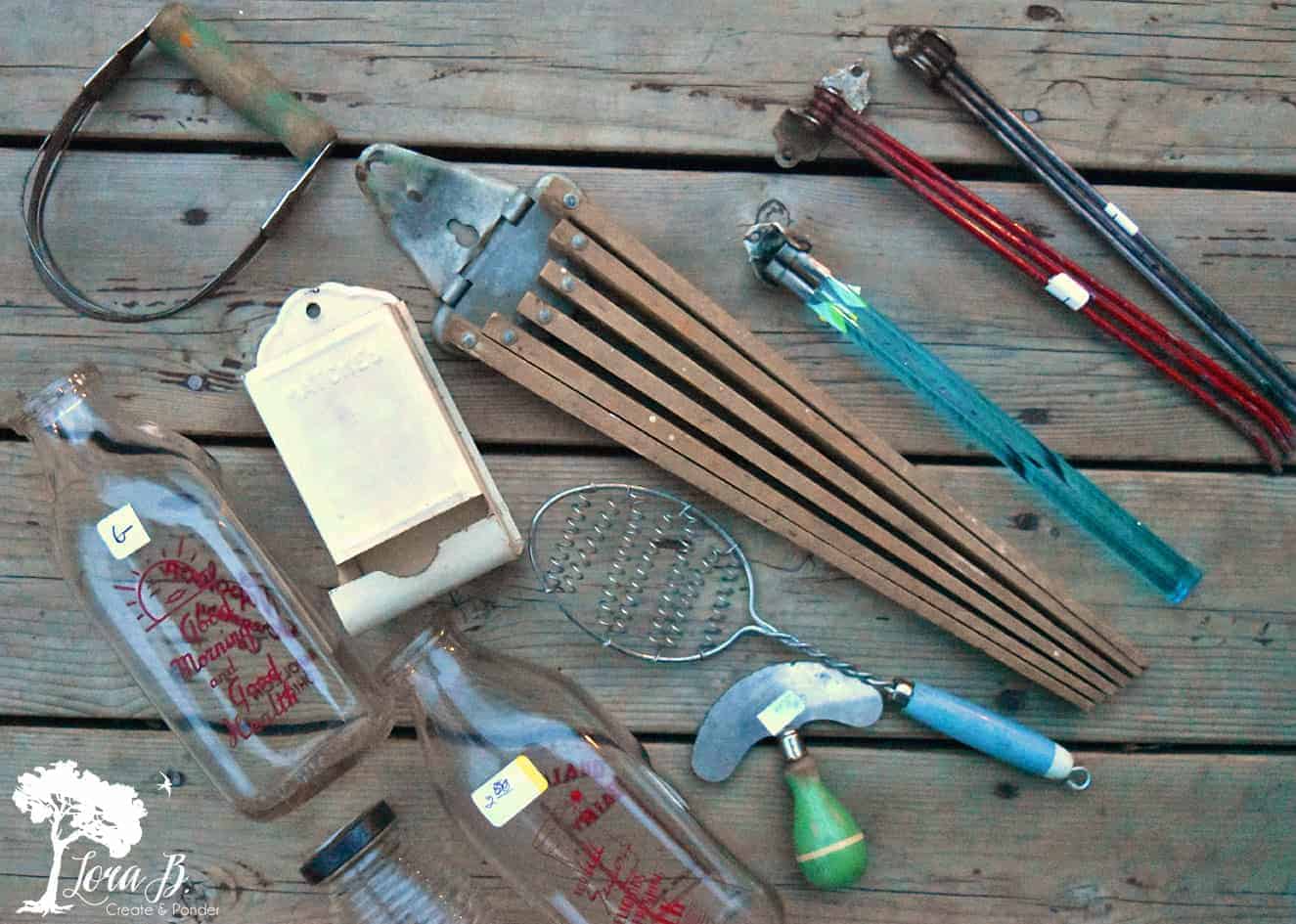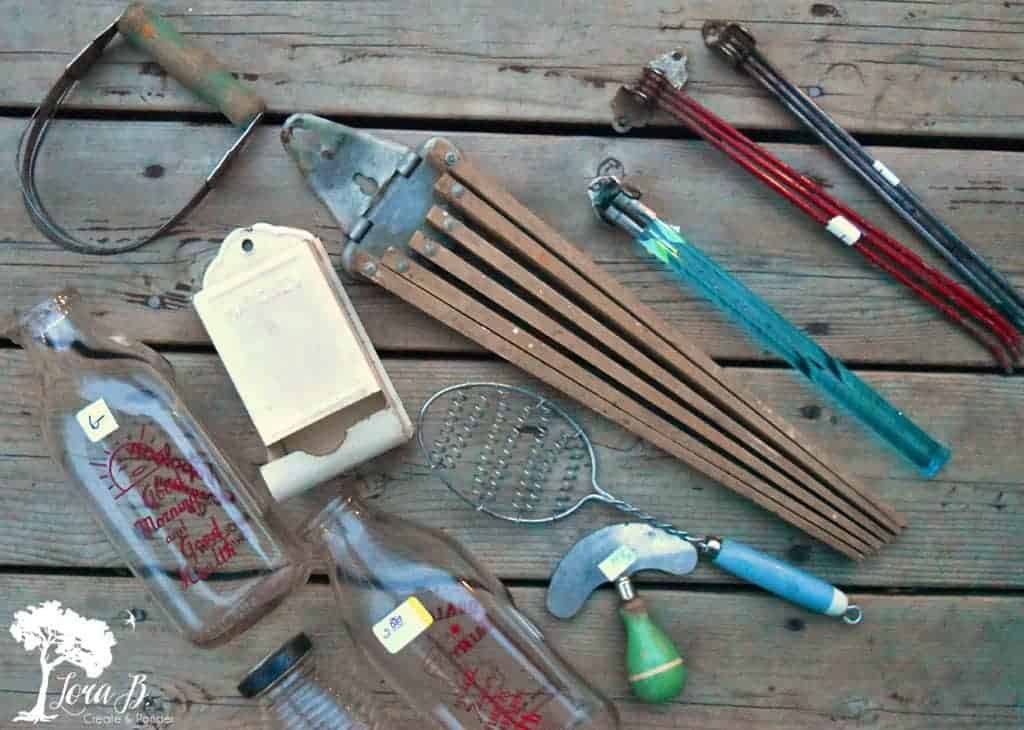 The everyday items the generations before us used in their everyday lives always intrigue me. These 4 simple wire dishtrays each had a different style. I want to use them simply hanging on a wall as still life. I may hang something in front of them, too. All they need is a little scrub with an S.O.S. pad.
Vintage graphics on old milk bottles are so charming. I haven't had any with red graphics, and these will look so cute filled with candy cane sticks at Christmas and conversation hearts at Valentines! I'll clean them up with the Sparkling Glassware special recipe which you can get by becoming an Insider (in the sidebar or down below). Heads up…you'll need some of THIS old fashioned cleaner.
These old towel bars are fun. I'm in love with the aqua glass one. Don't know how I'll use these cuties yet; guess I was just on a little roll with these!
The matchbox holder will get sanded up a bit so it's details can pop. I've never owned one of these either; should probably hang it by the back door so we can always know where matches are!
Aqua and green handled old kitchen utensils always come home with me if they're the right price;) I enjoy them on wreaths at Christmas.
Latest Vintage Finds: Paper Items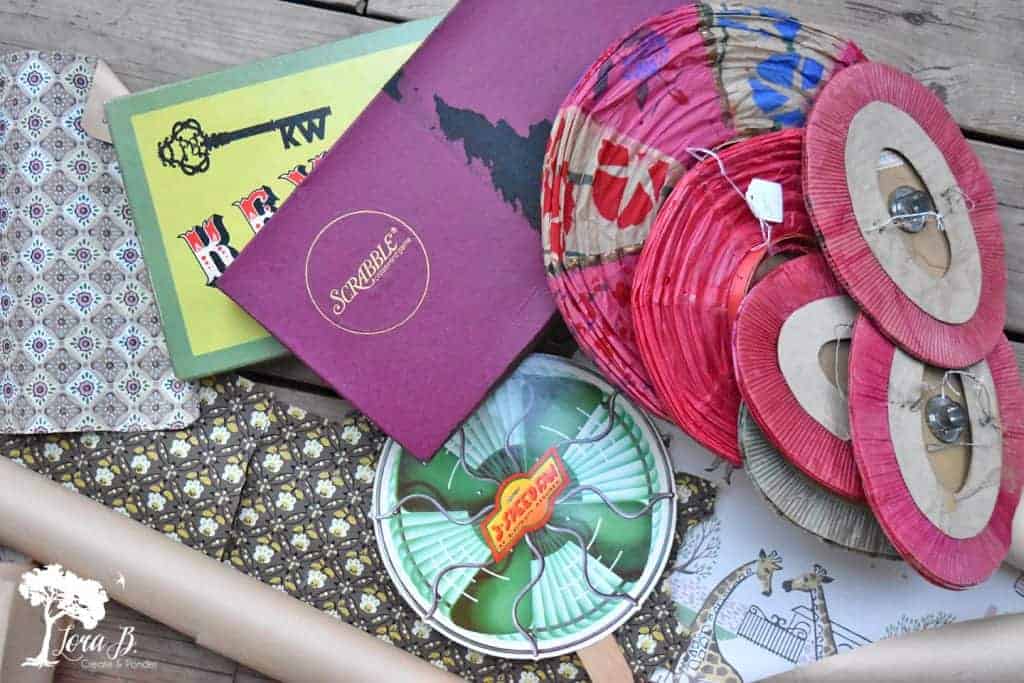 Old game pieces are fun to have on hand. I like the darker wood pieces of these old scrabble games, and this other game has the black with white letter game pieces I've been hunting for for awhile! Score!
The delicate paper on these old paper lanterns were so pretty; I think they'll be lovely at Christmas with my vintage Shiny Brites!
Vintage wallpaper is hard to come by, so whenever I spy it, I need to add it to my collection. Trying to come up with a way I can enjoy these beautiful papers everyday, or at least at Christmas.
The old fan fan was just cute; don't even know if it's old or reproduction, but if you like it, who cares?
Latest Vintage Finds: Fun Odds and Ends
This post is getting long…cuz' I bought so much!! Yes, it will take me all winter to refresh all this and figure out it's new purpose. But I probably won't hit any sales till next spring, so guess that's ok!
Here is the last of the loot that had to come home with me: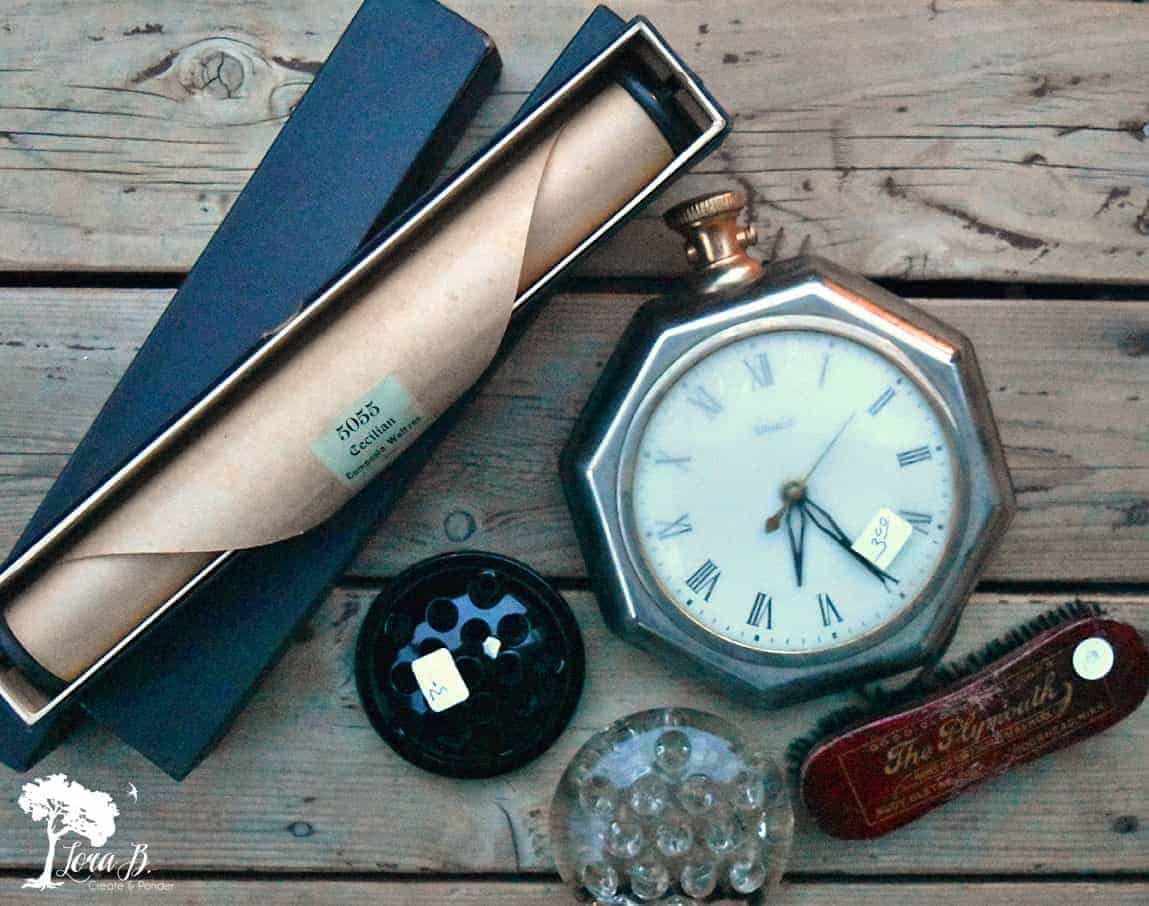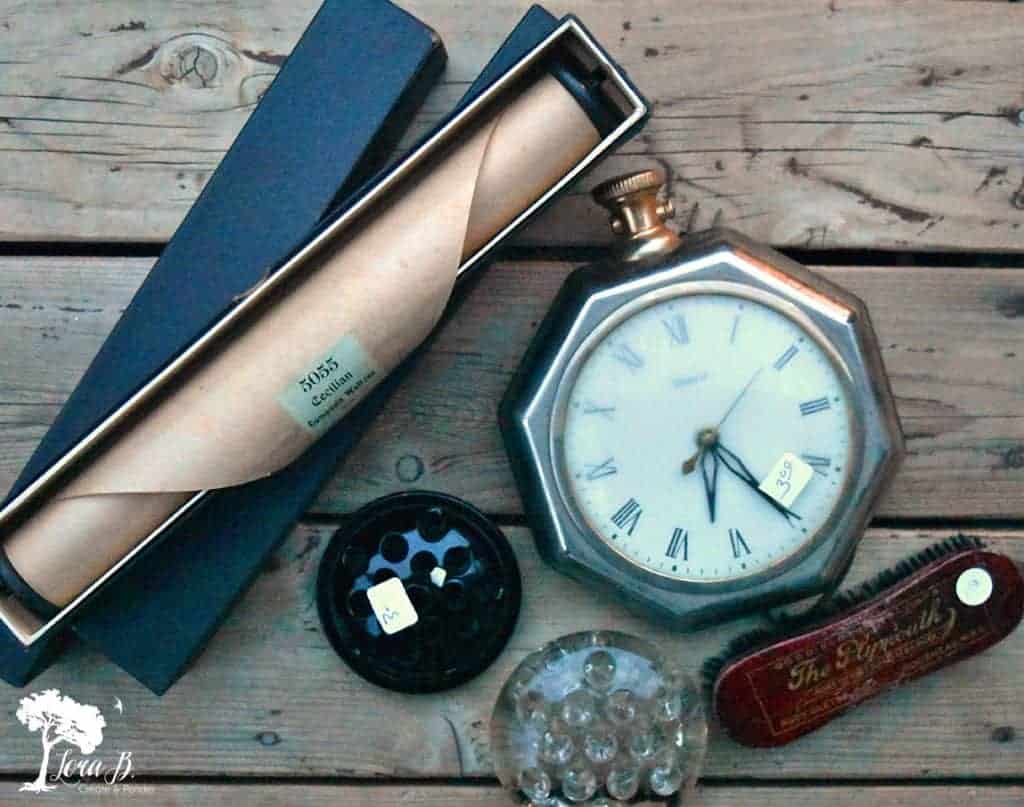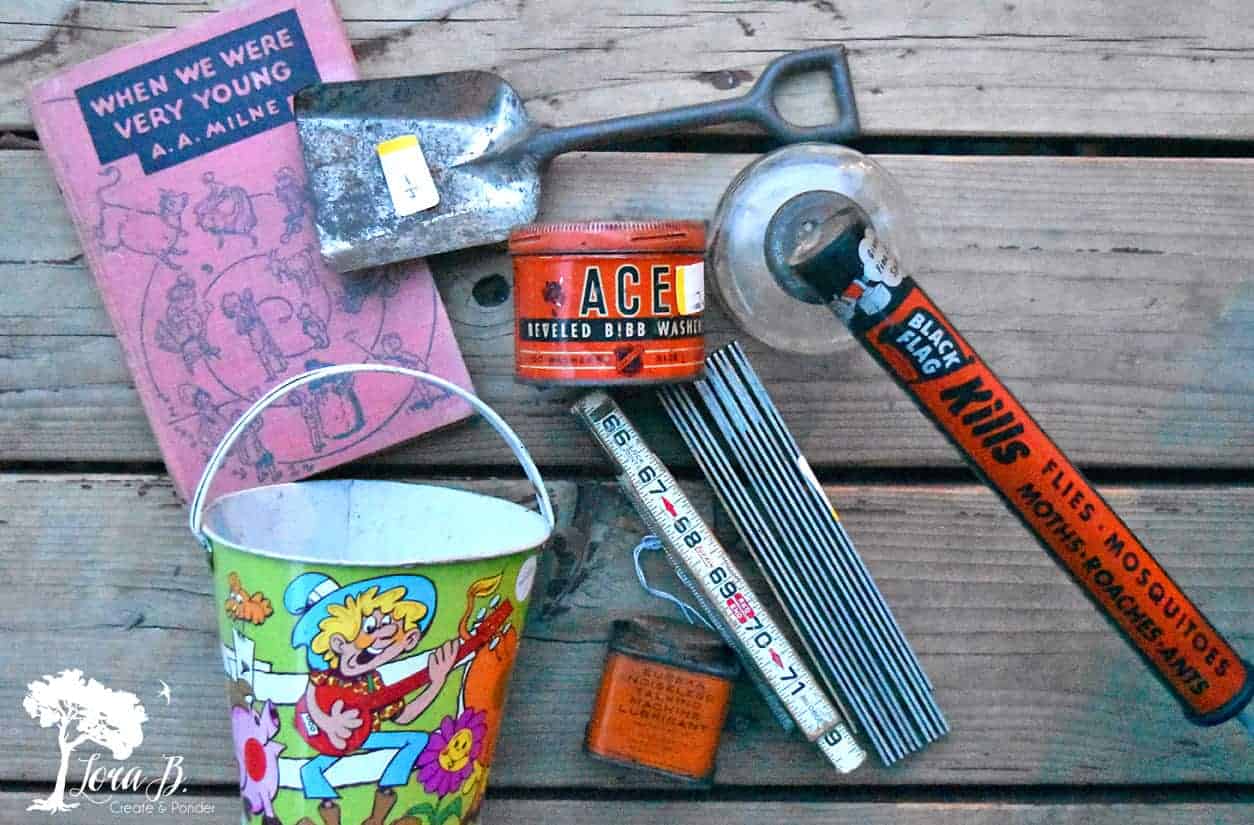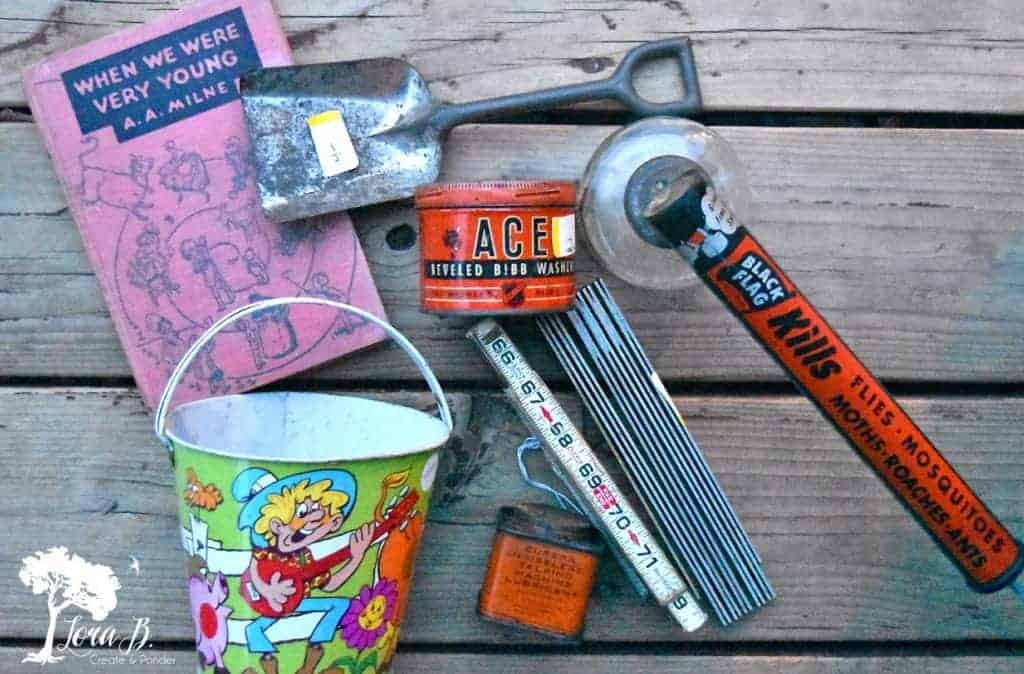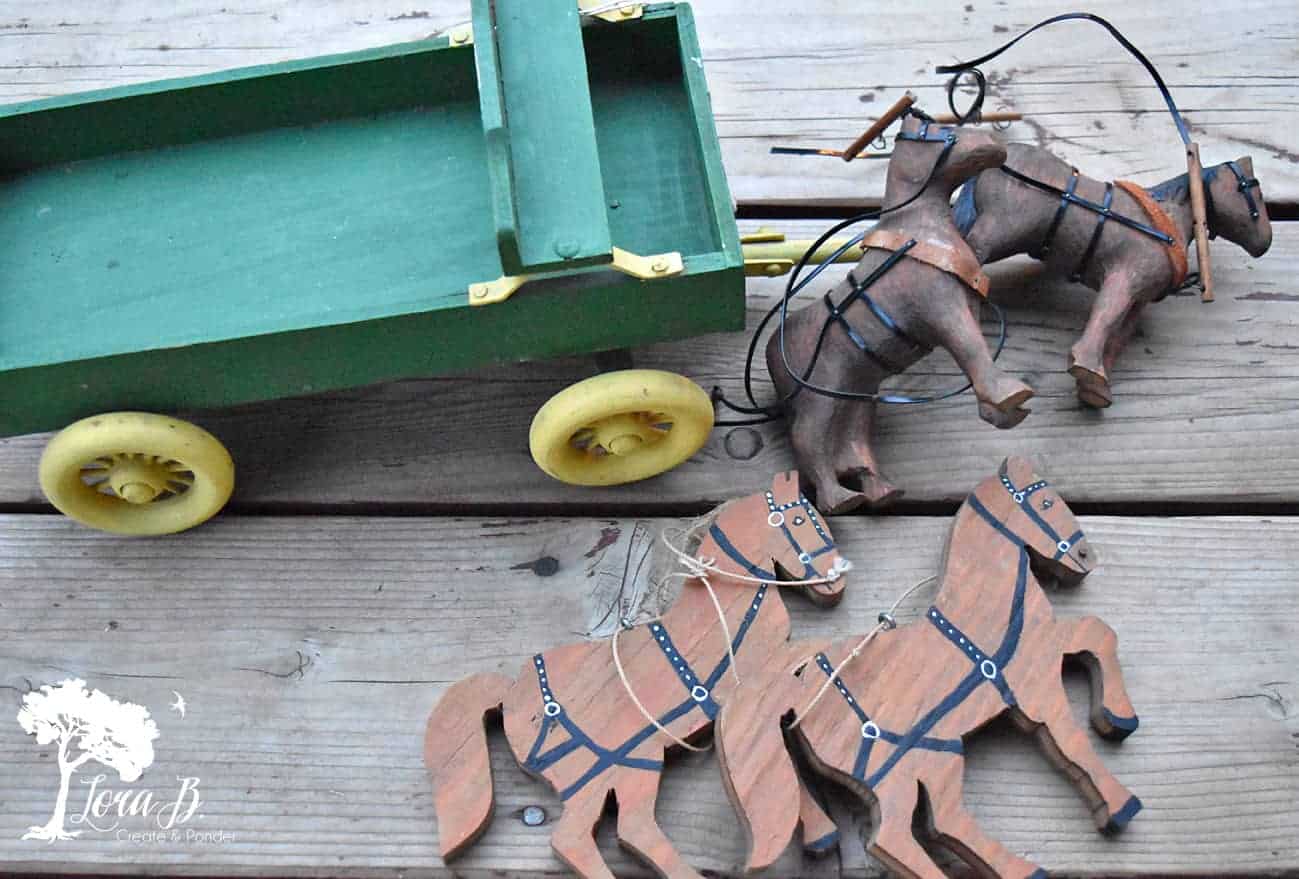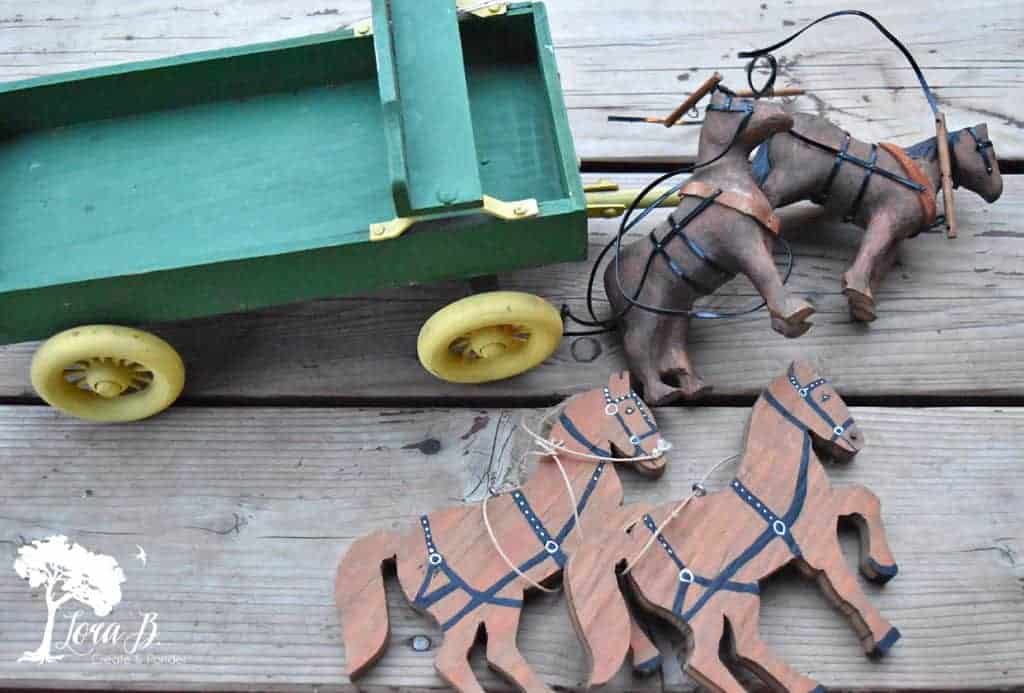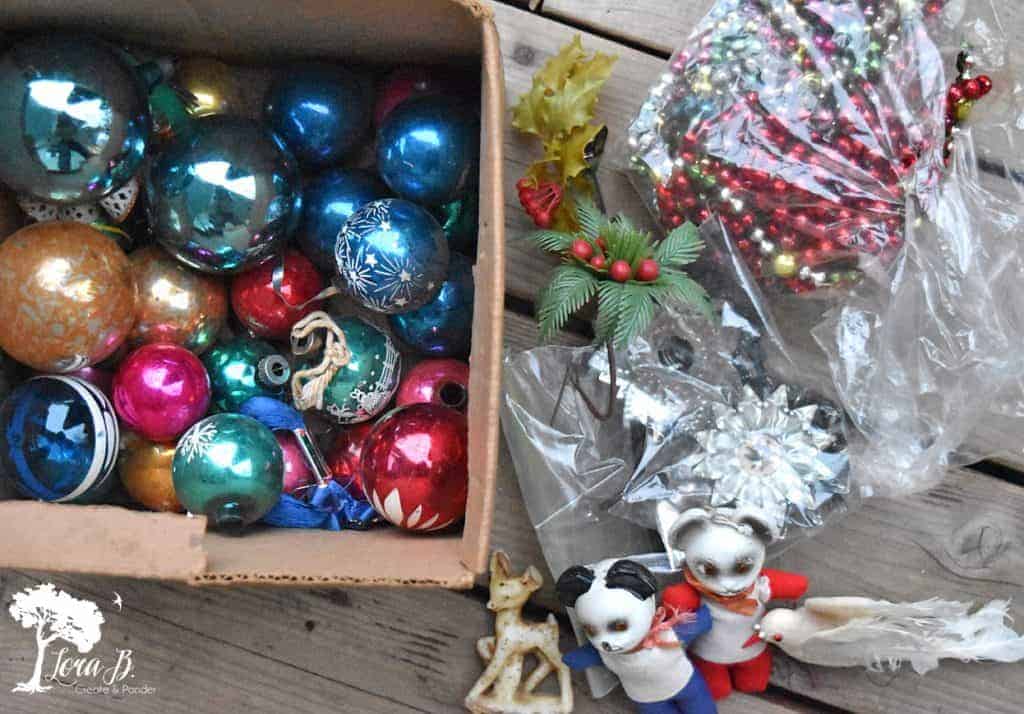 Aren't you glad you can see some of the price tags and be jealous of what I got things for? It was a wonderful sale; don't know the last time I had that much fun!
Shop for some of my Favorite Items to Refresh Vintage: click on pics for more info.
I will be slowly working my way through these latest vintage finds, scrubbing things up and refreshing and sealing them as needed. I hope these refreshing tips help you figure out how to give your vintage finds the expert treatment! You'll be seeing all these pieces in future posts, I'm sure!
What would you have brought home in this Latest Vintage Finds and How to Refresh Them post? What are your favorites?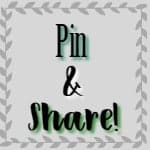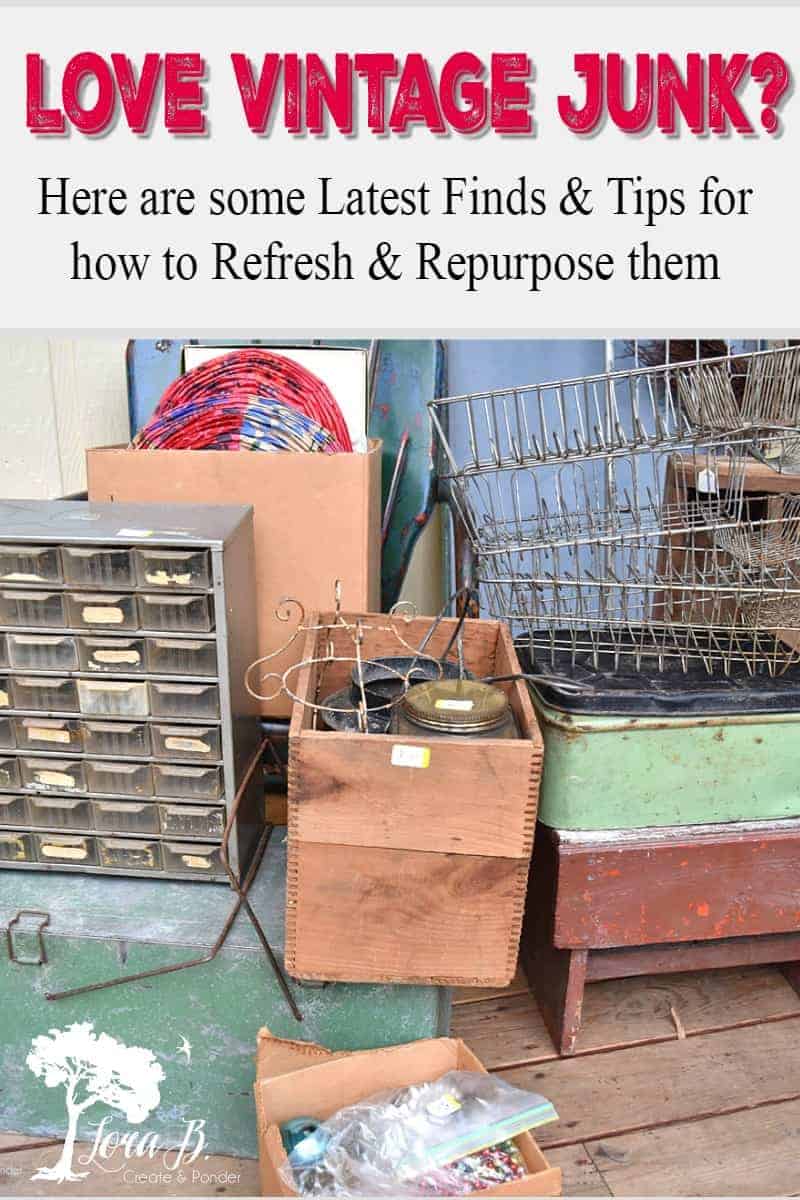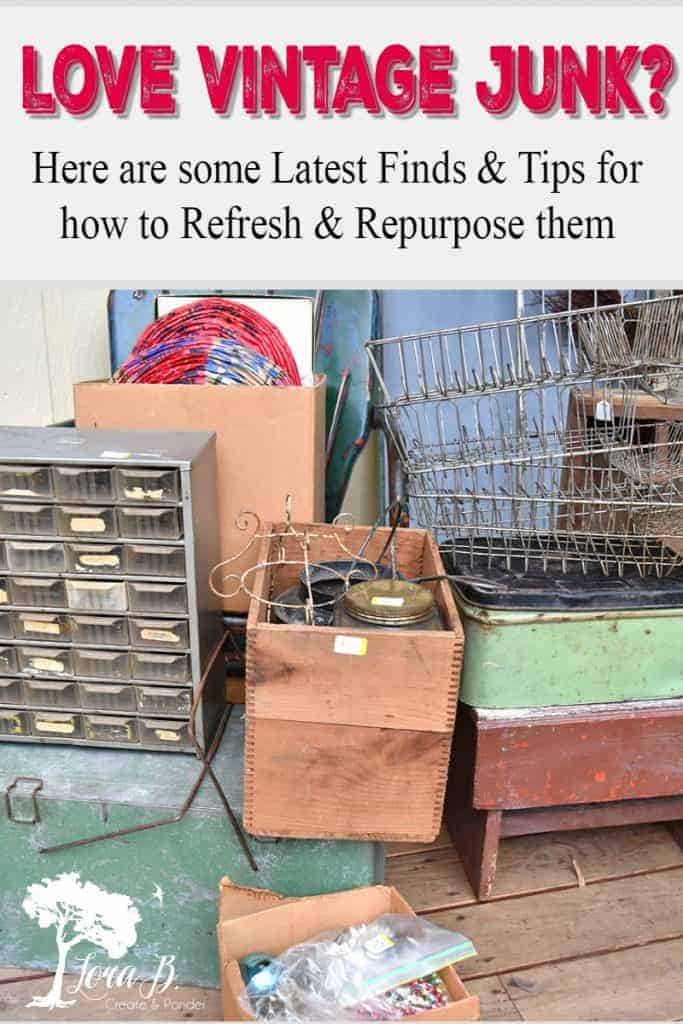 Sharing at these lovely parties: