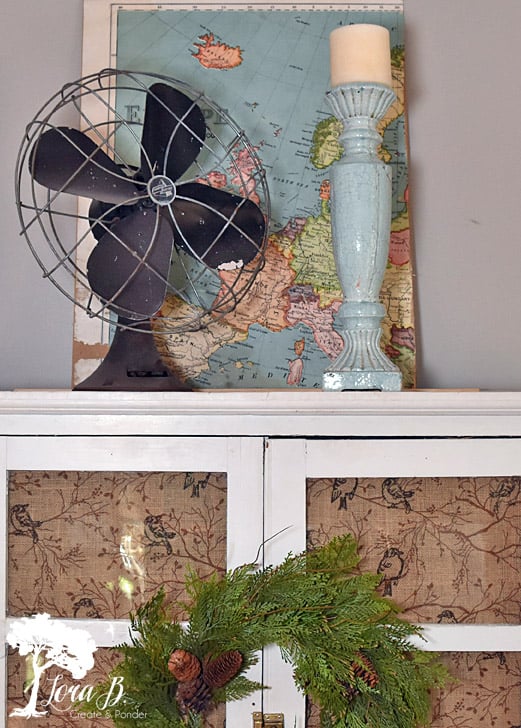 Quite a few of you have probably heard of the Rule of 3 when it comes to decorating. To create an appealing vignette, you can't go wrong with three items. Today I'll show you how you can take this same concept and multiply it. If you learned your multiples of three in grade school, you can create a beautiful vignette! Become a better decorator today with Styling Tips: Using the Rule of 3, Multiplied.
To fill my long scaffolding shelf, I filled it with multiples of threes. Let me walk you through the steps, and hopefully if you have a big space to fill, this will inspire you to do some styling!
Here's the final vignette. Then I'll walk you through the process.
Gather Your Accessories in Groups of Threes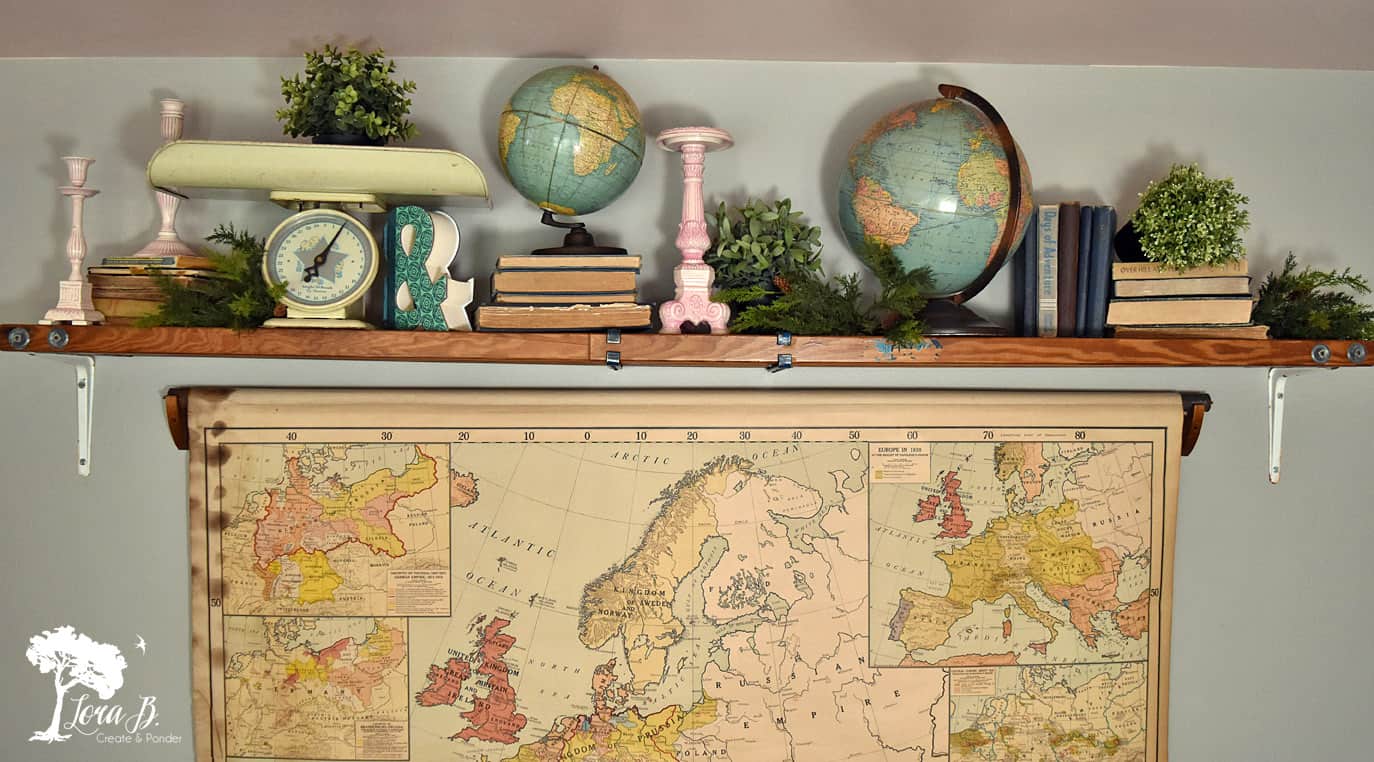 Place the first 3 main accessories. I used three round elements: 2 globes and a vintage baby scale with a round face. I did not want this grouping to be symmetrical, yet it still needed to be balanced within the overall length of the shelf.
Balance the Visual Weight of Your Items Evenly
Next, add 3 stacks of books. I placed the first stack under the middle globe so it could be the highest. The overall grouping is in the shape of a triangle and the middle globe is the top of the triangle. I placed stacks of books at either end for balance, also adding one stack standing up for interest. The stack of horizontal books on the left, in the middle and the right creates cohesiveness throughout.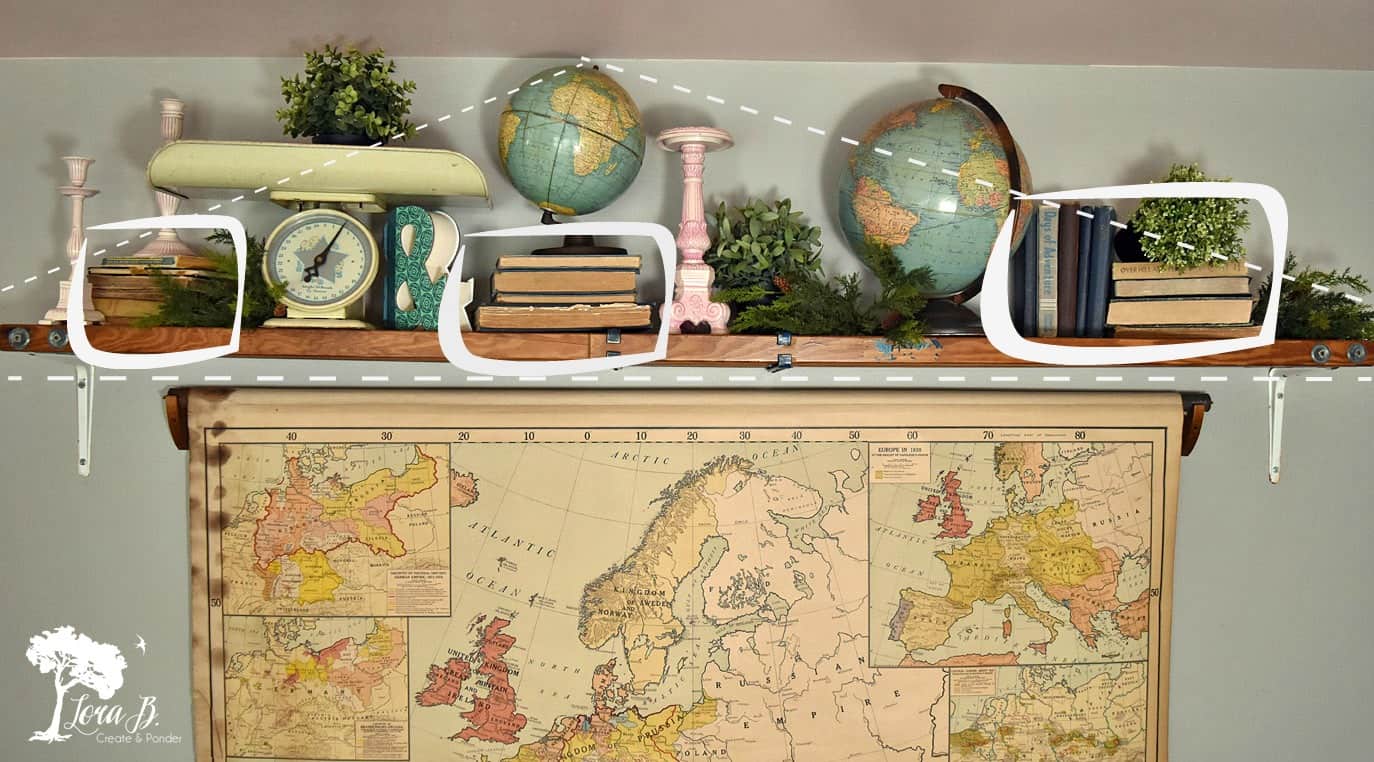 Vary Vertical and Horizontal Elements
The shelf elements are also playing off the colors of the map, so I decided to add 3 pink candlesticks. The candlesticks provide a nice, strong vertical statement to contrast with the round items. The largest, chunky candlestick is placed almost in the middle of the whole grouping, while the other 2 are off to the left. The 2 on the left are a vertical balance with the stack of books I stood up on the right side. There's vertical on the left, in the middle and on the right, which balances out the whole scene.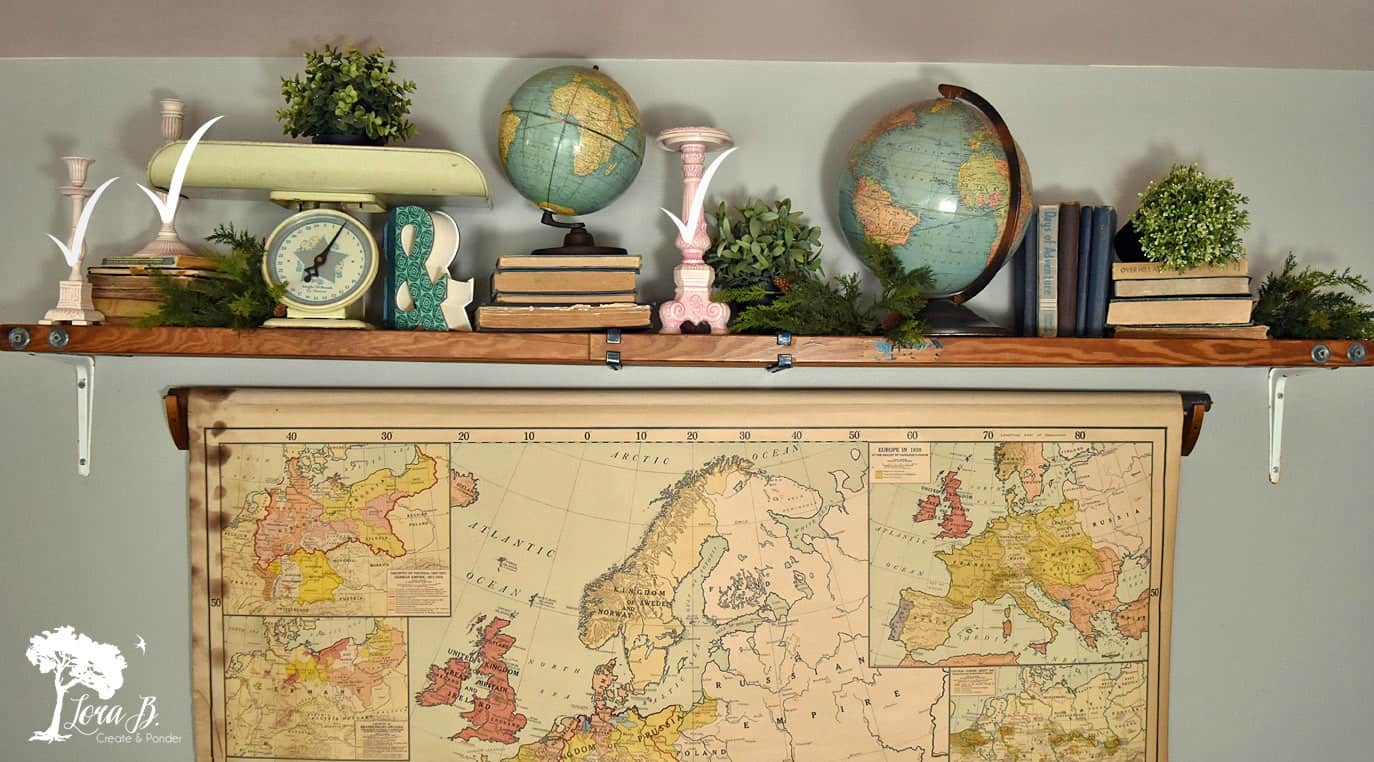 Add Foliage for Softness and Texture
Greenery adds texture and softness to the whole scene. I had 3 Ikea potted plants that I placed evenly throughout the whole length. Pots don't always have to be standing up straight; go ahead and tip one on it's side for interest! I then added 3 bunches of evergreen sprays, also evenly spacing them throughout the length for balance.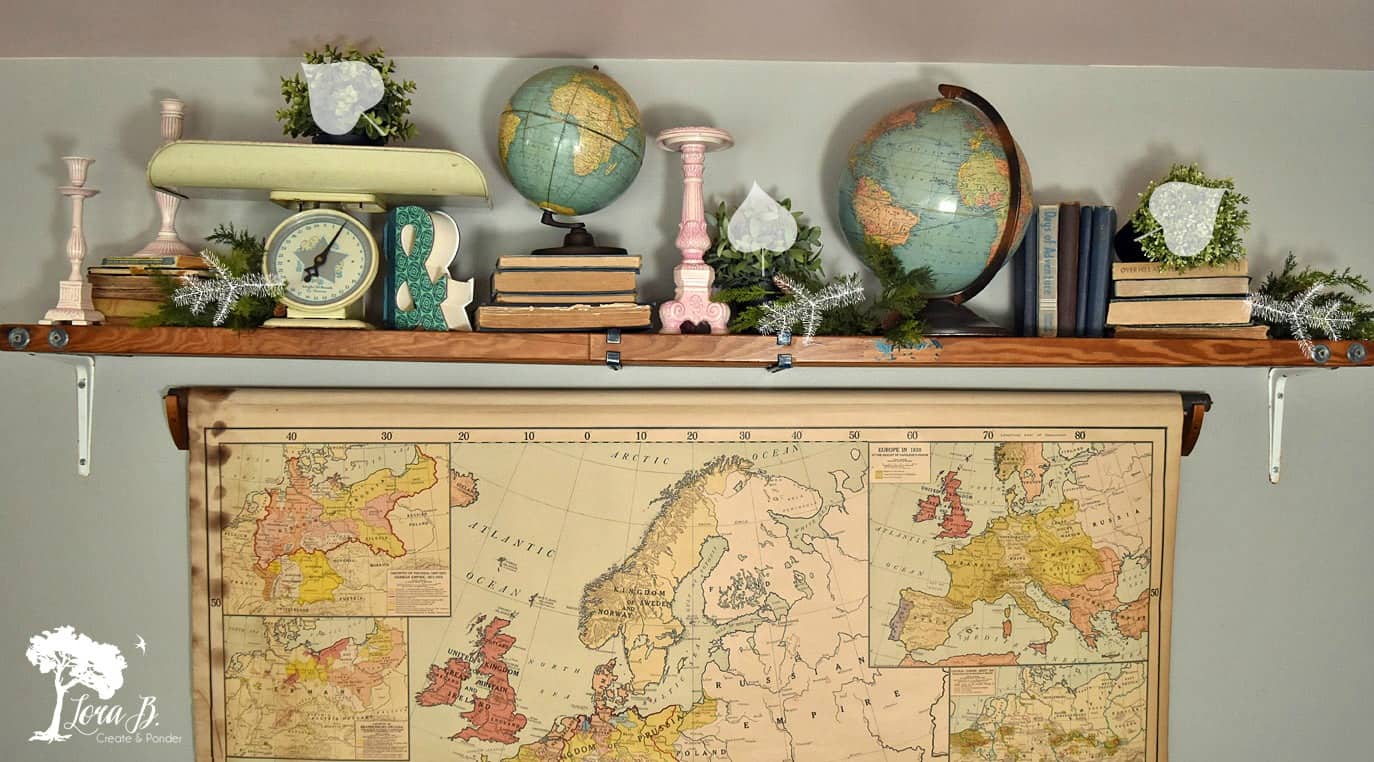 3 large round accessory items
  +
3 stacks of vintage books
   +
3 candlesticks
   +
3 pots of greenery
                                                                                             +
3 bunches of greenery
   =
One pretty shelf (and yes, there's one random ampersand book in there)
Think you want to try it somewhere in your home? I'd love to hear about it if you do! Using groupings of your accessories in 3's is an easy way to build a whole vignette. It takes the overwhelm out of a large expanse, whether it's a long shelf or maybe a mantle. Hope this inspires you to go find some of your accessories in groups of 3's and get creative! Decorating can be easy if you use this Styling Tips: Using the Rule of 3, Multiplied.
Read about more ways to accessorize with books in "Decorating With Books, 101 and Beyond".
To see a Christmas vignette styled in stages on this same shelf, read "Christmas Map Display".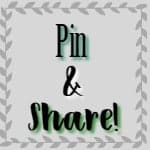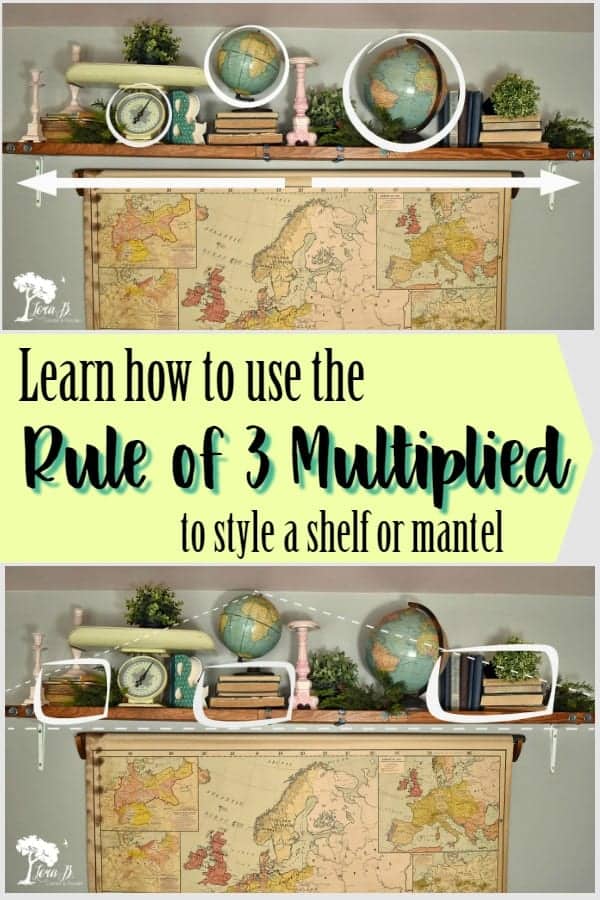 Sharing at these lovely parties: