DIY Lake Themed Patriotic Wreath
An upcycled tire inner tube becomes the perfect foundation for this fun and easy summertime DIY Lake Themed Patriotic Wreath.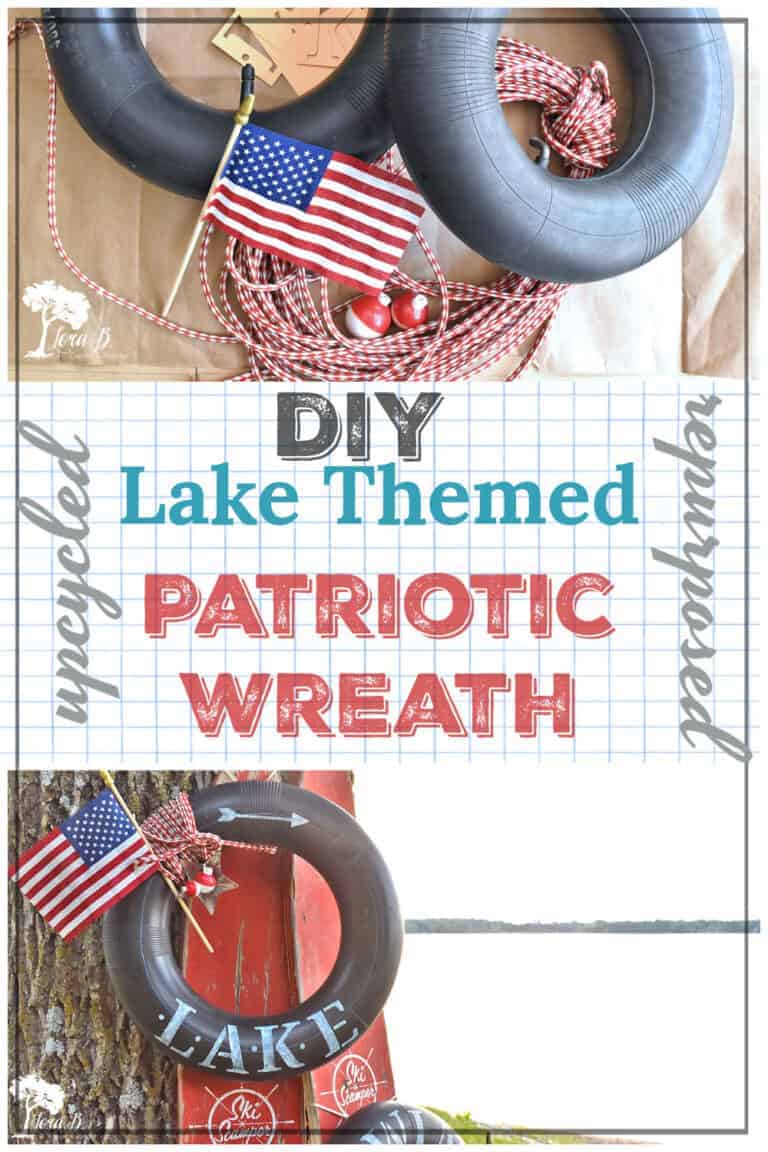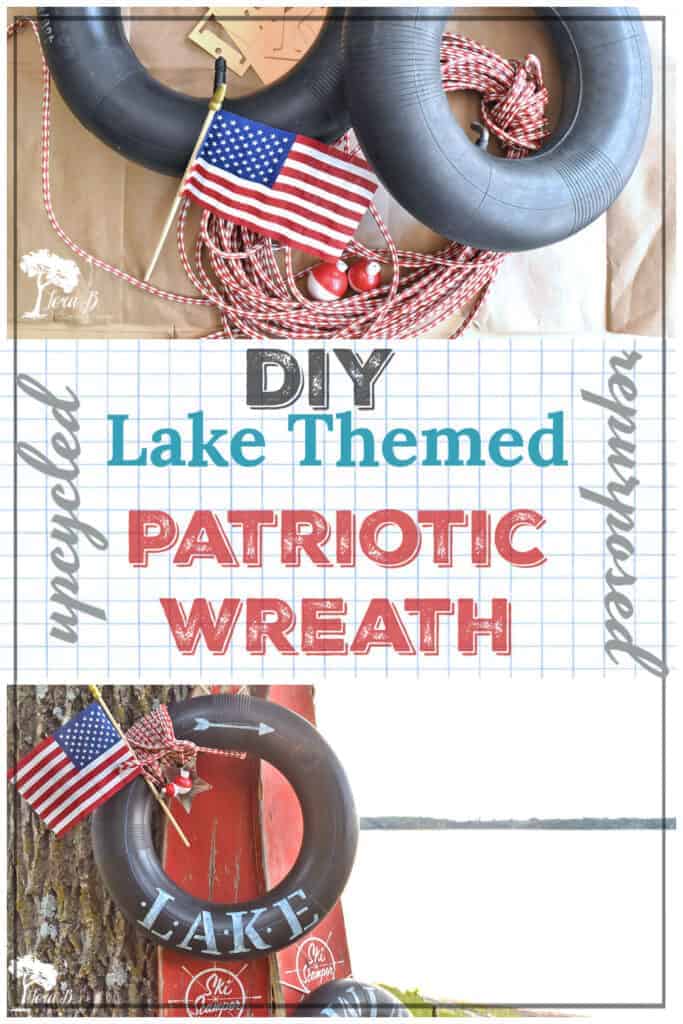 Looking for a fun and easy summer wreath idea? All you need is a few simple things to make this unique wreath to coordinate with your lake-themed summer decor. It will fit in perfectly with vintage skis or paddles, and all those fun family water-fun pictures! Here's how to make a DIY Lake Themed Patriotic Wreath.
DIY Lake Themed Patriotic Wreath
For your convenience, this post contains affiliate links. If you make a purchase, I may receive a commission. There is no additional cost to you. My full privacy policy is here.

Materials Needed: (click on links for purchase info)
tire inner tube ( I used This size and This size)
white craft paint and stencil brush
red and white rope or ribbon ( I used an old ski rope)
mini flag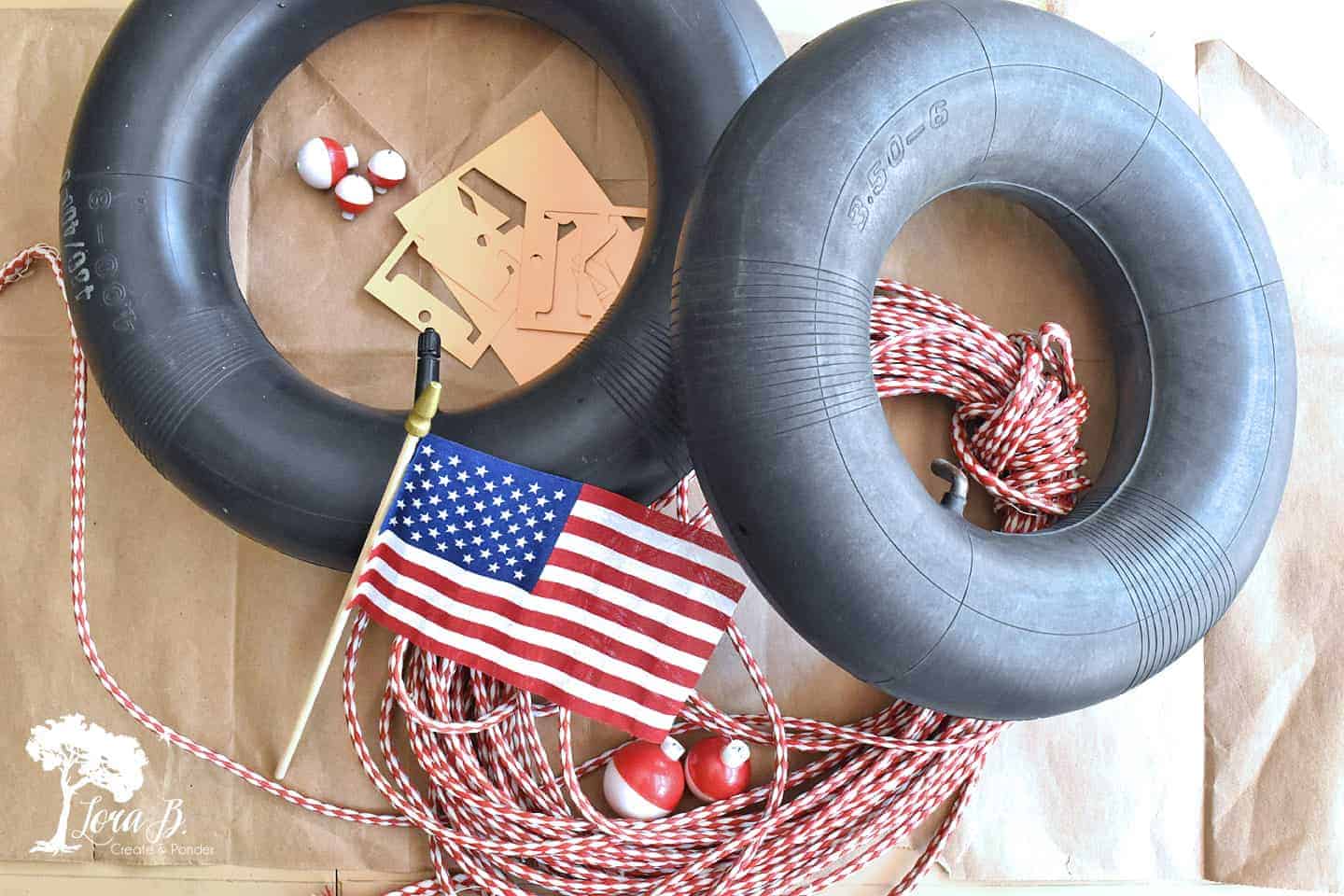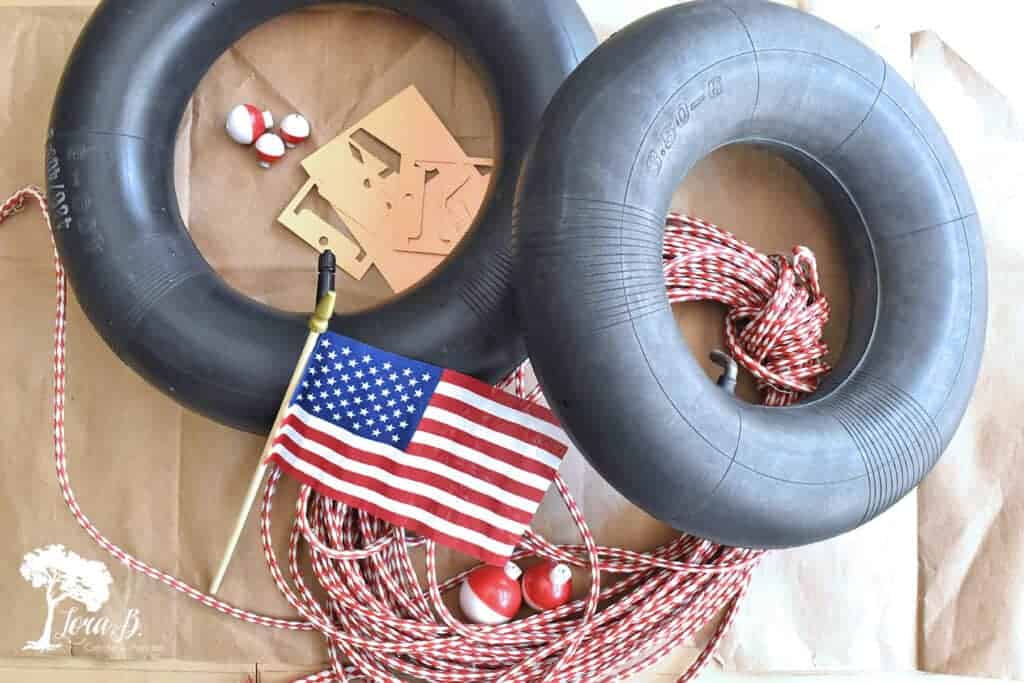 DIY Patriotic Wreath How To:
Air up your tire inner tube fully. Start by stenciling a lake-themed word at the top or the bottom. Painter's tape helps to keep the stencil in place and prevents painting off the edge. I usually use a swirling motion with my stencil brush. Paint lightly and build up the color in stages.
Once you get your word stenciled, add any other graphic elements you want. I added an arrow; stars would have been cute too. If you're using outdoors, you may want to add a spray sealer.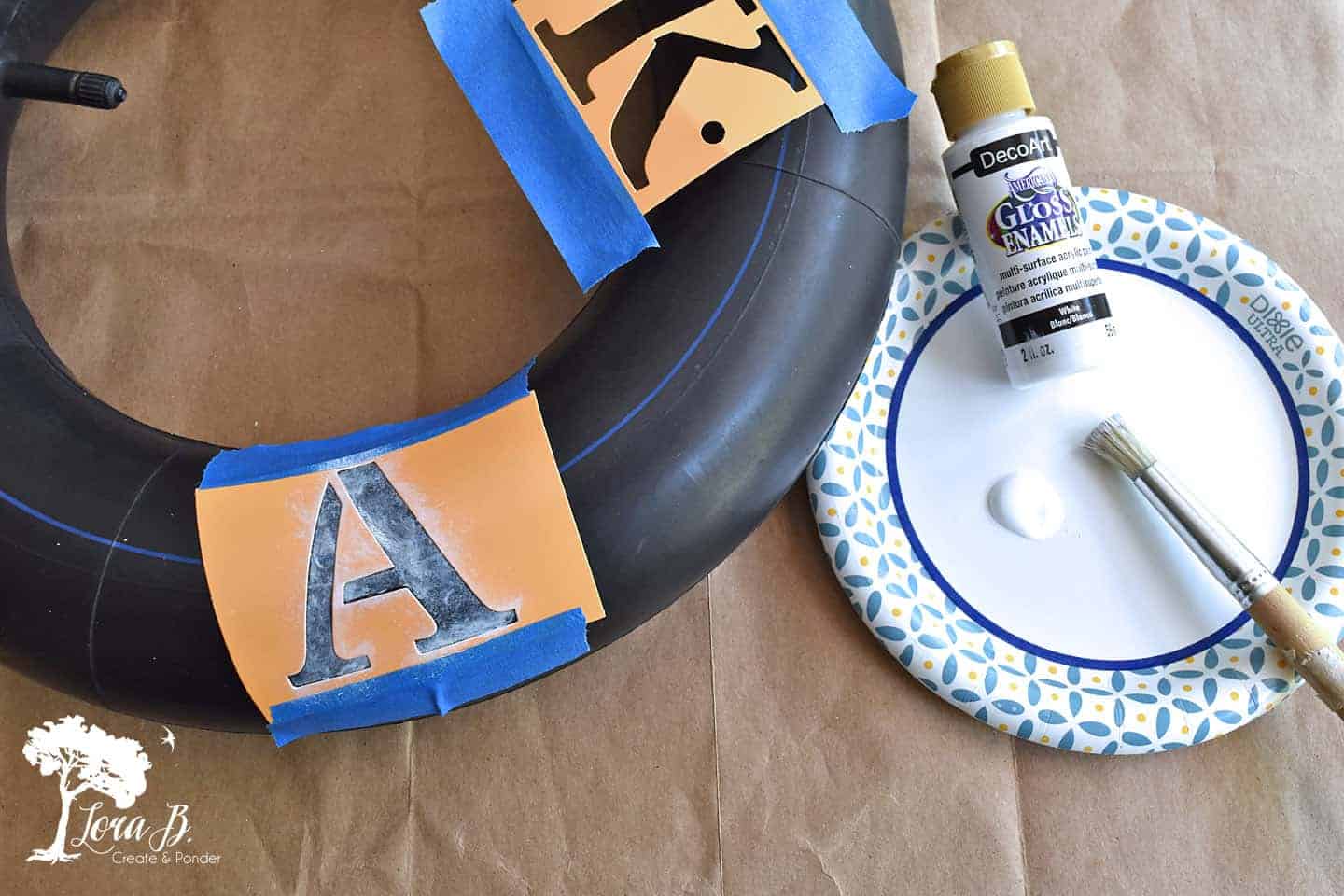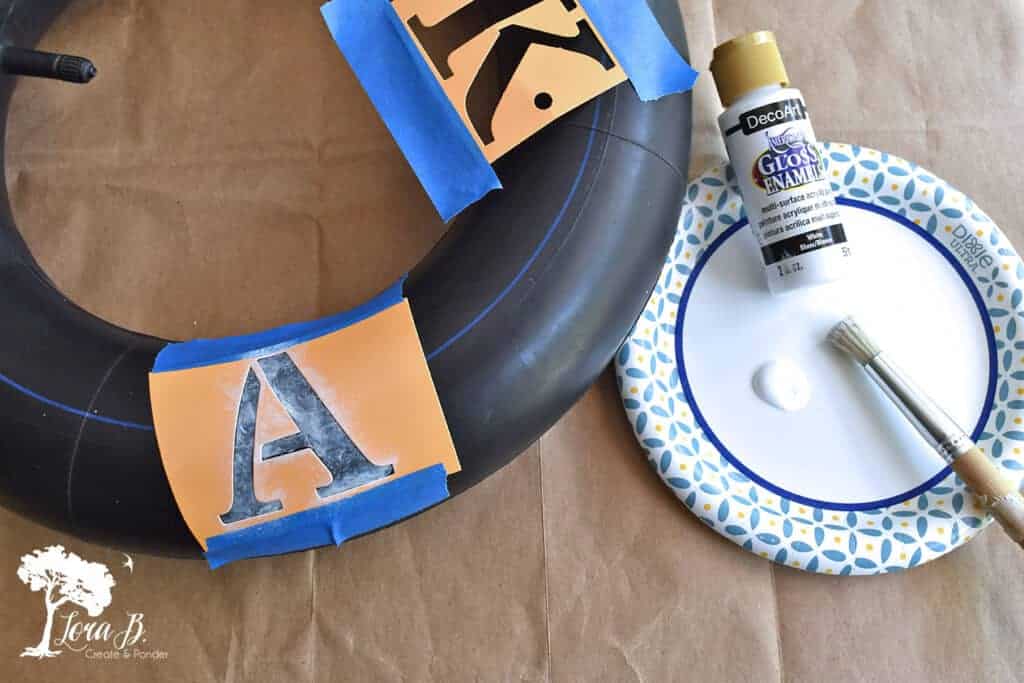 Tie Red and White Rope Around Inner Tube Wreath
I happened to have an old red and white ski rope from our cabin, which I love to use for projects. But any red and white rope or ribbon would be just as cute. Wrap it around the inner tube several times and knot to tie on the front. I added a little bit of hot glue to the knot so it would stay.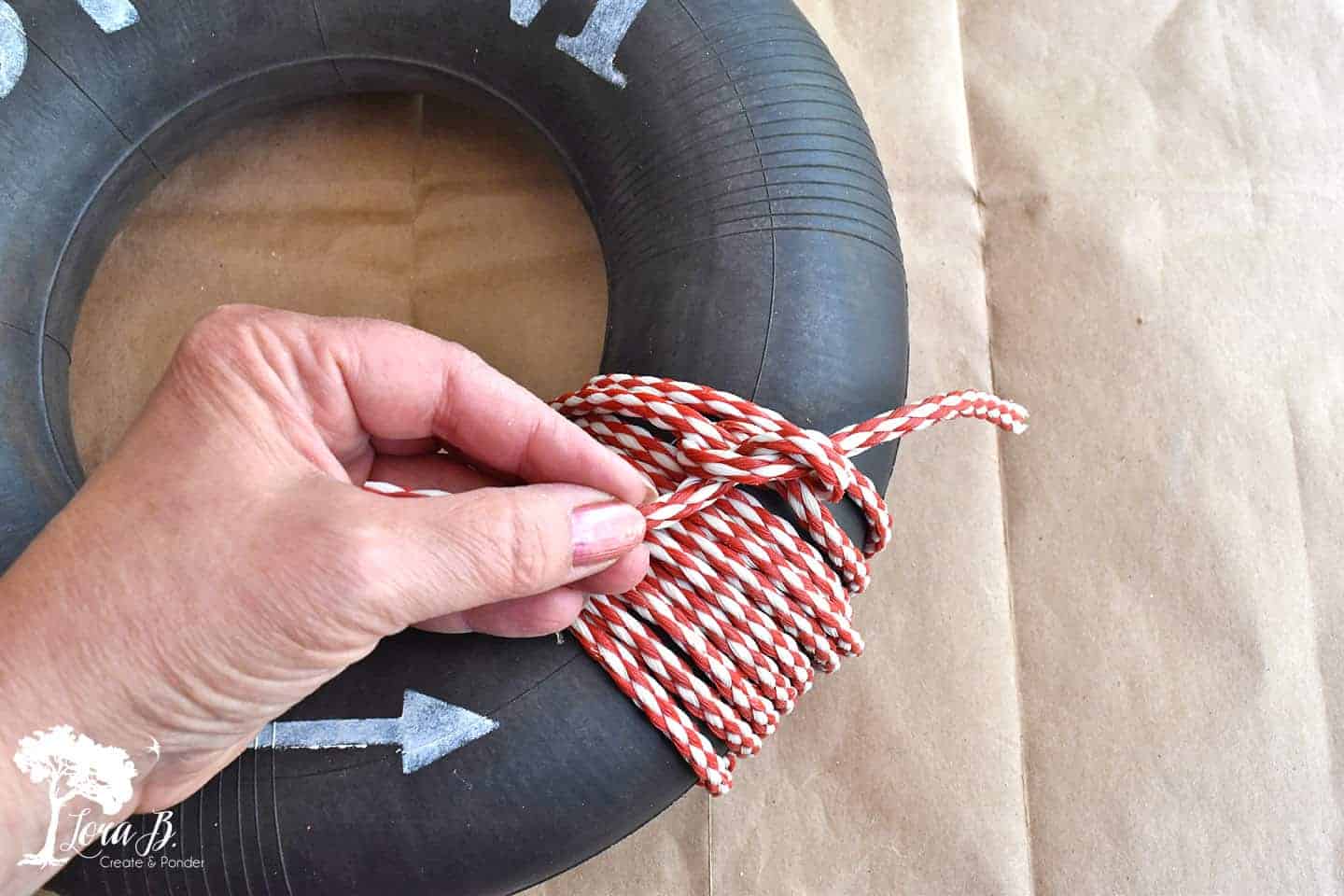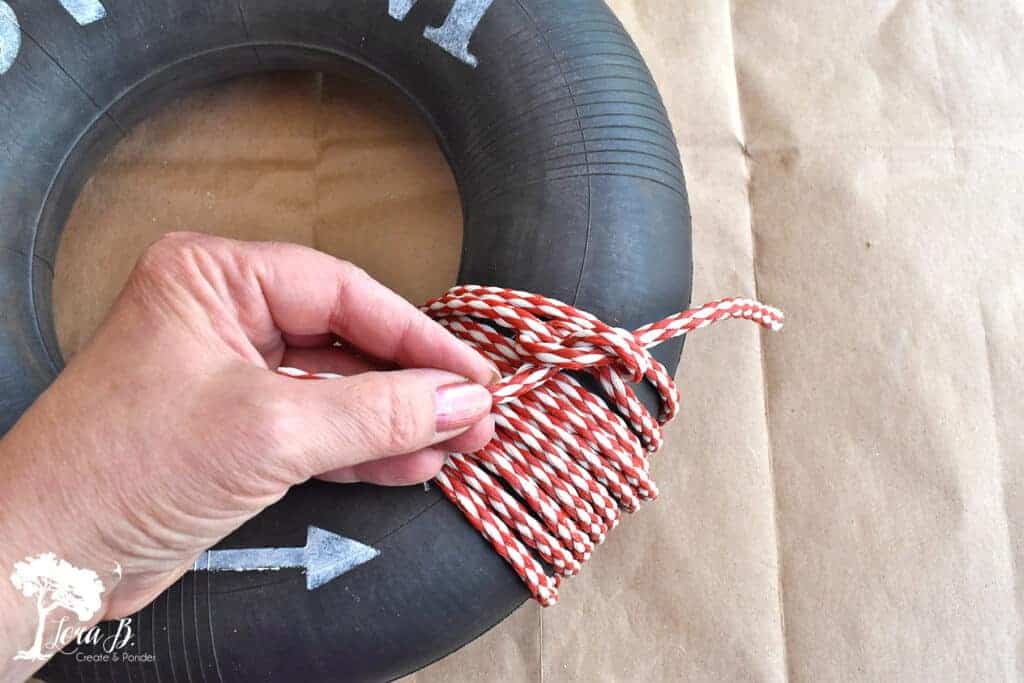 Add a Star and a Bobber for the Patriotic Lake Theme
I had a couple vintage star Christmas light reflectors that worked great, but old tart molds in a star shape or even a cookie cutter would work, too. Hot glue the star to the valve stem and glue a bobber inside.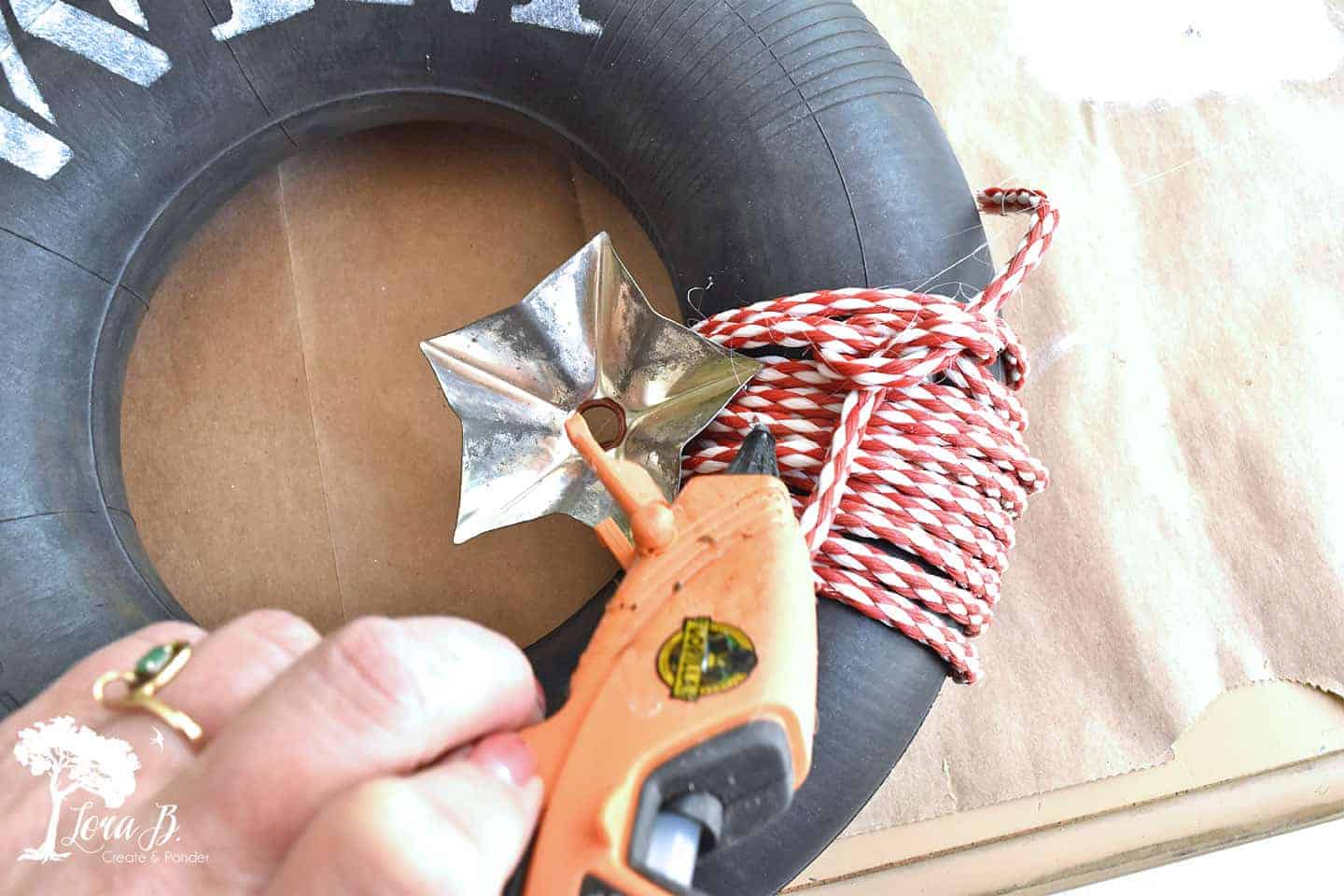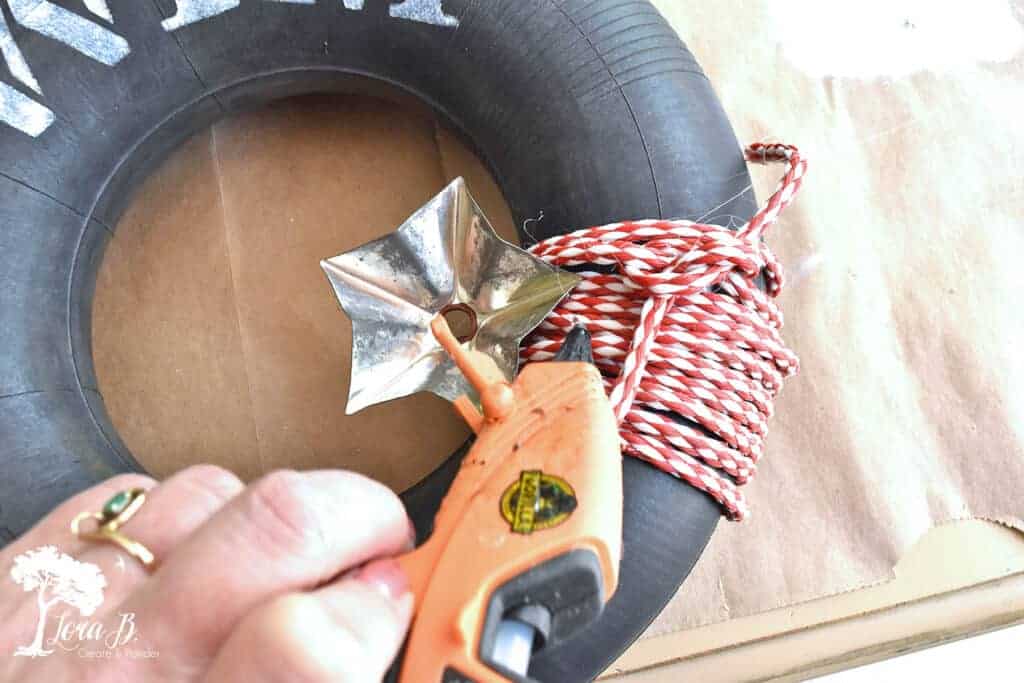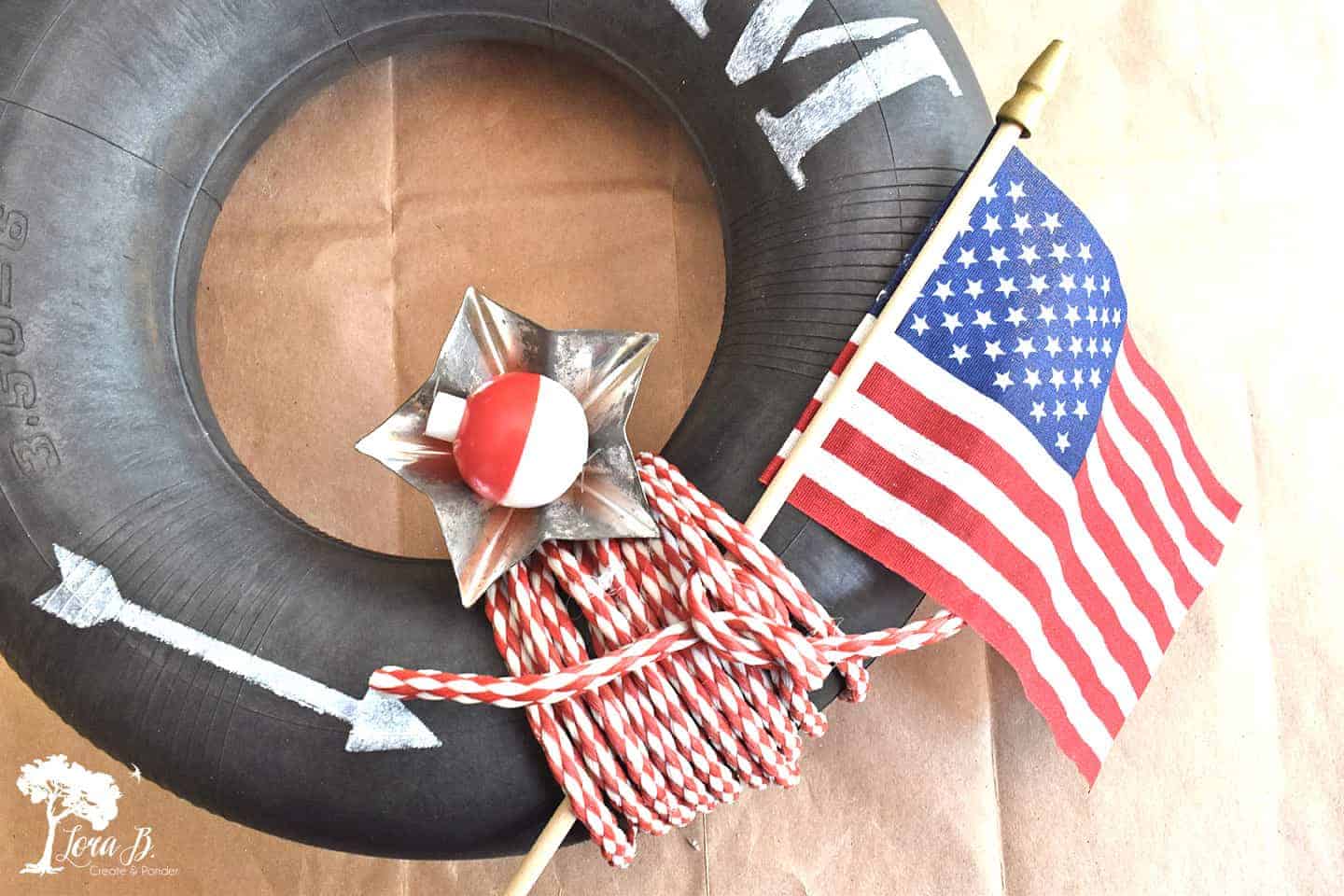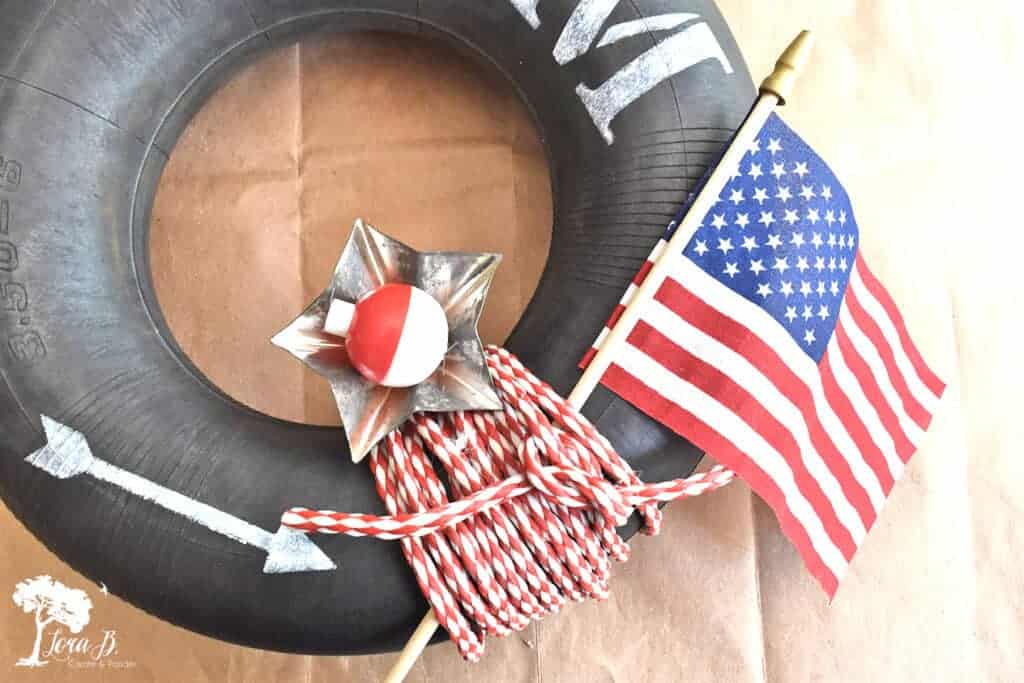 Lastly, Add a Flag to your Patriotic Wreath
Simply stick a small flag under your rope/ribbon. If you're decorating with it during non-Patriotic months, take it out and it will just be lake-themed.
These simple wreaths are so fun for summer decorating! I'll be adding them to my skis, oars, minnow buckets and fishing gear for a full lake-theme at my house.
See it all in my Vintage Summer Decor with Cabin Style home tour!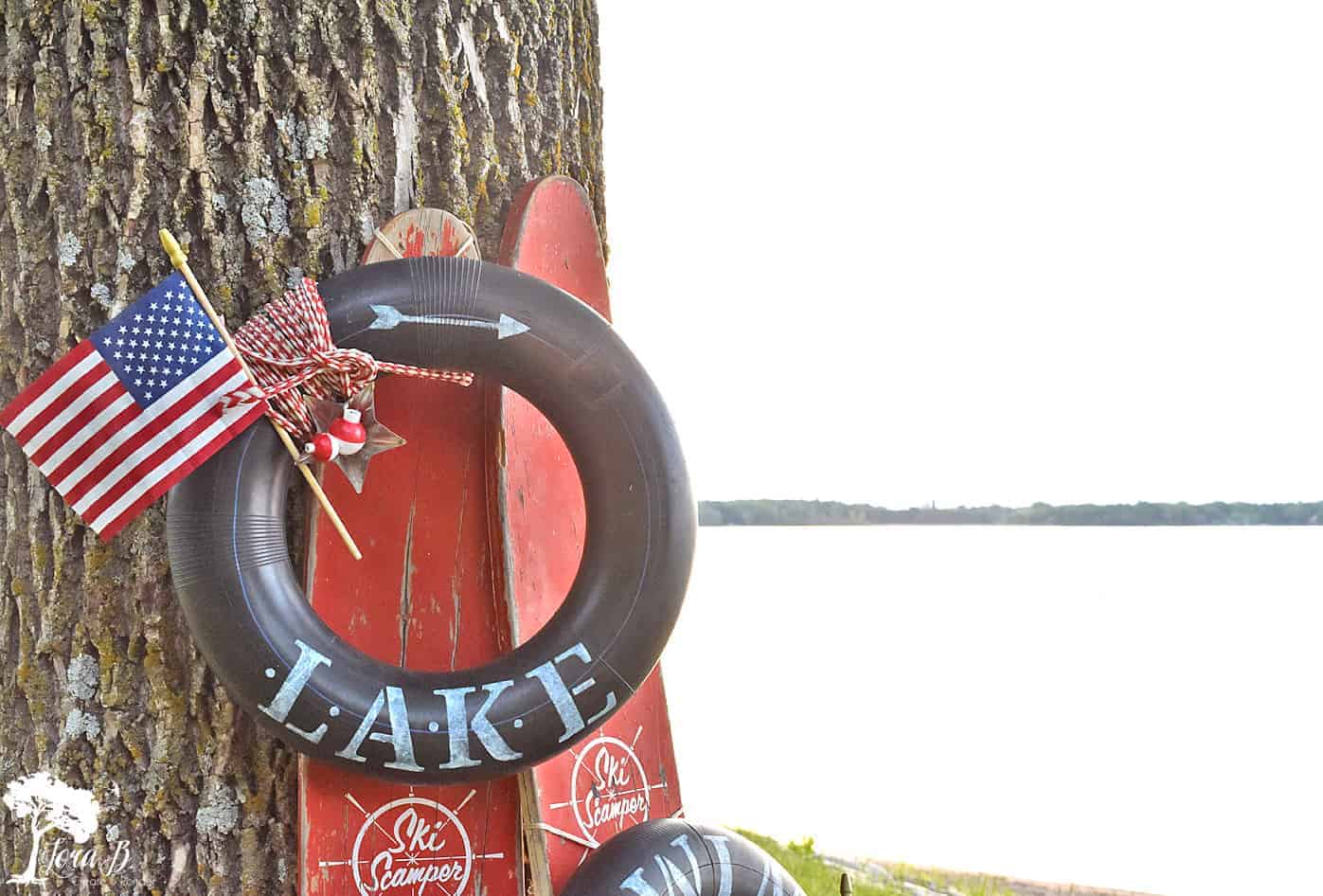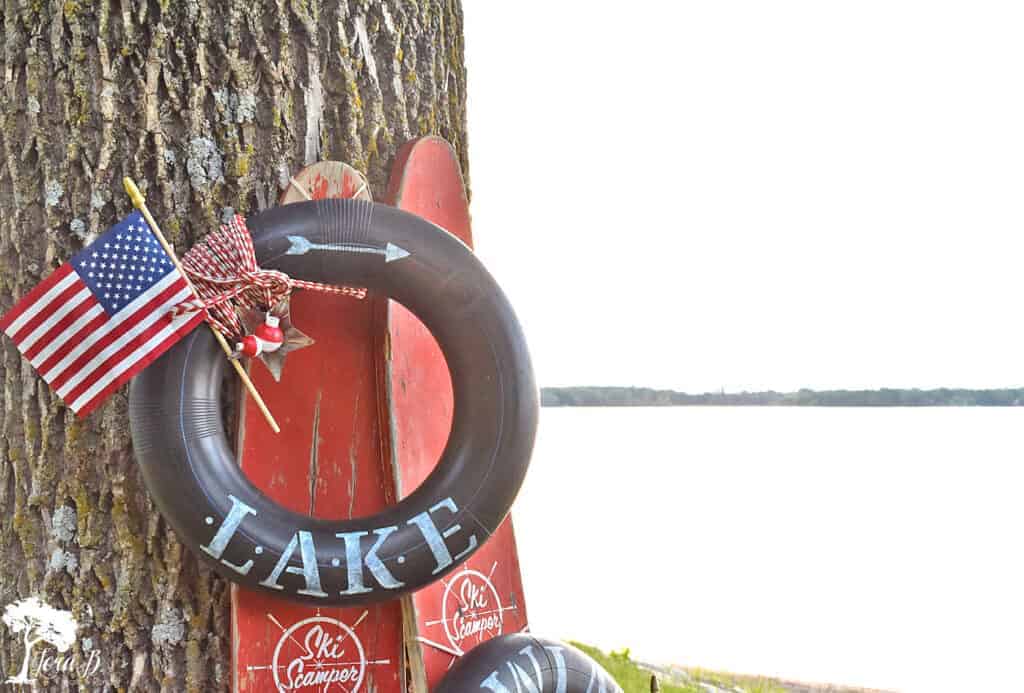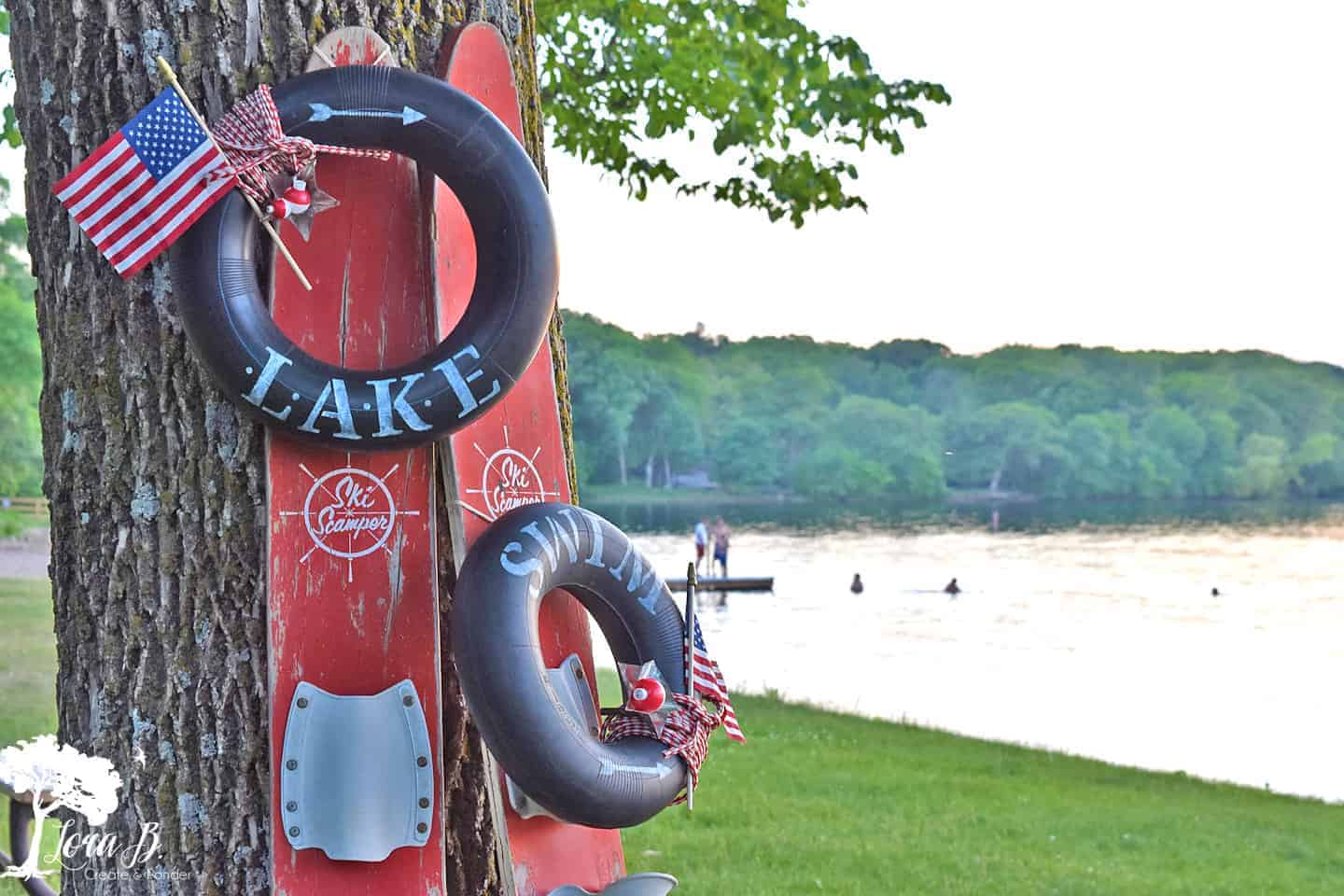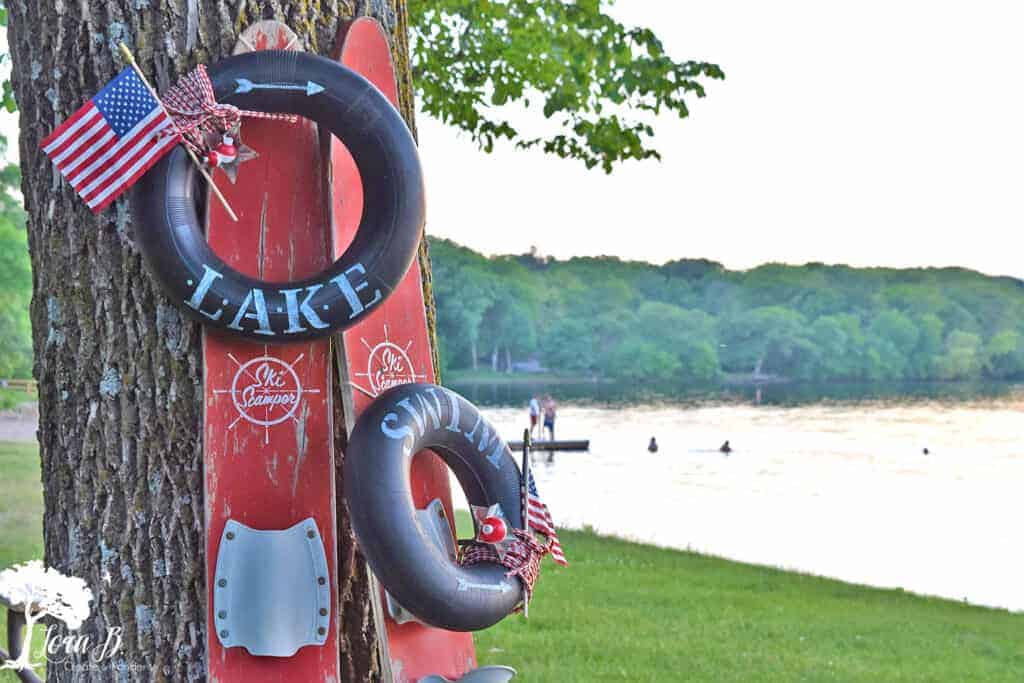 For more repurposed vintage-inspired Patriotic decor and diy ideas, see:
"25 Best Patriotic Decor & DIY Ideas with Vintage Repurposed Junk"
"A Patriotic Porch Pinterest Challenge"
"Vintage Americana Patriotic Tablescape Ideas"
Today I joined my Thrifty Style Team friends to send all kinds of Patriotic decor ideas your way (even if you live in Canada!). Thanks to Julie at Redhead Can Decorate for hosting us. I'll have all the links to the great ideas down below.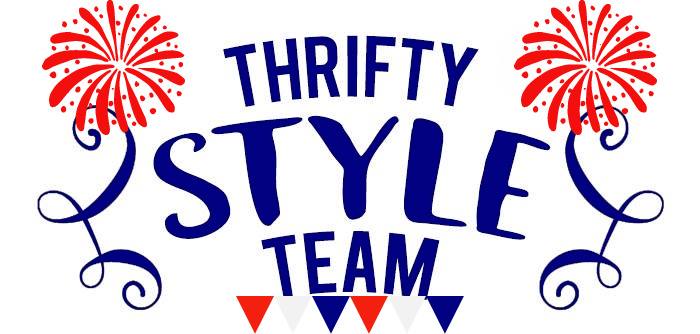 Hope you enjoyed this DIY Lake Themed Patriotic Wreath How To! To get all the creative ideas sent directly to you, sign up to become an Insider HERE.
Follow Me: LTK | Amazon | Pinterest | Instagram | Facebook
Pin Share, and Enjoy the Rest of the Inspiration!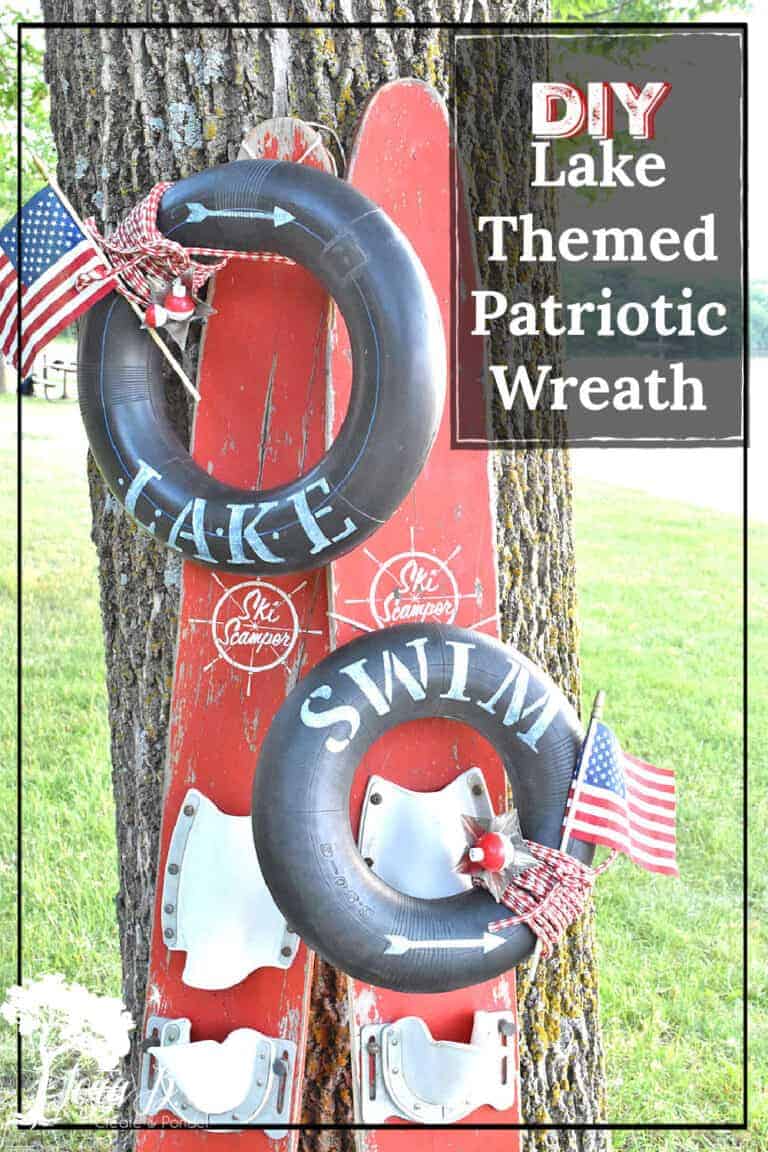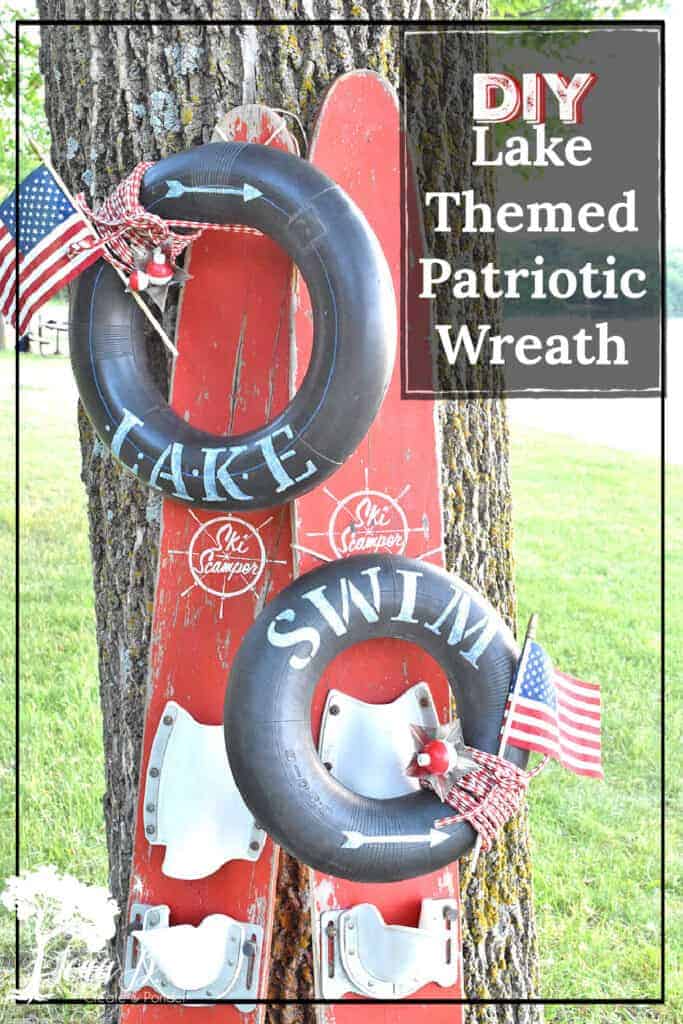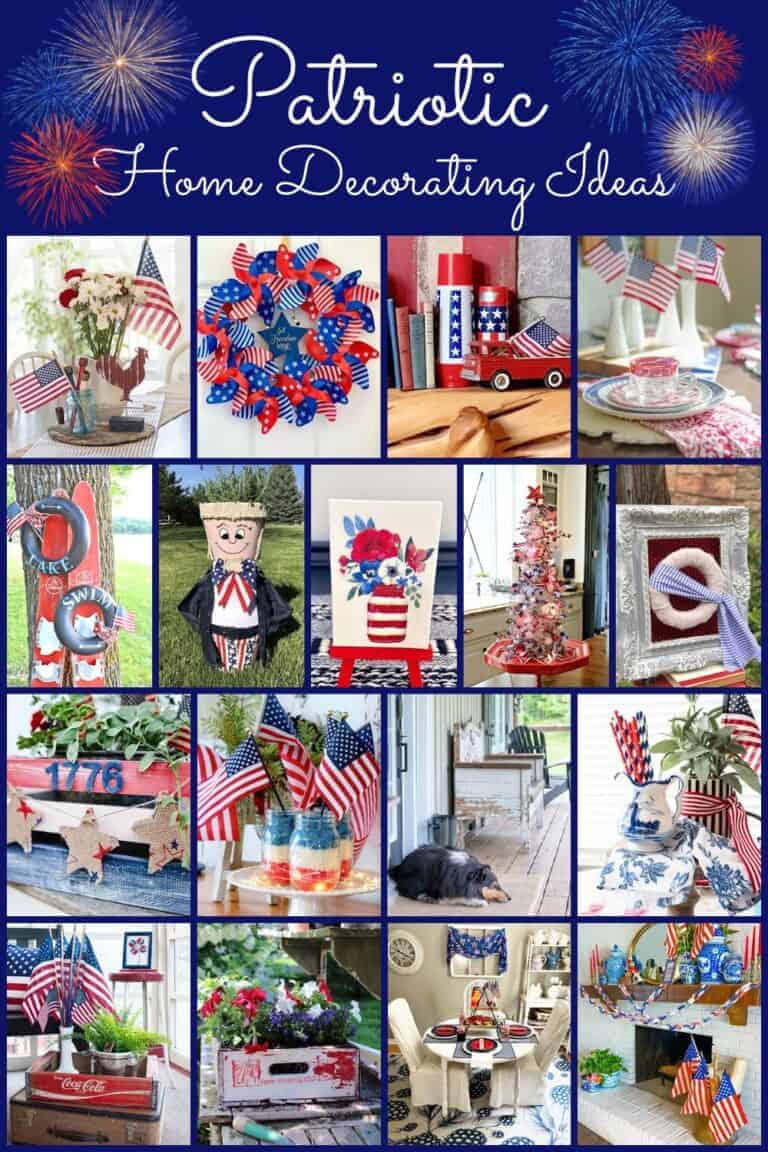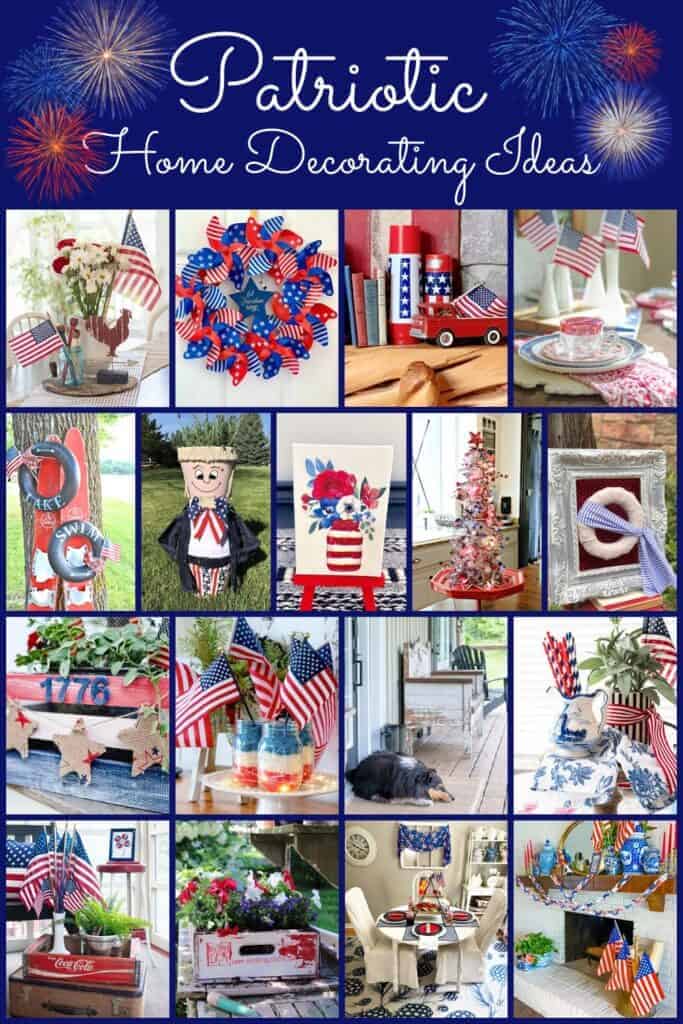 Redhead Can Decorate, "12 Affordable Patriotic Home Decorating Ideas"
The Painted Hinge, "Patriotic Centerpiece Using Thrifted Finds"
DIY Beautify, "How to Set a Patriotic Cottage Table"
2 Bees in a Pod, "Easy Patriotic Pinwheel Wreath"
Postcards from the Ridge, "Patriotic Tablescape with Vintage Thrift Store Dishes"
The How to Home, "Easy and Inexpensive 4th of July Centerpiece"
The Tattered Pew, "How To Repurpose A Vintage Soda Crate For Your Yard"
Sweet Pea, "16 Patriotic Home Decor and Craft Ideas"
What Meeghan Makes, "Patriotic Vintage Centerpiece"
Cottage at the Crossroads, " Mini Easel and Canvas Place Cards"
I Should Be Mopping the Floor, "Printable Patriotic Paper Chain"
White Arrows Home, "Styling Patriotic Decor Inside and Outside"
Our Crafty Mom, "10 Patriotic Home Decor Ideas"
Chas' Crazy Creations, "Easy Patriotic Summer DIY's"
Cottage on Bunker Hill, "DIY Patriotic Wood Crate Planter"
Vinyet Etc, "Happy Canada Day – Vintage Potting Bench"

Sharing at these lovely parties: