Vintage Farmhouse Spring Decor in the Kitchen
Get fresh vintage farmhouse Spring decorating ideas for your kitchen! Repurposed junk, vintage collections, and organic touches combine for a cottage-styled welcome!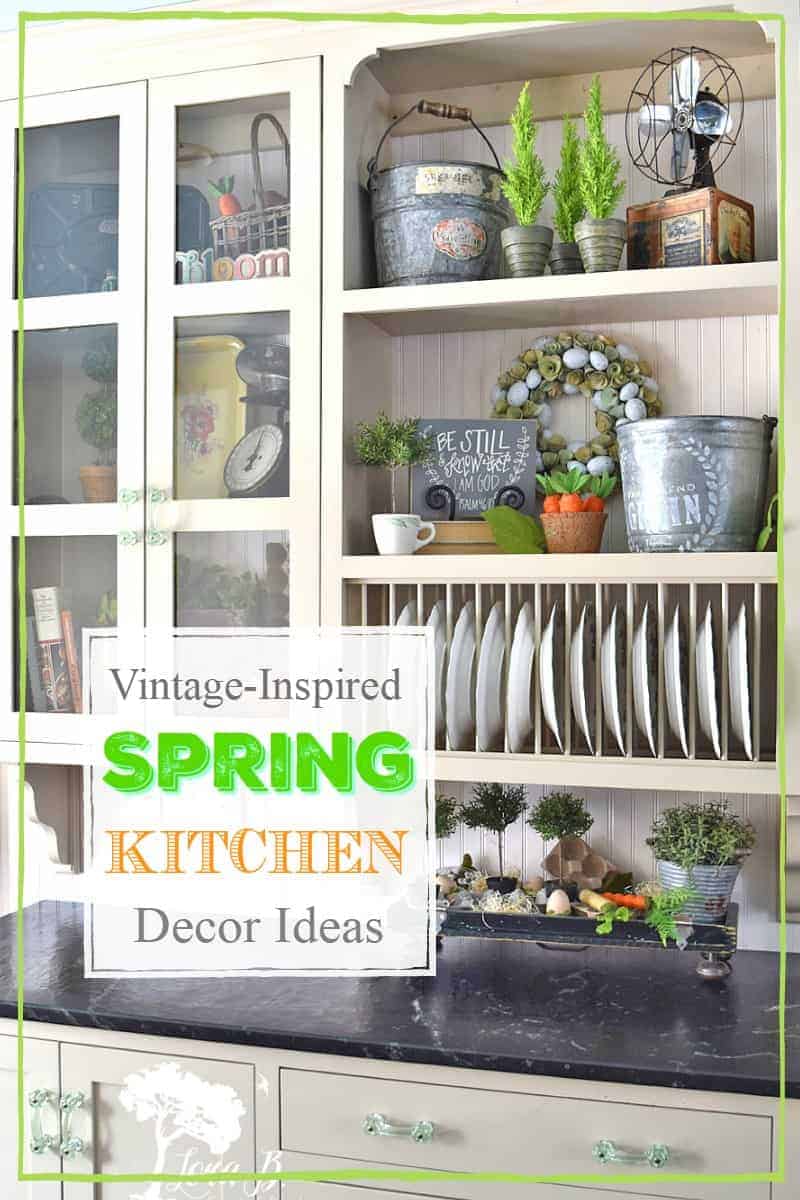 Spring is a time of new life and hope! What better way to celebrate it than with bright, happy colors and organic textures. Decorating our homes with touches of beauty brings a calmness and special-ness to everyday moments, which is even more important right now. I hope this Vintage Farmhouse Spring Decor in the Kitchen tour brings a smile to your face and pumps your inspiration, too!
Vintage Farmhouse Spring Decor in the Kitchen
For your convenience, this post contains affiliate links. If you make a purchase, I may receive a commission. There is no additional cost to you. My full privacy policy is here.
Vintage Farmhouse Style Needs Collections
The backbone of vintage farmhouse decor style is your personal collections. The great junk you've been hunting and finding for years! Enjoy all those hard-found goodies throughout your home, and yes, even in the kitchen!
Here are some of the vintage collections I used in my Kitchen Spring Decor:
vintage kitchen scales
flower frogs
vintage metal trays
utilitarian kitchen metal containers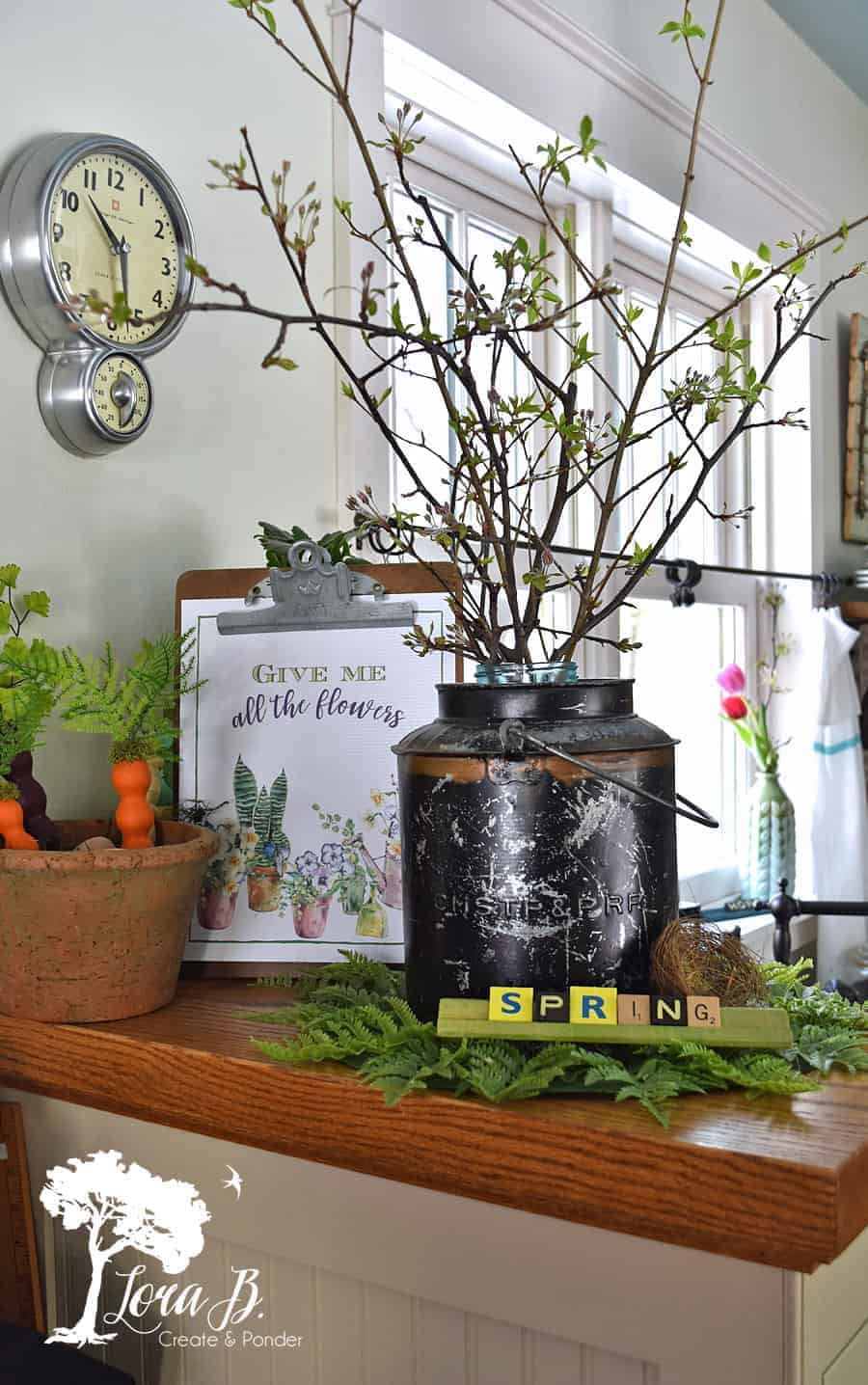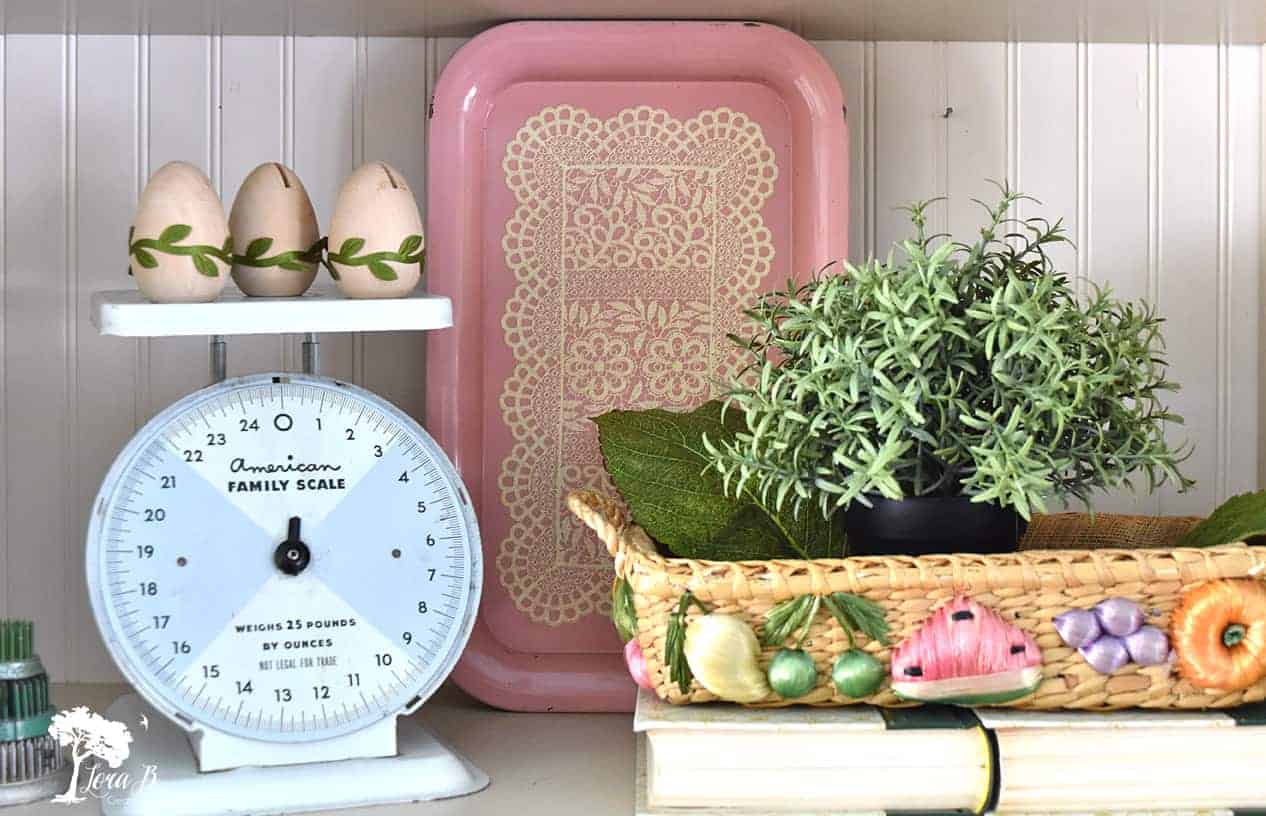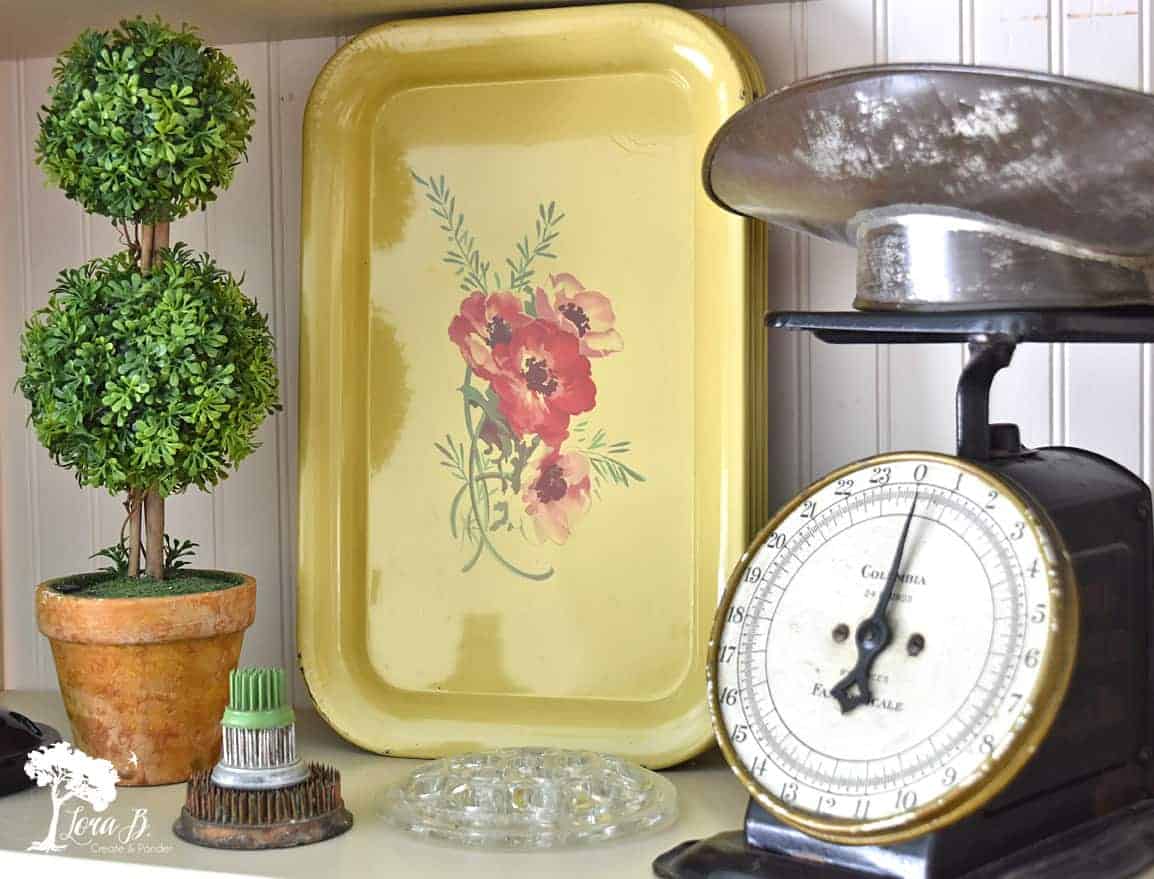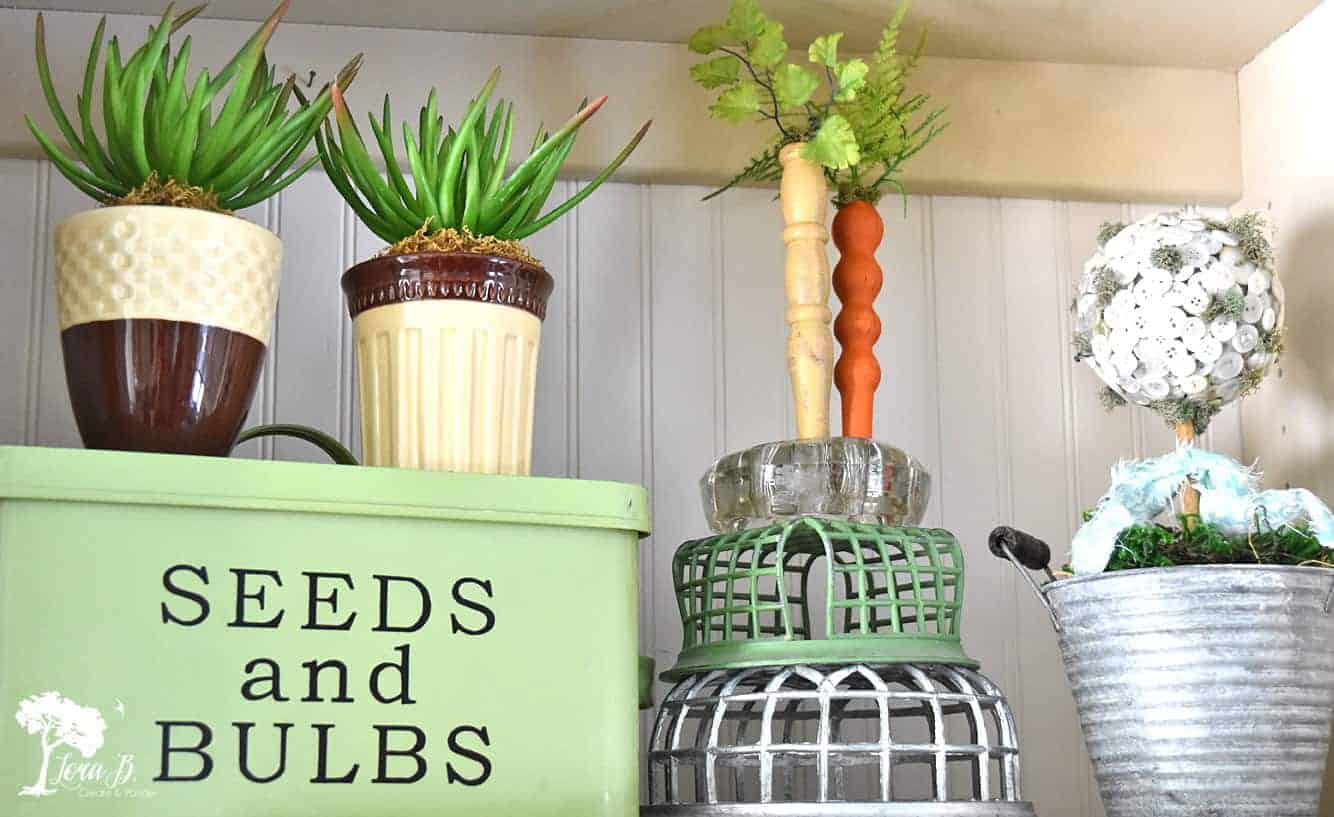 Spring Decor Needs a Variety of Textures
To bring about the spring-is-busting-out-all-over vibe, use a wide variety of man-made and organic textures in your decor styling. A combination of rough and smooth, dressy and rustic create interesting vignettes. Earthy, organic textures can be tucked in as a main stage item, or have a supporting role, filling in the spaces here and there.
See if you can spot these textures in my kitchen spring decor:
galvanized metal
rusty metal
terra cotta
faux greenery
moss
old character-filled wood
woven material
glass/china/pottery
bark/wood
paper
fabric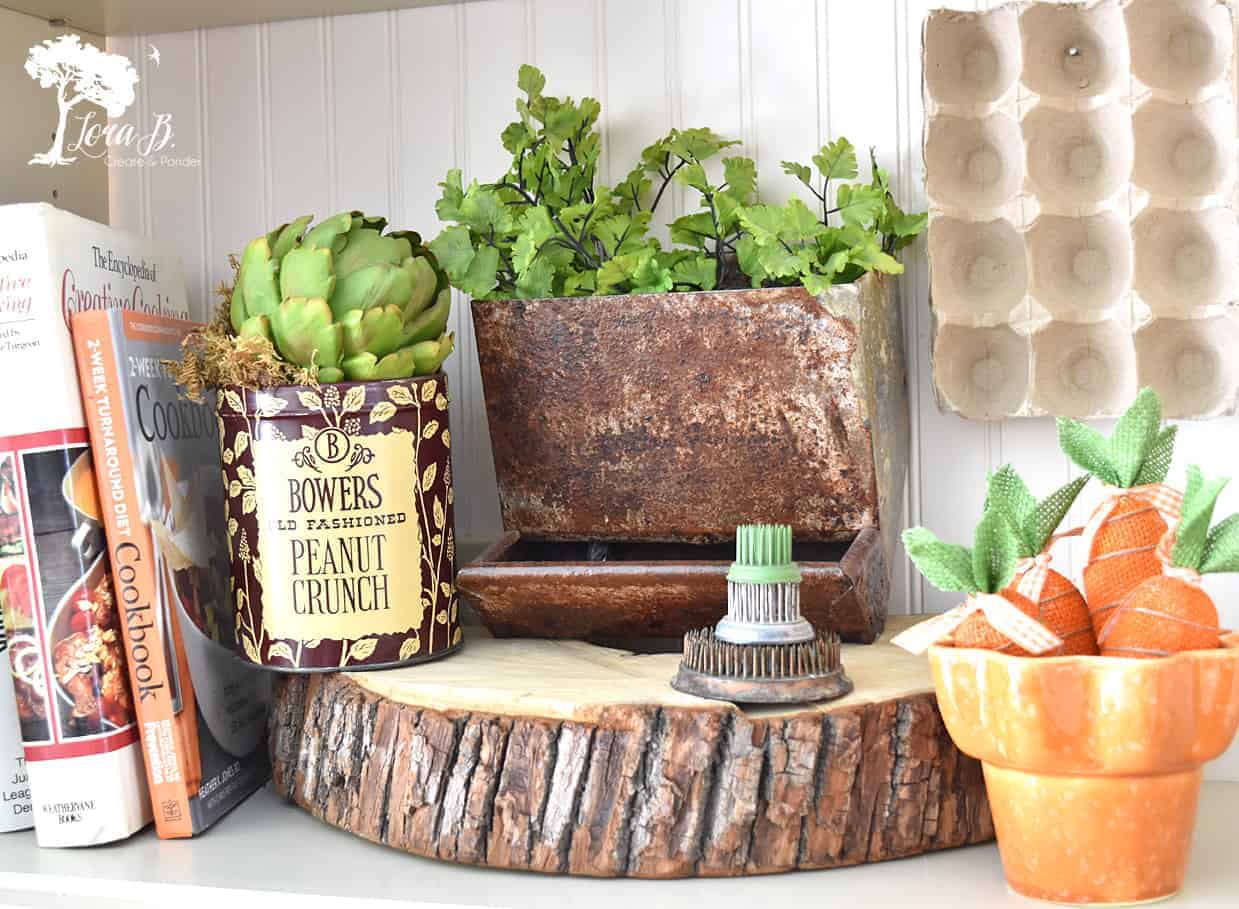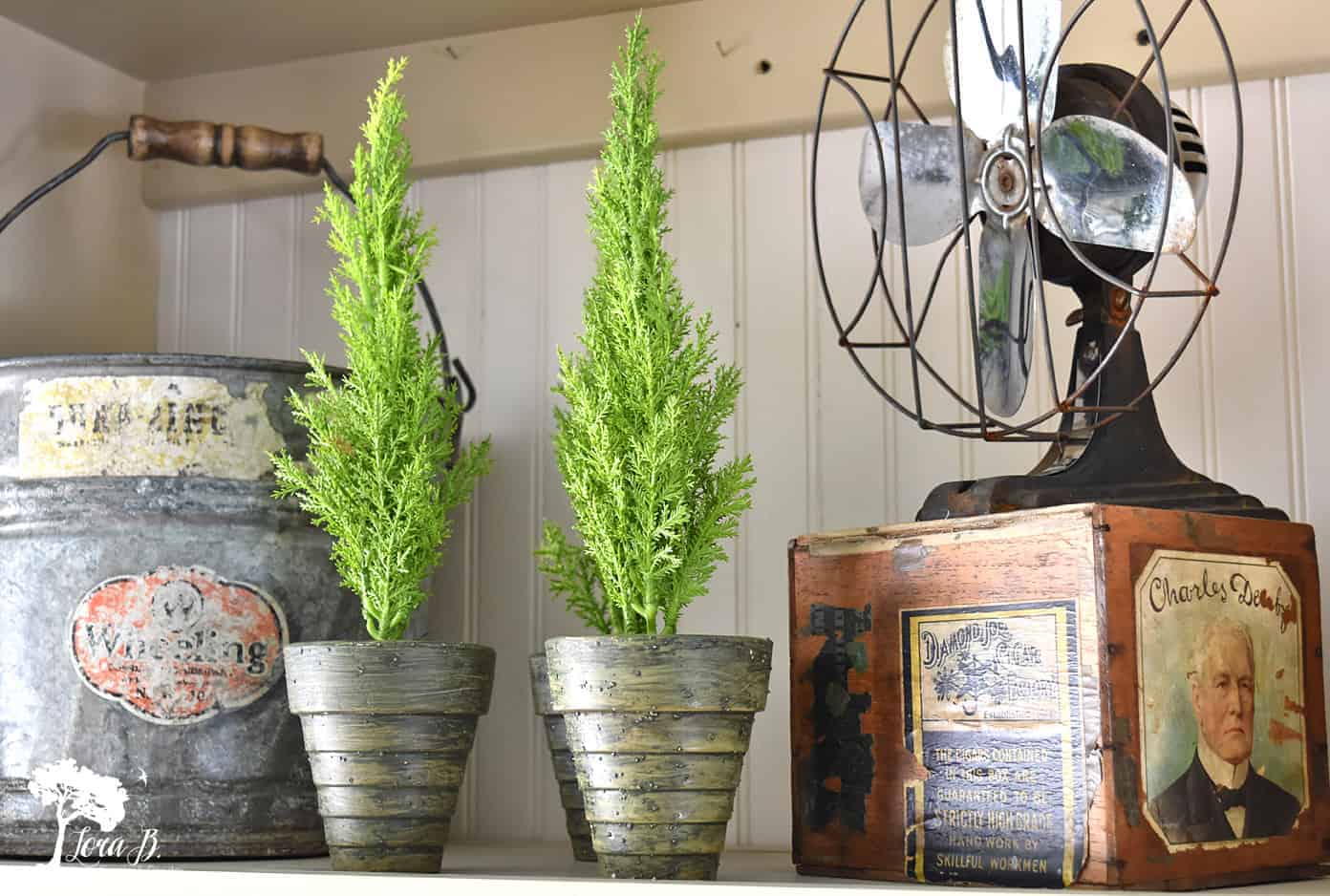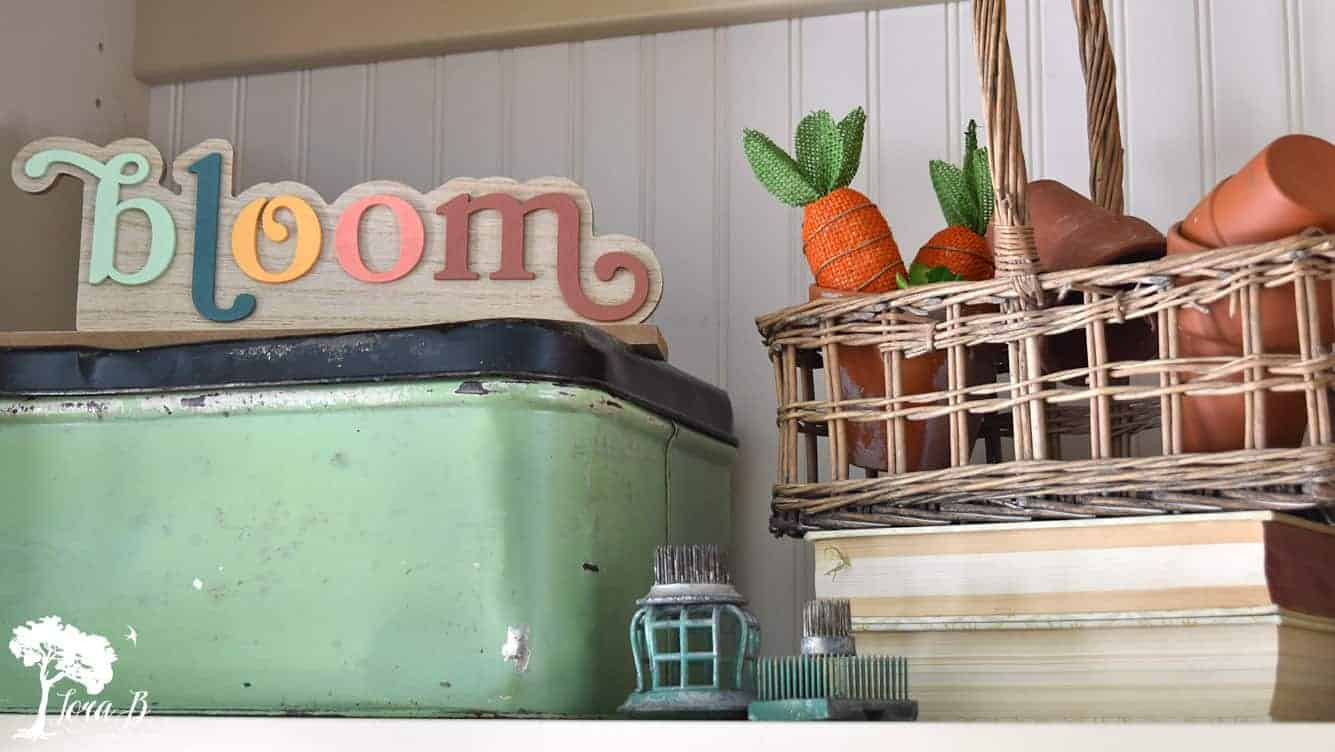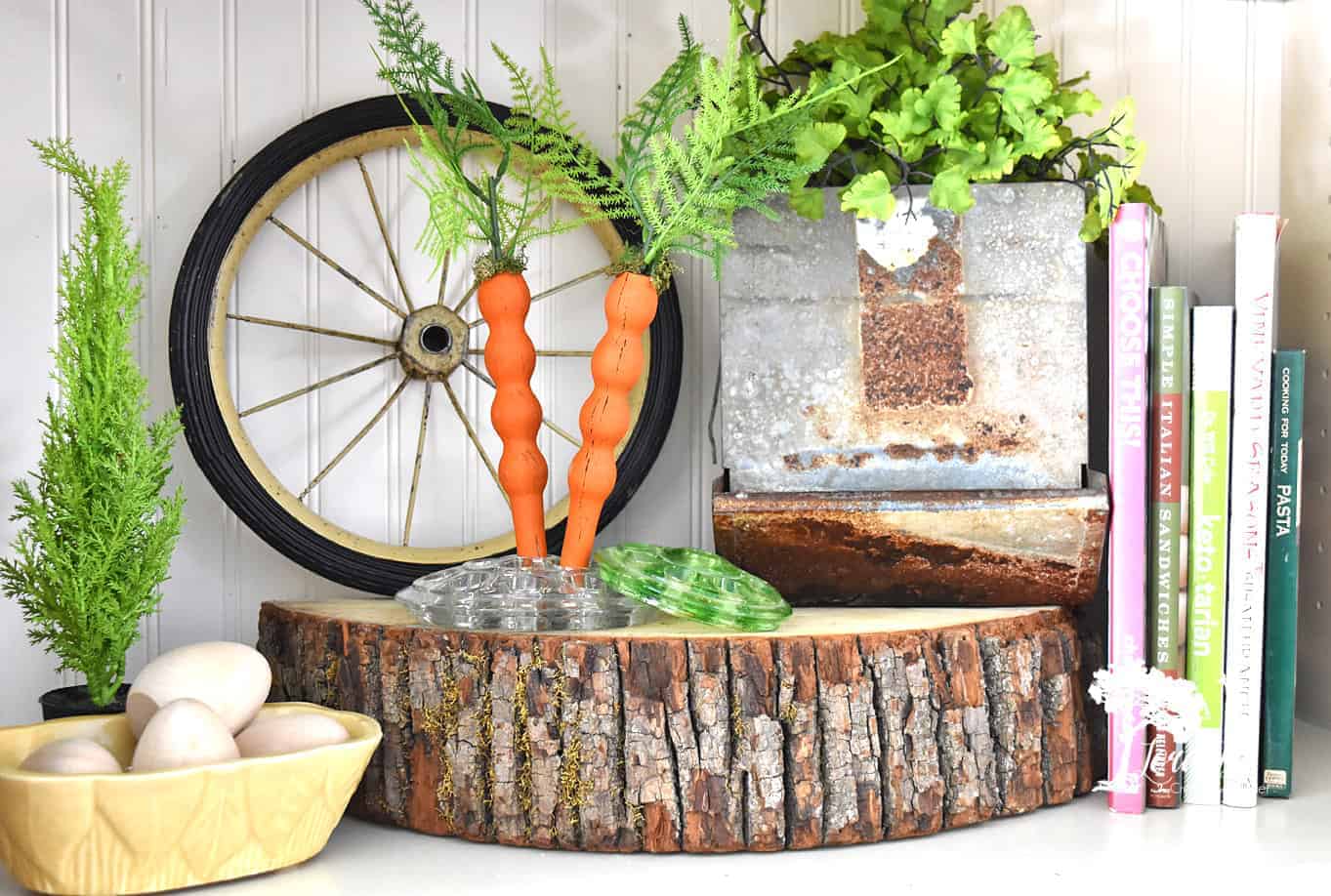 Vintage Farmhouse Decor Shouldn't Be Fussy
Farmhouse and Cottage-style decor is relaxed. It makes you want to put your feet up on the coffee table with a cool drink or chat with your kiddos leaning on the kitchen island. Open shelves convey that relaxed style. For Spring my kitchen shelves are filled with a mish-mosh of old restaurant-ware china and pyrex, all with aqua and green patterns. Simple, glass wide-mouth jars are within self-serve reach. Yes, this can mean everyone help themselves!
For a bit of pretty, tuck a pot of flowers, a framed pic, even some egg cartons onto your kitchen shelves and the wall behind. Beauty + function is the best combination!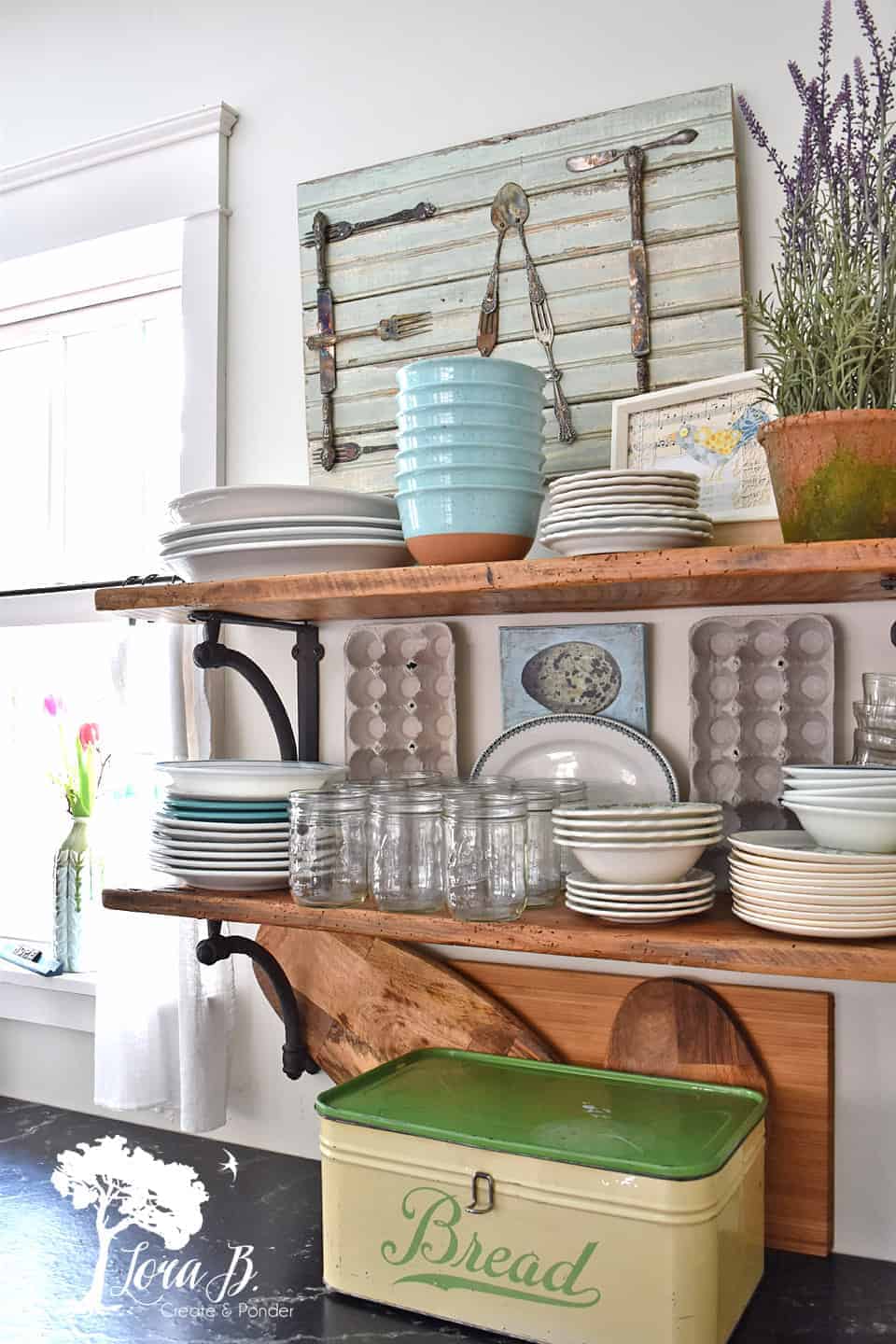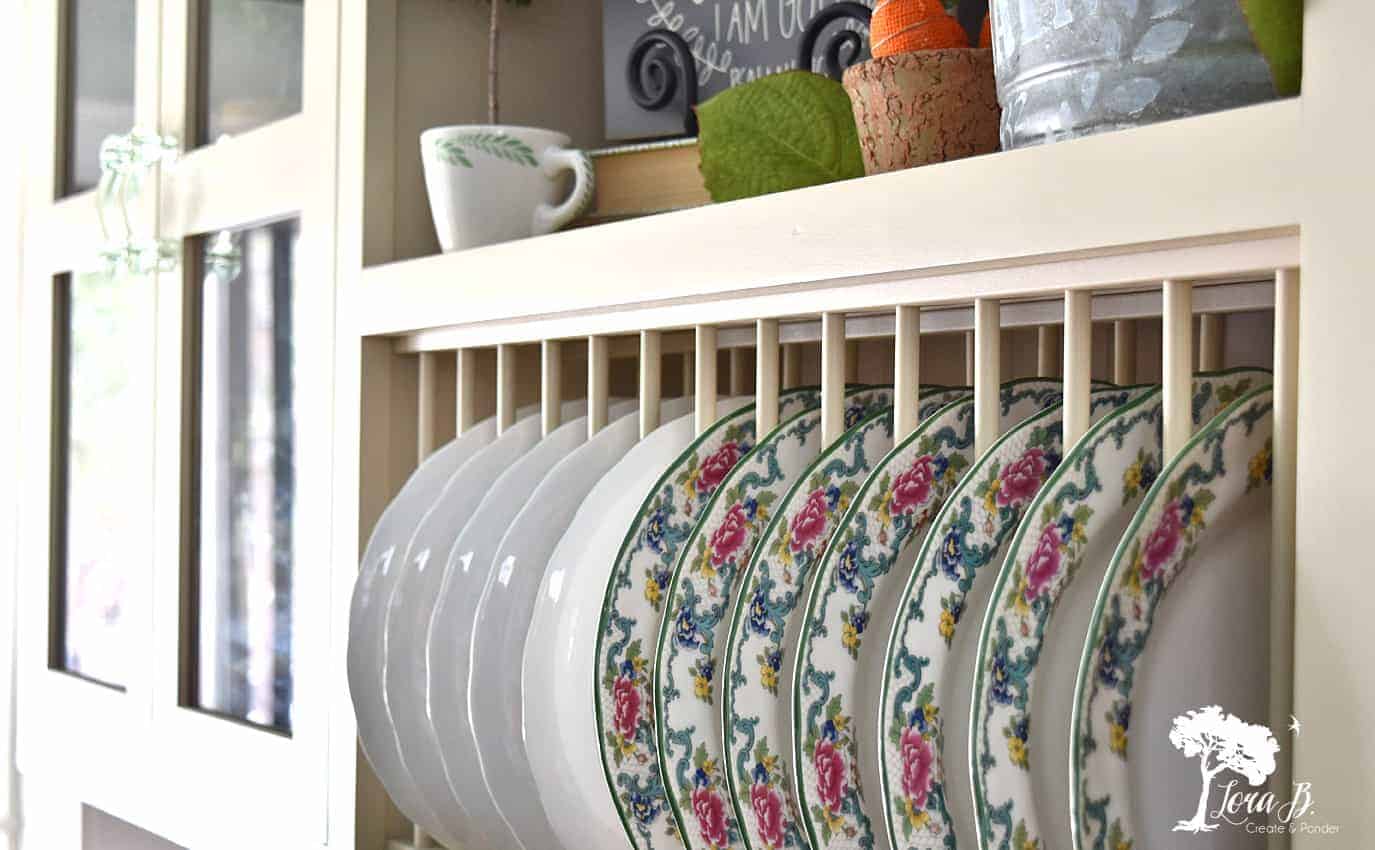 For Spring Kitchen Decor, Include Fresh and Pretty
If you haven't had the opportunity to get fresh Spring flowers, no problem. Just fill a vase or two with spring branches-anything alive will do! Whenever I venture out to get some "essential" groceries, I tell myself tulips are just as essential for my families mental health right now! I love to combine them with budded and leafed out branches from the yard!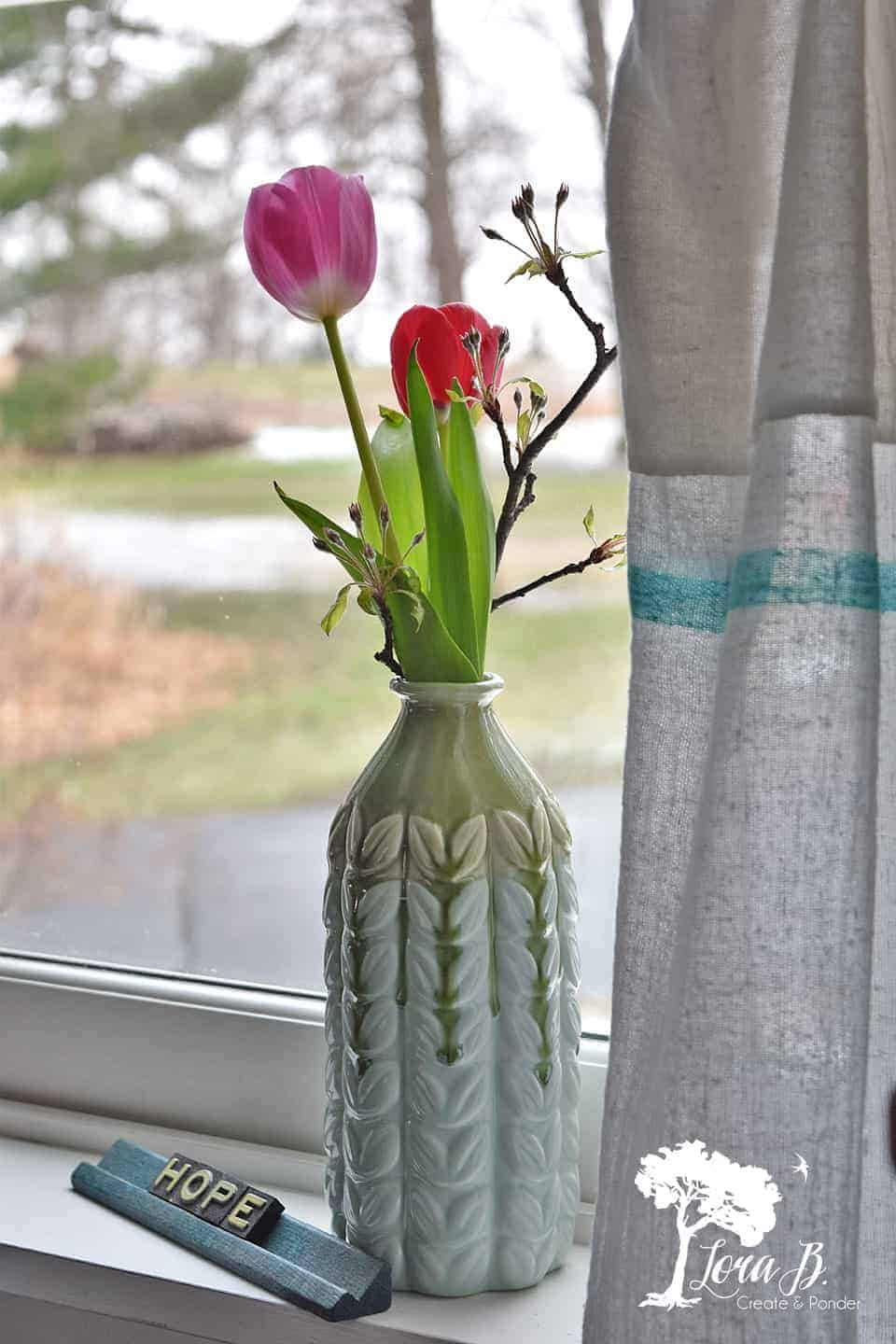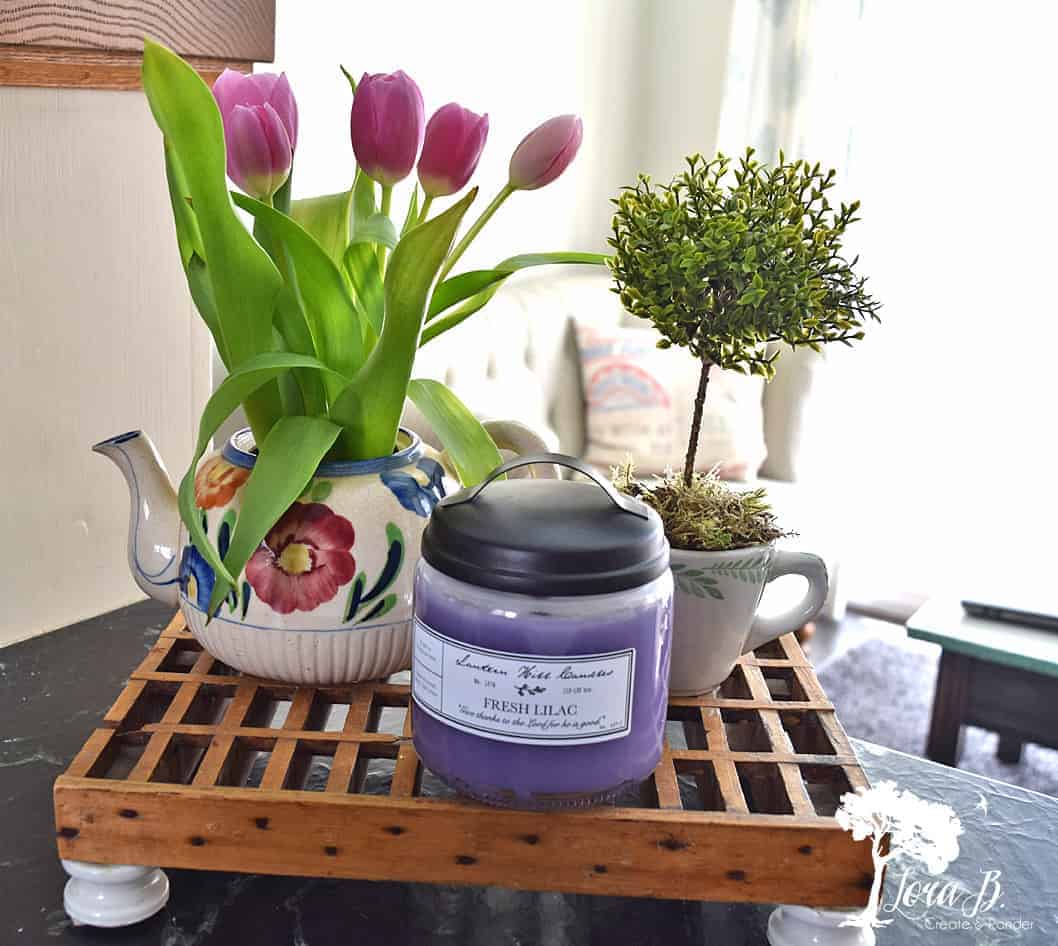 Make Your Vintage Farmhouse Feel Like the Heart of the Home by Adding Words
Incorporate encouraging words into your kitchen to inspire yourself and your family. This little canvas is the perfect reminder for us each day of Who's in control of it all!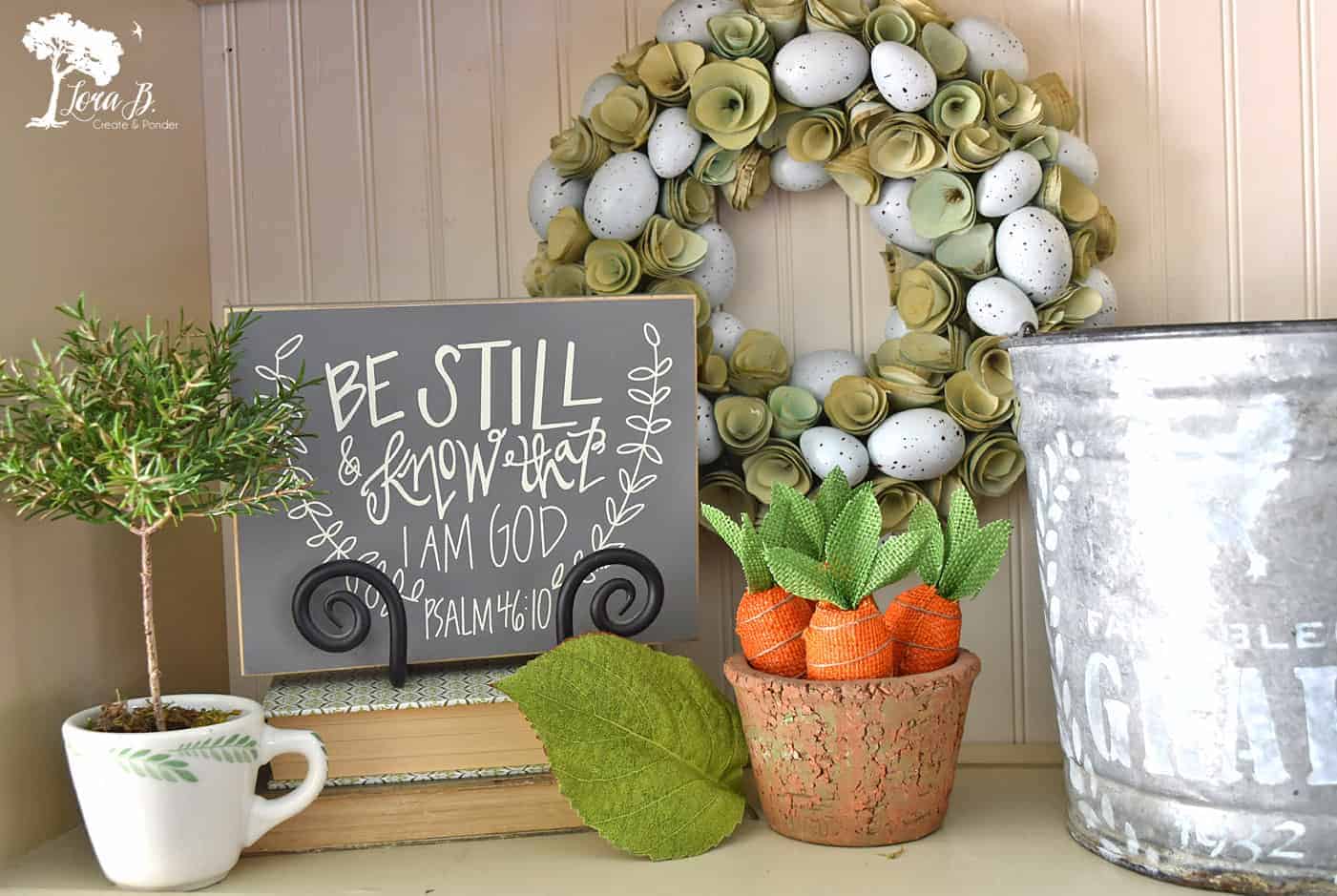 DIY and Repurposed Projects Seen Here:
"DIY Stenciled Galvanized Bucket"
"Repurposed Wooden Spindle Carrots"
"Vintage Silverware Art for the Kitchen"
"How to Refresh Vintage Galvanized Metal"

Shop to Create the Look: click on referral links for more info

Did you enjoy your little tour? I hope it lifted your spirits and gave you some new ideas to freshen up your home for Spring! Thanks for visiting and reading Vintage Farmhouse Spring Decor in the Kitchen!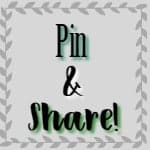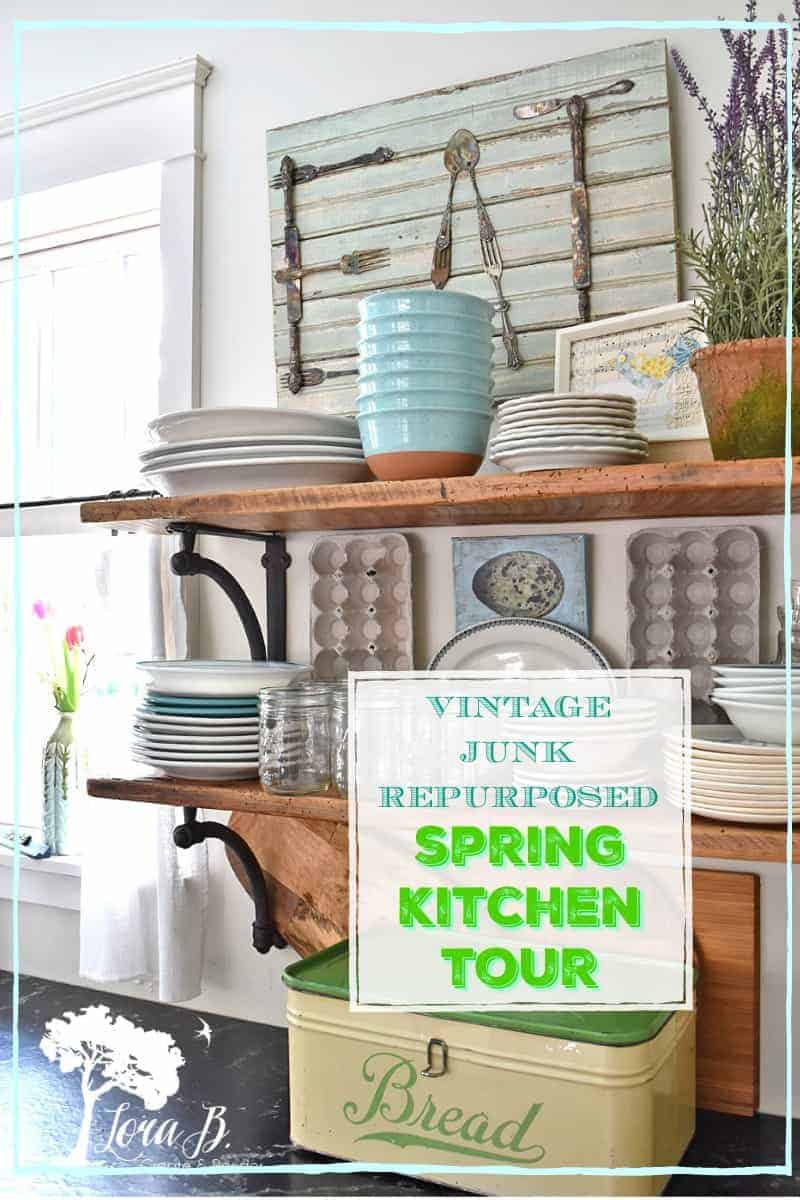 Sharing at these lovely parties: