DIY Stenciled Galvanized Bucket Gift Idea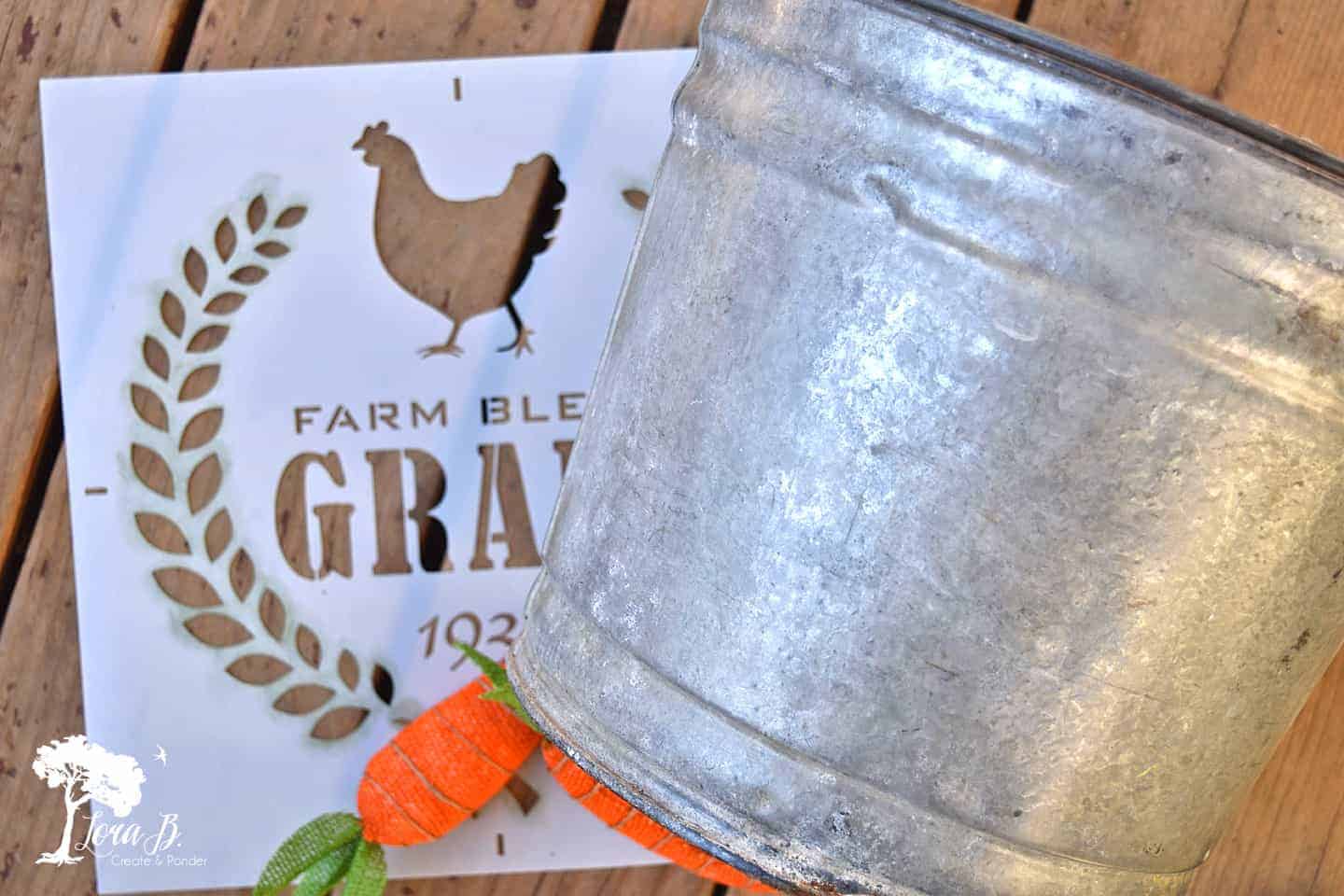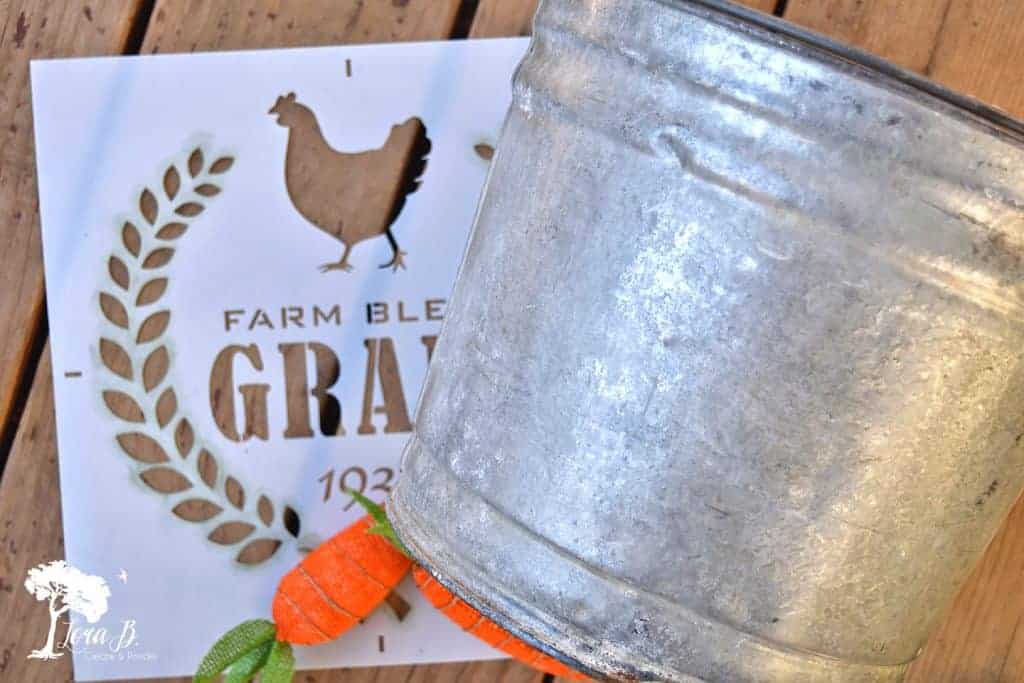 Old galvanized buckets have earned their keep in usefulness. They often have their fair share of dents and rust, which add to their character. If you enjoy the farmhouse charm of these vintage buckets as much as I do, I think you may want to add this DIY Stenciled Galvanized Bucket Gift Idea to your make-it list!
Today's project is part of our monthly Thrifty Chicks Challenge, where a group of talented DIY bloggers all create around a theme. We focused on buckets, canisters, or pails this time. I'll have the links to their creativity down below!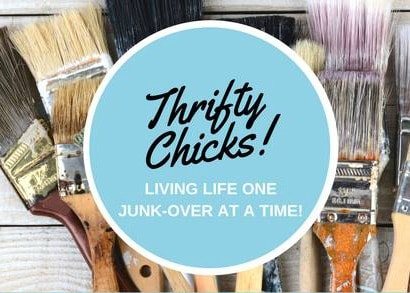 I've got a collection of old, banged up galvanized buckets and use them in my decorating often. A couple of them have awesome vintage labels, but quite a few are plain. I decided to give a couple buckets some classic farmhouse style by stenciling them and elevating them to hostess gift idea status. Here's how you can create a fun, farmhouse-styled hostess gift!
DIY Stenciled Galvanized Bucket Gift Idea
For your convenience, this post contains affiliate links. If you make a purchase, I may receive a commission. There is no additional cost to you. My full privacy policy is here.
First, Give your Galvanized Bucket a Refresh
Yes, we love the character of these old buckets, but the residue of dirt (and other unmentionables) is not welcome! I give all my galvanized treasures a good scrubbing and some poly, which I explain in "How to Refresh Vintage Galvanized Metal". After this mini makeover, you'll be able to safely and cleanly enjoy your galvanized buckets anywhere in your home!
Next, Choose a Farmhouse-Styled Stencil
Old Sign Stencils provided me with complimentary stencils for this project. All opinions about their products are my own. Note: their prices are in Canadian currency; see their conversion link to adjust.
Old Sign Stencils "Grain" pattern (you can find it HERE) fit the chicken and egg theme I had in my head perfectly. I switched my bucket choice to a darker patinaed one to show off the stencil a little bit better. The pattern was taller than my bucket, so I missed a little of it at the bottom, but the overall look was what I pictured.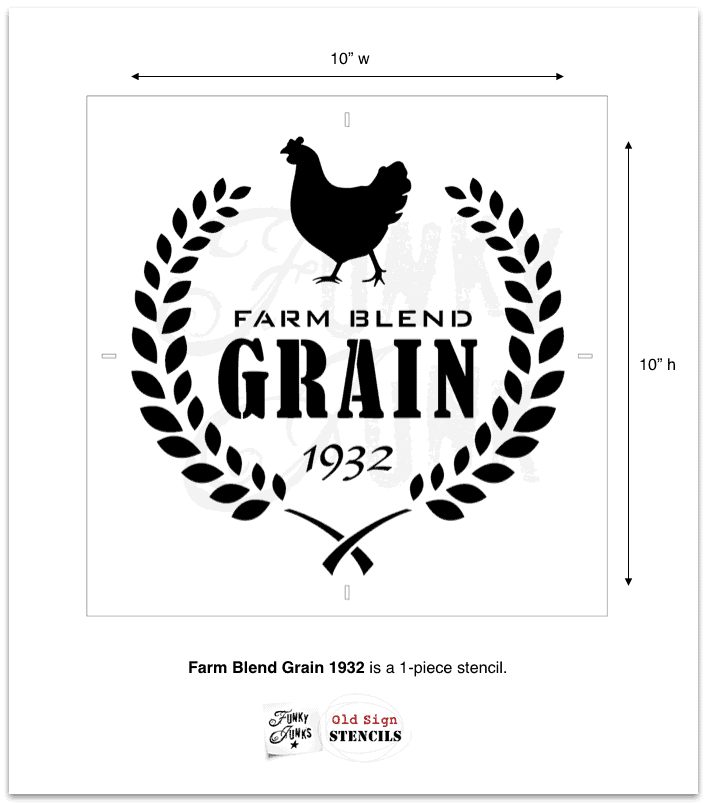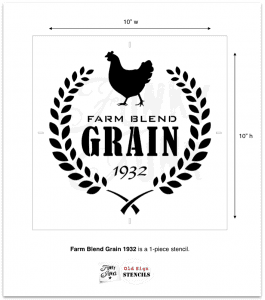 Stenciling on a round bucket was a bit challenging, especially since there were grooves also. I taped the stencil down on the sides and also the middle as I was painting. I held the stencil to the metal with my fingers so it wouldn't slide around on the poly'd surface. For a classic look, I painted the dark surface with a simple white craft paint.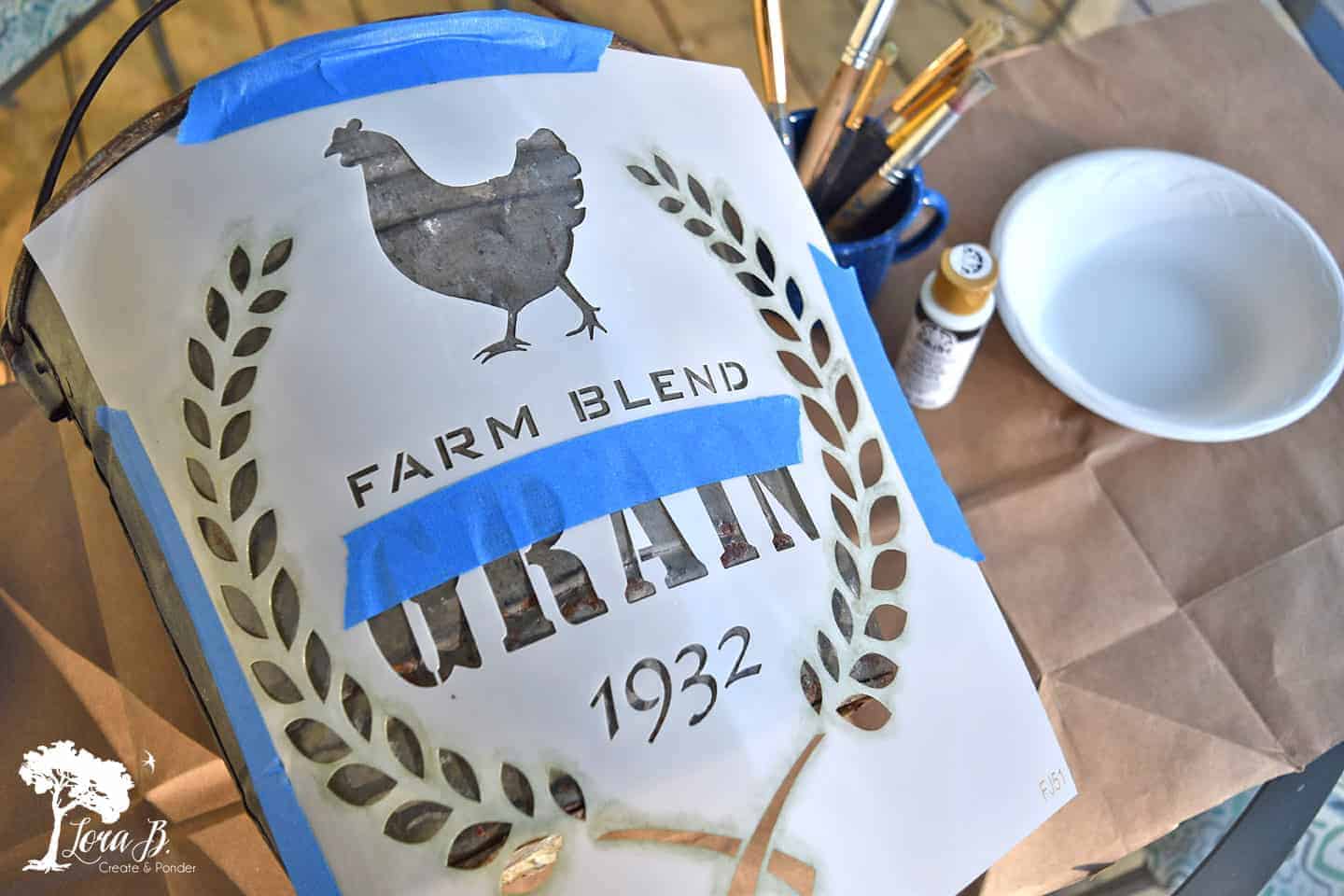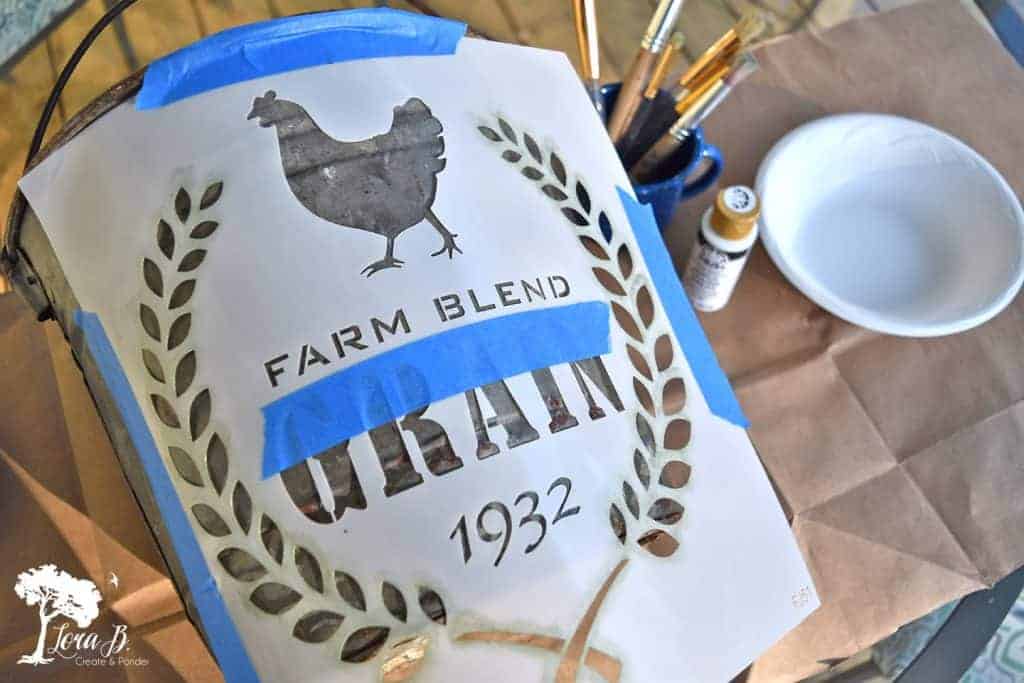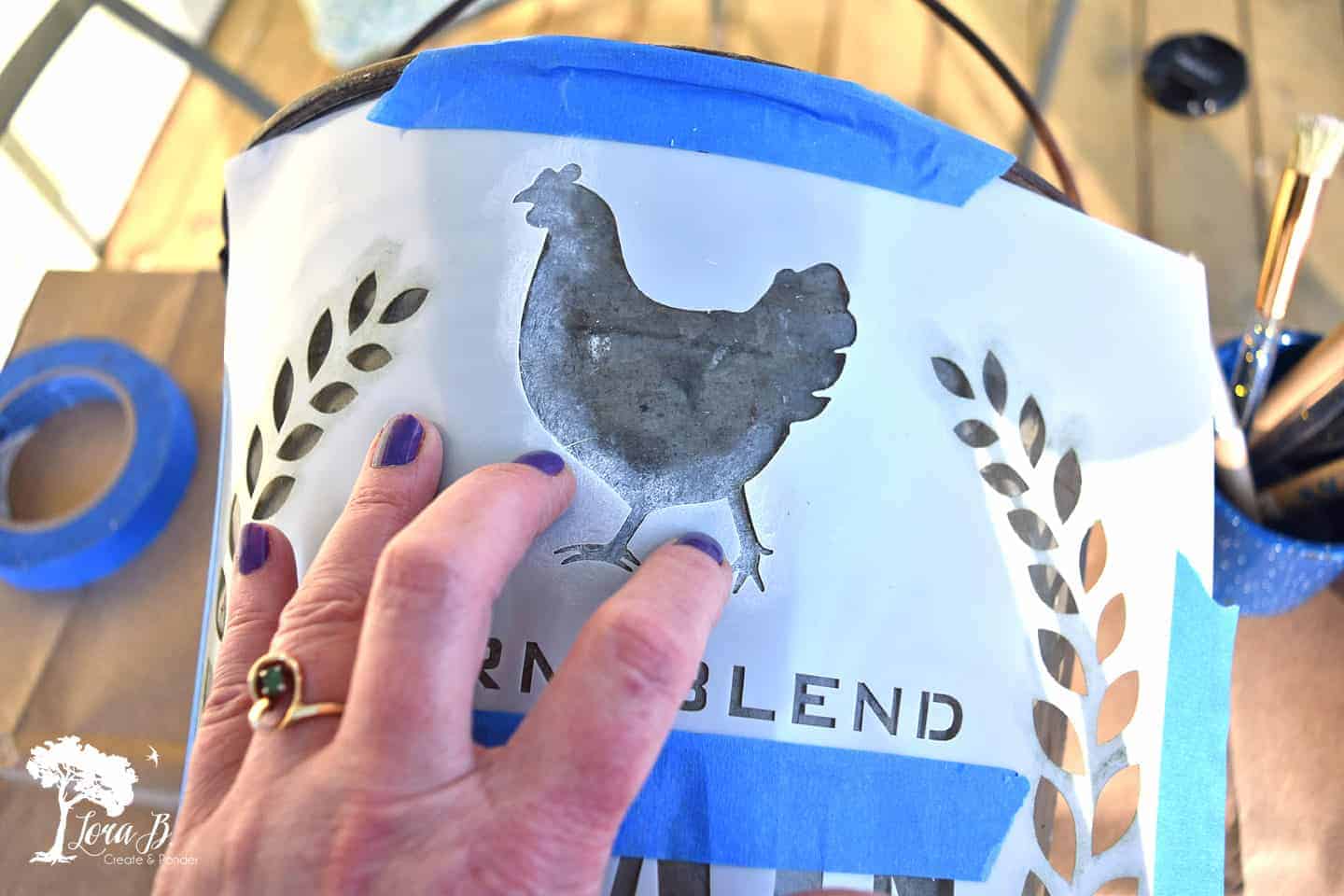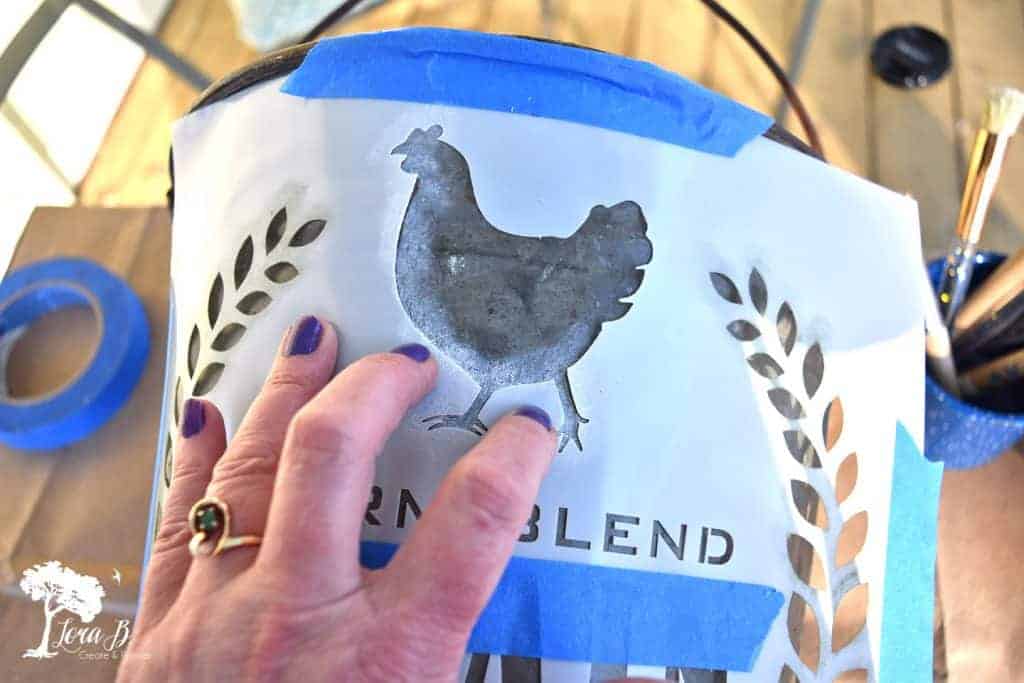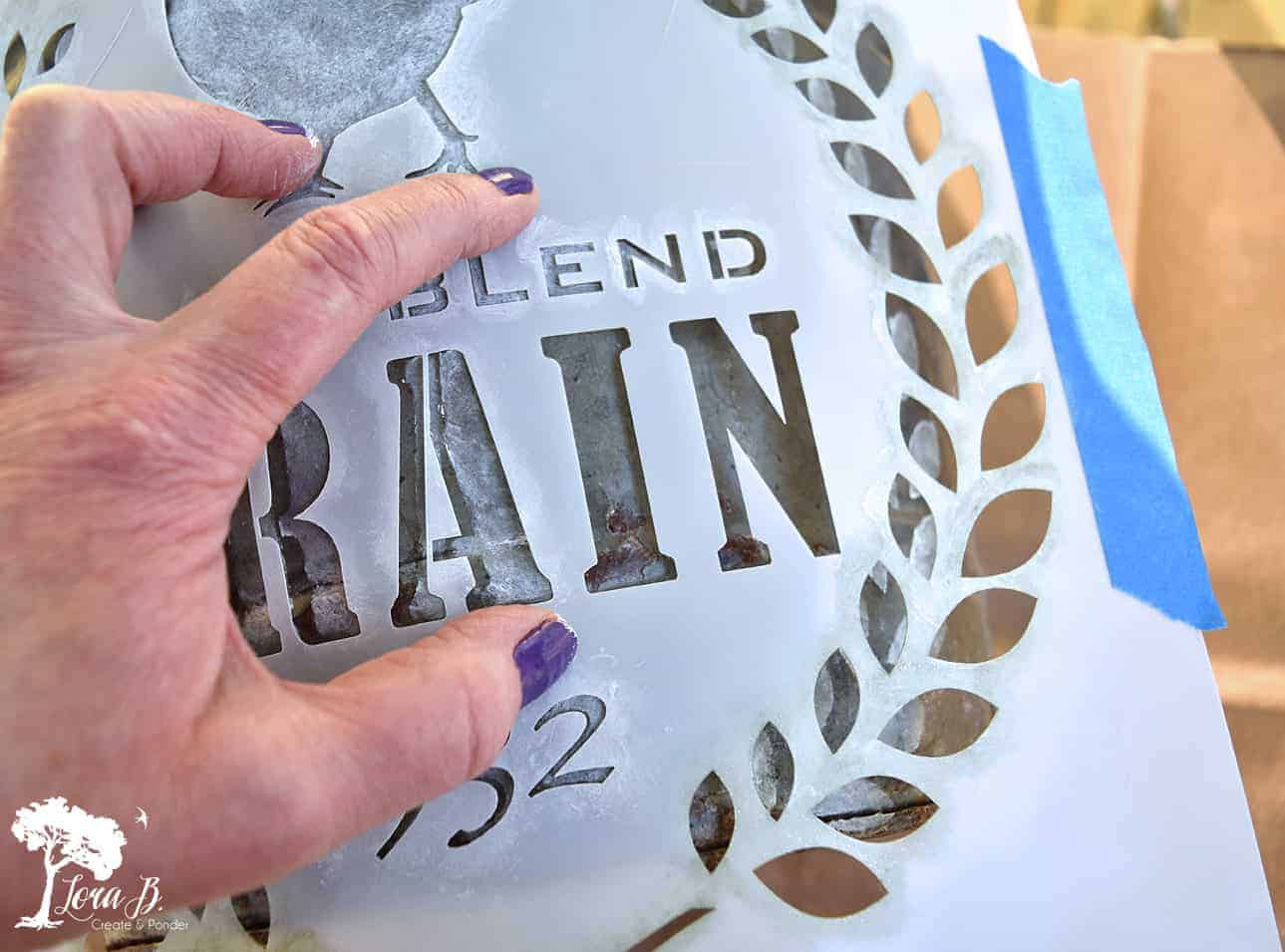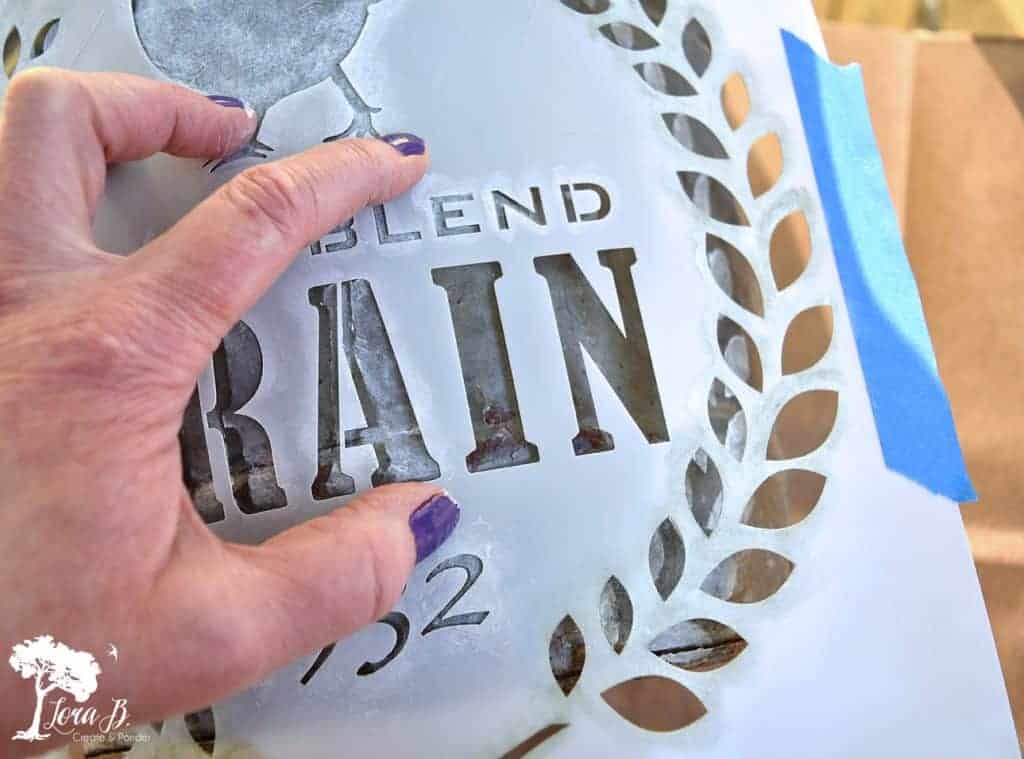 I used a swirling motion with my stencil brush and worked from the outside in. On the larger areas like the chicken, I went back over the design with a pouncing motion to get a little more texture.
I was happy with the finished stenciled bucket, and glad I switched to the darker one! Classic farmhouse style, for sure!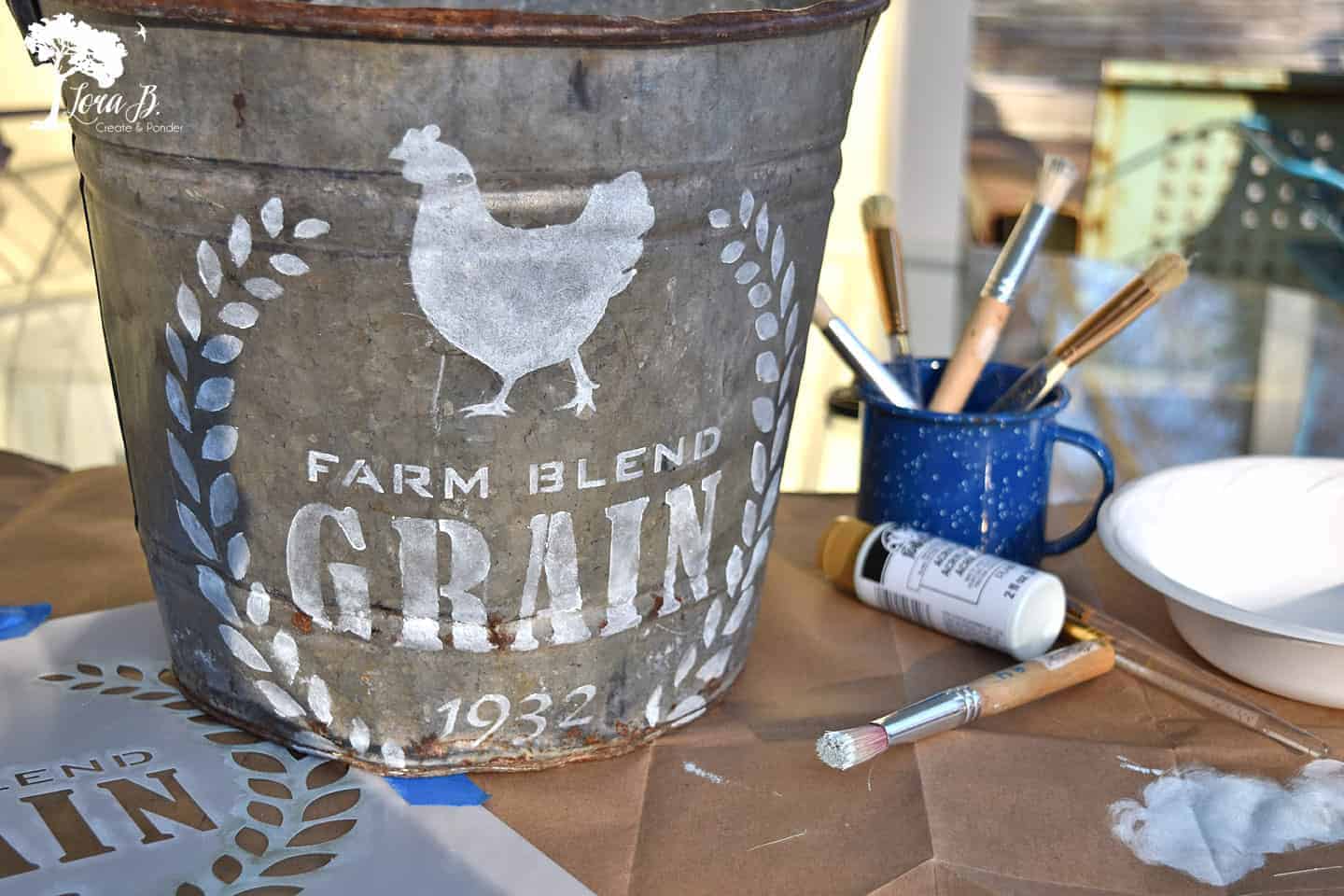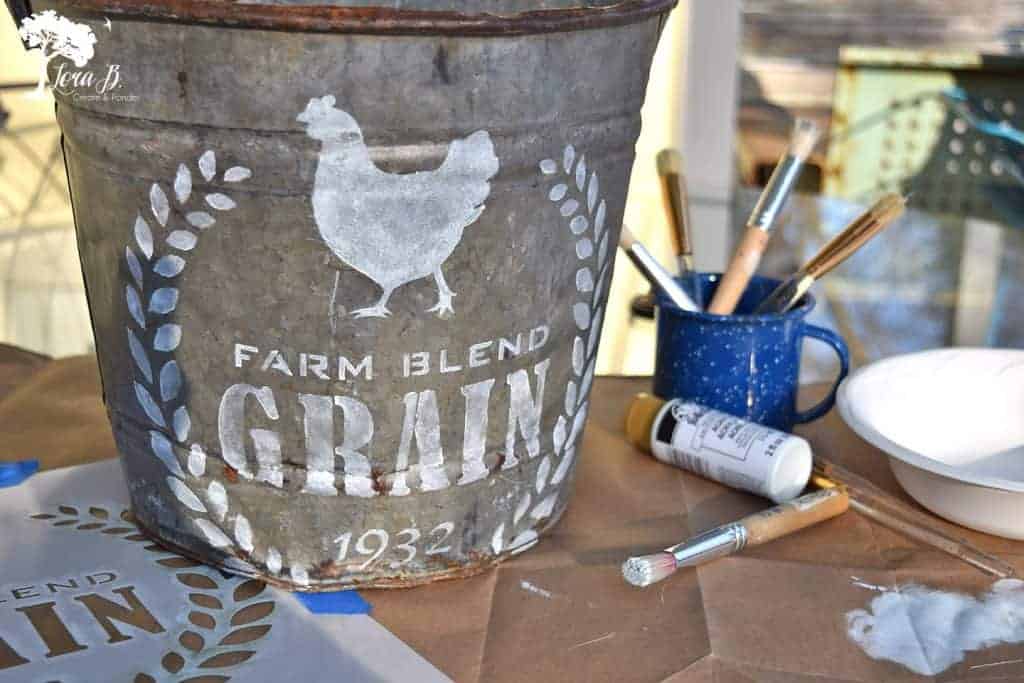 Add Fresh Eggs and Herbs for a Gift Idea
Once your old bucket is gussied up with a cute stencil, why not add some true farmhouse goodness to it and turn it into a wonderful gift? I picked up some fresh herbs from the garden store and got a dozen fresh eggs from my neighbor. I tied on a couple of cute carrots, and this hostess gift is ready to be given at any spring or summer party!
Who wouldn't love to receive this farmhouse-styled gift?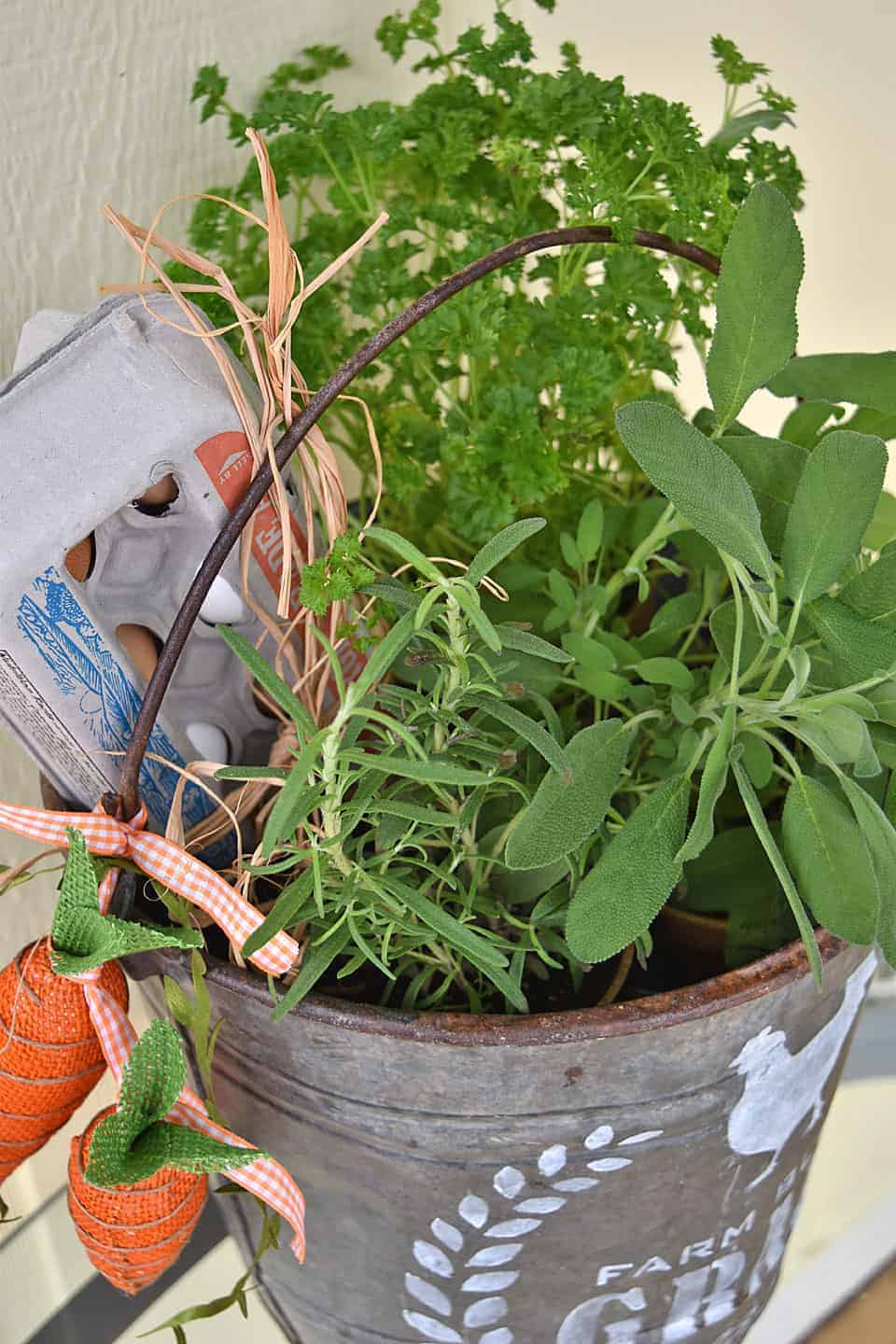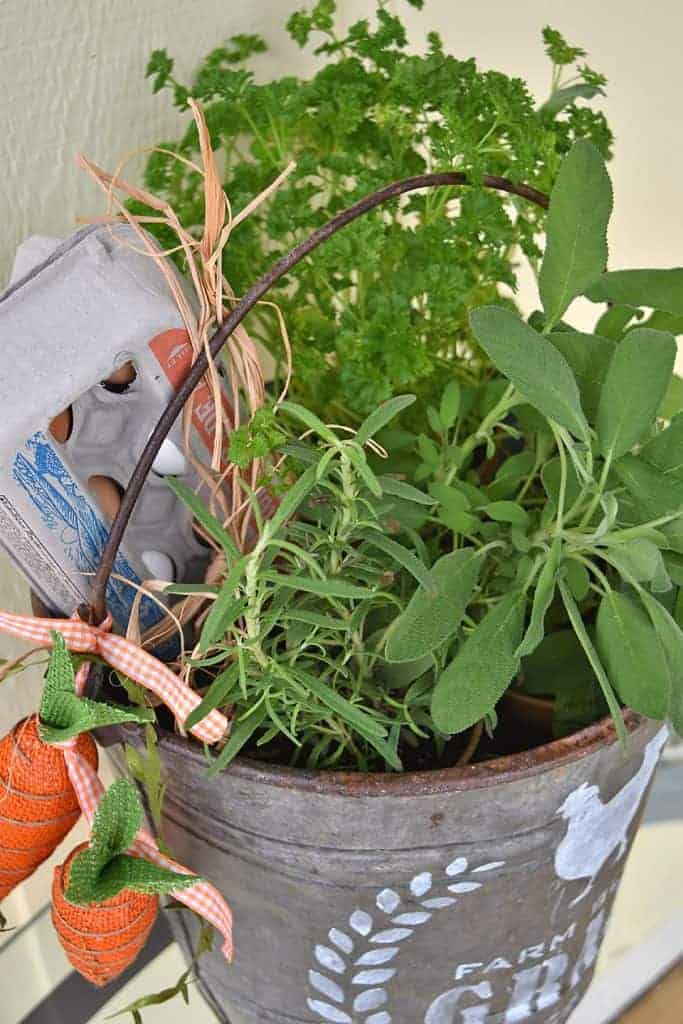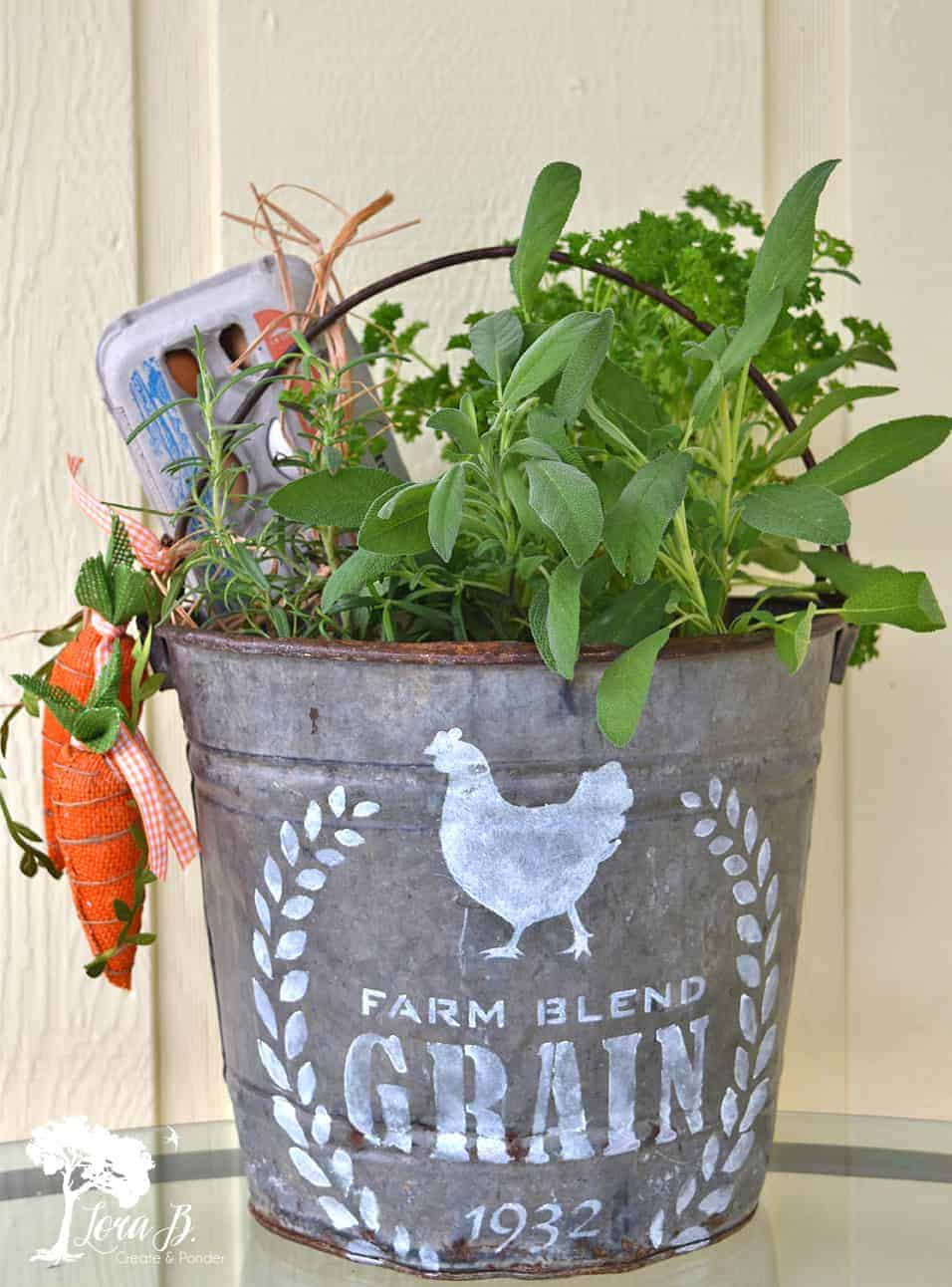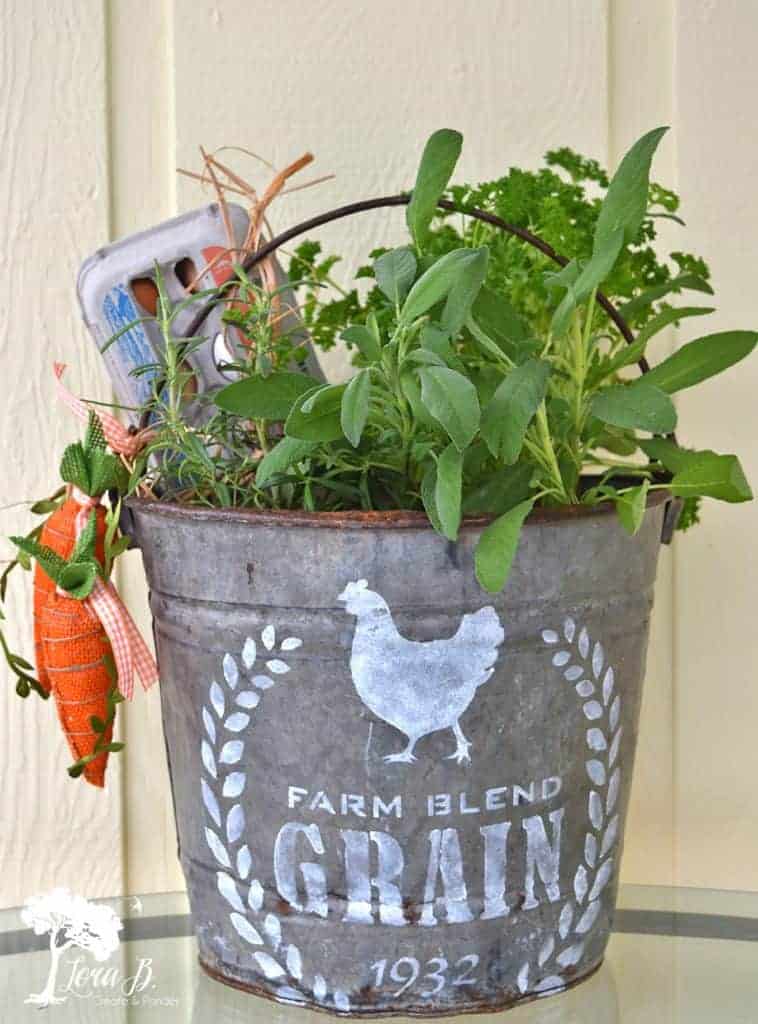 Think I'll keep this one for myself, though;)
You could also plant some herbs in a stenciled galvanized bucket like this and add some cute herb plant stakes. The addition of the graphic stencil just elevates the old bucket. I love giving new life to something old and bringing beauty to it's usefulness!


Shop to Create the Look: click on links for more info
You can find the full line of Old Sign Stencils HERE. They have many farmhouse-style patterns available.


Hopefully you enjoyed this DIY Stenciled Galvanized Bucket Gift Idea. I think it would be a unique and special gift to bring to a spring or summer party, or give as takeaways for a party you're hosting! You could keep it yourself, of course;) Can't wait to see what the rest of my Thrifty Chicks friends came up with!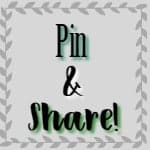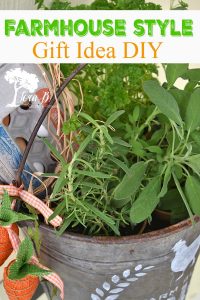 Thrifty Chicks Challenge: Buckets, Pails, Canisters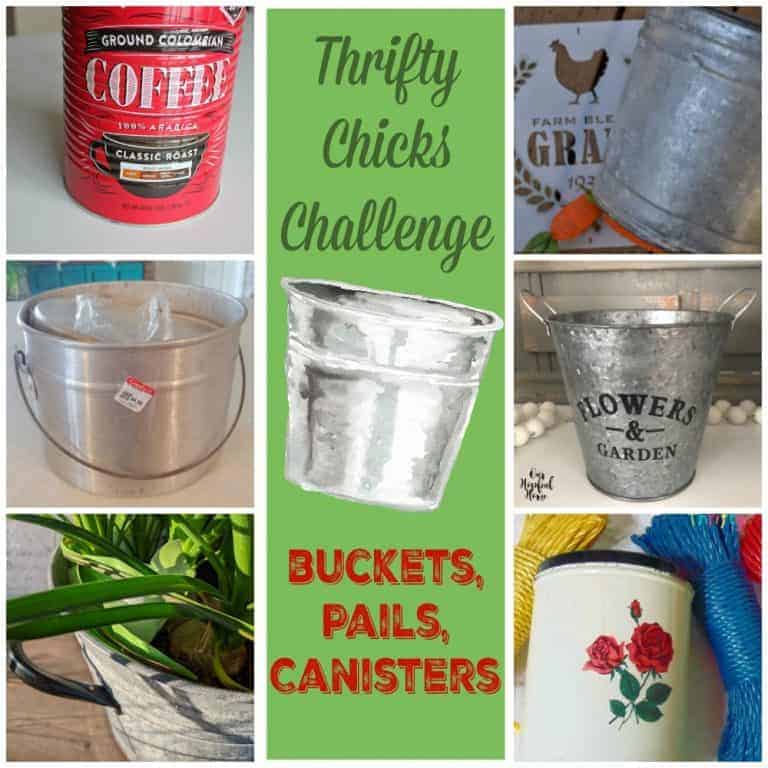 Itsy Bits and Pieces, "A Simple Spring Flower Bucket DIY"
Little Vintage Cottage, "Vintage Aluminum Camping Gear Upcycled to Pretty Boho Planters"
Audrey Would!, "A Galvanized Pail Makes a Perfect Planter"
Me:)
Our Hopeful Home, "Farmhouse Mantel Easter Decor"
Color Me Thrifty, "DIY Canister Makeover with Colorful Ropes"


Sharing at these lovely parties: