Repurposed Lantern Planter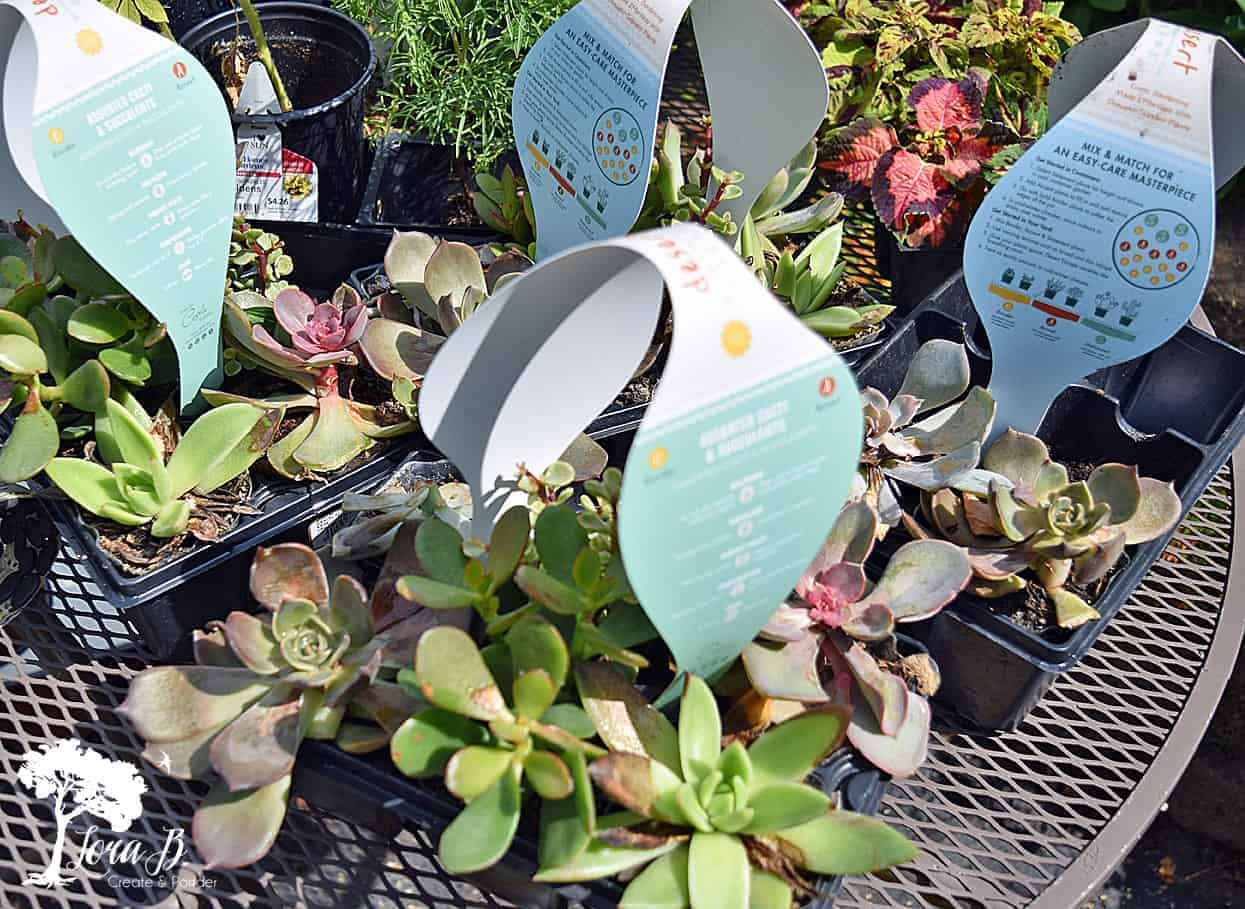 Every summer I challenge myself to come up with unique ways to plant my flowers. Yes, clay pots are great, but they're so much more interesting in the landscape if they're with other, more unusual containers. Today I'm going to share a Repurposed Lantern Planter, if you've jumped on the lantern craze that's been around for a few years!
This idea is part of a monthly Pinterest Challenge inspired by Cindy from County Road 407. A group of creative bloggers use one inspiration photo found on Pinterest and put their own spin on it.  If you're visiting from Decor to Adore, welcome! I'm sure you enjoyed Laura's seascape-vibed table. I love her themed creativity!
This month, we're all decorating around an inspiration photo from Kelley at Kelleynan.com: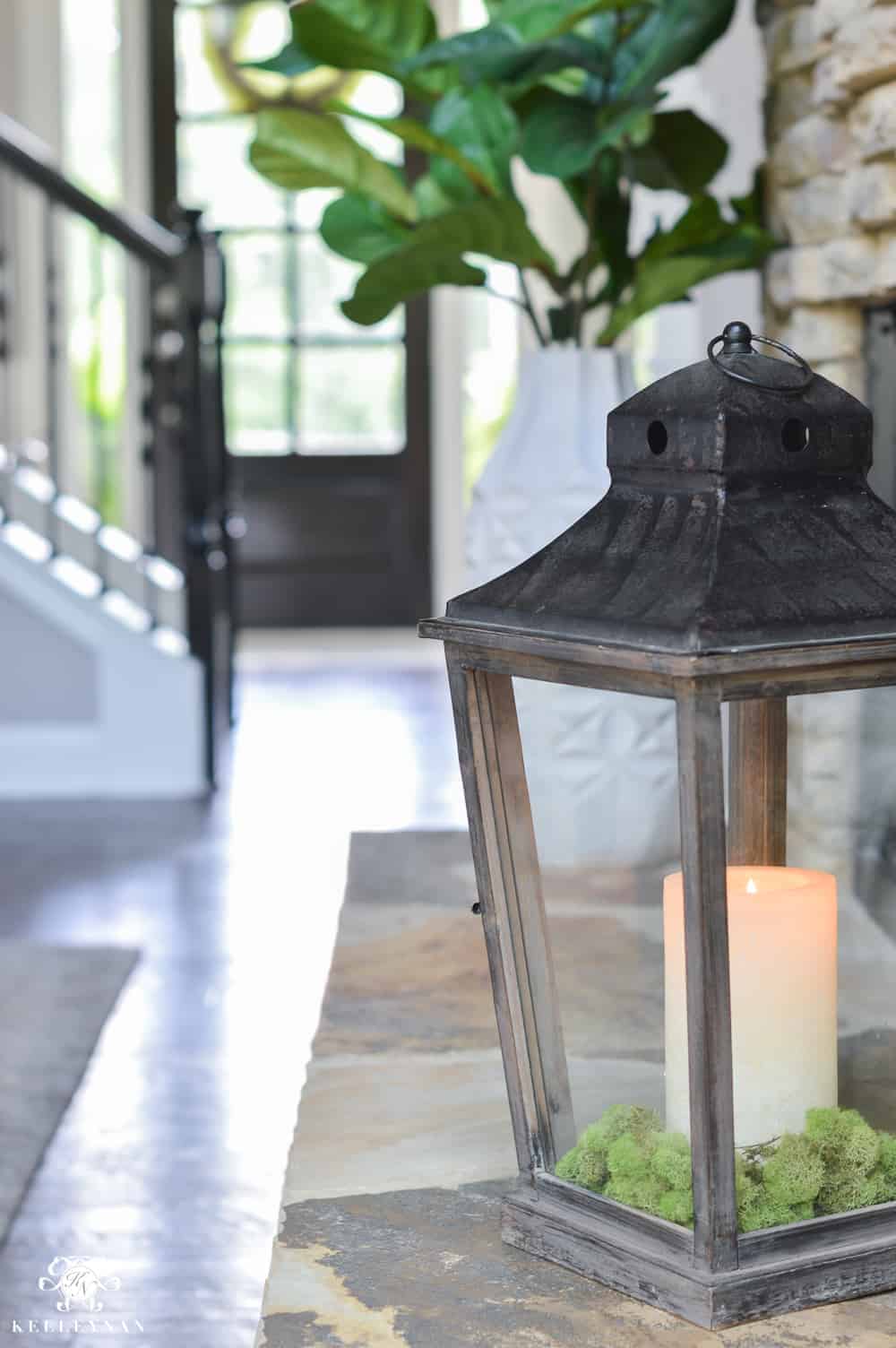 This pic is part of a summer home tour where Kelley used neutrals and naturals as a soothing, subtle decor scheme. I love the classic colors and textures of this picture. Gray, black, and white with soft green organics is totally  my comfort zone! But I'm just starting to enjoy summer now that we are through our big Graduation Party, so I wanted to do a lantern to enjoy outside!
Since my one and only lantern was looking a little sad from it's outdoor winter assignment (which looked a lot like the above picture), I had to start with a little refresh before any pretty could happen:
Begin Repurposing Your Lantern with a Good Cleaning
For your convenience, this post may contain affiliate links. If you make a purchase, I may receive a commission. There is no further cost to you. My full privacy policy is here. 
Once I emptied the winter remains, I scrubbed up my lantern with a soapy metal pad ( get them HERE) and rinsed. BTW…I use these all. the. time. Then I cleaned the glass sides with glass cleaner.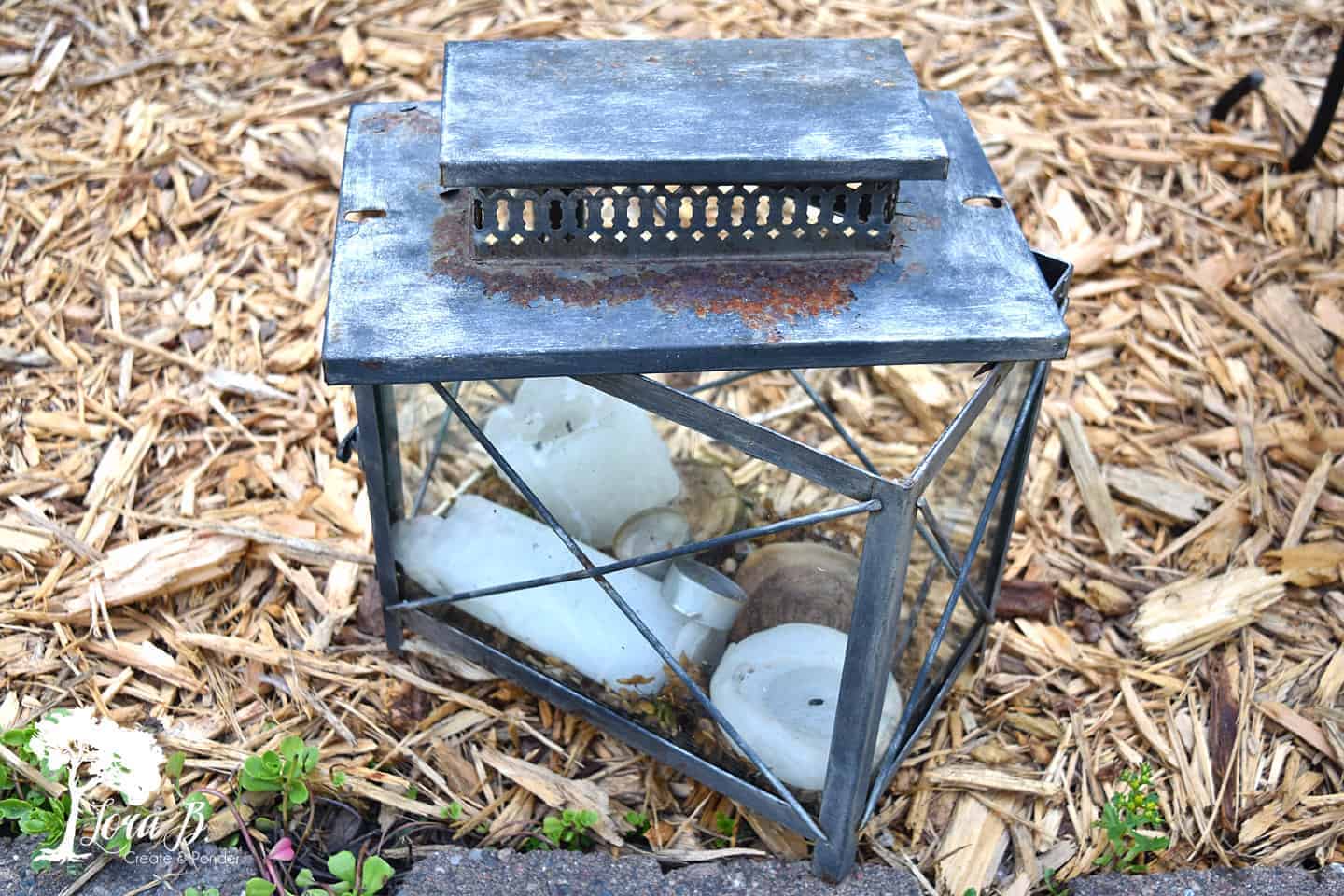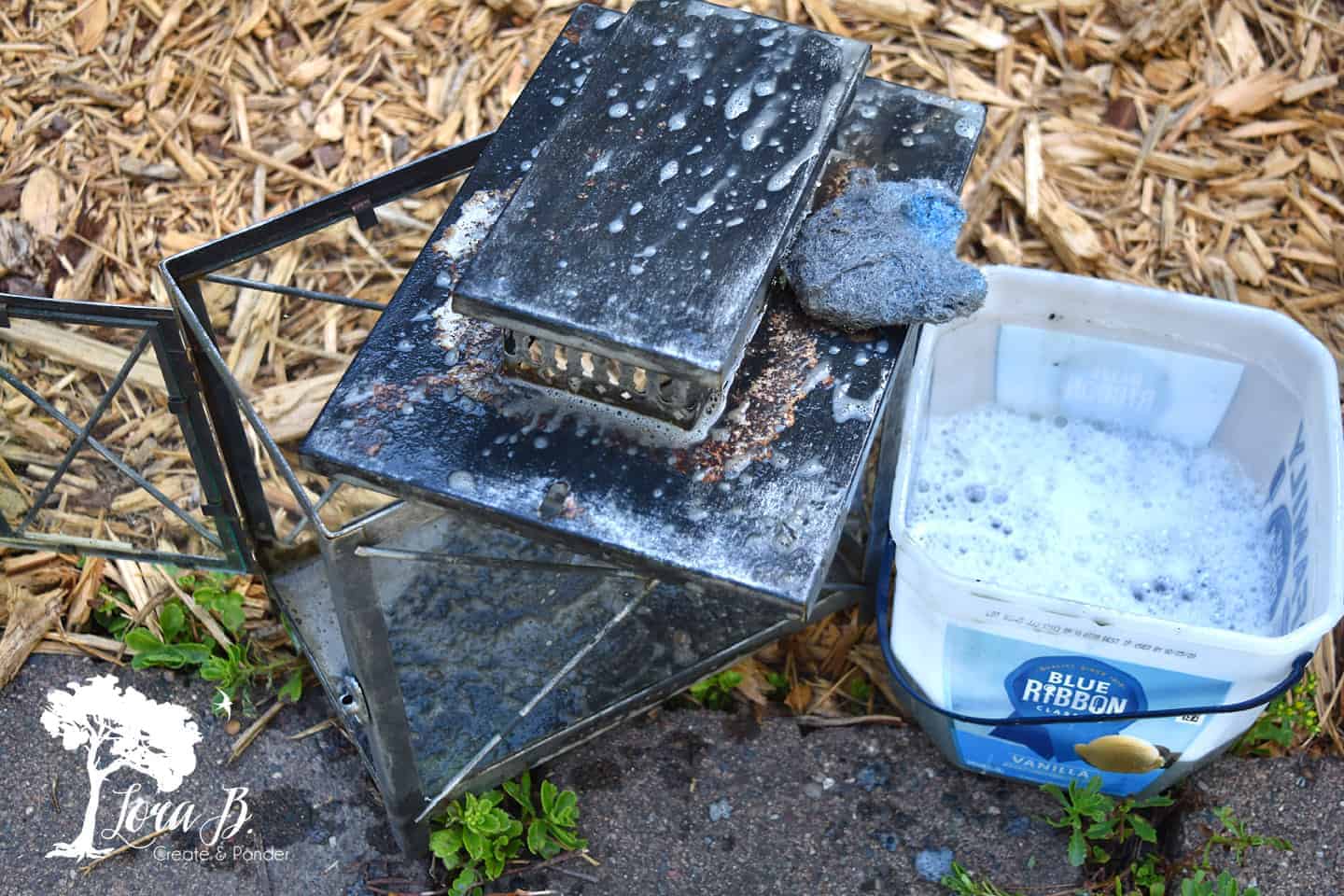 Place Potting Soil and Plants in Your Lantern
To imitate a terrarium, I placed potting soil right into my lantern, without the top. You could drill drainage holes in the bottom; my creation is going to be under the porch, so I skipped this step. Small stones could also be placed at the bottom under the soil for drainage. I planted some clearance succulents that I picked up at Walmart that looked a little worse for the wear, but I think they'll revive just fine. (You can grab a nice variety for yourself, HERE)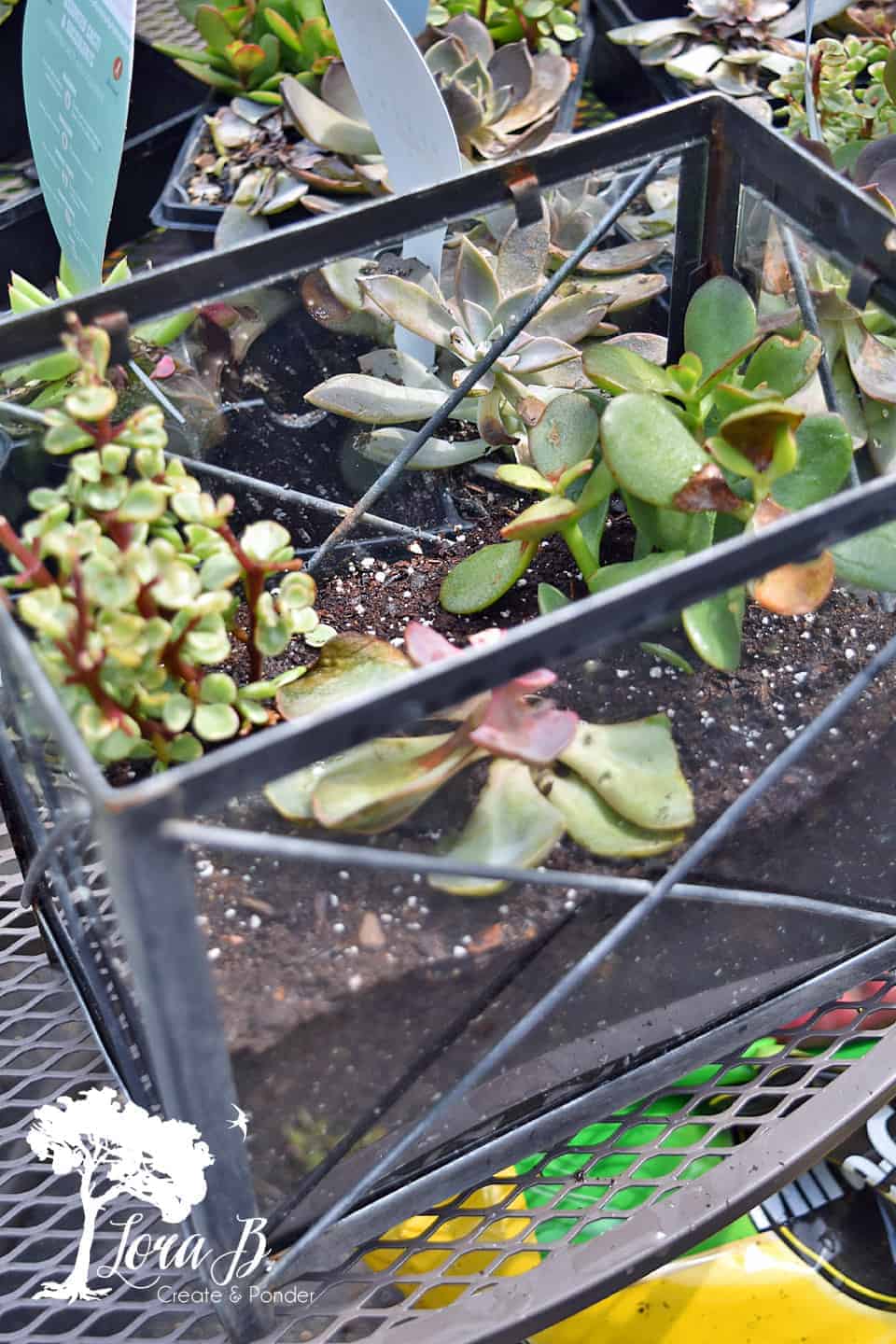 The dirt didn't leak out the door at all, so my plan worked! There's something appealing about seeing the dirt through glass, isn't there? Usually terrariums are a winter thing indoors, but it's kind of fun to recreate the look for the summer on the porch! The glass will probably make this container hot, but I think that will make the succulents happy;)
Some small stones were the finishing touch to cover the soil on the top. I fully intended to add the cover of the lantern and gave it a brush of outdoor poly ( I use THIS type for my outdoor projects) to seal in the peeling finish. But once I placed it on the top, I realized it just wasn't going to work; the plants would be too high. At first I was mad I made the dirt so deep, but then my repurposing juices kicked in and decided the lid needed a new life, too!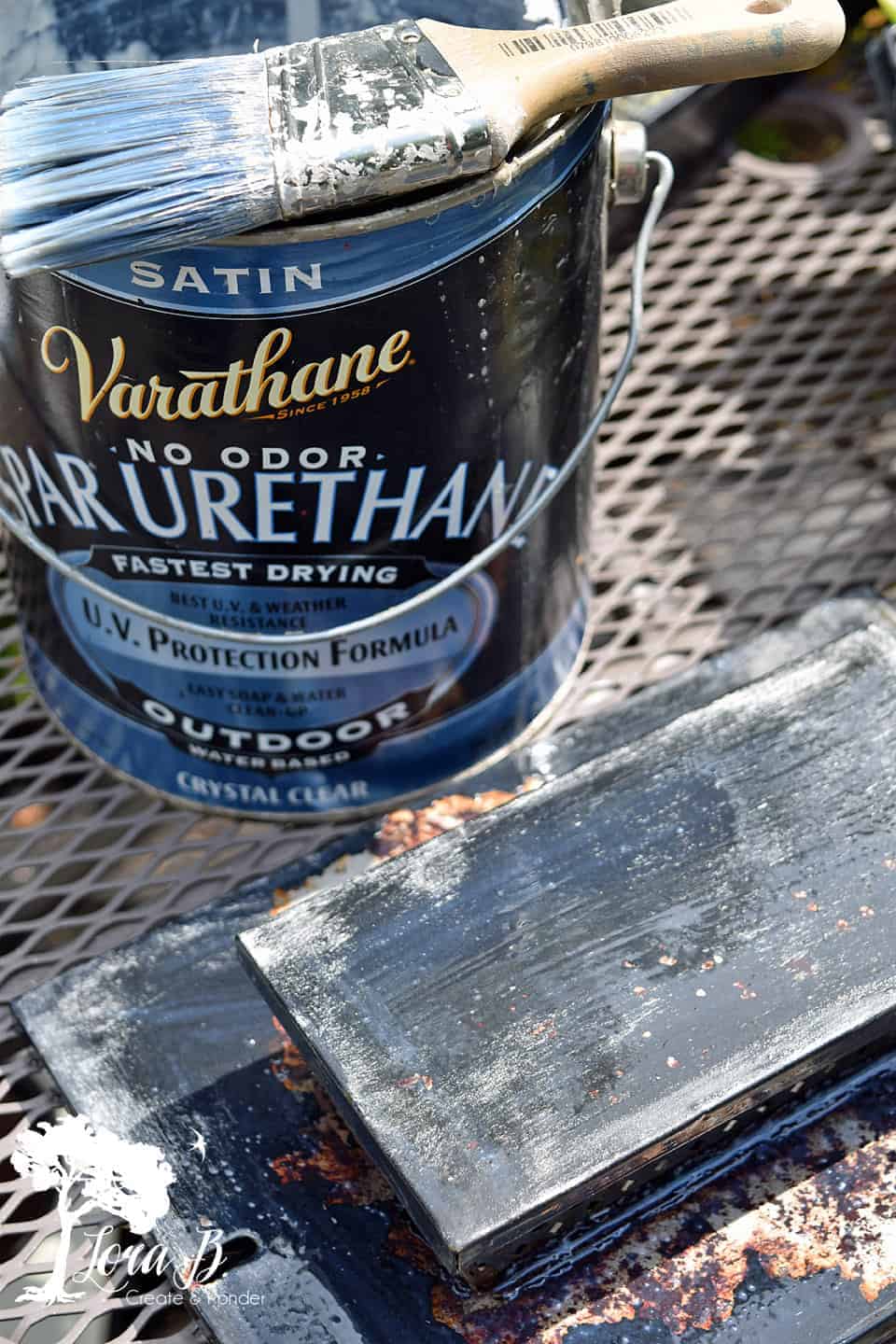 The extra bags of stones were calling to me, and Kelley's pic did have a candle…
Repurpose the Lantern Lid into a Candle Holder
Japanese design style must have hit, inspired by my Peonies blooming, because the lantern lid became the perfect tealight candle display. Citronella candles could also be used. So simple, so easy. All repurposed!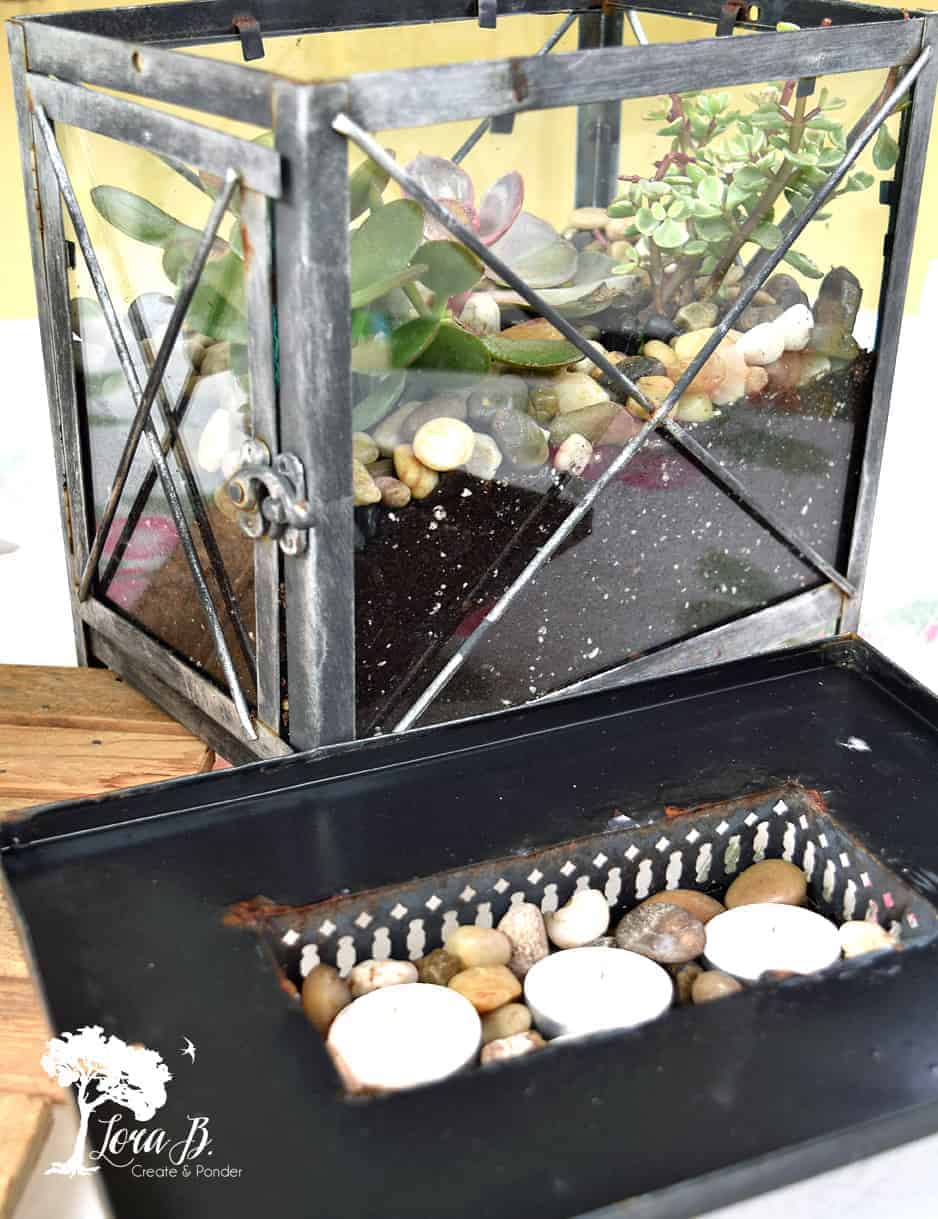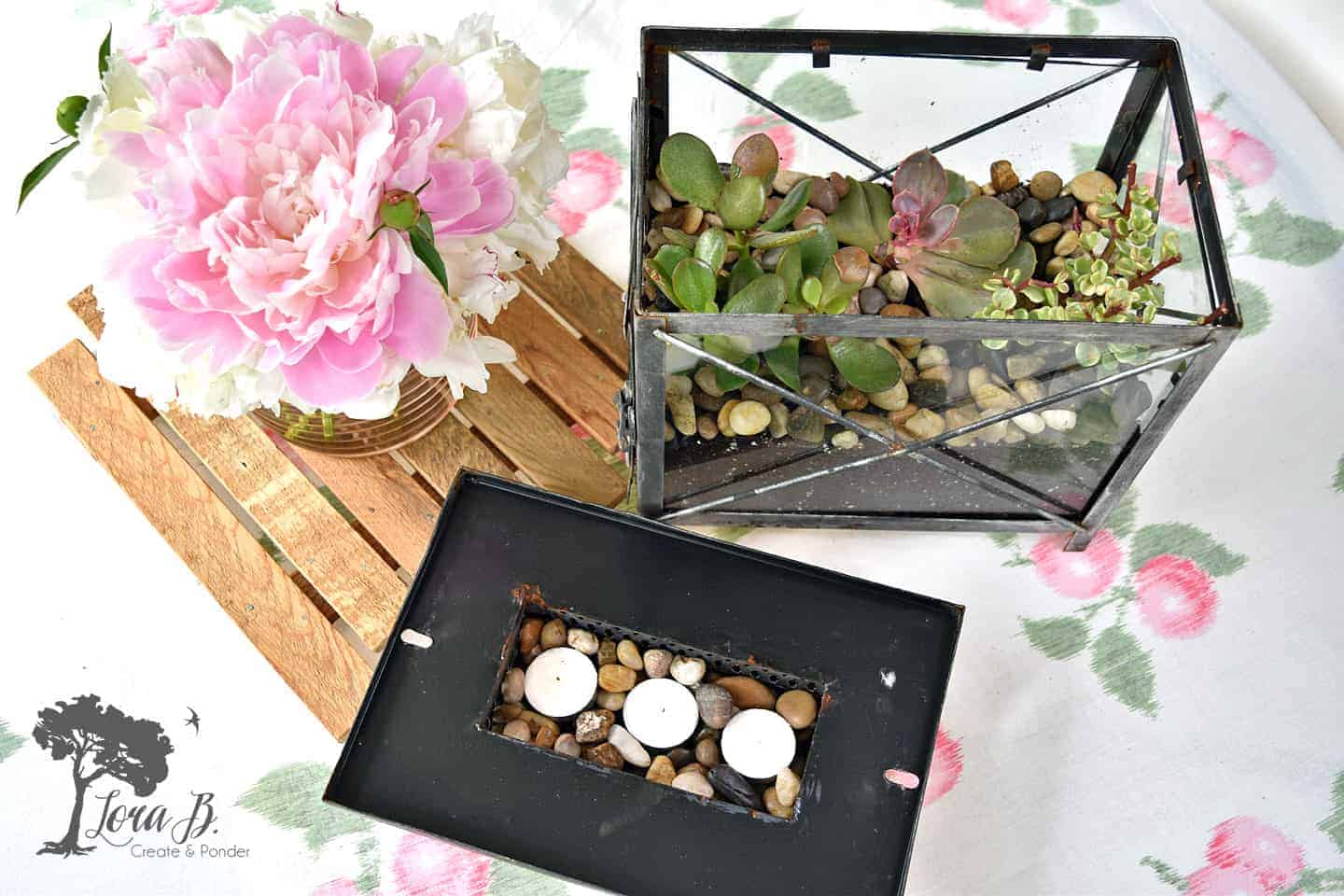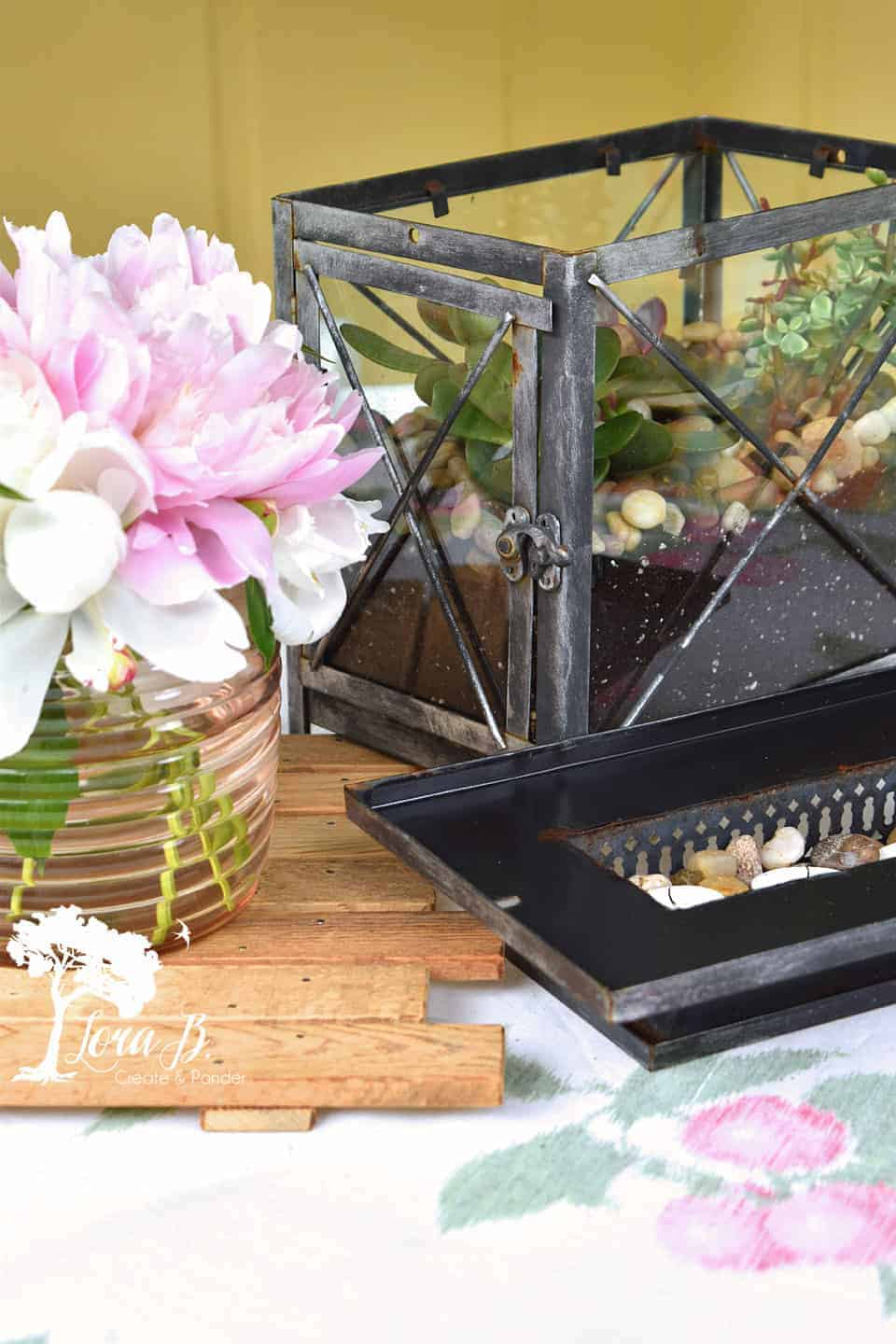 I added a fresh bouquet of peonies, placed on one of our "Repurposed Wood Lath Runners". With a pretty pink and green tablecloth blowing in the wind, this summer porch table setting can be enjoyed all day long, even into the evening!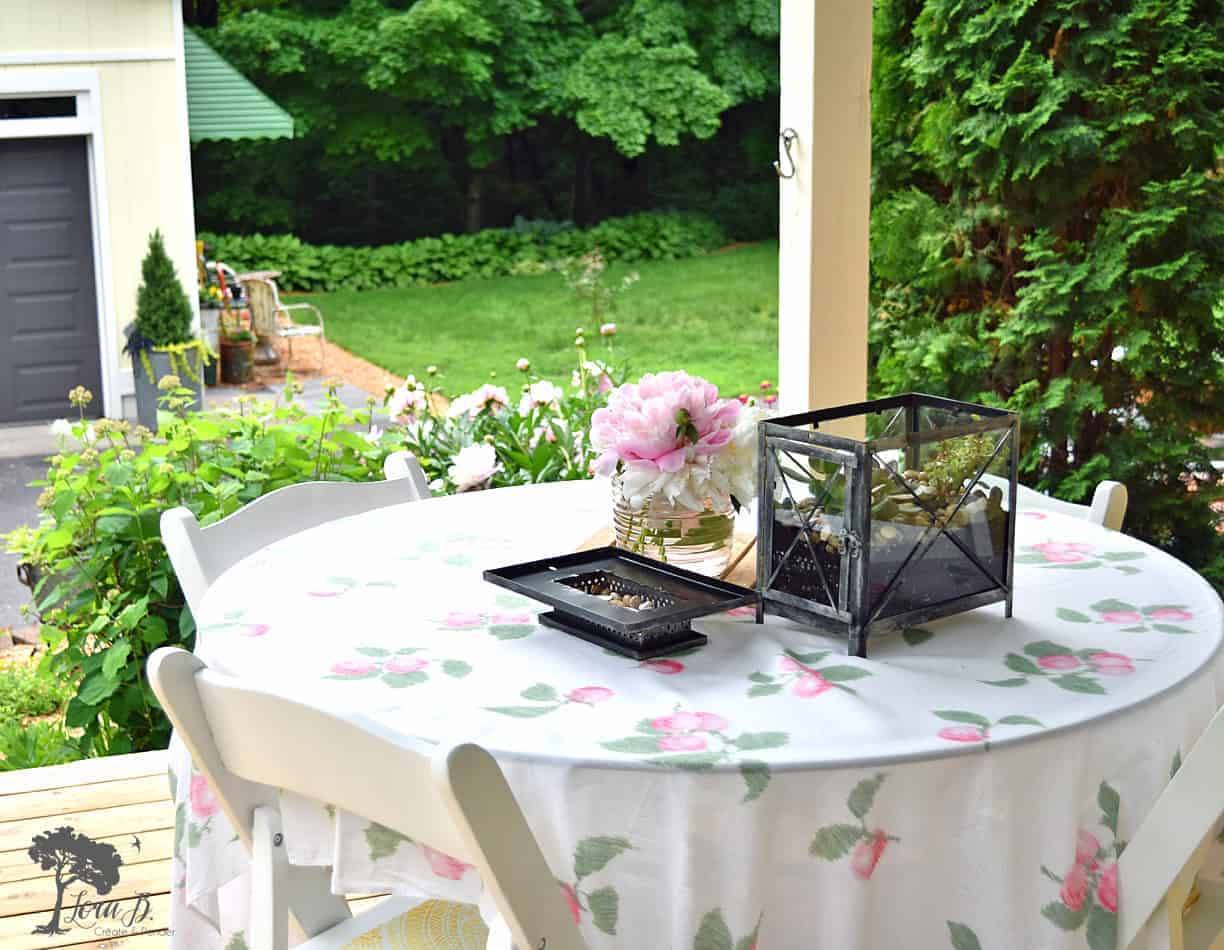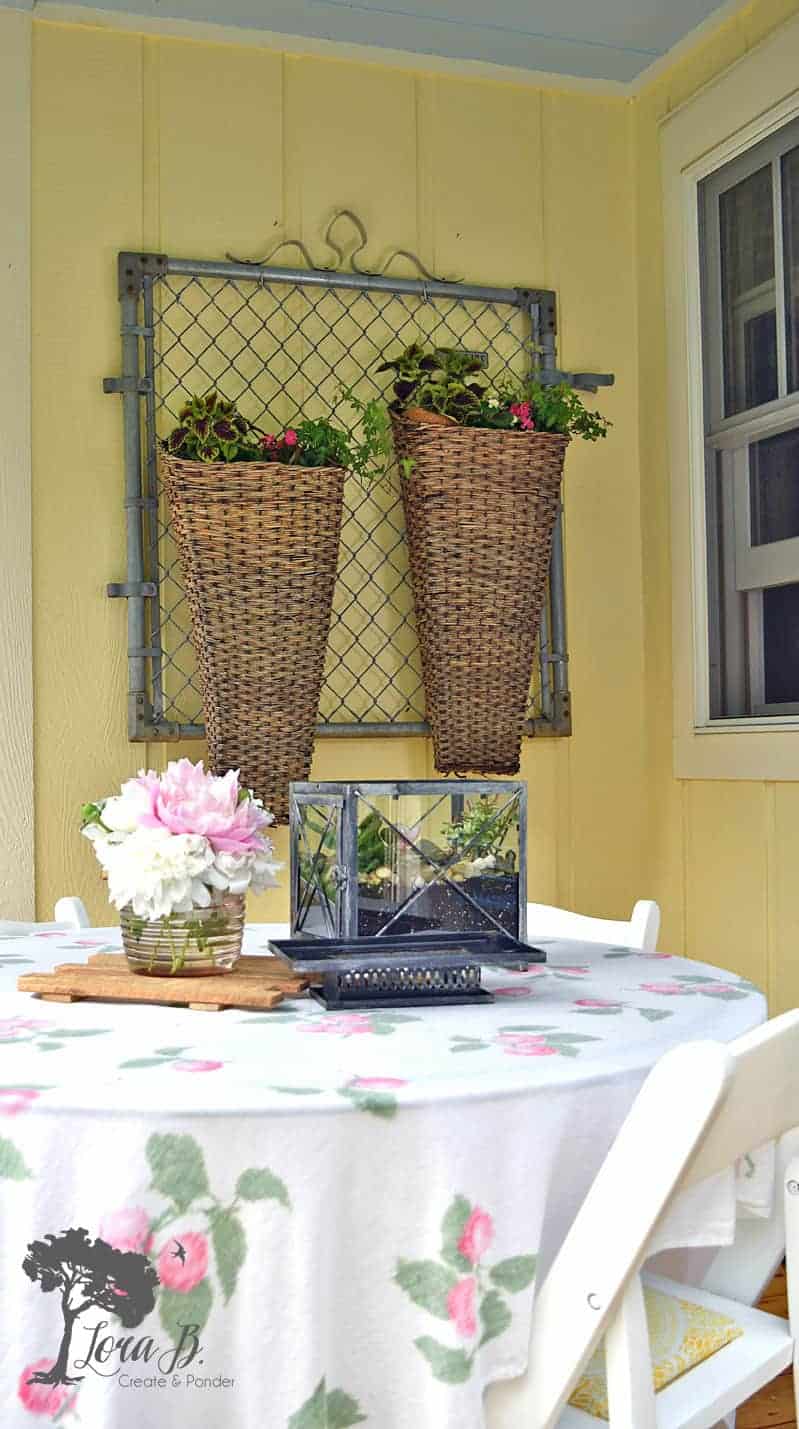 If you look closely, you can see some other repurposed flower containers. I lined a couple wall pocket baskets with cocoa liners and planted them to hang on an old garden gate. The shade flowers coordinate with the ones I planted in my "Vintage Bicycle Garden Art", hanging right around the corner.
Here are some other vintage finds that have been repurposed as planters and garden art in and around our yard:
 "Repurposed Garbage Can Planter with Vintage Fencing"
"Repurposed Birdbath as Succulent Planter"
"Repurposed Vintage Fencing Squares DIY"
Become a Lora B Insider for FREE Helpful and Decorative Resources!
If you loved this project, I think you'd appreciate all the free resources available in my Insider's Resource Library. You can sign up down below, or in the sidebar by the Vintage Bicycle printable picture>> You'll get the secret password today!
Are the gears of your mind churning with what you could use as a repurposed planter? Maybe you've got an old lantern that's seen better days and needs some new life breathed into it. I'm sure my friends will have plenty more lantern inspiration and ideas, too. If you're going in hop order, pop on over to Bluesky at Home and enjoy Carol's ideas for styling lanterns in your home decor. Hope this Repurposed Lantern Planter idea spurred your creative ideas!
Please Pin, Share, and Enjoy the Rest of the Inspiration!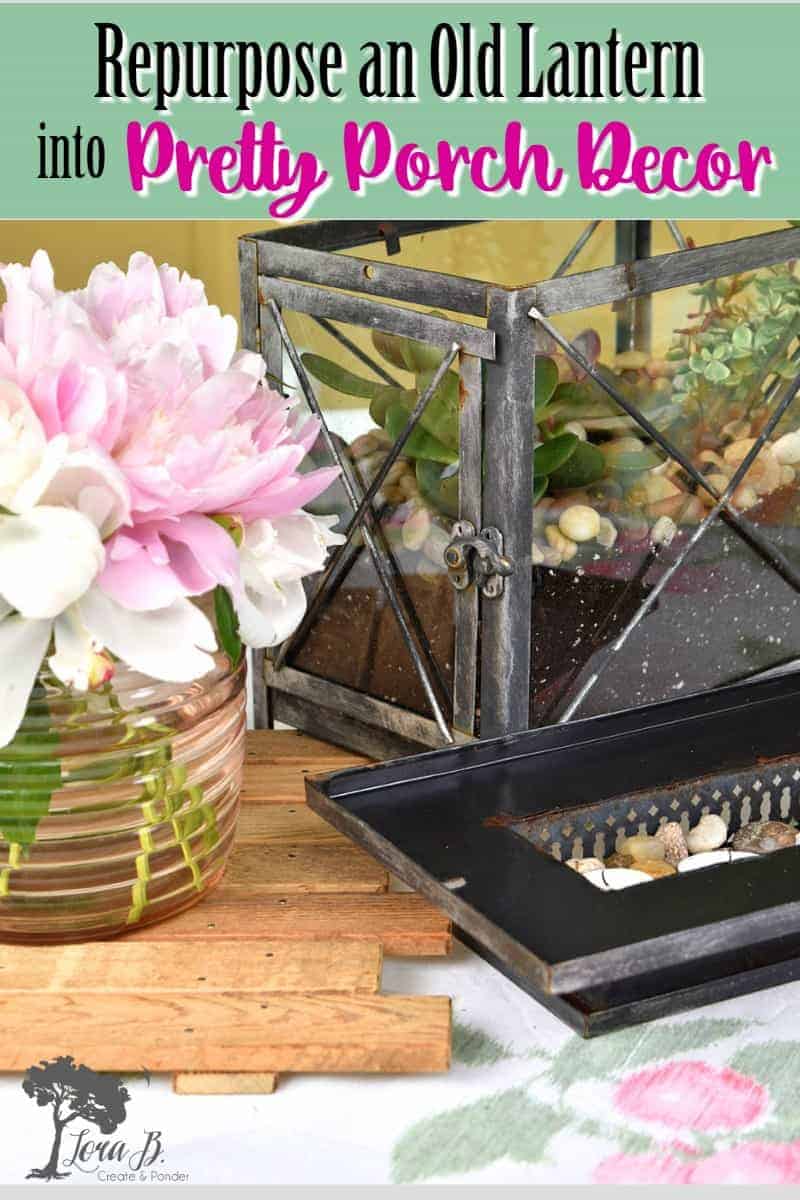 Lantern Decor Pinterest Challenge
You are invited to the Inlinkz link party!
Sharing at these lovely parties: