Repurposed Wood Lath Runner
repurpose old wood lath sticks into unique table runner and placemats with this simple how to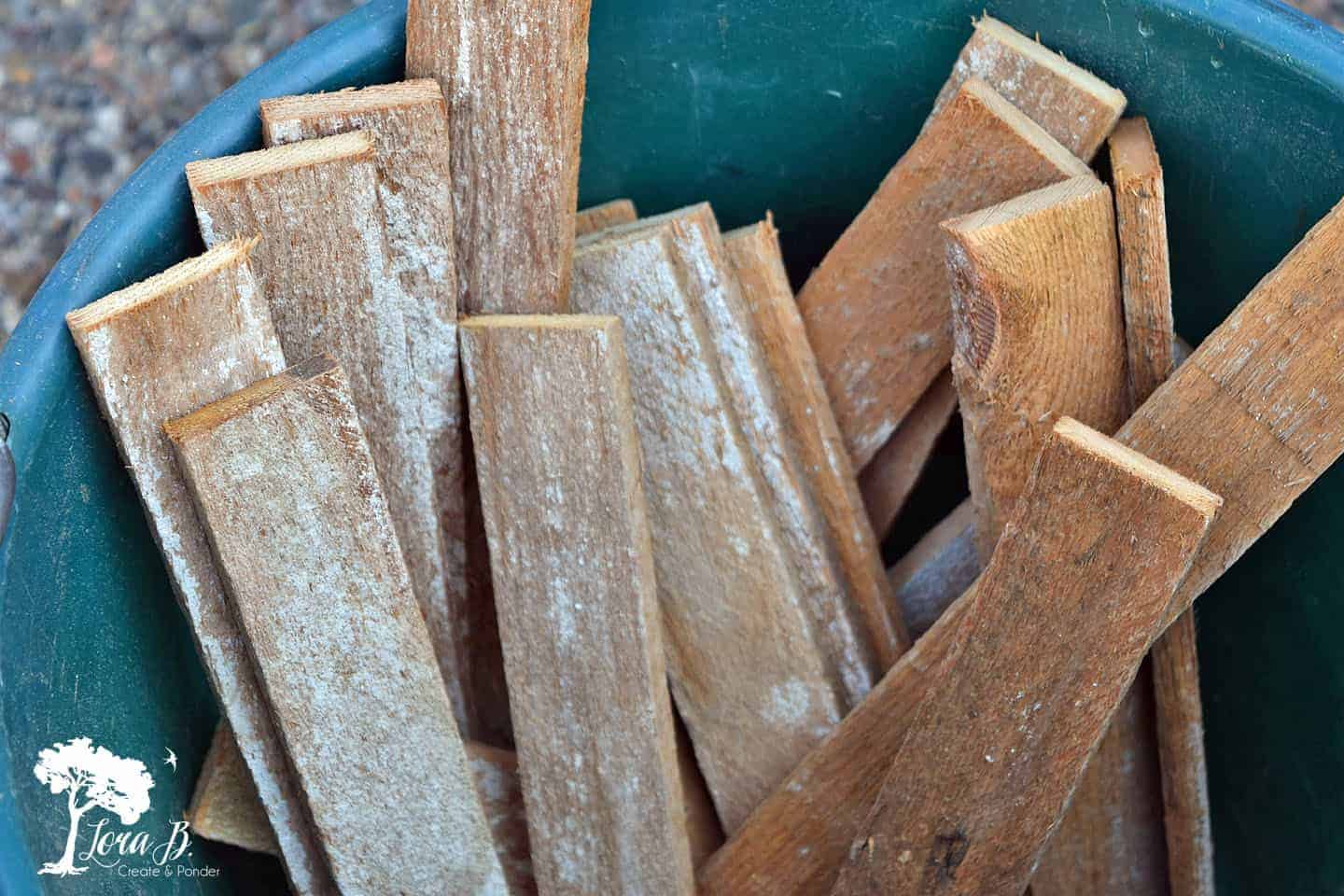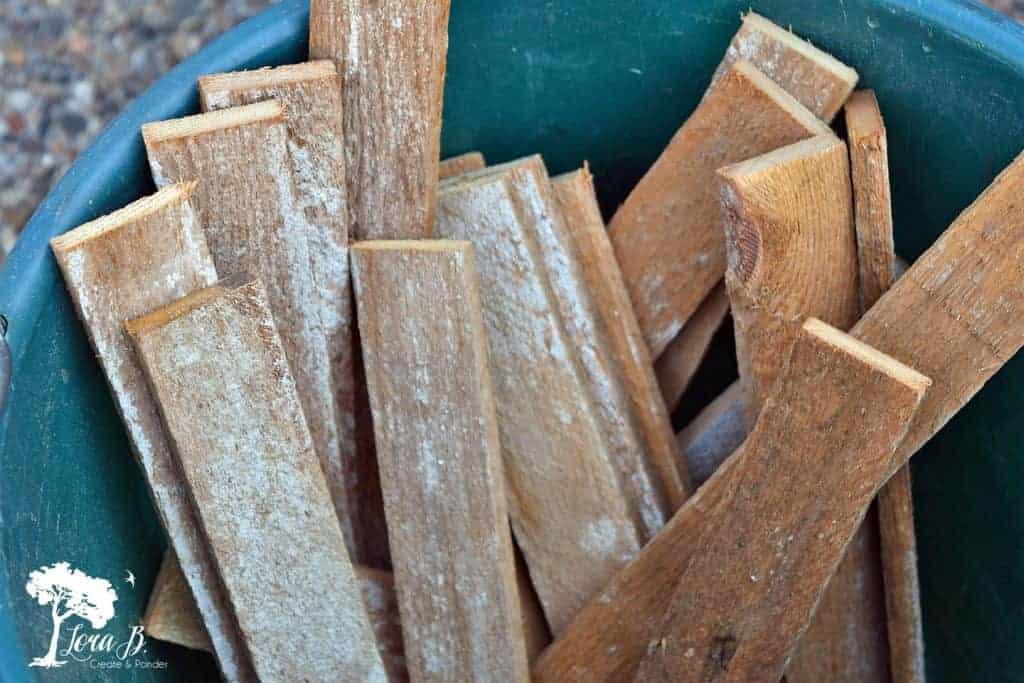 Old wood has earned character that is hard to replicate. The beautiful saw cuts, nail holes and dings from years of wear make it the perfect material to repurpose into another form, which can be enjoyed by future generations. When we recently gutted our bathroom, I came to the rescue of the old pile of wood lath sticks that had been behind the plaster walls for 100+ years. Yes, when in destruction mode it can be easy to want the pile of debris to go away quickly, but once it's gone, you'll never have the character-filled material to create with again! Luckily, Mr. Fix-it gave into my pleas, so we could make this Repurposed Wood Lath Runner.
This project is one of many inspirational ideas on the Spring Ideas Blog Hop, organized by Angie at Postcards from the Ridge! Each day centers on a different theme, so you can enjoy spring-spiration all week long! Have fun visiting all the beauty and ideas: mantels, tablescapes, recipes, DIY & crafts, and outdoor decor. All of the links are at the end!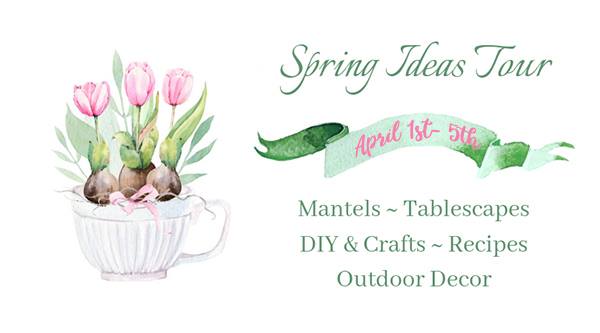 Repurposed Wood Lath Runner
With the lawn trailer filled with rusty, nail-filled old wood lath sticks, the gears of my brain started churning out ideas. What could we make to enjoy this historic part of our house, that I would actually use? It's kind of fun to make something out of what's been hidden behind the walls since the house was built!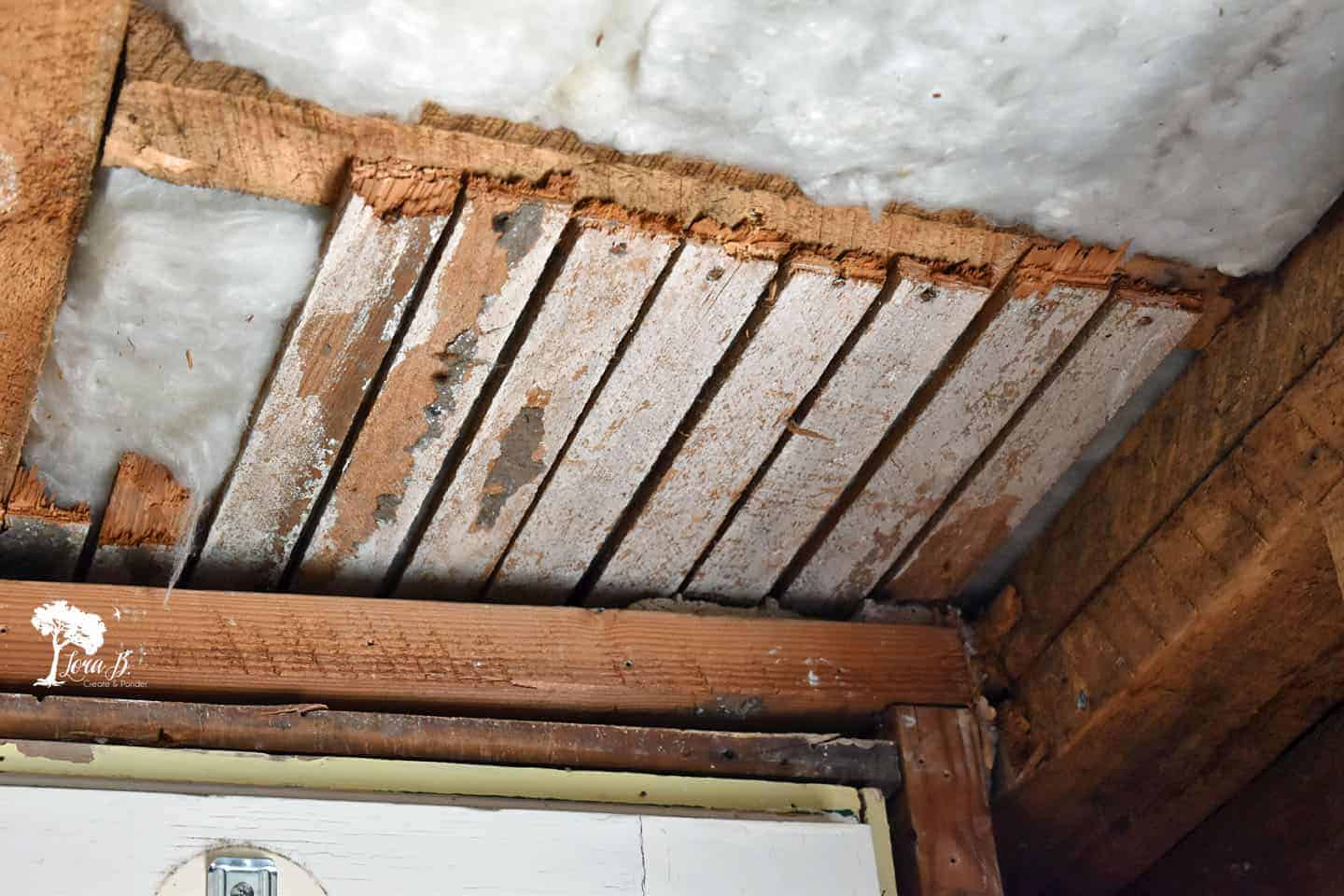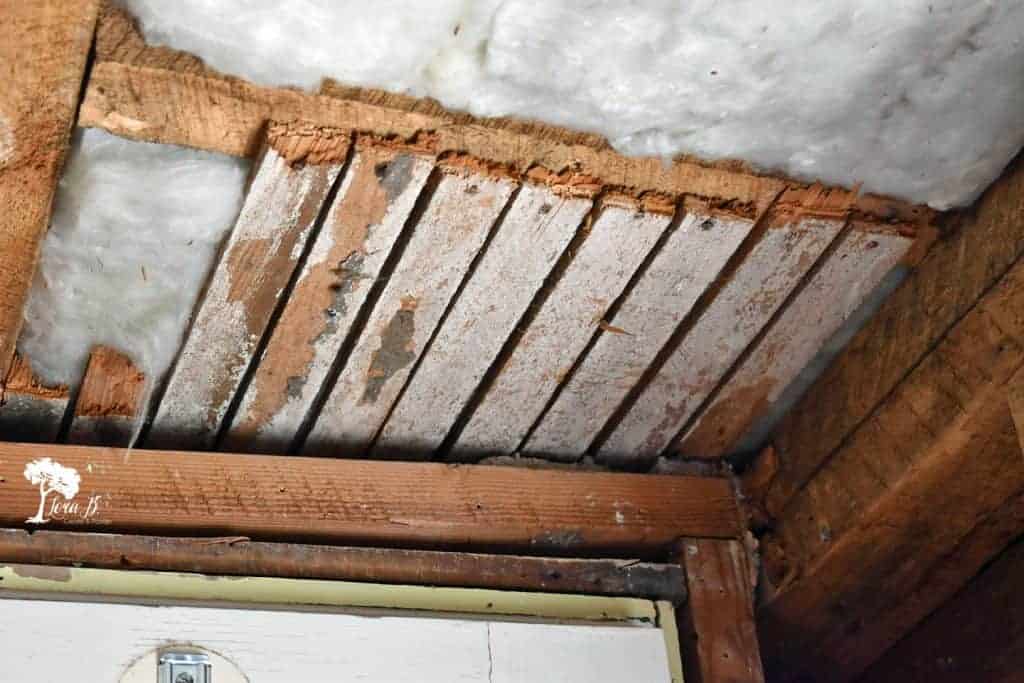 I came up with a couple ideas (and may be making more of them in the future), and decided a simple, rustic lath stick runner would be the perfect tabletop foundation for a pretty spring centerpiece! If you'd like the exact how-to in tutorial form, you can get it for free in my Insider's Resource Library. By becoming a Lora B Insider, you'll get FREE access to all my seasonal and helpful printable resources. Plus, your creative juices will keep flowing with my weekly email!
If you're already an Insider, check your weekly email for the password to grab this how-to!
Create the Repurposed Wood Lath Runner with a Free Printable
Mr. Fix-it cut the wood lath sticks to the length I asked and I began sanding each piece with my electric palm sander. Luckily, it was a beautiful, springtime day and I was happy to be outside enjoying the long-awaited-for nice weather! The rough boards became smooth with some 120 grit.
The white sides of the lath sticks with their leftover plaster remnants were more appealing to me, so we constructed the runner with those sides all facing "up". Either side of the runner can be used, but I like the side with the adjoining parallel pieces showing the best;)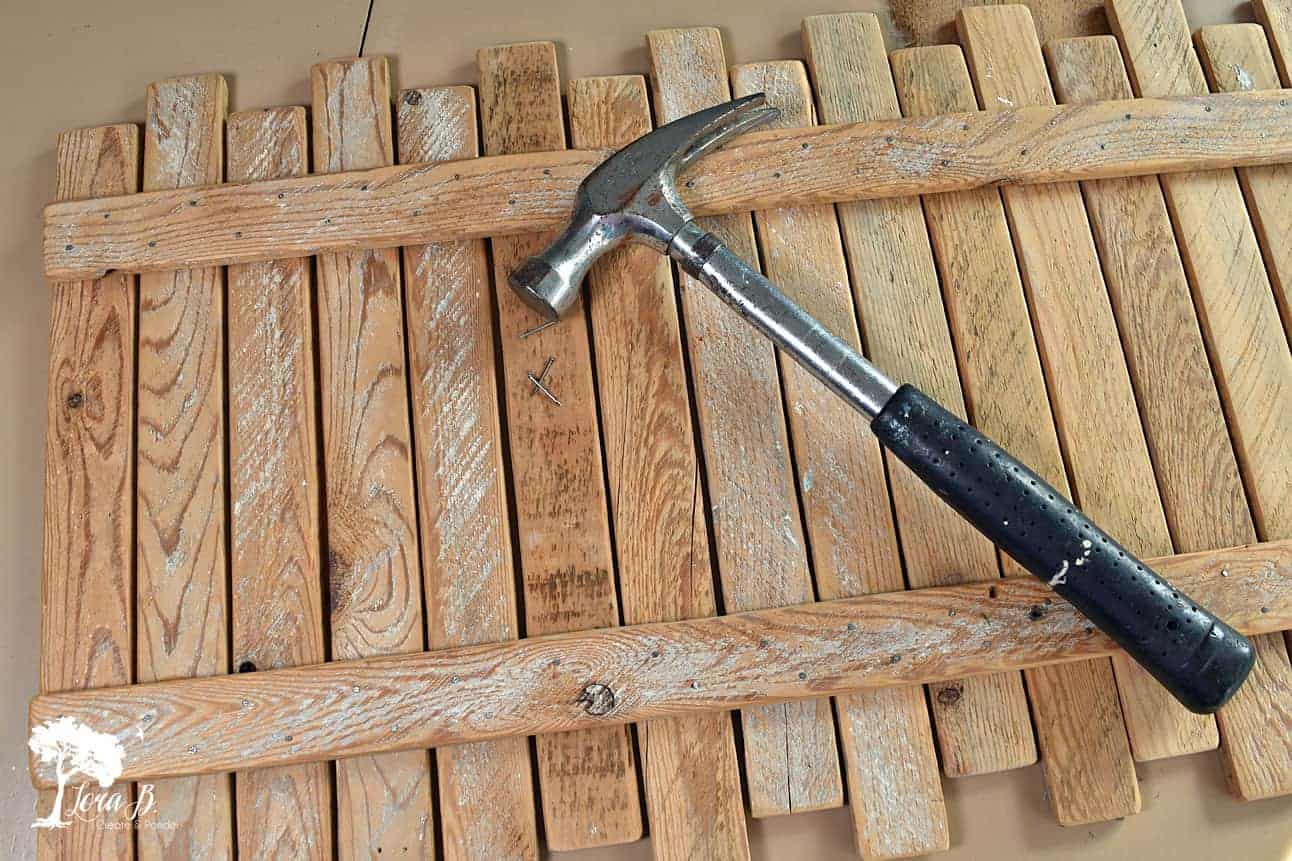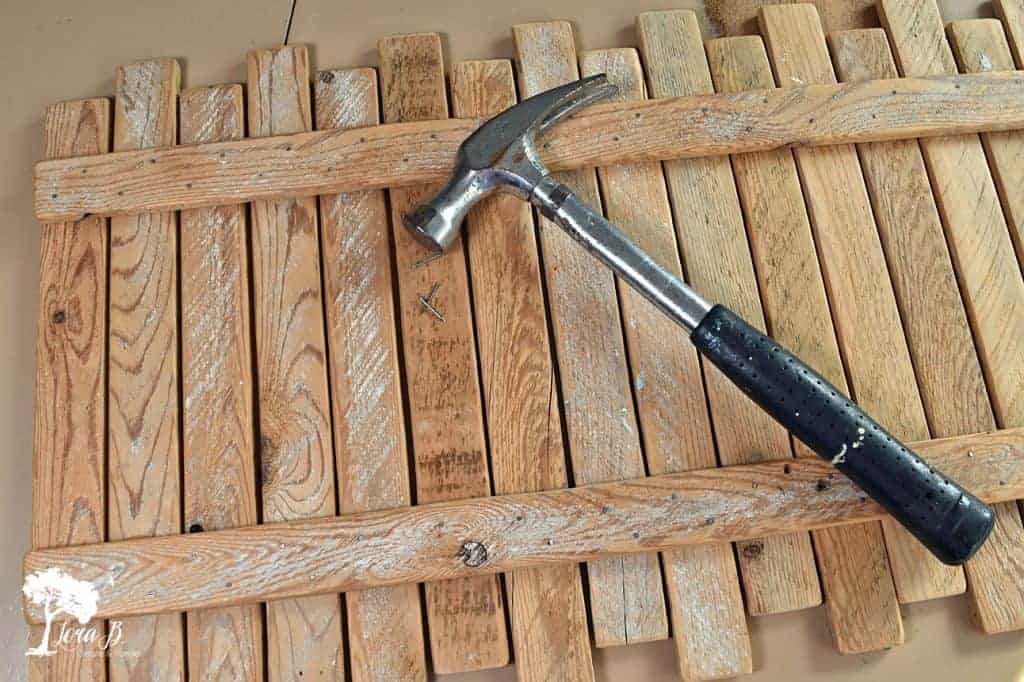 Once all the pieces were sanded, we glued and nailed it all together. I was going to have the boards all even, but when laying them out, a railroad pattern seemed more interesting. 18 year old Mr. Freckles said, "Hey, mom, that railroad thing on the table is cool." Well, good, honey…cuz I think I'm making more for your grad party;)
I sealed all the old wood with a coat of satin poly. The wood looked a little orange when it was wet, but luckily it dried to a more subtle hue. The white parts faded, but I still like the overall patina.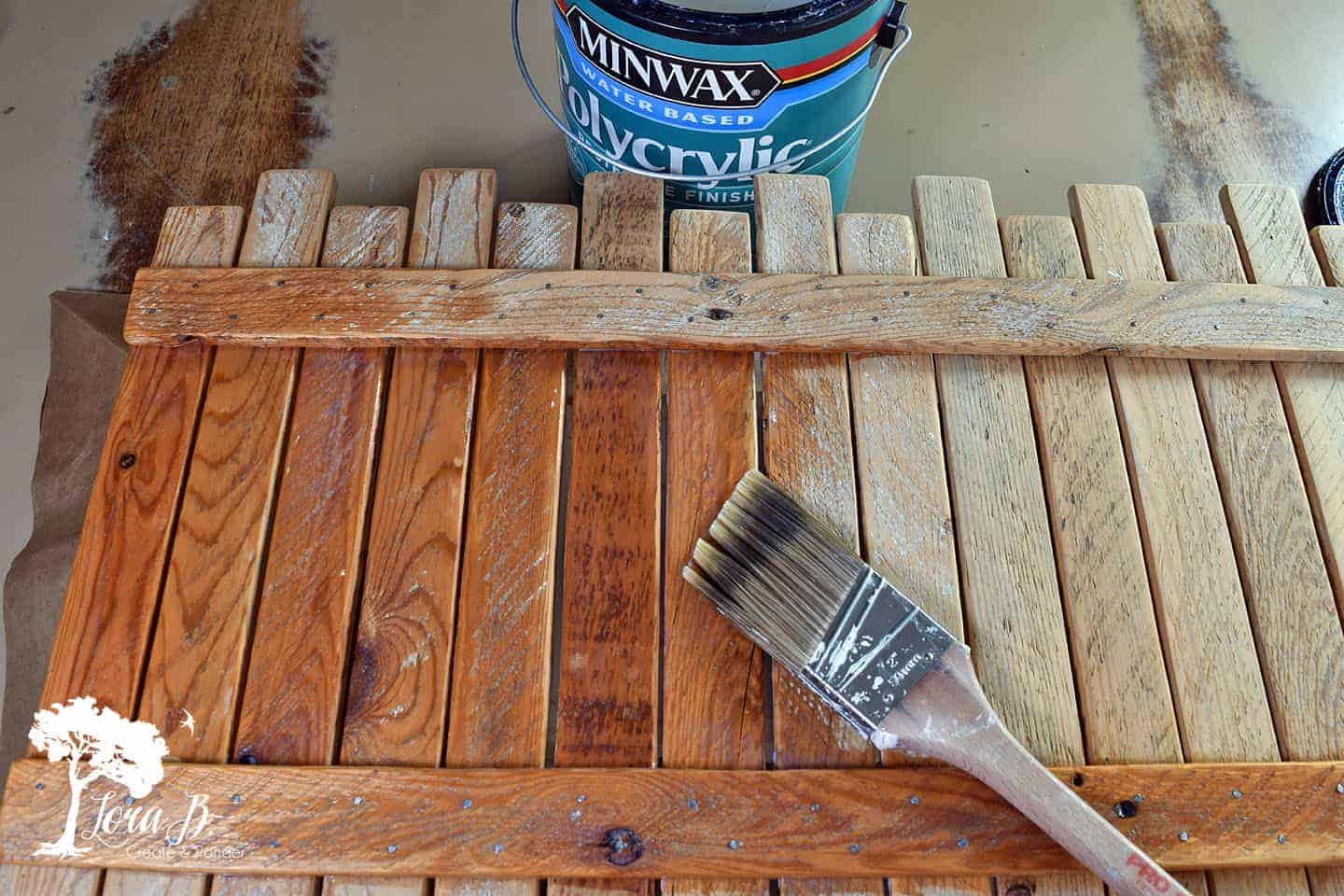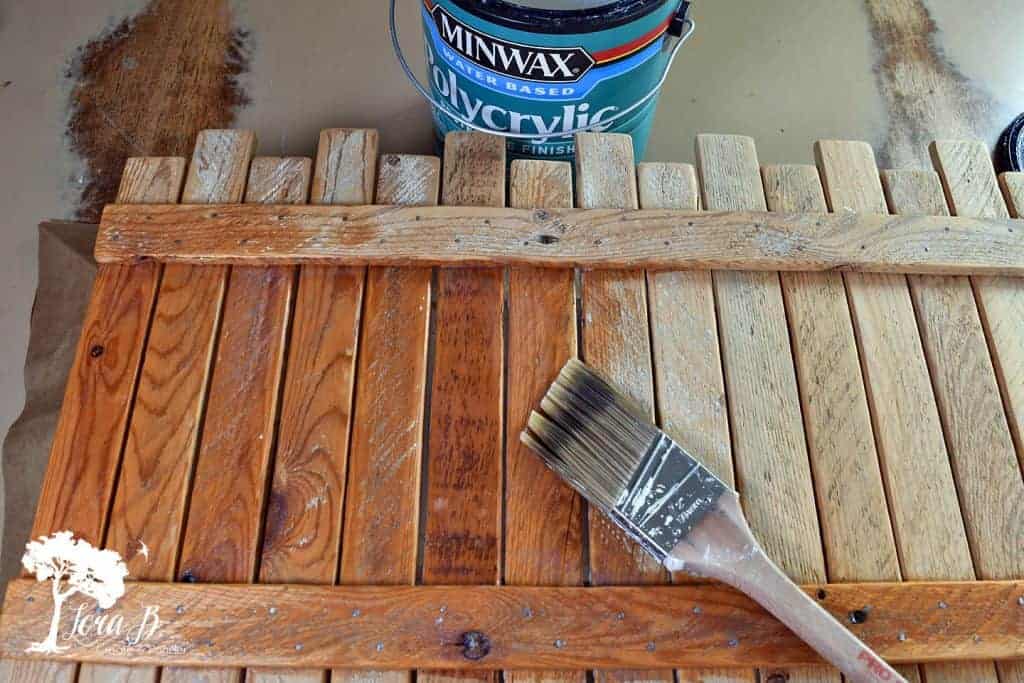 Style Your Centerpiece with the Repurposed Wood Lath Runner
Now for the fun part: styling! Character-filled old wood just sets everything off beautifully!
I grabbed some vintage silver sugars and creamers with a couple mini topiary trees I picked up at Pier 1. The black plastic pots were less than cute and I knew with a little moss, I could have a spring, garden-inspired centerpiece.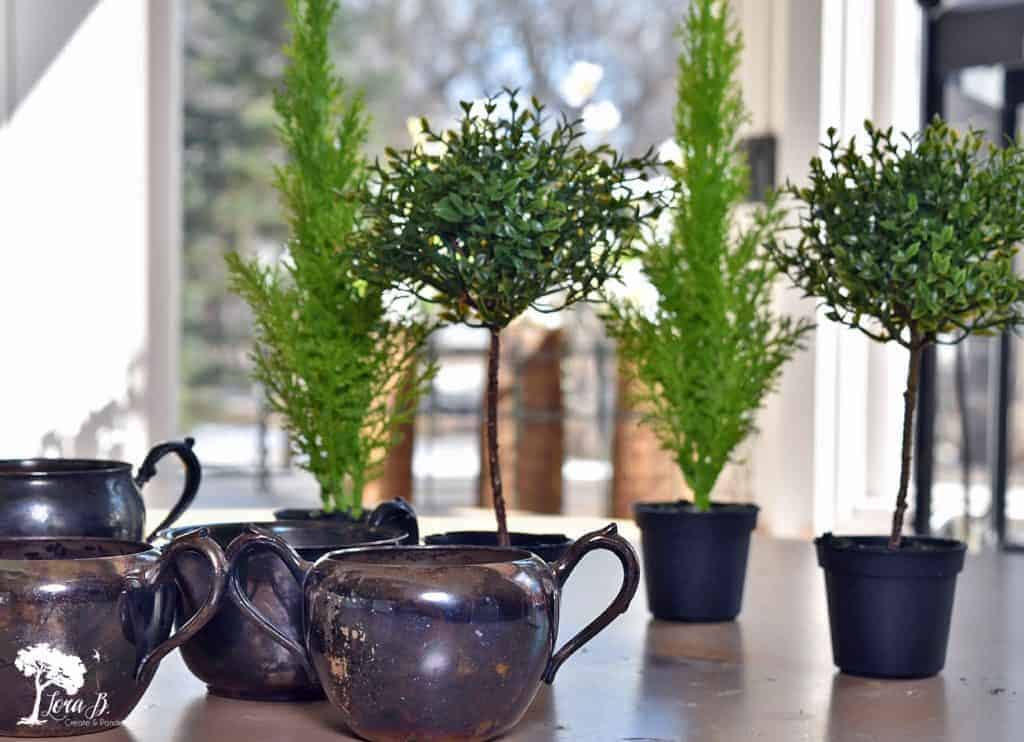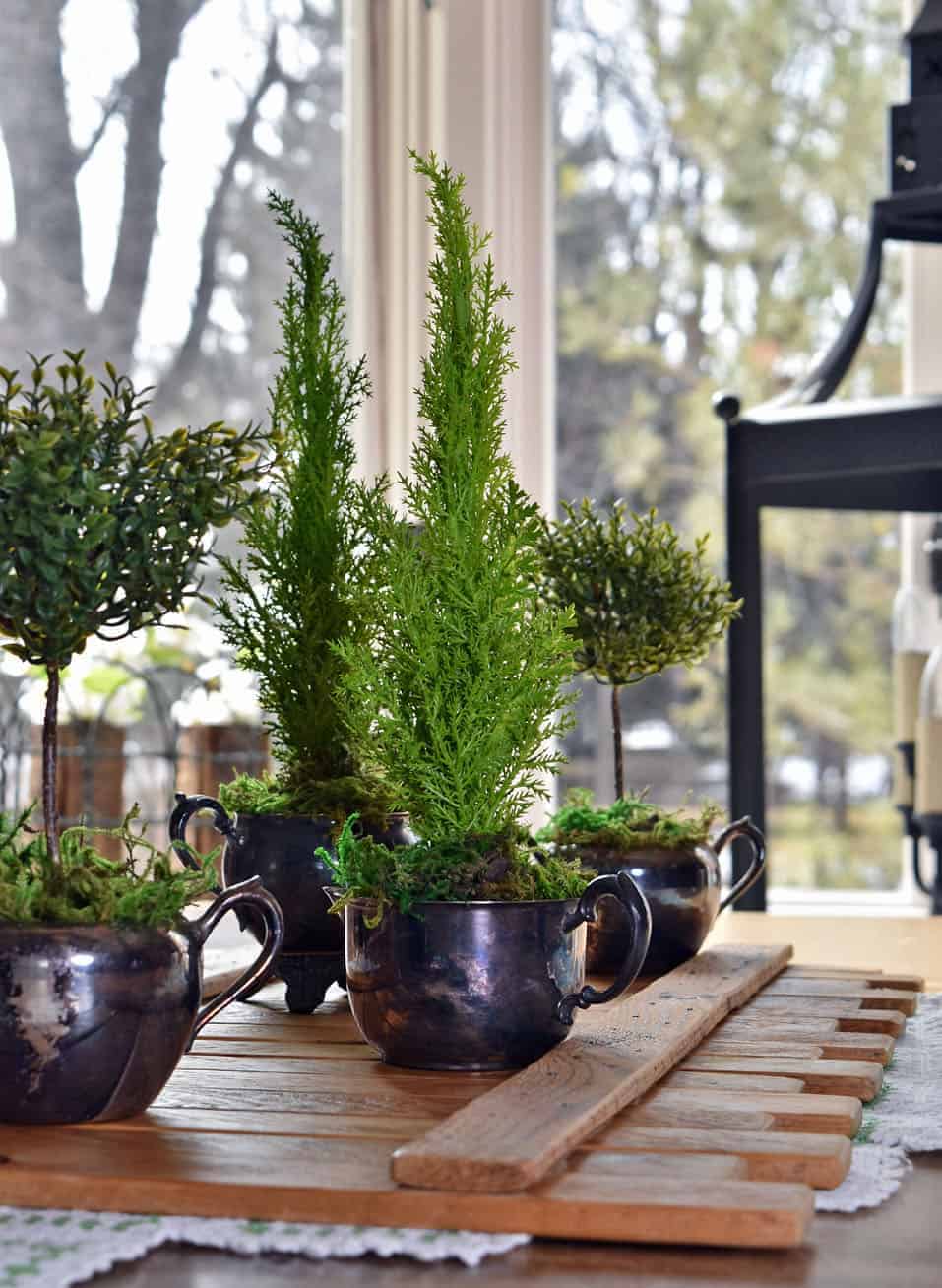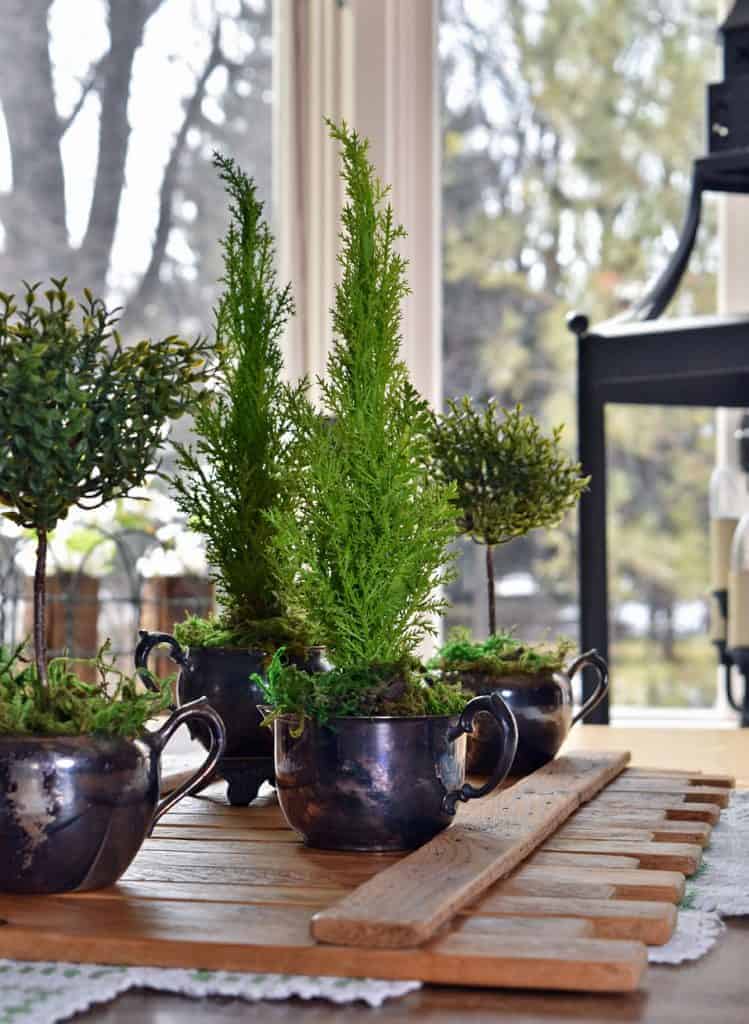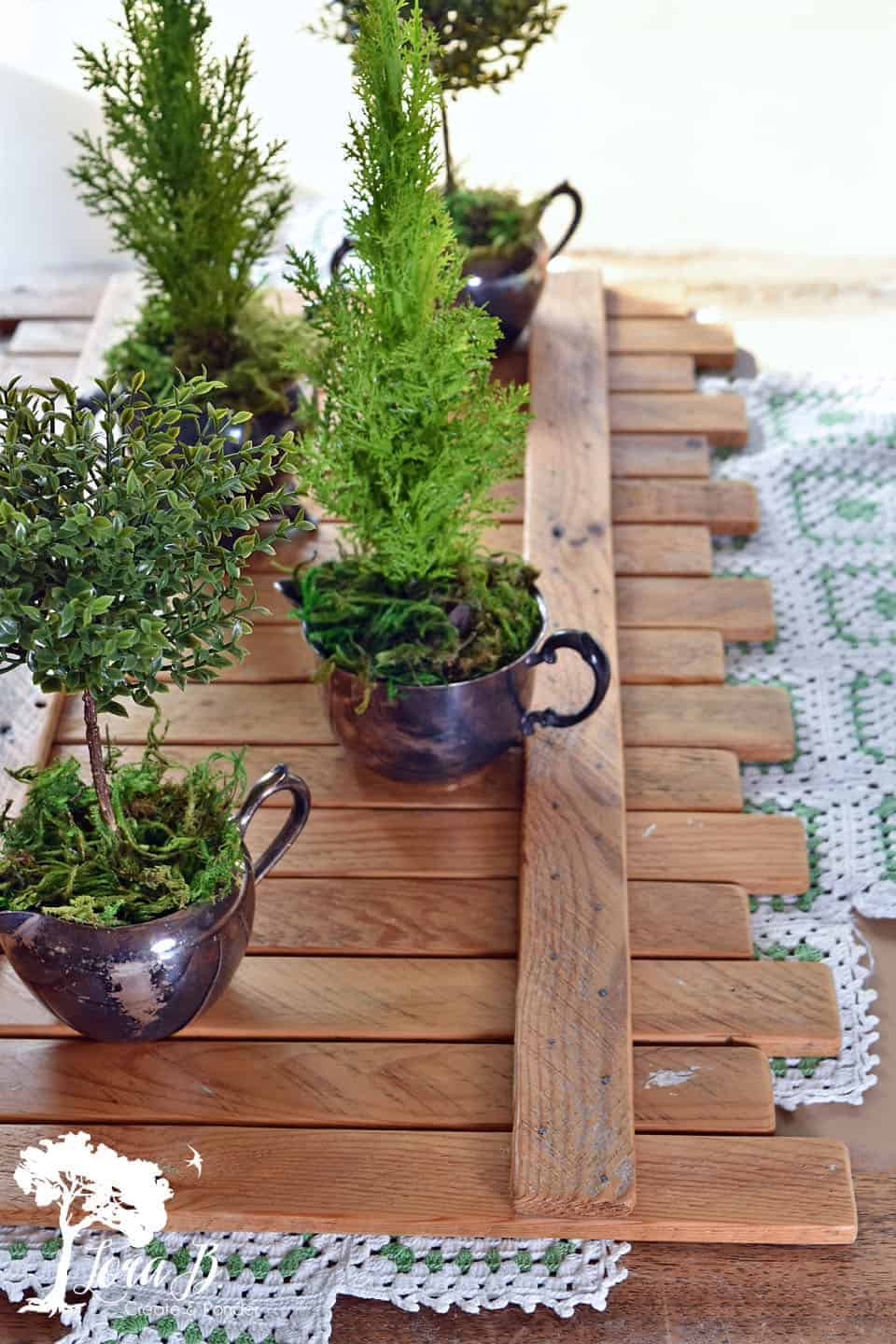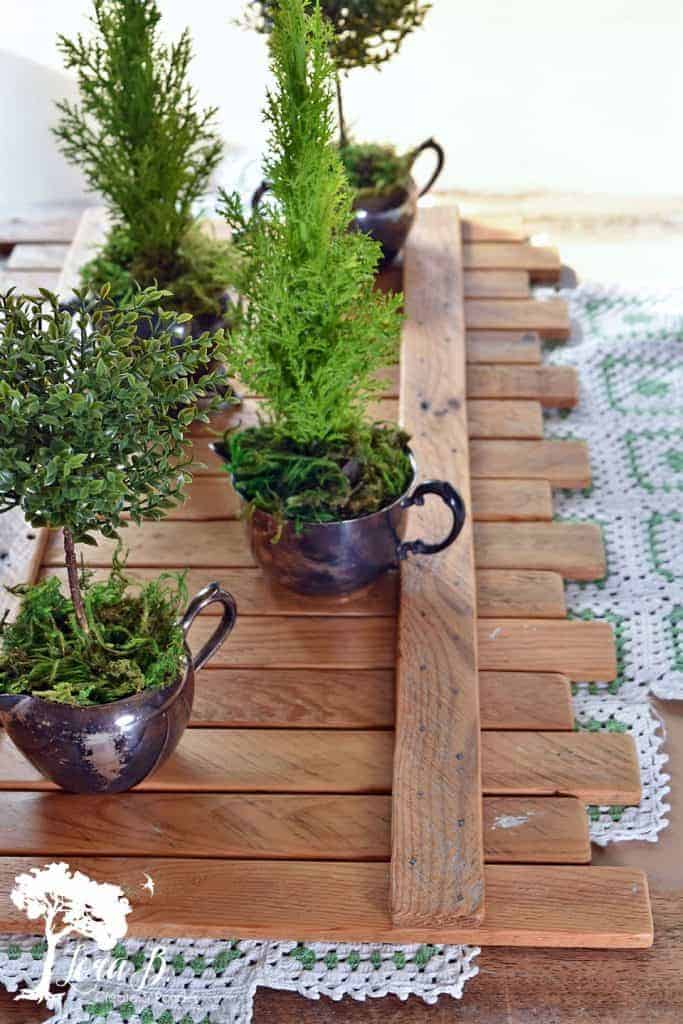 With the addition of a couple vintage cultivators and seed packets, the springtime centerpiece is ready to be enjoyed! A vintage green and white table square became the perfect extra texture to balance out the organic materials.
I actually left the "back" side un-polyed for a different look. Can you tell the difference between the two sides? It is easier to keep the runner clean when it's sealed with a coat or two of poly, but I like the natural look of the just plain wood, too.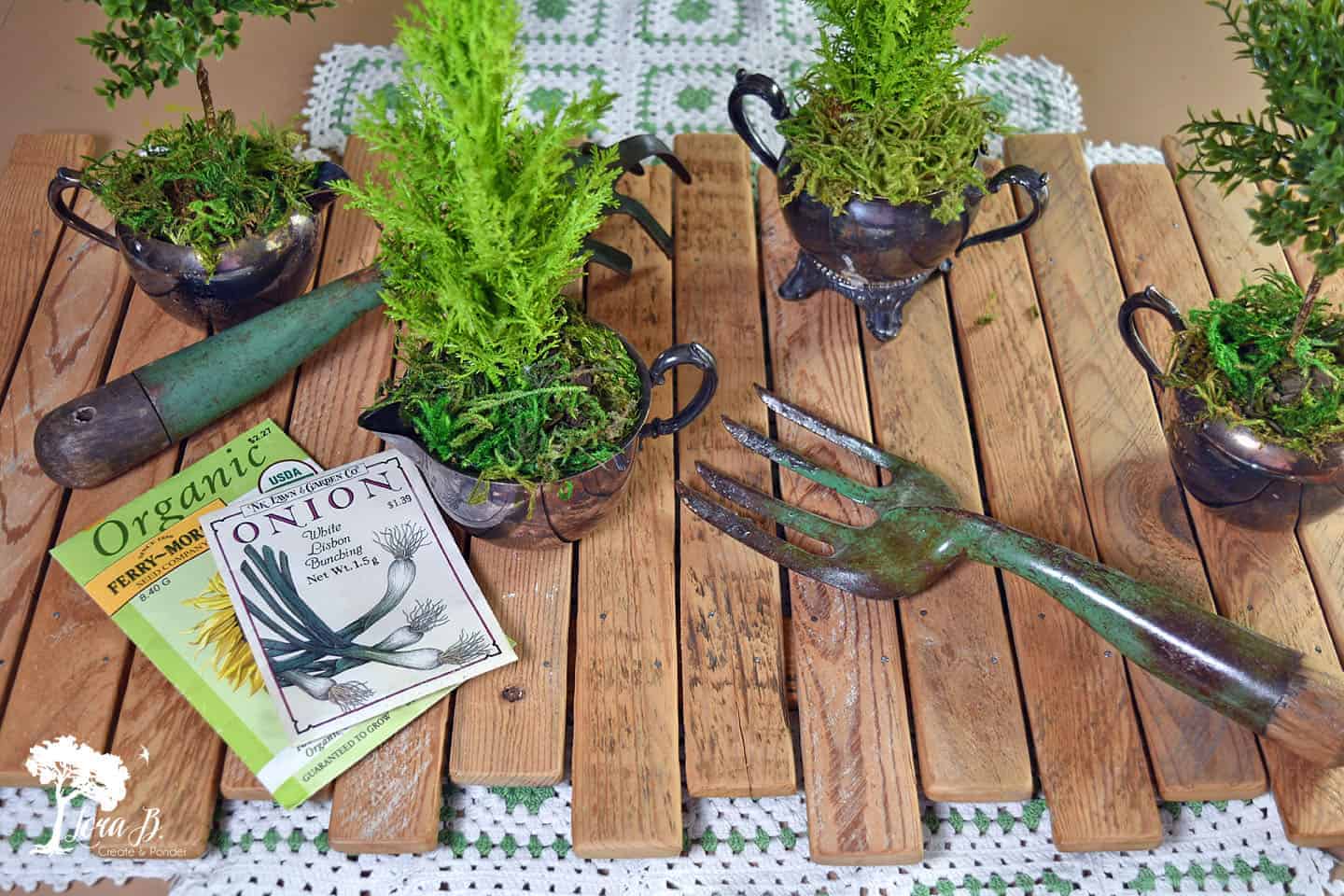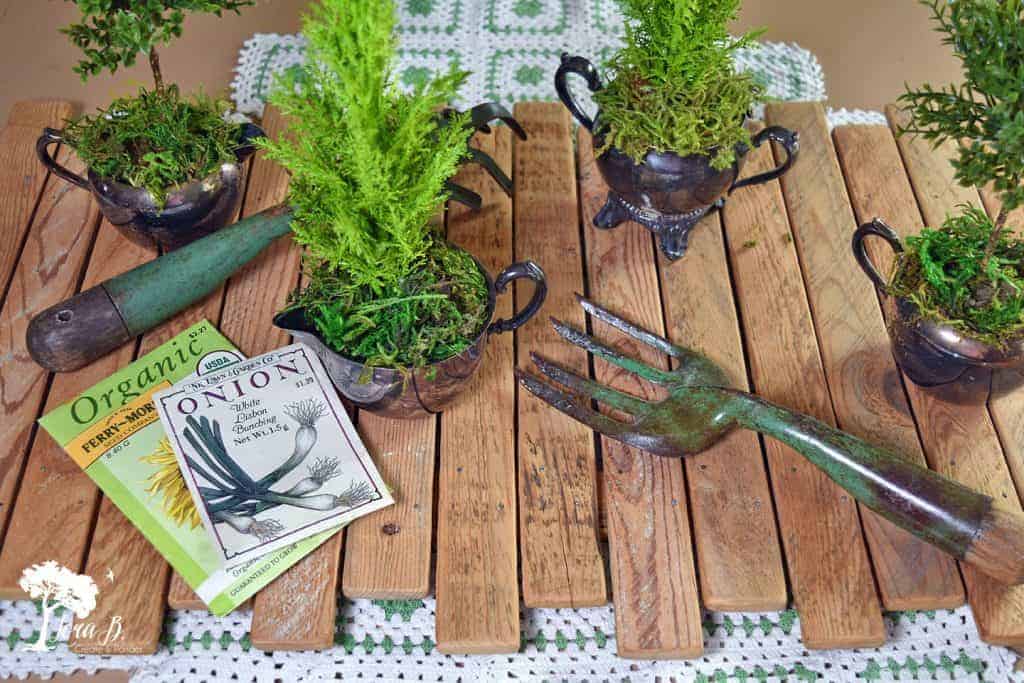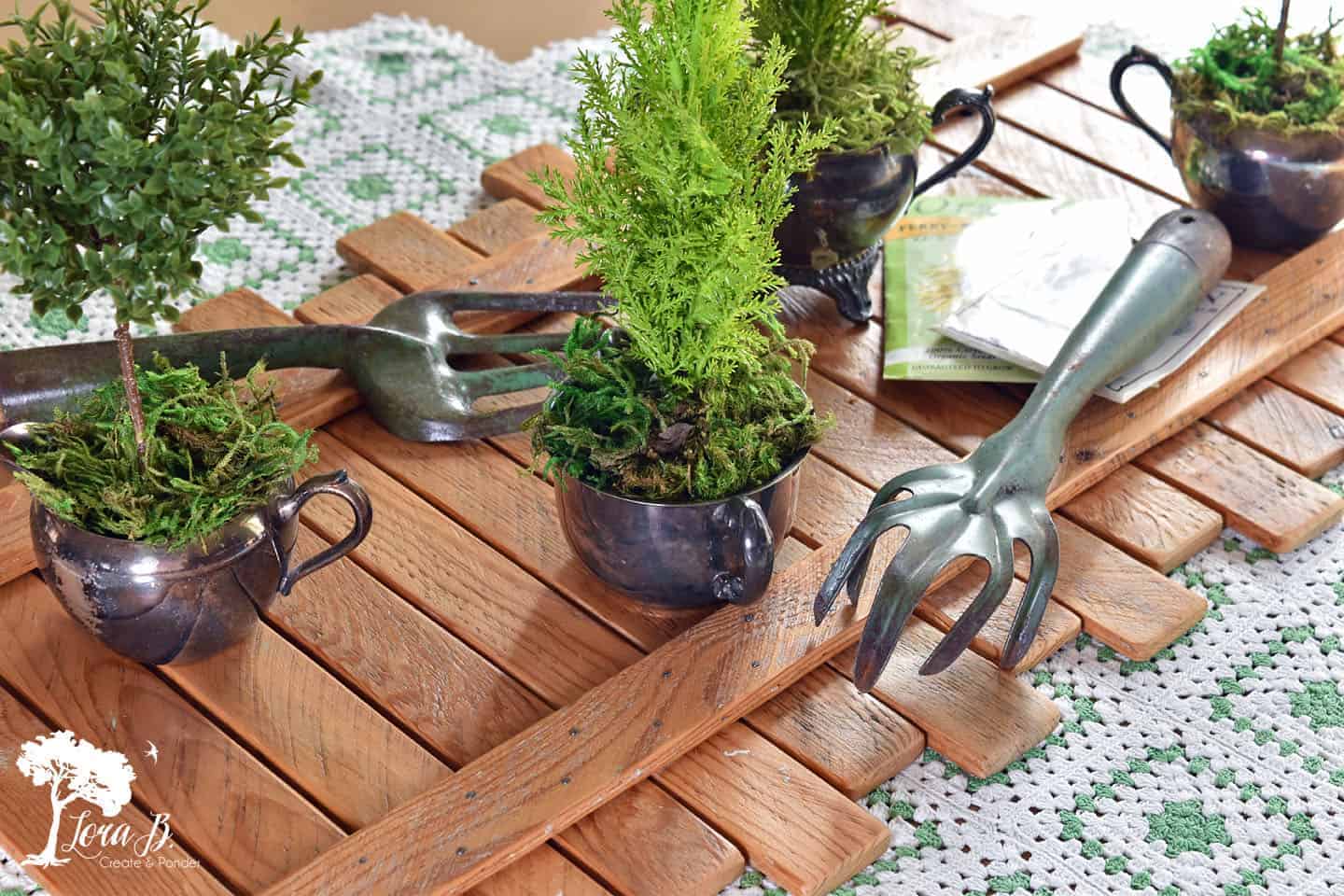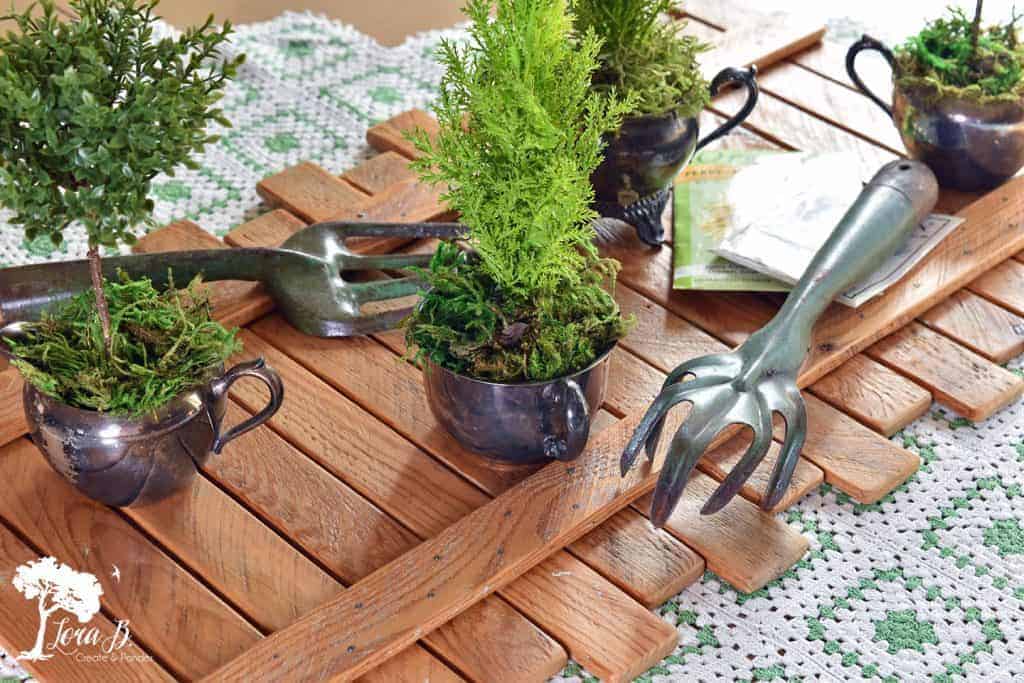 If you happen to be remodeling, or know of someone who is ripping into their walls, definitely don't let all those potential-filled wood lath sticks go to waste! They can easily be repurposed into a character-filled runner for unique home decor! I'd love to hear if you make a Repurposed Wood Lath Runner! I think we may be making quite a few more for our upcoming grad party!
Love vintage, repurposed projects? You may want to check these out:
"Repurposed Drawer Wall Pockets"
"Repurposed Vintage Bucket Rustic Vase"
"Vintage Thread Spool Mini Wreath How-To"
Pin, Share, and Enjoy the rest of the inspiration!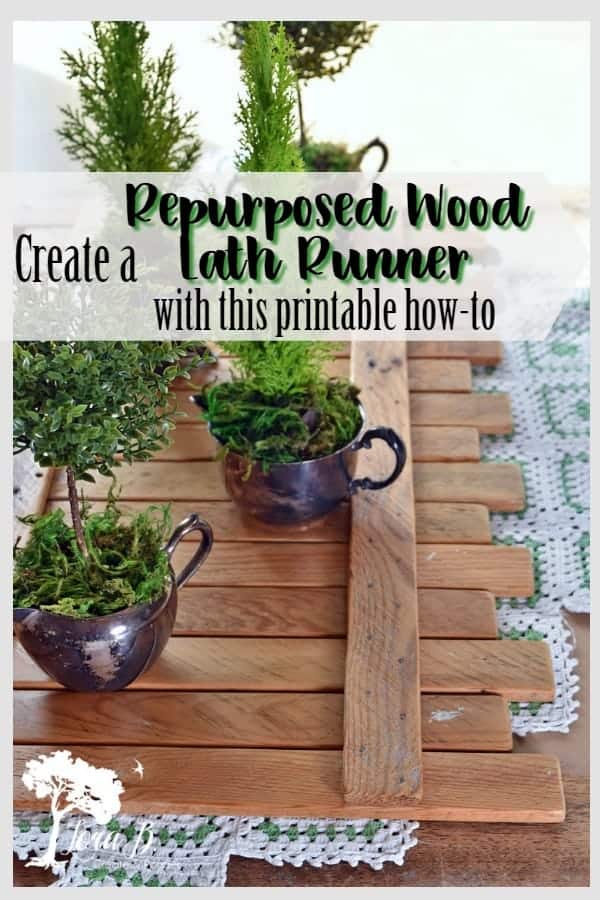 Here are all the great spring ideas! Check back all week for each day's new posts.
Monday ~ Mantels
Postcards from the Ridge // Anderson + Grant // Virginia Sweet Pea // Daily Dose of Style
Tuesday ~ Tablescapes
Wednesday ~ Spring DIY
Thursday ~ Spring Recipes
Friday ~ Porches & Decks
Sharing at these lovely parties:
Feathered Nest Friday