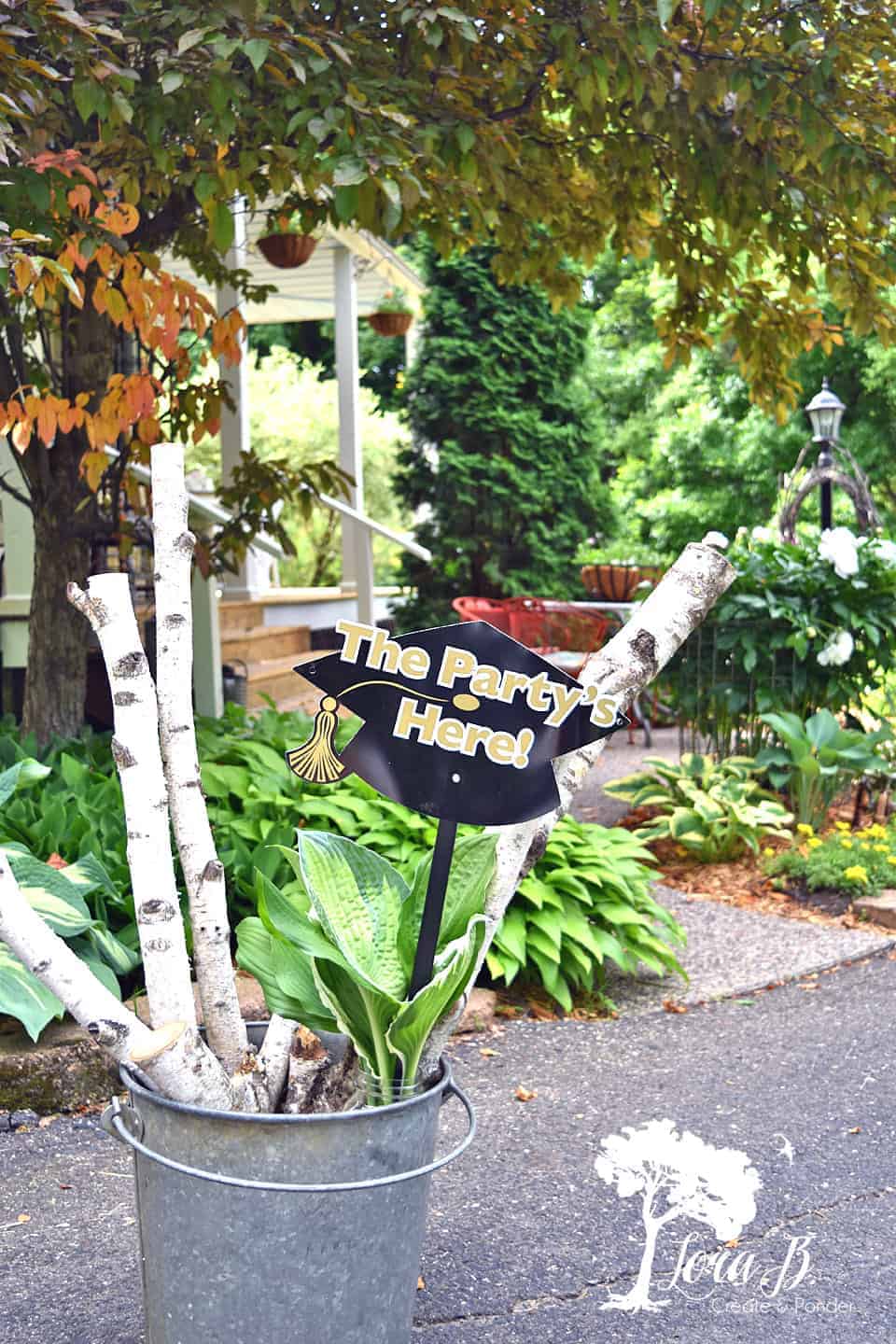 Outdoor graduation parties can be so fun, but they're definitely a lot of work! Tons of planning and prep work goes into these special events, but the memories are so worth it! "It's kind of like hosting a wedding without any RSVPs" is how one friend aptly described it. See how I created my themes and ideas for this party in "Graduation Party Planning". In this Graduation Party Recap you can see how it all turned out!
Bad weather is always a threat when hosting outdoor parties, and unfortunately the forecast was reporting scattered showers on our graduation open house evening. We did a lot of praying, and fortunately only had slight sprinkles, but I didn't take any chances and set up most of the party underneath our covered porch. We set up tents for seating, also.
The woodsy theme spread to all the different decorating areas of the party. Organic looking placemats set a foundation on the drop cloth-covered food table. Sticks, log sections and pinecones added to the tree theme. The plates and plastic silverware were green and gray to coordinate with the theme, along with the typical black cap graduation napkins.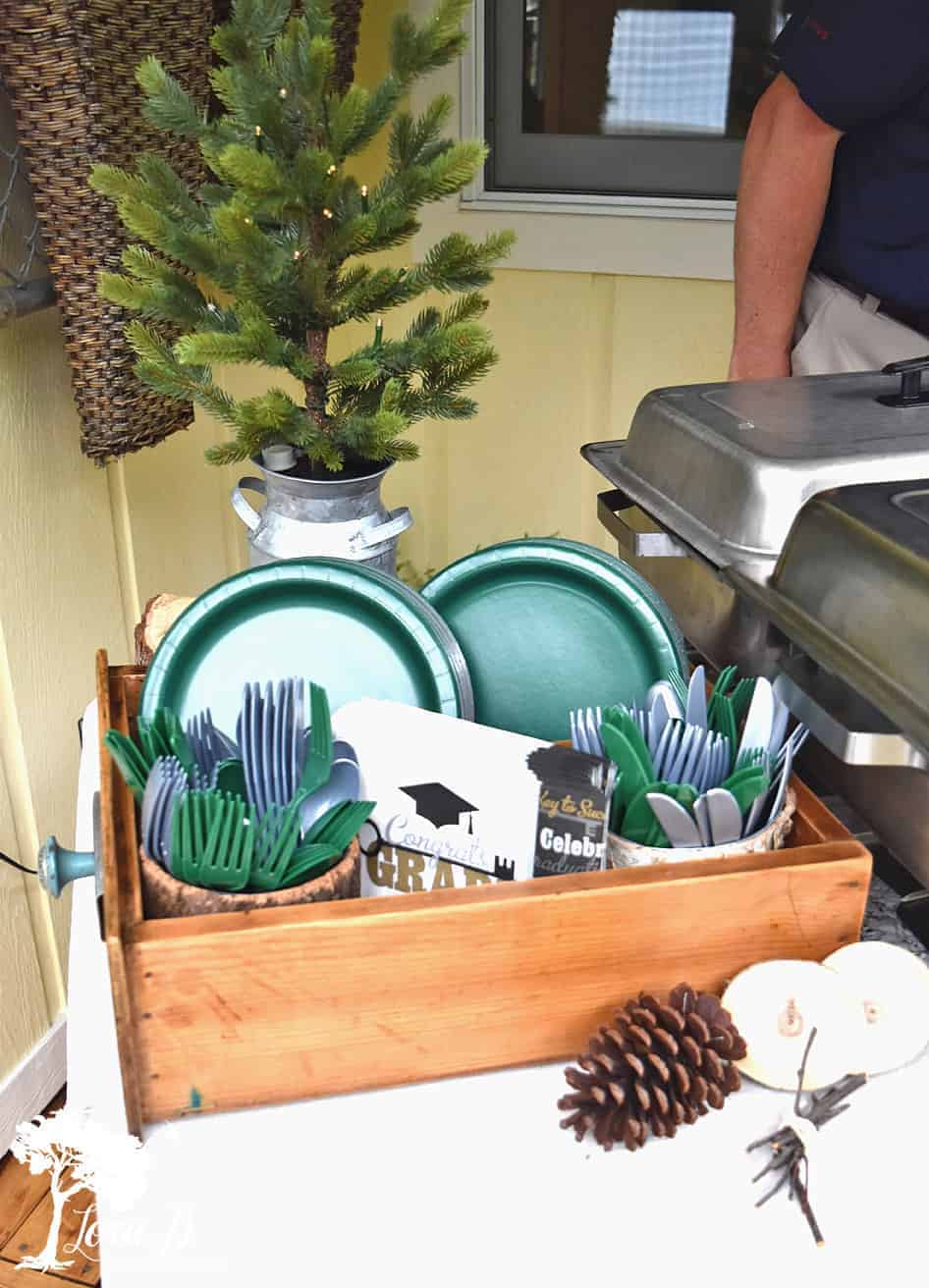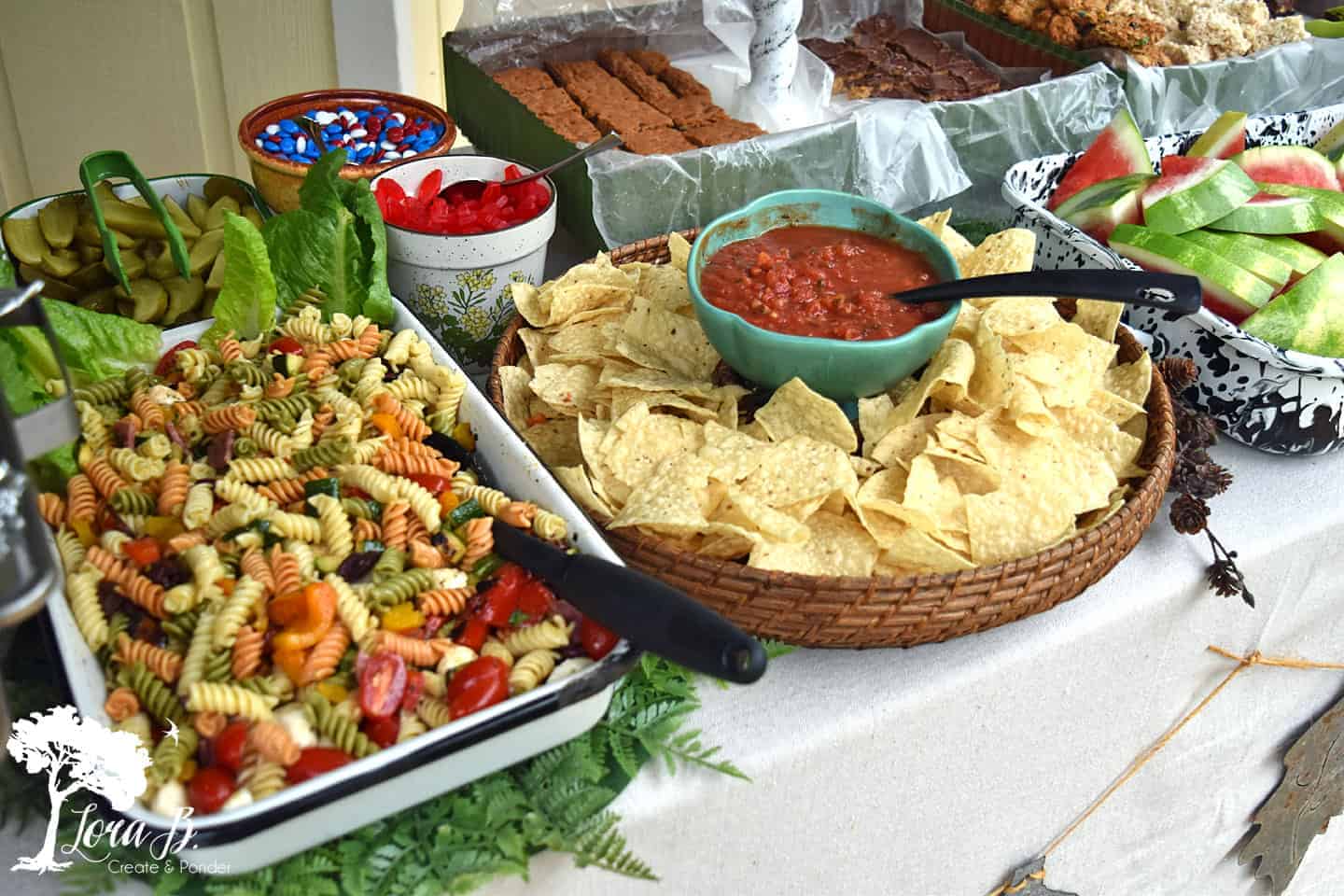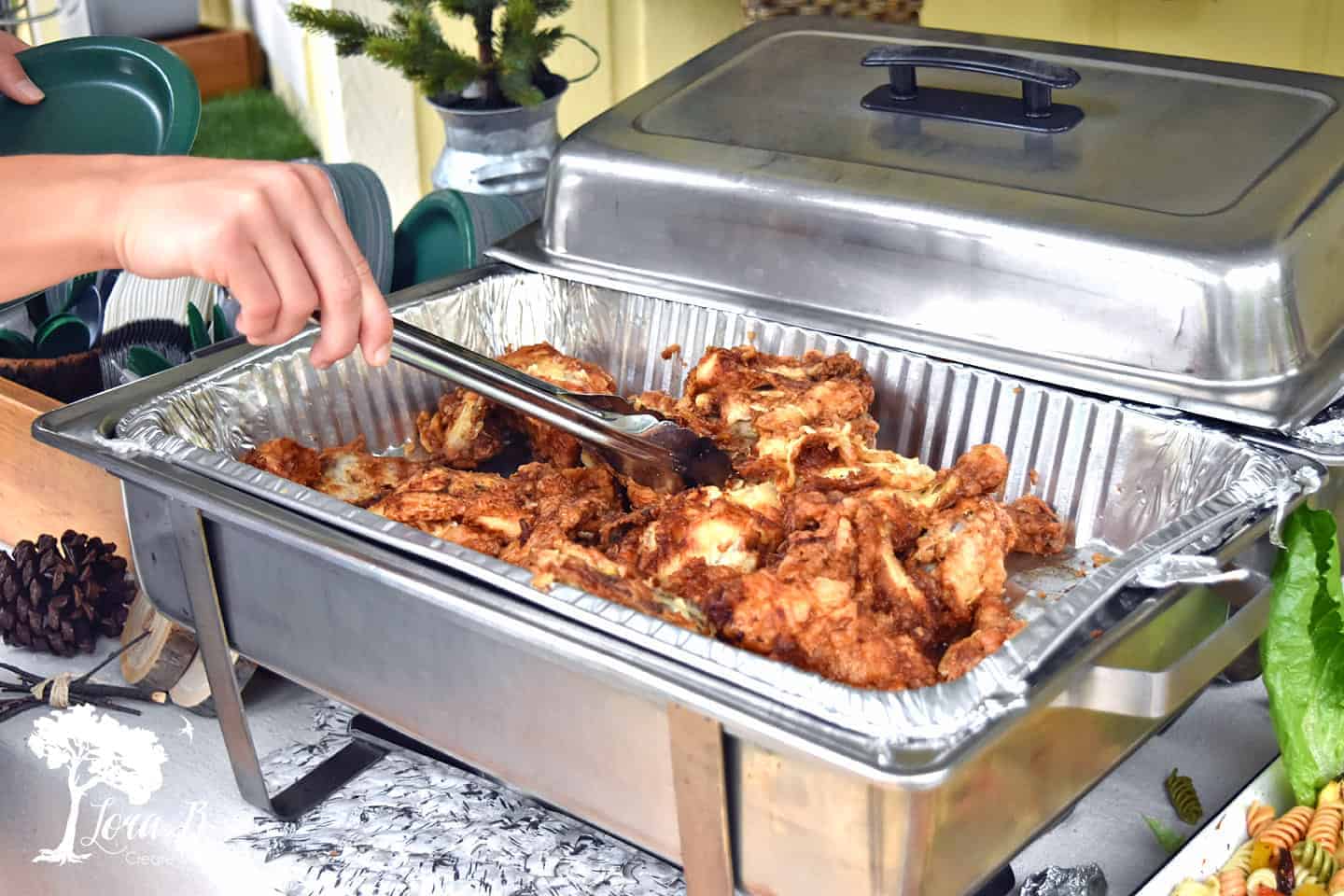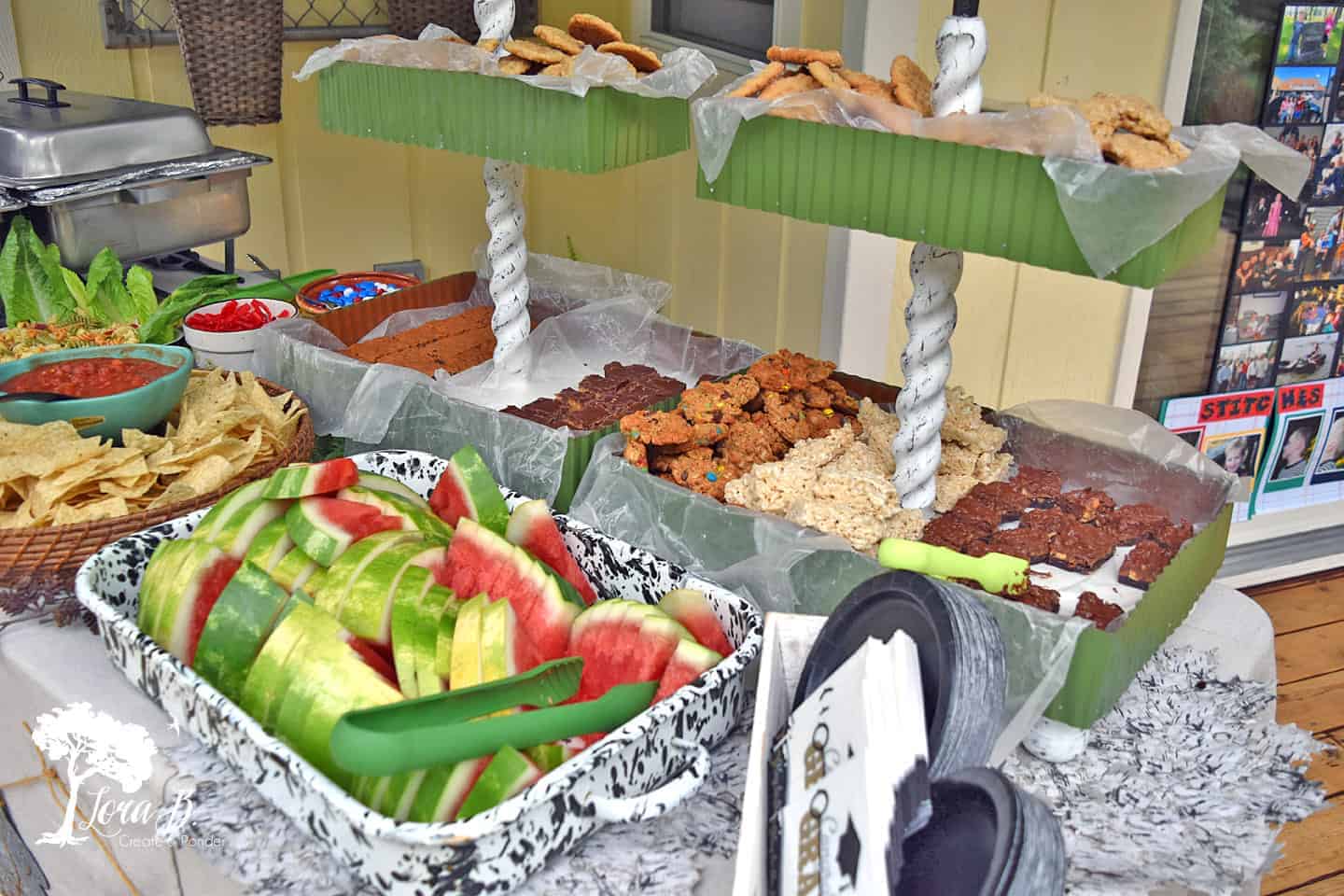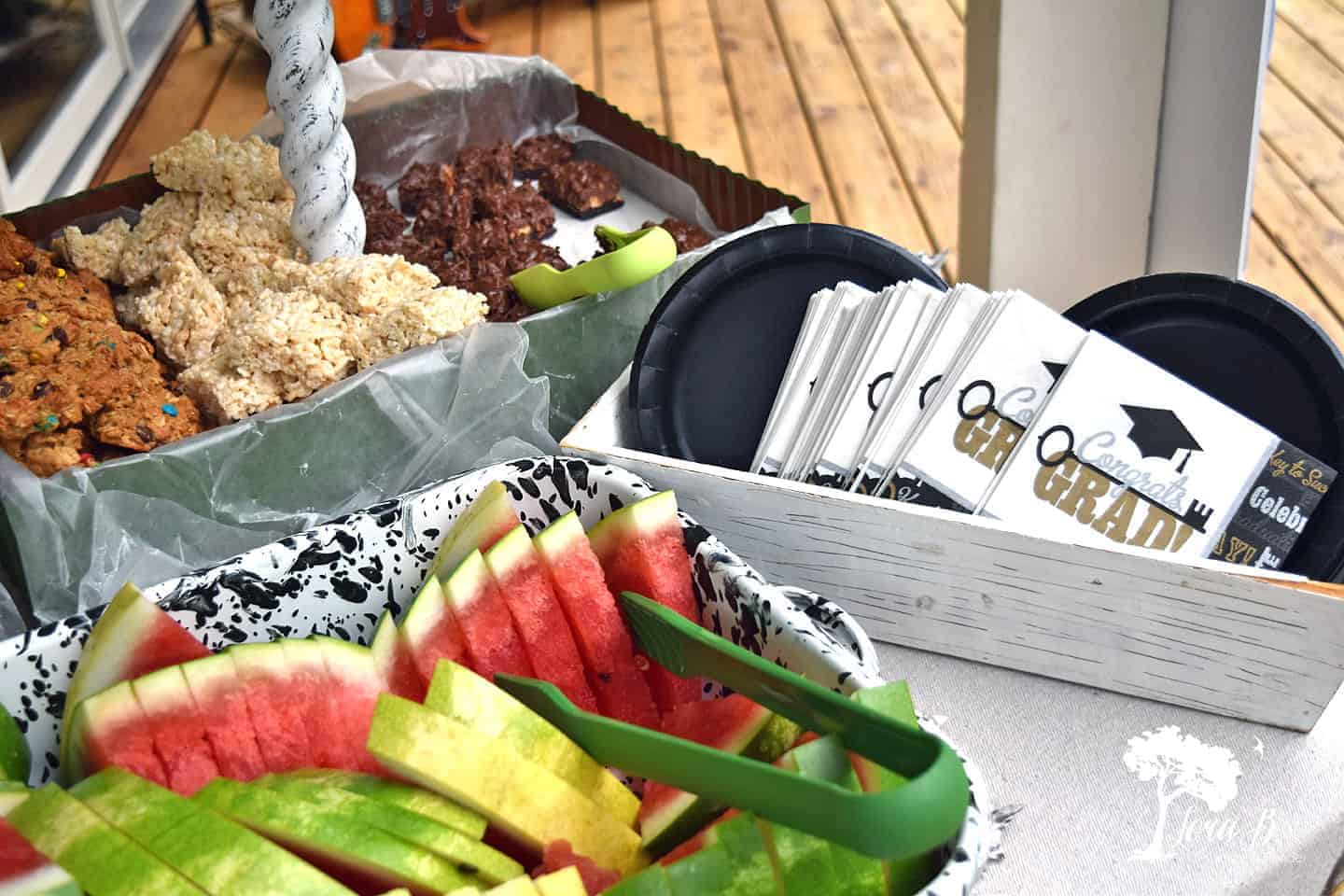 I used a combination of rustic and repurposed pieces as serveware along with vintage enamelware pans. A divided drawer with tree themed planters worked perfectly to corral the plates, napkins and silverware. Two "Junk Styled Tiered Trays" displayed the homemade bars and cookies nicely and added interest and height to the scene. Vintage enamelware pans in the color scheme, plus a couple vintage pottery pieces served the salsa and candy. If you read my previous planning post…yes, I did change the menu at the last minute;) I still purchased the broasted chicken (which was wonderful) and my family and I made our favorite bars and cookies, but I switched up everything in between. I made a rustic pasta salad with grilled veggies, mozzarella balls and tomatoes instead of potato salad, and easily sliced watermelon instead of cutting up a bunch of veggies. It was yummy and easier than my first idea;)
Because of the threatening rain, all the pictures and memorabilia needed to be under the roof also, which was fine since that's where the guests would be coming for food anyway! Mr. Freckles' yearly 8 x 10 school pictures were displayed on clipboards on 3 vintage ladders with rustic twine. On either side were the beverage choices. "Cucumber Lime Punch" ,which is always a hit, and lemon water sat on my vintage stove, right by the door for easy filling access. Coffee and yummy creamers were on the other side of the pictures. Fresh cut hosta leaves filled ball jars at the base of the ladders for a little fresh green.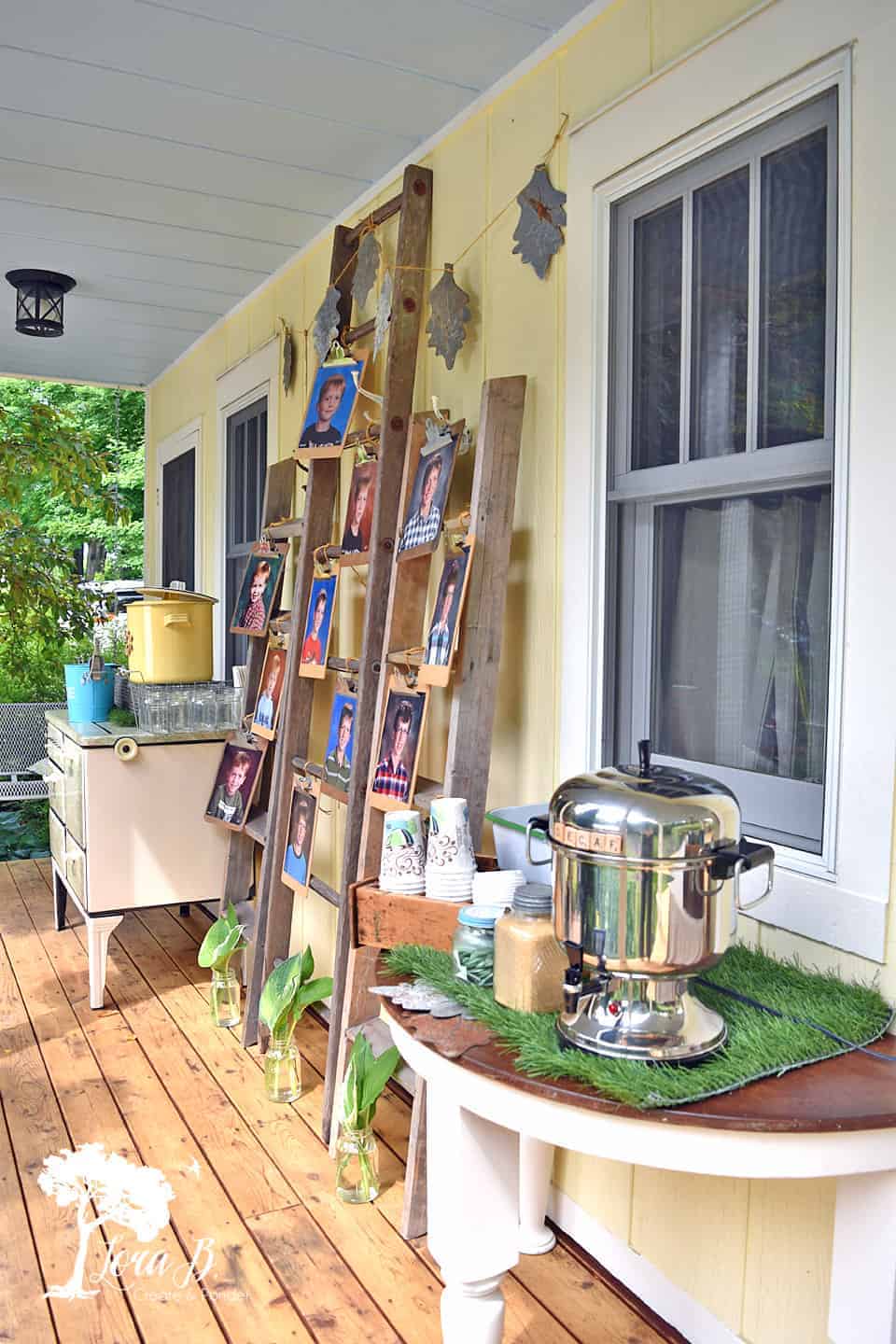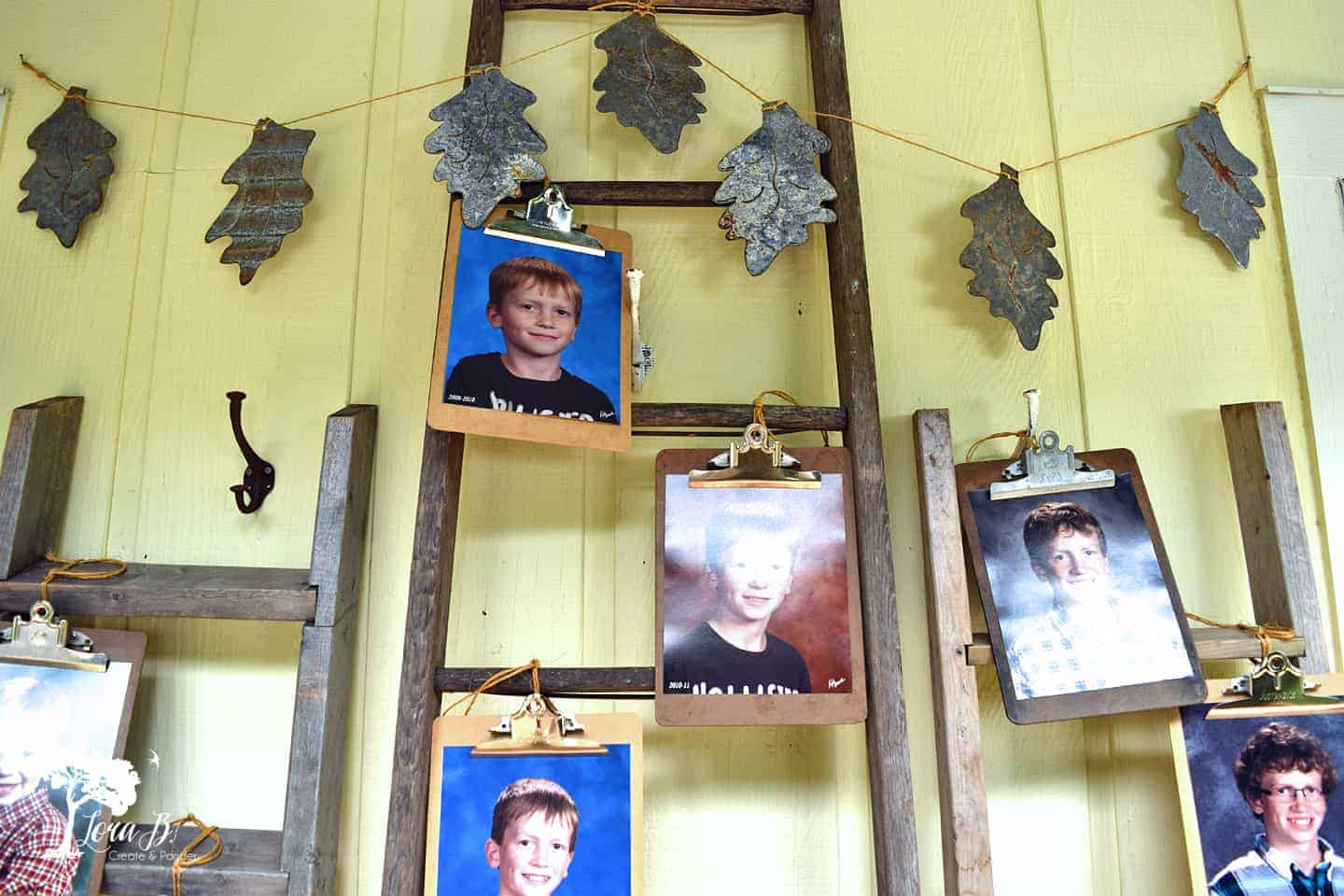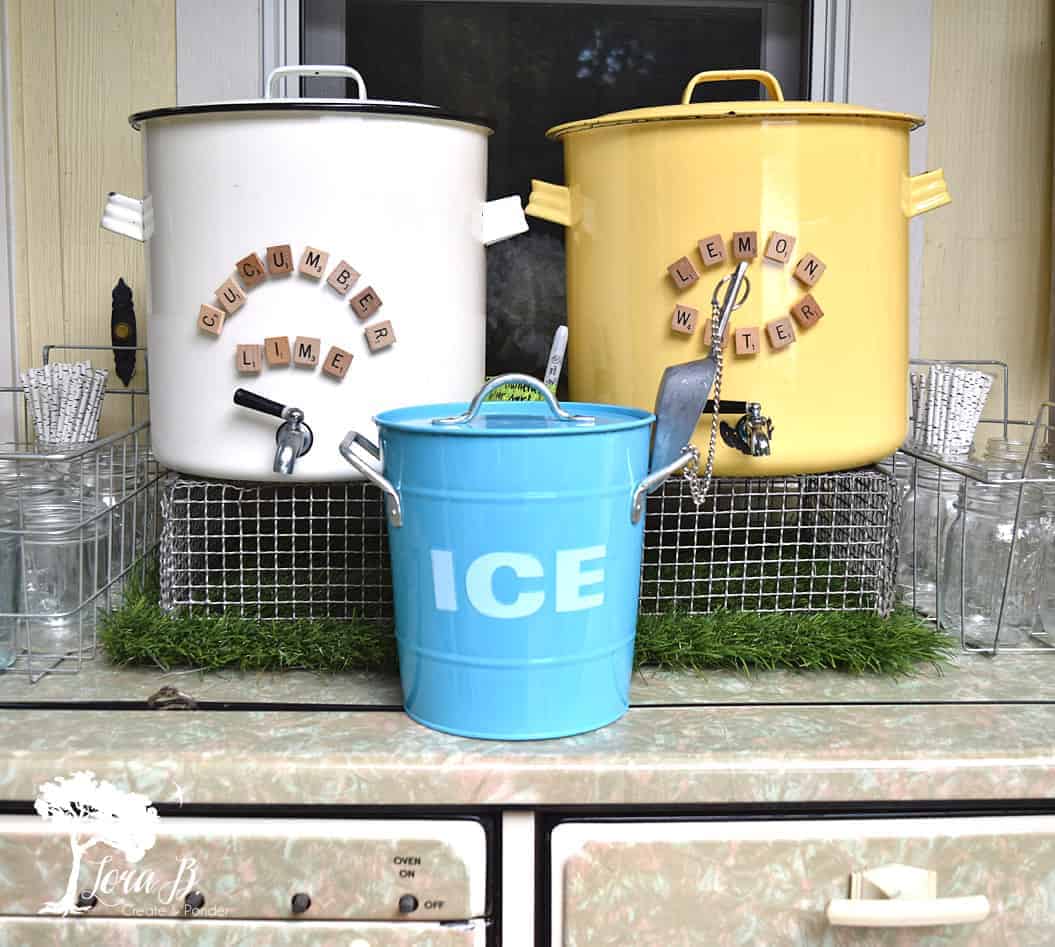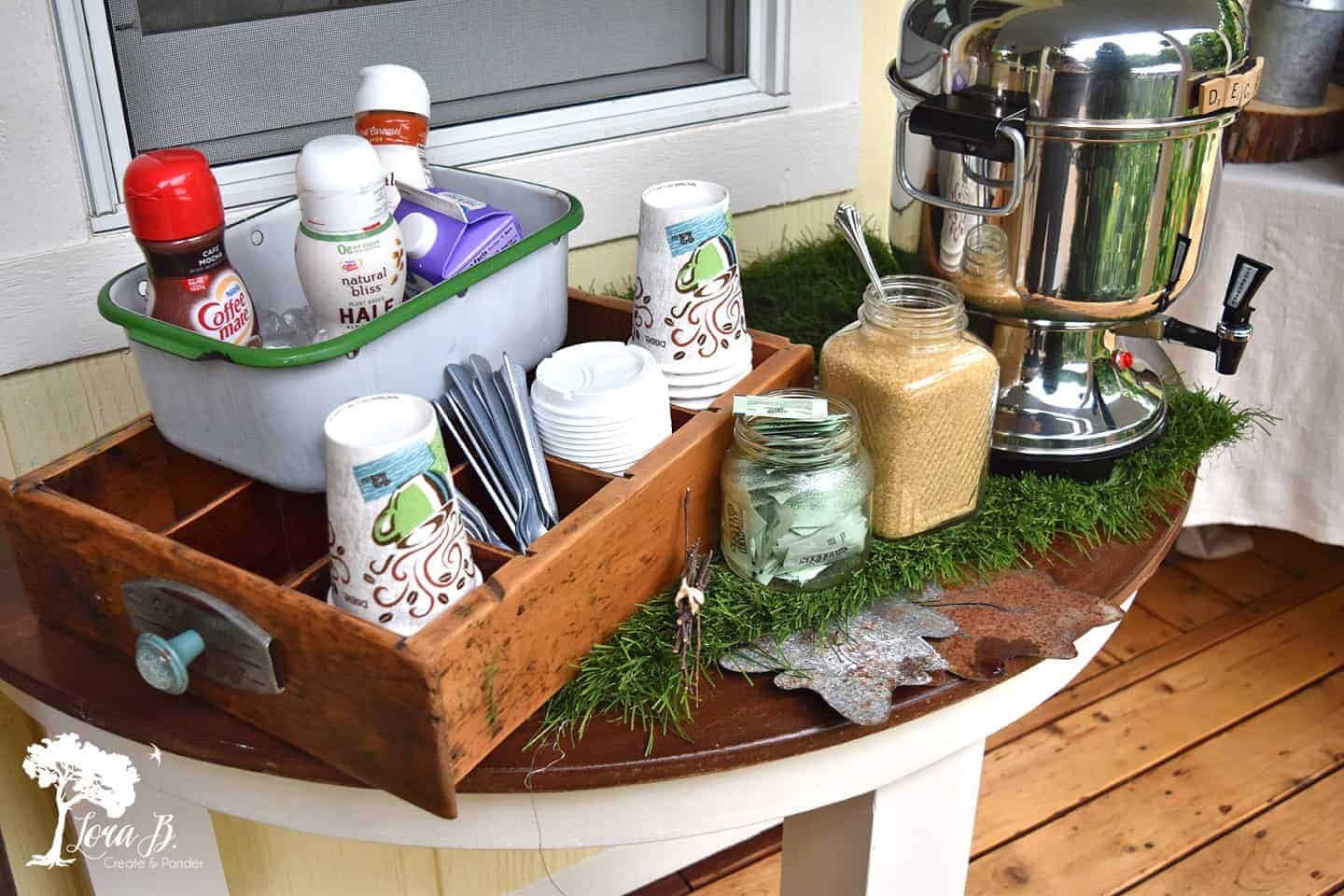 Did you notice the awesome rusty, galvanized leaves on the garland and tucked here and there? I got them from a crafter in Texas, who sent them to me after I spied them at our state fair. They were the perfect accent texture for the party. There's also some on the front of the buffet table, but don't think I've got a pic of it.
Posterboard picture displays were safely taped to our patio door and the simple wood-shelved memorabilia display (usually used in the college dorm room) stayed under the roof, too. Happy Girl beautifully styled everything while I was busy doing the last of the food prep. It takes many hands to pull off a party like this! Luckily my kiddos are well-trained in going along with mom's pretty-making. My siblings are also experts in the kitchen, making sure everything runs smoothly with the food serving!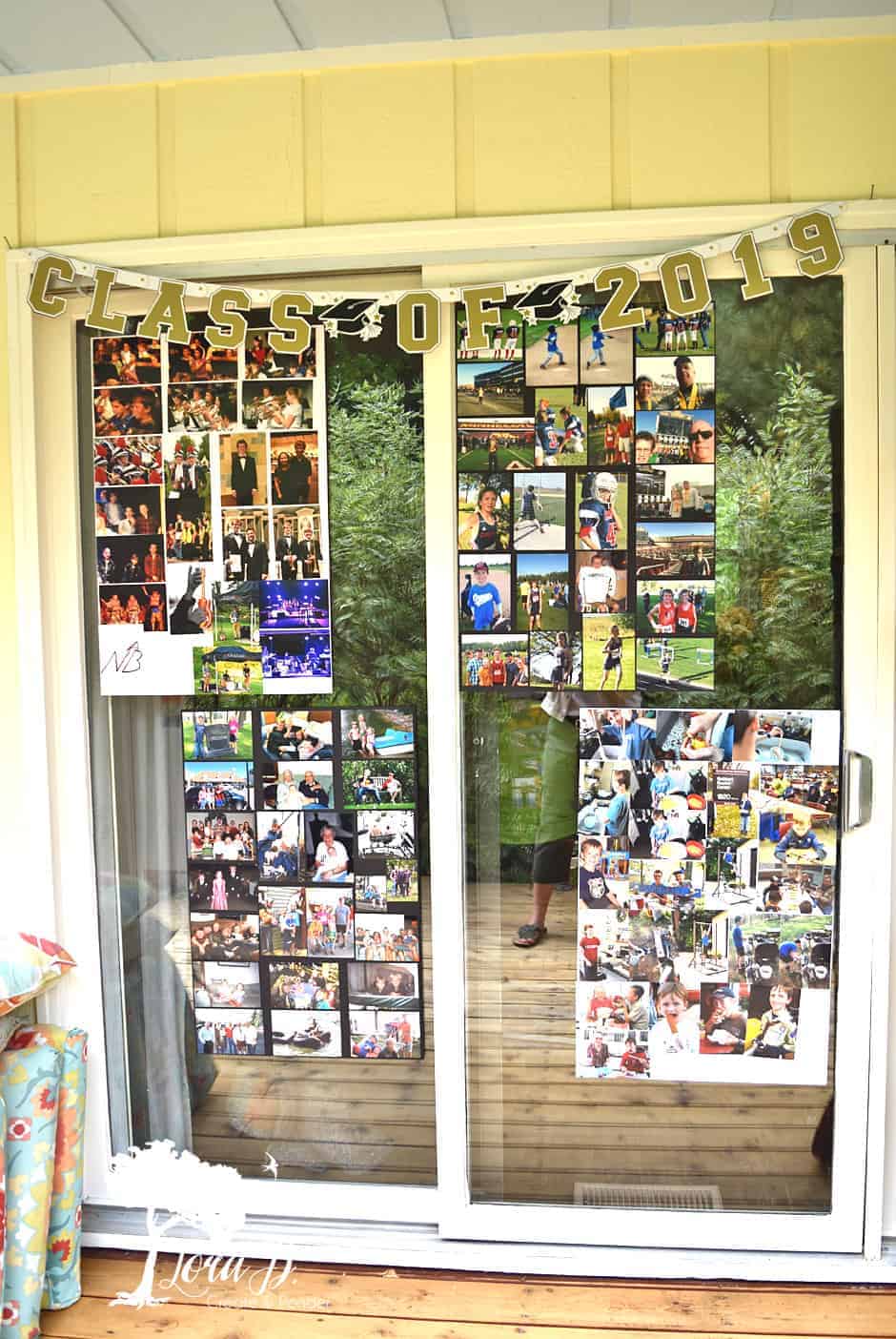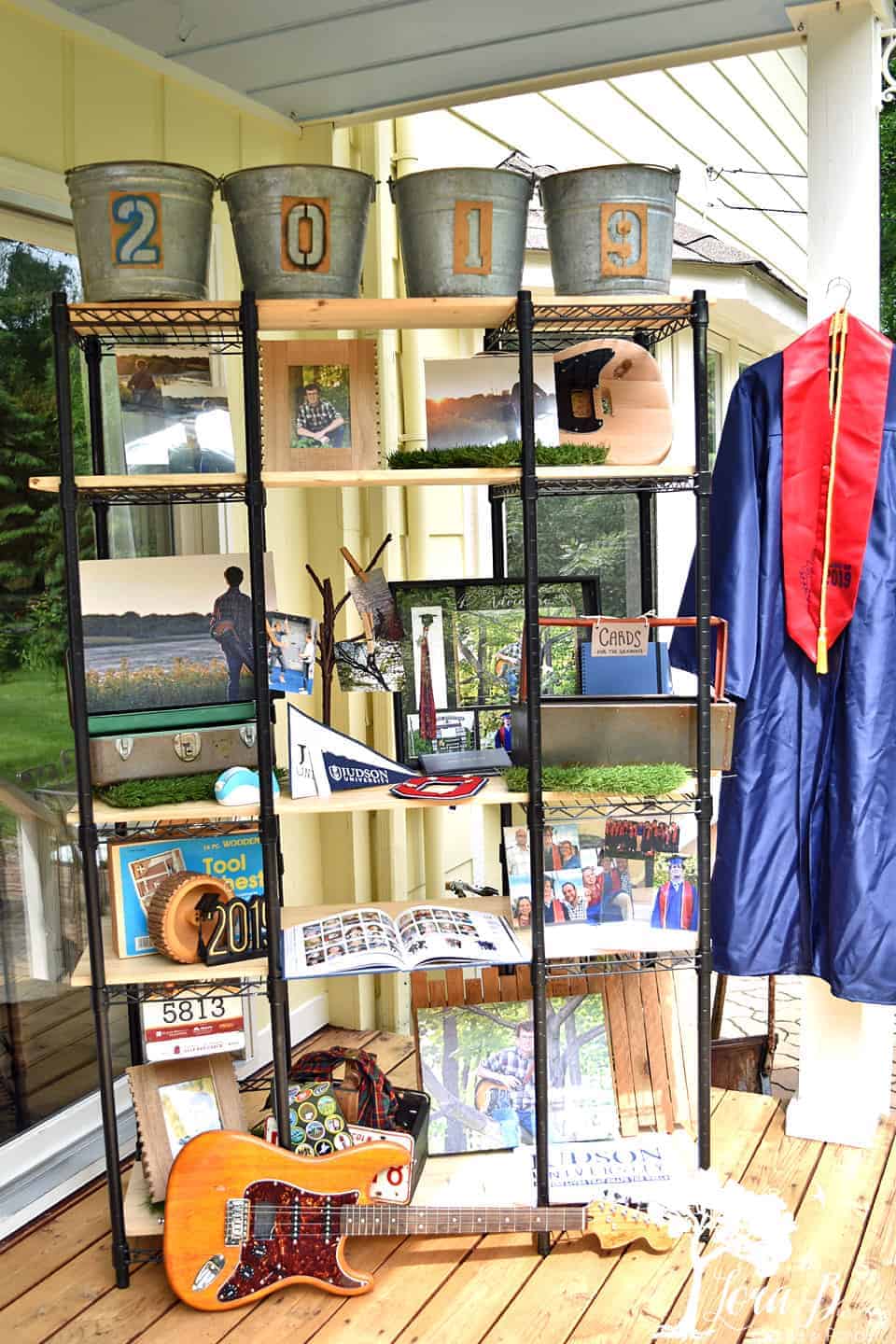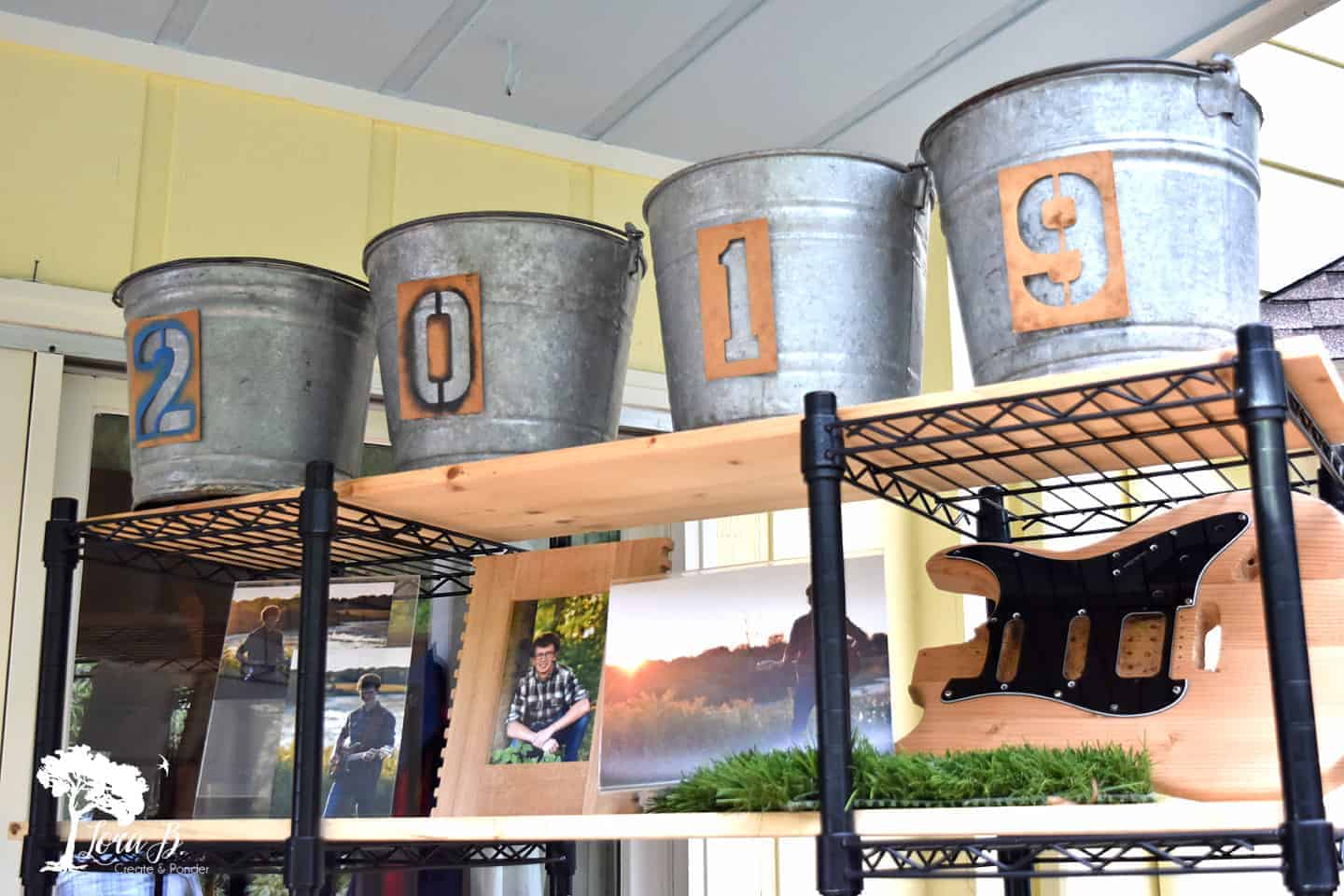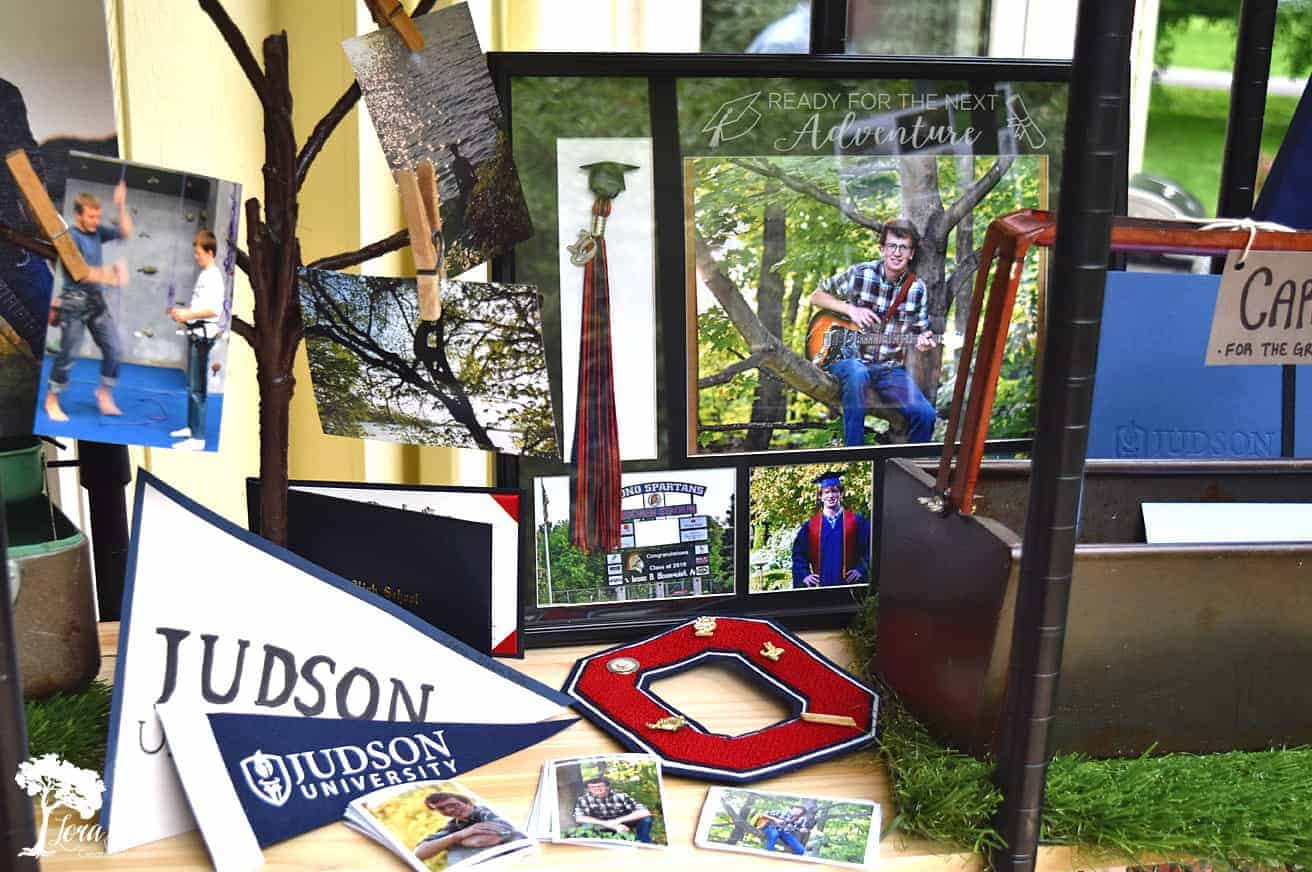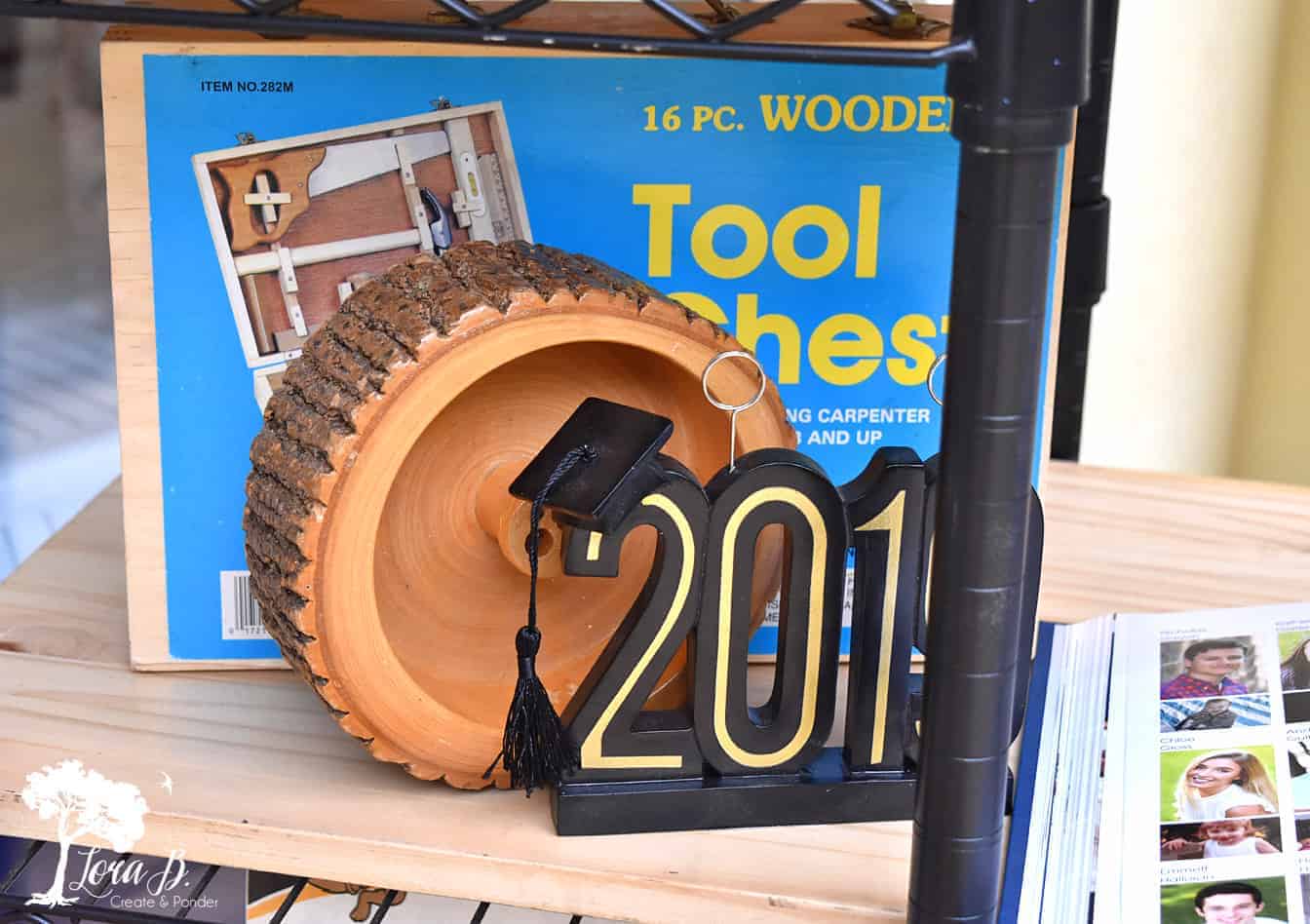 The eating tables had a simple centerpiece made with our "Repurposed Wood Lath Runner" as the base, on top of drop cloths used as tablecloths A couple leafy placemats were tucked under the edges for some green. I spray painted the stems of hydrangea bushes brown to resemble a tree and stuck them in log slices (from the tree that fell down in our driveway the week before the party). Snapshots of Mr. Freckles climbing and adventuring were clothes-pinned to the branches. The galvanized leaves were scattered around, too.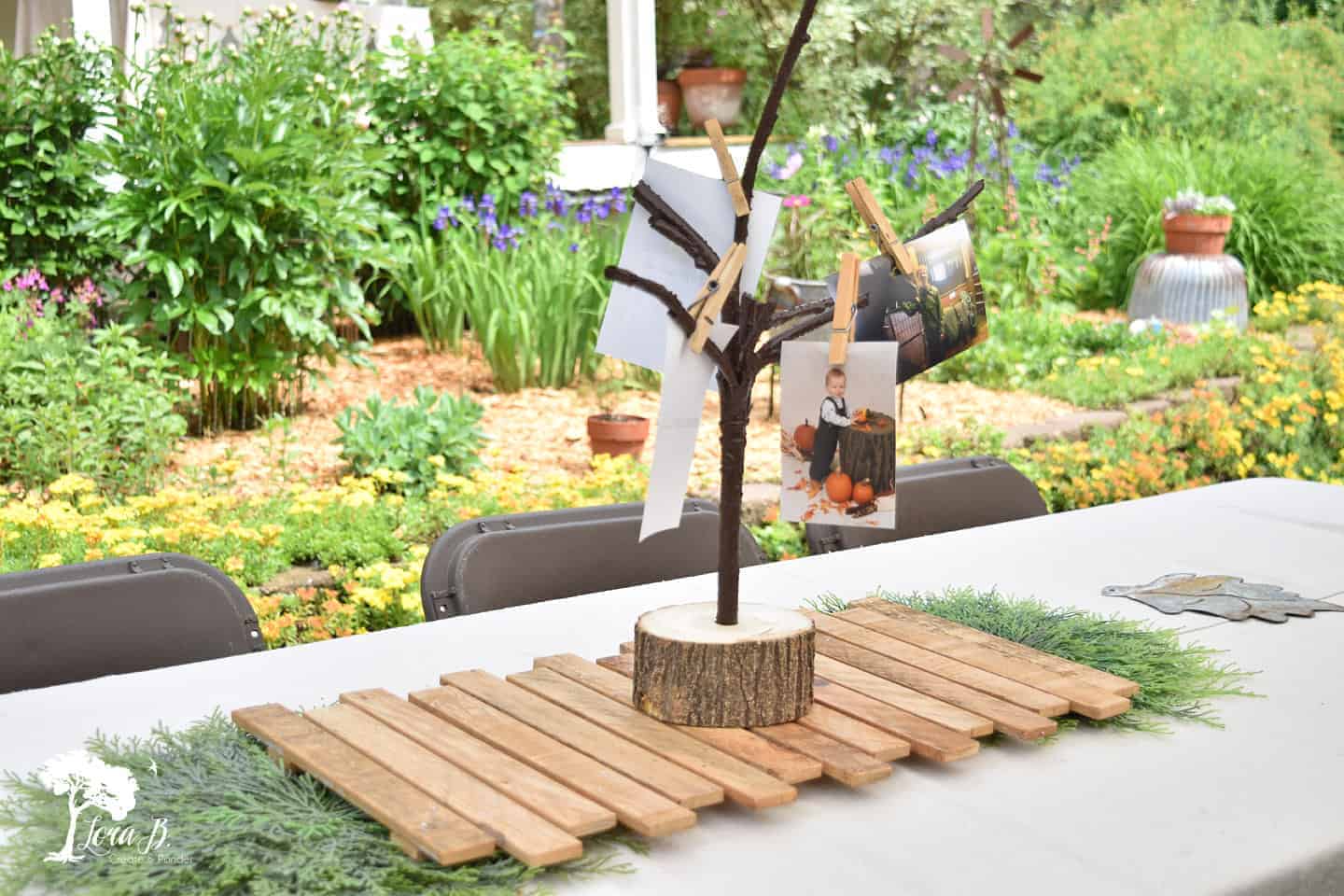 Besides the eating tables, I tried to have as much extra seating available as possible. I lined up our vintage metal lawn chairs ("How to Refresh and Enjoy Vintage Metal Lawn Chairs") along the garage wall. I added croquet balls for a punch of decorative color and stuck our "Repurposed Croquet Candlesticks" in the vintage metal flower pots. Our "Painter's Scaffolding Rustic Benches" also seat quite a few guests easily. The extra seating was focused on the fun of the party, Mr. Freckles' band. Having live music at an outdoor party sure adds ambiance!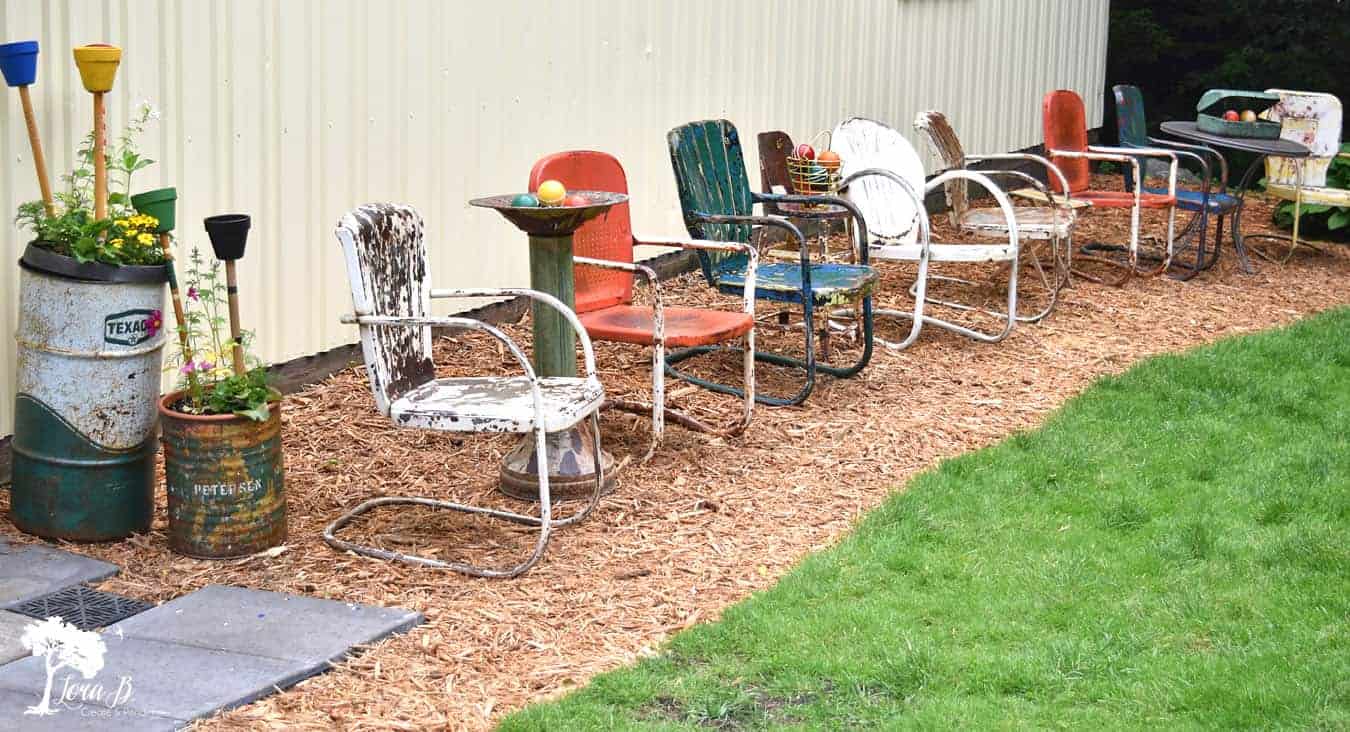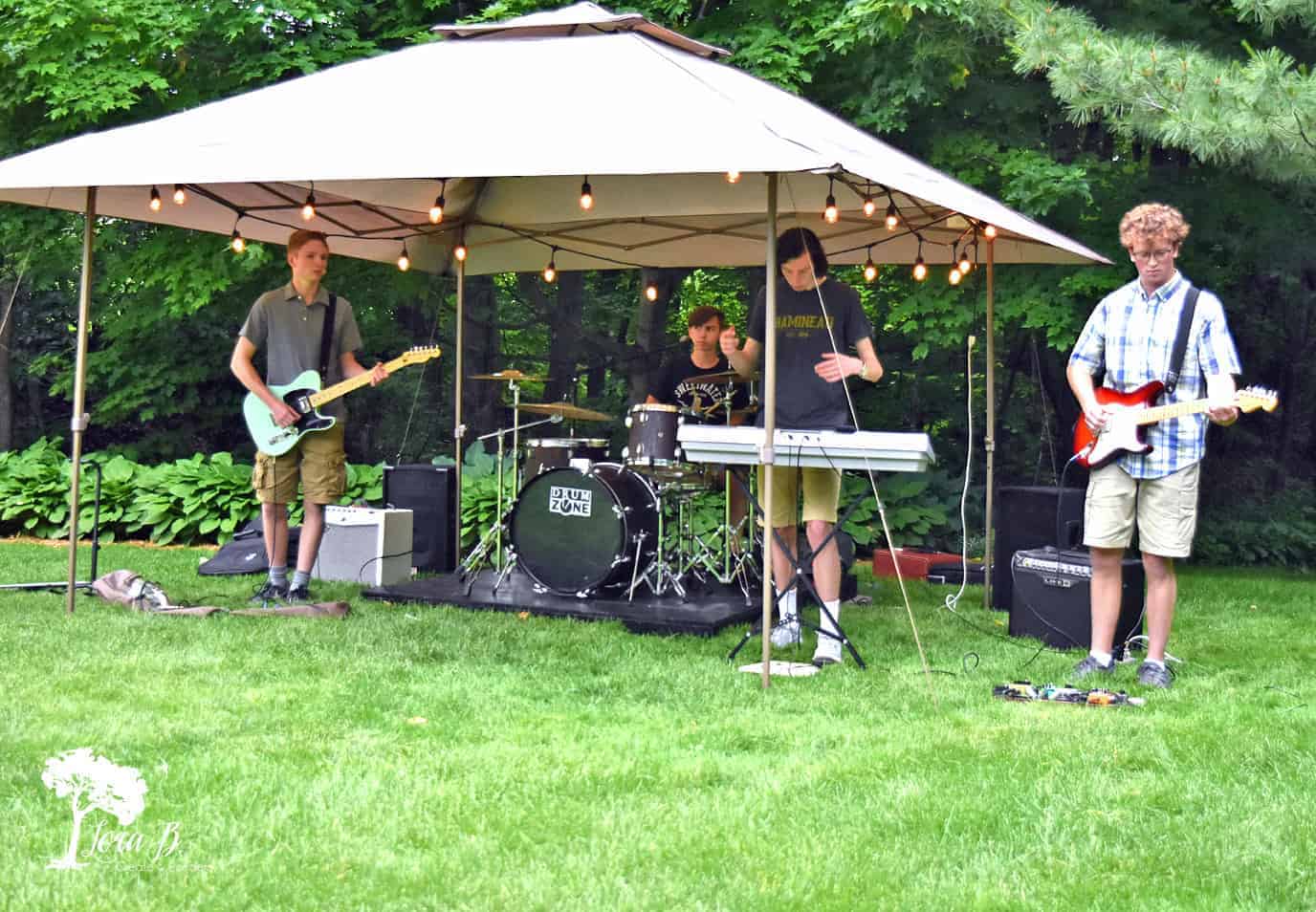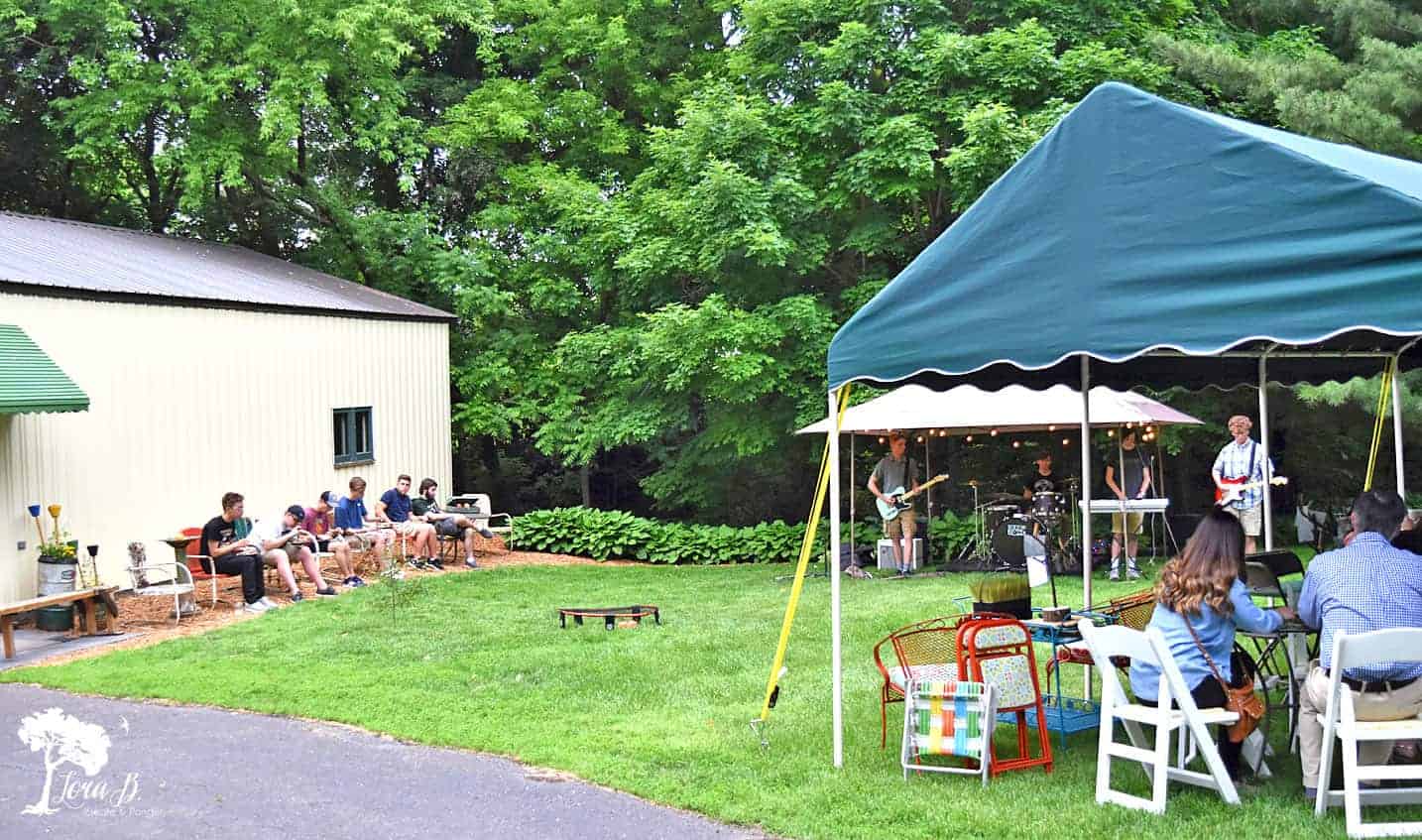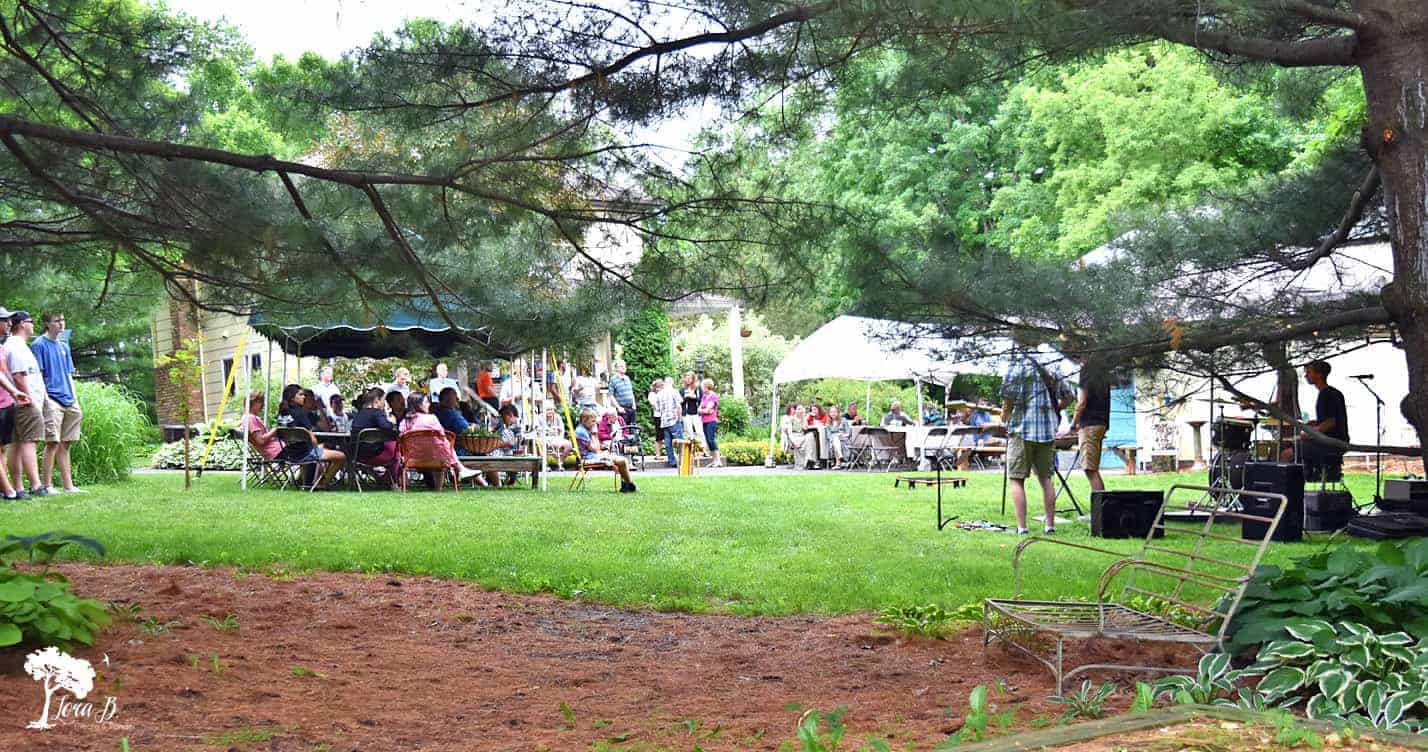 Thankfully the rain held off and we had a wonderful party! So much work, but so worth it! I think our guests enjoyed themselves and were able to relax and enjoy the evening. And of course, Mr. Freckles had fun and felt celebrated;)
I hope hearing about the planning, prep work, and creative projects that went into this day inspires you to make your next gathering unique and special! Your party can be as individual as the person you're celebrating; make a memory! Yes, it's a lot of work, but it's so satisfying to see all your efforts come to life and be enjoyed by others! Thanks for reading Graduation Party Recap!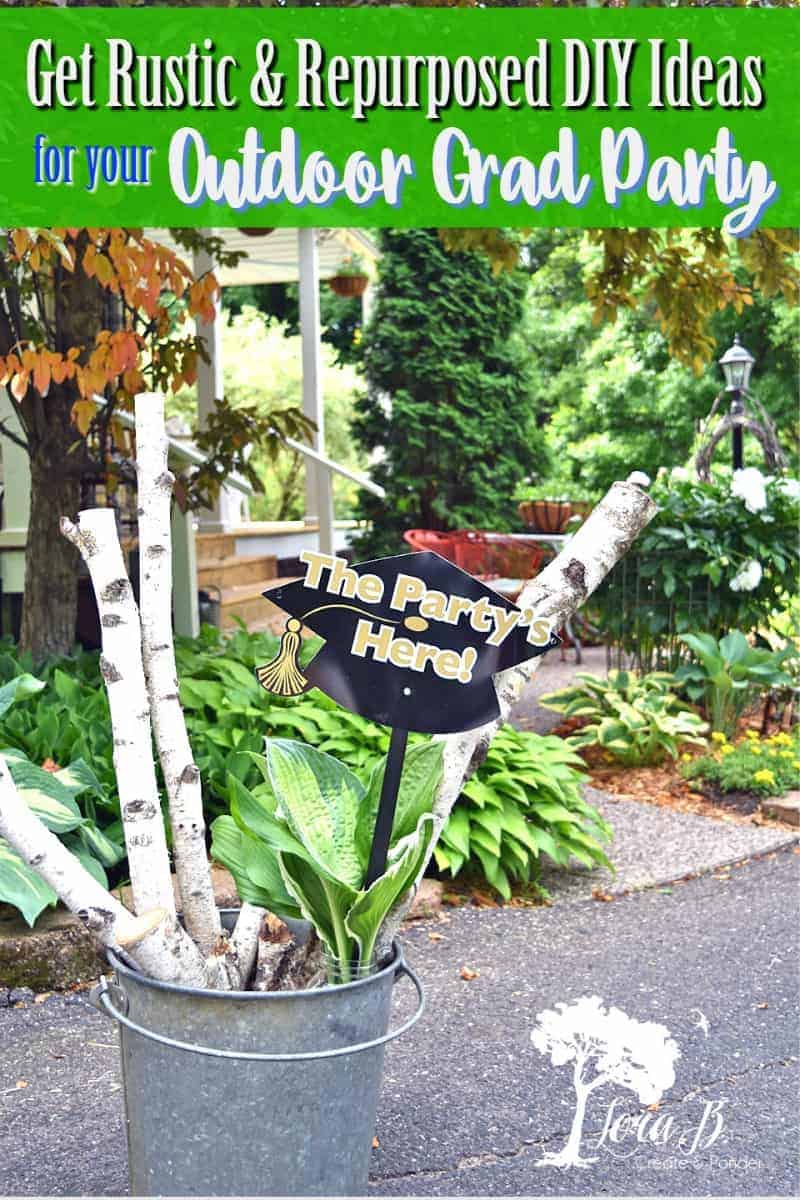 Sharing at these lovely parties: