Vintage Bicycle Garden Art
have an old bike laying around? Here's how to revive it and elevate it to art status!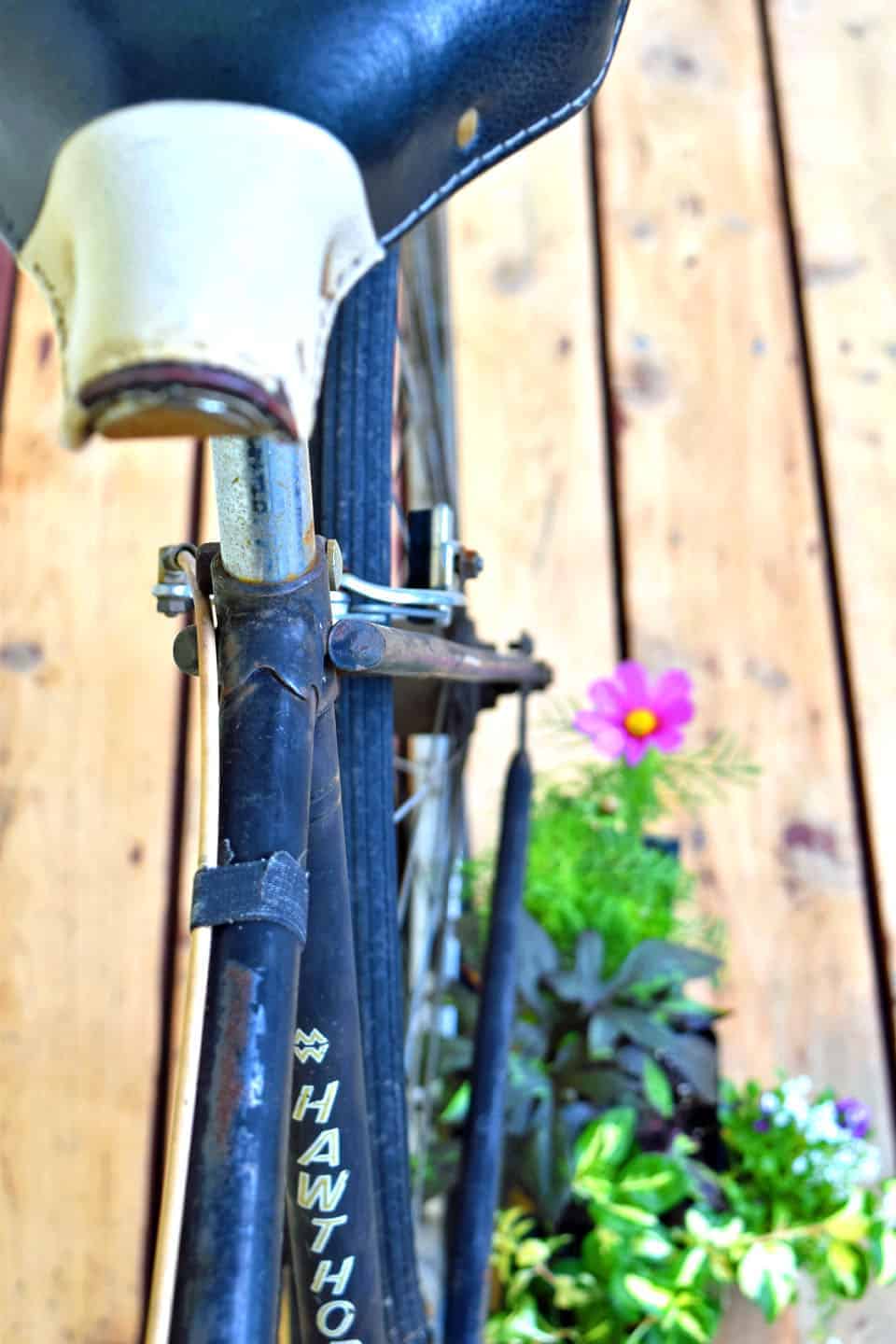 Summer is finally here and gardening life has just begun for us in the north! It's time to thoroughly enjoy all things plants and flowers in every way, shape and form. Whenever I can, I love to incorporate my vintage finds into my outside decor. This year it was my goal to use an adorable black vintage bicycle I picked up last summer. I'll show you how to enjoy Vintage Bicycle Garden Art as your porch decor!
Today's project is part of a "Spring Into Summer" porches, patios and outdoor spaces blog hop tour, hosted by Amber at Follow the Yellow Brick Home. If you're coming over from Bluesky at Home, I'm sure you enjoyed Carol's tips on how to update your patio for summer! I can't wait to see the beauty this creative bunch of bloggers has come up with!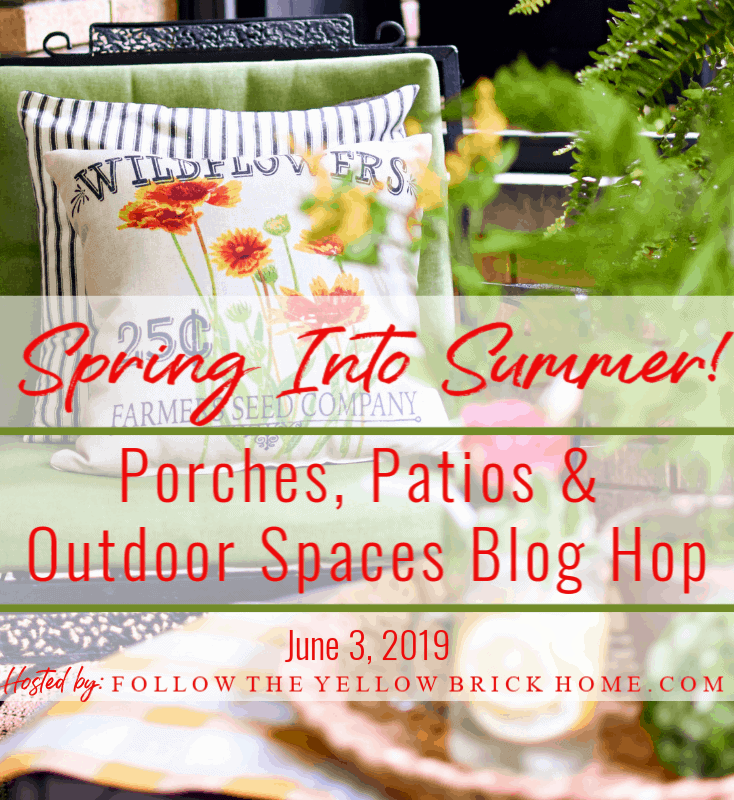 Vintage Bicycle Garden Art
Vintage bicycles have a timeless appeal and can bring such charm to the home and garden. I've always loved everything about them. To celebrate today's post and the beginning of summer, I created a cute vintage bicycle printable to kick off your summer decorating! I'll have it in my free Resource Library, if you want to become an Insider and grab it down below;)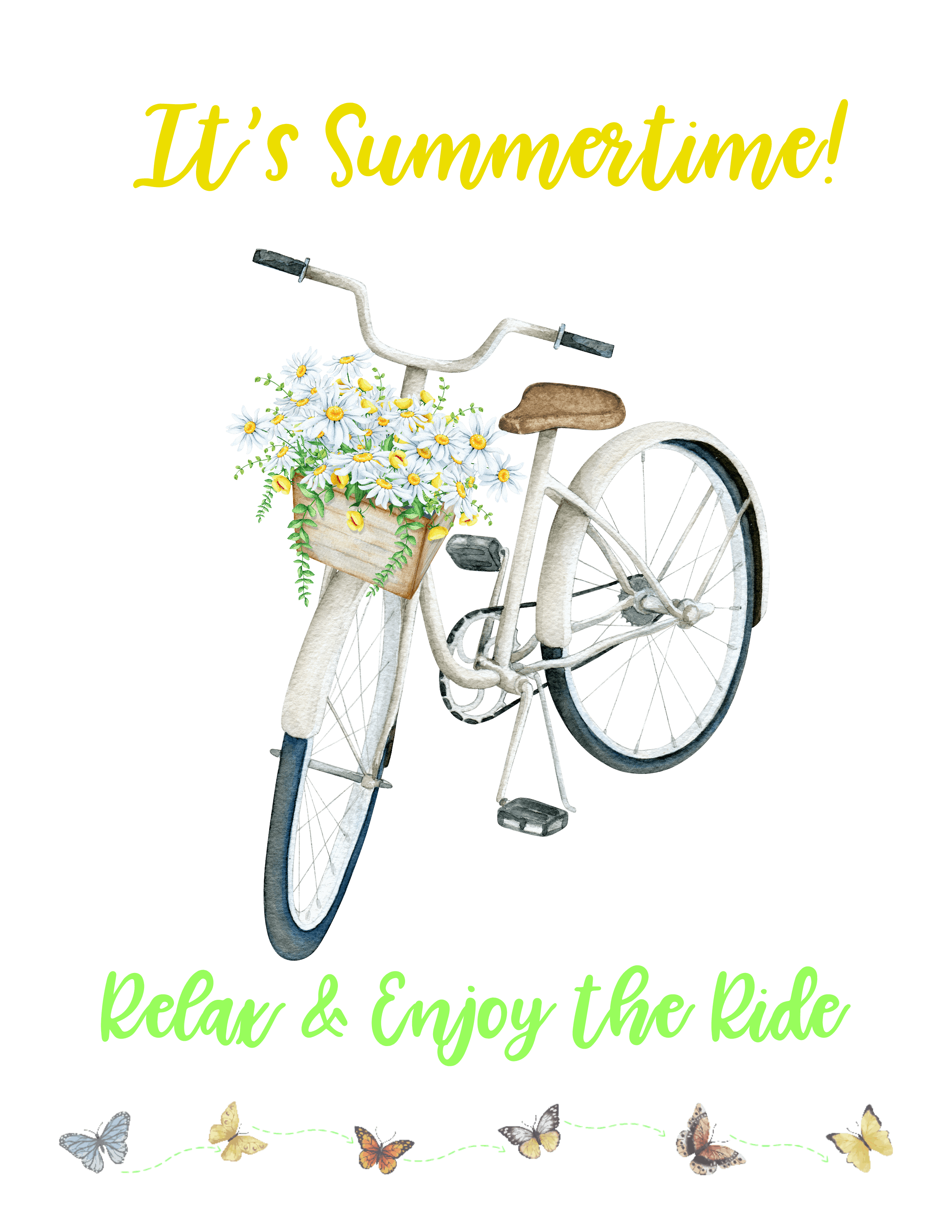 I have to admit, I already have one vintage bicycle in my garden, surrounded by hostas and shade flowers. But when I found this black and white version for super cheap ($25!) at a church sale last summer? It had to come home with me!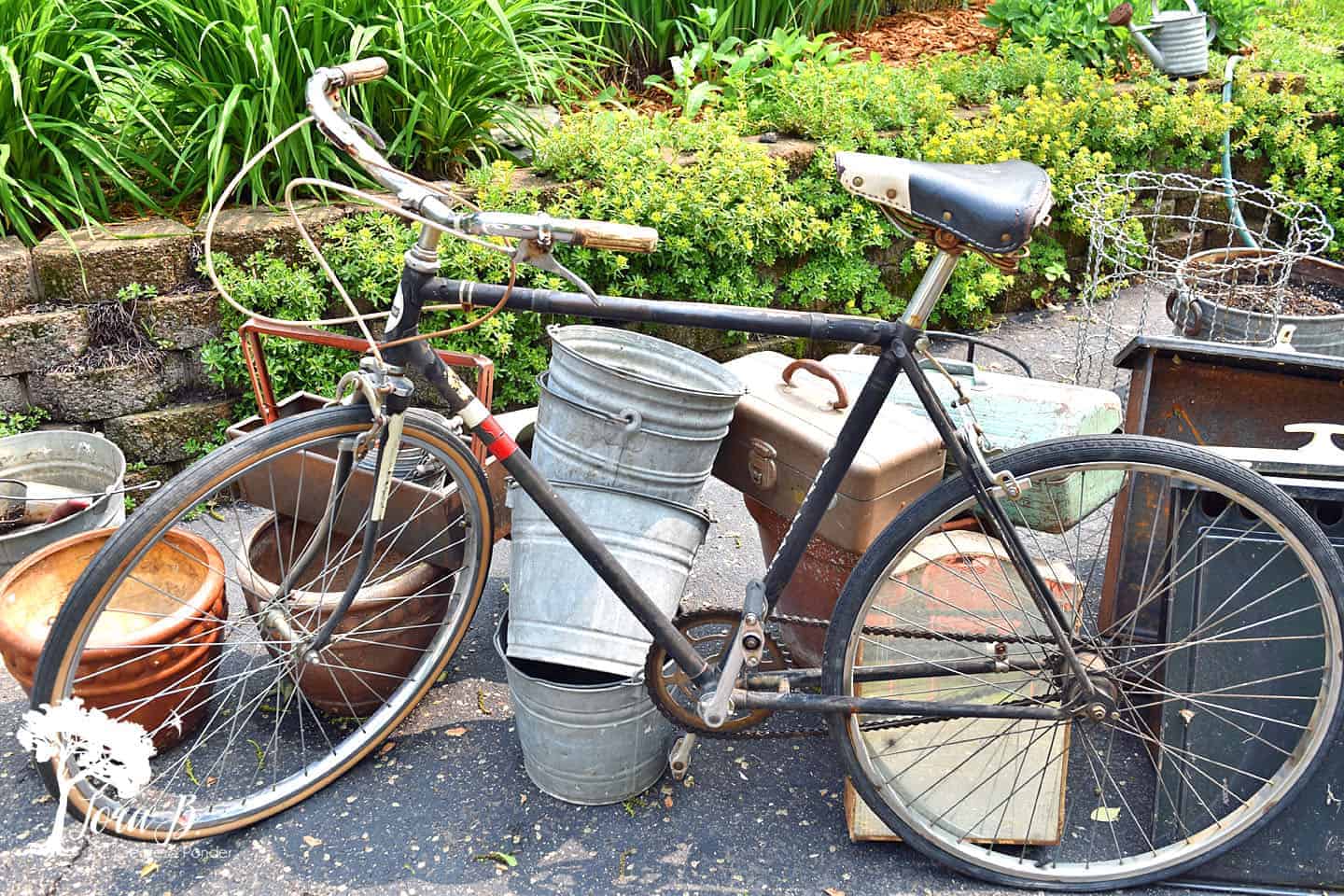 Last summer I just propped it up in the corner and didn't give it much love. I don't want this cutie to get rusty sitting in the rain, like my other one has, so I needed to come up with a way to enjoy it, but didn't want it to take up floor space on my covered porch.
Each year I challenge myself to come up with new ways of decorating my outdoor spaces. (see last year's Summer Porch Tour). I wanted to bring some black onto my porch decorating this year, inspired by the vintage enamelware coffee table I just picked up ("A Patriotic Porch Pinterest Challenge"). Then it hit me…I could use the vintage black bicycle on the covered porch…and hang it!
Clean and Refresh Your Vintage Bicycle First
Before any pretty-making can be done, start with a little vintage beauty treatment: scrub the vintage bicycle with a soapy pad like S.O.S. or Brillo and rinse with water. The soapy pad will cut the grease and grime that has built up over the years.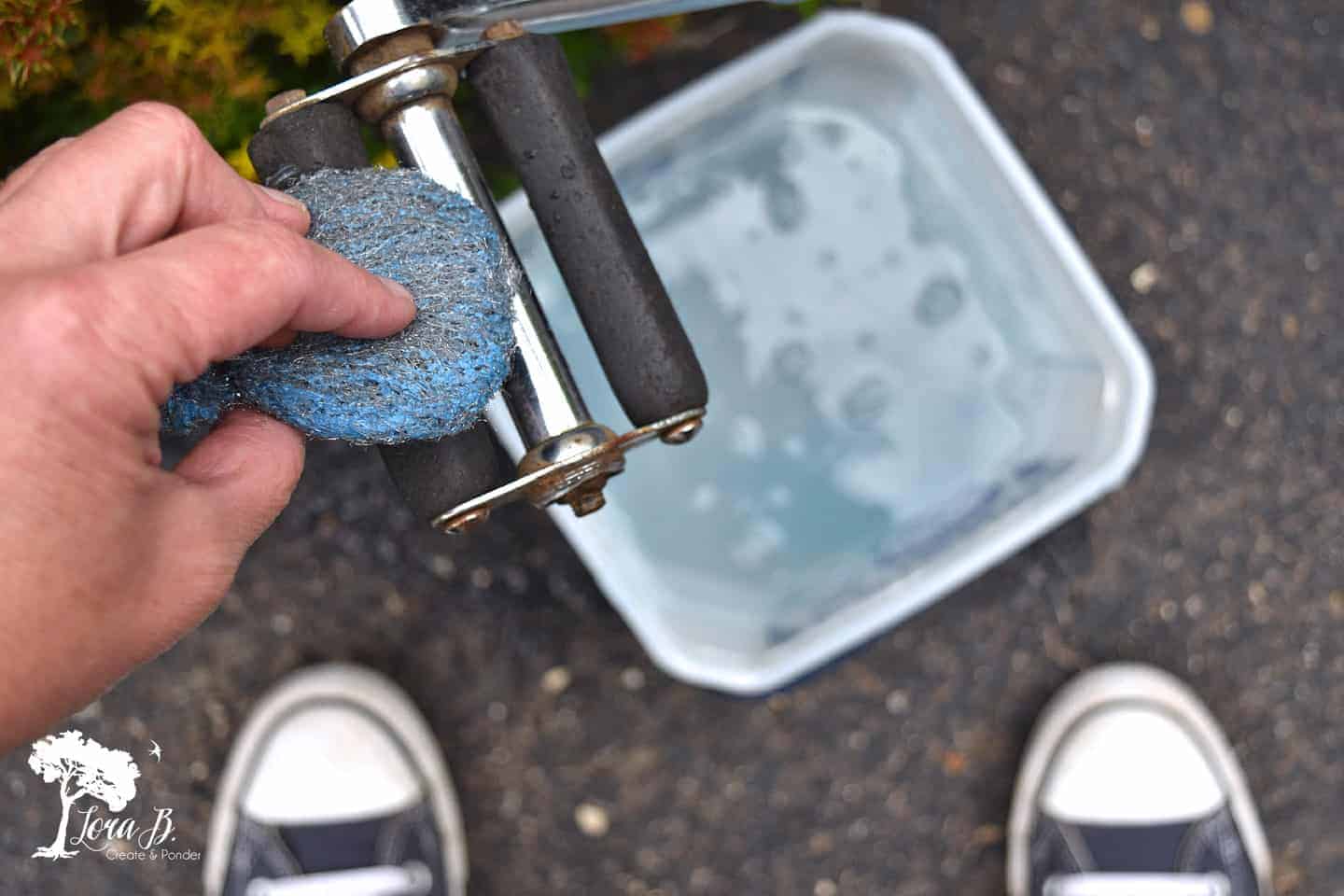 Next, brush on a light coat of outdoor polyurethane on the bike frame. It will bring out the color and seal in any rusty spots. I even brushed a coat on the cute black and white seat.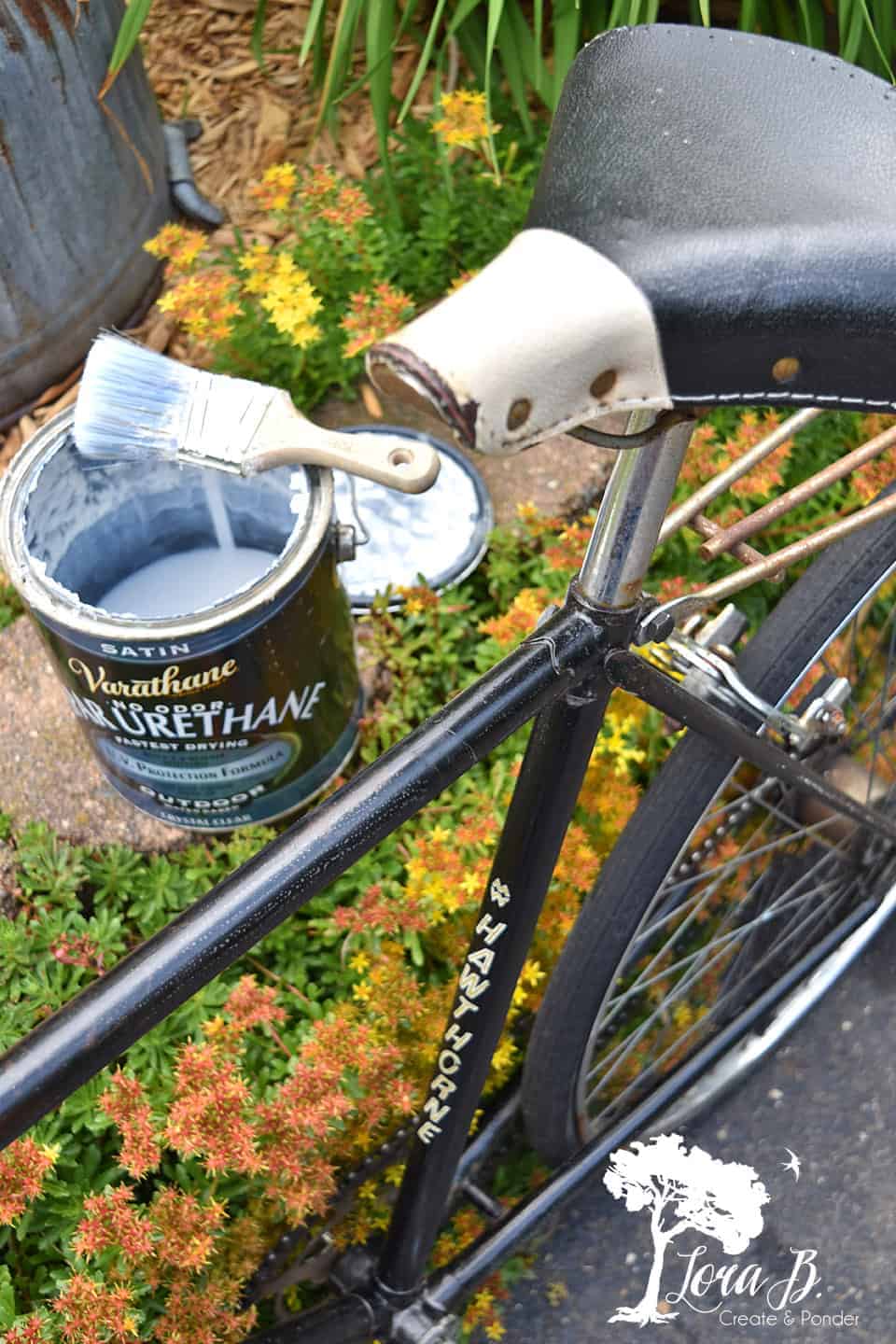 Lastly, if this vintage bicycle is going from functional to art, it doesn't need the ugly brake cables. Snip off the wires at the handlebars and by the wheels. (O.K…this pic is from my other rusty bike, if you're paying attention;)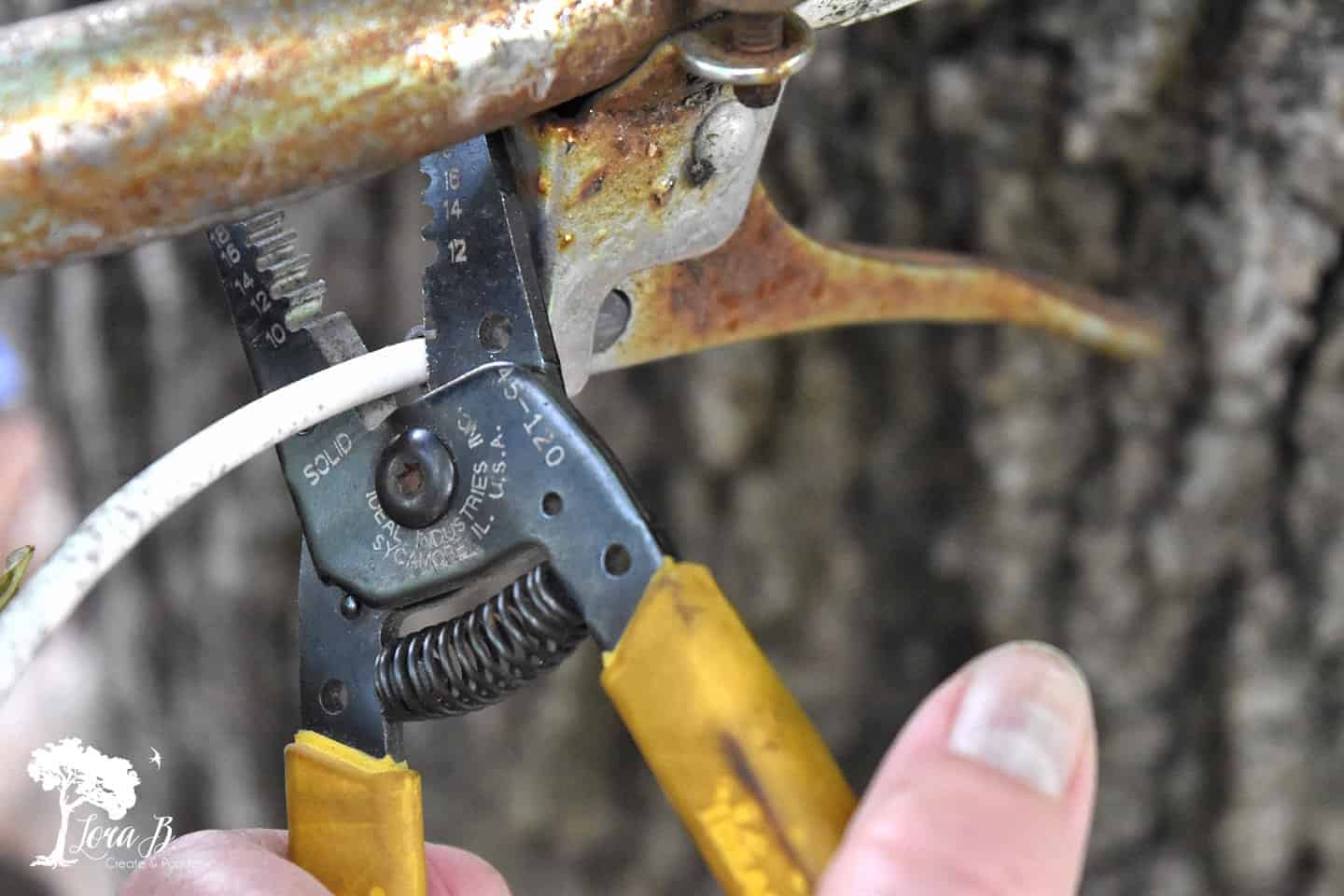 When You Need More Decorating Space, Hang it Up!
Once the vintage bicycle got it's beauty treatment ("How to Refresh Vintage Galvanized Metal"), Mr. Fix-it used a couple boy scout knots, and hung our new art with a couple sections of rustic rope. We have 3 sturdy hooks on the porch that I can use to swap up seasonal decor. The bike can easily be taken down when we host our impending outdoor grad party ("Graduation Party Planning"), and popped back up after!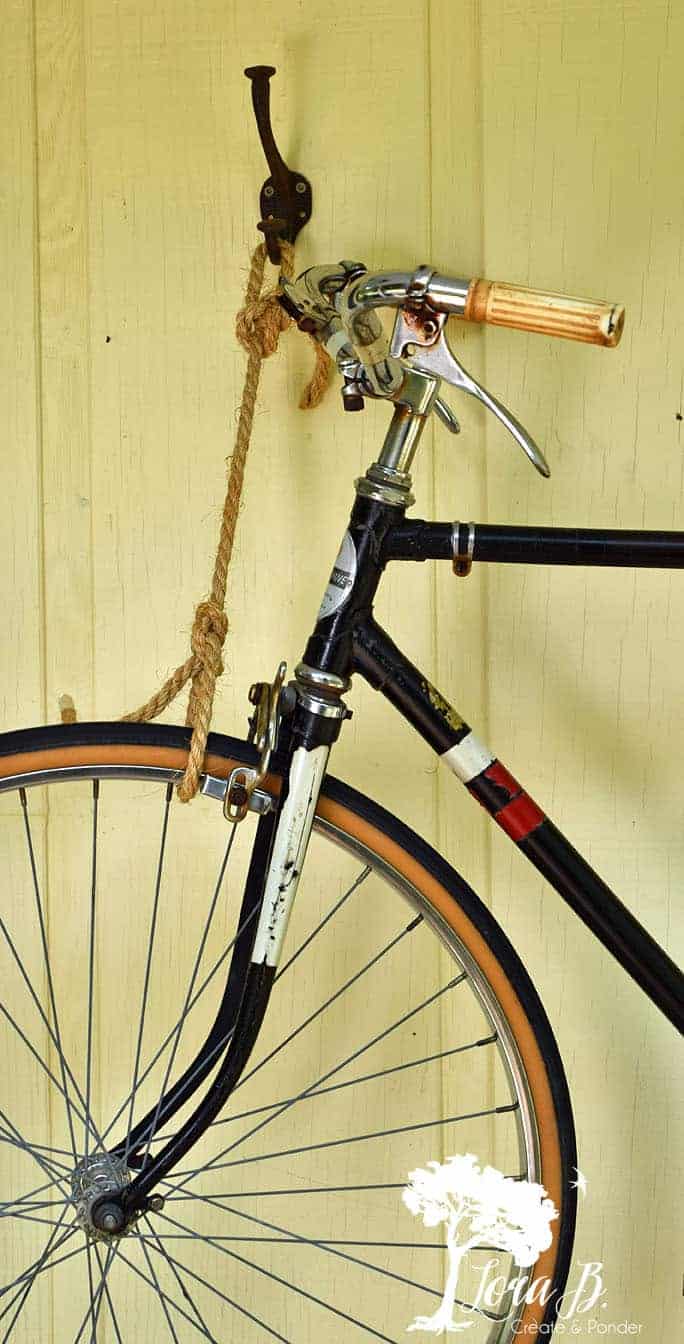 Now, to give this vintage classic some garden beauty!
Add a Basket to Your Vintage Bicycle Garden Art
What's more classic than having a basket on the front of a vintage bicycle, right? I picked up a giant Easter basket-looking thing alongside the road one day and realized it was the perfect size for the bike. Once the handle was pulled off, I lined the inside with a coco liner. I planted it up with some pretty shade flowers, since this west-facing porch wall doesn't get sun much of the day.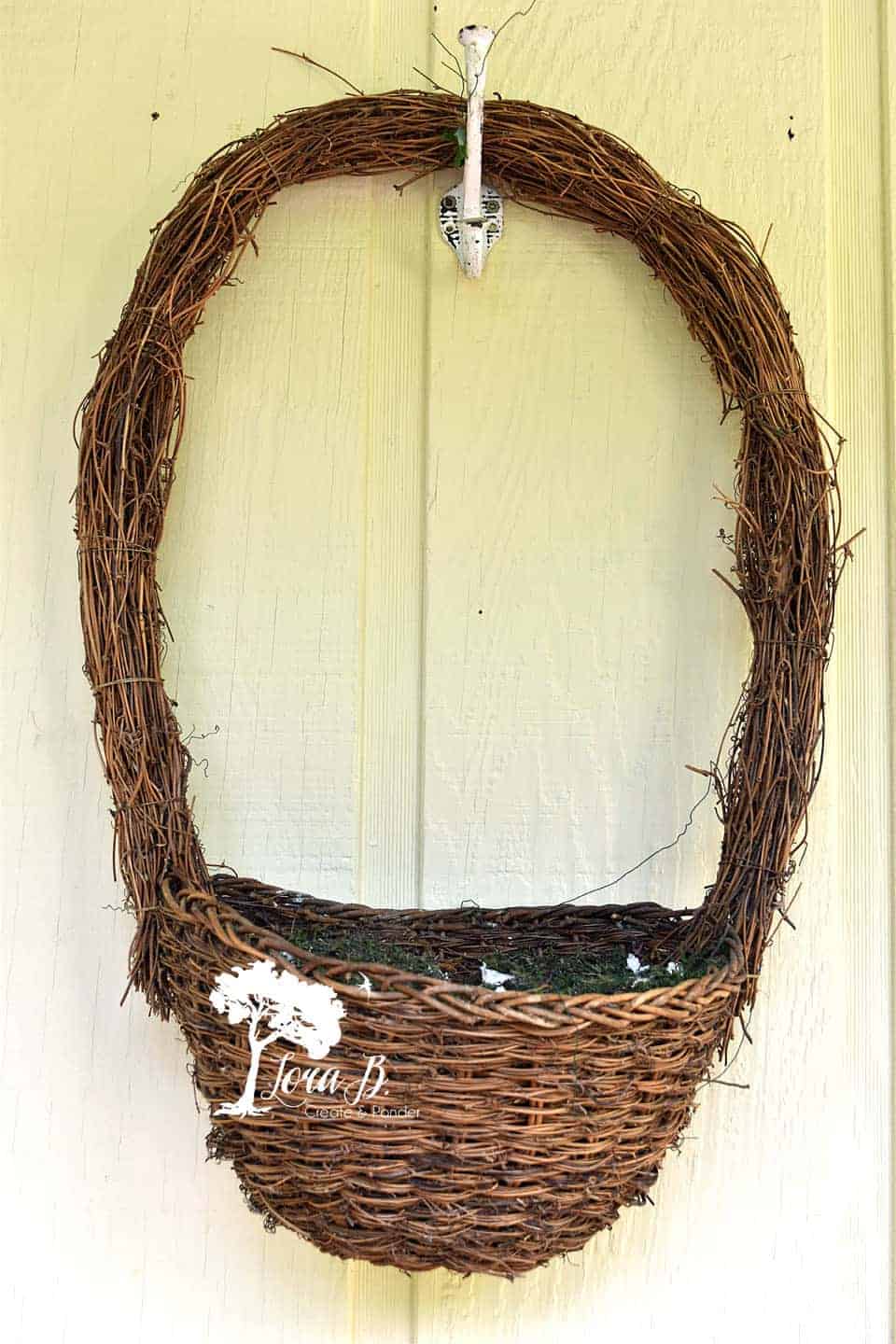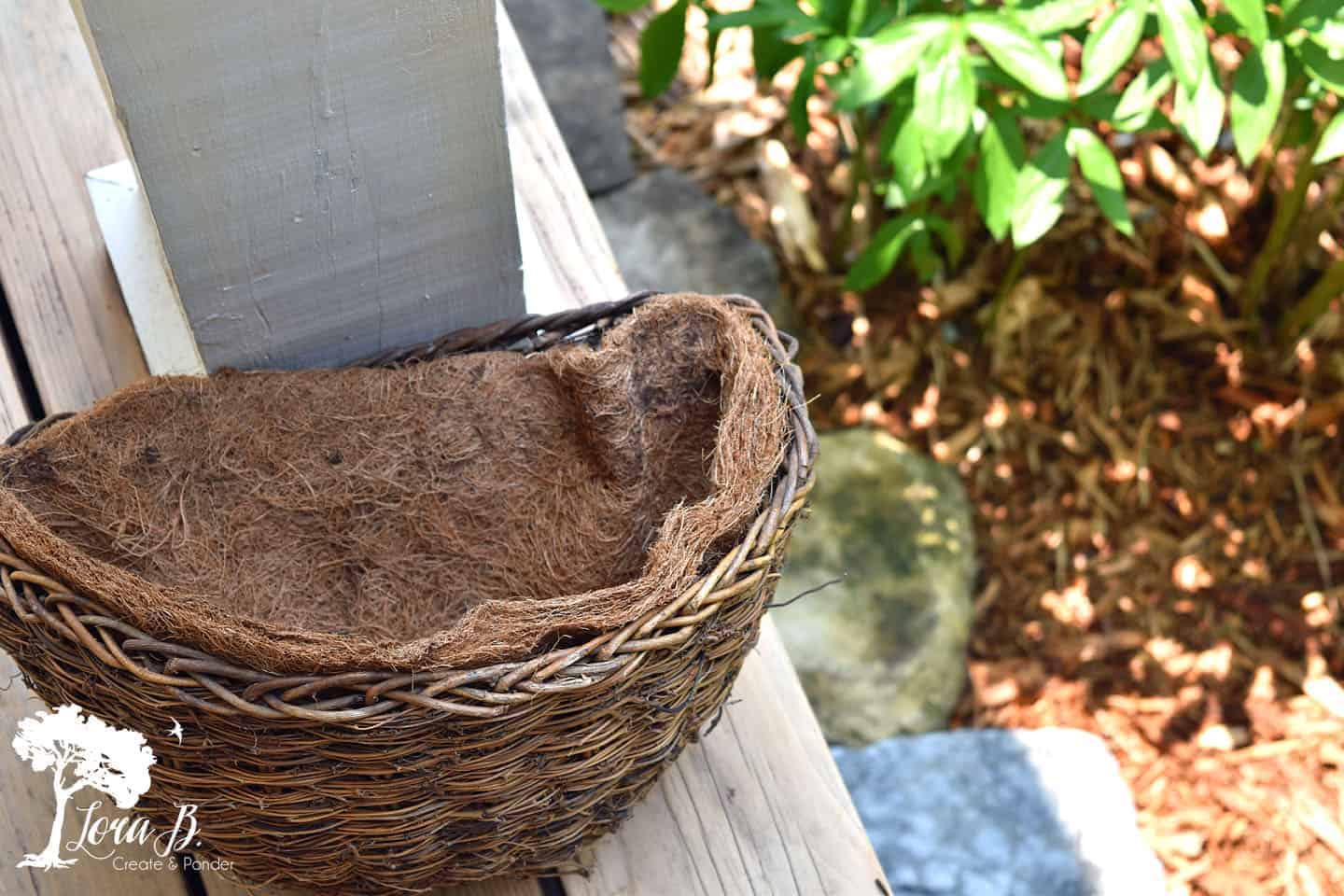 Add a Toolbox to the Luggage Rack of Your Vintage Bicycle Garden Art
We stole the luggage rack off my other blue bike so I could add this cute green vintage toolbox in the back. (Don't tell the blue bike this is my new favorite child;) It got the same beauty treatment. I tucked in some variegated foliage plants and hung it from one of the hooks. It's not actually sitting on the luggage rack at all, but it looks like it is!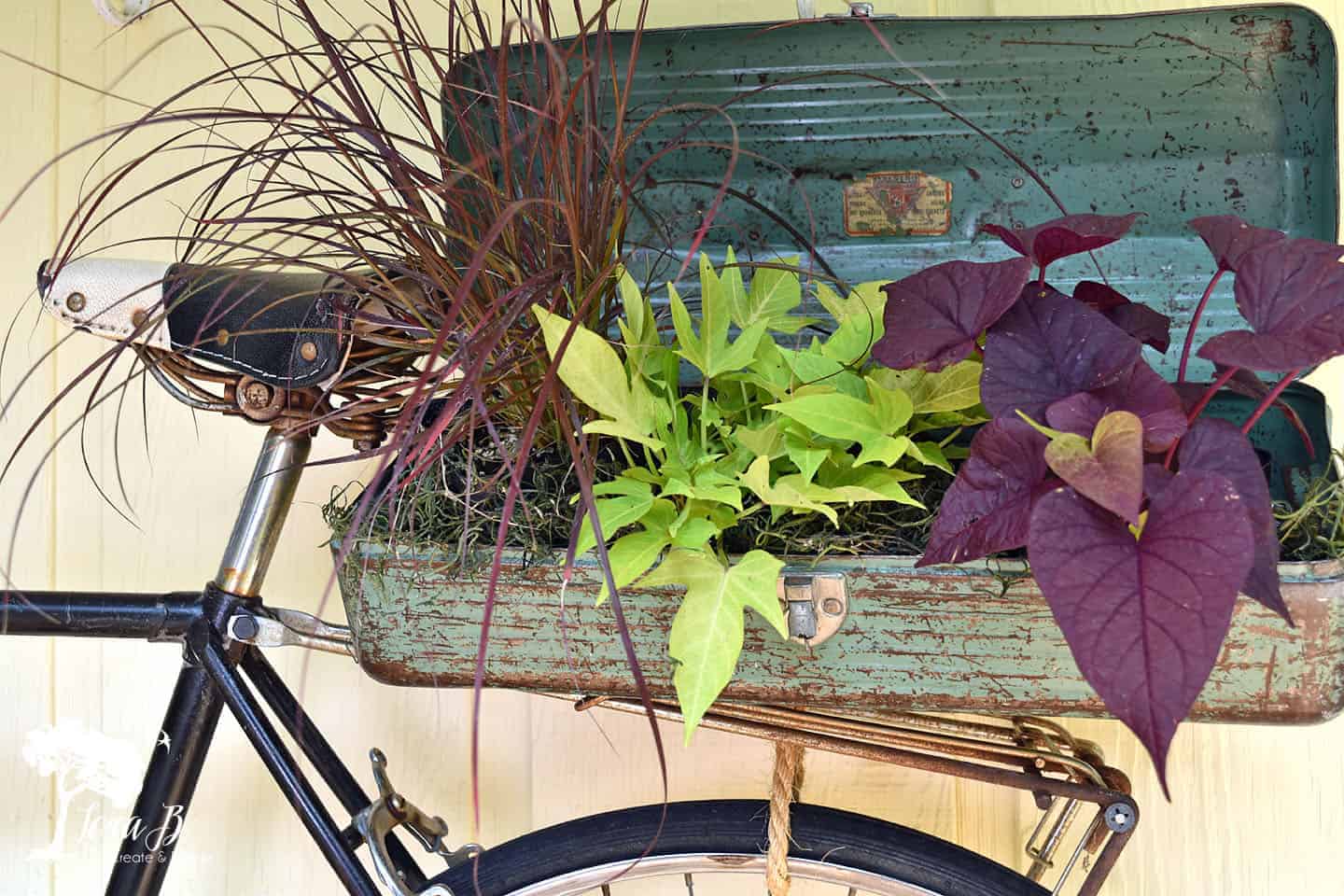 Don't you love that vintage label on the inside top? Vintage metal toolboxes with fresh flowers peeking out is one of my all-time favorite things in. the. world. Think it's the rustic + pretty combo;)
Add Some Old Tools to Your Vintage Bicycle Garden Art
Vintage garden tools are a fun collection, especially when you can find them in various colors. I decided they could be a fun addition to this new art installation. I simply tied them onto the bike spokes with their handles in and added some faux succulents around for some additional texture.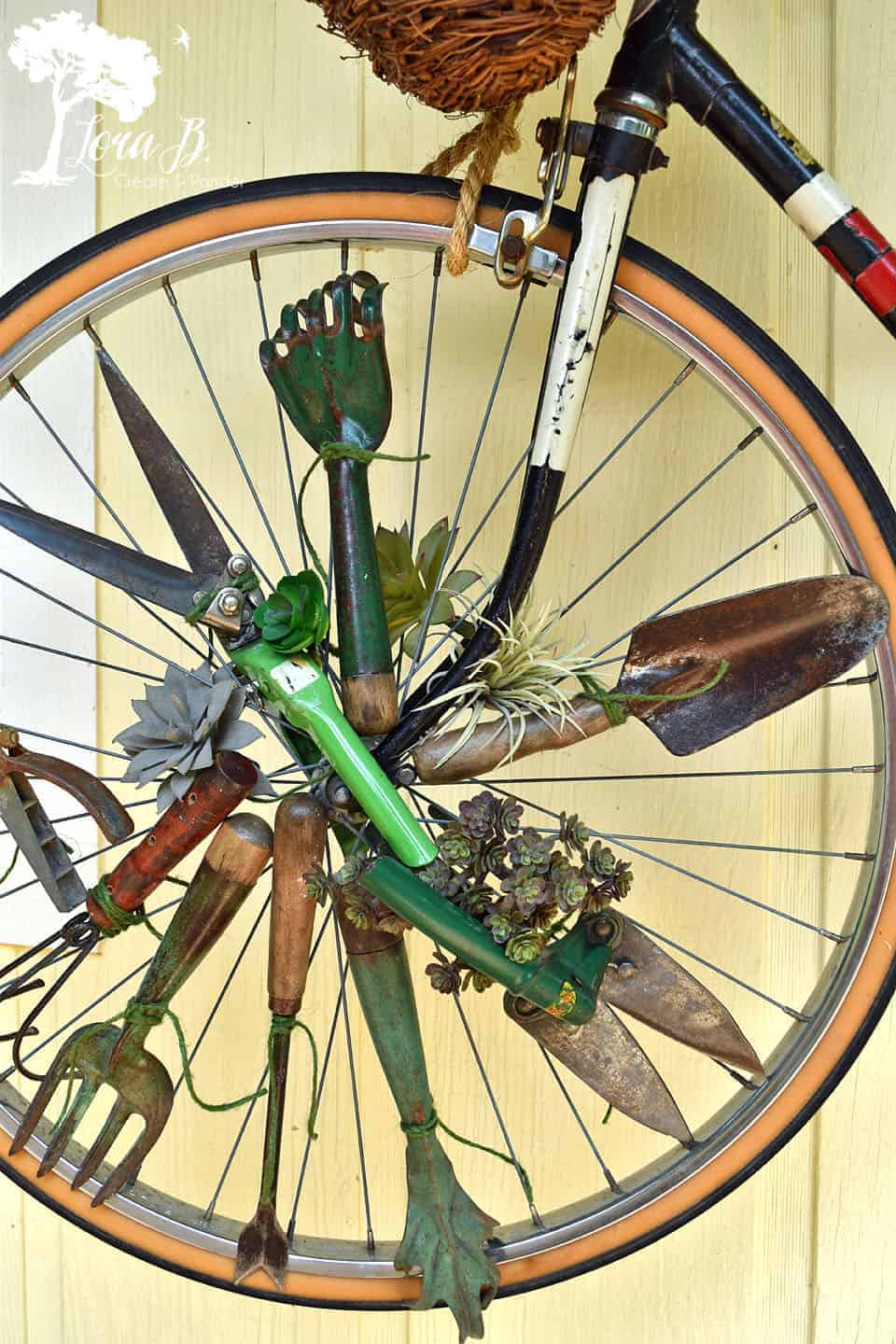 I'd love to get some real succulents growing in the bike spokes, but faux succulents are instant gratification, and much easier to take care of.
This new vintage bicycle garden art will be a fun greeting right next to our main entrance this summer!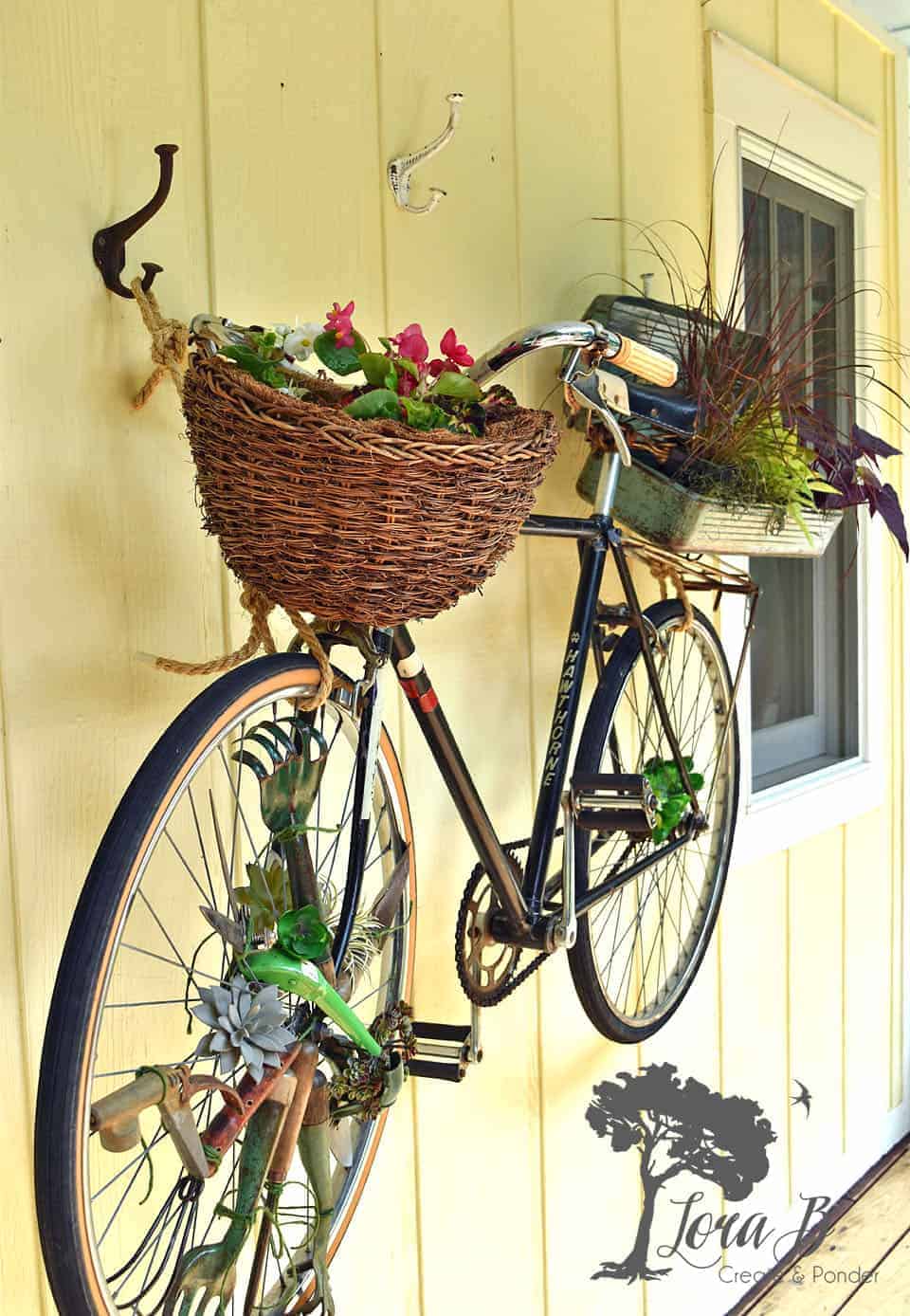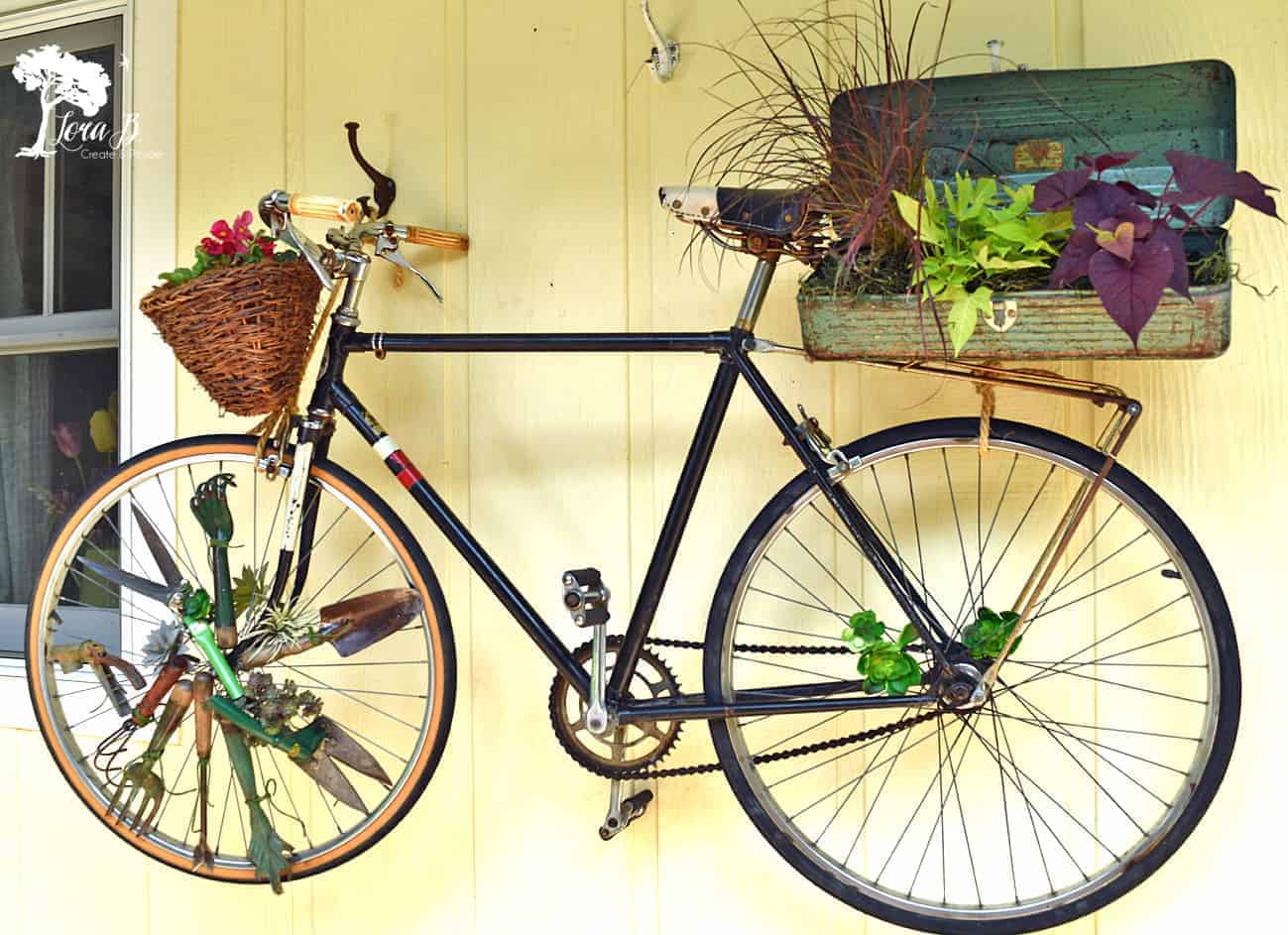 Get this Cute Bicycle Printable by Becoming an Insider!
To celebrate the start of summer, get this FREE printable to kick off your decorating! By becoming a Lora B Insider, you'll get free access to all my decorative and helpful resources! I'll encourage you to see potential so you can create the unique in my weekly newsletter, too!
If you're already an Insider, check your weekly email for the password to grab your Vintage Bicycle art!
Do you own a vintage bicycle? Or are you inspired to get one? They are classic vintage architecture and look so good as garden art! Hope you enjoyed seeing the process behind this Vintage Bicycle Garden Art, perfect for porch decor. I can't wait to see the rest of the inspiration on this Spring Into Summer hop! If you're hopping in order, enjoy Kelly's easy summer porch ideas at The Tattered Pew!
Pin, Share and Enjoy the Rest of the Hop!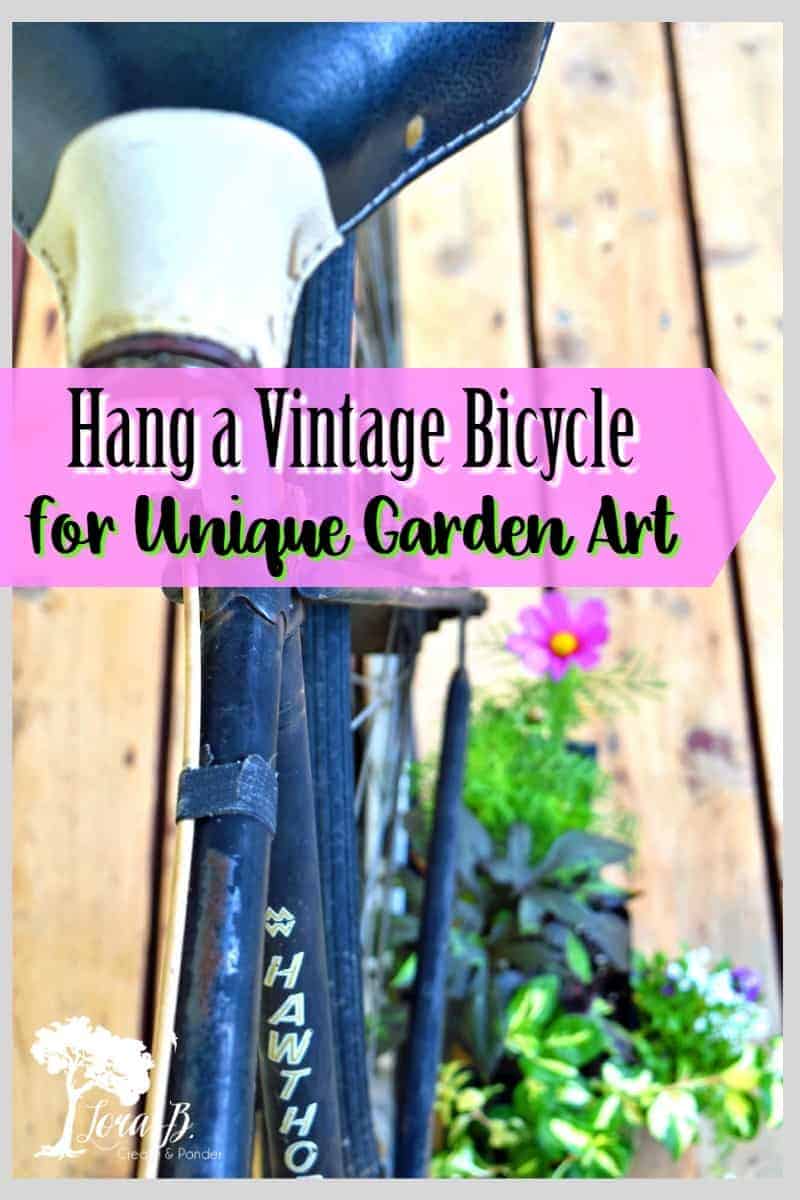 "Spring Into Summer" Blog Hop
You are invited to the Inlinkz link party!

Sharing at these lovely parties: