Bedspring Fall Styling in the Back Entry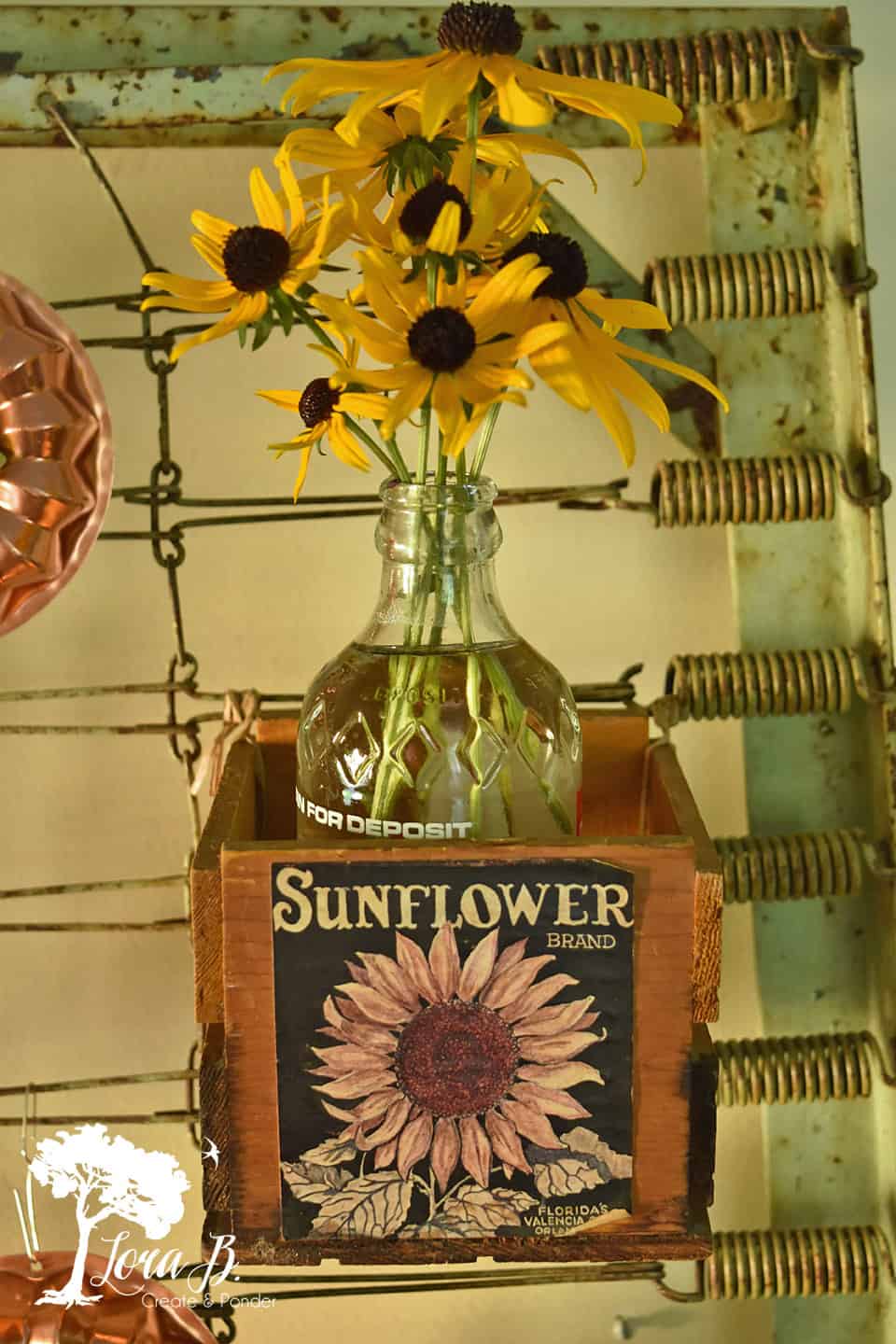 We're still enjoying the flower of the season-Sunflowers! And  I knew you'd want to see where my Cake Mold Sunflower and my Sunflower Button Pillow ended up in my house. Both of these new creations came in handy for my bedspring fall styling in the back entry.
Our back entry is actually our main entry, which is pretty typical for old farmhouses. And despite the fact that our house is a Fake Farmhouse (since it doesn't have a cool old barn, granary, and chicken coop), it is still set up as the "no one ever goes to the front door" kind of house. Can you tell I'm a little bitter about it?
And then there's the fact that we had to open up the wall just to achieve the 5'x7′ space we have for a family of 5 + a 55 lb. dog to come and go many times a day…in winter…with coats and boots and mittens and hats and scarves! To add (or minus) to the equation, there's a steep stairway to the basement where one needs to caution guests to not back down.
But I'm not complaining, because I'm a girl who stands up to the challenges of an old house and makes the best of it, small entryway or not! And even though it's size challenged, I determined my back entry is going to function well and be cute, for every season!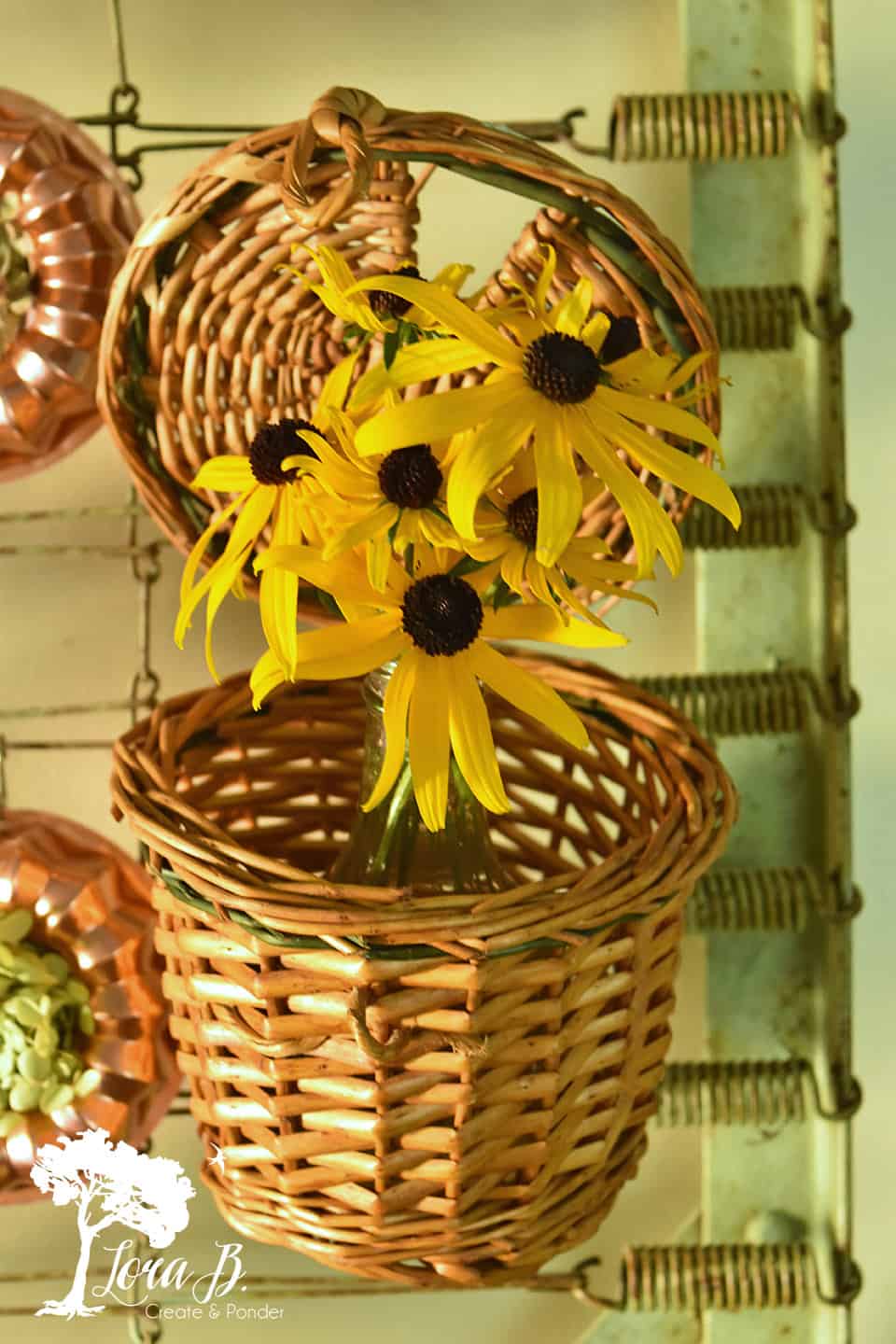 One of my favorite flexible wall display treatments is to hang a bedspring and create seasonal vignettes on it. I have a crib spring in my dining room where I created a  Bedspring Family Photo Wall for most of the year, and for the holidays, a Bedspring Shiny Brite Tree.
In the back entry, we hung a perfectly junky, green chippy twin size bedspring. And I have way too much fun styling it. At Christmastime, it became our Christmas card display, along with all our ornaments we'd collected from family vacations, Bedspring Card Display and Christmas Entry.
So, you'll never guess where the sunflowers landed. A perfect place to be greeted by their happy, sunny faces when we come and go each day during this early fall season!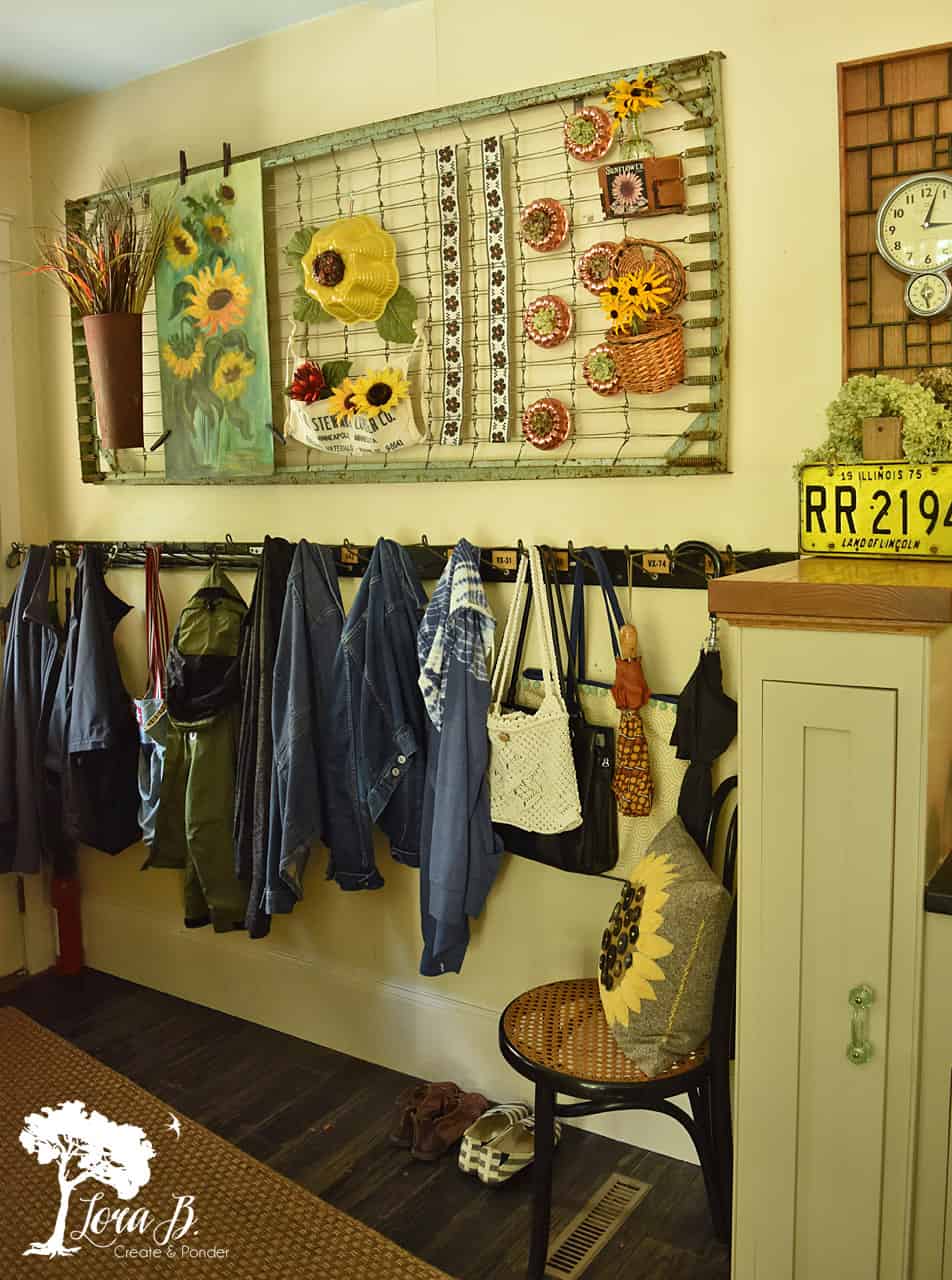 I decided I wasn't ready for the pumpkin trend that the rest of blogdom is in already…at the end of August! Each season in it's time, I say.
And see that tall cupboard with the wood top? I designed it so my guests would not see all my dirty dishes in the sink when they entered my home to pickup/drop off their kids. Even a Fake Farmhouse can have function and beauty, right?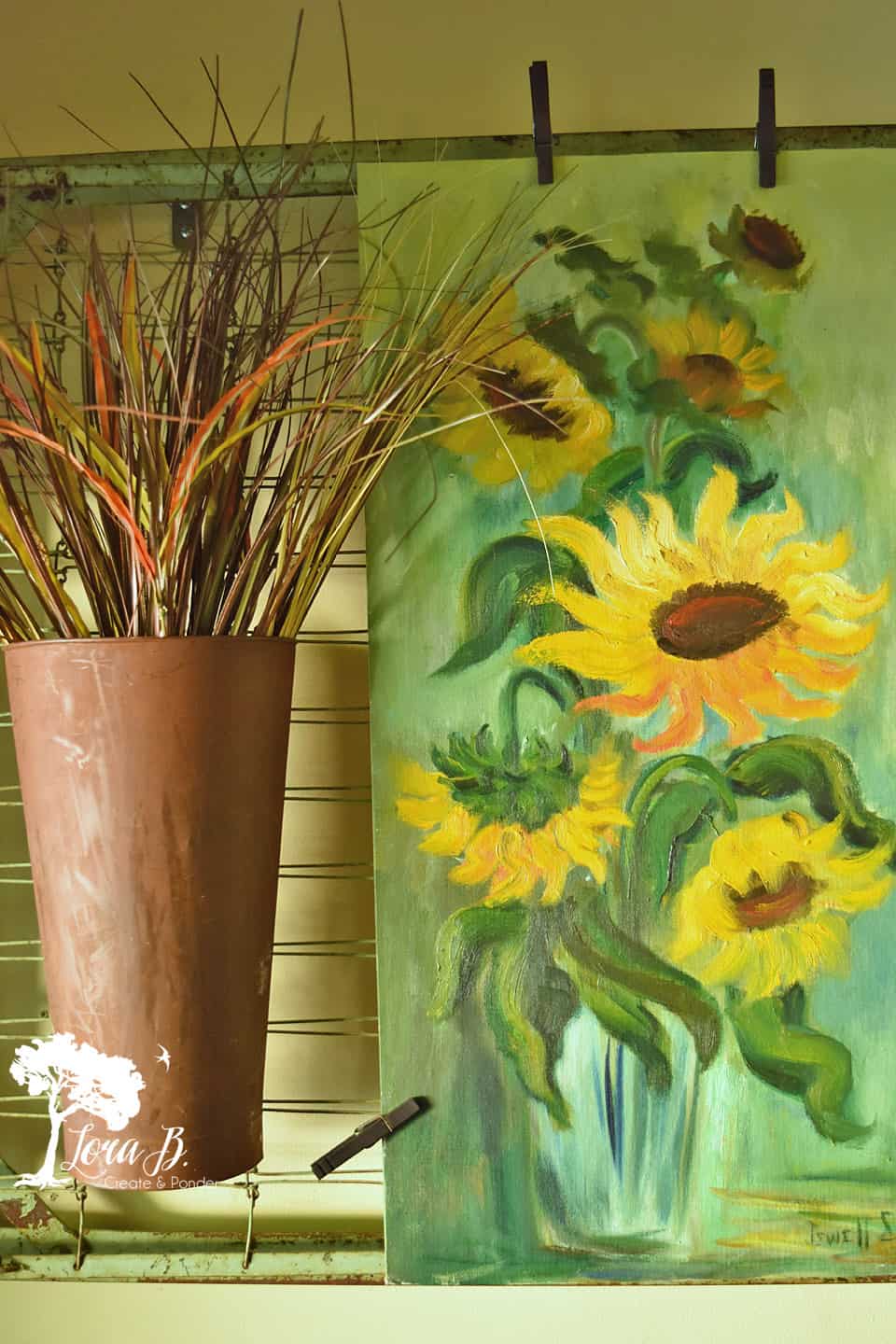 This sunflower painting hung in my parents home all the years I remember. The frame broke, but I just love the aquas and greens and the brushy quality of the strokes. I simply clipped it to the bedspring with some RIT dyed clothespins . I threw some fall grasses in this rusty sap bucket and tied it with some twine.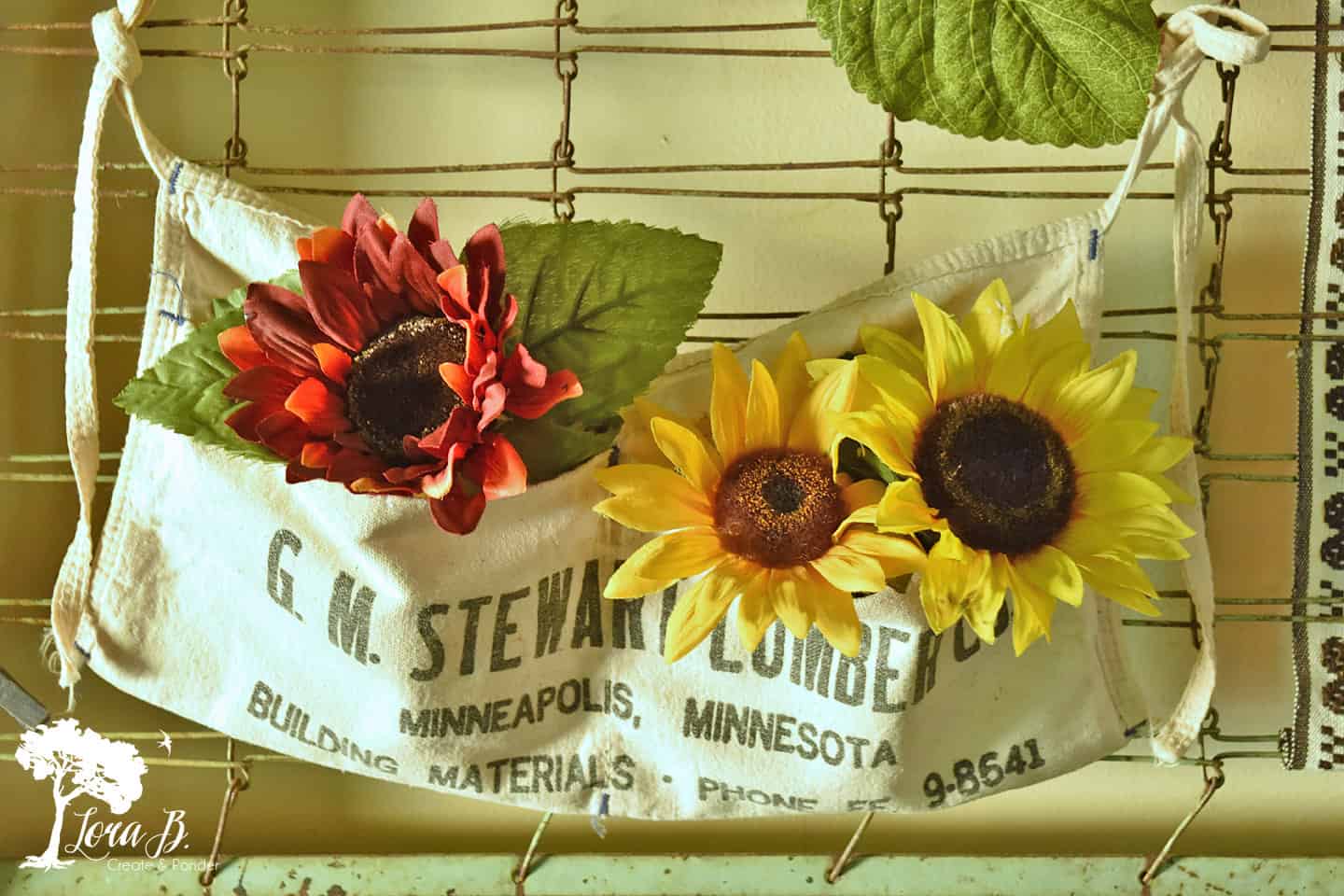 This old nail apron I had tied to the back of the chairs for my Junky Garden Party this past spring looks oh-so-fall-perfect with some fake sunflowers tucked in.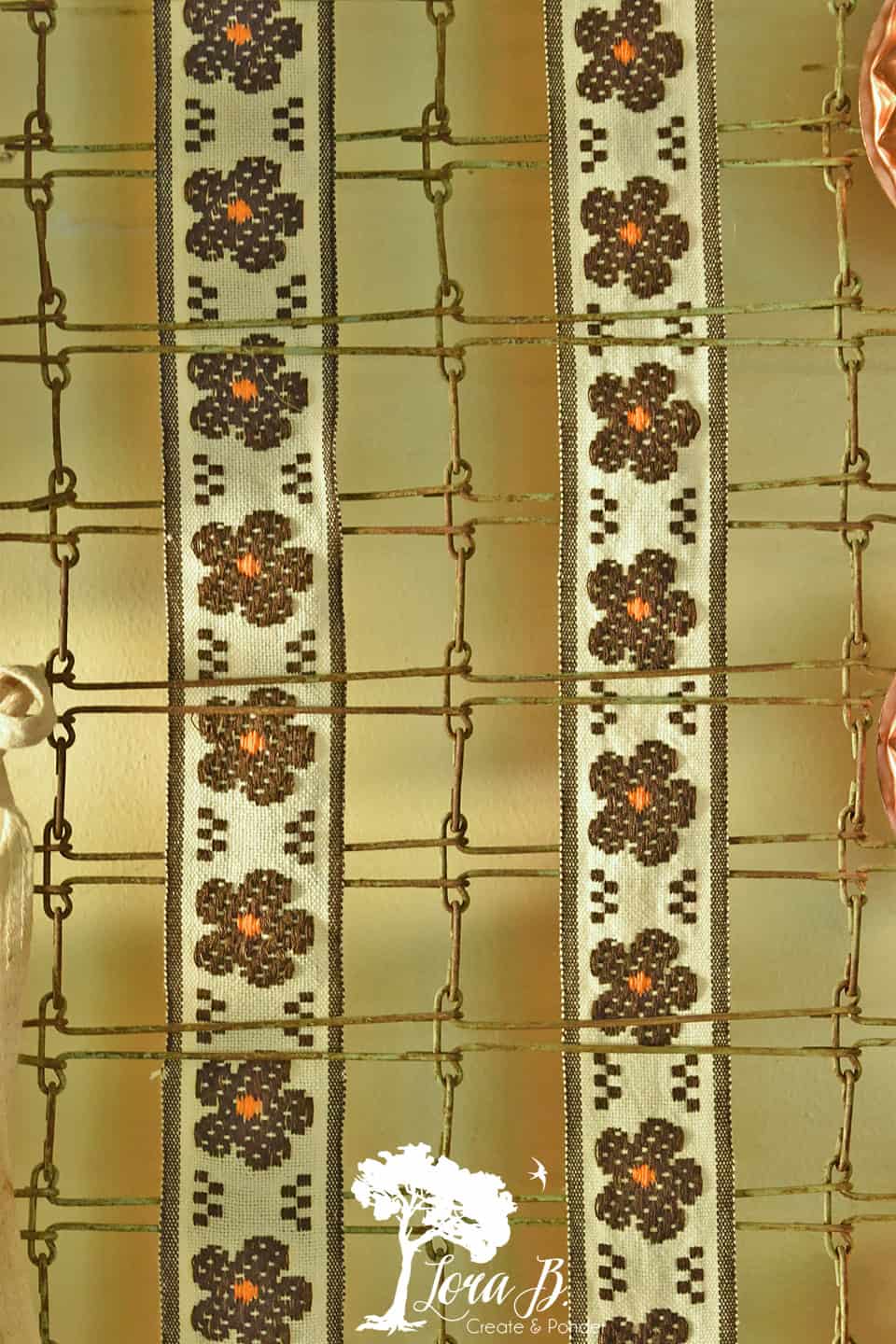 A couple lenths of old ribbon I think I was going to use as purse handles at some point got woven through the tines of the spring. Love the chocolate brown flowers with the little dot of orange inside.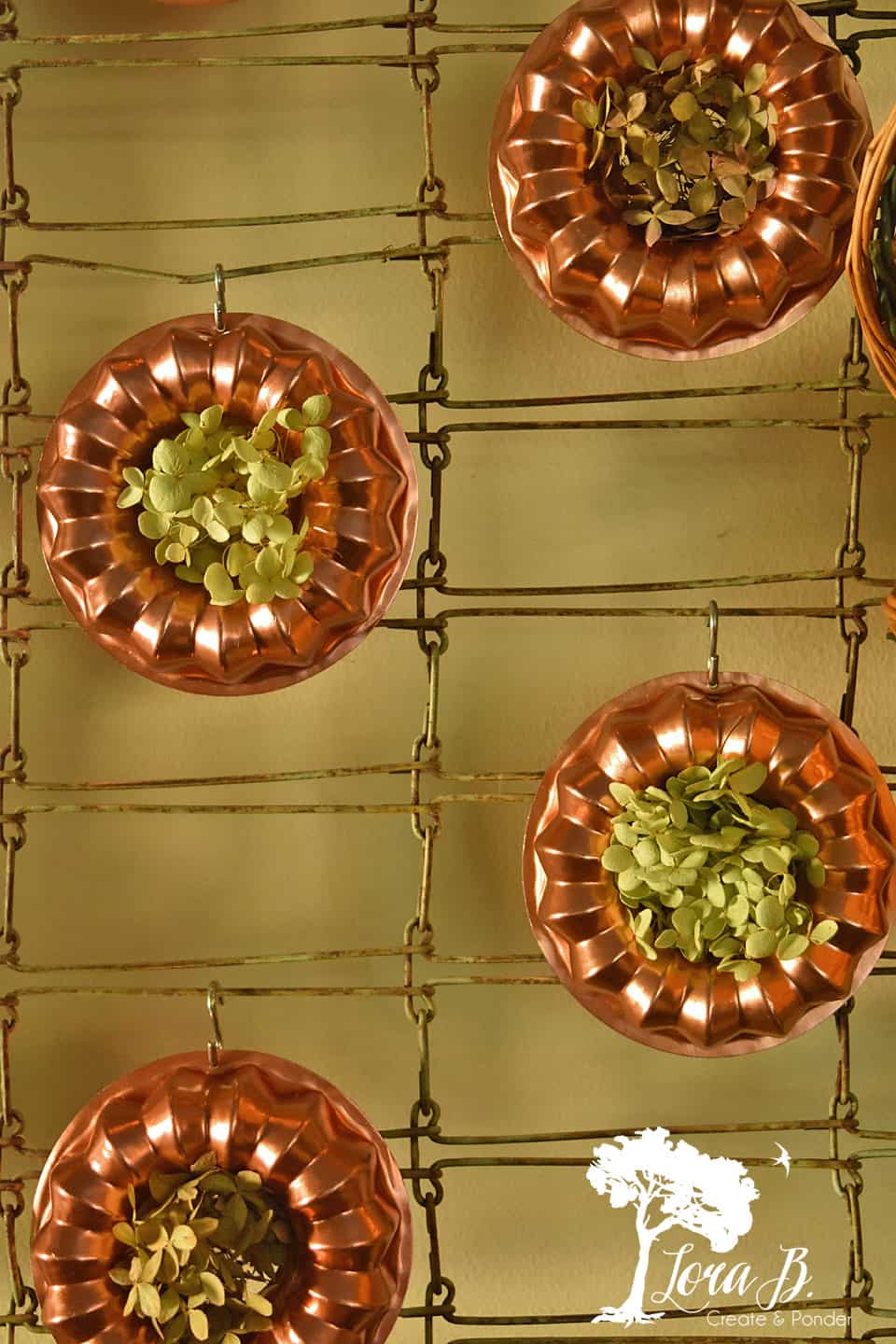 The mini copper molds I picked up thrifting happily had a little hole, perfectly sized for a "S" hook for hanging. I tucked in some of my dried hydrangeas to add that pretty olive green color, along with great texture.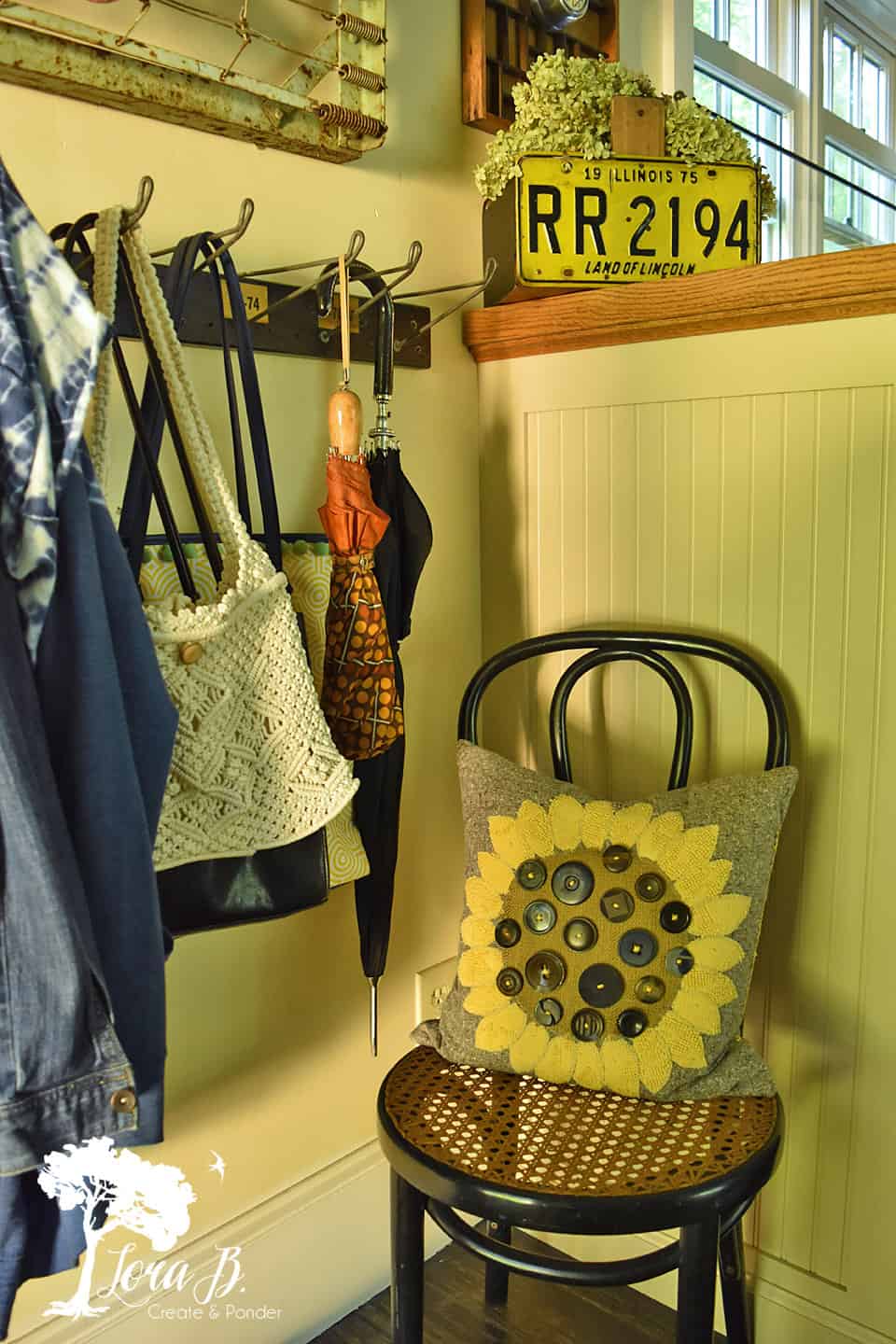 And, luckily I still have quite a few chairs in my (former) store stash, so I can swap out seasonally. This classic black bentwood with rush seat is a perfect spot to rest my new Sunflower Button Pillow. And one of my License Plate Trugs happened to be gold and black, perfect with some more dried hydrangeas.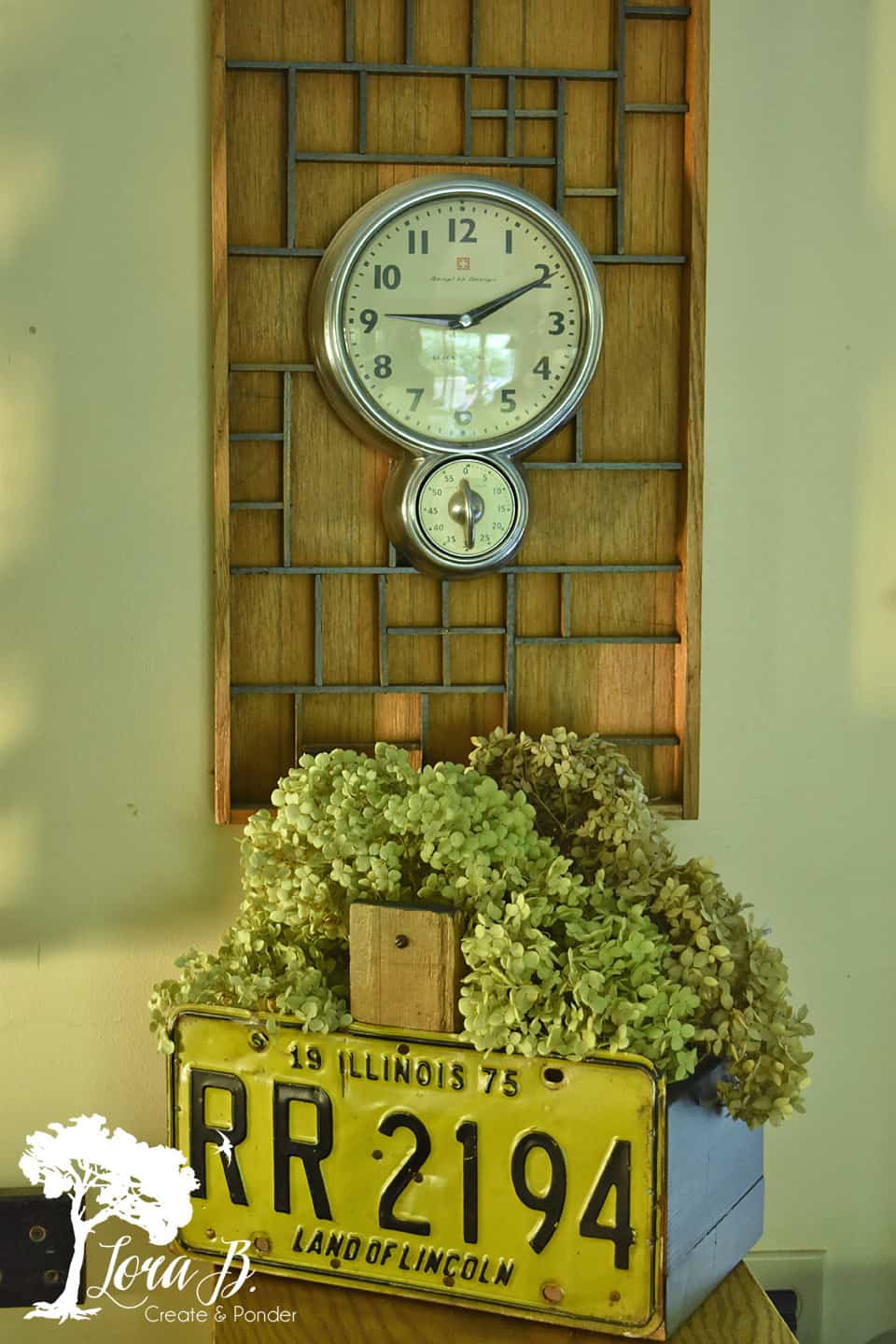 What do you think about my clock hanging on this old printer's rack? I kind of like the architecture of the combo-a circle on squares-and the diversity of the rustic wood with the sleek silver.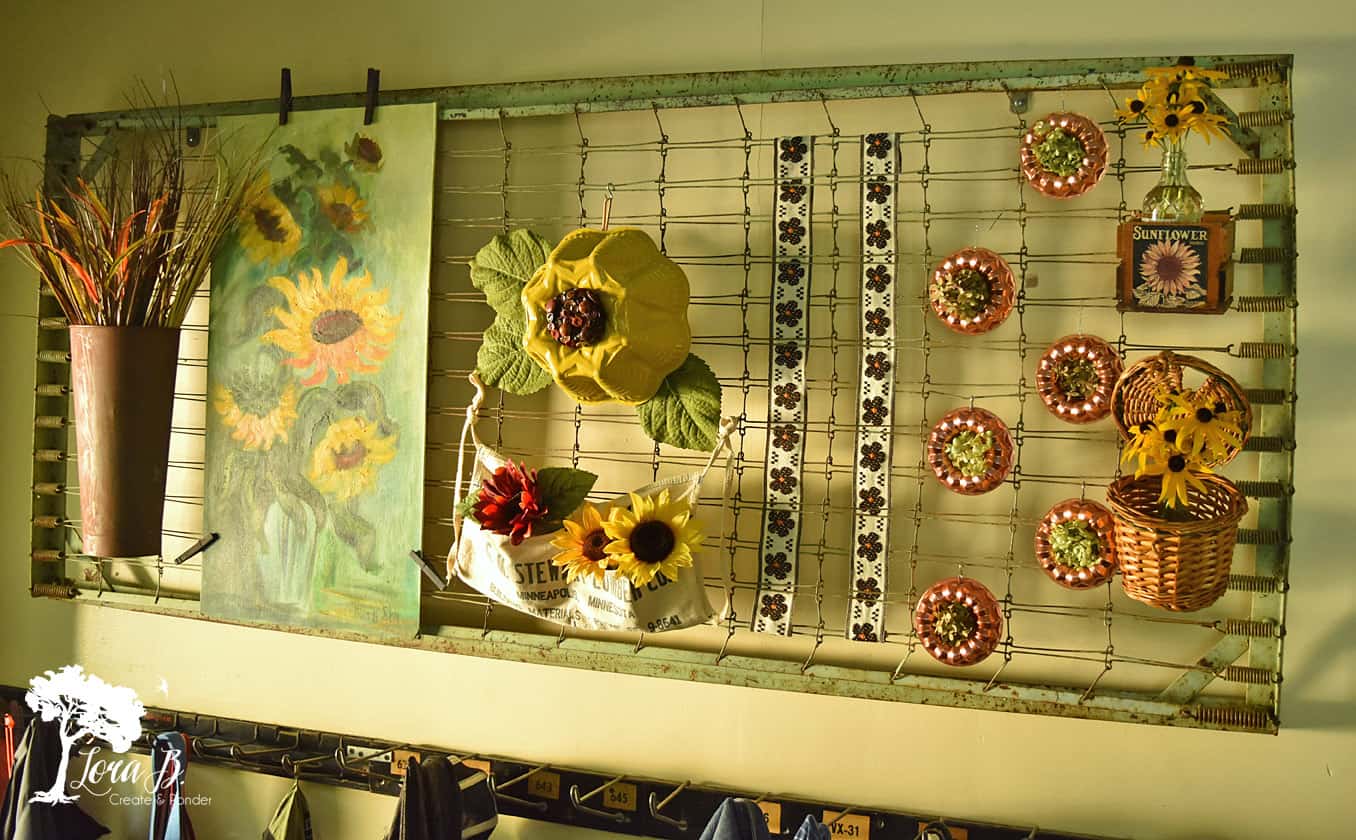 The seasonal switch-over has begun! And I love the flexibility of being able to swap out items quickly and artistically with a bedspring as the foundational element.
Hope this Bedspring Fall Styling in the Back Entry got you inspired to start your fall decorating! If you want more ideas of what textures to use this time of year, check out my post, Styling Tip: On the Hunt for Fall Textures.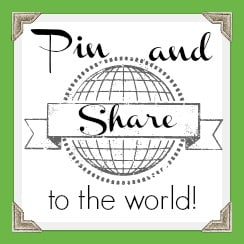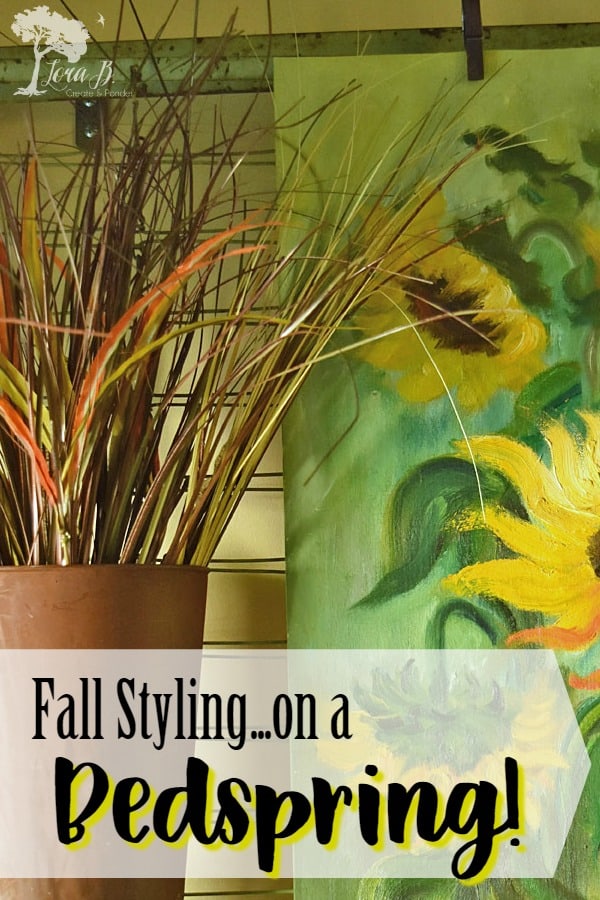 Sharing at these lovely parties: