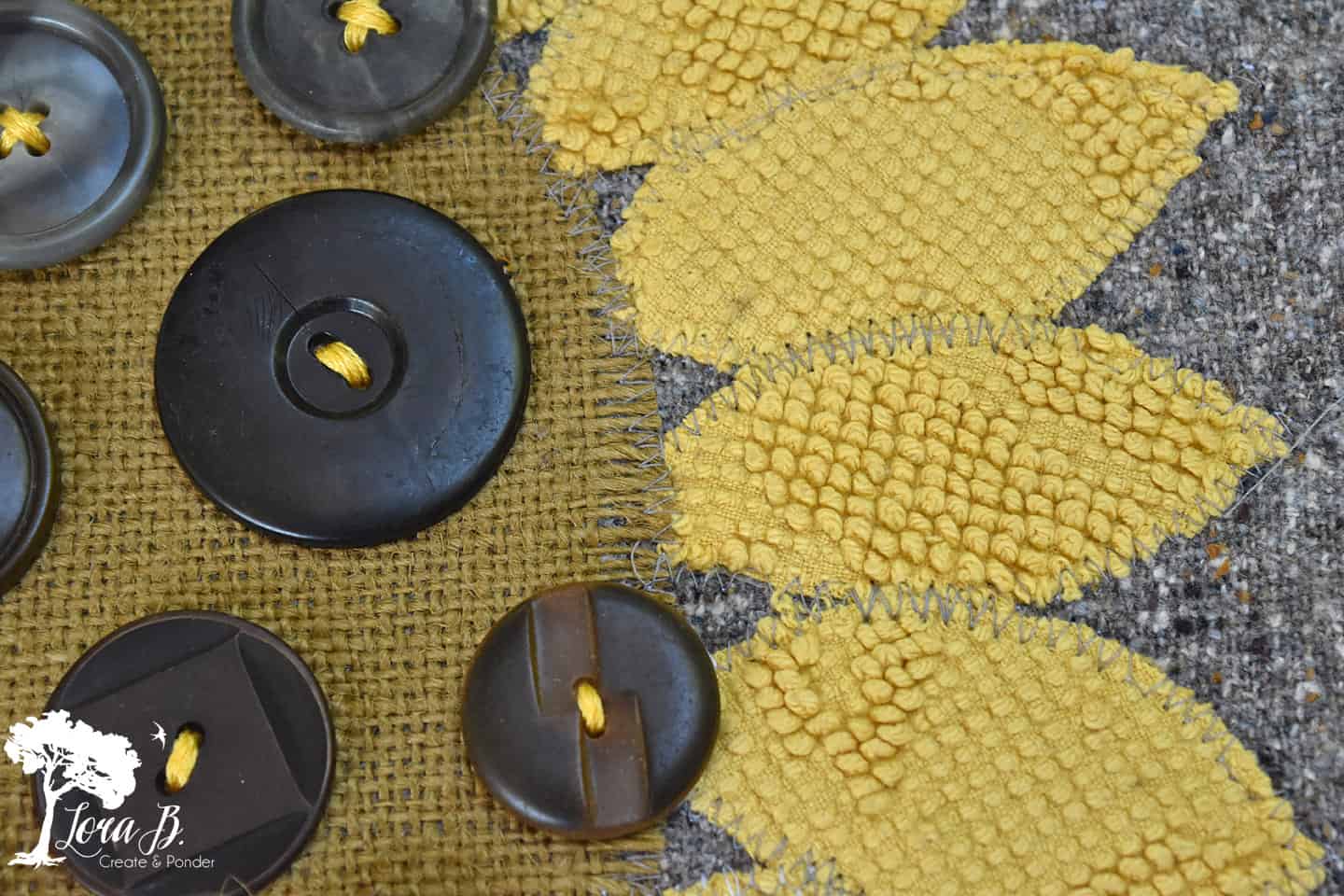 Since we enjoyed watching the monumental solar eclipse this week, I decided it was a good week to celebrate sunflowers, in all their late-summer, early fall glory! First, I created a Easy Cake Mold Sunflower.
Today (and yesterday too, honestly) I designed and crafted a Sunflower Button pillow (with 2 more on the way). And I'm loving how they're turning out. Which is motivating me to un-summer my house and fill it with early fall styling.
Several years ago I designed and sewed a whole family of vintage button pillows from my Grandma's button stash. I still love bringing them out each spring and summer: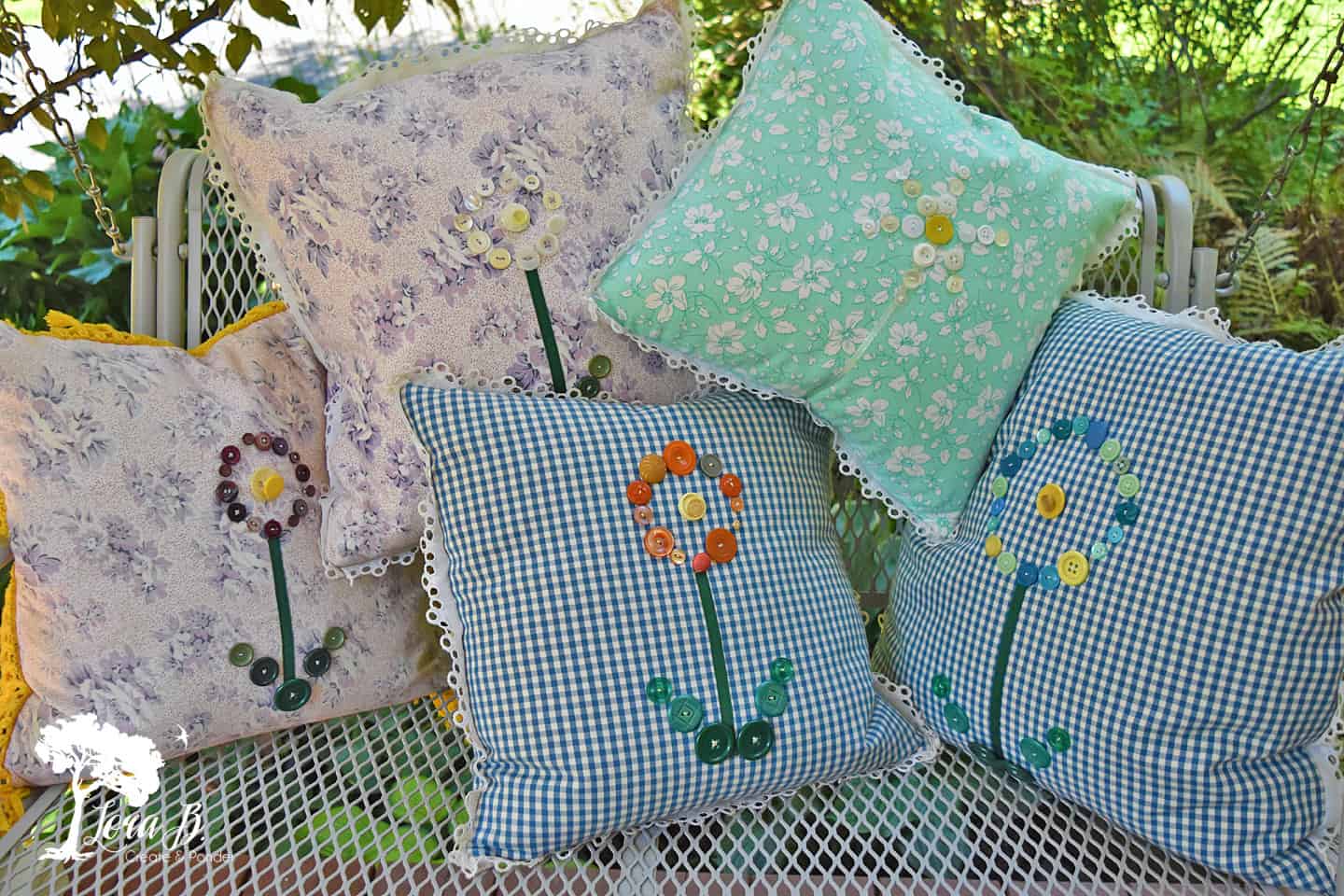 I've always wanted to create some more button pillows for the fall. Sunflower week gave me the excuse to dust off my sewing skills (and postpone the cleaning and organizing).
A nubby grey wool fabric I picked up at a church sale, an old gold chenille bedspread and vintage brown buttons were my inspiration (I have plans for the vintage striped blanket, too).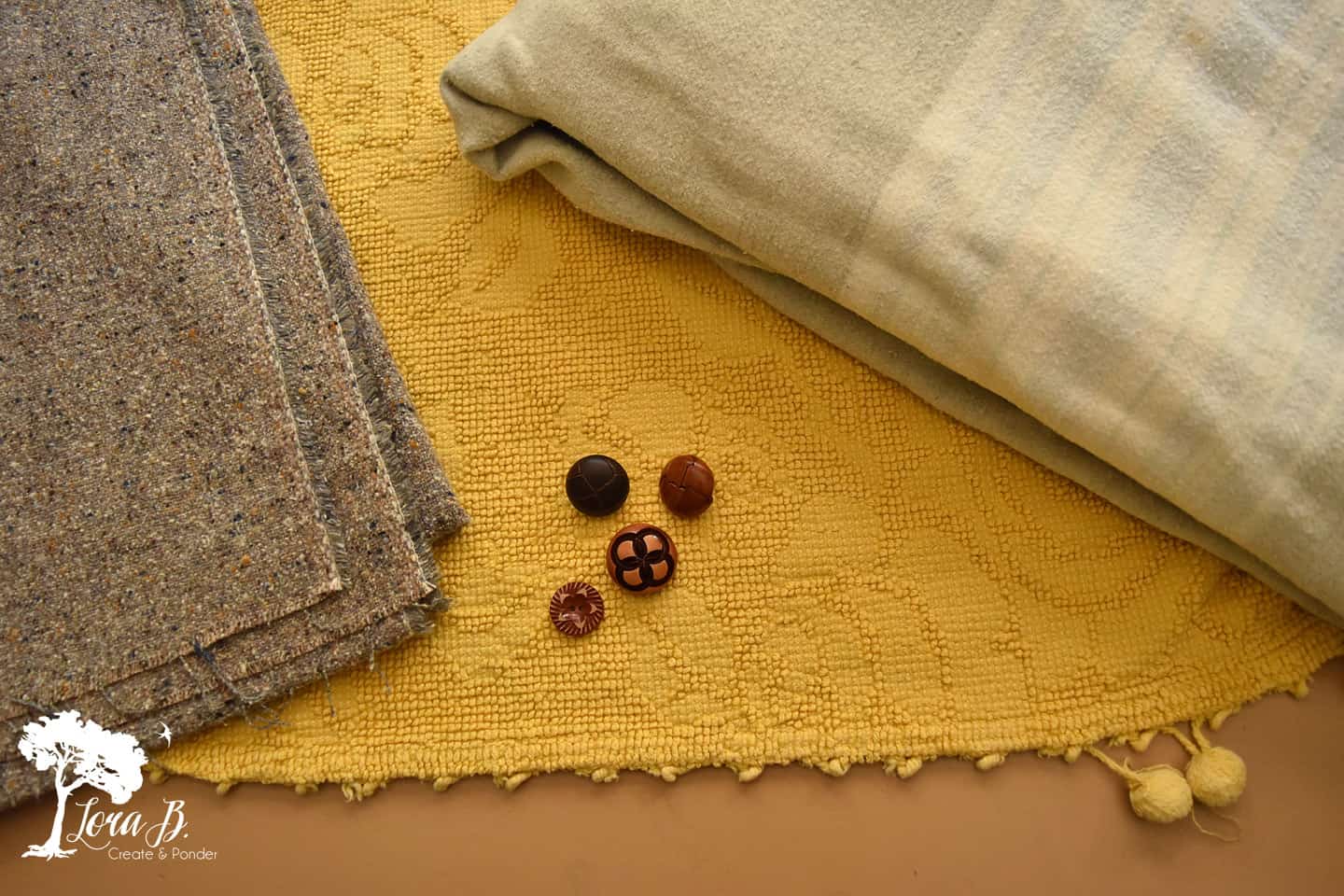 Here's how the design came together and how you can make one yourself:
Sunflower Button Pillow 
by Lora B., Lorabloomquist.com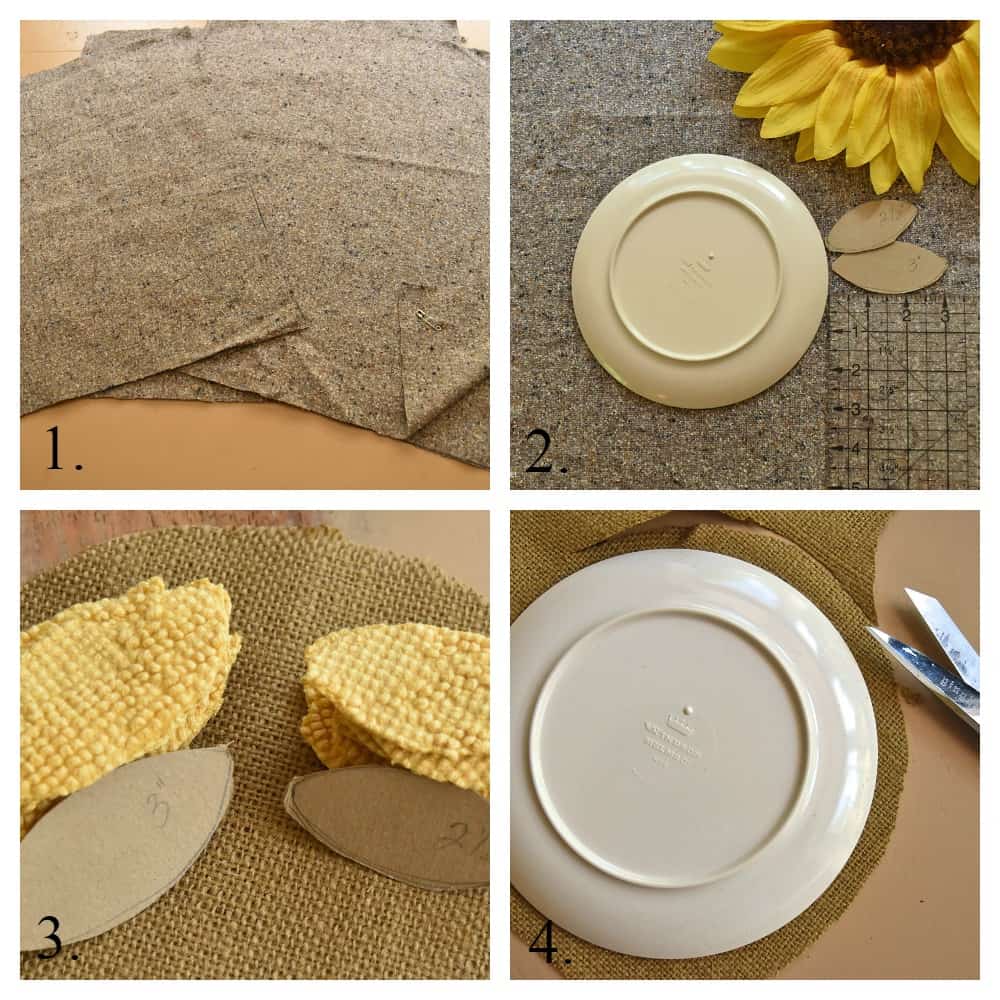 Cut your pillow front and back, leaving 1/2″ for seam allowance. (I cut 2 squares at 17″ for a 16″ pillow form)
Create a petal pattern or two out of cardboard or cardstock. I hand drew a 3″ petal and a 2 1/2″ petal.
Cut 24 petals out of gold-colored fabric, 12 of each if using both sizes.
Cut a 7 1/2″ circle of burlap for the sunflower center. (I used a 7″ plate as a guide). No perfection required here-this is supposed to be folk-ish!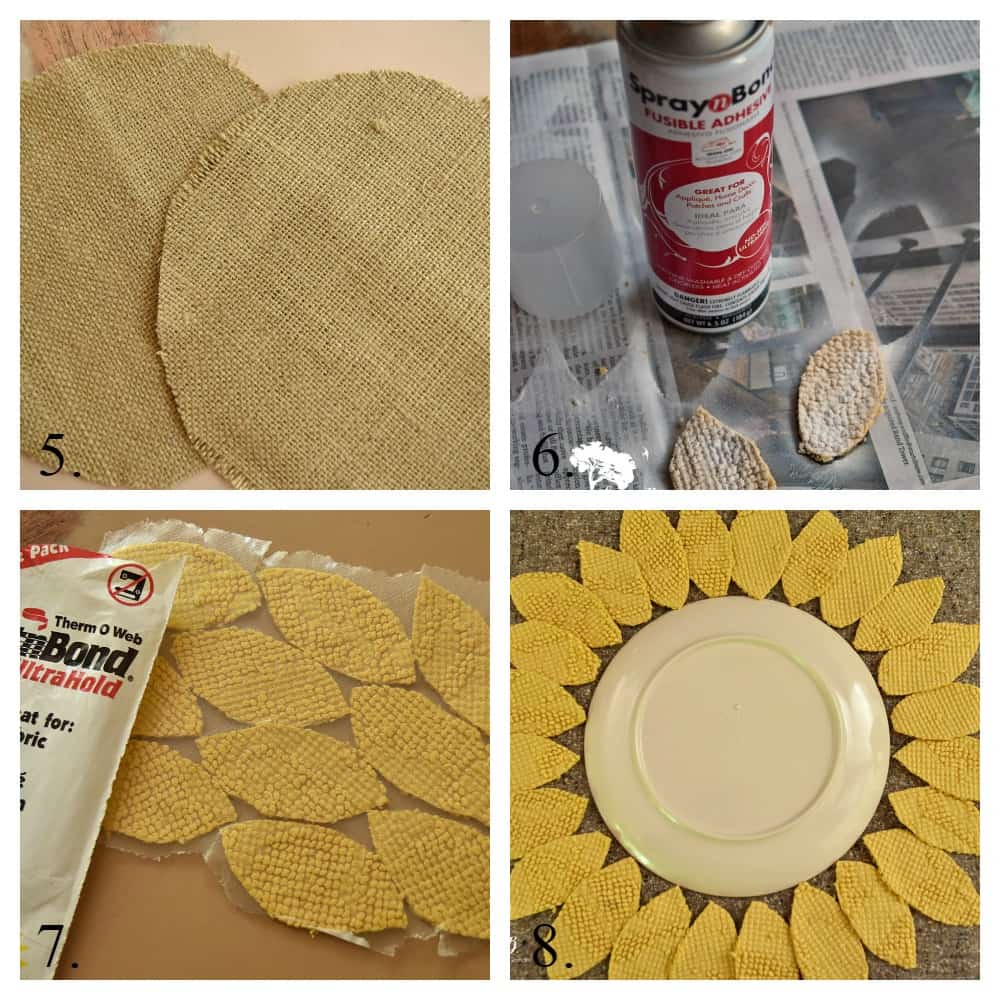 5. Unravel sides of burlap circle a little to add some texture.
6. Use Spray Bond Fusible Adhesive to add stickiness to back of petals. Let dry a few      minutes. (Tip-spray down on the leaves or they'll blow across the room…just sayin')
7. For my first try I used Heat and Bond Therm O Web, which was a little putsy to cut around the leaves and was really horrible  on my thread and needle when I was sewing around the leaves…but it's always an option.
8. Lay out your leaf pattern, overlapping each slightly. I placed them alternately with the two sizes. Use your 7″ plate in the middle for easier placement.
9. Iron per instuctions on the fusible product you are using till petals are fused to pillow front.
10. Fuse and iron burlap circle to middle, which should cover tips of petals.
11. Zig zag stitch around burlap middle and then around each petal (yes, this takes a while…and a lot of turning). I sewed them so they still looked overlapping, rather than all the way around each. Hopefully you can see it in the pic.
12. Pick out your buttons and place them on the center. I put a dot on each spot, or you could pin them. Sew buttons on with full thread gold embroidery floss.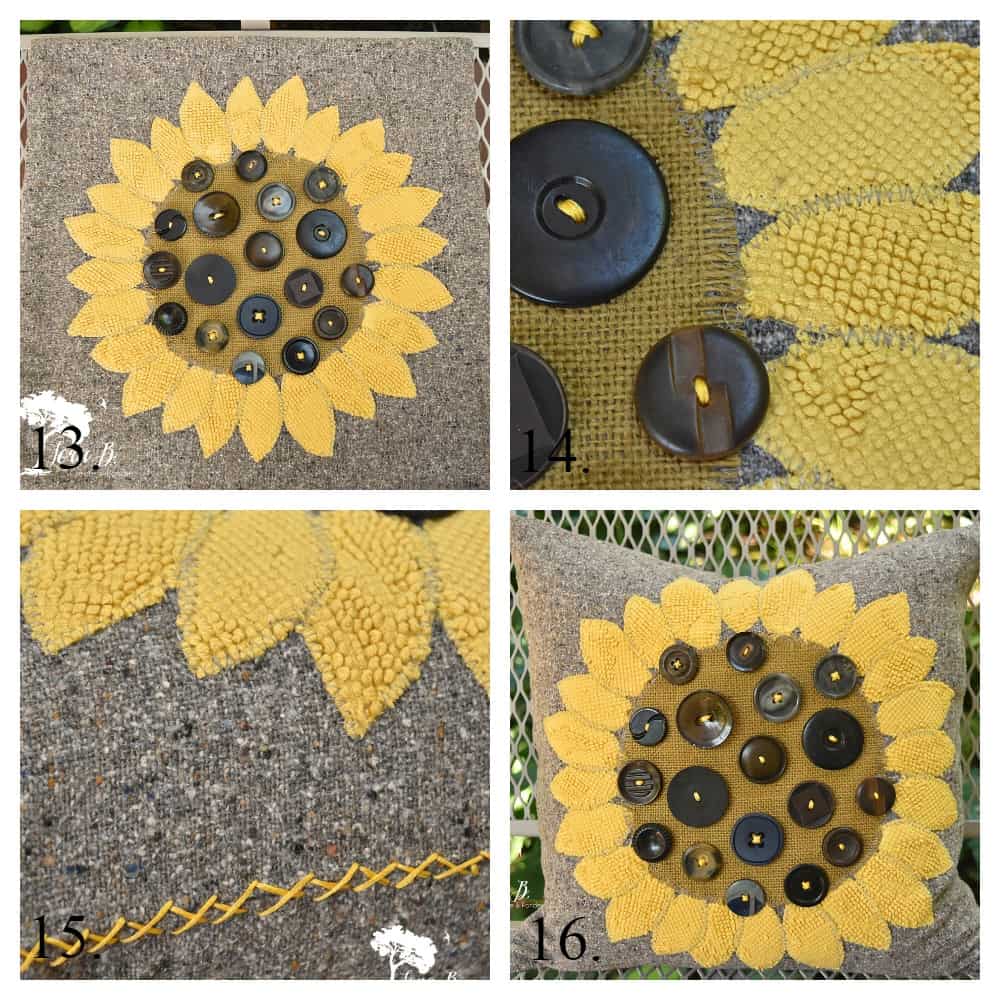 13. Your sunflower is complete! Now sew up your pillow, right sides together. And make sure you leave a good sized opening on one side to put your pillow in.
14. (Up close detail) Turn your pillow inside out, press side seams and press opening raw edges under 1/2″. Fill with your pillow form.
15. Sew side seam closed. I whipstitched the closing shut with the same gold embroidery floss and then went back over the stitches, creating an X design. I like the folk-ish touch and know I'll be needing to get this open easily, since my green button pillow in the pic above is inside! Why store so many pillows when you can just cover them seasonally?
16. The masterpiece is complete! (Now, two more for the bedroom to go)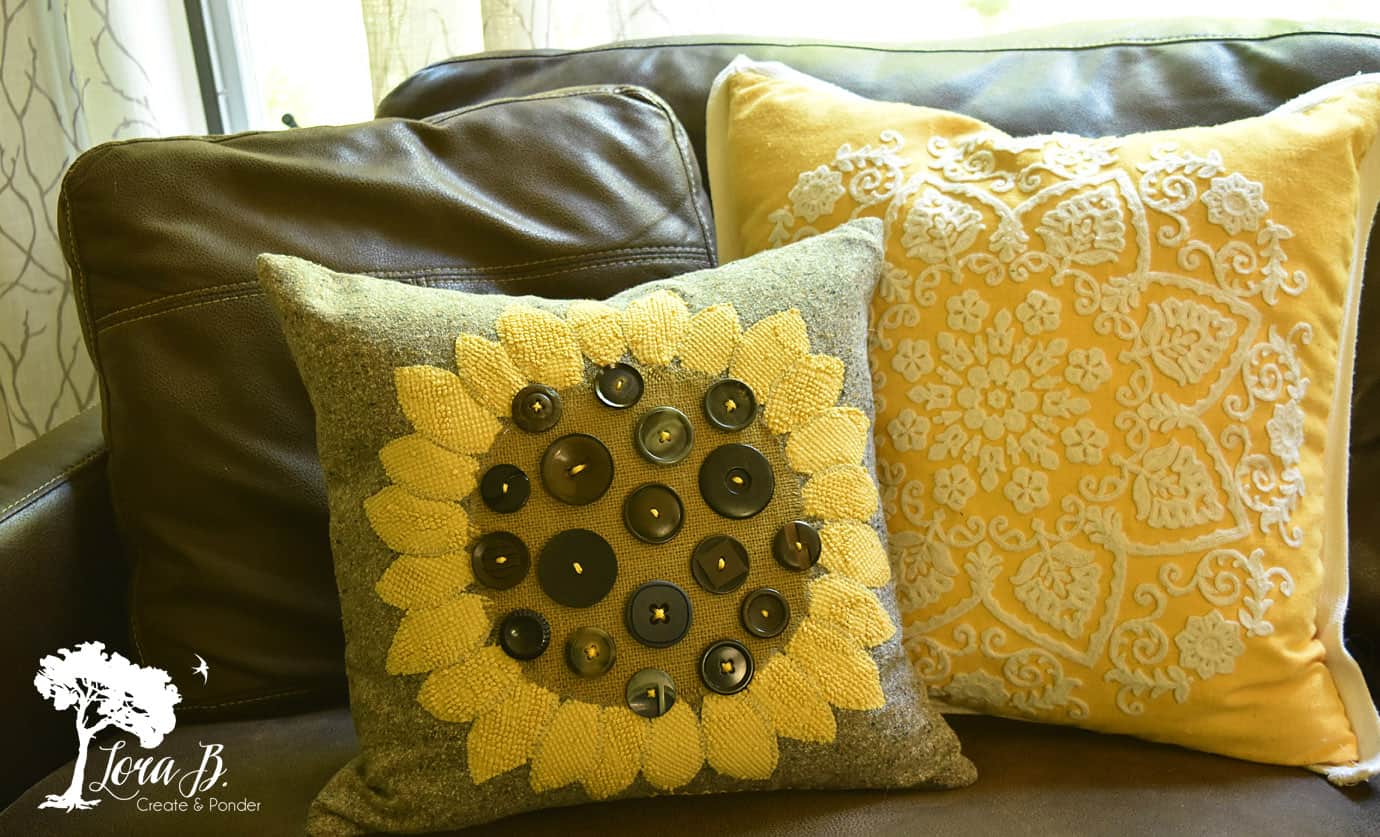 This one looks pretty darn cute on the couch! Think the seasonal transformation has begun! And when the 17 yr old Mr. Freckles even asks, "Did you make that pillow on the couch, mom?"  "It's cool." Best. compliment. ever.
So dust off your sewing skills and reclaim that fabric and button stash! Make something for yourself and bask in the fufilment of creativity!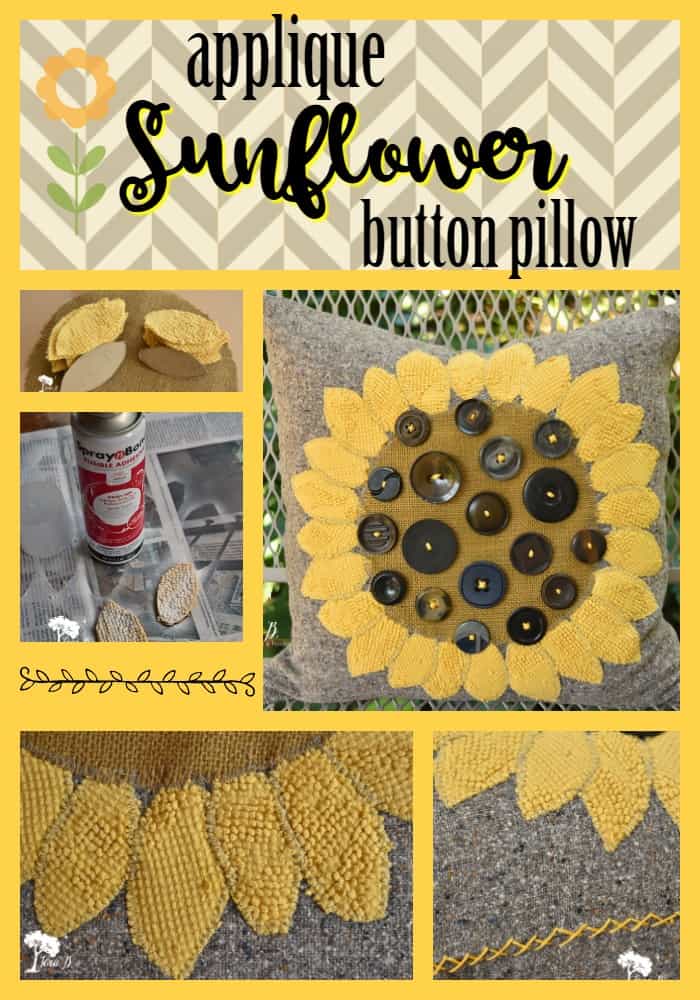 Sharing at these lovely parties: