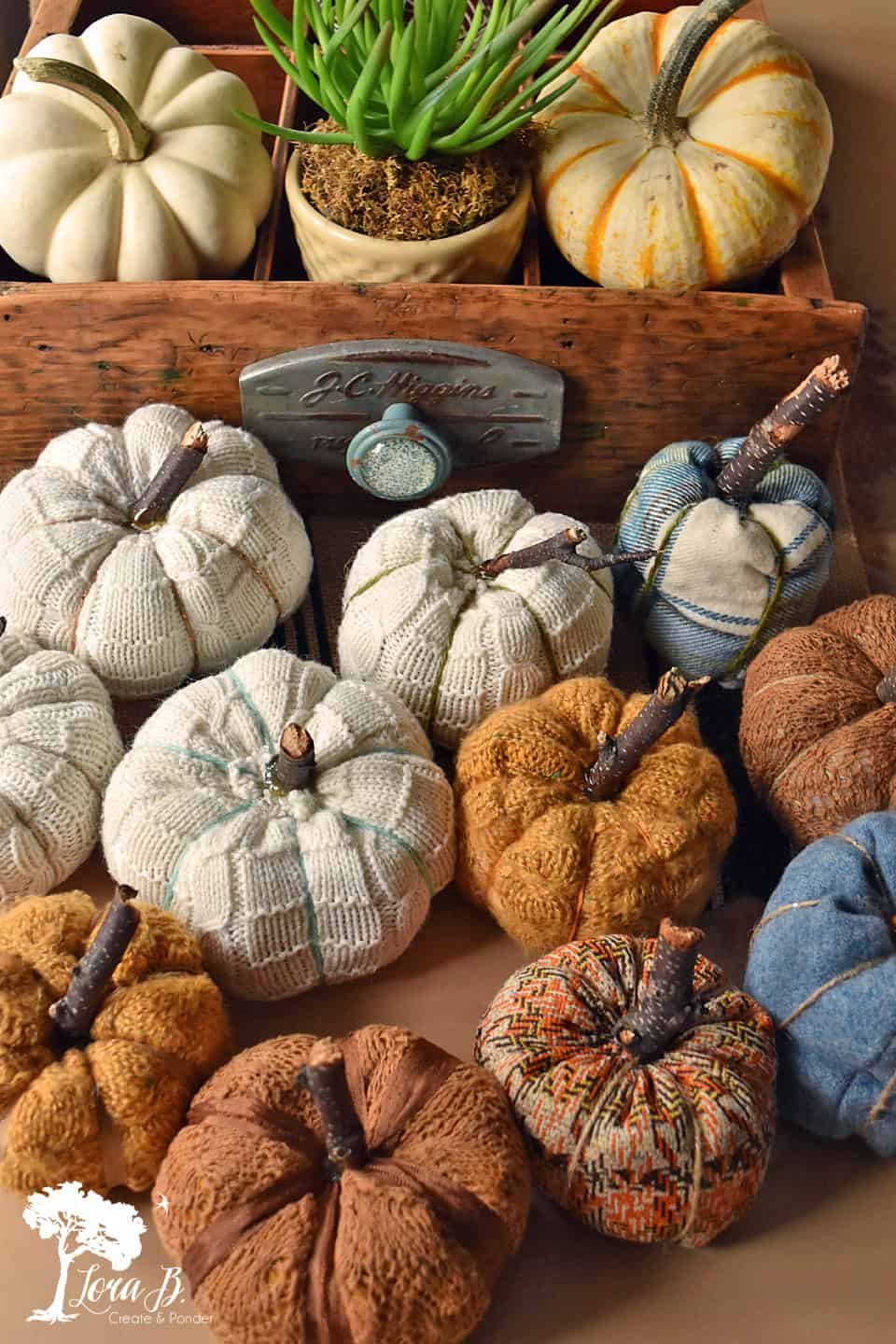 Remember when I was cuckoo for sunflowers a month ago? I made a Sunflower Pillow, a Cake Mold Sunflower and styled my Back Entry Bedspring with sunflowers? Well, I think since we just jumped into October, my focus  fixation has switched to pumpkins…which is right on schedule, don't you think? Embrace Autumn with this Fabric Pumpkin How-to!
It all started with the give-away pile of sweaters Happy Girl had left in her room when she headed college-way. Gold, brown, cream, and to top it off an ugly orange terrycloth robe. Hmmm…those look like pumpkin colors.
I know that fabric pumpkins are anything but new in the Pinterest world, but truth be told, I've never taken a stab at making any, and felt like this was the year to play around with them. So I perused Pinterest and made a whole board committed to pumpkin-making. You can check it out here: Lora B's "Pumpkin and Fall Inspiration". And while you're there, please follow me!
There are so many different ways of making fabric pumpkins and so many great tutorials out there, I wasn't intending on showing you how I whipped them up, but guess it's just habit to take pics while I'm doing something, and figured maybe my way would motivate someone else out there to give it a try. (Because honestly, I have a problem with focus sometimes and didn't actually read anyone's tutorial very thoroughly before I just jumped in and started experimenting.) And for that very reason, I'm going to go with more pictures, less words!
If you're like me and need a paper version to look at, rather than keeping your computer screen on, I created a downloadable, printable PDF you can grab at the end. It's in my free subscriber resource library.
Fabric Pumpkin How-To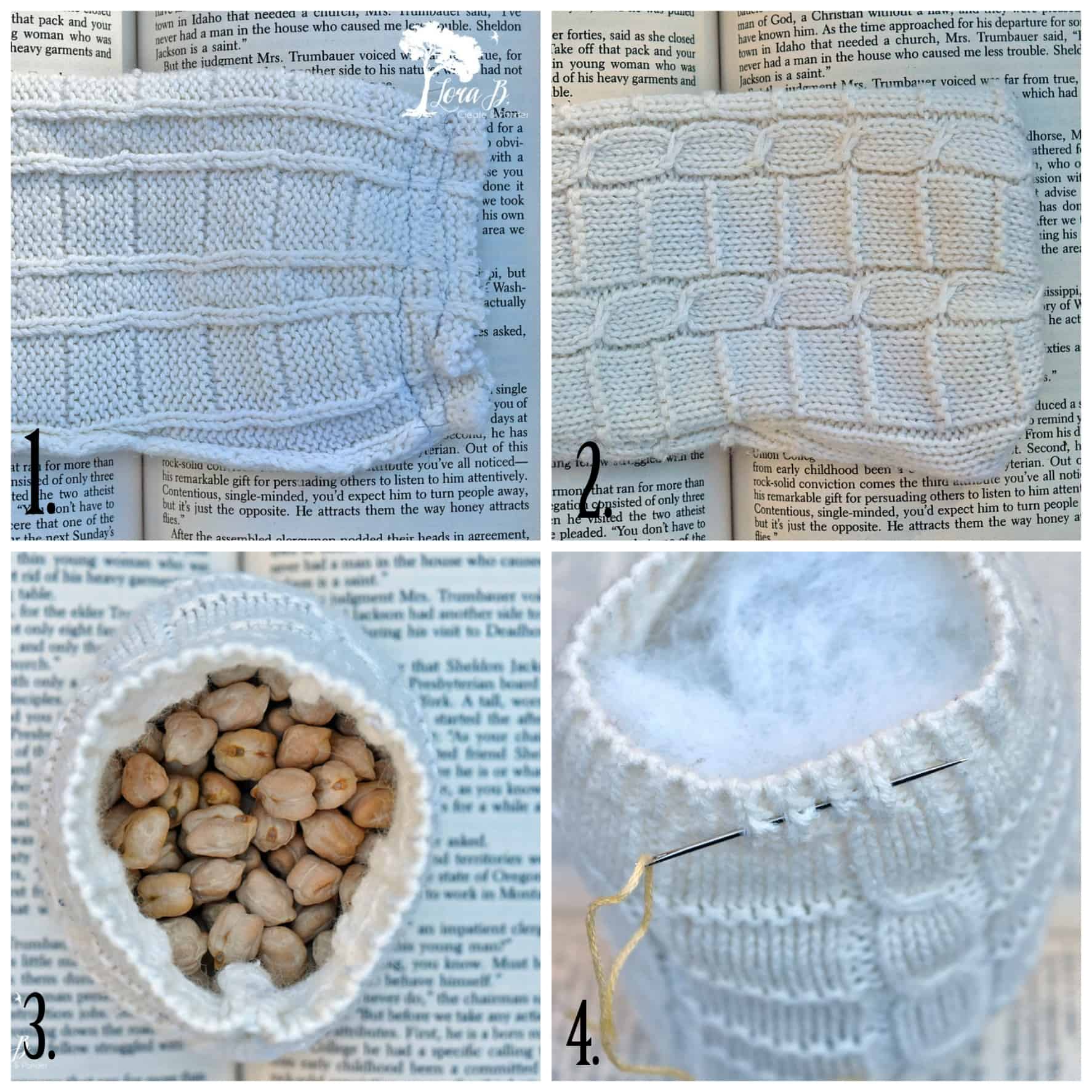 I cut off 6 1/2 inches of the sweater sleeve. I turned the right sides in and did two basting stitches close together at one of the ends. I pulled the threads a little tighter just to pucker the seam a little, so it wasn't quite so square-ish at the bottom.
 Turn right sides out.
I stood the little sweater sleeve up and placed some pillow stuffing (from an ugly thrift store pillow) in the bottom 1/3. I then placed about 1/2 cup of dried garbanzo beans in. I added more stuffing over the top to almost fill the sleeve.
With some embroidery floss, I did a simple running stitch around the top edge, pulling the two ends tight and knotting when I was done.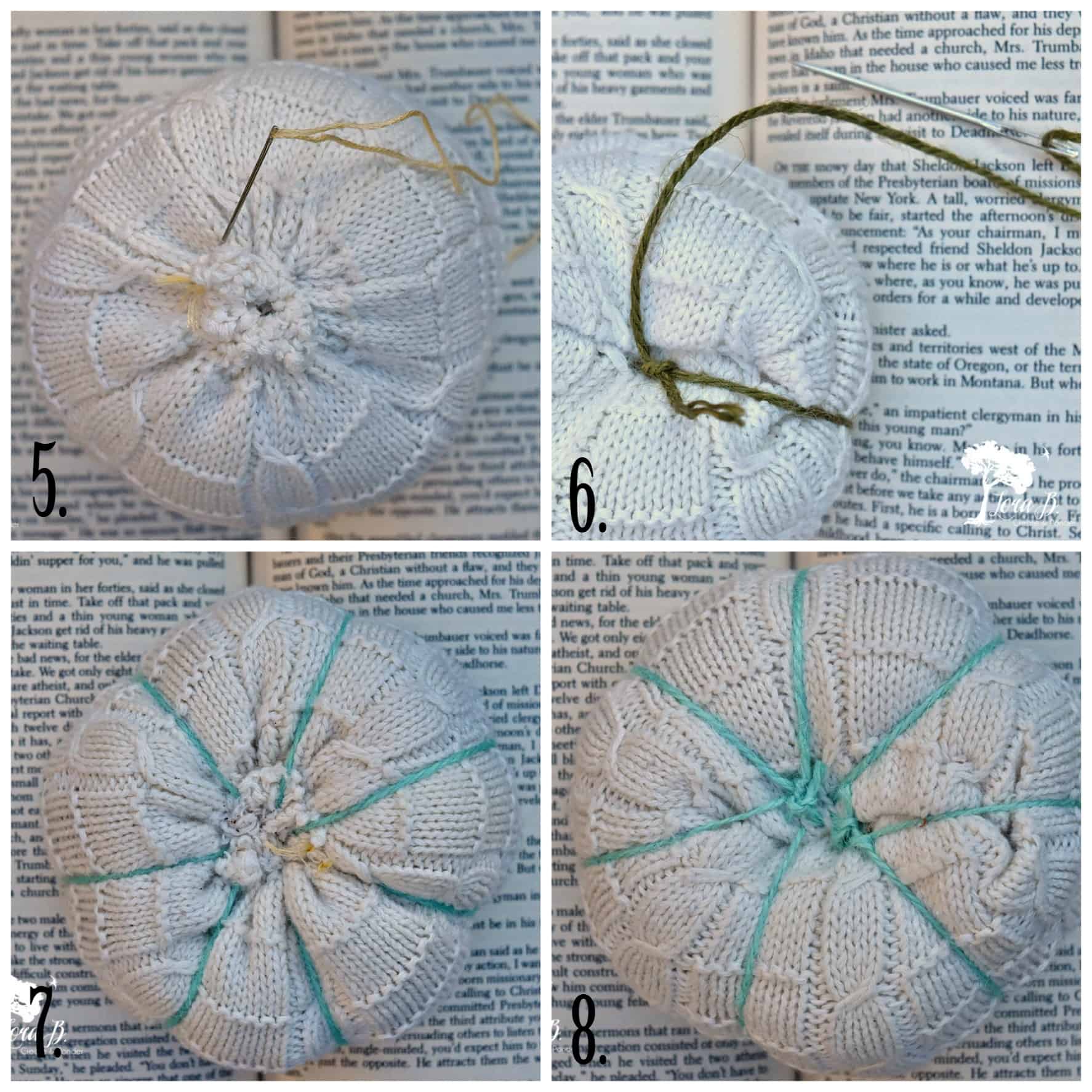 I was left with a little pouf, ready for it's ribs.
With a large eye upholstery-type needle I used a long length, thin twine to poke all the way through the pumpkin from the top gathered spot to the sewed bottom. I left a tail of twine out so I could knot the first rib.
I continued around the pumpkin, poking all the way through till I created all the ribs I wanted. If you tighten gently, the chubby shape of the pumpkin will begin forming before your eyes.
I finished off by knotting off my twine. You can choose which end you like better for the top, and then hot glue a piece of stick for a handle. You could also glue a little spanish moss by the handle for added texture.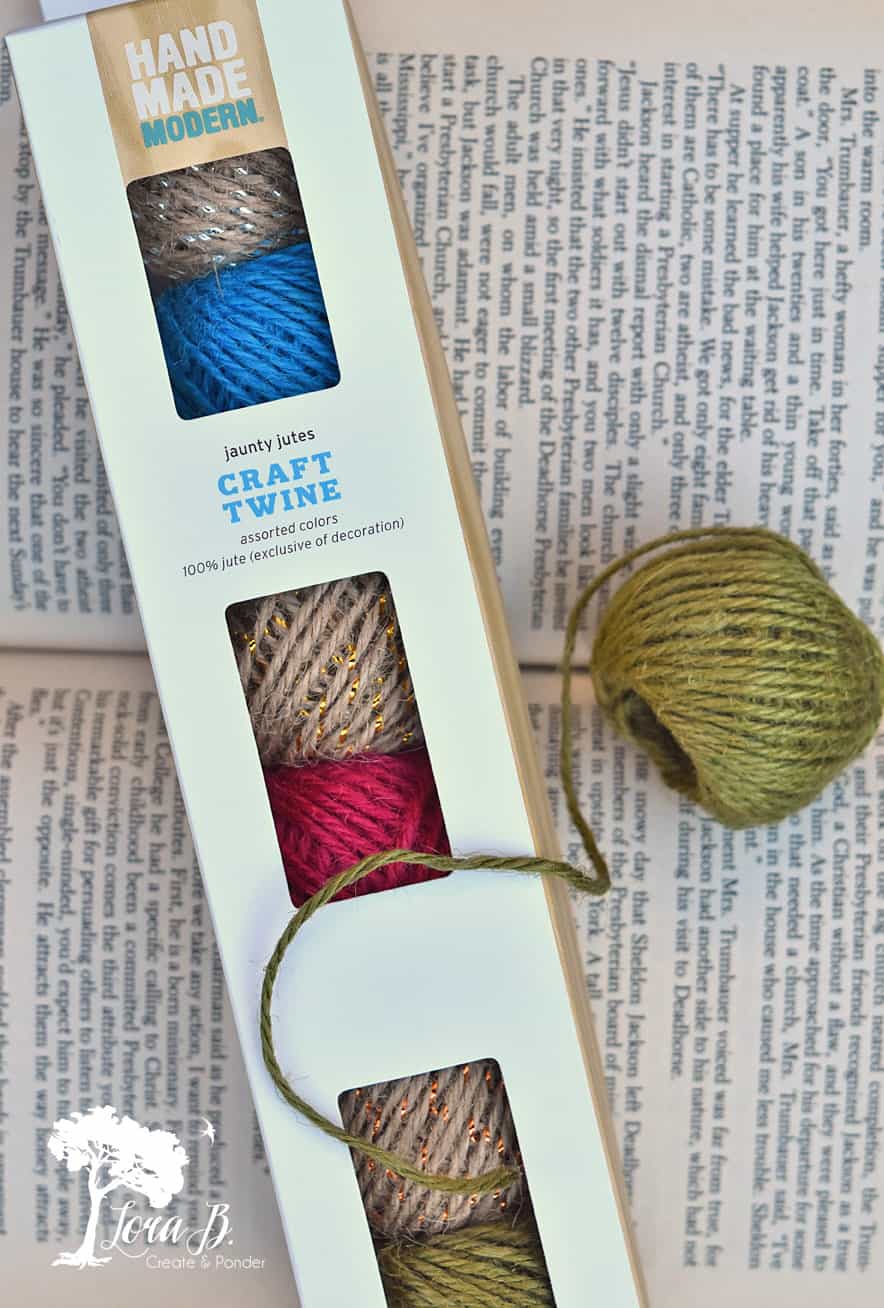 I tried different things for the ribs, embroidery floss, vintage seam binding, and ended up liking this thinner craft twine I picked up from Target the best.
The tighter weave sweater and the softer fabrics worked best. The looser weaves showed the stuffing too much for my tastes. When I had used up all the sleeves of the sweaters, I started sewing a little sleeve of fabric instead, which worked just as well. The height of your sleeve is usually shrunk by about half once you start creating the ribs.
To print off or download this tutorial, simply sign up for my newsletter! As a subscriber, you'll have free access to all the resource materials I put in my resource library. There's vintage refreshing tips and tricks, styling ideas and pretty, seasonal printables to decorate with. I add fun, helpful things almost every week!
If you're already a subscriber, check your weekly email for the password and look under "visual tutorials".
Once you've figured out the small version, you can create larger ones with other fabrics, or feature them en masse on a wreath. See my larger versions with doorknob handles in "Fall Colored Brights in the Bedroom". Or follow my how-to and create a stunning wreath, "Fabric Pumpkin Harvest Wreath".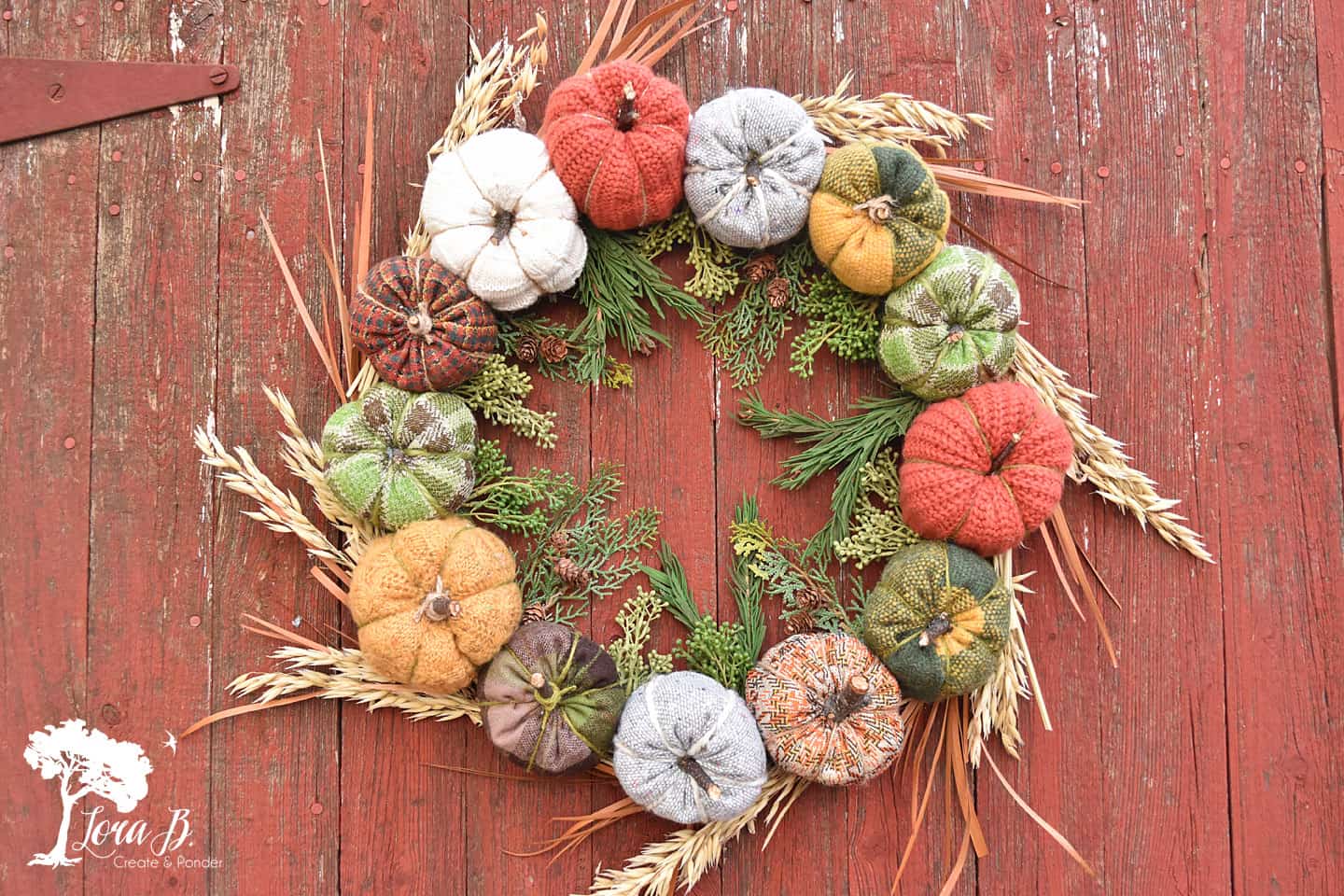 Are you in the mood for harvest yet? I hope this Fabric Pumpkin How-To got you in the mood to fill your home with autumn beauty!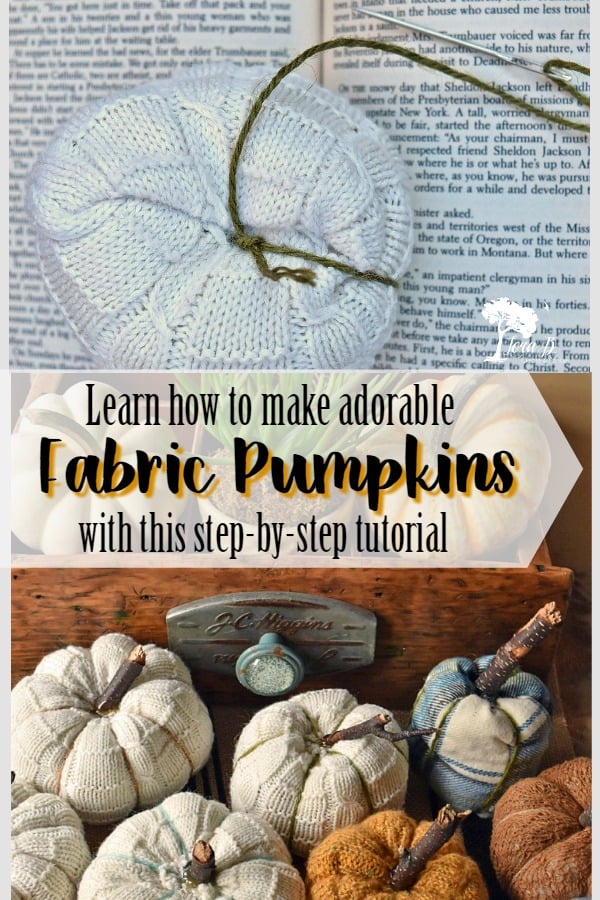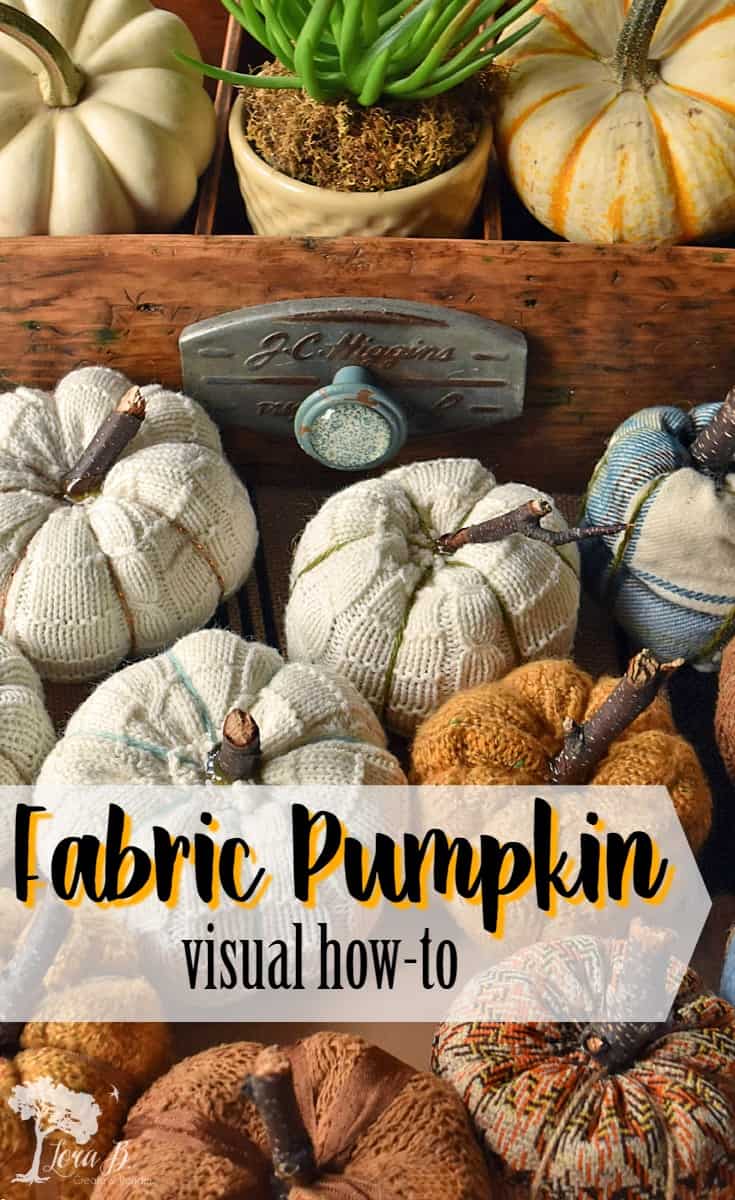 Sharing at these lovely parties: