Upcycled Vintage Quilt Witch Hat DIY
Looking for a Fun Halloween decorating idea? This vintage quilt witch hat dIY is a fun upcycle to add to any pumpkin.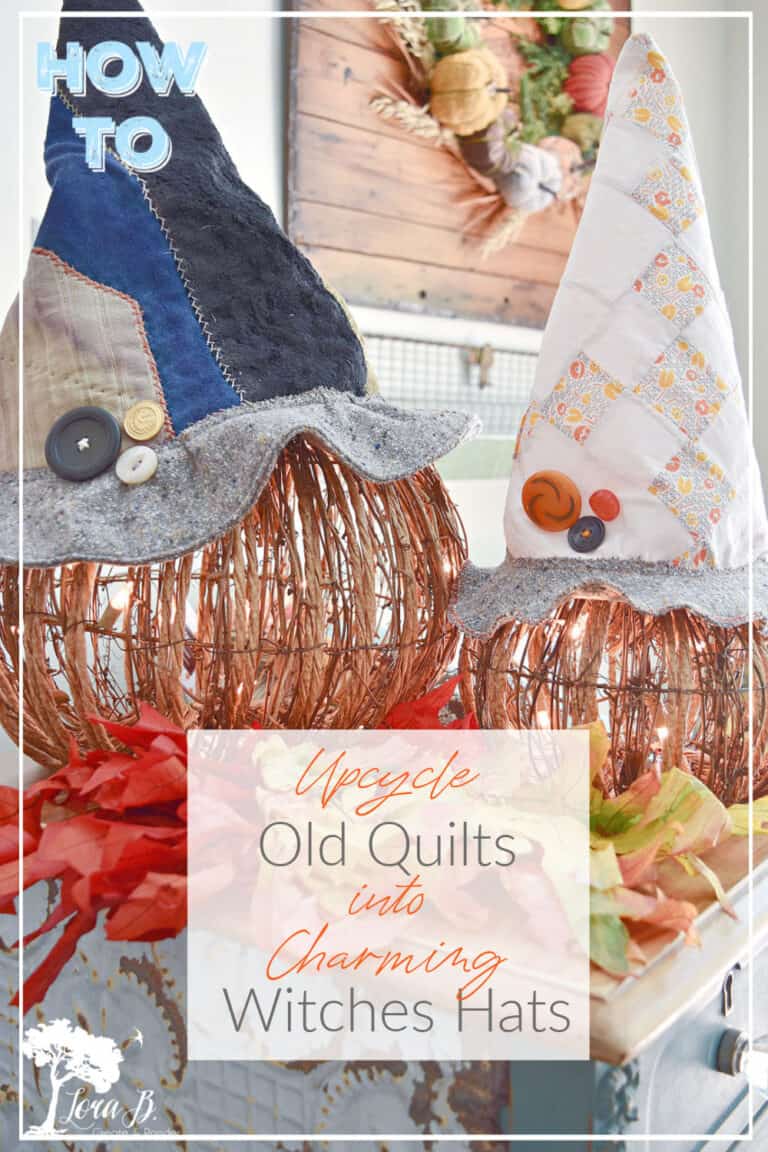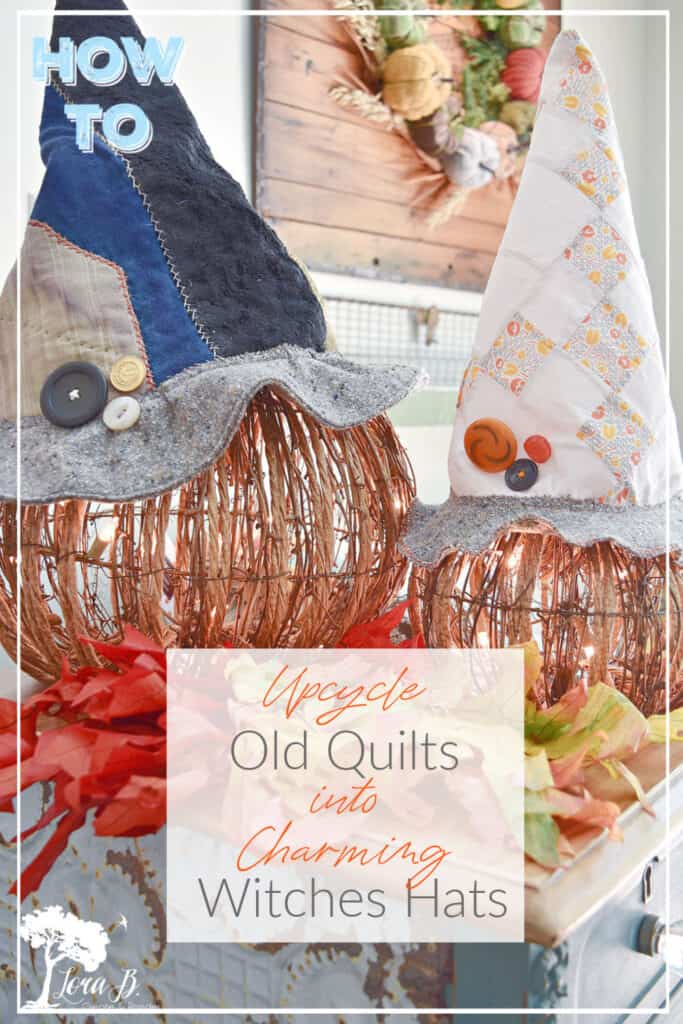 It's almost time to pull out the Halloween decor and add some bits of scary to your home! I'm partial to the cuter side of Halloween: nostalgic chubby-cheeked children dressed up, happy to indulge in candy. This upcycled project embraces the vintage and definitely turned out cute! Hope you'll try this simple Upcycled Vintage Quilt Witch Hat DIY to add to your Halloween decorations this year!
Today you're going to get all kinds of Halloween and Fall inspiration, because I'm joining a group of talented ladies for a DIY Pumpkin and Jack O Lantern Ideas blog hop! Thanks to Wendy at WM Design House for hosting! If you're visiting from Saved From Salvage, didn't you love Regina's concrete pumpkins? Totally want to give that a try. I'll have the rest of the amazing ideas at the end.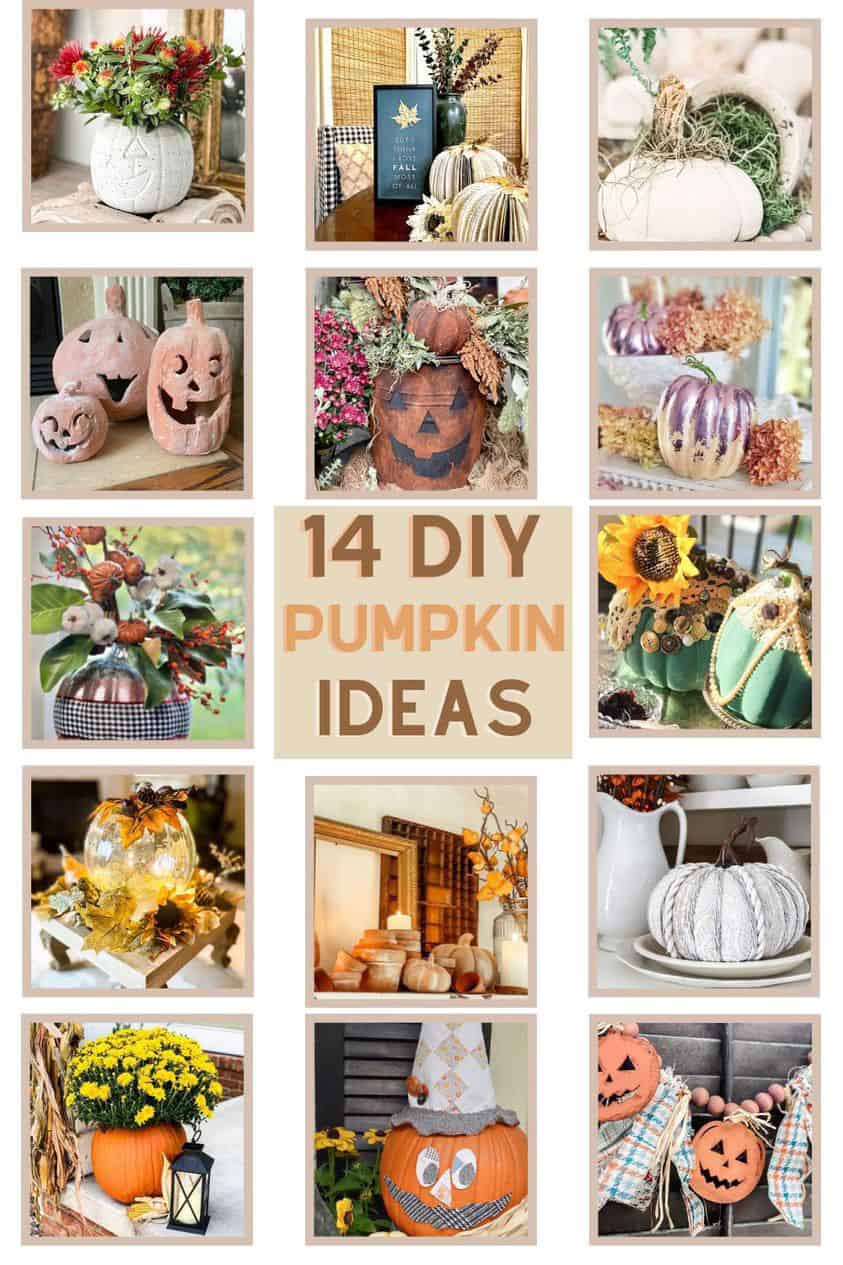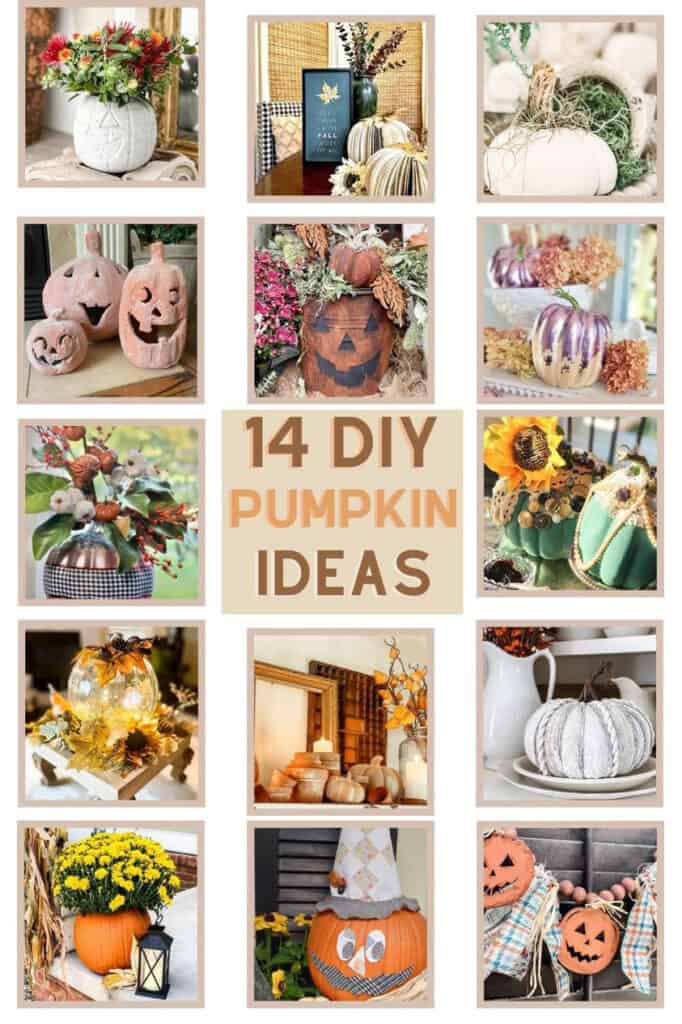 Upcycled Vintage Quilt Witch Hat DIY
For your convenience, this post contains affiliate links. If you make a purchase, I may receive a commission. There is no additional cost to you. My full privacy policy is here.
Old Quilt Upcycled Projects
I have a thing for tattered old quilts. I love their mish-mosh of old fabrics and quaint designs. Whenever one comes across my path for free or cheap, it comes home like an orphan that needs love. If I can revive it with some simple repair, I love using them as decor around my home. (Get my simple quilt repair tips in "How to Easily Repair an Old Quilt").
If the quilts are beyond keeping intact, I divide the top, pieced section from the batting and backing. I use the tops as tablecloths, or cut them up for repurposed projects. This project is another great way to use all my vintage quilt scraps! I hope this vintage quilt repurpose will inspire you to preserve all that hard work in a new way, too!
Need a quilt you can cut up? Search HERE for cutter quilts.
Upcycled Quilt Witch Hat How To
I'm sure there are patterns out there to make witches hats, but I figured this couldn't be that hard. And it's really not. Like all my projects I try, I don't overthink it. You will need to know how to use a basic sewing machine, but this is not hard. And these witches hats are so fun to add to your Halloween decor.
Print this project out to have handy: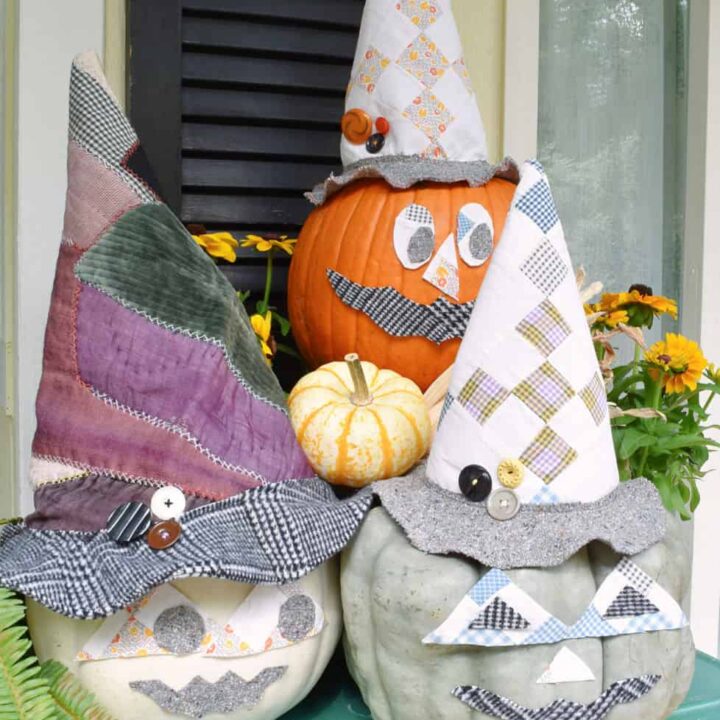 Upcycled Vintage Quilt Witch Hat
Total Time:
1 hour
6 minutes
Upcycle vintage quilt squares into charming witches hats with this simple how to. Unique Halloween decor for your home!
Materials
Vintage quilt squares, 12"-16"
Fusible interfacing
Scrap fabrics
Vintage buttons
Embroidery Floss
Tools
Sewing Machine
Fabric Scissors
Embroidery Needle
Instructions
If quilt square is thin fabric, place fusible interfacing on the back to stiffen. (Follow instructions on package) If using a quilt square that is thick, this step isn't needed.
To create cone, fold square piece into a triangle, right sides together. Machine stitch across one side.
Open cone shape and cut excess off bottom. Press seam open.
Cut excess off so the cone looks "straight" across the bottom.
Cut a double thickness circle from scrap fabric a couple inches larger than the diameter of your cone.
Cut out center of the double thickness circle so it's slightly larger than the diameter of your cone.
If you'd like a finished edge on the brim, sew seam around edge and turn inside out. Iron.
The other option is to simply use a zig zag stitch all around the outside brim edge.
Pin brim to cone hat, overlapping on the outside. First sew with a straight stitch. Then sew with a zig zag stitch to finish off edges.
Sew on vintage buttons with coordinating colored embroidery floss as an extra touch.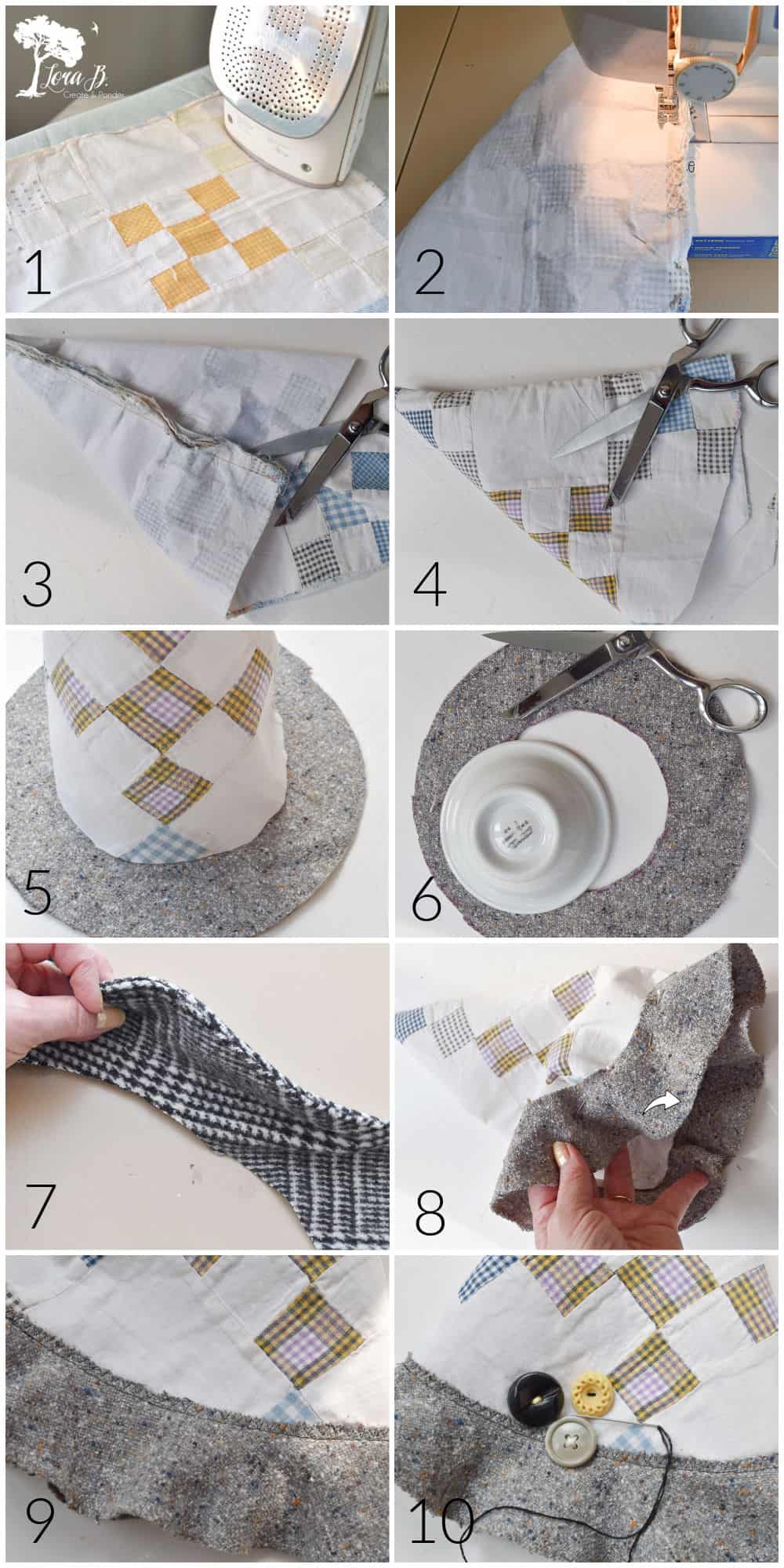 Quilt Witches Hats as Halloween Decor
These Quilt Witches Hats are so fun to use as unique Halloween Decor! You could line up a grouping of them for a centerpiece, or add them to real or faux pumpkins.
Inside the house, I added them to a couple rattan, lighted pumpkins. There are so many wonderful faux pumpkins available right now; I've got a great list in "The Best Faux Pumpkins for Fall Decorating".
For the porch, I cut up some scrap fabric and quilt pieces as jack-o-lantern faces and hot glued them on real pumpkins. After Halloween, I'll simply peel them off so I can use the pumpkins as Harvest decor.
They're so cute; they just make me smile!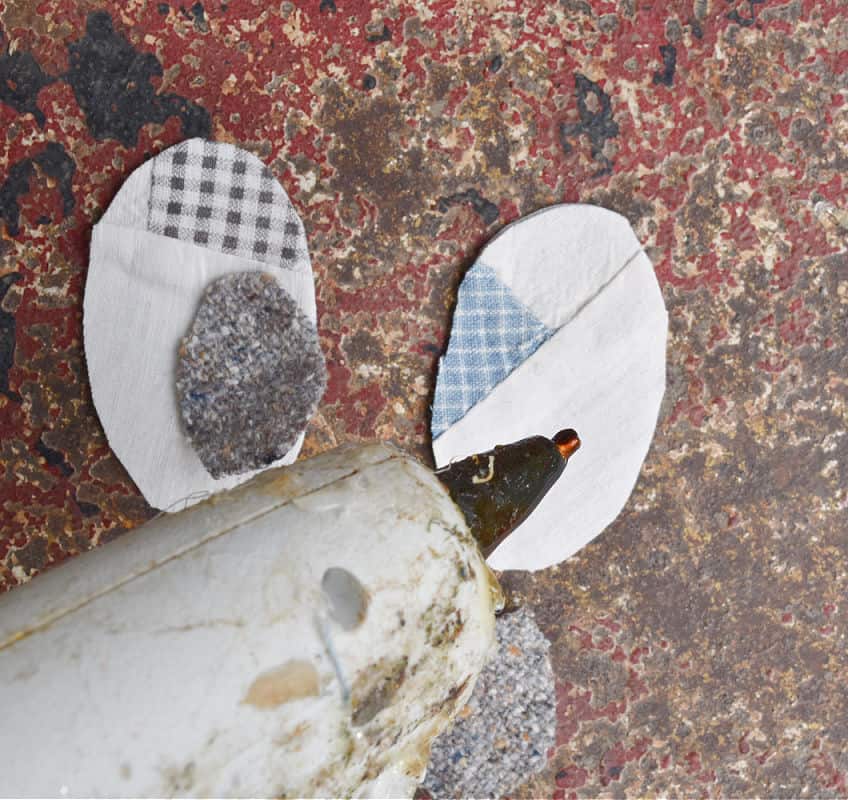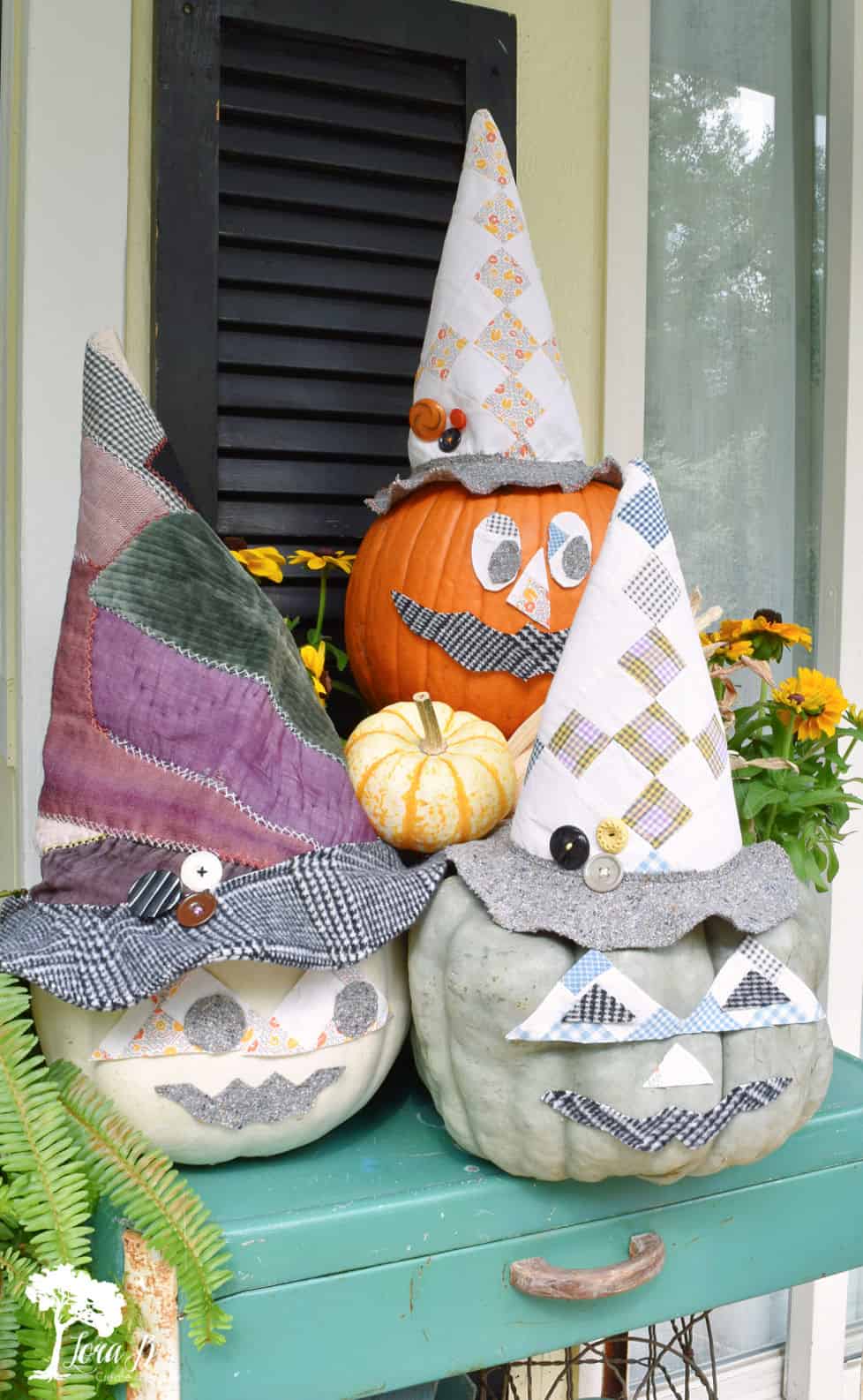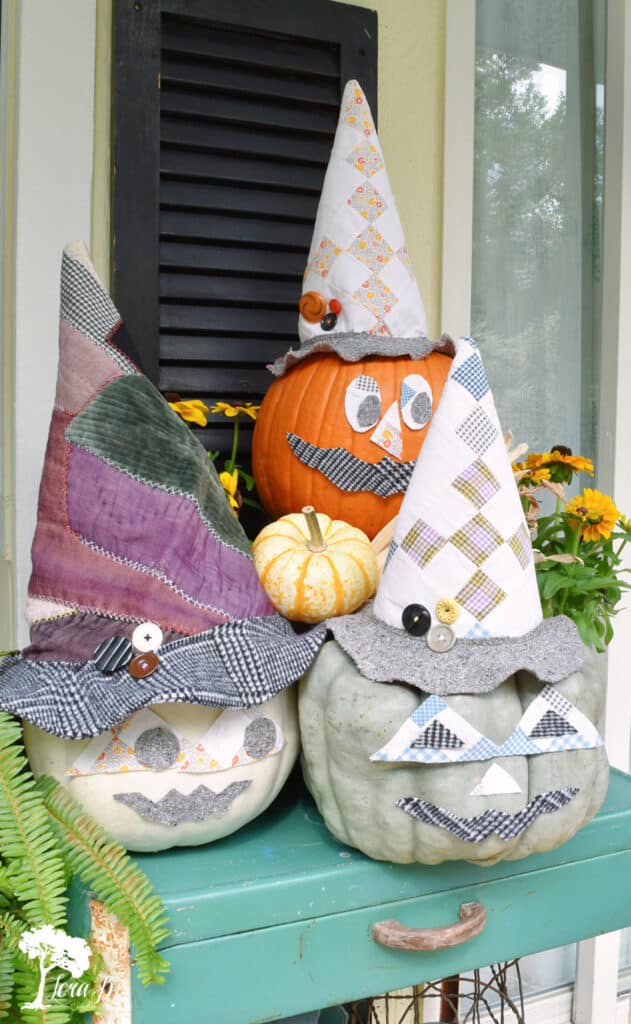 And so much easier than gutting and carving a pumpkin!
Shop for cutter quilts HERE.
Decorating with repurposed and upcycled pumpkins for Fall and Halloween will give your home a unique twist. I've pulled out my "Repurposed Tart Mold Pumpkins" and my very popular "DIY Fabric Pumpkins" to spread around.
For more DIY pumpkin ideas, visit my friend Cindy at DIY Beautify to learn how to make her very pretty lace and rope pumpkins. All the rest of the great ideas are down below.
Thanks for reading Upcycled Vintage Quilt Witch Hat DIY. If you enjoyed your visit, Become an Insider to keep the ideas flowing!
Pin, share, and enjoy the rest of the inspiration!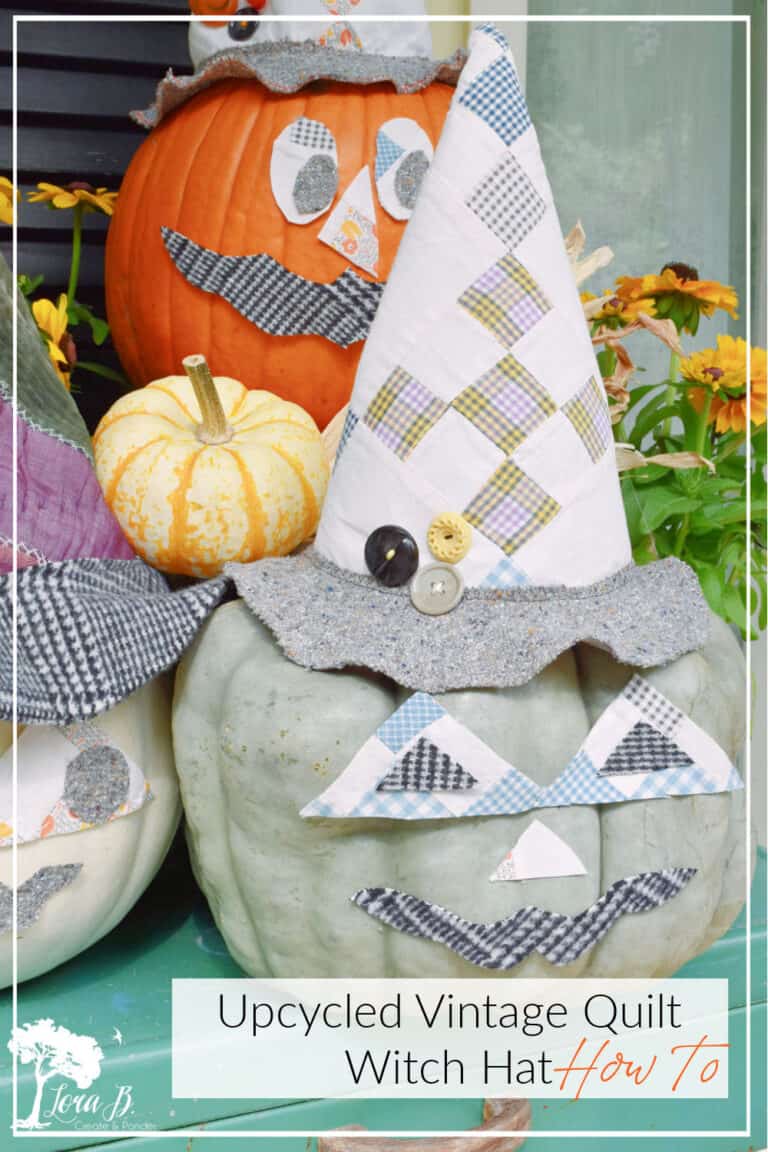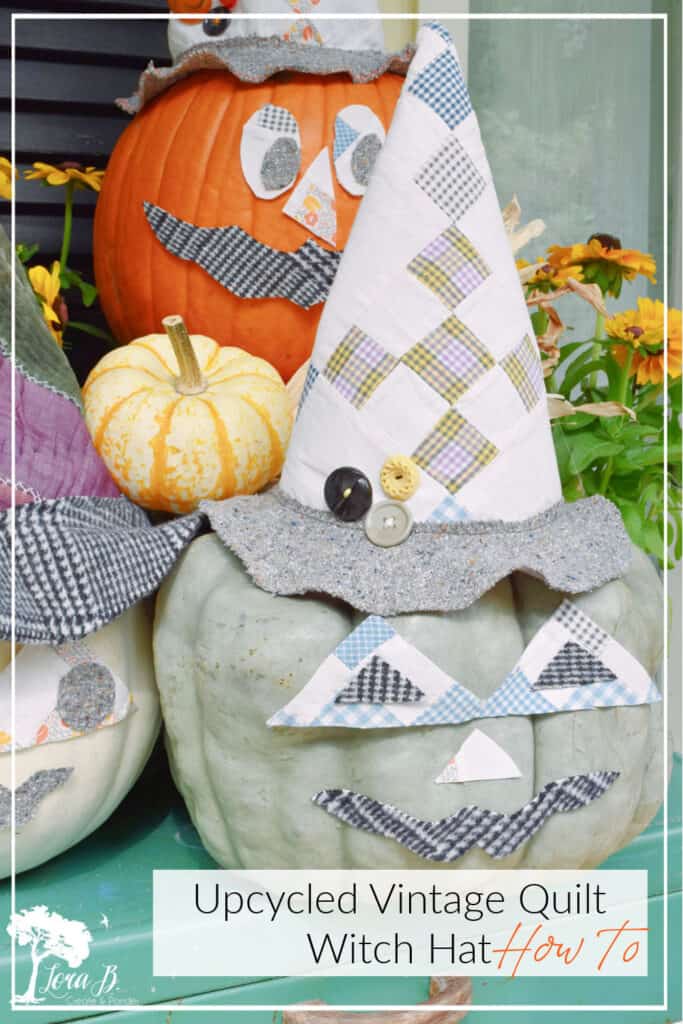 Sharing at these link parties