Meringue Shells with Hot Fudge Sauce
Need a make ahead dessert that's still impressive to your guests? These sweet meringue shells pair perfectly with ice cream or whipped cream and berries. Top with homemade hot fudge sauce for the perfect Valentine's Day Dessert.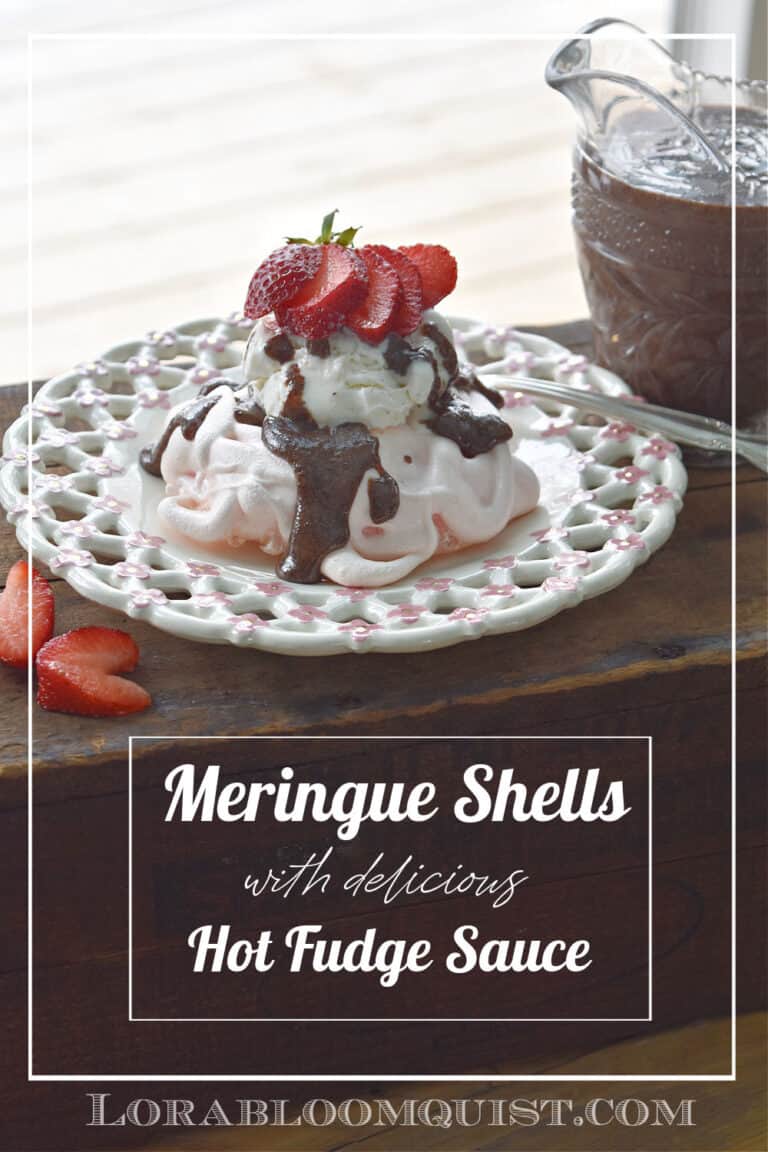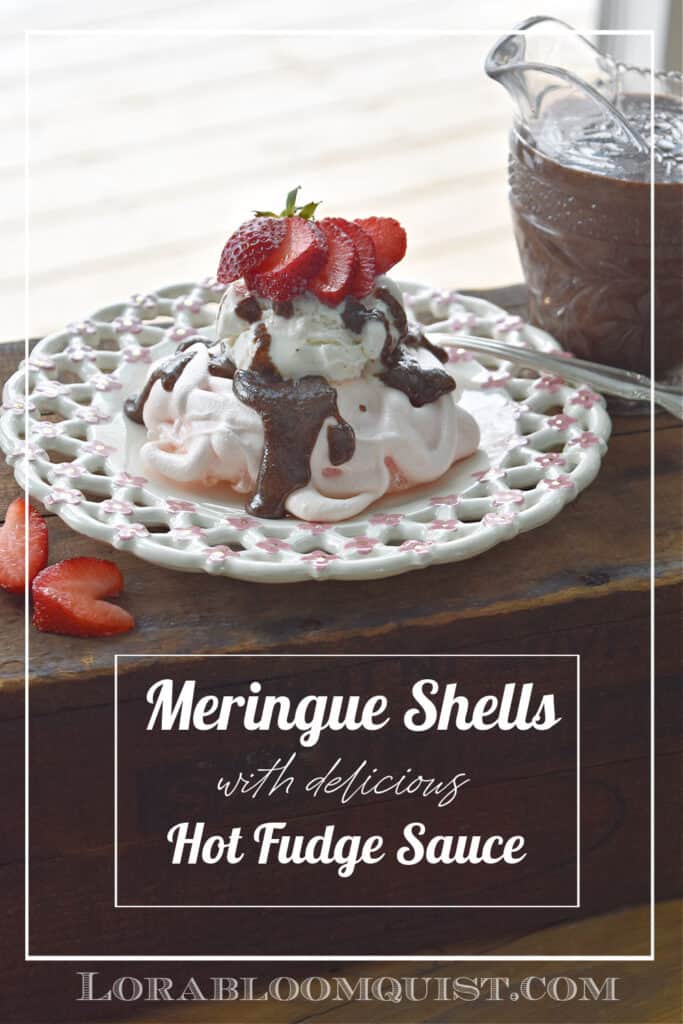 Valentine's Day is just around the corner. Time to plan a sweet treat for your loved ones. If you're more comfortable with a make-ahead dessert, today's recipes (a two-for-one) can look impressive but are easy to make earlier. Handed-down recipes from mom and grandma, these Meringue Shells with Homemade Hot Fudge Sauce are a sweet treat, indeed!
Today's post is part of our monthly Pinterest Challenge, hosted by Cindy at County Road 407. Usually we're decorating around an inspirational photo, but this month we're switching it up and sending yummy Valentine's recipes your way! I'm sure our mouths will be drooling when we see all these delicious ideas!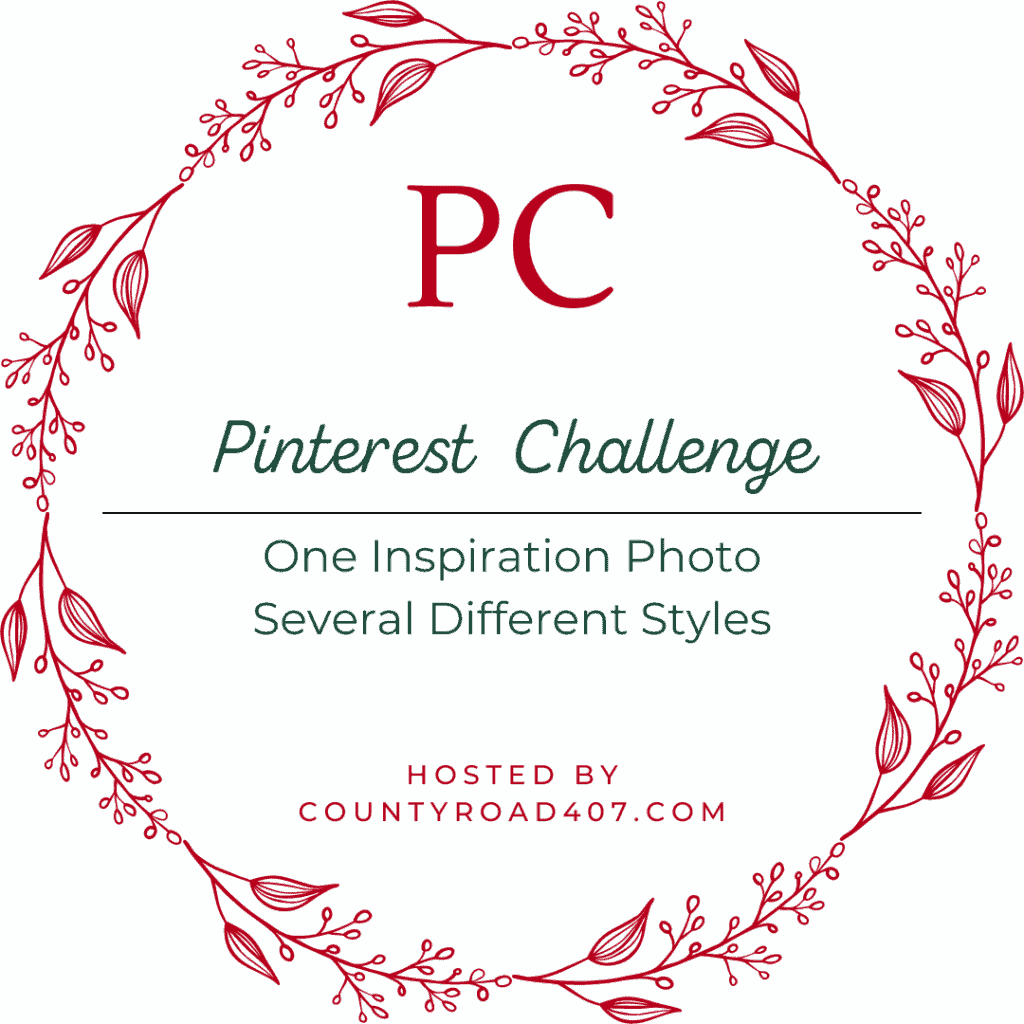 If you're visiting from My Family Thyme, I'm sure you enjoyed Lynn's sweet recipe that uses rice cakes; who would have thought! I'll have all the rest of the dessert recipes at the end. Get ready to Pin away!
Meringue Shells with Homemade Hot Fudge Sauce
For your convenience, this post contains affiliate links. If you make a purchase, I may receive a commission. There is no additional cost to you. My full privacy policy is here.
Like I said, this recipe combo comes from my mom and grandma. I remember mom making these sweetly crisp Meringue Shells for a baby shower years ago. They're like a piece of light, crispy cotton candy. You could make them whatever color you need to coordinate with your party. This Homemade Hot Fudge Sauce from Grandma's recipe box is good enough to eat by the spoonful! Paired together they're a yummy idea for Valentine's.
They can both be made ahead of time. When it's time to serve dessert, simply add a scoop of your favorite ice cream or gelato and drizzle on warmed chocolate sauce. Fresh fruit and whipped cream could also be added to the treat. Impressive yet easy is the best combo!
Recipe and Instructions for Meringue Shells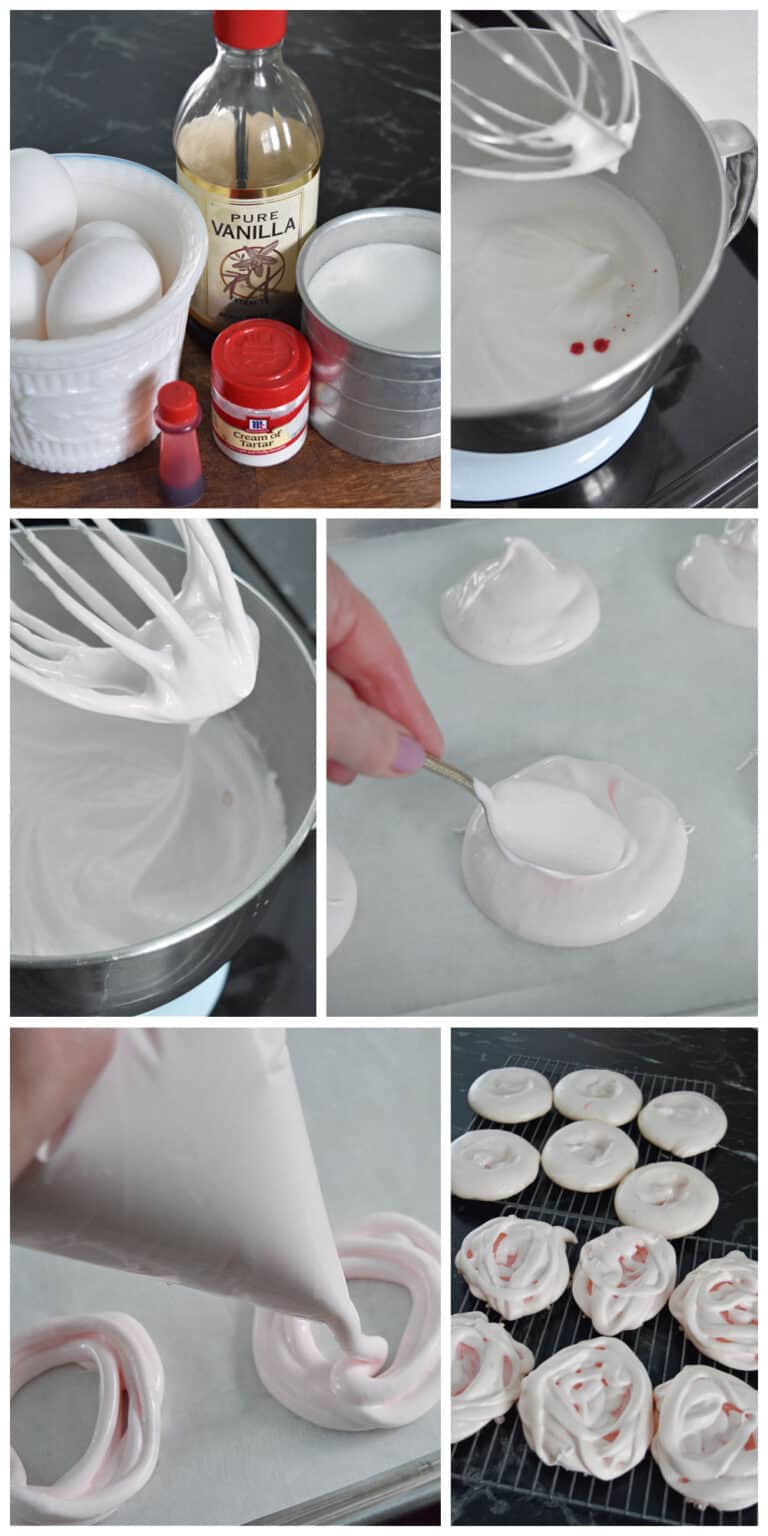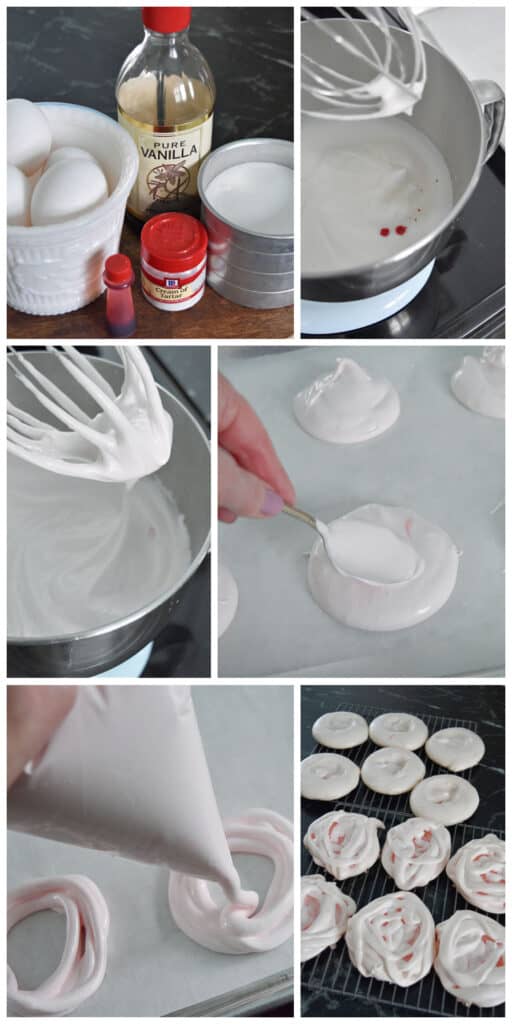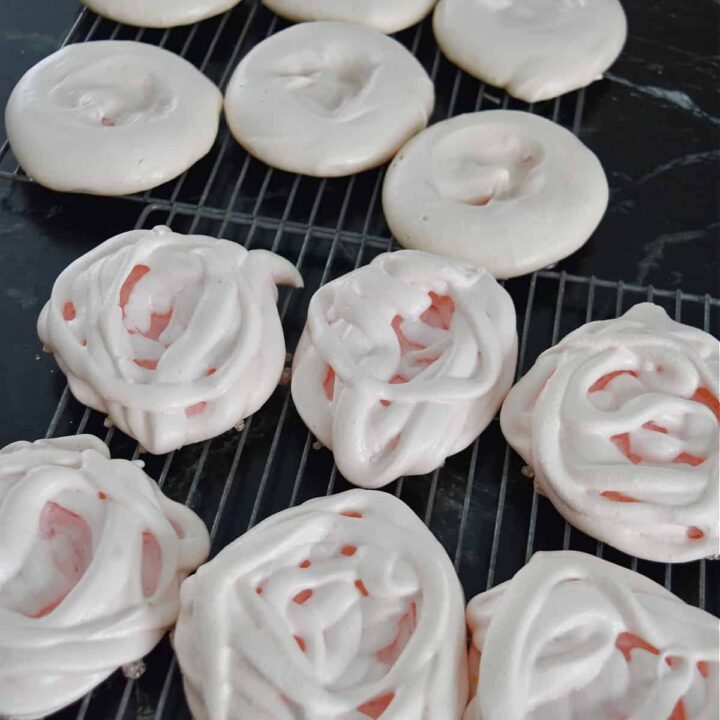 Meringue Shells
Cook Time:
1 hour
30 minutes
These light, crisp Meringue Shells are like baked cotton candy. An easy make-ahead dessert you can add ice cream or whipped cream to.
Ingredients
6 egg whites
1 teaspoon vanilla extract
1/2 teaspoon cream of tartar
1 1/2 cup sugar
3 drops red food coloring (or whatever color you choose)
Instructions
Place egg whites in mixing bowl for 30 minutes to get to room temperature.
Add vanilla and cream of tartar.
Beat on medium till stiff peaks form.
Add 3 drops of red food coloring for light pink shells.
Gradually add sugar by couple tablespoons until dissolved
On 2 parchment lined sheets, make 12 3-4" rounds. You can either shape into a bowl with the back of a spoon or place meringue in a pastry bag or ziplock with corner cut off. You can see the difference in photo.
Bake at 225 degrees until set and dry, 60-90 minutes. Turn off oven and leave for 1 hour more.
Cool on wire racks.
Notes
Light and crispy with a chewy middle. Freezable. Store in air-tight container.
Serve with ice cream and hot fudge sauce or whipped cream and berries.
Nutrition Information:
Yield:

12
Serving Size:

1
Amount Per Serving:
Calories:

107
Total Fat:

0g
Saturated Fat:

0g
Trans Fat:

0g
Unsaturated Fat:

0g
Cholesterol:

0mg
Sodium:

28mg
Carbohydrates:

25g
Fiber:

0g
Sugar:

25g
Protein:

2g
Recipe and Instructions for Homemade Hot Fudge Sauce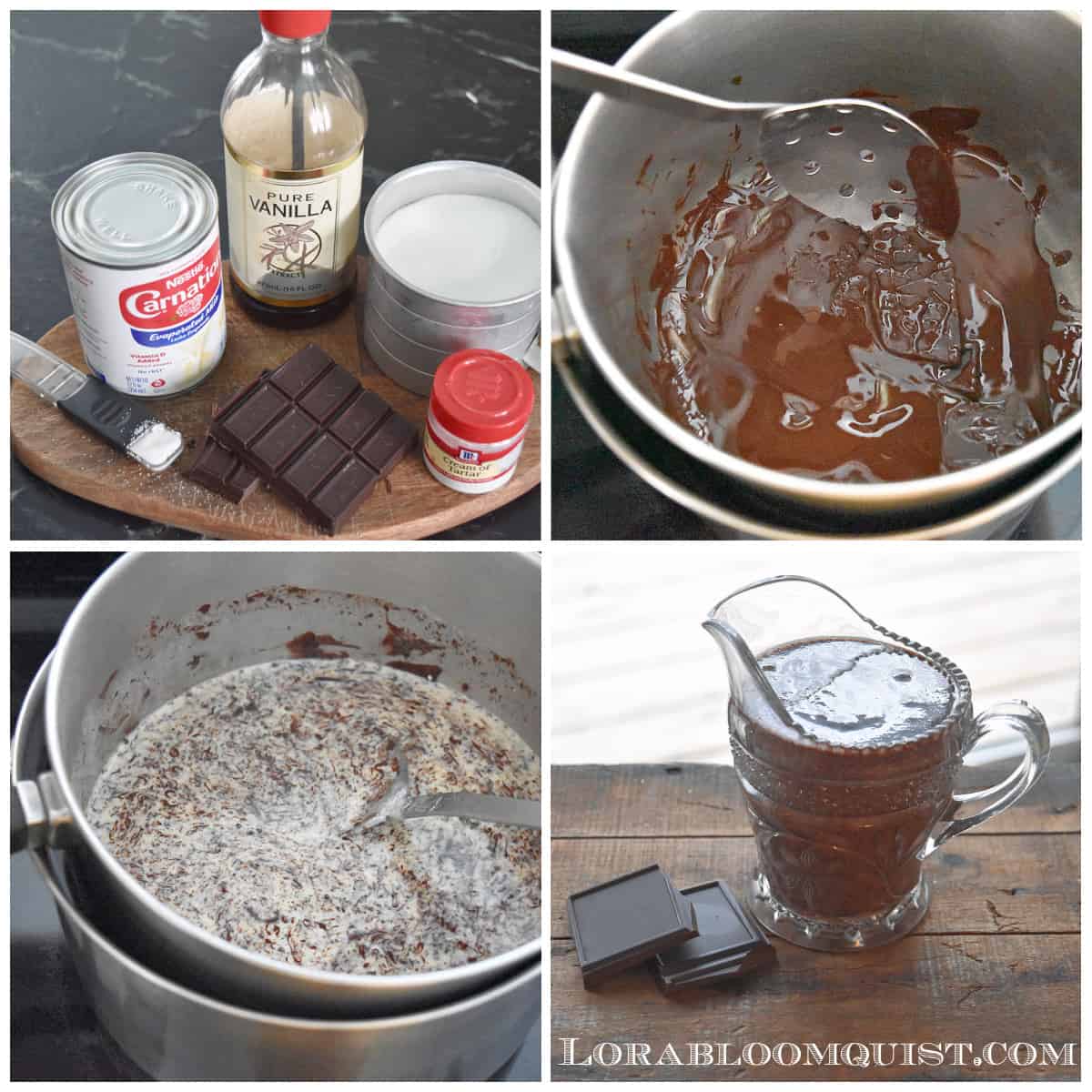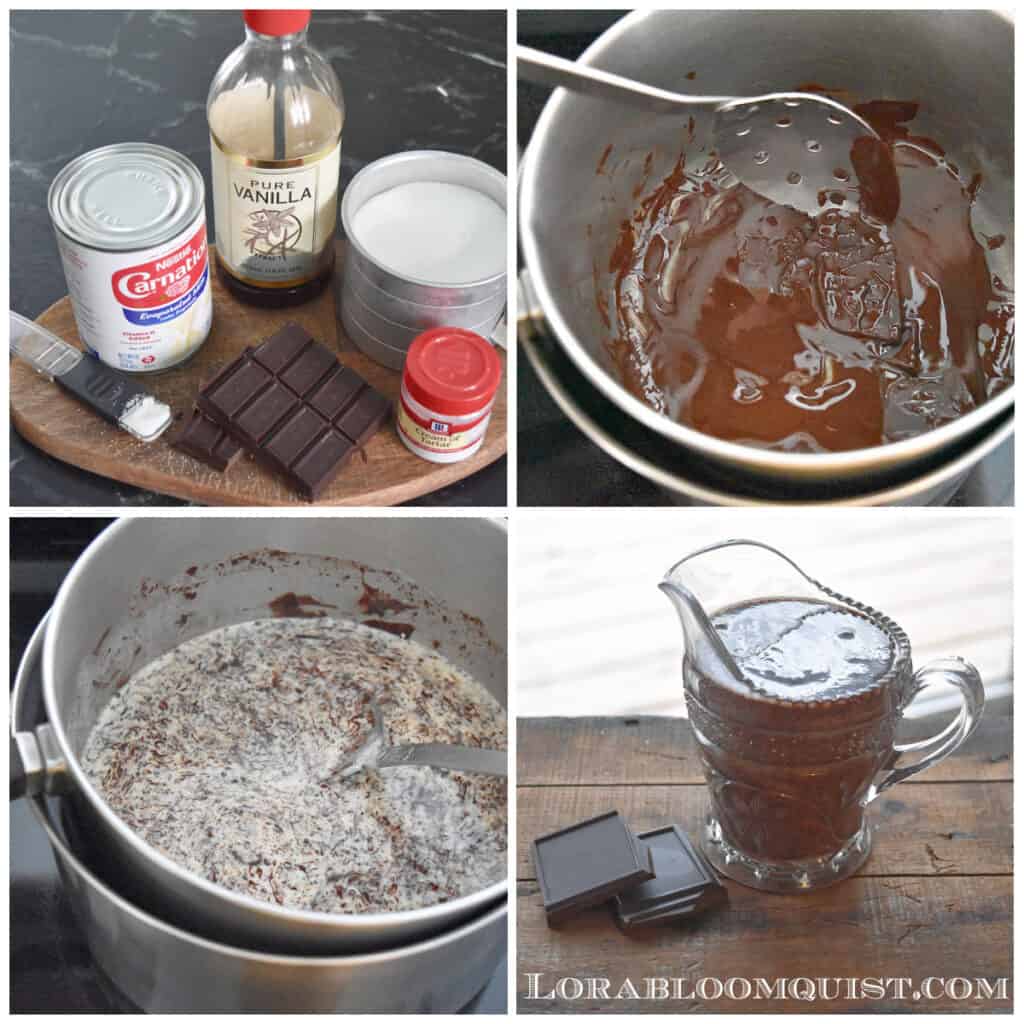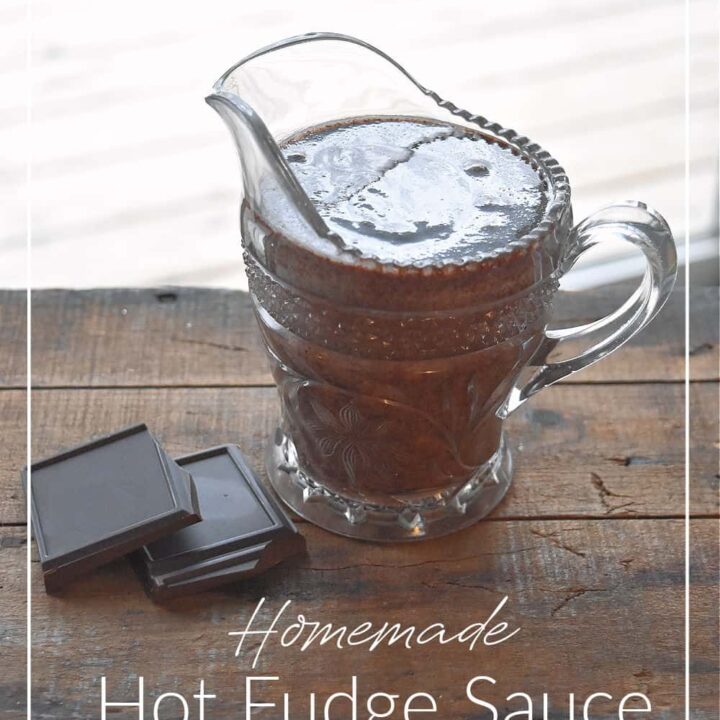 Homemade Hot Fudge Sauce
This homemeade hot fudge sauce is the perfect topping for ice cream. Serve warm for a delicious, easy dessert.
Ingredients
3, 1 ounce squares unsweetened baking chocolate
1 1/2 cups granulated white sugar
1/2 teaspoon salt
1/8 teaspoon cream of tartar
1 12 ounce can Carnation evaporated milk
1 teaspoon vanilla
Instructions
Melt chocolate squares. Use double boiler or place a saucepan in another with water so you don't burn.
Add sugar, salt, cream of tartar and evaporated milk. Stir constantly and bring to boil.
Turn off heat and add vanilla.
Let sit until cooled off slightly. It will thicken. Serve warm with ice cream.
Notes
Wonderful thick, sugary texture like liquid fudge! You'll want to eat it by the spoonful:) Add it to your coffee for an extra treat!
Nutrition Information:
Yield:

12
Serving Size:

1
Amount Per Serving:
Calories:

186
Total Fat:

6g
Saturated Fat:

4g
Trans Fat:

0g
Unsaturated Fat:

2g
Cholesterol:

9mg
Sodium:

124mg
Carbohydrates:

30g
Fiber:

1g
Sugar:

28g
Protein:

3g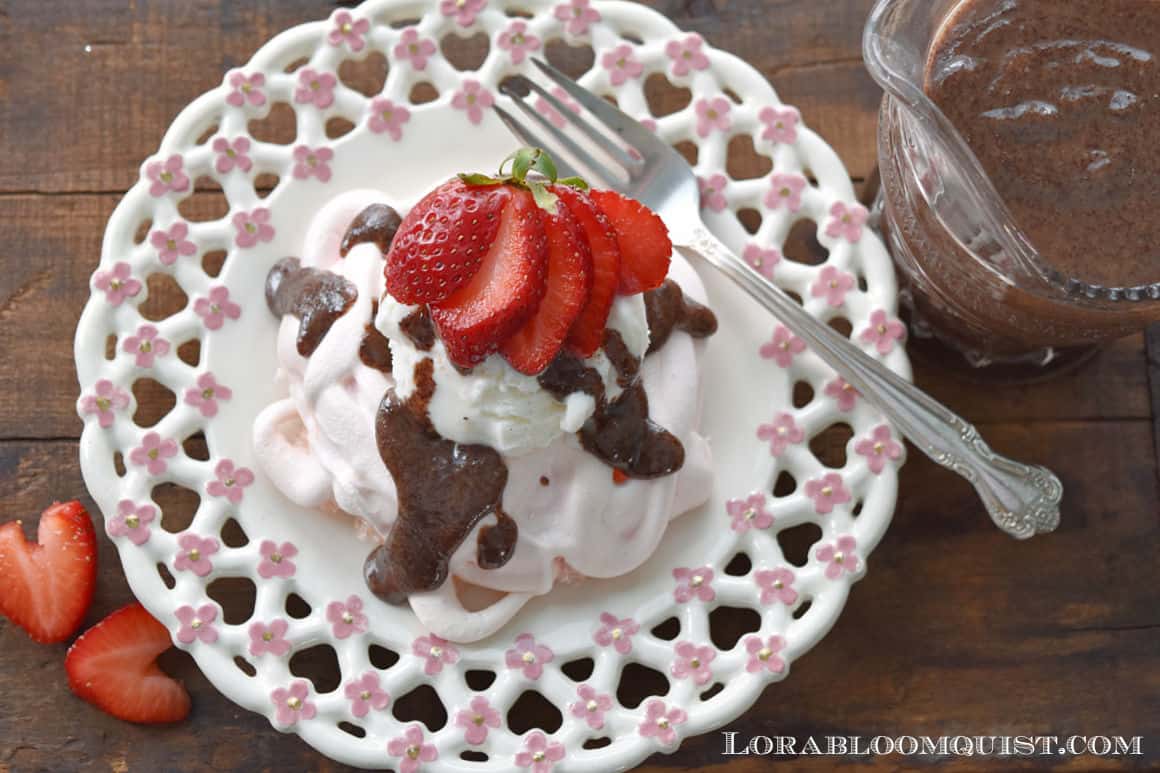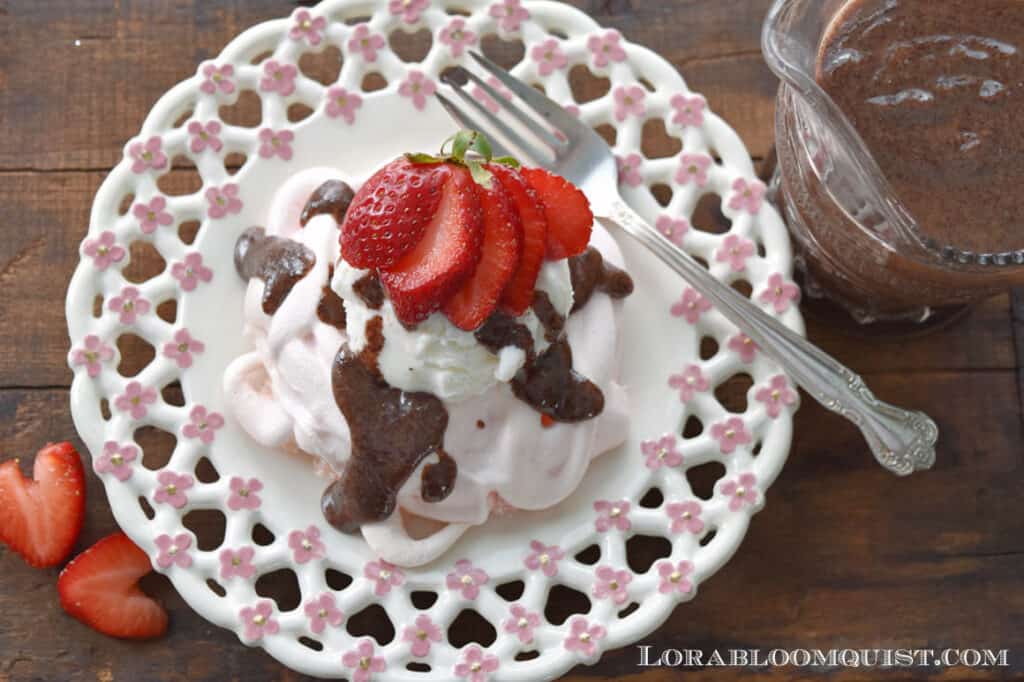 Valentine's Dessert Ideas
It's fun to treat those you care for with a special dessert or dinner for Valentine's Day. Last year I embraced the charcuterie trend and put together a luscious spread for a special college friend's Galentine's dinner ("Valentine's Dessert Charcuterie How To"). It was so fun to set a pretty, romantic table with vintage finds ("A Very Vintage Valentine's Tablescape").
Get more of my Valentine's decorating & recipe ideas:
"Upcycled Vintage Valentine Cloche"
"Valentine's Day Decor in the Kitchen"
Appreciating and treating those we love is an act of service we will never regret! We never know what the future holds; be sure to let those you care about know you love them by doing something special this Valentine's Day.
For more dessert ideas, visit Wendy at WM Design House next. Wendy is a talented, creative lady and everything she touches is beautiful. You're in for a treat when you visit her blog!
Thanks for reading Meringue Shells with Hot Fudge Sauce. If you enjoyed your visit, be sure to become an Insider to keep the ideas coming!
Pin, share, and enjoy the rest of the inspiration!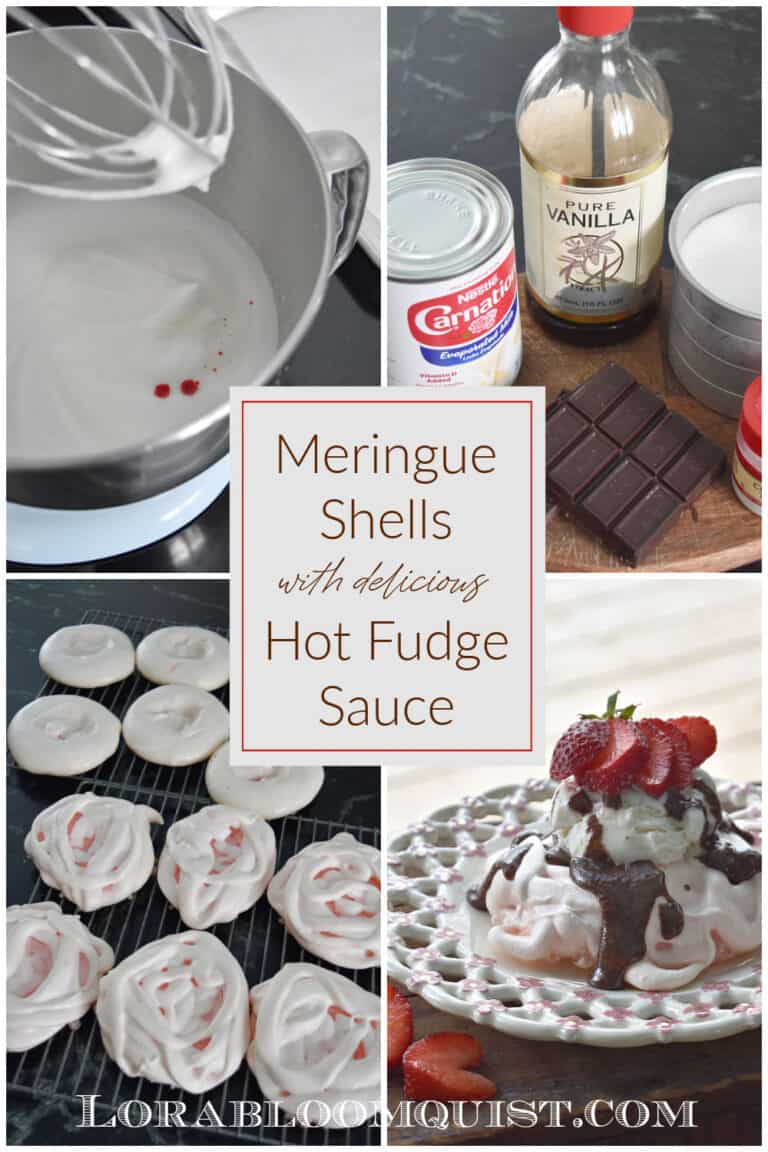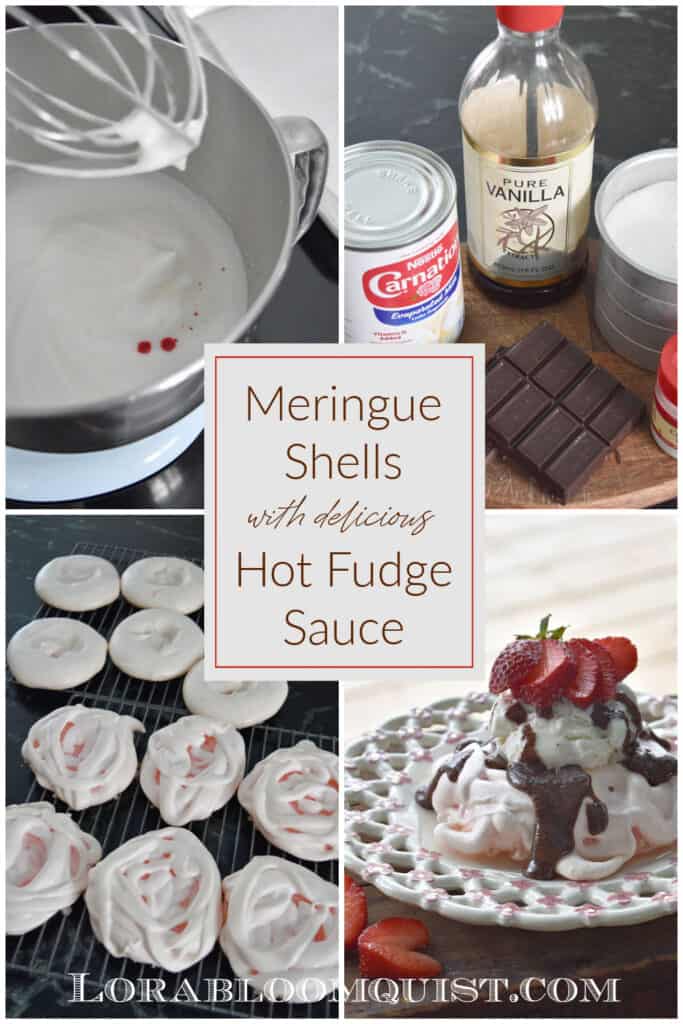 Pinterest Challenge: Valentine's Recipes

Sharing at these lovely parties: