A Very Vintage Valentine's Tablescape
How do you set a table for Valentine's Day? Here are tips for creating a beautiful Valentine's table setting, Combining vintage, Repurposed and new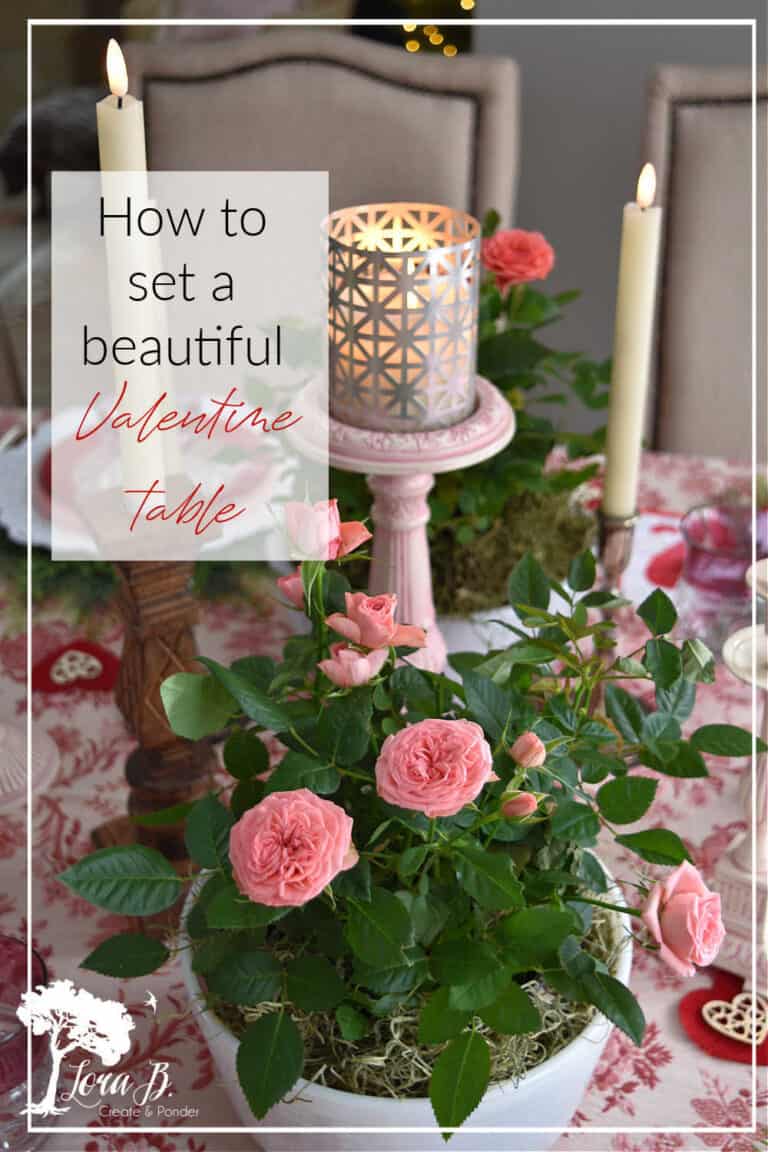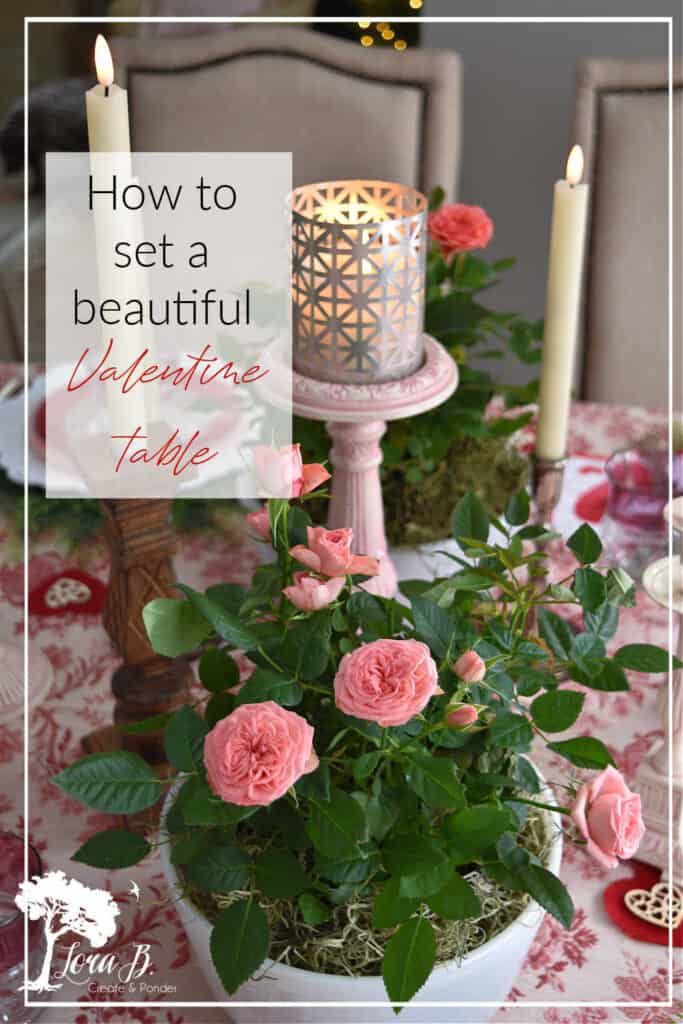 Valentine's Day is a time to celebrate all those you love, your family and your friendships! This year I decided to host my college chums for a Galentine dinner; we've been friends for 35 years. Galentine's is basically a celebration of female friendship, and these ladies and I have been through a lot together. Here's how to create A Very Vintage Valentine's Tablescape for a special time of celebrating!
A Very Vintage Valentine's Tablescape
For your convenience, this post contains affiliate links. If you make a purchase, I may receive a commission. There is no additional cost to you. My full privacy policy is here.
Begin with a Gorgeous Tablecloth
There's nothing that starts a beautiful tablescape off more nicely than a luscious tablecloth. But don't think you need to go buy the right-sized tablecloth and then iron the whole thing. My favorite choice of table coverings is an old bedspread. They're generously-sized so they drape over your table gracefully, and can be found in limitless colors and styles!
Another big bonus: they wash up beautifully and don't need to be ironed-win, win!
I picked up this heavy, vintage coverlet years ago at an estate sale for $18. It looks great on our bed, but is even more striking as a tablecloth. It beautifully sets off anything you place on it.
Start seeing vintage bedspreads for a whole new purpose!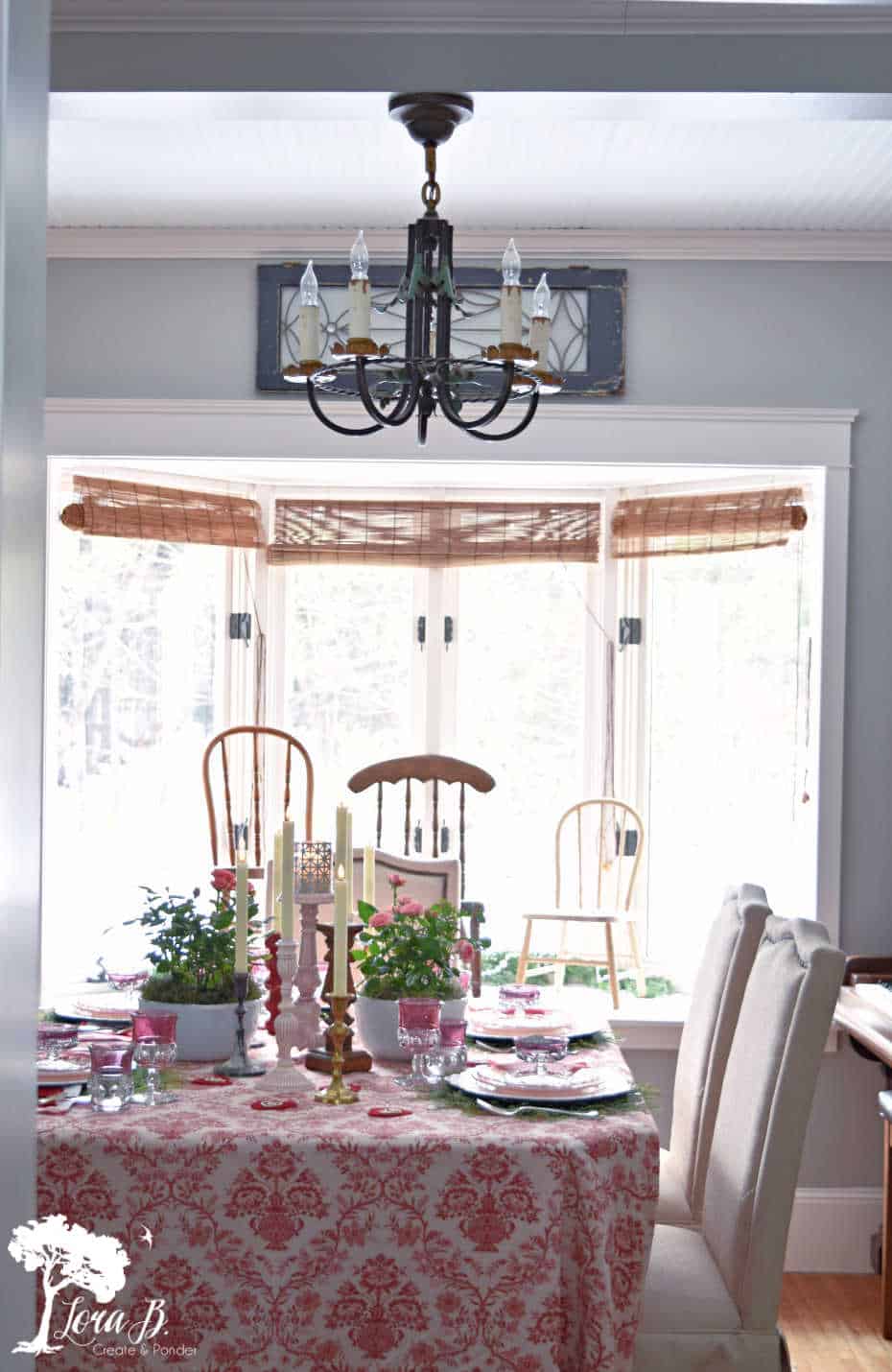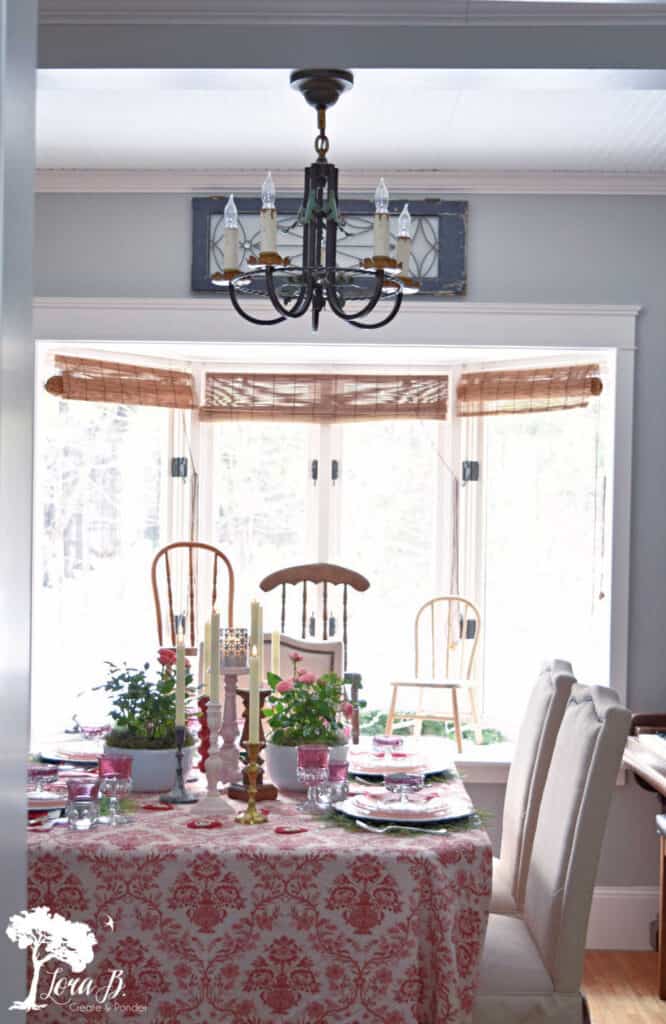 Mix and Match Vintage Dishes for a Beautiful Tablescape
You don't have to own a whole set of matching dishes. It's much more fun to mix and match different sets for a totally unique and individual look. For this Valentine's table I combined Fire King Pink Swirl with Ruby Red thumbprint. For dessert, I brought out the pink depression. The pink to red color variations were perfect for the Valentine's theme.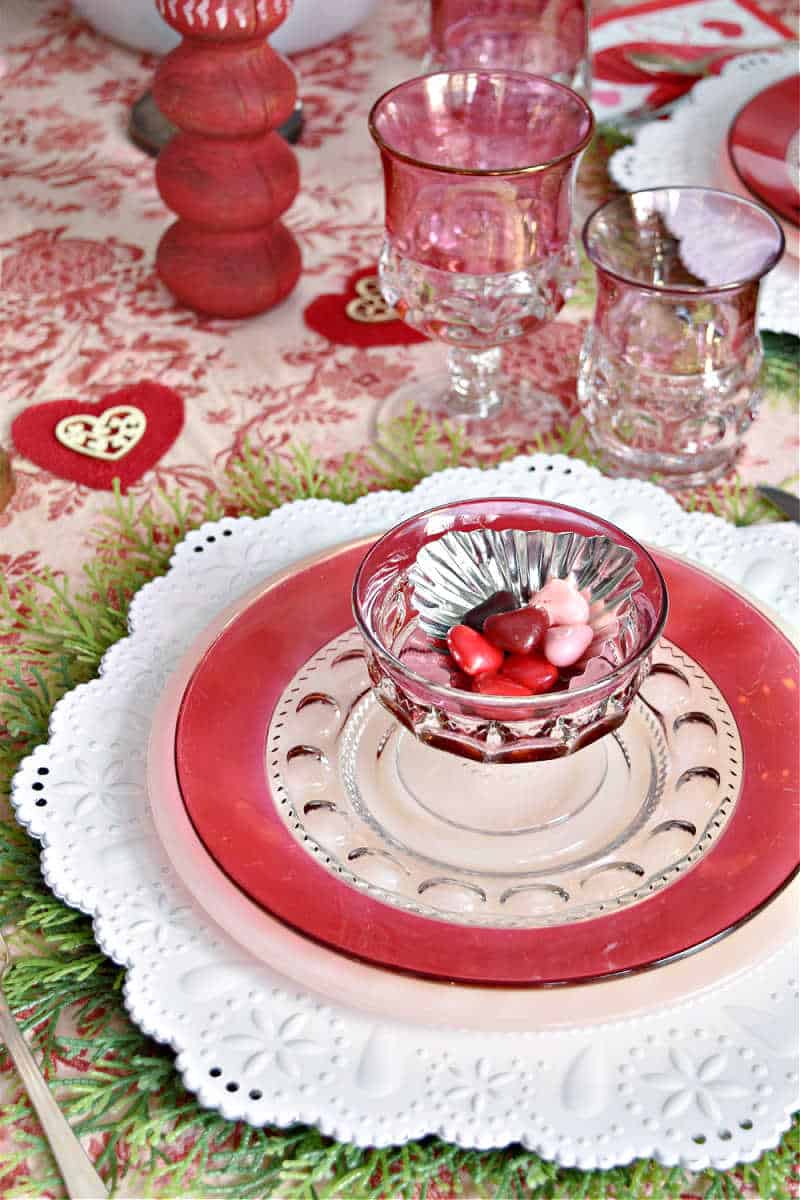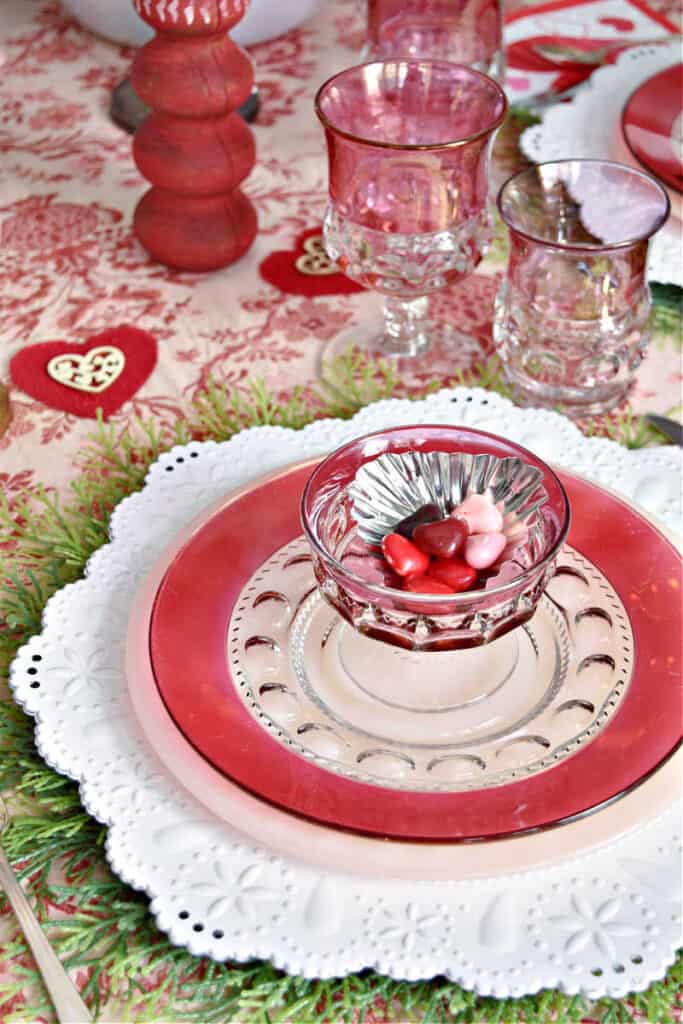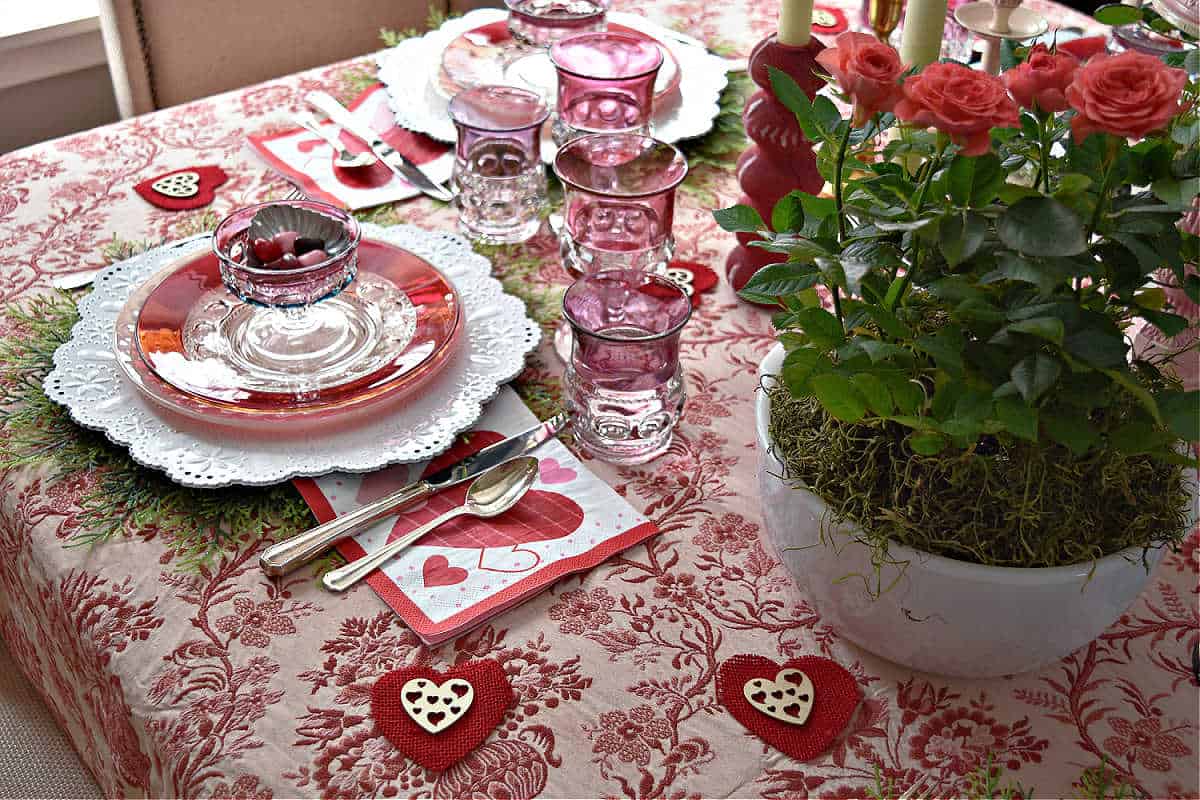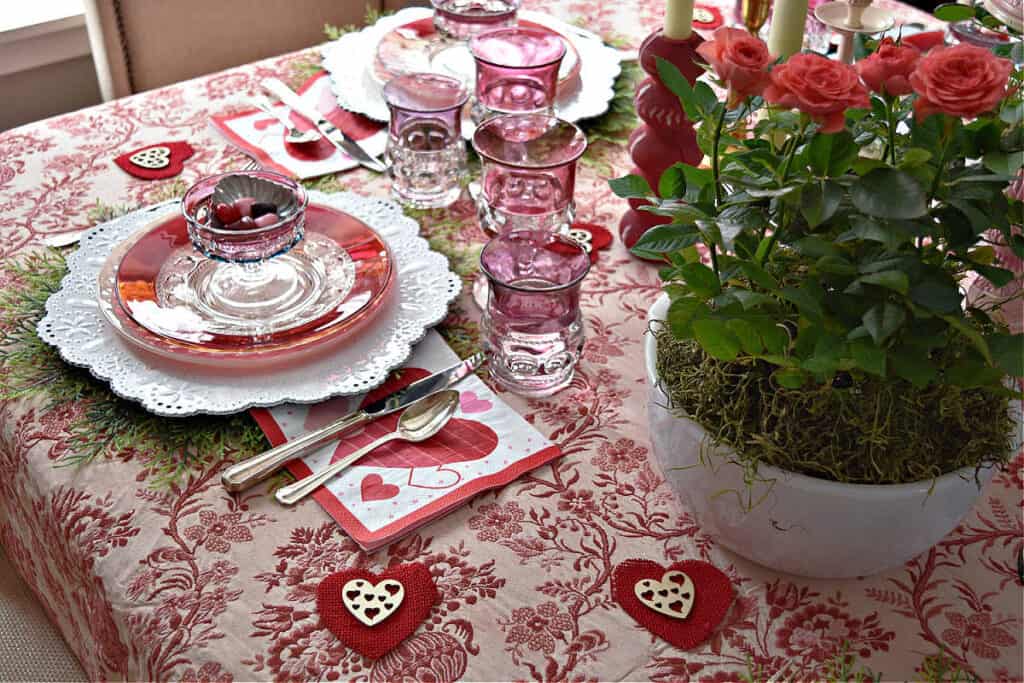 Layer, Layer, Layer
A beautifully set table has luscious layers. To set off the pretty vintage dishes I used an evergreen round placemat and a white acrylic charger. The lacy pattern of the chargers set on the textural green give a wintry, snowy effect. A restful place for the eyes amidst all the red.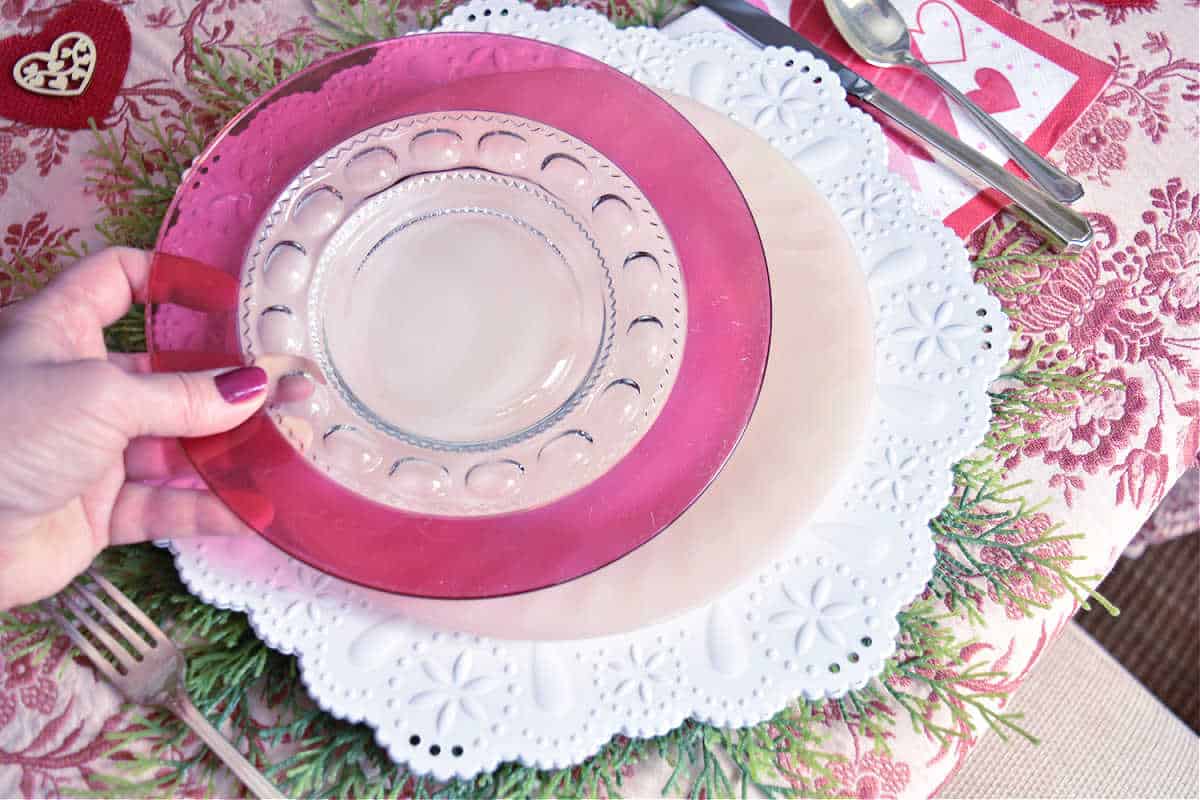 Get similar white chargers HERE.
Classic Roses with a Twist
Yes, roses are classic for Valentine's, but these mini rose plants bring a touch of cottage to the table setting. They can easily be found inexpensively at the grocery store. Take off the foil wrapper and place them in a coordinated vessel. I simply used 2 milkglass mixing bowls. Add moss around the edges to cover the plastic container. You can enjoy these plants much longer than cut roses!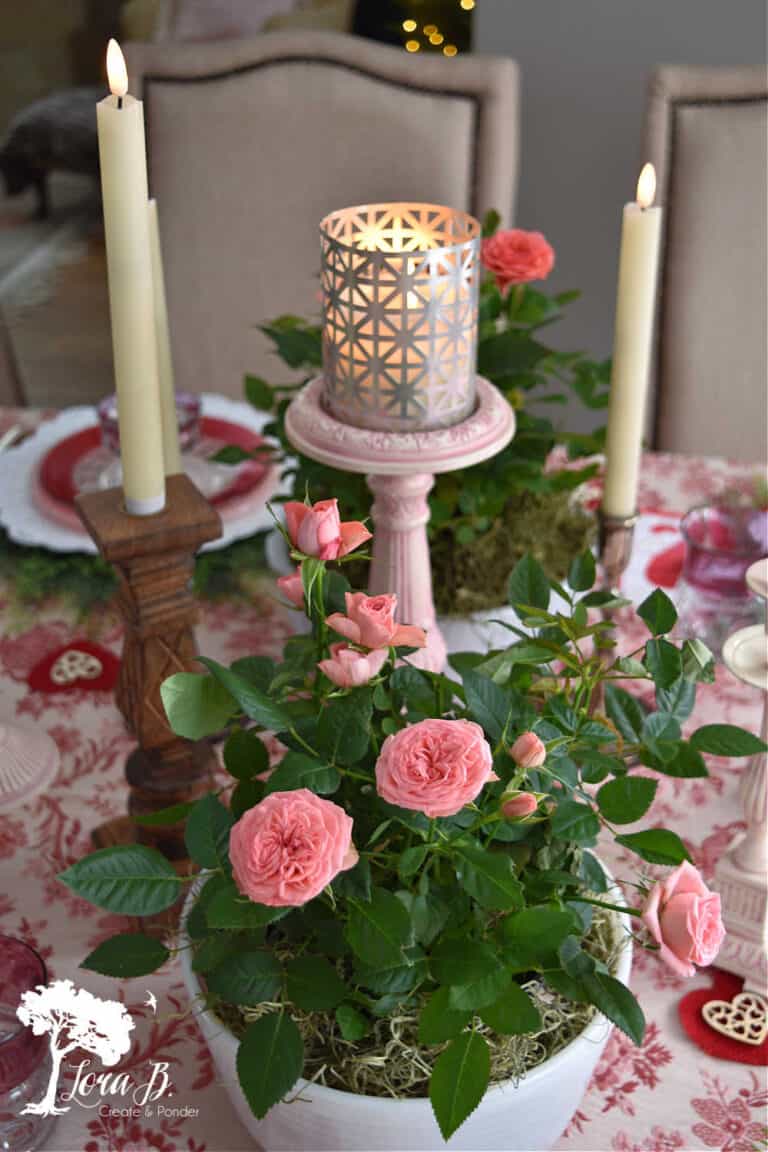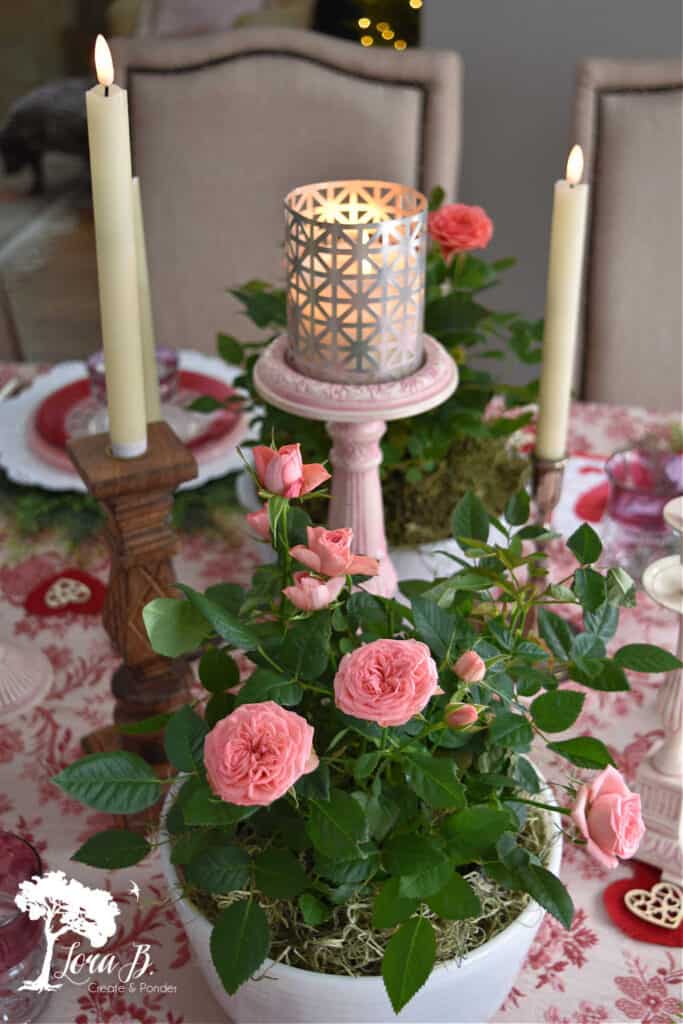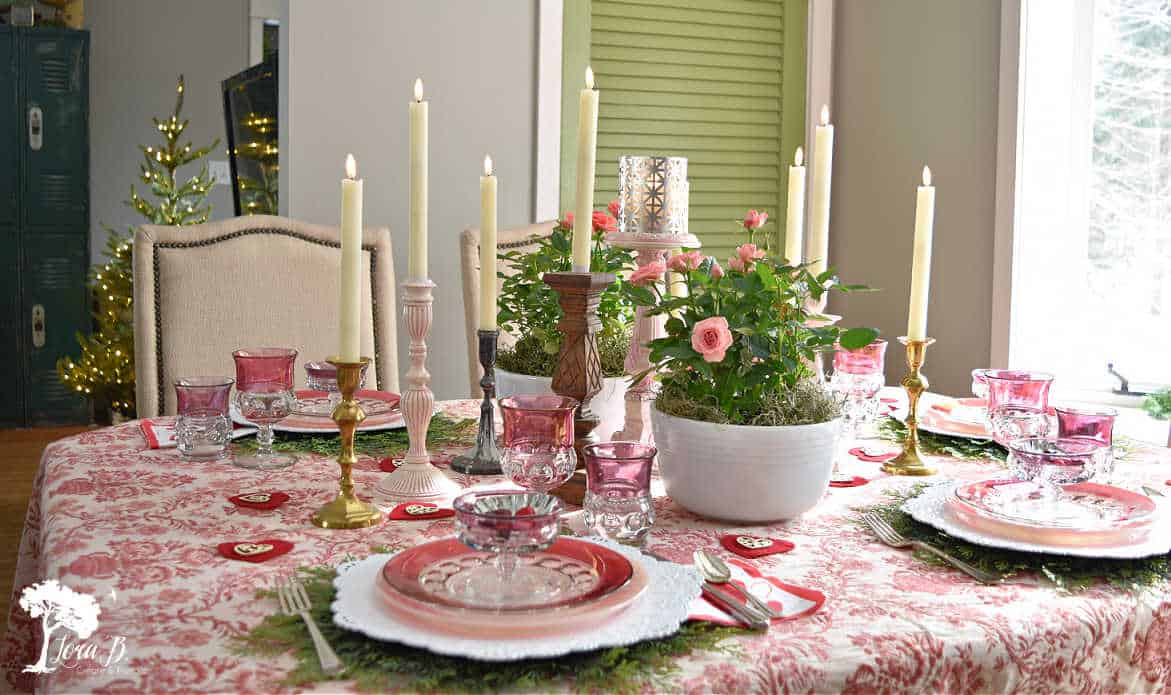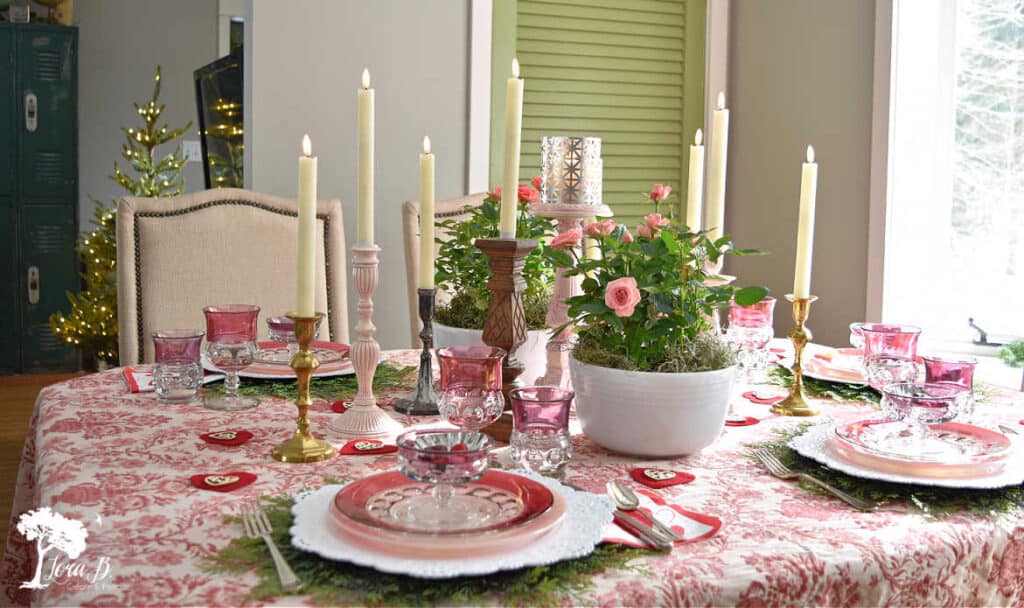 Romantic Candlelight, of Course
Of course a pretty Valentine's table is not complete without romantic candlelight…even for friends! Gather a collection of mismatched candlesticks and spread them throughout the center of the table. My collection included wedding gift candlesticks, thrifted and gifted sets and my DIY Repurposed Candlesticks with Sheet Metal Shades. The various textures brought interest to the table.
My new favorite tapered candles are THESE faux wax candles. They are amazing. They look (and feel) so real, but you don't have to worry about the dripping or the flames. This was the first time I've used them and I'm sold! I did have one real pillar candle in the middle of the table so there was a flicker.
There's just something so elegant about tapered candles; they give the table setting that ooh aah vibe.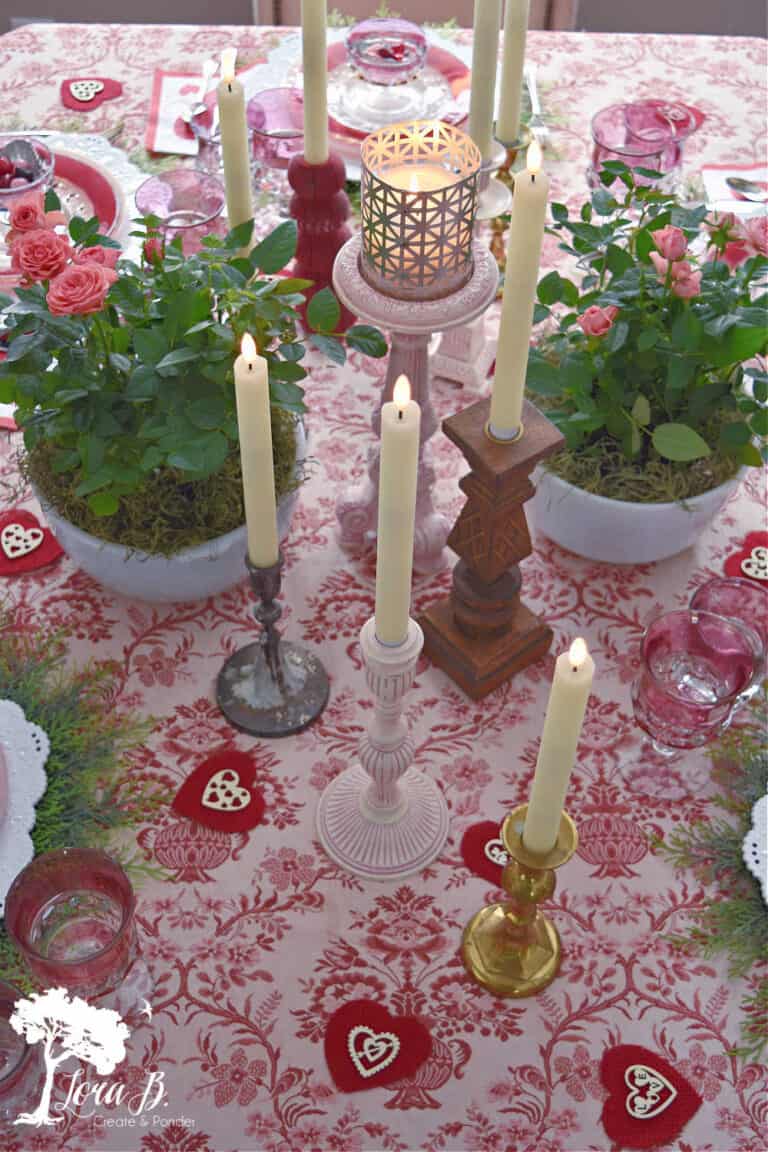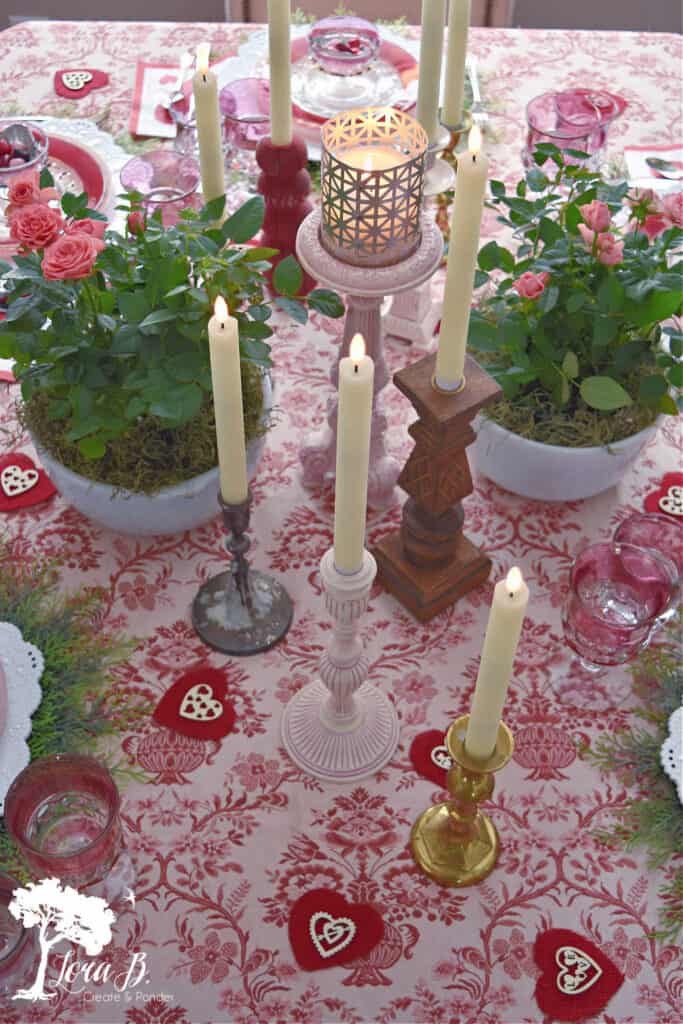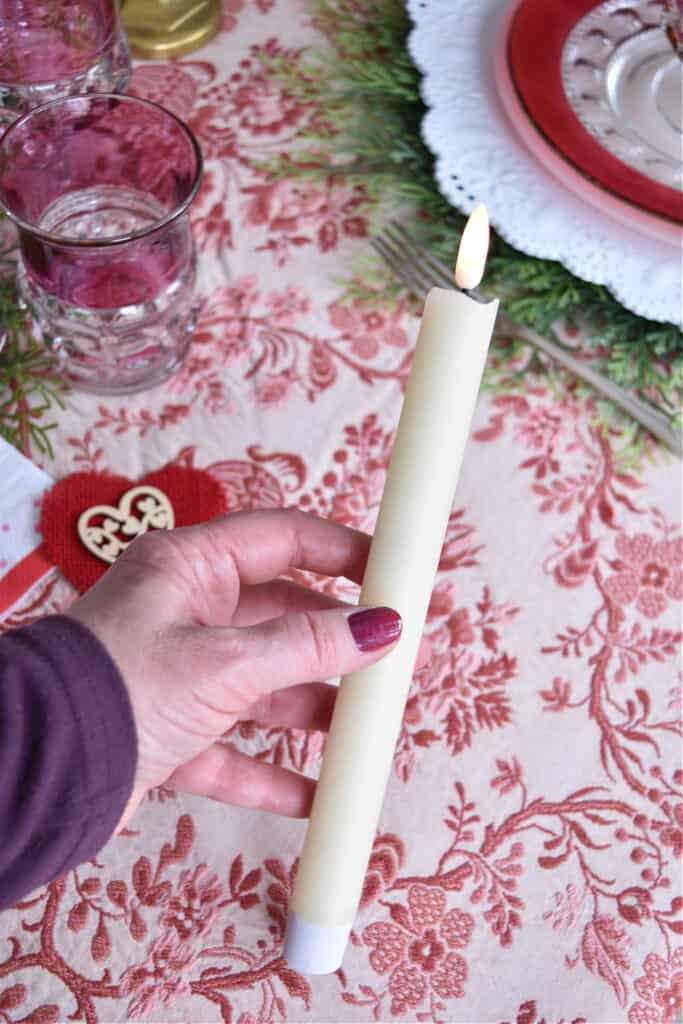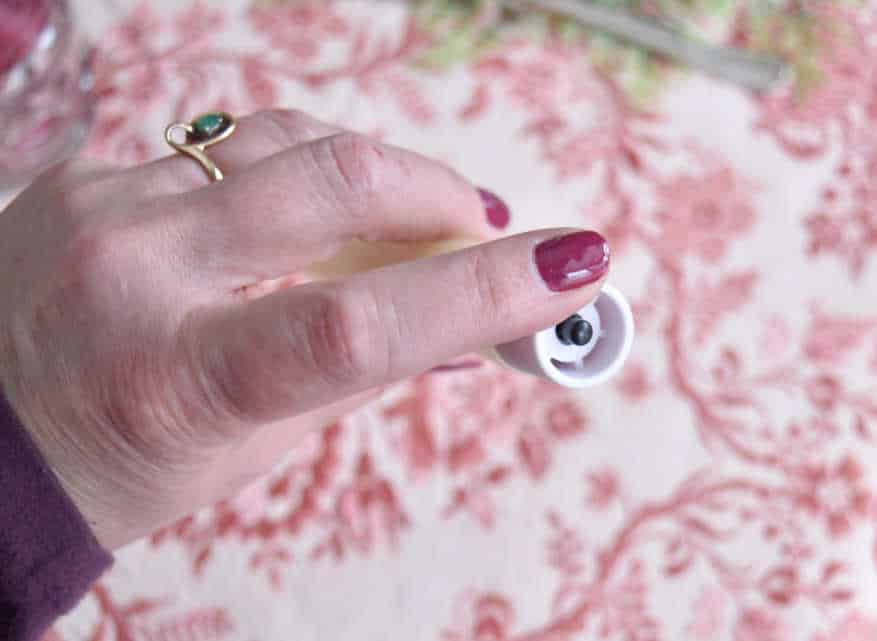 They're so easy to use. Each candle used 2 AAA batteries. You simply push the button on the bottom to light them. They also came with a remote control.
Get the tapered faux candles HERE.
Scatter Decorations for a Final Touch
I always like to finish off a pretty tablescape by scattering something. It's kind of like confetti; a final exclamation point on the table. I found red burlap hearts and wood die cut hearts at Hobby Lobby. I simply placed them sporadically on the tablecloth. Along with pretty, patterned paper napkins they add more textural layers to the table setting.
For more Valentine's Inspiration:
"5 Valentine's Decorating Ideas for Romantic Style"
"Valentine's Day Decor in the Kitchen"
"Upcycled Vintage Valentine Cloche"
Setting a beautiful Valentine's tablescape is so much fun! And when you're hosting a group of special friends, you know it will be appreciated. Enjoying a quiet evening of conversation is a wonderful way to celebrate lifelong friendships.
Hope you enjoyed A Very Vintage Valentine's Tablescape, and are dreaming of the table setting you can create for your special ones!
Please Pin and Share!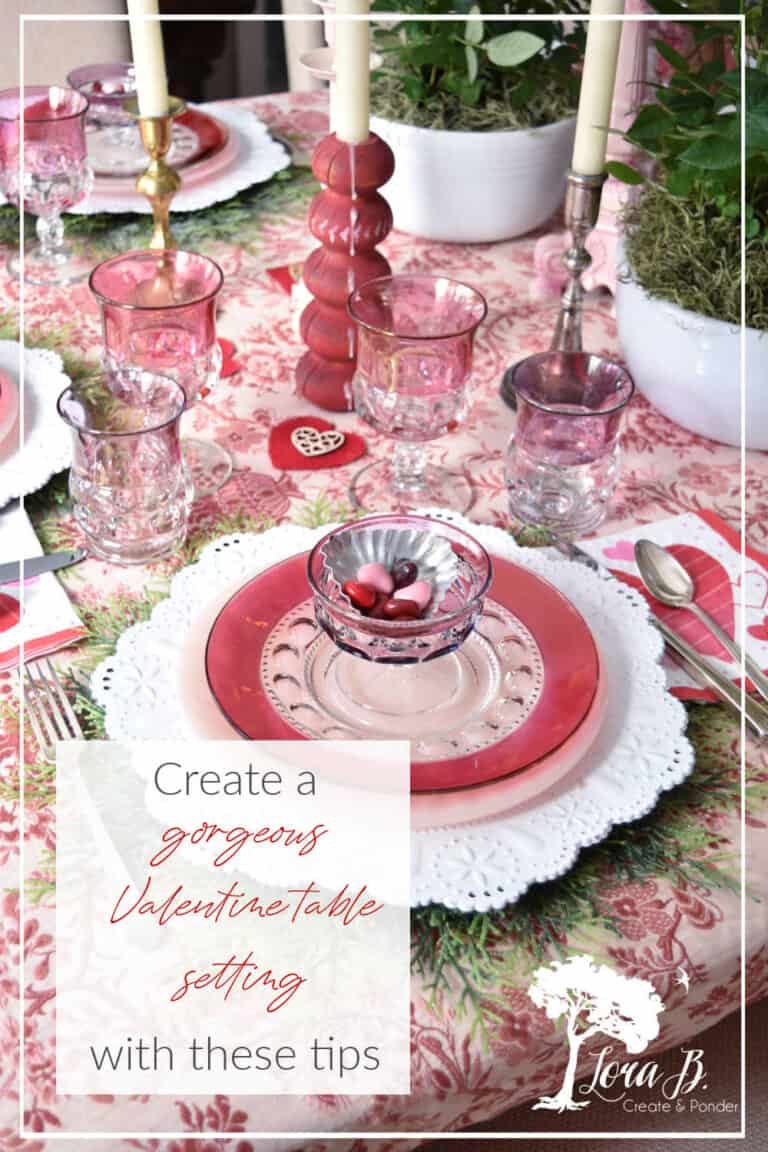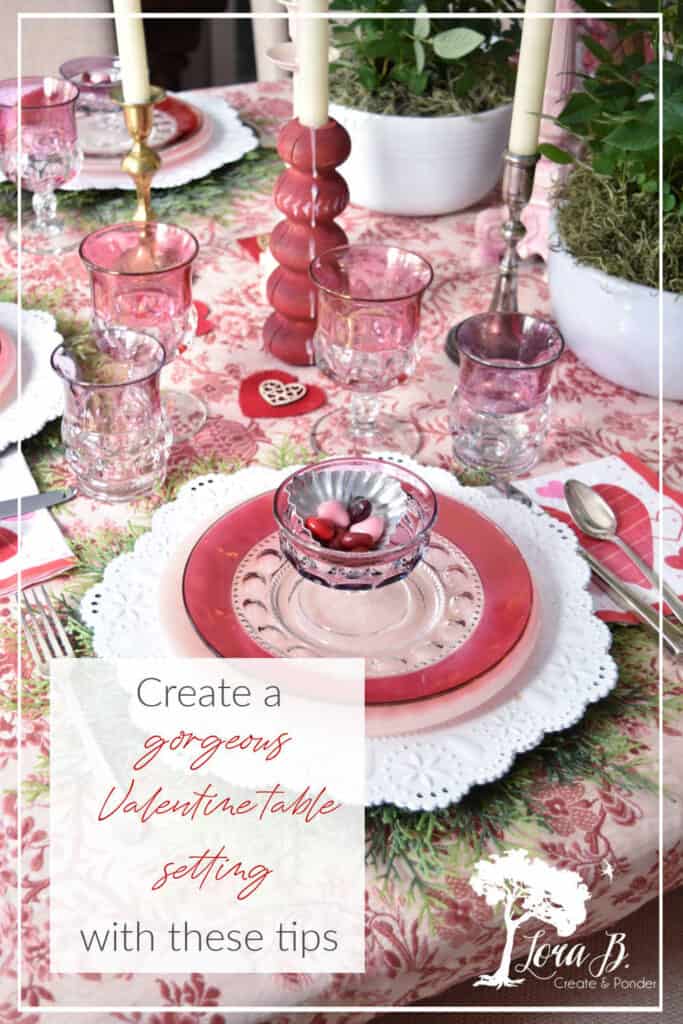 Sharing at these lovely parties: