Upcycled Vintage Valentine Cloche
upcycle old garden fencing to create a charming vintage valentine cloche vignette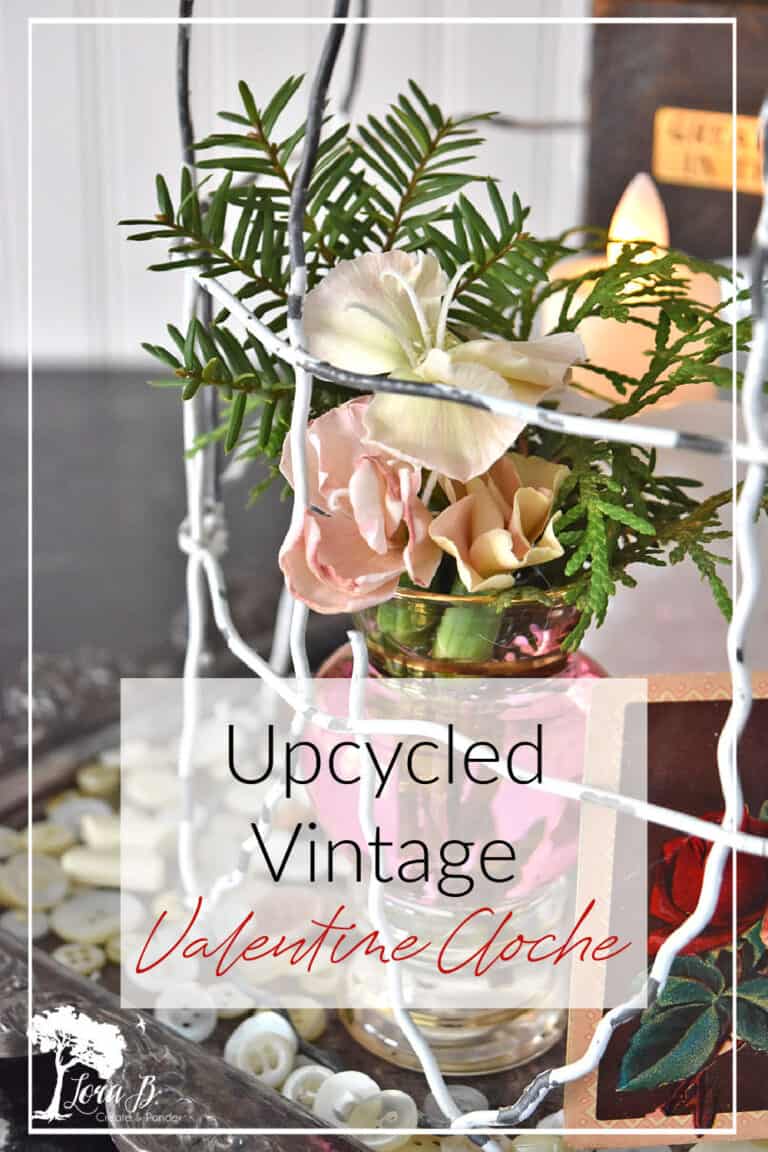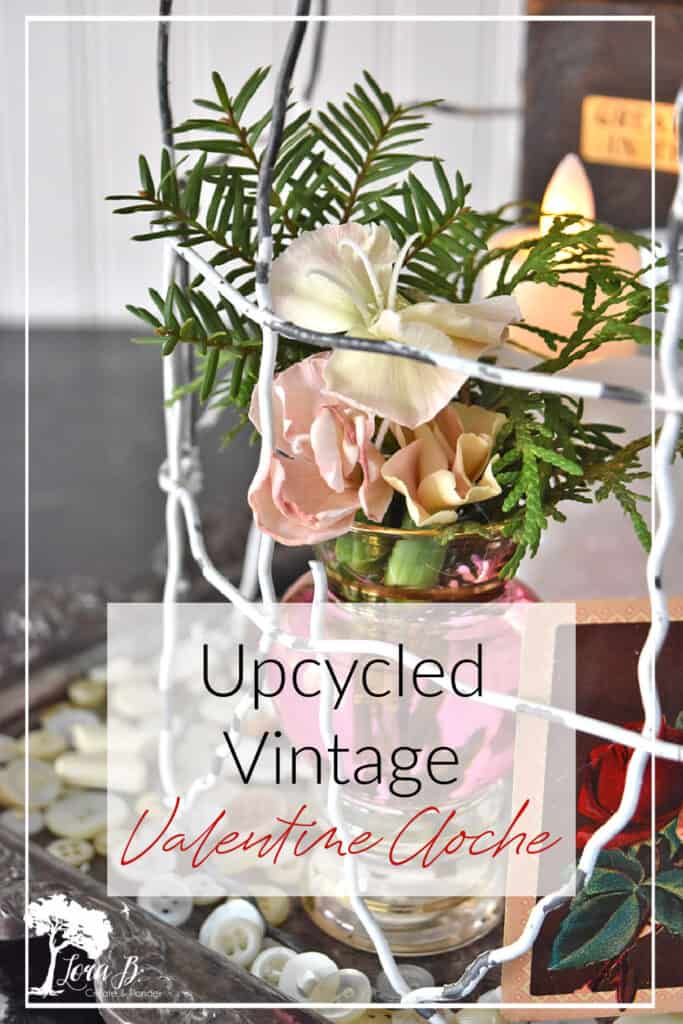 Valentine's season is a good excuse to amp up the romantic decor in your home. Pull out your "pretty" things and enjoy them! For a junky, yet still sweet version, I'm sharing an Upcycled Vintage Valentine Cloche that would make the perfect centerpiece for the season.
I'm joining my Pinterest Challenge friends today, hosted by Cindy at County Road 407. If you're visiting from My Wee Abode, I'm sure you enjoyed Julie's Easy Valentine's Cloche Vignette. If you don't own a cloche yet, today will convince you to get one (or DIY one), I'm sure!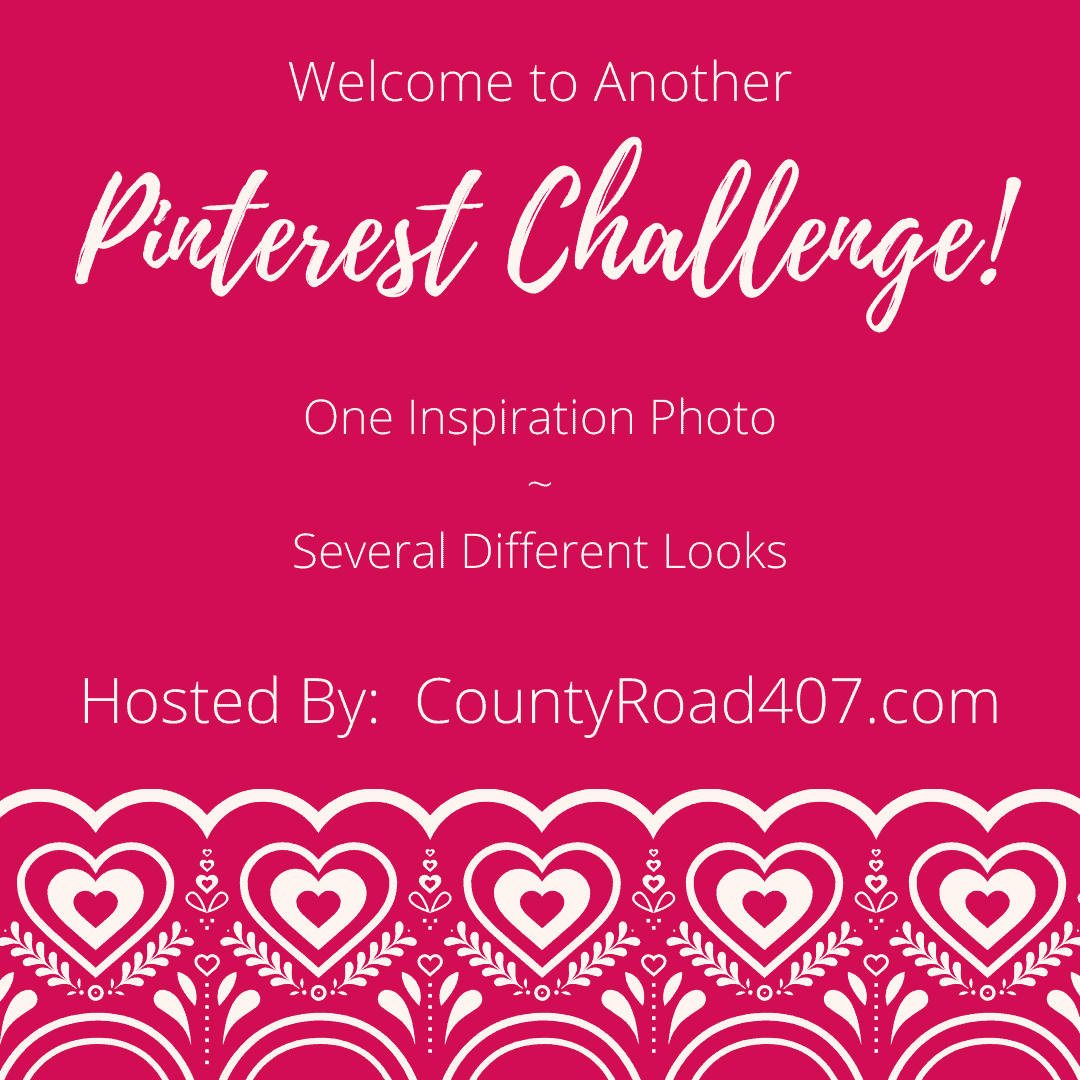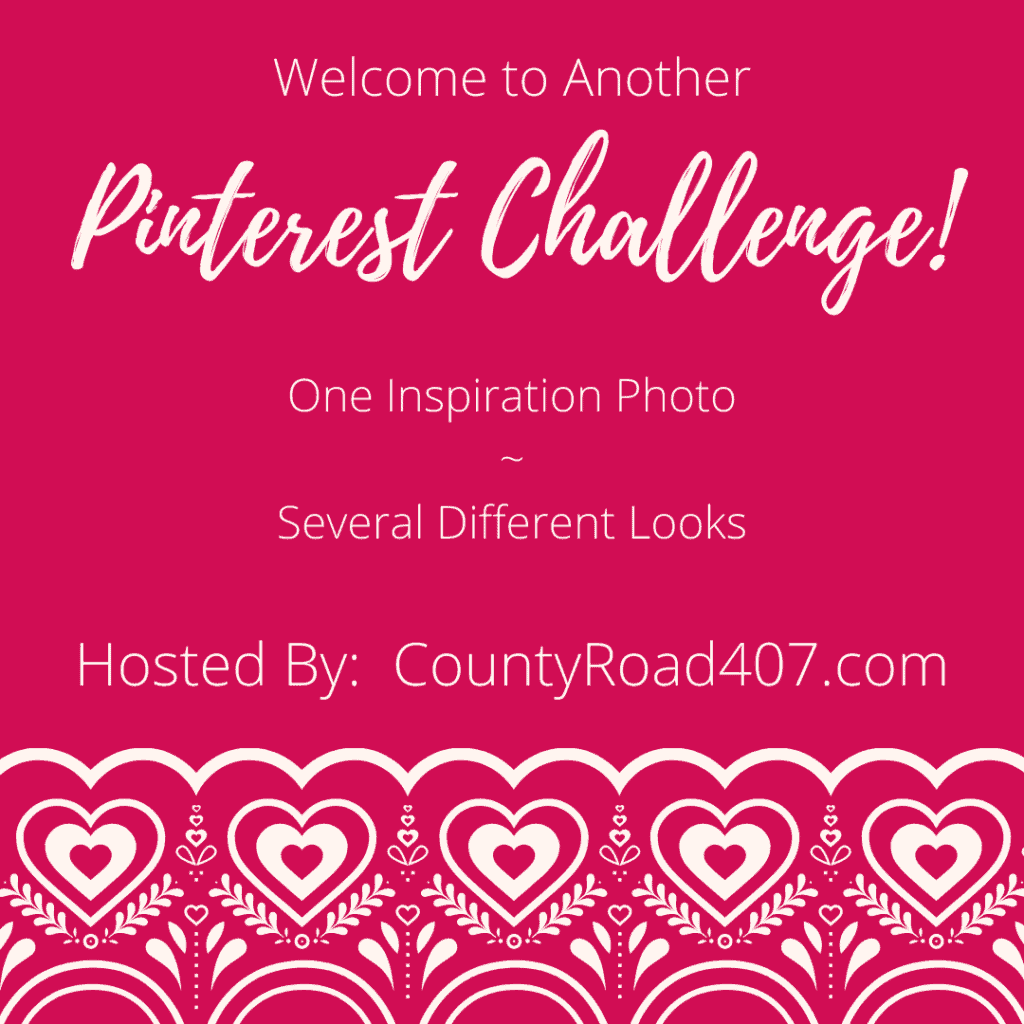 Pinterest Challenge Inspiration Photo
Every month Cindy chooses an inspirational photo as a launching point to design around. We are each to use some of the elements, but put our own spin on it. This time around we are doing a Valentine's Cloche. Our inspiration photo is from Crafting While I Wait.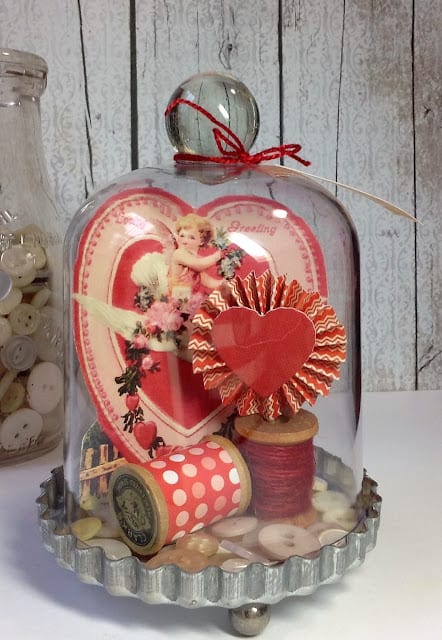 Here are the elements I noticed:
Cloche
silver tray (crimped)
ribbon
spools
paper ephemera
collection of hearts
white buttons
vintage vibe
Can't wait to see all the Valentine's Cloche ideas today! I definitely went the upcycled, repurposed vintage route for this one. I'll have all the rest of the post links at the end.
Upcycled Vintage Valentine Cloche
For your convenience, this post contains affiliate links. If you make a purchase, I may receive a commission. There is no additional cost to you. My full privacy policy is here.
DIY an Upcycled Garden Fencing Cloche
Rather than using my glass cloche, I decided to use my favorite DIY Upcycled Old Garden Fencing Cloche. The how-to is fairly easy, and this old fencing is easy to find at vintage shops.
I placed the fencing cloche on a square silver platter with pretty detailed edges. Then I started arranging all the Valentine elements.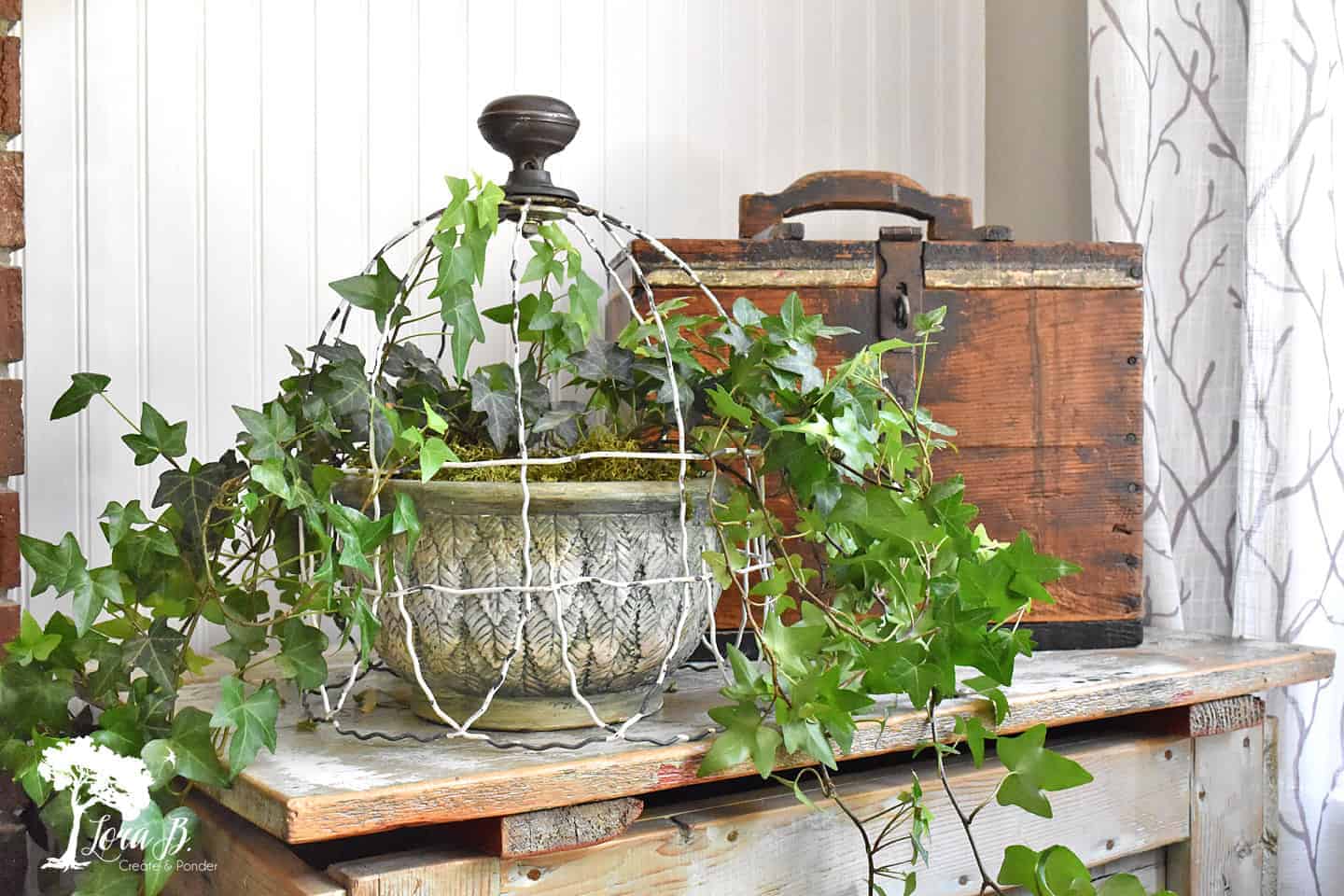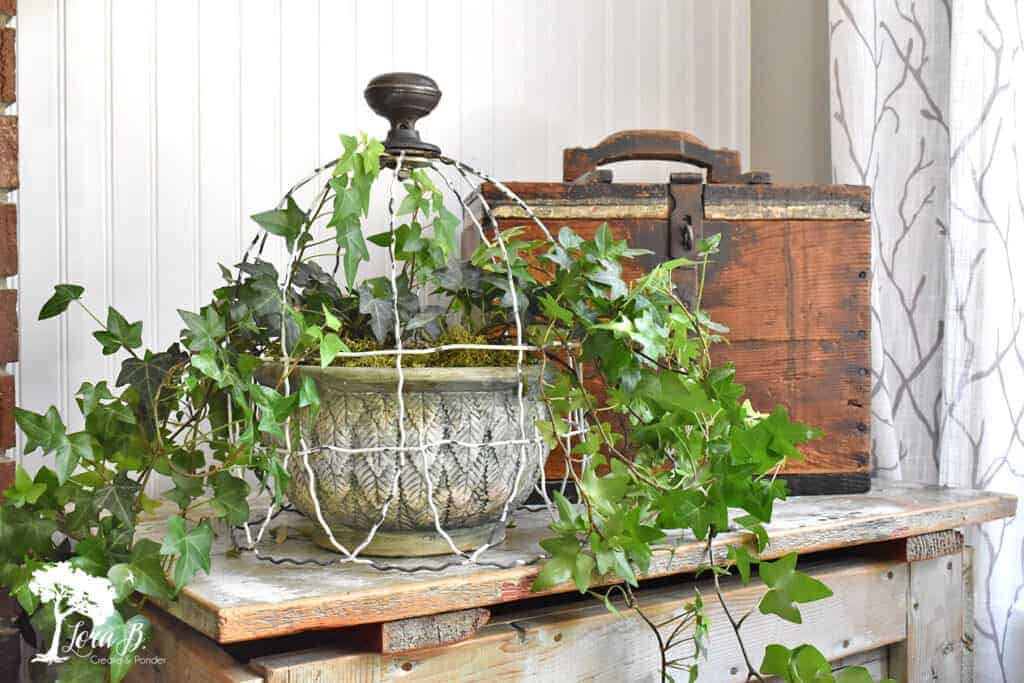 Use a Paper Heart for the Focal Point
The inspiration photo showed several different hearts made out of paper, with the large one being the focal point. I used the Upcycled Vintage Puzzle Heart I made last year from an old Valentine's puzzle that was missing pieces. With it's ribbon, I tied it to the cloche's doorknob handle, suspending it in the middle.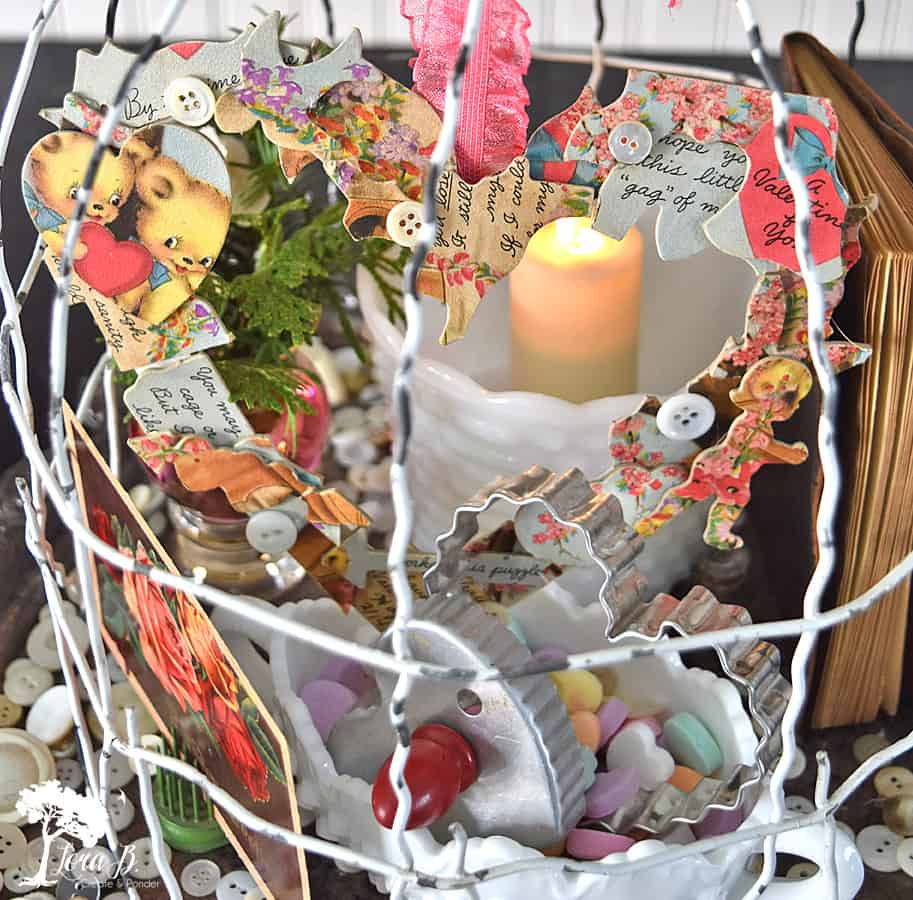 Gather More Heart Accents
My repurposed fencing cloche is quite a bit larger than the glass cloche in the inspo pic. I needed more hearts to fill it up. A couple of spools like in the pic would work, but I went a different direction. I wanted this to be a collection of hearts, with many different textures.
Two vintage cookie cutters nestled into a scalloped milkglass bowl with conversation heart candies. The silver crimped edges of the cookie cutters are a nod to the fluted edges in the inspo pic. That made 3+ hearts, which is always a good decorating number;)
Add Words
Adding words to a vignette gives it a voice. It conveys the message you want to say through your decor. I added a simple vintage book with the title, "Greatest Thing In The World". A sweet way to say that Love is the greatest gift. It also gave the display the pop of black that brings all the other colors to life.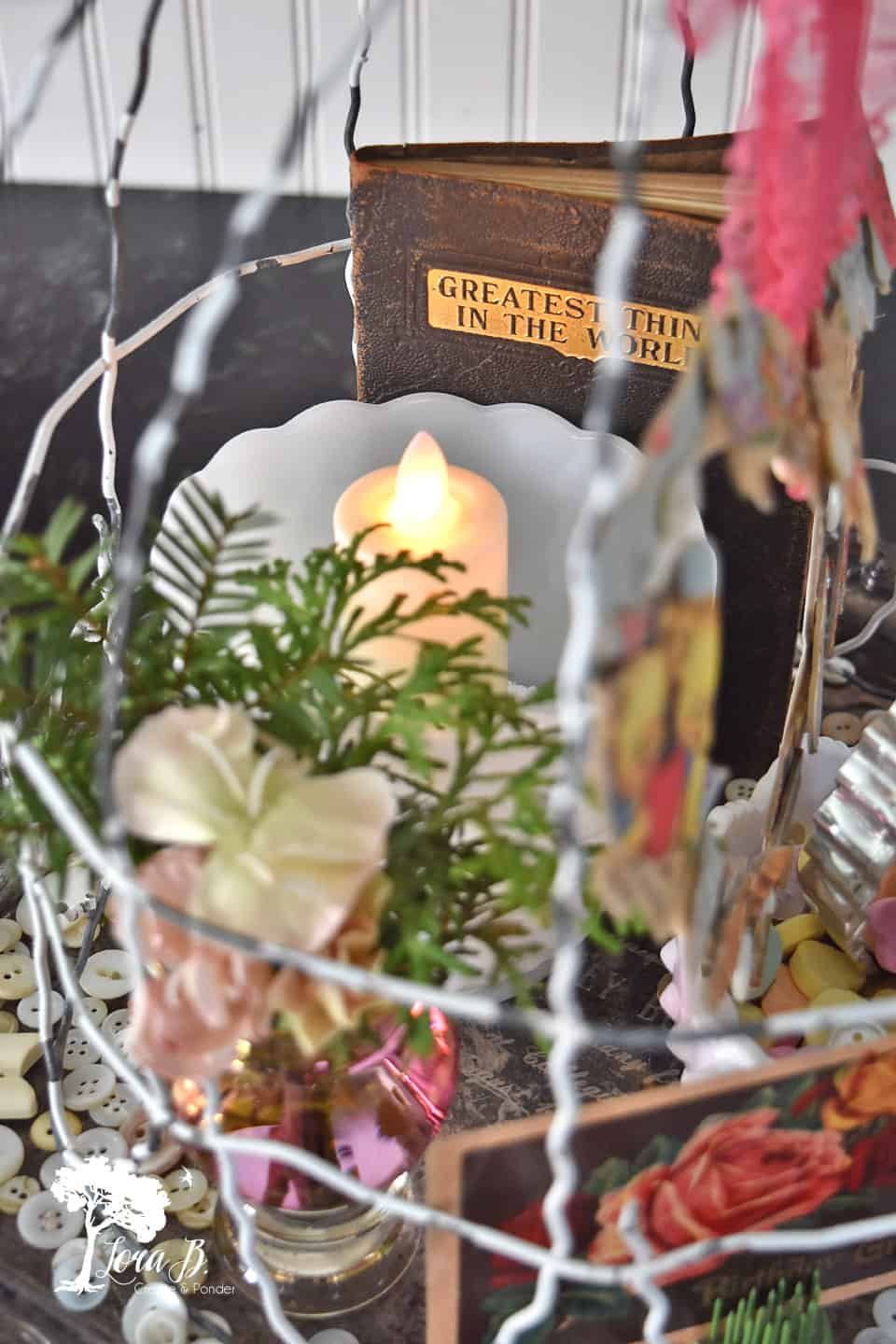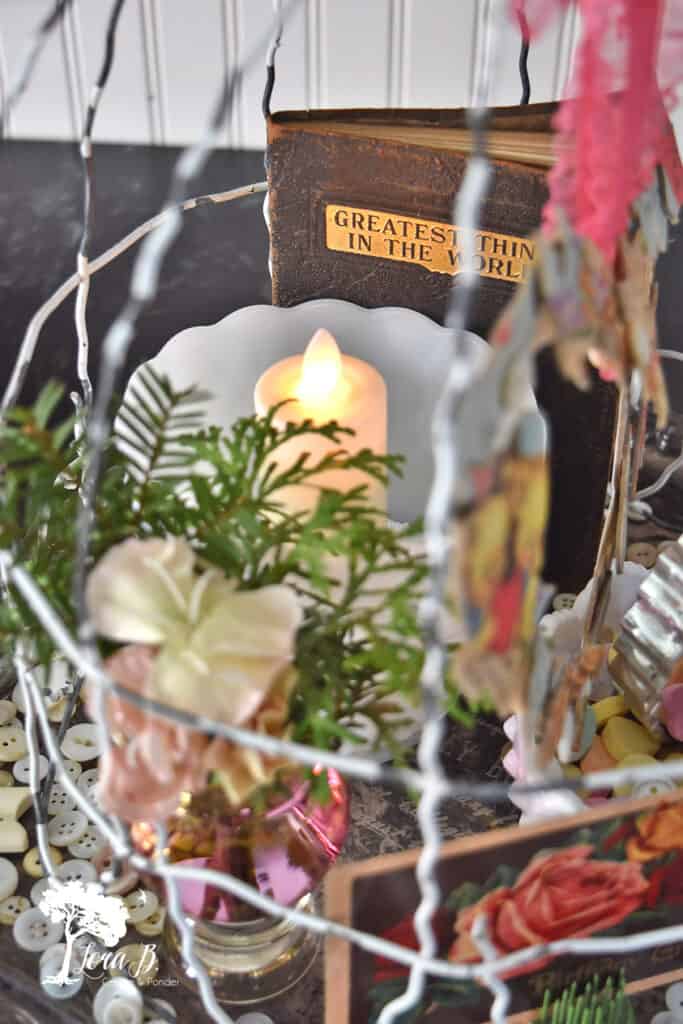 Candlelight and Flowers, Always
No vignette is complete without the ambiance of candlelight and flowers, especially for Valentine's. I used a faux candle (so I wouldn't burn the puzzle) nestled in white epsom salts in another milkglass vessel.
A small ruby red vase holds fresh evergreen clippings from the yard and a few grocery store flowers.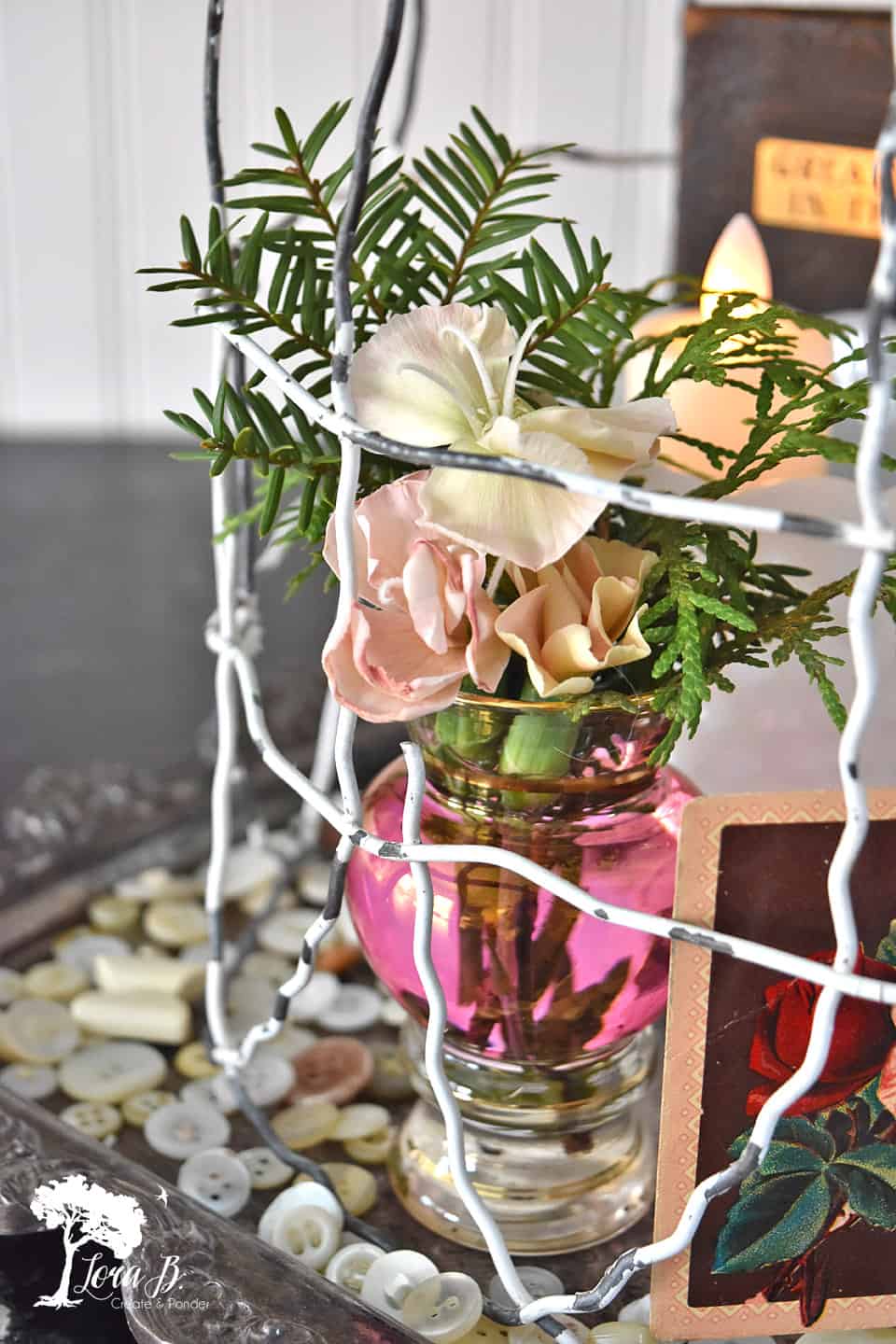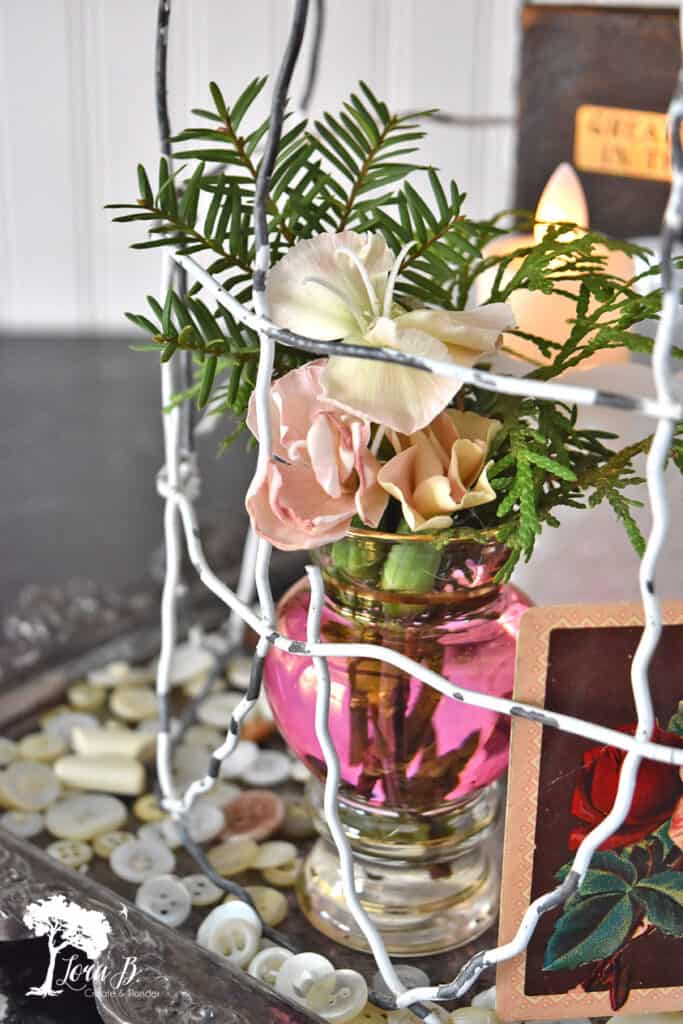 Buttons and a Vintage Postcard for the Finishing Touch
To add that vintage ephemera touch, I stood an old roses postcard in a vintage flower frog. It gives the whole vignette that romantic look. Then I scattered white buttons all around the edges.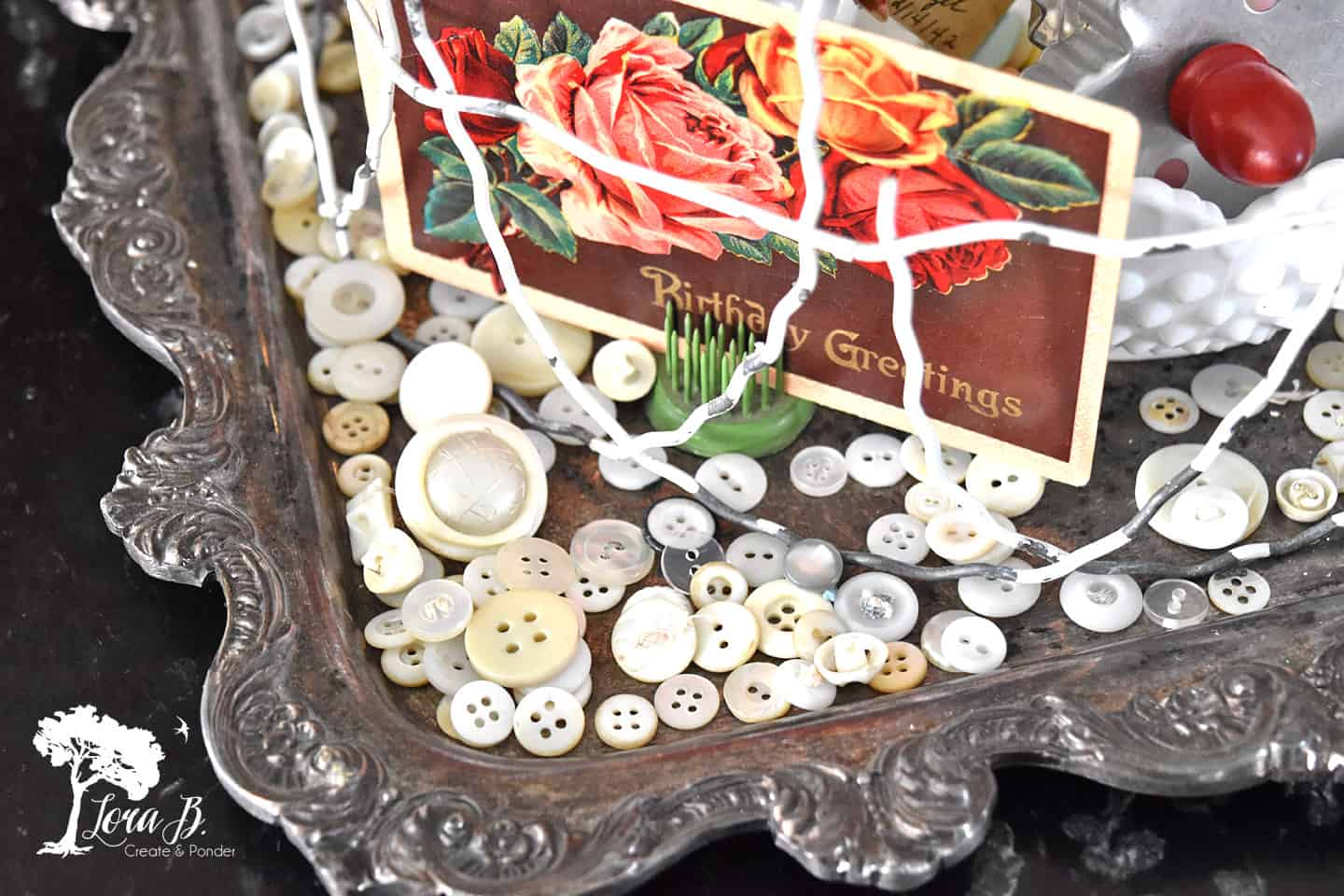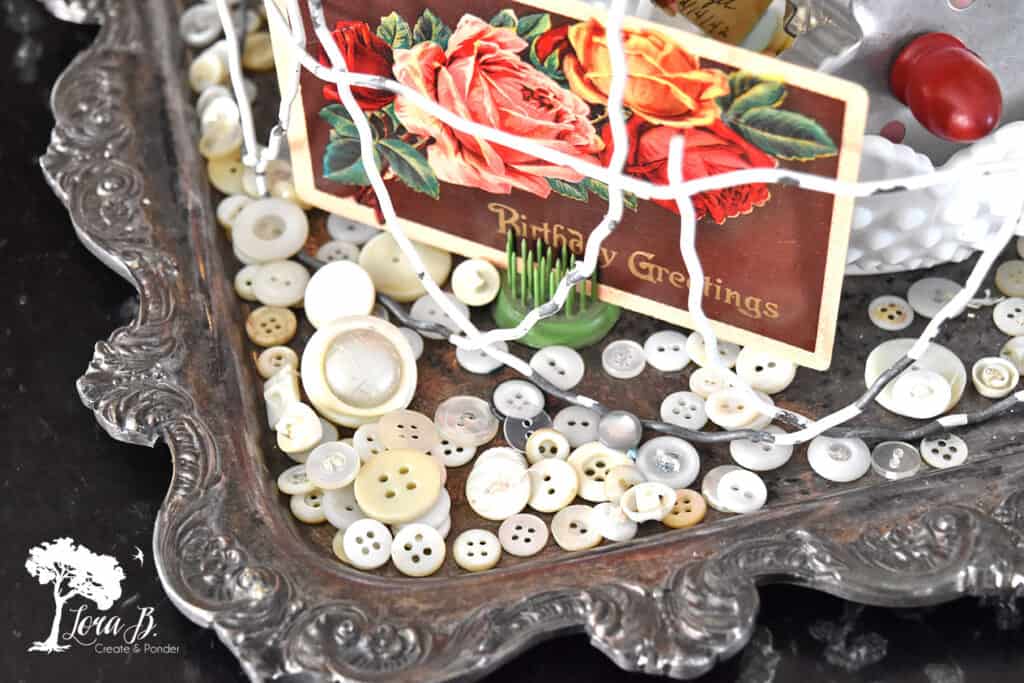 Perfect Valentine's Centerpiece
This Vintage Valentine's Cloche is the perfect centerpiece or entryway decor accent for the season. It's such a pretty, romantic look. I can hear the Parisian music playing!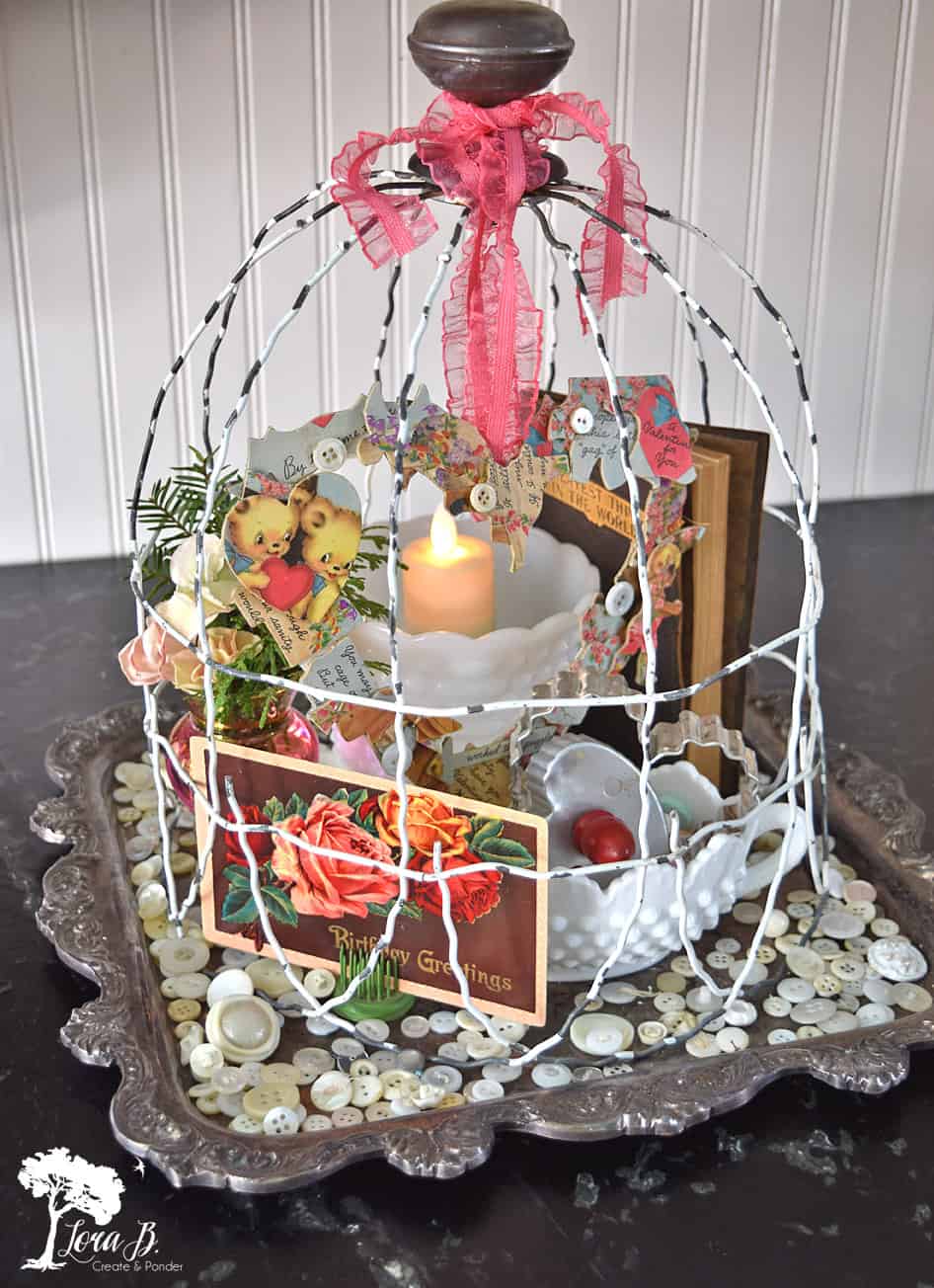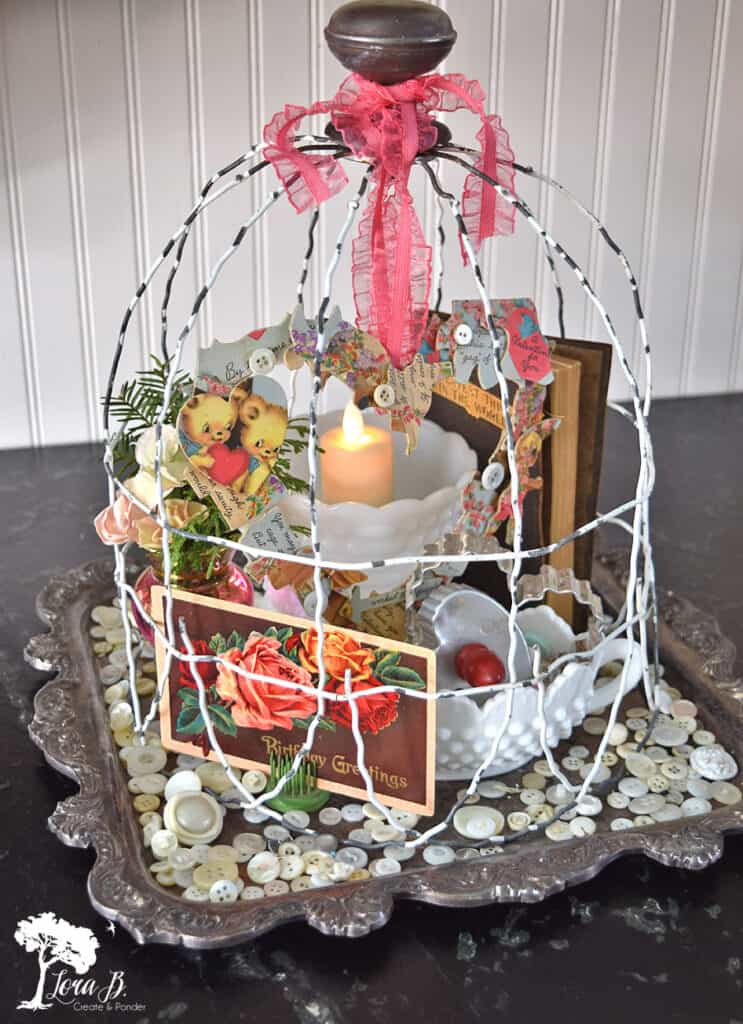 Are you getting excited for more Valentine's Cloche inspiration? Visit Niky at The House on Silverado next; she's got 5 different Valentine's cloche ideas for you.
Thanks for reading Upcycled Vintage Valentine Cloche. If you enjoyed your visit and want to keep the ideas coming, become an Insider!
Pin, Share, and Enjoy the Rest of the Inspiration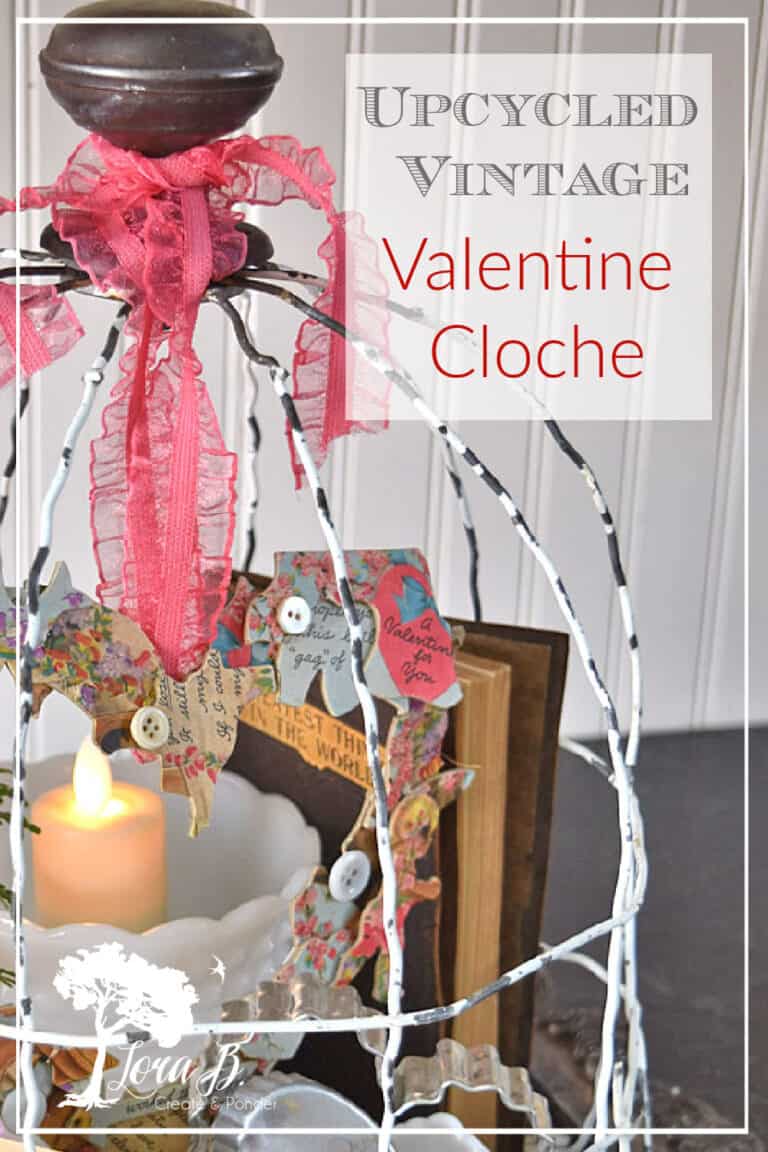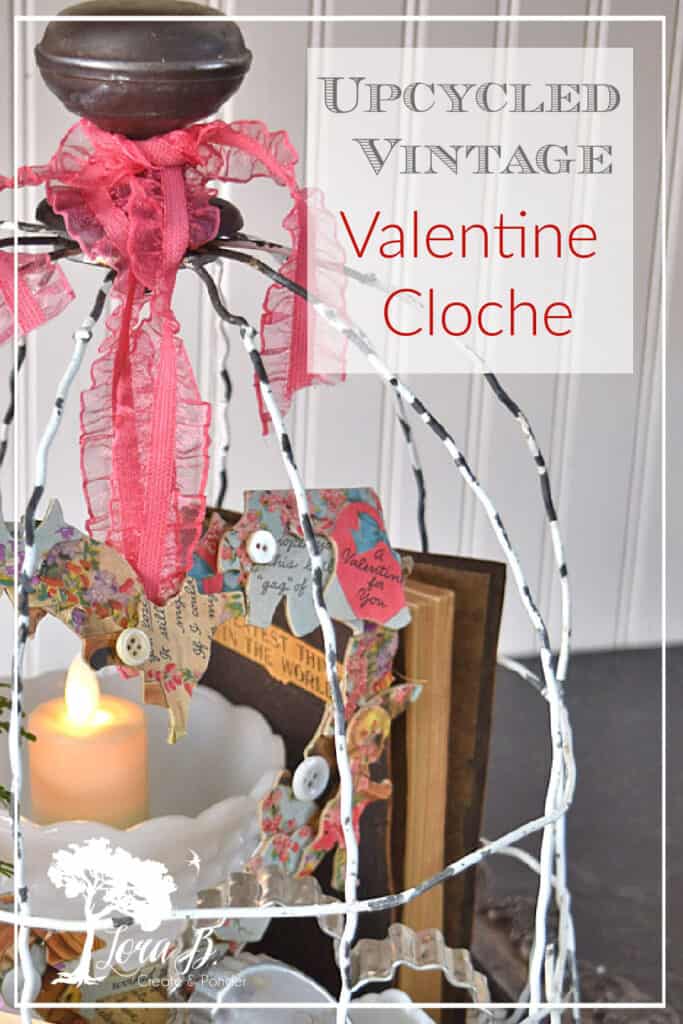 Valentine's Cloche Pinterest Challenge

Sharing at these lovely parties: