How to Make Your Own Feedsack-Inspired DIY Projects
Include these 4 elements when creating your own feedsack-inspired DIY projects.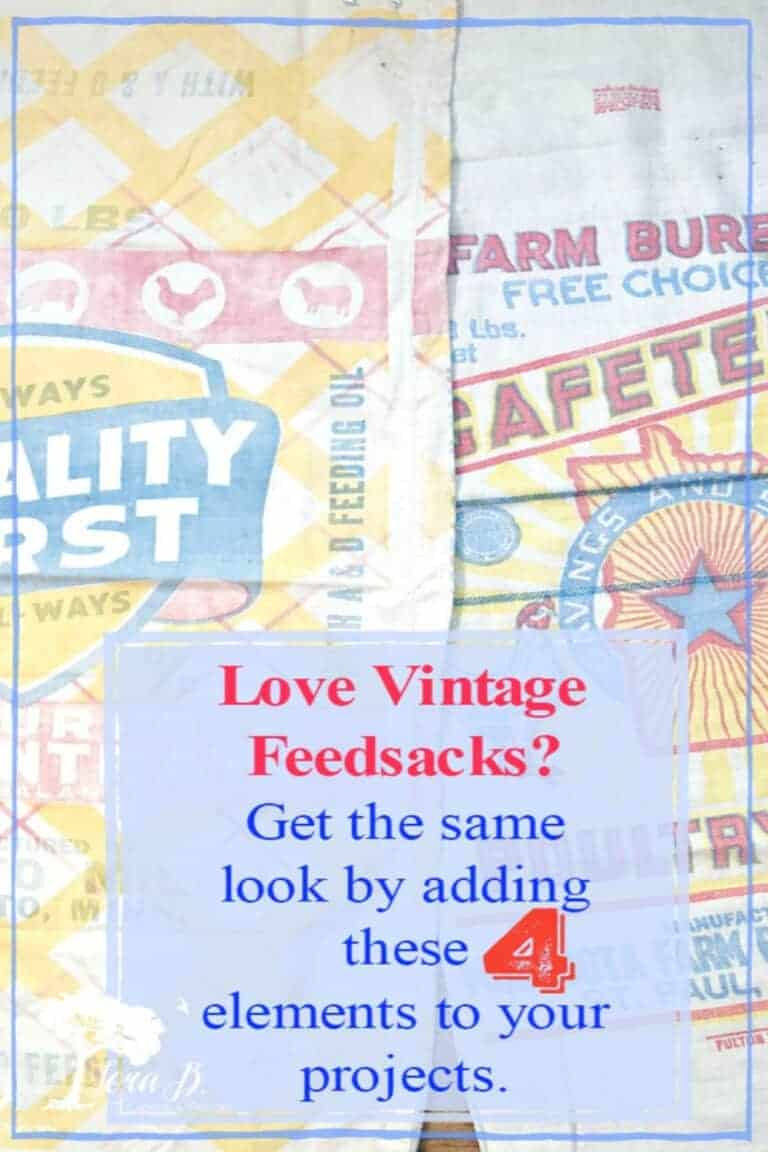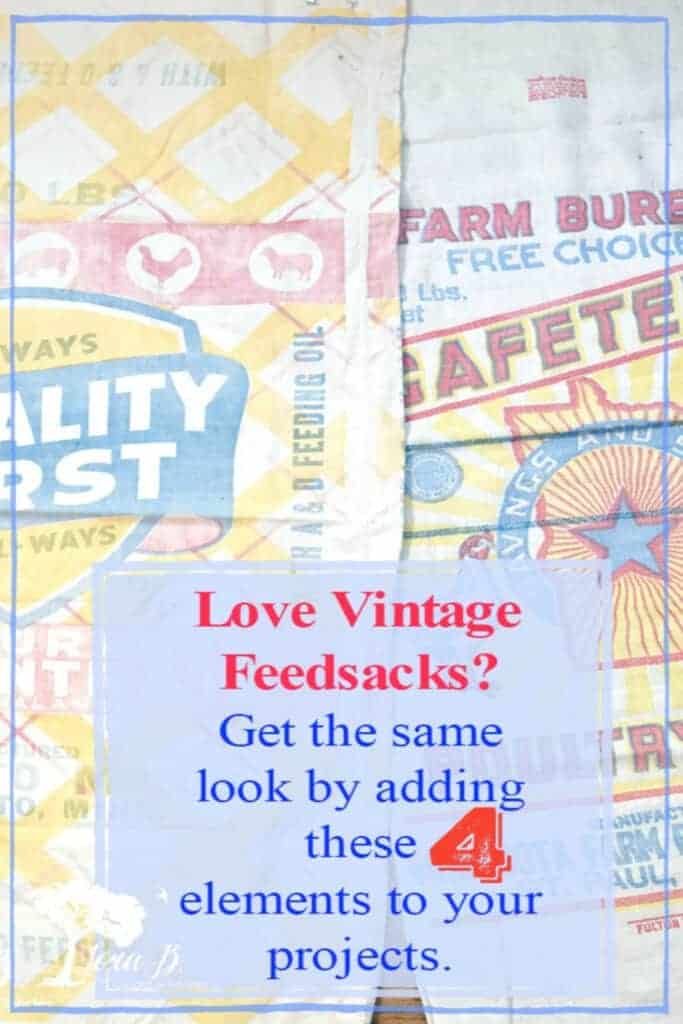 Vintage feedsacks have a classic charm that appeals to many people. If you can get your hands on a real one from time gone by, it's a treasure. I looked into the history of this popular collectible in "Feedsacks, Floursacks, and Grainsacks? Is there a Difference?" But today I'm going to inspire you to use that same feedsack-style charm with your own creativity. If you add a few design elements together, you can create your own fun projects on whatever material you choose! Here's How to Make Your Own Feedsack-Inspired DIY Projects.
How to Make Your Own Feedsack-Inspired DIY Projects
For your convenience, this post contains affiliate links. If you make a purchase, I may receive a commission. There is no additional cost to you. My full privacy policy is here. 
Start your Feedsack-Inspired Project with a Graphic Foundation
As I look through my vintage feedsack collection, most are anchored by a strong, graphic background. They include checkerboards, circles and grainsack stripes. Grainsack stripes are a grouping of stripes of differing widths. Whatever material you are creating your feedsack-inspired project on, start by creating a graphic foundation.
An old crate got feedsack-inspired style with the addition of some grainsack stripes down the side in  "Easy and Fun Ways to Decorate with Vintage Wooden Crates."
Old Sign Stencils provided me with complimentary stencils for this project. All opinions about their products are my own. Note: their prices are in Canadian currency; see their conversion link to adjust.
(you can get the Grain Sack Stripes stencil HERE)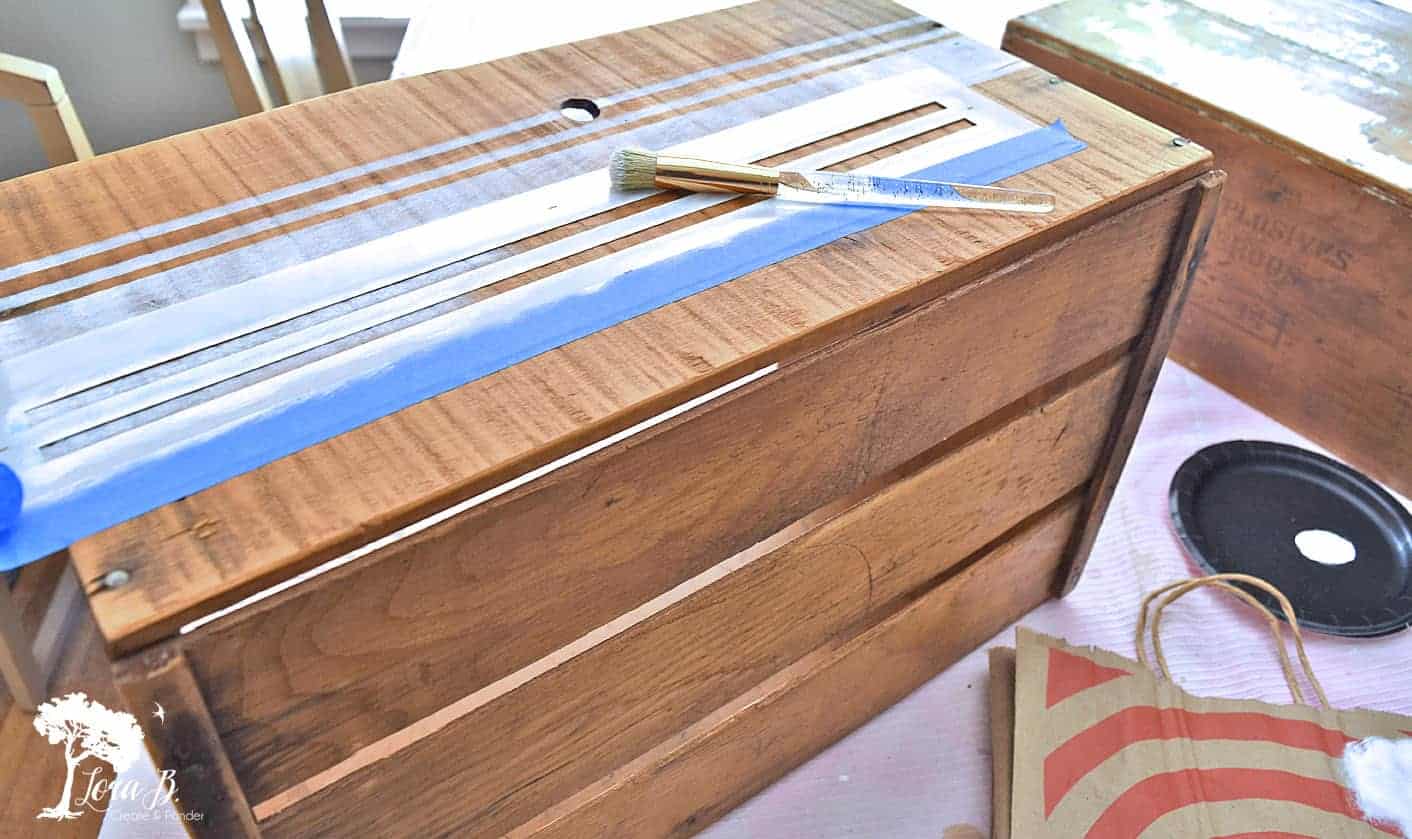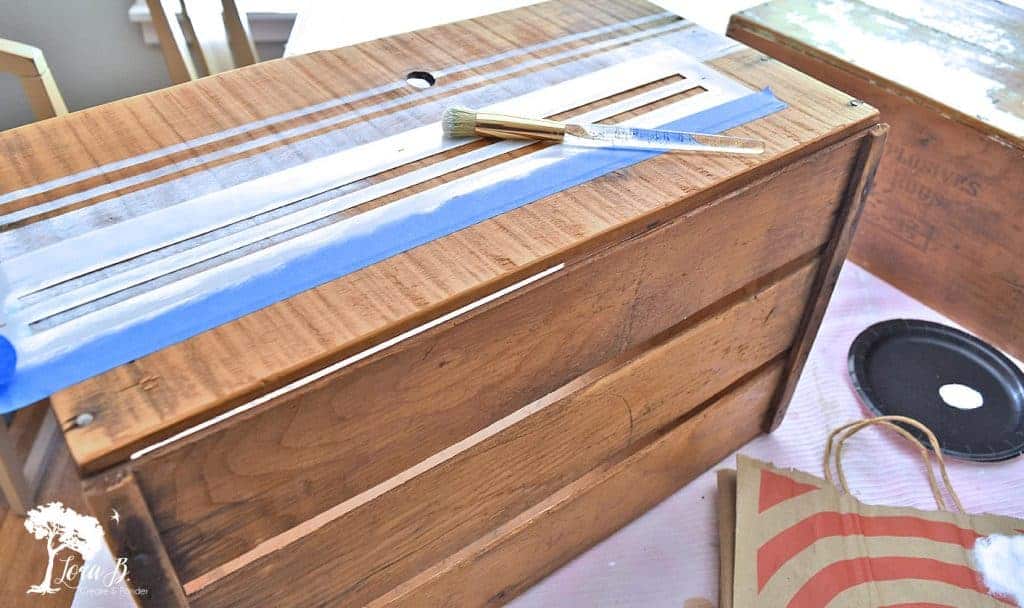 An old cupboard door got some gingham, feedsack-inspired style with a buffalo check stencil on this "DIY Stenciled Rolling Pin Display" The bright aqua paint gives it a fresh, modern vibe!
(you can get the Buffalo Check stencil HERE)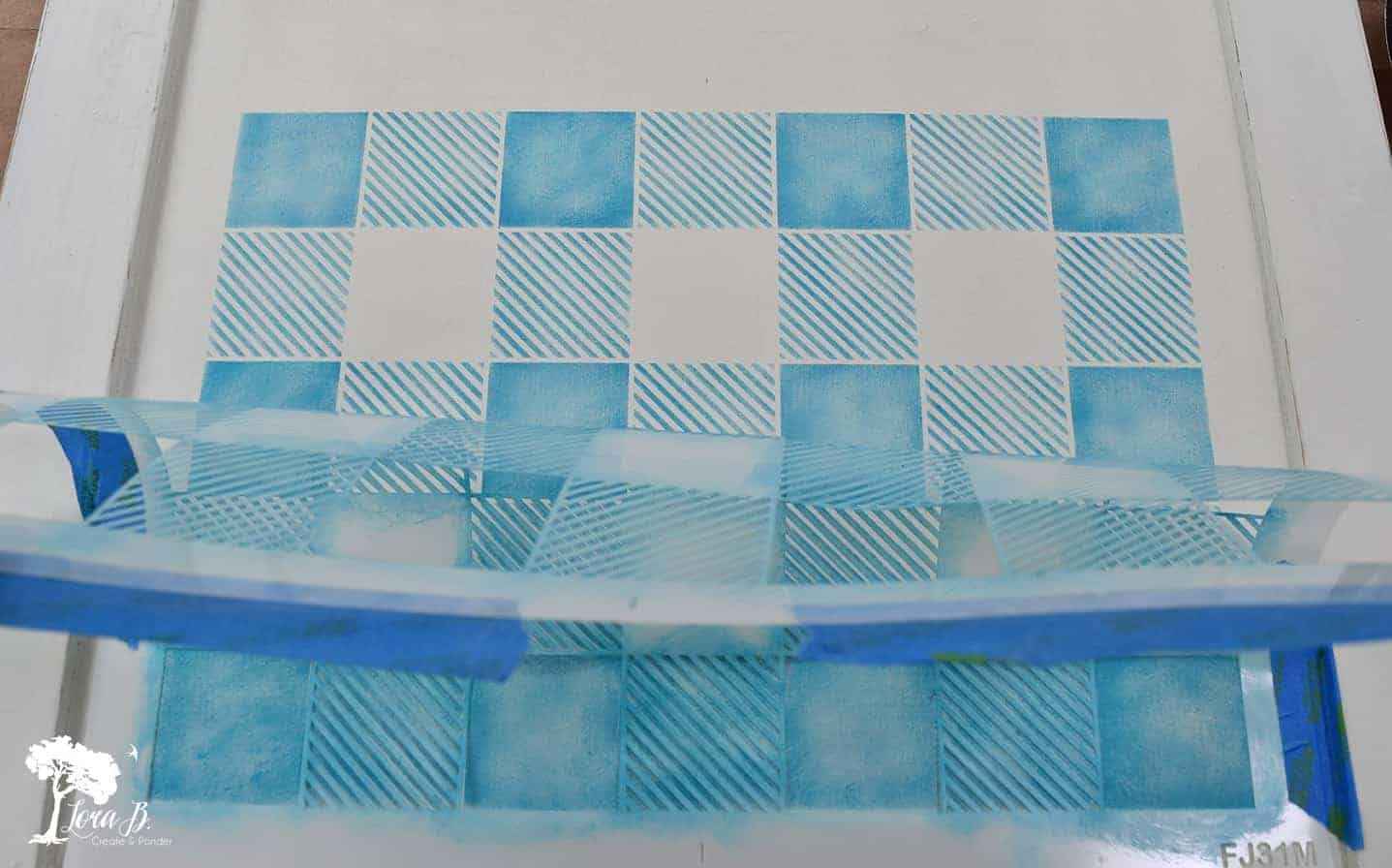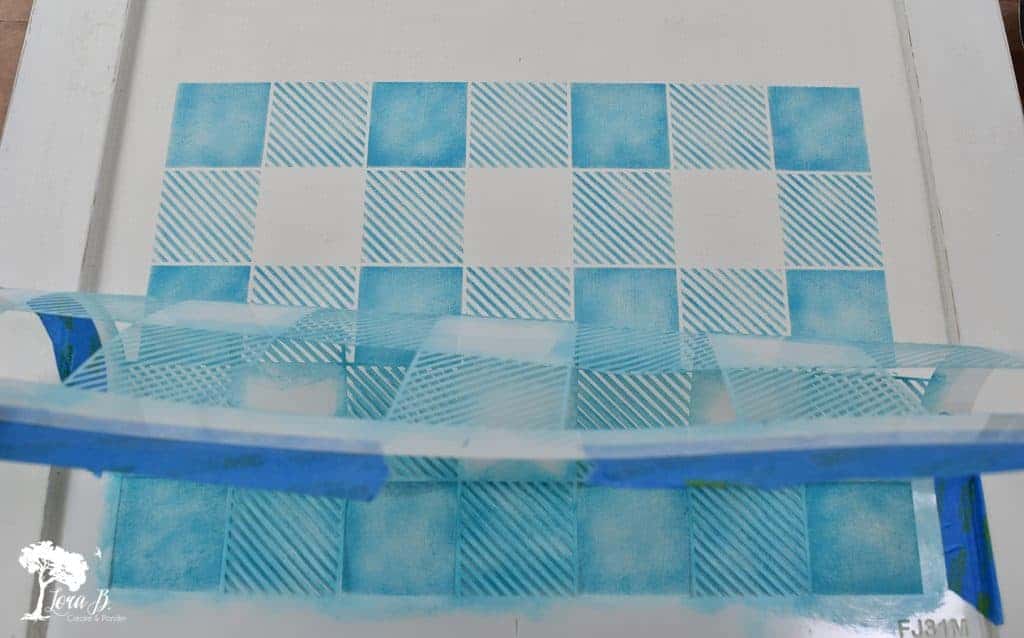 Adding checkerboards, stripes and other graphic punches will give your project a great feedsack-inspired foundation.
You'll also want to add:
Feedsack-Inspired Projects Should Have Block-Styled Lettering
Swirly, curly fonts do not fit a vintage feedsack-styled project. When you look at the true vintage specimens, the lettering is block-styled, often with edge shadows.
Choose a stencil font that has clean-lined block-type letters. (you can find some options HERE). This "Easy Stapled Feedsack Mini Stool" has a real deal Bemis feedsack on it, but you can create your own fabric with a dropcloth and stencils. Check out an easy how-to HERE.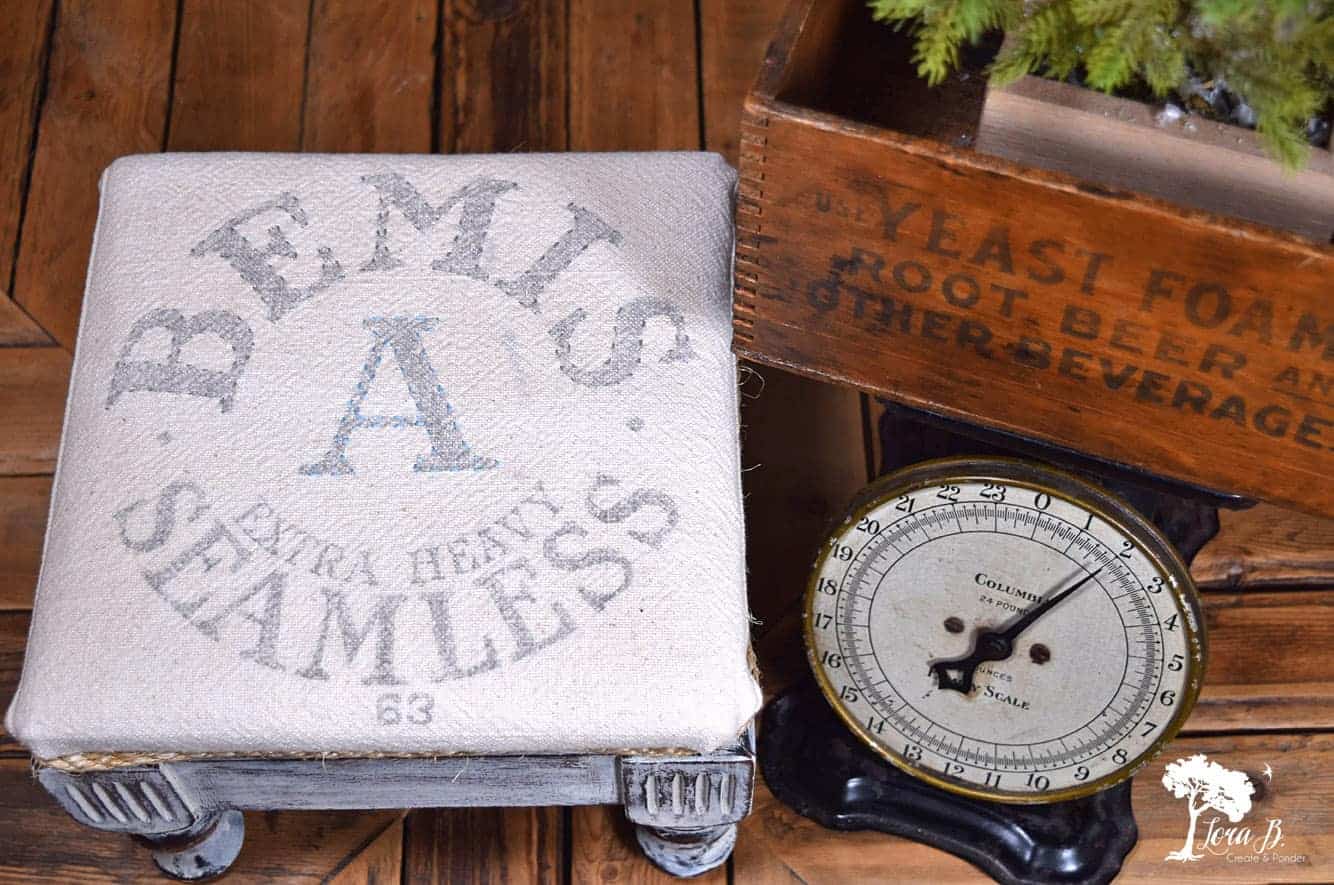 Include Images of Farm Animals, Farms or Farmhouses
Vintage feedsacks often had images of the animals the feed was for, or illustrations of farms and farmhouses. Remember, these bags were marketing tools to get the consumer to buy them. The prettier the bag, the more the customer would want to buy it.
For true farmhouse flair you can add farm animals, but give yourself some creative license to push the boundaries. A dog, cat or bird silhouette could be fun for a modern twist. I went with a classic chicken image on an old crate, but had a little bit of fun with a deer head stencil for Christmas.
(you can find the chicken Grain stencil HERE)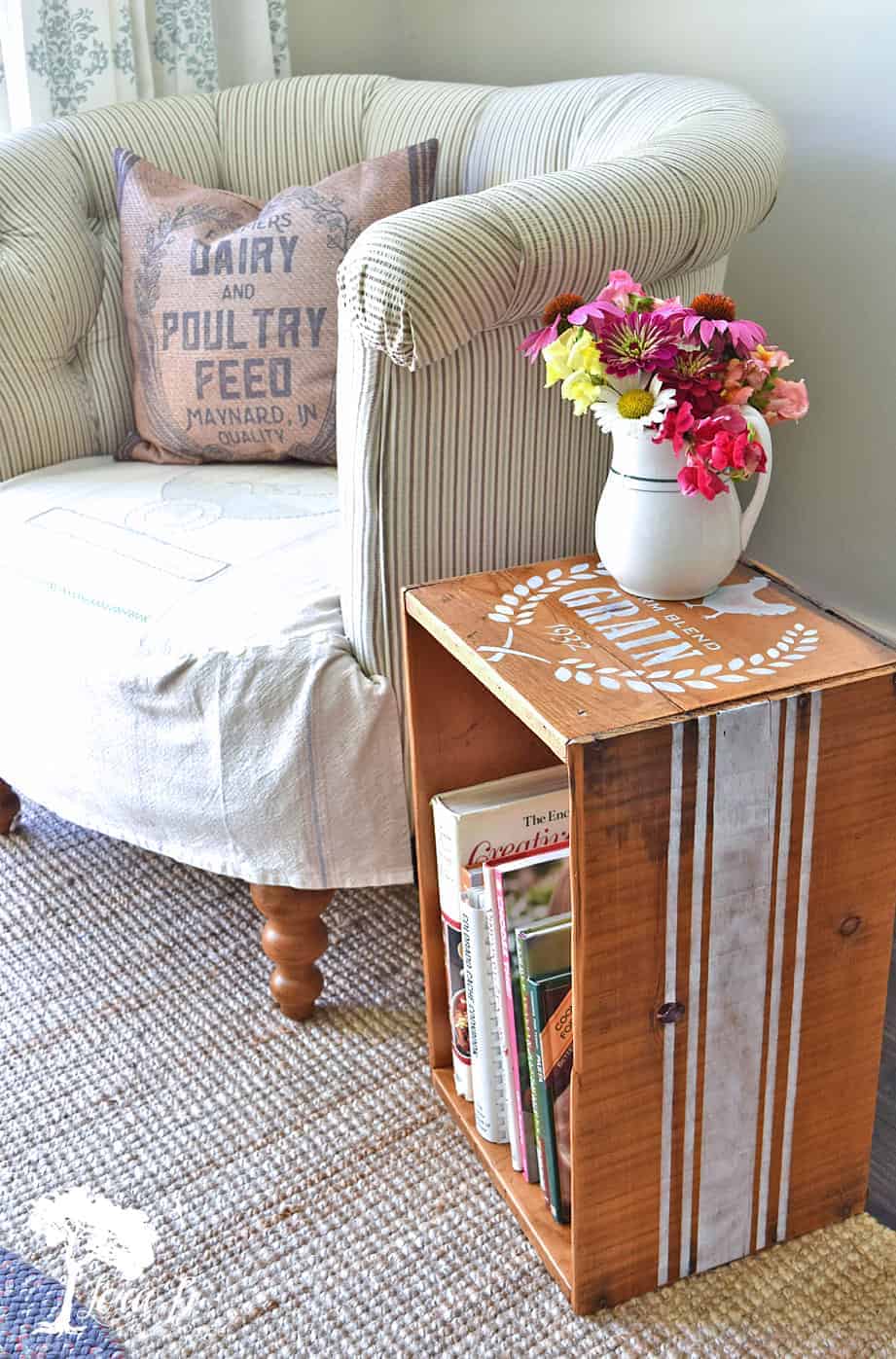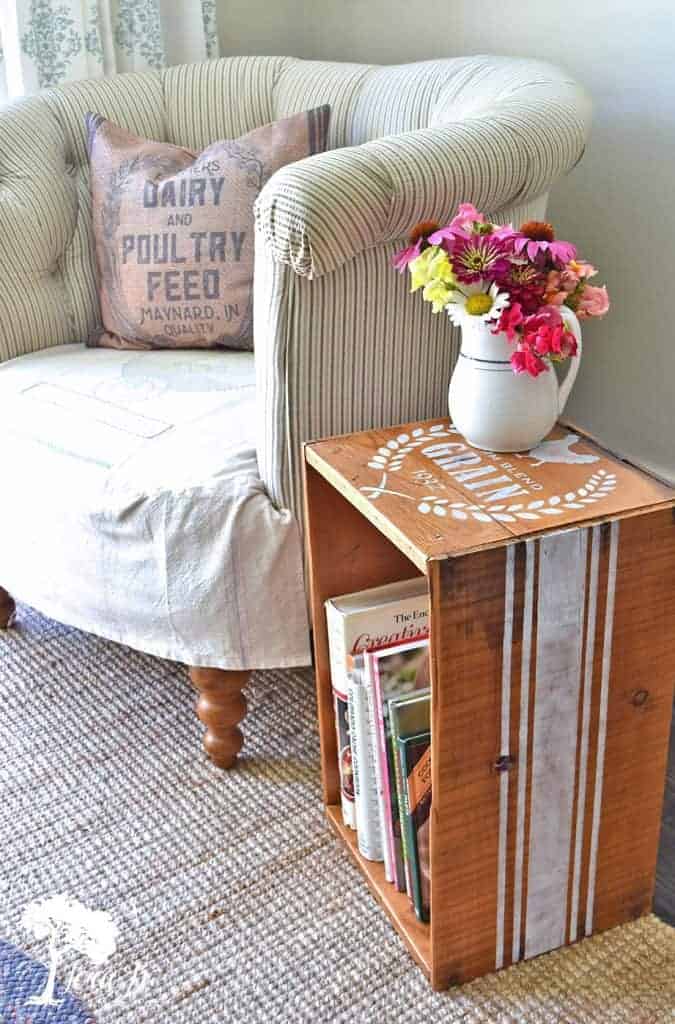 (If you want to protect your upholstered furniture seats, check out my "How to Add Feedsack Slipcovers to New Furniture Seats")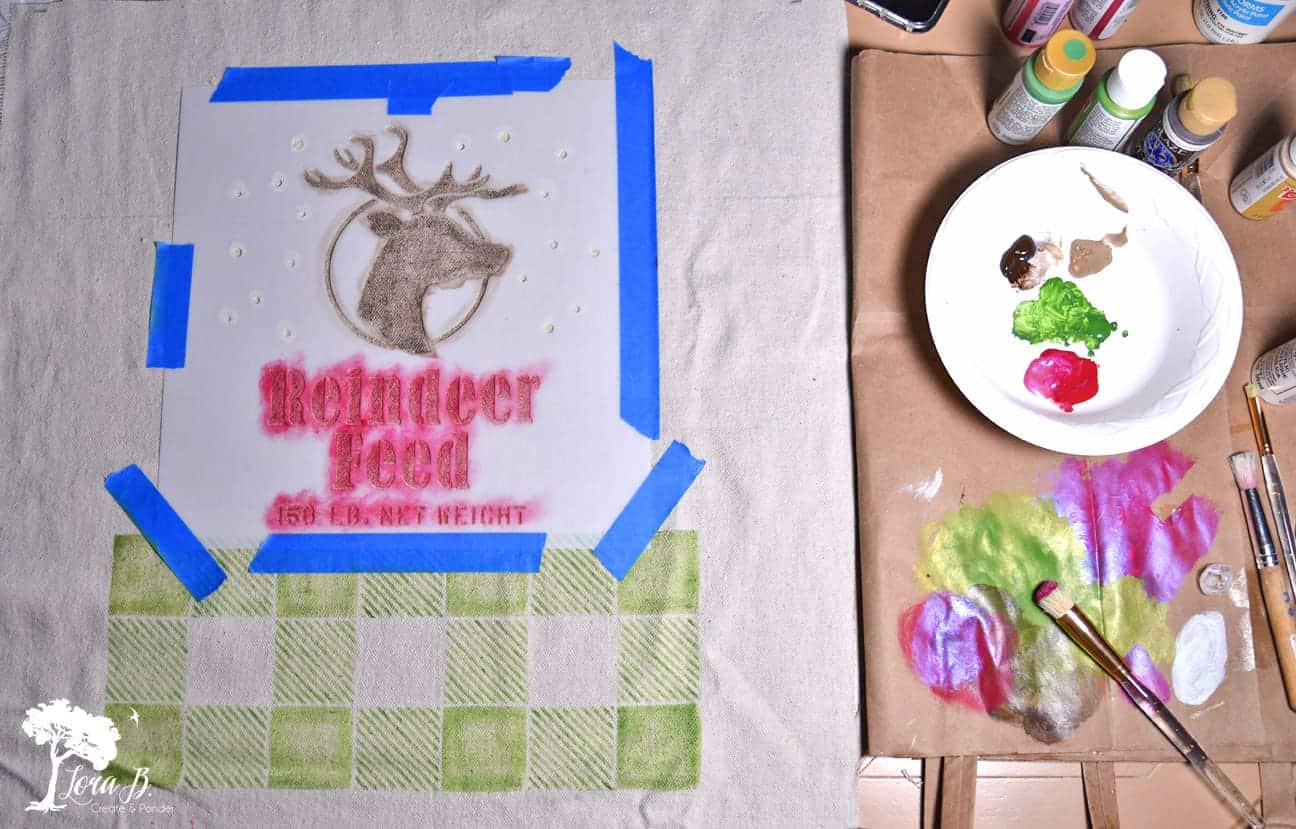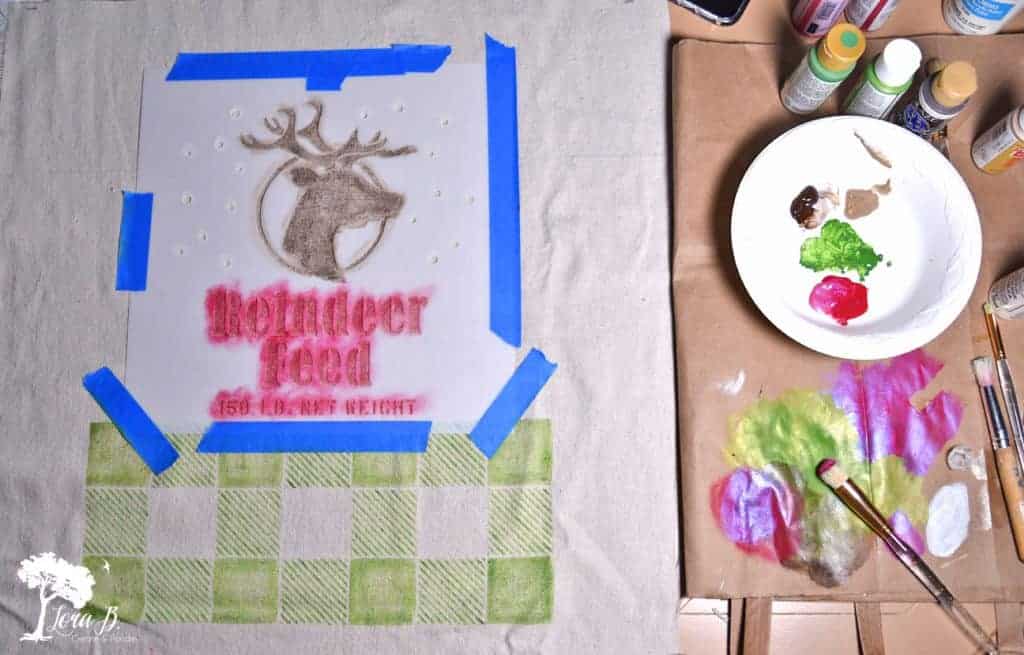 (Reindeer Feed stencil can be found HERE)
For this Rudolph-themed, feedsack-styled Christmas pillow how-to see "DIY Feedsack Stenciled Reindeer Pillow".
Lastly, Use Classic Color Combinations for your Feedsack-Inspired DIY Projects
Vintage Feedsacks were printed with the classic colors of red, green, blue, yellow and black. These colors will give you the most classic-looking project. But I think it's fun to flex your color choices a bit and use lighter and brighter versions. Aqua adds a fresh twist and is a great combination with the classic colors. You can also use white on a darker background medium for a fresh farmhouse look, like I did on this "DIY Stenciled Galvanized Bucket Gift Idea".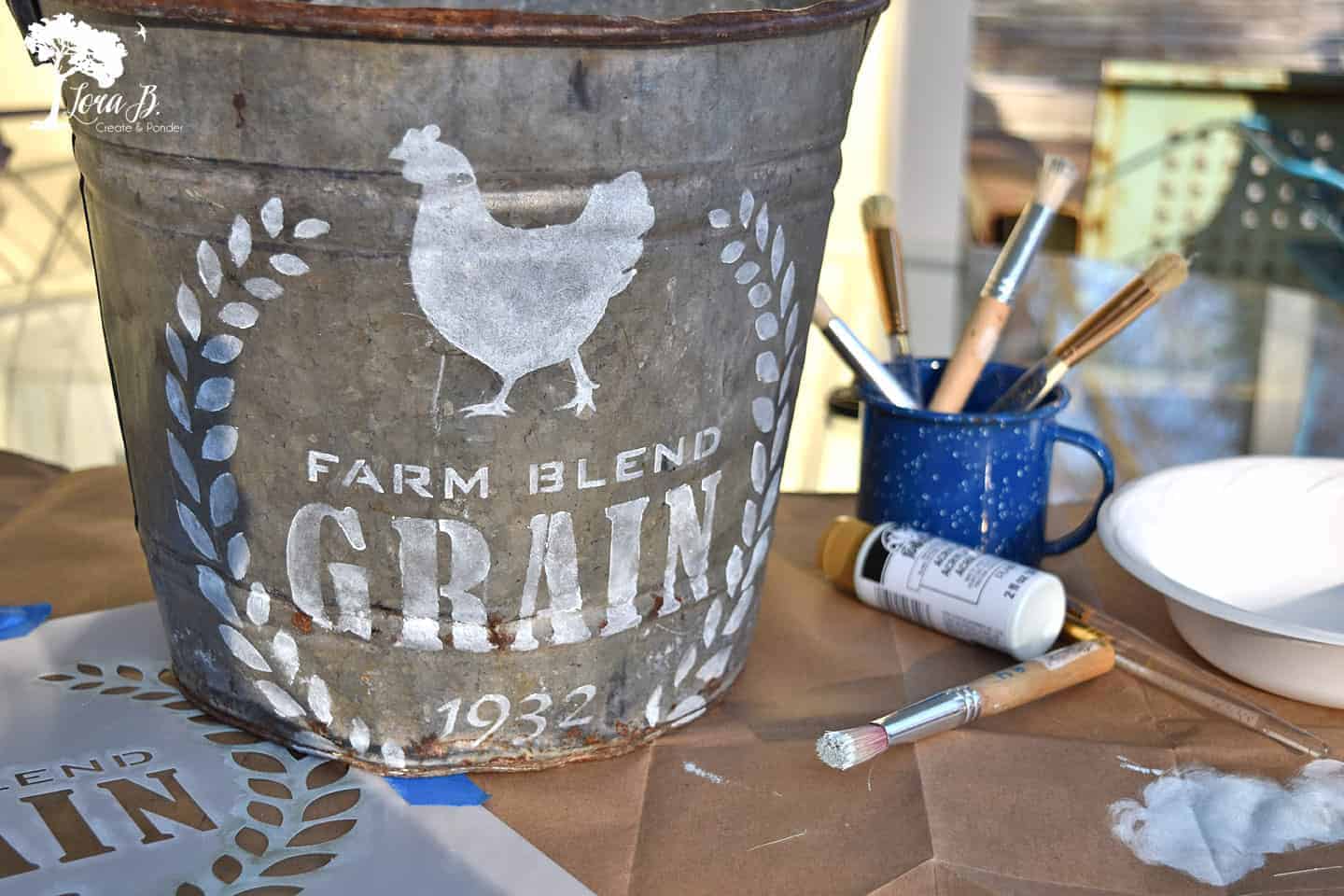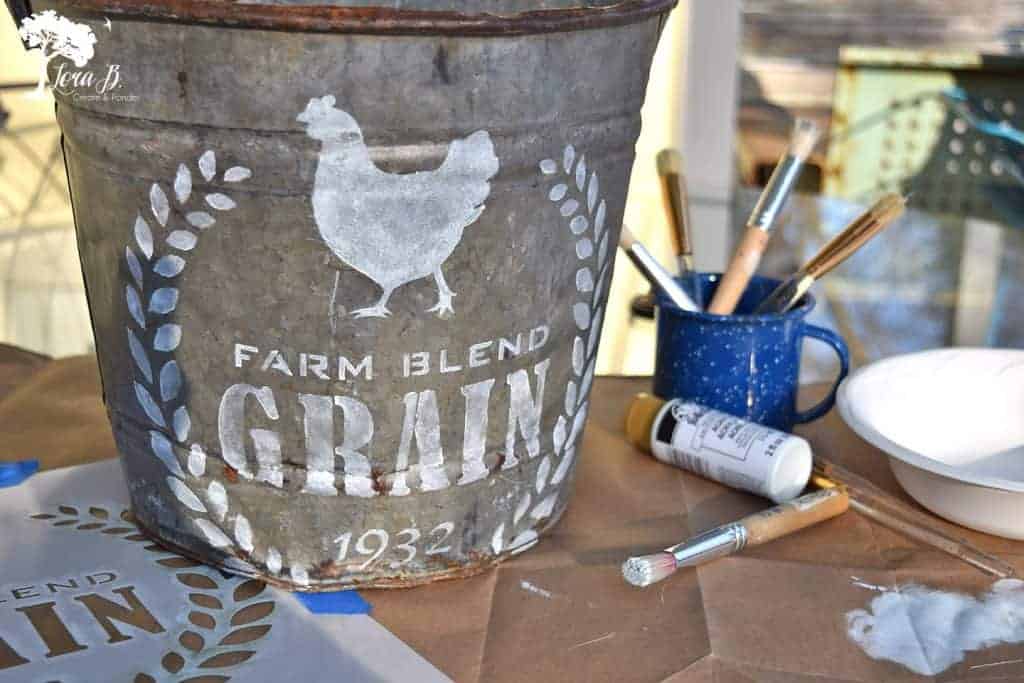 Do you feel motivated to create some of your own feedsack-inspired items? As you can see, you can add the classic charm to wood, fabric or metal. With a little stenciling and some creativity, these 4 design elements put together will turn into some fun and unique home decor accents!
Hope you enjoyed How to Make Your Own Feedsack-Inspired DIY Projects!