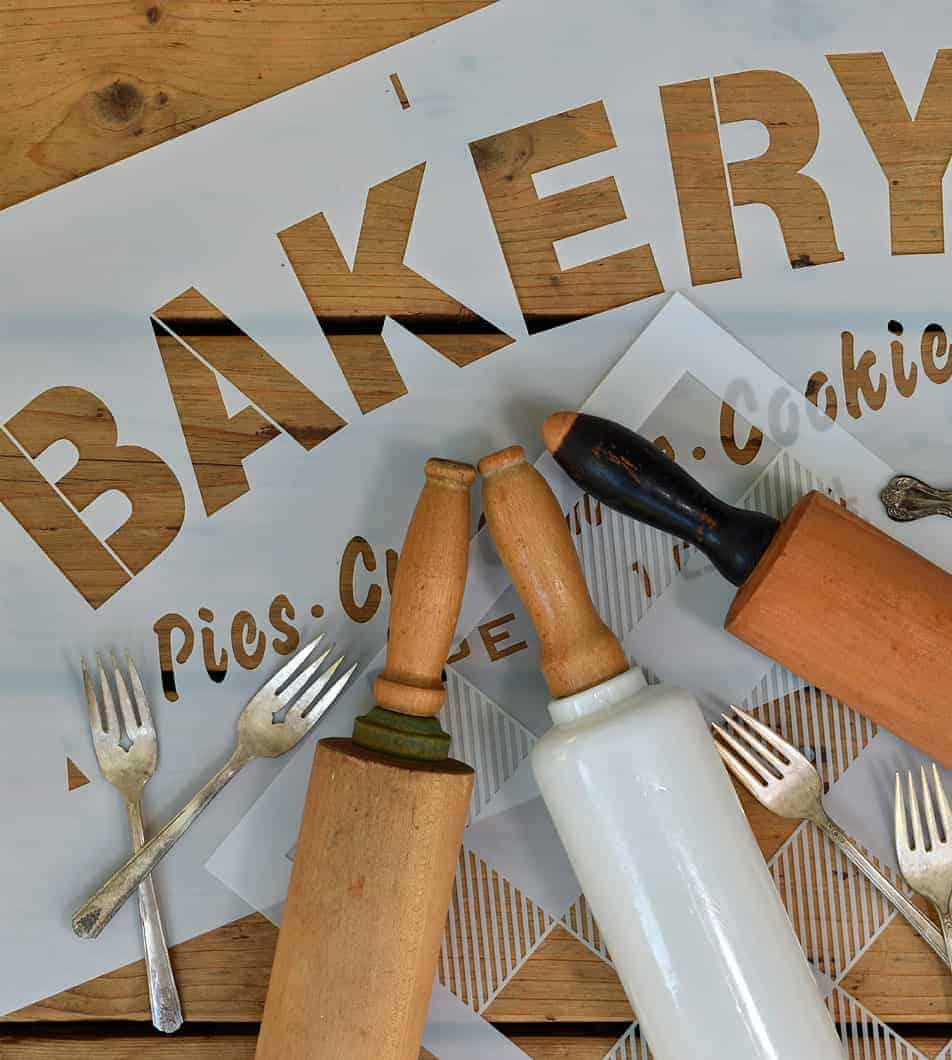 Who doesn't love a luscious slice of mouth-watering pie? For generations, home bakers have baked up their over-abundance of ripe harvest into yummy desserts. State Fair contests have passed out blue ribbons to the best tasting concoctions. This DIY Stenciled Rolling Pin Display celebrates the bakers and their humble tools they use to satisfy our sweet tooths!
This project is part of our monthly Thrifty Chicks Challenge. Our talented, creative bunch is focusing on Rolling Pins and Wood Utensils this time. Catch all their projects at the end!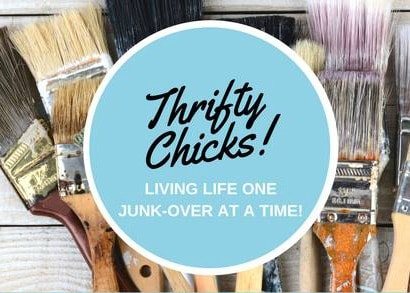 My goal for this challenge was to create a fun display piece for 3 of my vintage rolling pins that happen to coordinate with my kitchen colors. This creation would be an amazing display piece for vintage dealers to sell all the fun old bakeware. I know vintage rolling pins, cookie cutters and other utensils were always a mainstay seller in my former booths/store. Just an idea for my entrepreneur friends!
DIY Stenciled Rolling Pin Display
For your convenience, this post contains affiliate links. If you make a purchase, I may receive a commission. There is no additional cost to you. My full privacy policy is here. 
Right away, I knew I wanted to incorporate some of Funky Junk's Old Sign Stencils into this project. Their Buffalo Check stencil reminded me of an old gingham tablecloth, and I was picturing their Bakery stencil as an old sandwich board hanging in front of a small-town cafe.
Old Sign Stencils provided me with complimentary stencils for this project. All opinions about their products are my own. Note: their prices are in Canadian currency; see their conversion link to adjust.
First, Choose Your Rolling Pin Display Foundation
Luckily, I had the perfect old cupboard door in my stash! I was hoping it's 21″ x 36″ size would work with the size of the stencils. I couldn't have planned it more perfectly. When the stencils arrived in the mail, I was so excited! I also loved their thicker weight; I will be able to use these Old Sign Stencils for many future projects!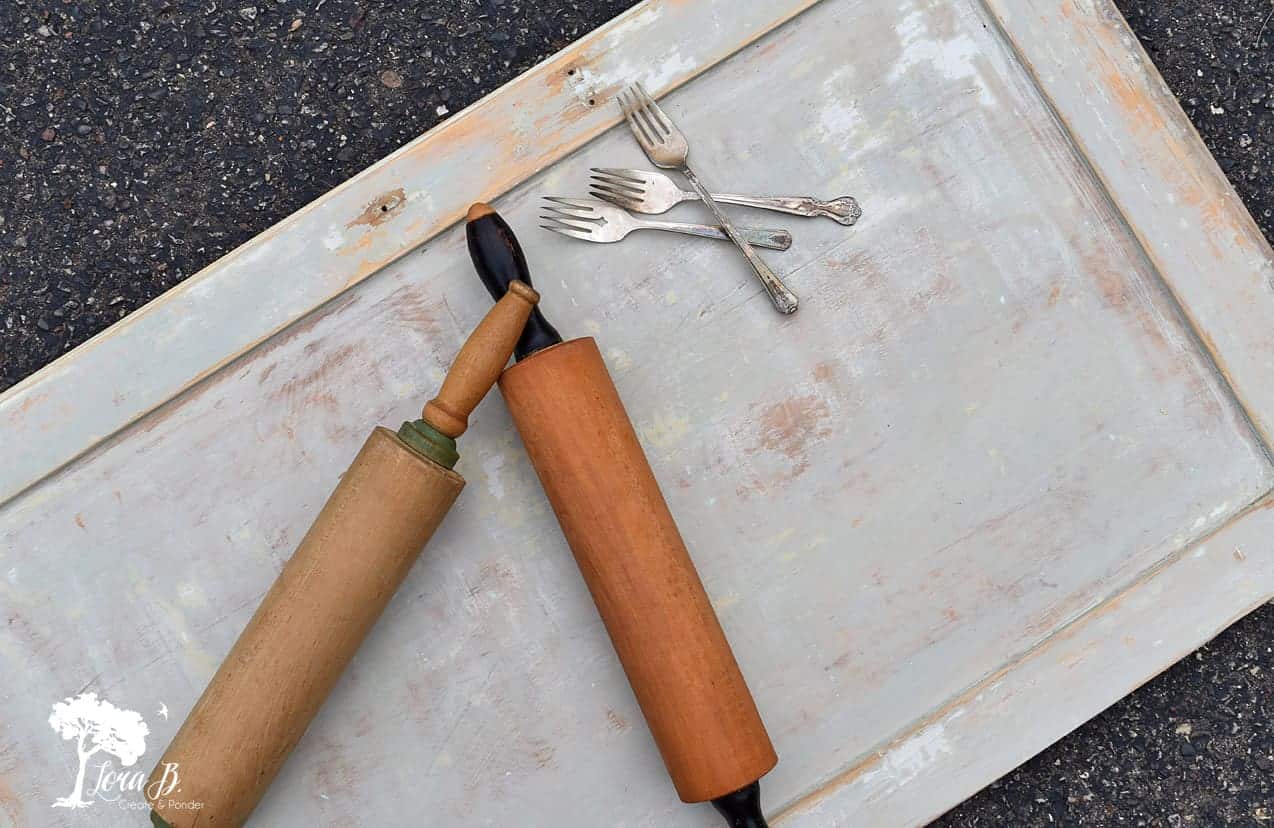 I won't bore you with what it took to get the old cupboard door suitable for it's makeover. Let's just say it involved quite a bit of stripper and many putty knives full of crud. Oh, how I hate paint stripping. When done, I sanded it all up and gave it a fresh couple of coats of Miss Mustard Seed's Farmhouse White Milk Paint.  Now it was ready for cuteness!
Paint Your Foundation with Stencils
Using a medium-sized stencil brush and a Turquoise craft paint I stenciled the buffalo check backdrop first. When I stencil, I use a swirling motion from the outside in, so the borders are more intense than the middle. It looked crisp and cute like a vintage gingham tablecloth at a cafe. Because I'm an aqua and green girl, I added a bit of green in the corner of the aqua.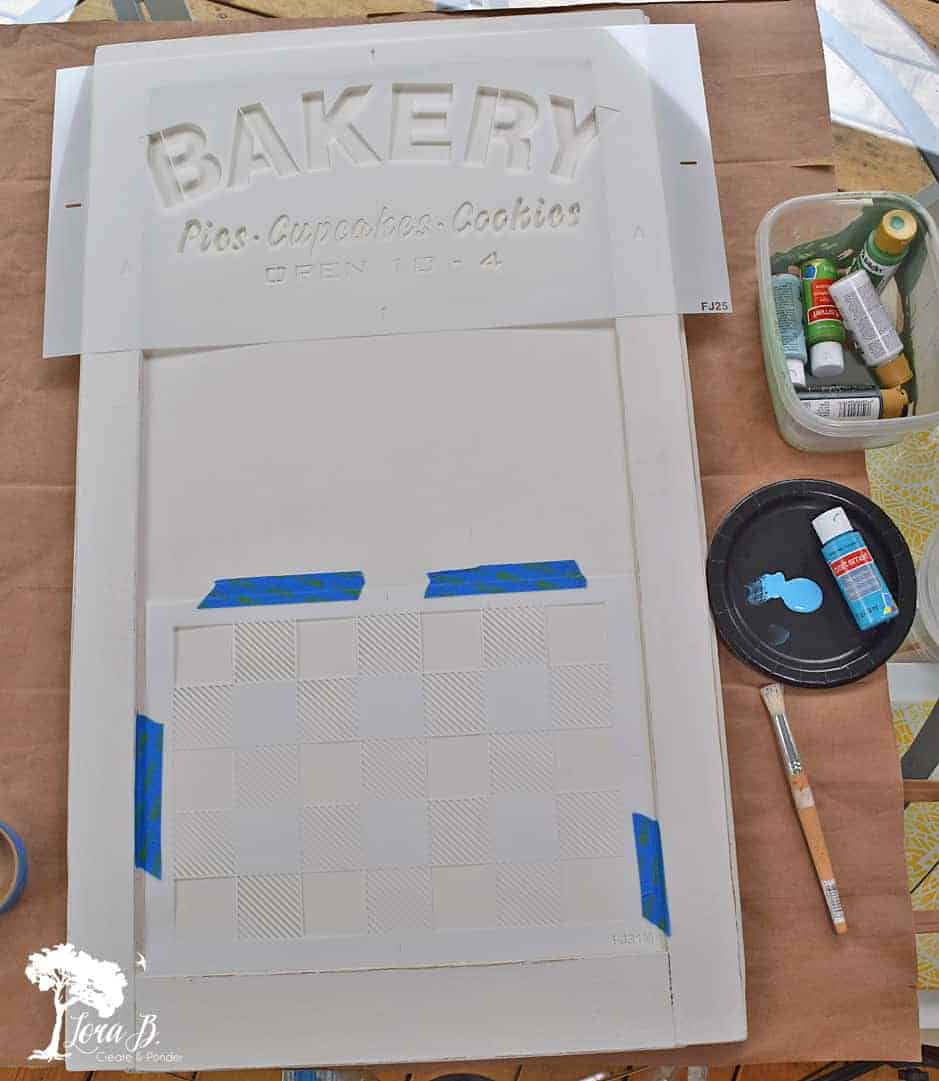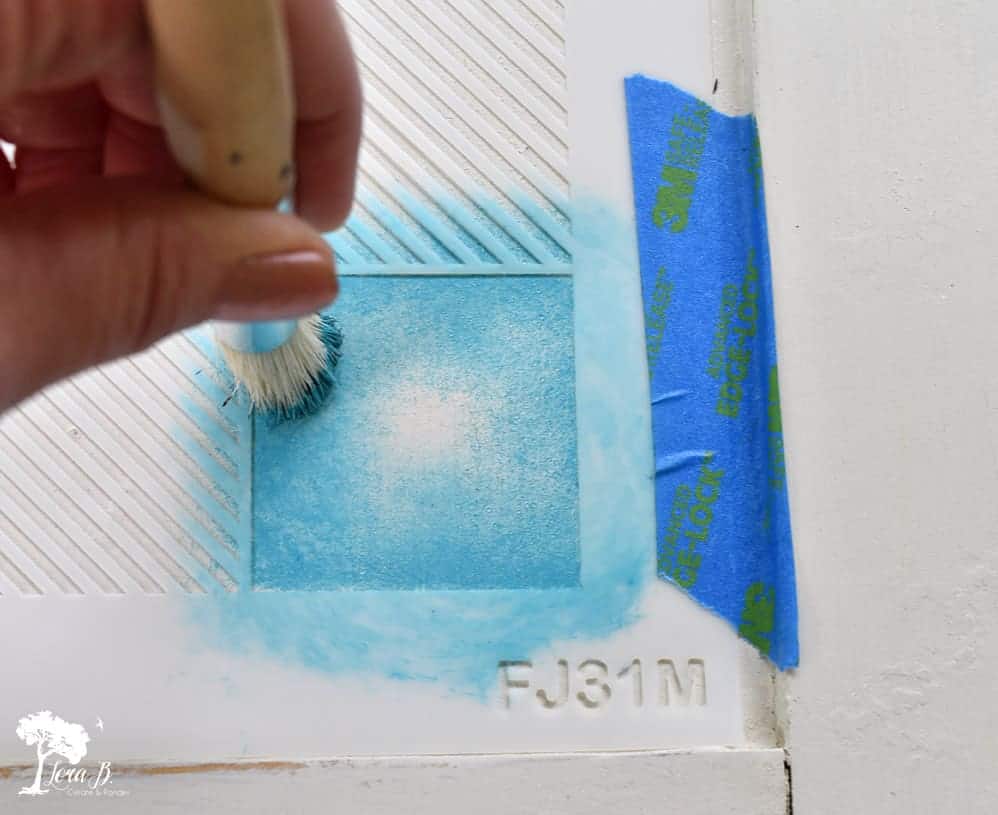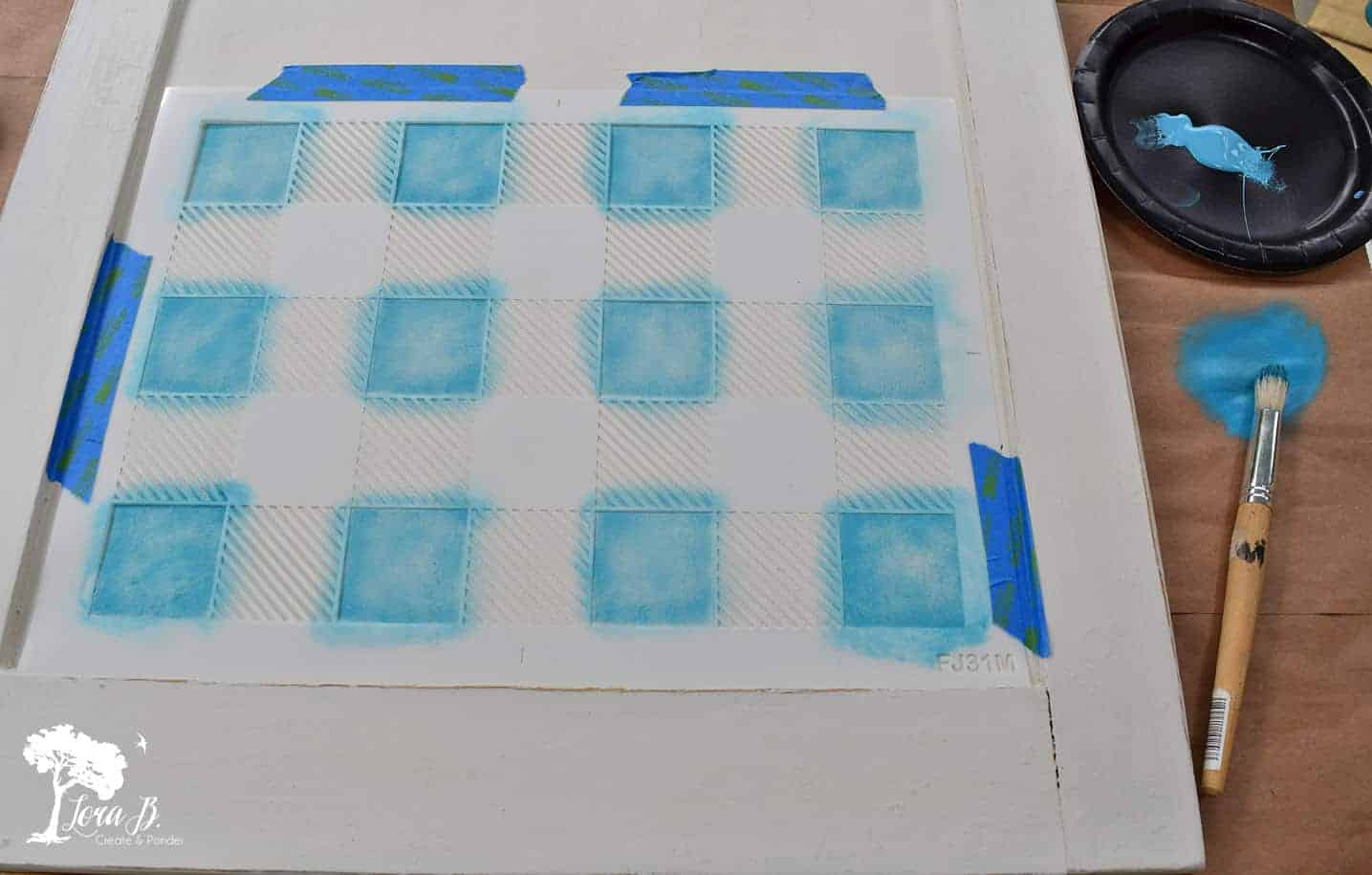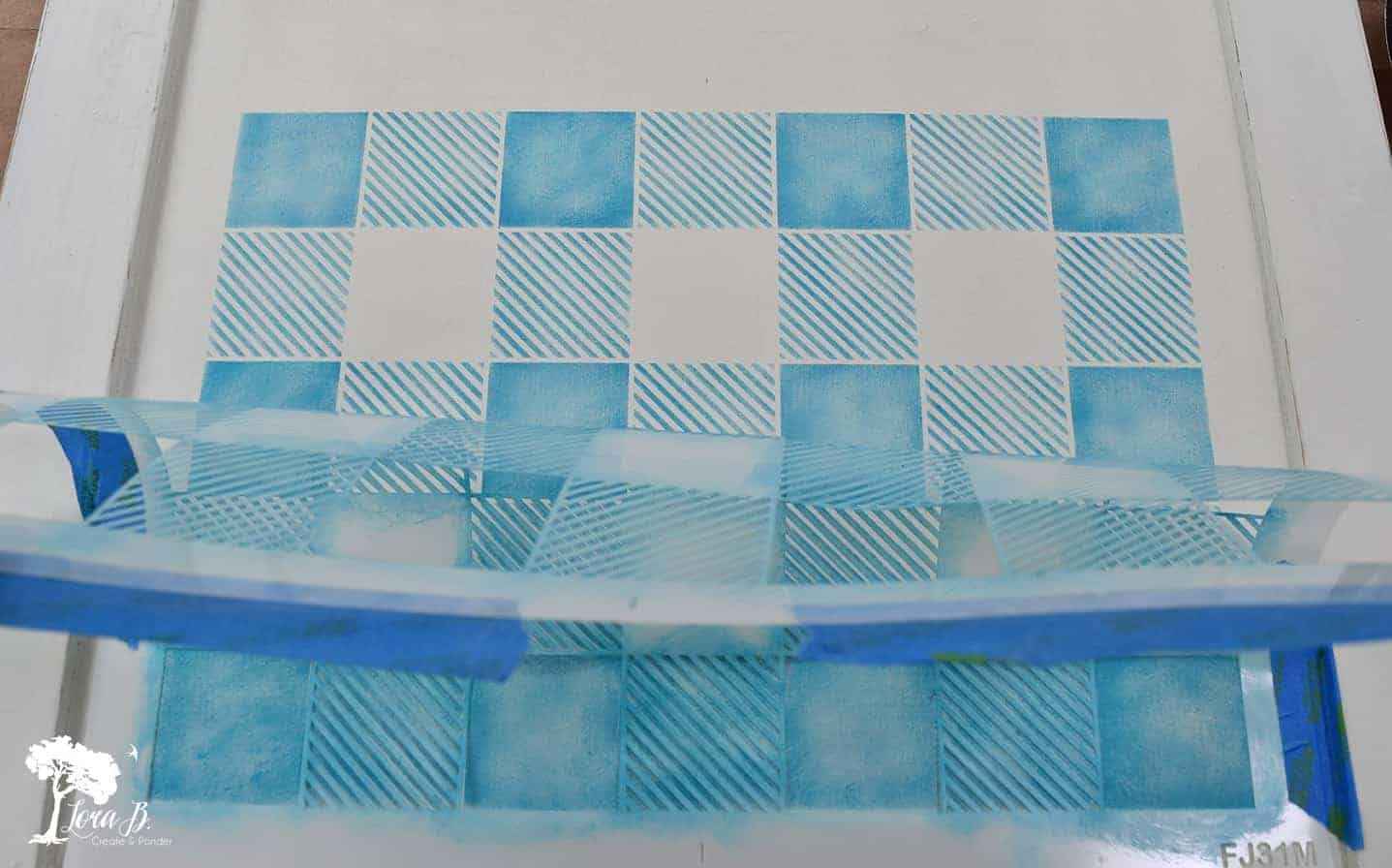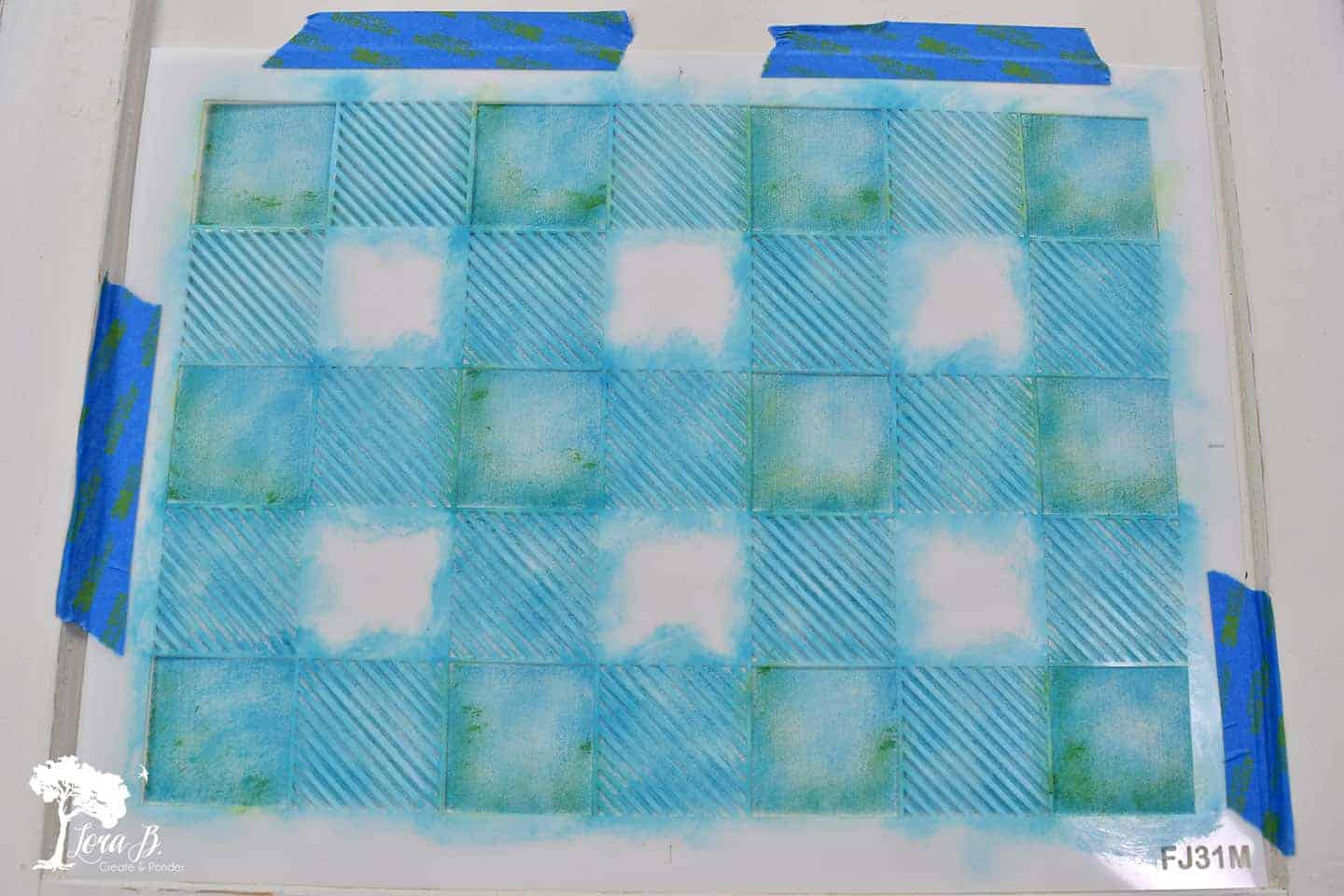 I could have  should have overlapped the stencil so it would have been one continuous pattern going up, which would have been easy, but guess it's been a while since I've stenciled; totally didn't think of it! As you'll see, it all turned out fine anyway. But, if I were to do it over, I would not have had the white space in between the patterns. Live and learn!
Next I stenciled the words with black craft paint mixed with a little white; I was going for a charcoal look. I use painter's tape to hold the stencil in place, but it's important to hold down the stencil around the letters, so the paint doesn't bleed underneath. I tried to show this in the pic.
My words at either end also went onto the frame of the cupboard door a little, which is a little tricky. As long as it looks good when you're reading it, don't get too picky.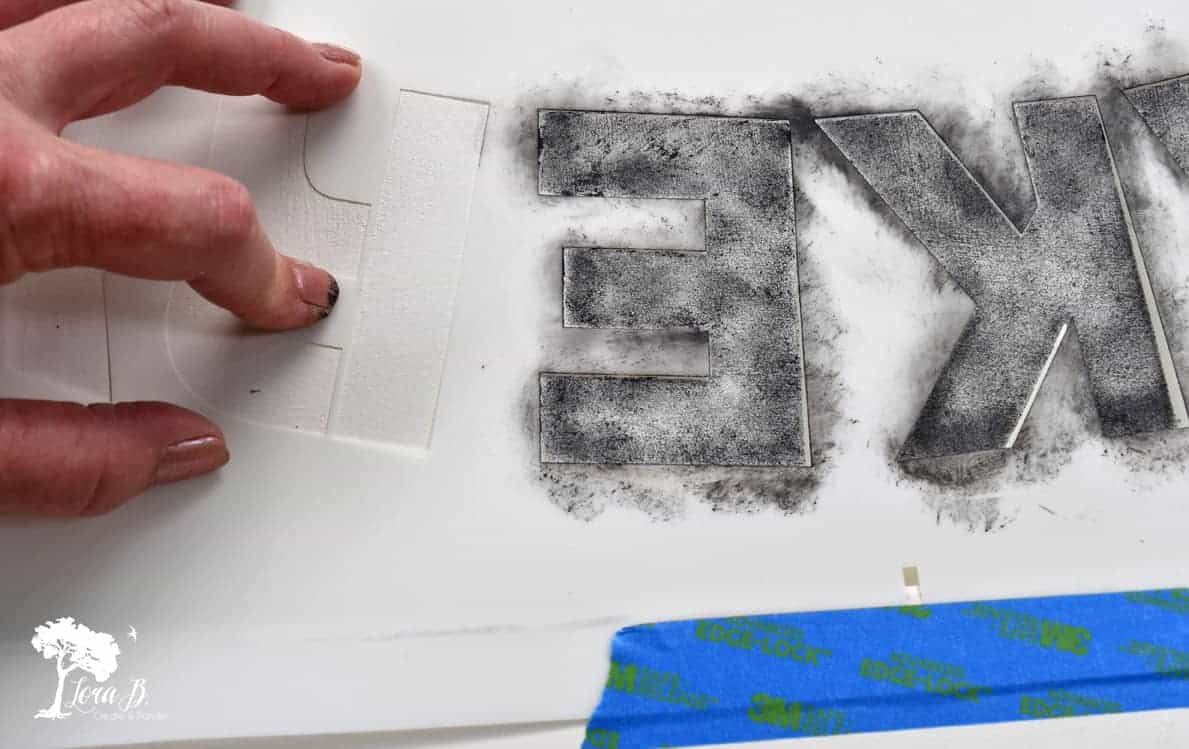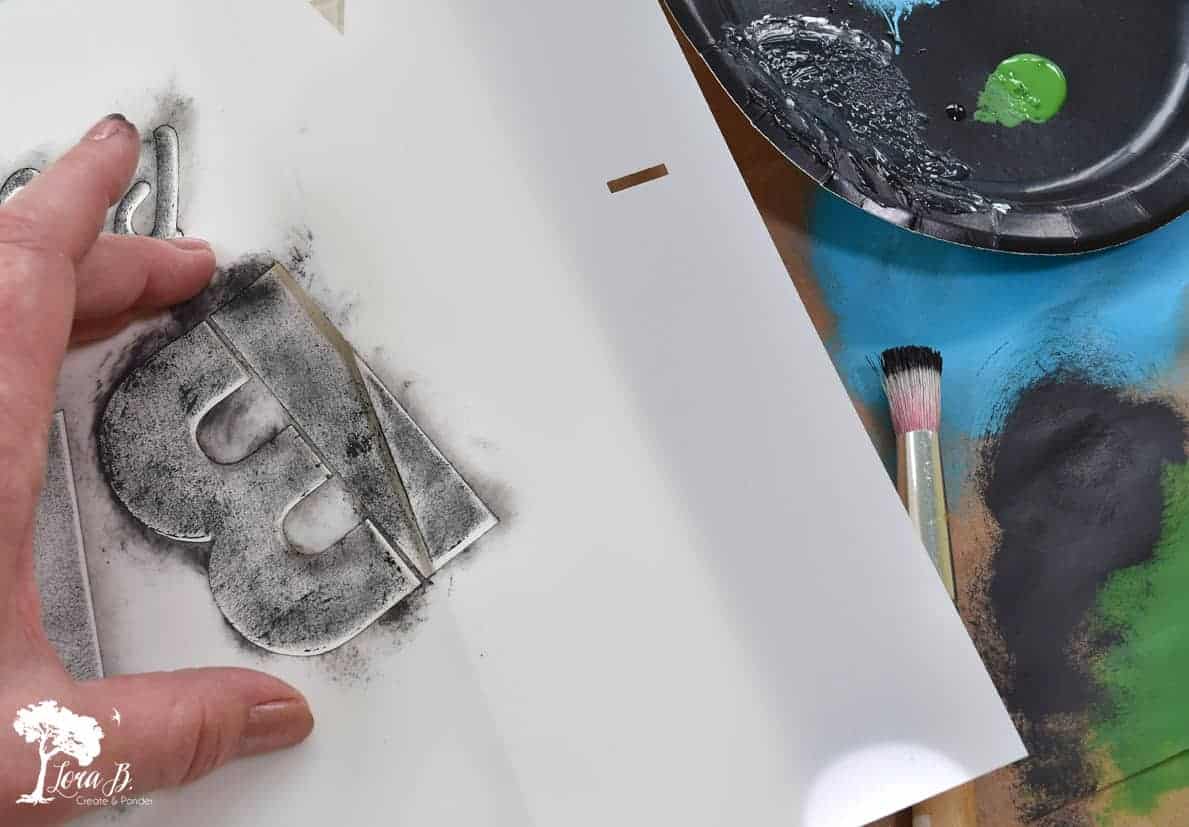 Once Dry, Seal Your Stenciled Foundation
To seal in the stencil design, I wiped on a layer of General Finishes Wax. I love the liquid-y texture of this wax, which makes it really easy to apply. It's like runny petroleum jelly. It dries quickly and can be buffed (rubbed) to a subtle sheen.
Flatten and Bend Your Forks for the Rolling Pin Holders
This post is supposed to be about rolling pins, right? Instead of using little hooks to hold the handles of the rolling pins, I wanted to use vintage forks. I wanted the forks to be angled up, like you're popping a bite of pie in your mouth. The handles on these vintage rolling pins are usually where the pretty colors and designs are, and I didn't want to interrupt that beauty, either.
Using a heavy metal hammer, we flattened the tines and the neck of 6 vintage salad/dessert forks. Once flat, we clamped them in the vice with an old table leg. The table leg had a similar diameter to the rolling pins. Using the hammer, we bent the forks to the size of each rolling pin, making sure to have the pretty part of the fork handle facing out.
Lastly, we bent the tines of the forks in a bit, so they wouldn't be pokey.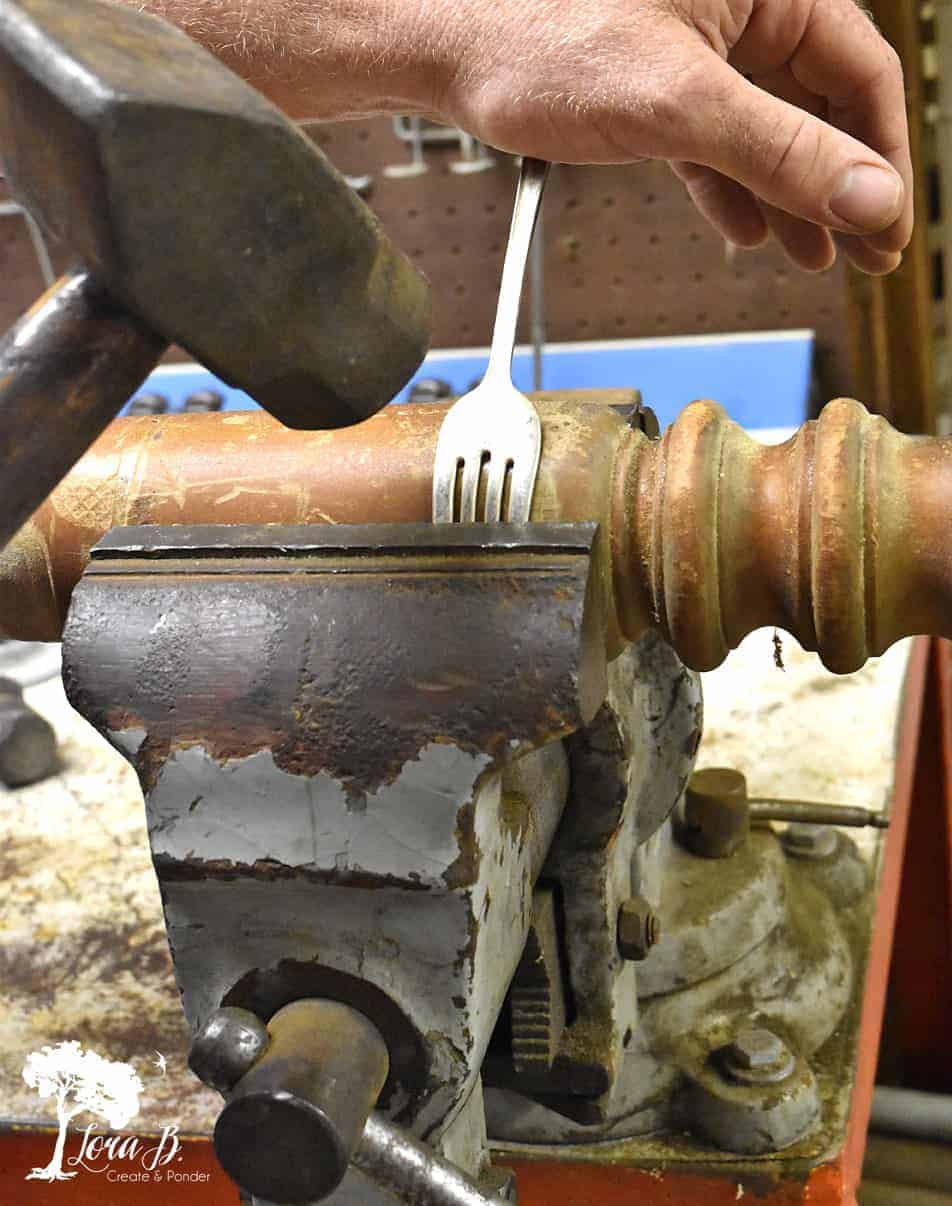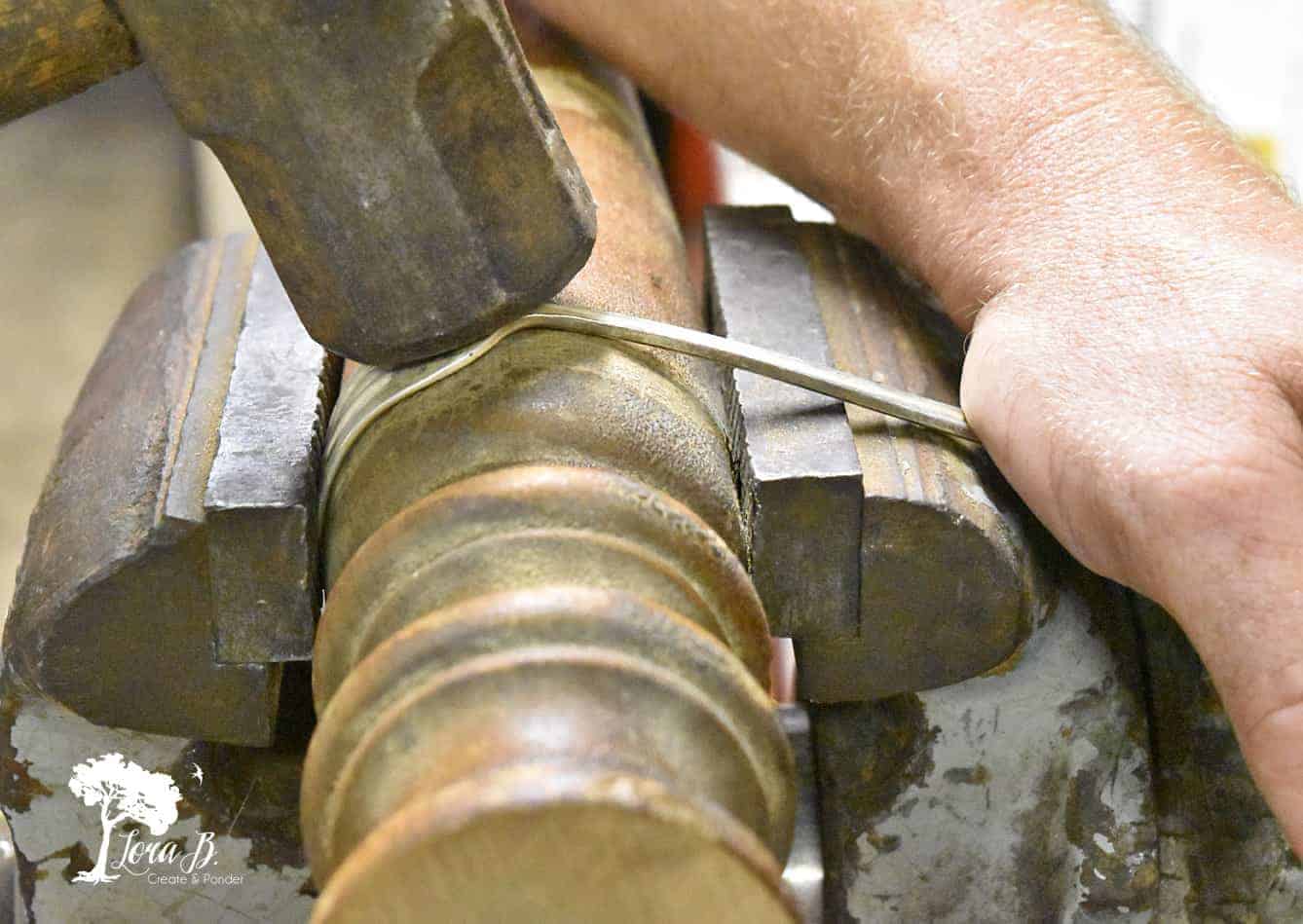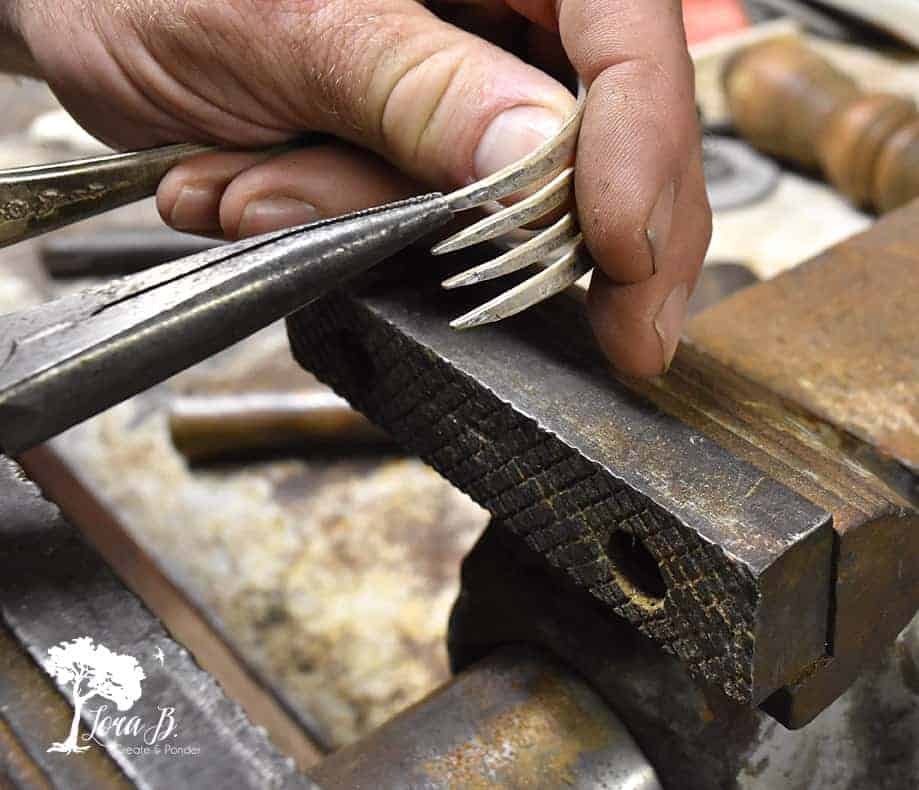 Attach the Bent Fork Rolling Pin Holders to the Stenciled Foundation
Luckily, the Buffalo Check background made it much easier to evenly place the fork holders. Drill holes in the fork handles to attach to the foundation. Our screws came through the back a little, so we ground them down on the back side. If I find a couple more vintage rolling pins, I may be able to fit 2 more on here (maybe an aqua handled one…and a yellow handled one?).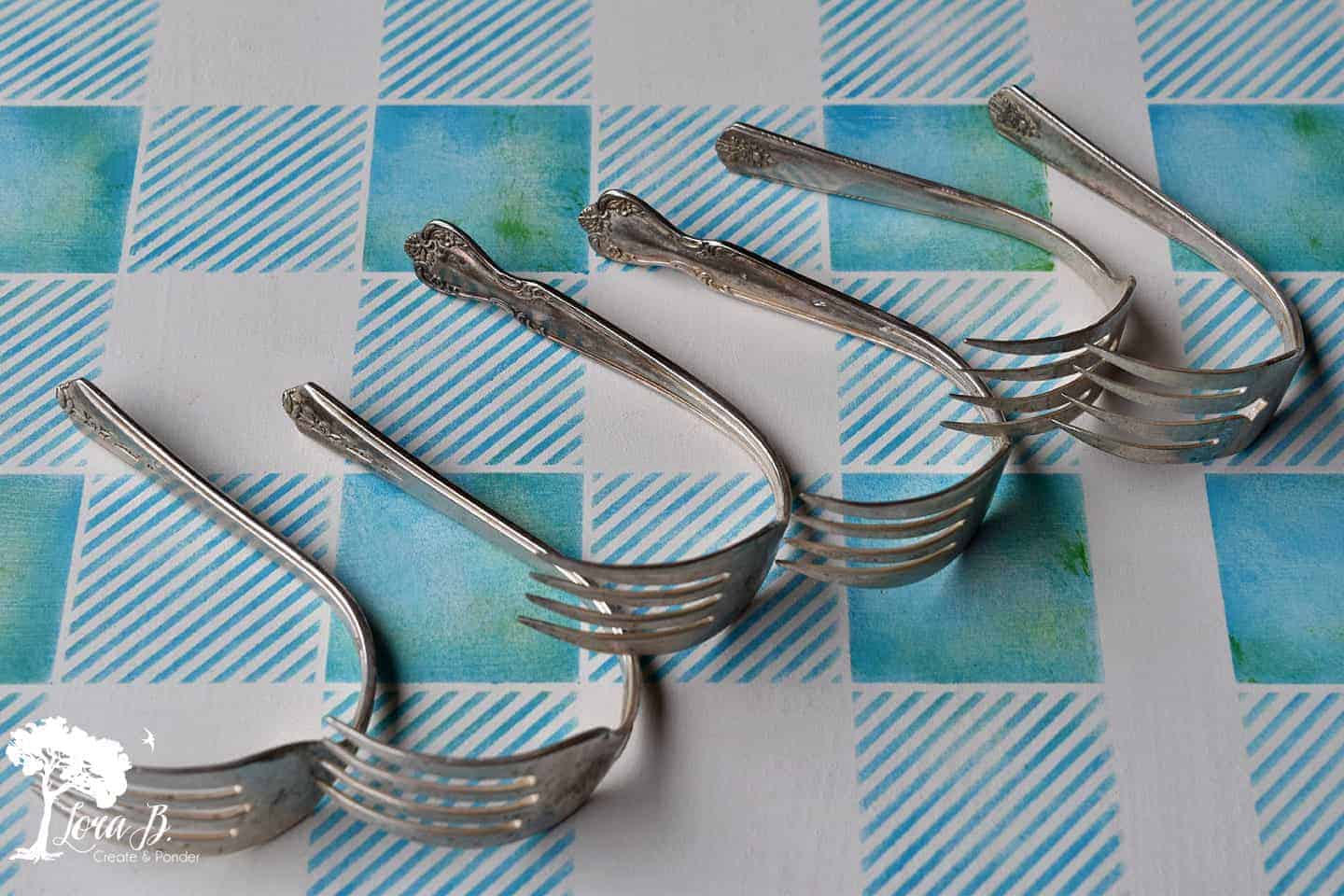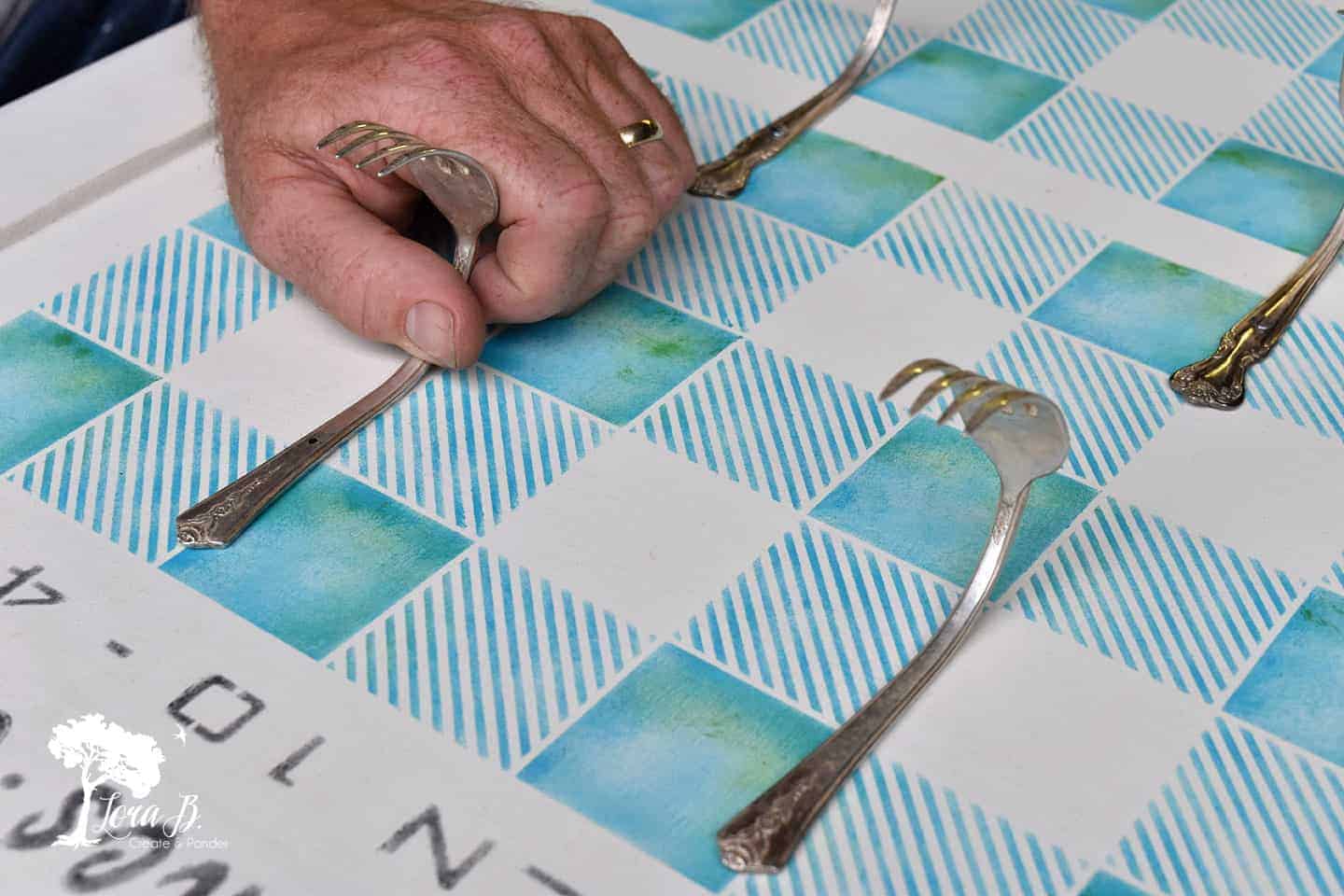 Lastly, Refresh Your Wooden Rolling Pins Before Displaying
The wood of these old rolling pins have gotten dry through the years. The character-rich old wood can be refreshed and nourished with a food safe oil such as Miss Mustard Seed's Hemp Oil. I wiped the wooden rolling pins and the handles with a good coat and let them dry before placing them on the new display.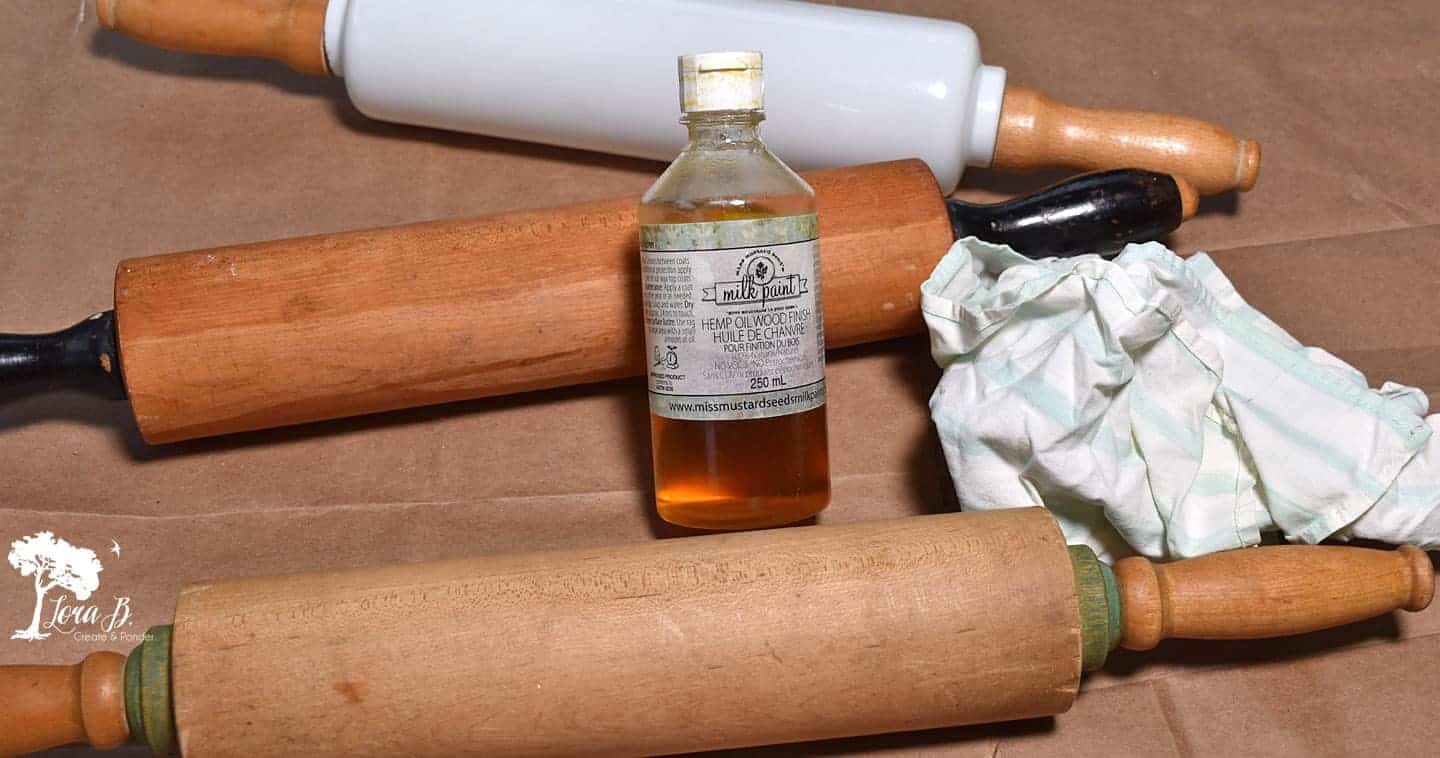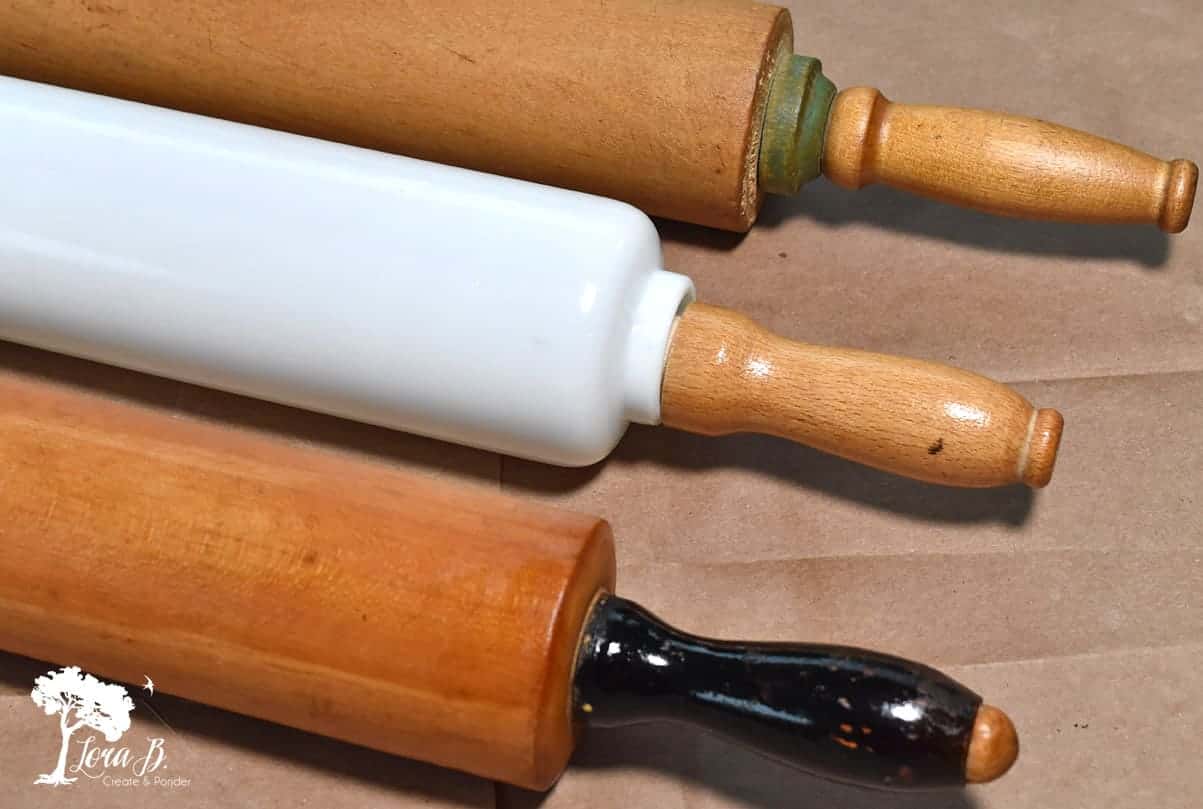 Enjoy Your New DIY Stenciled Rolling Pin Display!
To hang your new rolling pin display, you can attach D hooks to the back or simple eye hooks to the top like I did. I used eye hooks because that's what I had available, and I honestly think they look more like a board that would hang in a cafe that way. I will also use those eye hooks to attach other decorative elements, seasonally.
Ready for the big reveal?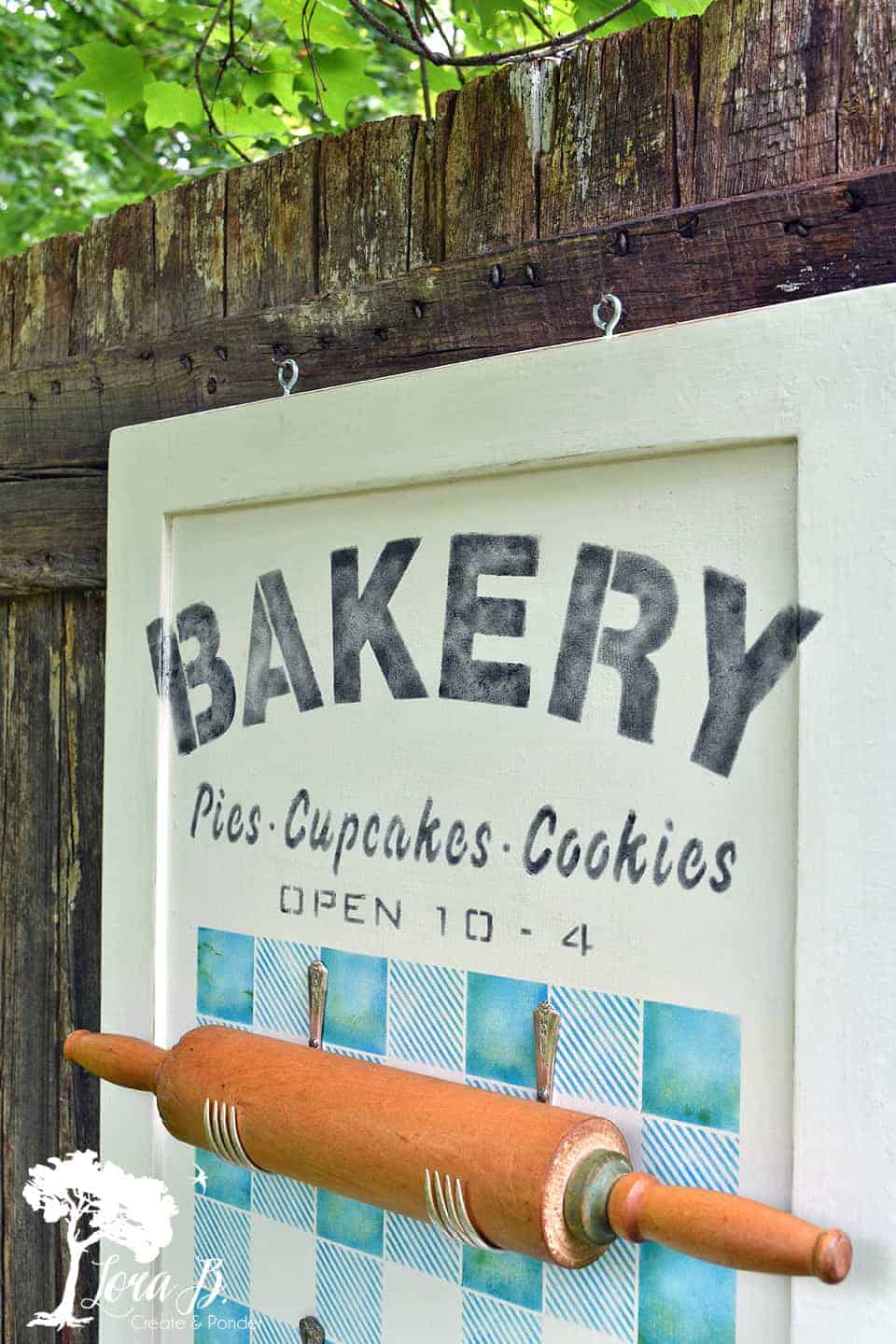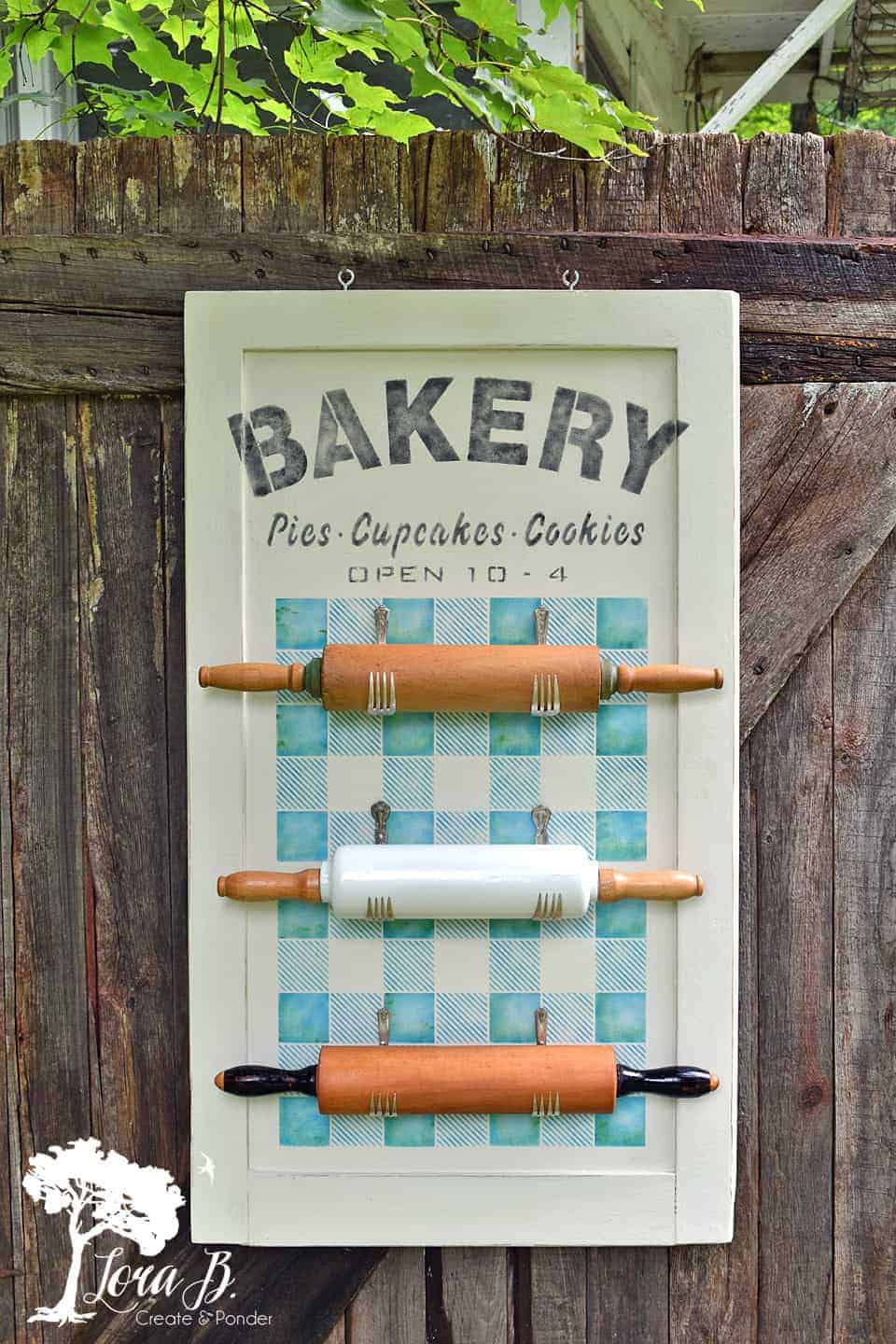 How fun and fresh is that? I love how it all turned out! Now to find a suitable wall in my kitchen to hang it. This project was definitely not a quick and easy one; there were quite a few steps. But it's definitely doable for the average DIYer.
Become a Lora B Insider and get FREE access to all my tutorials, tips and seasonal printables! (see below)
Like I said earlier, this Rolling Pin Display would be an adorable display to sell vintage baking items from! I may be adding some green handled cookie cutters to it somehow (the ideas are already brewing for that). If you'd like to make one yourself, here are some of the products I used:
Create the Look: (Click on the pic for more info)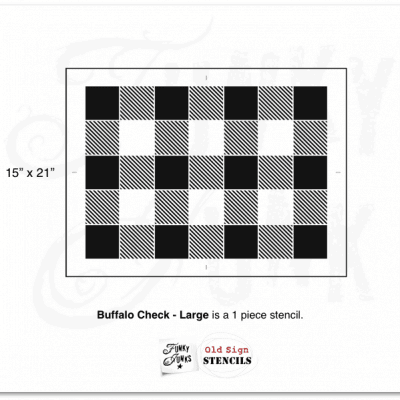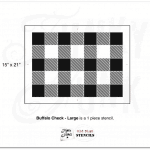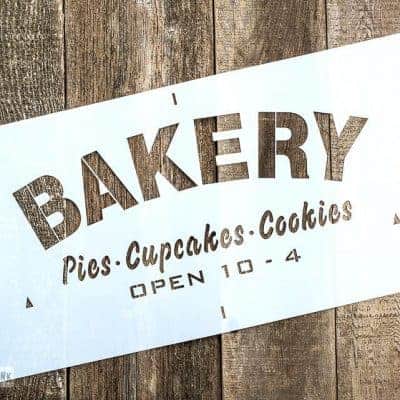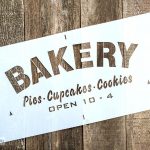 Doesn't this project just make you want to enjoy a whip-cream-topped piece of yummy pie? I love the classic, vintage vibe and the fact my rolling pins can come out of the drawer and be enjoyed everyday!
Hope you enjoyed this DIY Stenciled Rolling Pin Display project as much as I did. I can't wait to see what the rest of my Thrifty Chicks friends came up with!
Please Pin, Share and Enjoy the Rest of the Inspiration!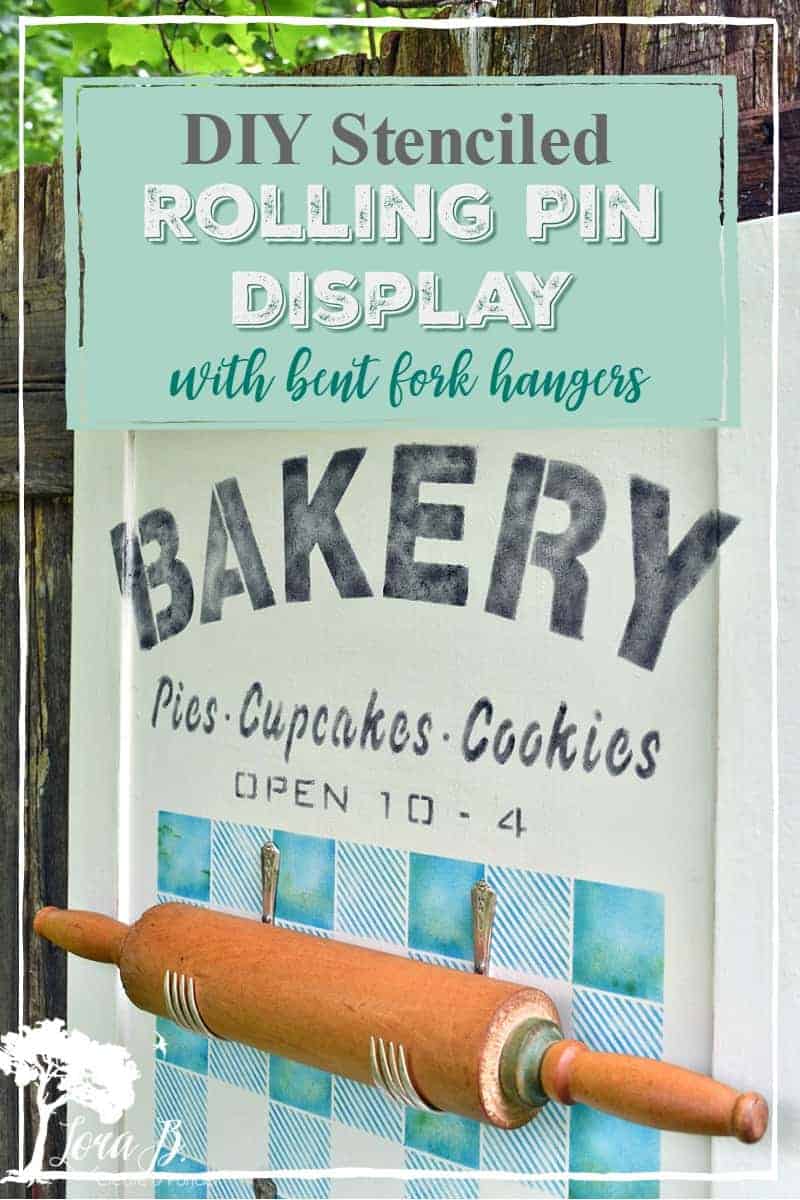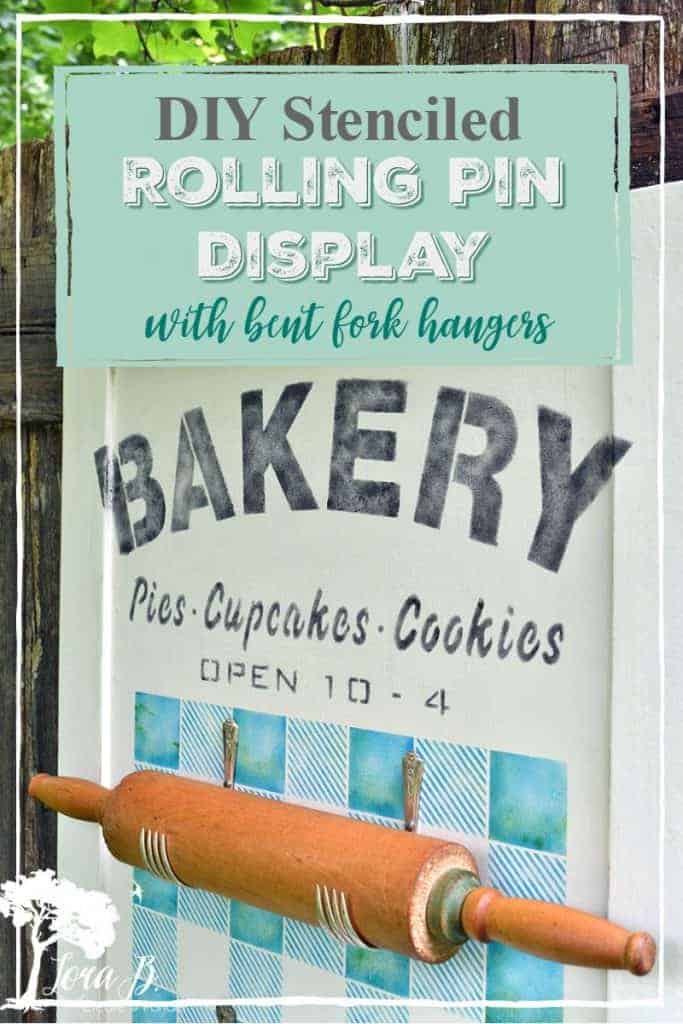 Thrifty Chicks Rolling Pin & Wooden Utensil Challenge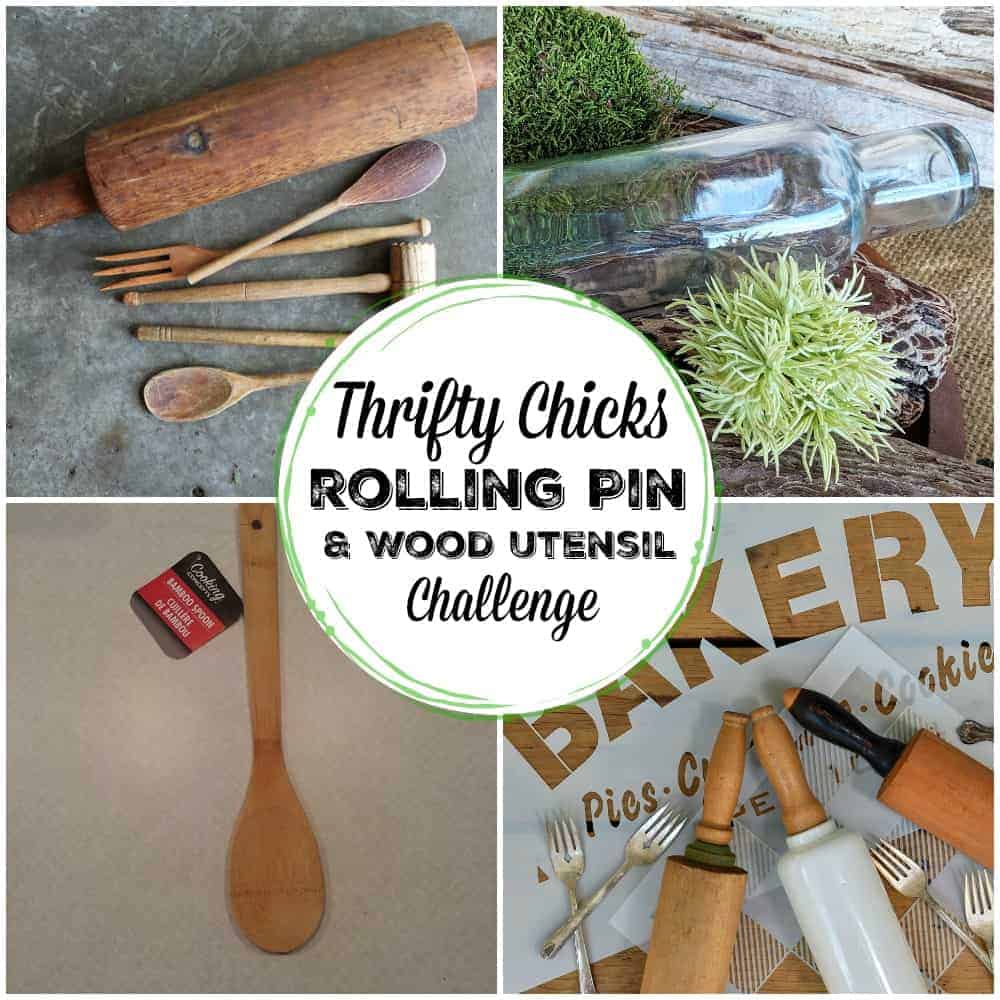 Itsy Bits and Pieces, "A Fun Re-Use Project with Wooden Utensils"
Little Vintage Cottage, "Wooden Spoon Repurpose"
Me;)
Audrey Would!, "Give a Glass Rolling Pin Some Tabletop Twinkle"

Sharing at: