Feedsacks, Flour Sacks, or Grain Sacks? Is There A Difference?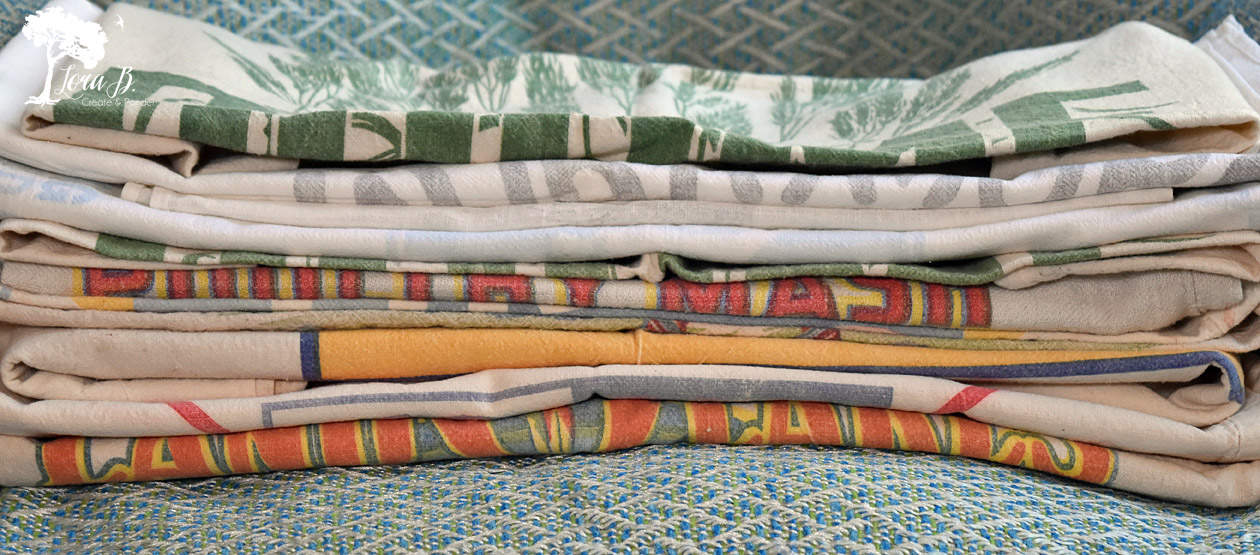 Through the years I've heard the terms Feed Sack, Flour Sack and Grain Sack used to describe the vintage bags dry goods and animal feed used to come in. These words were used for everything from the canvas bags with advertising logos on them to the charming printed cottons my favorite old quilts were made from. As I've been planning some projects to enjoy my own personal collection that's grown through the years, I asked myself, "Is there a difference between these terms?" I decided to do a little searching today and find out once and for all! Here's the answer to the question, Feedsacks, Flour Sacks, or Grain Sacks? Is there a difference?
Feedsacks, Floursacks, or Grainsacks? Is there a Difference?
For your convenience, this post may contain affiliate links. If you make a purchase, I may receive a commission. There is no further cost to you. My full privacy policy is here.
What's the Difference Between Feedsacks, Flour Sacks, and Grain Sacks?
To me, there was always a difference between the Feed Sack that featured advertising graphics and the Flour Sack that was a printed cotton, usually a floral, polka dot, or a plaid. But after reading up, I learned the difference is not so much in the name, but rather the era in which they were made.
The difference is not so much in the name, rather, the era in which they were made.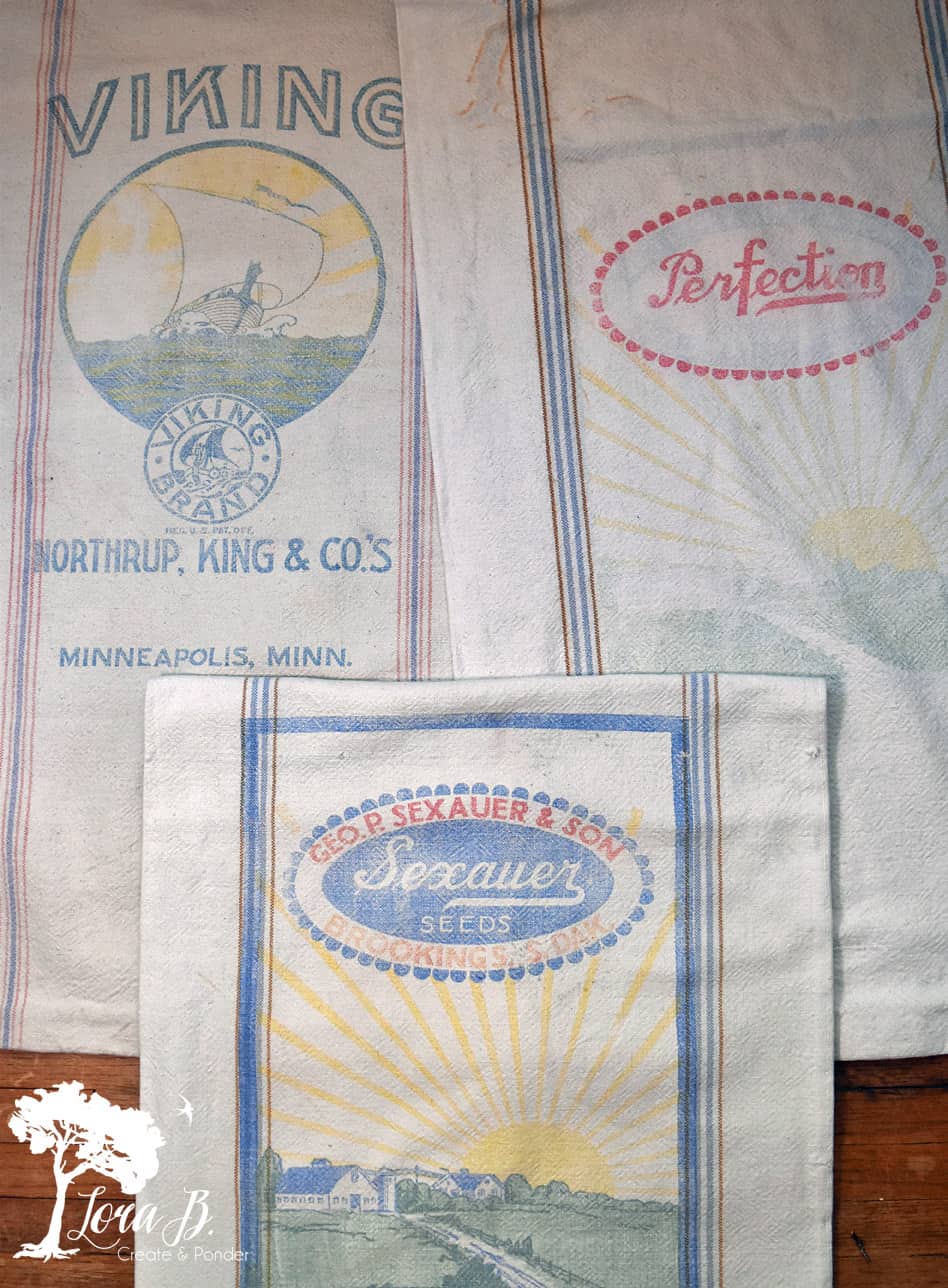 When Fabric Replaced Barrels for Packaging
From 1840 to the 1920's, simple muslin or canvas bags containing dried goods and feed replaced the former barrels for packaging and shipping to the consumer. Textile Mills created the bags with advertising, and farm wives would meticulously remove them with special recipes (lard, Kerosene, Fels, Naphtha, Bleach), in order to use the precious fabric commodity for household purposes.
I can't imagine wanting to get rid of the charming graphics!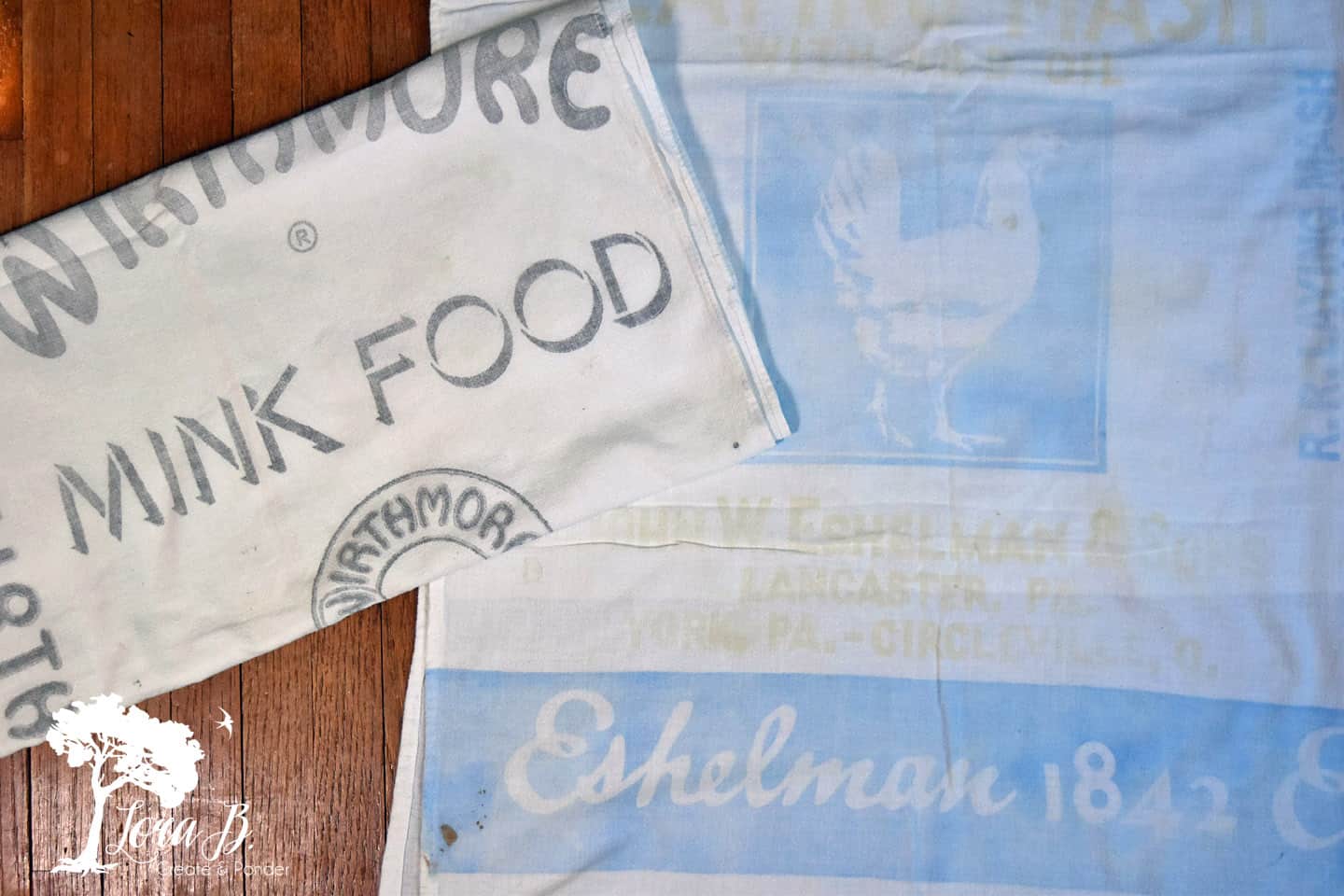 Everything from flour, sugar, feed, seeds, rice and fertilizer were all packaged in these strong fabric bags. Housewives could quickly accumulate enough bags to sew kitchen curtains, bedsheets or clothes for their families. The standard 100 lb feedsack is about 37″ x 43″ when laid flat.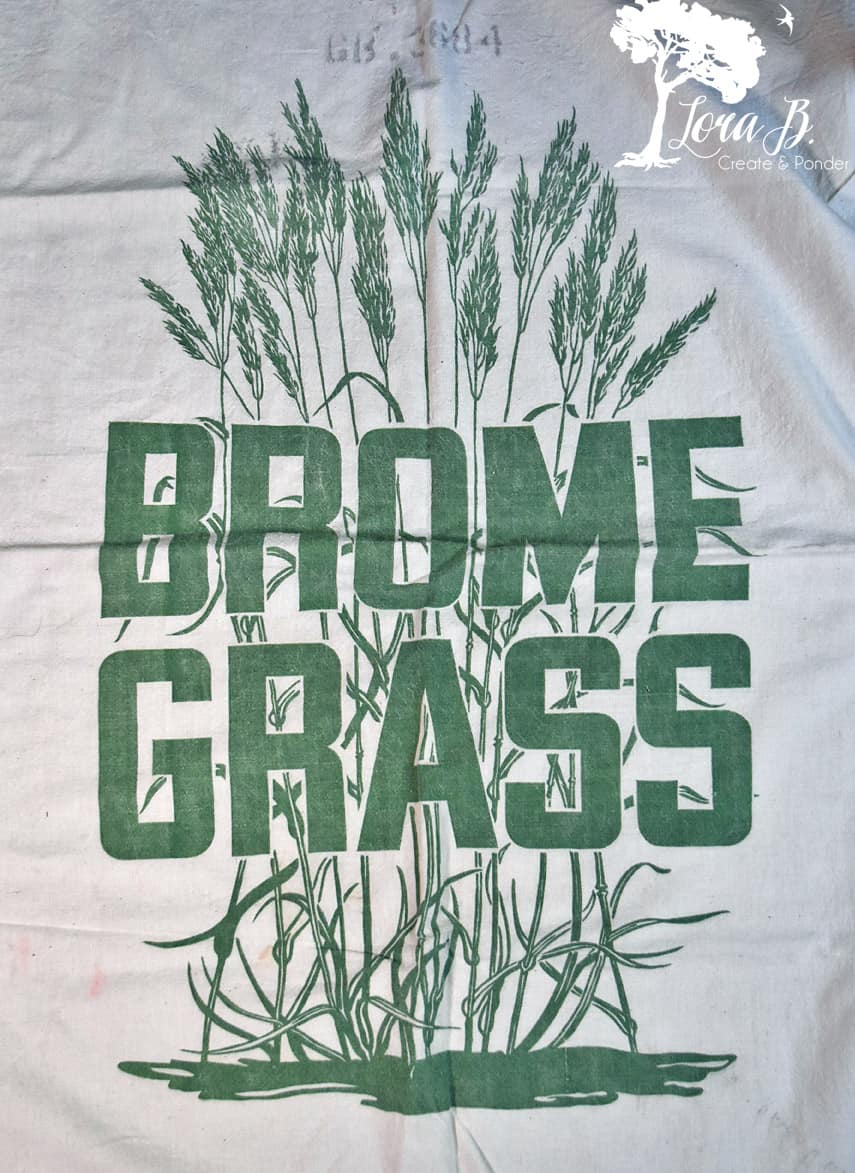 When Marketers Got Involved, They Upped the Fashion Appeal of the Bags: Enter the Calico Prints!
In the 1920's, companies realized women were creating home textiles from their bags. As good marketers, they came up with the idea to make the packages more appealing by using printed fabrics. They guessed they would sell more because a certain number of bags were needed to sew a dress or a bed covering. Housewives indeed bought more of the calico-type patterns and would even swap back and forth to get enough of the design they wanted. The companies also came up with patterns and projects women could make from their bags, increasing the desirability even more.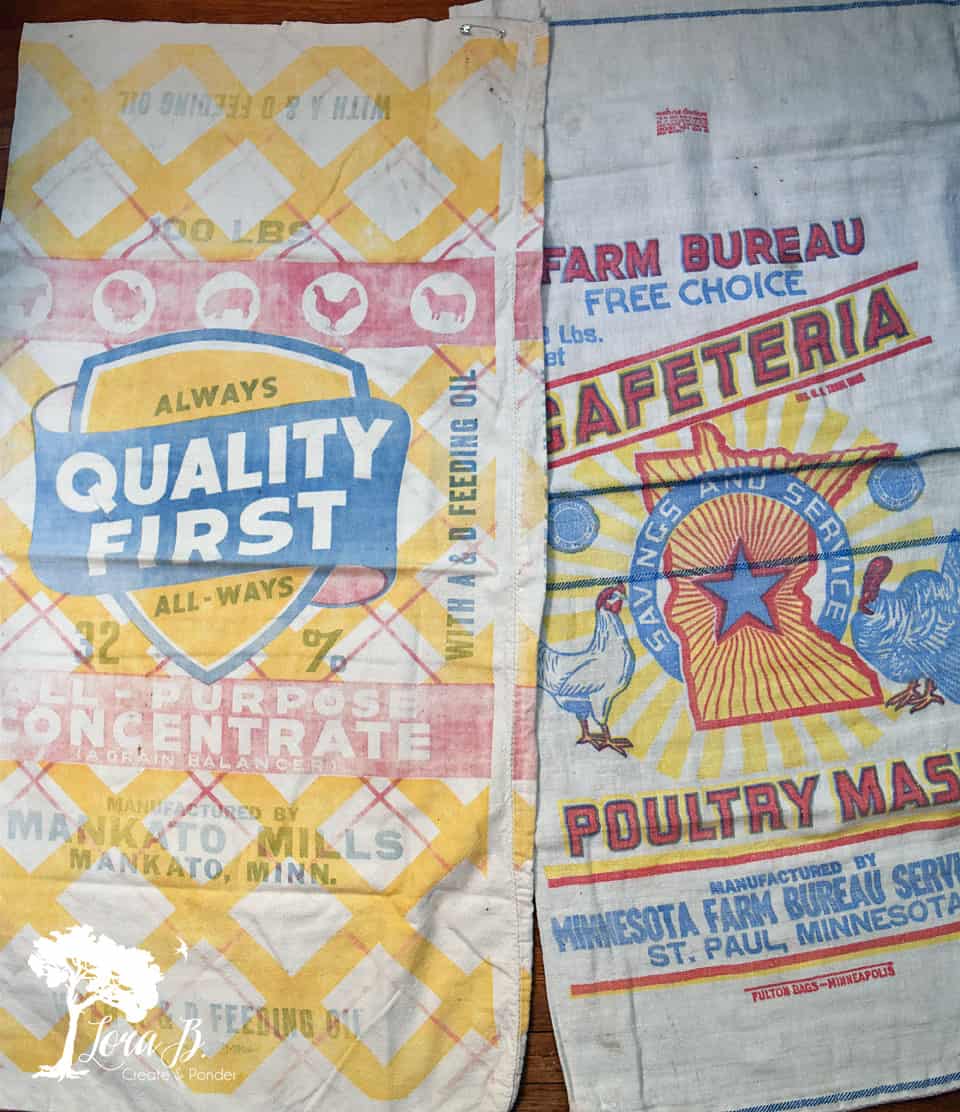 By 1941 there were 31 textile mills manufacturing these utilitarian bags. One such company, The Bemis Company was located in Minnesota, which probably explains why I see their bags more commonly in my area. The advertisement feed/grain/flour sacks I'm featuring here all have the textile mill's logo on one side and the company that's making the contents' logo on the other. The food companies have bright colored logos to attract the consumer's attention and the textile mill's logo is just in black.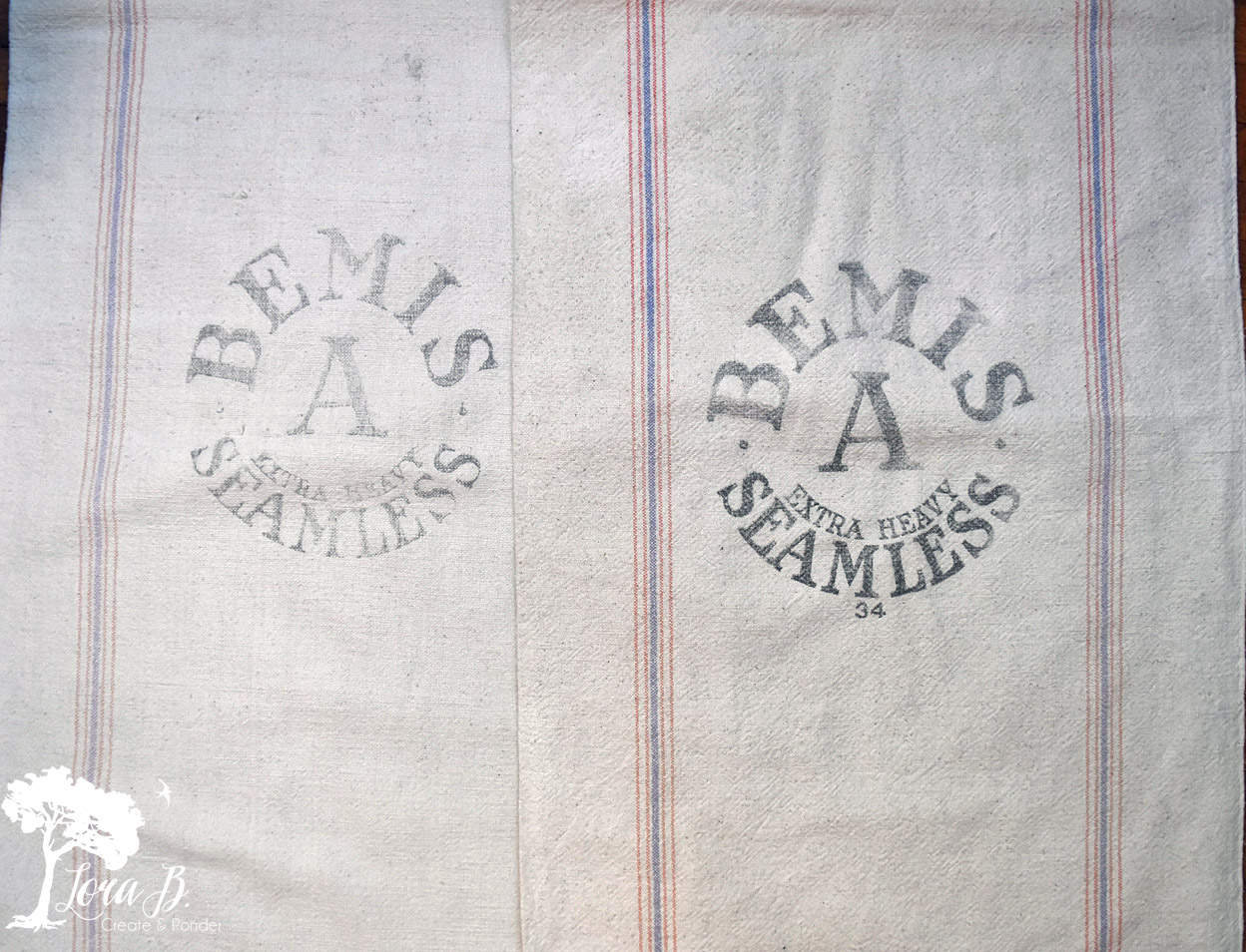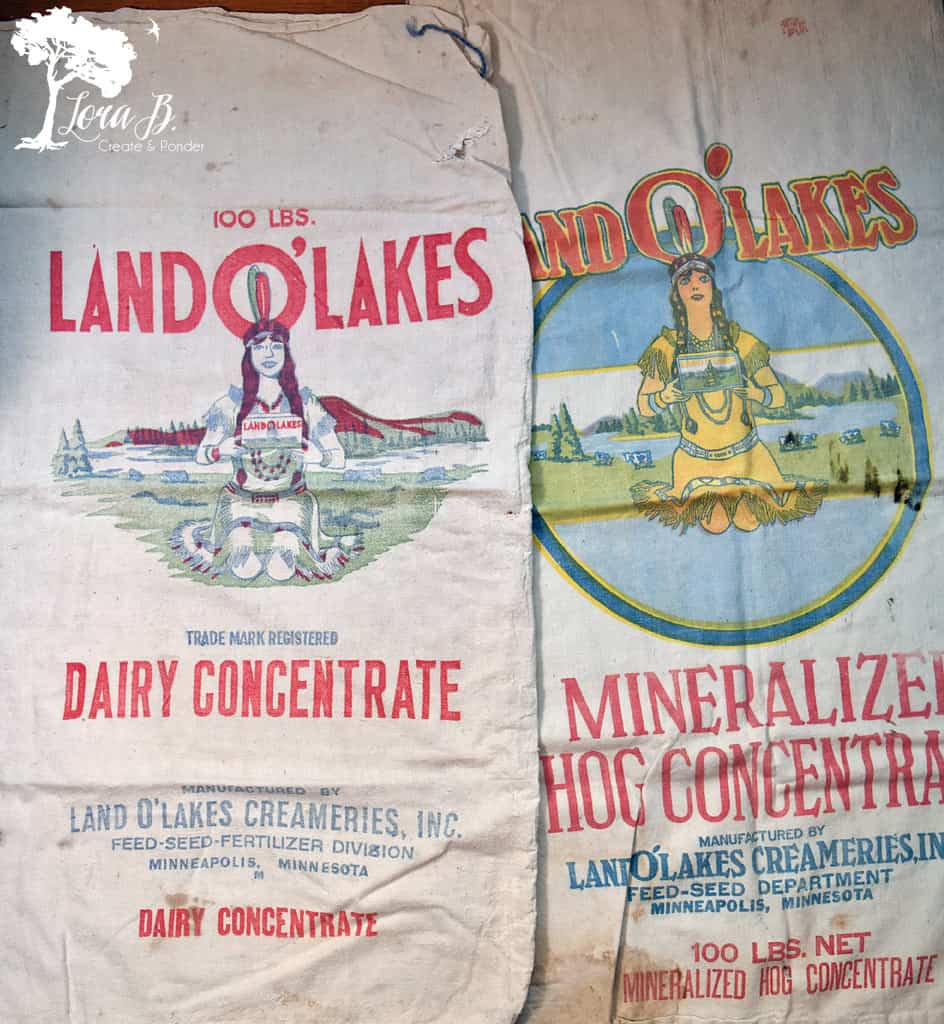 Years ago, while at a farmhouse purchasing items for my former store, a good-sized pile of these Advertising Feedsacks were sitting out. My business partner and I had reached our limit of spending for the store, but I couldn't go home without some of the stack. I bought them for $5 each, and I honestly wish I would have bought them all now. Isn't that just the way it goes? I only remember what I left behind, I never regret buying something that I know is hard to come by.
I've picked up a couple more through the years, but they were never as nice or as plentiful as that day.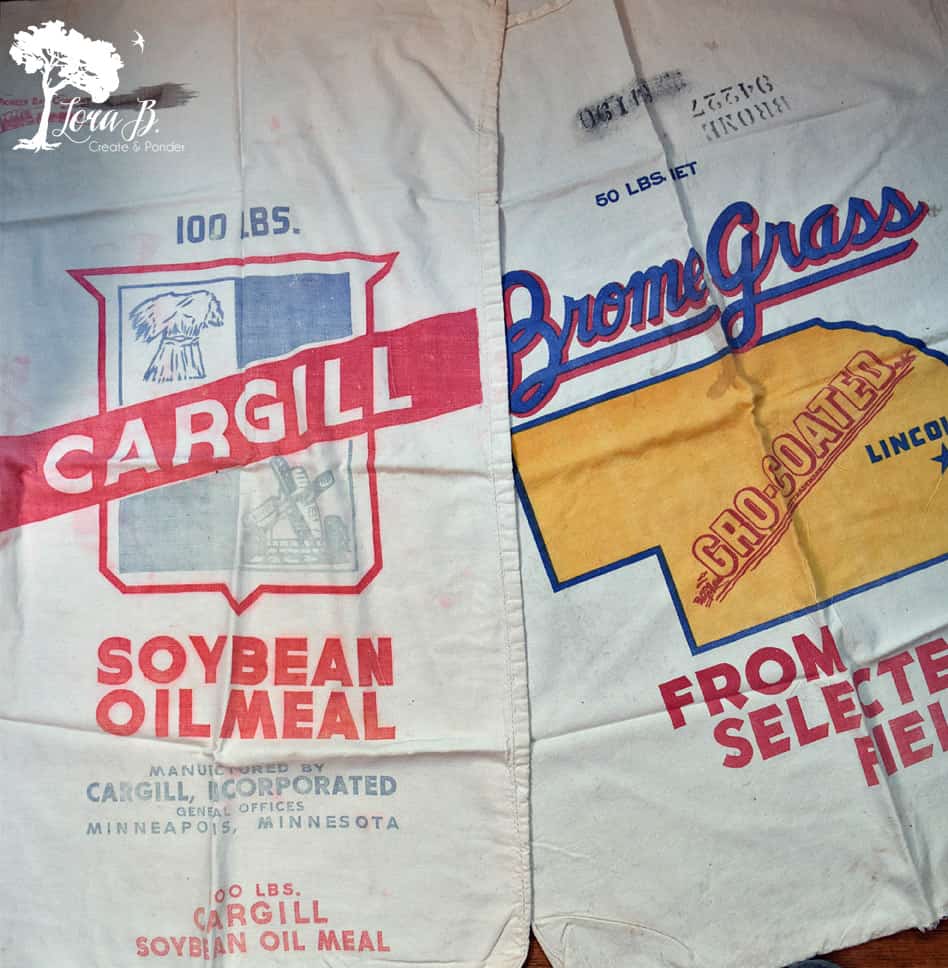 It looks like most of my collection sell for anywhere form $20-$50 online now. I love that many of mine feature Minneapolis companies, since I've lived here all my life and like to decorate with hometown history.
For More History on Feed sacks, Grain Sacks, and Flour Sacks
As I was trying to figure out the true definition of Feed Sack vs. Flour Sack vs. Grain Sack, I came across an adorable book for those of us who love this piece of history. "Feedsacks: The Colorful History of a Frugal Fabric", written by Linzee Kull McCray is filled to the brim with beautiful pictures of these historical bags, along with more morsels of the bags' history. You can get it HERE.
How Can You Enjoy These Vintage Bags?
As I was deciding how to use these treasures around my home to enjoy them everyday, I came across a project Cathe Holden had done for Country Living magazine years ago. Cathe embroidered certain parts of each feed sack graphic to really pop the elements. It makes the graphics even more adorable and charmning! Check out her amazing creativity, "Embroidered Flour and Feed Sack Wall Art".
Graphics on Vintage Feed and Grain Sacks
The old graphics on these advertisement feed sacks are much more stable than I realized. I was worried if I washed them, the beautiful typography would disappear. It was good to learn the ink they used was not water soluble and actually was quite hard to get rid of. I want to enjoy the graphics for a long time and still be able to wash the items I repurpose!
To enjoy these delightful pieces of history everyday in my kitchen, I added them to the seats of my new upholstered loveseat and chair! I highlighted the details with hand embroidery and stapled the feed sacks under the base. See how cute (and practical) they turned out in "Adding Vintage Feedsacks to New Furniture".
If you love feedsacks as much as I do, definitely grab one of these awesome coffee table books and further your learning and enjoyment! (Click on the title)
"Feed Sacks: The Colourful History of a Frugal Fabric" by Linzee Kull McCray
"Vintage Feed Sacks: Fabric from the Farm" by Professor Susan Miller
Looking to purchase Feedsacks, Grain Sacks or Flour Sacks?
I'd check HERE and HERE first. Their supply will always be changing, but if you keep checking, you'll find some!
So what's the difference between the terms Feed Sack, Flour Sack or Grain Sack? It seems the terms are interchangeable! Bags that featured advertisements definitely came before the printed versions. Their farmhouse graphic charm is what enticed me to turn them into some fun projects for my home!
But to keep things straight in my mind, feedsacks are any bags that feature graphics and advertising. Flour Sacks are printed calico fabrics, and Grain Sacks are any bags that have a collection of stripes and minimal labeling. Does that make sense? Maybe we can all agree to stick with those new definitions to keep them straight?
For more Feedsack/Flour Sacks/Grainsack projects and inspiration:
"How to Make Your Own Feedsack DIY Projects"
Hope you enjoyed hearing about the history of Feed sacks, Flour sacks, or Grain sacks? What is the difference? Become an Insider down below for more vintage inspiration!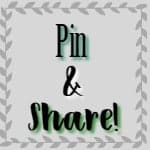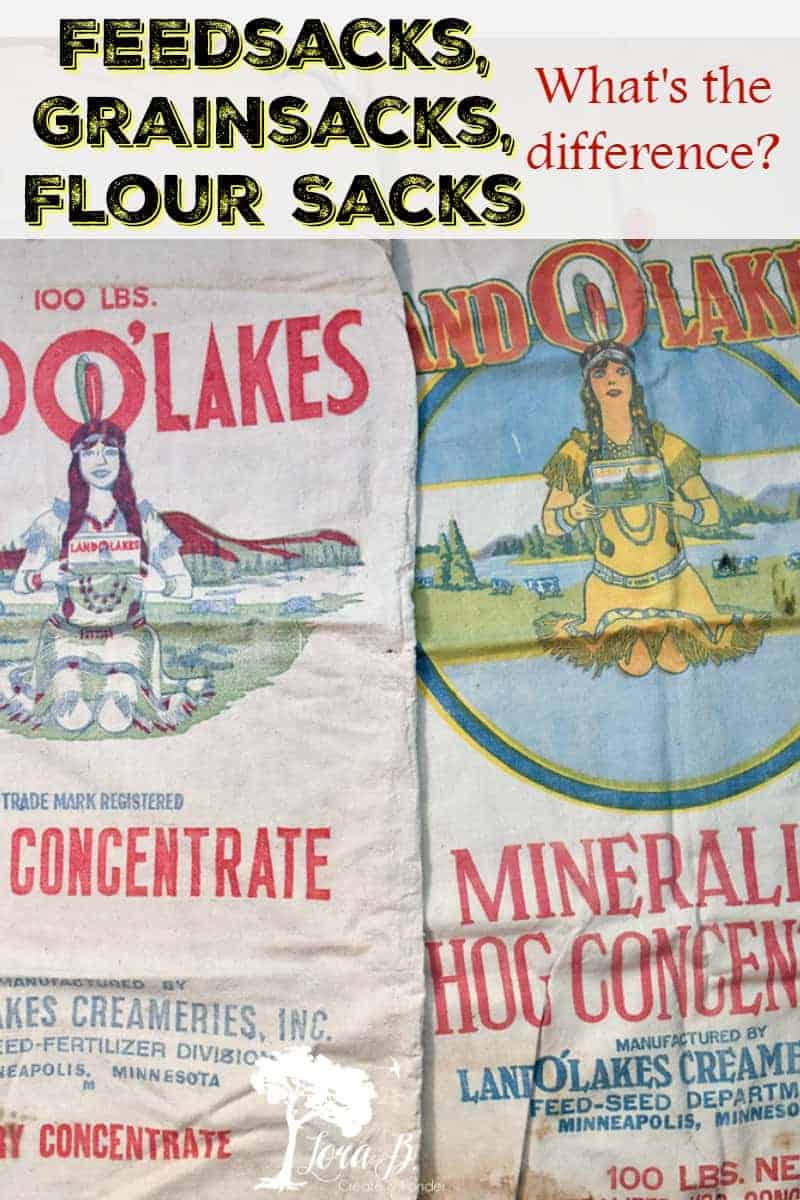 Sharing at these lovely parties: