Summer Garden Party Ideas with Vintage Milk Glass
How do you host a garden party? These garden party ideas will show you how to set a pretty table setting using a variety of vintage milk glass pieces in unique ways.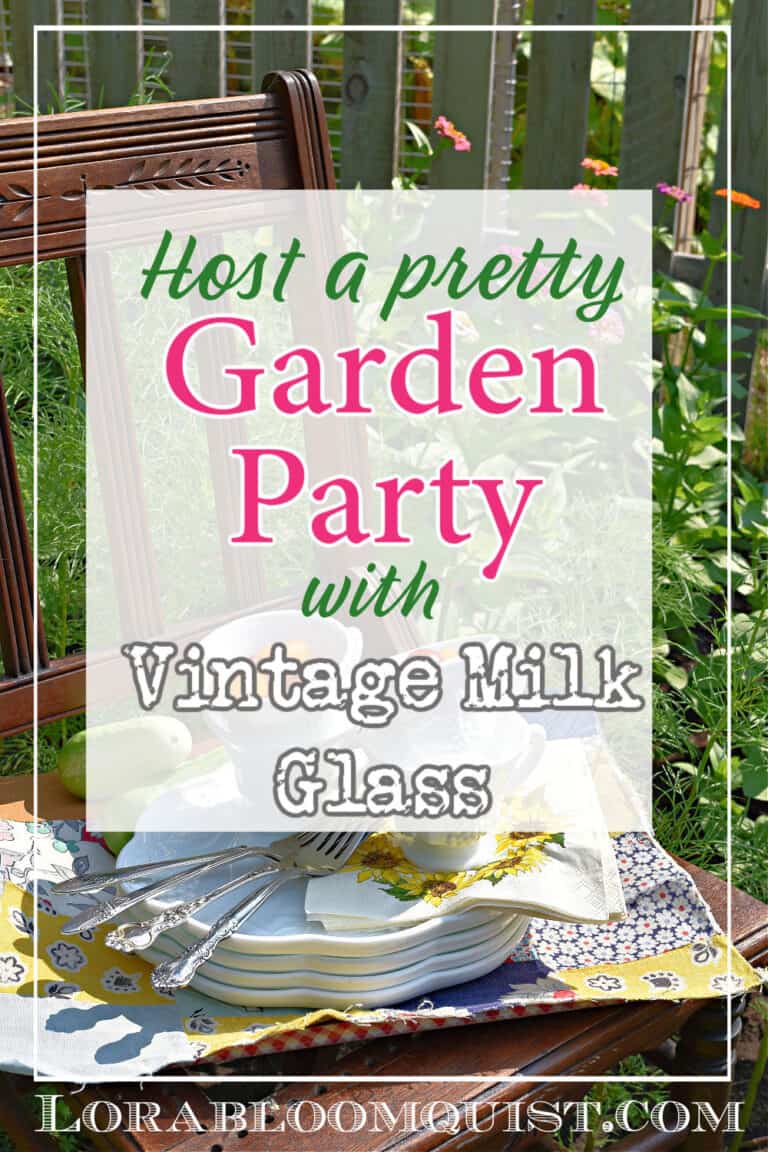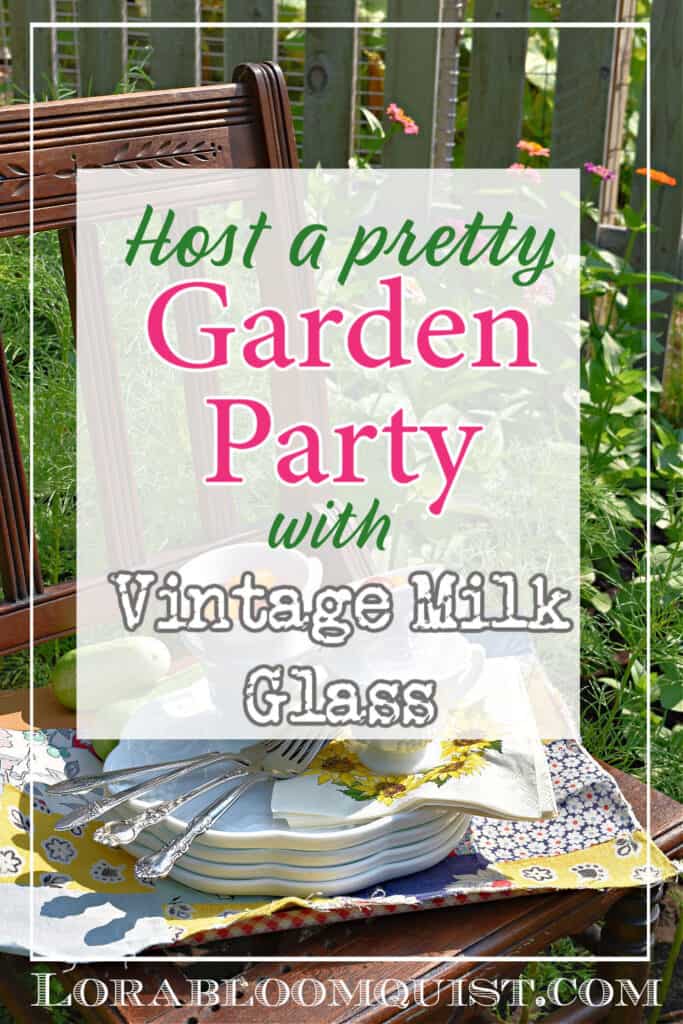 When the summer gardens are at their peak, it's time to enjoy them to the fullest! What better time to host a pretty garden party, surrounded by natural beauty. Inspired by the bright-colored flowers blooming, I set up a backyard garden party, using my collection of vintage milk glass. If milk glass is one of your favorite thrifted finds, I'm hoping you'll be inspired, too! Enjoy Summer Garden Party Ideas with Vintage Milk Glass.
Today's post is part of our bi-monthly Lifestyle of Love series, hosted by Cindy of County Road 407. This group of creative ladies loves everything vintage, antique, repurposed and farmhouse. Today's theme is milk glass, and I know you're going to get a great variety of amazing ideas!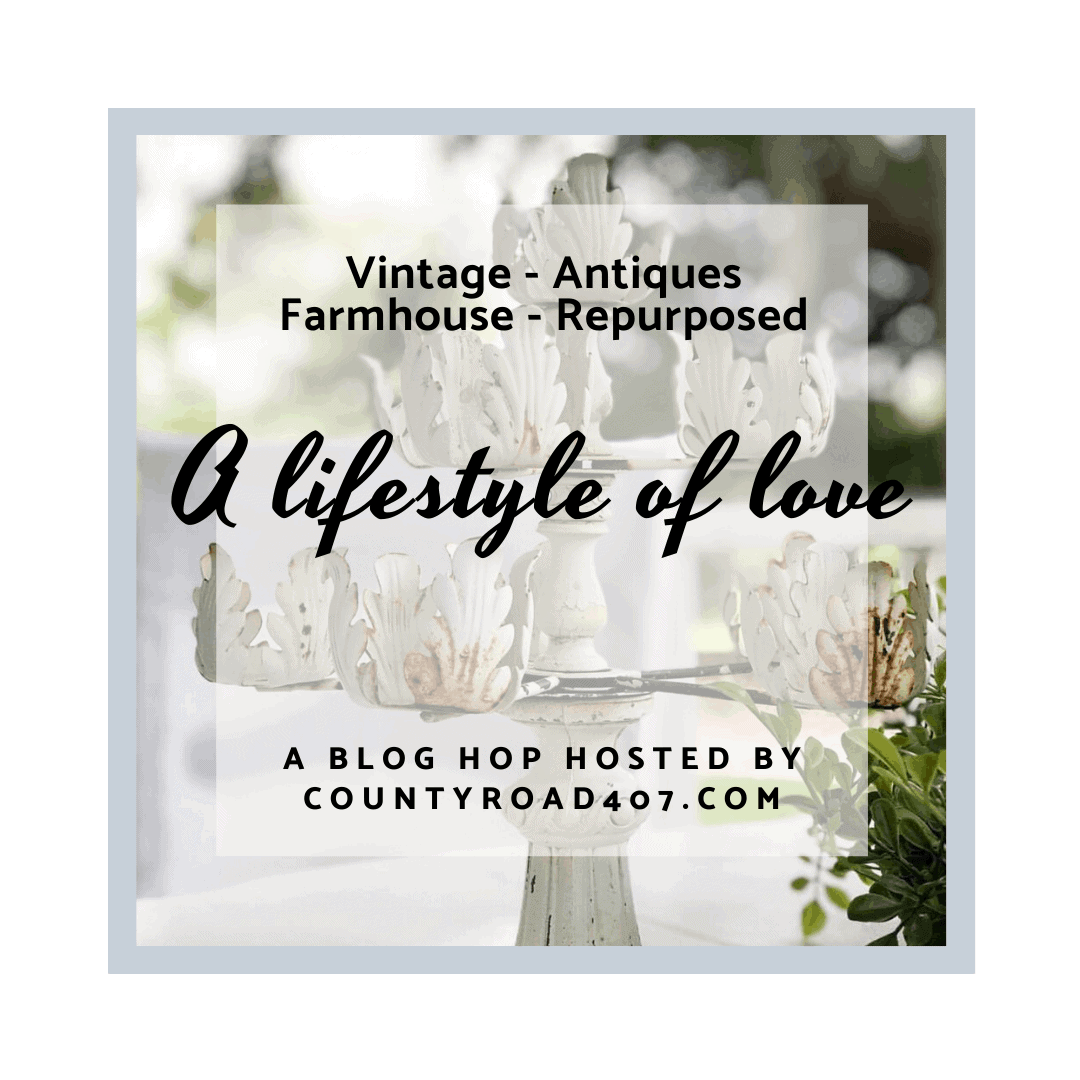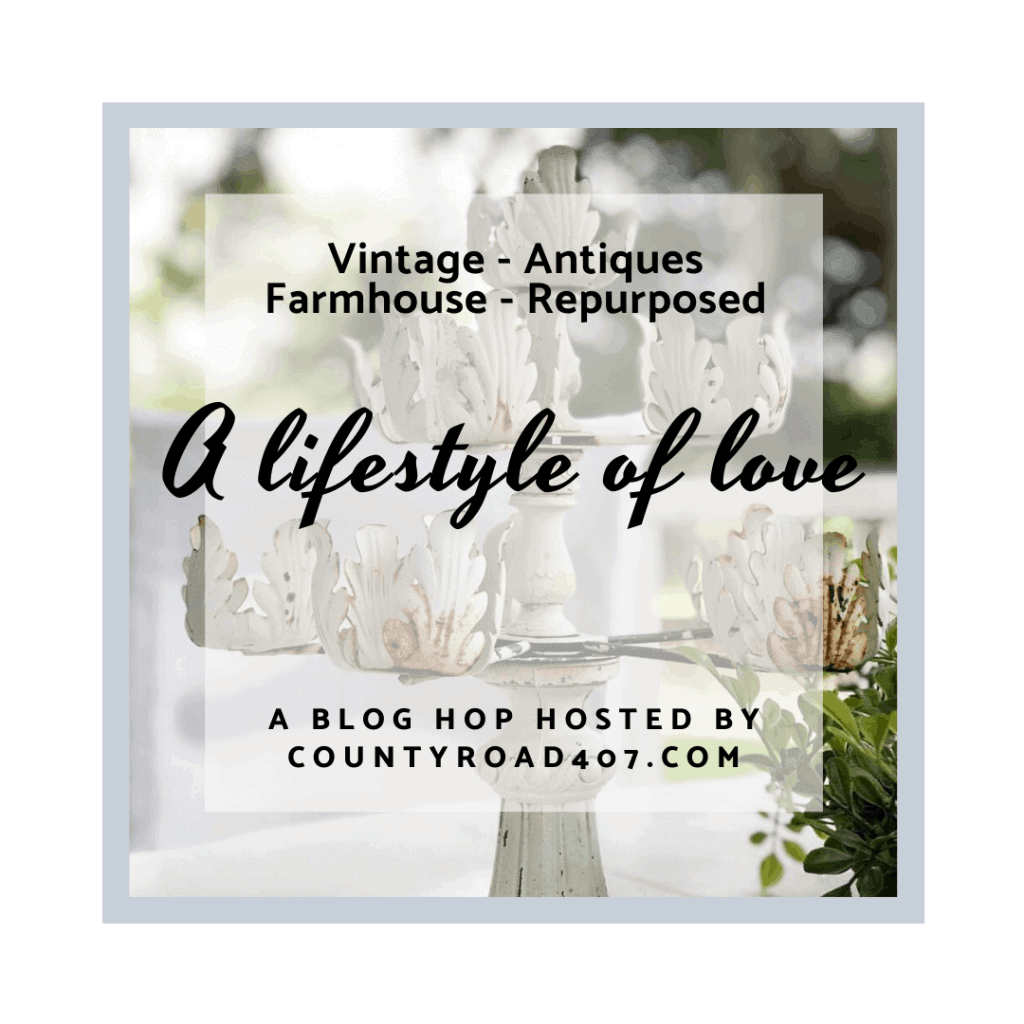 If you're visiting from The Ponds Farmhouse, I'm sure you enjoyed Rachel's stunning ideas for using milk glass in your home. She is so creative and has the most beautiful, unique home! I'll have links to the rest of the inspiration at the end.
Summer Garden Party Ideas with Vintage Milk Glass
For your convenience, this post contains affiliate links. If you make a purchase, I may receive a commission. There is no additional cost to you. My full privacy policy is here.
Milk Glass Luncheon Sets, a Classic Find
Milk glass luncheon sets are a classic secondhand find. Often you'll see them at thrift stores, church sales or estate sales. They're usually inexpensive, because they were a household staple. They are small plates with an indent for a cup, so guests could hold them on their lap while sitting not at a table.
When this garden party table setting idea started in my mind, I decided to use the luncheon sets at the table, but repurpose the small cups for something other than coffee or tea (because honestly, we drink larger amounts these days, right?)
The small cups could be used for:
cold summer soup
fruit
fresh veggies
other nibbles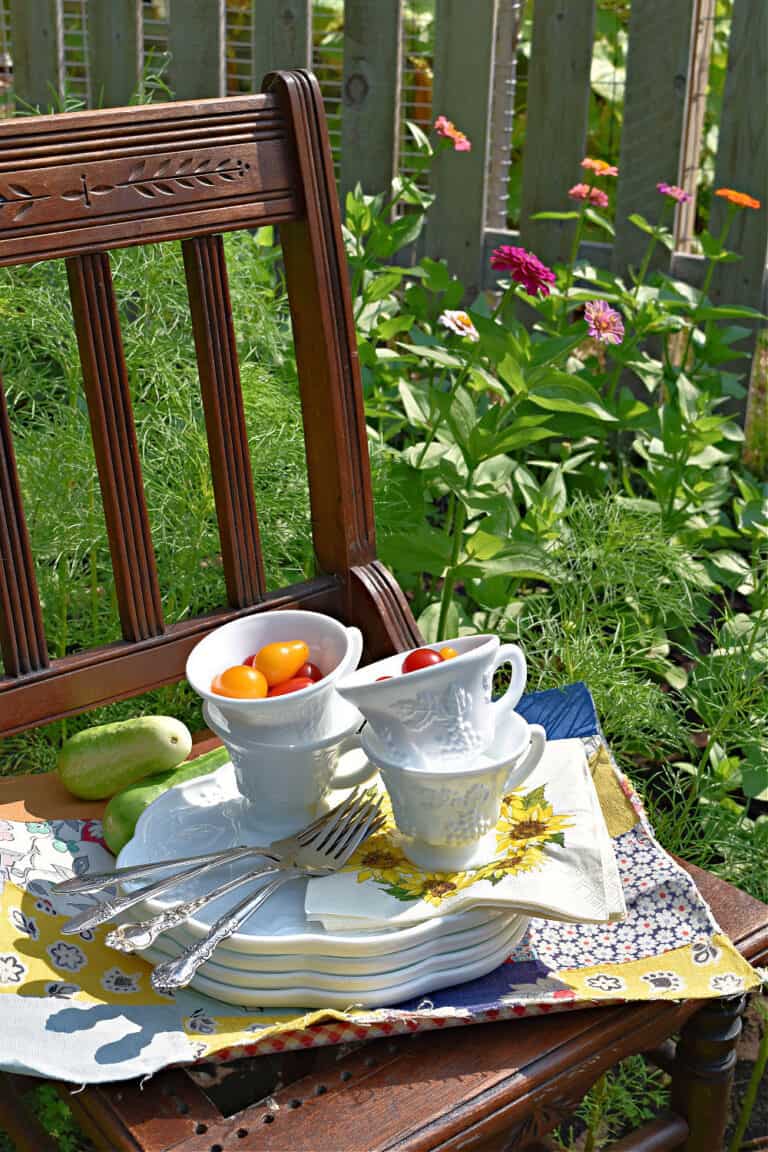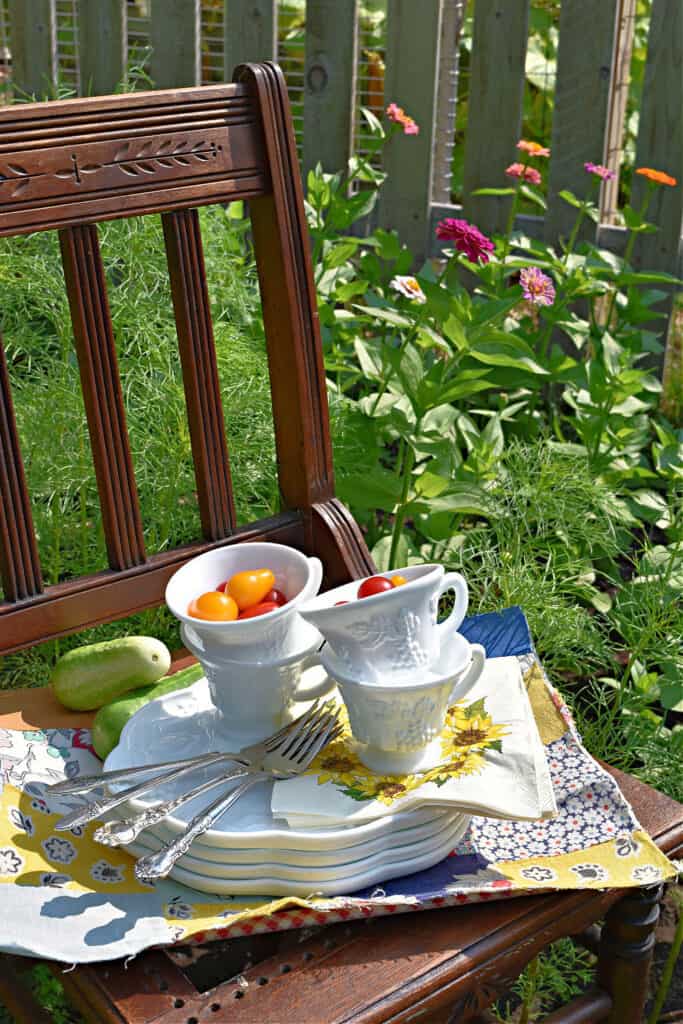 The luncheon plates were the perfect size for a slice of egg bake and enough room to have fruit and a muffin on the side. I placed some fresh-from-the-garden veggie nibbles in the cups. Dressing could be offered, too.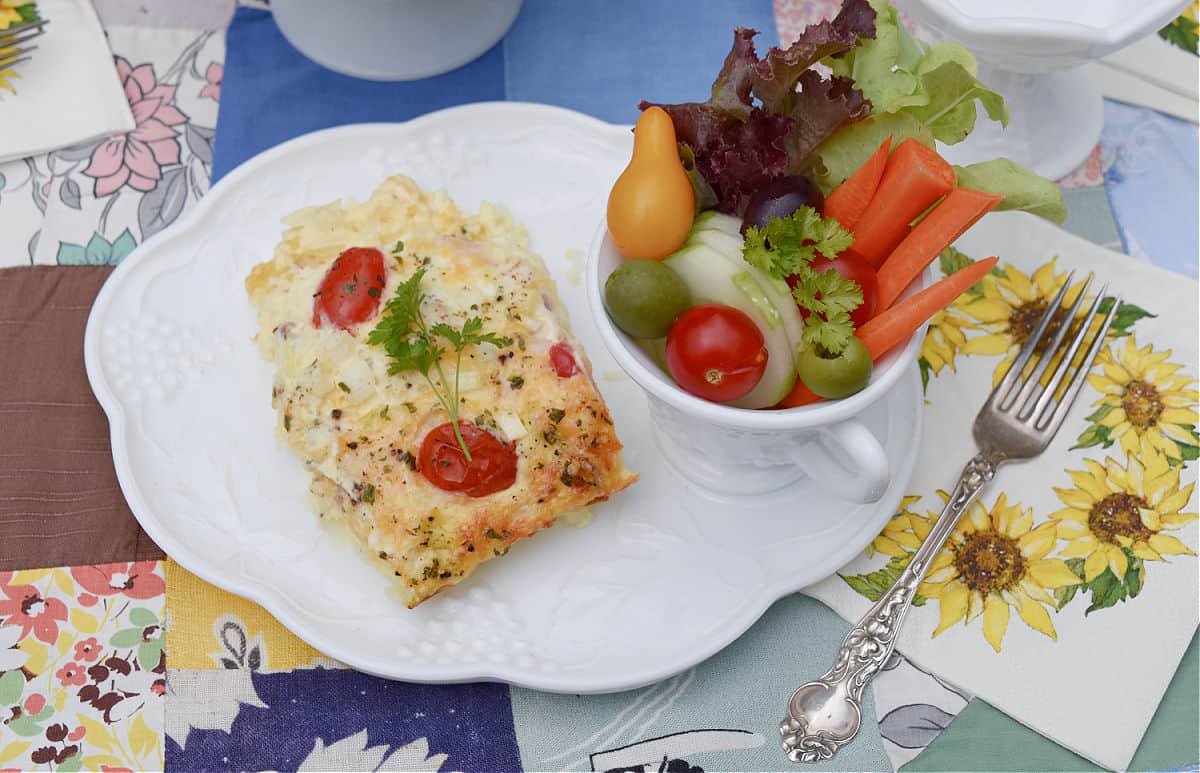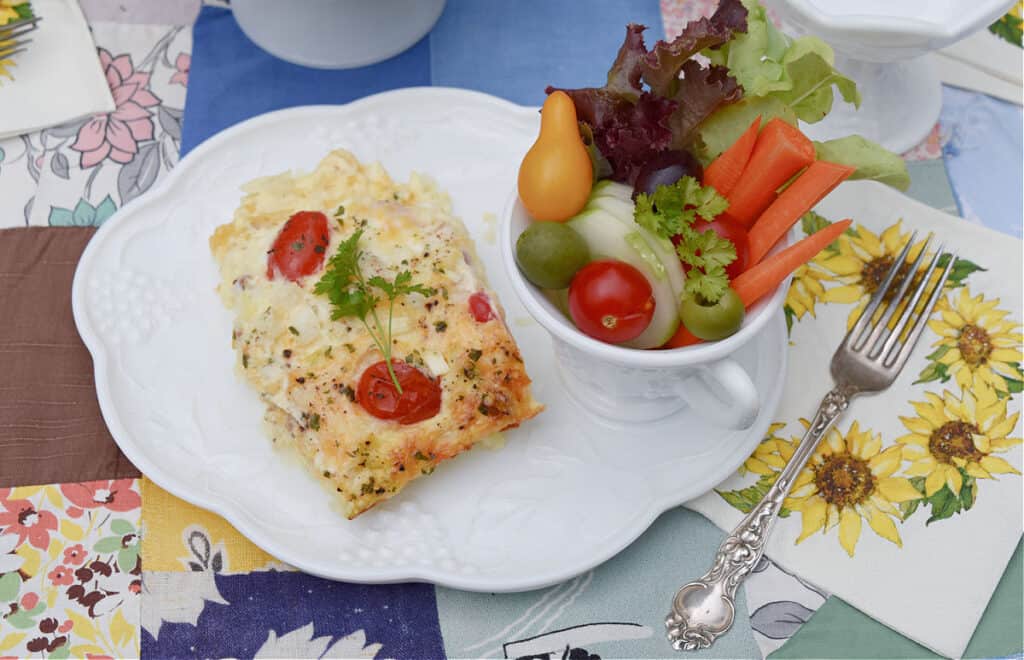 Summer Garden Party Table Setting
An old table is draped with a light and wispy vintage tablecloth, so it will blow in the breeze. Patchwork quilt remnants with brightly colored vintage fabrics are scattered on top for a casual, country look. The white milk glass pieces pop against the bright colors.
Fresh garden flowers, including bright colored zinnias fill a variety of milk glass vessels. Earlier in the week I arranged them for "11 Simple Tips for Beautiful DIY Flower Arrangements". Battery operated candles are the safest for outside, and are so pretty as the sun is setting. THESE are my favorite to use all through the year. I love that they have a remote and a timer and I can tuck them into any arrangement.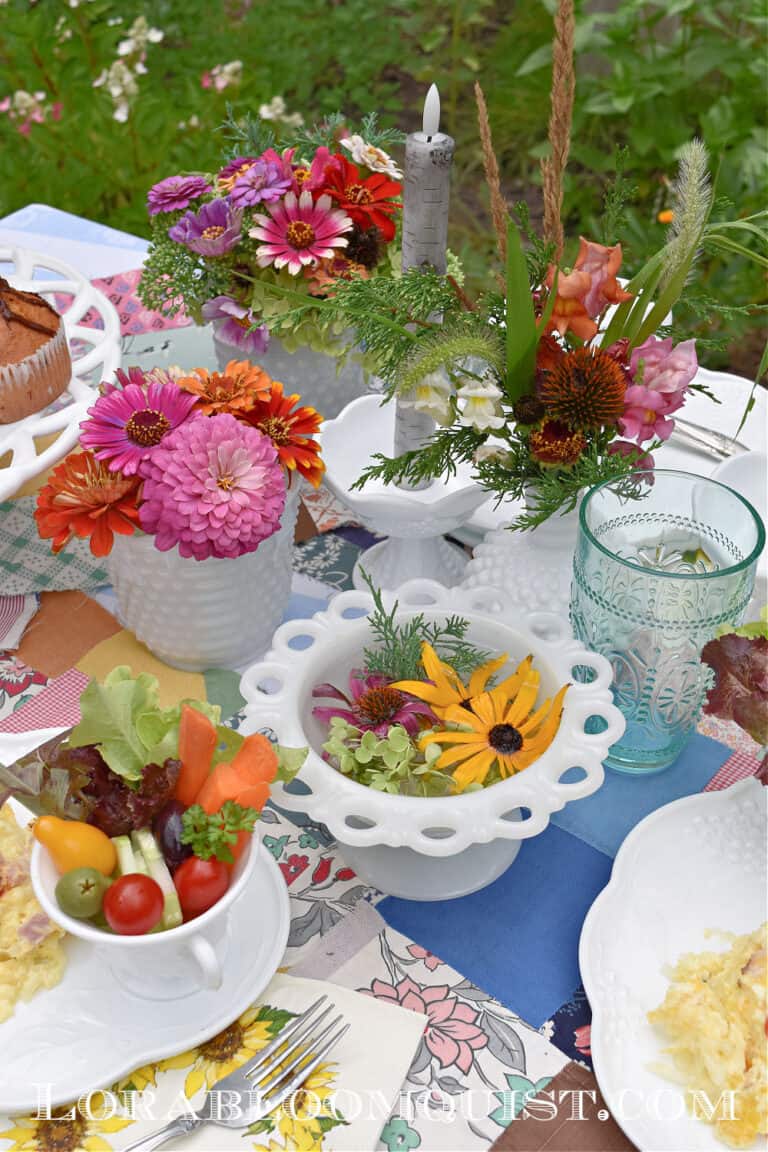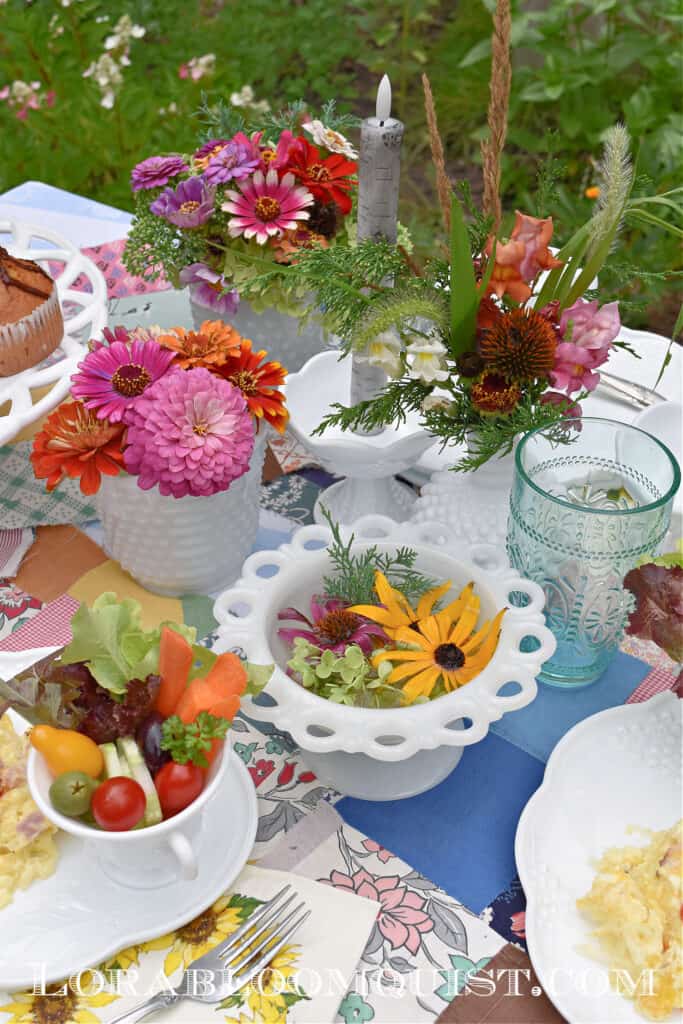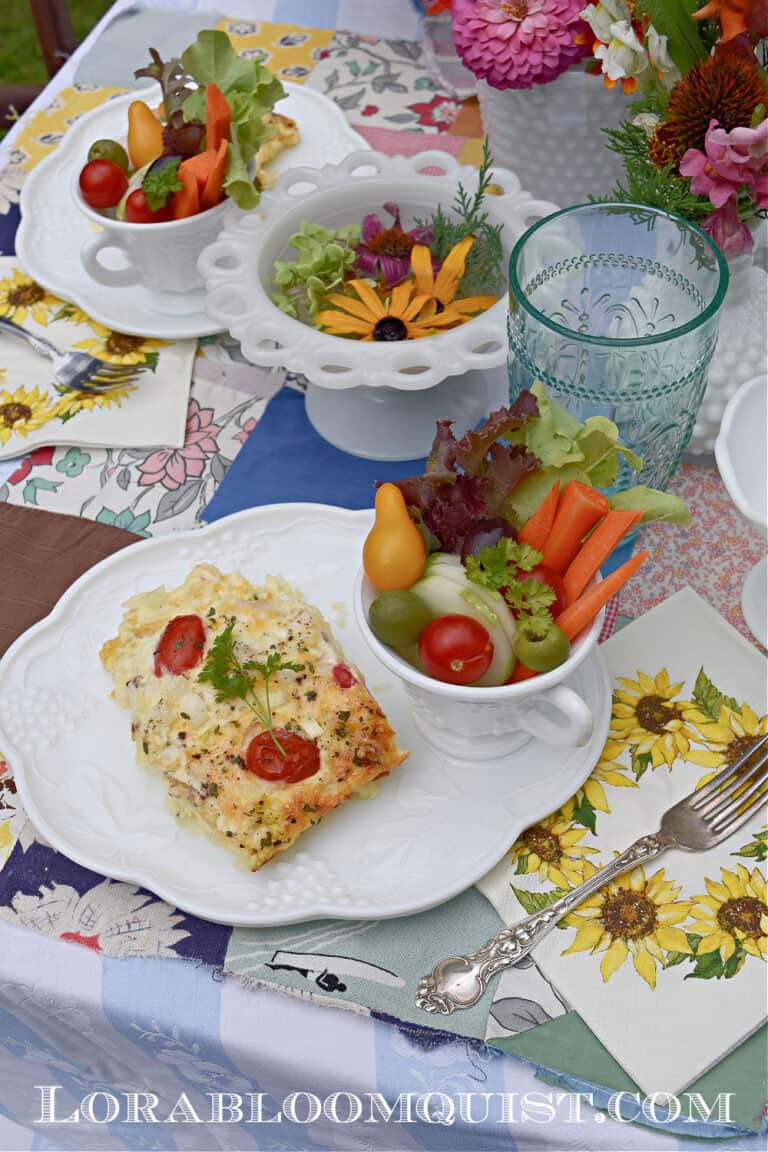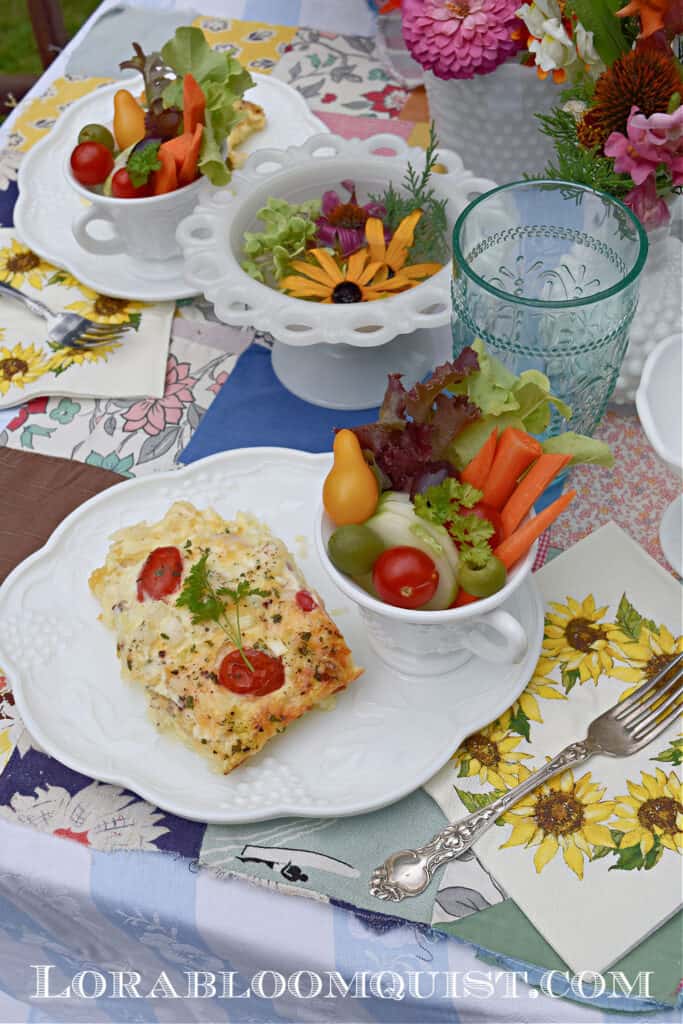 Stack Vintage Milk Glass Pieces for Impact
I have been collecting vintage milk glass pieces for years. I love to stack them for impact, whether I'm creating a dramatic floral arrangement or creating a beautiful food display. In "10 Pretty Ways to Decorate with Vintage Milkglass" I shared many other ways I use milkglass around my home. But I realized I'd never set a whole table with it; today is the day!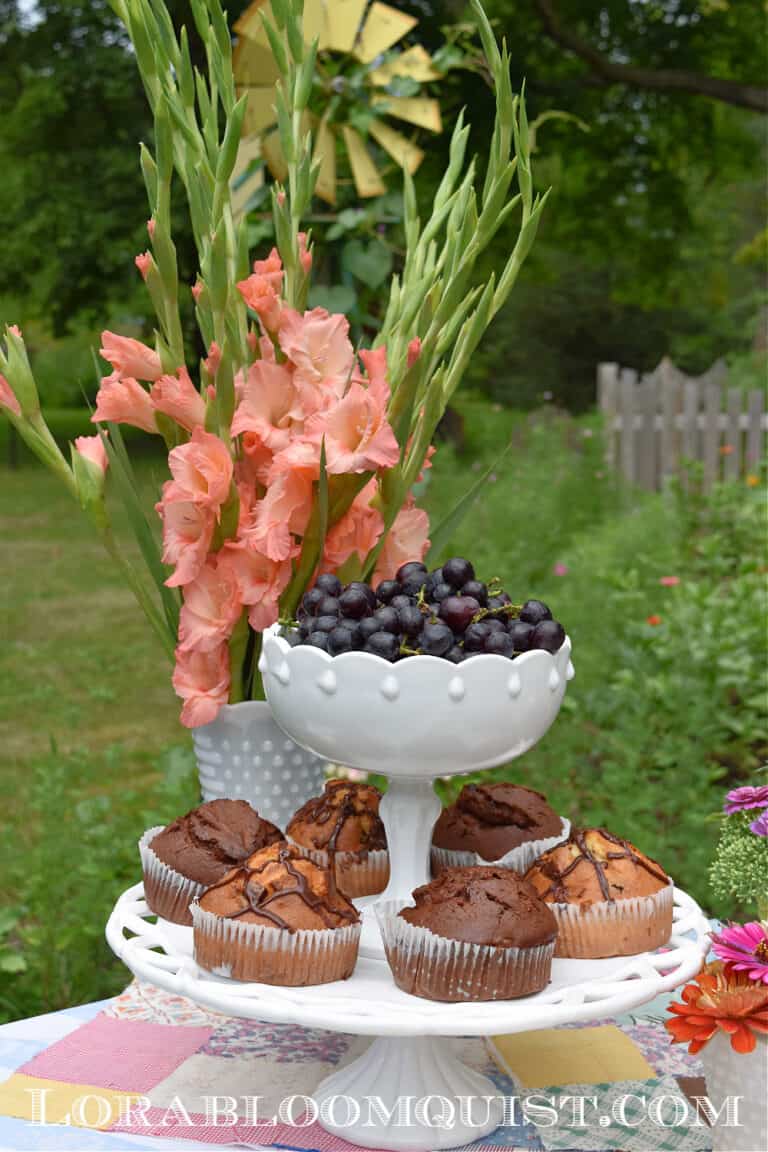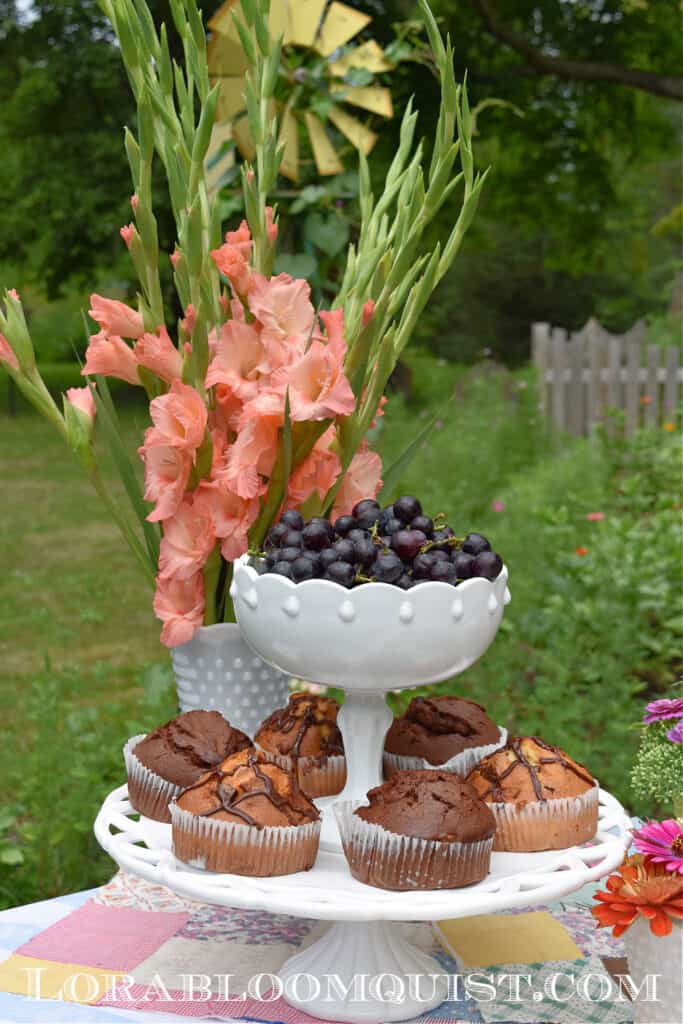 Stacking serving pieces like this can also be a great space saver if you are setting up a buffet. Combine cake plates with pedestal bowls. The vertical impact makes your table setting beautiful, too.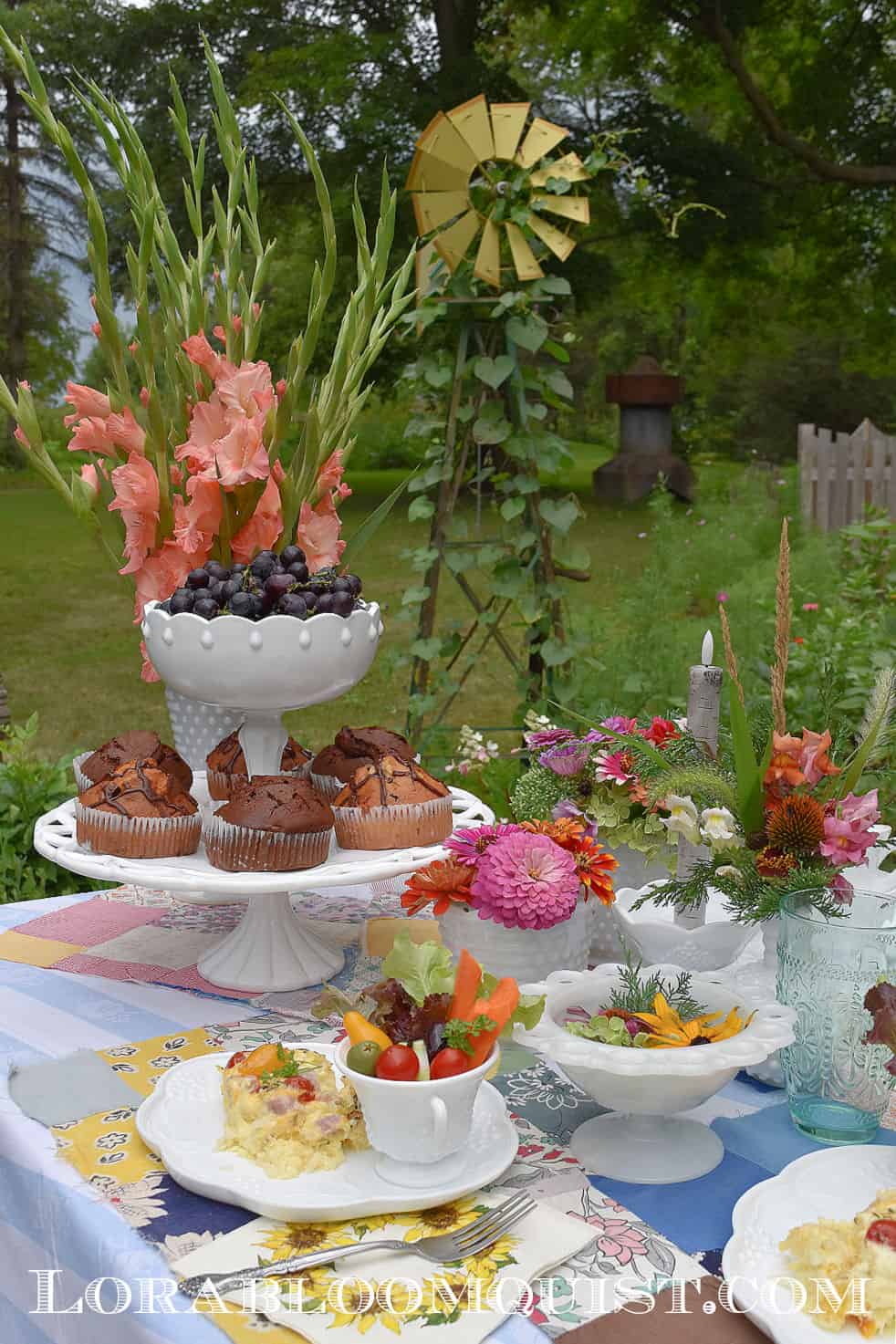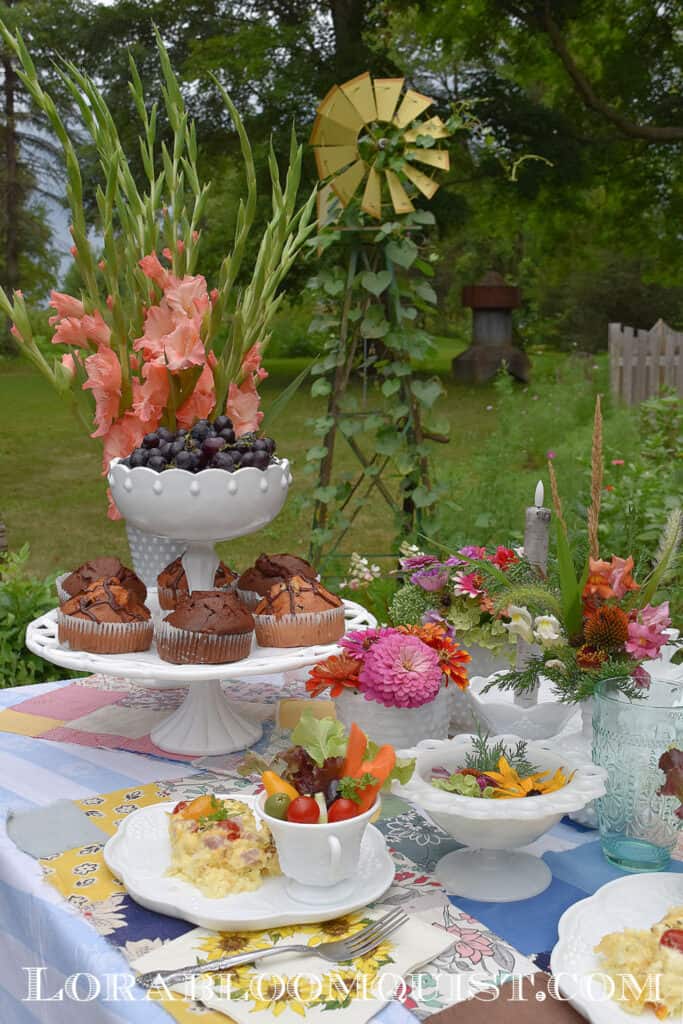 (Can you see those dark clouds looming in the background? Yep…my garden party got it's pictures taken just in time before the thunderstorm moved through!)
Backyard Garden Party
Place you garden party table right in with your blooming flowers. My vintage windmill and barn cupola make for the perfect country garden setting, alongside our picket fence veggie garden. The cutting flowers all around are abuzz with bumblebees and flitting butterflies. It's the perfect spot to chat all things gardening with a friend. I wish you could all join me!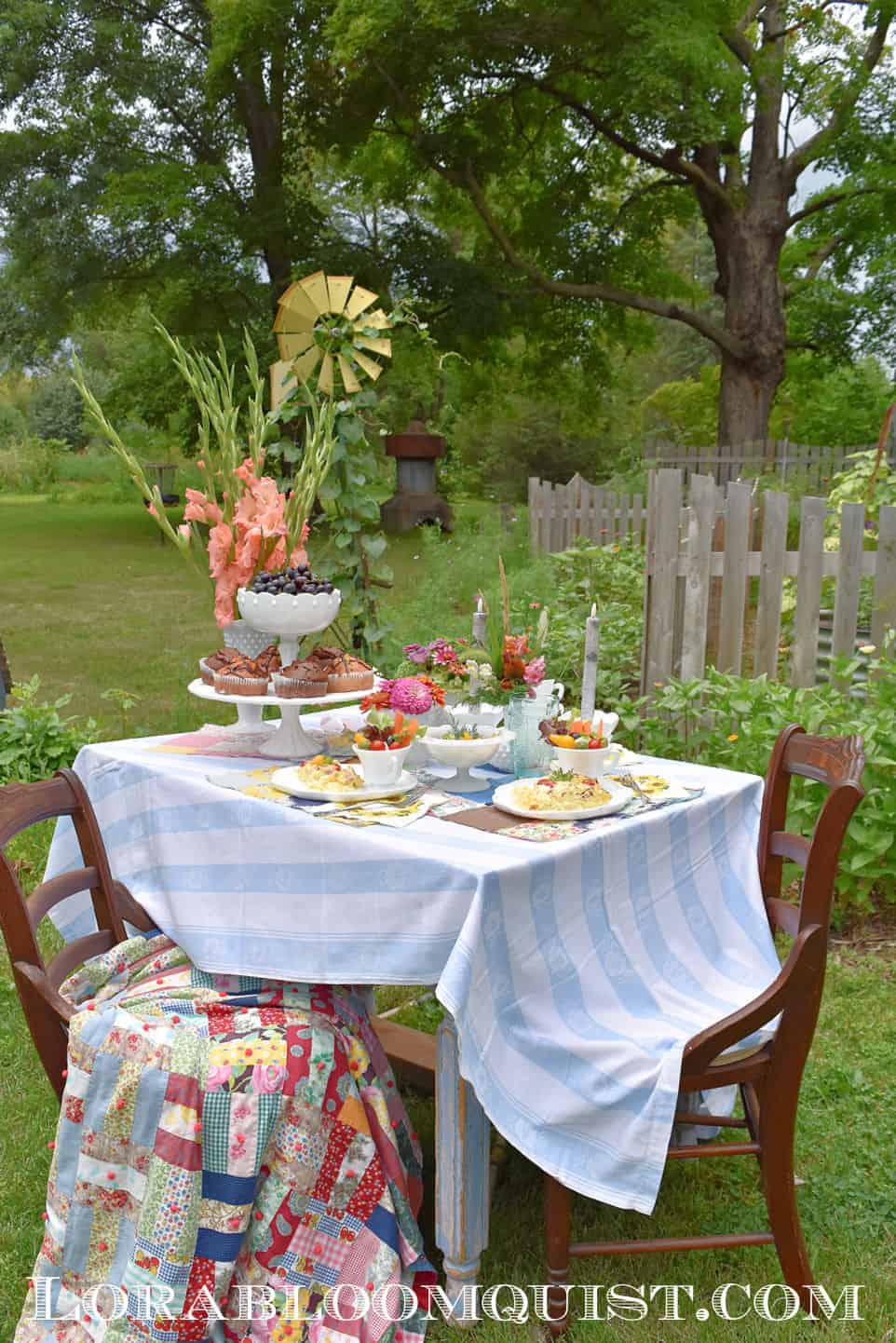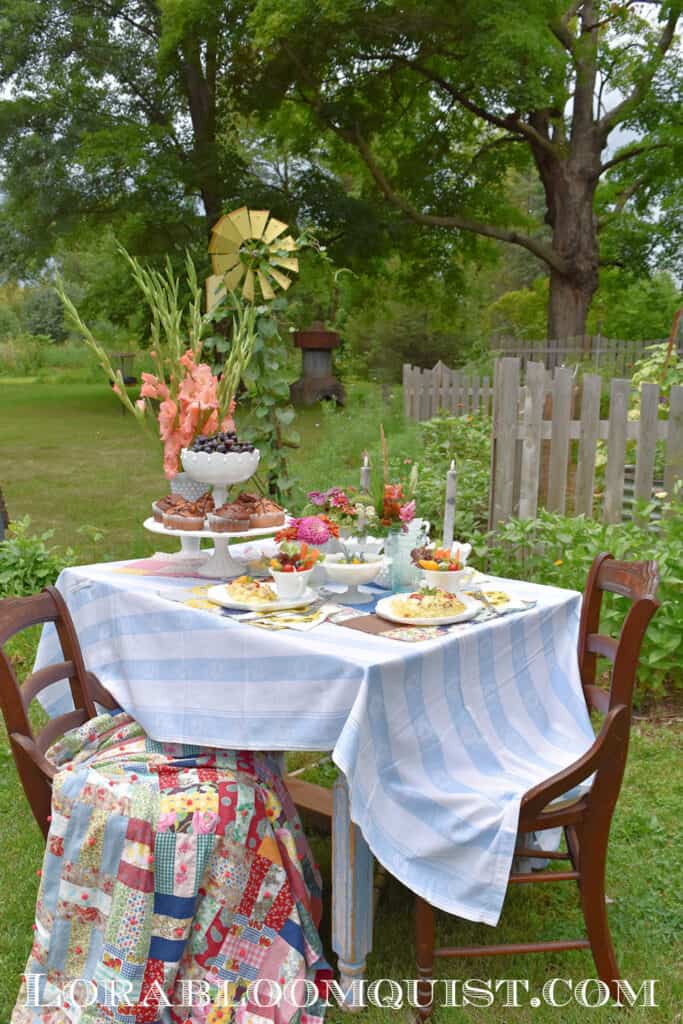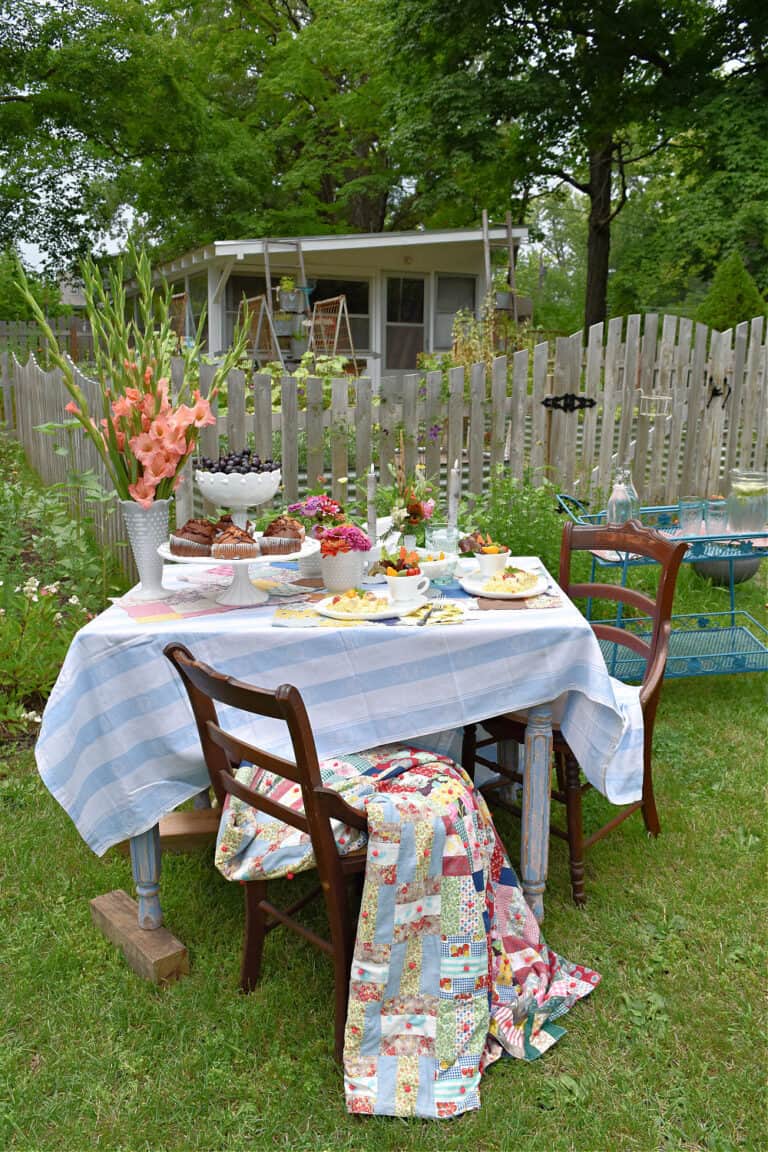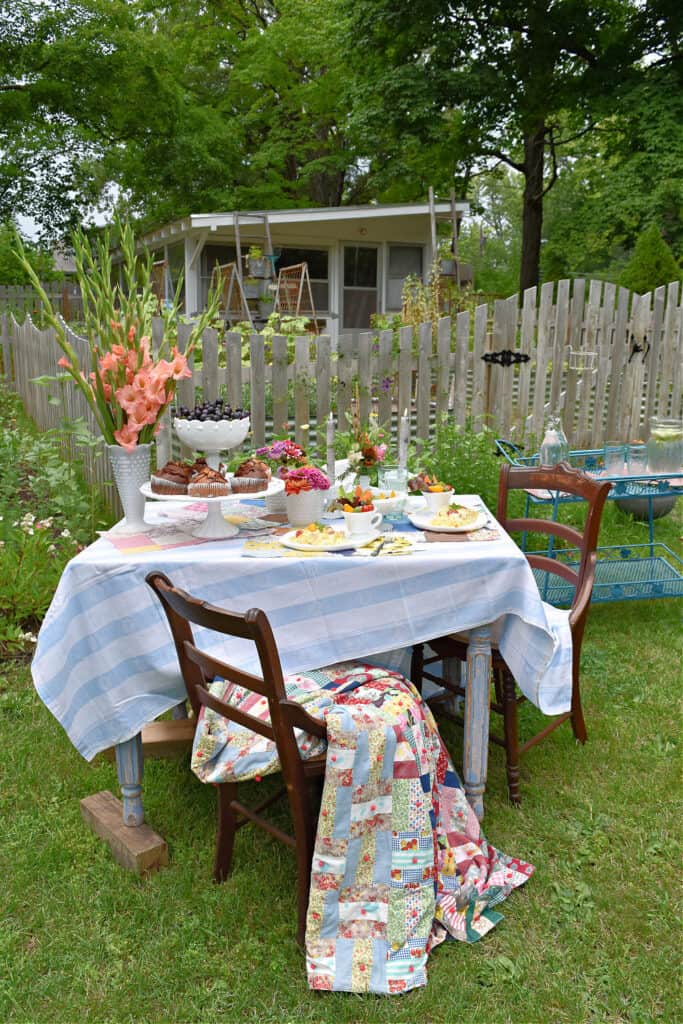 Have a Beverage Cart Nearby
A beverage cart nearby corrals beverage options and could be a great overflow space for food that won't fit on the table. I've been loving THESE new vintage-inspired glasses I just got. They're the perfect size and weight, and I love their pretty relief pattern. I got them in green and aqua, but they also have other colors and clear.
Everyone's favorite, Cucumber Lime Punch would be a perfect refreshing treat. I had limited time to whip this table up before the storm, so cucumber mint water had to work. Fresh cucumbers and mint from the garden makes it extra tasty.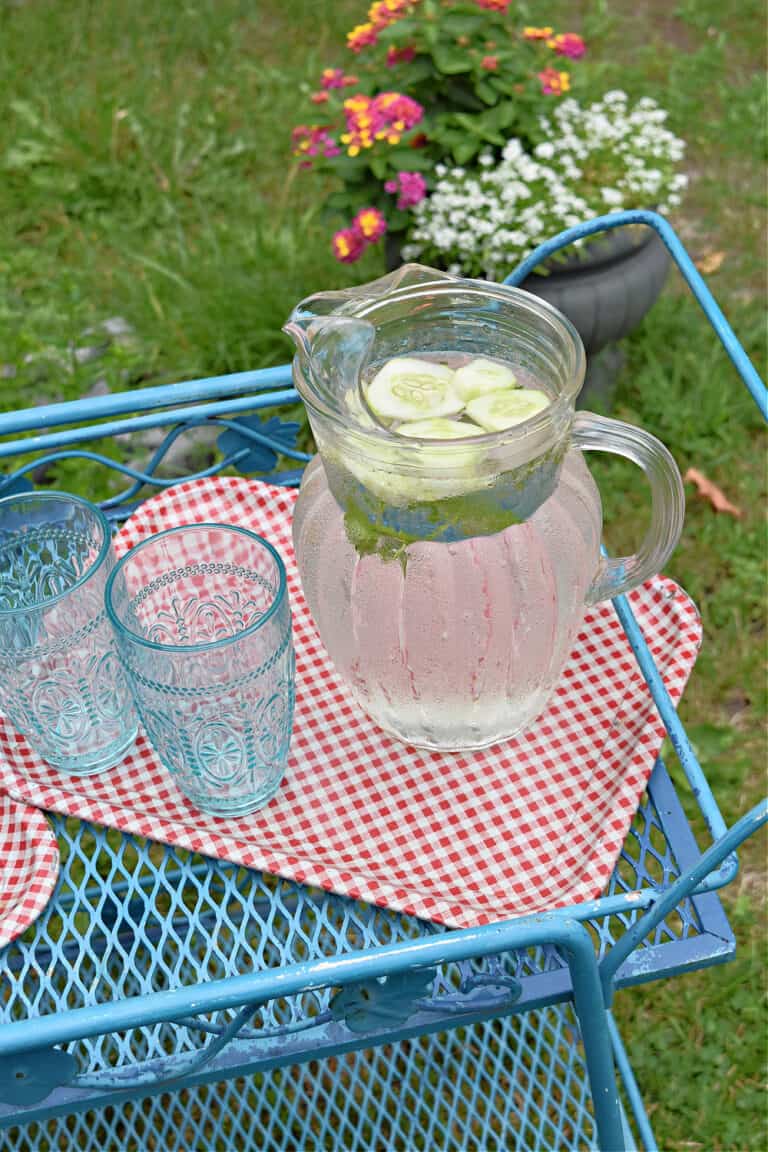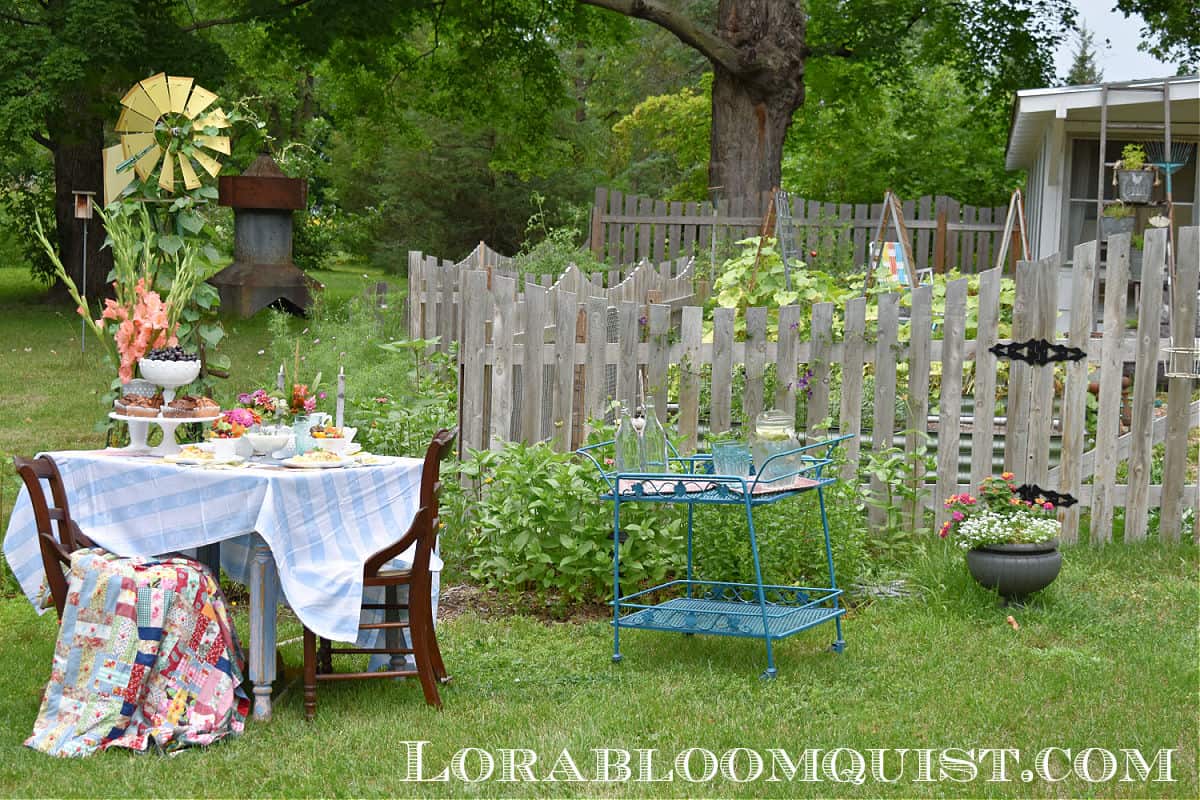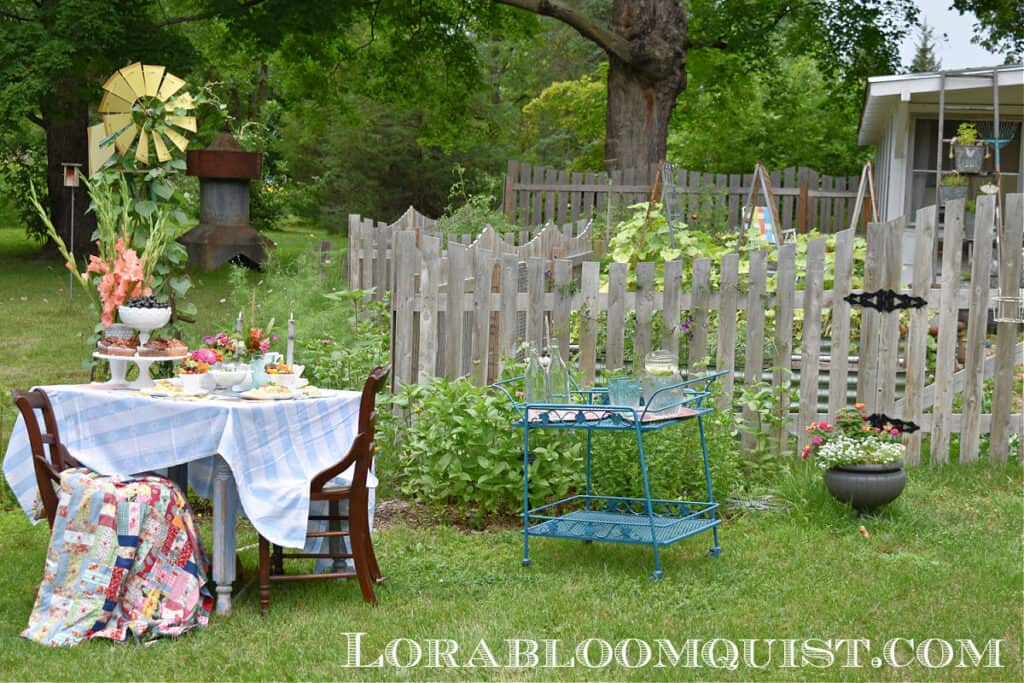 Other pretty garden party table inspiration:
"Garden Party with Green Depression and Vintage Junk"
"Rustic Vintage Fall Picnic Table"
"Vintage Americana Patriotic Tablescape Ideas"
"A Pink Depression and Peonies Patio Party"
"Blue and White Tea Party for Mom"
Find more of our Lifestyle of Love Series HERE.
I hope you enjoyed today's pretty milk glass-filled garden party ideas! Milk glass is a great vintage collection to have because you can use it throughout the year in so many ways! You can hunt for it secondhand, or find it online HERE.
For more milk glass decorating ideas, visit my friend Angie at Postcards from the Ridge next. She is a vintage dish lover like me; I always love to see how she uses her pieces in her pretty home!
Thanks for reading Summer Garden Party Ideas with Vintage Milk Glass. If you enjoyed your visit, be sure to Become an Insider, so I can send the ideas right to you! Sign up HERE.
Follow Me: LTK | Amazon | Pinterest | Instagram | Facebook
Pin, Save, and enjoy the Rest of the Inspiration!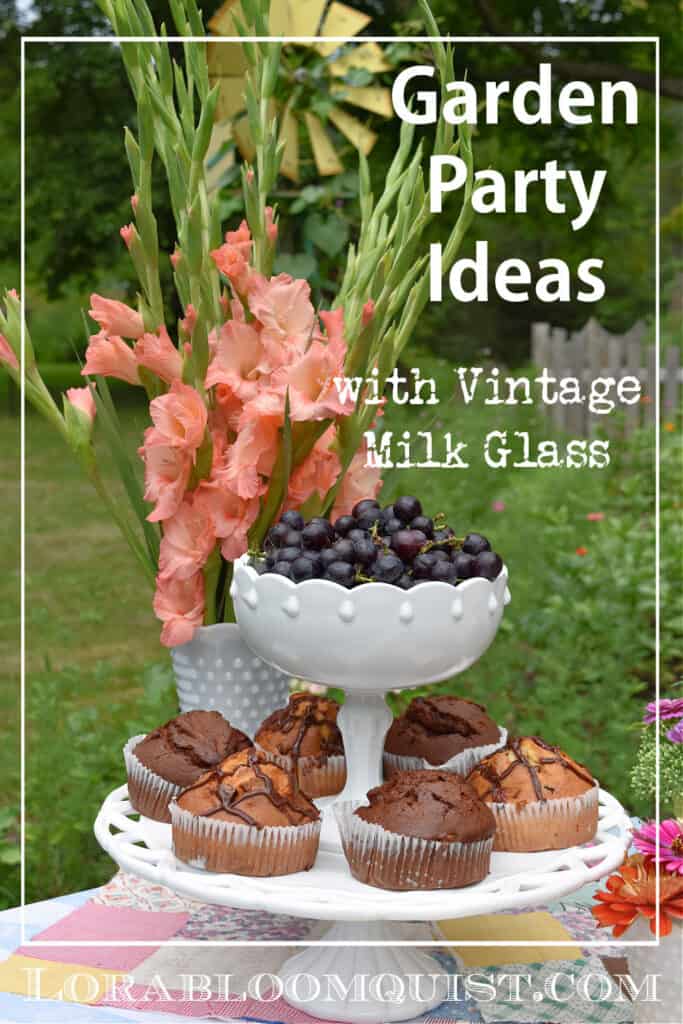 Sharing at these lovely parties: