Rustic Vintage Fall Picnic Table
get fun fall table setting ideas, using vintage and repurposed DIY projects!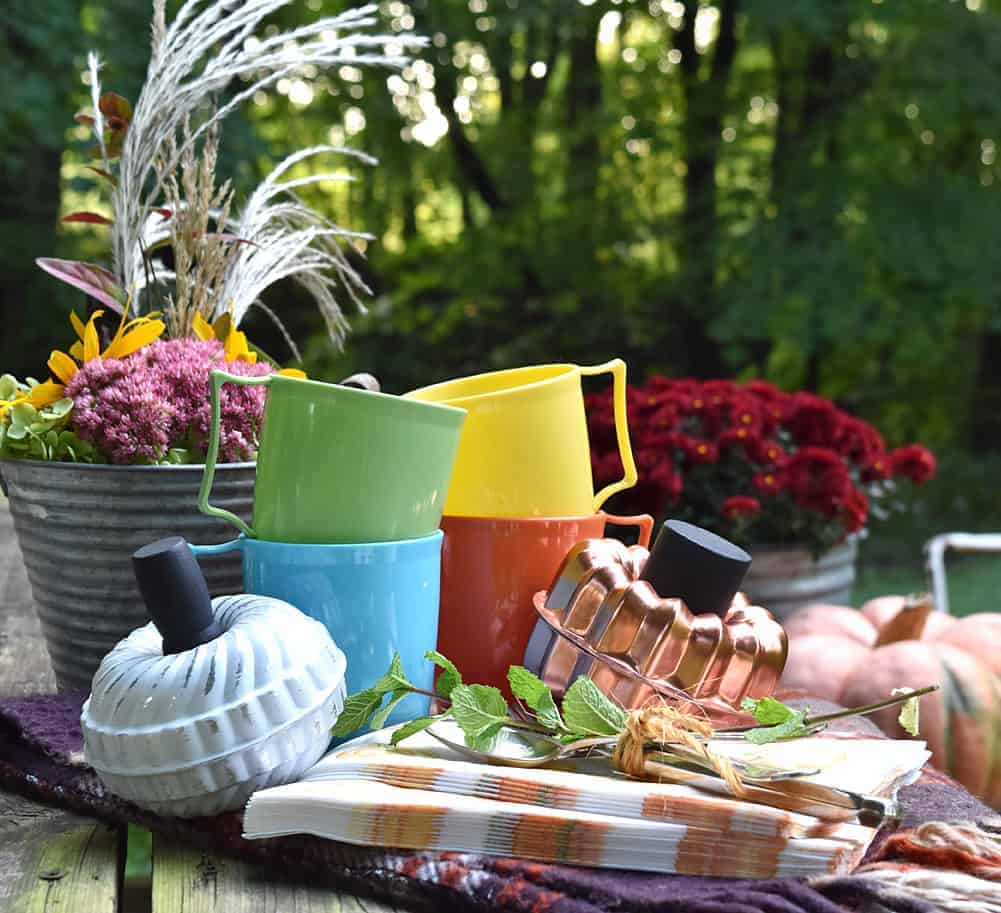 Early Fall evenings may be the best of the best when it comes to outdoor dining! Hopefully the summer heat has subsided and it's just chilly enough to light a campfire and enjoy some harvest recipes. Just as the sun is setting, gather some friends and set a Rustic Vintage Fall Picnic Table to enjoy this fleeting season. I'll show you how!
This Fall scene is part of our monthly Pinterest Challenge, hosted by Cindy at County Road 407. This challenge consists of a group of creative blogger friends designing and styling around one inspirational photo. If you're visiting from Sweet Pea, welcome! I'm sure you enjoyed Paula's beautiful lakeside woodland tablescape.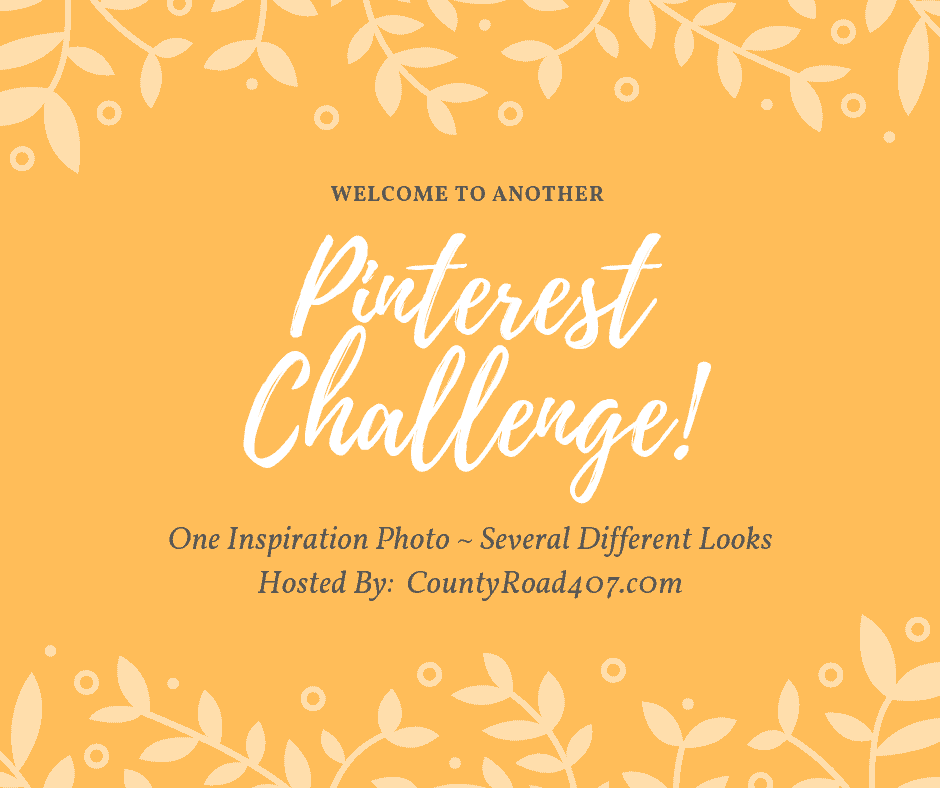 Our inspiration photo this month comes from Beth at Home Stories A to Z. Her lovely outdoor Fall Patio Table is beautifully styled with affordable decor from Walmart. Let's take a closer look at her photo so we can replicate the look, while giving it our own twist.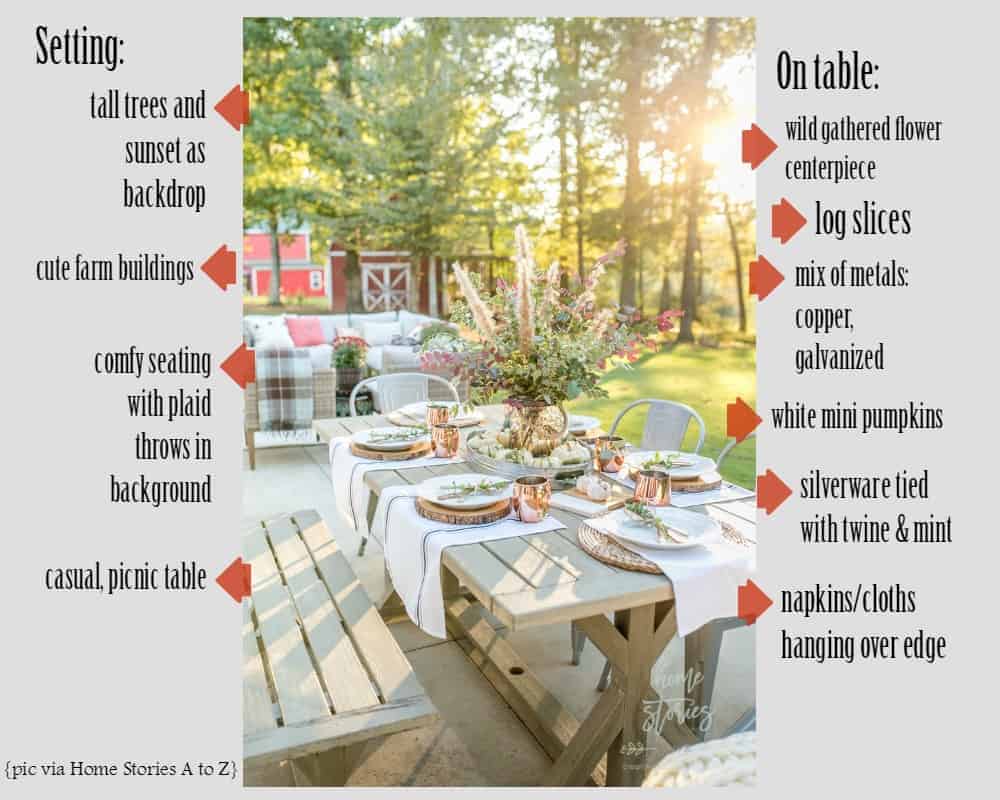 Yes, I'm drooling over the vintage farm buildings in the background. Unfortunately I don't have any of those in my back yard, so I'll just have to dream about that kind of backdrop. But, I do have some great, tall trees along our ravine which will be the perfect setting for this rustic scene. Here's my version of Home Stories A to Z's beautiful tablescape; hopefully you'll be encouraged to do the same!
Rustic Vintage Fall Picnic Table
For your convenience, this post contains affiliate links. If you make a purchase, I may receive a commission. There is no additional cost to you. My full privacy policy is here. 
Our weathered picnic table seemed the perfect foundation for this scene. I placed it on our crumbling brick patio the boys had DIY'd years ago. It's right near our fire pit on the edge of our tree lined ravine. As the sun was setting I gathered all the elements to set this casual, rustic Fall table. (Maybe our inspiration photo is sunrise? Nevertheless, I'm doing sunset…I don't like to see the sun rise;)
Use Log Slices As a Foundation for Your Rustic Table
Rather than using log slices at each setting, I used what I had and spread a runner down the middle of the table with log circles and birch chunks. The tree trunk theme fits the rustic setting perfectly.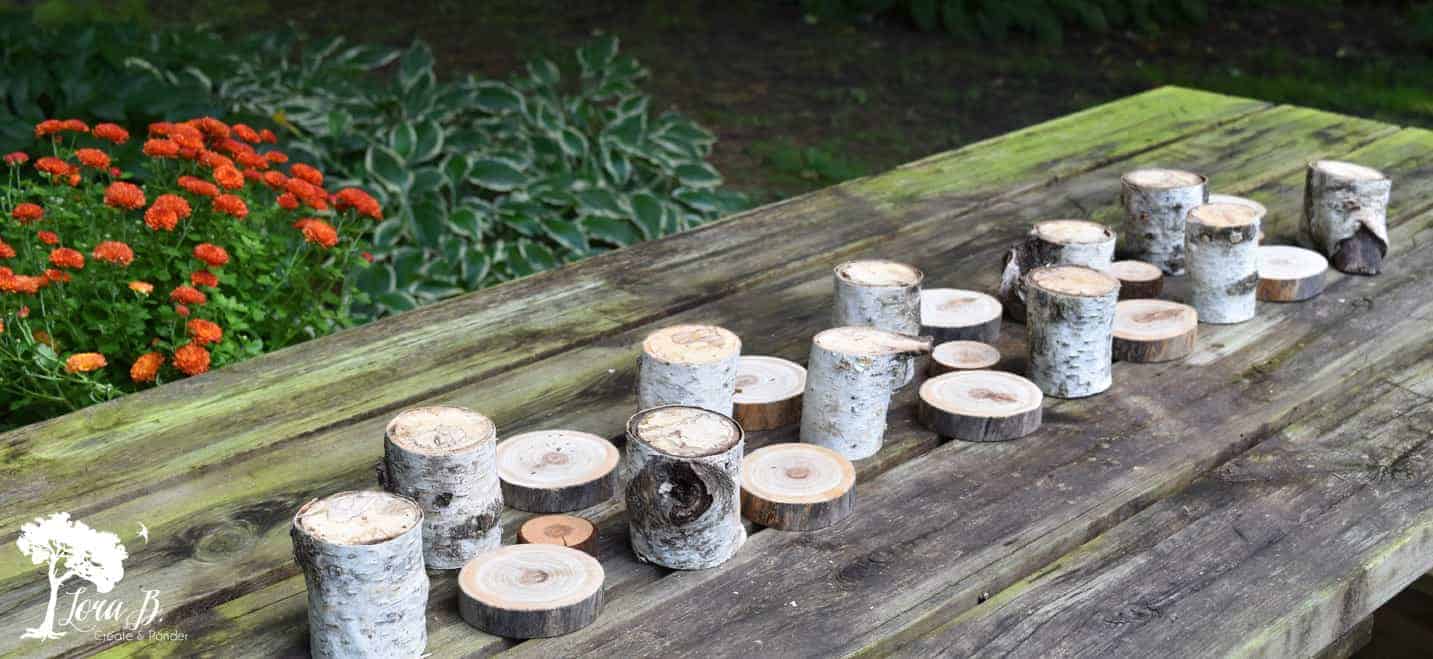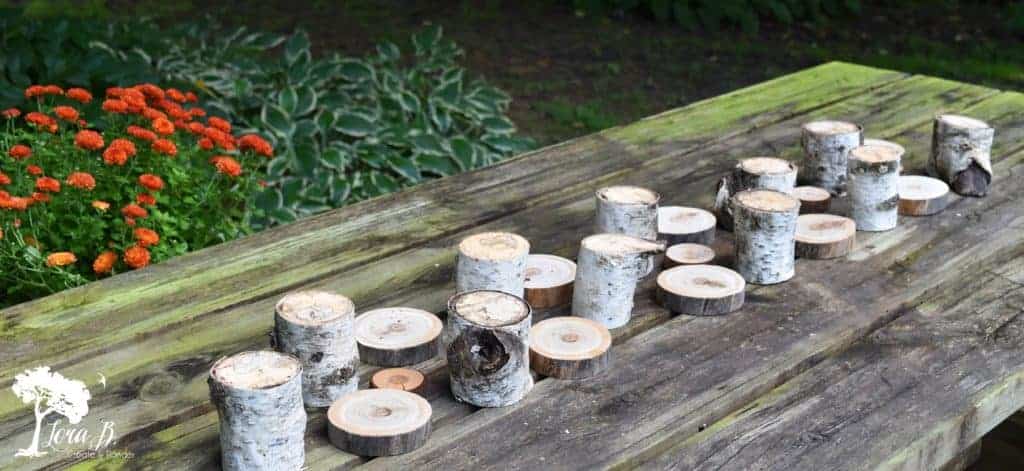 Use Wool Plaid Blankets Liberally for your Fall Picnic
Next I gathered my stash of plaid wool blankets to cover the seats and drape over fireside seating. I still had a remnant left from my "Wool Blanket Bunting" and cut the remaining piece into 4 lengths for placemats. I love how the fringed edge hangs down at each place setting. It's similar to the look in the inspiration photo, but with a cozier, more textural feel.
Each end of the table got treated to classic fall mums and kale in vintage galvanized buckets and some heirloom pumpkins. Fresh plants and seasonal decor instantly make a scene special!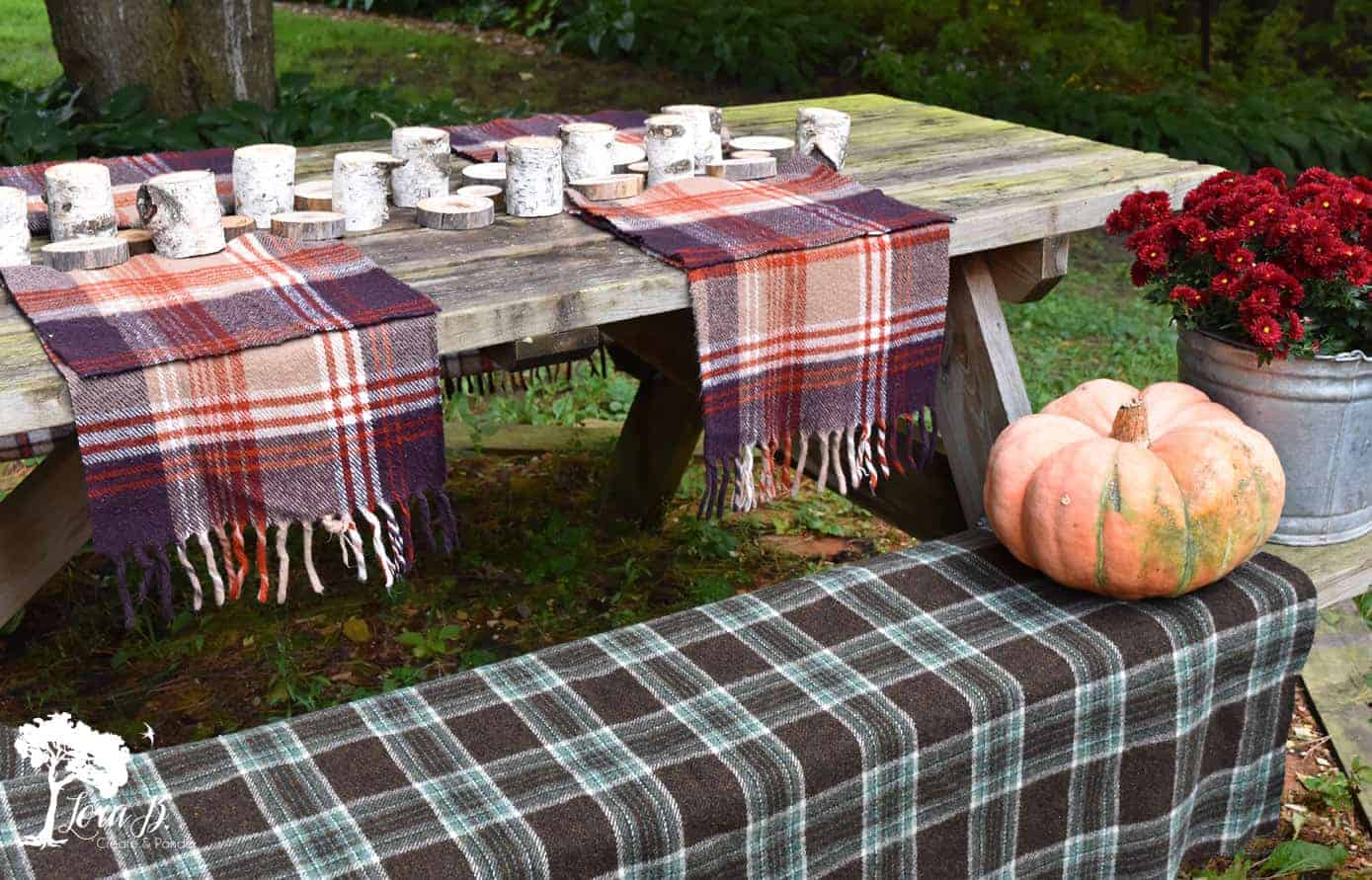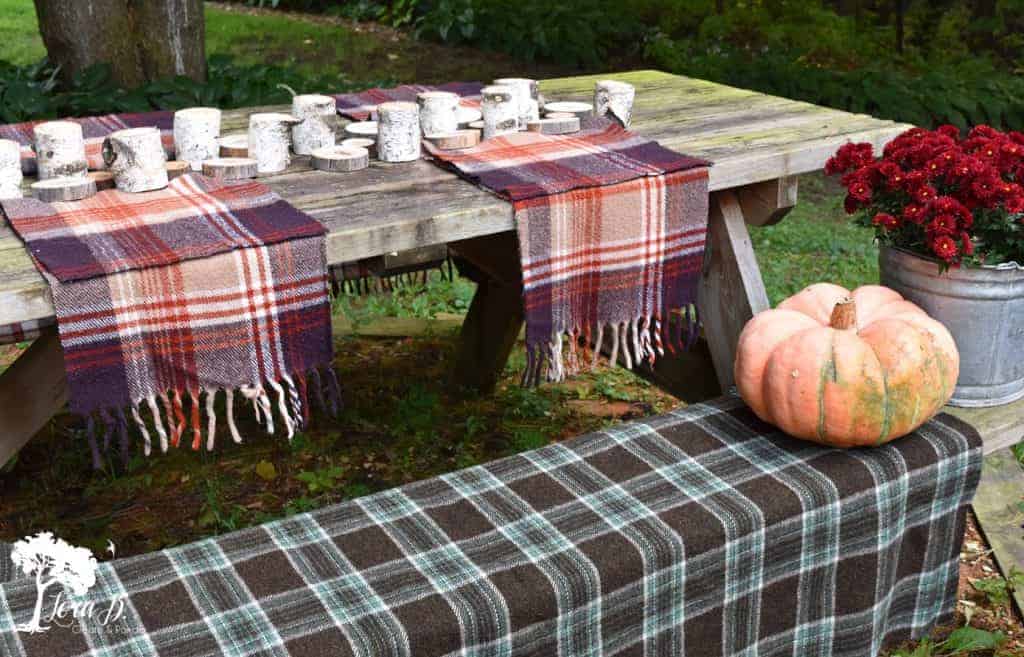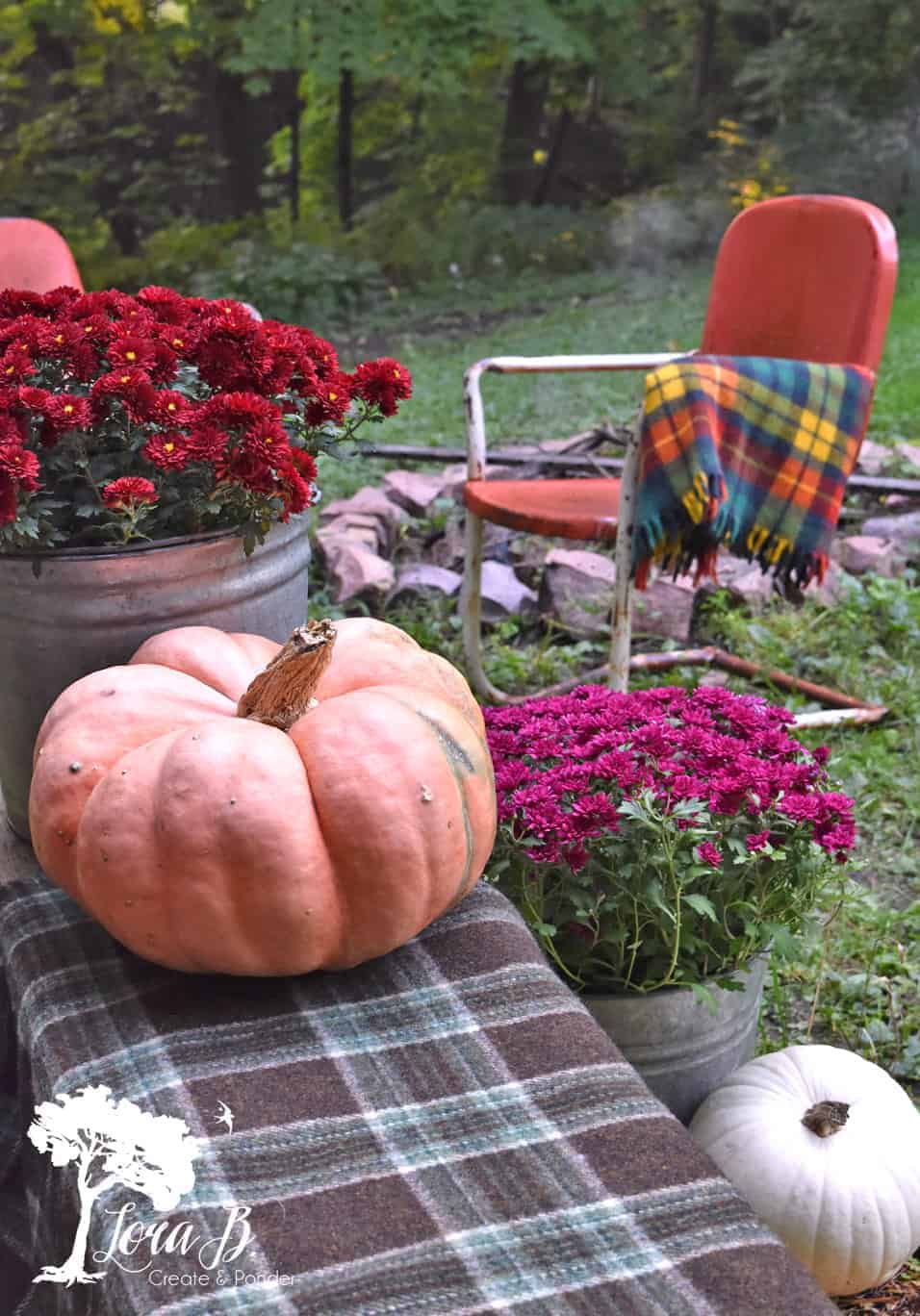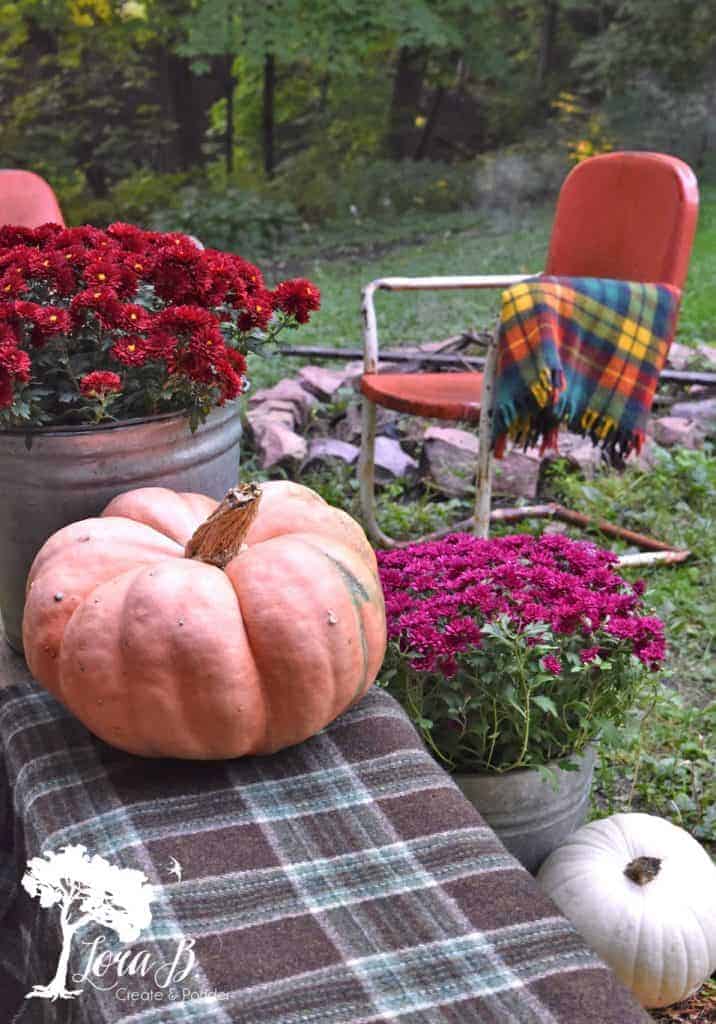 Pick a Natural Bouquet From the Yard for Your Centerpiece
Fall is the best time to take advantage of wild foliage and end of the season plants. Rather than the big middle centerpiece in our inspiration photo, I opted for a more casual collection of bouquets in small ribbed galvanized buckets (I forgot where I got them, but THESE Antique Bronze Ones are pretty cute). I've used these little buckets for so many things! I simply tucked a small jar of water in each for the flowers.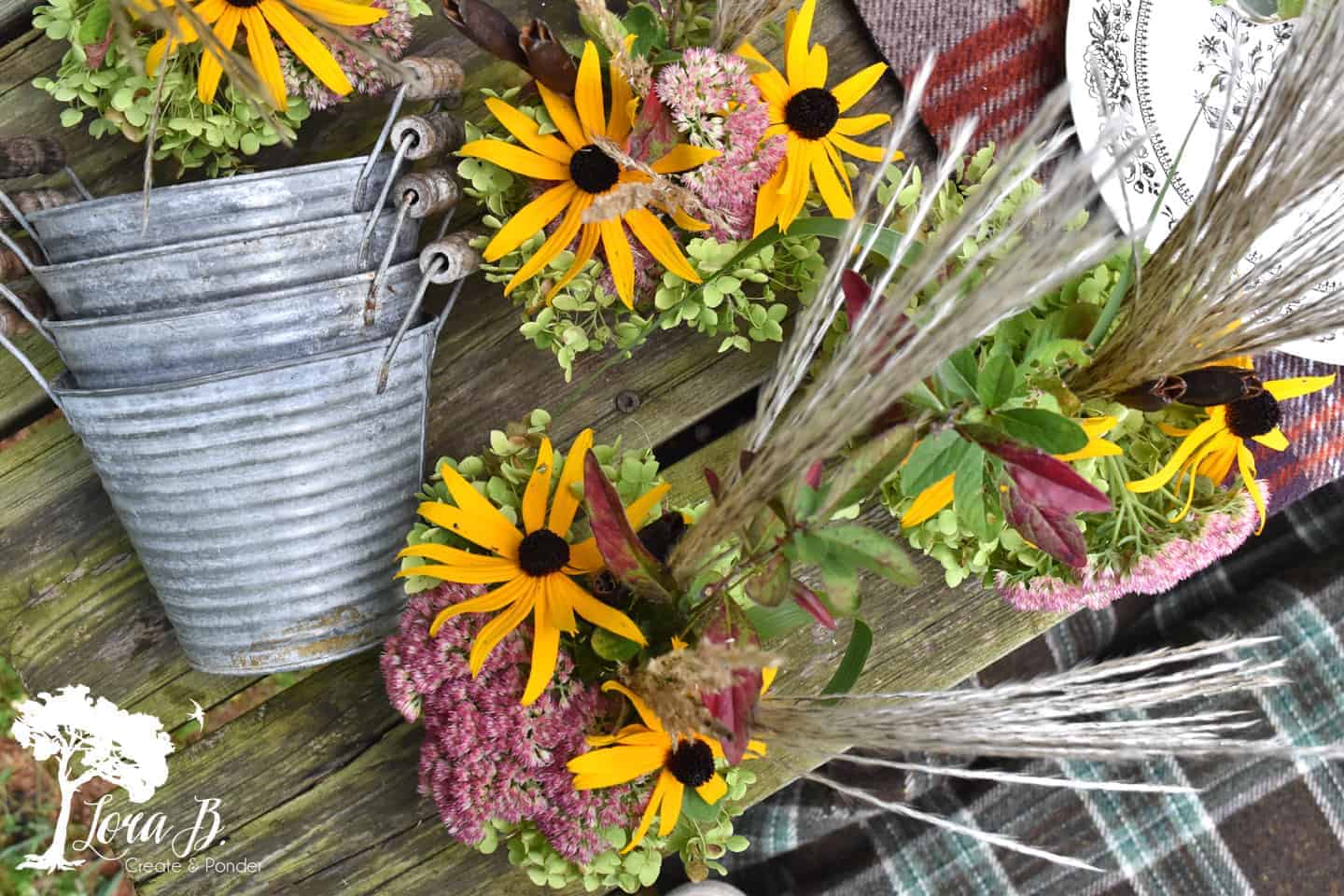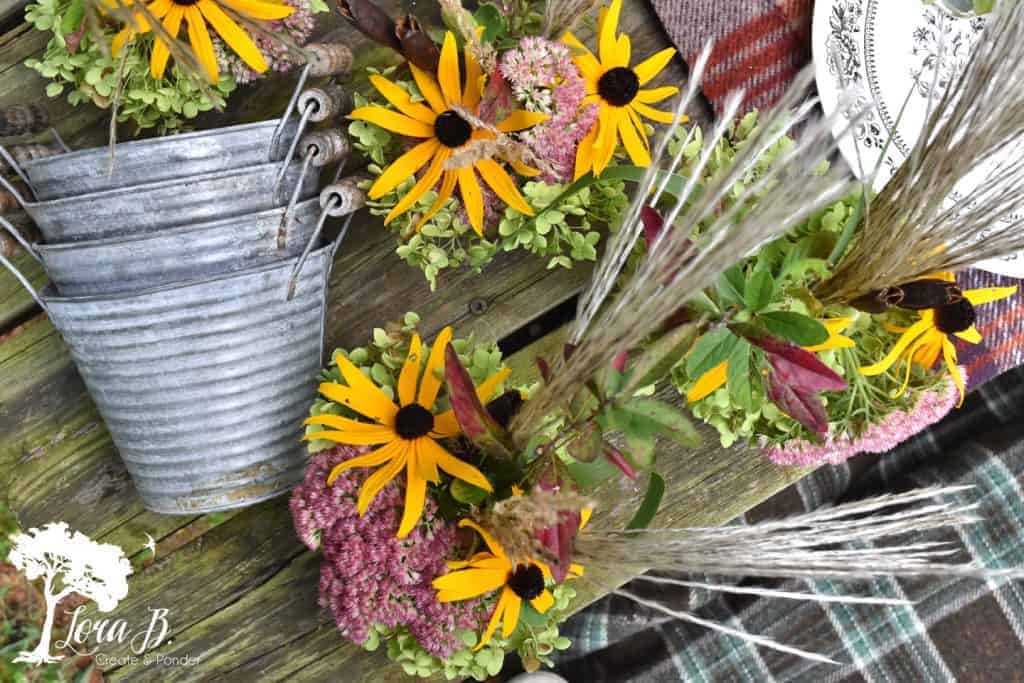 The tall, spikey grasses reminded me of the centerpiece height in the pic and brought wonderful movement to the table.
Set Your Table with a Casual Mix
Outdoor meals like this should be comfortable and casual, but still seem special. Vintage brown transferware plates along with some vintage plastic picnicware mugs in fall colors became a fun mix. I tied the silverware with twine and a sprig of fresh mint. I wish these pics were scratch and sniff; oh, the fragrance:) Purchased pumpkin paper napkins are easy, but special (you can find similar ones HERE) when placed under the plate so they drape over the edge. Hopefully it resembles our inspiration pic, with a twist!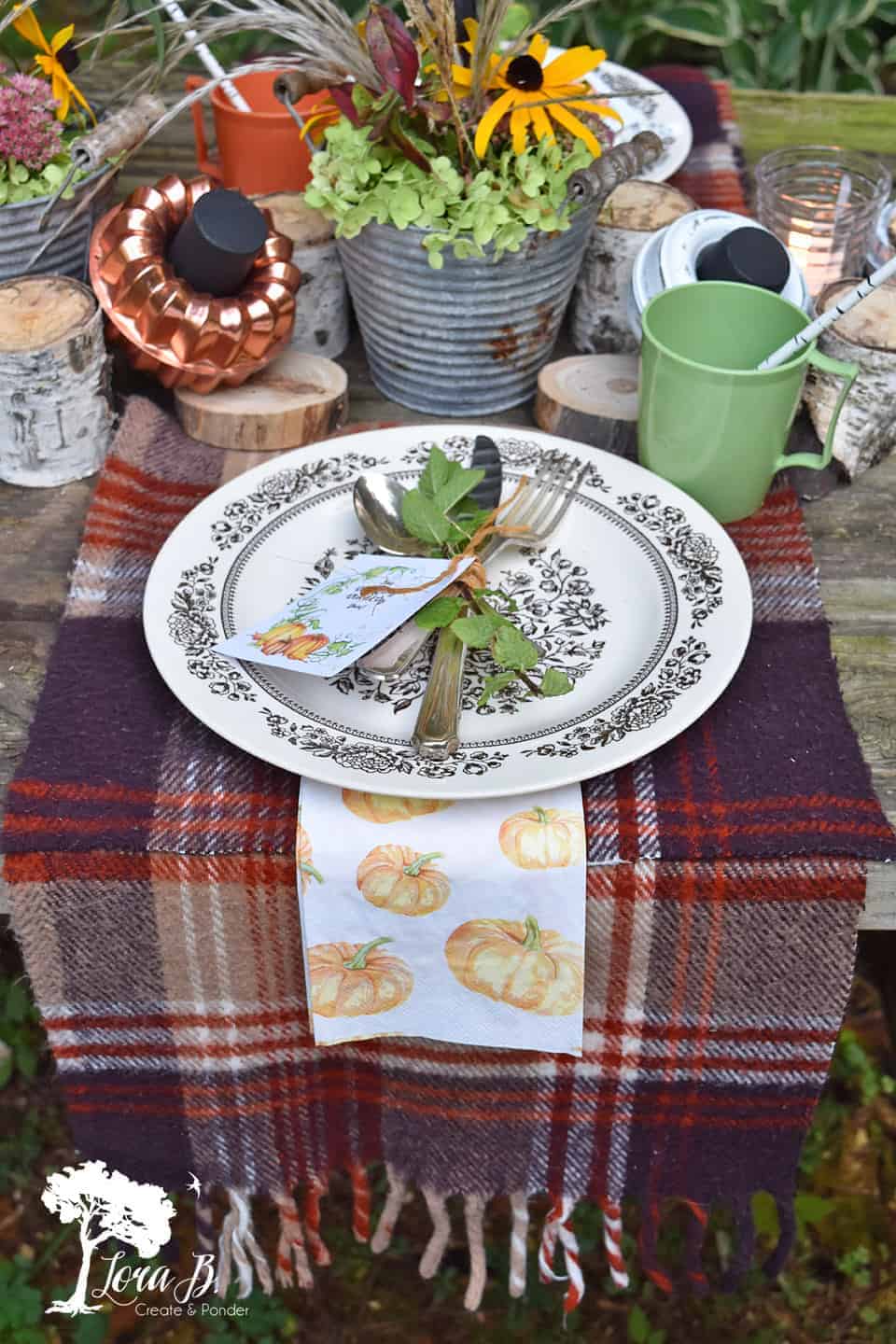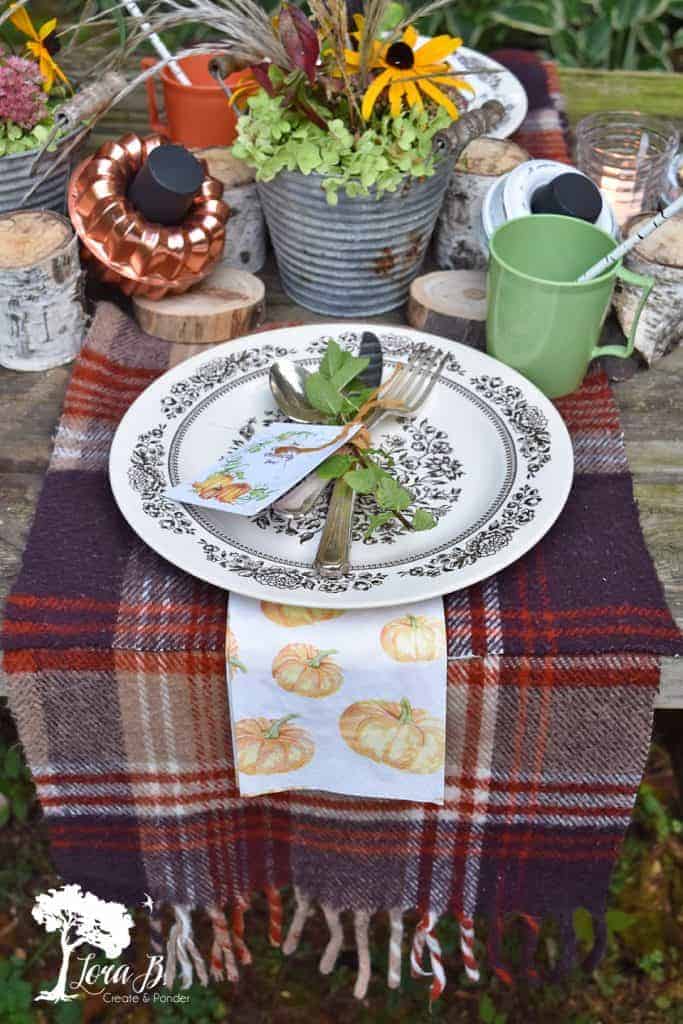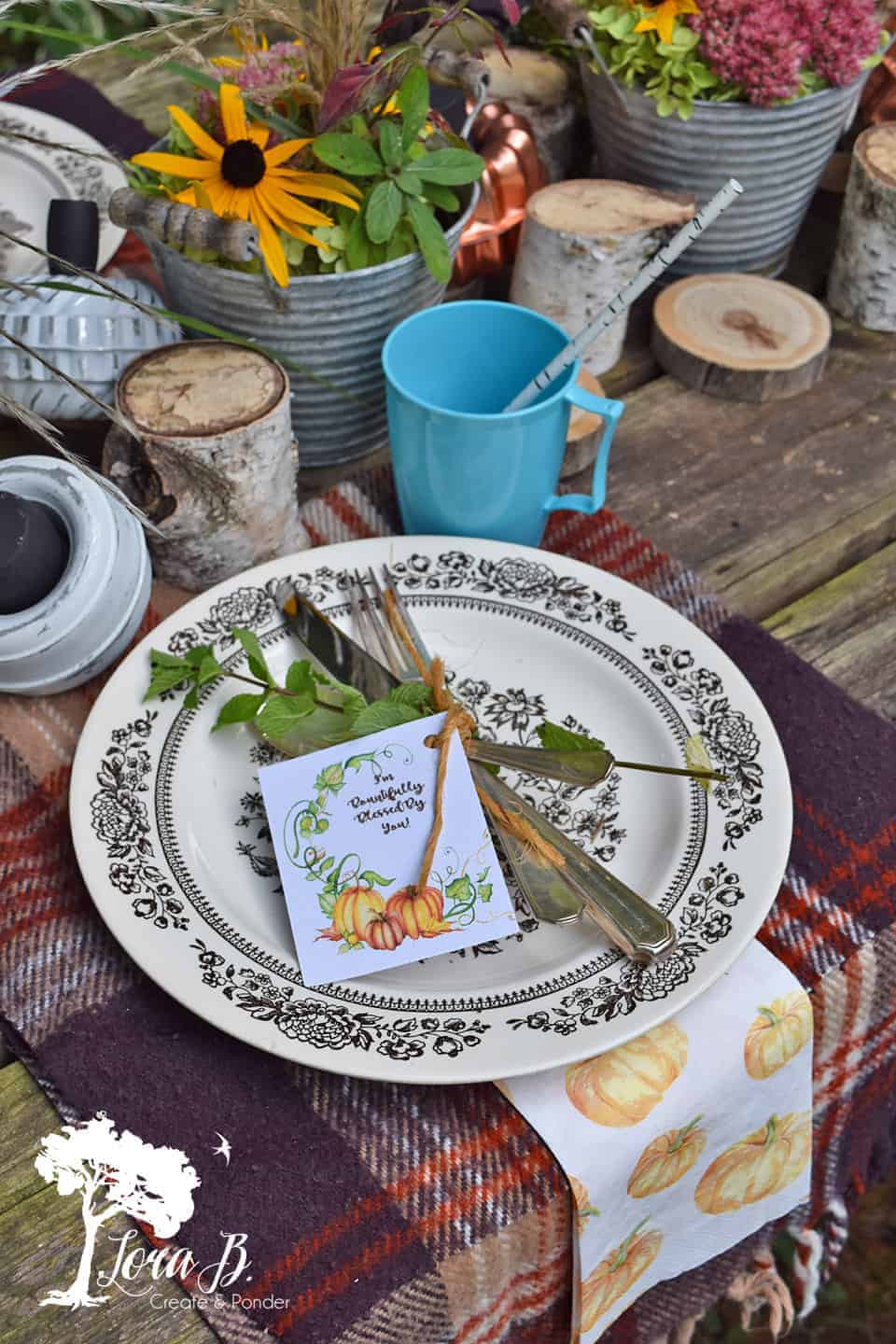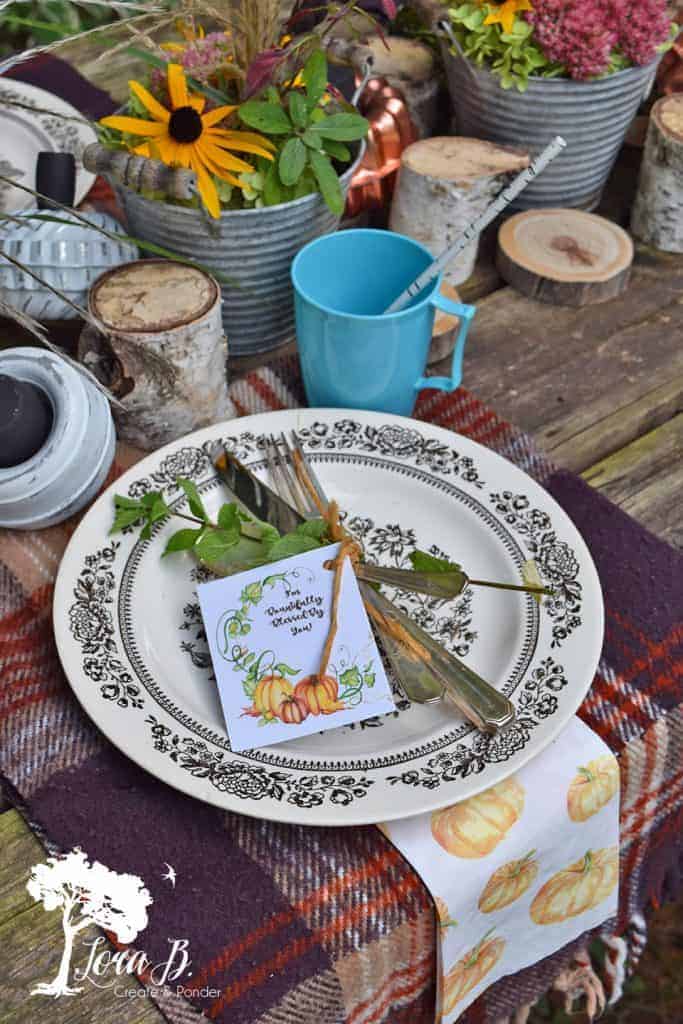 Get the Free Placecard + More by Becoming a Lora B Insider!
For a personal touch, I tied on one of the placecards I created for Thanksgiving last year. You can get it for yourself in my FREE Resource Library by becoming a Lora B Insider. You'll get free access to all my decorative and helpful resources, plus stay creatively motivated with my weekly email!
Add Pumpkins and Candles to the Fall Picnic Centerpiece
Instead of using real pumpkins, I went the DIY creative route and used my "Tart Mold Pumpkins". They brought in the beautiful shiny copper tones and also the white of the mini pumpkins in the picture. Plus, they add a touch of whimsy with their repurposed selves;) Votive candles are always a must on my tables; they just add such ambiance.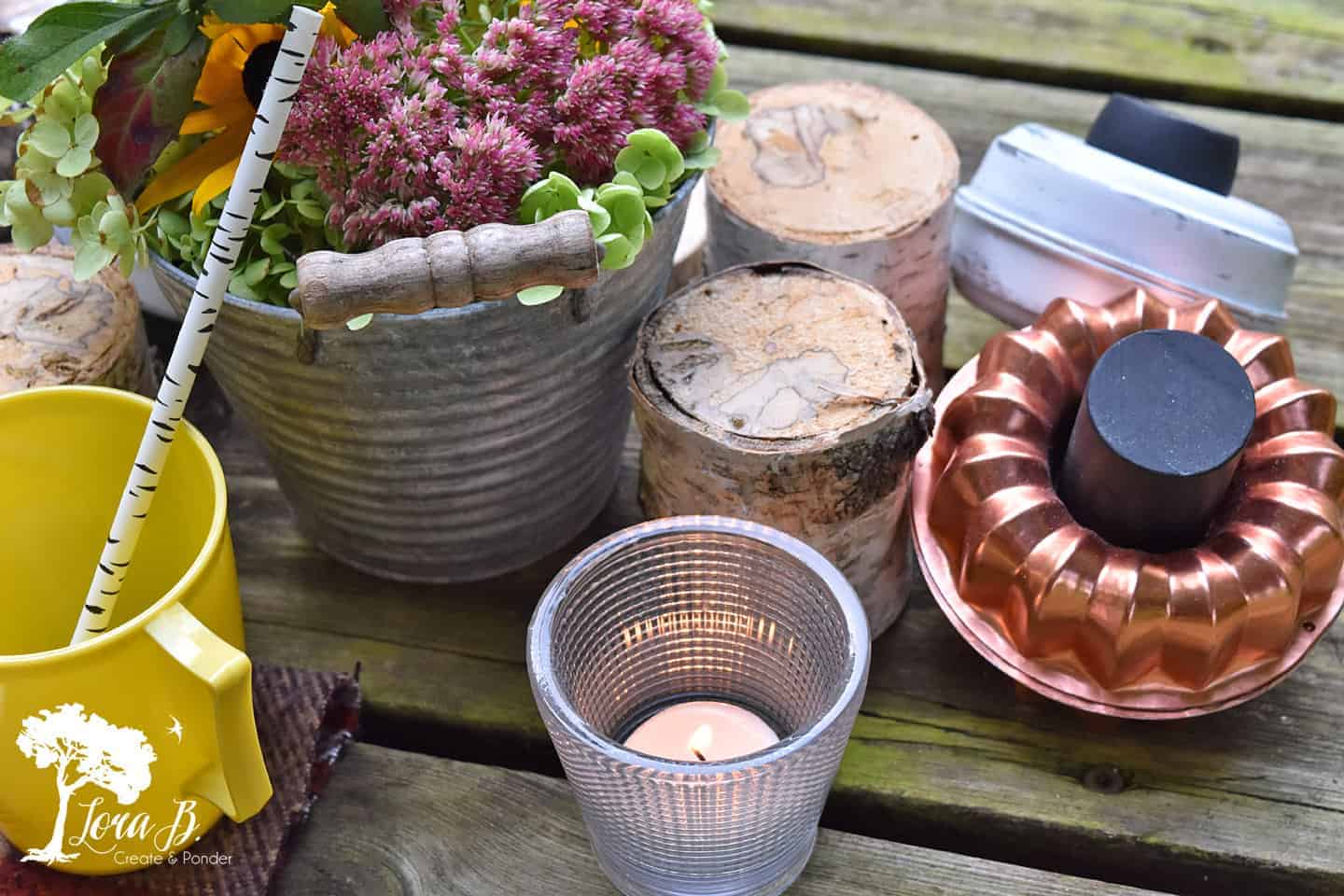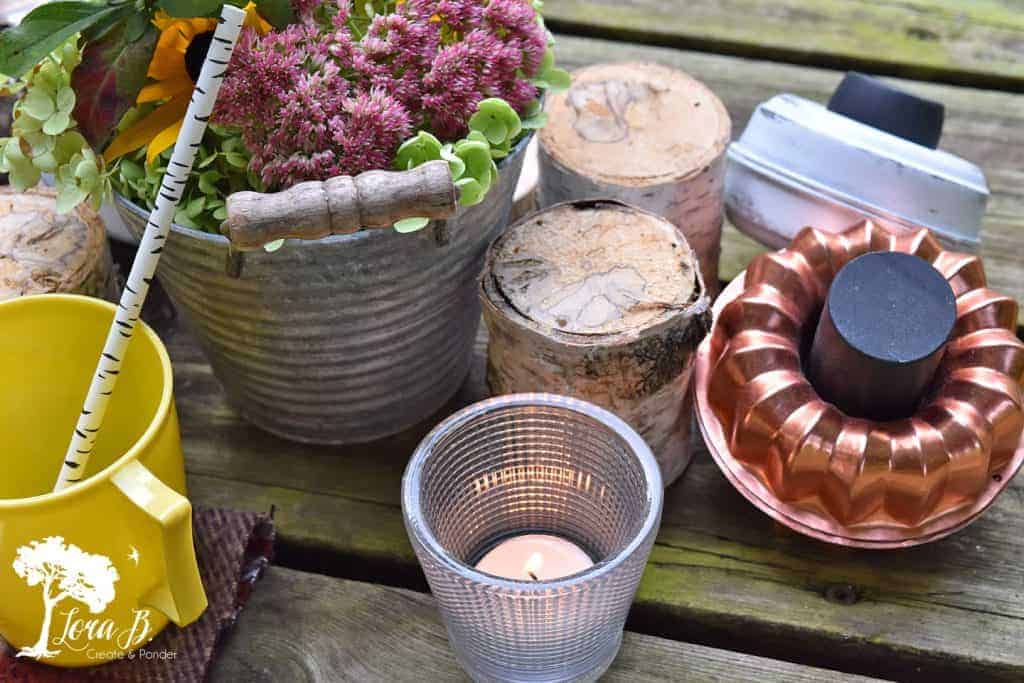 I also must admit, my campfire-building skills flopped, and none of my boy scouts were handy:( So…votive candles and a sliver of smoke rising would have to do!
Ready for the big reveal? I tried to capture the setting sun, but the trees are pretty thick; we totally miss the pretty sunsets:(
Rustic Vintage Fall Picnic Table Reveal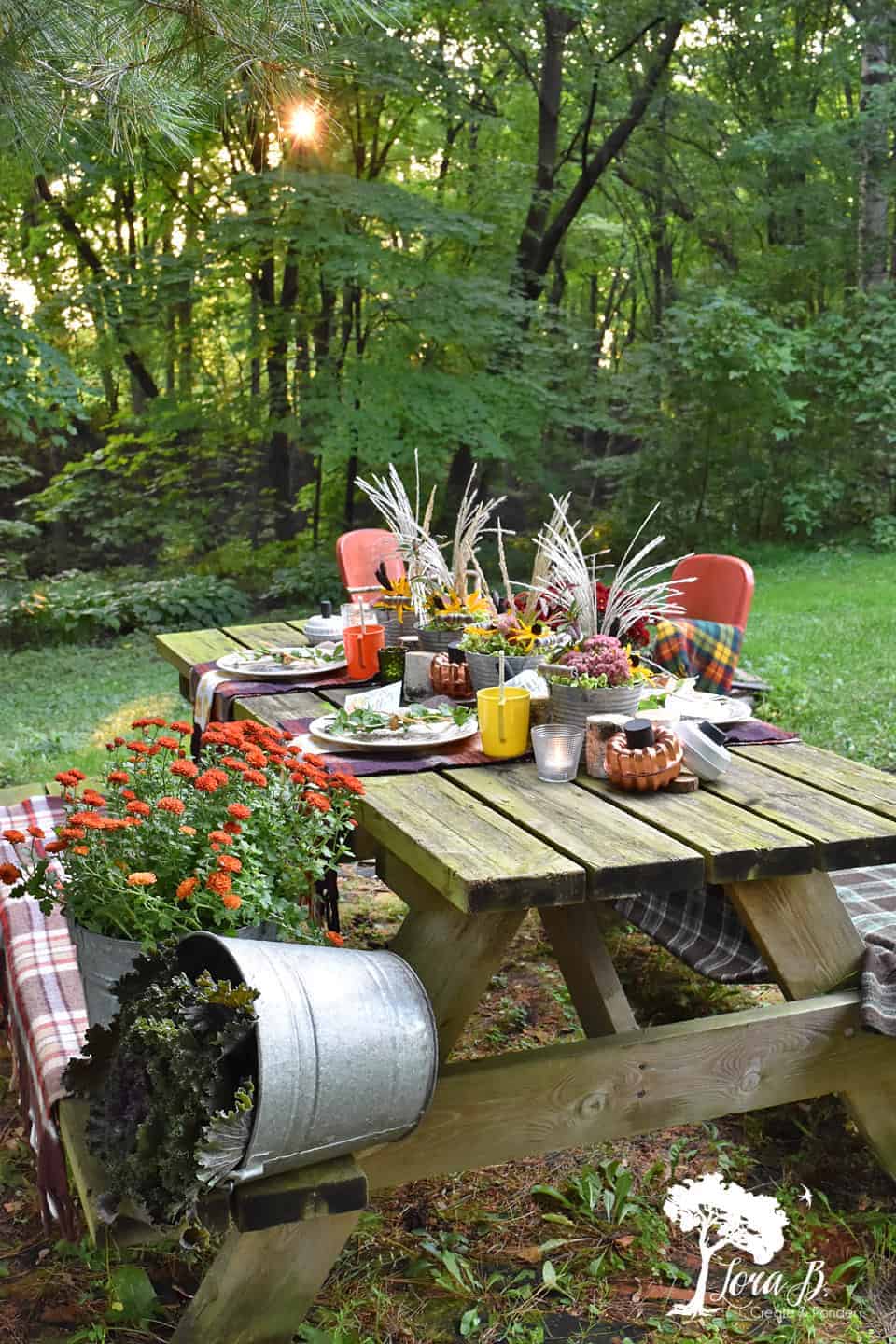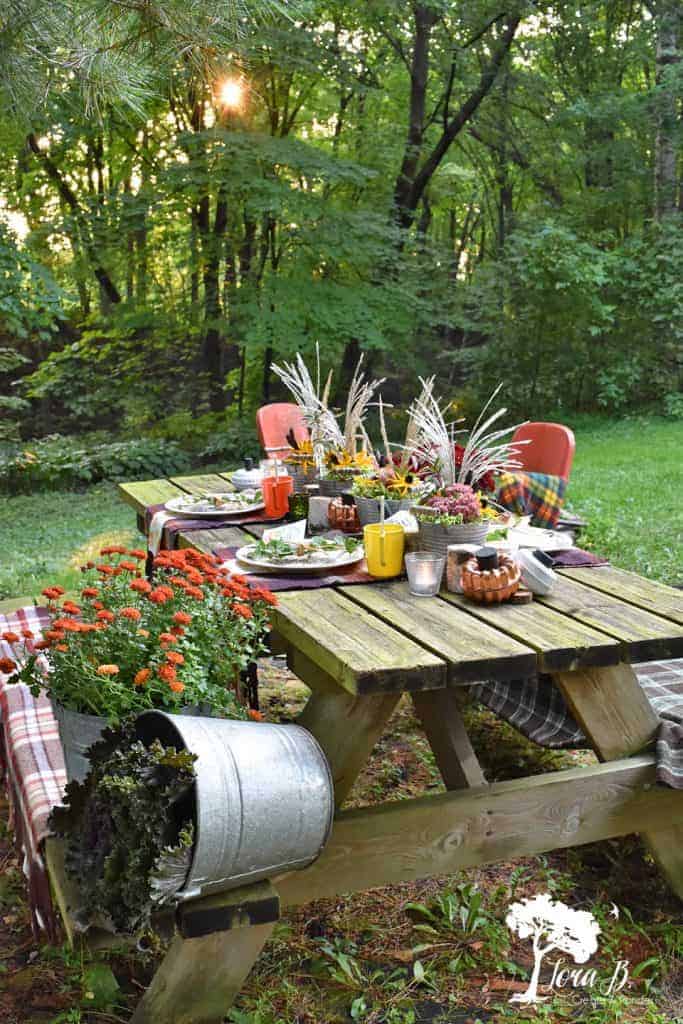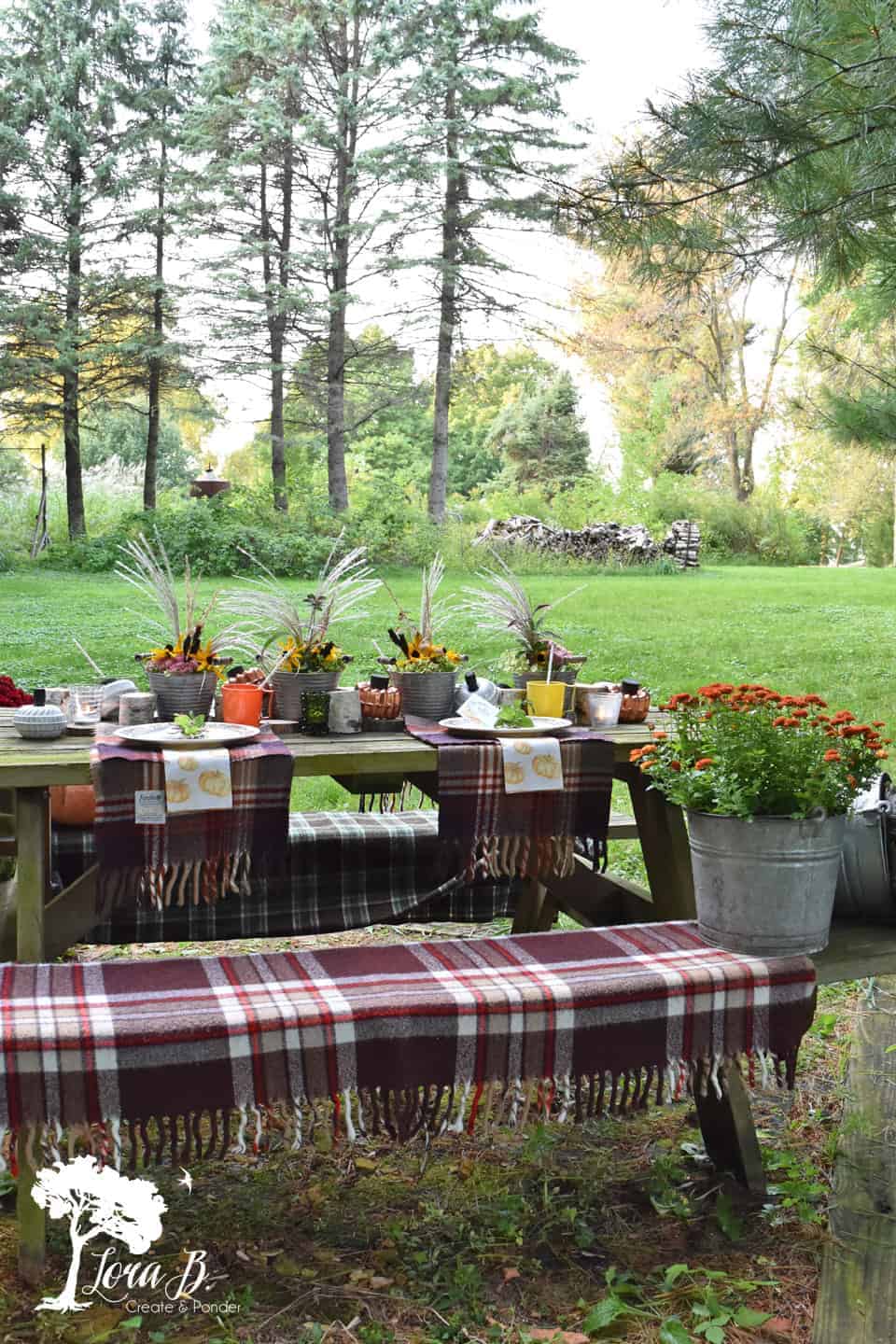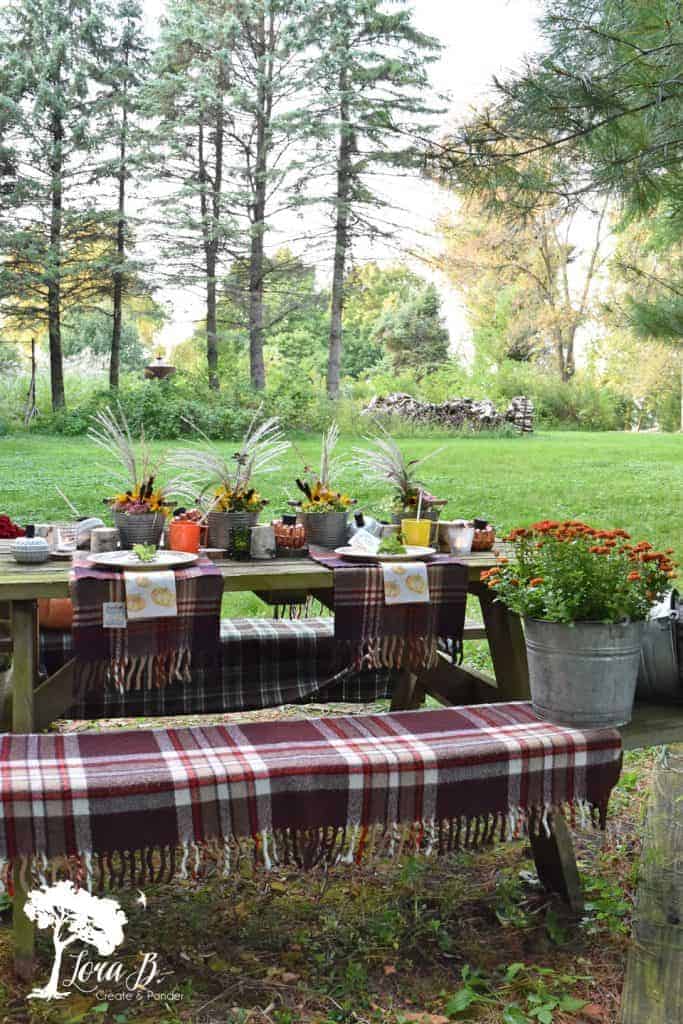 I think I checked off most of what our inspiration photo had, and gave it my own twist for my setting. Course, I'm still wishing I had a couple of those awesome farm outbuildings in the background;)
Shop the Look (Click on the pics for more info)
Creating this Rustic Vintage Fall Picnic Table was a lot of fun! I hope it gave you some new ideas of how you can create a special evening for you and your guests! If you're hopping in order, check out First Day of Home next; You're sure to enjoy Crissy's easy fall table decorations!
Pin and Share, and then Enjoy the Rest of the September Pinterest Challenge!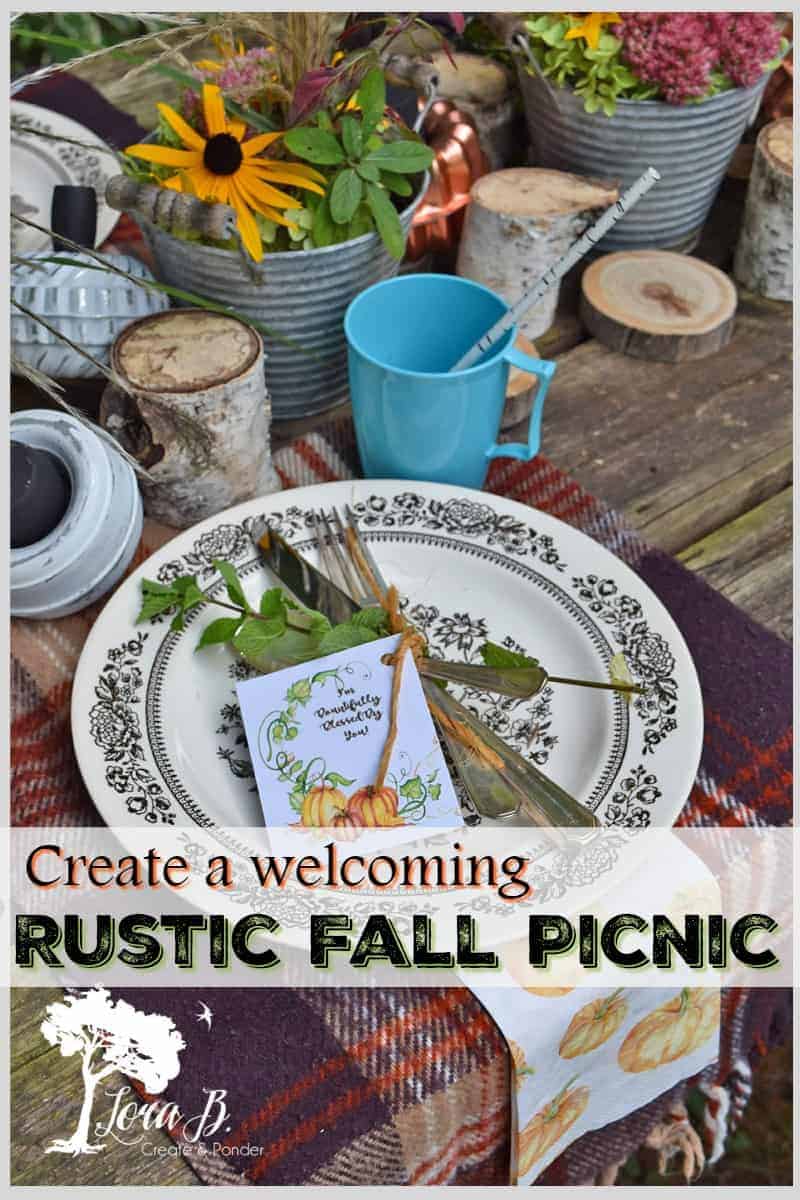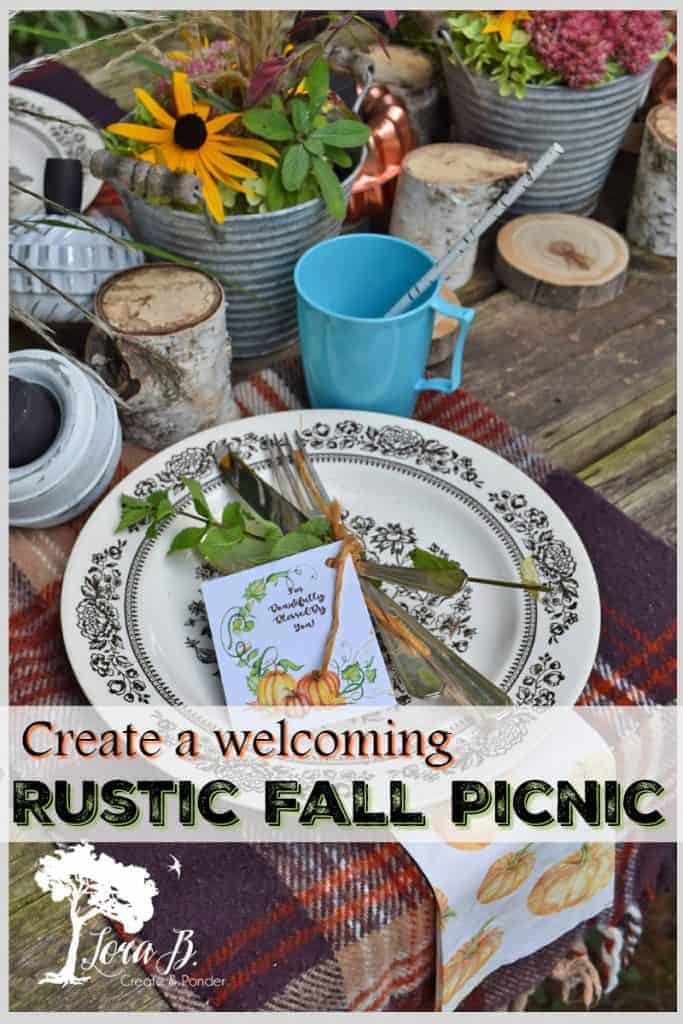 Outdoor Fall Patio Table Pinterest Challenge
You are invited to the Inlinkz link party!
Sharing at these lovely parties: