Weekly Rambles is a summary of the week, plus favorite decor and creative inspiration from around the web.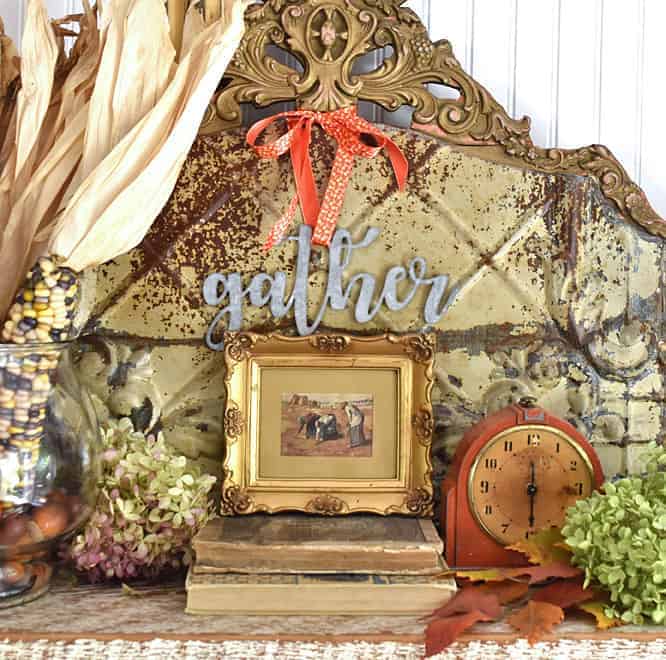 It's that time of year to stop, think, and reflect on all that we are thankful for. In the midst of creative ideas swirling around in my head and to-do lists that are a mile long, I want to make sure to take the time to be thankful. It's too easy to rush through this holiday, in anticipation for the next. Thanksgiving is not as bright and shiny, but no less important. Let's get onto the Weekly Rambles!
Weekly Rambles
For your convenience, this post contains affiliate links. If you make a purchase, I may receive a commission. There is no additional cost to you. My full privacy policy is here.
~I just remembered, THIS book is supposed to get delivered this week! I can look at it on the drive to our Thanksgiving celebration. Mr. Fix-it's family gathers together at a camp, run by one of his brothers. We all divy up the recipes and cook in the industrial ovens. We get to enjoy the beauty of the northwoods and relaxing conversation with some camp fun mixed in. Definitely thankful for this tradition!
~We are a real tree family. So each year I decide if it's going to be a green or a flocked year. The boys like the natural look, but I think this creative momma is deciding on flocked this year. It just brightens our whole living room, and the ornaments can be seen so much better. Which do you prefer…green, or flocked?
~We had snow flurries this week, and they even covered the ground with a light dusting. Definitely puts one in the mood for Christmas! But the ground still isn't frozen, so it melted pretty quickly. Weatherman said the temps are dropping, though, so we're scurrying to finish up the outside house and yard jobs!
~My first ever craft room/studio/office is starting to take shape! I brought in my laptop and desk and have started filling the closet with fabric and notions. I'm almost giddy to have a whole room that I can fill with maker supplies! You'll get a sneak peek this coming week when I share the fun garland I made for Tuesday's Pinterest challenge.
~This past week on the blog I shared beautiful Christmas Decor Inspiration at Bachmans, one of our local floral and gift retailers. Their stylists do such an amazing job. And I shared a this-is-your-life-in-ladders post, Fun and Unique Ways to Decorate with Vintage Ladders, joined by a couple of my Lifestyle of Love friends. Definitely a vintage must have for your home:) And if you're looking for a change from the traditional pumpkin pie, Chocolate Pumpkin Mini Pies are a family favorite!

Favorite Decor & DIY Inspiration from Around the Web
THIS sounds like a yummy recipe to make with all those turkey leftovers.
I've never made green beans in the oven; THIS easy recipe sounds delish.
This upcycled sweater snowman is so cute.
Loved seeing some of her Favorite Vintage Christmas Decorations.
This classic Christmas mantel in blues and greens with gold is so pretty.
I'd never thought about doing THIS with old spoons.
Love her Christmas decor ideas, full of vintage cottage charm.
For jaw-dropping beautiful Christmas tree decorating ideas, start HERE.
I am intrigued with this new way to strip furniture. I need to give this a try.
If you love decorating with little houses for Christmas, THIS post will fill your head with ideas.

I'm so thankful for YOU! I appreciate you being here:)
Happy weekend!