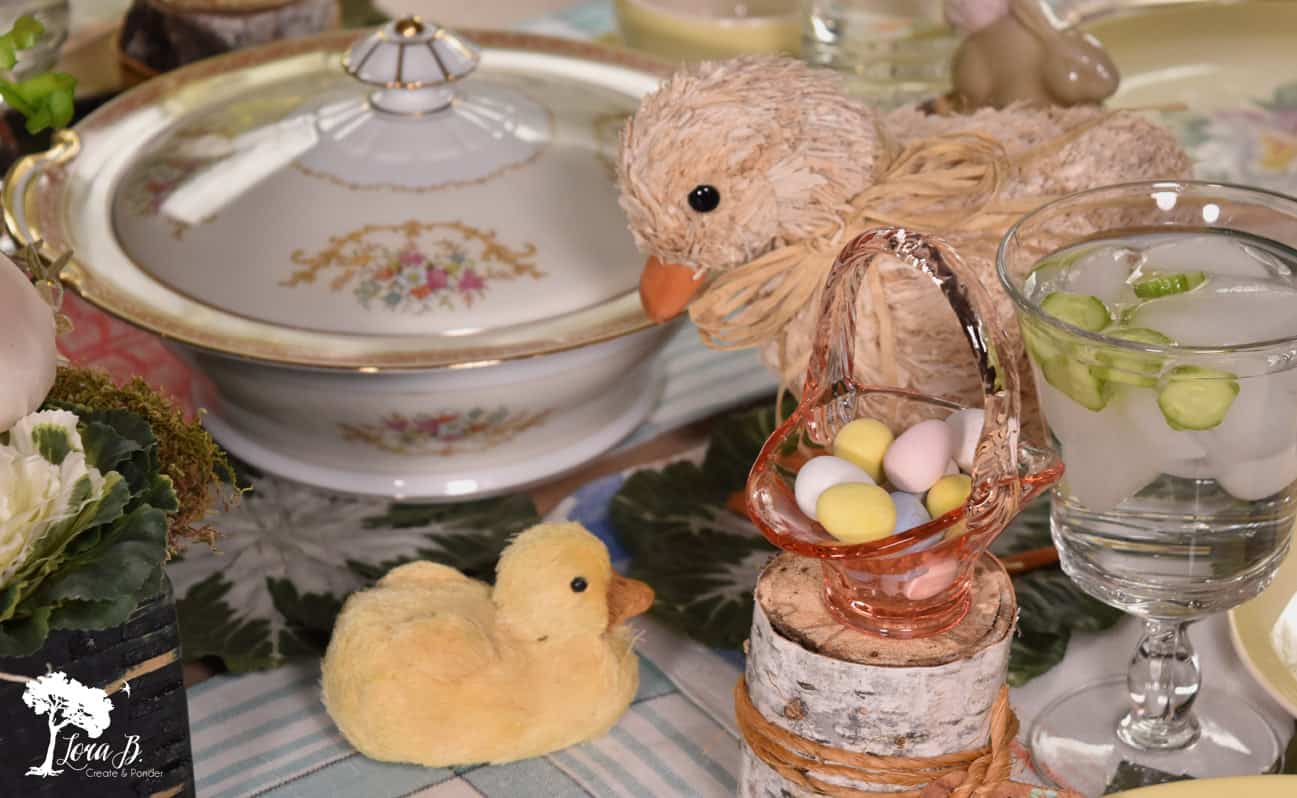 Happy Easter! It's time to set the table, gather with family and friends, and celebrate the risen Lord! I'm also excited to be a part of the Vintage Easter Joys blog hop today! Can't wait to see all the creative inspiration these talented ladies have come up with! This year my Easter table brings together a love for vintage and the inspiration of a luscious veggie garden. Welcome to my organic, vintage Easter Table!
And welcome, if you've come over from Debby Goes Shabby's "Springfully Vintage Easter"! Debby has such a beautiful touch with everything she does!
My Easter table began by deciding which set of dishes this dishaholic should use! A pretty set of soft yellow pottery, featuring my favorite peony won the contest. Several weeks ago, I also made some "Leafy Placemats" to add to (and imitate) some I'd purchased last year. This combo of plates with the place-mats is garden fresh!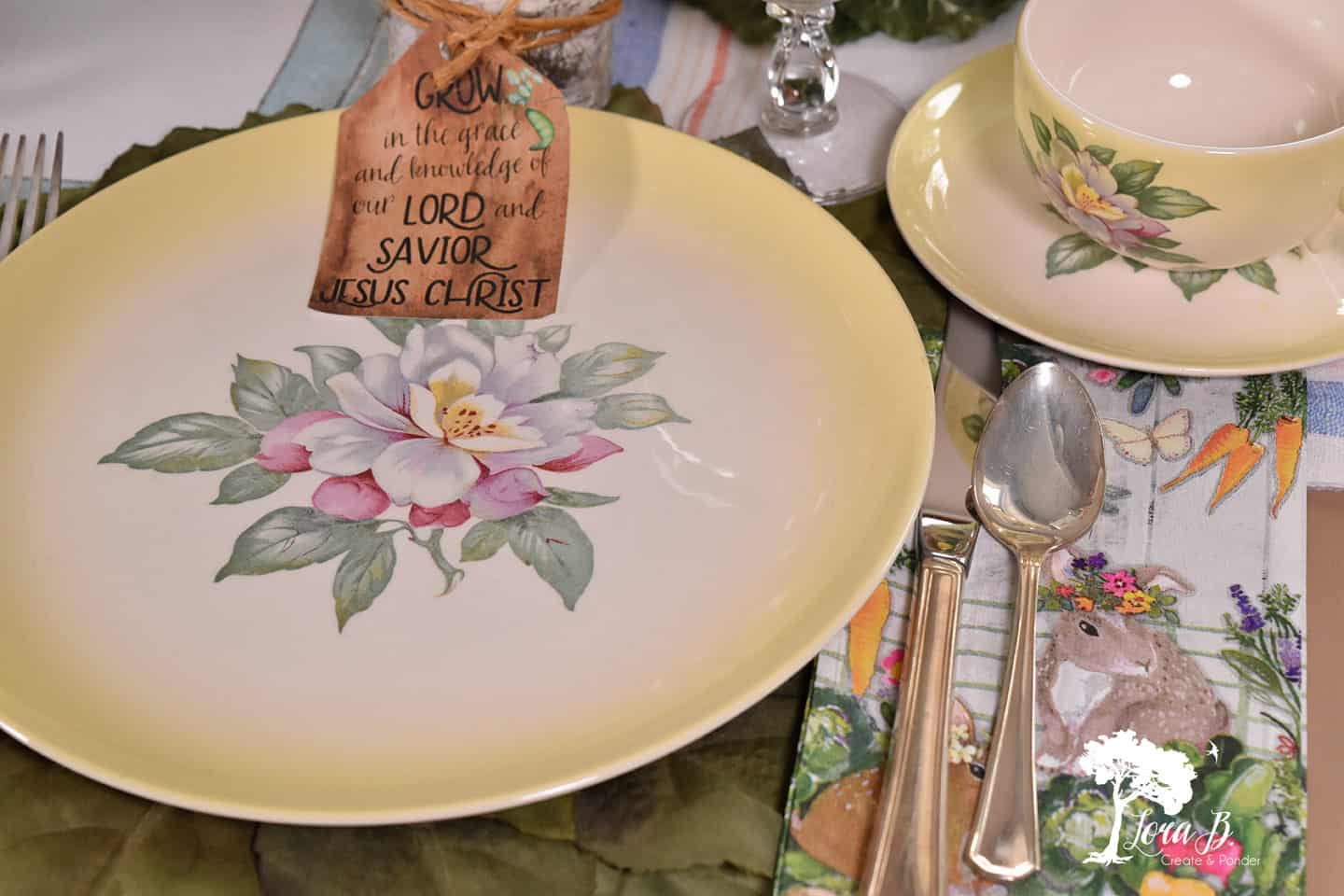 I love the illustrations that come on paper napkins! These pretties are like a page torn out of a children's storybook. But I also love vintage cloth napkins. I was able to use both this year with an easy re-purpose project, fashioning my vintage napkin collection into a runner for the table, "Vintage Napkin Runner". The bright, happy colors of the Vintage Napkin runner was the perfect foundation for the whole table.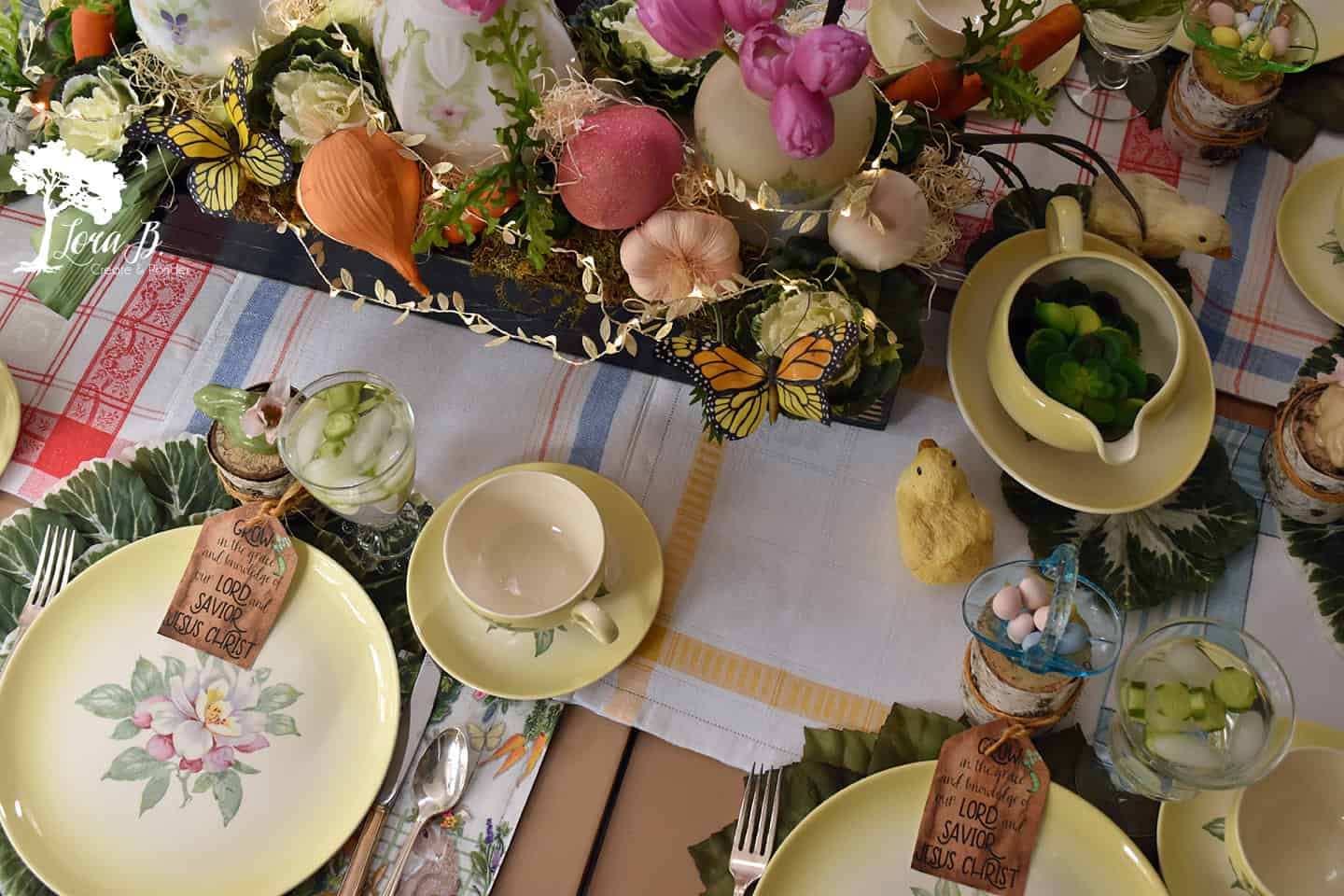 The veggie garden centerpiece was centered around a trio of beautiful, vintage light fixtures. In my head, I was going with the theme that Easter is all about the "Light of the World" coming to save us. I love to incorporate deeper themes in my decorating. Pretty + meaningful = extra special;) You can see how I created this centerpiece with 1/2 of an old toolbox in my post, "How To Build a Centerpiece" (it's not as hard as it looks).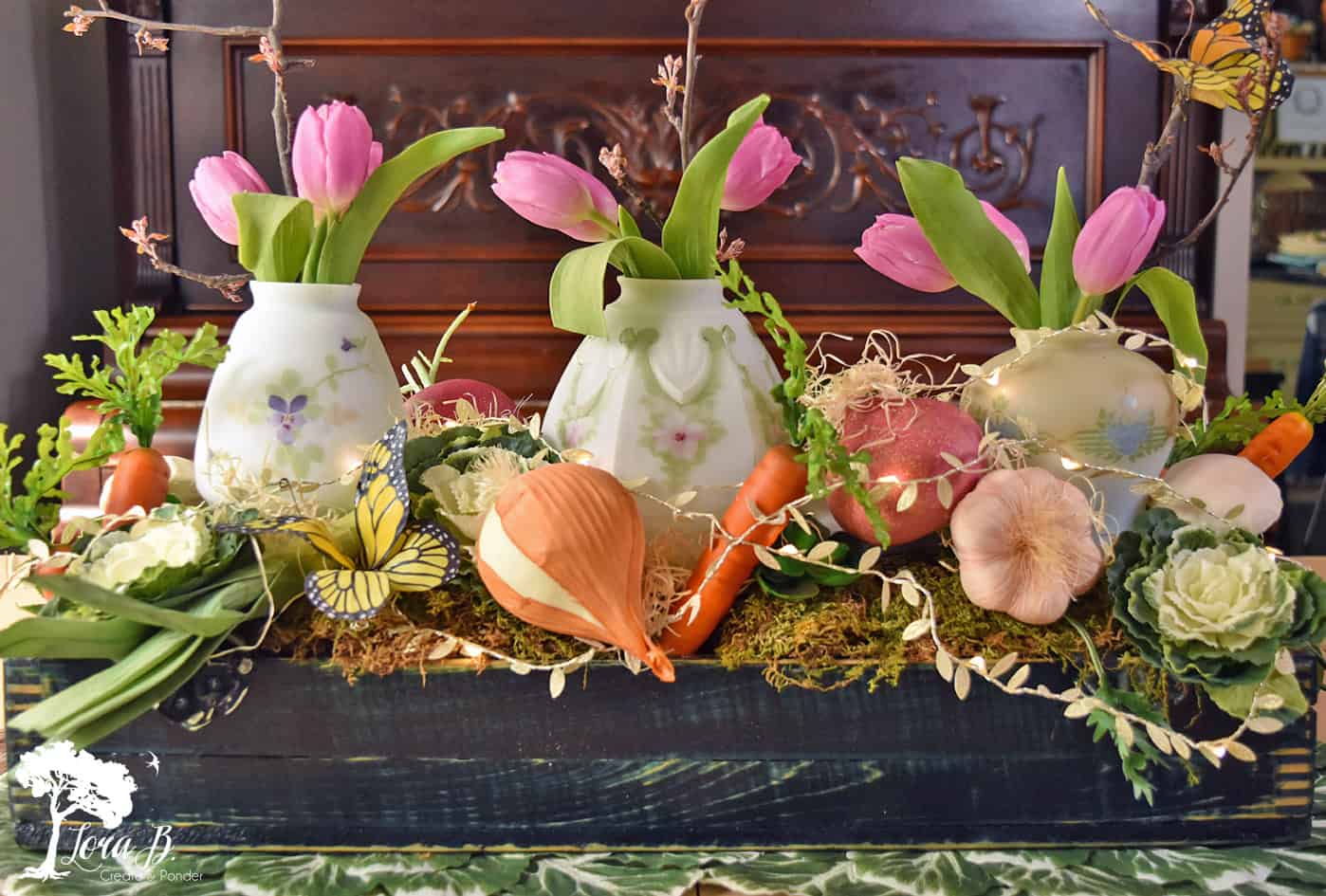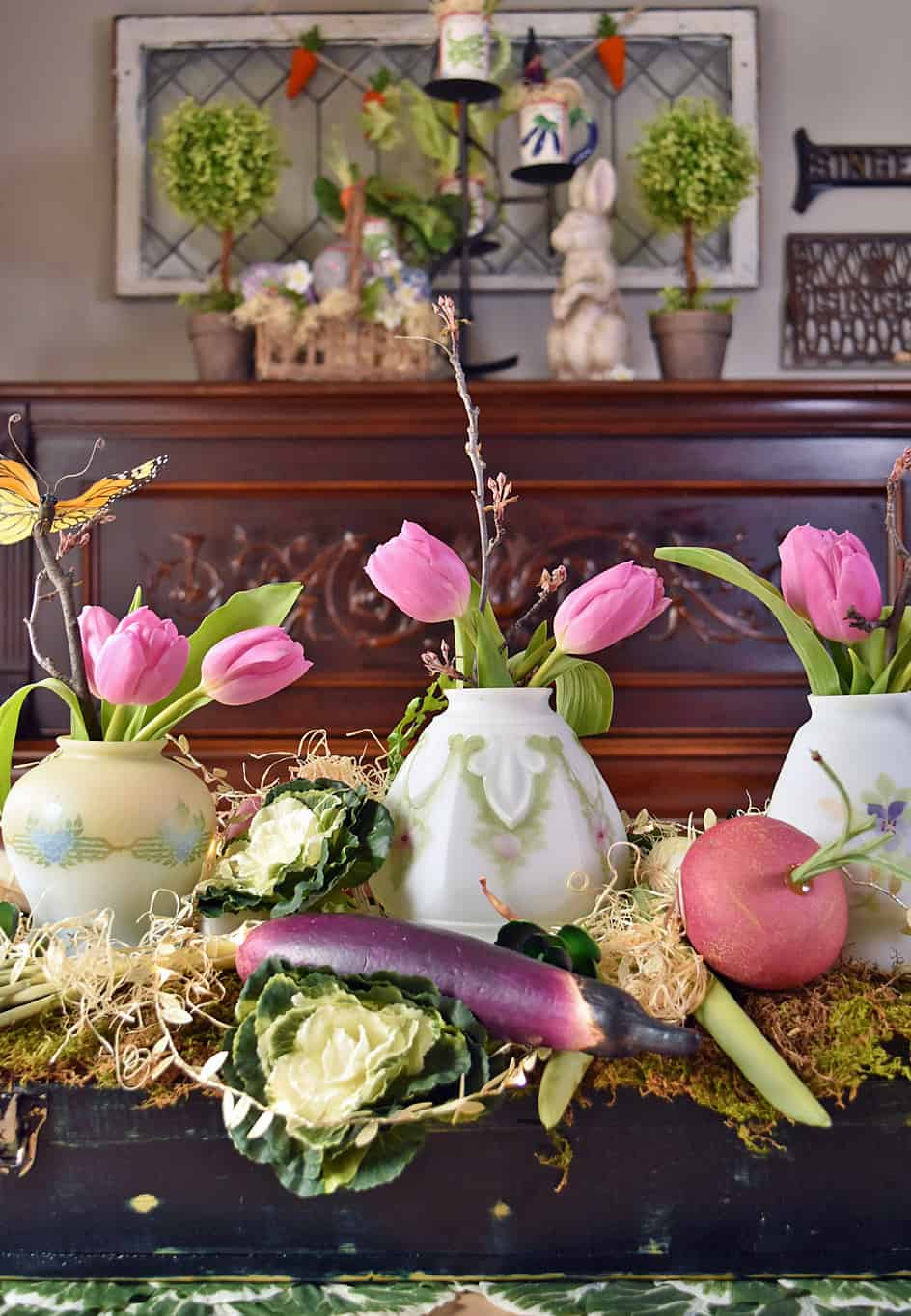 I love how the leafy placemats coordinate with the little cabbages and veggies in the centerpiece. It's like the whole table just turned into a garden! And the pretty yellow plates are the ray of sunshine needed for everything to grow!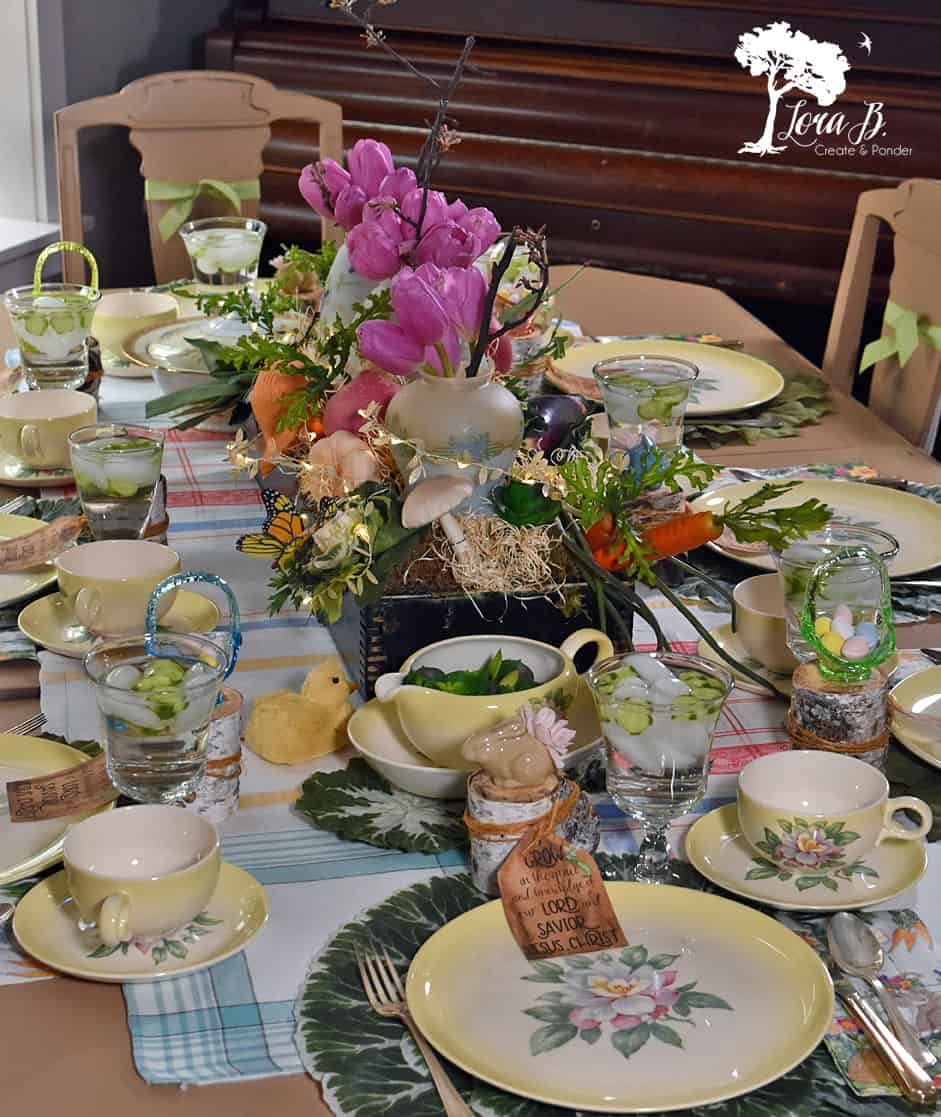 Every table needs some special touches to feel like you're opening a present when you sit down. I love to add a special note and some whimsy to each place setting. To add to the organic vibe, I placed short sections of birch logs by each place setting and added a verse of inspiration and hope for each of my guests. I tied it on with simple garden twine for added texture.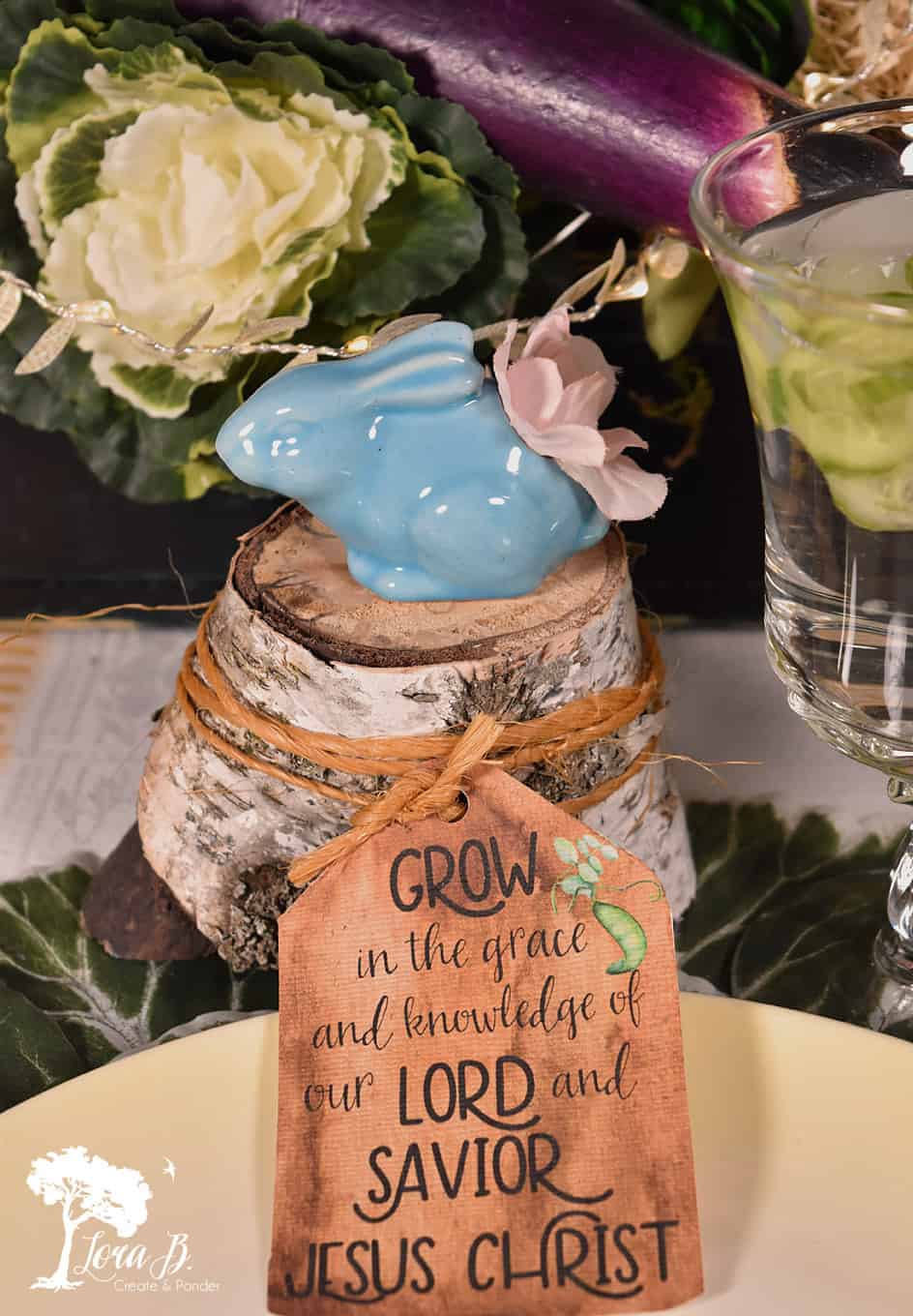 Topping each log is either a vintage bunny or an antique glass Easter basket with treats. If you'd like this little message for your table guests, you can subscribe to my newsletter below and print them off yourself! This sentiment from 2 Peter is my hope for my blessed family members!
I also added some cute little ducklings to the center of the table for some whimsy. Spring is when all the baby animals appear and I love to highlight that new life! Cucumber water is not only delicious, but fits in with the table's theme!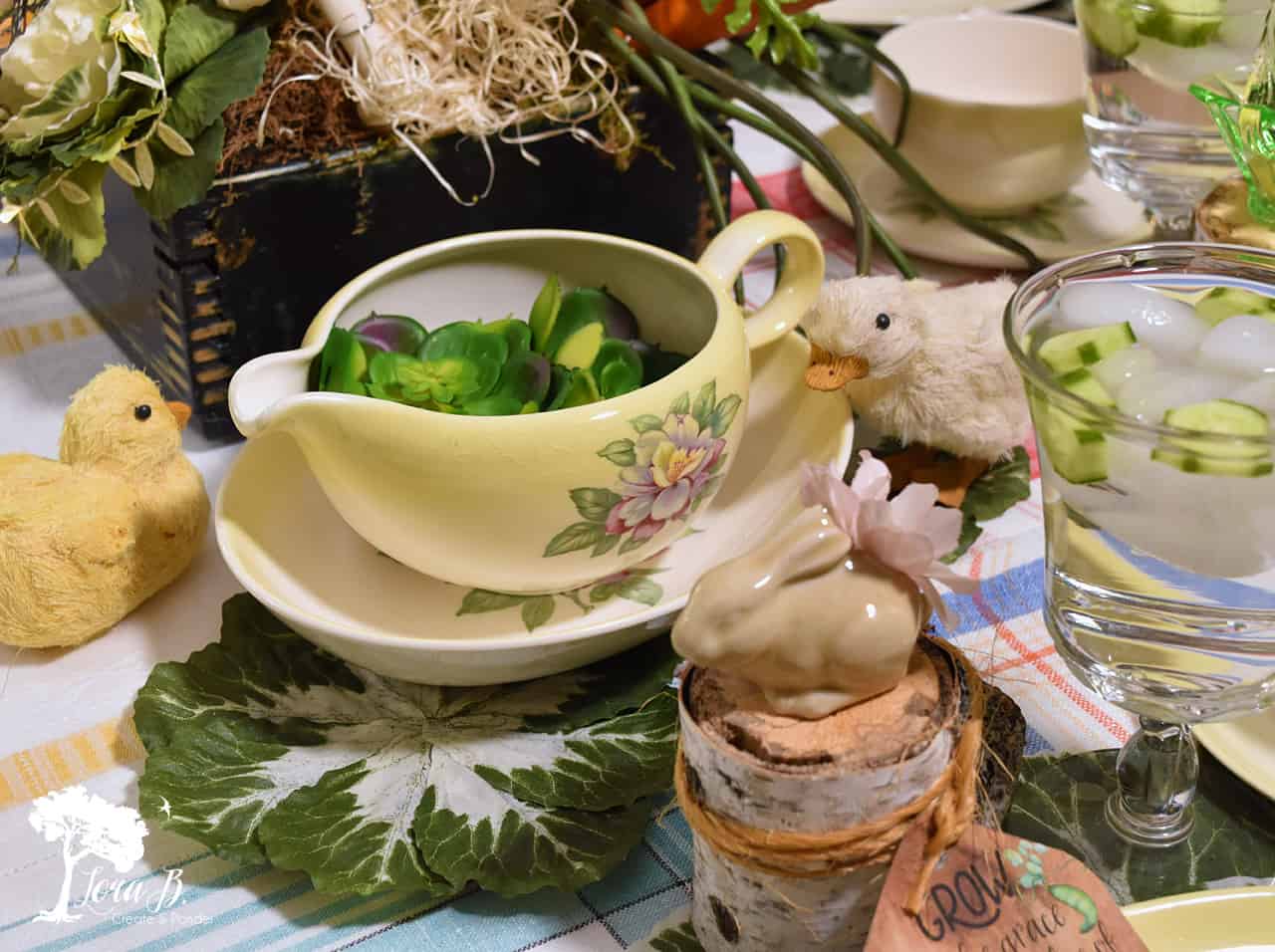 Last year, I whipped up some fun "Swedish Huck Utensil Pockets" for our flatware. This year I decided they would look cute hanging from each chair with an extra garden touch. I'm excited to be able to use these graphic treasures again!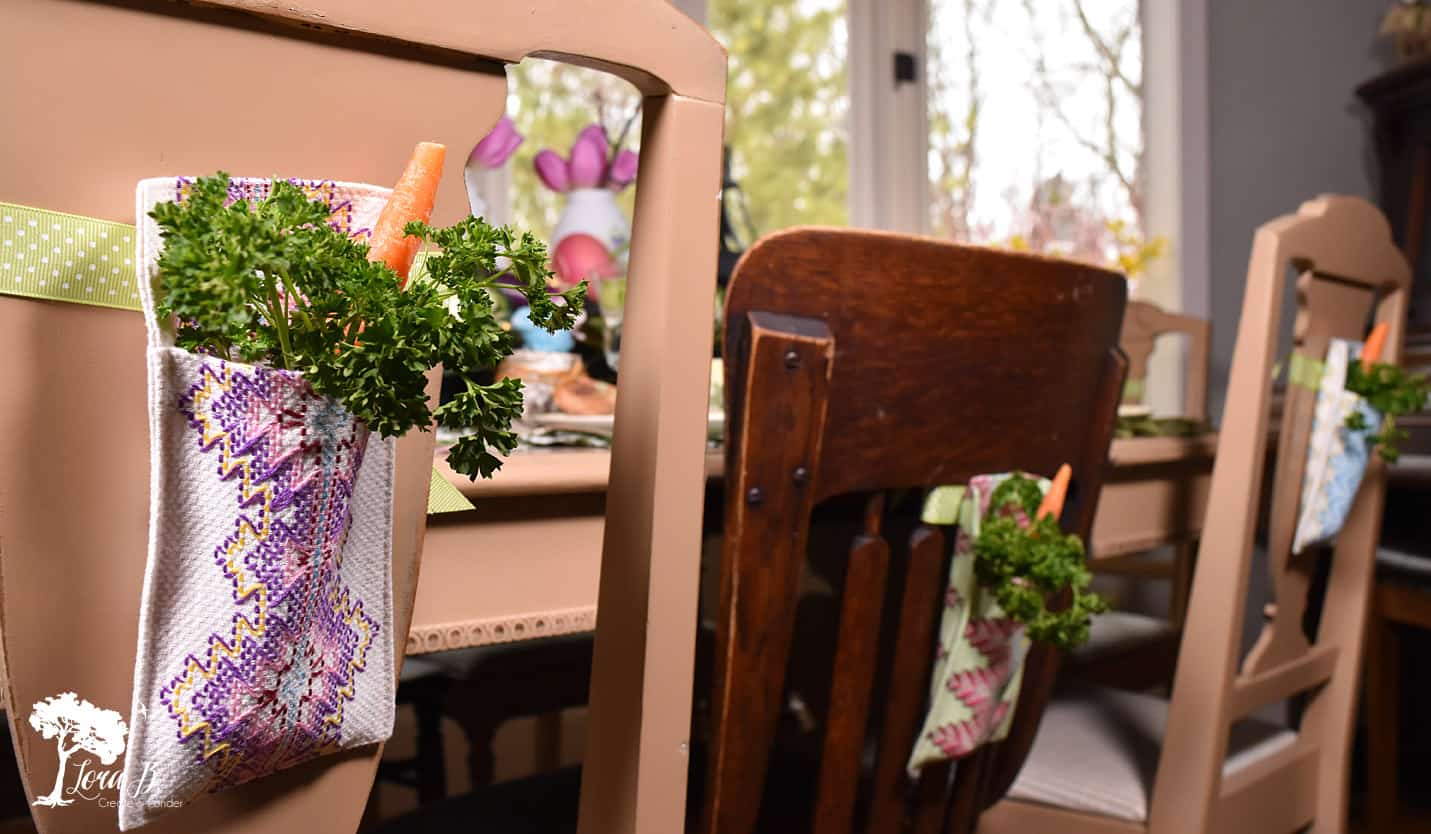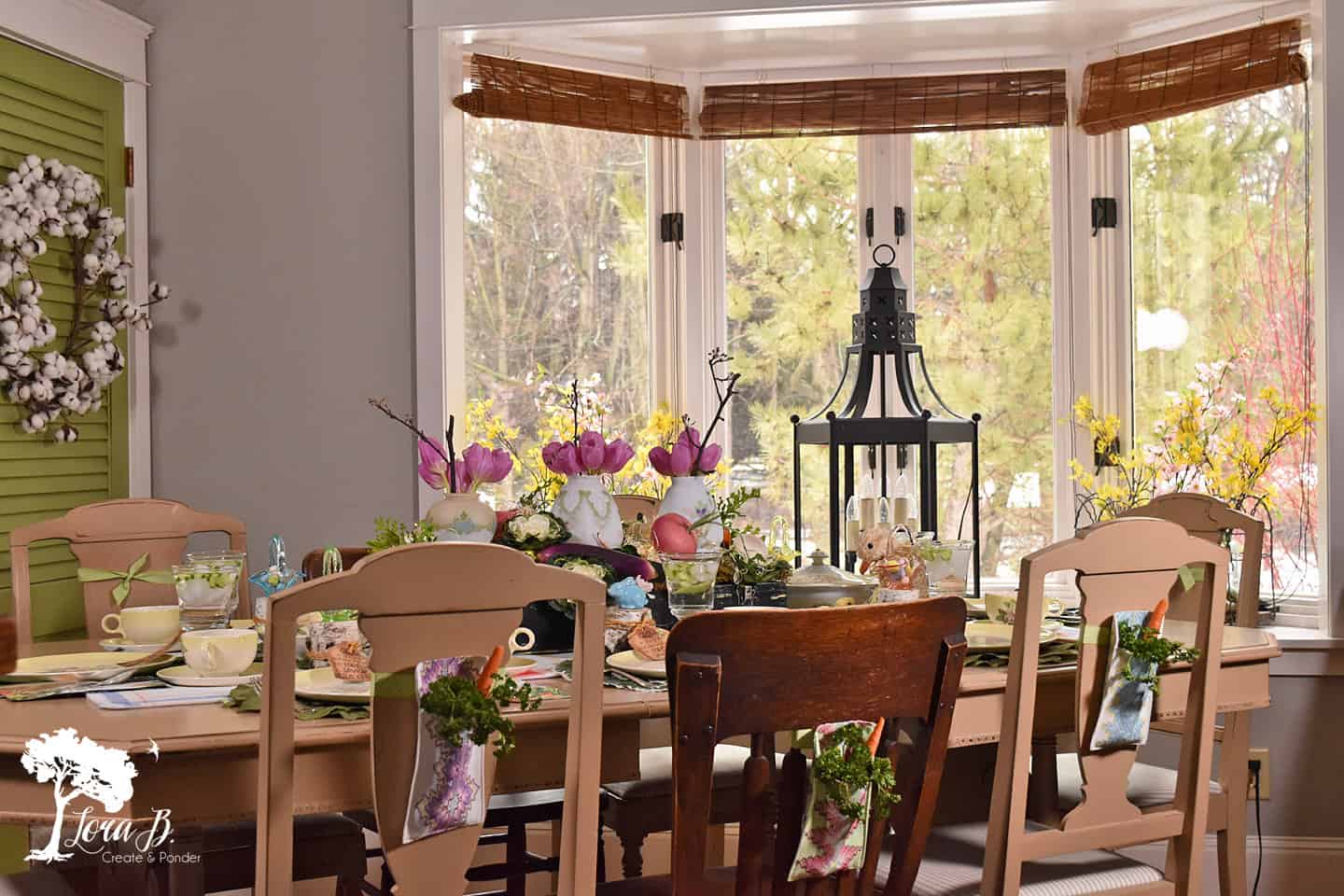 Setting the Easter table also includes adding some springtime decor to the room! Especially when there's still snow on the ground outside:( Yep, we're faking spring here in MN when Easter is this early! To disguise what's outside the window, I placed some spring flowering branches in vintage aqua ball jars, nestling old bulbs around the base. I lined them up in our vintage fencing squares Mr. Fix-it makes for me. Disguise success!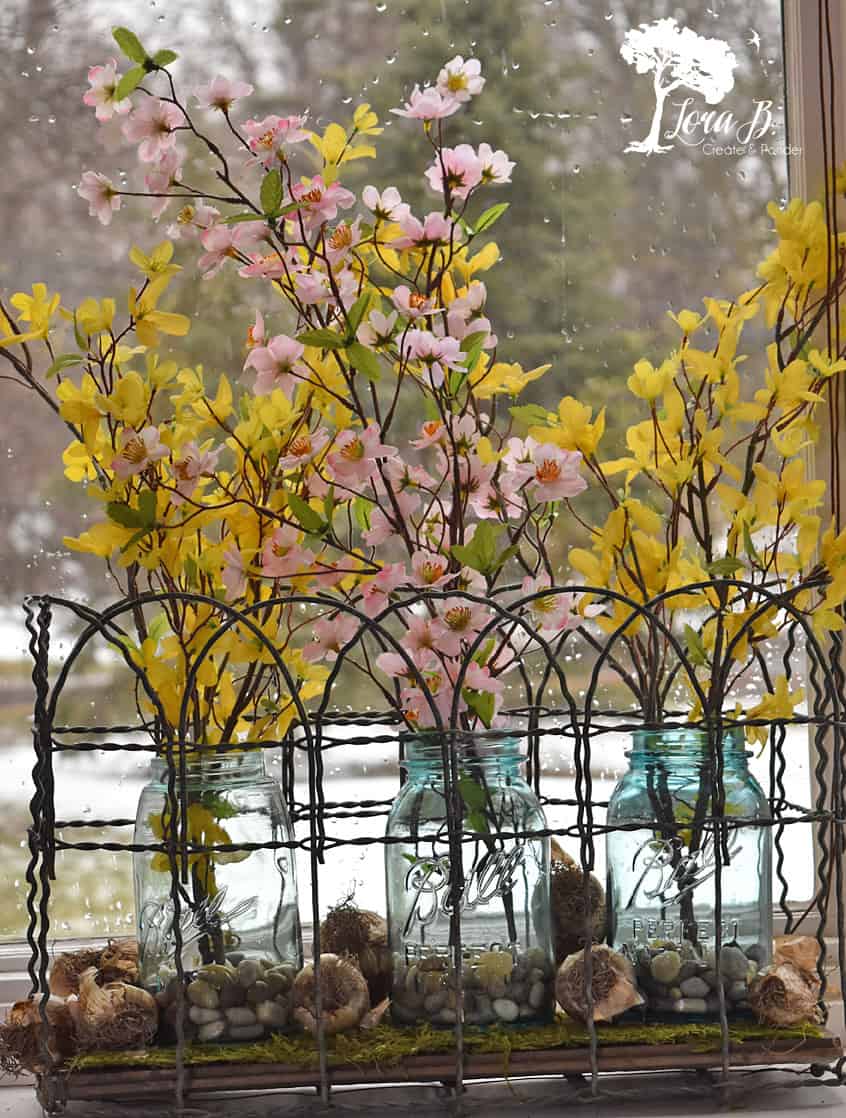 My buffet is all set with some pedestals for Easter treats when the real day arrives. I incorporated an old hymn book on a stand, open to an Easter favorite.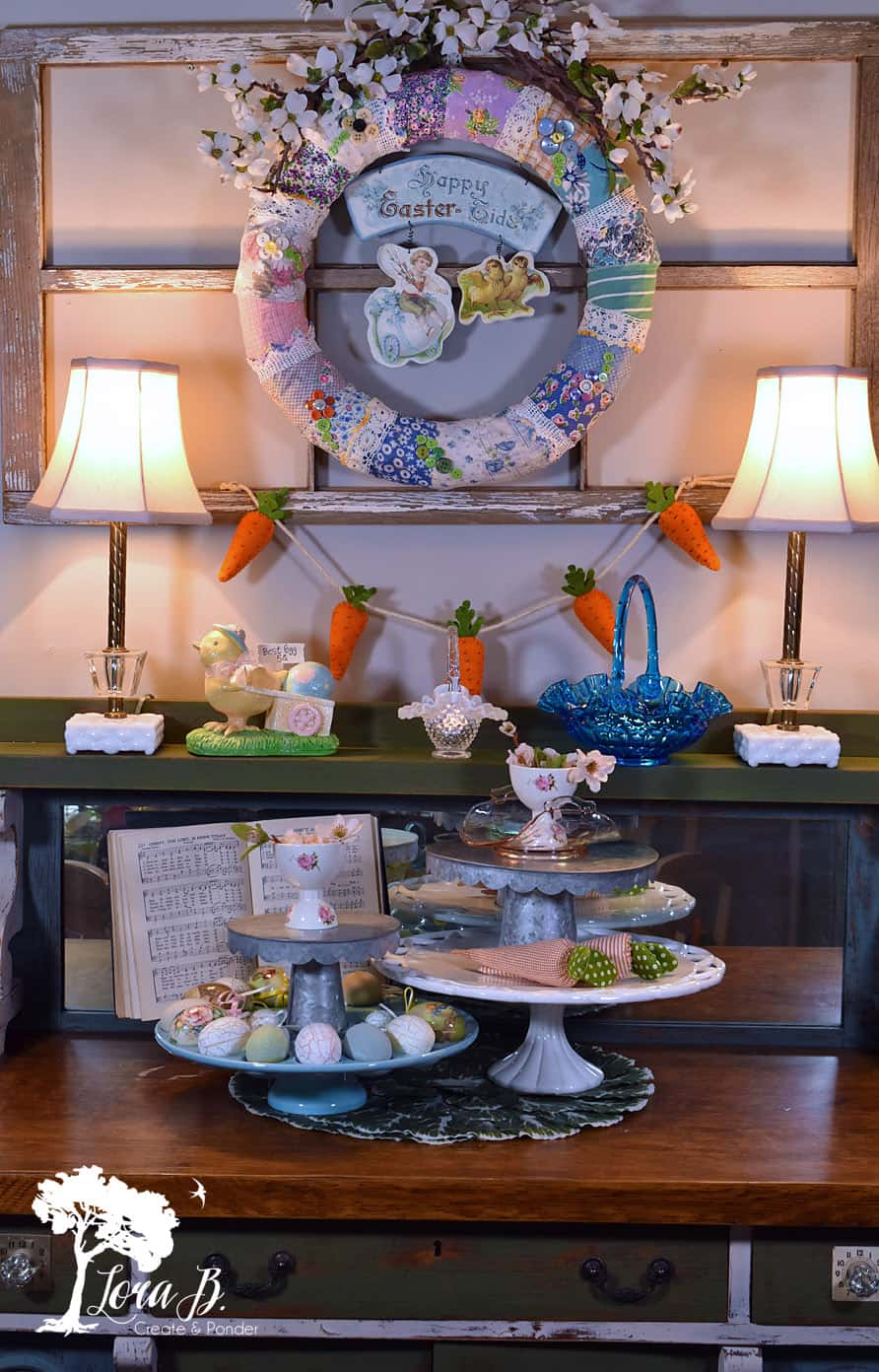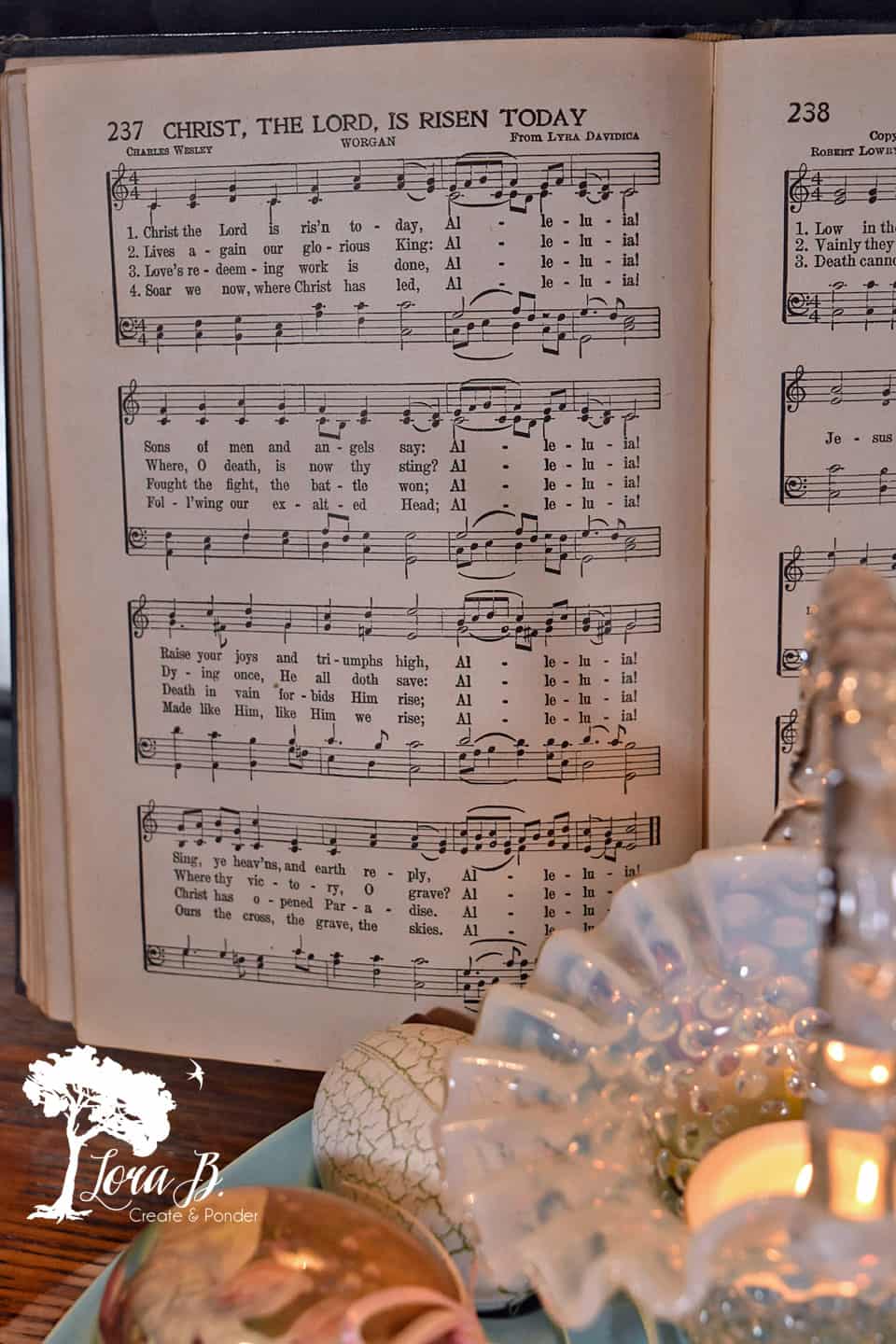 Mr. Bunny is on the top of our piano, watching over the festivities!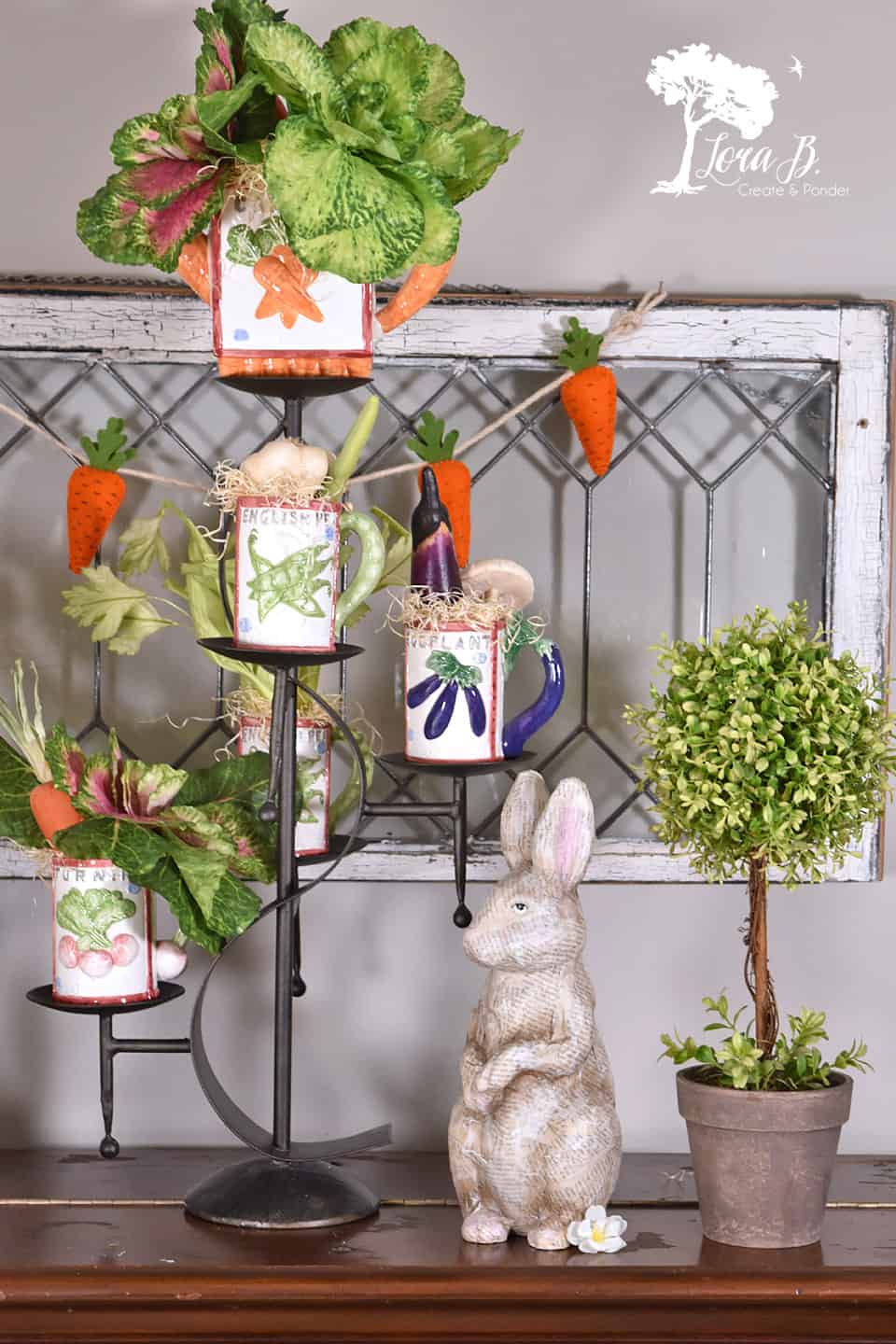 I hope you enjoyed this tour of our Easter table! If you'd like to add the little "Grow" tag to your decor, simply sign up for my newsletter and I will send you the password to my members-only Resource Library! You'll have access to my ever-expanding resource of free printables anytime you like!
A big shout out to Amber of Follow The Yellow Brick Home for hosting this fun blog hop! Make sure you see her beautiful display of vintage Easter treasures! Now to enjoy the rest of the Vintage Easter Joys inspiration! Here are the links! Have fun!
Tuesday
My Thrift Store Addiction | Common Ground | Follow The Yellow Brick Home | The Painted Hinge | White Arrows Home
Wednesday
Panoply | Decor To Adore | Have a Daily Cup of Mrs. Olson | Petite Haus | Itsy Bits and Pieces | Debby Goes Shabby
Come back on Friday to share your own Spring and Easter inspiration! Your posts will be seen on all 12 of these blogsites!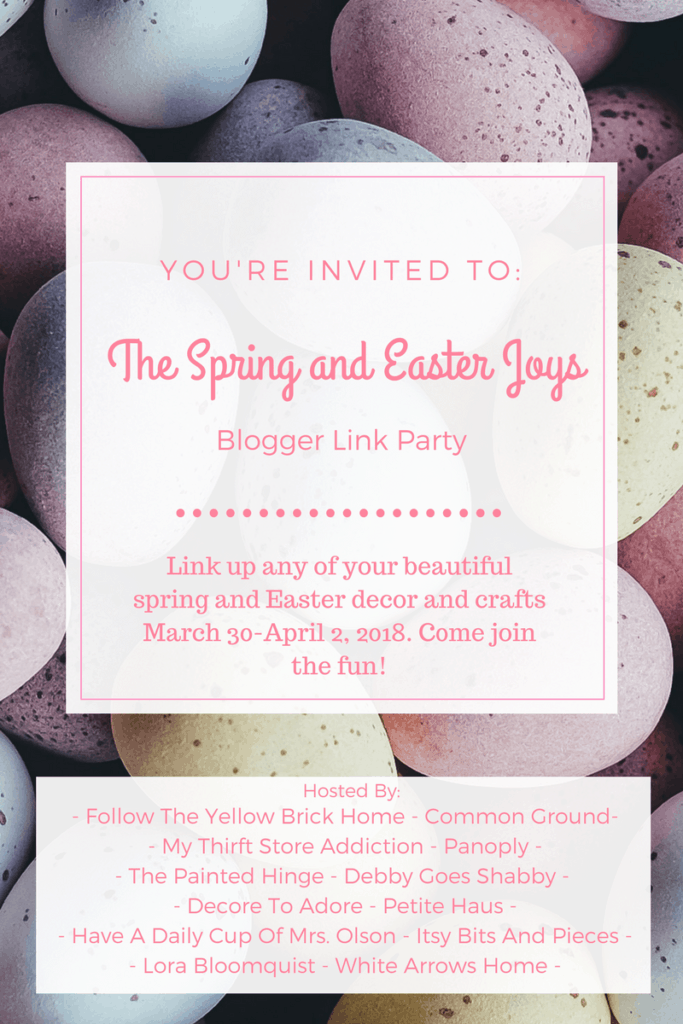 Don't forget to pin and share all the inspiration! We'd appreciate it!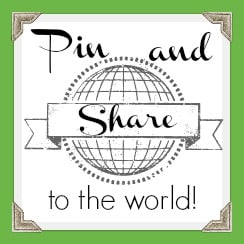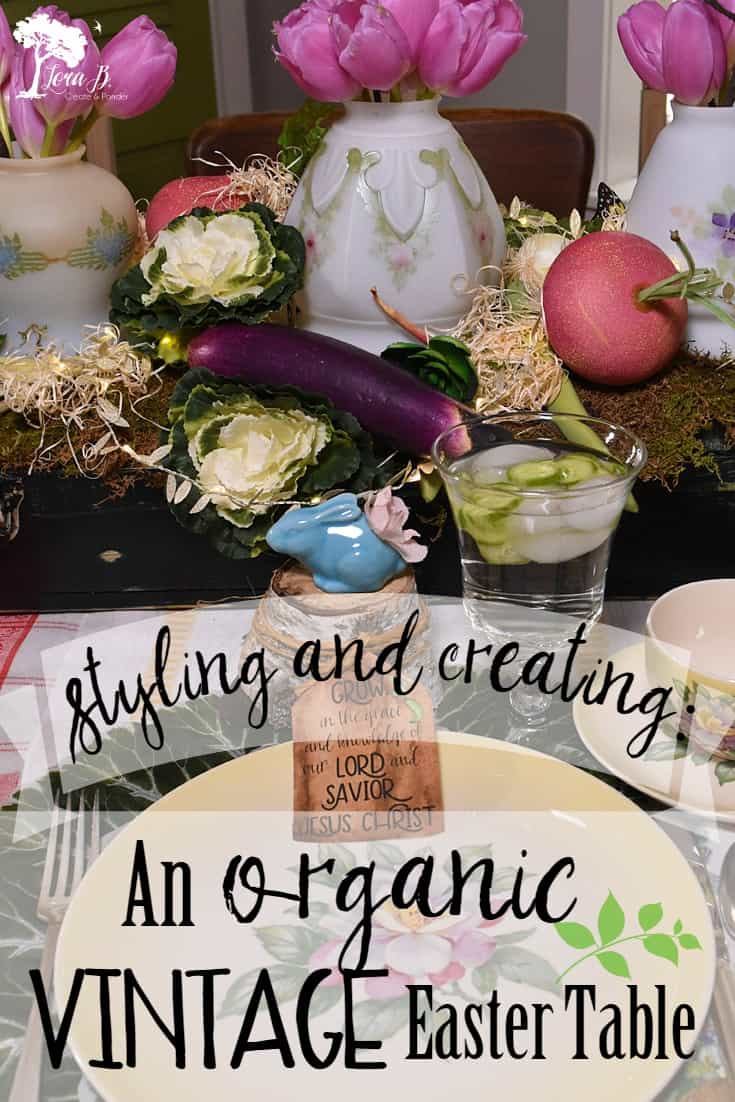 Sharing at these lovely parties: