Repurposed Vintage Linens Flatware Pocket How To
Vintage linens huck towels can be upcycled into cute silverware holders with this easy how to. Perfect for pretty seasonal table settings.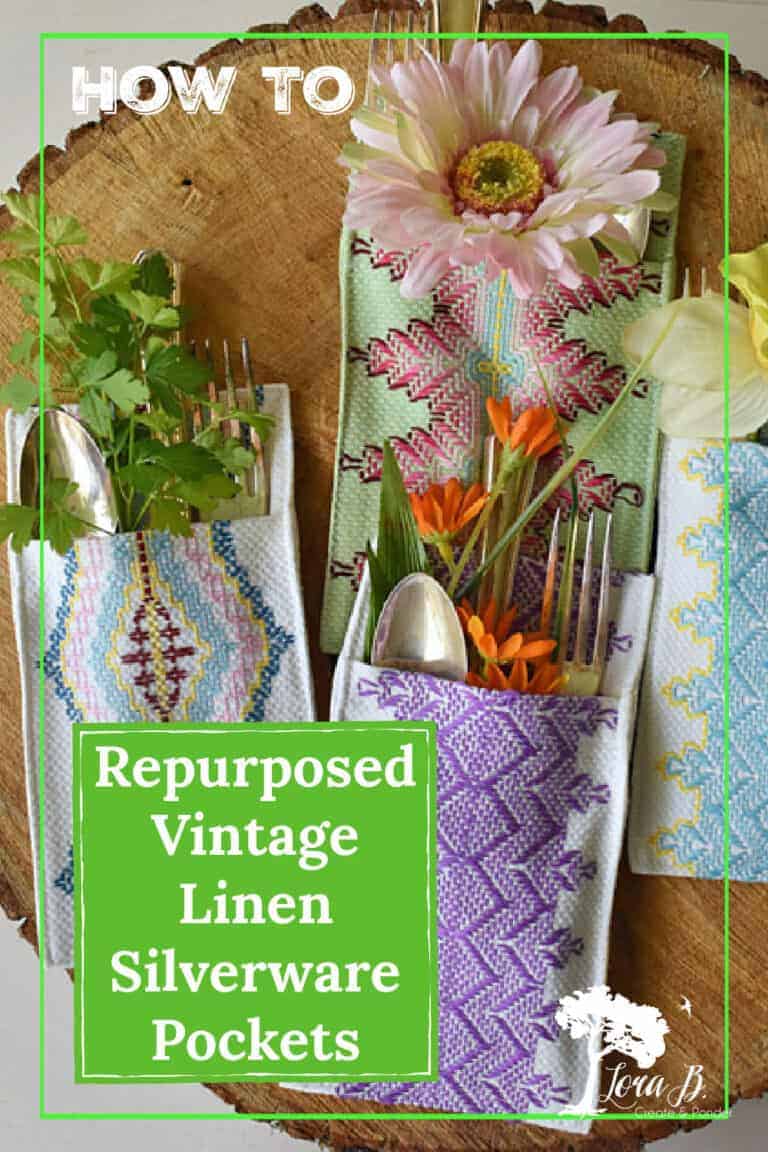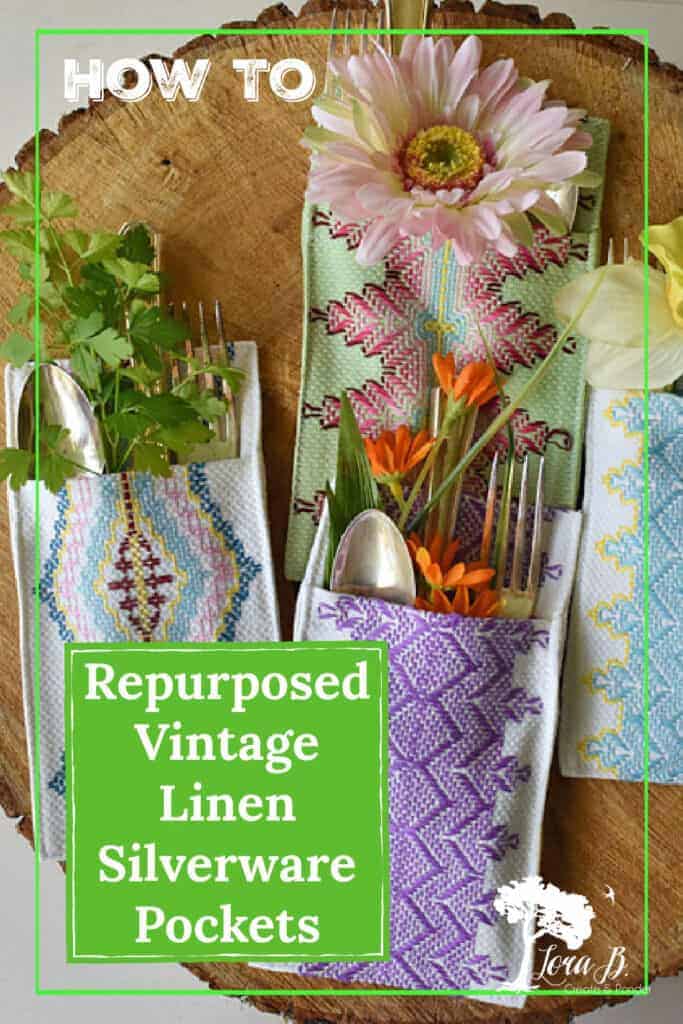 When a friend's grandma was heading to the nursing home, I received a whole stack of these beautiful vintage towels. The colors were gorgeous and I loved the geometric patterns, but quite a few of them had stains in the middle from being used as a kitchen towel. Hmmm…what to do to preserve the life of all that beautiful handwork? This Repurposed Vintage Linens Flatware Pocket How To is the perfect addition to a pretty seasonal table!
Repurposed Vintage Linens Flatware Pocket How To
For your convenience, this post contains affiliate links. If you make a purchase, I may receive a commission. There is no additional cost to you. My full privacy policy is here.
First, The History of Vintage Linen Huck Towels
I was curious as to what this type of embroidery really was. I have picked up a few of these through the years but was now more curious with a whole pile of them looking to me for salvation. With a little google search I found out this type of embroidery is called Swedish Weaving or Huck. It is from the early 1900's but was very popular in the 1930's and 40's.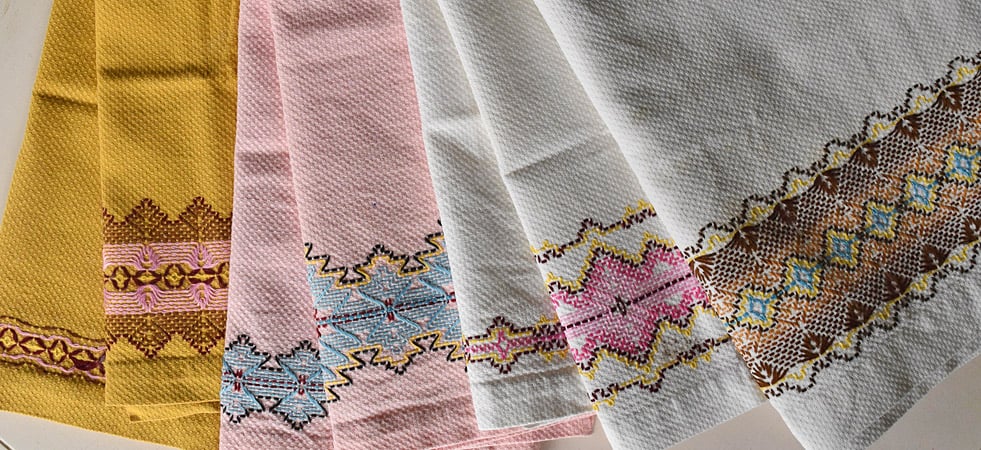 Four strands of embroidery thread is woven up and down through a loosely woven fabric called huckaback toweling, or monkscloth. Geometric designs are created when the stitches are sewn in regular intervals. Patterns are often sewn with radiating lines, using different shades of thread to create depth and visual texture. All the work is done on the front side of the towel.
I think the ladies who did this handwork must have had wonderful eyesight! Huck towels were usually used as kitchen towels, but Swedish weaving was also often used for afghans and tablecloths.
The designs and colors of the stash I inherited always reminded me of Easter Egg decorations, so it was time to save these pretties and clear out a bin!
How to Make a Vintage Linens Flatware Pocket
I started by cutting the designs off the bottom and tops of the towels, leaving 1/4″ or so of border on either side (I used a rotary cutter). I don't need the stained middle; I only want to re-invigorate the pretty parts that took all the work. Preserving the past does not always mean using items the same way they were originally intended.
Get the iron and sewing machine ready. Here are the oh-so-easy steps:
Fold one end over onto the right side 2 1/4″. Press. Fold other end under 1/2″. Press.
Sew larger fold over on either side close to edge, leaving 1/2″ open.
Sew small folded end closed.
Pin with right sides together…
Tucking long end under the top flap you left unsewed.
Sew both sides with a narrow seam allowance (I used the outside of the presser foot as a guide).
Turn inside out, using a butter knife to poke out corners. Press.
Top stitch both sides for a more finished look and stability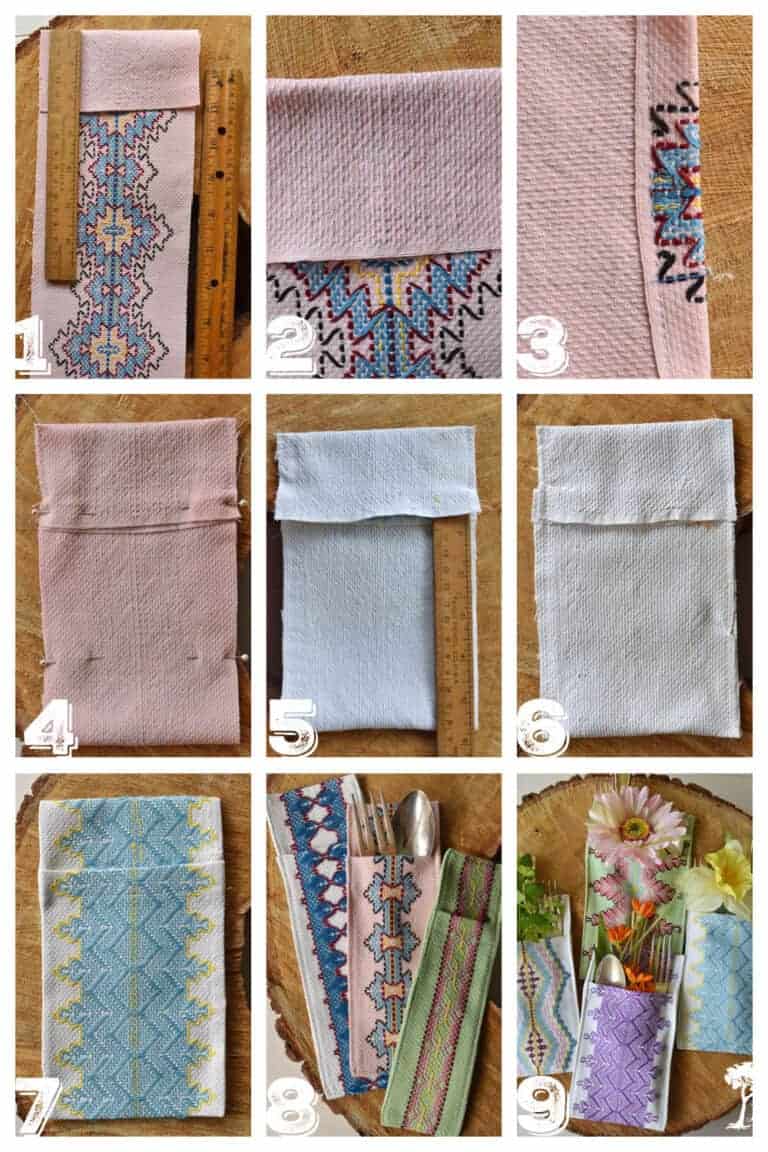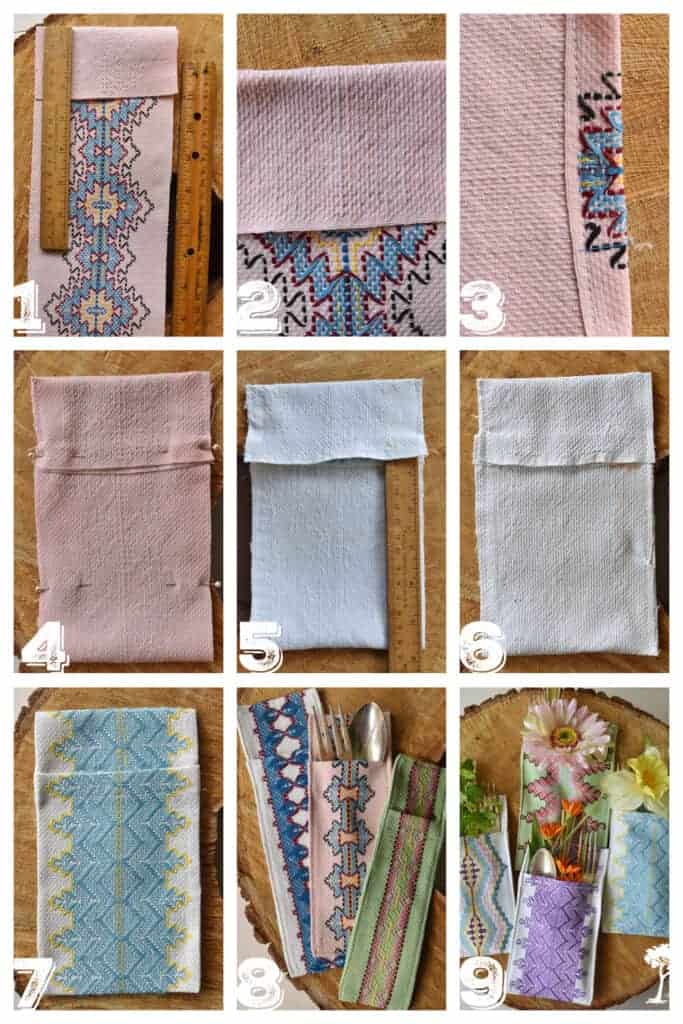 They are so much fun, you're going to want to whip up a bunch! Don't they remind you of Easter egg decorations?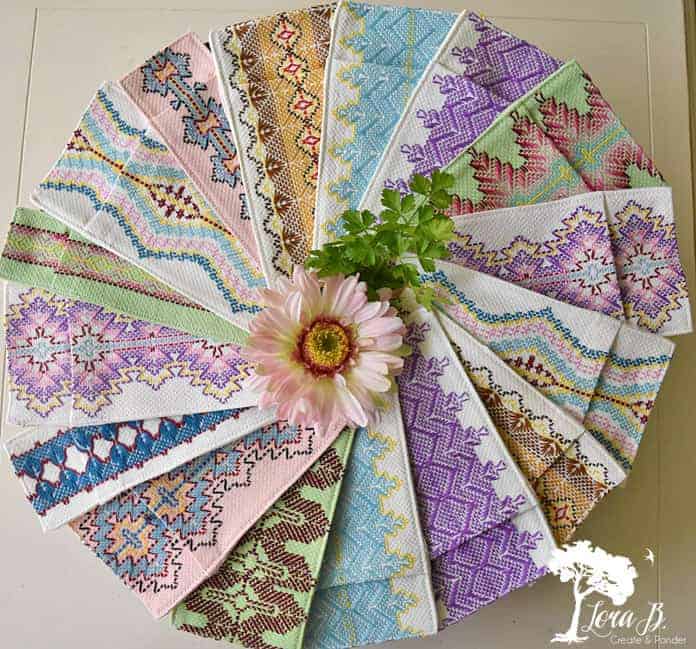 The towels that had thinner designs became kids-sized silverware pockets for just the fork/spoon.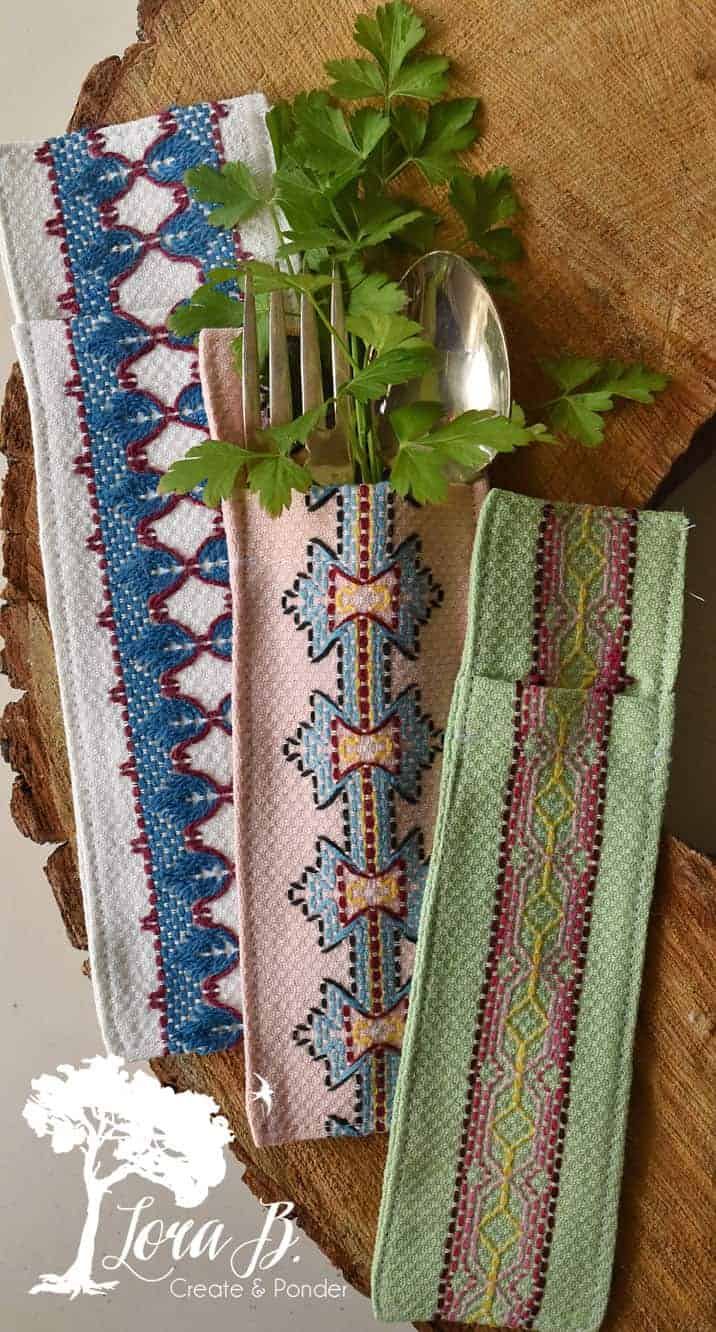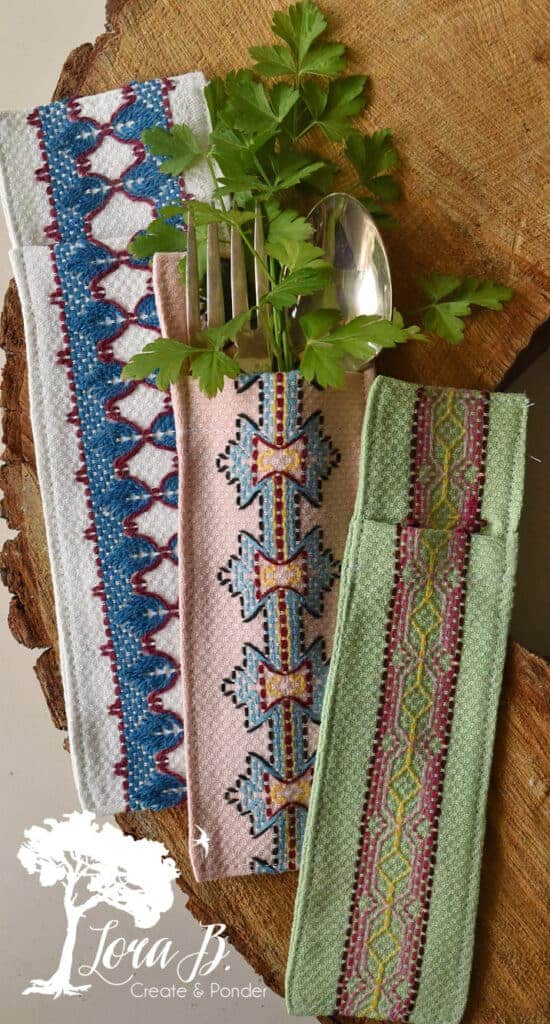 Decorate a Seasonal Table Setting with Repurposed Vintage Linen Pockets
These repurposed vintage linen pockets can be used for silverware or tied on to the back of a guests chair with a little flower. They will add a special touch to Easter, Mother's Day or a Garden Party, depending on the colorway you find. I have some in Autumn colors, too, that will get upcycled next.
Tuck a faux or real flower or foliage in with your flatware. You can hide a floral tube in, too.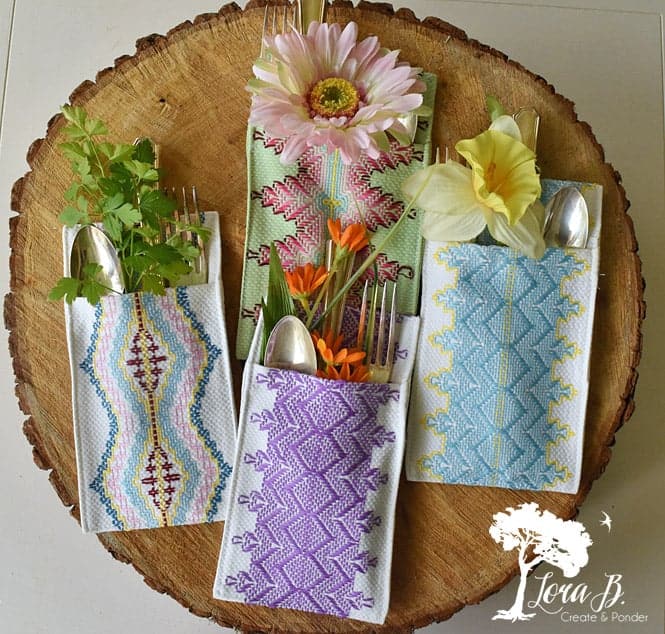 Get more Spring Table Setting Ideas and Projects:
"Spring Table Decorating Ideas"
"Decorating Oval Platters as Giant Easter Eggs"
"Pretty Table Setting for Spring on the Porch"

Hope you enjoyed this Repurposed Vintage Linens Flatware Pocket How To. I love bringing new life to old things and using them in my home decor! If you do, too, become an Insider down below!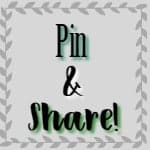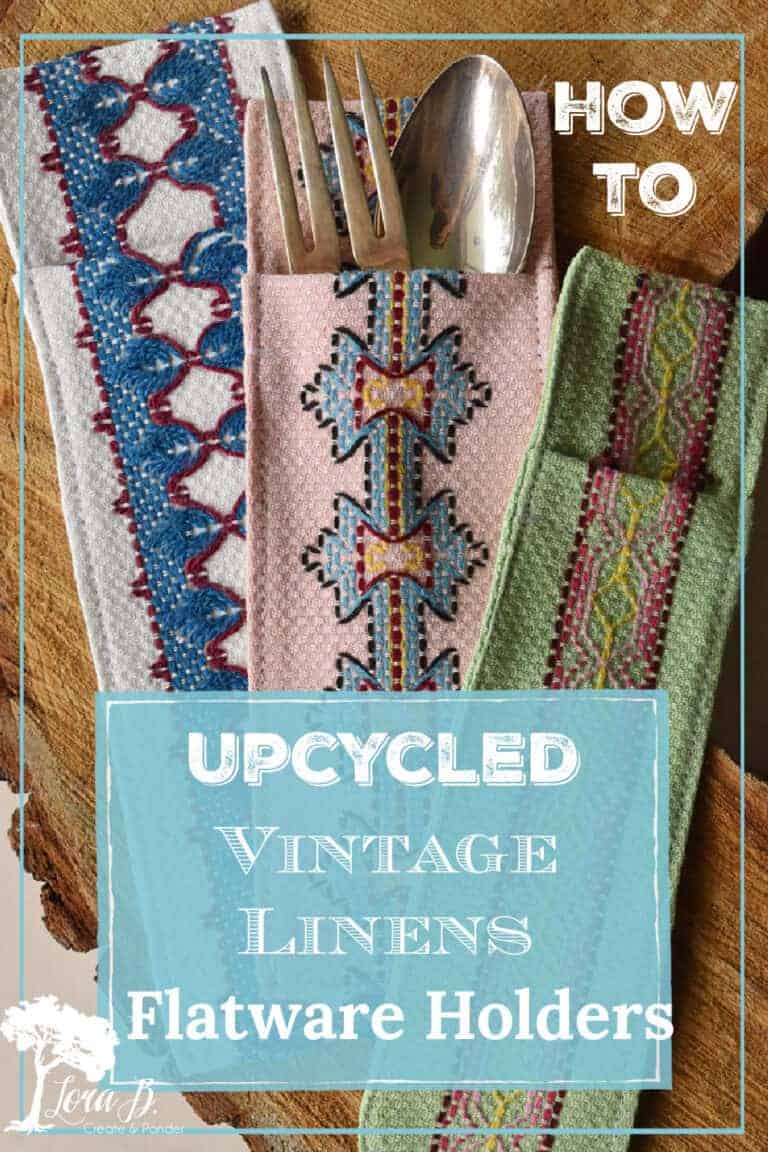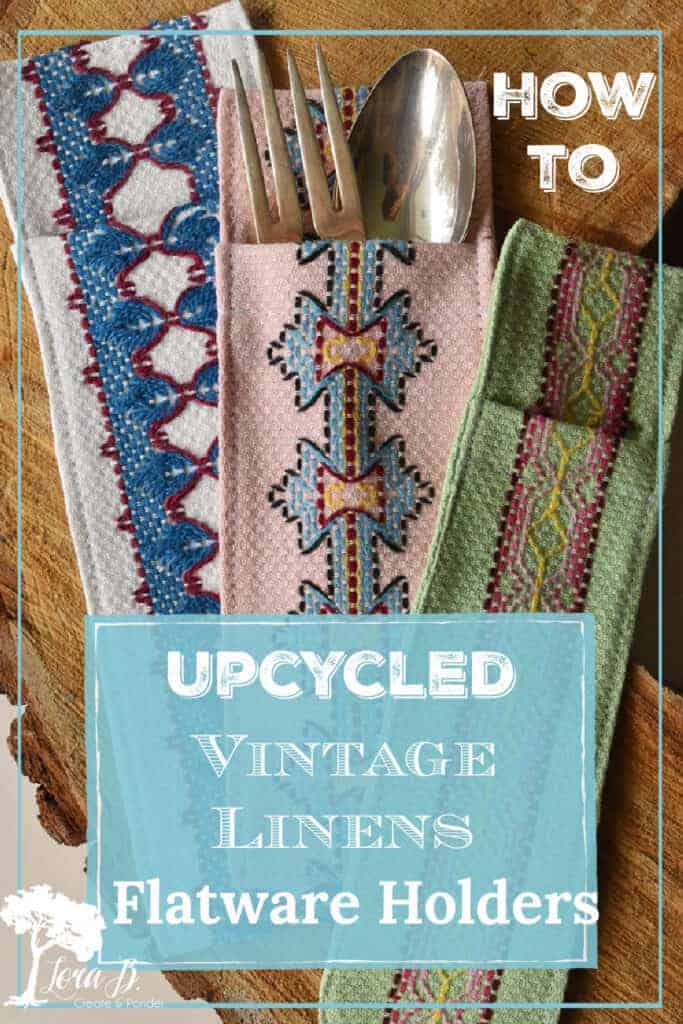 Sharing at these lovely parties:
Have a Daily Cup of Mrs. Olson