Upcycled Oval Platter Easter Eggs How To
Looking for DIY Easter Decor Ideas? If you've got oval platters, these easy easter decorations you can make yourself are the perfect craft!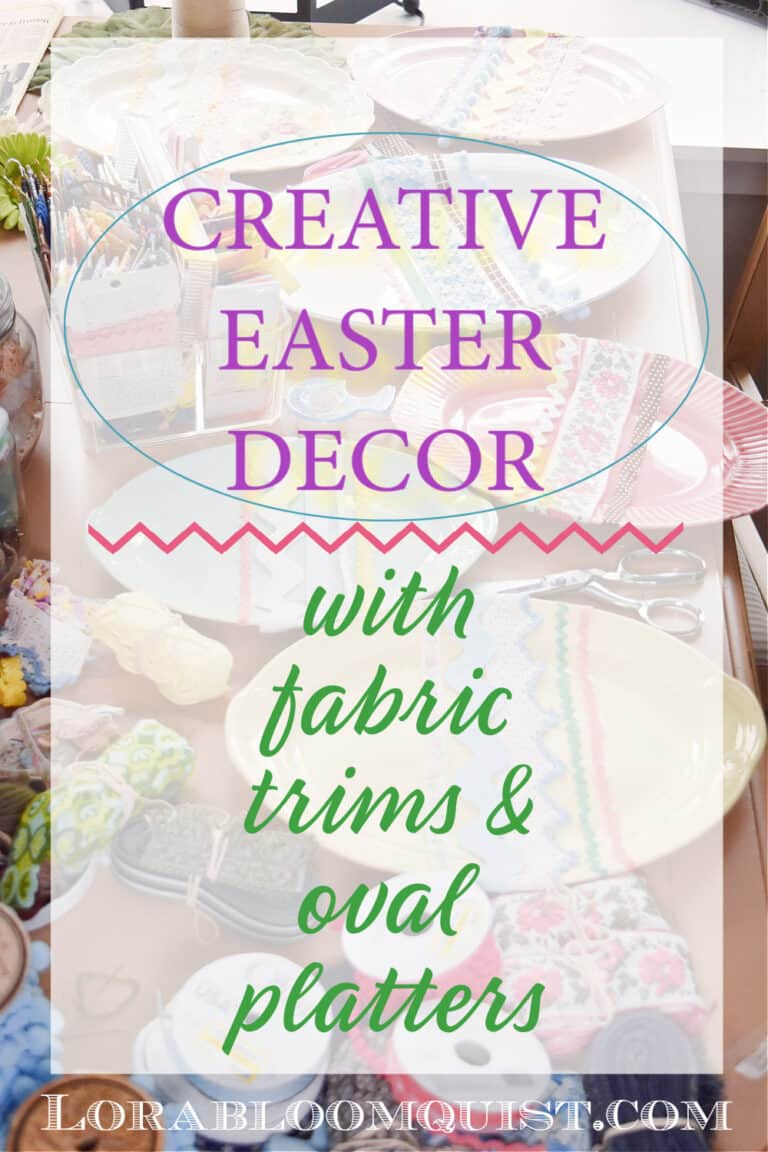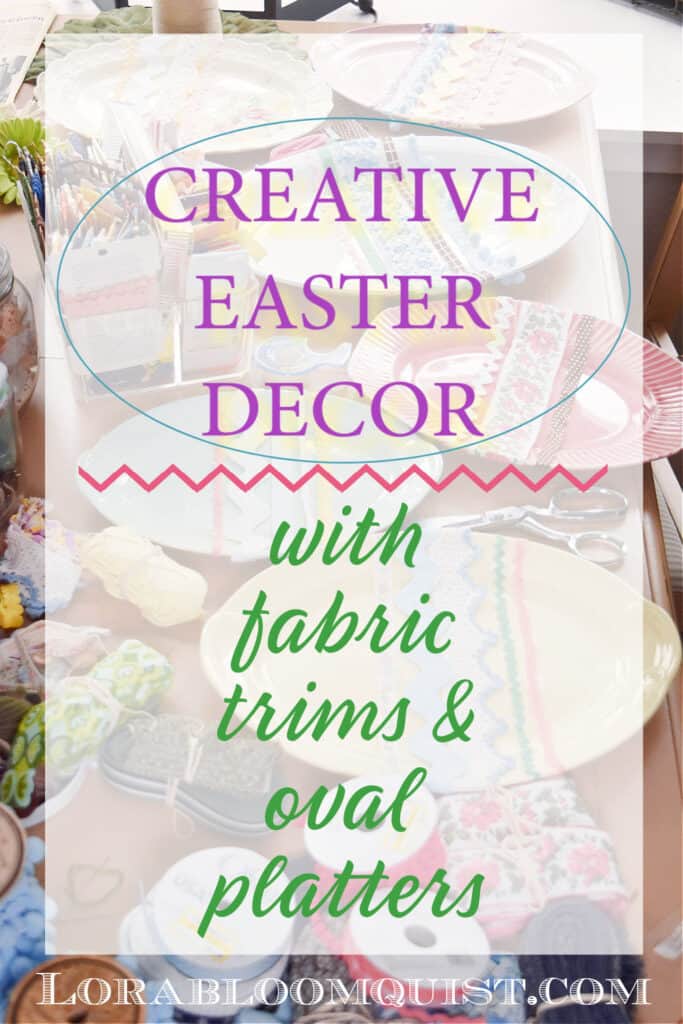 Easter is right around the corner and it's time to start thinking about your decorations! Definitely bring out the bunnies and the eggs, but get your oval platters out of the cupboards, too. With vintage and new fabric trims, you can craft the most adorable giant eggs with this simple DIY. The kids could even join in! Here's an Upcycled Oval Platter Easter Eggs How To that will inspire your creativity!
Upcycled Oval Platter Easter Eggs How To
For your convenience, this post contains affiliate links. If you make a purchase, I may receive a commission. There is no additional cost to you. My full privacy policy is here.
Gather Your Oval Platters
First, gather your oval platters from the cupboards. A combo of large and small ones will make the most creative display. Both solid colors and patterned will work, but stick to Springy colors. My vintage LuRay oval platters are perfect, but I used floral serving plates also.
(Make sure you leave one out for the Easter ham, though;)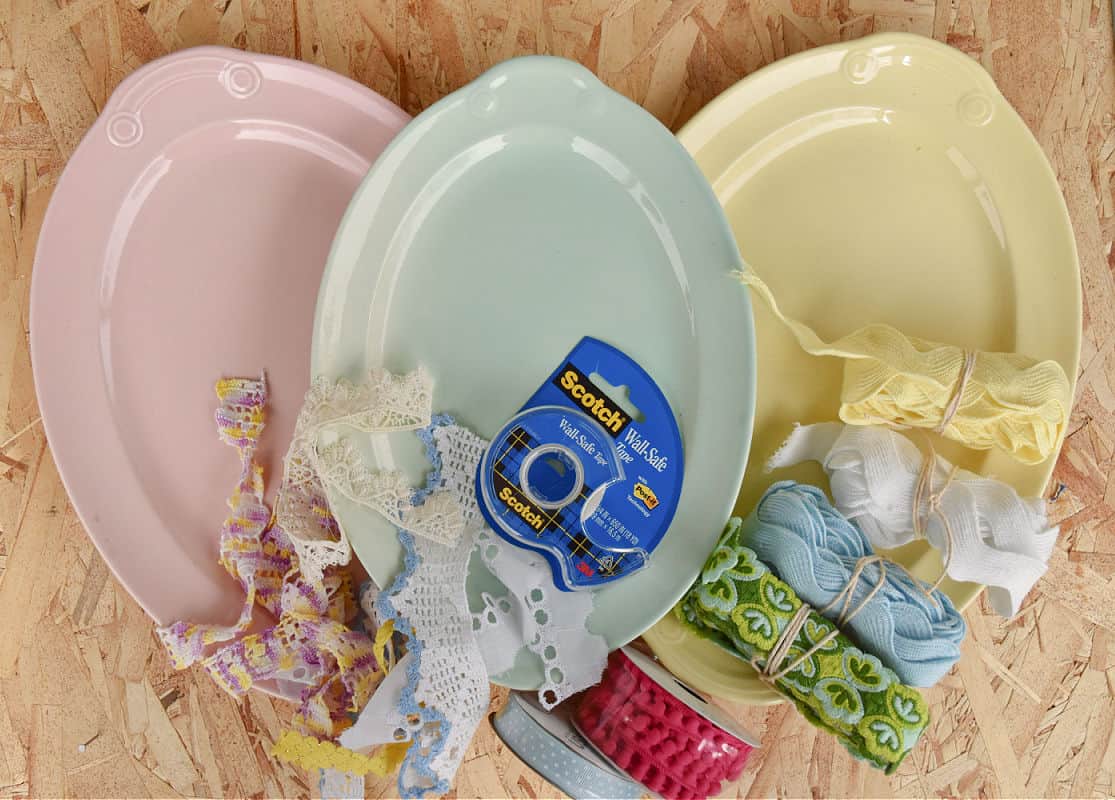 Shop vintage LuRay dishes HERE.
Next, Find Fabric Trims
Gather a variety of fabric trims from around your home, thrift store, or purchase new at the fabric store. You can even take trims off of old pillowcases or other tired home decor.
I have a stash of vintage crocheted trim from old pillowcases. I also scoop up vintage trims at estate sales whenever I can. Newly purchased jumbo rickrack is also perfect for this project; it fits the scale of the large plates nicely.
Shop vintage fabric trims HERE.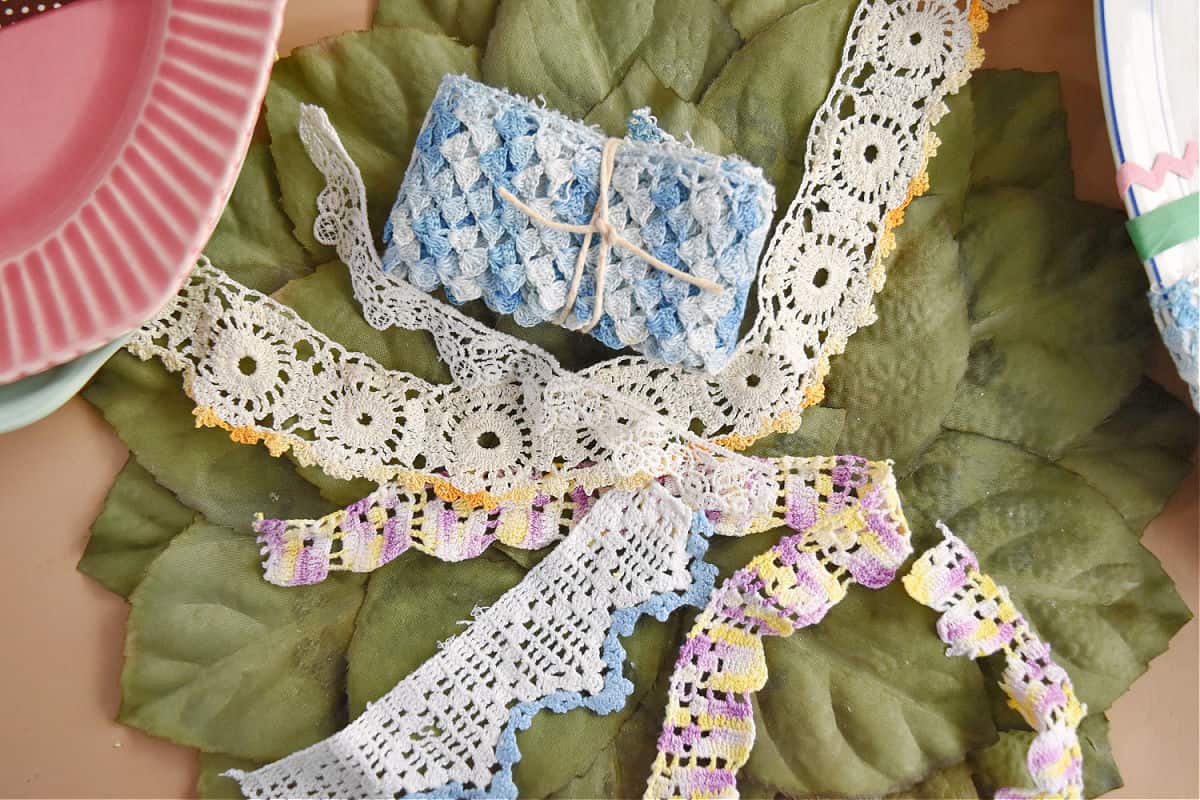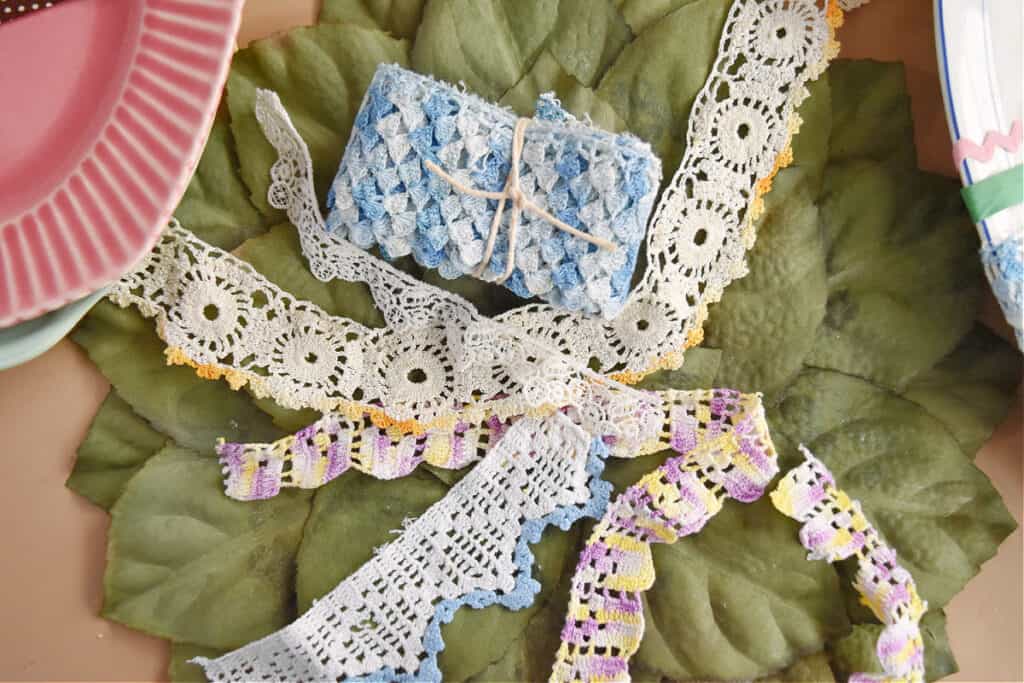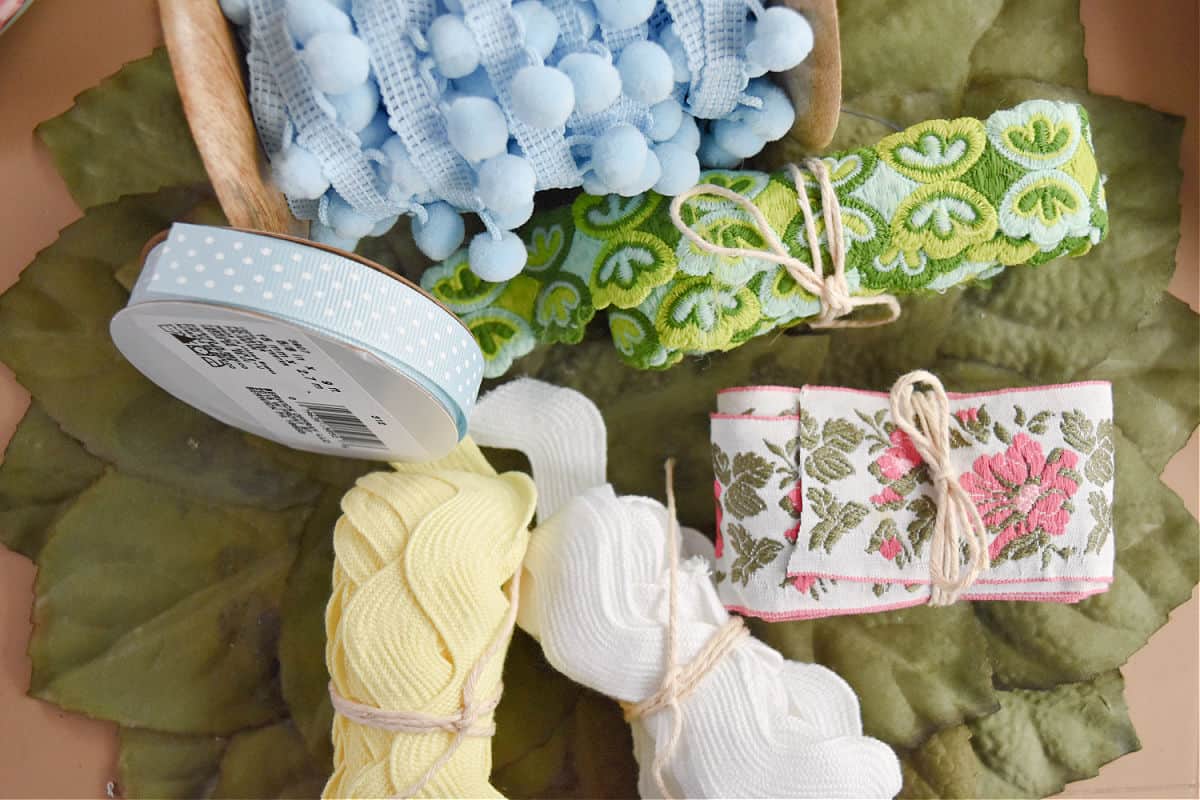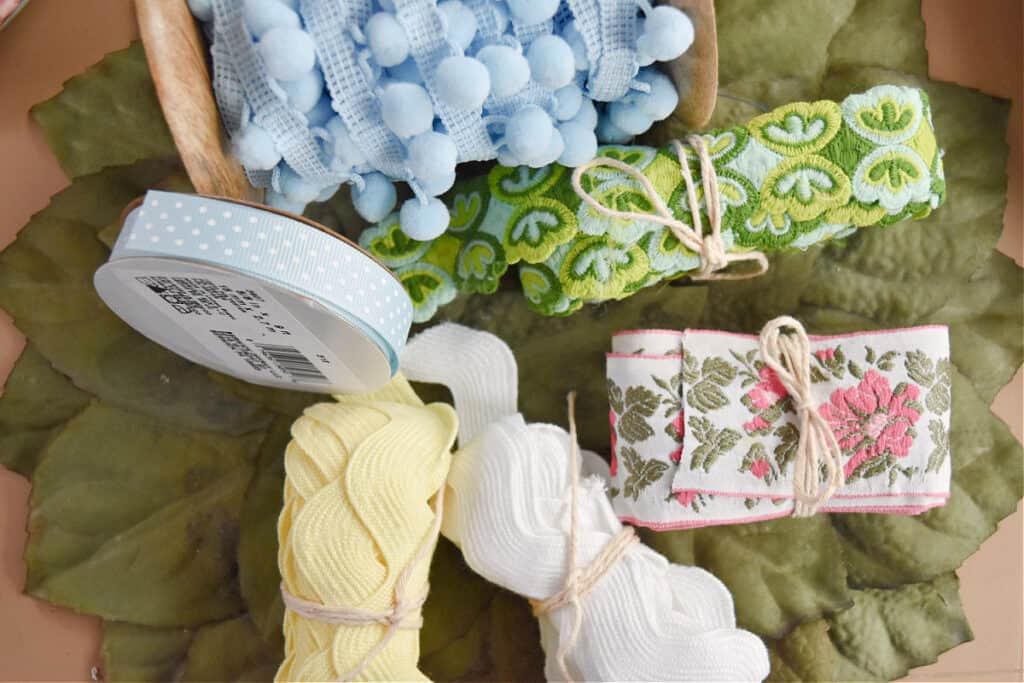 Cut Trims and Adhere
Cut your fabric trims long enough to wrap around the back of the platter about an inch on each side. I started with the middle trim (one of the thicker varieties) and worked my way out to get a pleasing combination of colors and textures.
Three to five varieties is a nice combo. Color coordinate the trims to the plate's design.
Once you get a combination that's pleasing, adhere the trims with non-permanent adhesive. I used little rolls of clear tape which was putzy. I think THESE would work much better (craft and learn;)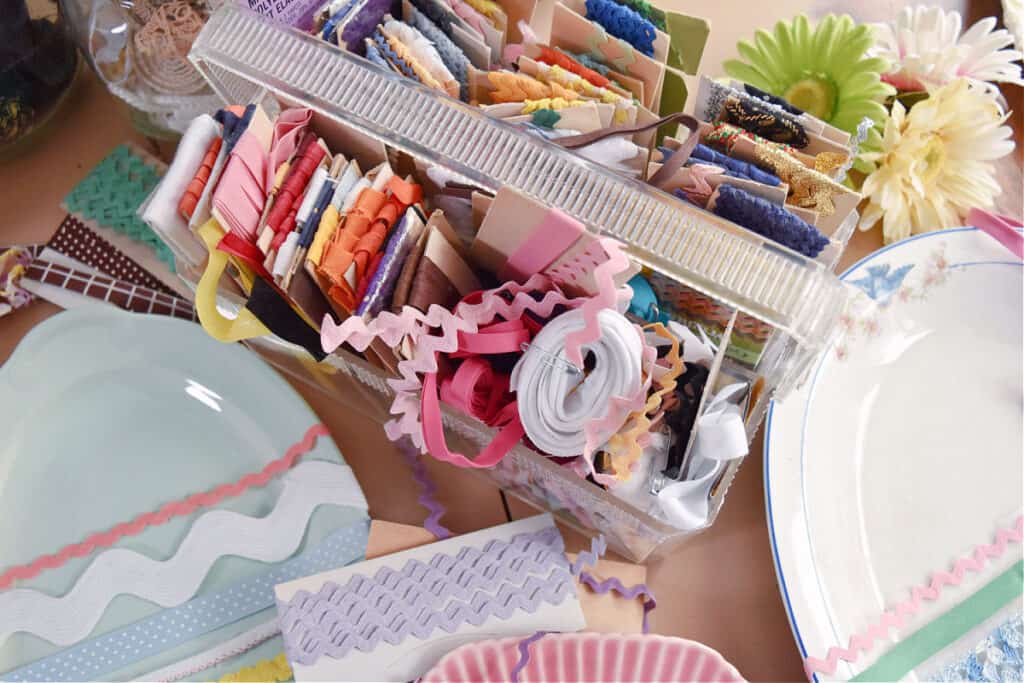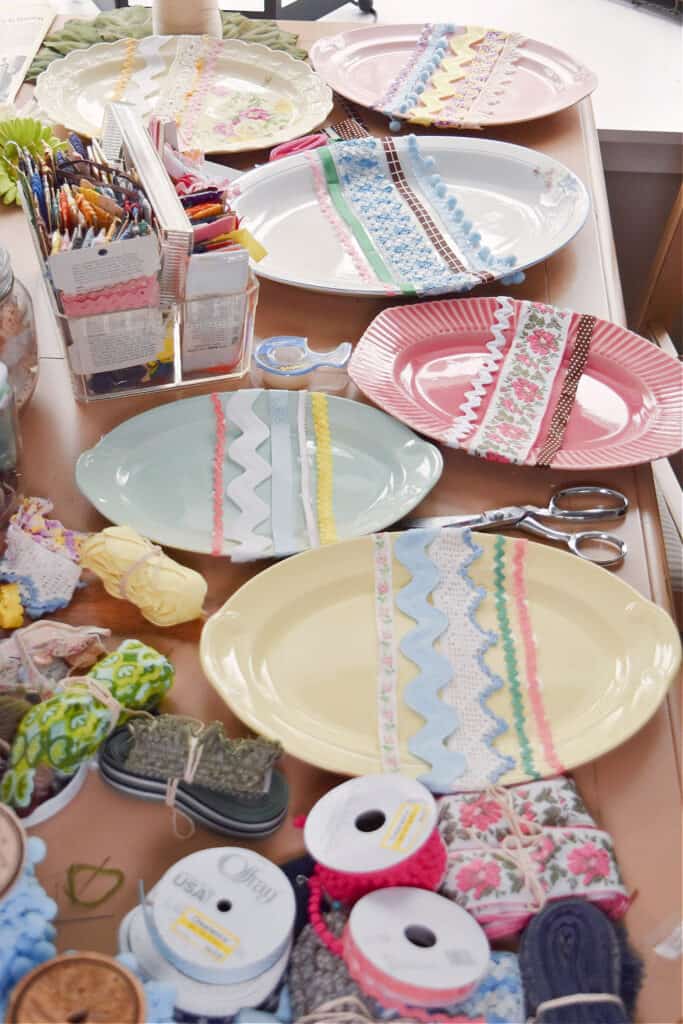 How to Display Your Oval Platter Easter Eggs
The oval platter Easter eggs will stand better if you place them in a plate stand (find HERE). Tuck them into your Easter hutch or cupboard displays along with your Easter decorations.
They also look pretty all together standing in a basket or tool caddy. Tuck moss or excelsior grass around the base as filler.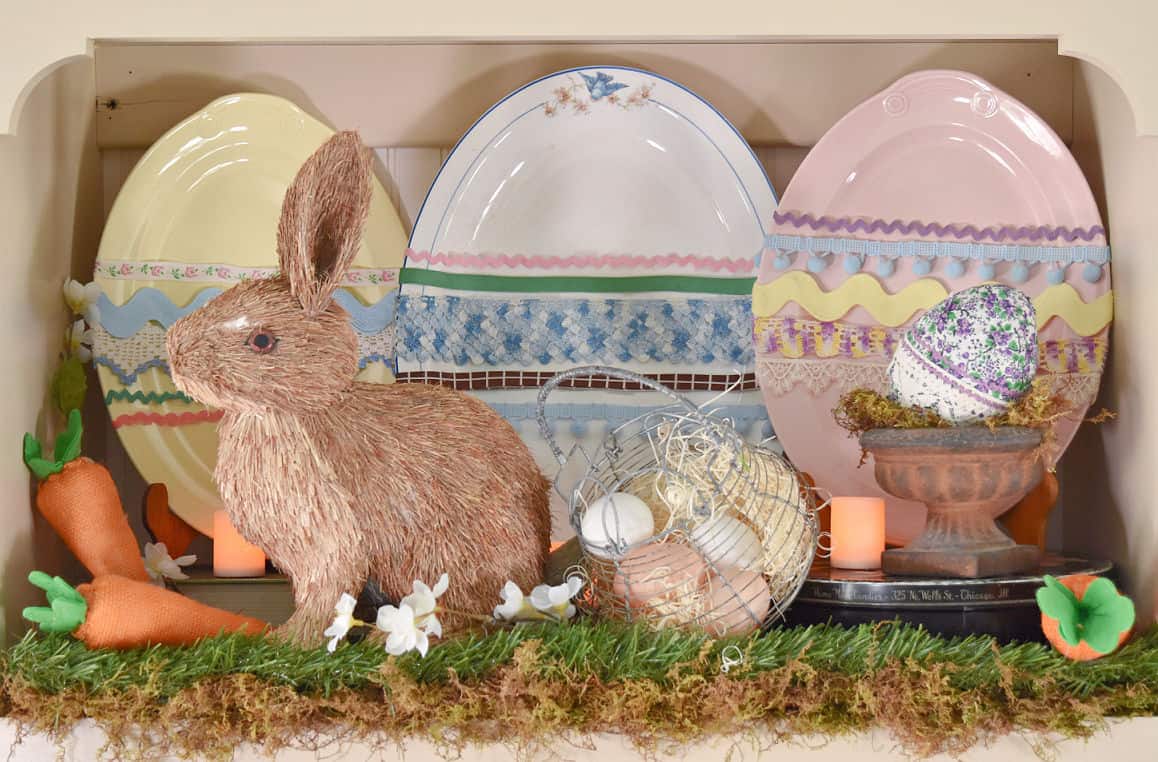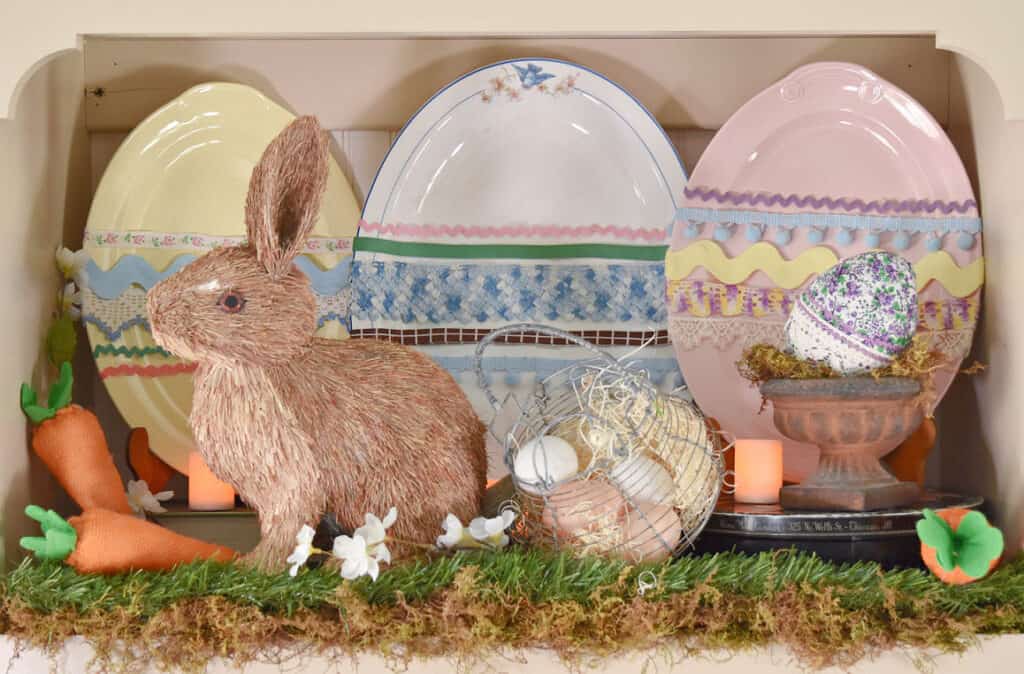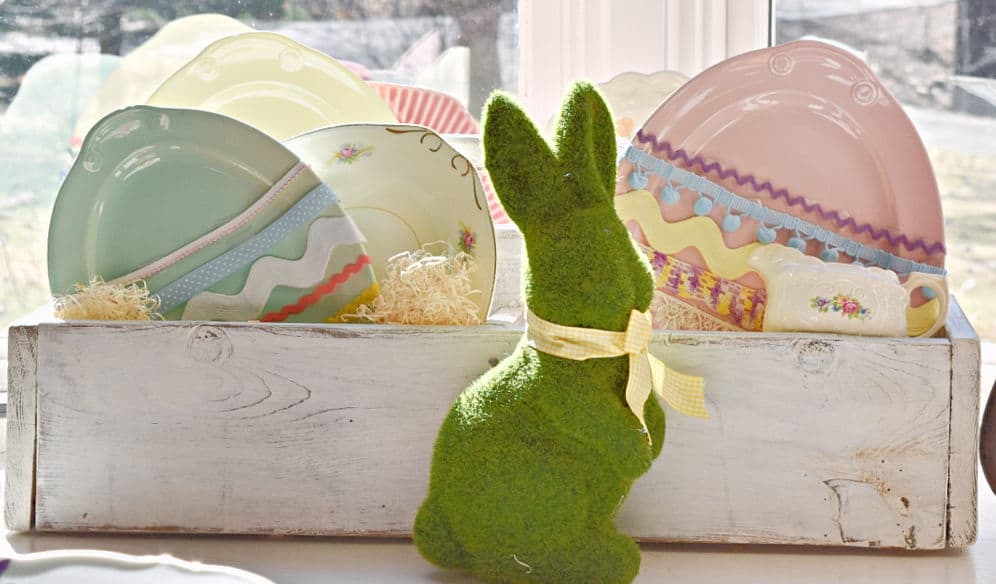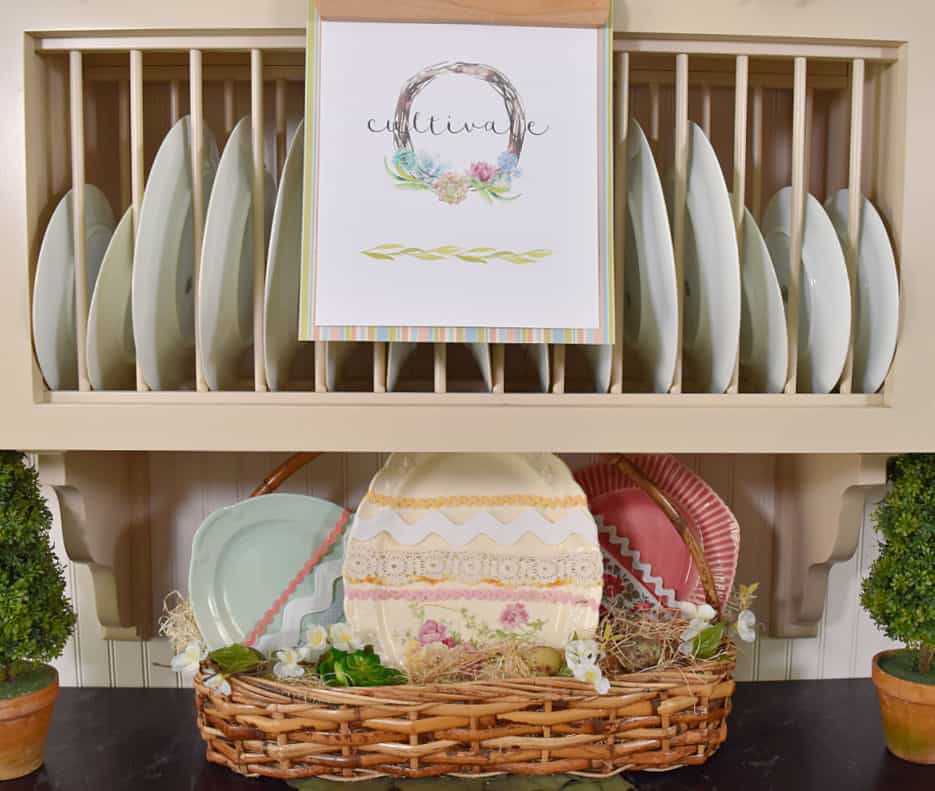 Each Easter I look forward to bringing out these giant Easter eggs to decorate! This DIY project brings together two of my favorite things-vintage dishes and trims. It's so fun to enjoy these collections in a new way!
If you need to actually use the platters, simply take the trims off. You could store them until next Easter and re-adhere. I've got a lot of dishes, so I simply place them back in the cupboard with the trims on.
Did you enjoy this simple DIY Easter decorating idea? It would be a fun craft to do with kids, or elderly loved ones who could reminisce about the dishes or the trims:)
For more Spring decor and DIY inspiration:
"Repurposed Vintage Linens Flatware Pocket How To"
"A Charming Spring Kitchen with Cottage Style"
Thanks for reading Upcycled Oval Platter Easter Eggs How To. If you enjoyed your visit, be sure to sign up to be an Insider to keep the ideas coming!
Pin and share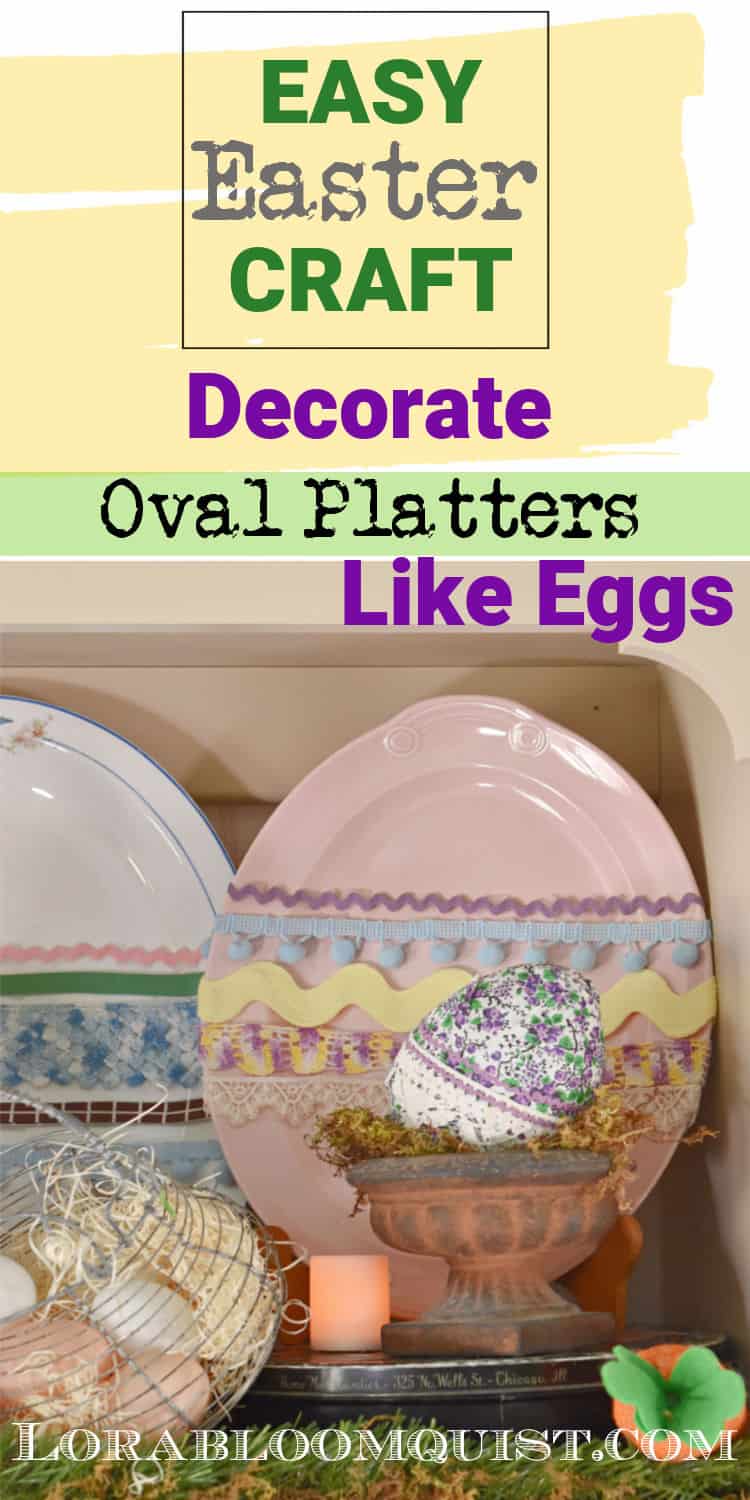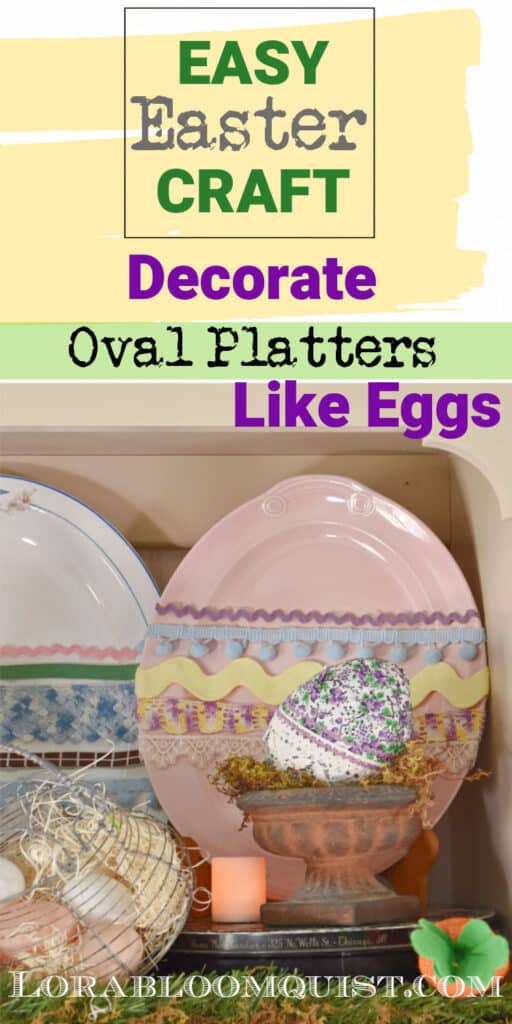 Sharing at these lovely parties: