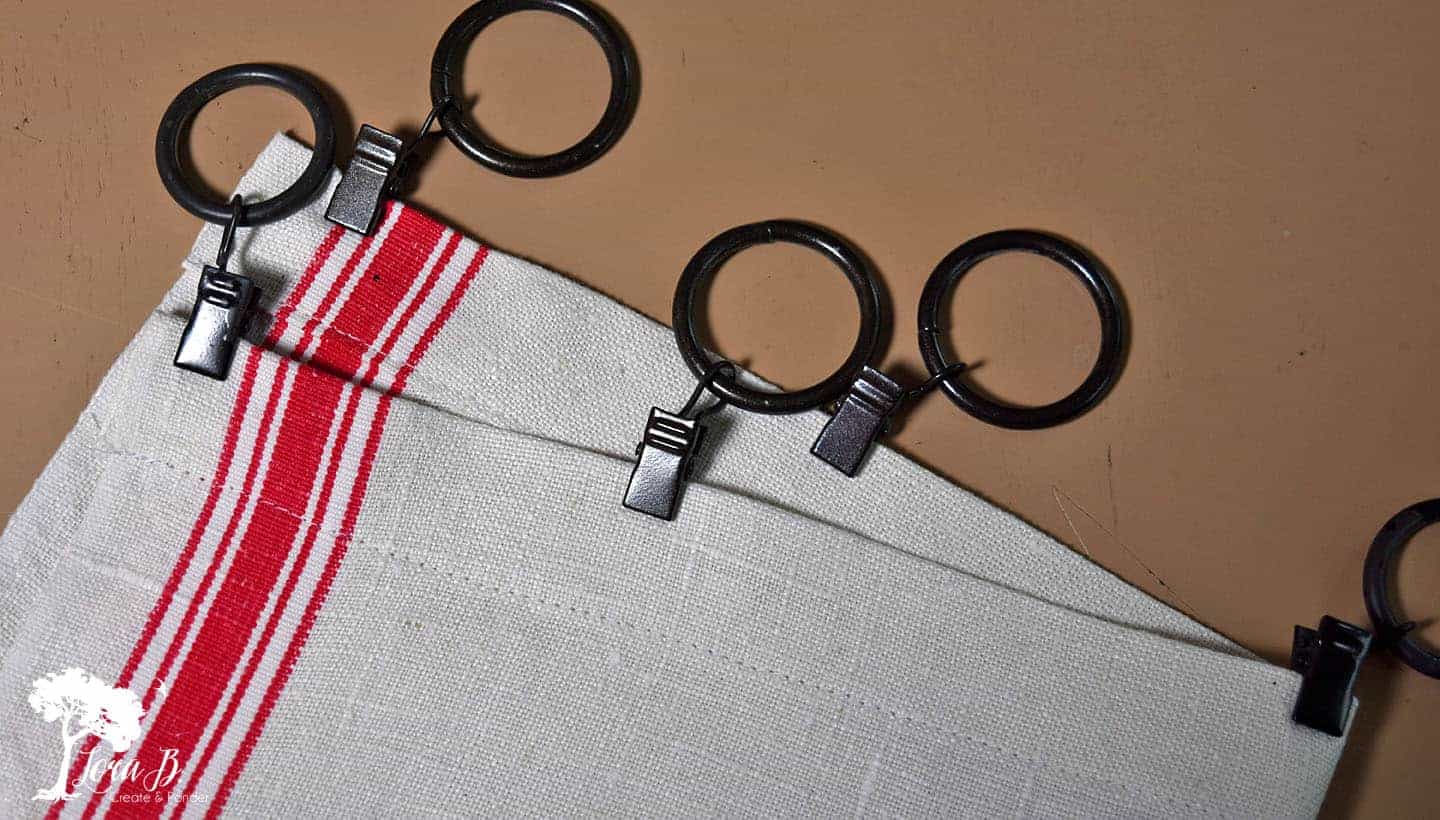 Bare windows are definitely in style. If you page through a home magazine, often times the windows are not adorned with window treatments. Bare windows accentuate the architecture and trim of a detailed house and can add a clean-cut modern style to a room. The downside of bare windows are a lack of privacy, especially in the winter when there are no leaves on the trees. This winter the car headlights shining in my kitchen windows when I was at the kitchen sink made me decide I needed some curtains! Today I'll show you how to remedy your fish bowl windows with some Easy DIY Cafe Curtains.
With cafe curtains, you really get the best of both worlds. The top of your windows can still let the sunshine and outside view in, but you can enjoy privacy on the bottom half.
By using purchased clip rings, an extendable rod and ready made towels or linens, your DIY cafe curtains can be up in about an hour! Immediate privacy at your service!
For my kitchen cafe curtains I used vintage linen tea towels that had a fun Christmas to Valentine colored design embroidered on them. But you could basically use any type of linen; I used a wool fringed blanket for a curtain in my bathroom, and used an Ikea towel in my pantry. The wonderful aspect of using an already made linen for these easy DIY cafe curtains, comes from the fact that all the edges are already finished. You only have to adjust the top seam to fit the length you want!
Beginner sewing skills are all that are required for these. If you don't machine sew at all, you could probably just fold over a towel, or use a fusible interfacing to close the seams. For today's how-to, I'll show you how to sew them!
Easy DIY Cafe Curtains
For your convenience, this post contains affiliate links. If you make a purchase, I may receive a commission. There is no additional cost to you. My full privacy policy is here.


Materials Needed:
Vintage tea towels or newly purchased towels (similar HERE)
Cafe curtain rod to fit your window ( I used these)


Directions:
To Begin, Launder Linens and Hang Curtain Rod
Wash and iron the linens you want to use. I had 3 vintage embroidered linen towels that barely spanned the width of my windows. I didn't want the curtains to be very full when open, so as long as they just covered the windows when closed, I was happy. I loved the red grainsack stripe on these and figured the black and red embroidered kitchen pattern could carry me from Christmas through to Valentine's. Since I had 3 towels, I figured I could hang them on either side and one in the middle. My cafe curtain rod was screwed to the window molding at the halfway point.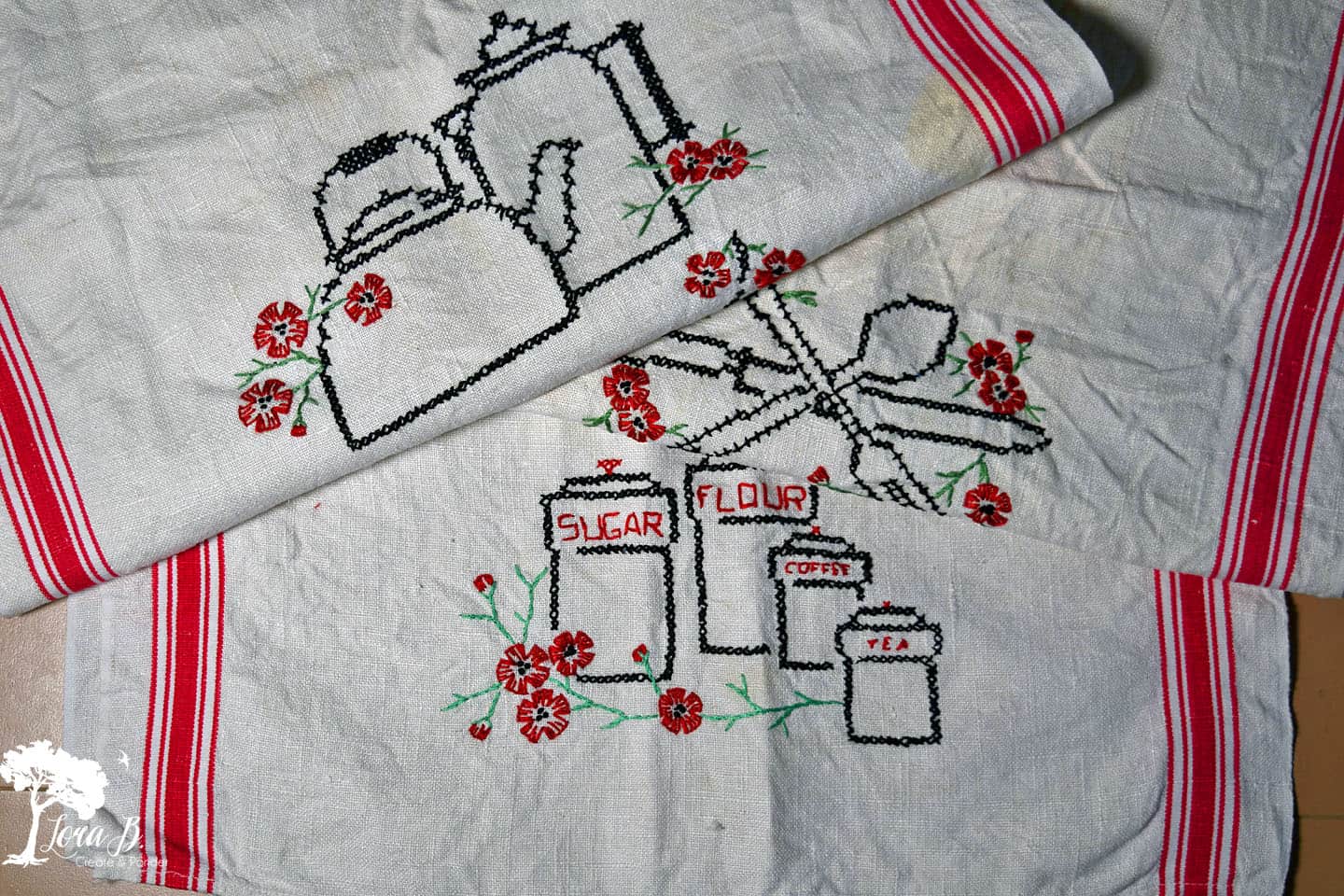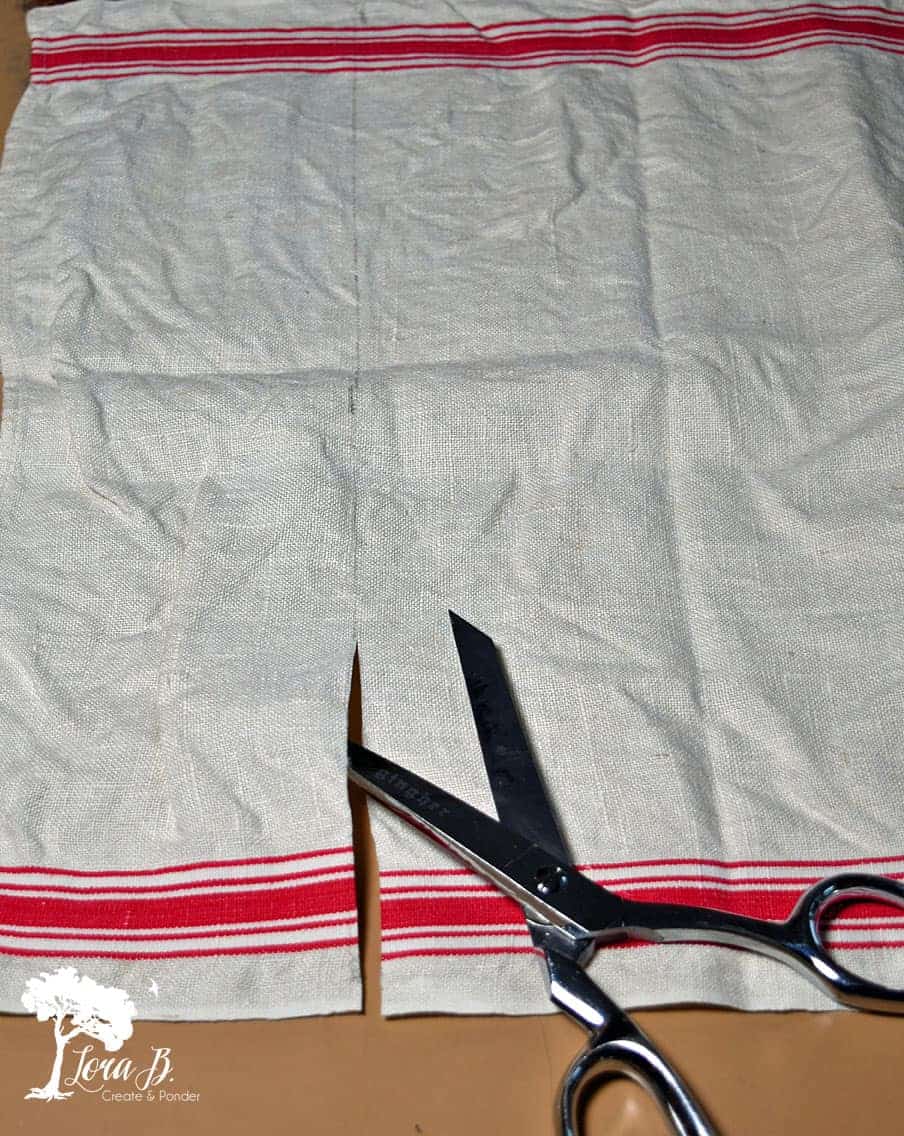 Measure Window and Decide Size of Finished Cafe Curtain
Measure your windows and decide how far you want your curtains to hang. Mine hang about 2″ below the window trim, with still enough spacing to clear the countertop.
When deciding on your cut length of your curtains, take into account that the top edge of your fabric will hang farther down from the rod, depending on the size of your clip rings. Also add in 1 1/2″ to fold over for a top seam.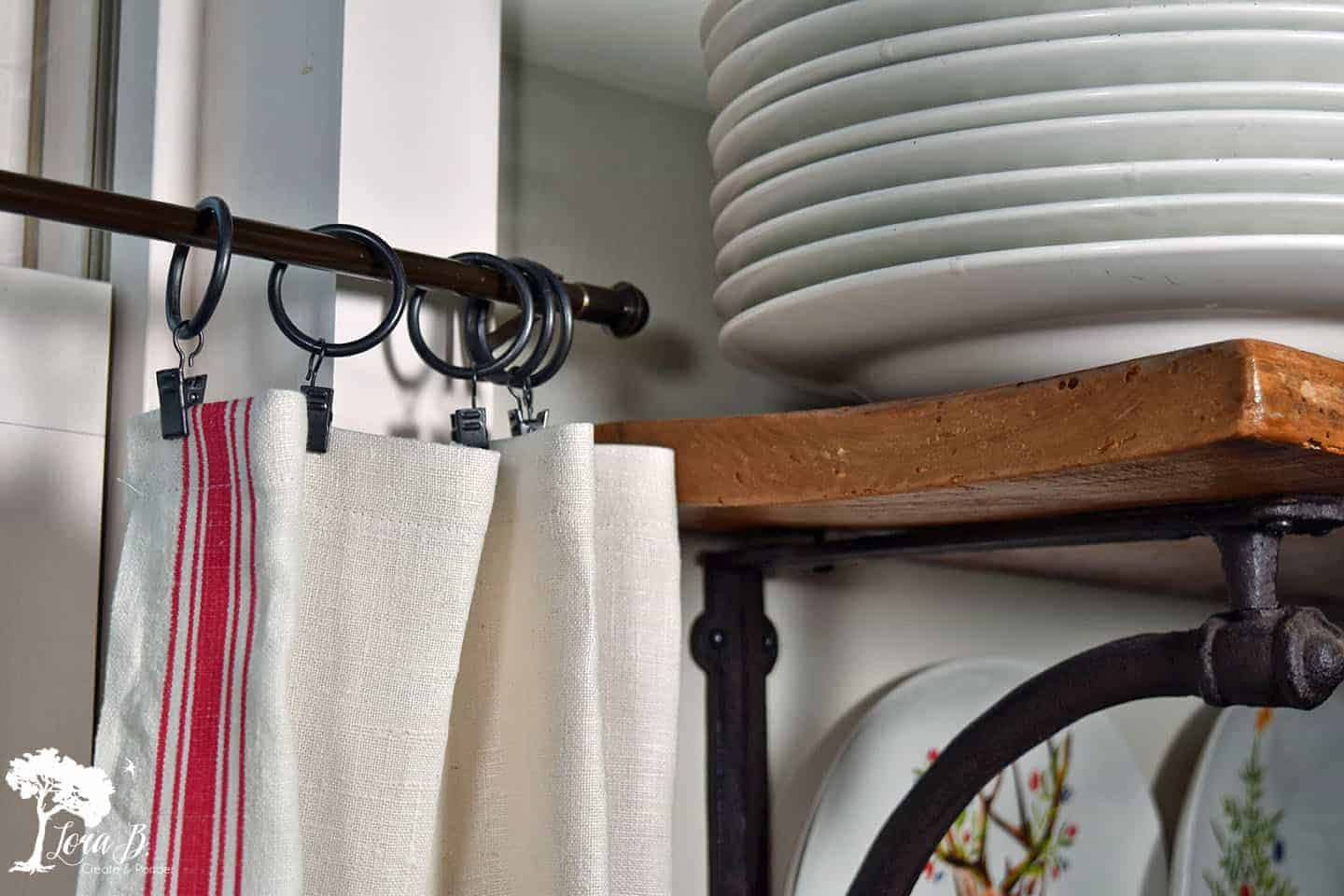 Once your towels are cut to length, you can begin to finish off your top seam. Isn't it nice to have the other 3 sides already finished? That's what makes this DIY project so easy!
Make Top Seam
For your top seam, use your iron to press the fabric down 1 1/2′" inches to the back side: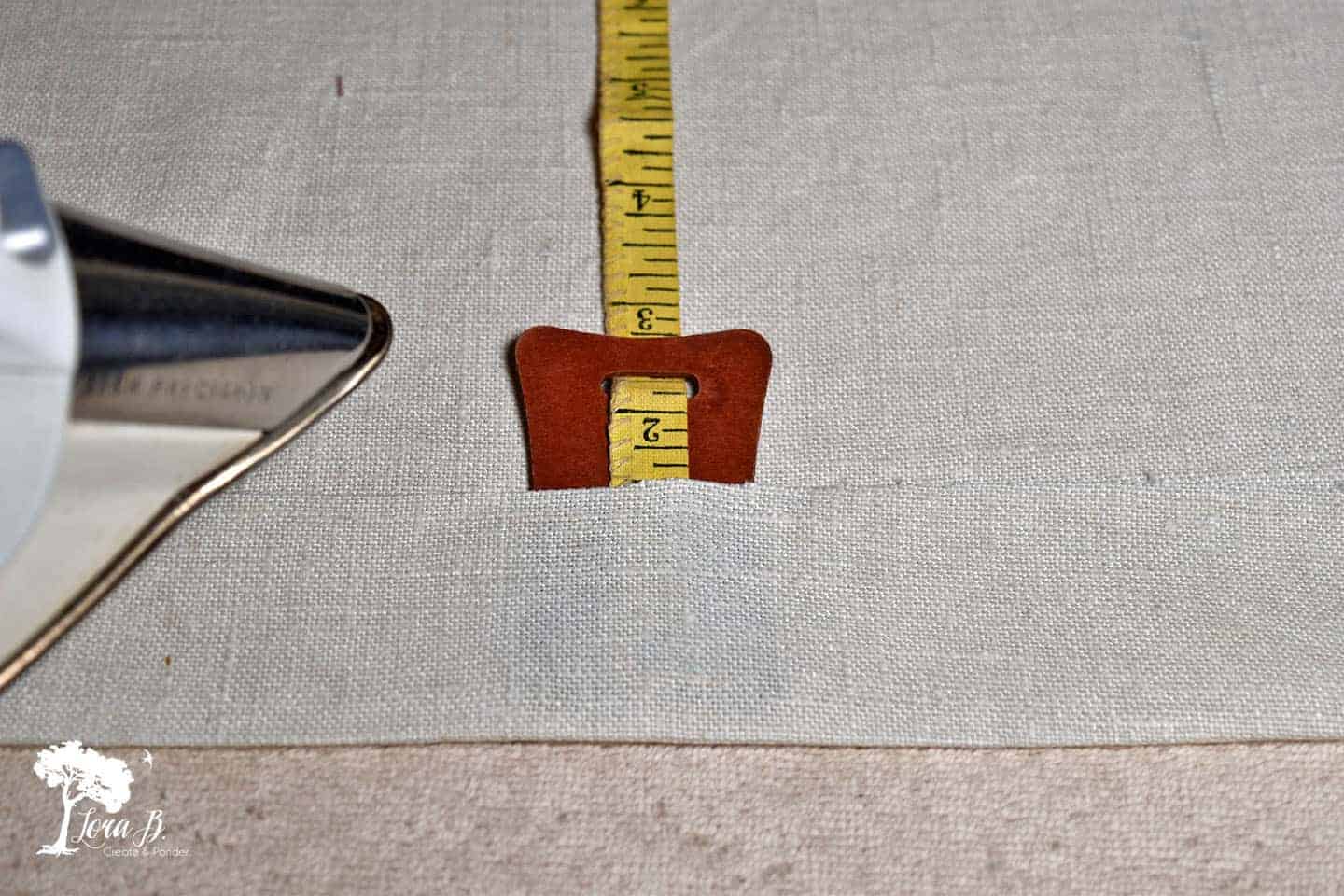 Then turn that raw edge under 1/2″. Press and pin.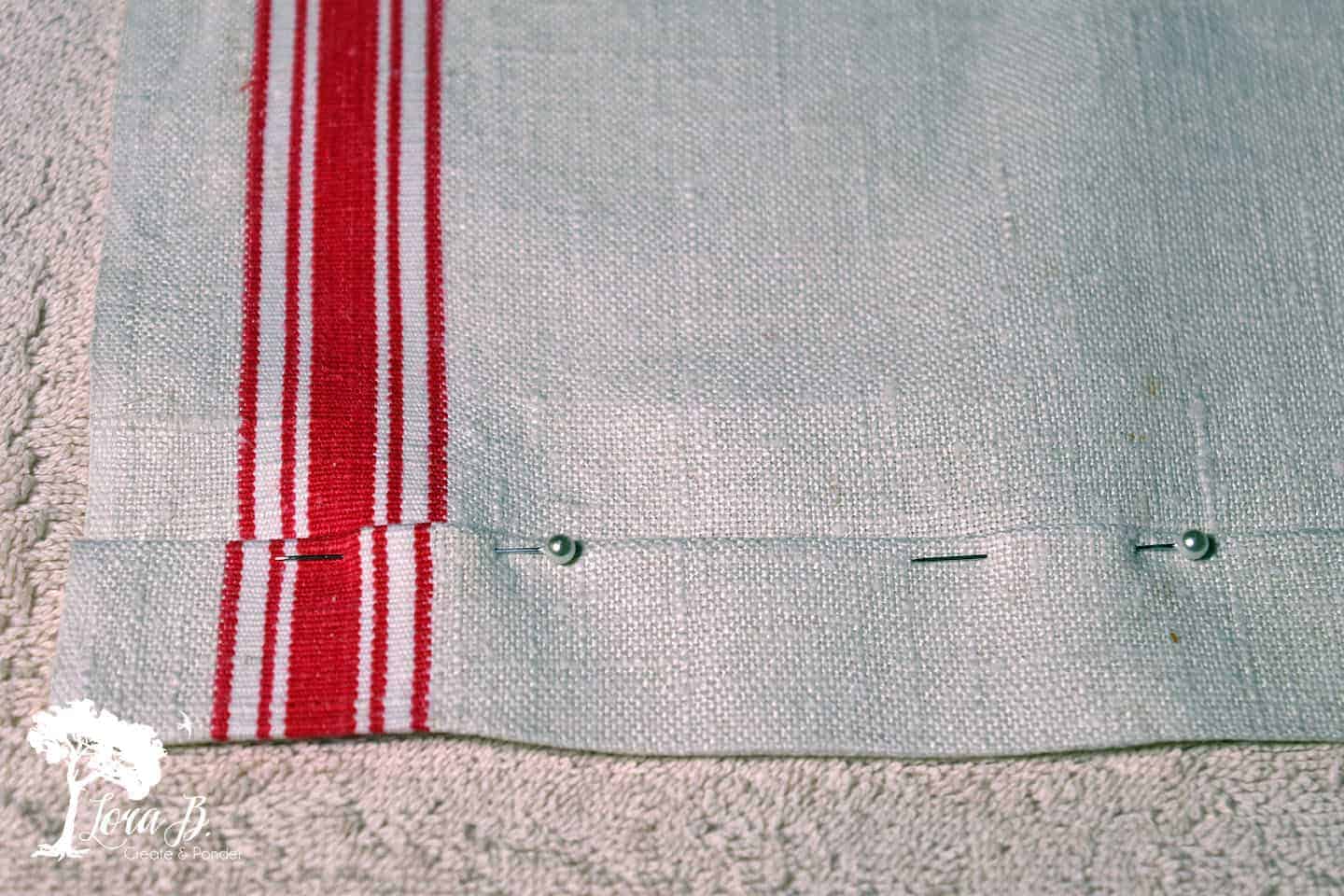 Now it's time for that easy sewing! Simply sew that fold shut and you'll have the top of your curtain.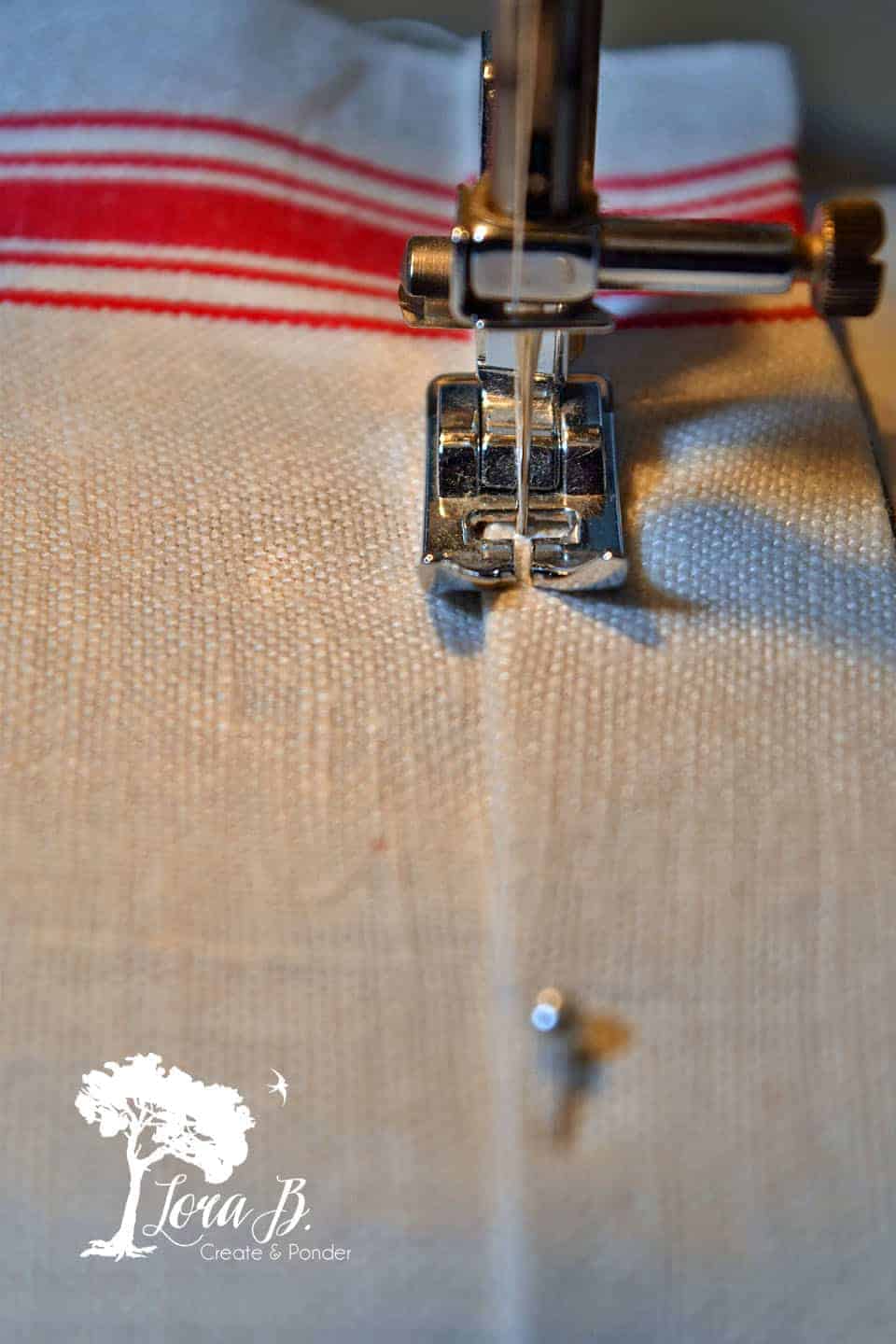 Attach Clip Rings to Finished Cafe Curtain
Attach your clip rings, evenly spacing them. I placed mine about 3″ apart. Place them at either end first, then in the middle, and then add the others. I like it when the fabric between the clips come out at me, if that makes sense. In order for the curtains to "remember" that placement, I clipped the bottoms with a clothespin overnight or for a few days. (Sorry, forgot to take a pic of that step)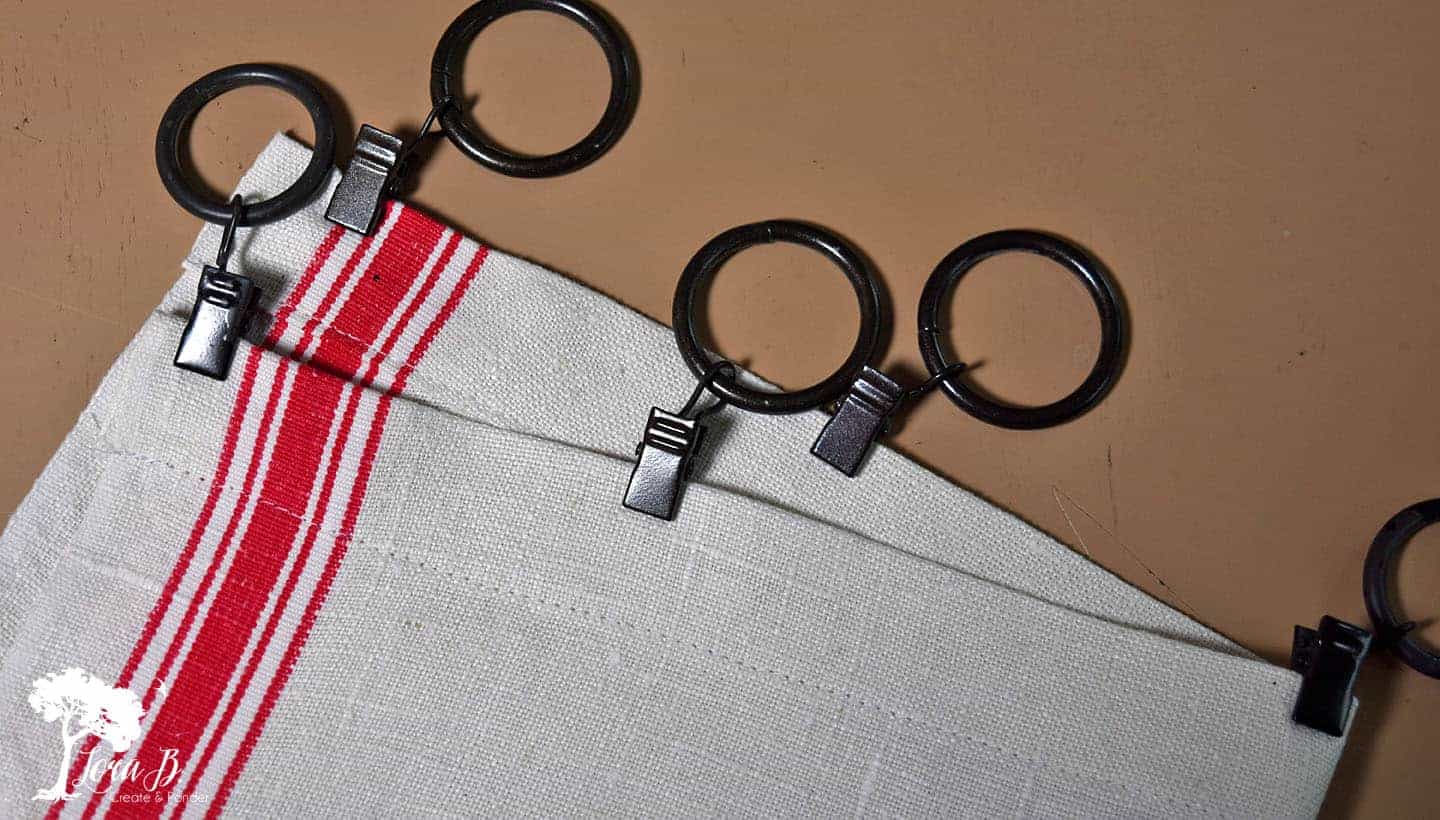 These easy, DIY cafe curtains gave us pretty quick privacy from the headlights! And got instant thumbs up from the rest of the fam!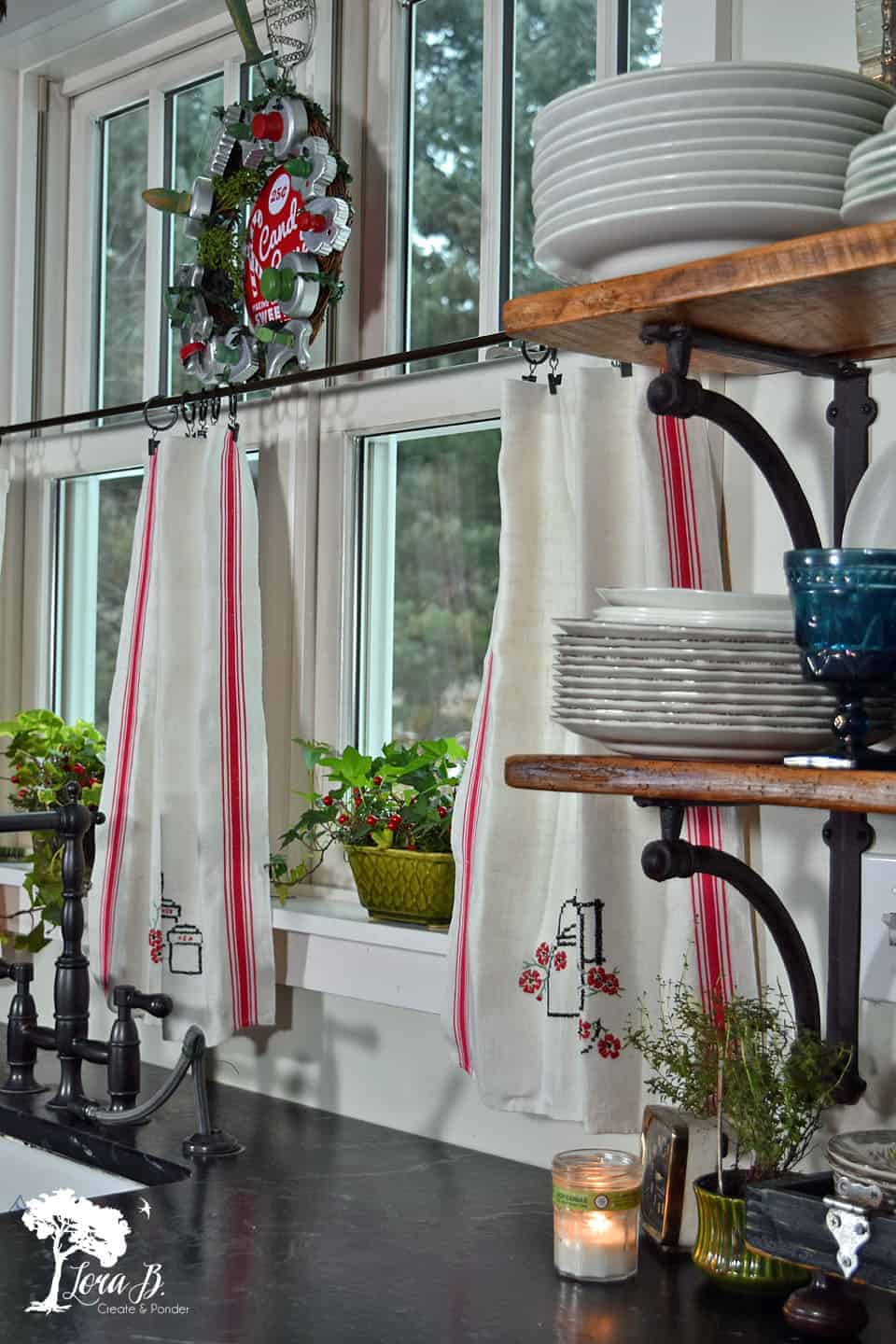 I never got around to showing you them for Christmas! But now that the Christmas has come down, they'll still look great through Valentine's with their cute red, grainsack stripe!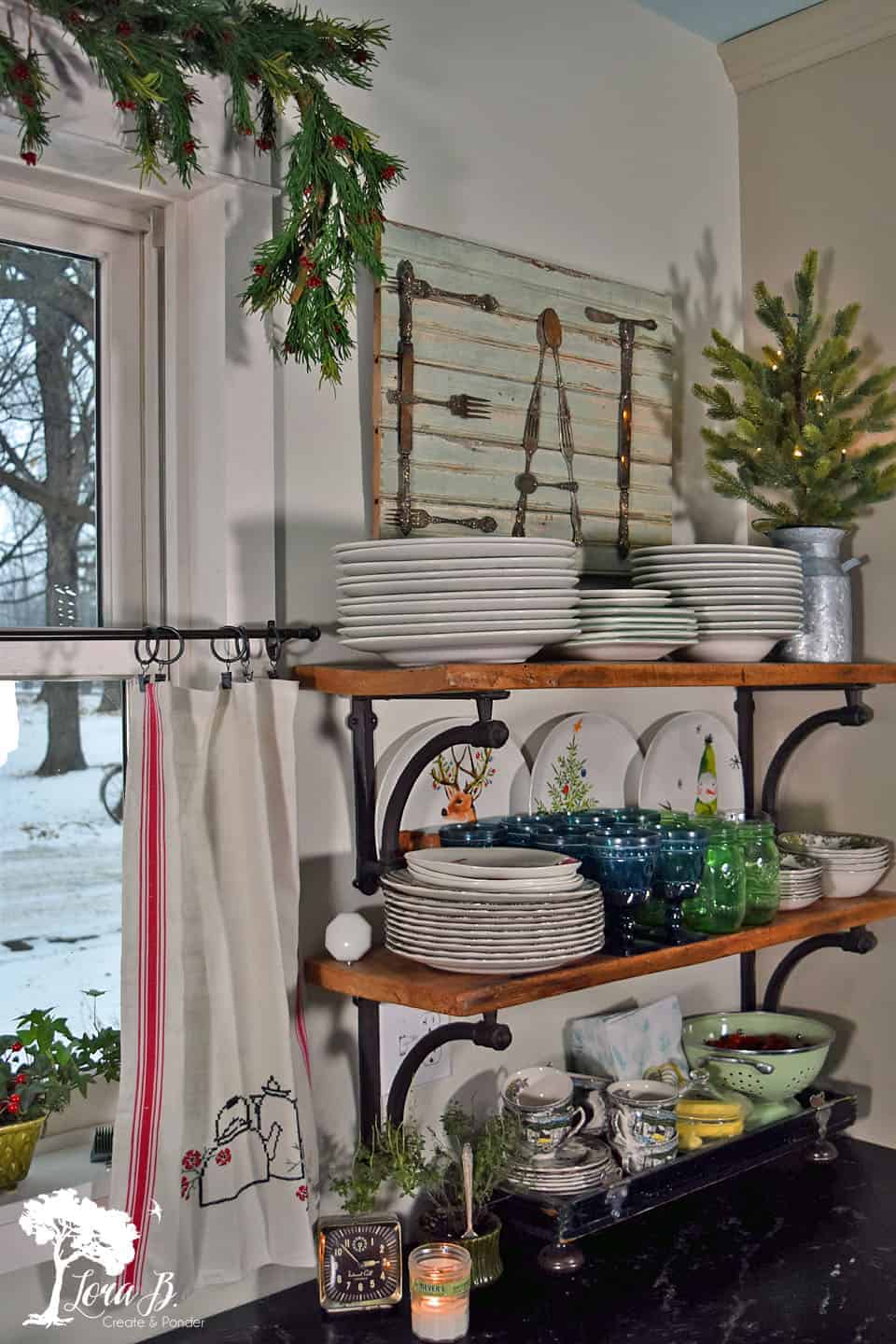 I left the greenery up above the kitchen sink and also kept the cute milkcan with greenery and lights up on the shelf. Winter nights are long and chilly here in MN, and a little extra cozy at night is welcomed!
At night, the curtains provide privacy so I can wash the supper dishes without having car headlights in my eyes. During the day, I'm enjoying the sunlight streaming through the pretty, vintage linen fabric and the cute vintage embroidery, along with some Valentine red.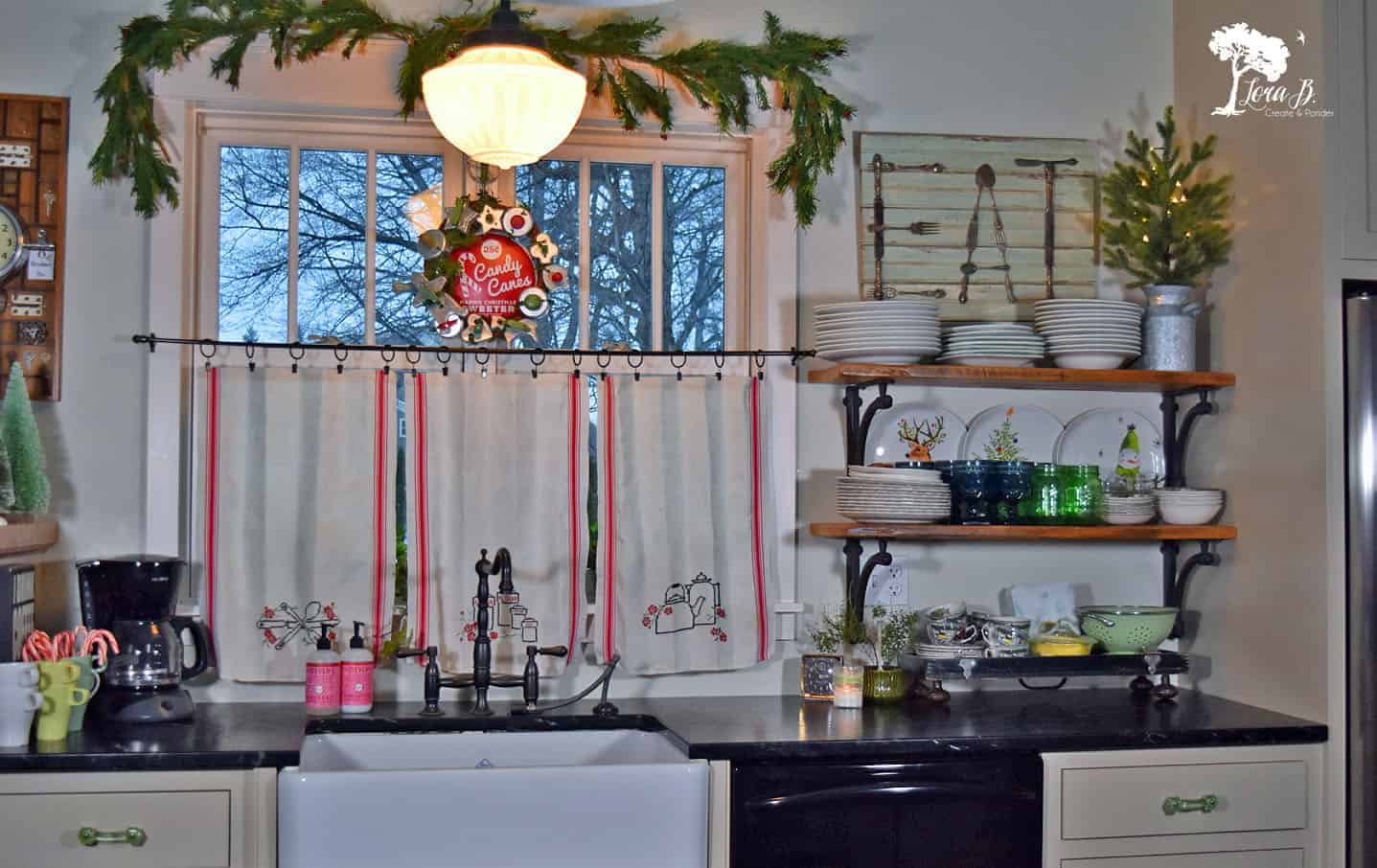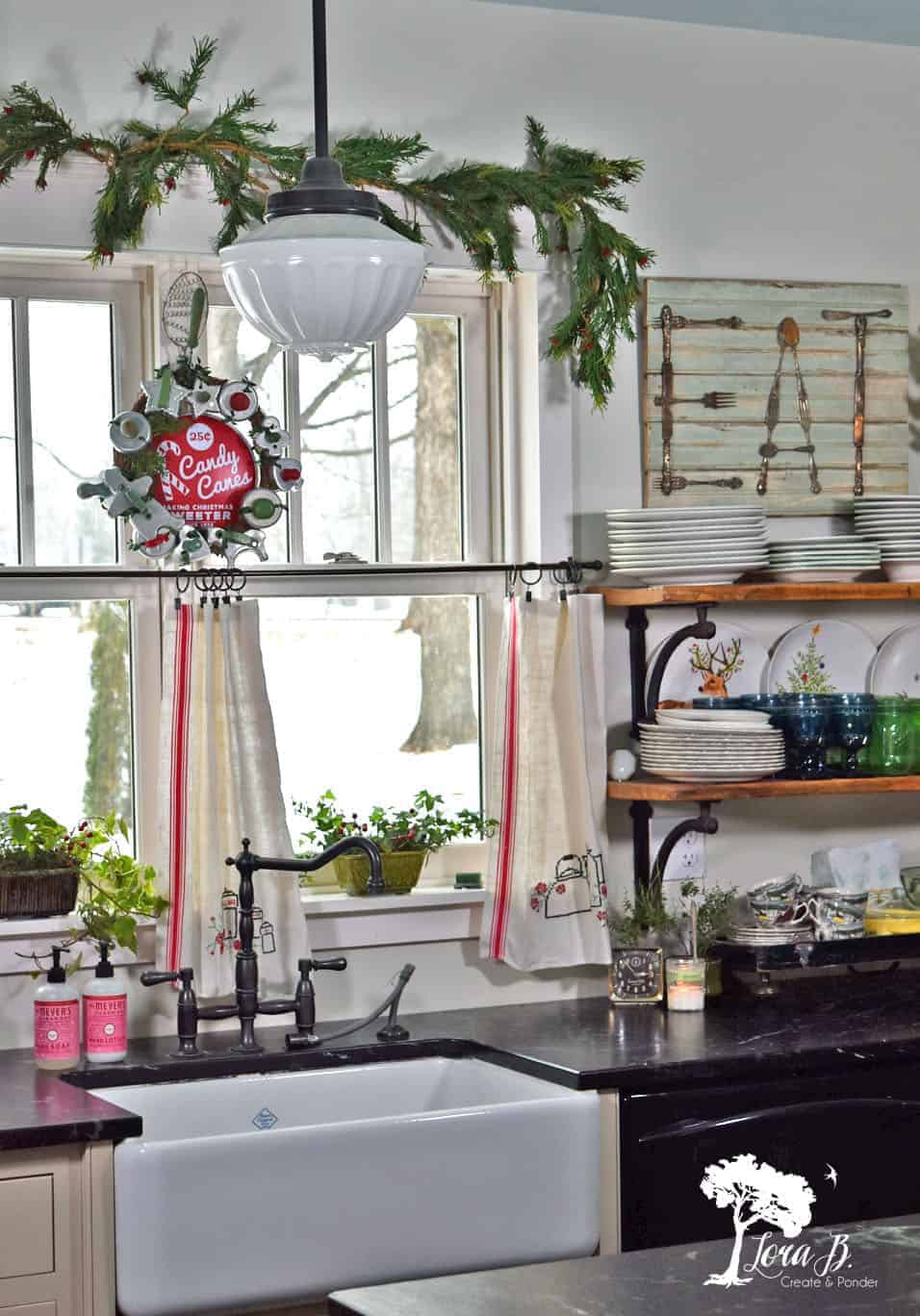 (Sorry for more Christmas, but was too lazy to take more pics;) (And yes, we have a little water sprayer fix-it job to tackle!)
The EAT sign how-to can be found at "Vintage Silverware Art for the Kitchen". And my kitchen counter toolbox caddy can be found at "Toolbox Half, Repurposed". If the junky clock display has you curious, you can find it it "Repurposing a Vintage Printer's Box".
Are your winter windows crying out for a little cozy privacy? Start eyeing your vintage linen stash, or scope out the towel section at the big box home store. You could whip up these Easy DIY Cafe Curtains in an afternoon! Let me know if you give it a try!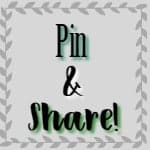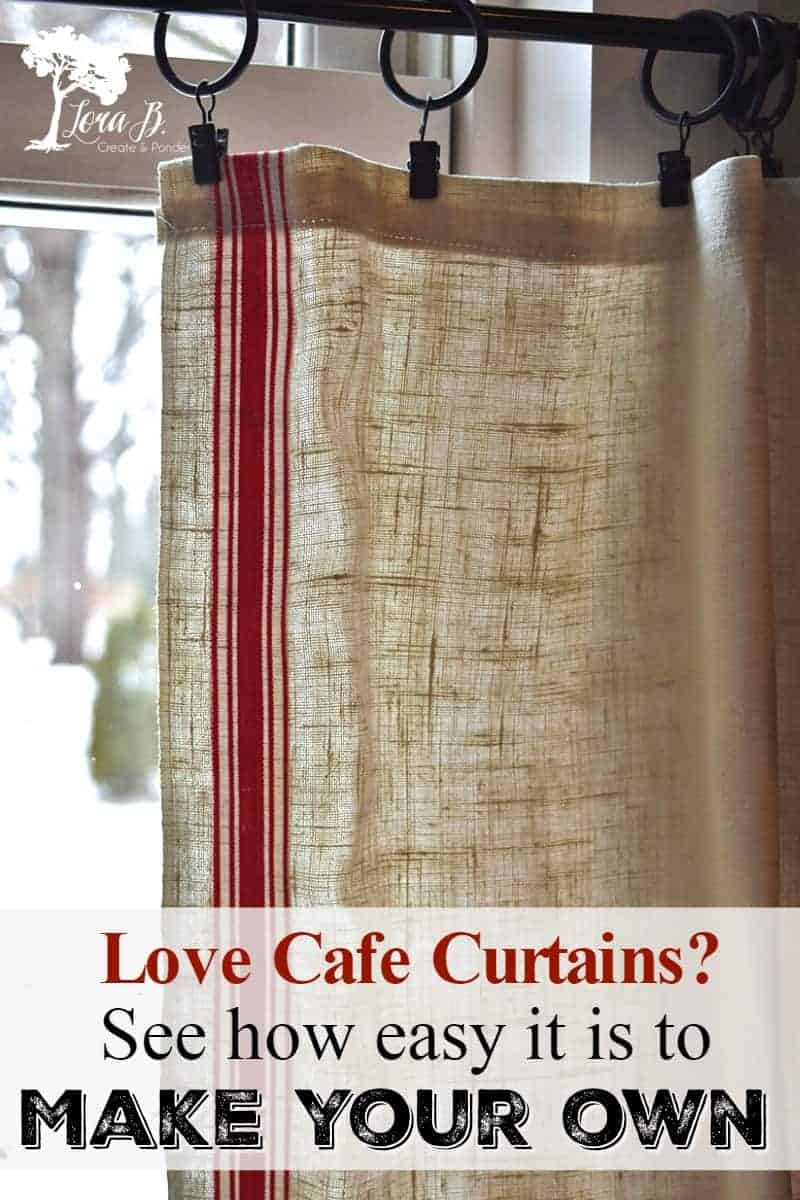 Sharing at these lovely parties:
Wall to Wall DIY Wednesday