Repurposed Printer's Drawer Junk Display
Got a Printer's tray? Repurpose it into a clever upcycled DIY clock display with this easy how to.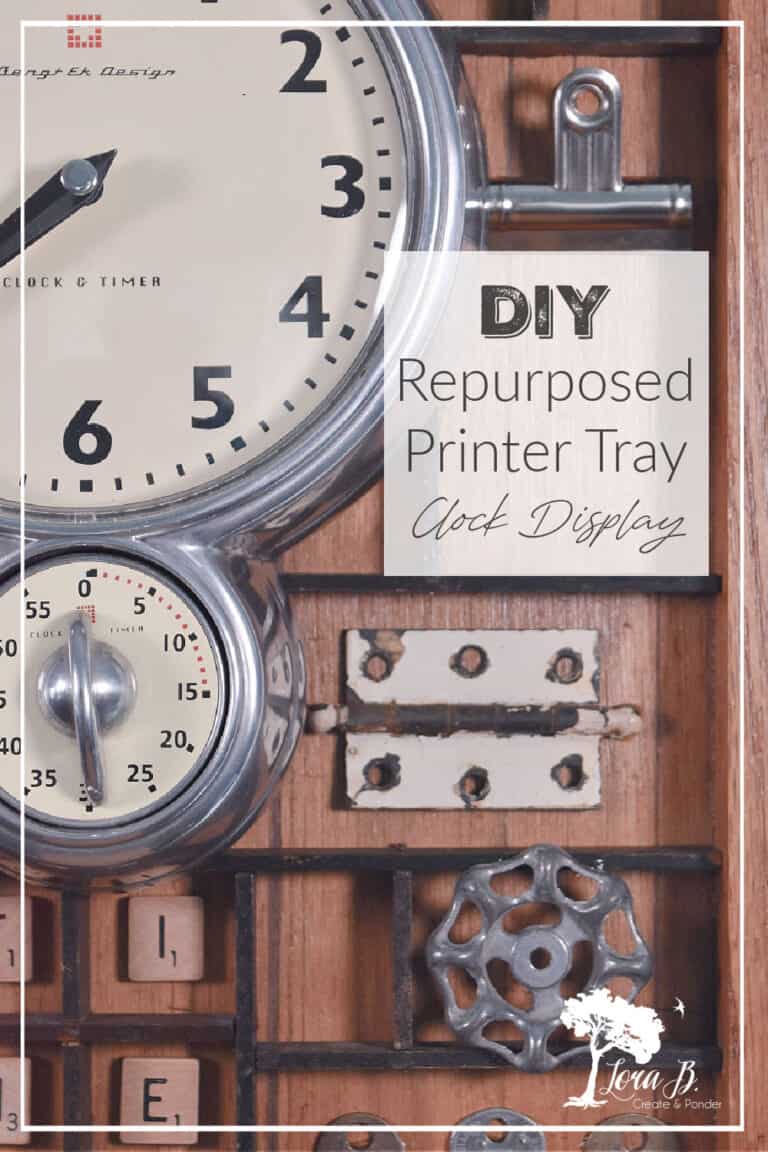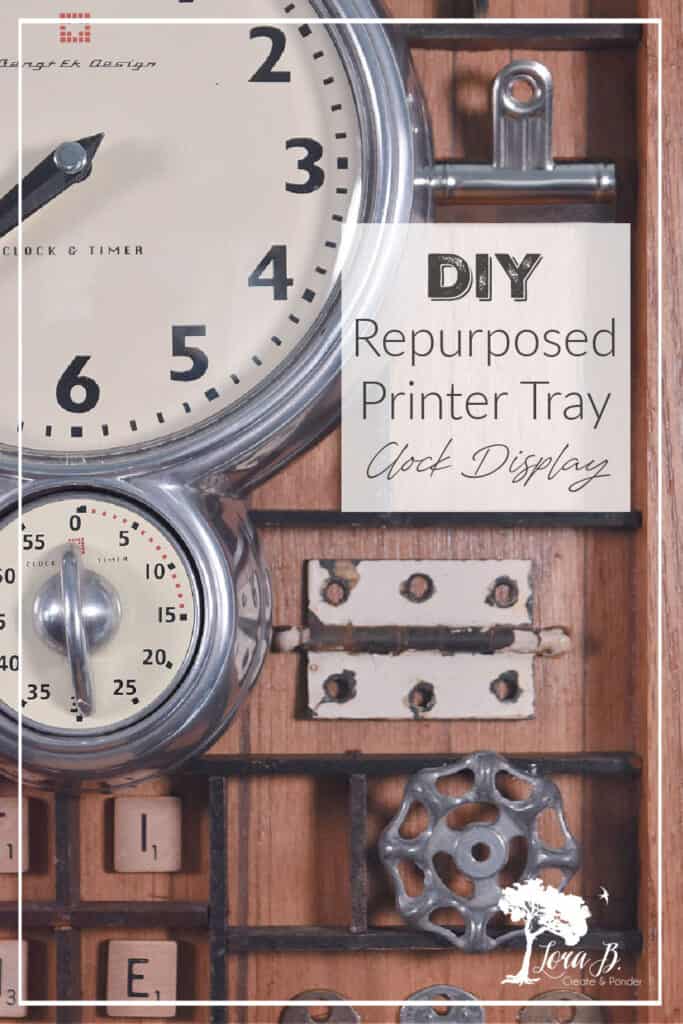 Vintage lovers love a good story to go with our newfound treasures, don't we? We crave knowing what the history is behind the wonky piece we've just scored for a song. But when we don't get the story or don't even remember where (or when) we picked up the great piece of junk, it can be fun to improvise! Today I'm sharing a DIY Repurposed Printer's Drawer Junk Display and the story I made up to go with it!
Repurposed Printer's Drawer Junk Display
For your convenience, this post contains affiliate links. If you make a purchase, I may receive a commission. There is no additional cost to you. My full privacy policy is here.
The DIY Printer's Drawer Story
Truth be told, this Vintage Printer's tray isn't a real one, after all! It's a fake. Which I guess makes me like it even more! Someone took the time to create this knock-off for themselves or someone they loved.
When paneling was all the rage, they cut a piece of extra from their rumpus room re-do and meticulously cut a bunch of small pieces of wood for dividers. Then they used glue and a whole bunch of very tiny nails to create this one-of-a-kind display piece.
The story I made up involves a handy husband down in his basement workshop whipping this little project up for his sweet wife while she's making a meatloaf dinner, or maybe a fresh apple pie. They don't have much extra money, so he's crafting something special for her birthday, imitating a vintage Printer's drawer she had envied at one of her friends' homes.
The wife had been dreaming of hanging a Printer's drawer in her sewing room for awhile. She had a bunch of cute little cut-out wood trinkets she wanted to display, along with her thimbles and other crafty items. She figured someday she'd find one she could afford, until her husband happily gifted her with his custom version!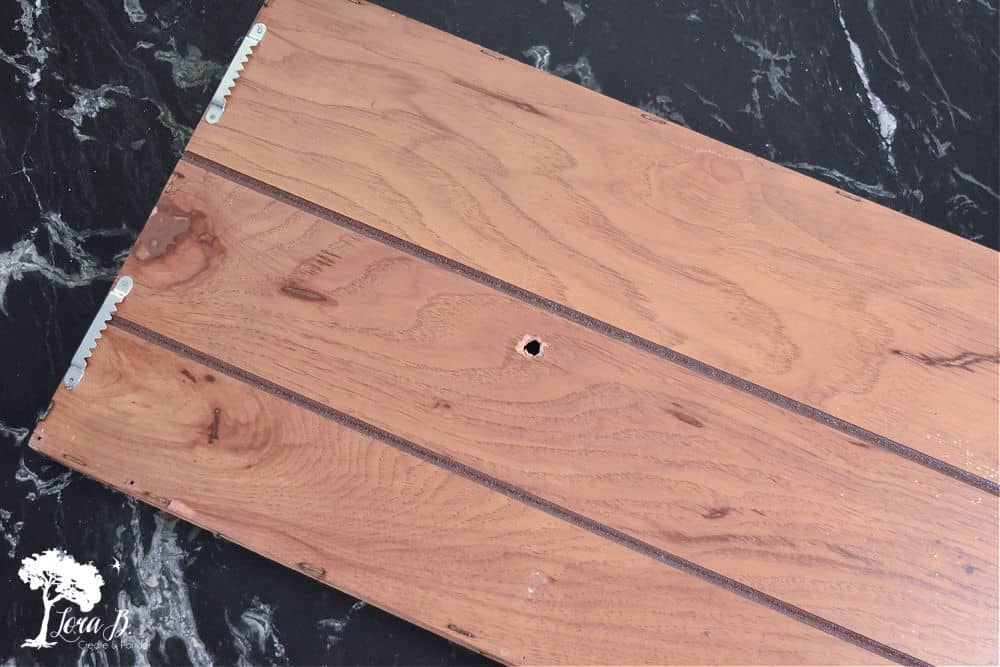 Fast forward to the 80's, when this imitation, well-loved Printer's Drawer was filled with well-earned dust, filling up each little square. It's dusty self ended up sitting on the garage shelf for many years until the kids decided to clear out mom and dad's stuff, with a huge sale.
Exactly when all of us vintage junker's rejoice, right? A couple bucks later, a good scrubbing with some sudsy water and a toothbrush, and a day in the warm sunshine. Finish off this treasure with a good spray of poly, or a couple coats of lemon oil and it looks as good as new!
"Refreshing and Replenishing Wood Pieces, Quickly and Easily"
Repurposed Clock Display
This Fake Printer's Drawer got new life as an architectural backdrop for our very-important, by-the-exit clock. Who else absolutely needs a clock right by the back door? I get complaints if I take it down.
The clock looked too small on the wall. The printer's tray backdrop turns a functional piece into wall art!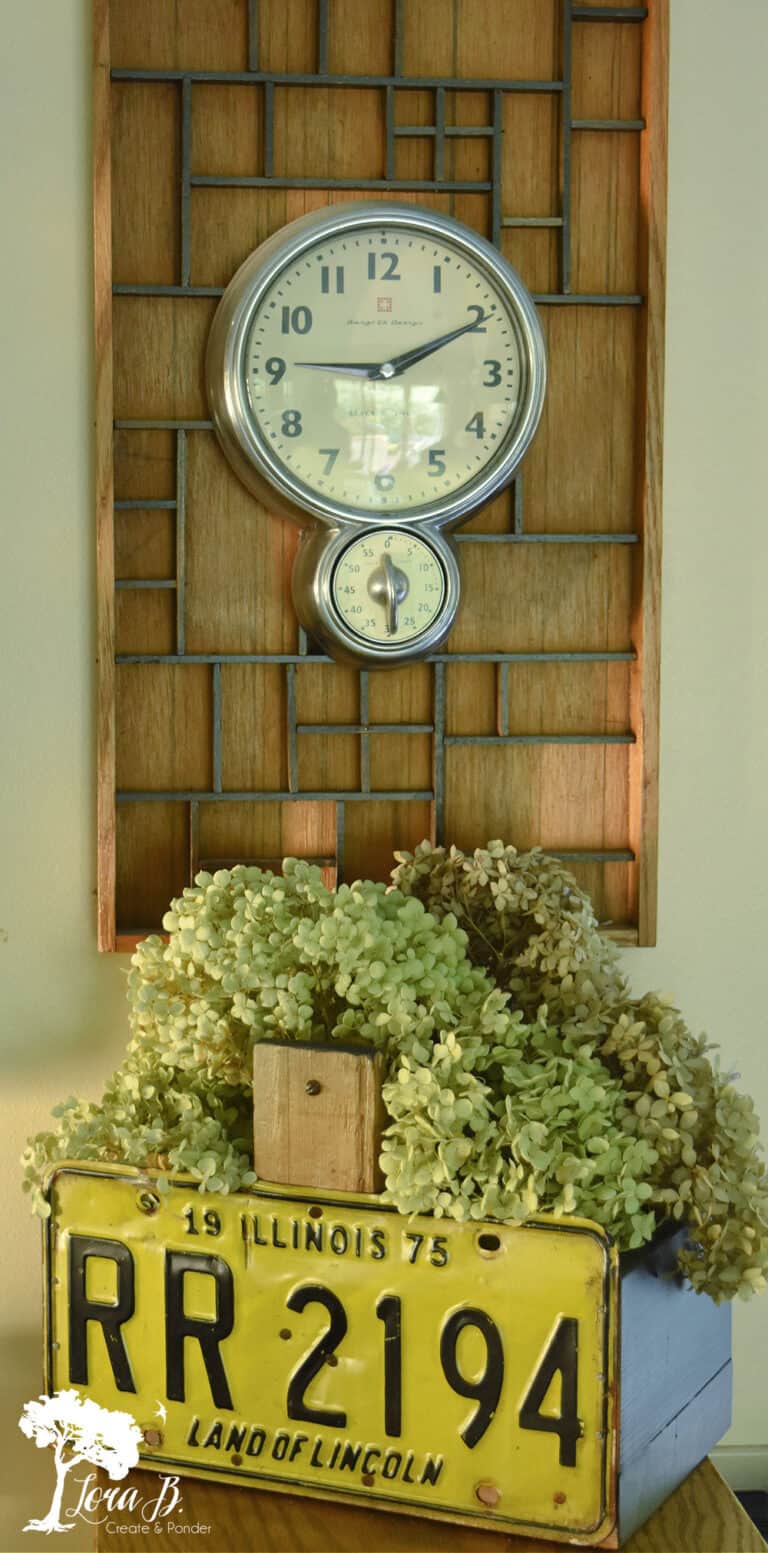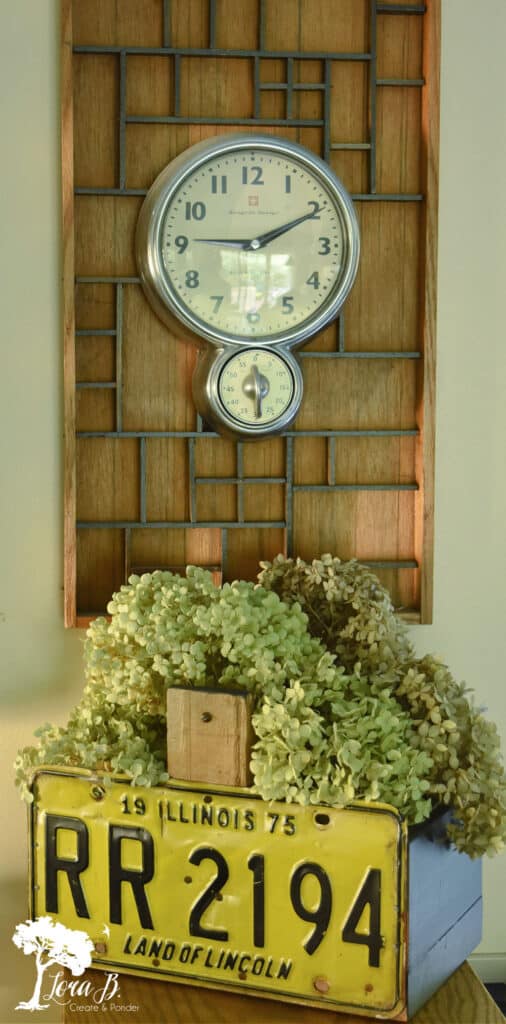 Upcycled Junk Collection Display
At my house, whenever deep down cleaning is happening or walls get painted, decor items never end up as they were before ( which totally frustrates Mr. Fix-it). Once the kitchen wall got a new shade of paint, I decided to take this printer's tray to the next level.
Mr. Fake Printer's Box needed some junky bling to elevate him to Monet status! Enter the junk drawer contents…and some E6000 glue. (get it HERE).
Junk drawer collection items to add to your printer's drawer:
scrabble letters
alarm clock gears
old keys
numbers
hose faucets
metal clips
vintage hinges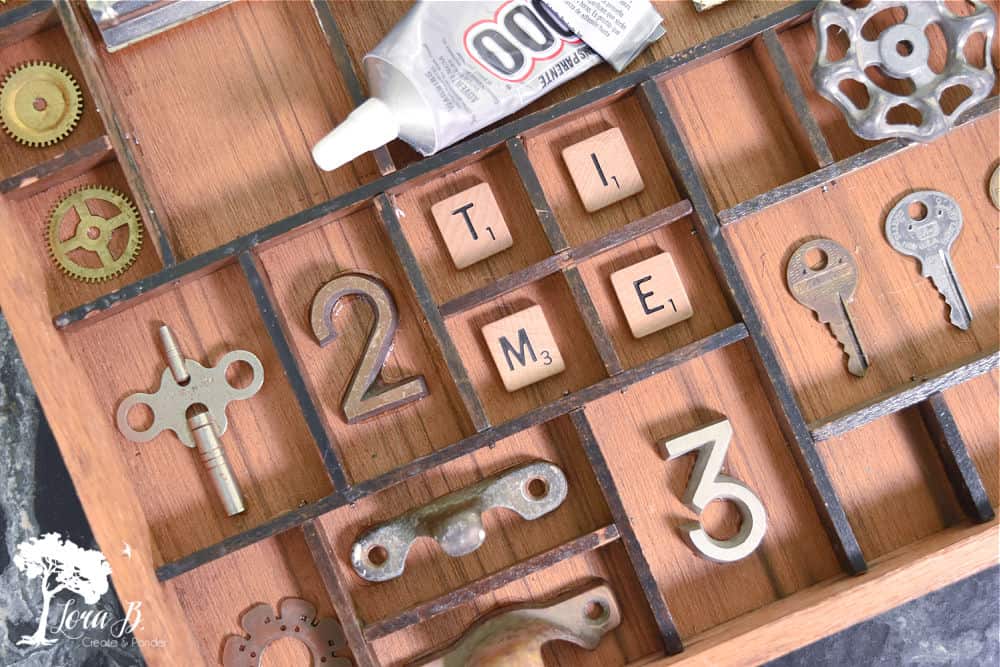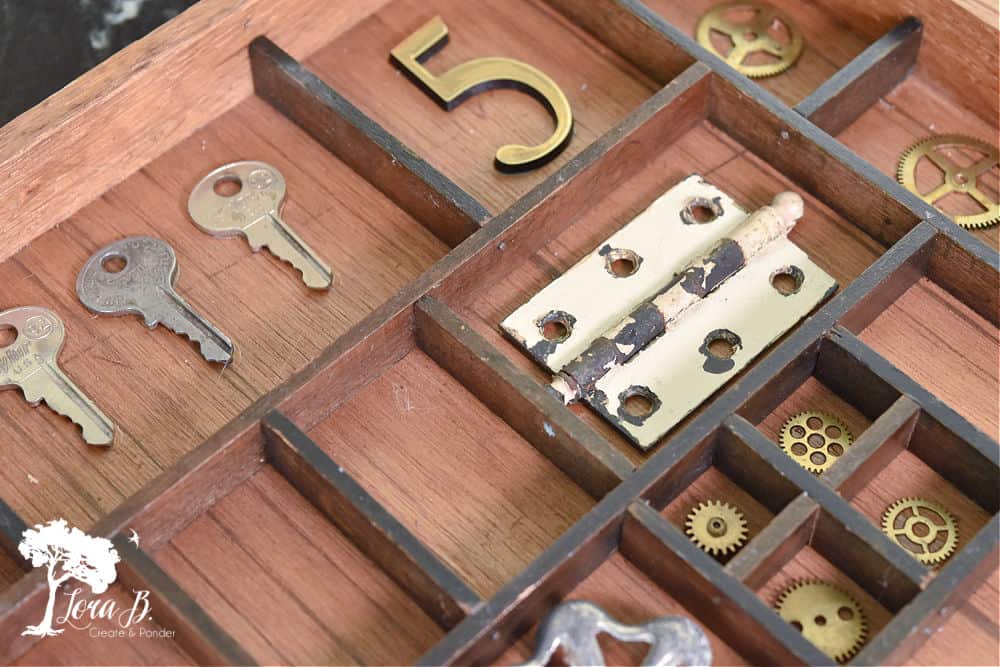 Did I hear you squeal? Then you're a junk lover like me, friend! I can't let all this good junk sleep in the drawers; it needs to be seen…everyday. Because…
It's always a good TIME for Junk!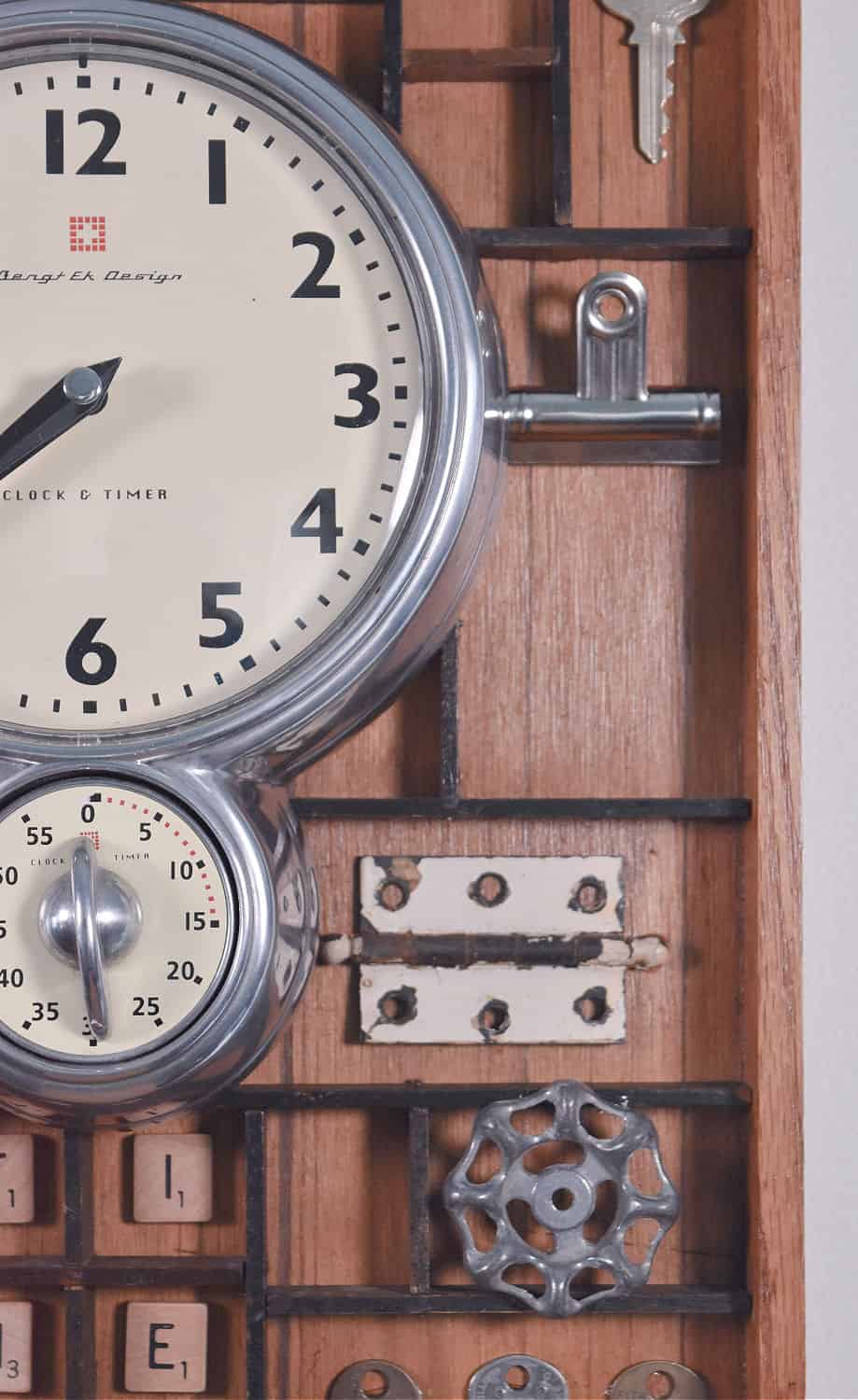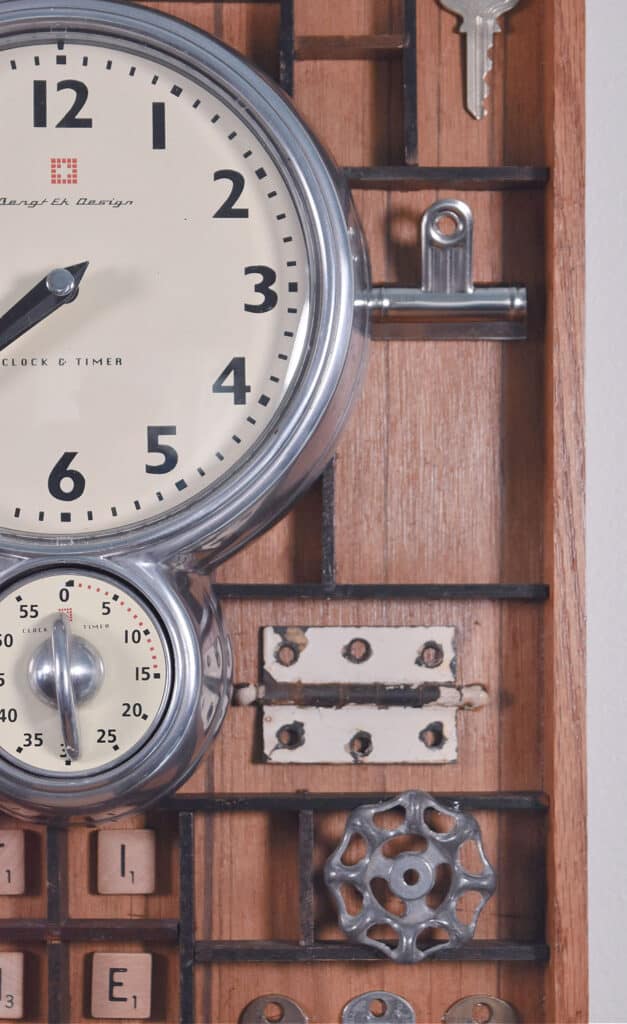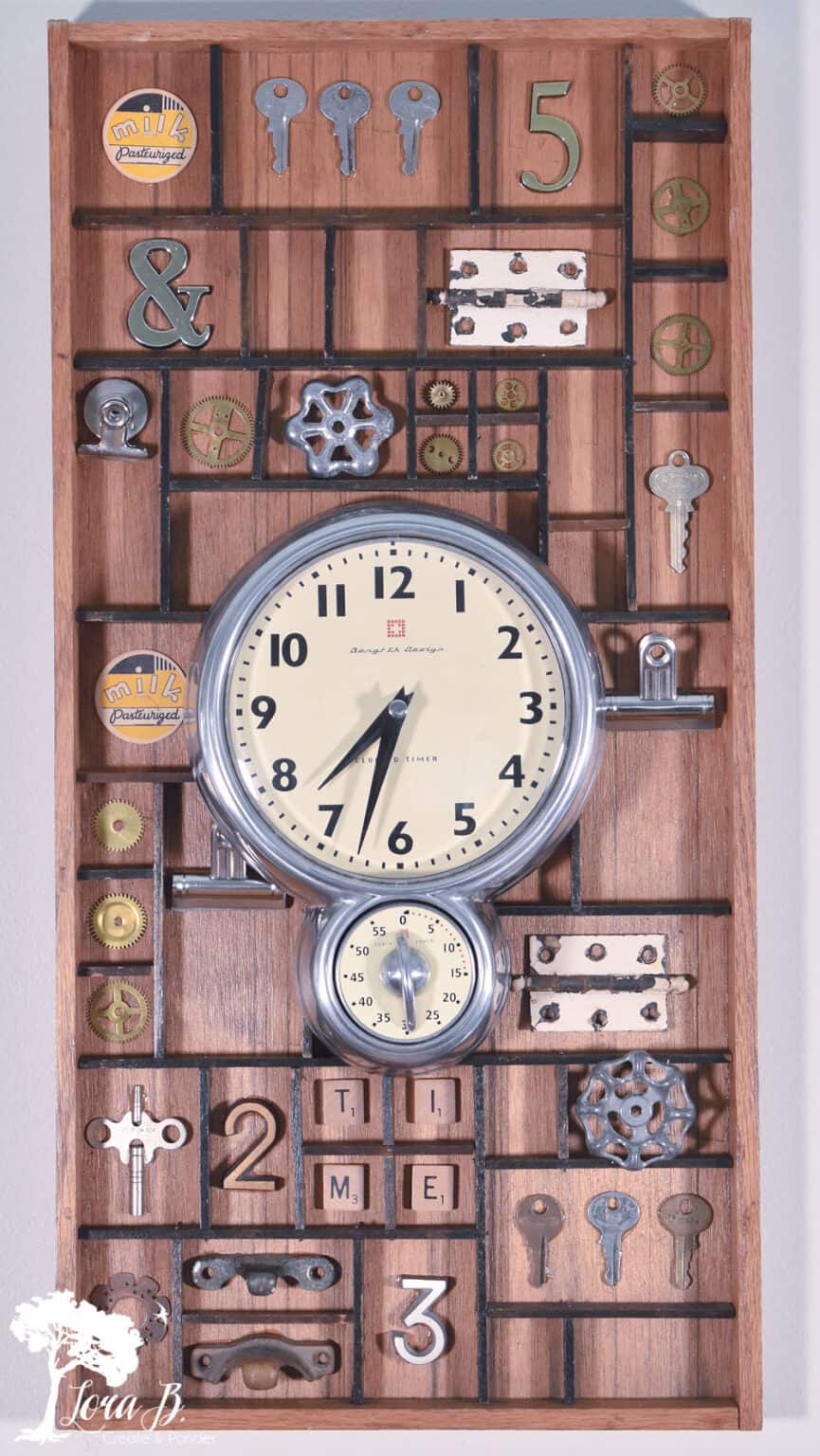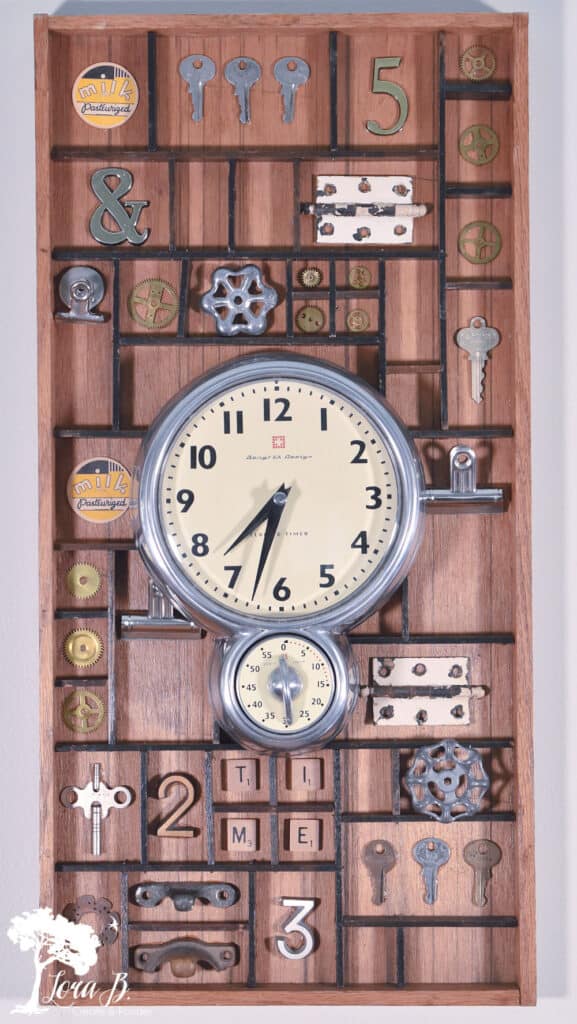 Mr. Handyman could never have envisioned all my junk drawer contents filling his creation, I'm sure! There's beauty in totally re-imagining a forlorn, vintage, fake Printer's Drawer!
I left a few squares empty for future cool finds. I like to clip seasonal printables in the clips, so I can switch things up for the season or holiday.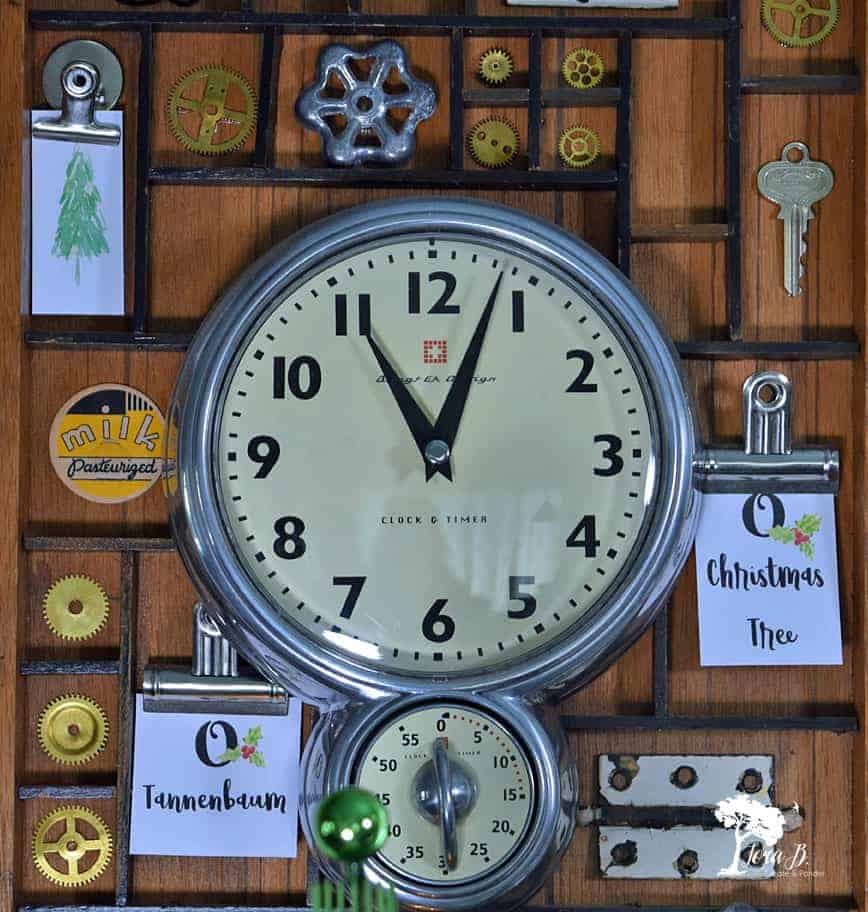 If you've got a tired printer's drawer laying around collecting dust, it's time to revive it with some junky bling! Even if your printer's tray is a fake, like mine, there's still hope!
Are you going to make up a story for your vintage junk finds? It's kind of fun:) Hopefully you enjoyed the story as much as the upcycle!
Find my Favorite Vintage Reviver's Resources in my Amazon shop HERE.
Find vintage printer's drawers HERE.
This Repurposed Printer's Drawer Junk Display is the best way to turn a functional clock into clever wall art. If you enjoyed this post, be sure to become an Insider, to keep the ideas flowing!
Pin and Share!