Comfort Christmas House Tour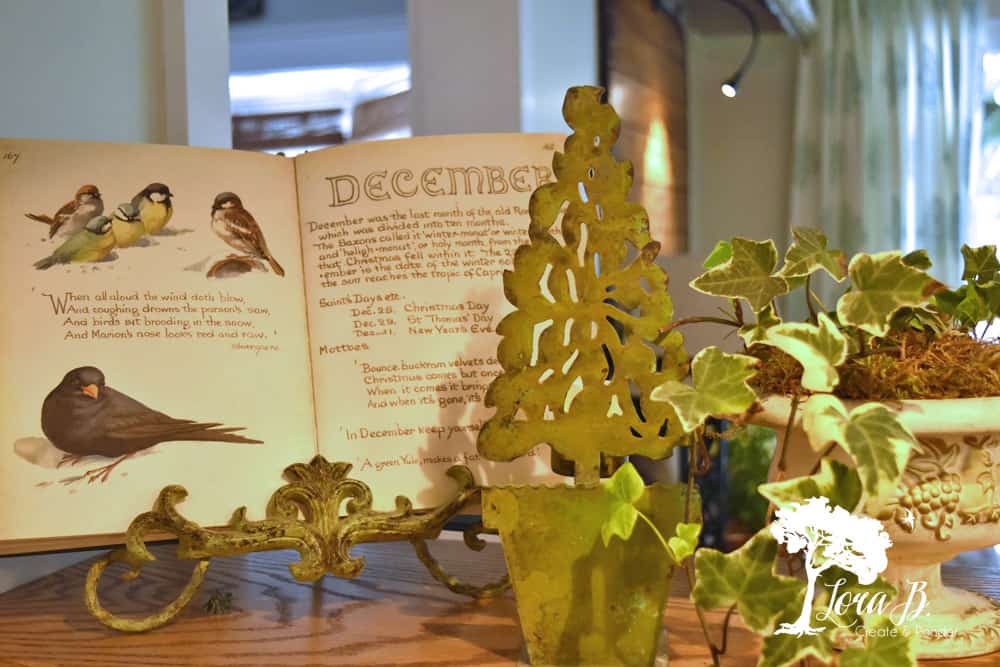 Every year I come up with a theme for my Christmas decorating at my house. One year it was Classic Colored Christmas, another year it was Junky, Merry, another year it was Shiny Brite and White. This year was my "Comfort and Joy" year. I've shared the "Joy" part of the decorating with my Bedspring Shiny Brite Tree, my Christmas Map Display, and my Hem-maker Tree and Postal Sorter Display, and my Bedspring Card Display in my entry. Today I'll share the "Comfort" part, which is so cozy, it will probably stay up for our cold, Minnesota January…
I think the creamy, soft, afghans I bought at the thrift store inspired the "Comfort" part of the Comfort and Joy theme. I put one on each sofa for cozy texture.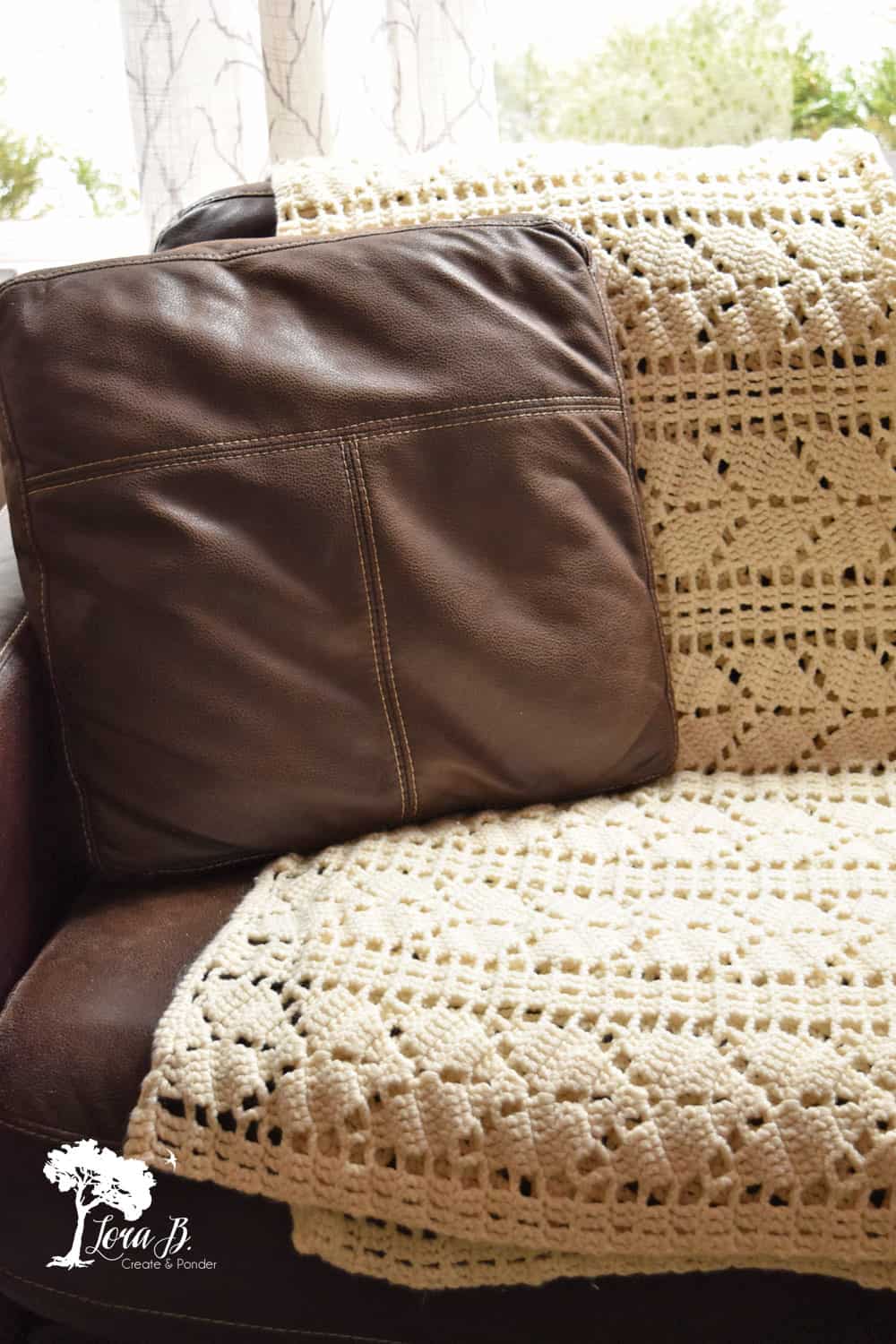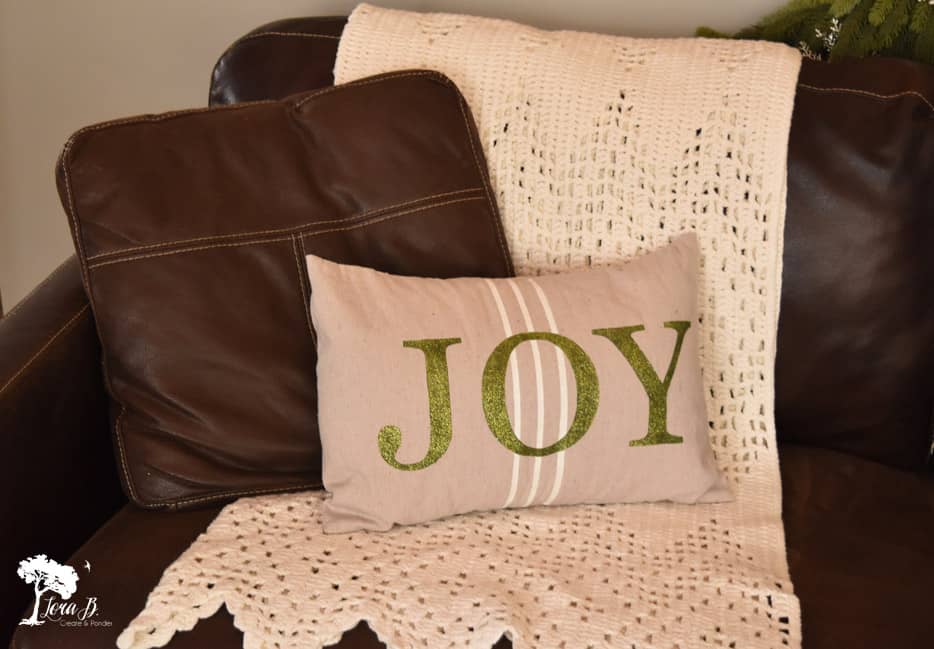 Our tree got decorated with snowflakes of every texture, yarn snowballs, wood spindles to imitate icicles, and wood slices that I had wanted to paint words on, but didn't quite get to (I never have enough time for all my ideas, sadly). I also had some wreaths I had created from vintage milk bottle tops, piano key snowflakes and sewing spool wreaths for much needed junky-ness. A perfectly patinaed, vintage galvanized bucket grounded it all.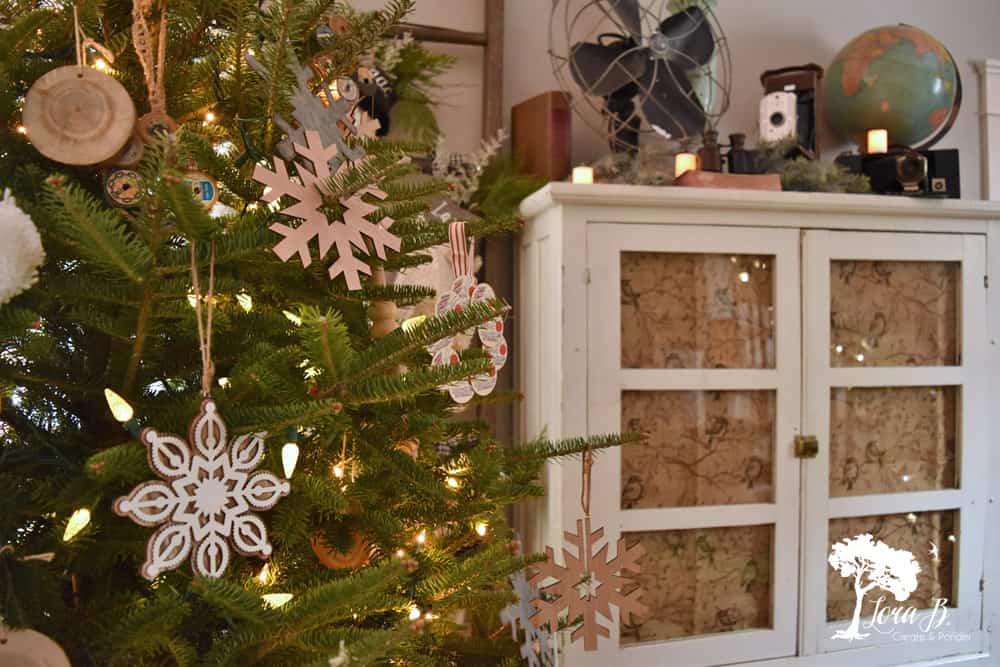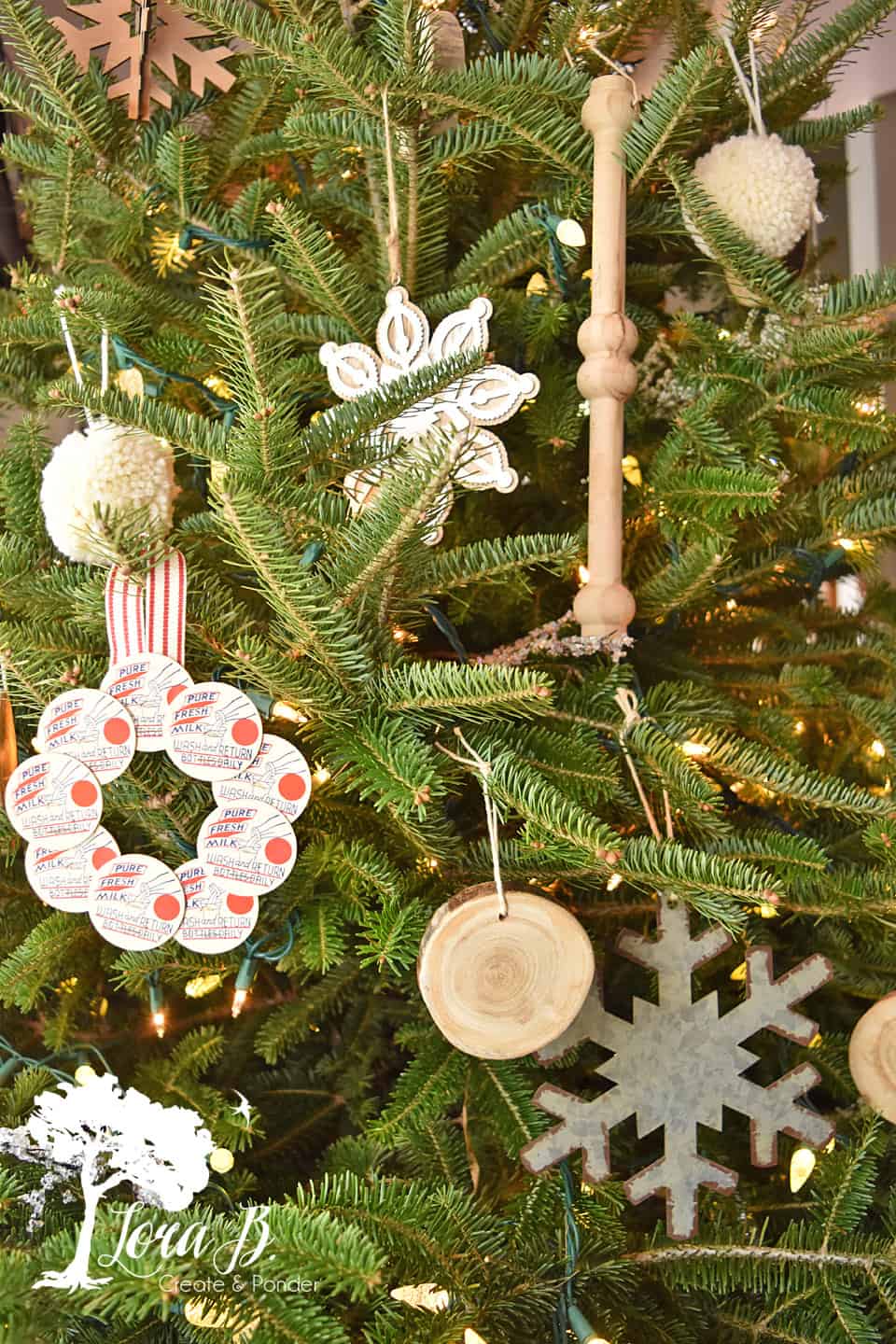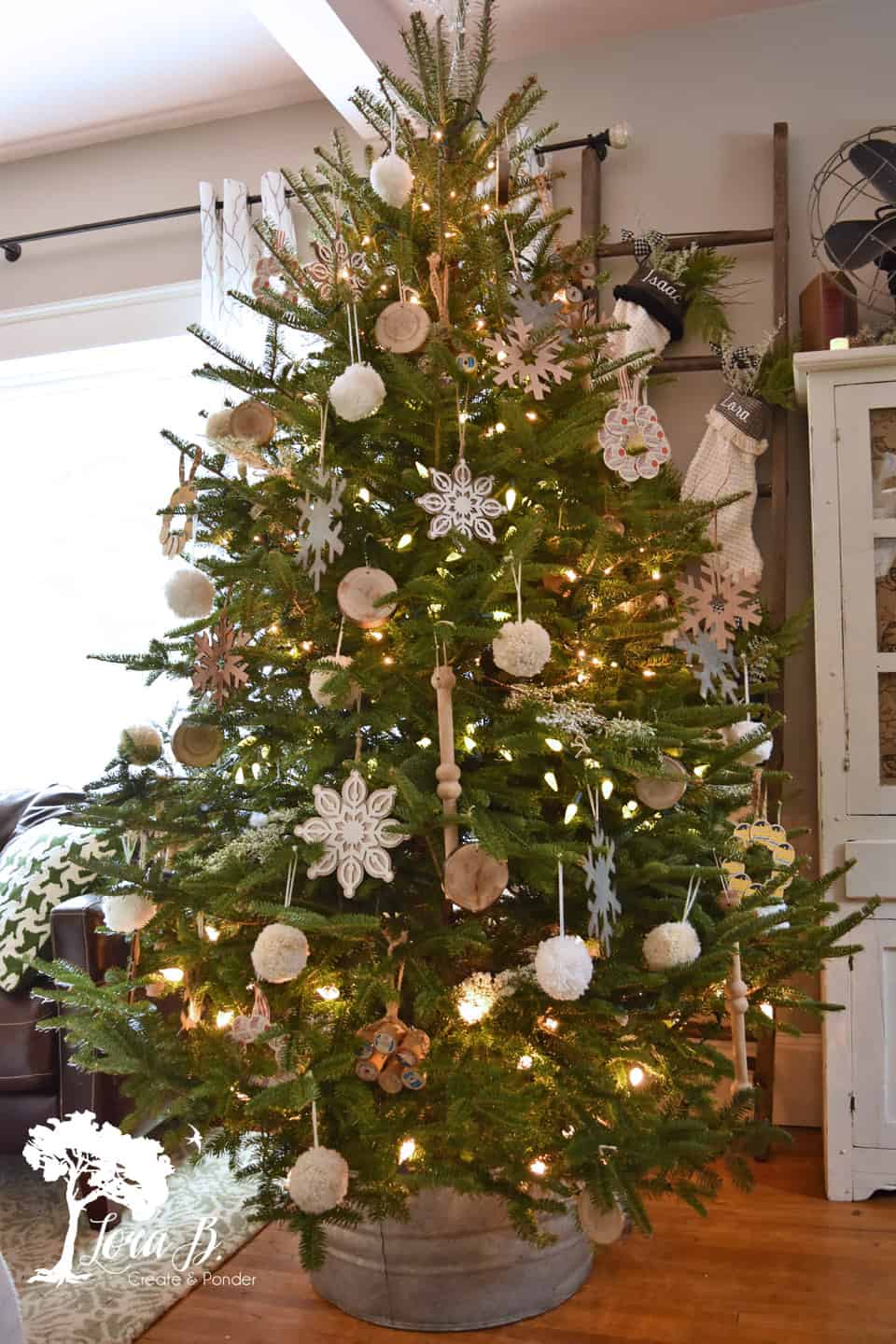 The ladder with our Christmas socks stood guard perfectly behind the tree, filling a boring stretch of wall. And no, Santa did not take the socks down when he came. He just piled the sock treats on the couch, and the kiddos still identified what piles were theirs! They know Santa has a design aesthetic "he's" going for.
As you probably saw in my Christmas Brunch post, my table centerpiece followed through with the "Comfort" theme. I just loved the grainsack burlap ribbon I found. And honestly, I had intended to make bunting out of it for the tree, or at least the bucket at the bottom…and that never happened either:( Looks pretty good as a runner, though.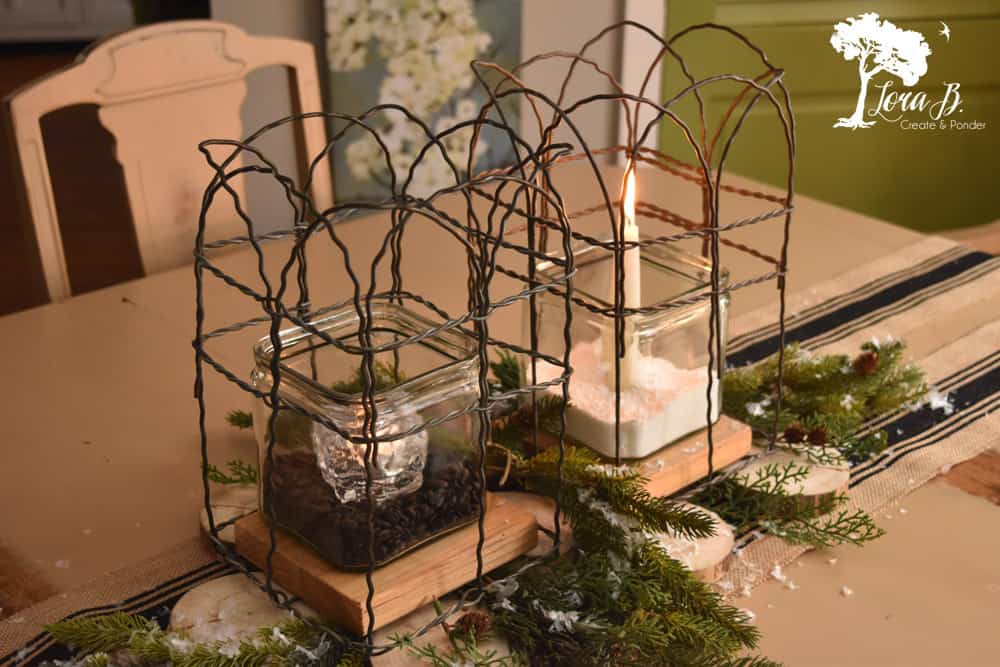 Here are a couple "house tour" shots, so you can kind of "see" the rooms. Little Sis (The Shrimp) gave me the trendy cotton wreath for Christmas, at my suggestion. I've never hung anything on my original 60's green painted shutter door, so it's about time! Don't the freshly painted grey walls look nice? I'm pretty happy with the color and how it really shows off Mr. Fix-it's nice, white trim.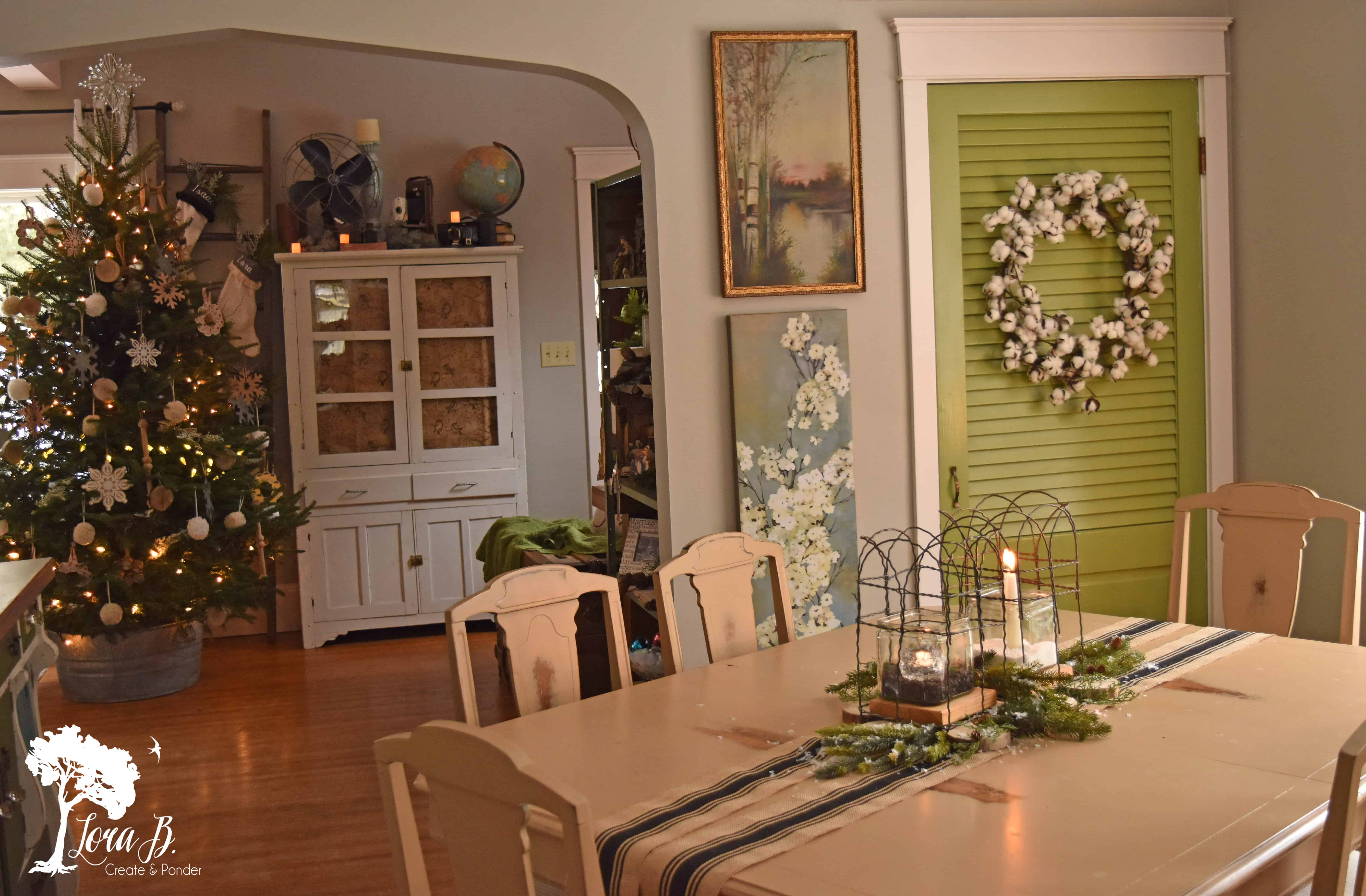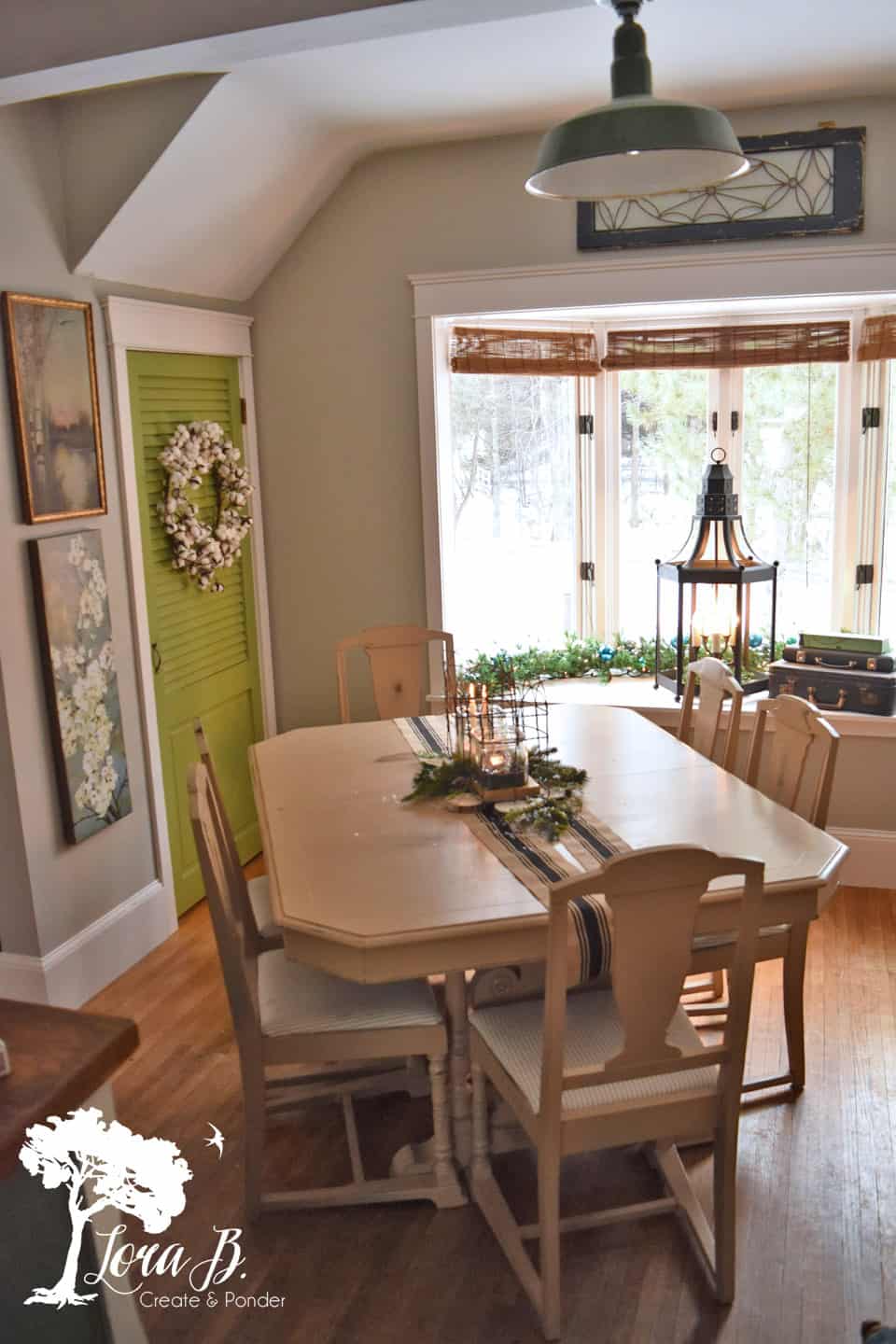 I angle the table when we have parties to make more space in our too small dining room. I might just leave it like this for awhile, because I'm kind of liking it. See the huge lantern candleabra in the bay? I got it for $18 at the thrift store! I had Mr. Fix-it hard wire it so I could just plug it in, because I don't have a house big enough to hang it anywhere!
The kitchen is where my "Comfort" theme is the most prevalant. You maybe saw how I placed white poinsettias and cypress trees in my wonderful, green chicken feeder under my ceiling tin awning, HERE. I've just loved sitting and gazing at this pretty scene.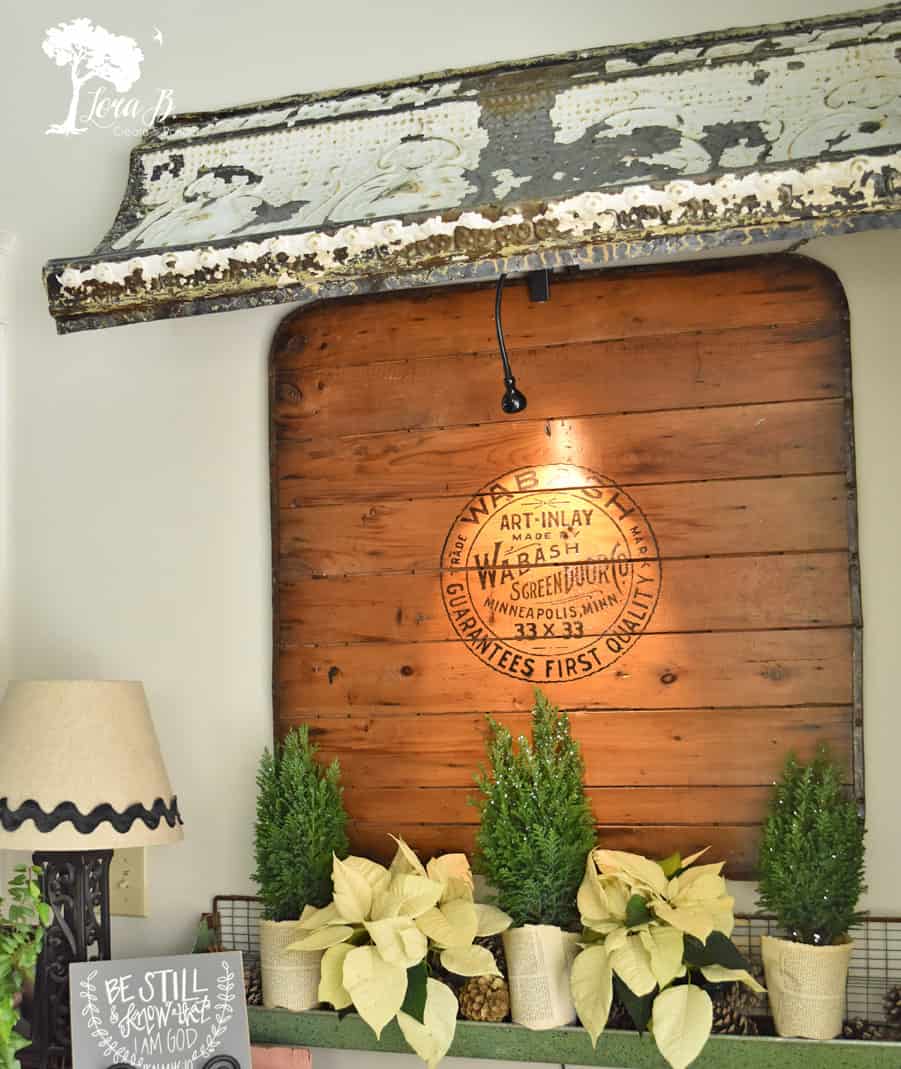 I actually got this end of my kitchen re-painted in a soft, dove grey before Christmas. I still have to finish the other end of the room. I'm really enjoying the change from the butter yellow.
My kitchen tree is dressed in all whites and creams, with vintage silver tinfoil garland and white birds, tucked in their nests. I tied a thrift store scarf around the trunk, and placed some thrift store wool mittens in a bed of stuffing. This tree also got the galvanized bucket treatment.
My little choir boy greets visitors as they enter, with a vintage mini book's soft colored pages as a backdrop. My flower frog tree should really have a little star at the top.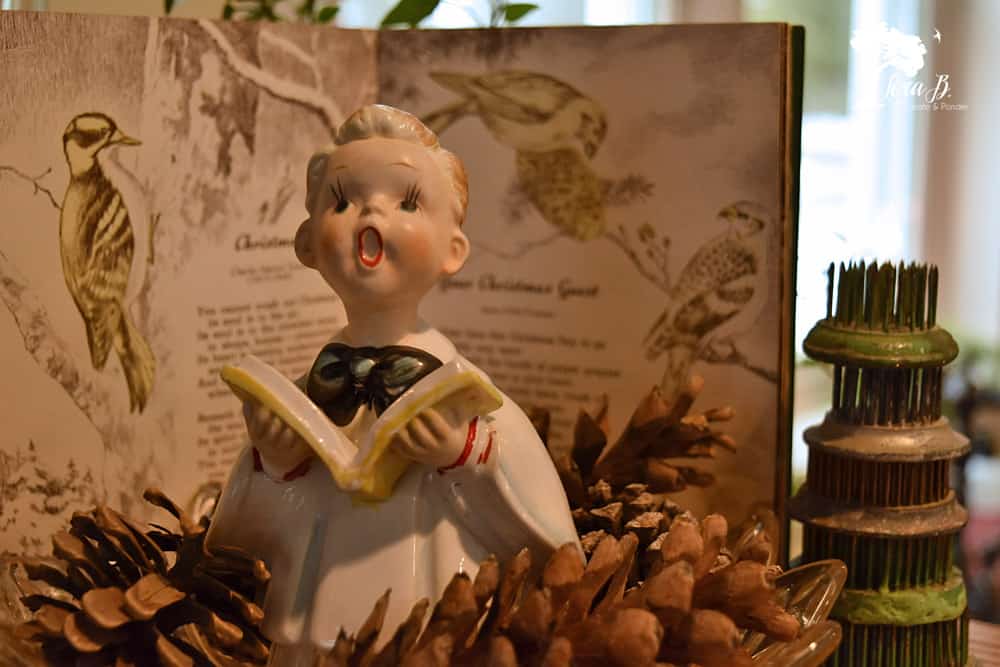 My big bank of cupboards that I designed to look like an old farmhouse built-in is where I have the most fun playing with all the creams, whites and subtle greens that I could find. I even used the hydrangeas I took the time to pick and dry, and stuffed them in my favorite vintage birdcages. I enjoyed adding the rustic metal elements in with all the glassware and vintage books. It's a texture buffet!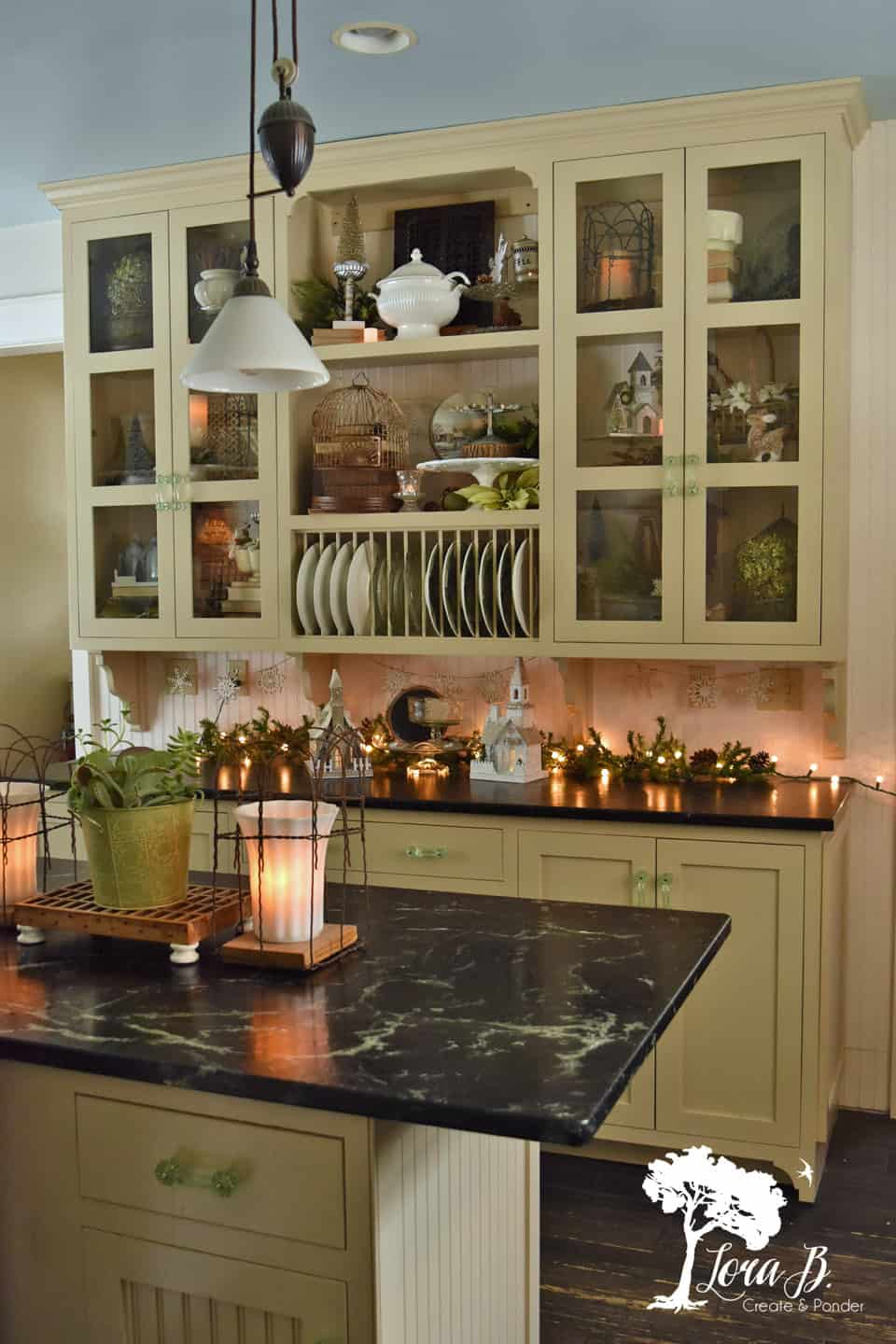 Vintage milkglass looks so beautiful with candles glowing inside. I placed matching vases into our vintage fencing squares for a perfectly pretty centerpiece that coordinated with the dining room tablescape.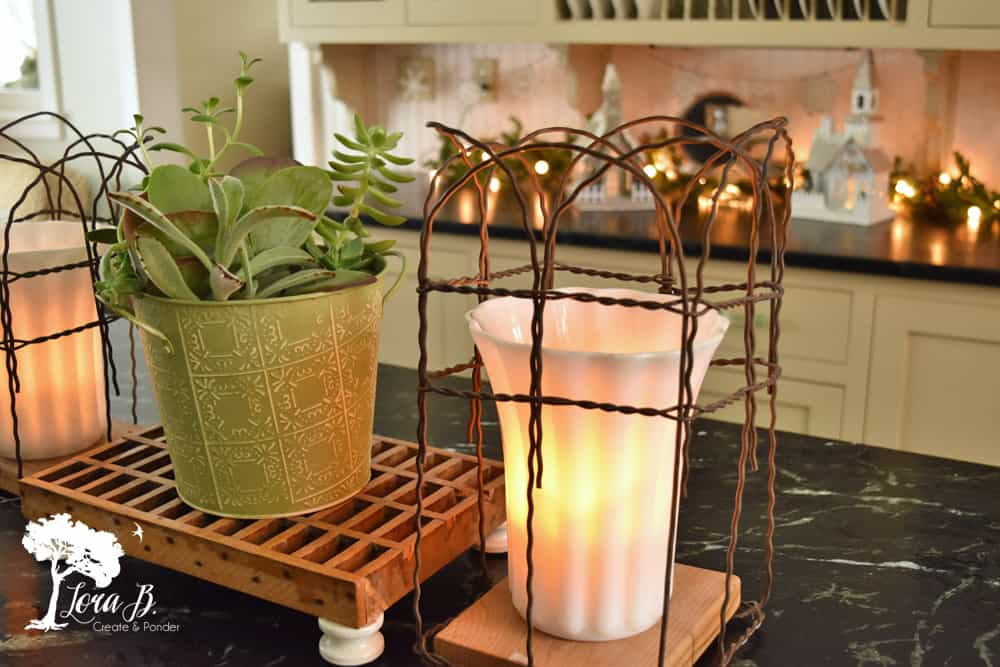 And the little reproduction churches that light up seemed the perfect addition to my "Comfort and Joy" theme.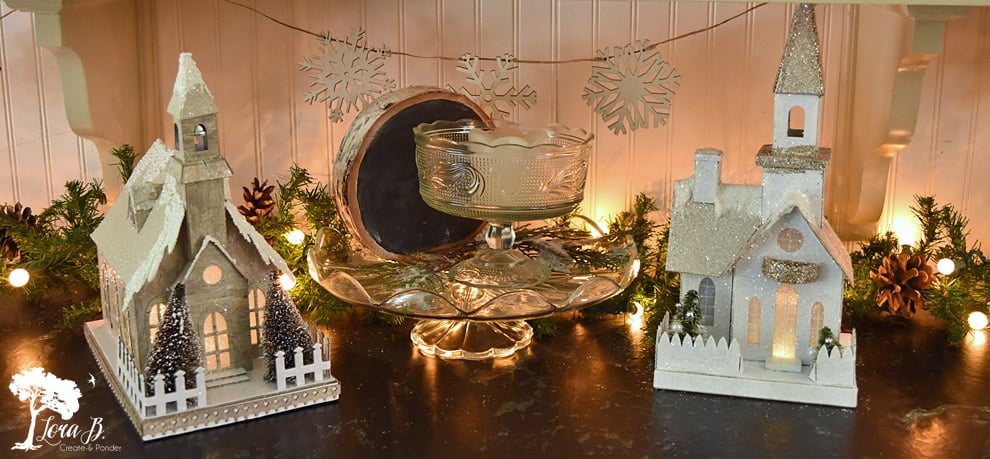 Because the Light that's within us carried us through this tough year of 2016. He comforted us in times of grief, fear, and sadness, and brought us joy in times of celebration.
Hope you enjoyed this little house tour! And hope you enjoy the rest of this Holiday season!
Sharing at:
Have a Daily Cup of Mrs. Olson