A Bird Themed Tiered Tray
What do you put on a tiered tray for spring? Here's how to style the perfect bird themed tiered tray for a spring centerpiece.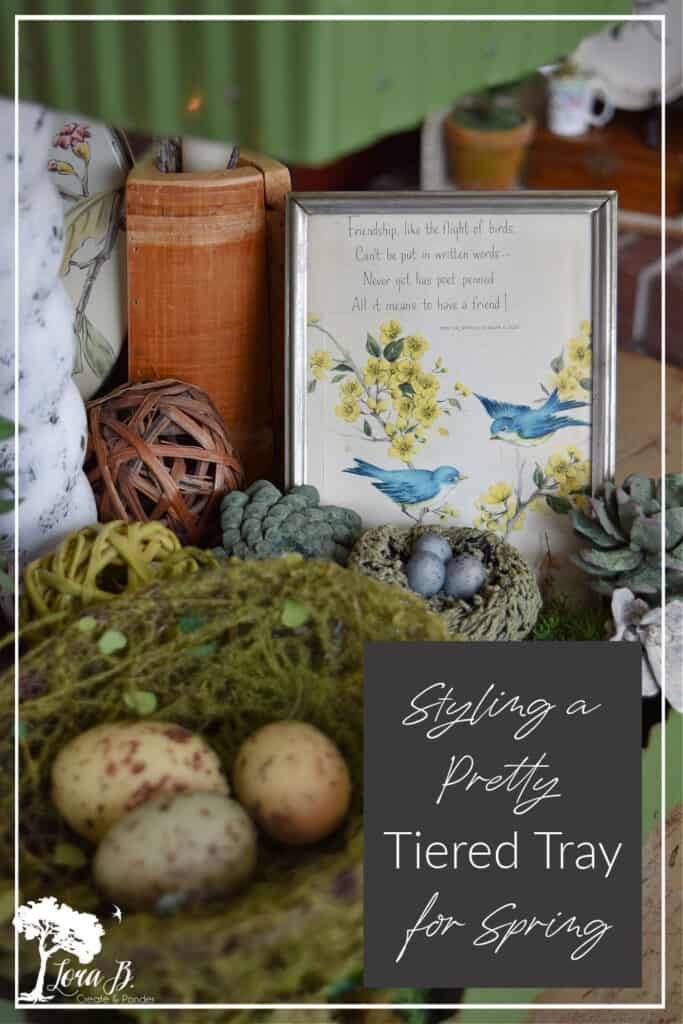 Spring has arrived, and the change of seasons is happening inside as well as outside! As the birds sing their song, I'm decorating my nest to reflect the new season. If you're wondering what you can use as a centerpiece, today's ideas will fill your head with inspiration! Here's How to style A Bird Themed Tiered Tray you can use in any room of your home.
I'm joining my Pinterest Challenge friends today, led by Cindy at County Road 407. If you're visiting from Bluesky at Home, I'm sure you enjoyed Carol's Simple Fresh Spring Centerpiece Idea. The rest of my friend's centerpiece ideas will be at the end!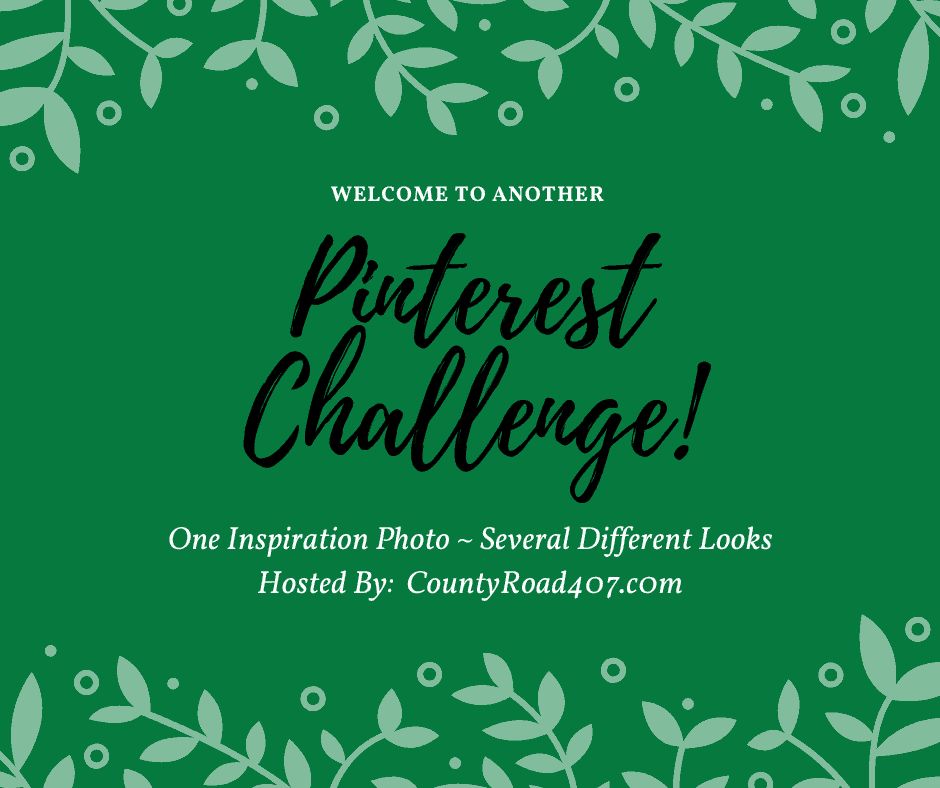 Ideas from Our Inspiration Photo
This month's inspiration photo comes from Suzy at Worthing Court. Suzy created a pretty Spring centerpiece on her dining room table, centered on a tiered tray.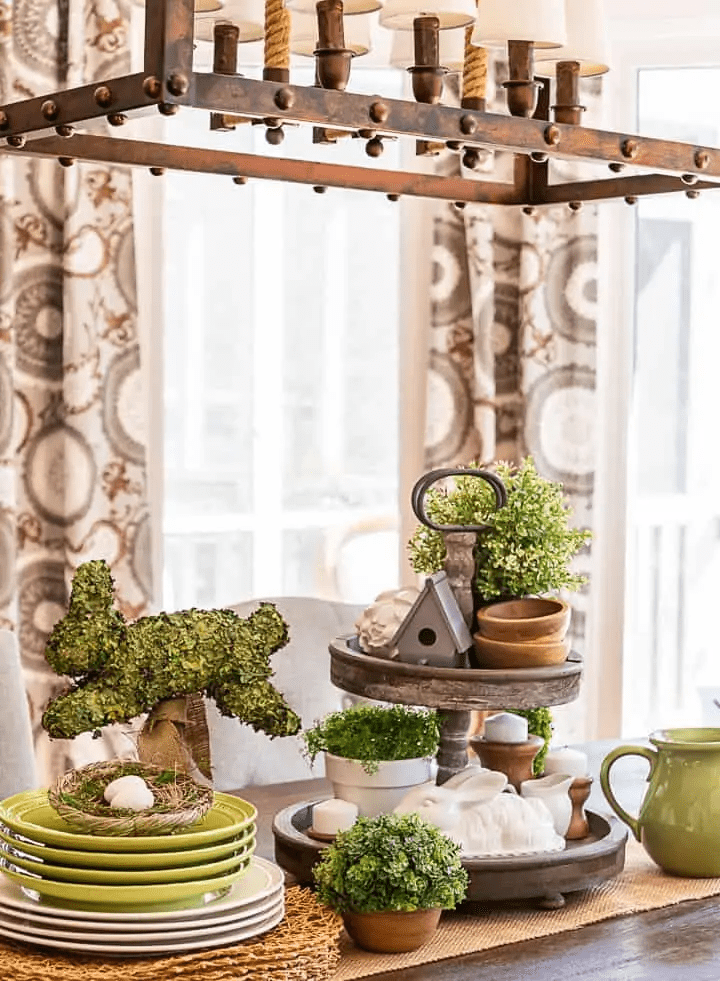 Here are the design elements that caught my eye in this pic:
plenty of green
topiary shapes
bunnies
nests and eggs
birdhouse
variety of textures: wood, ceramic, burlap, rattan
candles
tiered tray as anchor, dishes gathered around
For my version, I decided to use one of my "DIY Junk Styled Tiered Trays". See the full DIY and other ways I've styled this fun project through the seasons in my post. Because my DIY tiered tray is fairly large, I used it as a coffee table centerpiece. I coordinated it with the rest of the bird themed decor in my Spring living room. You can see the rest of the room in "Decorating the Spring Mantel (with vintage and birds)."
A Bird Themed Tiered Tray
For your convenience, this post contains affiliate links. If you make a purchase, I may receive a commission. There is no additional cost to you. My full privacy policy is here.
Gather Accessories with Bird Illustrations
You'll notice that Worthing Court's vignette has a combination of bunnies and a birdhouse. I went all in with the bird theme, but added one moss bunny as a nod to Easter. You don't need to have a bird figurine itself for a bird theme. Simply shop your home for accessories that have bird illustrations.
Bird illustrations can be found on these:
plates
books
decorative tins
framed prints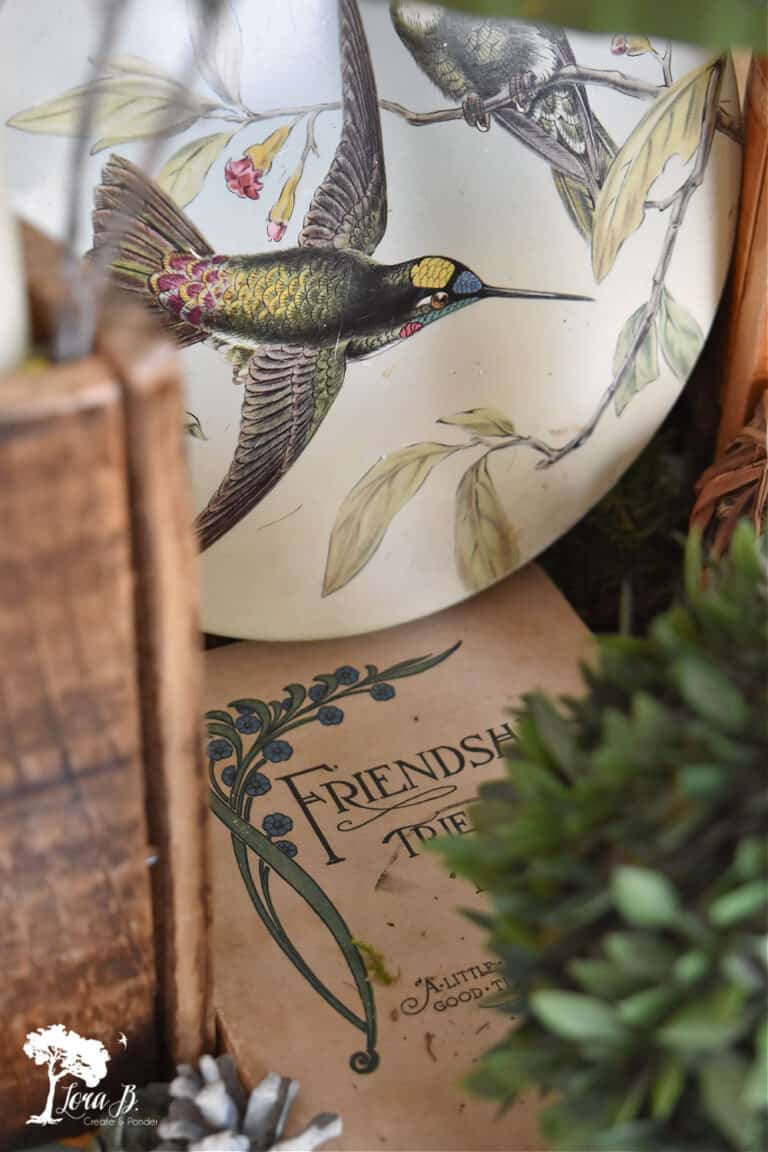 Next, Add Bird Related Items
To fill out your arrangement, find anything in your home that's related to birds:
nests
bird houses
eggs
feathers
birdseed
any of the above as illustrations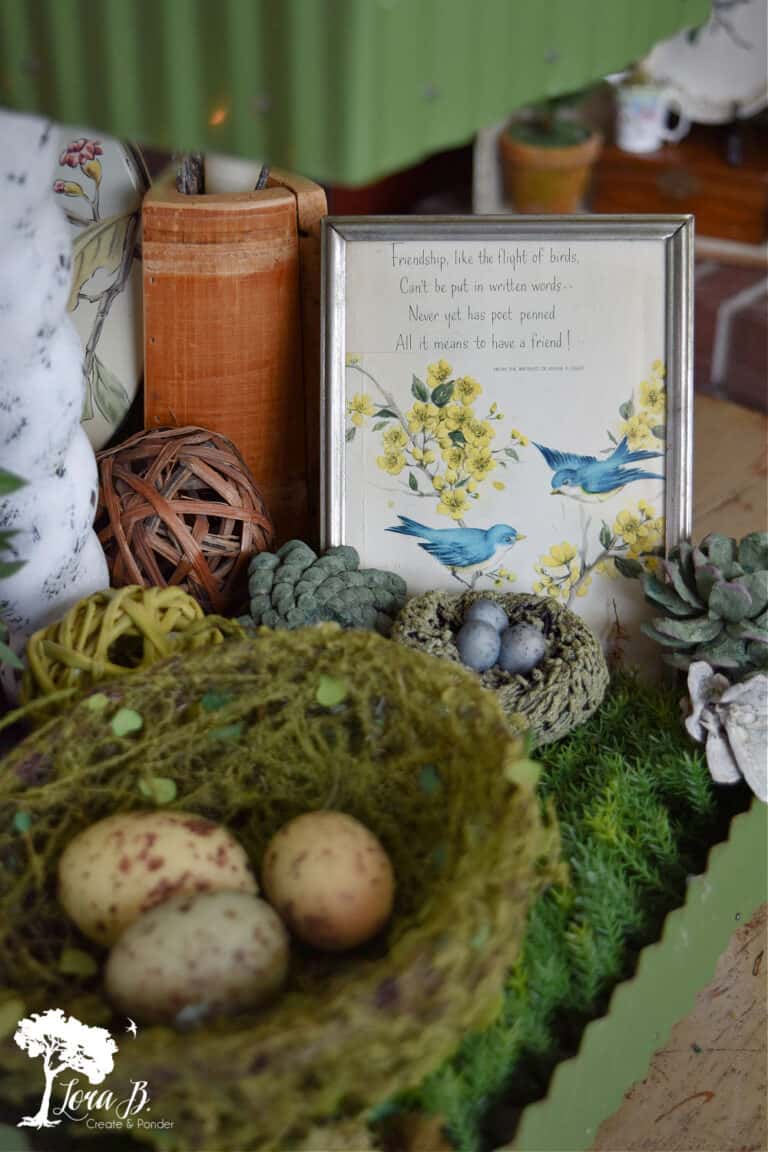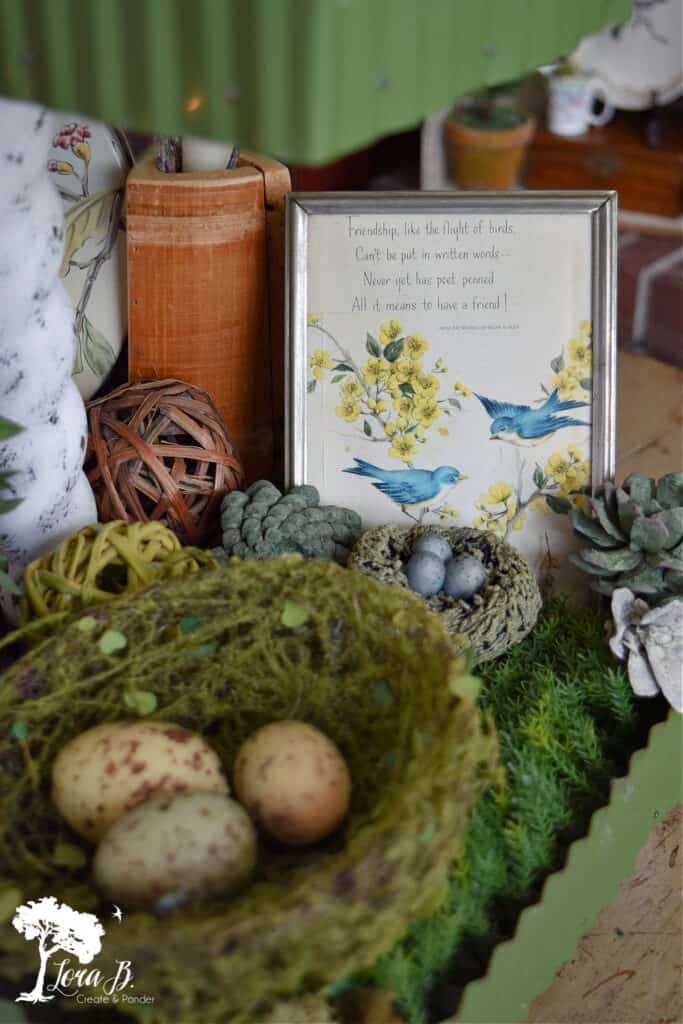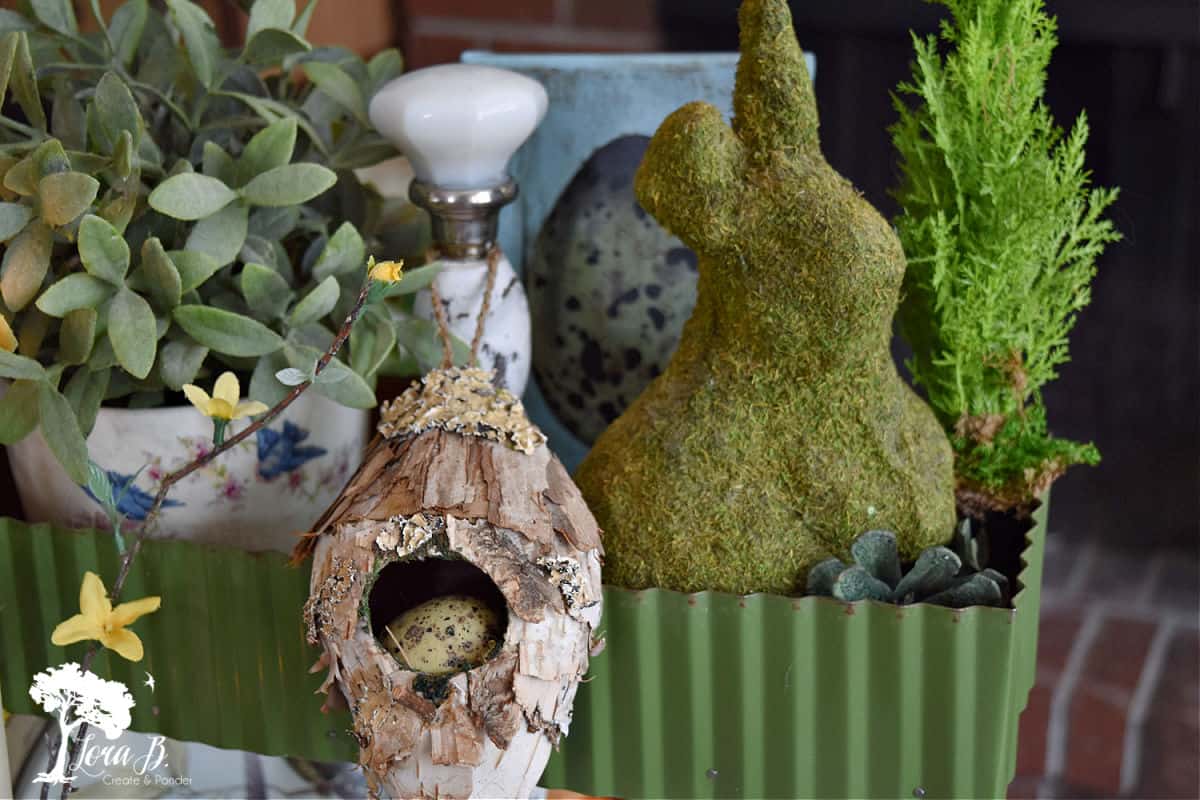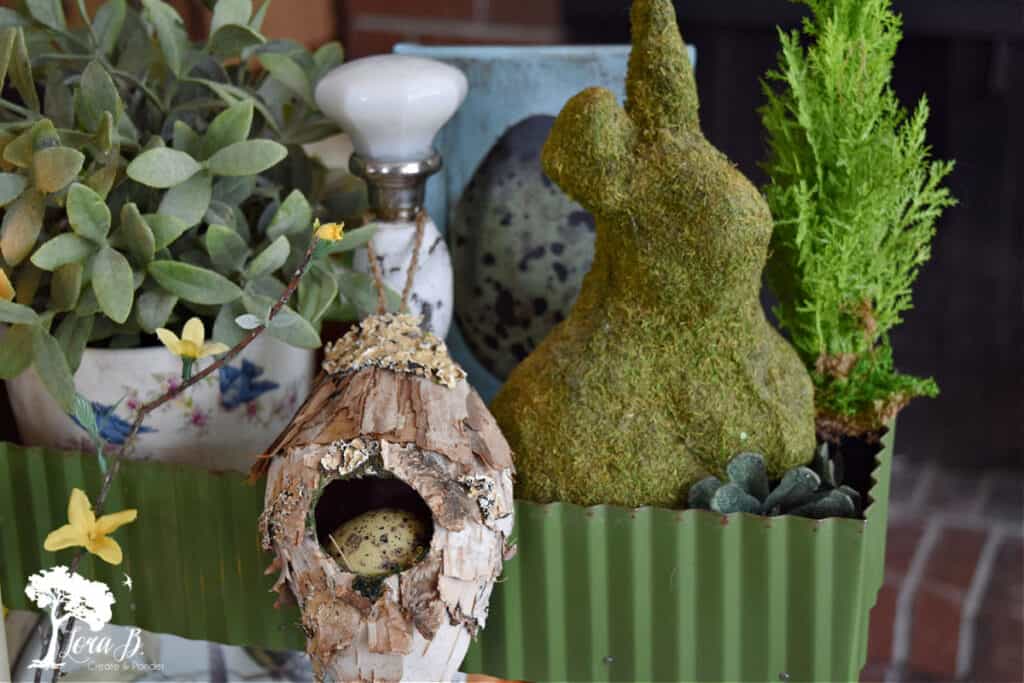 Fill Your Tiered Tray with Foliage
Spring decor requires plenty of green! Gather faux green foliage and add Spring flowering branches if you'd like, too. To fill in all the spaces around the various elements, I tucked in my "DIY Pinecone Succulents", along with moss. I also placed vintage books here and there for height as needed.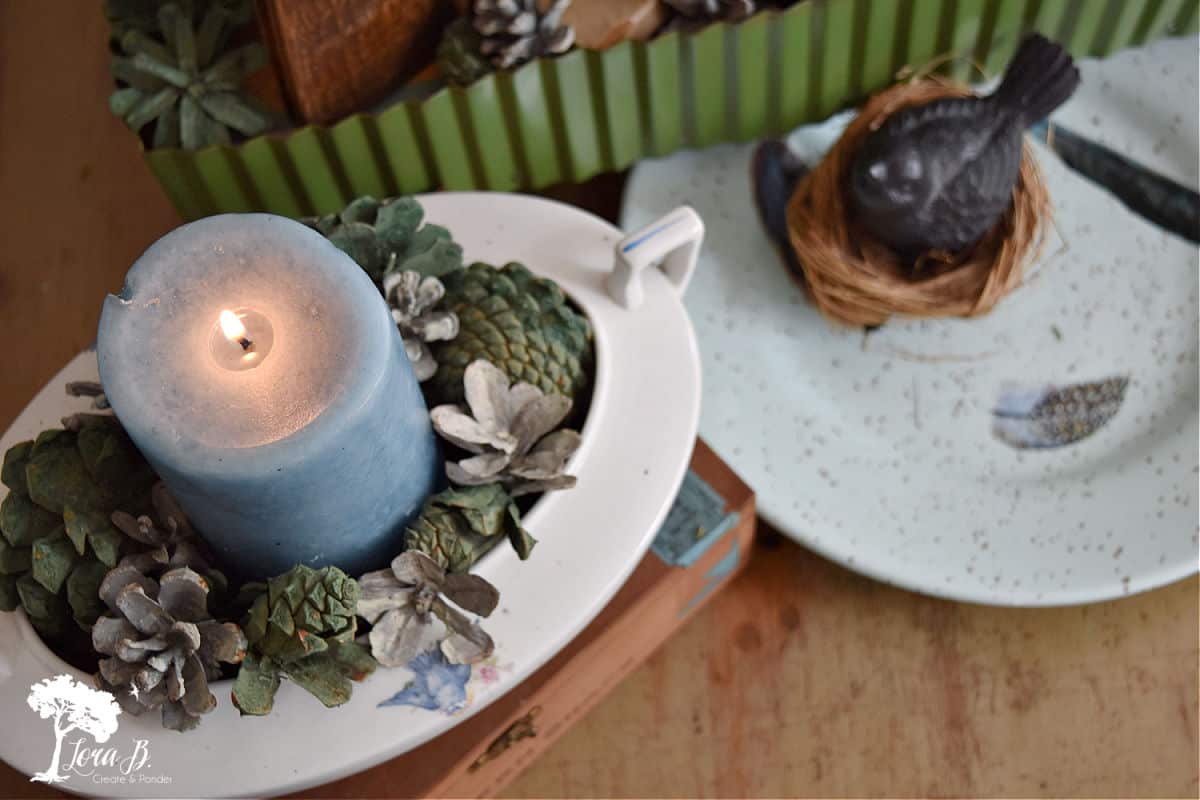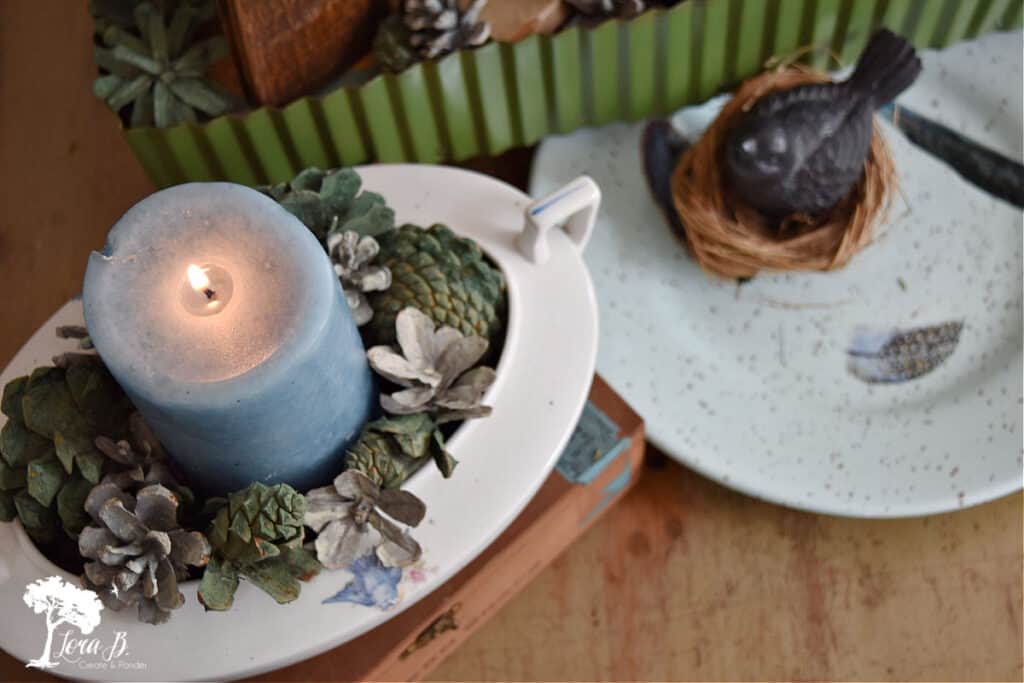 Lastly, Add Flicker for Ambiance
The candles weren't lit in Suzy's photo, but I could see she had some there. I placed one real pillar candle in a tureen, but chose to be safer with battery powered tapers on the tiered tray. With a faux forsythia spray tucked in, the tapers fit perfectly in my "Repurposed Vintage Bucket Rustic Vases". The rustic wood is a great textural contrast, too. I love easily pushing the button on the bottom of these tapers and enjoying their flicker at night when I'm reading.
Get the pretty faux taper candles HERE.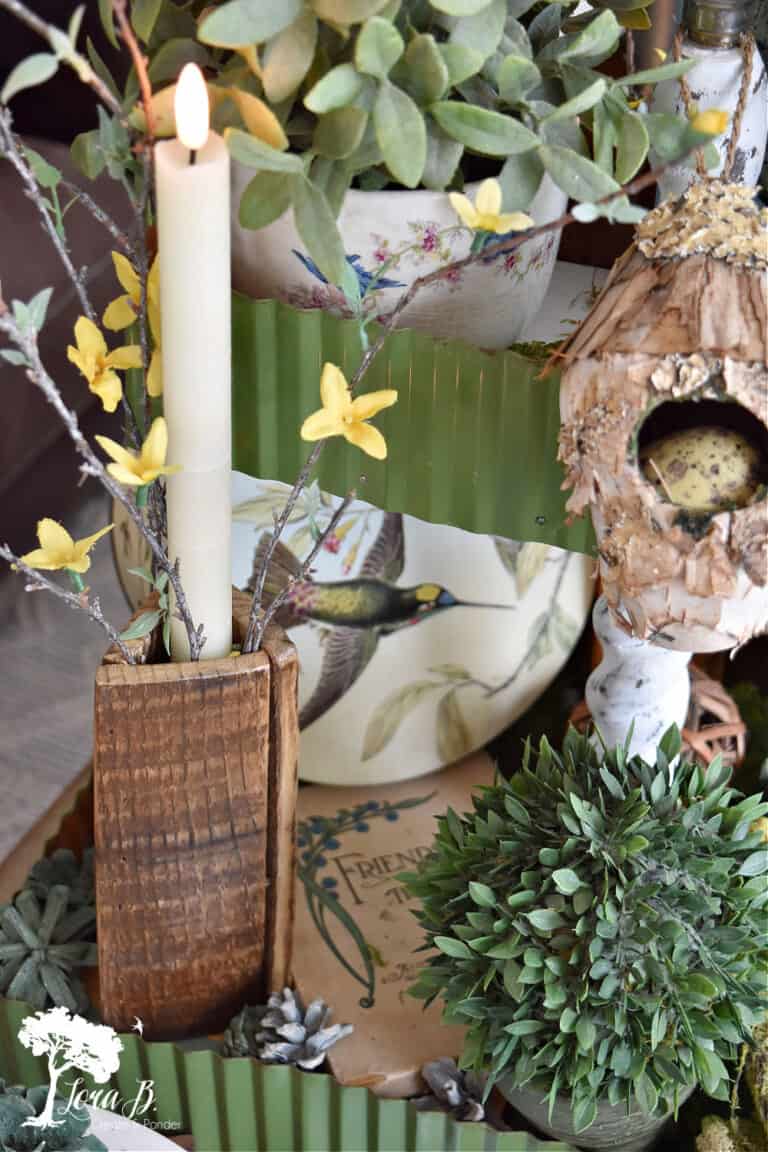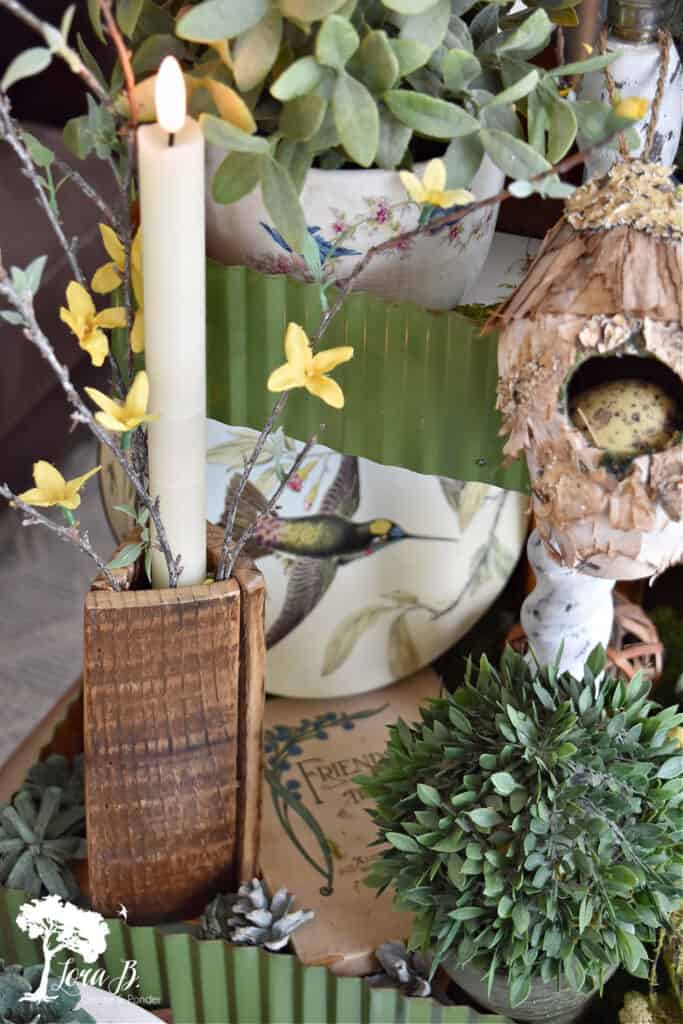 Enjoy a Bird Themed Spring Centerpiece
The bird themed tiered tray finishes out my Spring living room decor perfectly! I'm loving all the green, since we still have some patches of snow lingering in our brown yard. And it's so fun to enjoy my bird-themed accessories all together.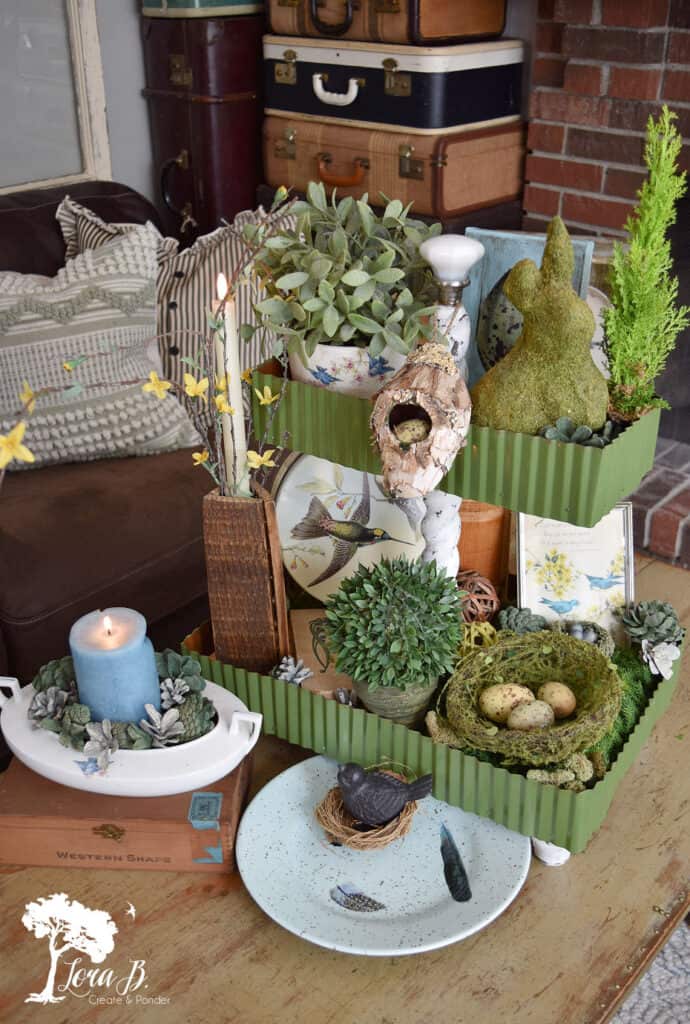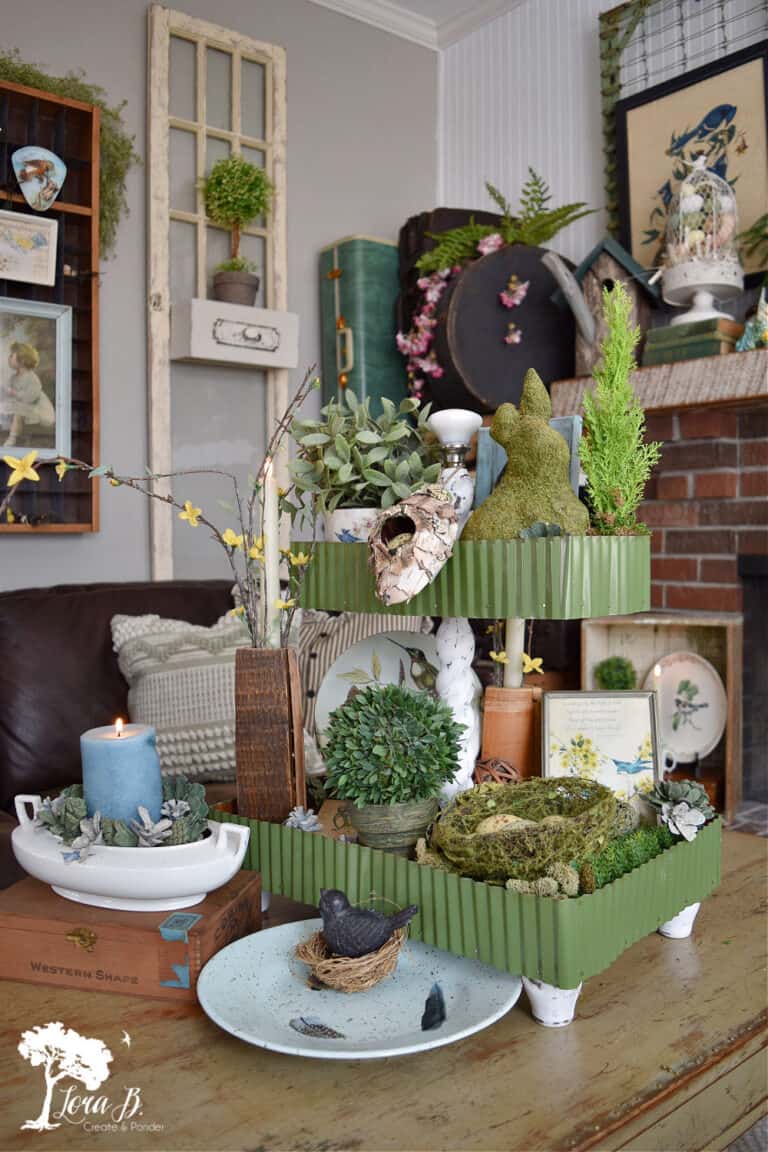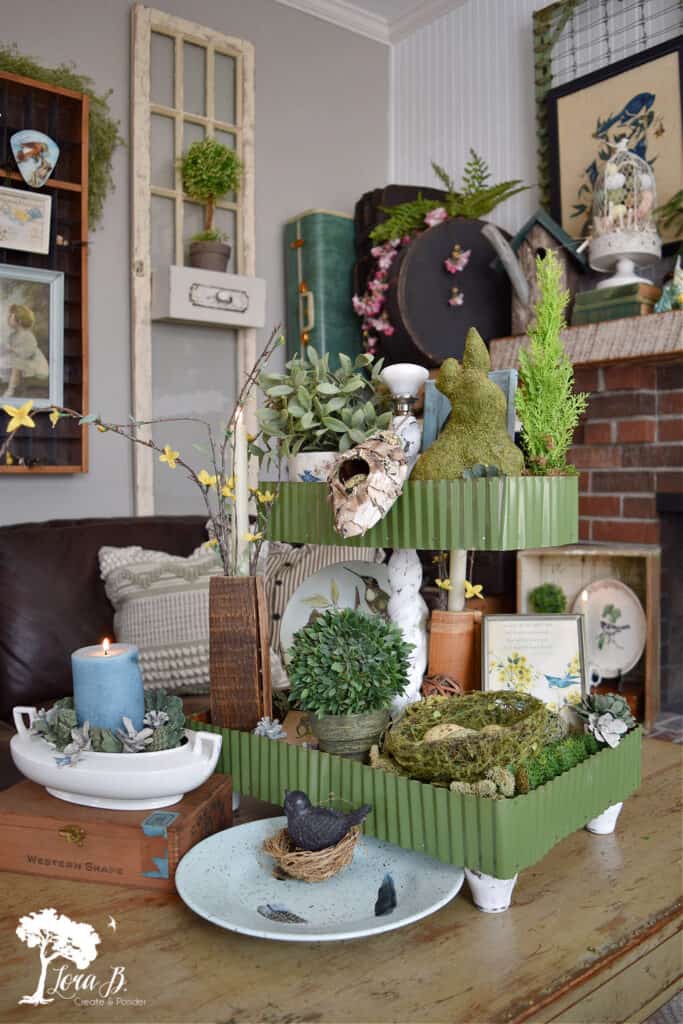 Check out cute tiered tray options and other bird-themed accessories in my Amazon shop, HERE.
Find vintage bluebird dishware HERE.
Do you have enough items laying around your home to create your own bird themed tiered tray? It's such a fun look for Spring. For more centerpiece ideas, check out Michelle at Thistle Key Lane next; she styles everything so beautifully.
Thanks for reading A Bird Themed Tiered Tray! Become an Insider to keep the inspiration flowing!
Pin, share, and enjoy the rest of the inspiration!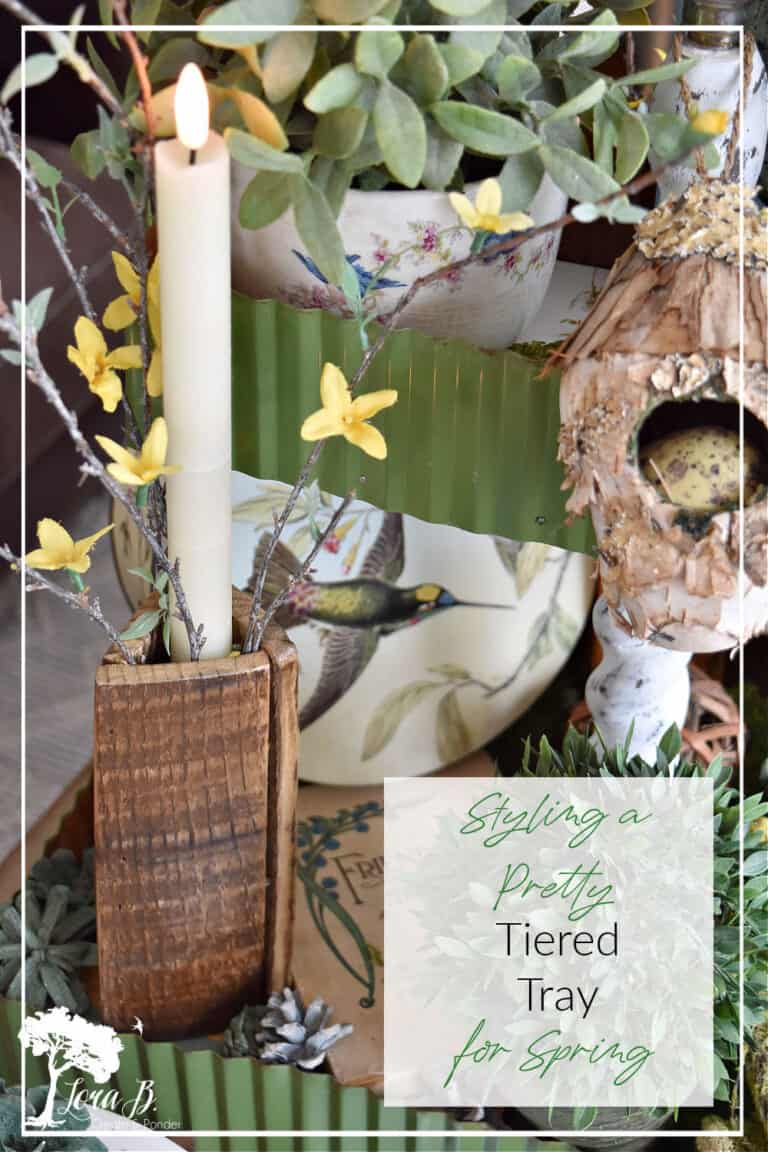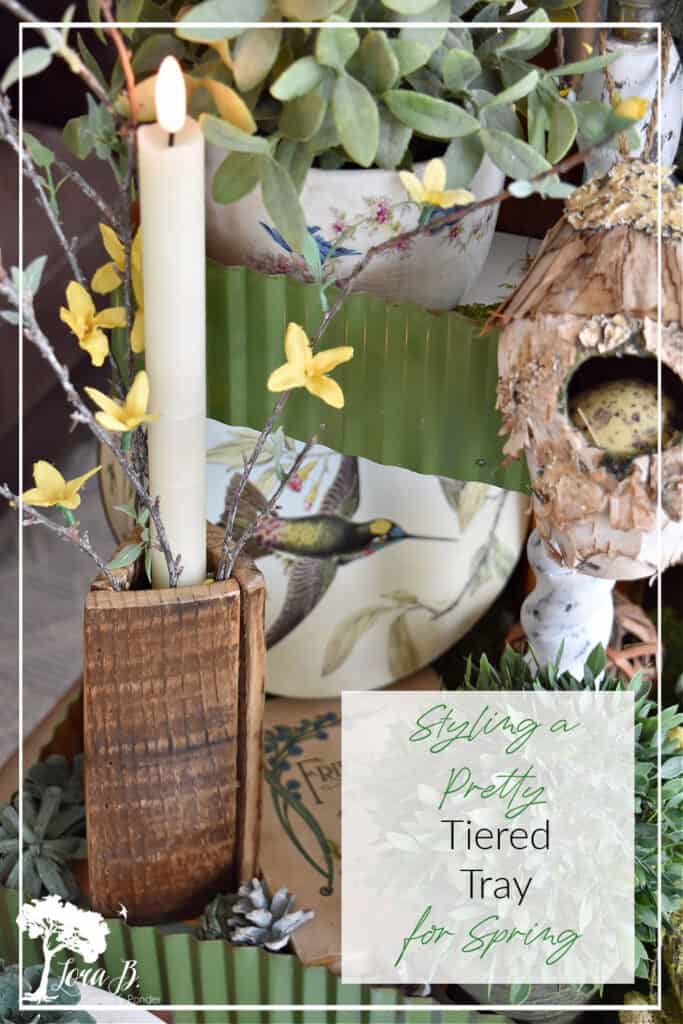 Spring Centerpiece Pinterest Challenge