Decorating the Spring Mantel (with vintage and birds)
How do you decorate a Spring mantel? What should you put on your mantle for Spring? Here are pretty Spring Decorating ideas for a bird theme, with plenty of vintage finds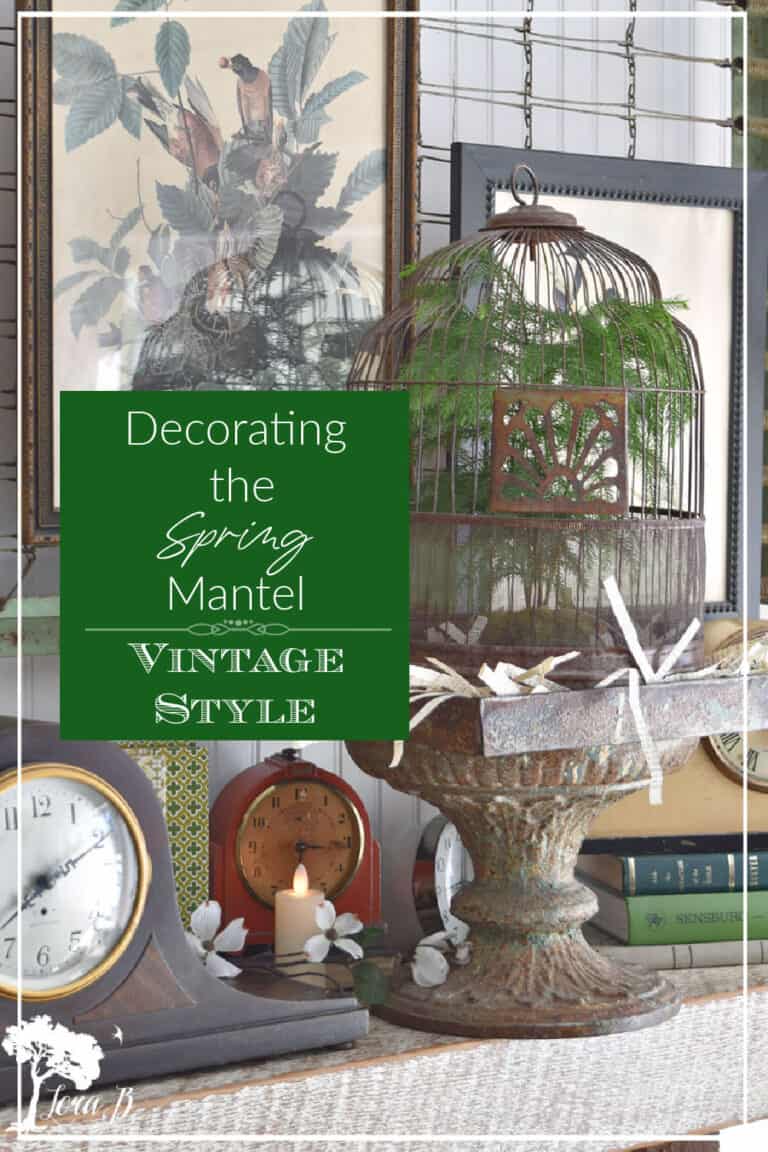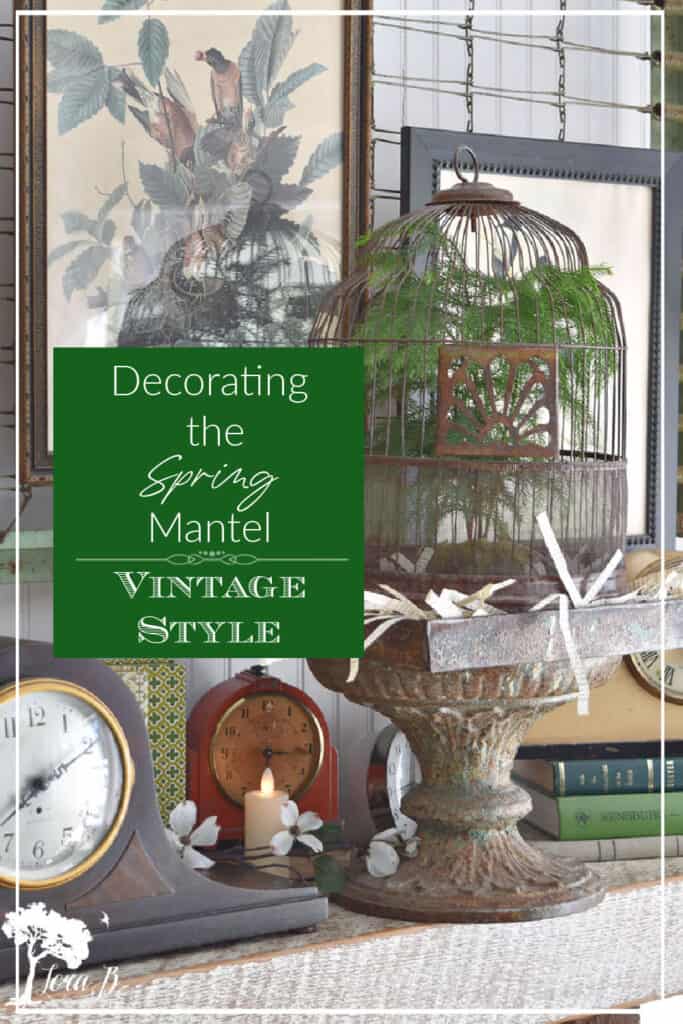 One of my favorite things about the start of Spring is listening to the birds singing away! It just puts a song in my heart and fills me with the hope of a new season. Exactly why decorating with pretty birds inside is a natural way to bring the outdoors in. My collection of bird-related accessories continues to grow; this year they're filling our living room. Here's how Decorating the Spring Mantel (with vintage and birds) can fill your home with the beauty of a new season!
Decorating the Spring Mantel (with vintage and birds)
For your convenience, this post contains affiliate links. If you make a purchase, I may receive a commission. There is no additional cost to you. My full privacy policy is here.
Start Your Spring Decorating with Bird Images
The foundation of my Spring mantel is 4 Audubon bird prints I've had for awhile. I love their realistic, natural look and the colors. I picked up 3 prints years ago at a vintage shop and glued them to posterboard and then framed them with purchased black frames. The robin print in a vintage frame was my mom's. I hung all four from my vintage green bedspring, that allows me to swap up seasonal decor easily with S hooks.
You can find Audubon bird prints HERE.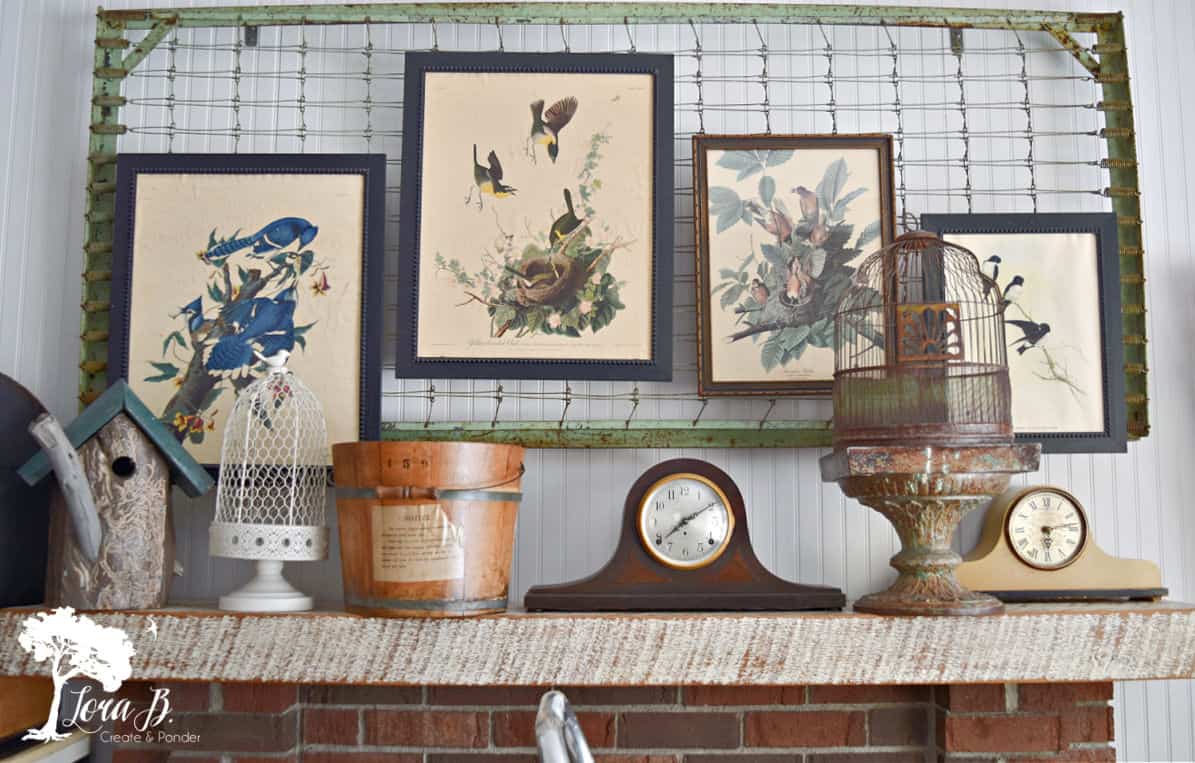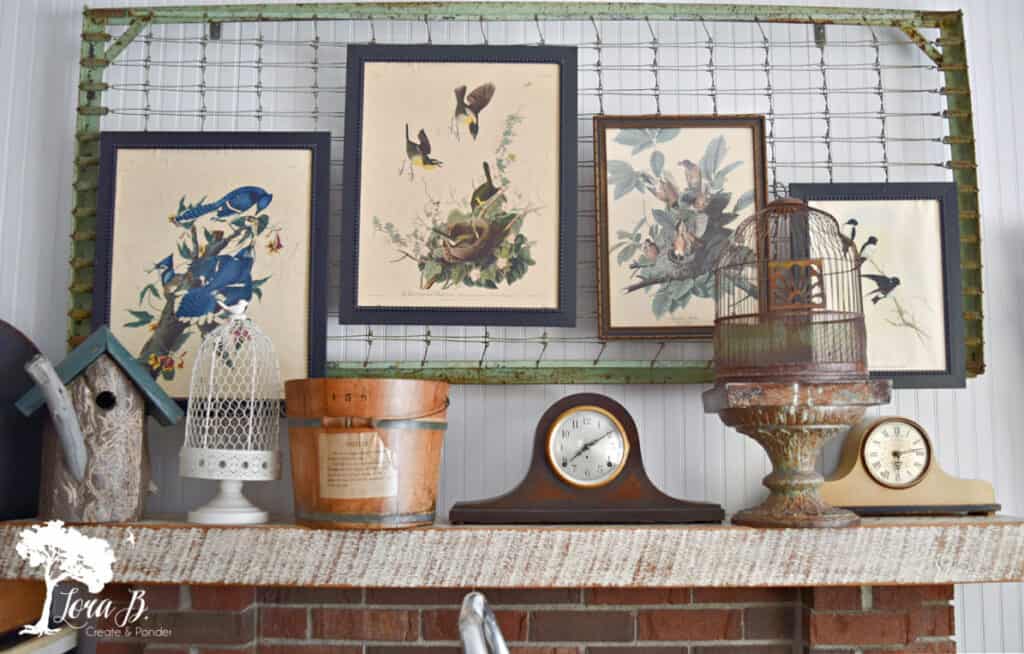 Choose Accessories
Next I chose the accessories to fill the mantel. A couple mantel clocks for a Spring "time" theme, a birdhouse, a birdcage, and a bird-topped wire cloche. I started with the wooden bucket, but decided it was too big. 5 anchor pieces spanning the width worked perfectly.
I filled in with some smaller clocks and added birds, patterned vintage books and green plants. I've kept the norfolk pine plants alive for over a year and they add a tree-like quality to the vignette. Live foliage makes everything beautiful!
Offering many different textures keeps the display interesting: patinaed metal, finished and rustic wood, ceramic, paper and foliage.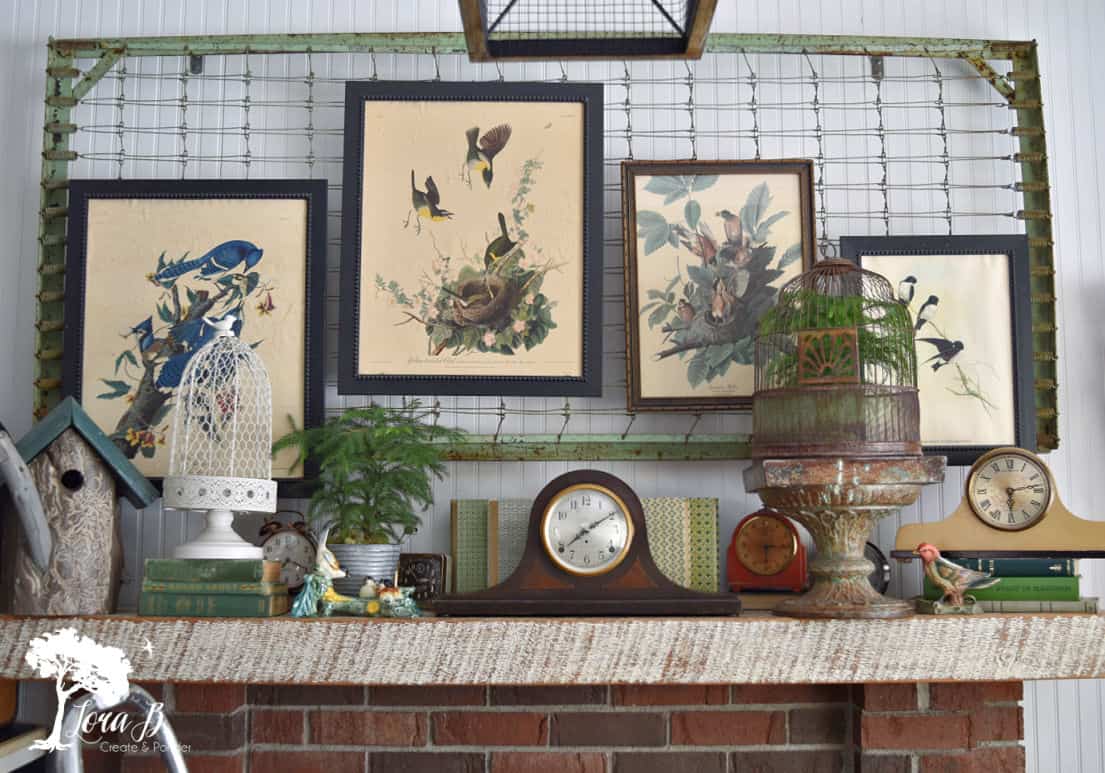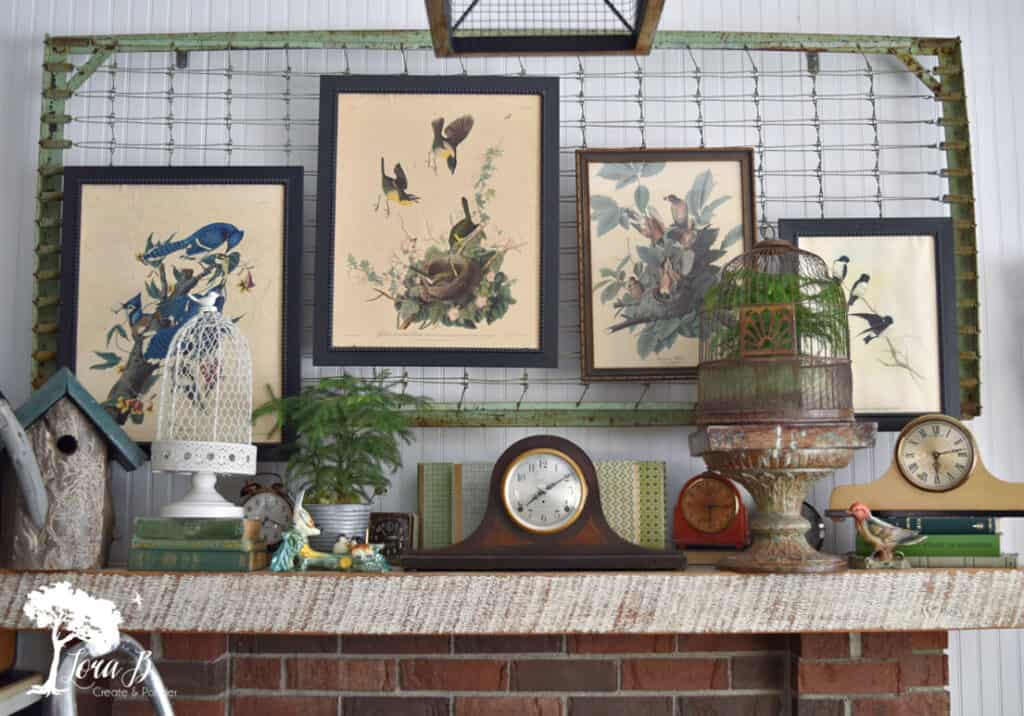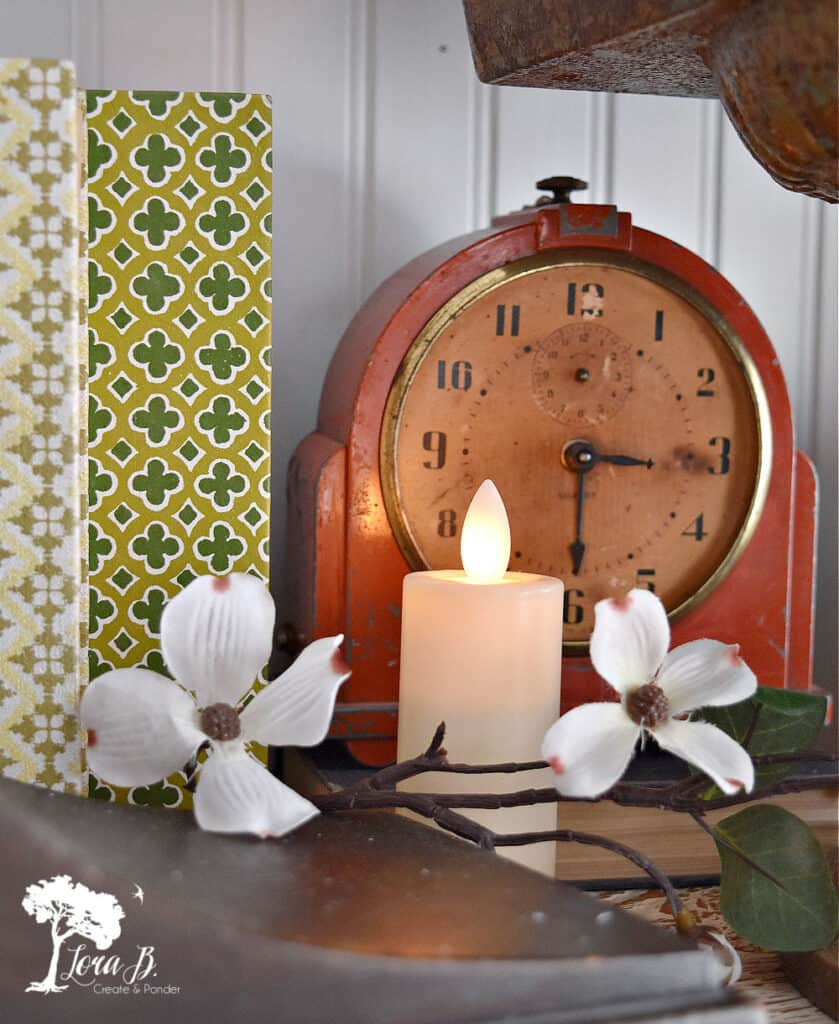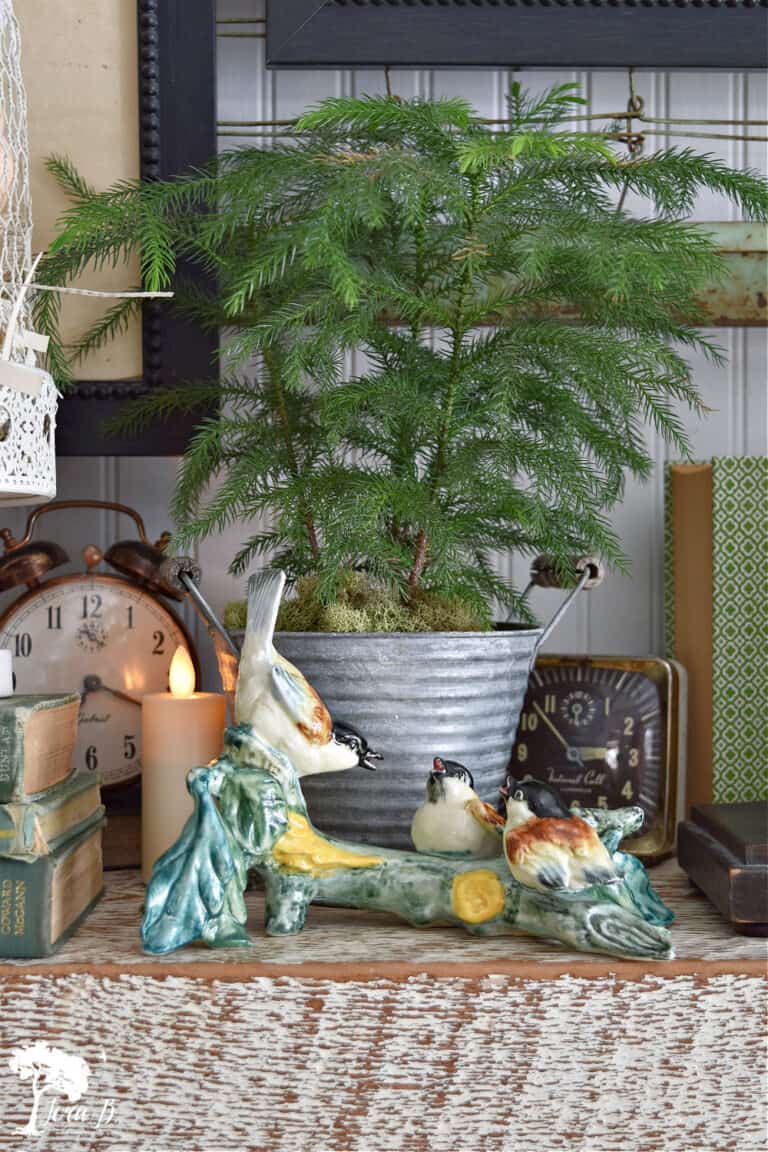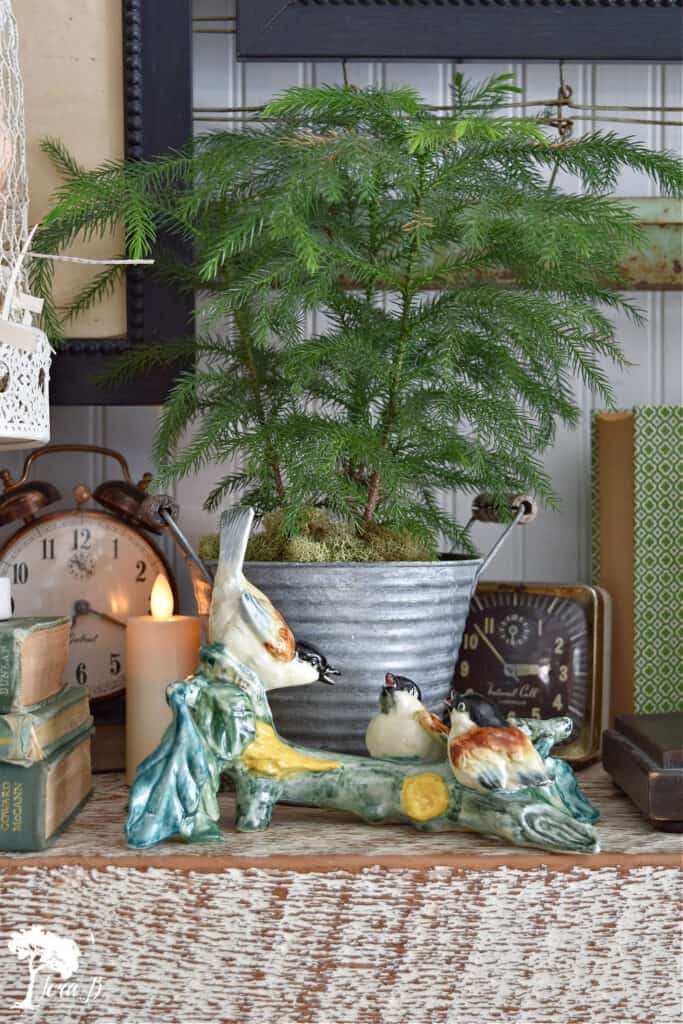 Finish the Spring Mantel Display with Fillers
Lastly, add the final touches: eggs, shredded book pages and faux candles. I tucked shredded book pages under the birdcage and at the bottom of the egg-filled wire cloche. Battery-powered faux candles get tucked in the back row so the clock faces can glow at night.
Get a paper shredder HERE
Get small faux candles HERE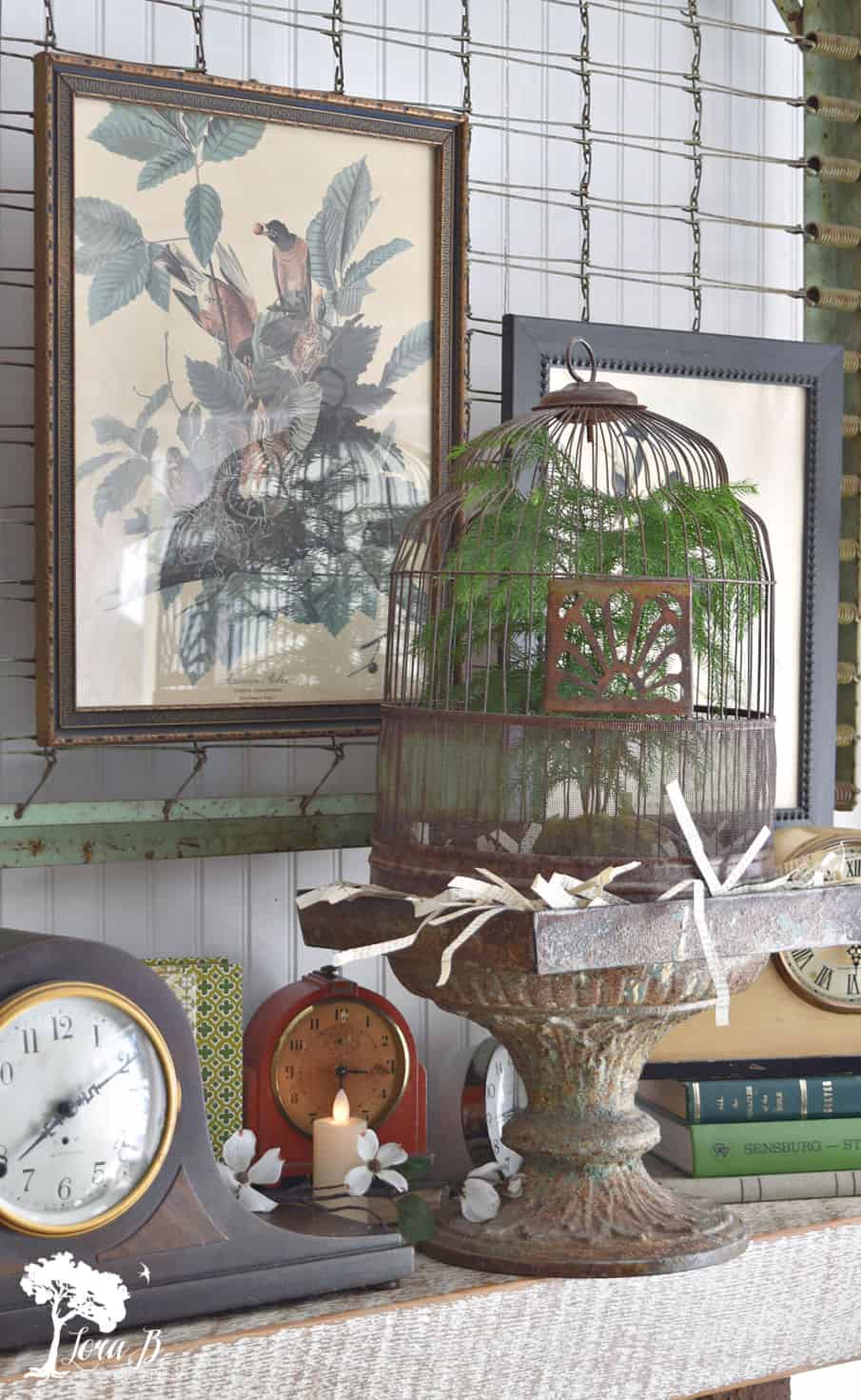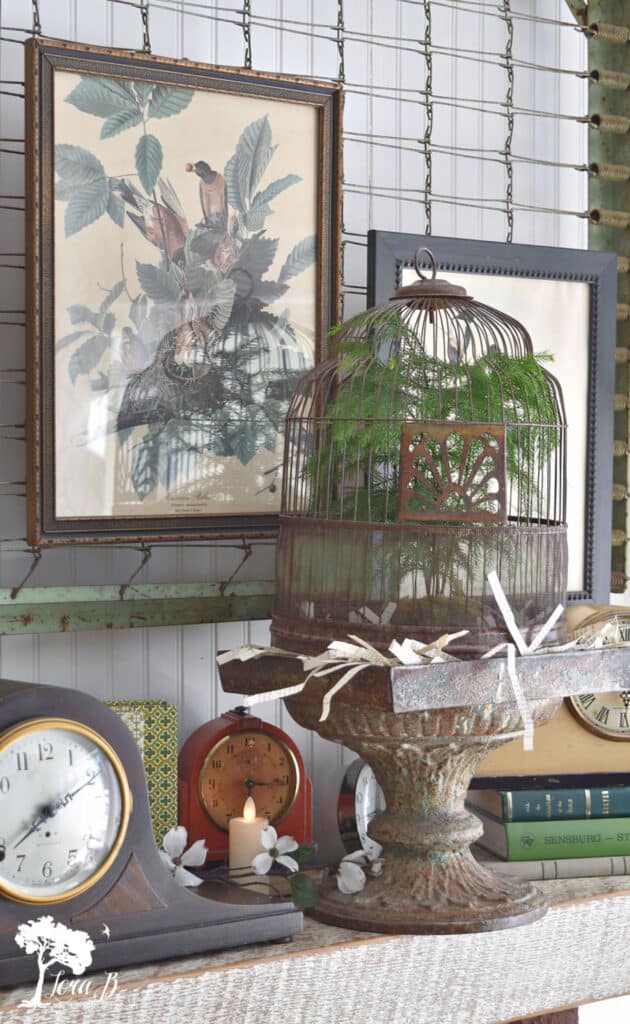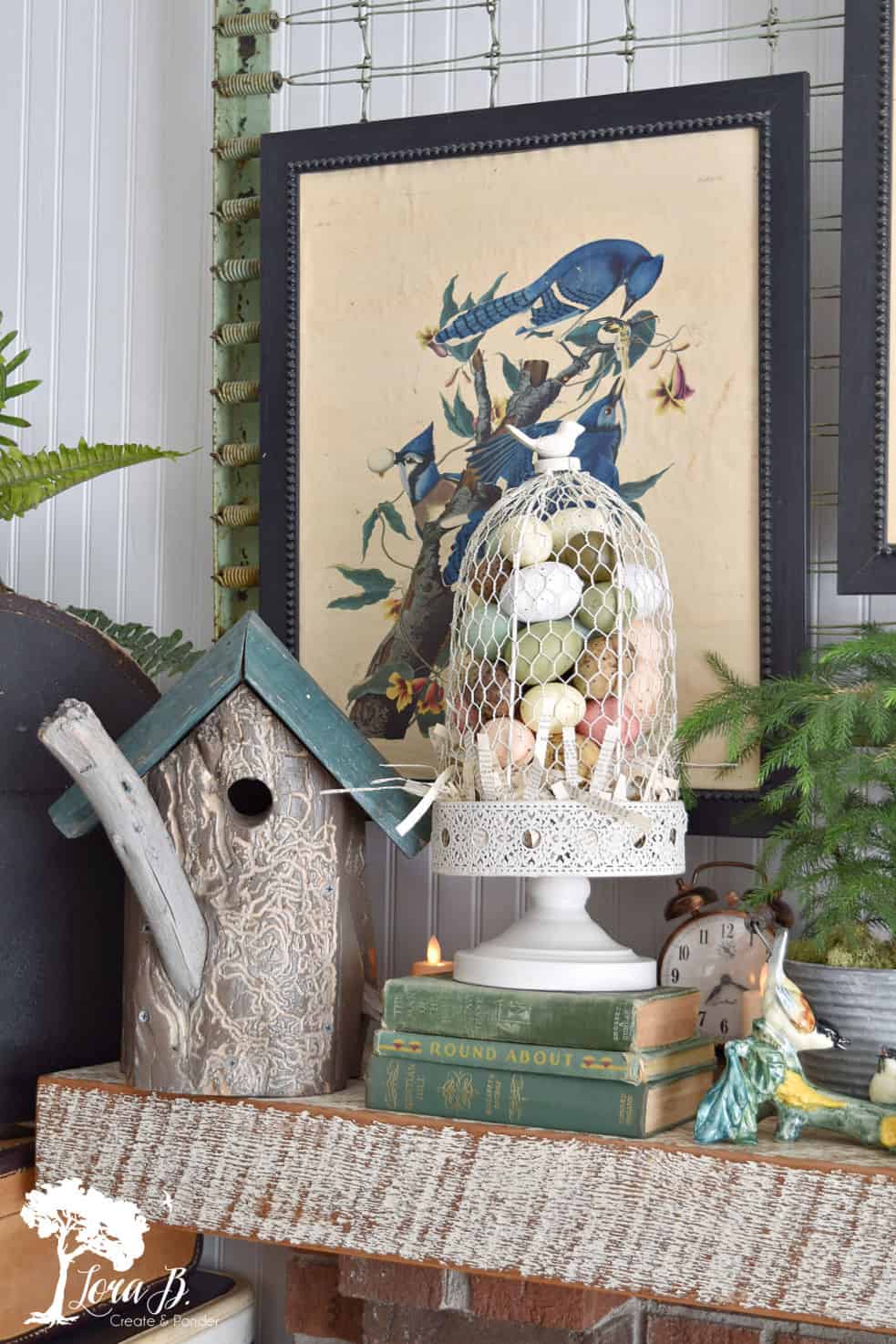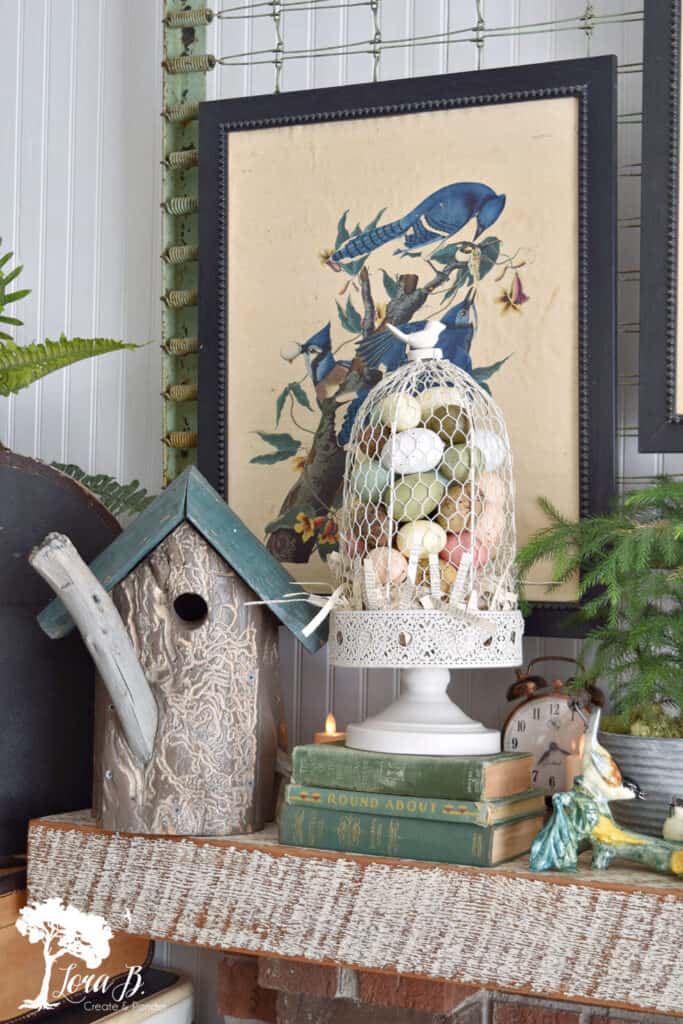 Continue the Spring Bird Theme Throughout the Room
Because I've got so many fun bird-themed accessories, I continued the bird theme throughout the room. Hopefully soon we can put the screens back on and hear the birds singing outside the windows!
A revived vintage cosmetic case on an end table was treated to a mini bird vignette. My suitcase stack looks more Springy with flowers and greenery.
See "Vintage Suitcases: How to Clean and Refresh (and keep their classic appeal"
The cubby architecture displays a collage of Spring bird things, along with bundles of sticks and eggs tucked in. I love the classic little girl looking at the bird framed print.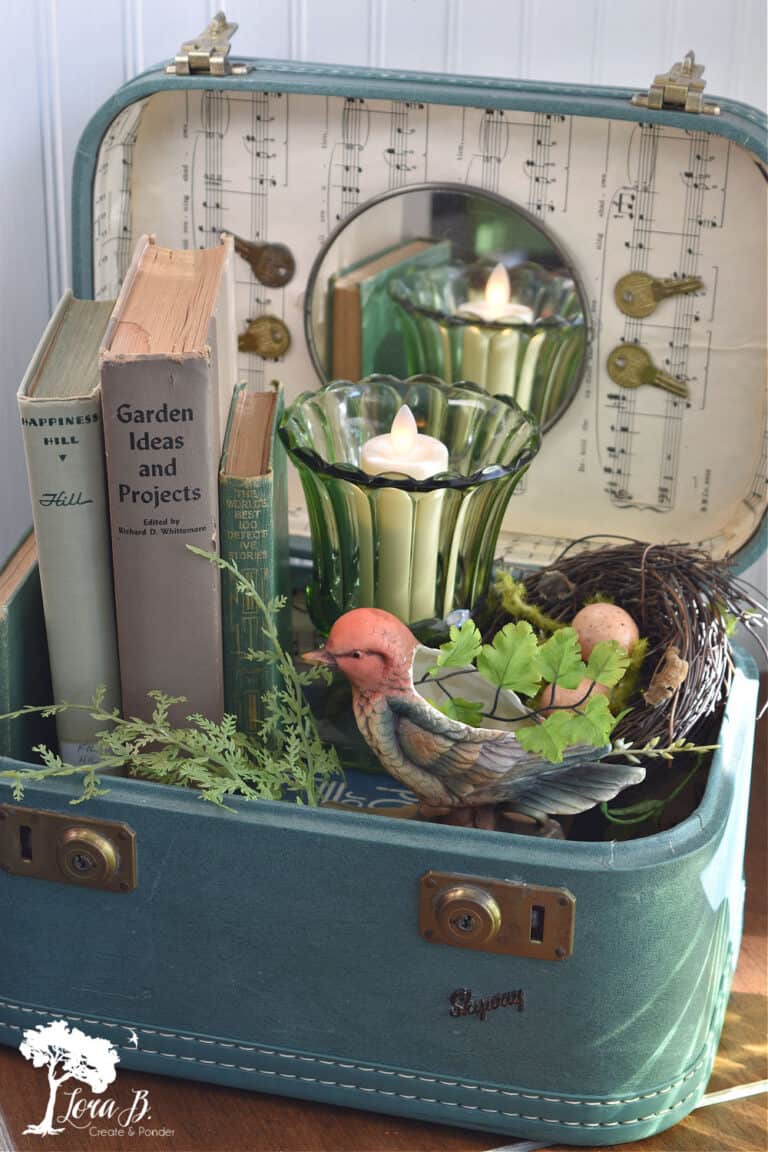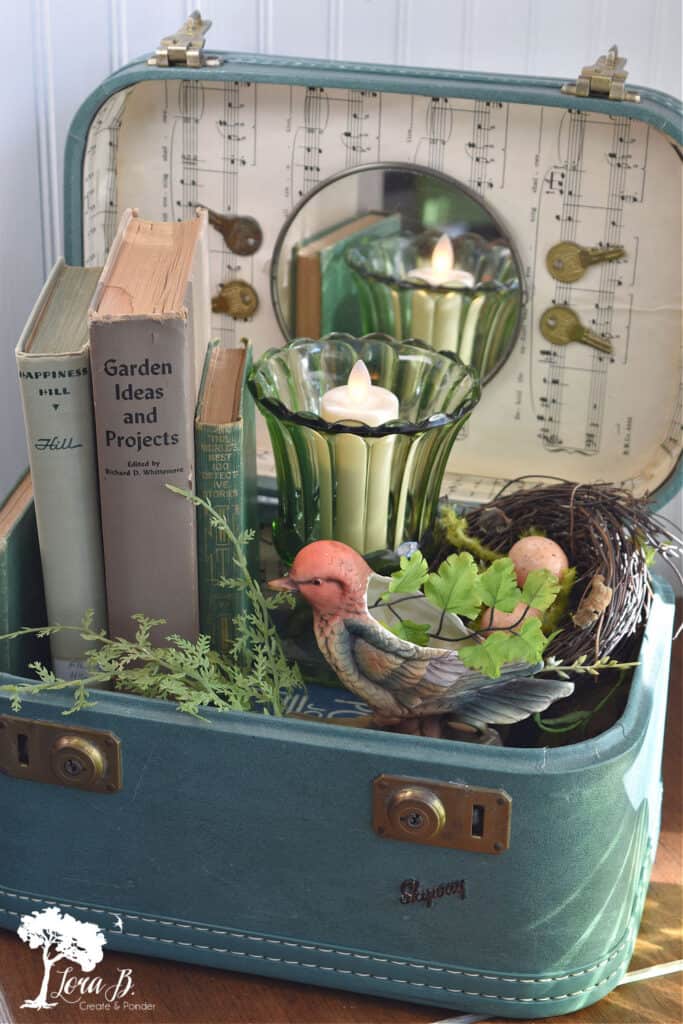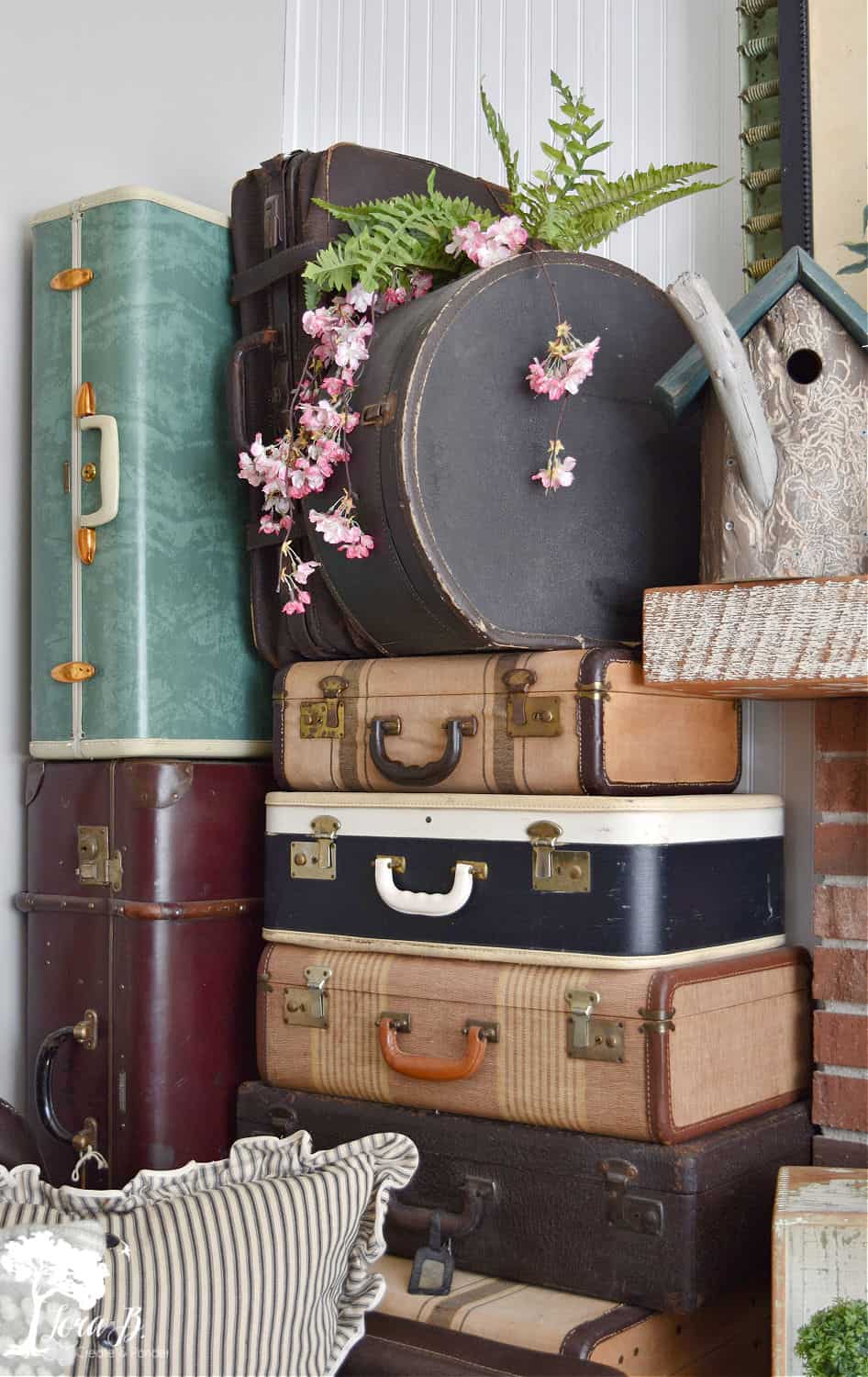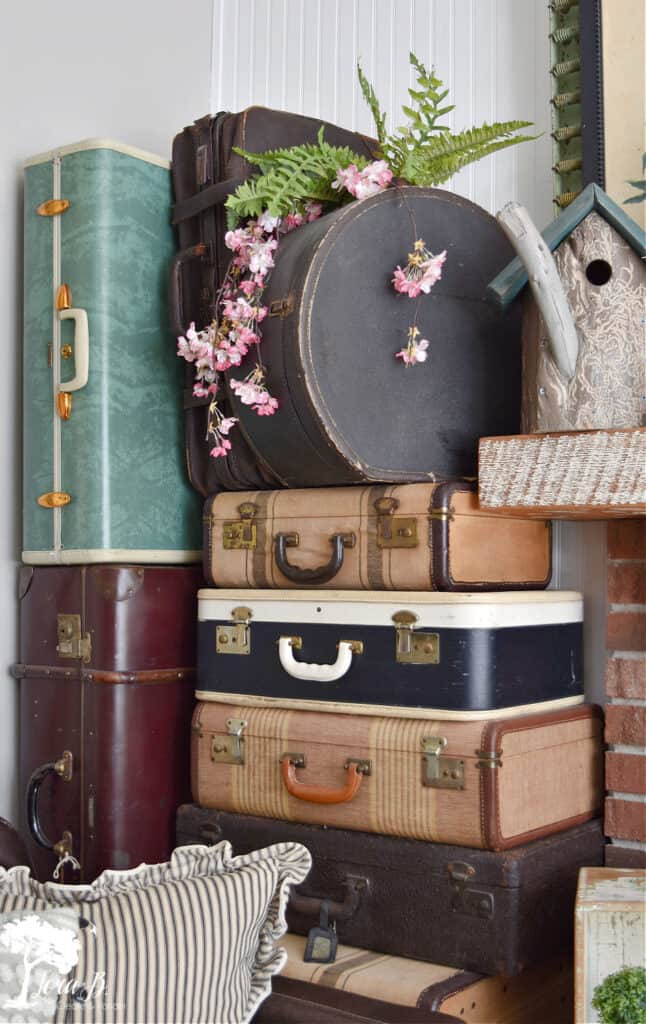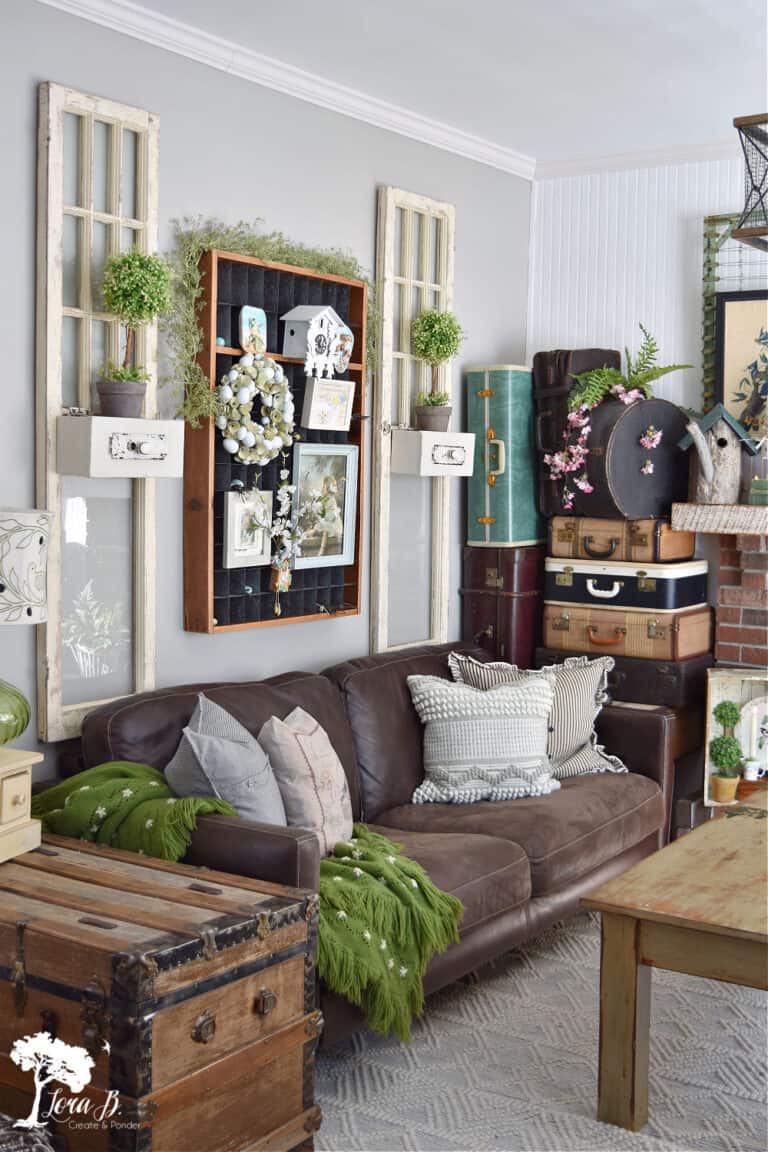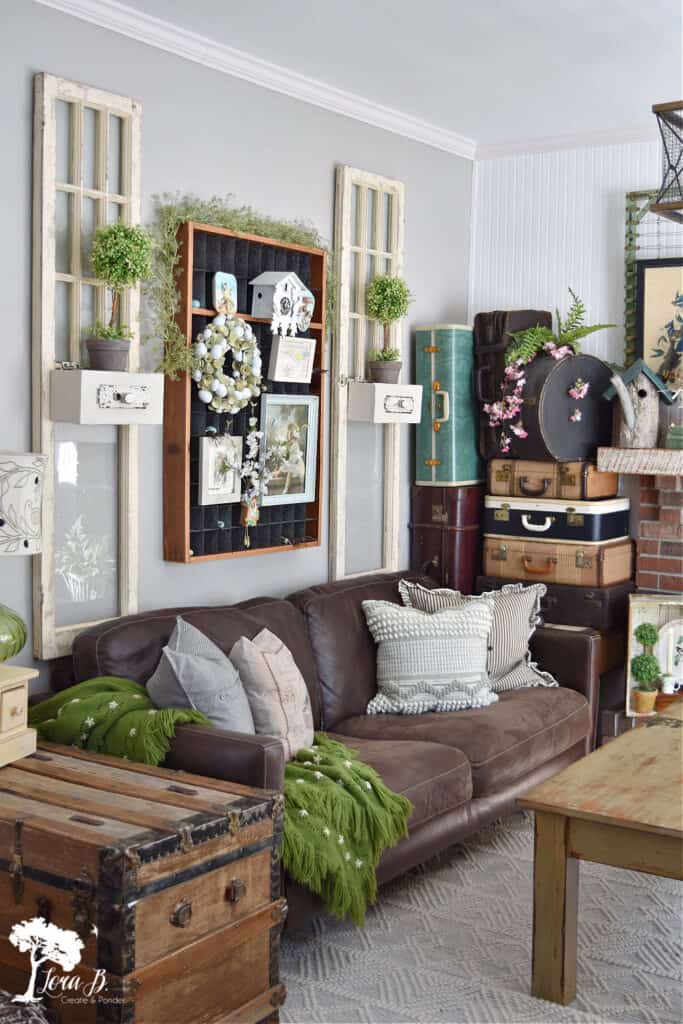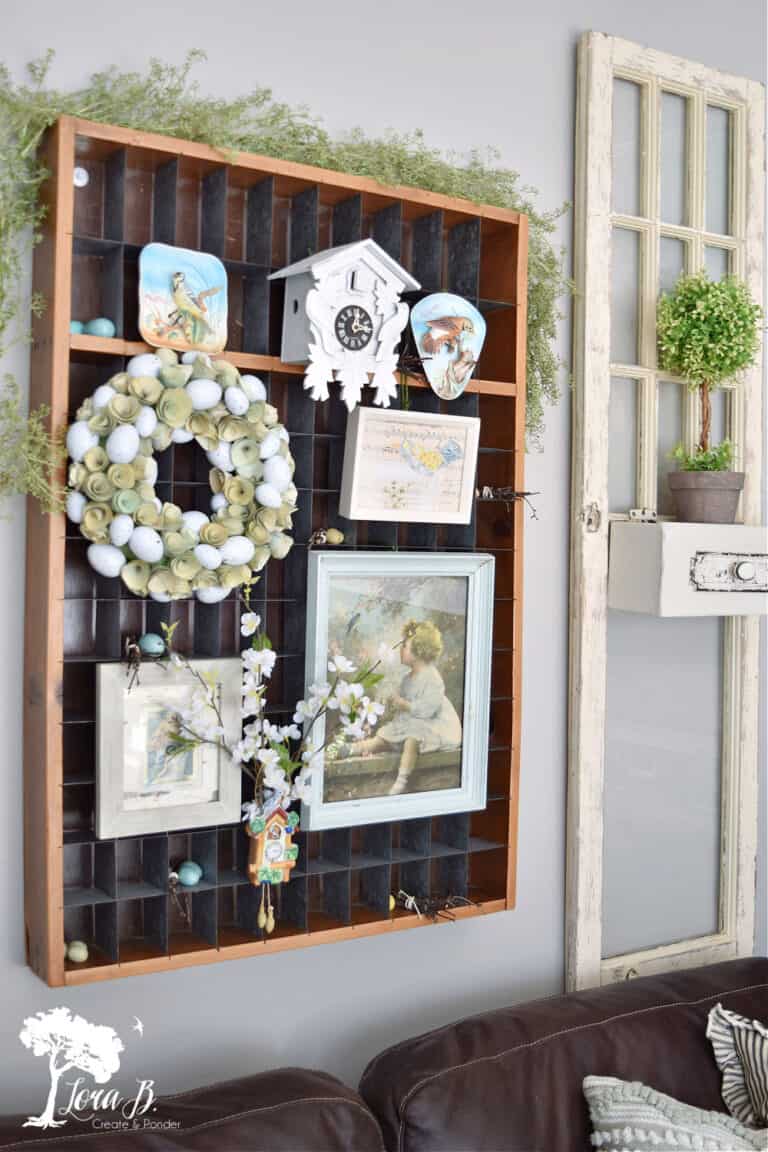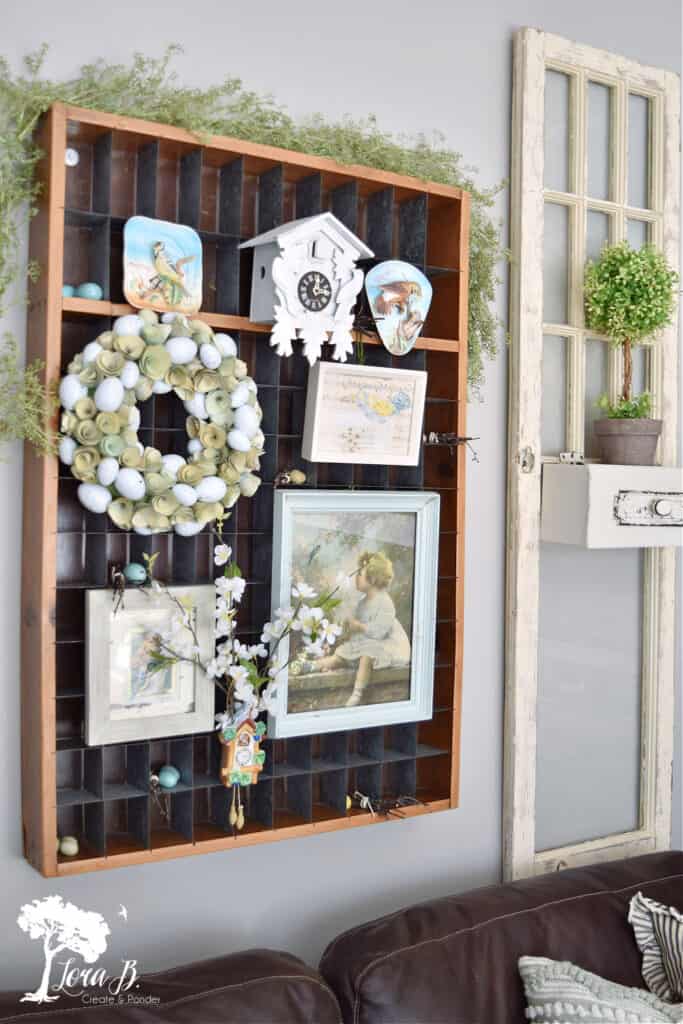 The bird-themed living room feels so fresh for Spring! I'll share what I placed on the coffee table next week; it definitely goes with the theme.
Here's the finished Spring mantel in all it's bird-loving glory!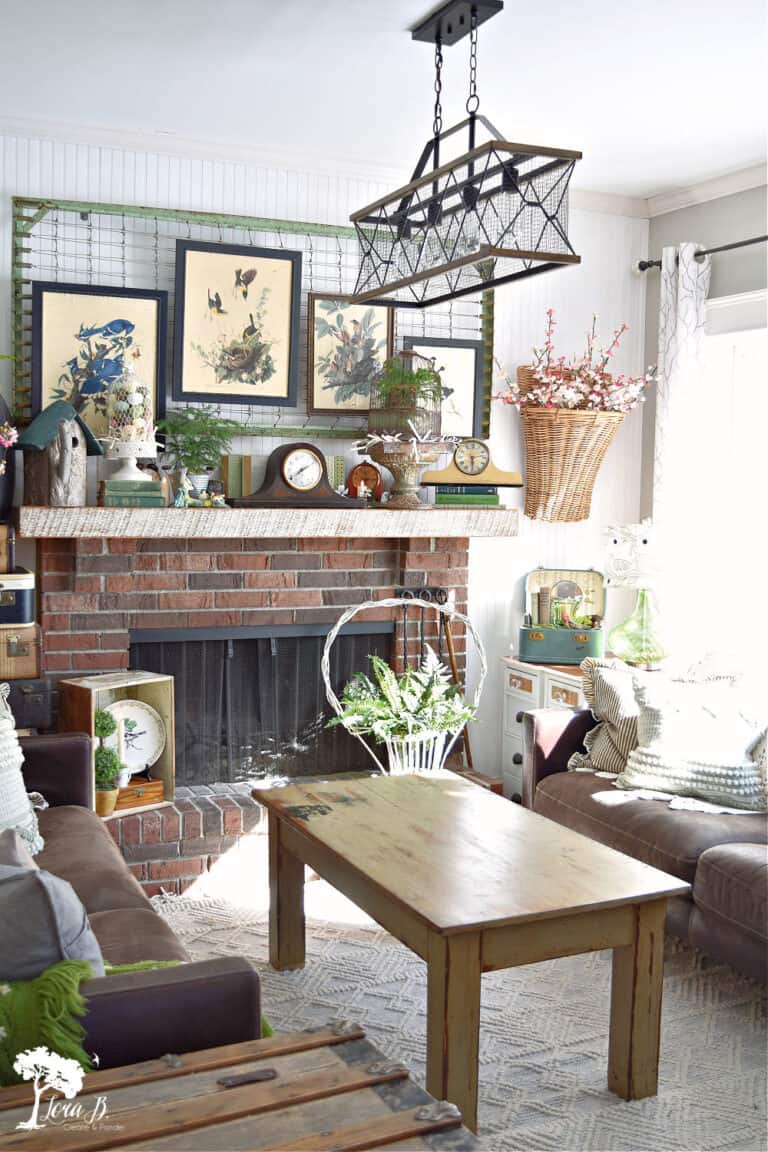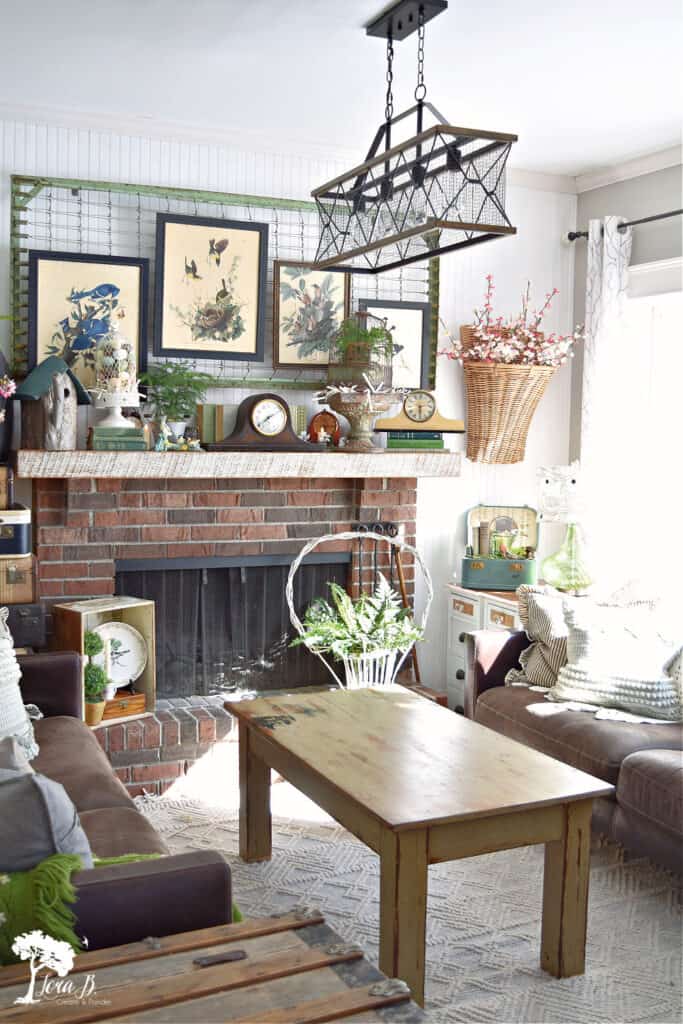 For more bird-themed decor:
"Spring Decorating with a Bird Theme"
"5 Tips for Vignette Theme Building: Bird Themed Decor"
I hope this Decorating the Spring Mantel (with vintage and birds) inspired you to decorate your home for Spring! Gather all the bird-related accessories you can find, and fill your home with birdsong for Spring!
If you enjoyed your visit, make sure to become and Insider to keep the ideas flowing!
Pin and Share!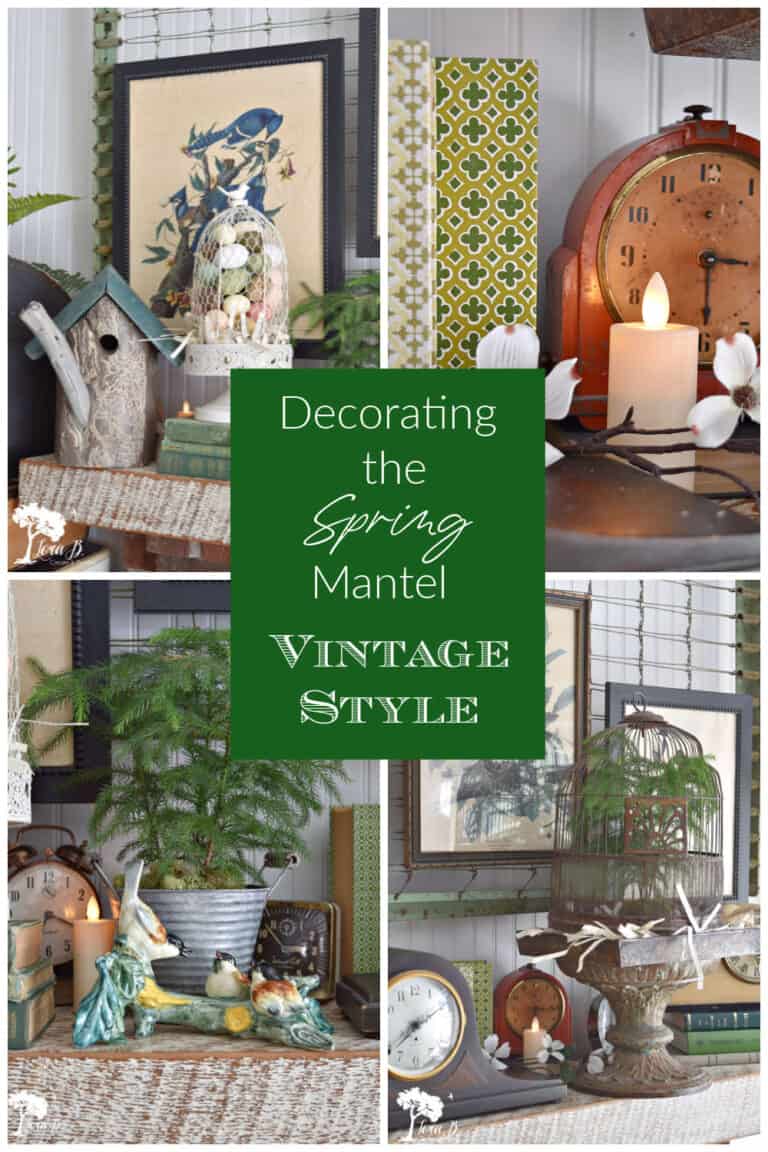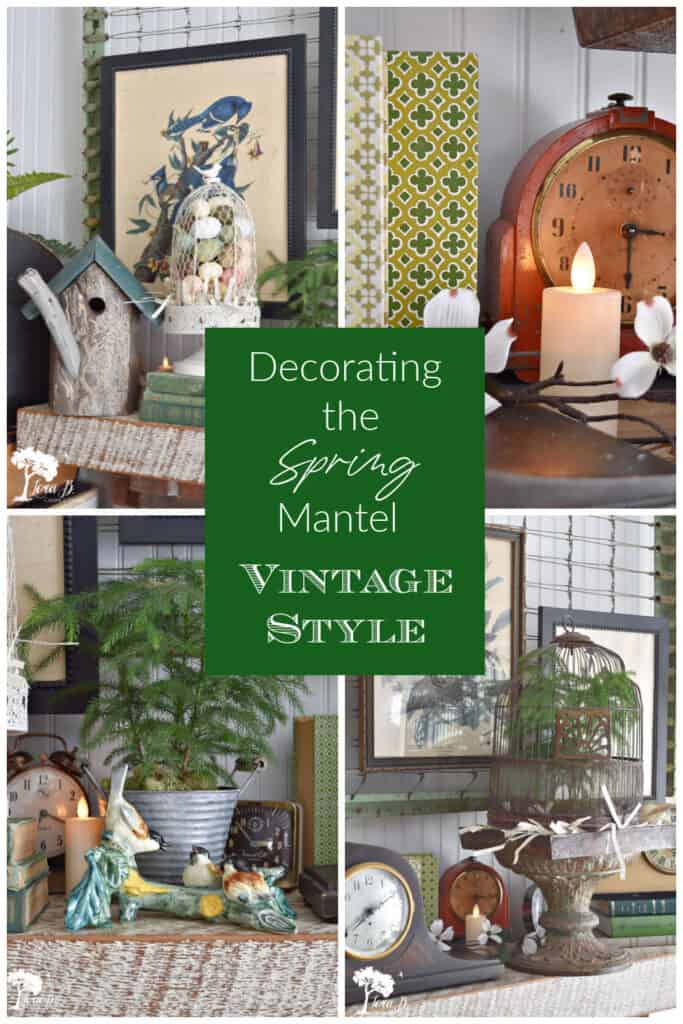 Sharing at these lovely parties: