15 Year House Anniversary: The Master Bedroom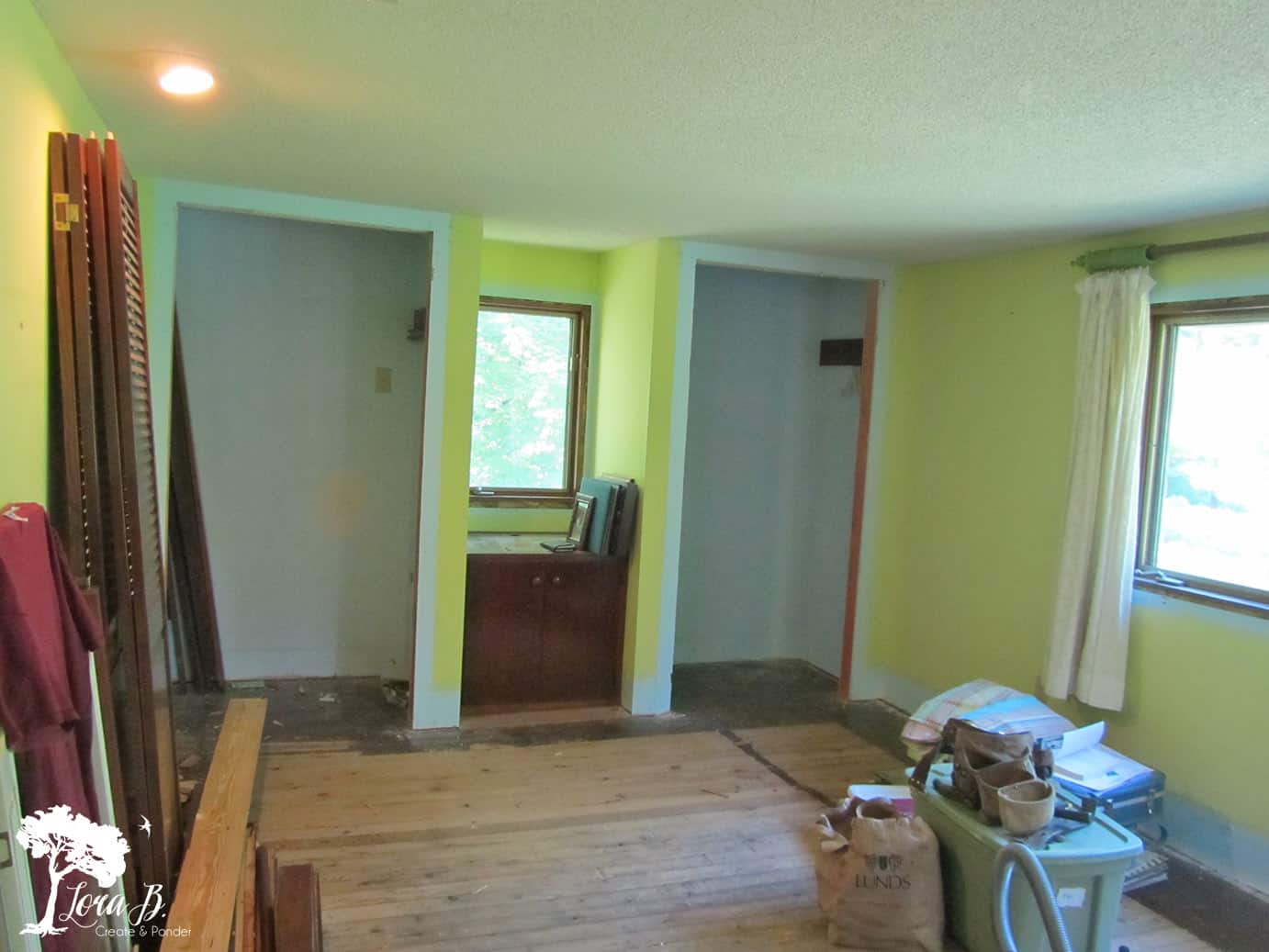 When you've done a lot of work on your home, it's good to look back every once in awhile and see how far you've come. We just celebrated 15 years in our Fake Farmhouse, and as I explained last week, it's getting "So Close To Amazing" (which happens to be the name of a new book coming out soon by KariAnne Wood), or at least getting closer to being done!
You can see how our house looked when we moved in here: "Our Home's 15 Year Anniversary: So Close To Amazing", and then you can see our kitchen transformation here: "15 Year House Anniversary, Part 2".
Today I'm going to show you what we did to our bedroom!
After the kids' rooms got all cute and we had finished the kitchen, it was finally time to recreate our bedroom!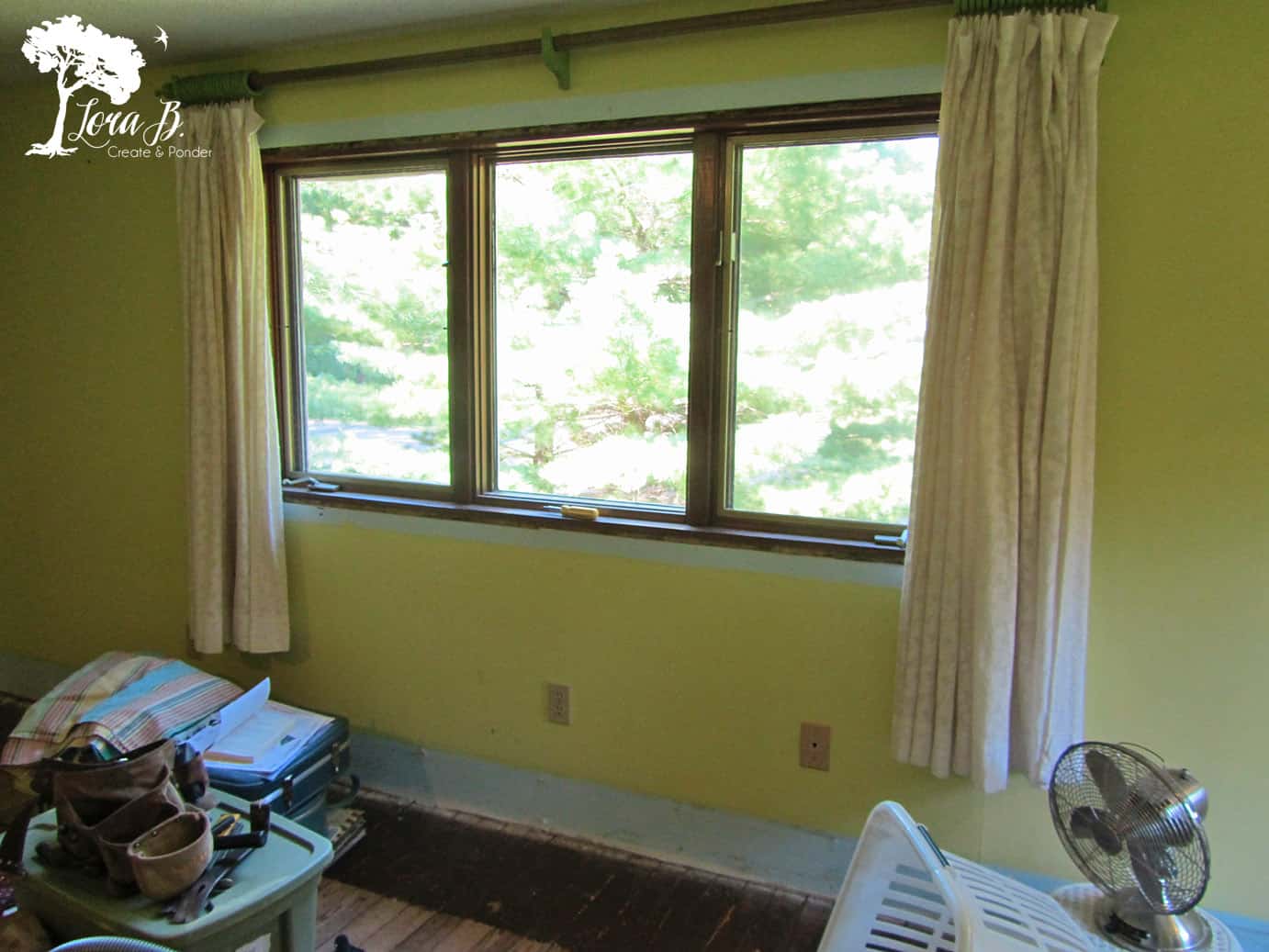 Here were the issues:
-Closets were too small and only consisted of a single rod and a shelf above.
-Bad lighting. As you can see above there was only 2 can lights in the whole room…in strange places.
-60's crank-out windows that are too short do not belong on a 100 year old farmhouse-bad from the outside and inside.
-Floor plan just wasn't working.
-I like popcorn…but not on my ceilings, especially with glitter flecks.
So…we demolished it all and started from scratch. Which I personally love!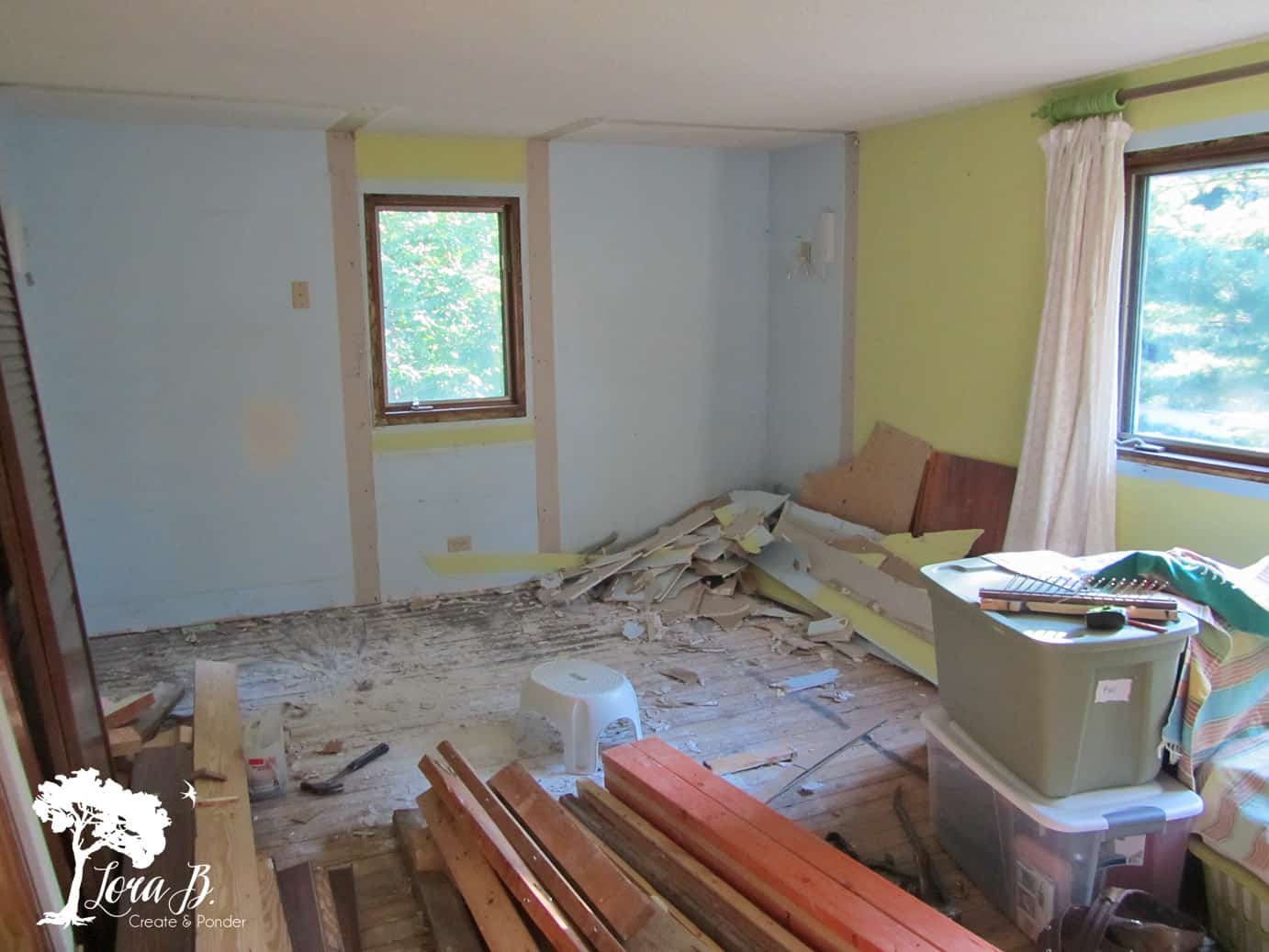 I decided we needed a walk-in closet which should be located at either end of the long room…the North End (shown) or the South End. Both ends had a window, which I love in a closet because of the natural light. And it just feels more old-house-ish to have a window in a closet.
The bonus on placing it at the south end would be southern sun, and it would also incorporate a dumb little corner that had some shelves above the stairwell.
Of course, this meant we had to relocate the entry door to the room. No problem…just knock down some walls…( The door had been to the far right of this opening)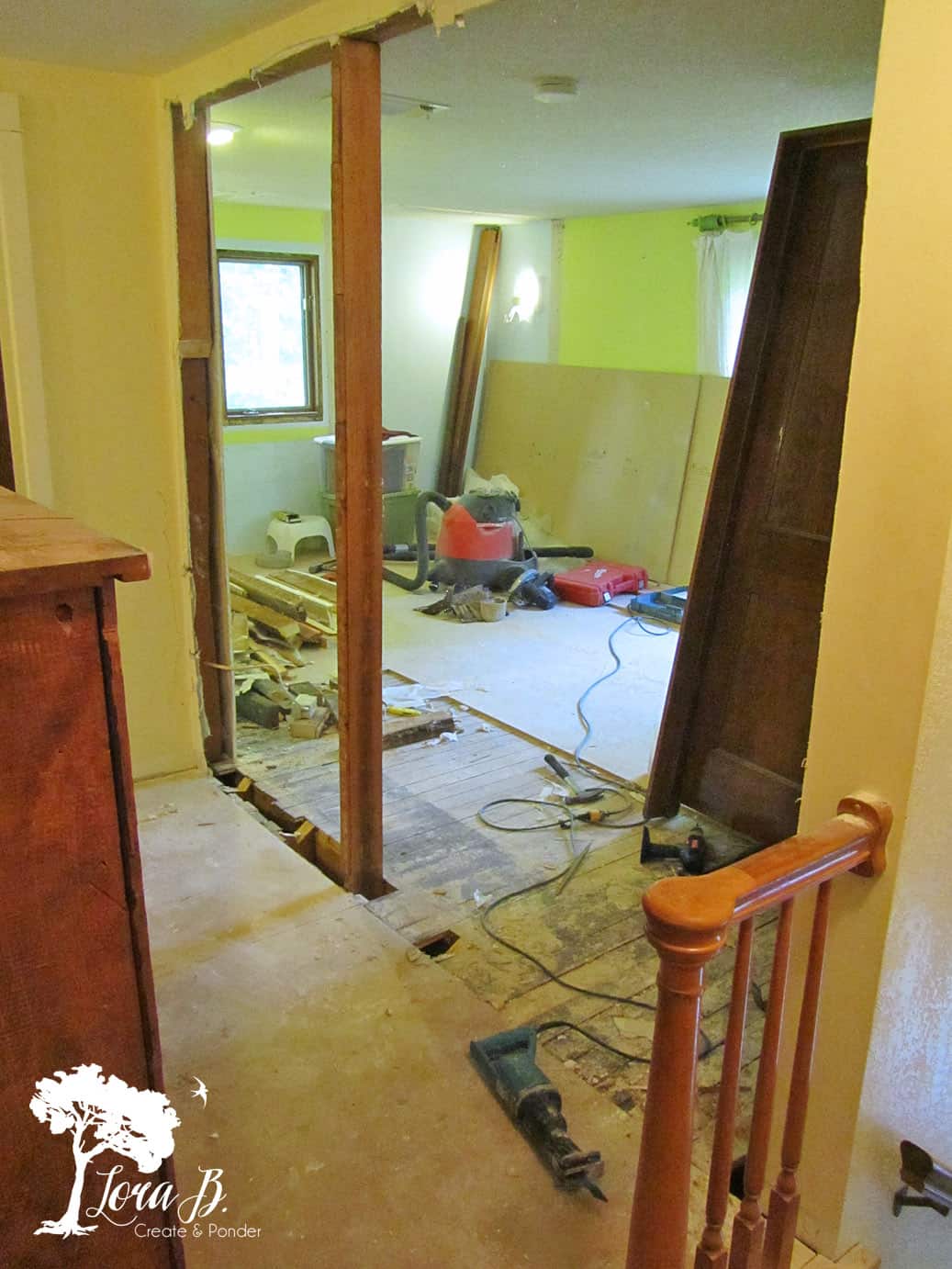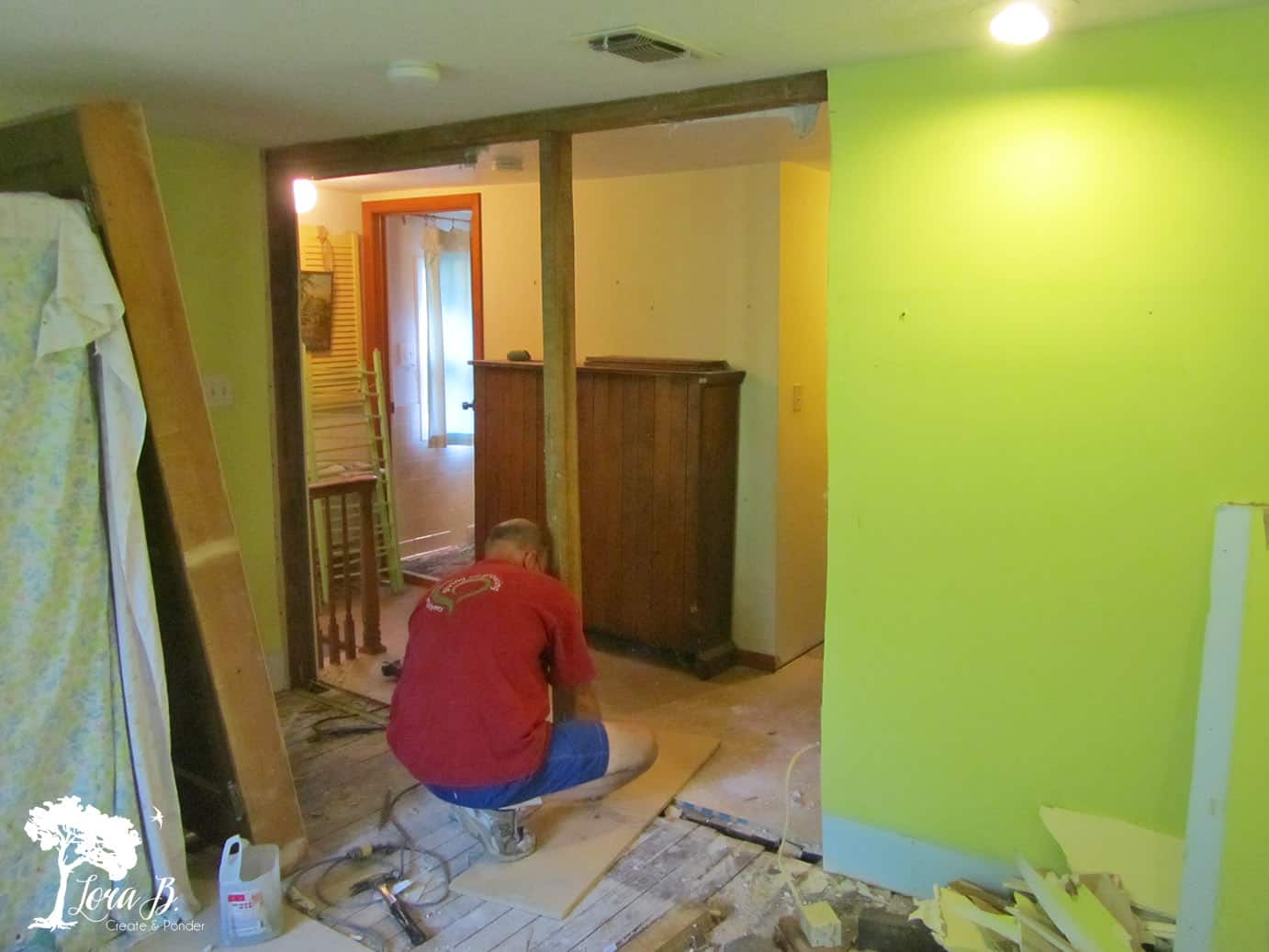 We would align the new doorway with the rest of the hallway to the kid's rooms so the morning sunshine from our room would shine down this long, dark space. And the rest of the space at the south end of the room could be a walk-in closet.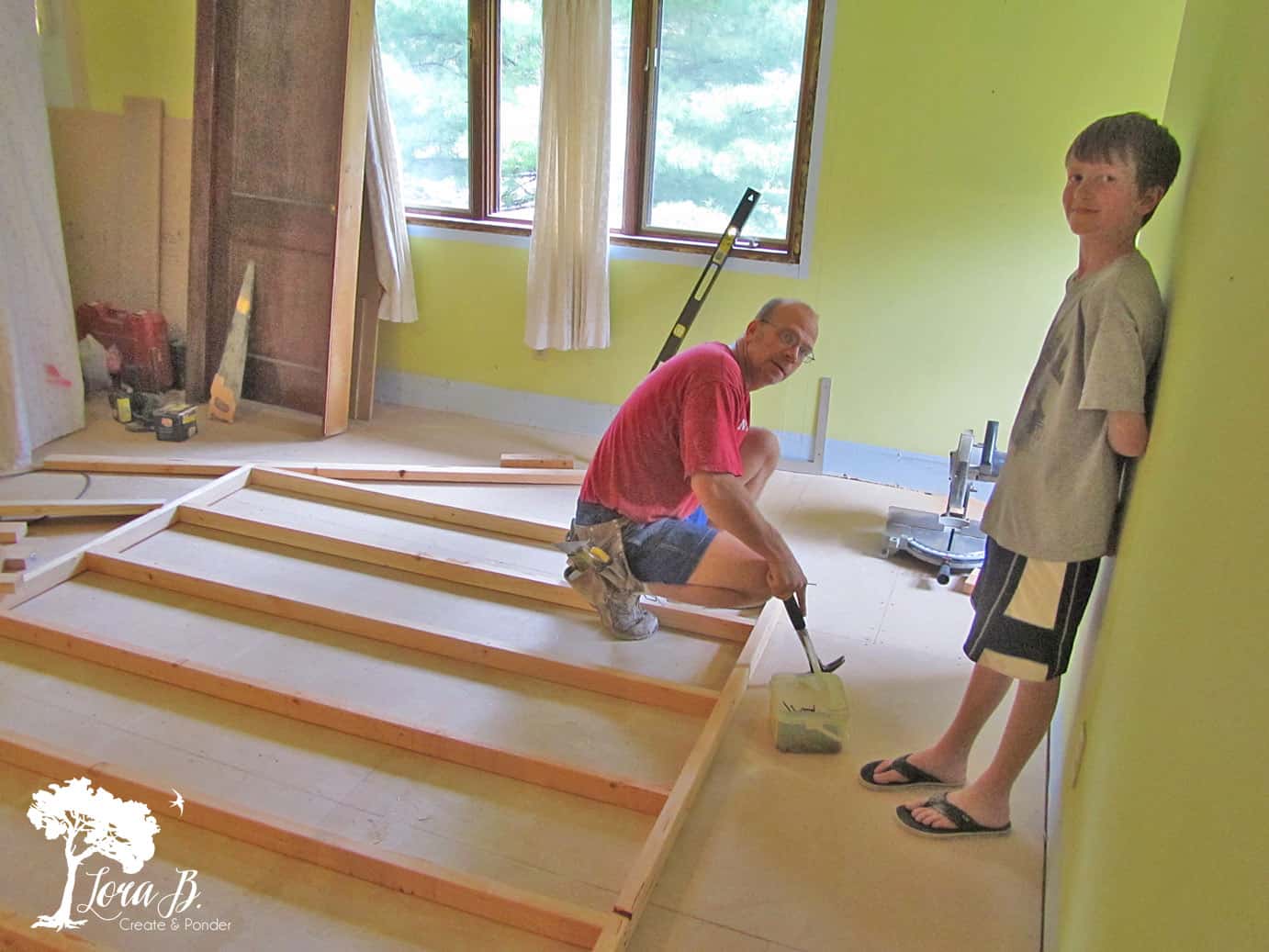 **I know all you old house lovers are oohing and aahing over the 100 year-old wood floors right now. I honestly really wanted to put them back together and refinish them, but they were in rough shape. We would have basically had to peel them all up and flip them over. And since Mr. Fix-it was the one really doing this project and he likes carpet under his toes when he gets out of bed…it just wasn't happening. And ladies…there's a place to just cut your losses and move on!
Once the demo was done, the closet wall could be constructed. Our kids learned so much through the years helping us on all these projects!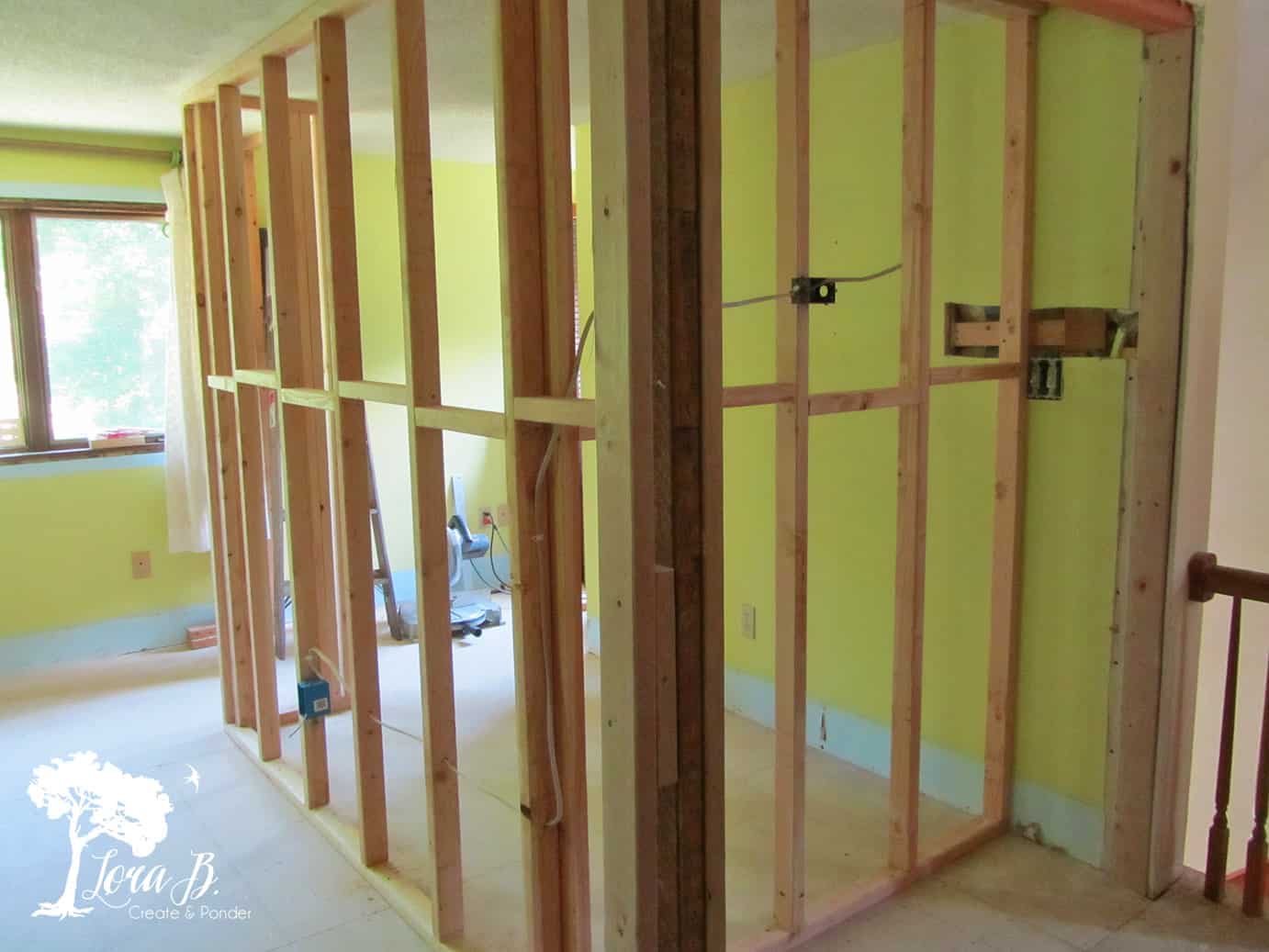 We stepped the closet wall back a bit to build in an old glass-front cupboard my grandma had picked up years ago at a garage sale (yep-apple didn't fall far from the tree). I wanted this piece to look like it had always been there like an old house built-in.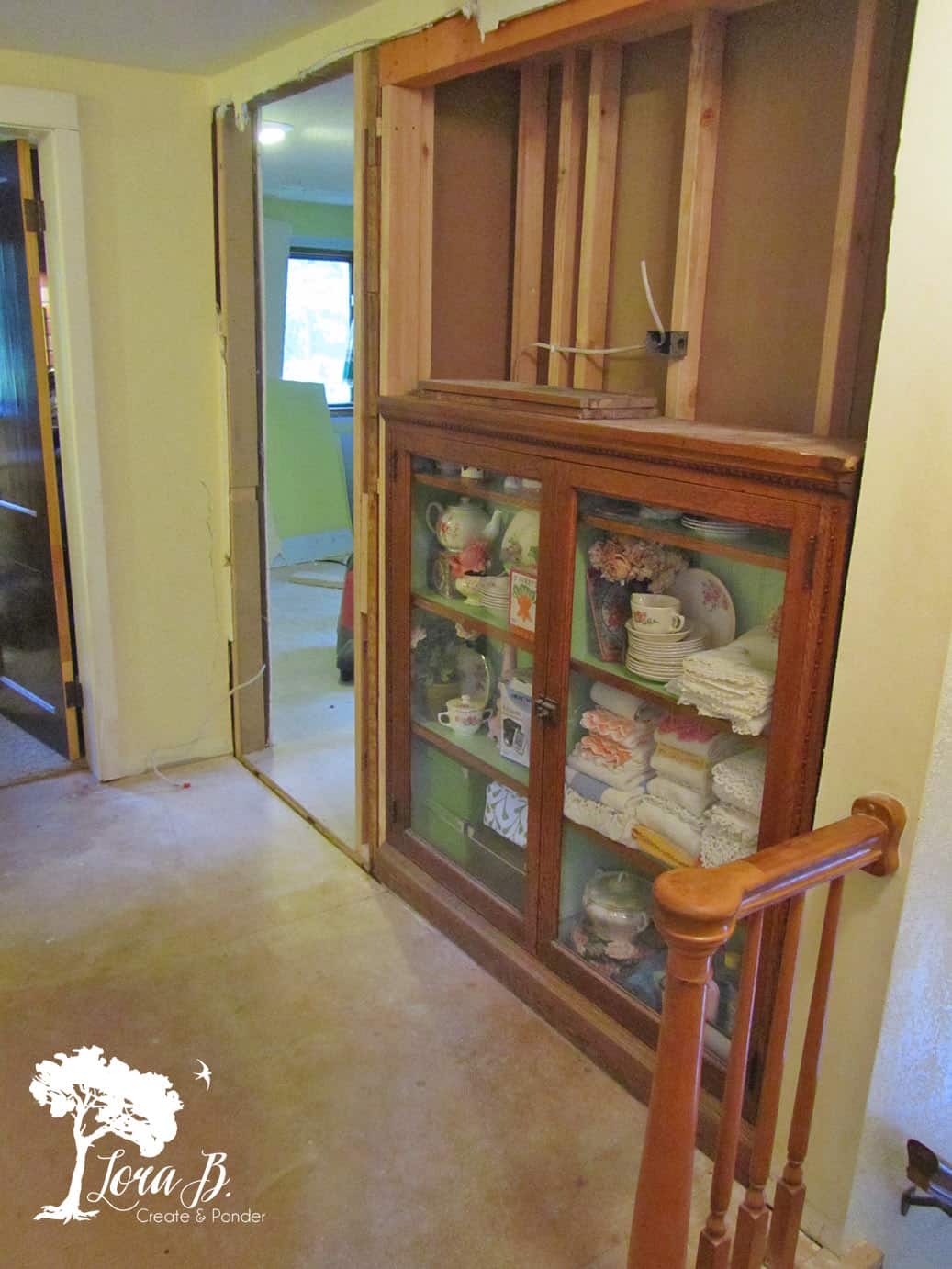 We employed this same trick in our kitchen, using glass doors from a piece from my other grandma, here: "Kitchen Cupboard With Antique Doors". Incorporating old pieces like this gives a house history, even if it wasn't blessed with these types of features originally.
We've recently been trying to finish up this hallway, so you won't see finished pics yet, but the bedroom is done and being totally enjoyed! And the closet can be seen here, "Closet Debut and Junky Organization".
I especially enjoyed how our ironing board shelves turned out in this space, which you can see here, "Ironing Board Shelves and Closet Refresh". Remember how I described that dumb little corner? It totally makes sense, now that it's incorporated into this closet!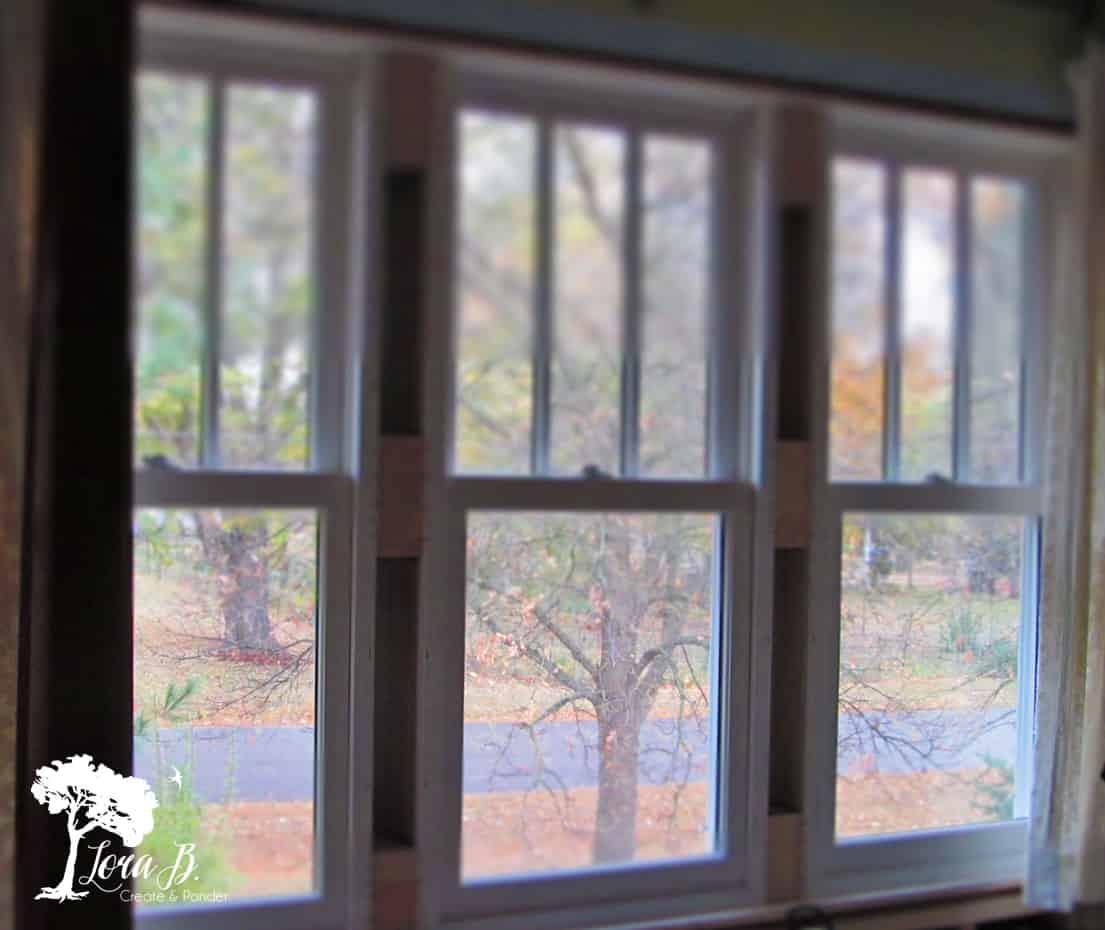 My favorite part of the whole remodeling process was adding new Marvin Windows. We reinvigorated the whole farmhouse look and filled the room with views and sunlight. It felt like a splurge at the time, but the room just wouldn't be the same without them.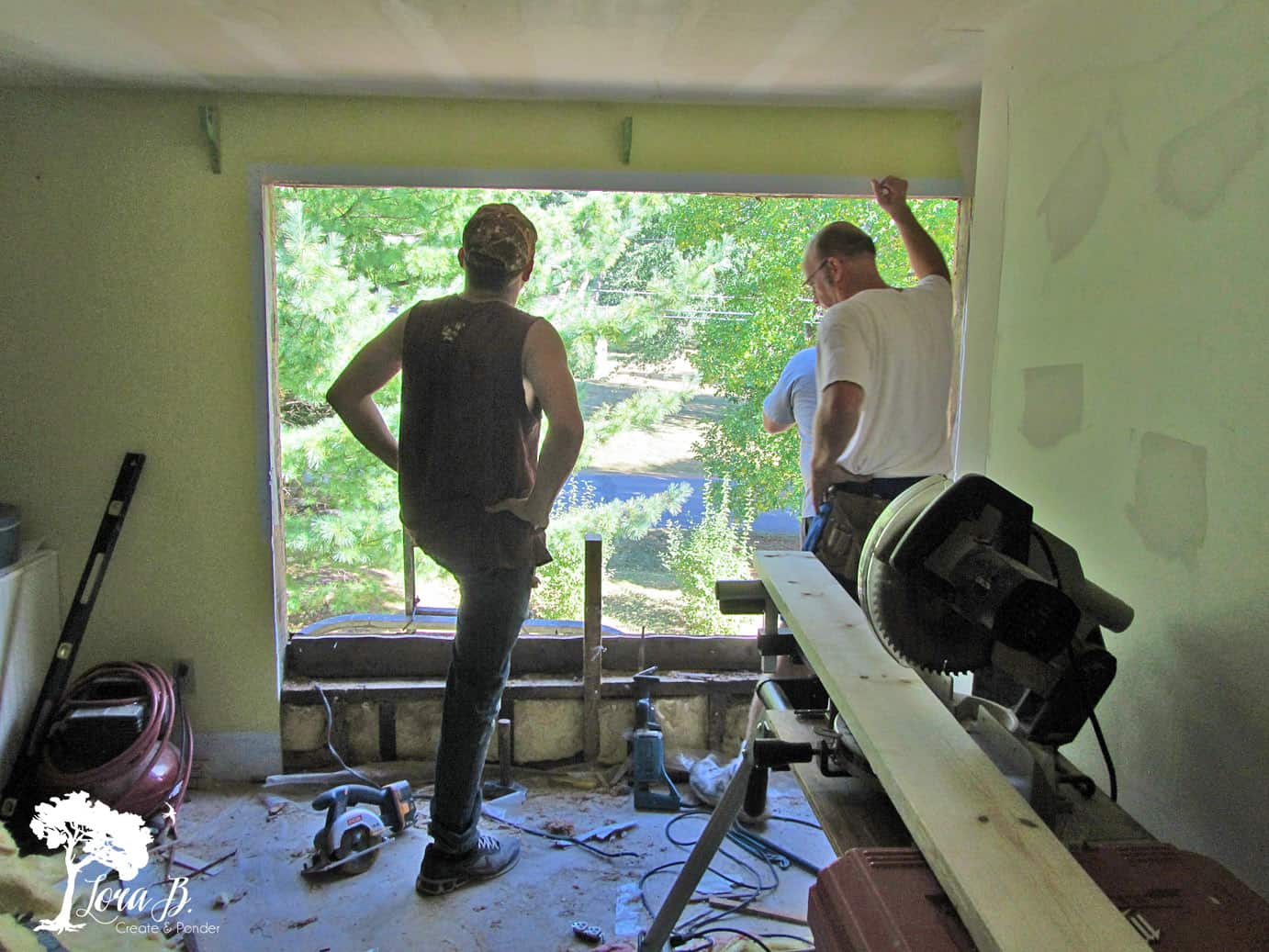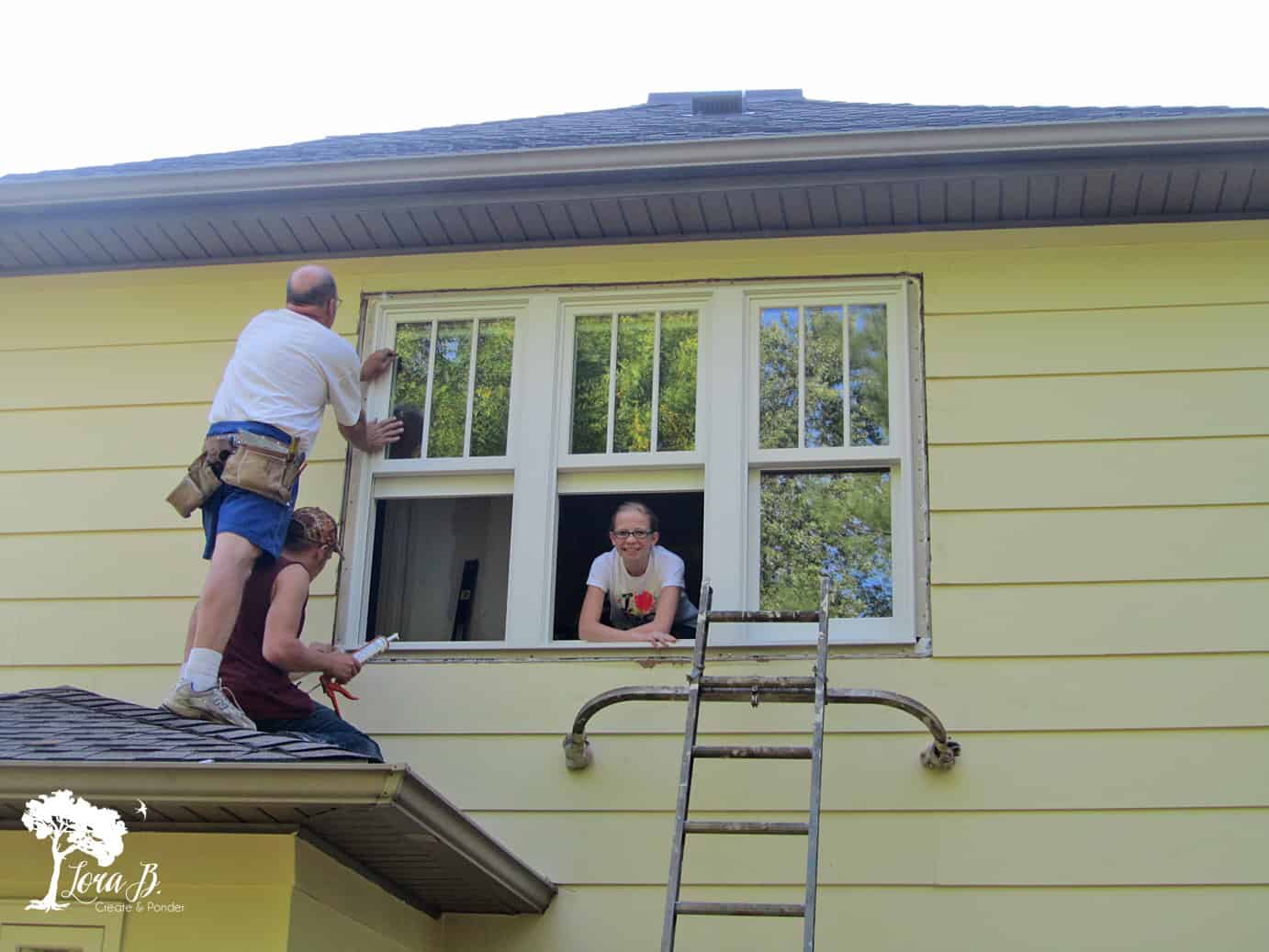 It refreshed the look of the outside of the house and the inside. It reunited the house with it's original personality. And keeping new windows clean is so much easier than maintaining old windows-I've lived in old houses long enough to appreciate this bonus!
We wallpapered the walls in a buttery, soft, subtle pattern and painted the ceiling in a similar tone to disguise the low ceilings. I love wallpaper…when it's sized properly. I love having instant pretty on the walls without having to hang much on them.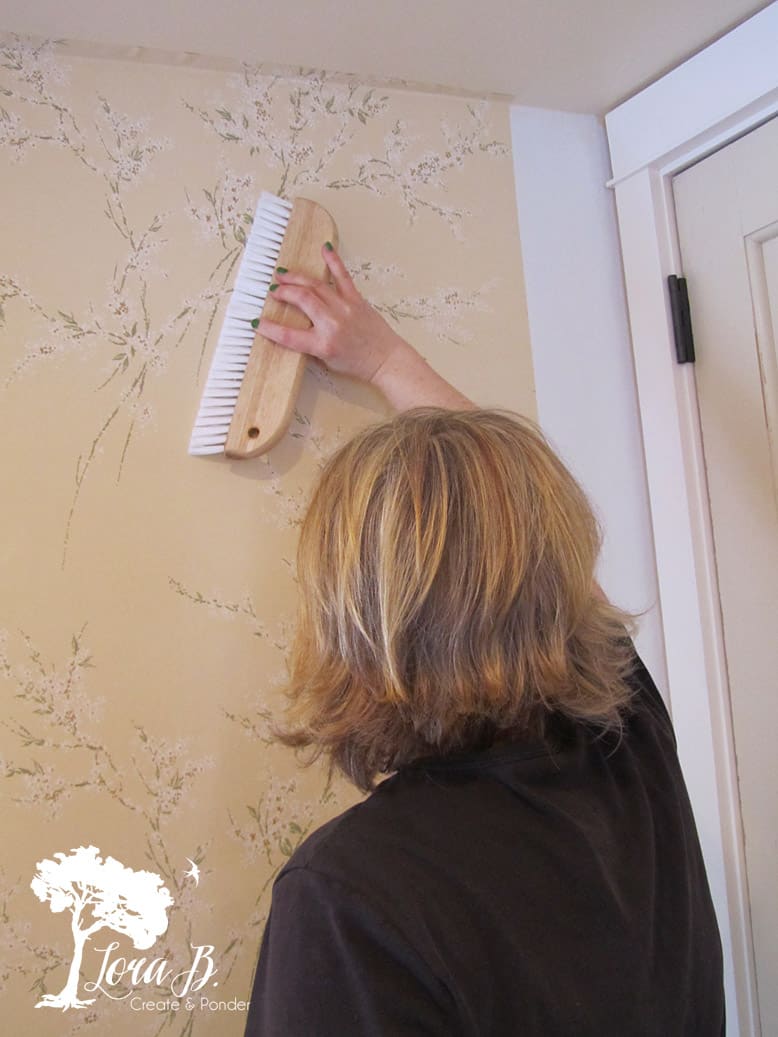 Mr. Fix-it continued on with the farmhouse inspired trim throughout the house. I picked up an old door at a Habitat Re-Use store for $5 for this room. It's thick and beefy, and I will never hear the end of how much a pain it is to hang a "non-pre-hung" door;( But the price was right!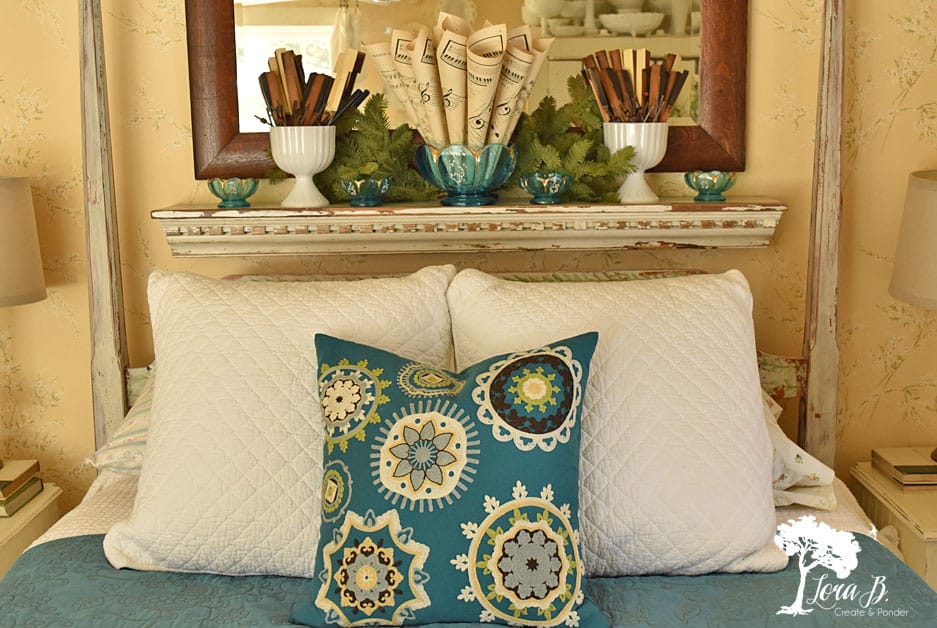 I love styling this room for the seasons! I decorate it for Fall, Christmas, and even Spring and Summer. See how I switch it up in these posts, "Christmas Bedroom Beauty" , "Mantle Shelf with Fall Textures", "Styling Tip: Add an Accent Color".
As I mull over all we've done to this house, it makes me cherish it more, and tells me maybe I should quit looking at other house listings, tempting me that the grass is always greener. Maybe my case of "restless house syndrome" is starting to ease a little!
I'll finish out this week with the rest of the identity transformation, and then back to projects next week!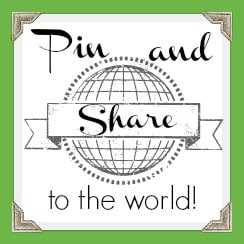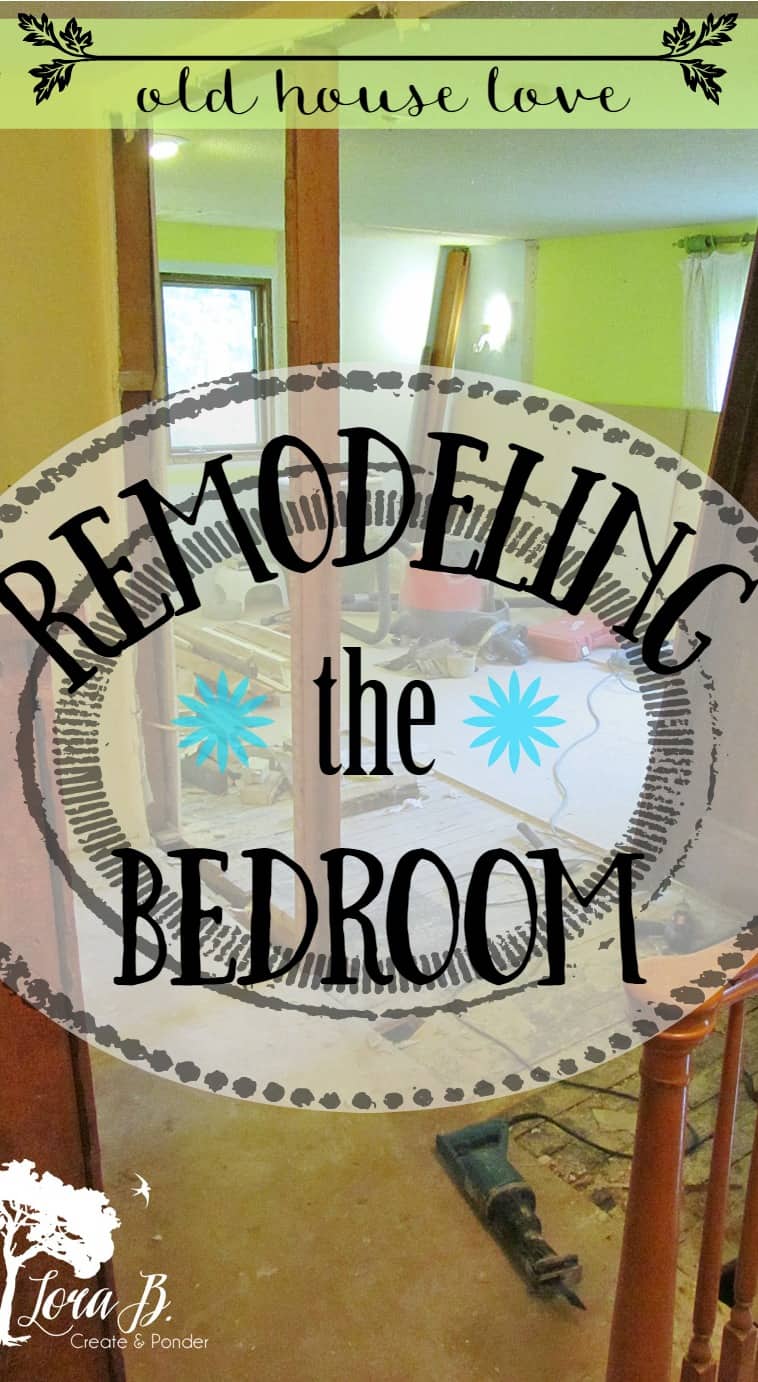 Sharing at these lovely parties: