10 Ways to Beautifully Transition Your Home to Fall
Simple ways to inexpensively transition your home decor to autumn. 10 ways to embrace seasonal fragrances and decor to make your home cozy for fall.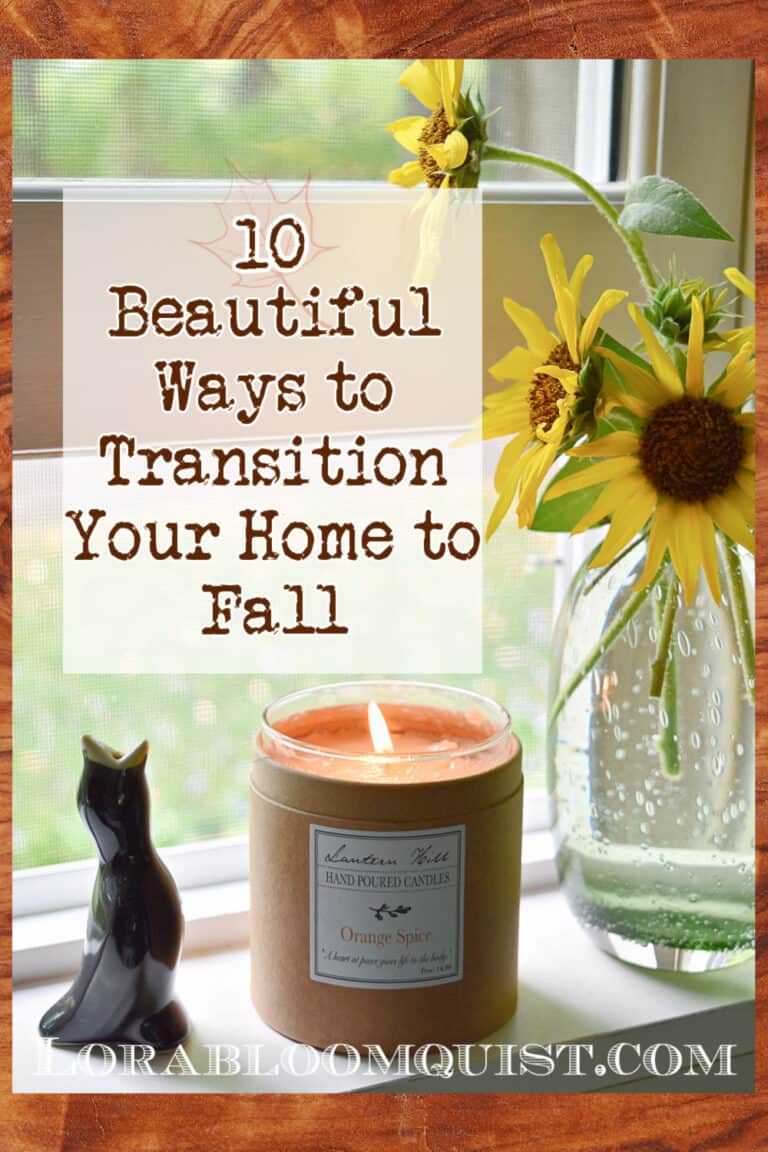 It's time to transition your home from summer to fall! But where do you begin? Does it seem overwhelming? My goal is to make it fun! I've got 10 Ways to Beautifully Transition Your Home to Fall to give you tons of ideas you can achieve in your own home. You can do one of them, or all of them, depending on what you have available!
I've put together this list to help you get started with the seasonal switch. I love transforming my home with the new season in almost every room! If you don't want to go quite that crazy, you can just do a few of these. My hope is you'll get some new ideas to try that you haven't thought of before!
10 Ways to Beautifully Transition Your Home to Fall
For your convenience, this post contains affiliate links. If you make a purchase, I may receive a commission. There is no additional cost to you. My full privacy policy is here.
Switch Up Your Everyday Tableware
If you have open kitchen shelves or a plate rack in your kitchen, you can get a new seasonal look simply by switching up your dishes. Find inexpensive, seasonal dishware at thrift stores or splurge on a cute new seasonal set that you love.
Our rustic kitchen shelves are the perfect place to display seasonal dishes and the colors and textures of the season. A plate rack built into our kitchen cupboards also holds seasonal plates. (since I'm a dish-a-holic, I need lots of places to show off my collections;)
Seasonal placemats are another easy way to embrace the new season. For Fall, try woven plaids or rustic textures for your everyday meals, or use vintage metal trays with seasonal images.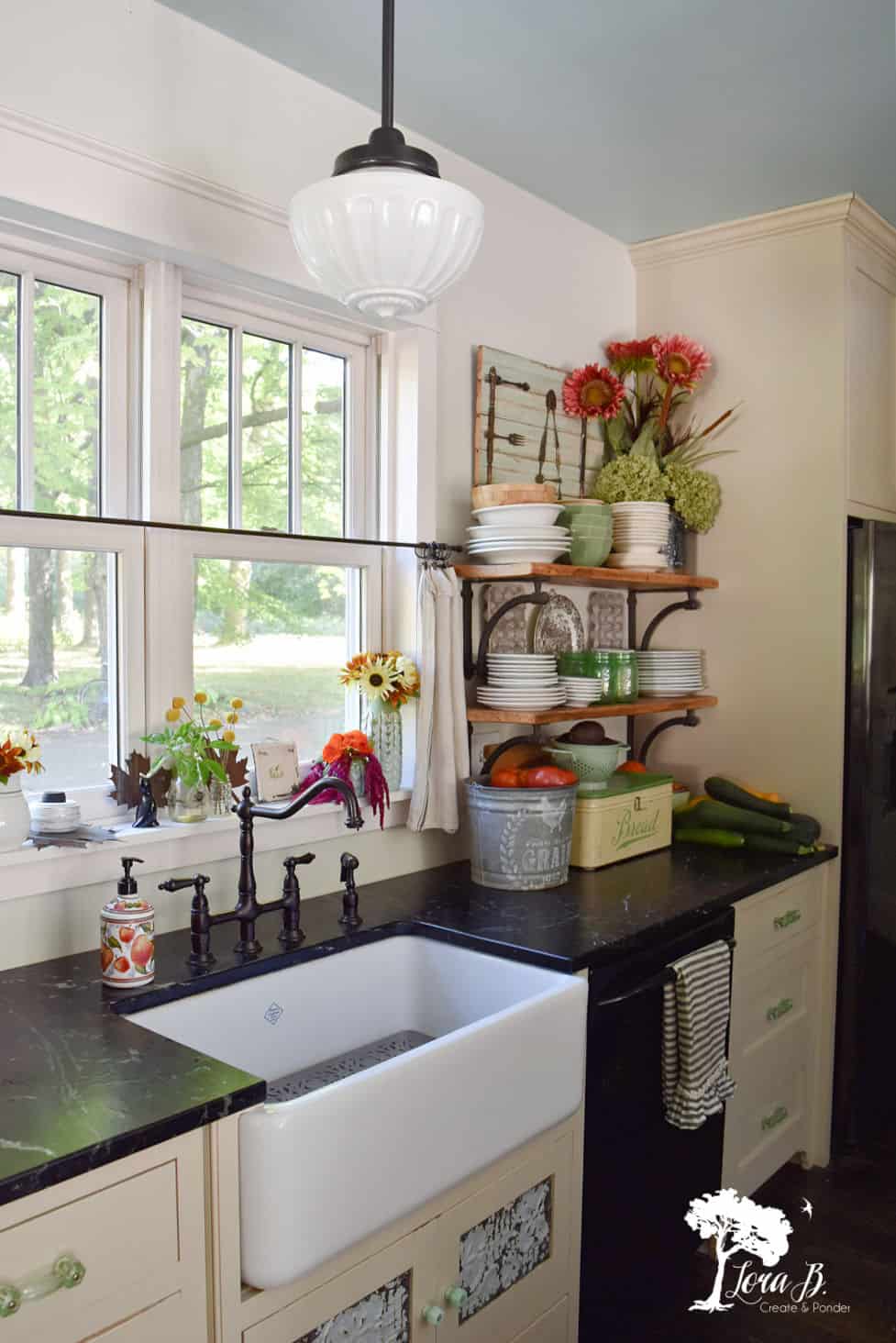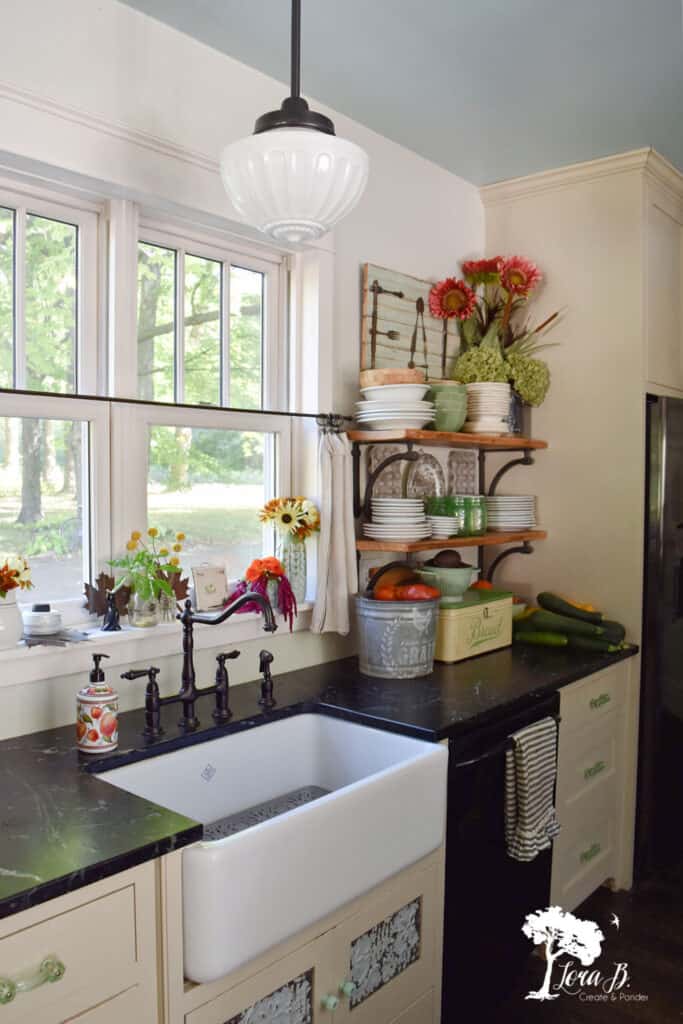 "Cozy Fall Home Tour with Vintage Farmhouse Style"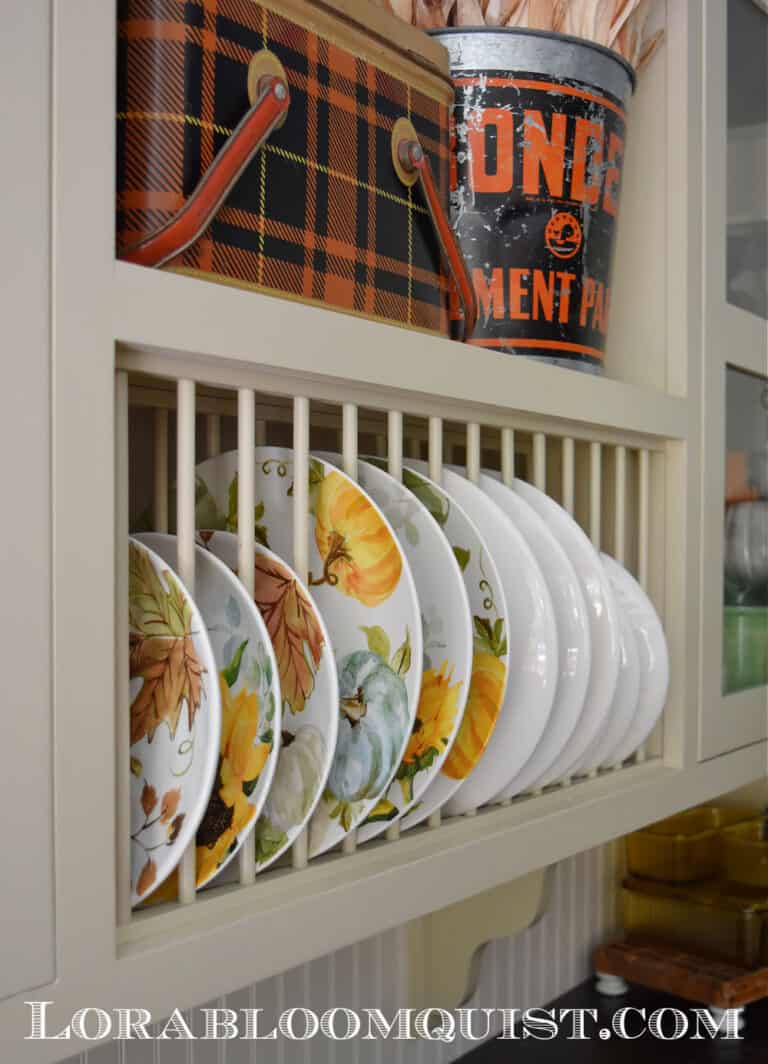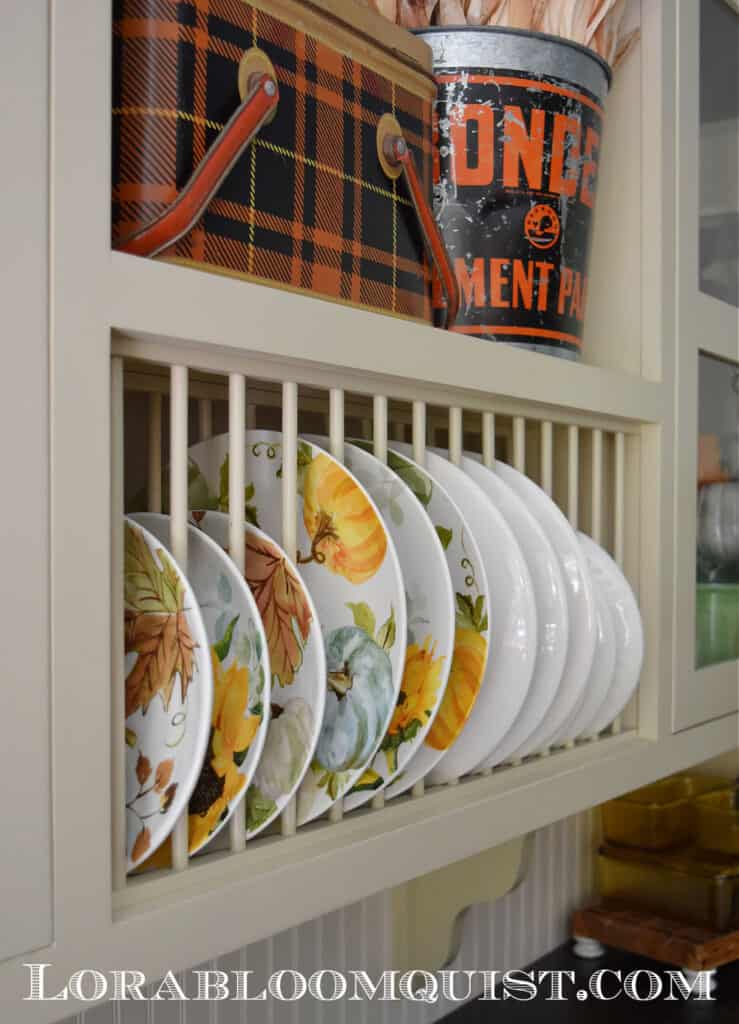 Add Seasonal Throw Pillows and Blankets
So many of us have neutral-colored sofas and chairs. Throw pillows and blankets are an easy way to bring in seasonal colors and textures. I love to pick up vintage afghans and fall quilts at thrift stores inexpensively to bring a seasonal pop of color to our sofas. Pillow covers can easily be crafted yourself and/or be purchased. A mix of handmade and purchased gives a collected style to your home.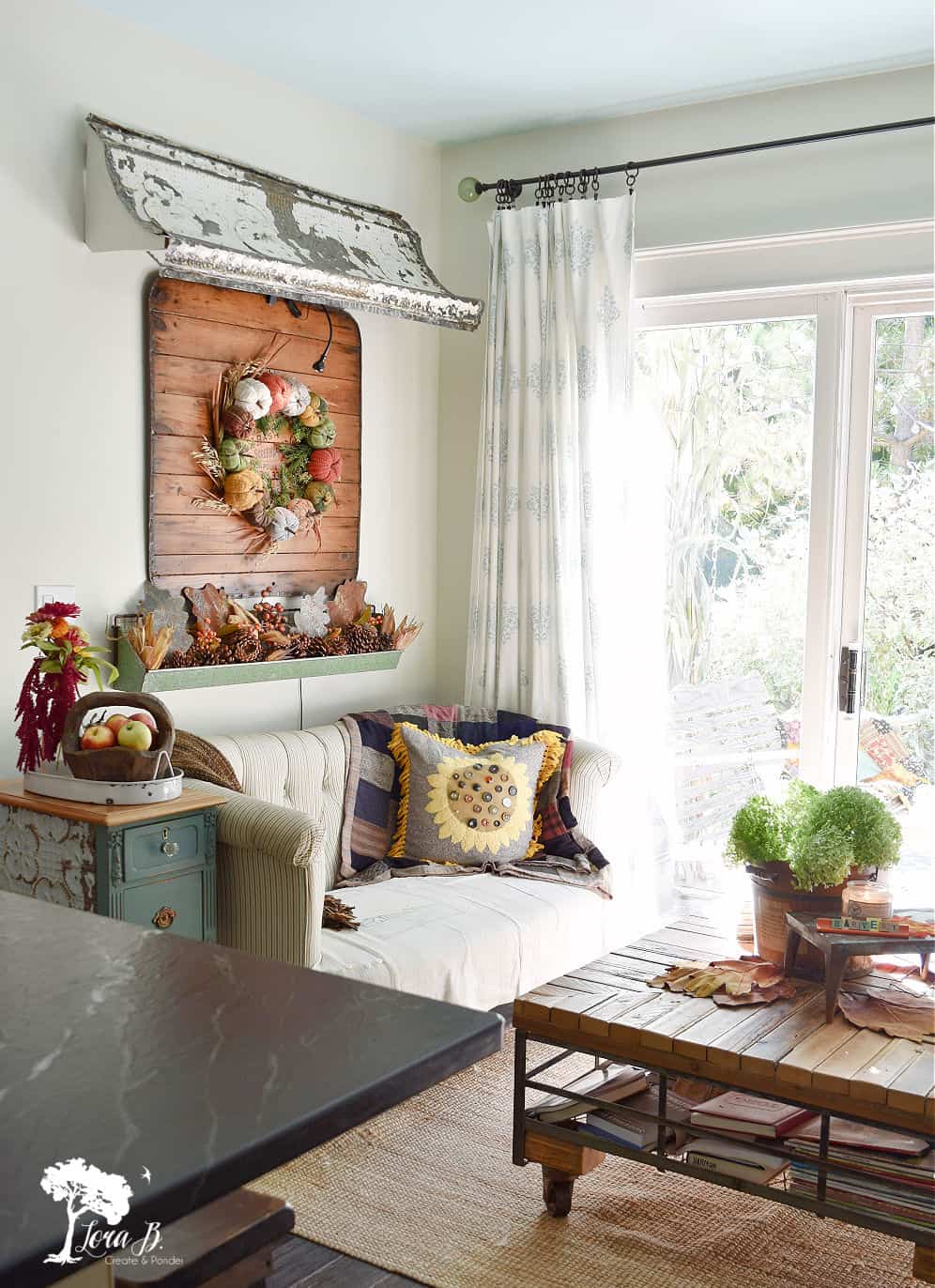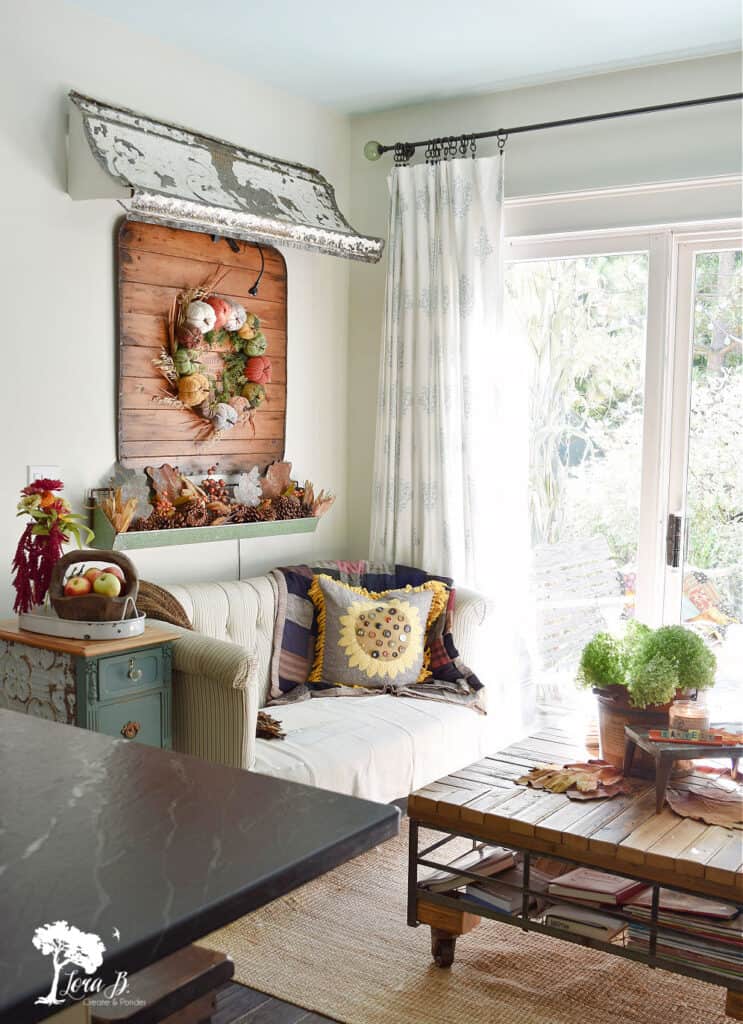 Switch Up Your Bedding
With neutral-colored bedding, it's easy to change the look with the seasons. Comforters can enjoy a seasonal cover on the outside or you can switch up a quilt or bedspread. I love a drapey bedspread that goes to the floor; bedding on top can be switched up easily. Add a few new pillow shams and it will look like you re-decorated your whole room! Thrifted vintage afghans can provide a punch of seasonal pattern and color, too.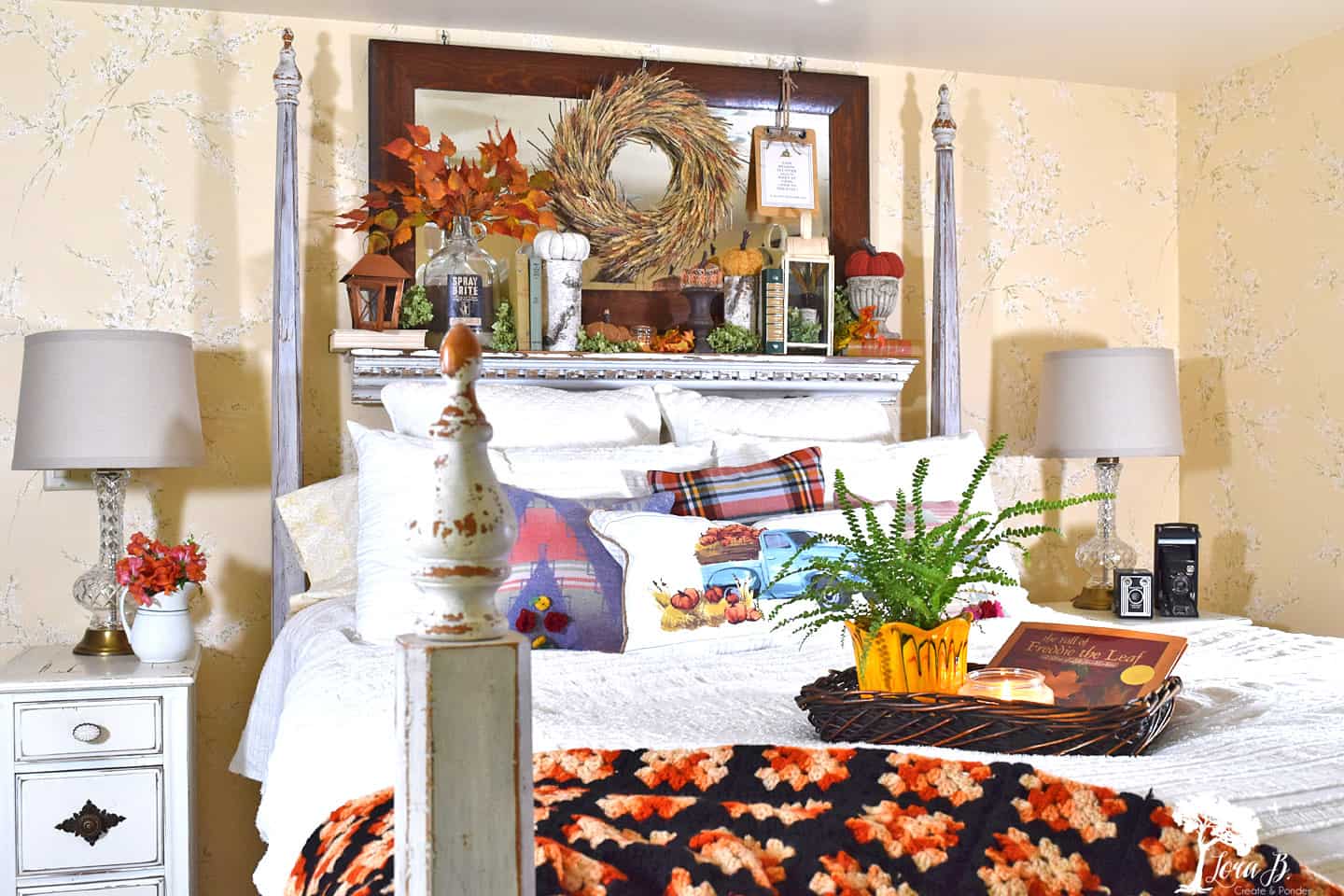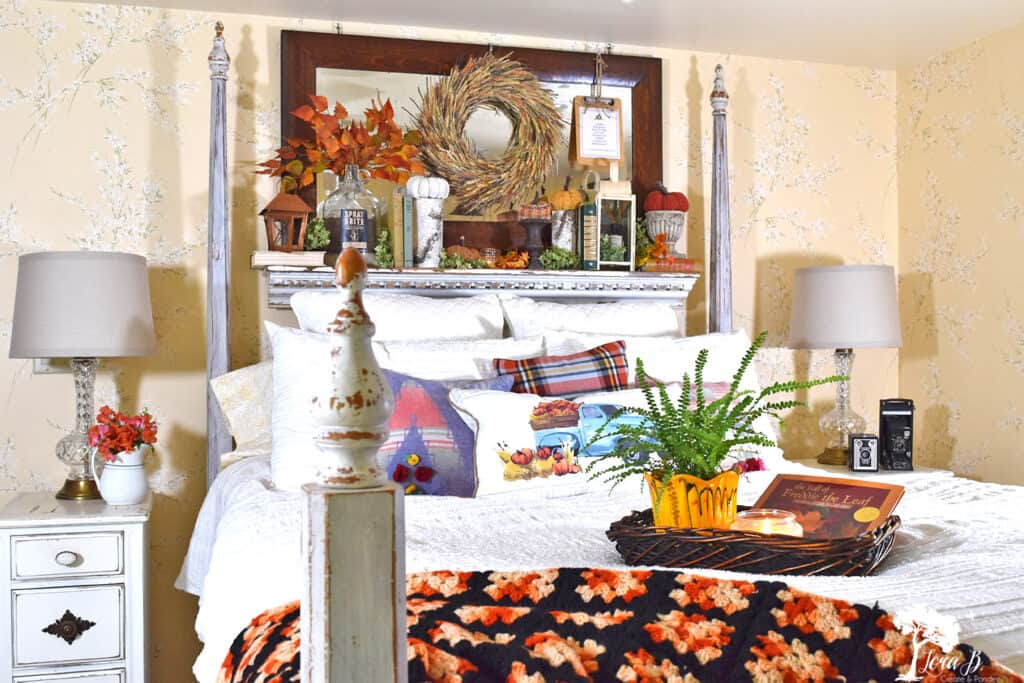 Decorate Your Entry or Porch for Fall
Make the place you come and go through everyday seasonally welcoming! You can start with seasonal door decor like a wreath, but take it to the next level, too. Add some seasonal fall foliage to your garden containers, a cozy throw on your outdoor furniture. Coming and going will be so much more fun!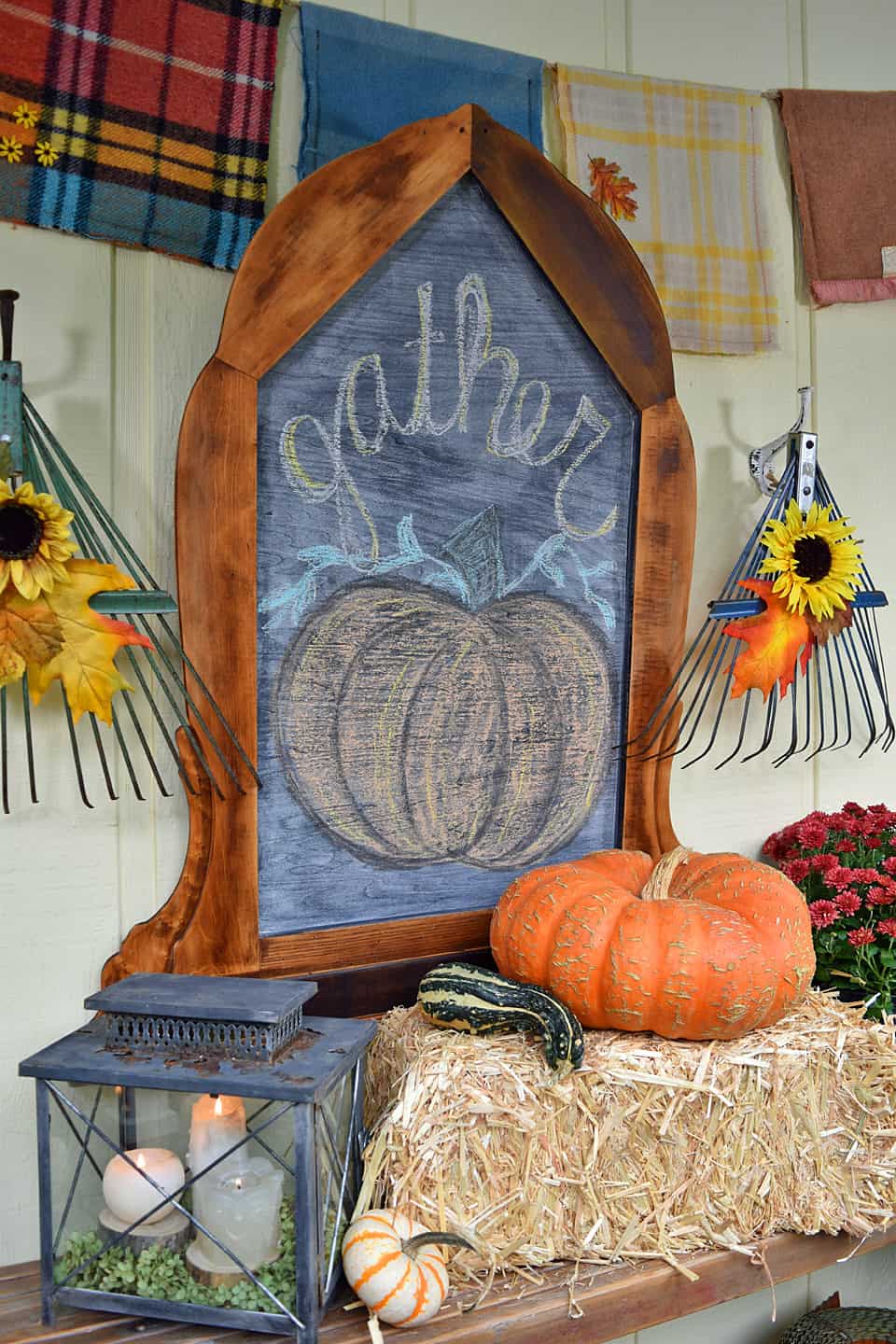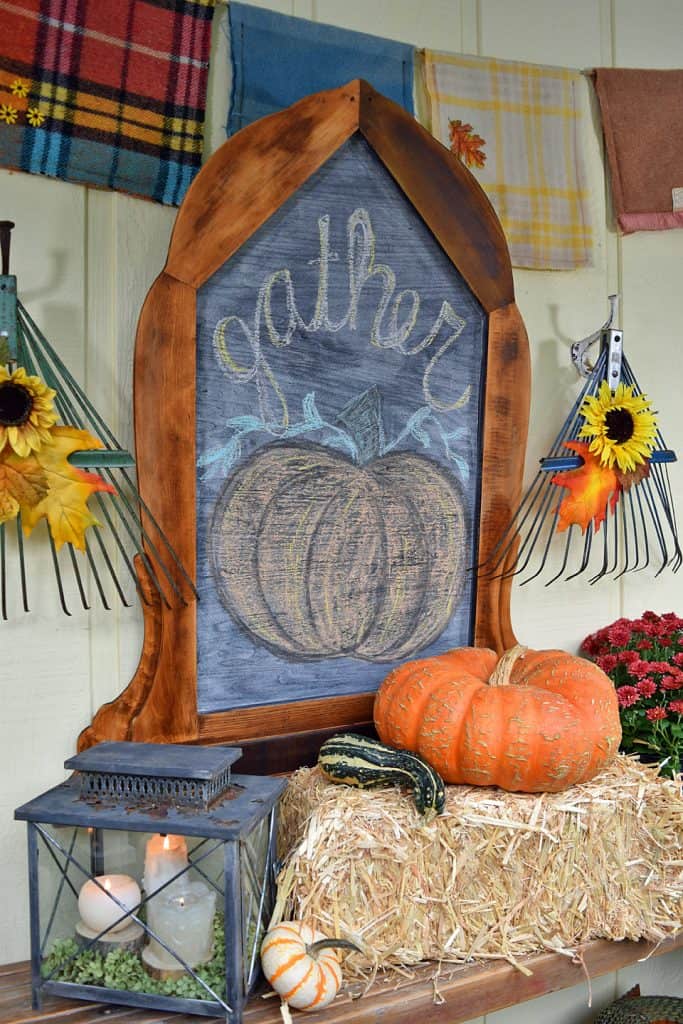 "Fall Decorated Porch and Patio"
"Our Vintage Farmhouse Fall Porch Tour"
Decorate with Rustic, Textural Accessories
Fall is the season to feast on textural, rustic accessories for your decorating. Here's a list to gather from around your home and add to your styling:
all types of metals-galvanized, copper, brass
pottery
rustic, weathered wood
woven materials
leather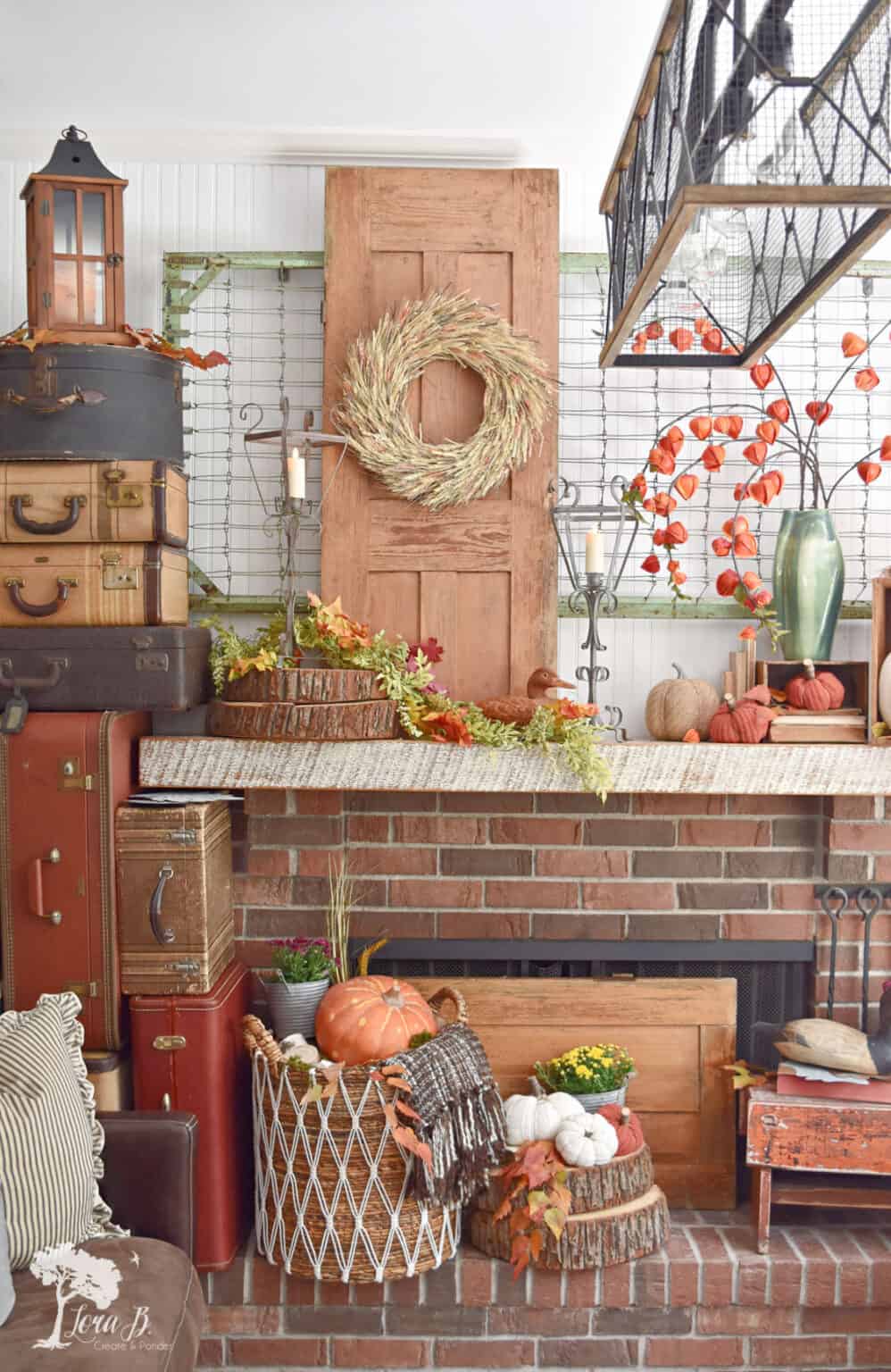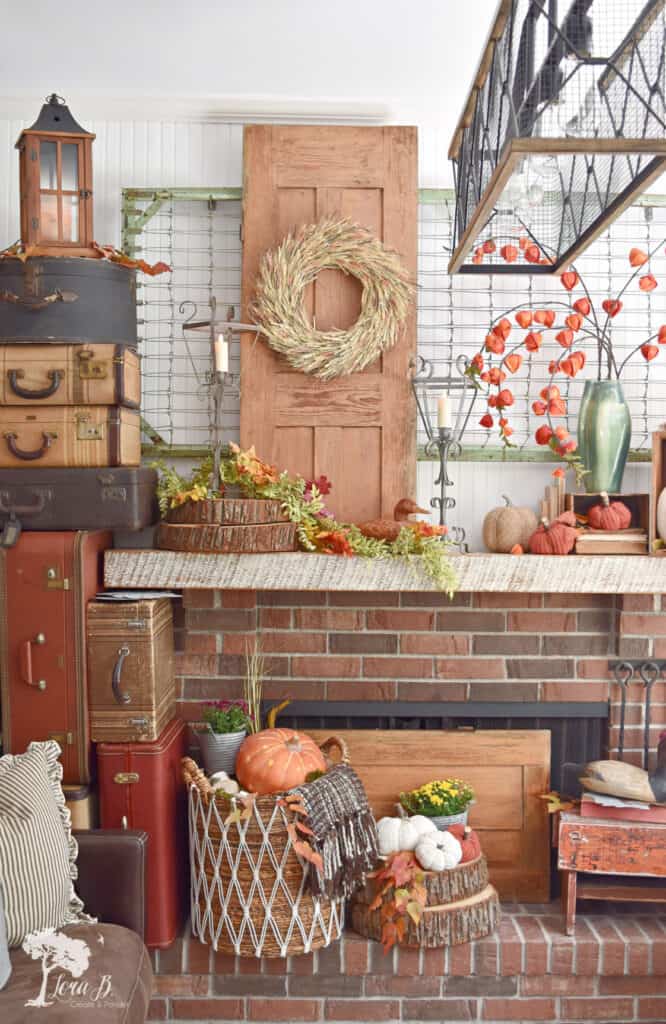 Fill Up on Fall Foliage
Fall is all about texture overload; the more the merrier! Decorating can be as easy as filling a vintage or thrifted vessel with a Fall filler. I made a whole list of foraged and found materials you can gather to turn your accessories into pretty autumn decor. Get all the ideas in "35+ Decorative Vase Filler Ideas for Beautiful (& easy) Fall Decor."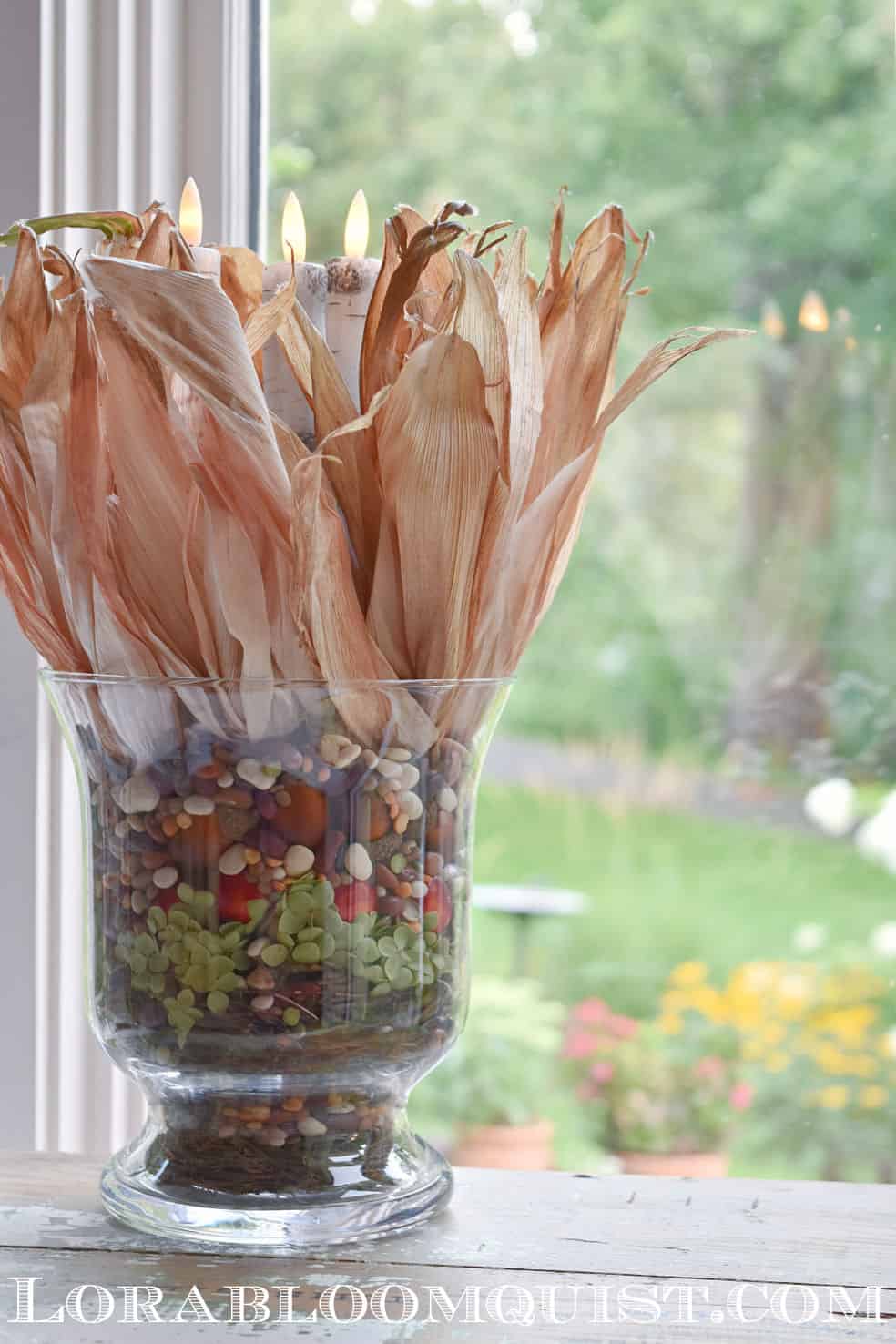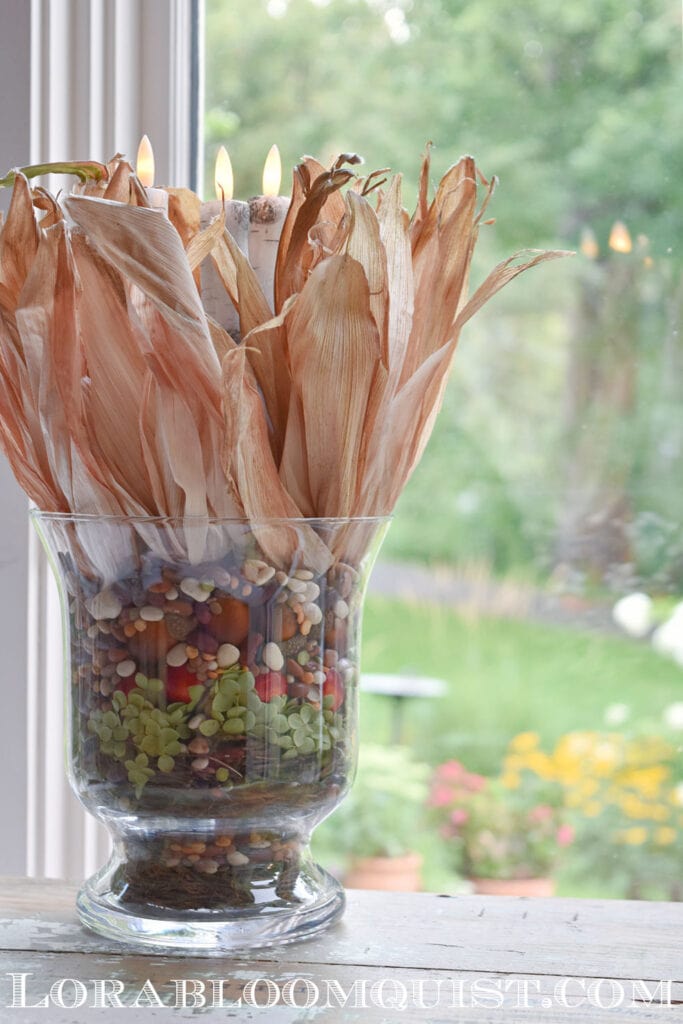 Decorate with Vintage Books
My vintage book stash gets a little break in the summer when I need my decorating to be simpler. But once Fall arrives, I'm happy to bring them out and add them to all the vignettes. There are so many ways to add their charm and character around your home!
Get all kinds of book decor ideas here:
"Decorating with Books: On the Hunt for Tabs"
"Decorating with Books 101 and Beyond"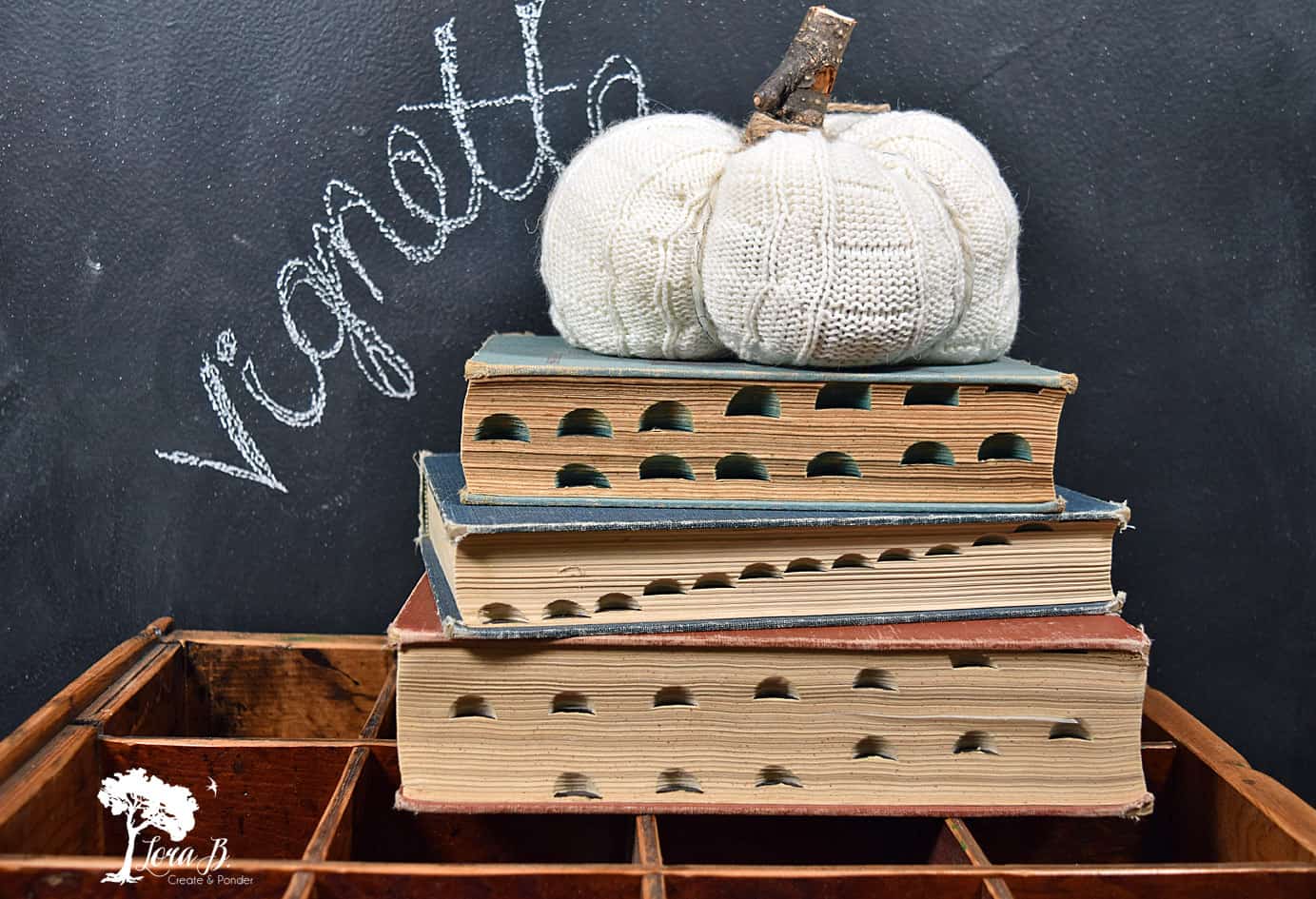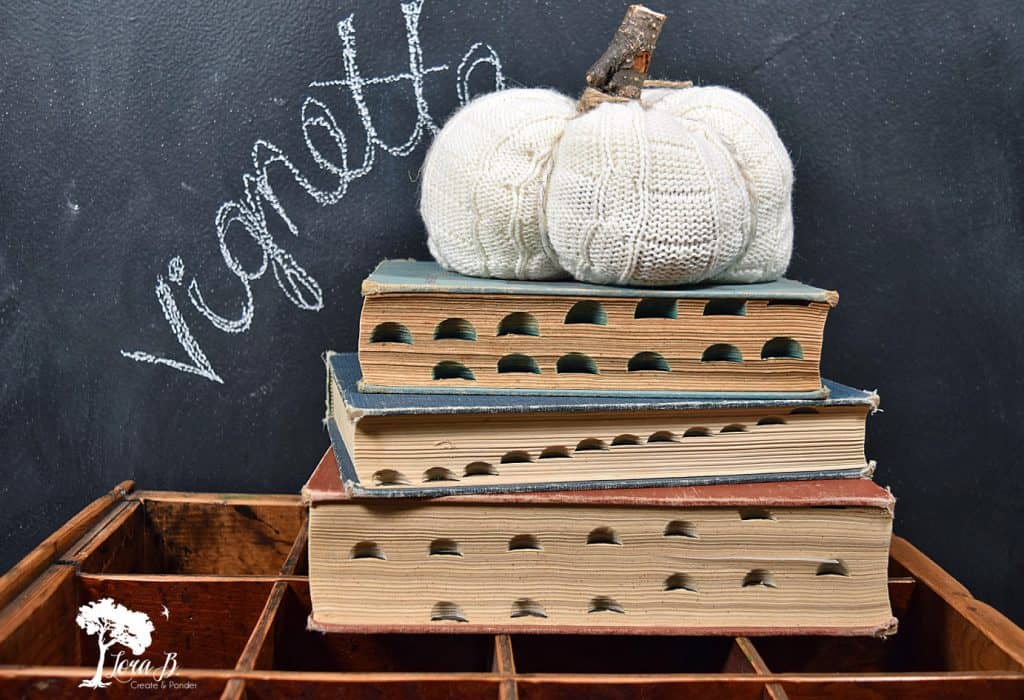 Create a Cozy Sitting Area
If you love reading books as much as you love decorating with them, Fall is the perfect time to create a cozy reading nook. As the evenings get darker, reading gets much more enjoyable. Find a comfy chair, get some squishy pillows and a plush afghan and enjoy a cozy sitting area. Our cozy kitchen sitting area is the favorite place in our house!
"9 Ways to Create a Cozy Sitting Area"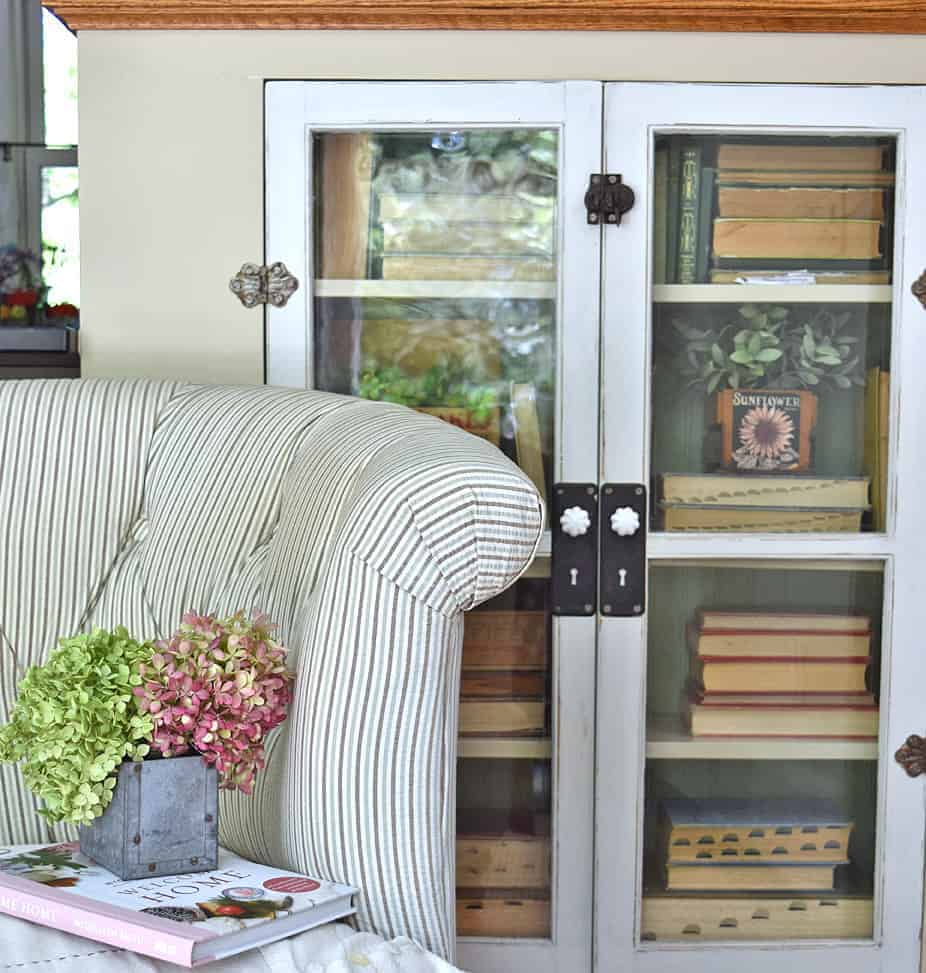 Pick a Fall Bouquet
Fall is when the last of the flowers are showing off their beauty! It's a great time to take a stroll in the country with your scissors and snip what's growing on the side of the road. I even fill a bucket with water and drive to where I've seen wild sunflowers growing. Even weeds look beautiful for bouquets in the Fall!
"11 Simple Tips for Beautiful DIY Flower Arrangements"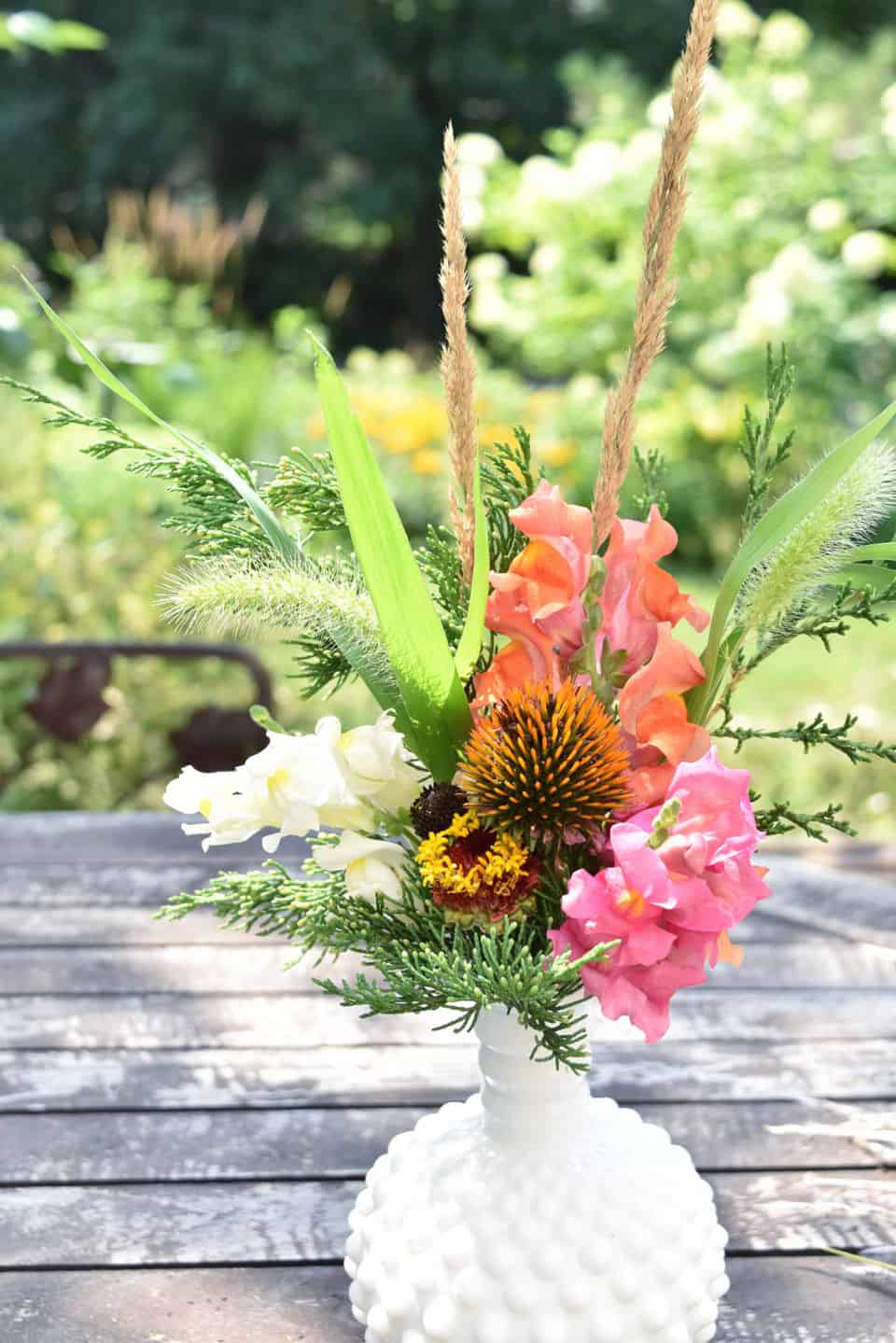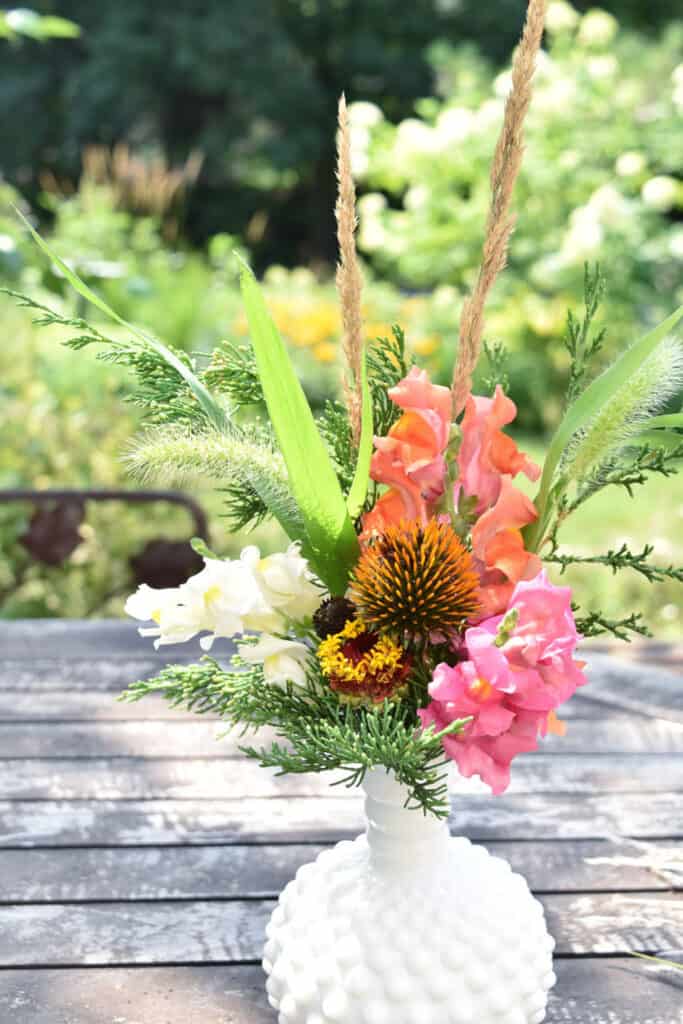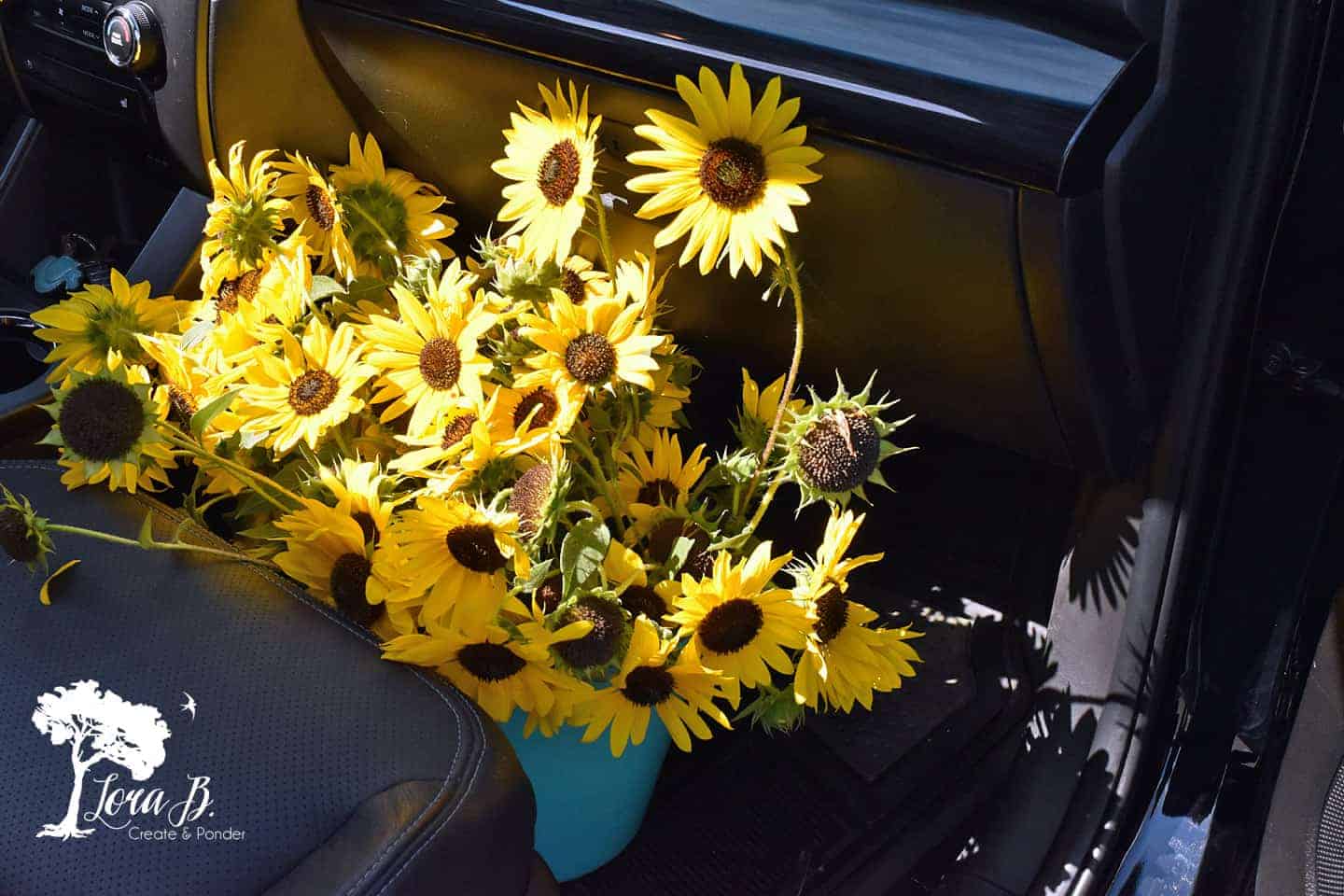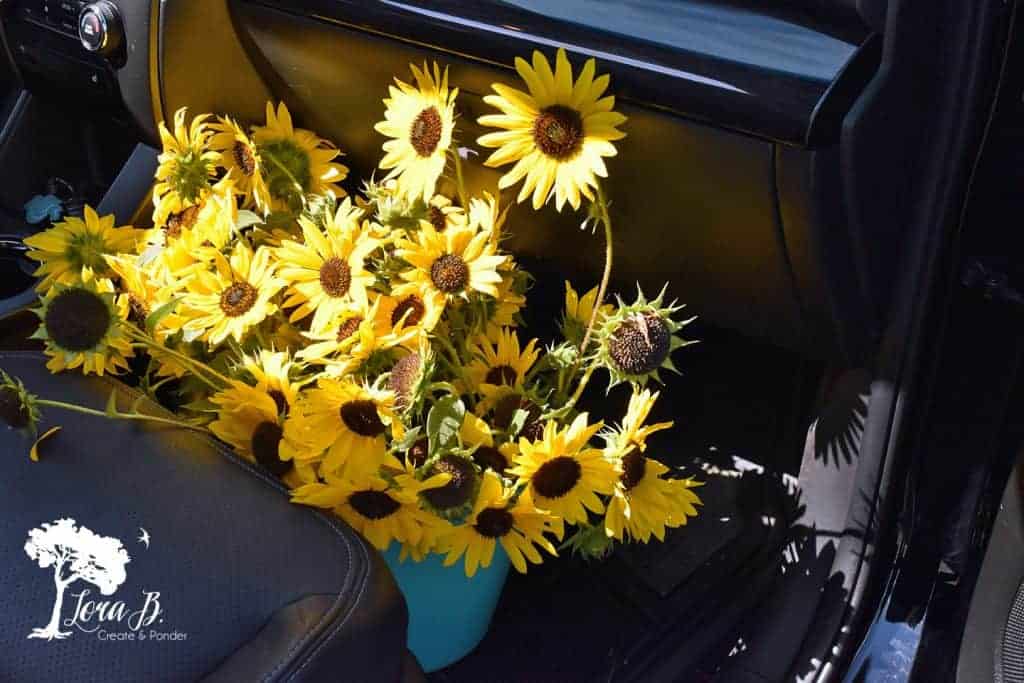 Add Cozy Lighting and Pump Up the Fall Fragrances!
As the daylight wanes, you can bring some cozy to the chill by adding accent lighting. Tuck small lamps into bookshelves or even under your kitchen counter. Definitely pick up a fragrant Fall candle, too. I always get my favorite Orange Spice Candle burning to get me motivated to decorate for Fall! And when I'm cleaning while I decorate, I always use Mrs. Meyers fall scents!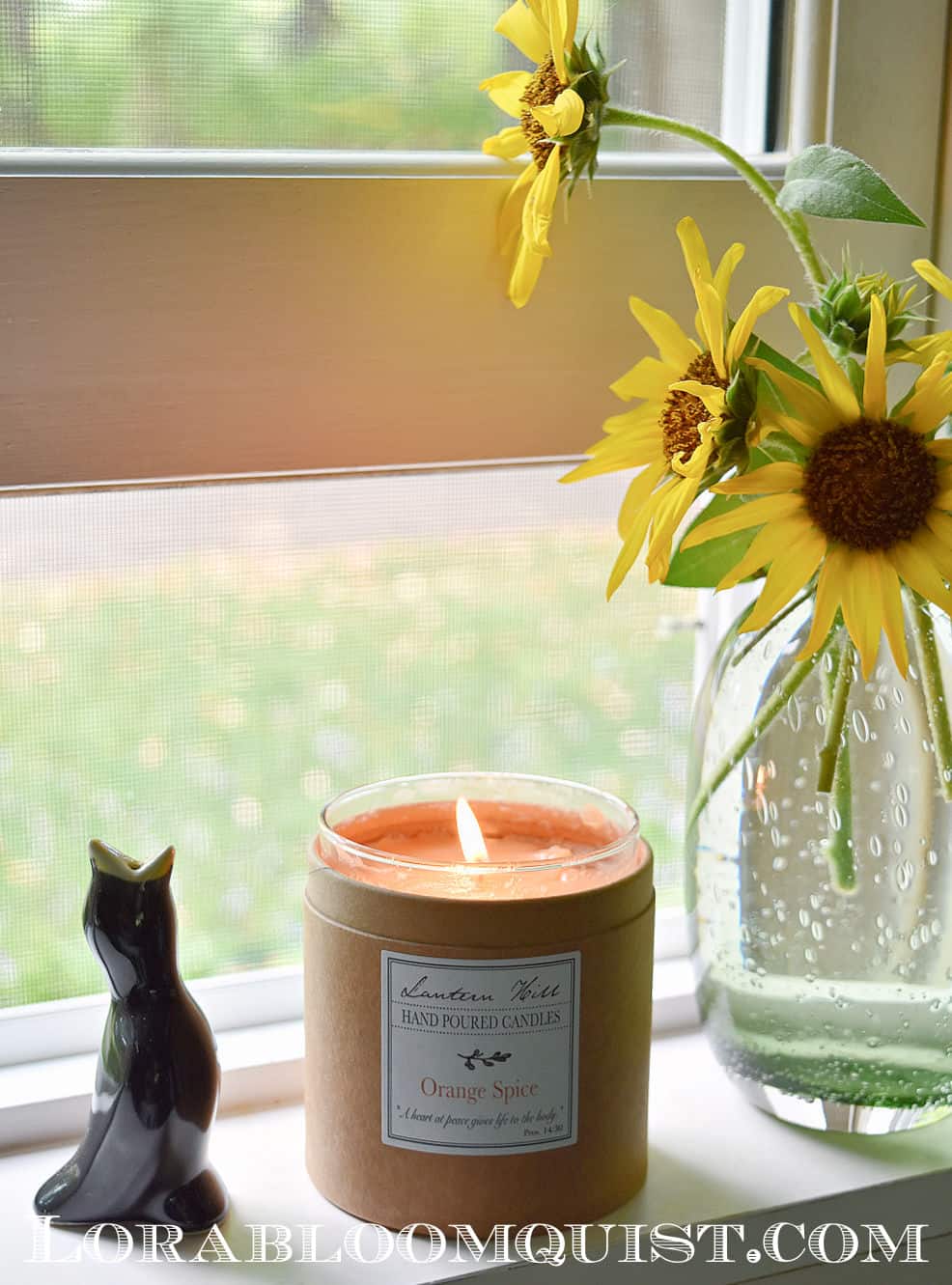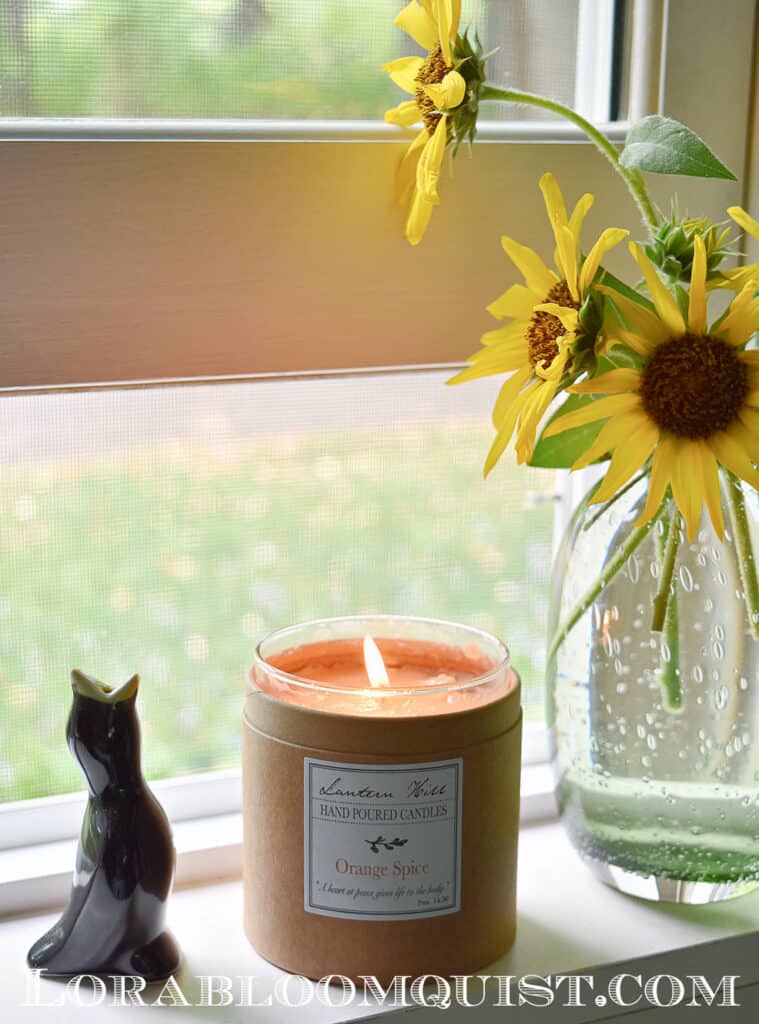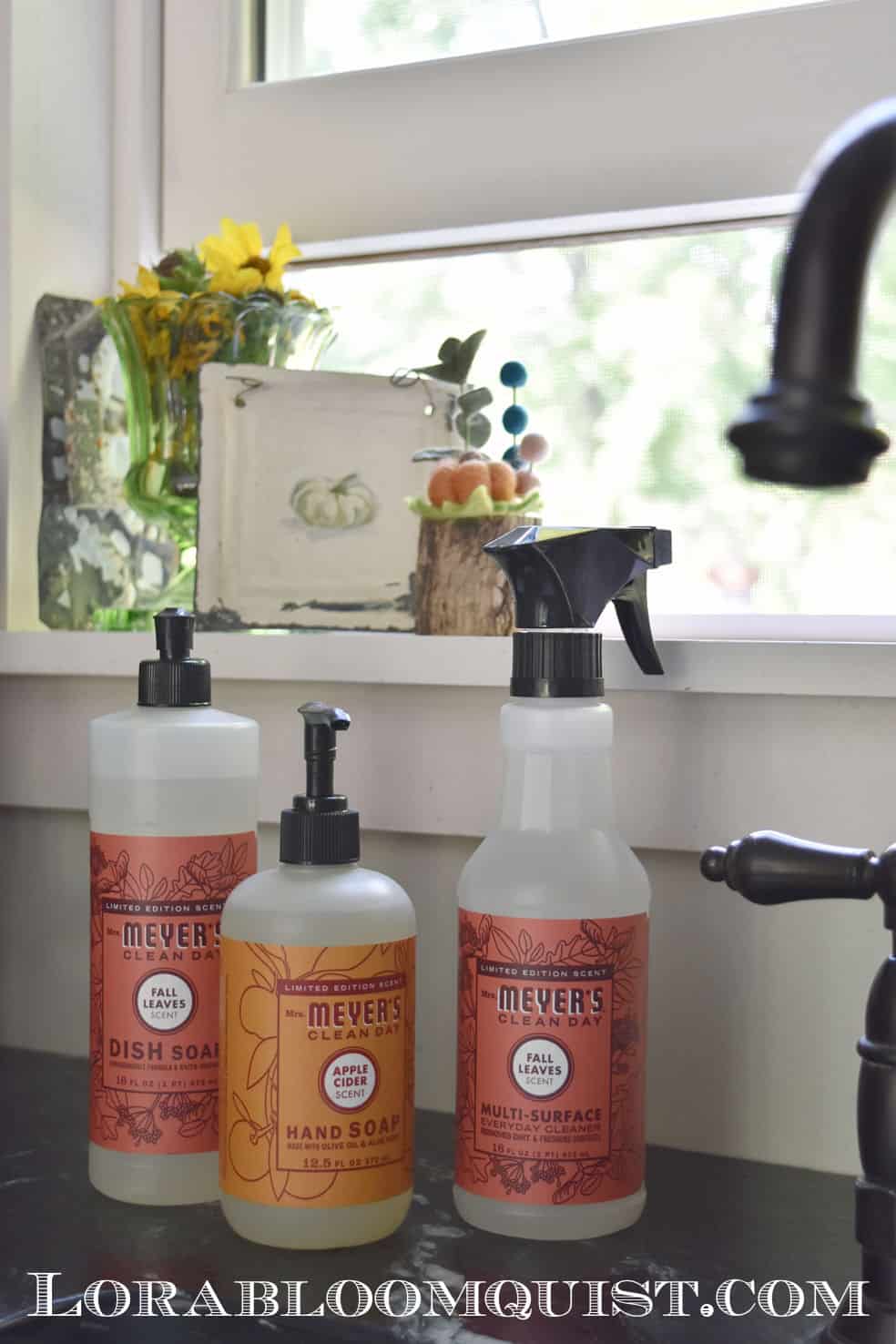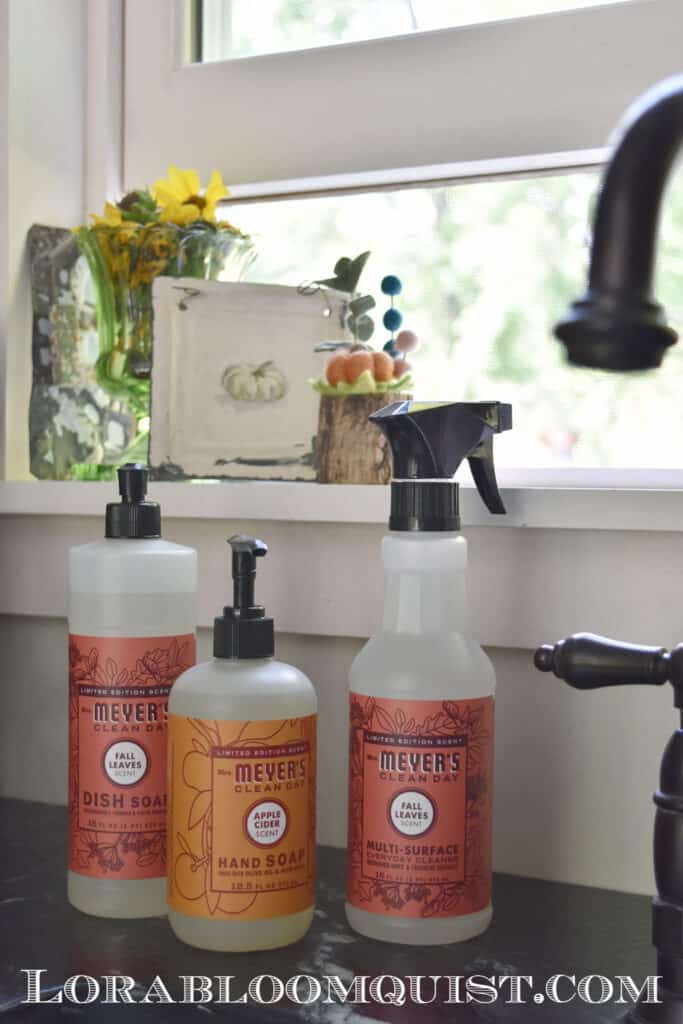 Are you feeling Fall inspired yet? I hope so! Once you get your nose smelling some of those wonderful autumn fragrances, you'll be inspired to spread it all over your home.
Thanks for reading 10 Ways to Beautifully Transition Your Home to Fall. If you enjoyed your visit, be sure to sign up to Become an Insider, so I can send the ideas right to you! (Sign up HERE)
Please Pin, Save & Enjoy More Inspiration from my friends Below!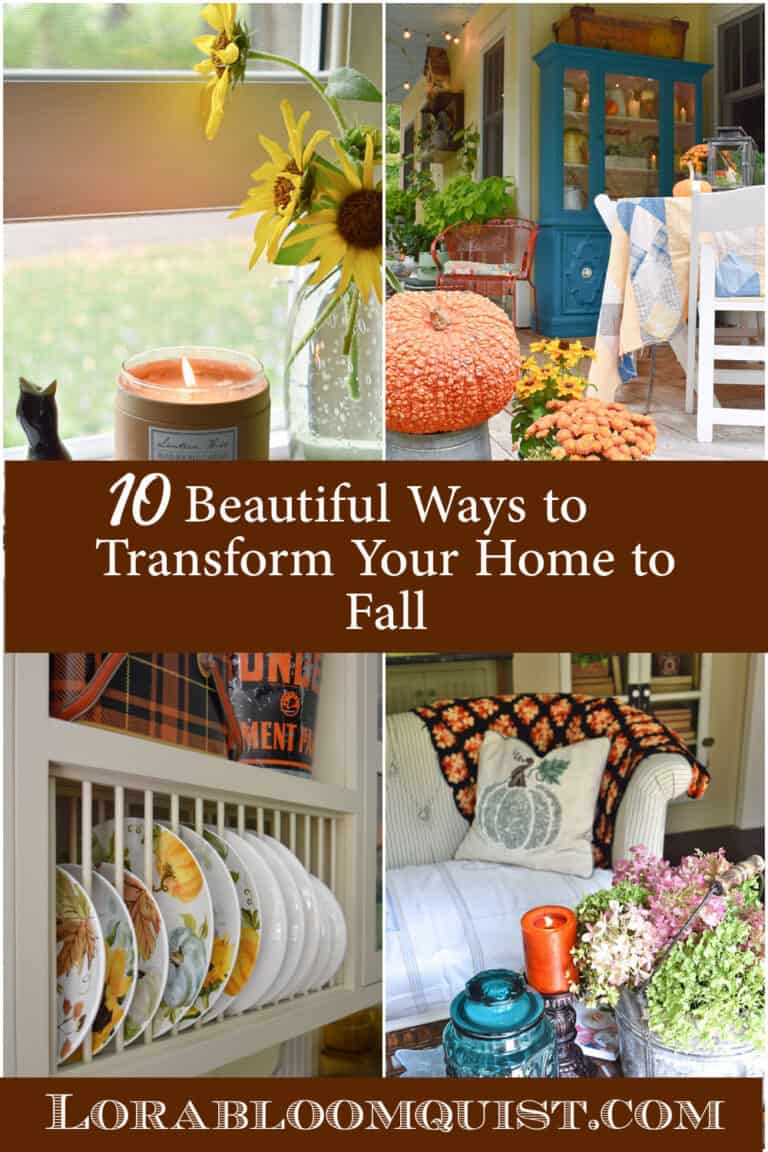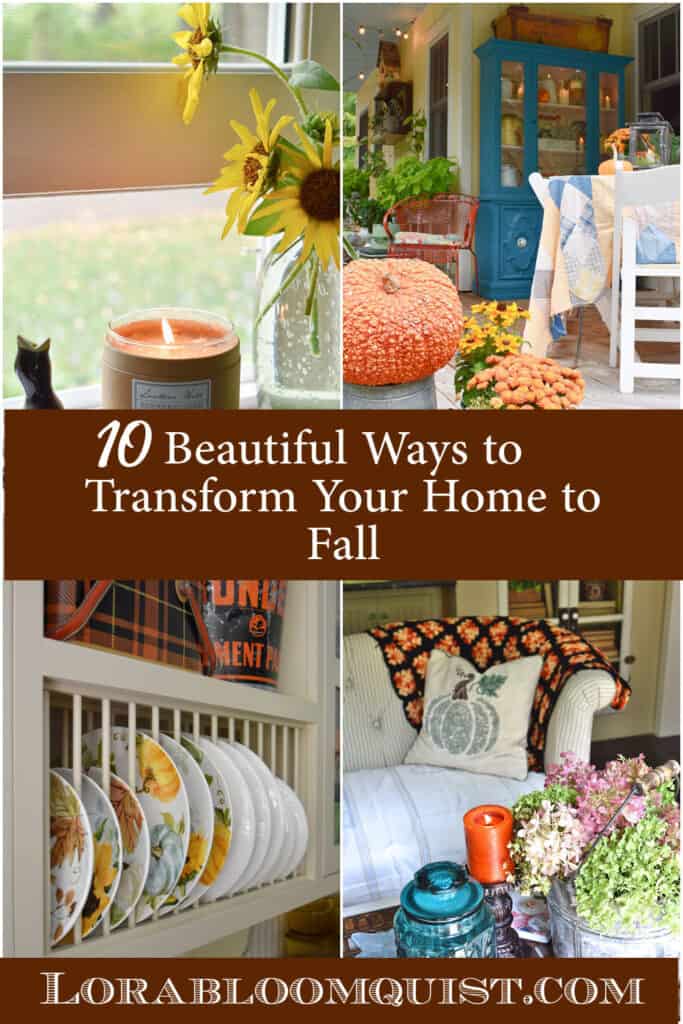 Today's post is just one of an amazing blog hop hosted by Amber of Follow the Yellow Brick Home. You're going to get tons of ideas on how to transition your home from summer to fall, each with a little different style. If you can, visit them all and Pin away like crazy! If you've arrived here from Itsy Bits and Pieces, your vintage-loving heart will be right at home here! Linda and I share a similar background: we're both former vintage dealers from MN.
For more ideas, check out Welch House 1900 next; Larissa has wonderful, romantic style! All the rest of the beautiful inspiration is down below.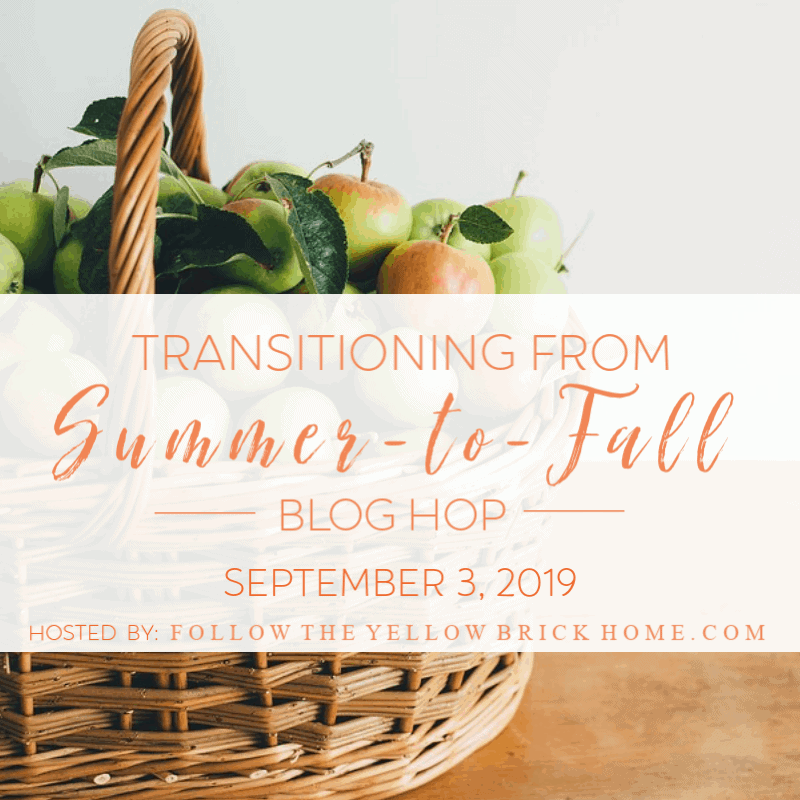 You are invited to the Inlinkz link party!

Sharing at: