Creative Ways to Display Your Collections with Style
decorating with your vintage collections is a fun way to decorate your home. Here are some creative tips for displaying your favorite finds.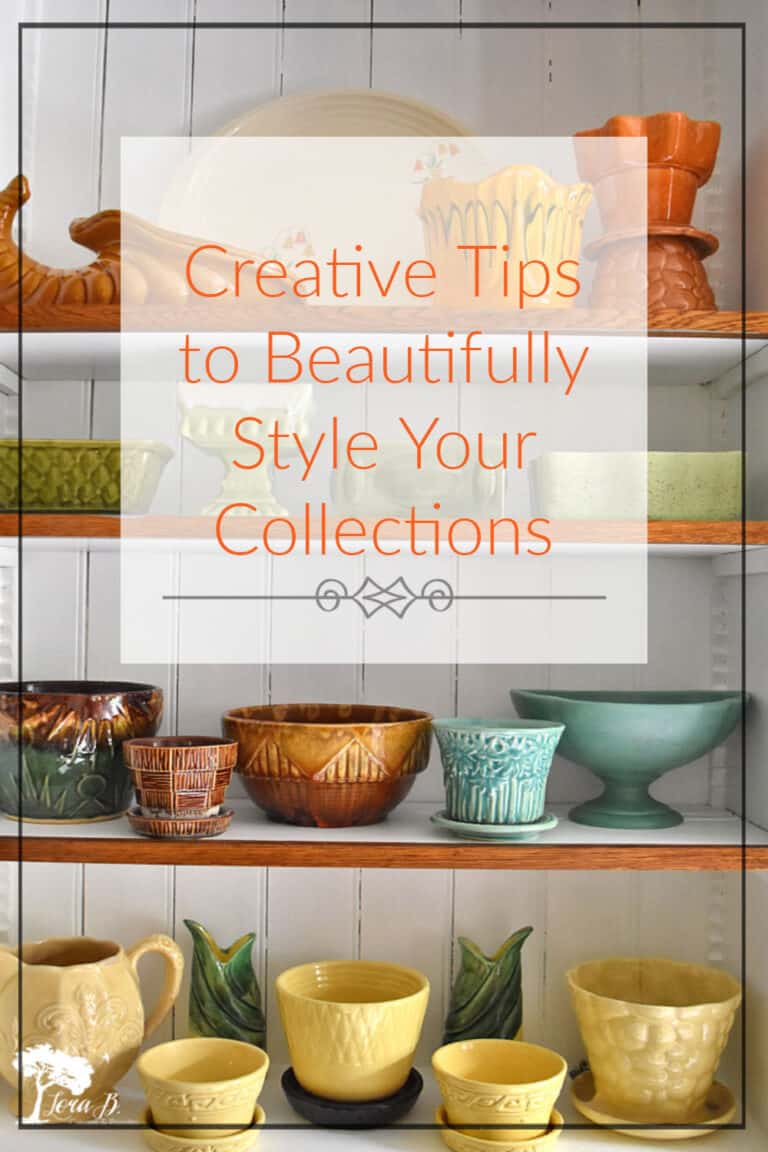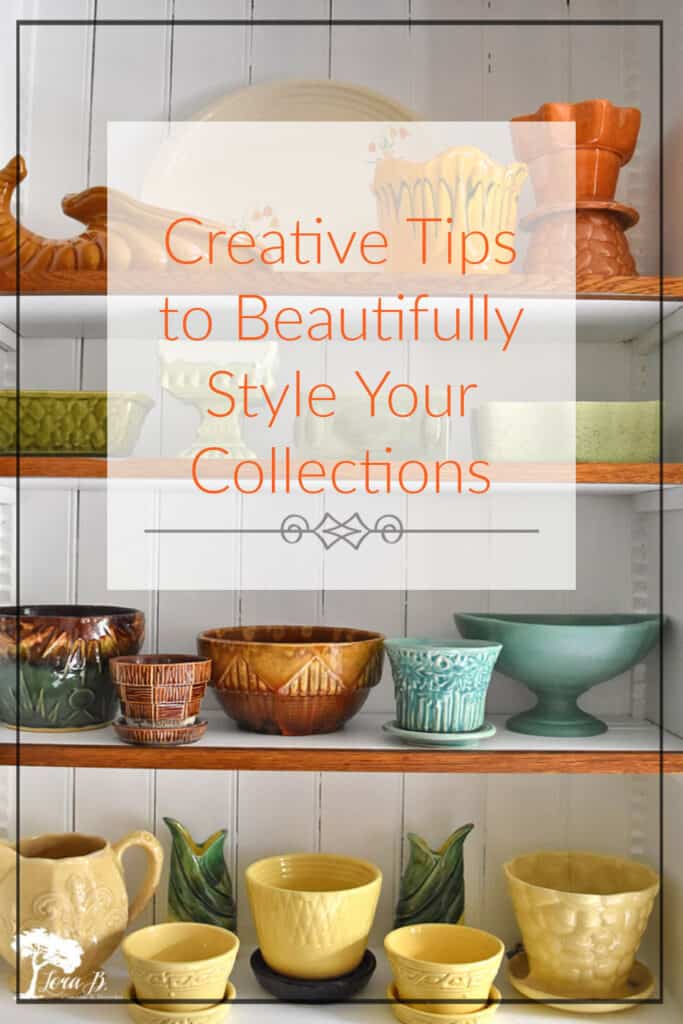 Who else loves treasure hunting for vintage finds? When you find another piece to add to your collection, you let out a little squeal inside, right? If you said yes, then you're right at home here! I have way too many vintage collections, but I love decorating and displaying them around my home. Today I'm going to share some Creative Ways to Display Your Collections with Style, so you can enjoy your favorite finds, too!
I'm joining my Thrifty Style Team friends today to bring you inexpensive, creative ideas. Thanks to Julie from Redhead Can Decorate for rounding us up. I'll have all the inspirational links at the end.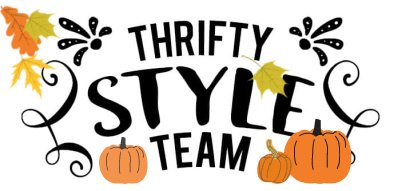 What can be more thrifty than decorating with what you already have? Here are some ideas to get your creative styling juices flowing!
Creative Ways to Display Your Collections with Style
For your convenience, this post contains affiliate links. If you make a purchase, I may receive a commission. There is no additional cost to you. My full privacy policy is here.
Display Your Collections Vertically
If you've got a large collection of sizable items, you can get a big impact from stacking them en masse. I've got a fairly large collection of vintage suitcases, but live in a square-foot challenged home. Stacking my old suitcases vertically in a dead end corner next to our mantel turns them into an artistic arrangement. I can enjoy their beauty and pull one out whenever I need it somewhere else.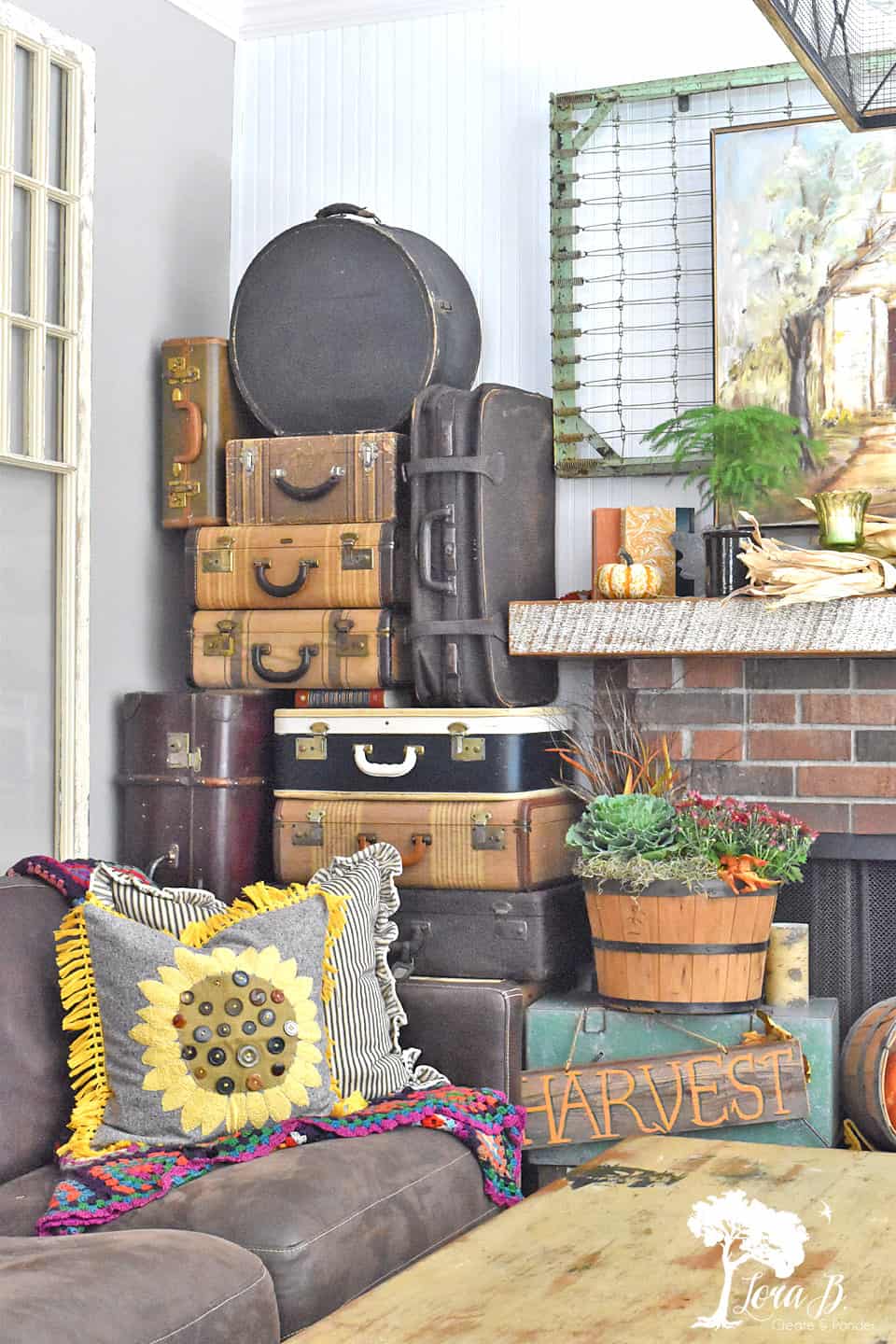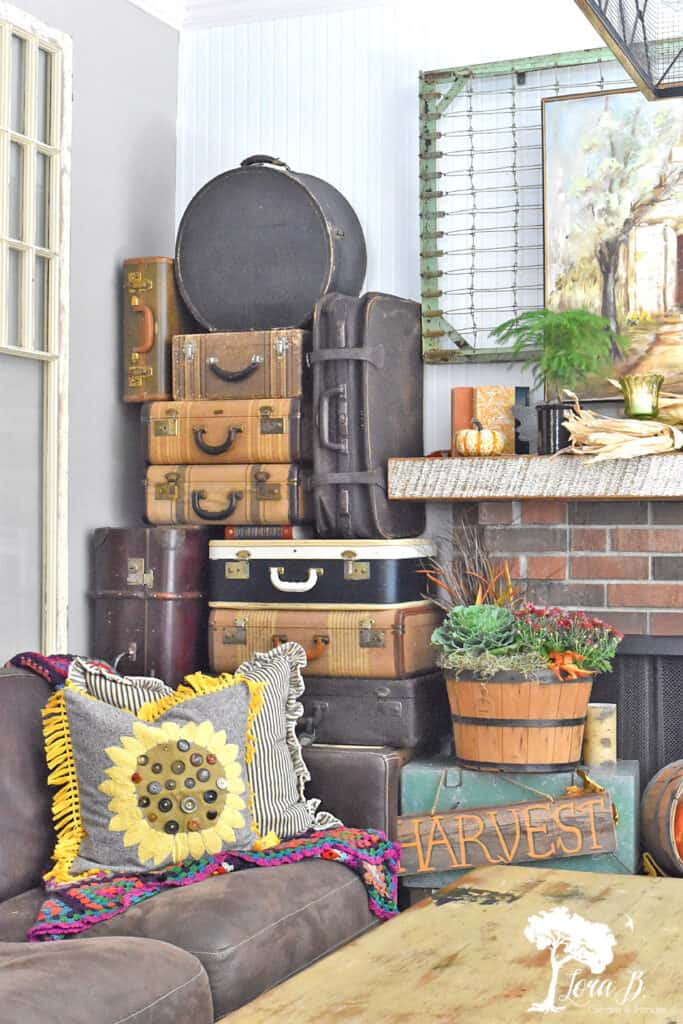 See "Vintage Suitcases: How to Clean and Refresh (and keep their classic appeal)"
My heavy Christmas Tree stand collection can be a challenge to display. Hanging them from small to large on an old ladder saved precious floor space and showed off their variety.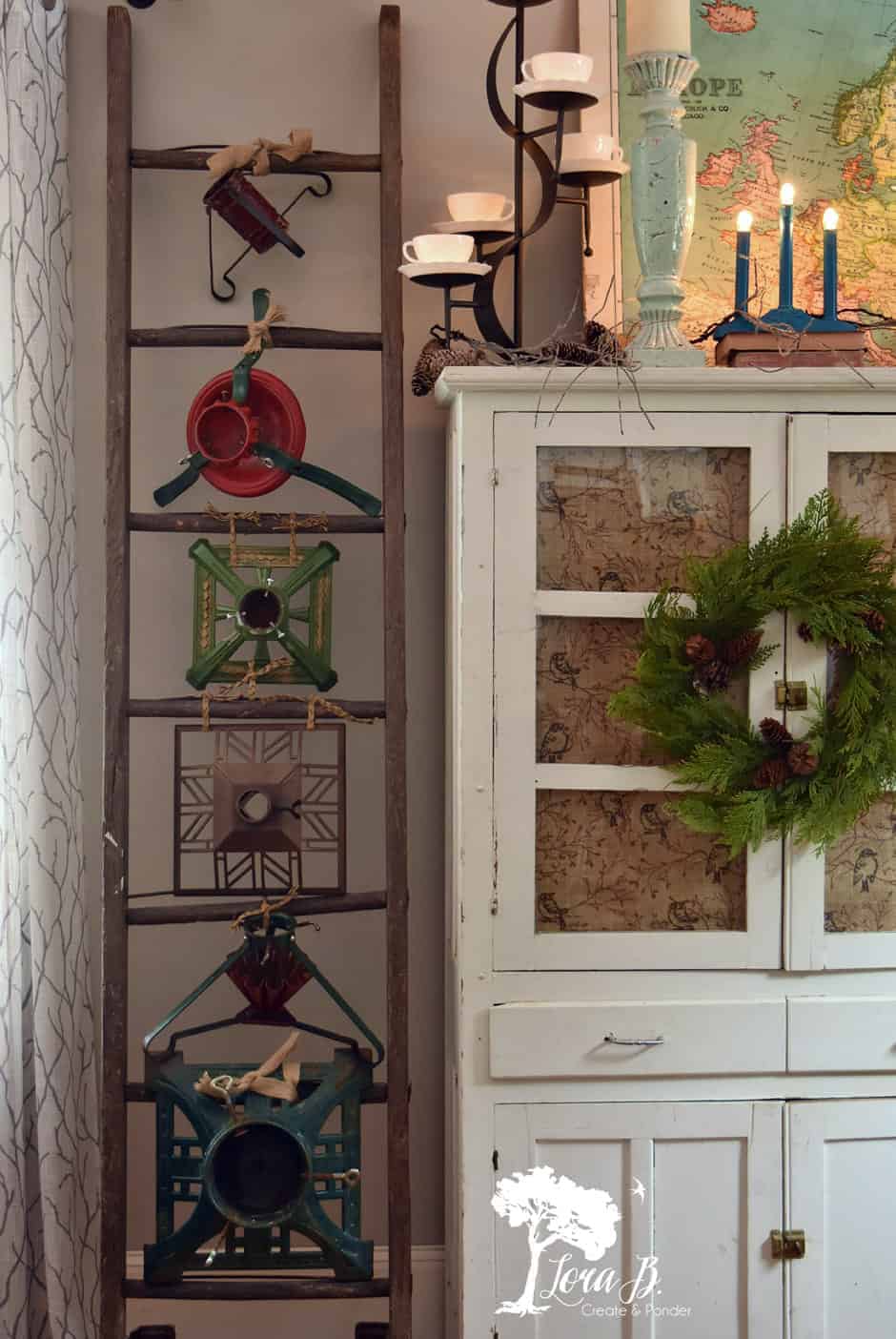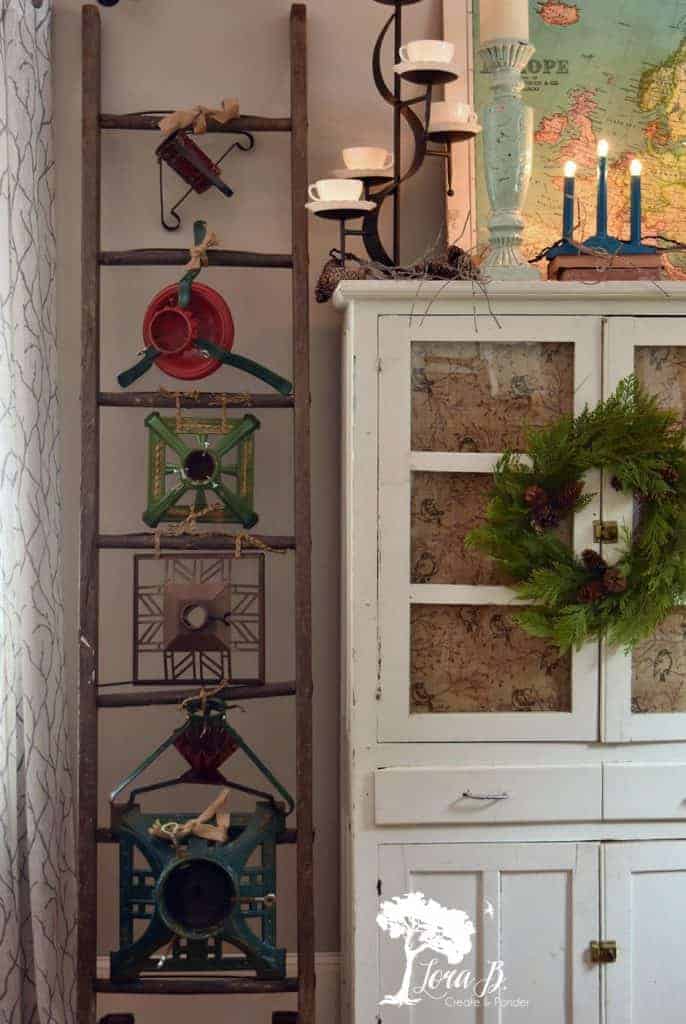 Display Your Collection by Color
If your collection is colorful, it can be fun to display it by separating the different colors. Use the ROY G BIV rainbow style to display or go for a bokeh effect, lighter to darker. This can be a fun way to enjoy the colors of the season, too!
I pulled out my pottery collection that's been stored away for a couple years and divided it into similar colors. This collection always makes me think of Fall. A different colorway on each shelf reflects the Fall colors outside.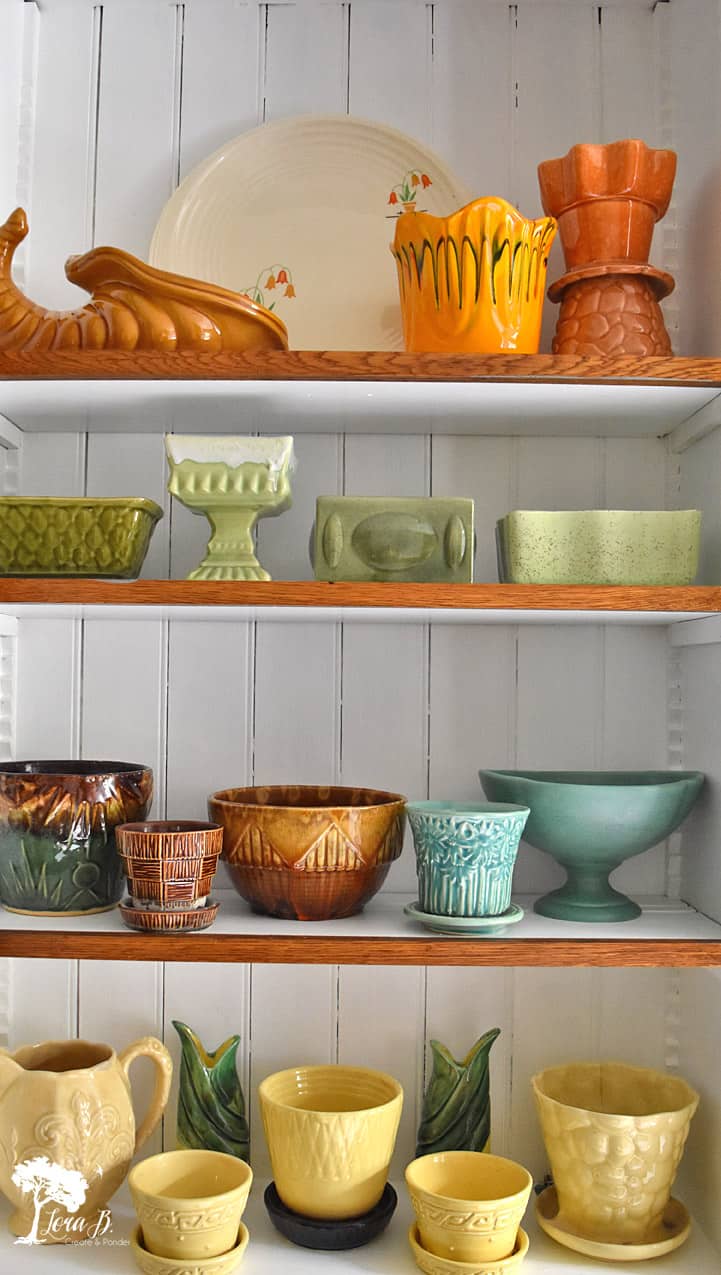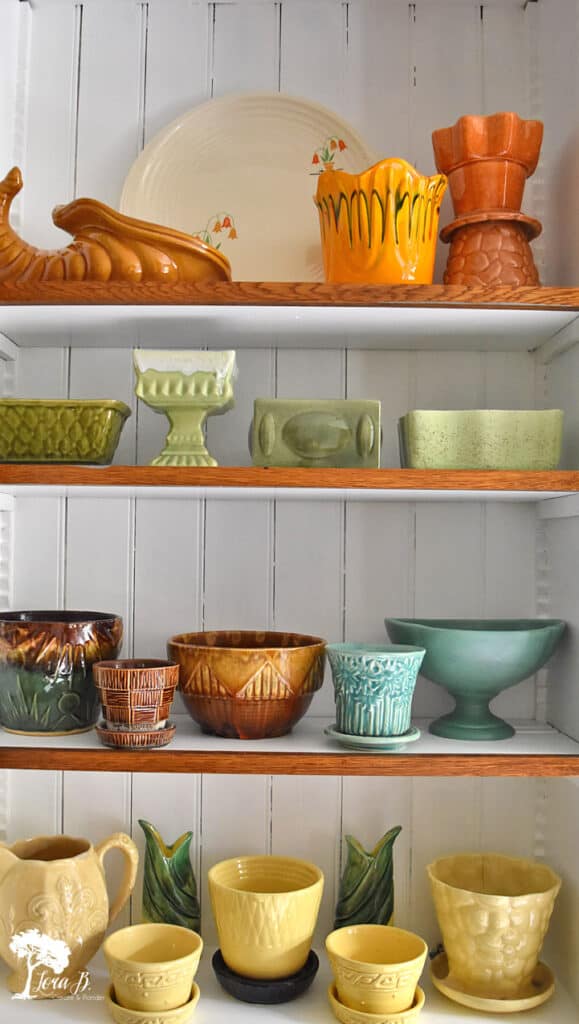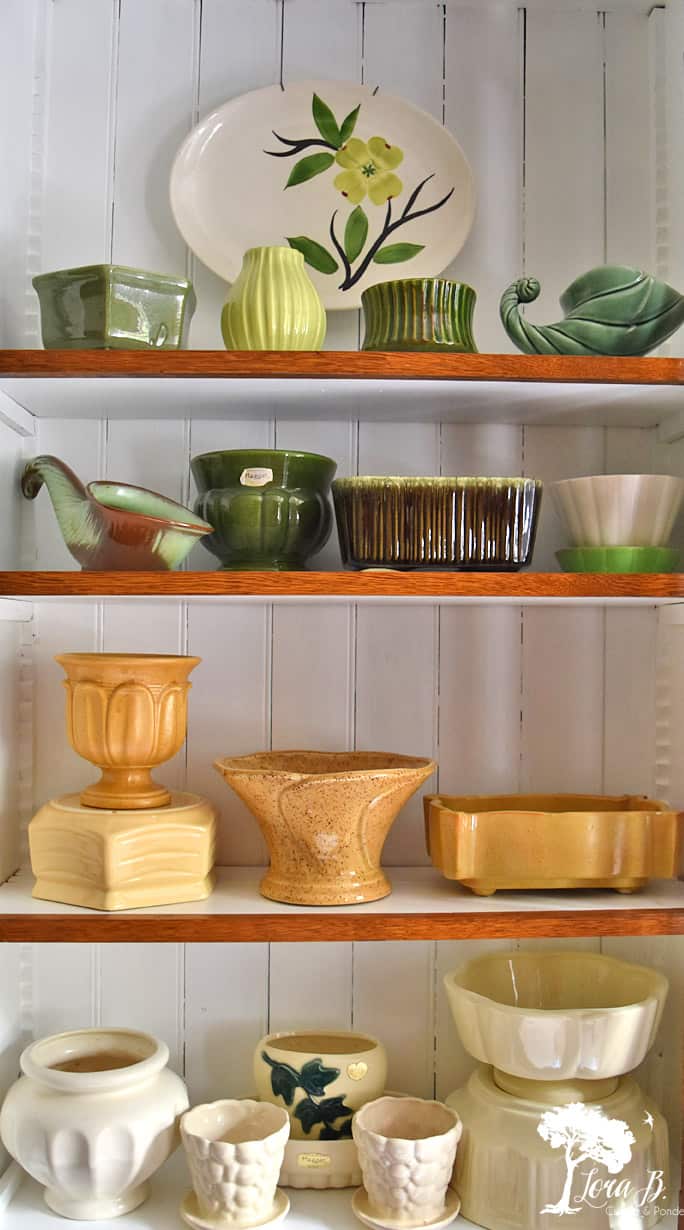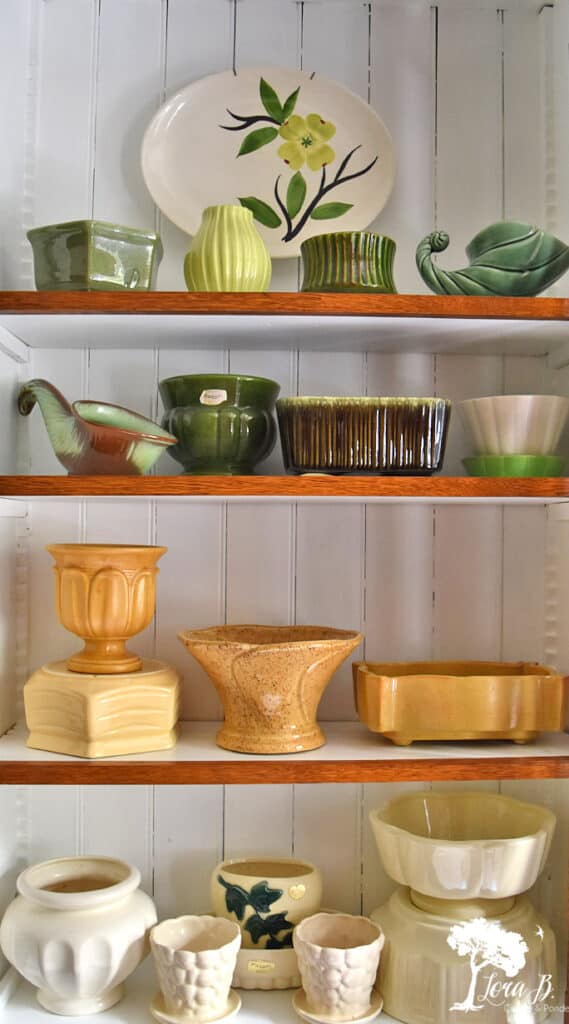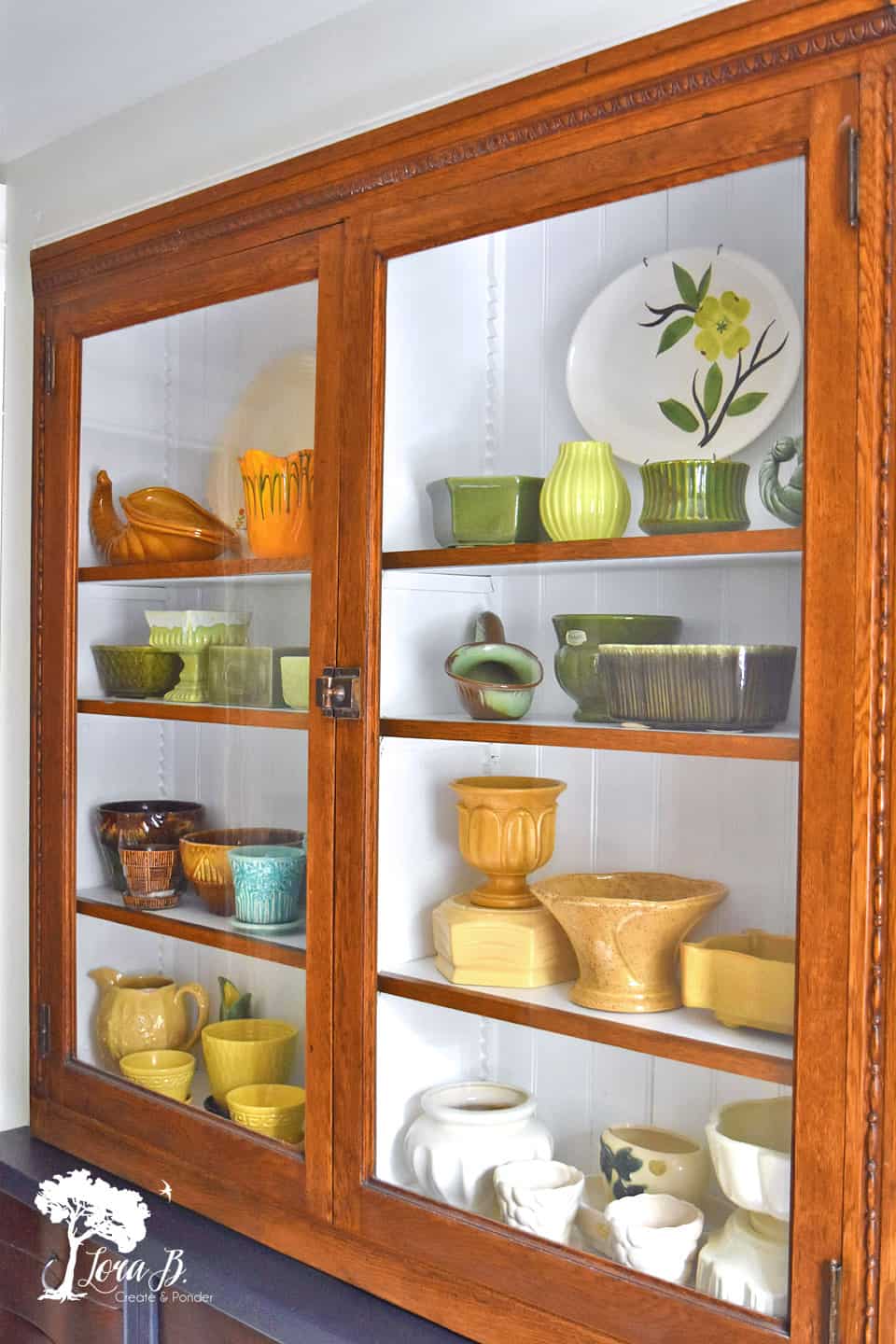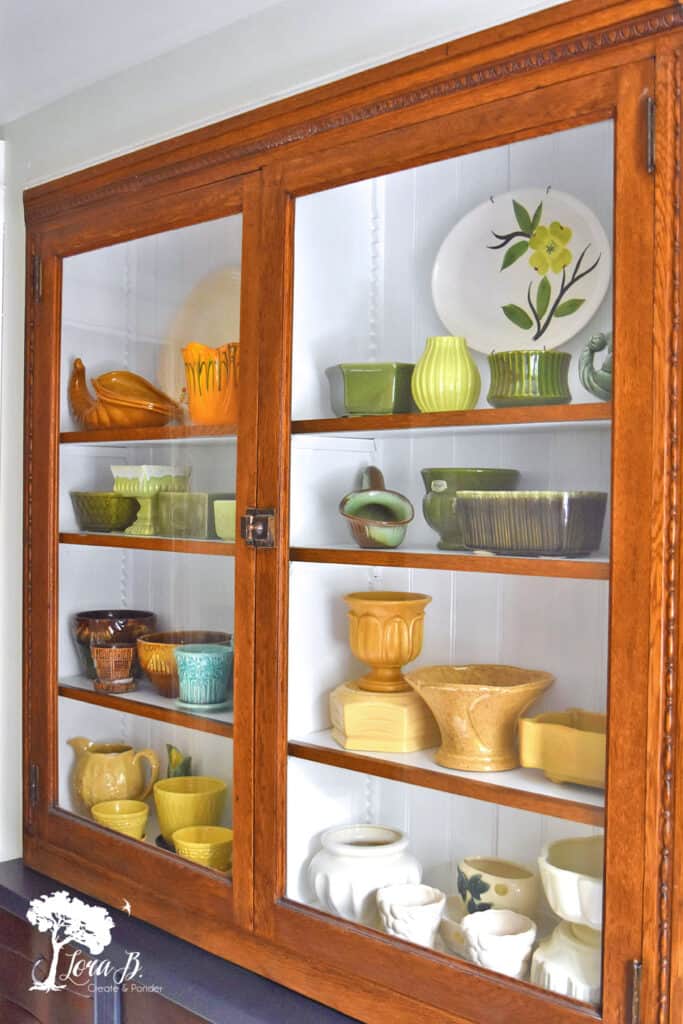 Display Two or More of Your Collections Together
Combining 2 or more of your collections together in a display can multiply the effect. Choose collections that have have very different textures that complement each other.
My enamelware teapot collection pairs perfectly with similarly colored old books. Stacking the books vertically and horizontally and varying their bindings and pages creates a textural display. The smooth teapots pop the Fall colors and can be tucked in between.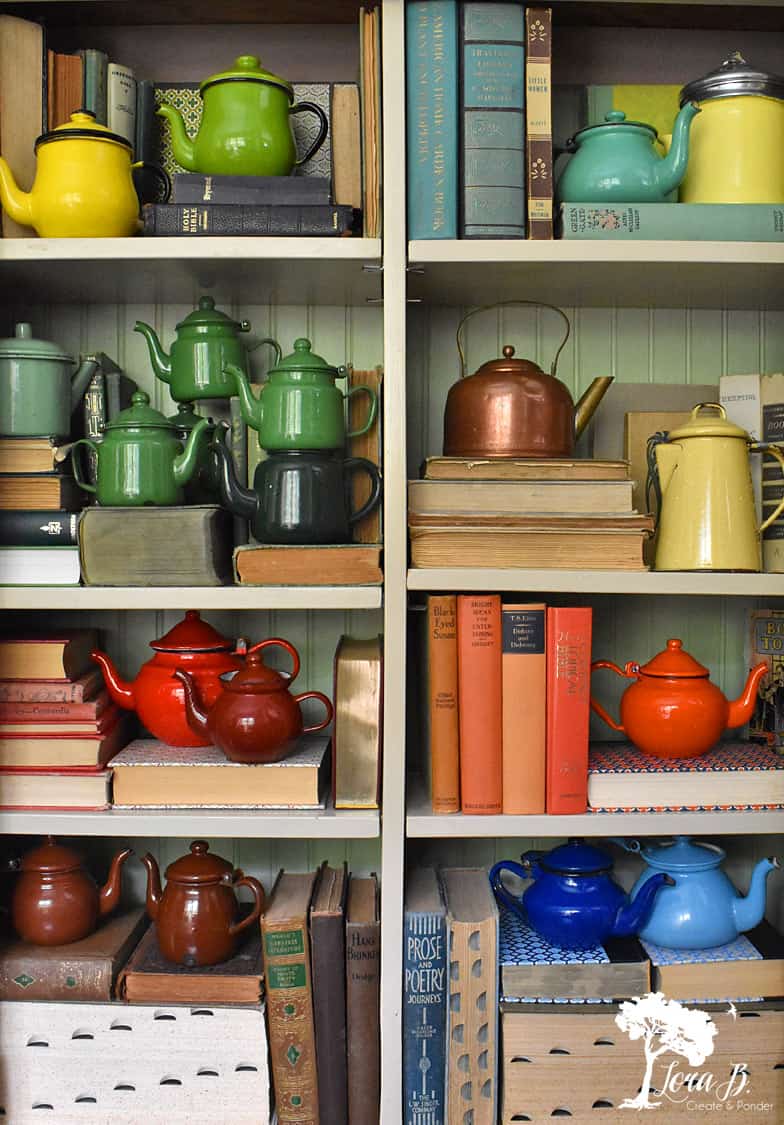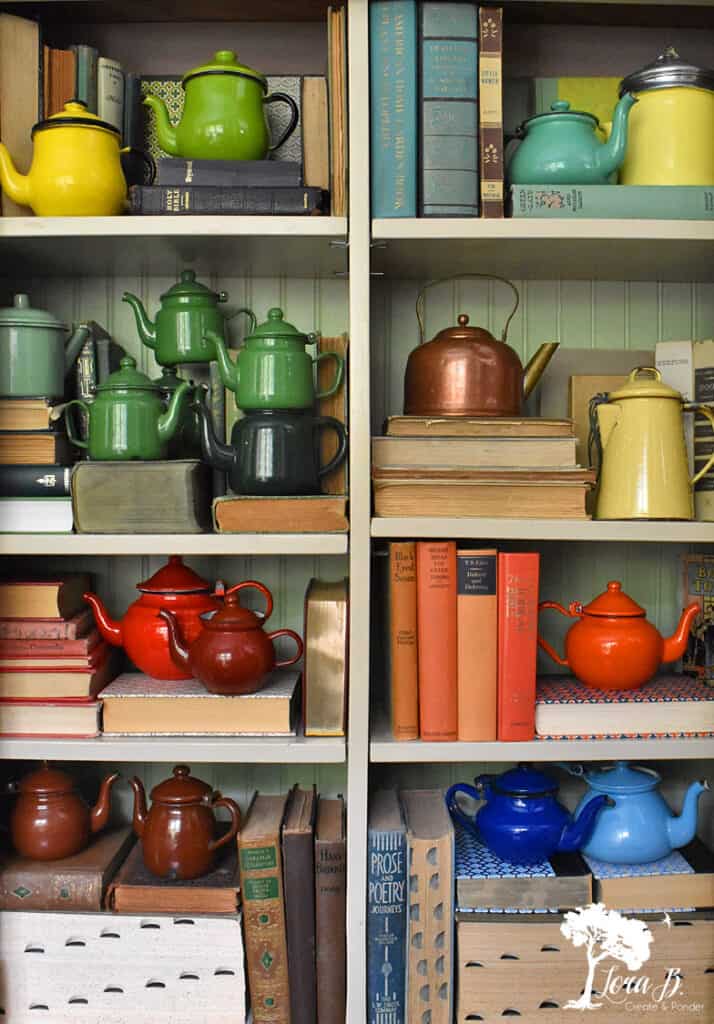 Repeat a Similar Shape When Displaying Your Collection
Using a repetitive shape when you create your display can be a fun, yet subtle style effect. I collect a lot of circularly shaped vintage items, and combine them together in my styling. Old wheels, round clocks and scales are a great combination for any room of the house.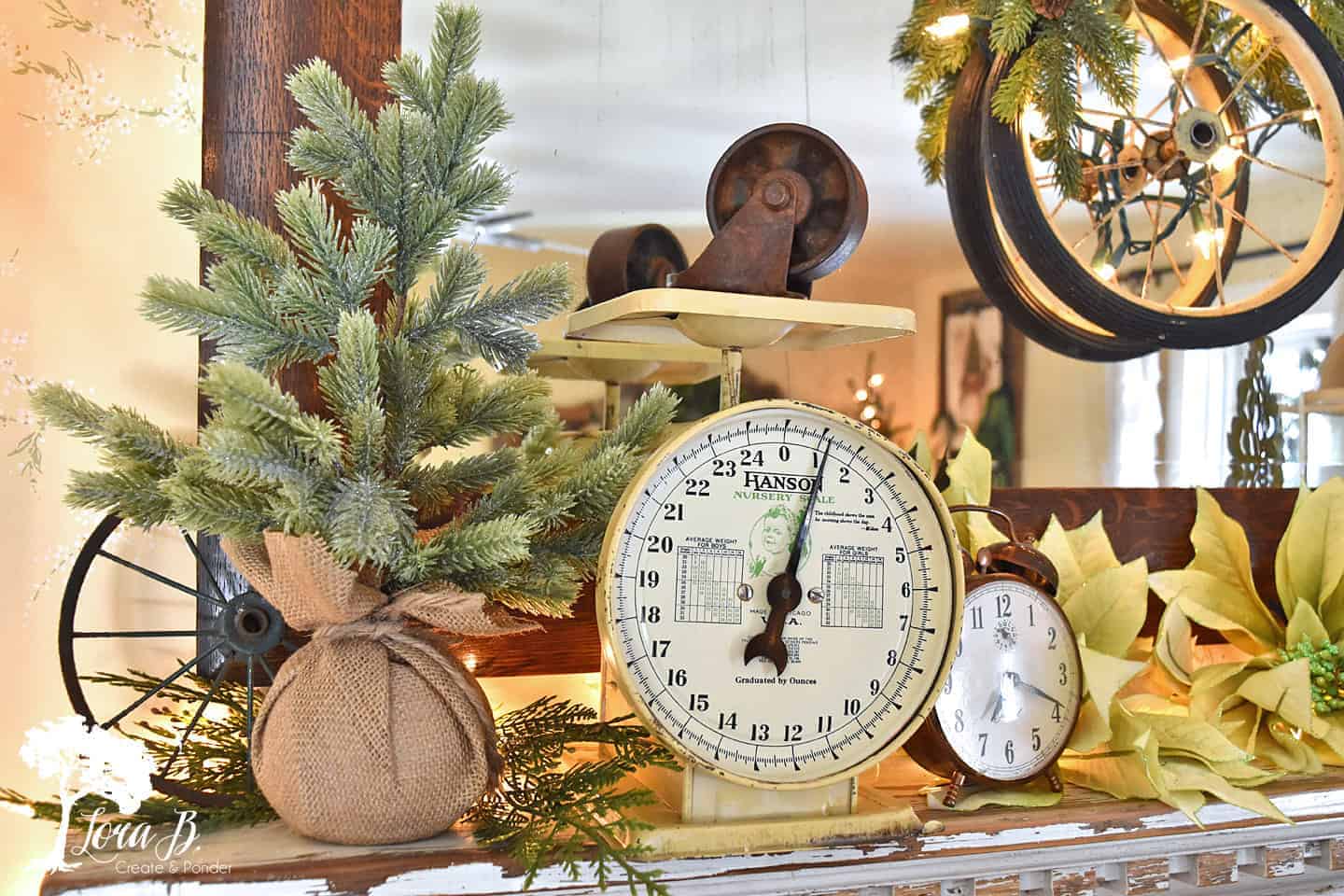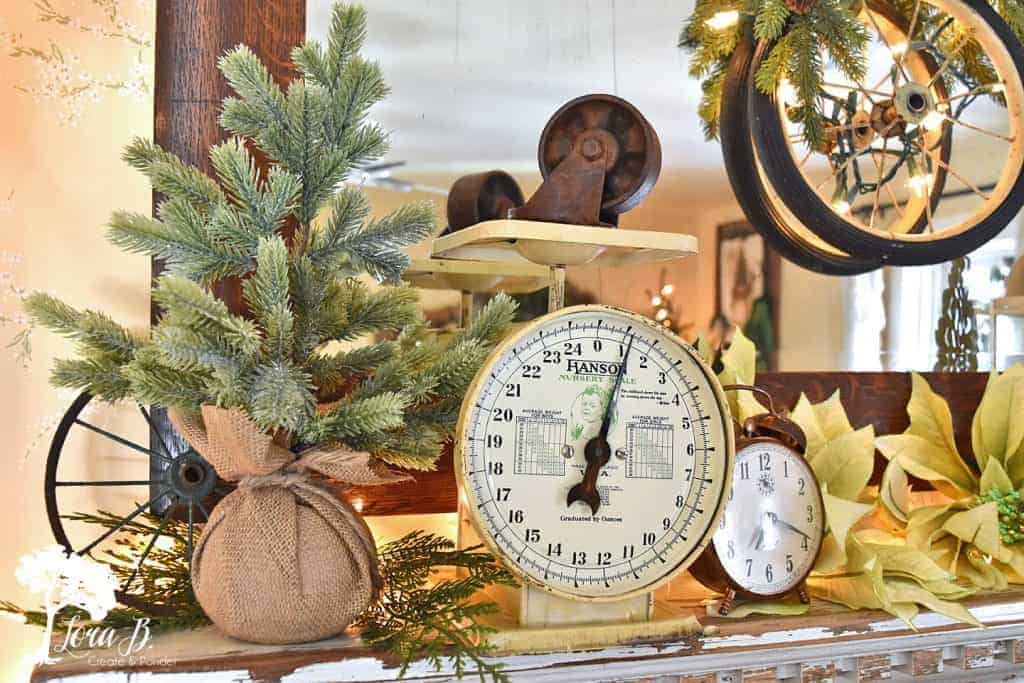 "Vintage Lover's Christmas Bedroom Tour"
Display Your Collection During a Different Season
It can be a fun change to display your collection during a different season then when it is usually used. Accessorize your collection with something that will turn it into a seasonal display. My vintage flower frog collection got stacked to look like mini trees and I placed small vintage bulbs and old corsages on them as decorations.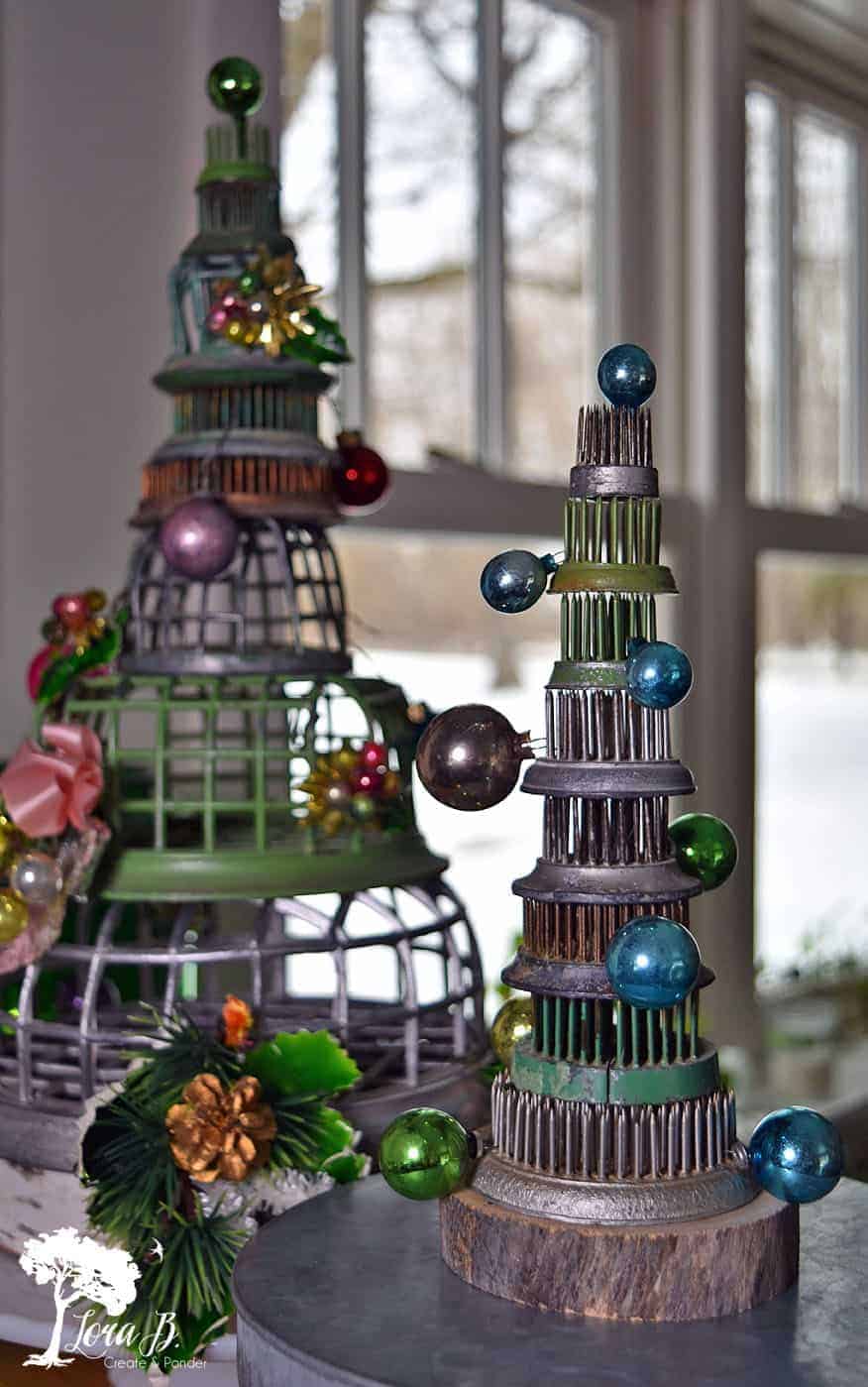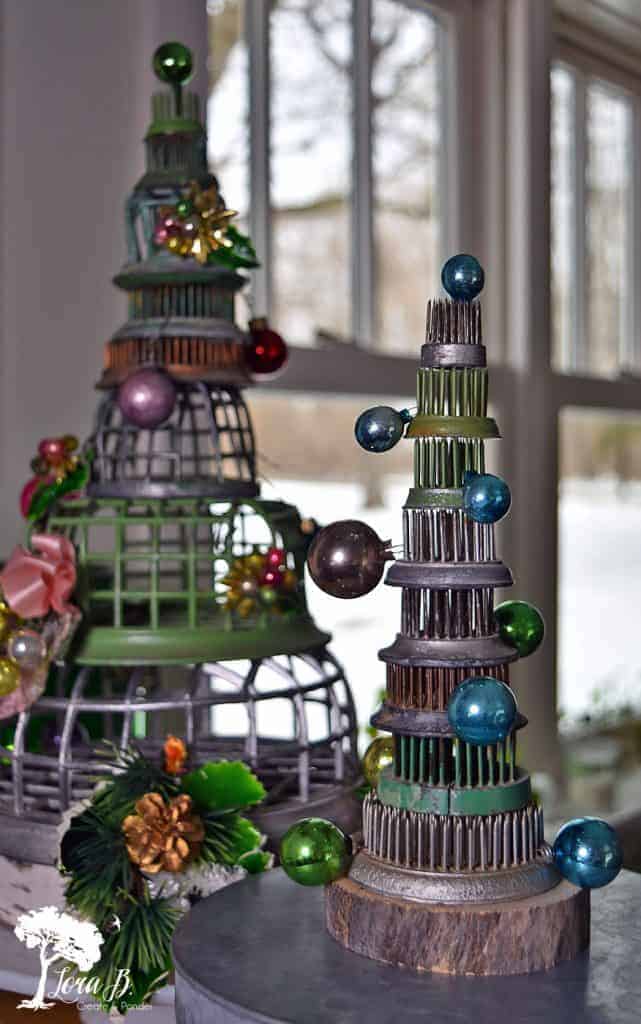 Add Foliage to Your Collections Display
Almost any display will look more stylish with the addition of foliage or rustic natural touches. Hang something behind the display, weave it through, lay it under your collection, or place it into the vessels. Your choice of material will convey your personal style.
A simple wreath hangs behind my pretty collection of green and blue bottles. A mini topiary sticks out of a vintage flower pot. Ferny coasters at the base add texture, too.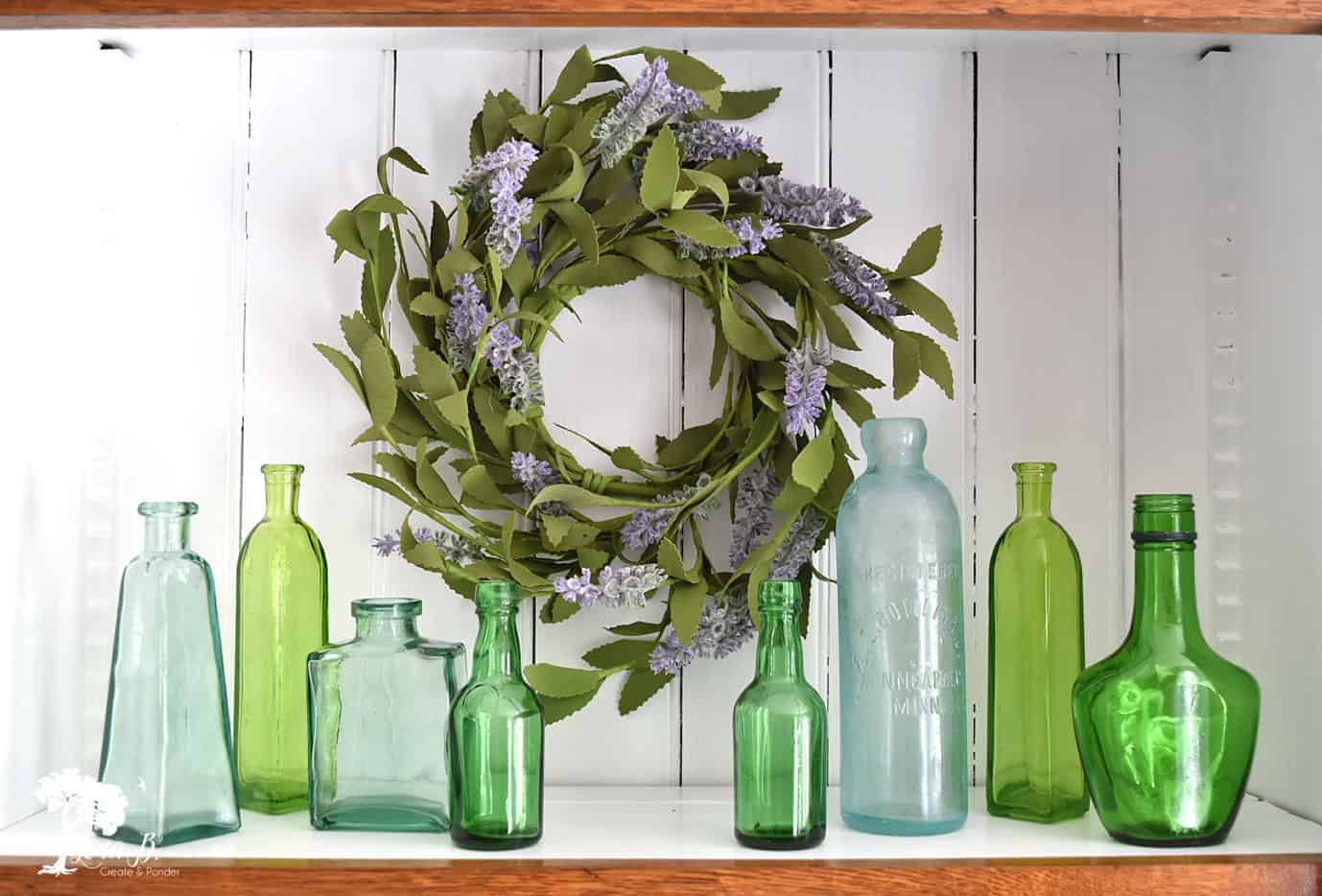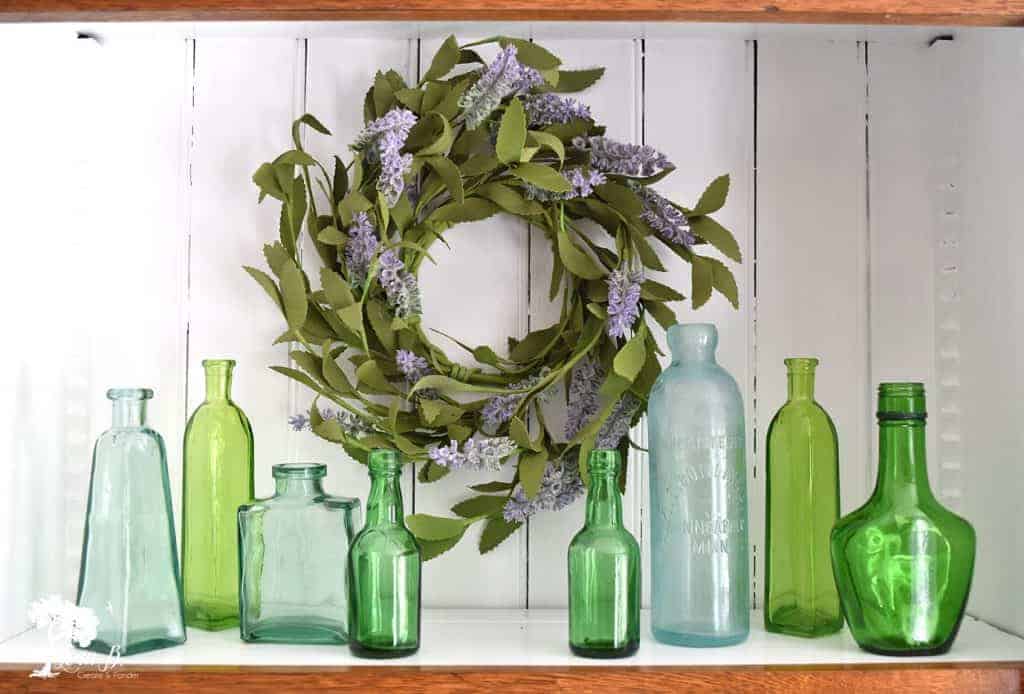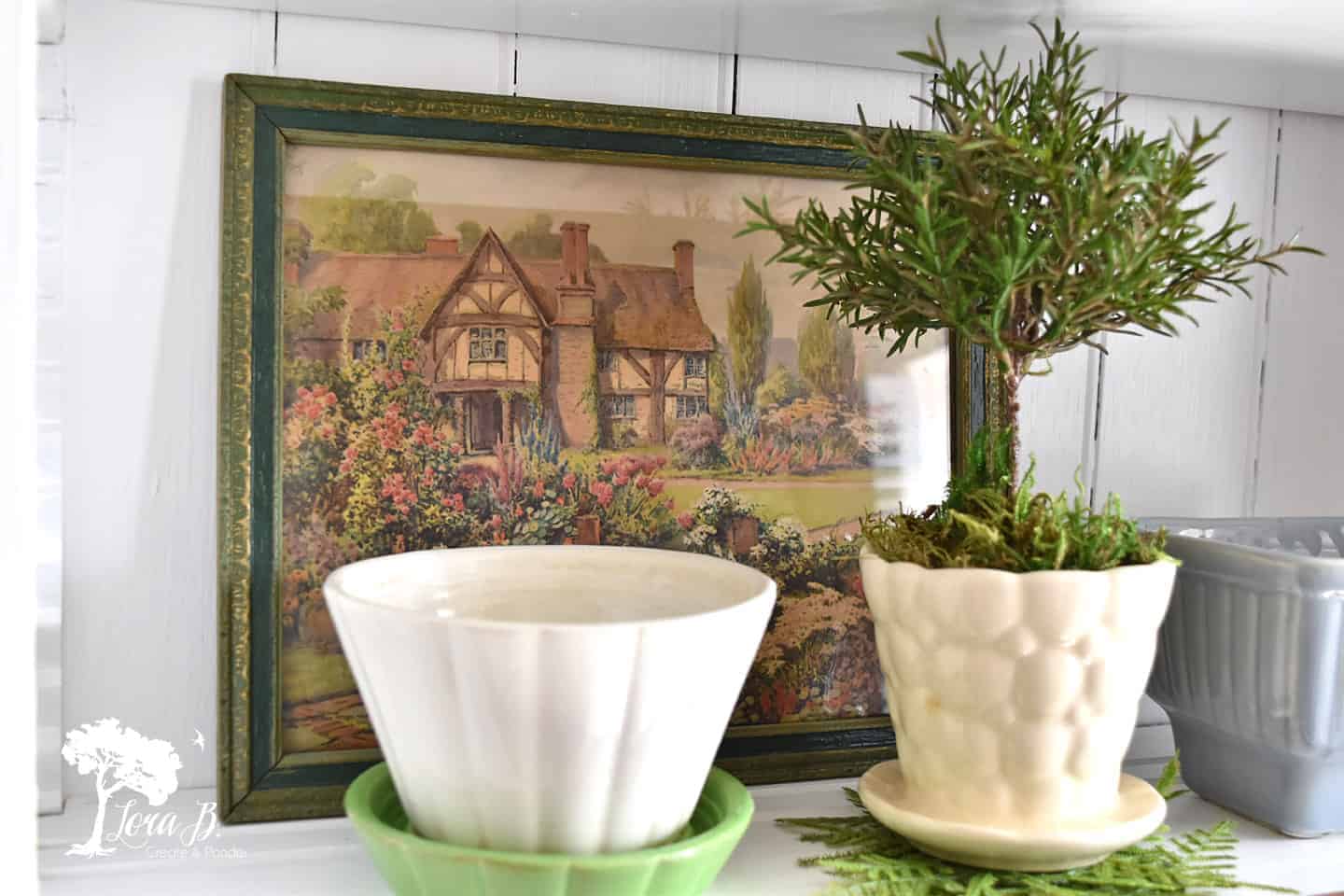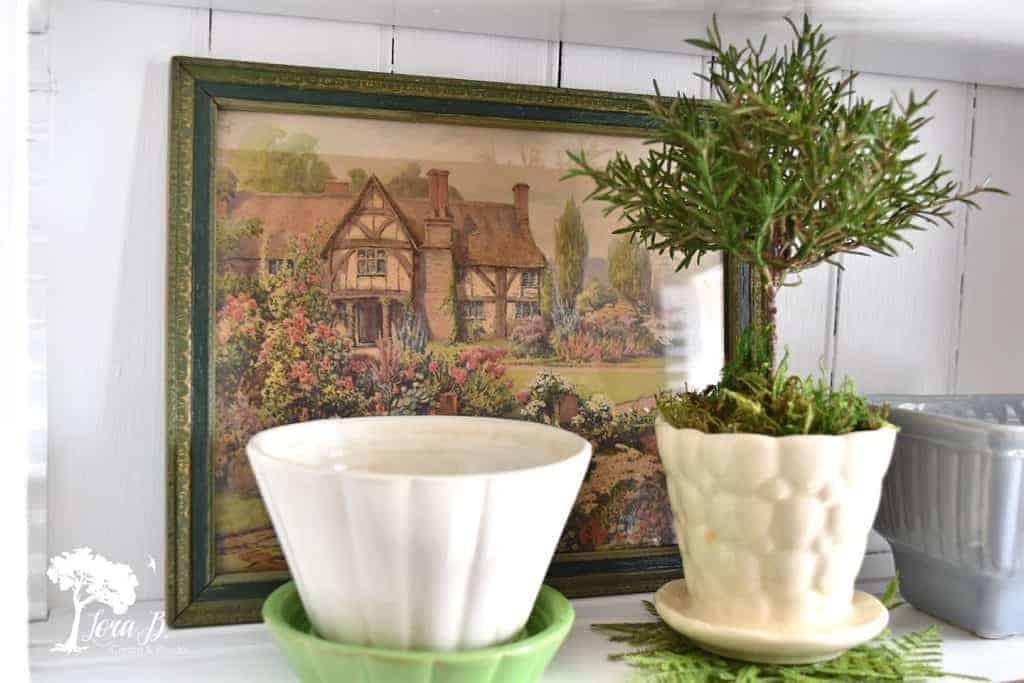 "How to Decorate to Thrift the Look, Garden Inspired Decor"
Feature a Collection For a Centerpiece
A collection can be a wonderfully fun centerpiece on your table. Coordinate the collection with the theme of a birthday party (clocks for a retirement or decade party), or use a seasonal grouping. My pottery cornucopia collection was a perfect Thanksgiving centerpiece, and the Christmas tree stand collection was beautiful with candles.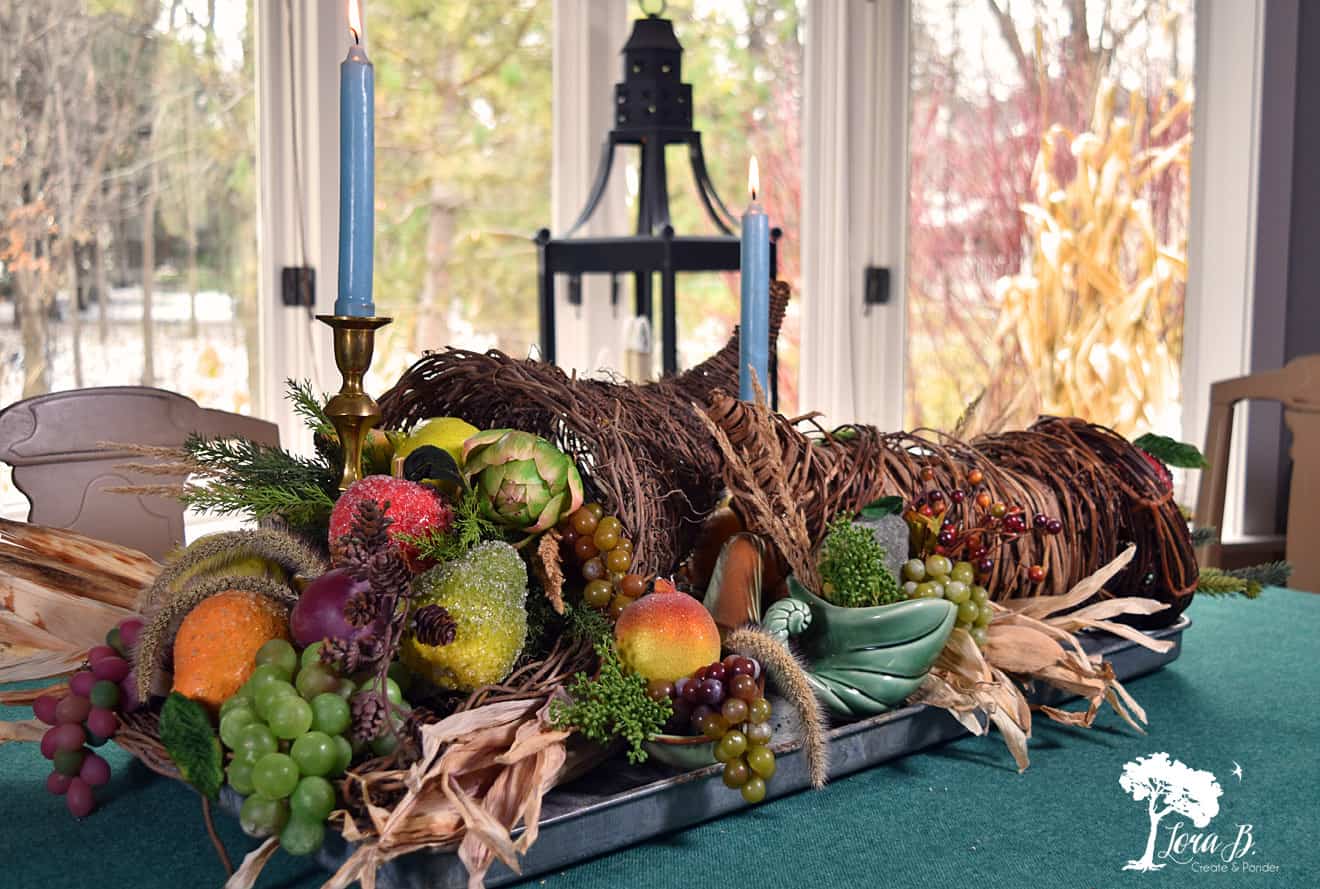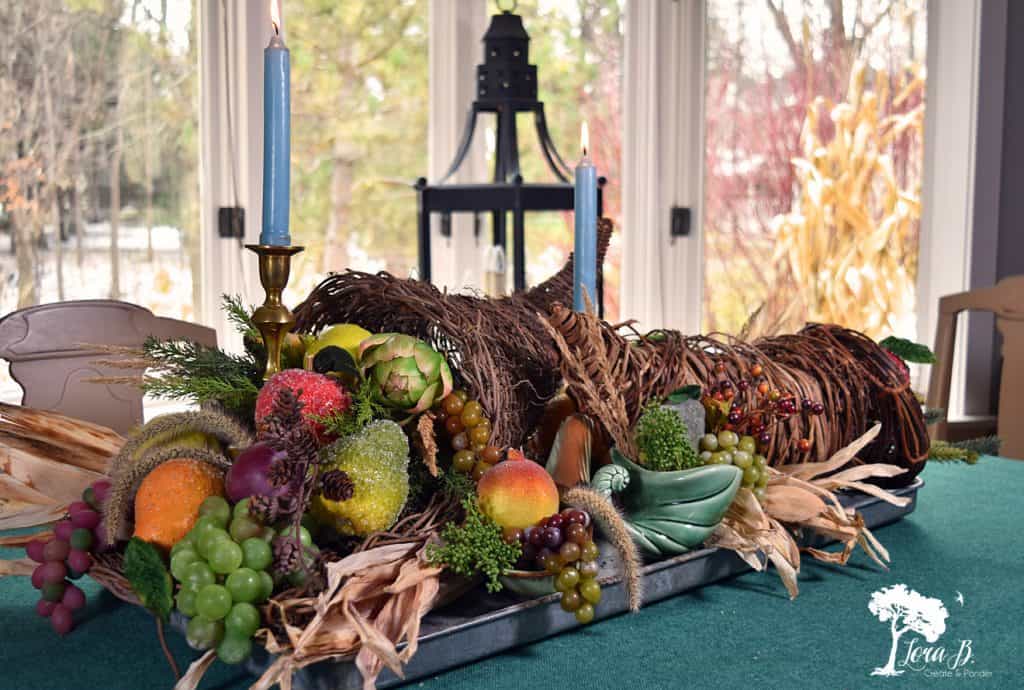 "Cornucopia Collection Centerpiece"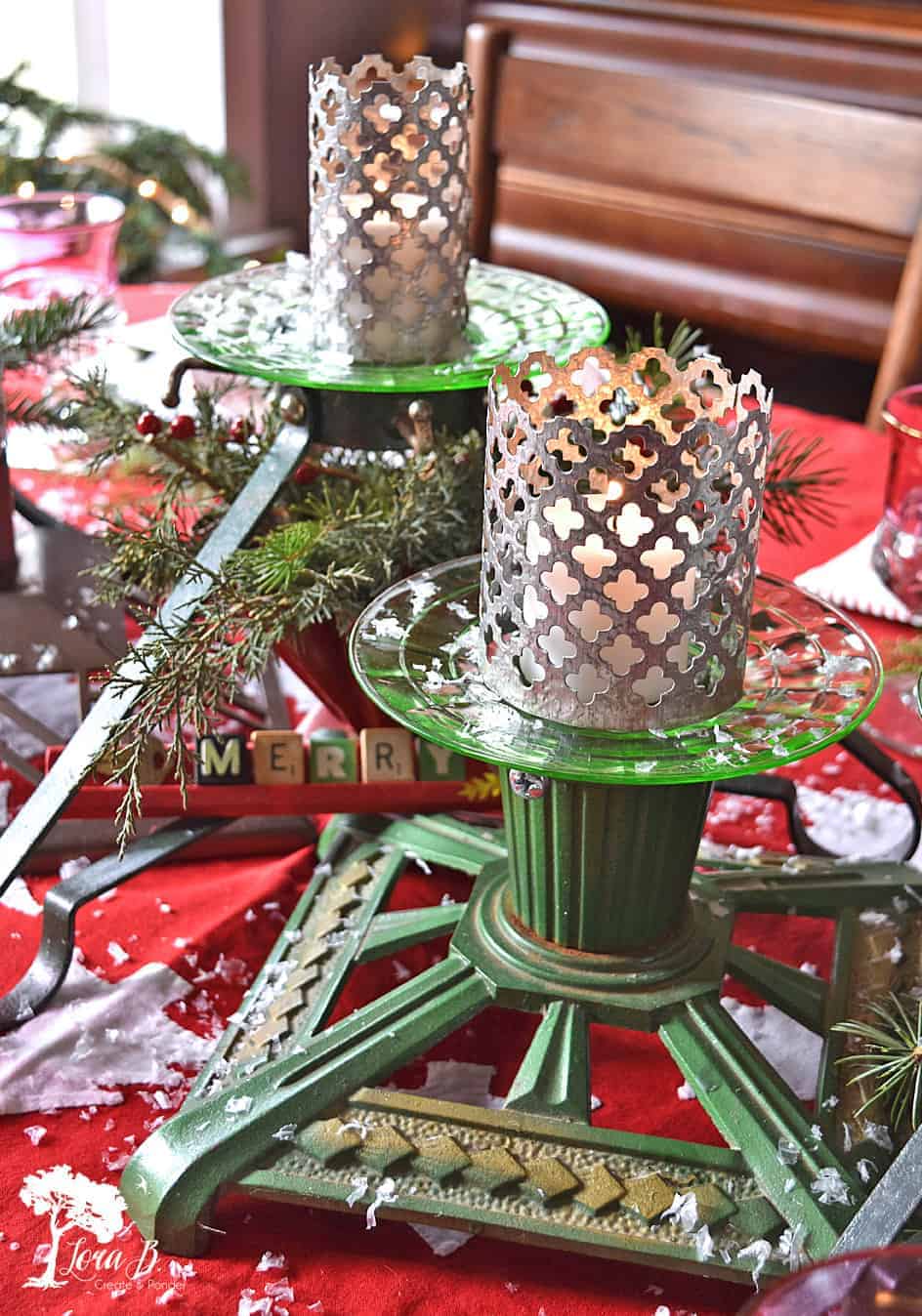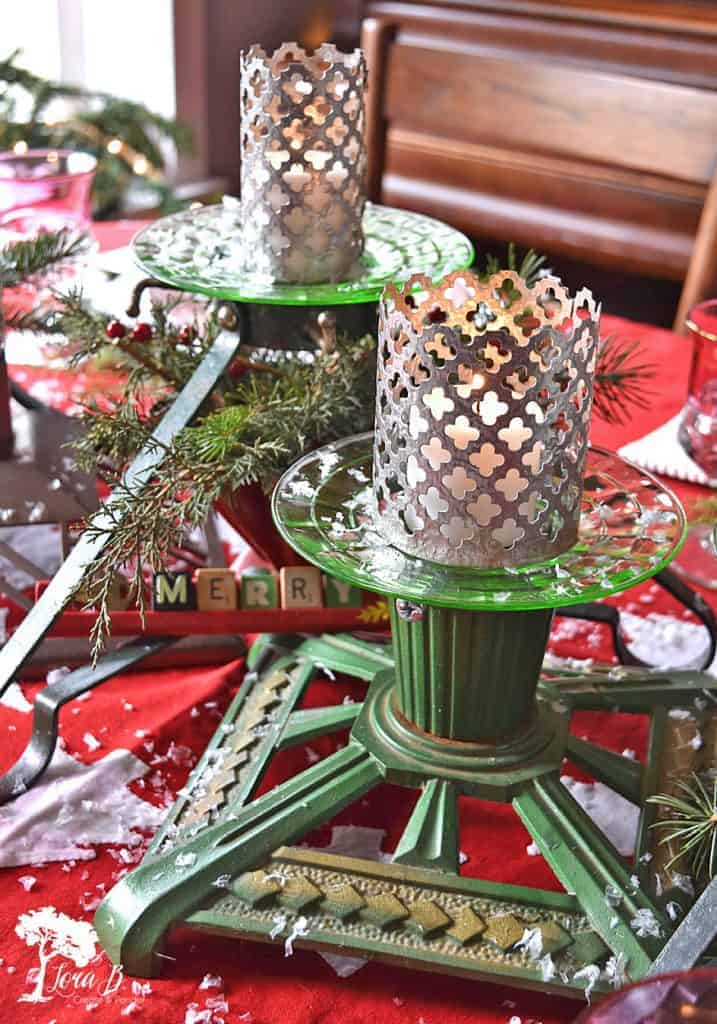 "A Christmas Tablescape with Vintage Tree Stands"
Are you thinking of what collections you have around the house that you can decorate with? I hope so! Decorating with what you already have is definitely thrifty! And you can change things up with the seasons, too. Hopefully this Creative Ways to Display Your Collections with Style inspired you! Become an Insider down below or in the sidebar to keep the ideas coming!
Pin, Share, and Enjoy the Rest of the inspiration!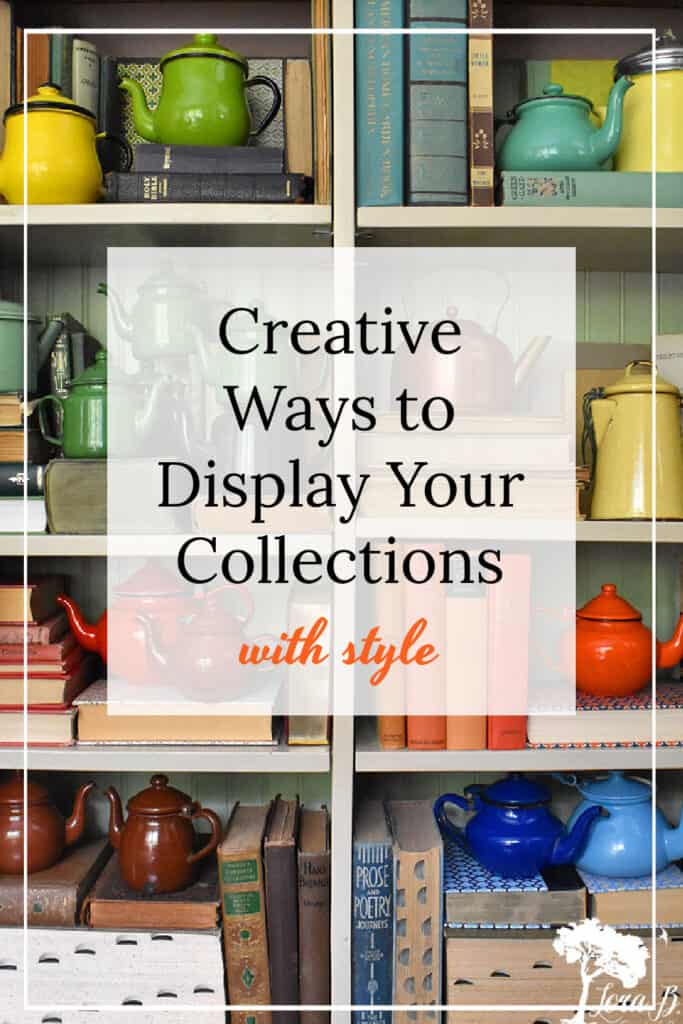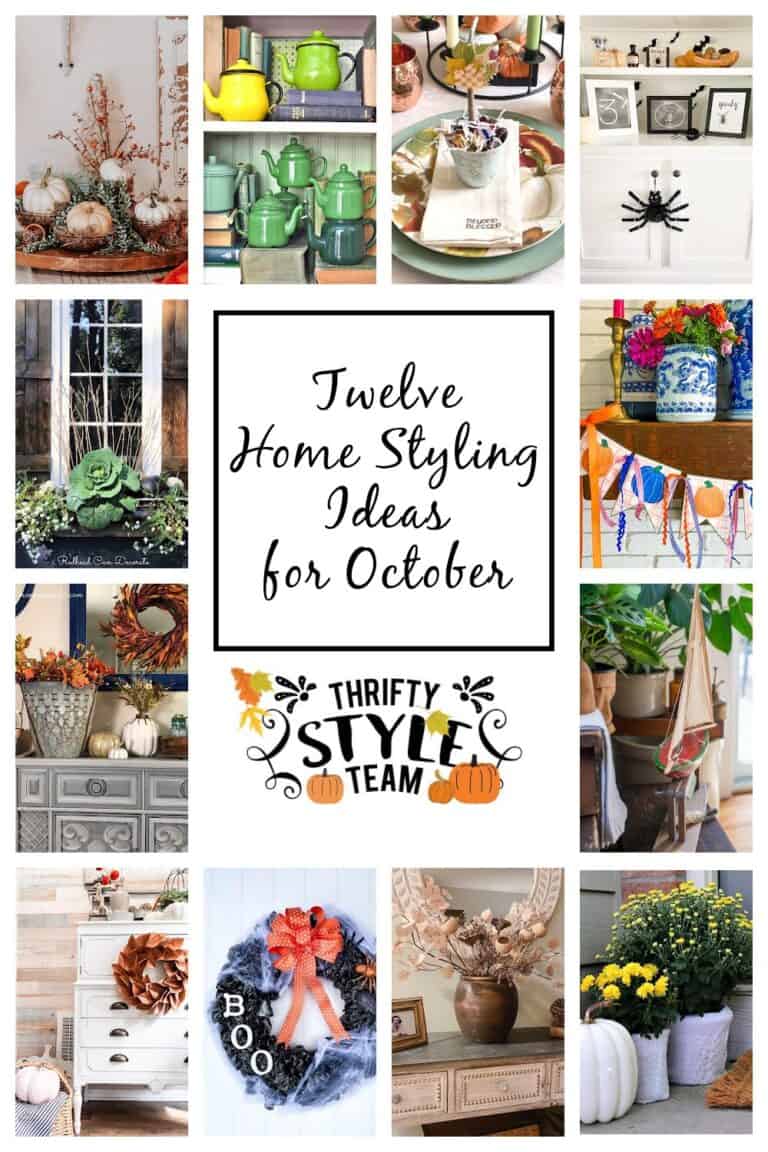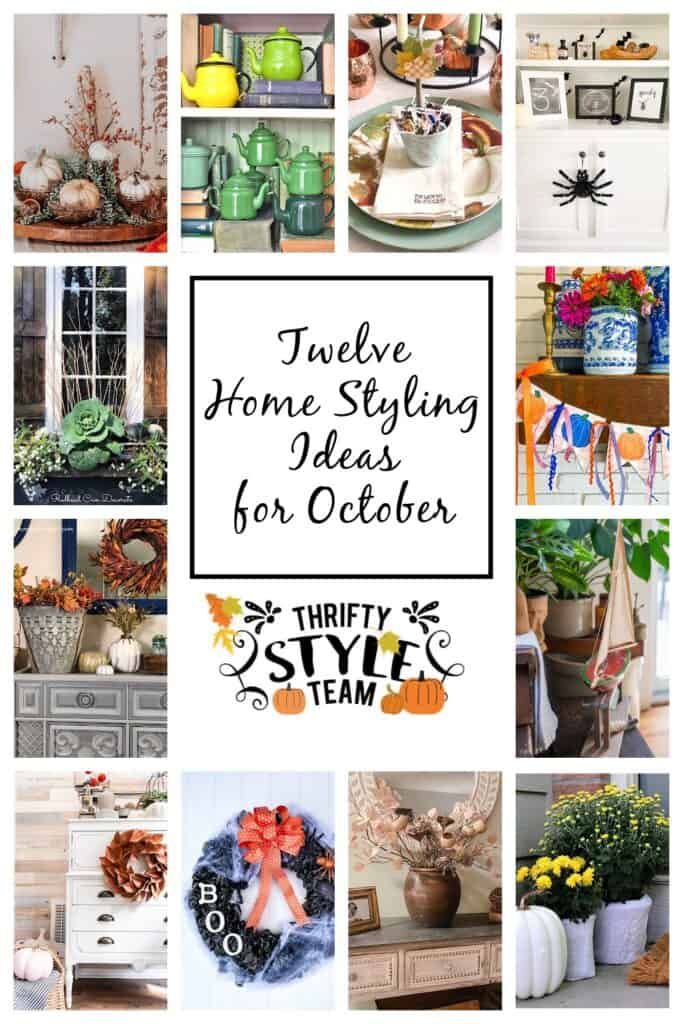 Redhead Can Decorate, "Affordable Fall Ornamental Cabbage Window Box"
DIY Beautify, "Copper Magnolia Wreath From Paper Bags"
The Tattered Pew, "5 Simple and Thrifty Fall DIYs"
Sweet Pea, "Upcycled Plastic Bag Halloween Wreath"
2 Bees in a Pod, "3 Free Halloween Printables"
I Should Be Mopping the Floor, "Free Printable Pumpkin Garland"
The How to Home, "Autumn Display with Depression Glass"
Cottage On Bunker Hill, "Pottery Barn Dupe Vase"
Vinyet Etc, "Styling with Vintage for Fall -DIY Vintage Model Boat Stand"

Sharing at these lovely parties: