9 Great Reasons to Include Vintage Lockers in Your Home Decor
What Can I do with old lockers? here are 9 ways to use old lockers that will turn them into your favorite piece of furniture.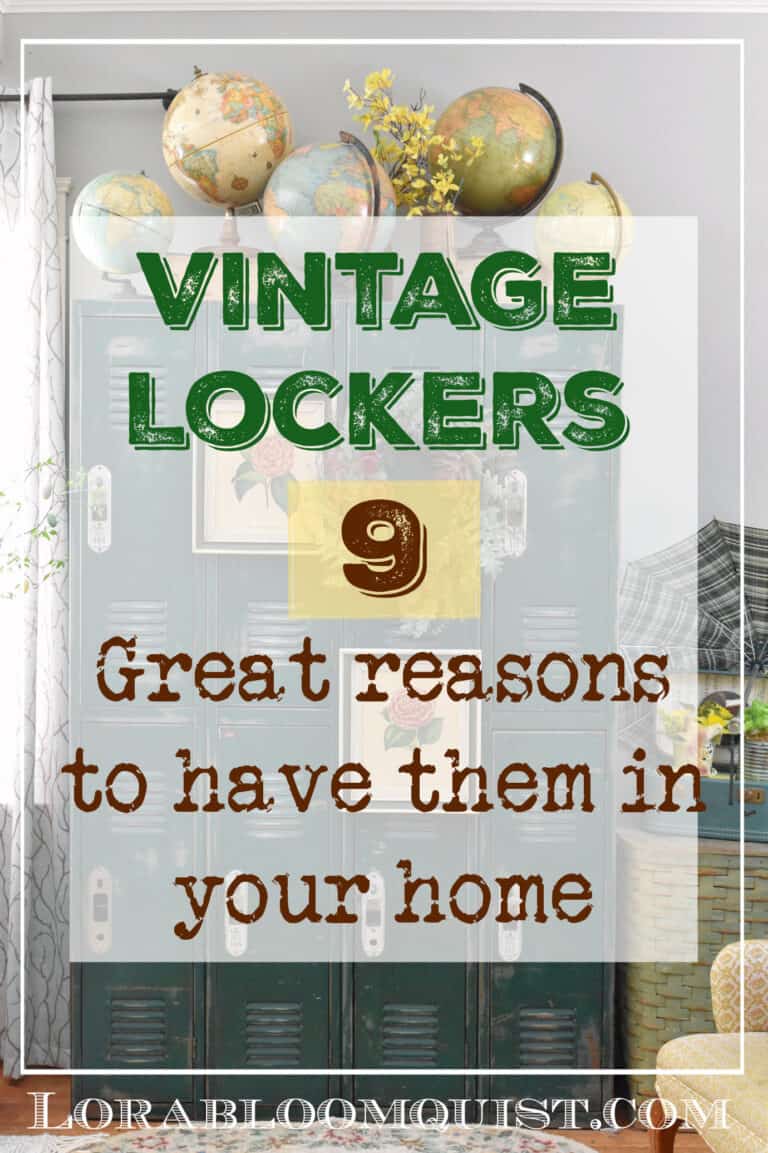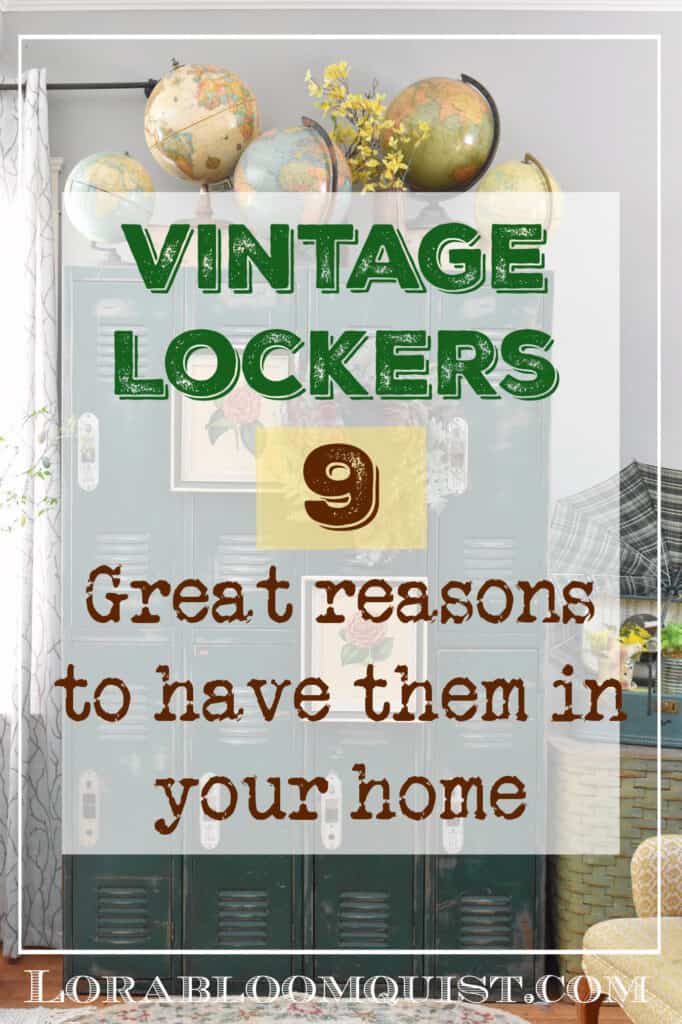 Do you remember getting excited to decorate your first-ever school locker? It was the first space you could decorate however you wanted and put your personal stamp on the world. When you opened it, you wanted peers to get a glimpse into who you really were; ah, good memories. Maybe I never got that stage out of my system, because the bank of vintage lockers in our living room is one of my favorite pieces of furniture. Here are 9 Great Reasons to Include Vintage Lockers in Your Home Decor.
Today's post is part of my favorite Lifestyle of Love series, dreamed up by the talented Cindy, of County Road 407. This group of creative bloggers will all be sharing our favorite pieces of vintage or antique furniture today; you're in for a treat!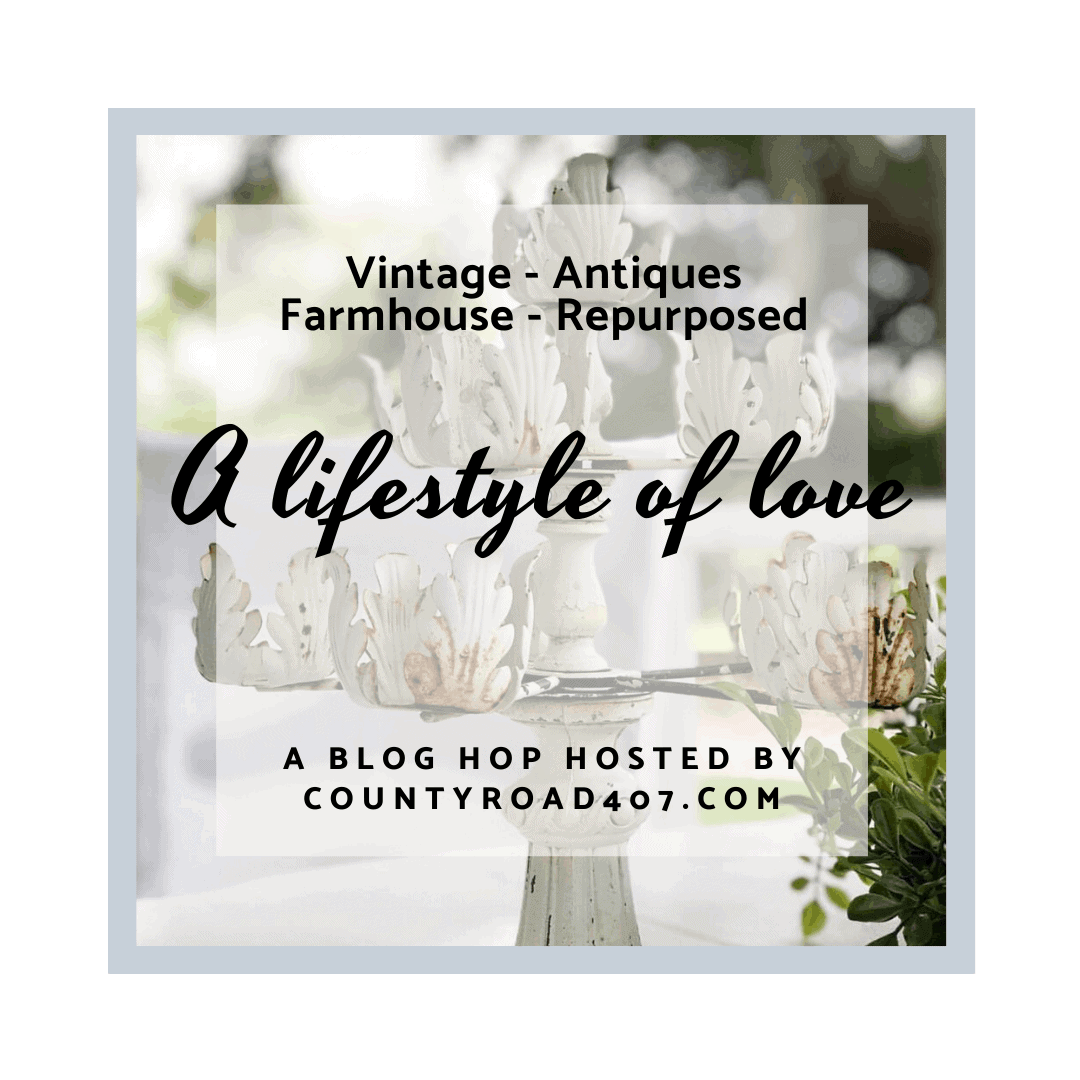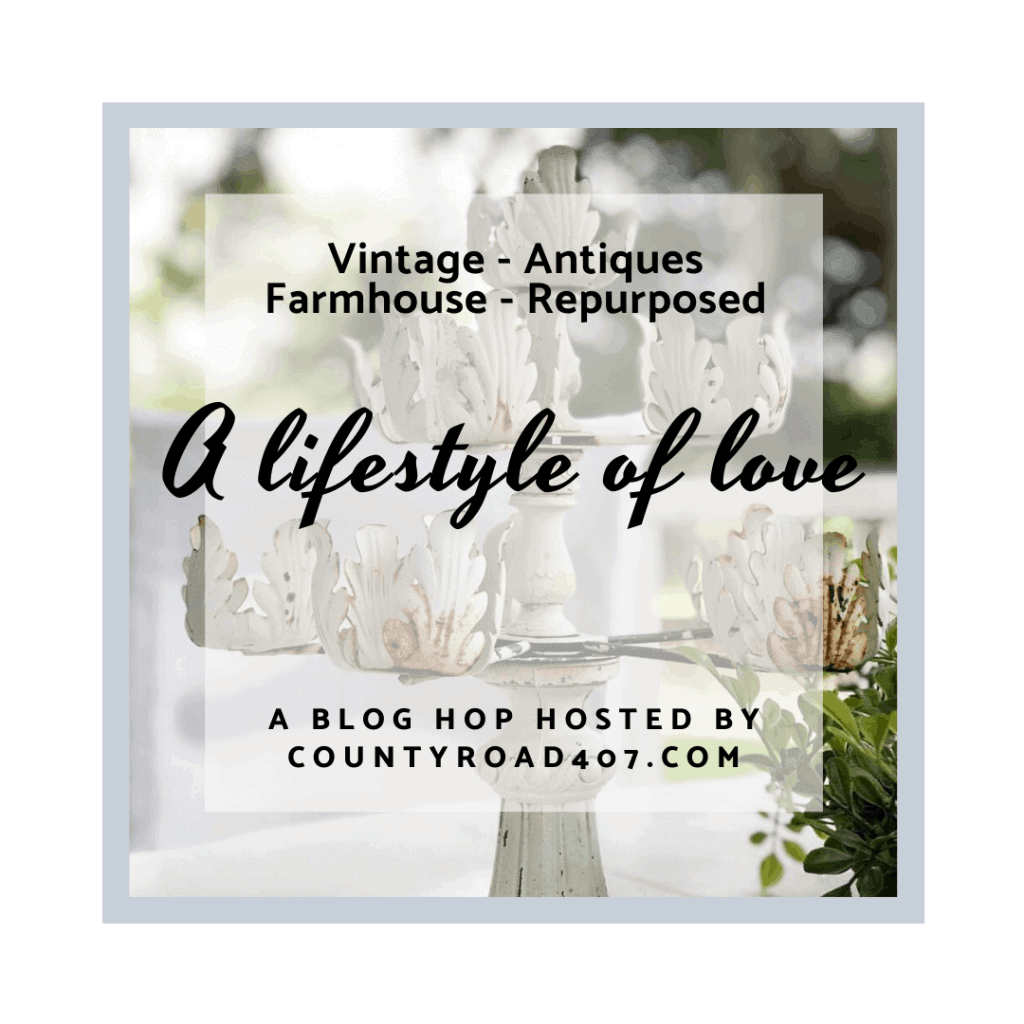 If you're coming over from County Road 407, I'm sure you enjoyed Cindy's charming antique bed. Such wonderful ideas for dressing your beds in beautiful and cozy style! I'll have the rest of the inspirational links at the end. Can't wait to enjoy them all!
9 Great Reasons to Include Vintage Lockers in Your Home Decor
For your convenience, this post contains affiliate links. If you make a purchase, I may receive a commission. There is no additional cost to you. My full privacy policy is here.
Why Vintage Lockers are My Favorite Piece of Furniture
When Cindy chose our "Favorite Piece of Antique Furniture" theme for this month, I had to really think. I love old furniture and bringing it back to life from the curb, but my space challenged home only has room for so much! The pieces of furniture that make the cut have to be the perfect combination of flexible decor and functional storage.
Mr. Fix-it and I have done many furniture makeovers through the years; most of them are in customer's homes. A few became my favorites and needed to be kept for our home ( our DIY Industrial Coffee table) and a few just didn't sell for what they should…so they came home. That's the story on these lockers. The were in my former store for awhile (I scrubbed, sanded, and poly'd them), then came home to the garage for awhile, and now are in my living room! Yep…things are constantly changing around here! Here's why I chose these old lockers as my favorite piece of furniture.
1) Old Lockers Have Industrial Style
Vintage lockers can breathe industrial style into your home. They're a big bank of shabby metal, which is a nice juxtaposition to mostly wood furniture. Often they come with graphic numbers and letters which is basically art for vintage lovers (like me). They add that masculine edge to decor that can get too fussy.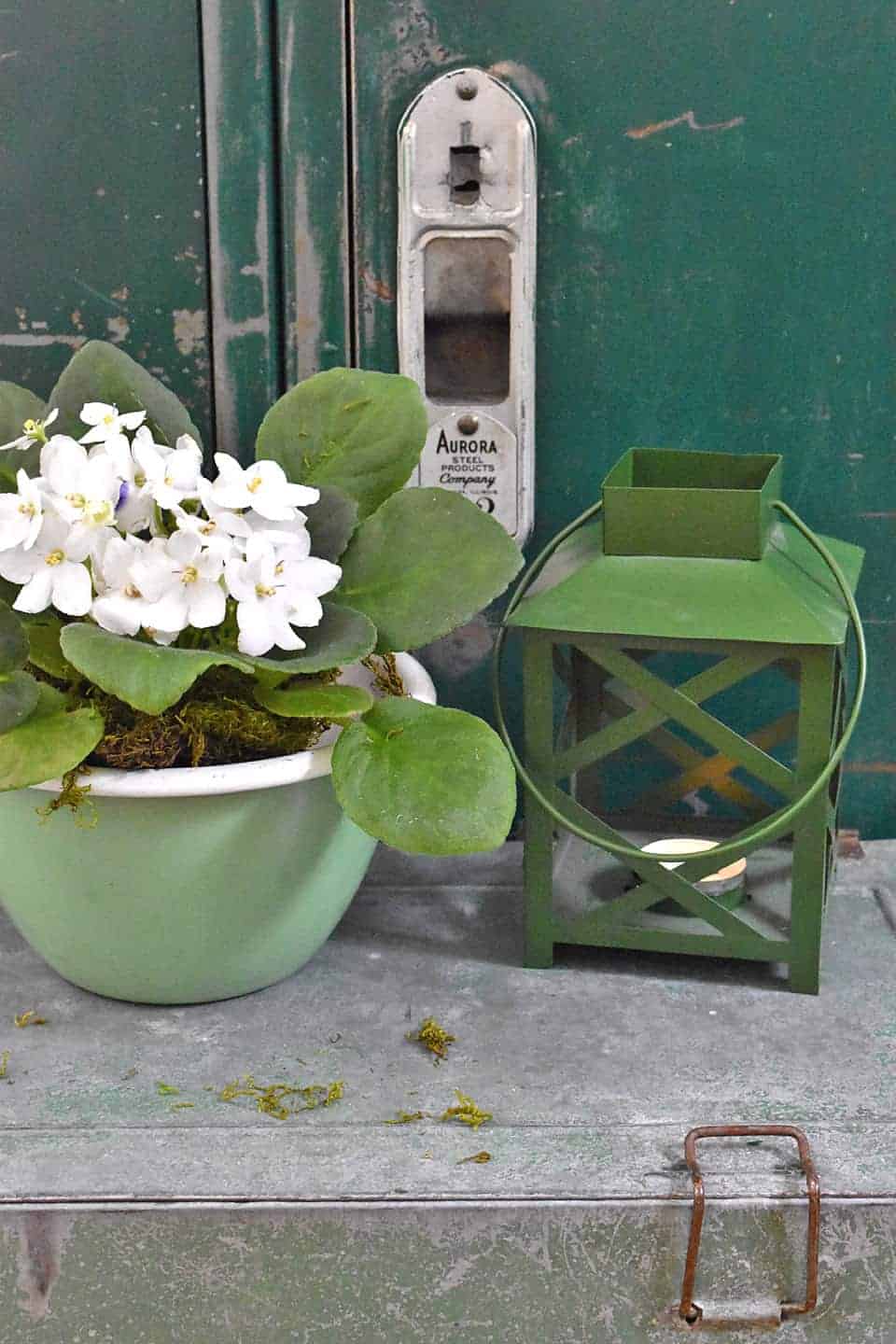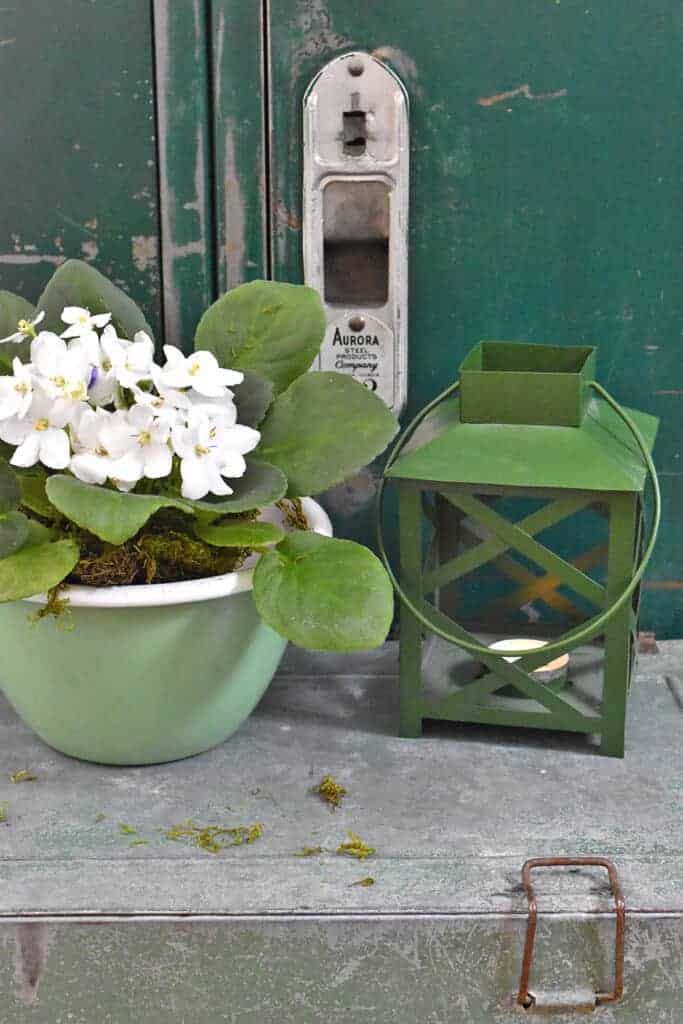 2) Old School Lockers Are a Giant Magnet Board
Because they're metal, old lockers can serve as a giant message board, or display your favorite photos or sayings. (Kind of like high school;) If you decide to use them in an entry or mudroom, you can leave notes to your kids on the front.
(these are taped, but you get the idea)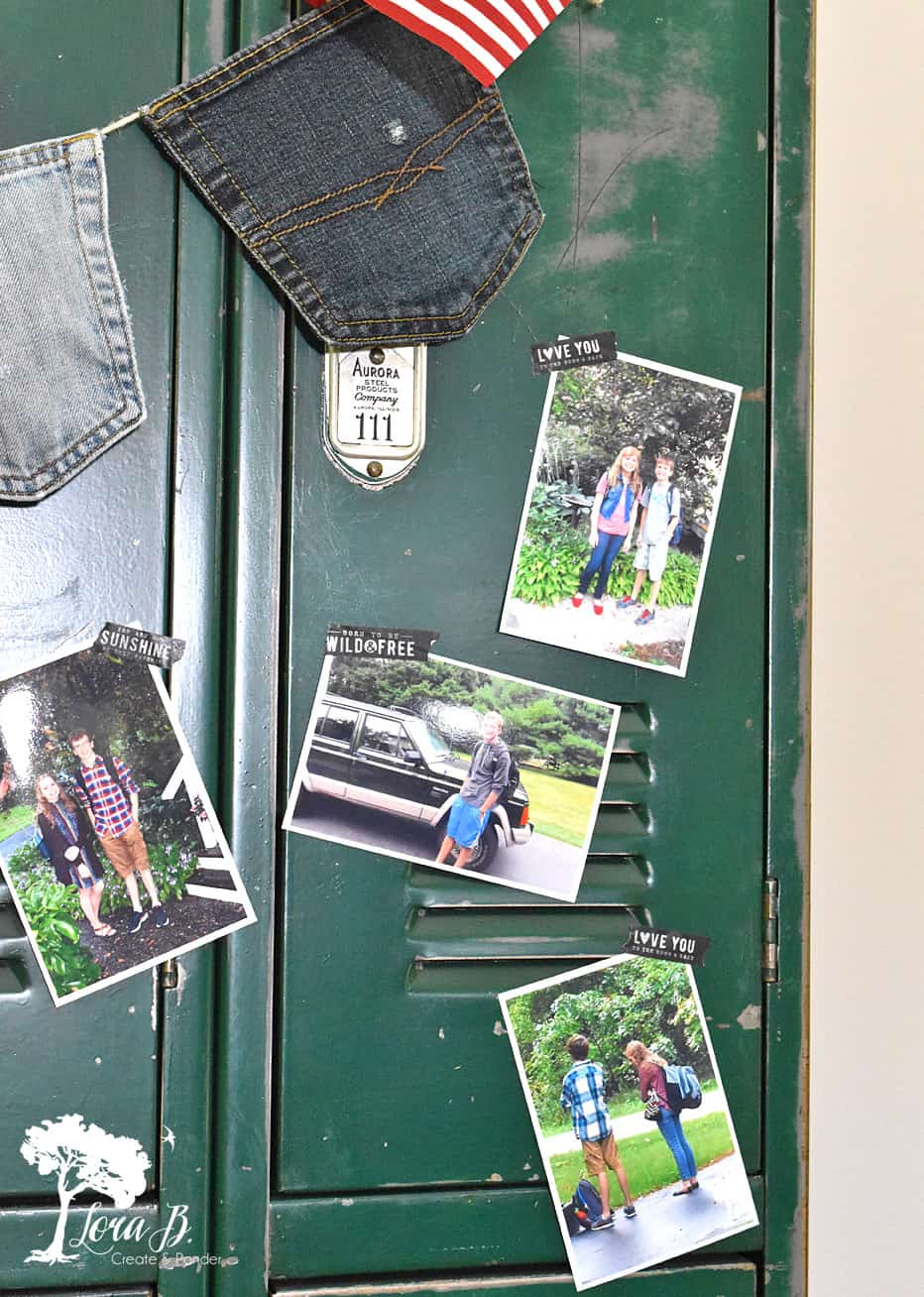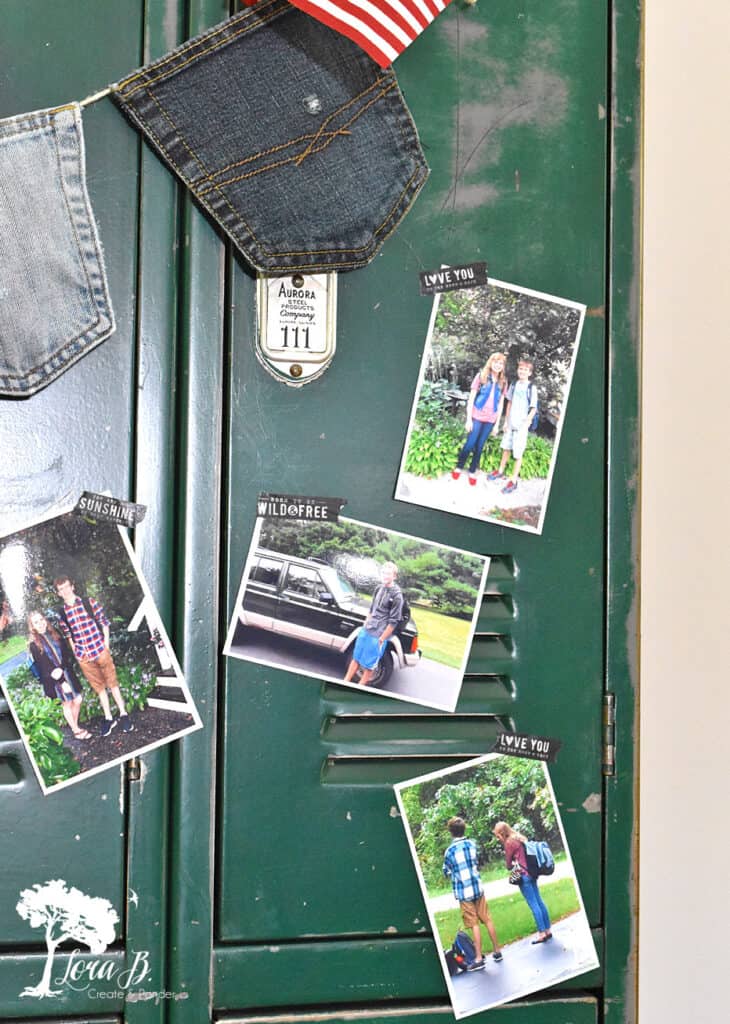 3) Repurposed School Lockers Are Great Storage
Lockers can be your best friend if you are looking for storage! All those doors can hold a lot of stuff, which I am the queen of;) Lockers usually have hooks already in them, so you can hang items like umbrellas or bags. You can also add shelves for more storage options.
We installed old barn board removable shelves on lath runners in some of our lockers. The holes were already there; we simply screwed into the lath boards from the lockers on either side. This gives me wonderful flexibility to cram as much stuff in as possible, since I switch my decor up by the seasons. Some lockers have one shelf, some have two, and some none. I can take the shelves out if I need also.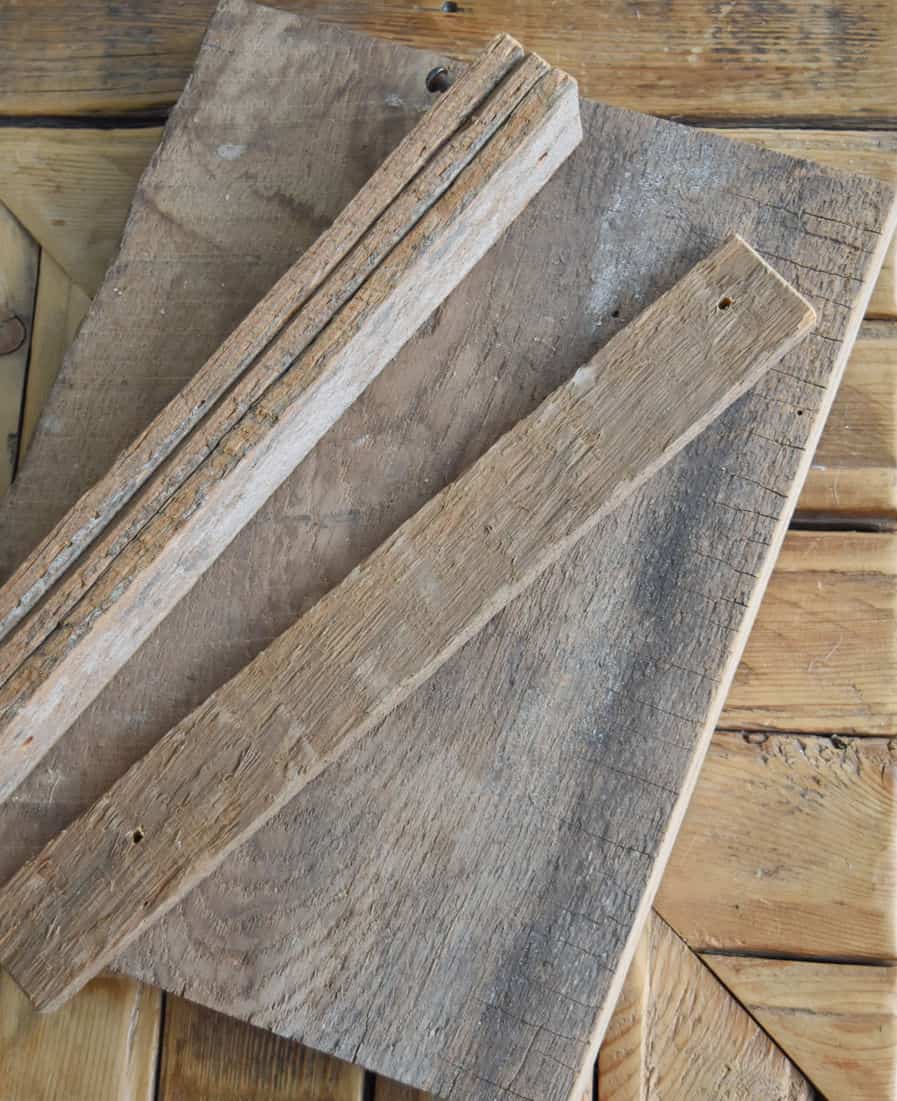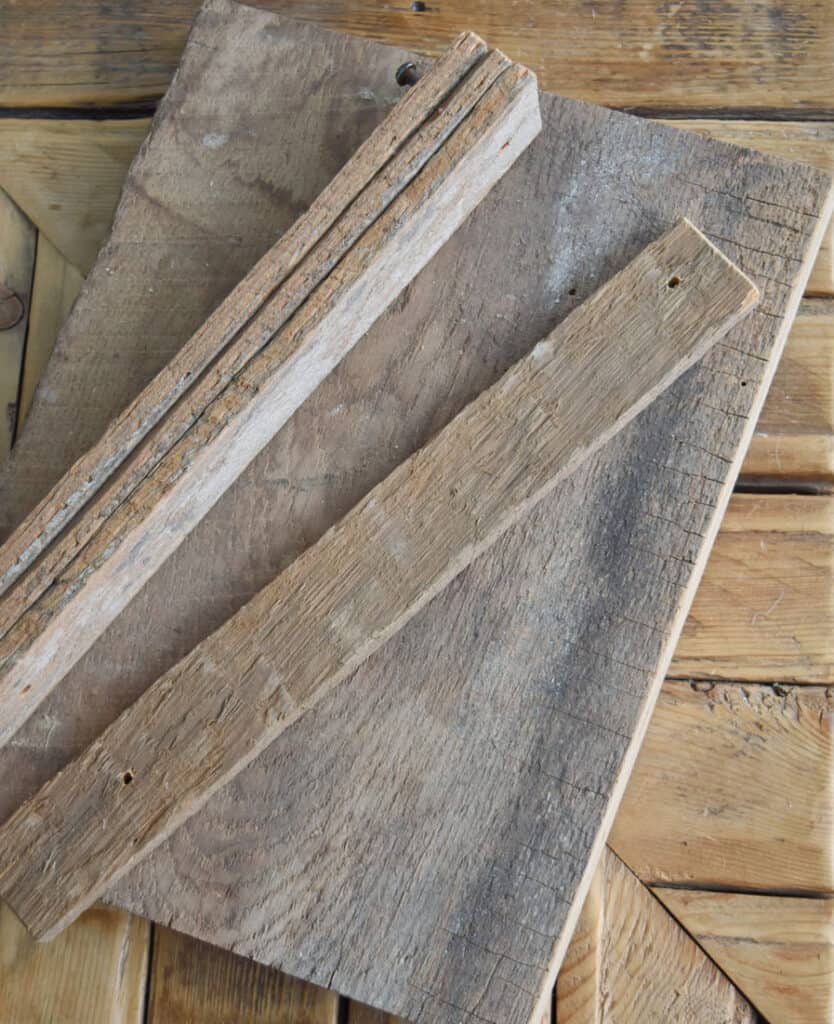 What kinds of things do I store in the lockers? This could be a reader favorite…seeing into my crazy organization. I get asked often where I put everything! What I love is that all of this is right in my living room where I can access it all easily.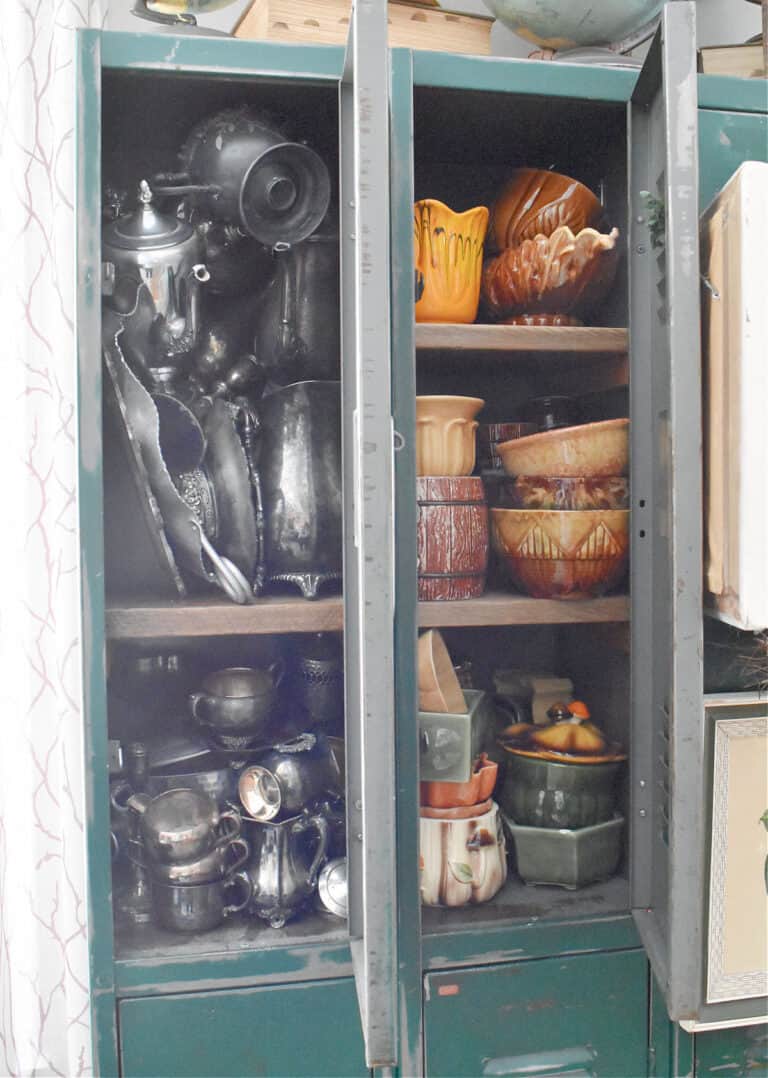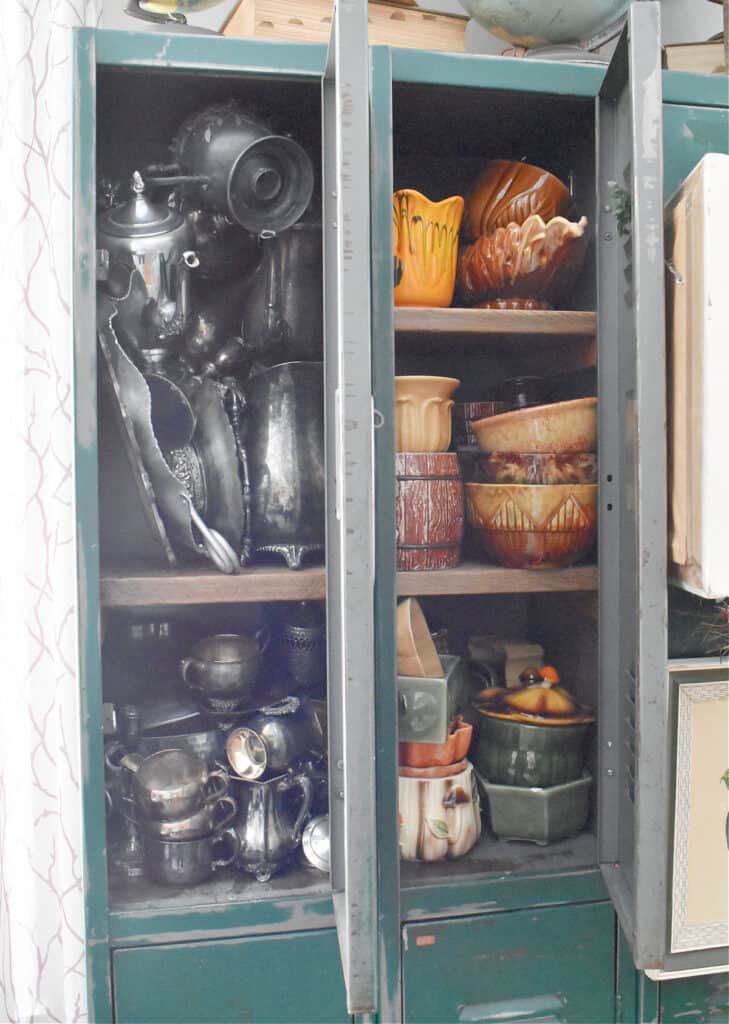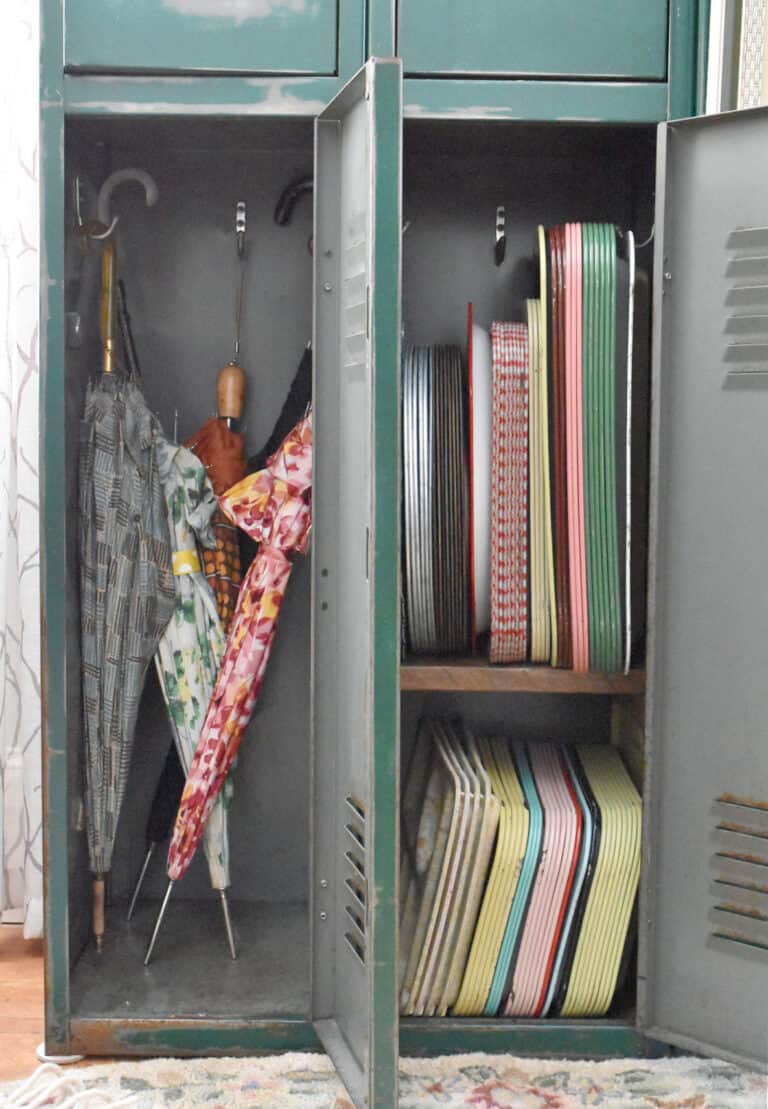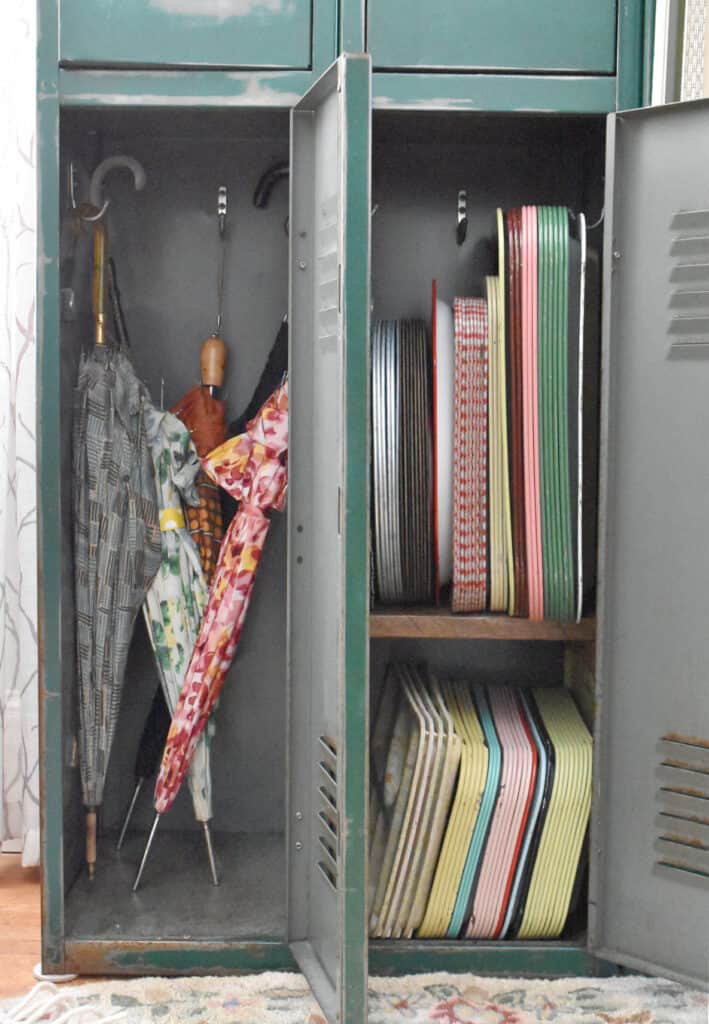 4) Decorate the Top of the Lockers
The big space on top of lockers is a great place to display collections or a seasonal vignette. Because I'm space challenged, this is a great spot for me to show off larger collections like globes or vintage fans.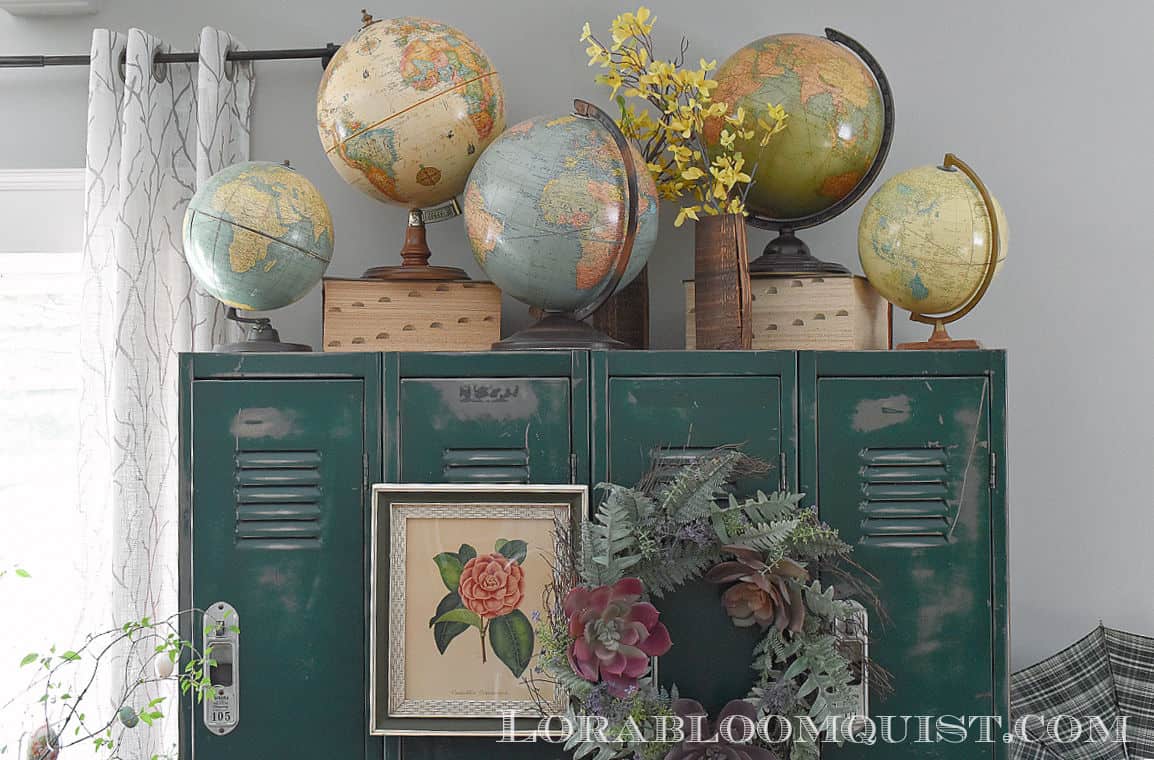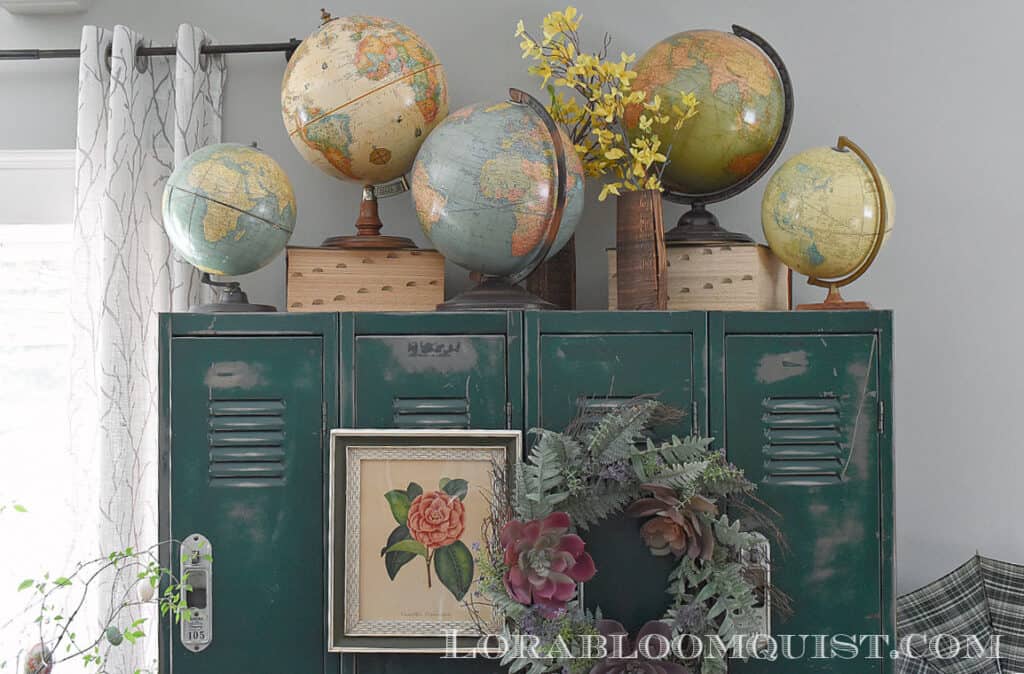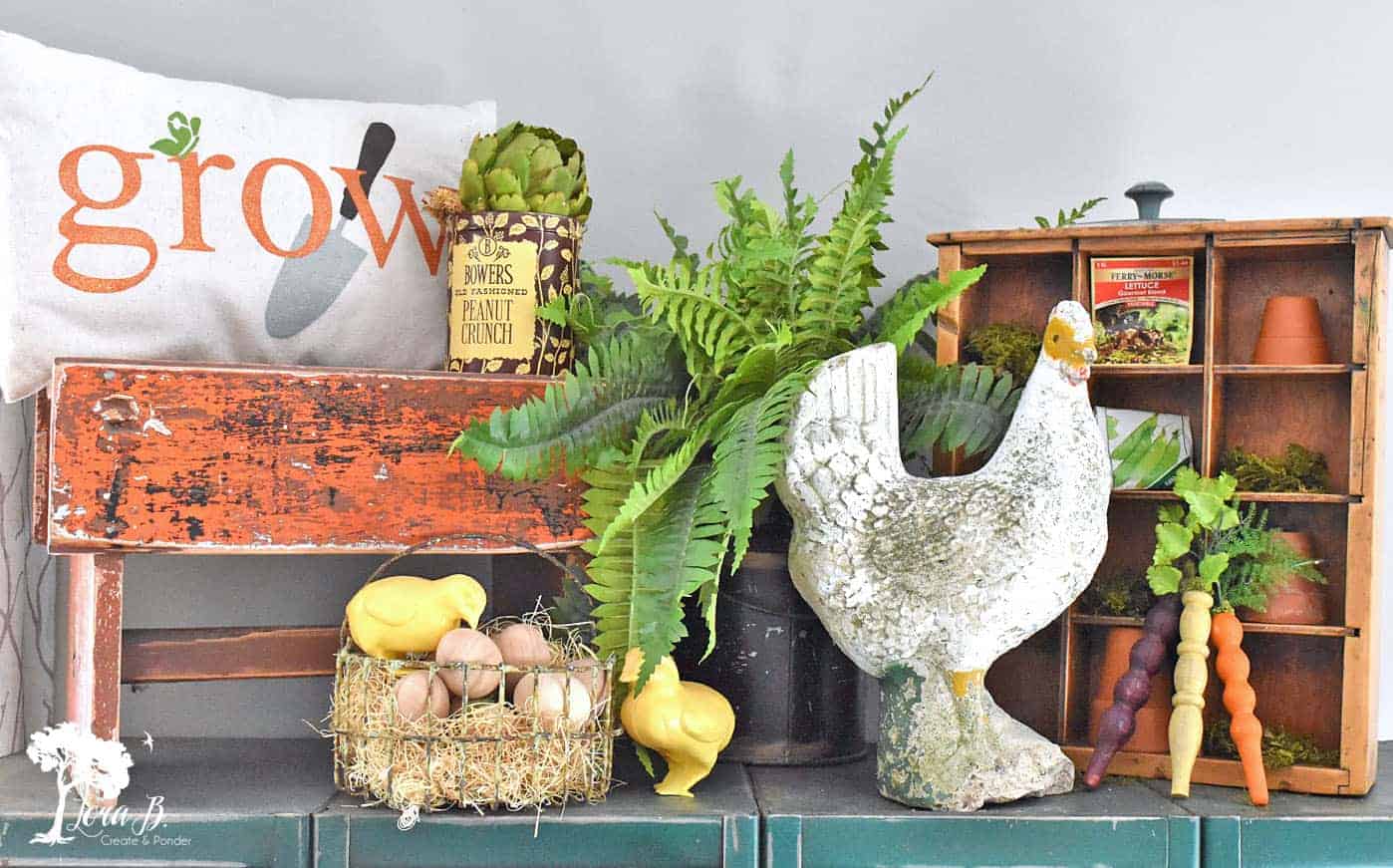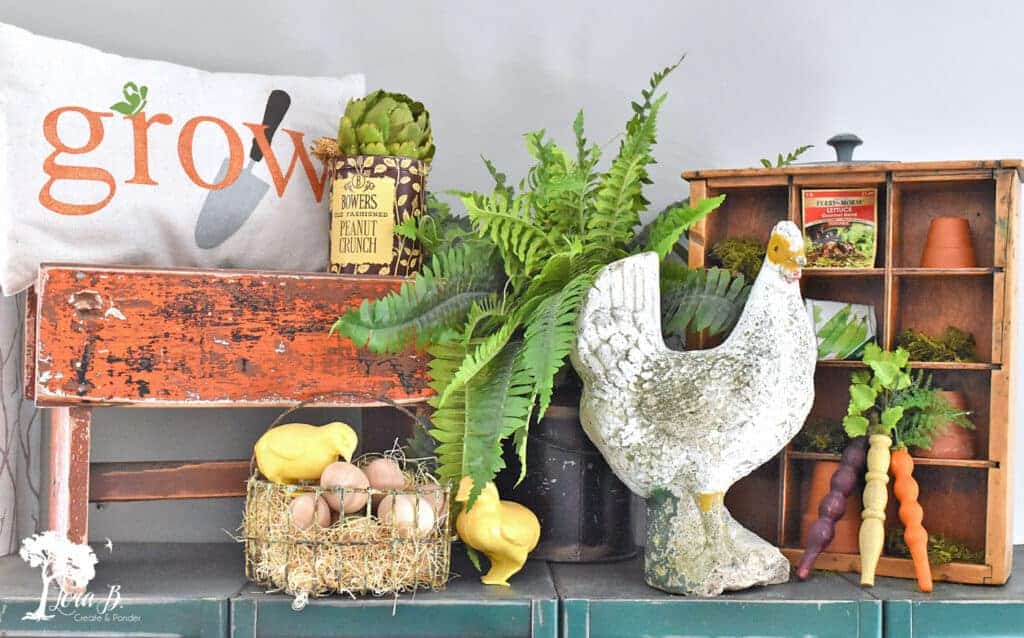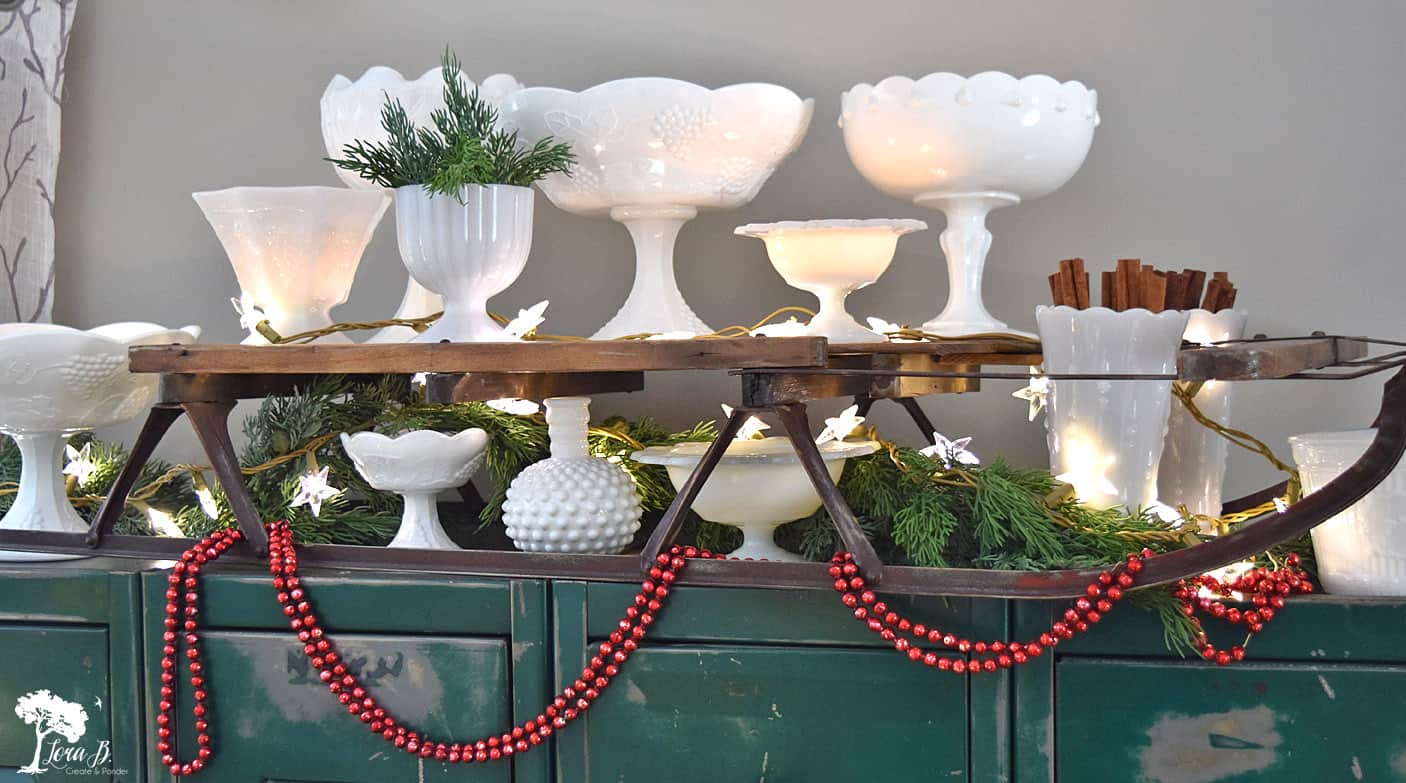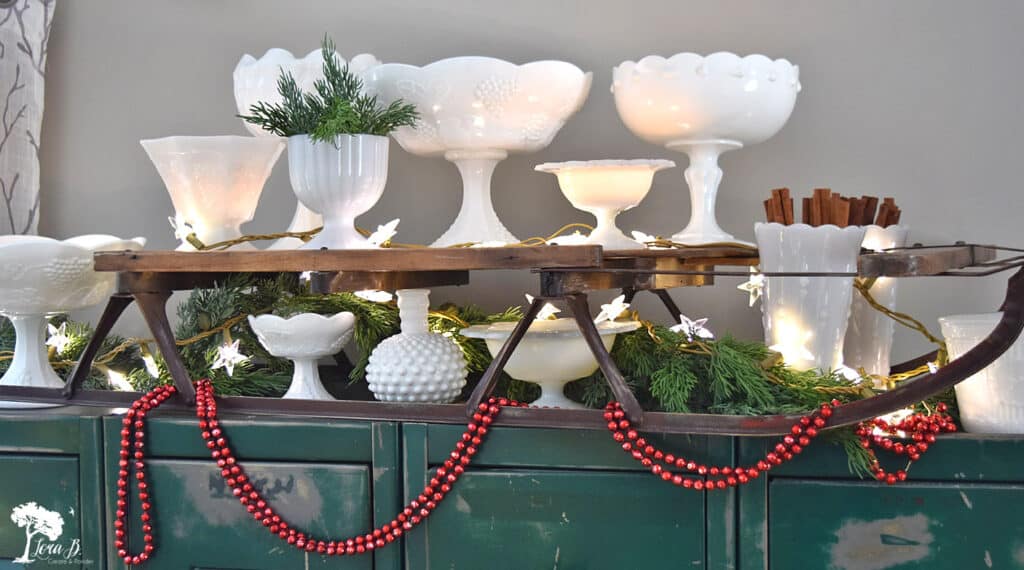 Find more display ideas:
"7 Ideas for Decorating the Tops of Armoires, Bookcases (and any tall furniture)"
"10 Styling Ideas That Make Glass Front Cabinet Displays Beautiful"
5) Home Decor Favorite: Decorate the Fronts of Vintage Lockers
Because lockers have vents on the fronts, it's easy to hang whatever you want on the front. I like to have THIS handy for hanging or attaching anything and everything!
Decor ideas to hang on the fronts of lockers:
wreaths
garland
framed art
water skis;)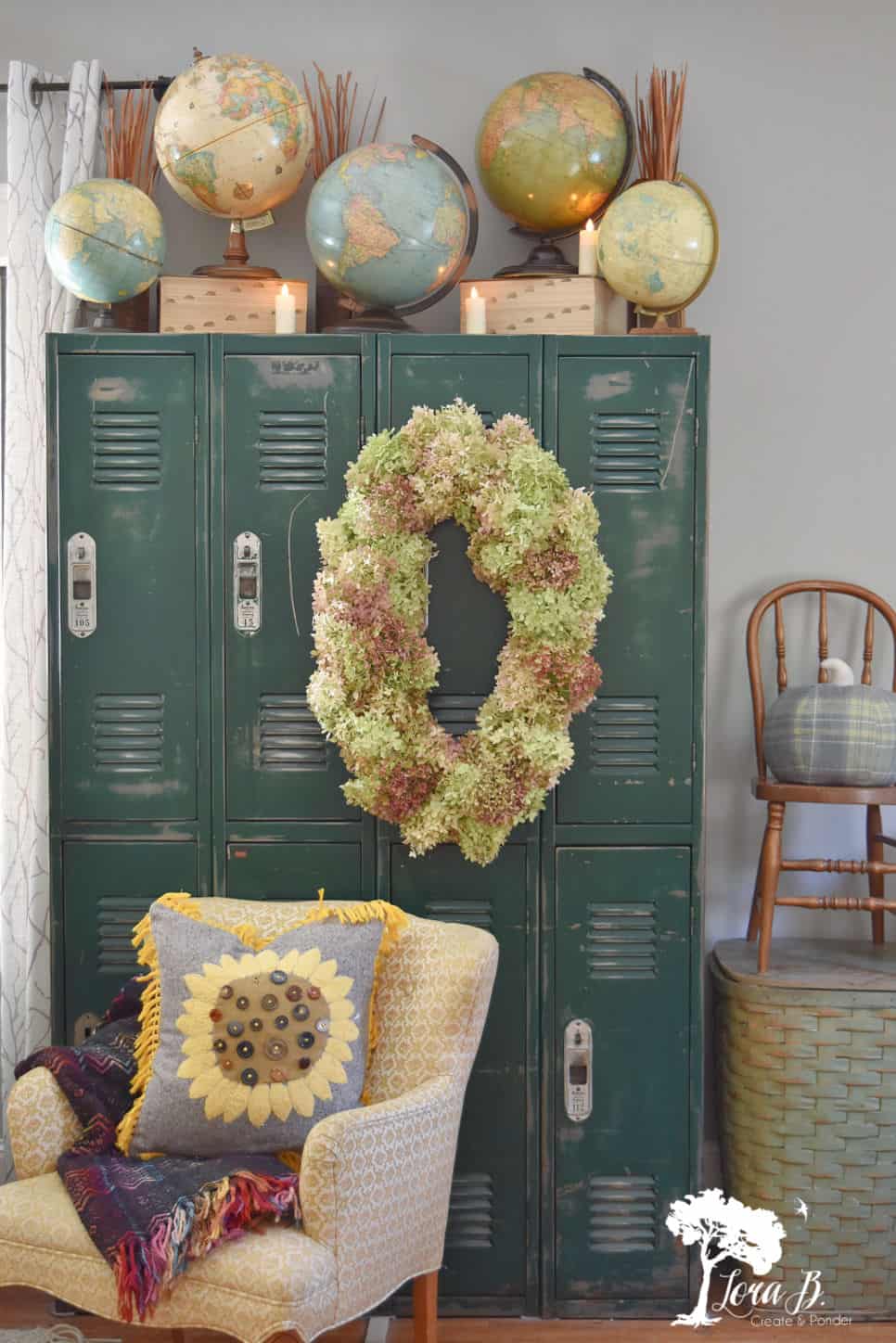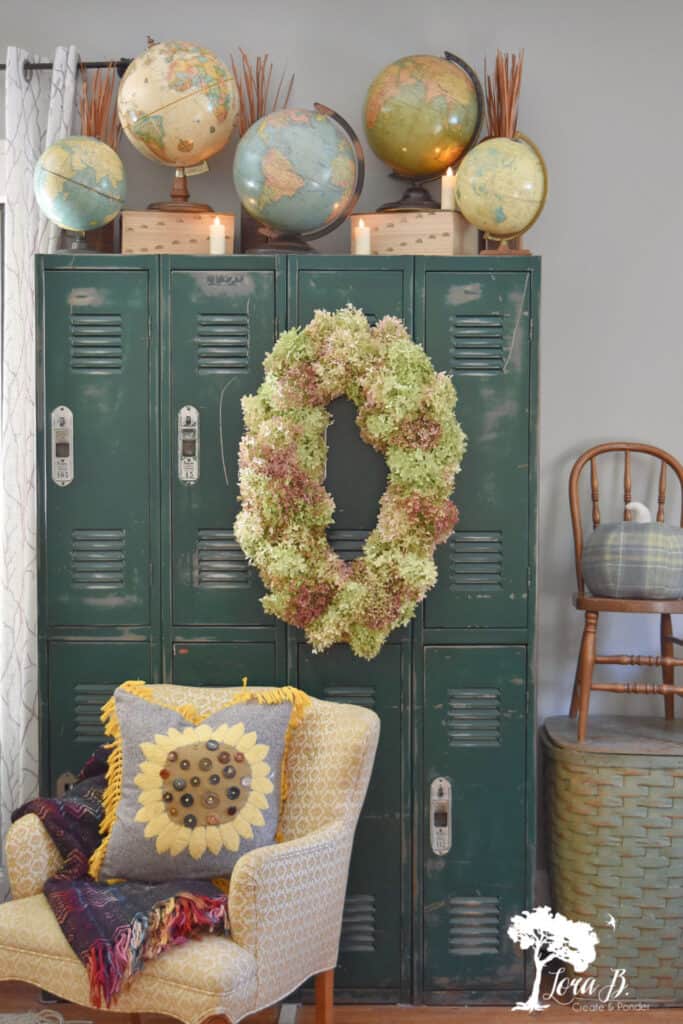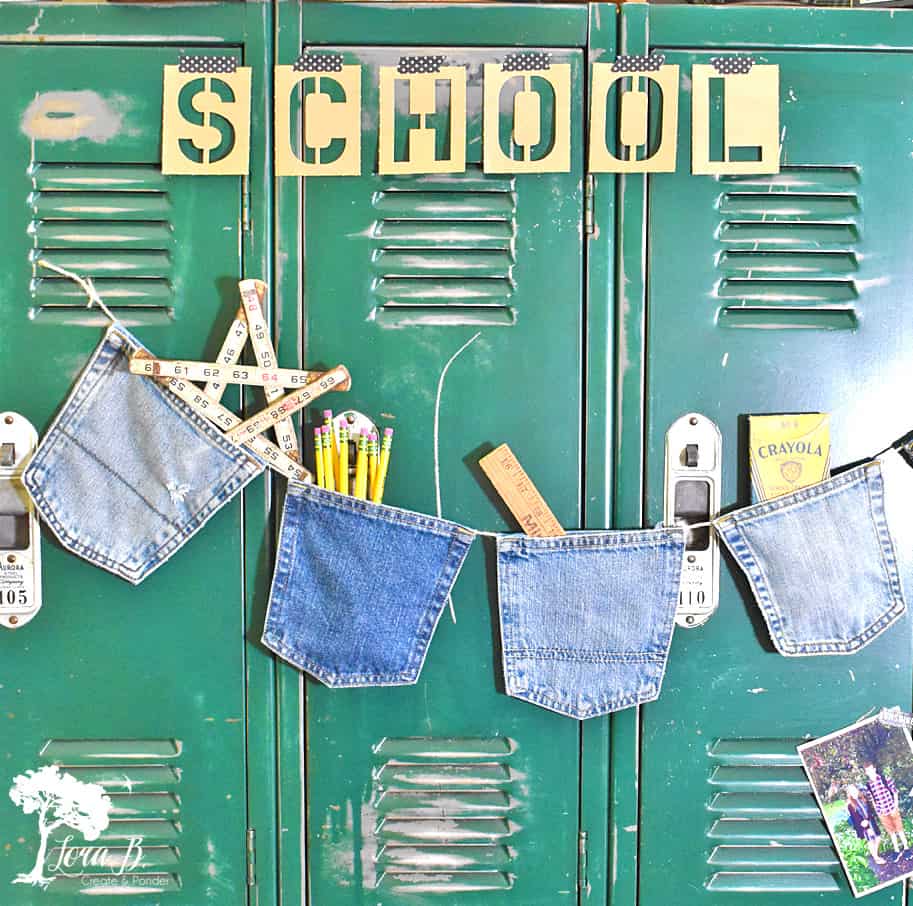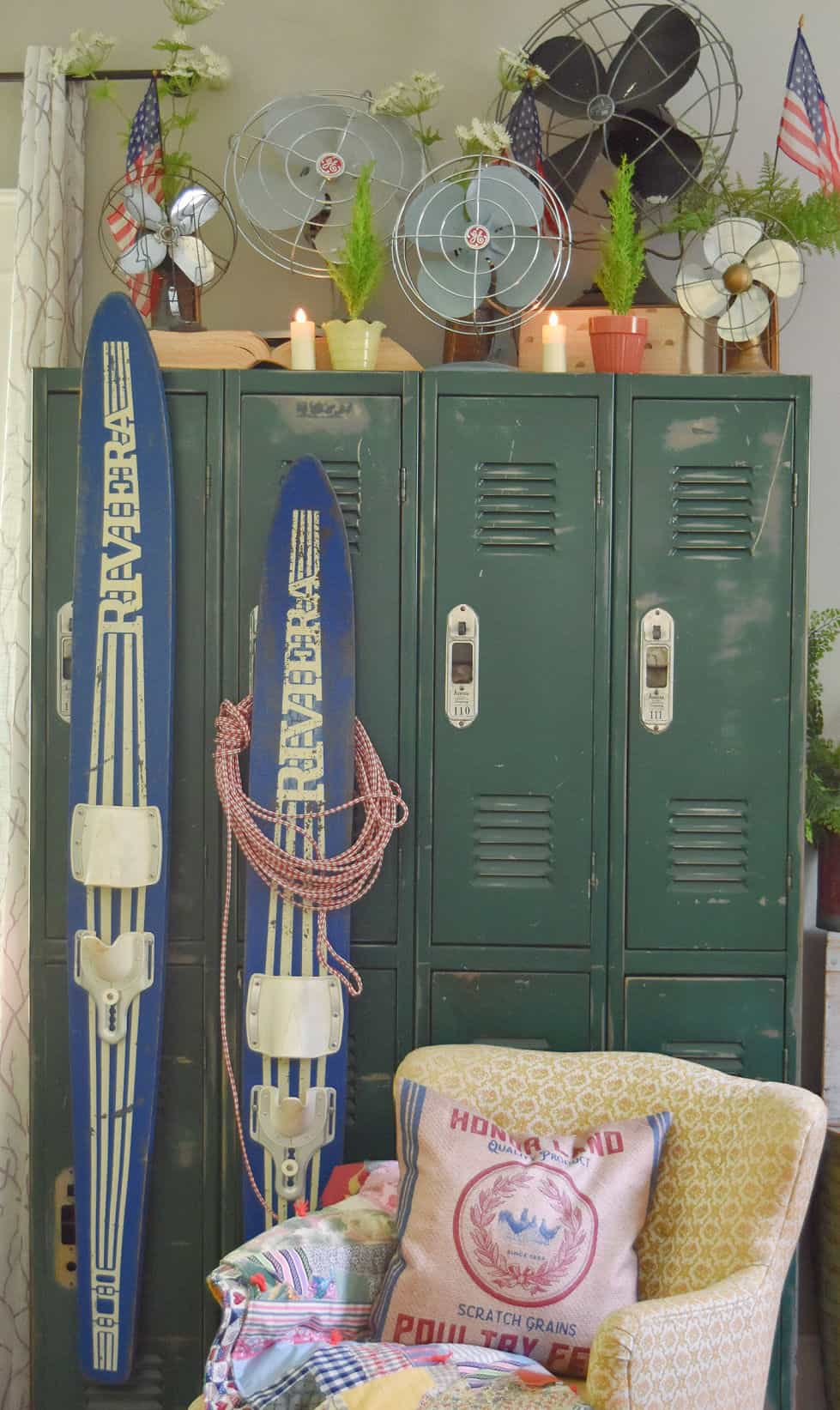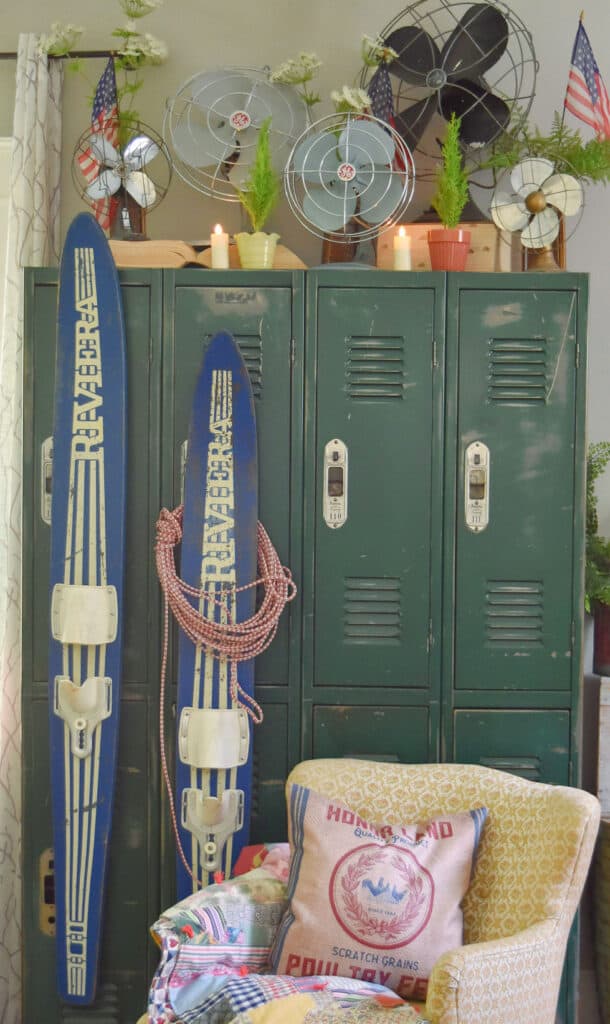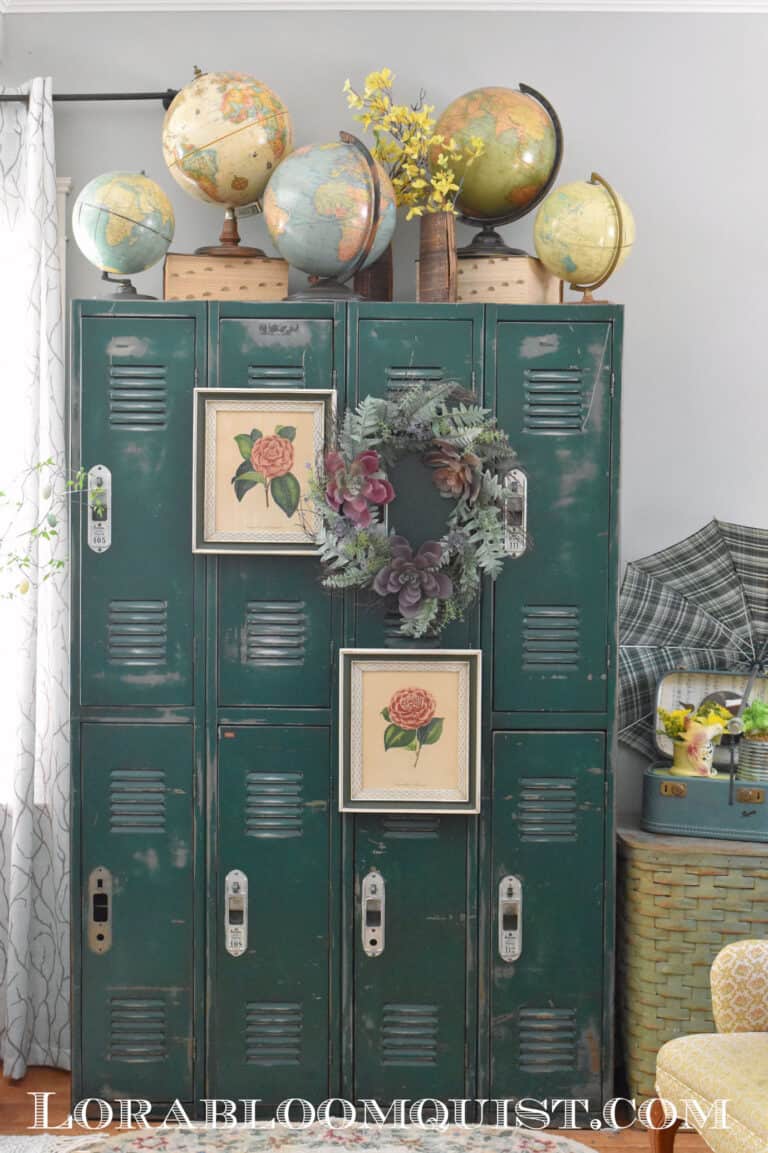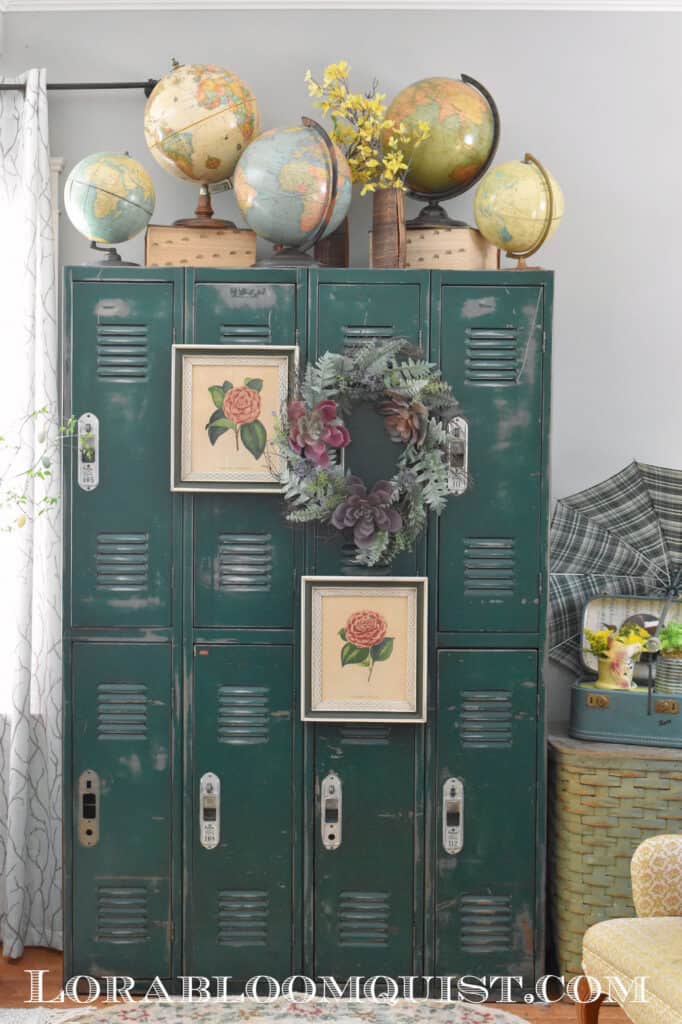 6) Creating Vignettes with the Doors Open
IF I happen to have a door or two empty (and that's a big IF;), it's fun to create a vignette peeking out on the shelves. It creates home decor depth and interest. If you've got a bank of cubby doors, it's also fun to have items coming out of some of the 1/2 open drawers.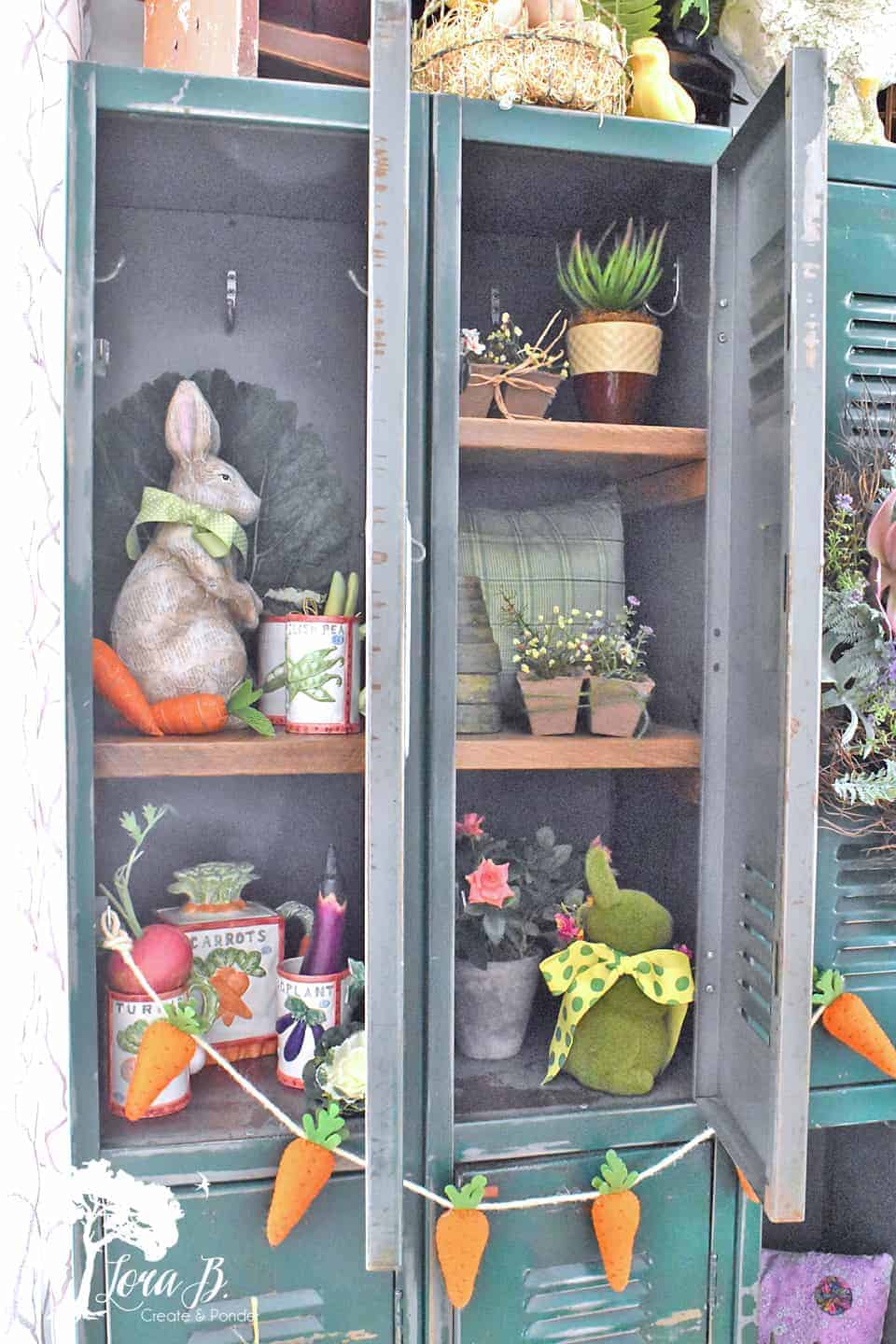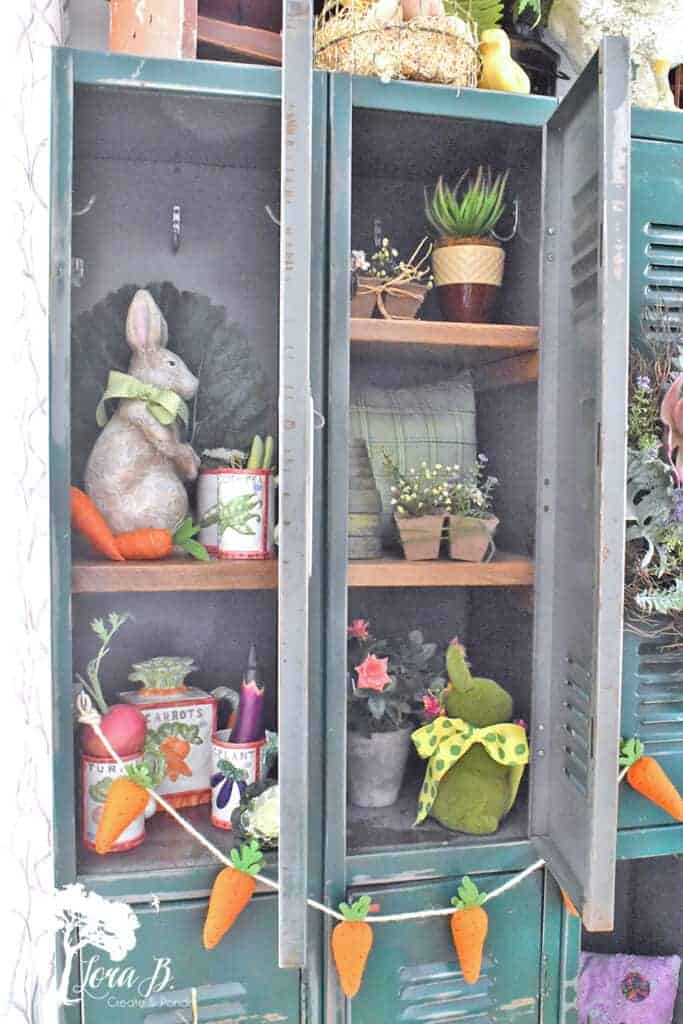 7) Old Lockers Don't Take Up Much Space
For as much as they can pack in, lockers take up relatively a small amount of floor space. Our lockers are only 15″ deep (by 4 feet wide). They're thin enough that I can even have a small chair in front of them. They are just a decorative backdrop to the space challenged room.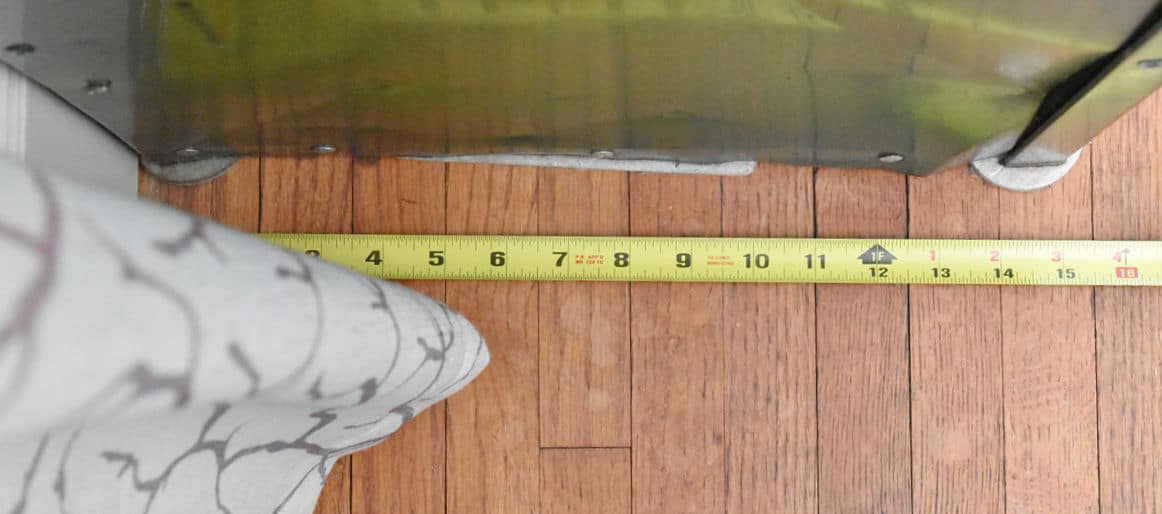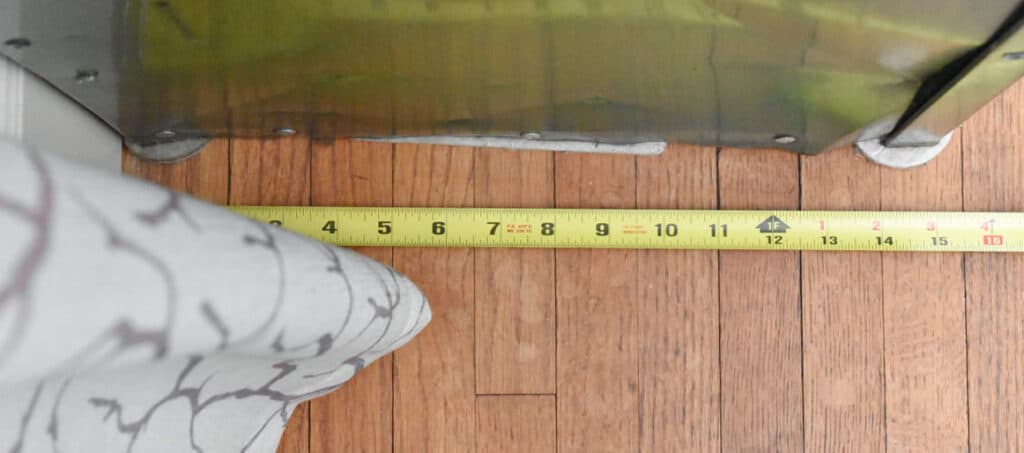 8) Lockers are Usually a Neutral Color
Luckily, many lockers were originally neutral in color. Many are grey or white or tan. Mine had been painted dark green at some point which first bugged me. I love green, but it was a little dark. I've since come around and realized their green color is a neutral that I can decorate around for any season! Of course, you can paint them, but I do appreciate the time worn character.
9) Vintage Lockers are Tall and Make a Statement
Having a bank of lockers in your space makes a statement. They can balance out other features, like our brick fireplace. But I do need to mention that since they're a tall, heavy piece of furniture, it's best to have some type of wall anchor so they don't fall onto anyone. I actually have an ugly shim in front of ours so they lean back. (You can find wall anchors HERE). When my daughter was little, a metal cupboard fell over in her room; luckily the bed caught it before it landed on her. Definitely be safe with tall pieces of furniture!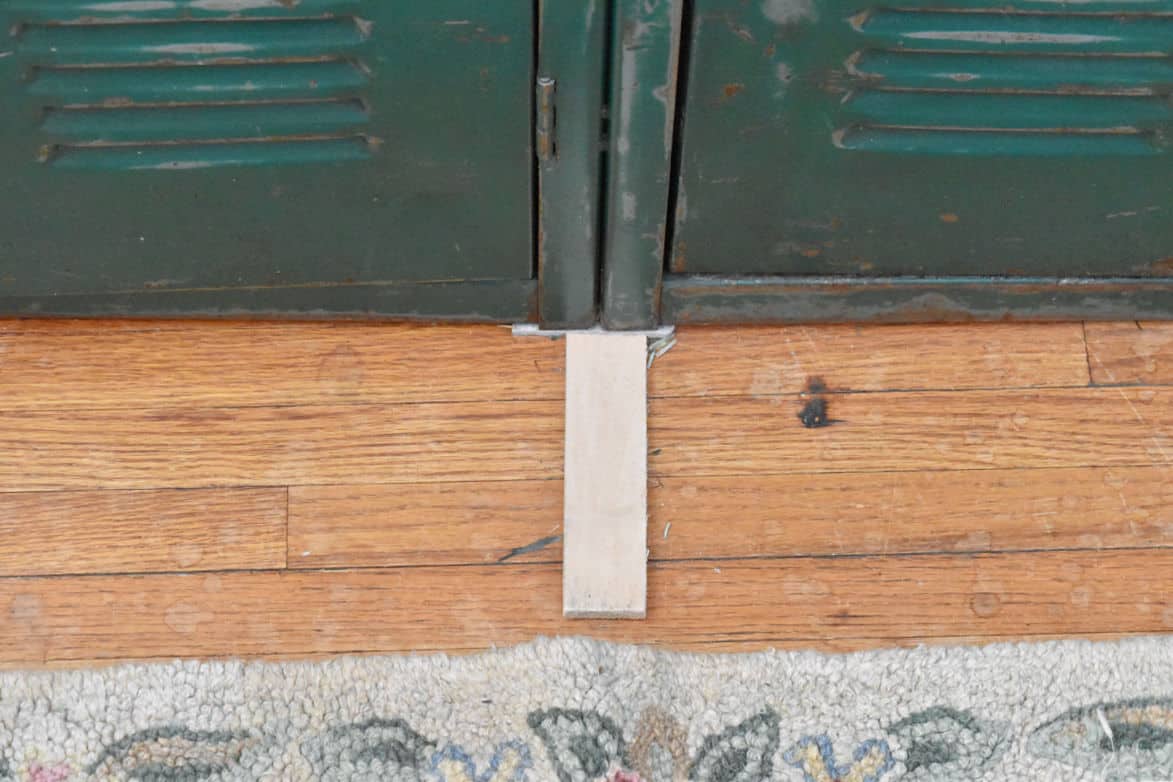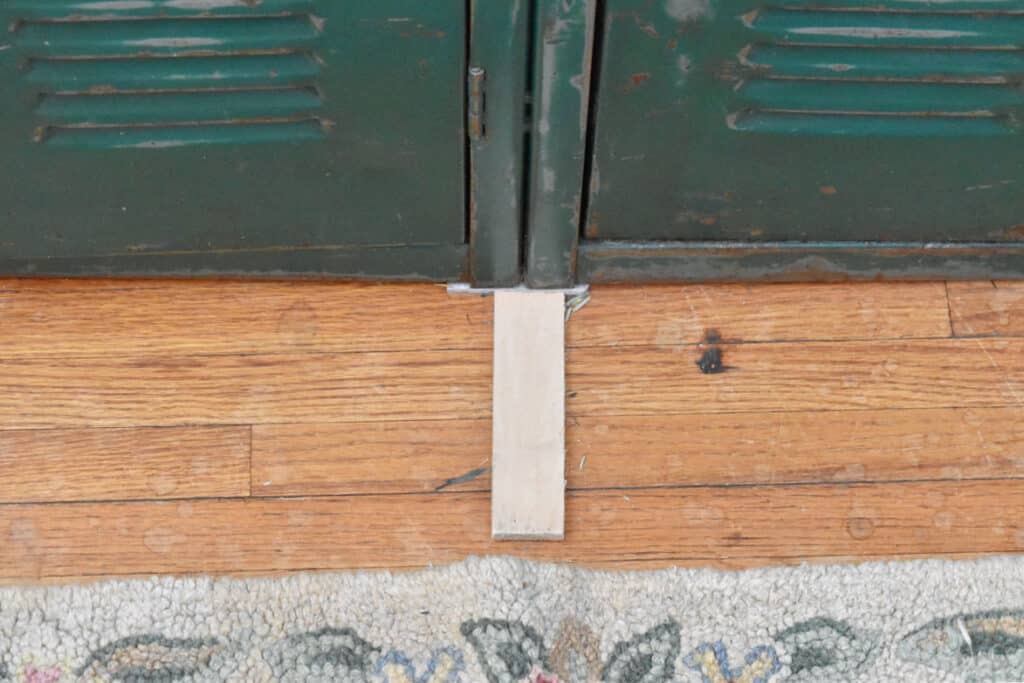 There you have it! Are you starting to think you need to get a bank of lockers for your home? I hope so! They've definitely become my favorite furniture piece in our home for all these reasons:)
I can't wait to see what my friends have picked for their favorite furniture piece. Visit Christy at Our Southern Home next to see her treasured antique furniture pieces (I'm in love with her dining room cabinet). All the rest of the links are down below.
Thanks for reading "9 Great Reasons to Include Vintage Lockers in Your Home Decor". If you enjoyed your visit, be sure to become an Insider HERE to get ideas sent directly to you!
Follow Me: LTK | Amazon | Pinterest | Instagram | Facebook
Pin and share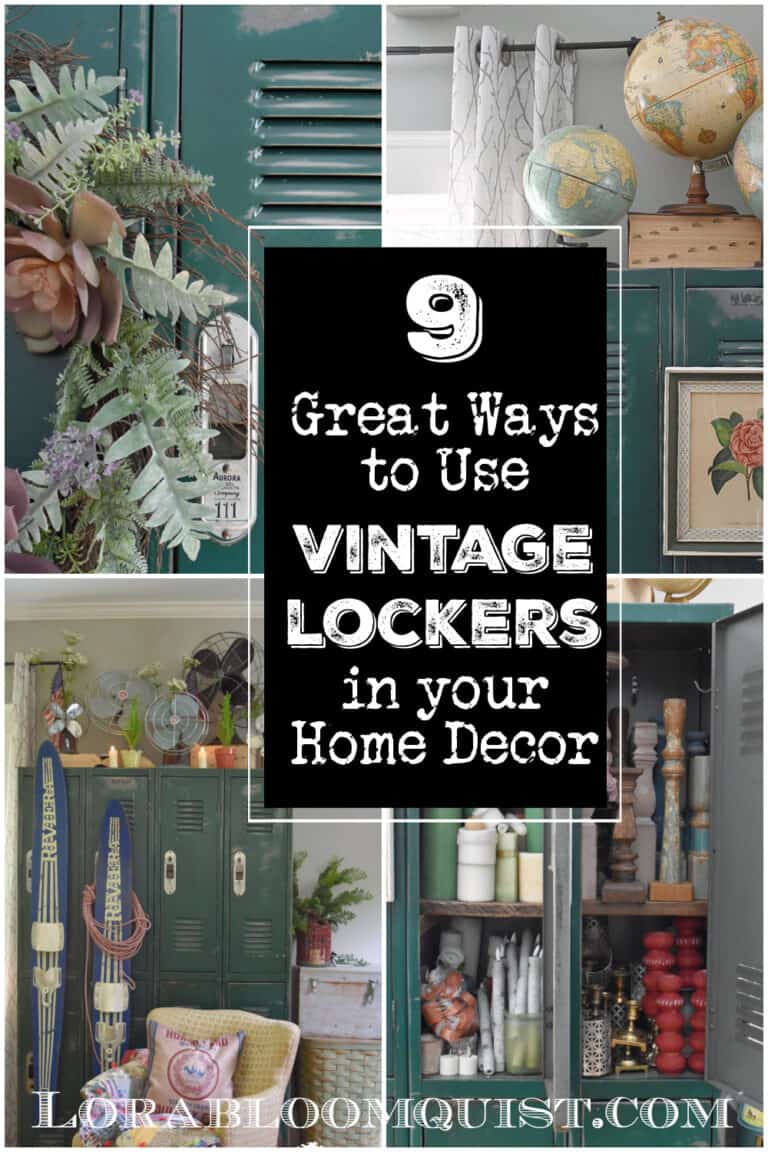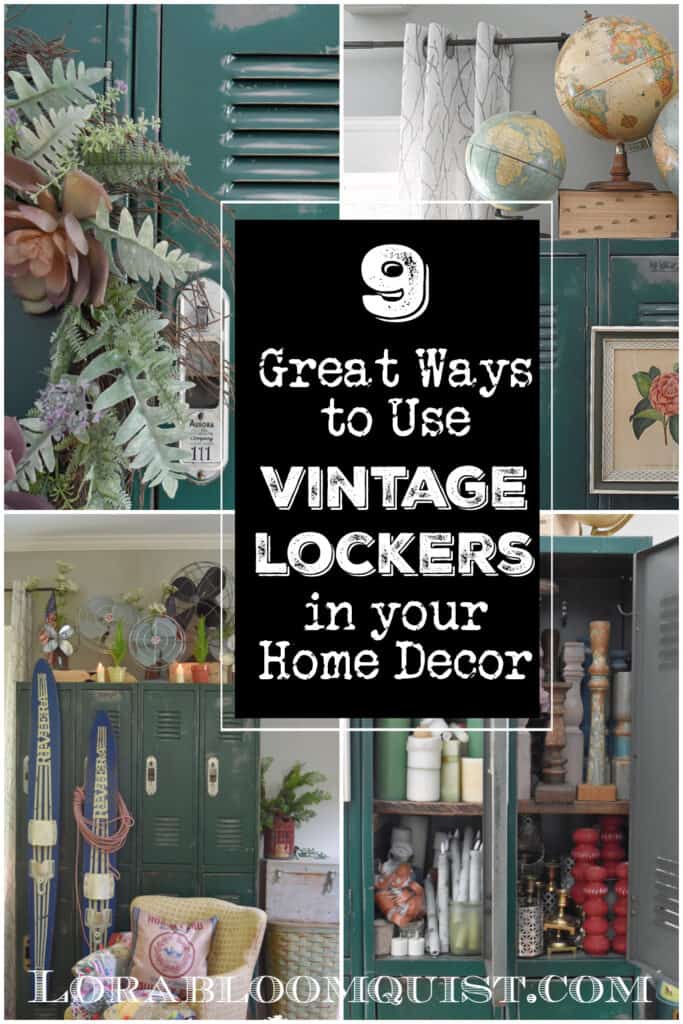 Lifestyle of Love Series: Favorite Piece of Vintage Furniture
Sharing at these lovely parties: