From Vintage Roof Rack To Cool Coffee Table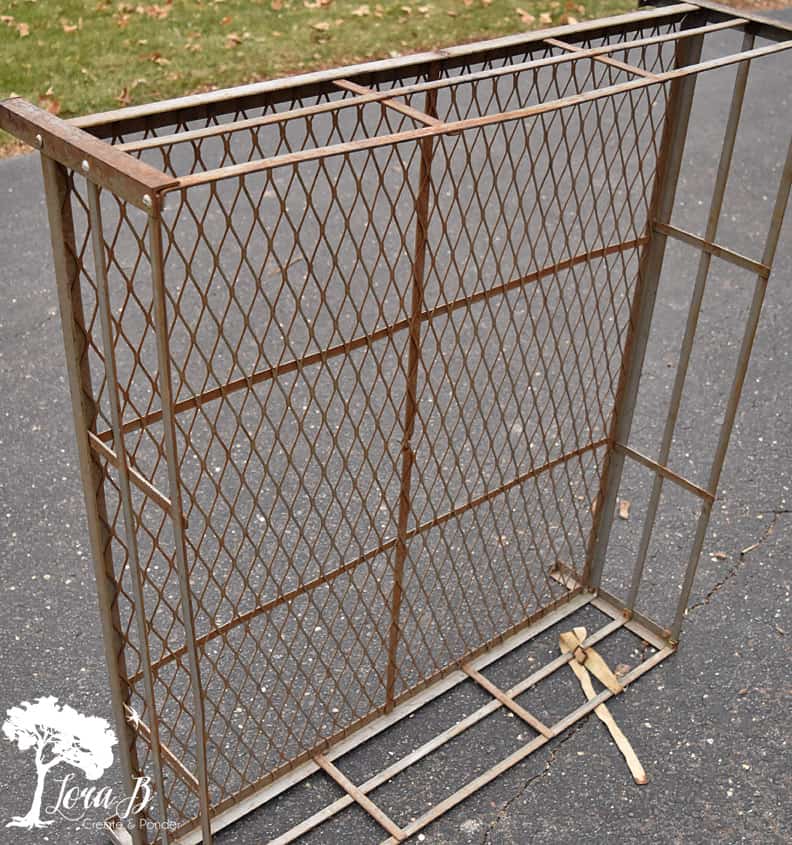 When you find a cool piece of junk for a great price, do you hesitate buying it? You think to yourself, "Wow, I've never seen one of these before!" And then you wonder what it actually is (and so do the other customers around you). You start second guessing yourself, "How would I use this?" "What could I do with it?" Take advice from me…Just buy it…and figure it out later. Otherwise you'll regret it! You'll believe me once you see this transformation! Here's how one cheap estate sale find went From Vintage Roof Rack to Cool Coffee Table.
I picked up this "cage" a couple years ago for $5. Yep, five dollars! I didn't know exactly what it was, but the canvas buckle was a clue, and the fact it was in the garage of the estate sale. Any guesses yet? I think the other buyers were wondering if I was a nut-job carrying it down the driveway!
Looking through some old family pics over the holidays, we came across this classic pic, to make the big "What is it?" reveal:

Norma and Betty say it's a vintage roof rack! And aren't we vintage car lovers oohing and aahing over that two-toned green and white station wagon!! Boy, would I like to drive that around!
Back to the "cage"…
I knew right away that I wanted this cool metal rack to become a coffee table someday. Now, a couple years later, Mr. Fix-it and I finally brought the vision to life!
I had an old set of casters and some great old wood from our garage collapse a couple years ago. (Never get rid of old wood!)
I drew out my idea to the engineer and he got his geometry brain working. He split the 3″x 3″ boards and cut a bunch of them at 45" angles. He laid out the pattern I was envisioning, keeping the rough sides up, at my request.
The roof rack is not a complete square, for reference. But I liked what I saw!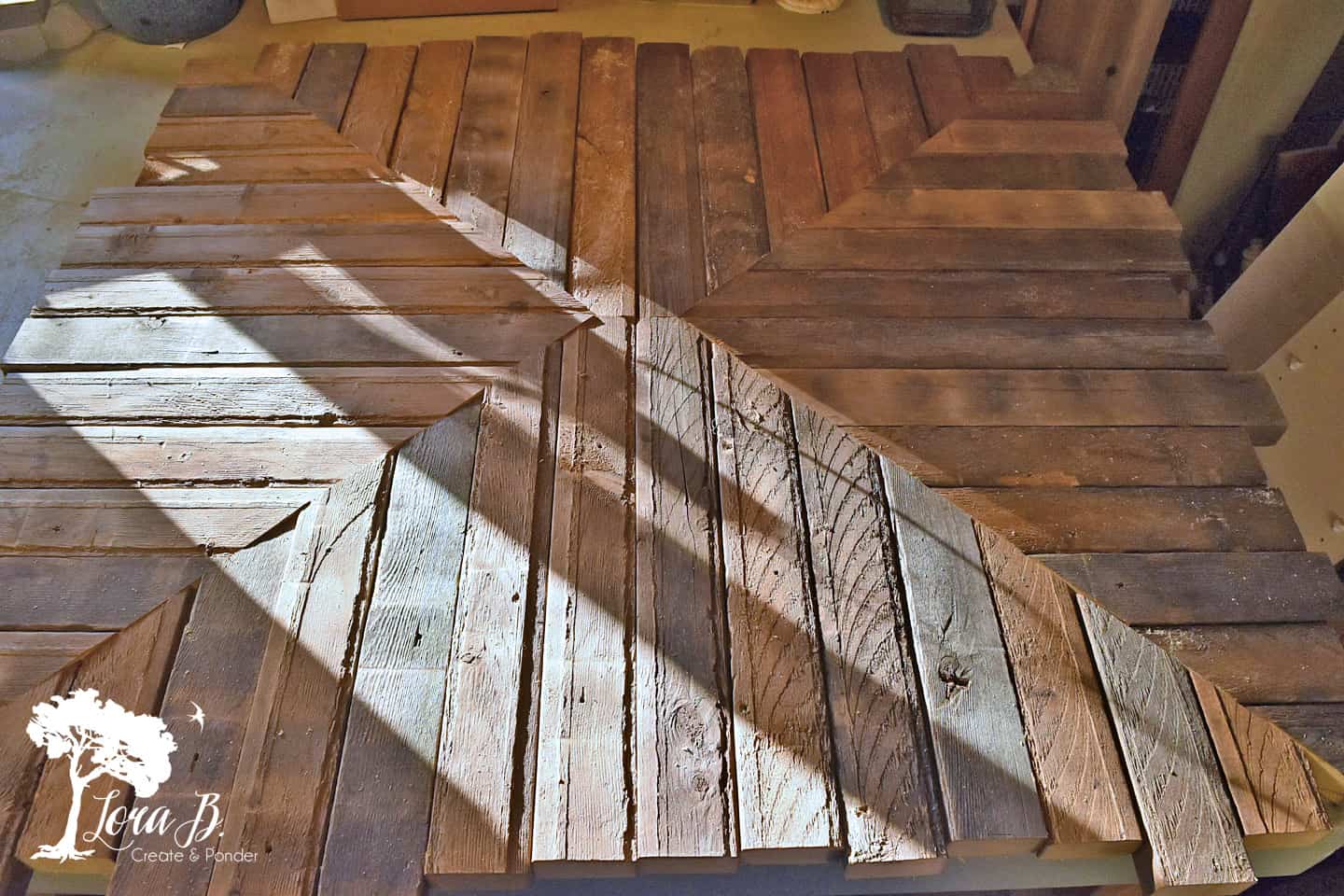 Yep…he's pretty good at bringing my ideas to life!
Next he had to figure out how to get this design to become a table top. We were hoping he could do it so as to not show any nails also. He placed the whole design on a frame and nailed all these pieces from the underside.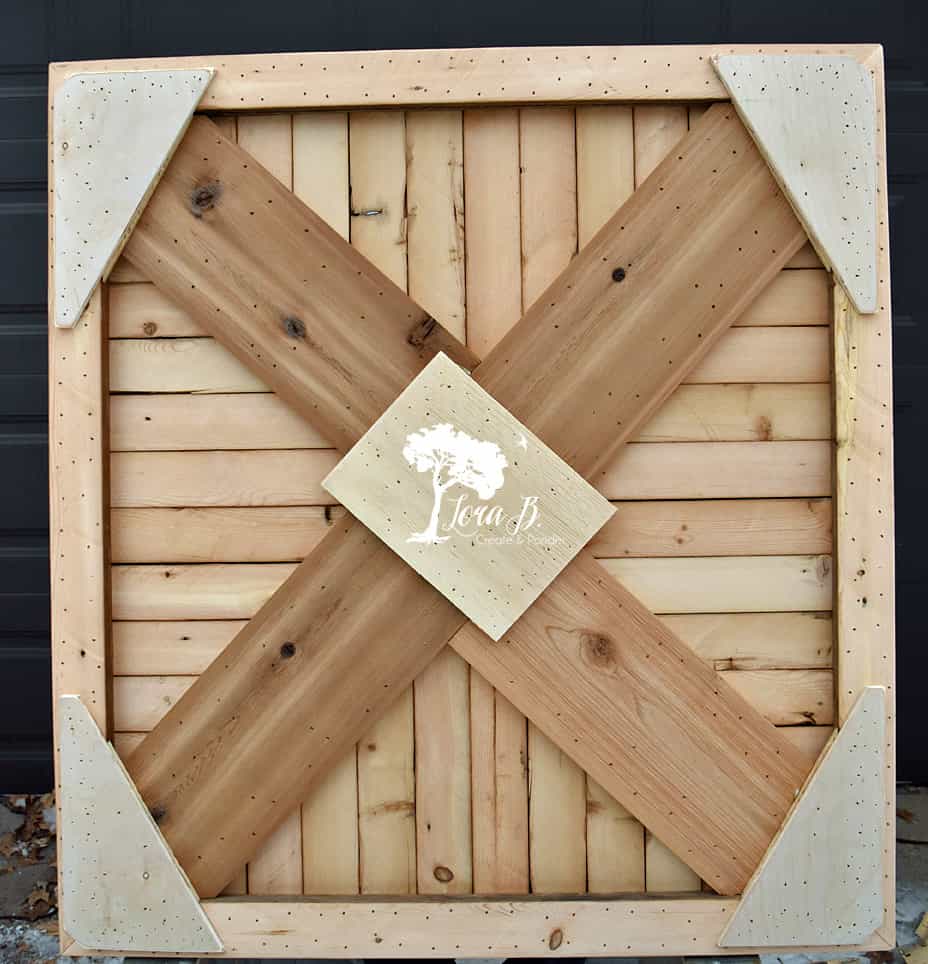 He inset the corner brackets so the table top will simply set on the base. He used some old cedar boards in an X design to nail to and more of the old garage boards as a frame, mitered at the corners. I'm so glad he got a better grade in high school geometry than I did!
Then I got busy doing what I'm good at…sanding up a storm!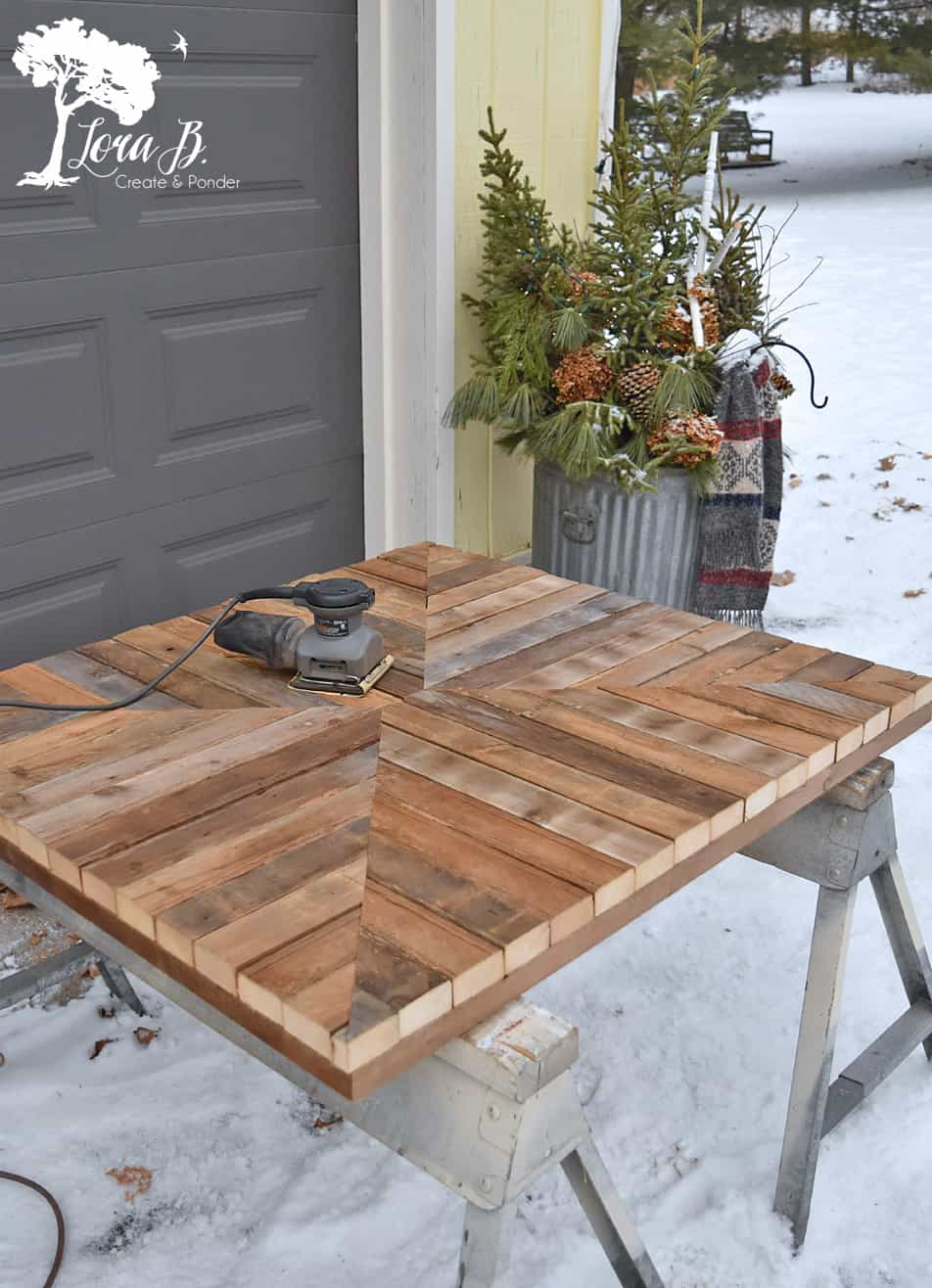 The top is not even, and I don't care! I just wanted to smooth off all the edges and get any splinters off. I didn't want to sand off the wood's beautiful character and different colorations. I had so much fun gazing at this design while I was sanding!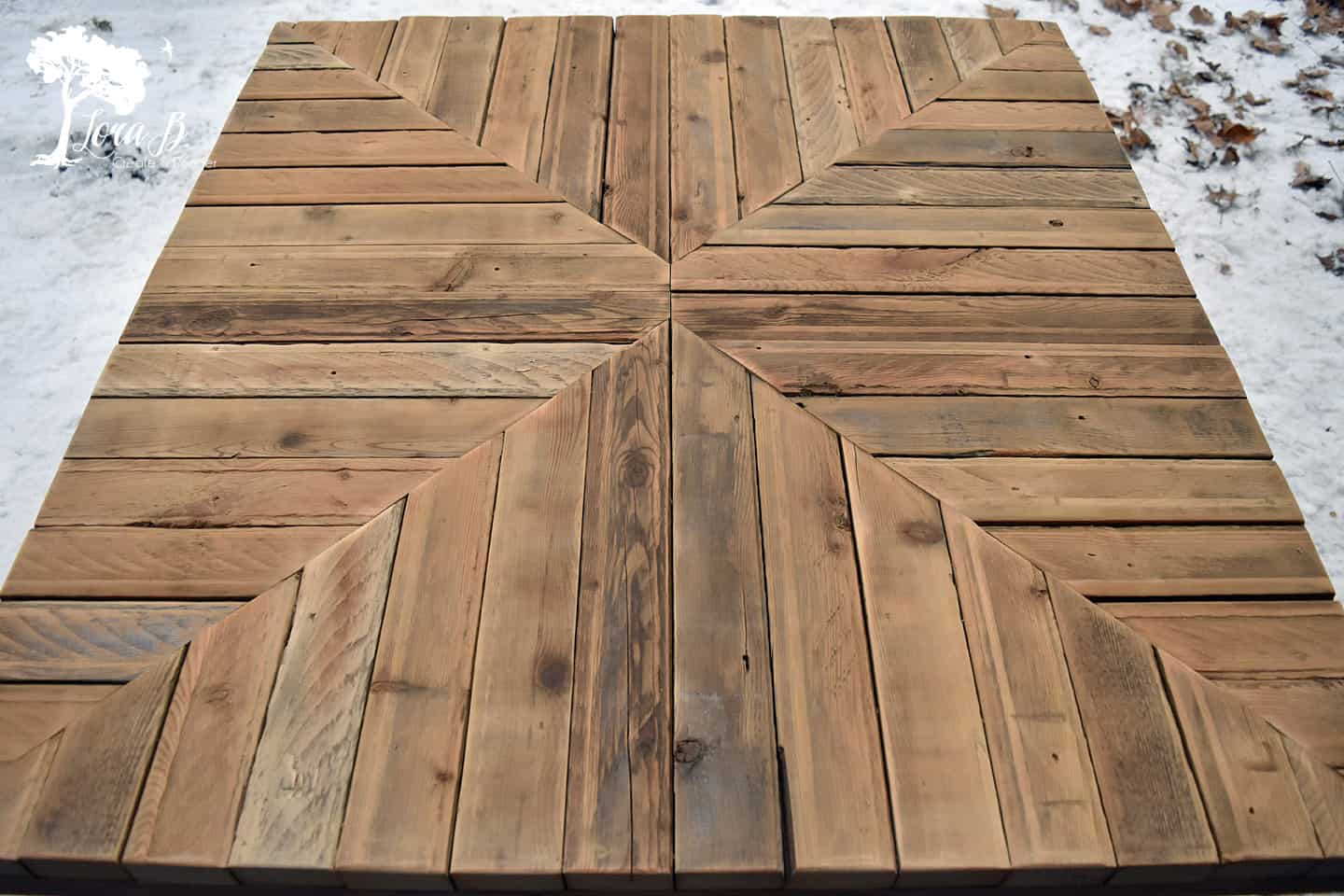 I also sanded the whole metal roof rack to even out the rusty spots and give it that brushed-metal look. I sanded the vintage casters also.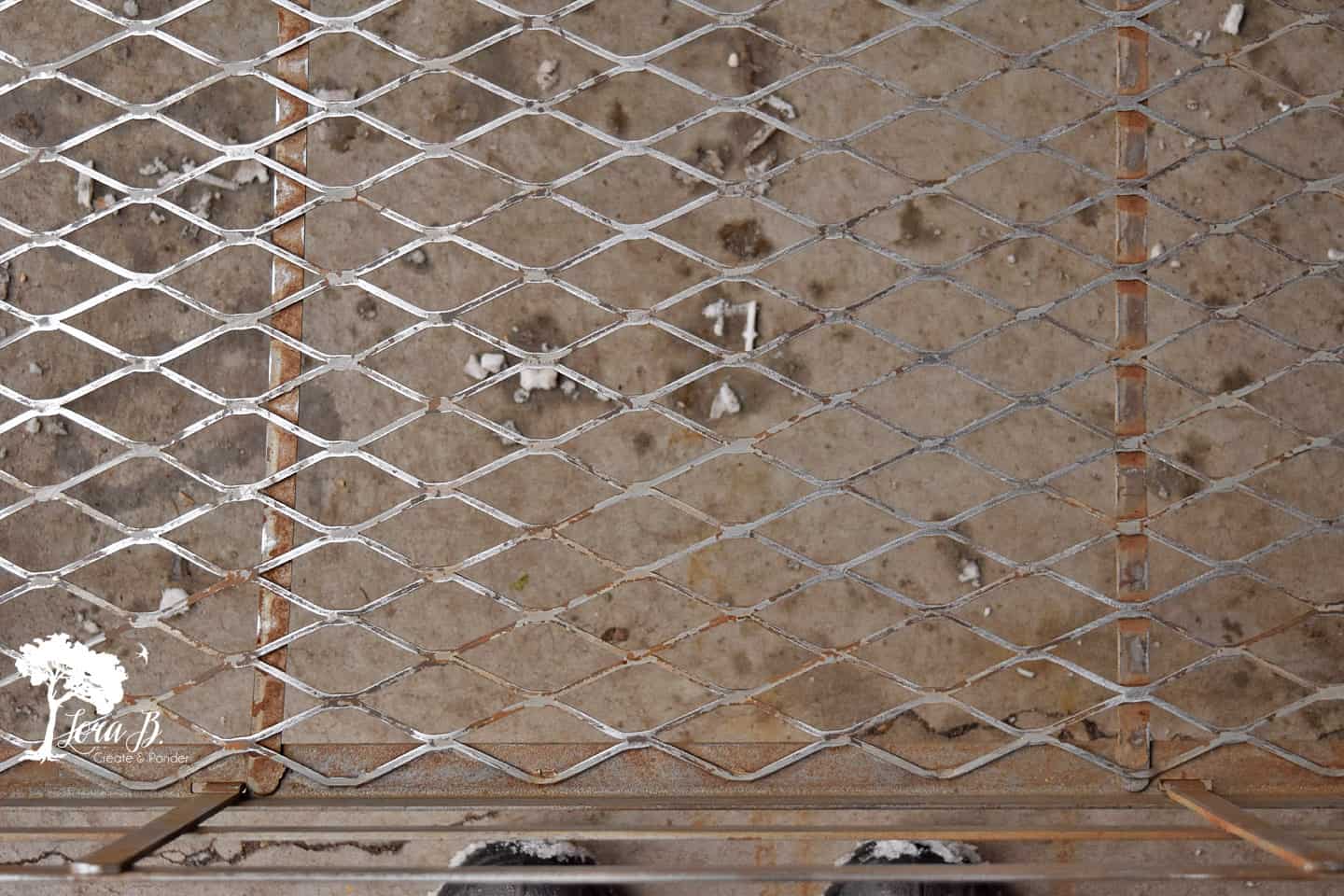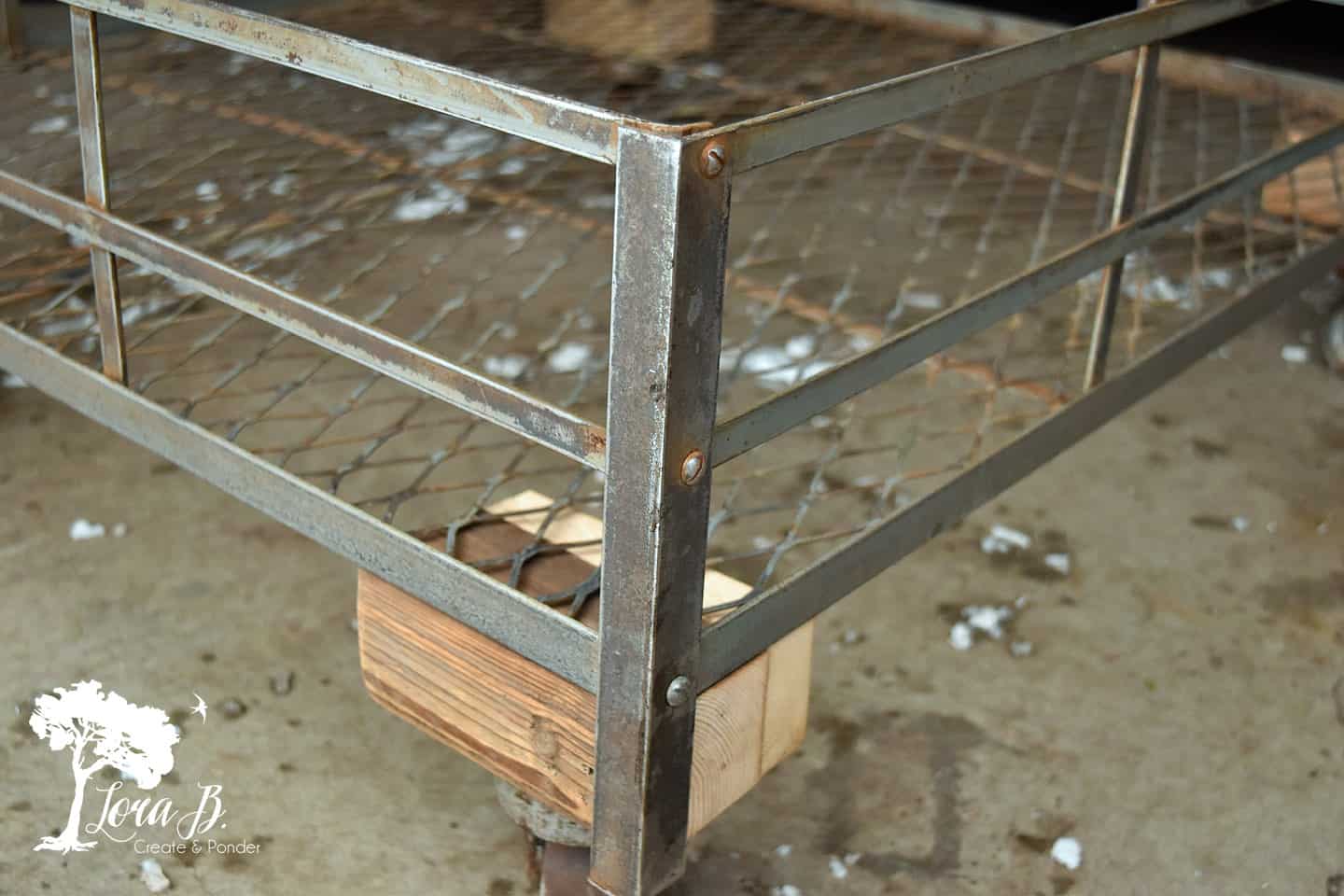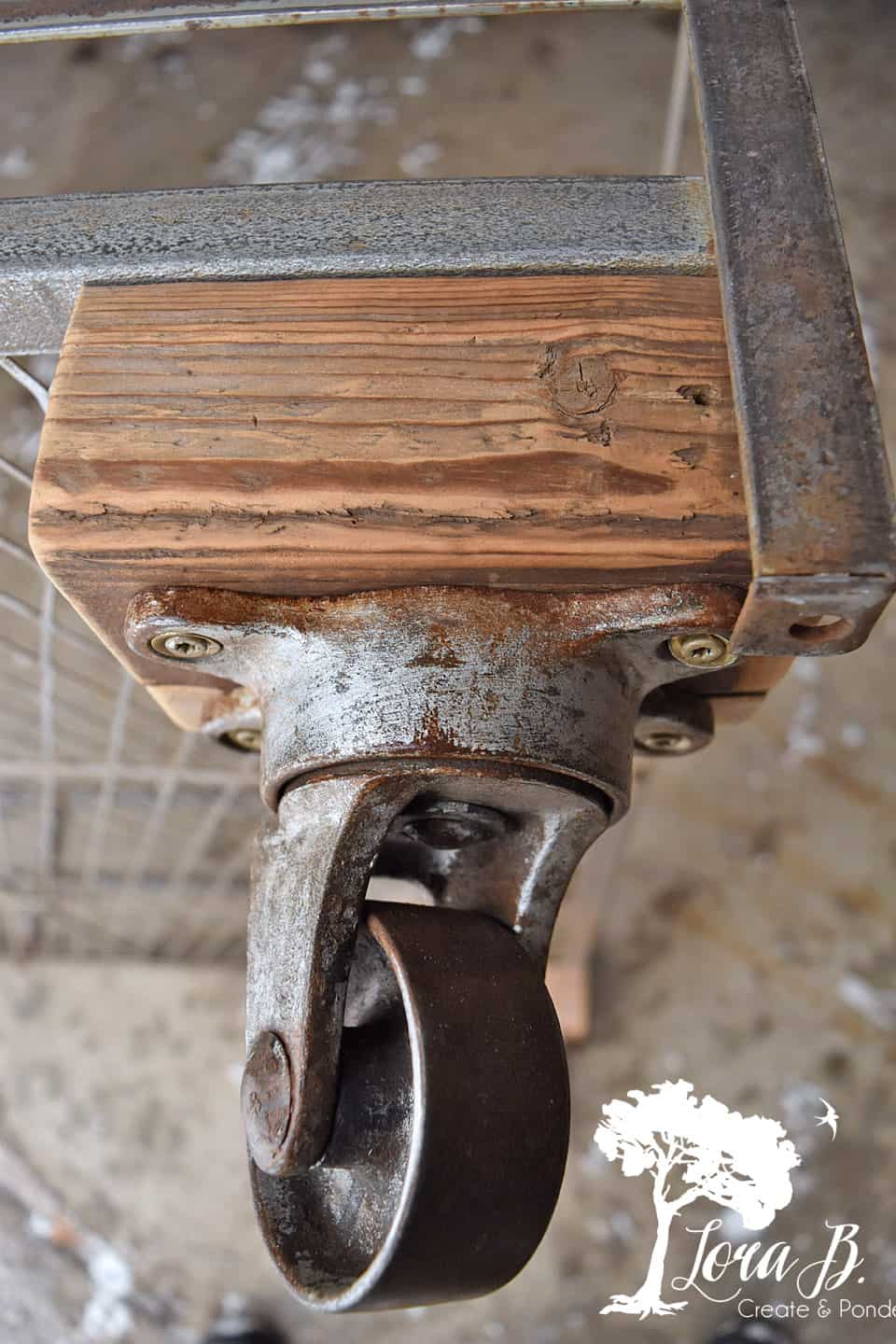 The casters needed to be attached at the corners somehow, so Mr. Fix-it placed a couple of blocks of the old wood at each corner. We also could have run another board around the base perimeter, but at these labor prices…I'm happy;)
Everything got a good blow off with the air compressor and my new industrial coffee table came inside to get a couple coats of brushed on water-based poly. I love the look of old metal with poly, and the character-rich wood gets a depth of color that I love also.
Ready for the big reveal?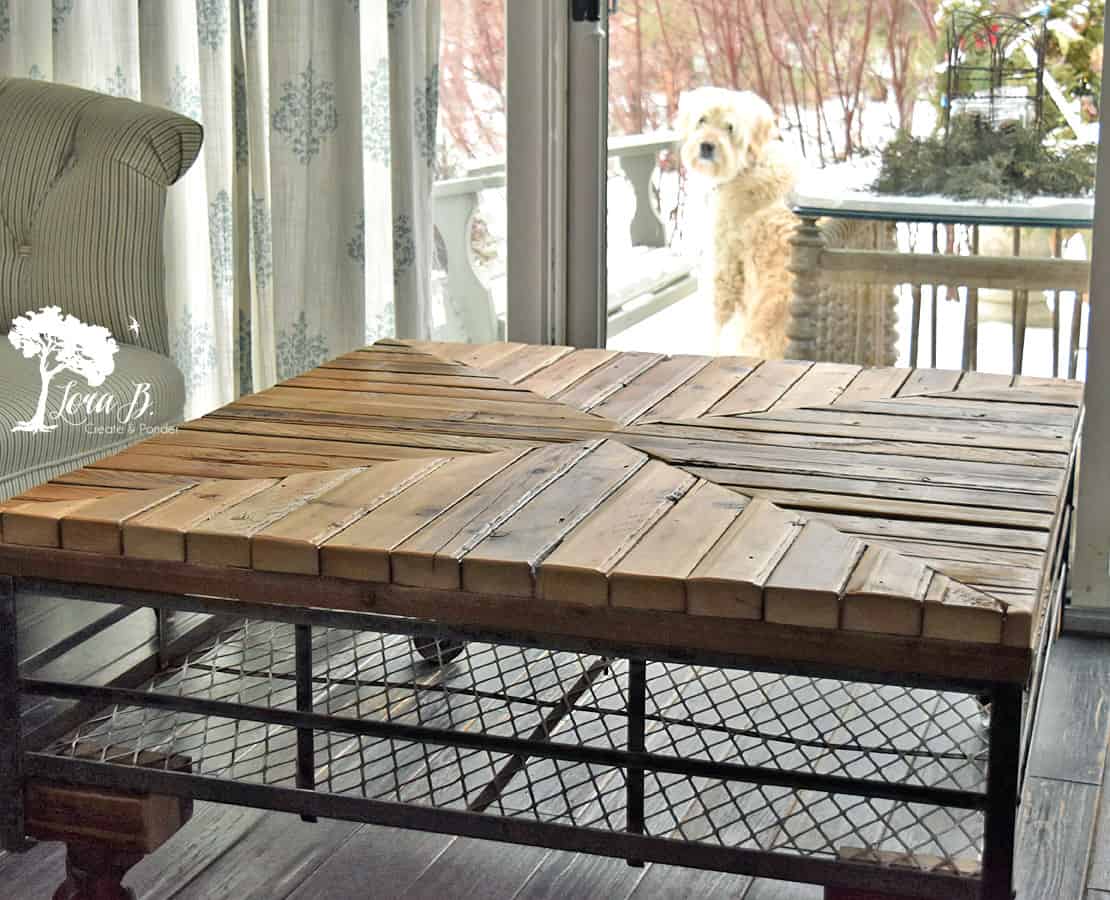 He thought it would be too big, but I knew it would be just perfect between our new little pinstriped loveseat and chair! And we made it 18″ high so we can put our feet up! This is probably our favorite spot in the house, because we get to sit by the sliding glass door of the deck and feel like we're outside. And it's right at the end of our kitchen, the hub of the house!
Of course, I needed to give it a centerpiece, so I grabbed some of the items I had shown you in "10 Winter Items to Style Your Home". I also filled the bottom with some of my design books.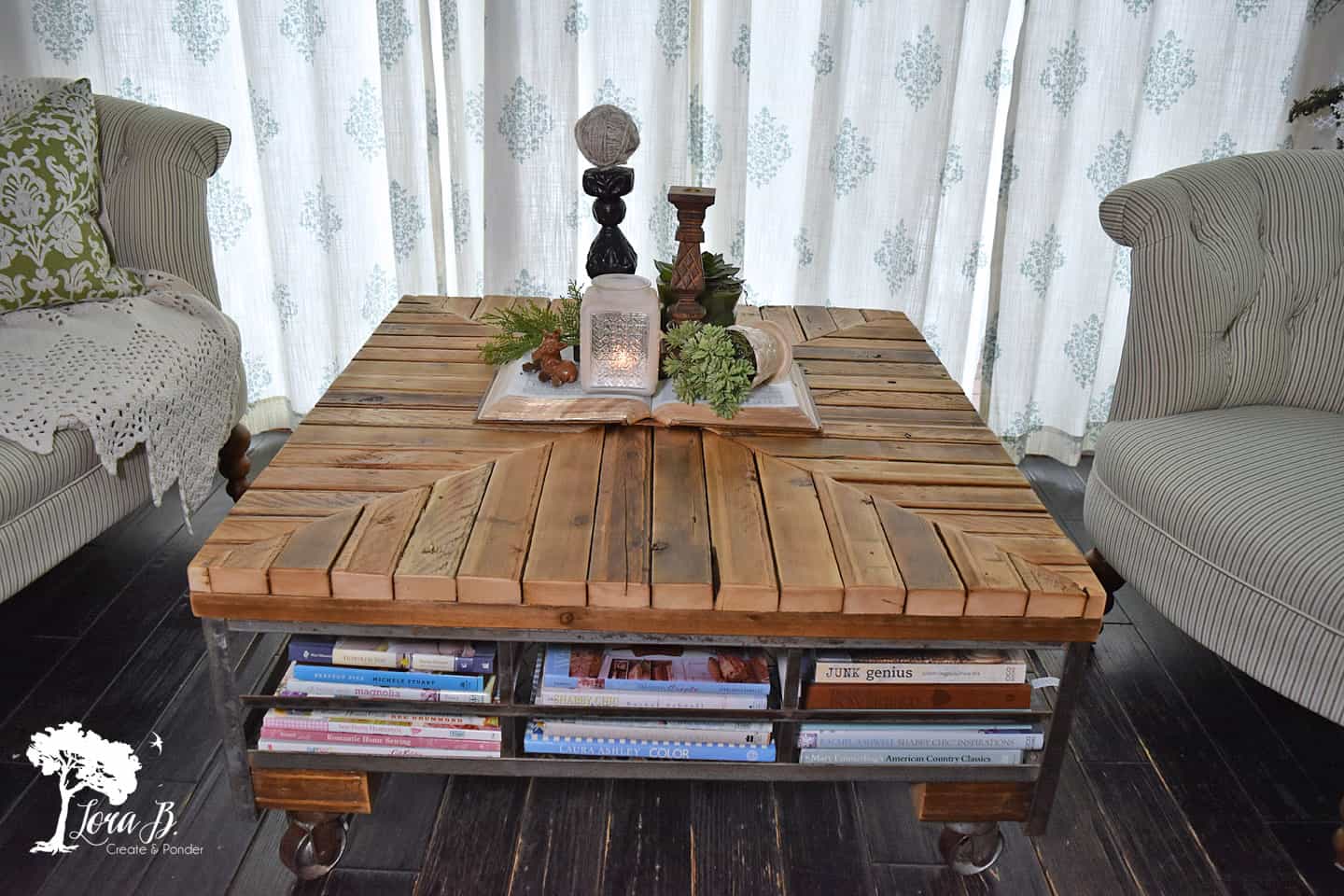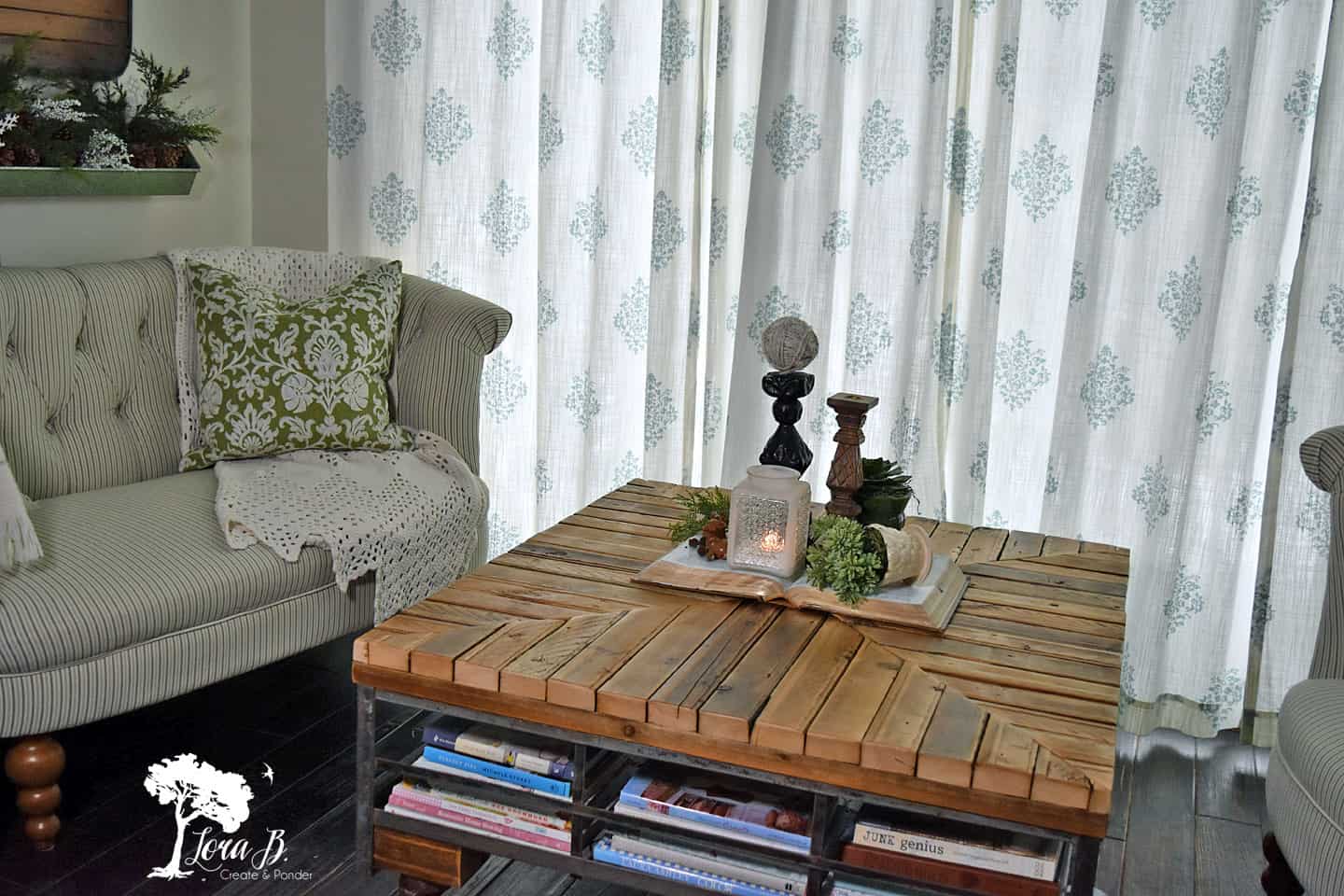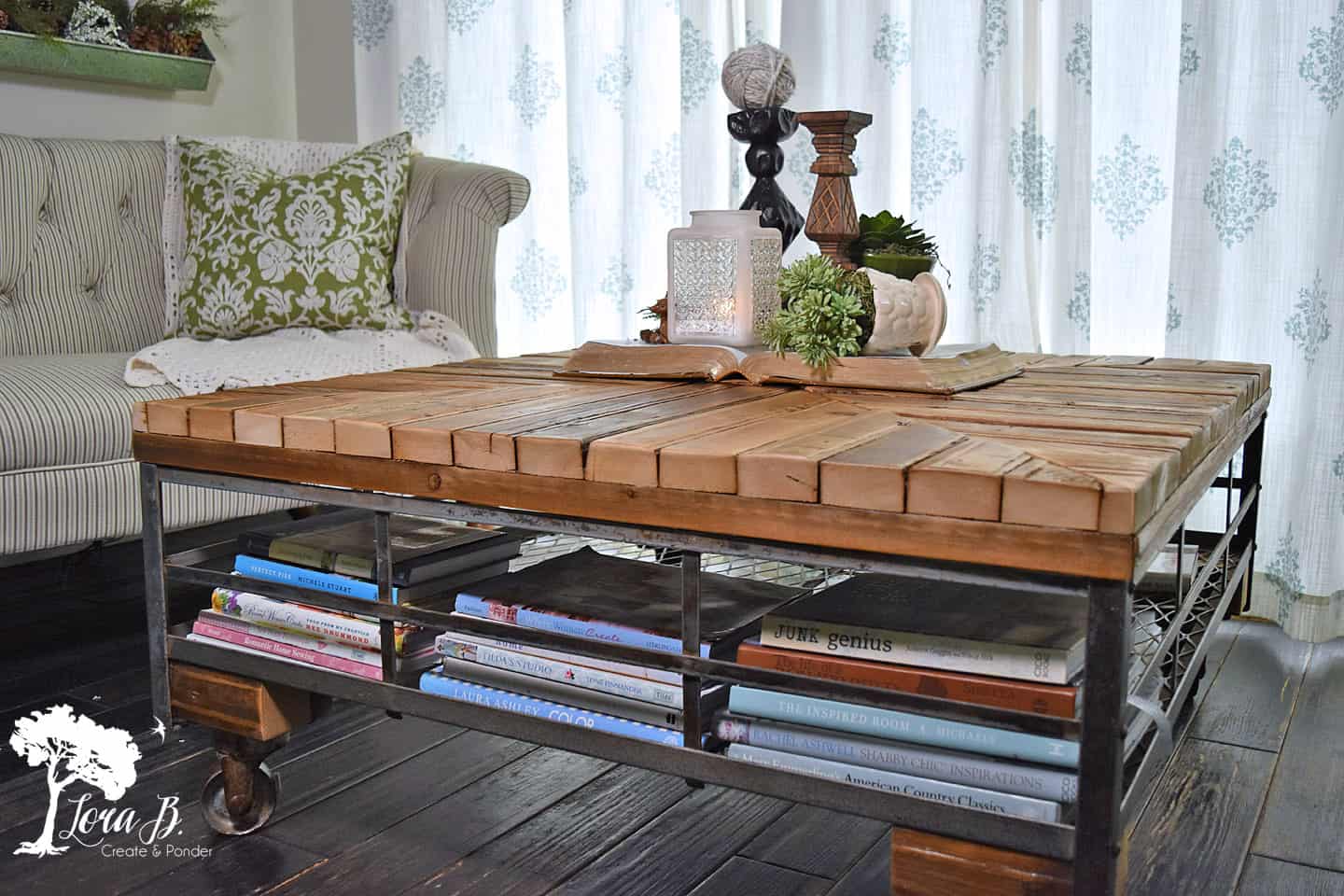 It's a perfect winter-time reading spot!
Next time you're digging through some great vintage junk, buy first, think later! If it's a great price, you can always figure out something cool to do with it! Even if it takes a couple years;) And don't ever get rid of old wood; it has character that just can't be reproduced! Hope you enjoyed this transformation! Don't think any of the rest of the buyers at that estate sale ever could have imagined this $5 table! Hope this From Vintage Roof Rack to Cool Coffee Table inspires you to get creative with your junk finds!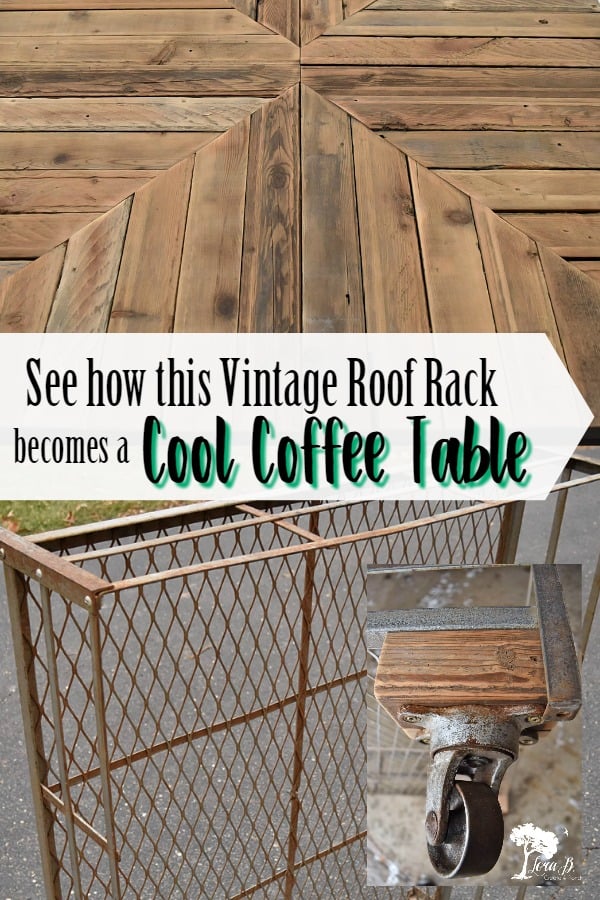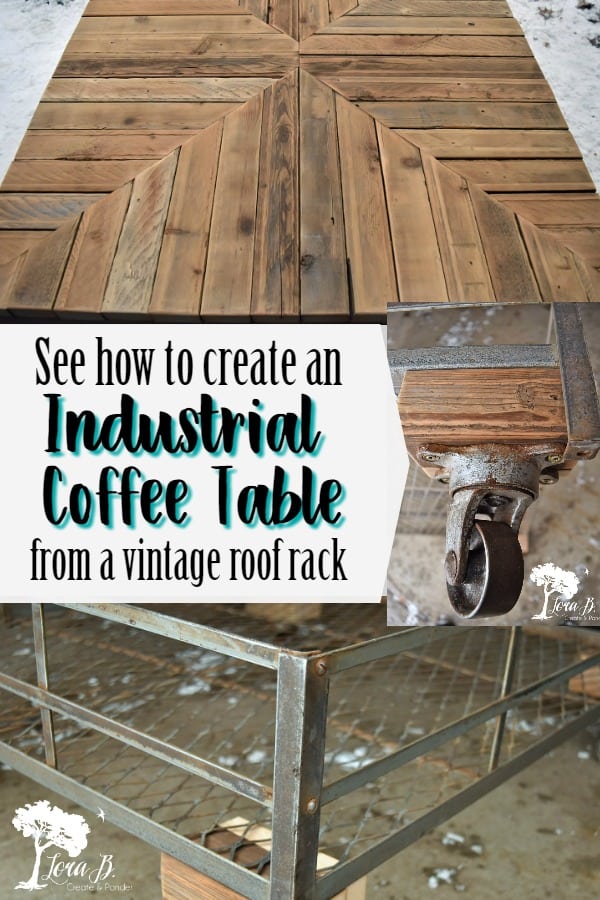 Sharing at these lovely parties: