5 Tips for Mixing Fabrics in your Outdoor Decor
How to mix and match fabric patterns for beautiful outdoor decorating on your porch, patio or deck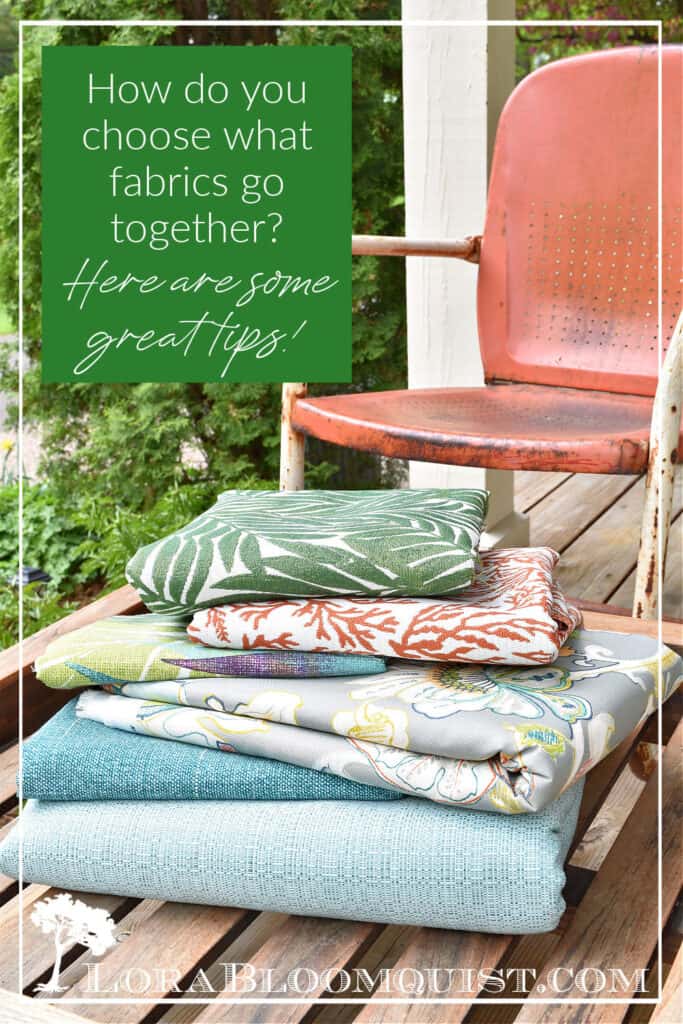 Ever ask, "How do I choose what fabrics go together?" Especially in your outdoor spaces? Choosing fabrics for your outdoor cushions, furniture and pillows is similar to decorating the inside of your home. Coordinating fabrics doesn't have to be difficult, and you can be true to your own style. Here are 5 Tips for Mixing Fabrics in your Outdoor Decor.
5 Tips for Mixing Fabrics in your Outdoor Decor
For your convenience, this post contains affiliate links. If you make a purchase, I may receive a commission. There is no additional cost to you. My full privacy policy is here. 
All of my outdoor furniture needs a refresh this year. For some it's been 8 years and the faded, stained and torn fabric is looking pretty sad. As I chose fabrics to revive my many thrifted furniture pieces, I realized I should be sharing how to choose fabrics and mix them to create a coordinated look.
Many decorators have their own way of coordinating and choosing fabrics, but these are my best tips for mixing and matching, indoors or out!
First Choose an Anchor Fabric
Your first decision is to choose an anchor fabric. It's your starting point and should convey the general decor vibe you're going for. It should contain all the colors you want to use in your decorating space. If you like larger patterns, this would be it.
You could choose a paisley, a tropical print, a floral, a colonial. Since this will be for an outdoor space, choose a fabric that coordinates with your home's color and the flowers you plant in your outdoor pots and gardens.
This is the fabric I chose as my anchor fabric that all the other choices will coordinate with. I didn't want a tropical, because I live in the north. This fabric pattern is lighter overall, but gives me all the color options I like to use when decorating my outdoor spaces.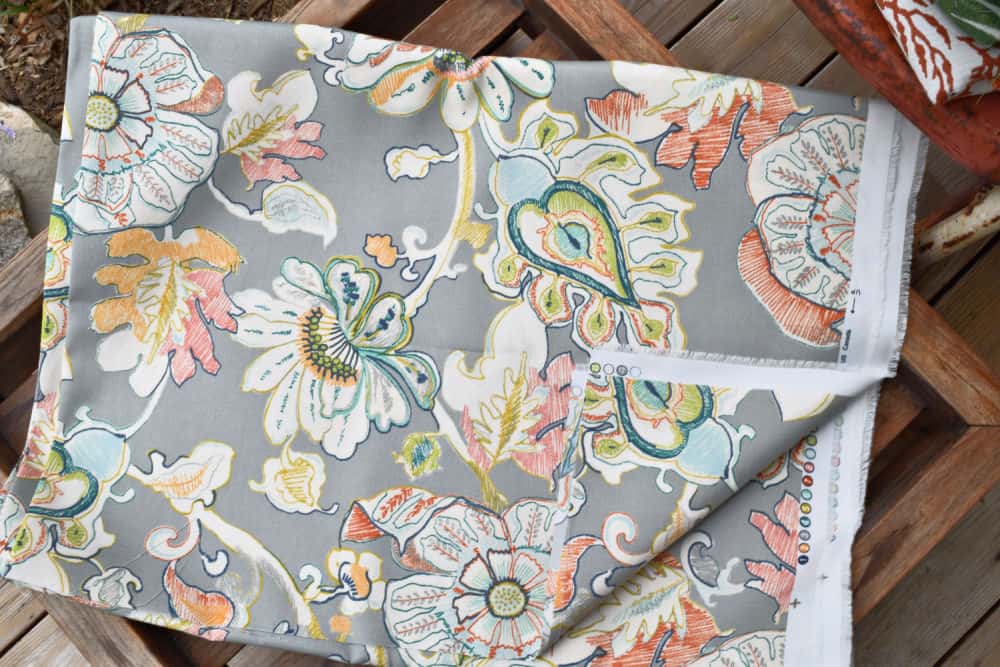 I bought enough yardage to reupholster the 2 chairs that sit on my back porch and hopefully 2 more. This fabric choice is a little more subtle than what I've had before and brings in more gray. I think it will look great on the patinaed chairs.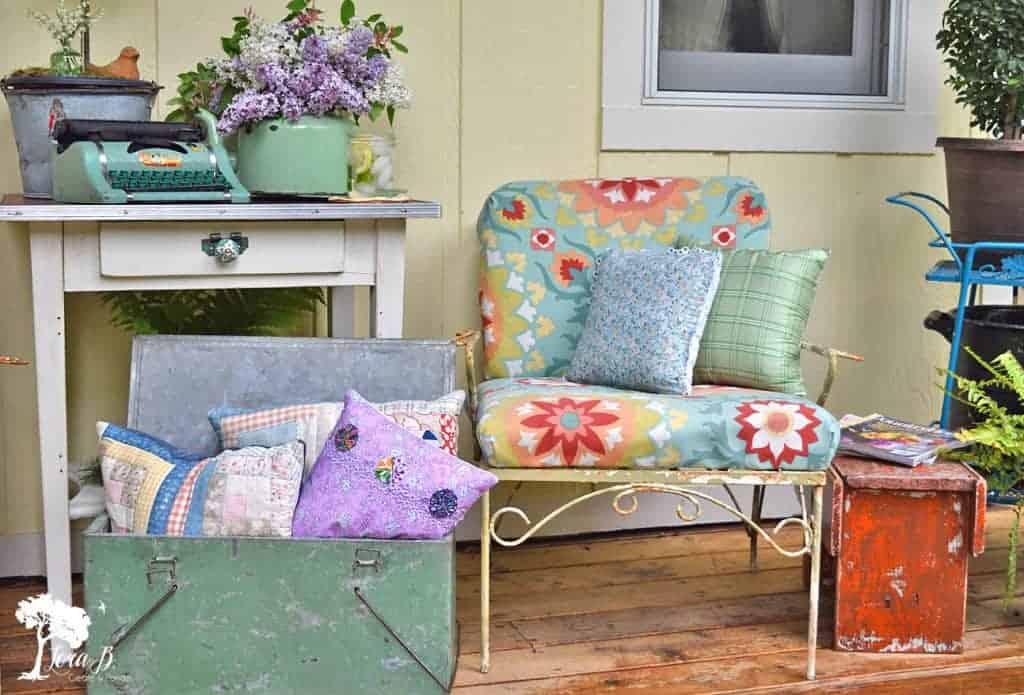 Next, Choose Solid Fabrics
Your eye needs a place to rest and solid fabrics can provide that. Choosing a solid fabric or two is the easiest job! Take a look at the furniture and accessory pieces you use in your outdoors. In the pic above, you can see that I love using old vintage pieces in greens, oranges, yellows. I have a lot going on in my outdoor spaces.
I decided to go with 2 cool-toned aqua solids for all the chair seats that gather around my tables, a lighter and a darker. Our umbrella is also solid aqua. Having solid colors on my chair seats and umbrella will give me full reign to use whatever patterned tablecloths I want.
The darker color will be on the white wood folding chairs, the lighter, more textural fabric on the metal, scrolly chairs (that really could use a paint job, too).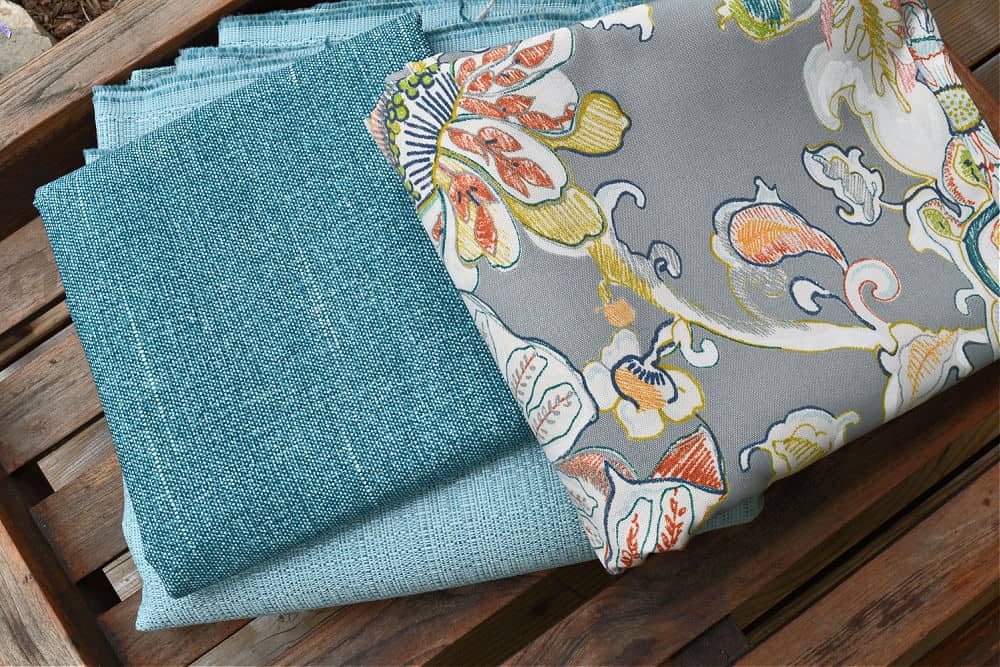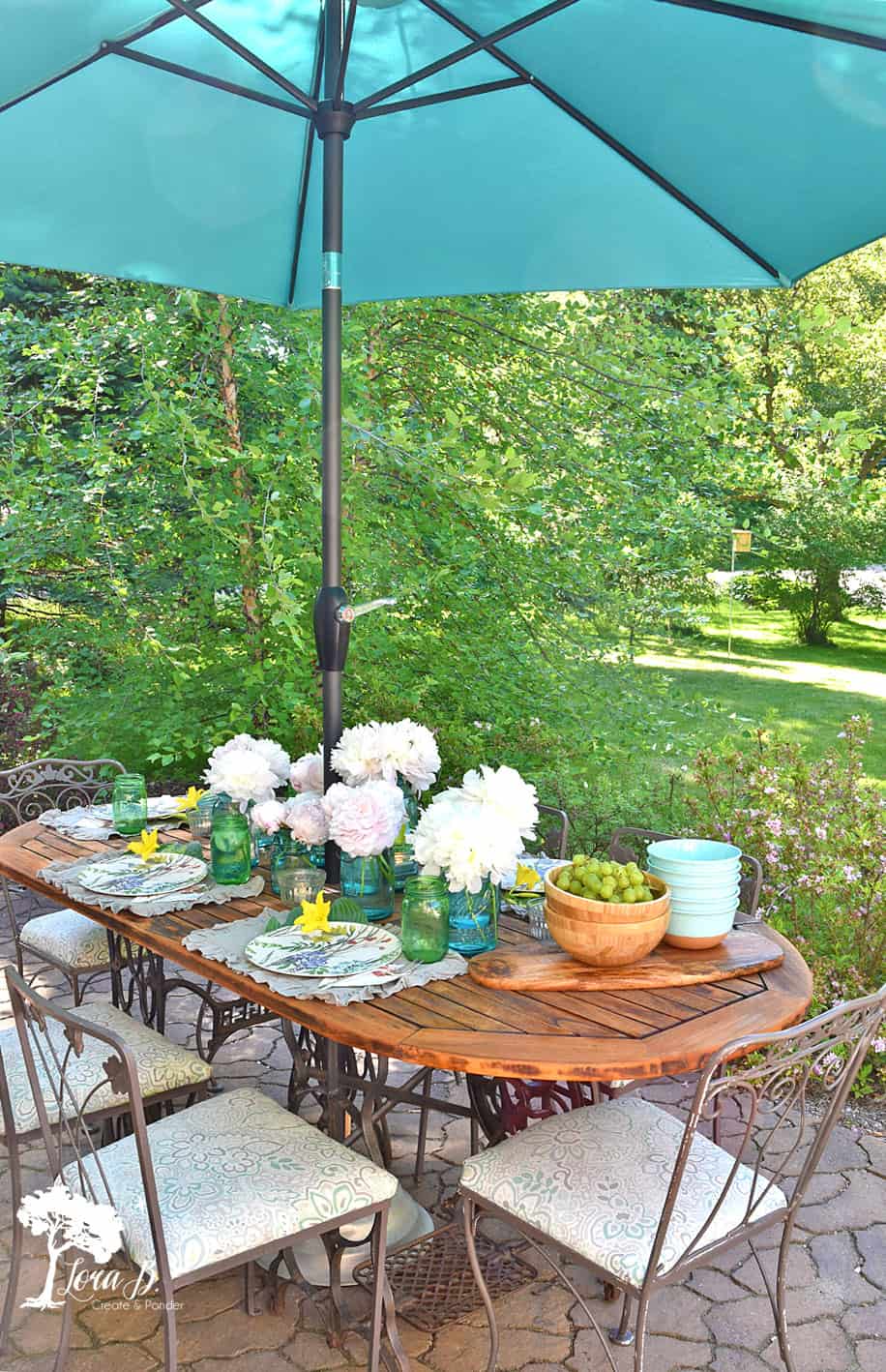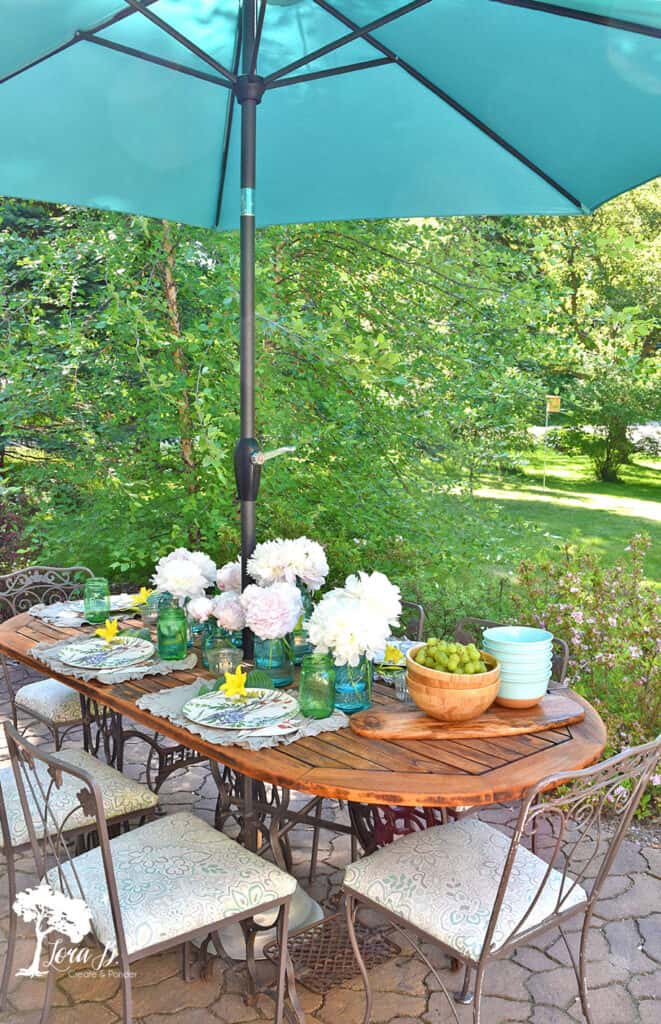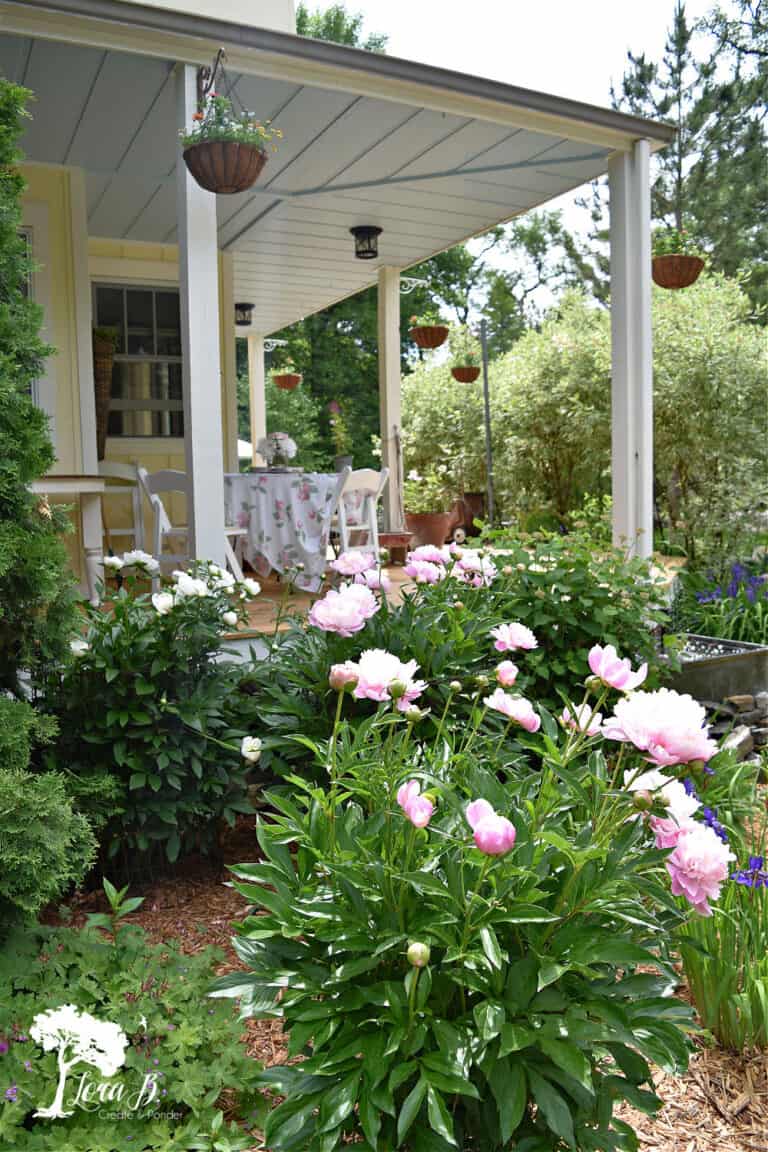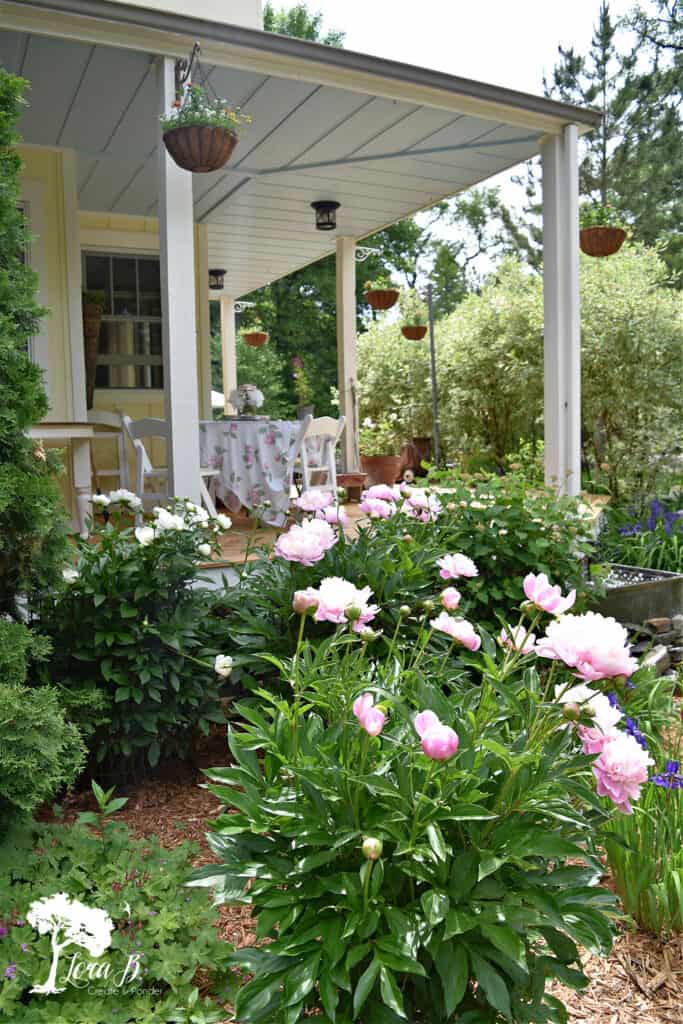 Mix a Medium Scale Fabric In
Your next choice is to find a medium-scaled patterned fabric, usually a geometric pattern. It should be smaller in scale than your anchor fabric. Kind of an in-between.
Gingham or buffalo check, diamonds, a plaid, a stripe, any of these would fit the bill. I actually did not find anything I liked to fit this category. To give my decor the graphic punch, I will probably choose a rug that is striped or has a diamond pattern. I may also find a fabric I already have in my huge stash;)
To help with outdoor rug options, check out my post, "How to Choose the Best Outdoor Rug for Your Space".
How Many Fabrics Do You Need?
You could stop with just these 3 fabric patterns if you wanted: an anchor, a solid, and a geometric/graphic. But if you have more places to use fabric, you can keep going!
Your next addition could be a ferny/viney pattern with 1-3 colors. Or it could be a small-scaled overall print that combines all the colors in your anchor print.
To cover a few throw pillows, I chose a palm leaf pattern and a coral pattern. I liked the pop of green on white and orange on white. These pillows will probably be on brown wood chairs and be farther away from my anchor fabric. They are more simple-looking since they each only have 1 color on white.
I also brought home a yard of a large-scale pattern that has a lot of color which pops against a white background. Still deciding how to use this one. This could be an anchor fabric; time will tell how I use it.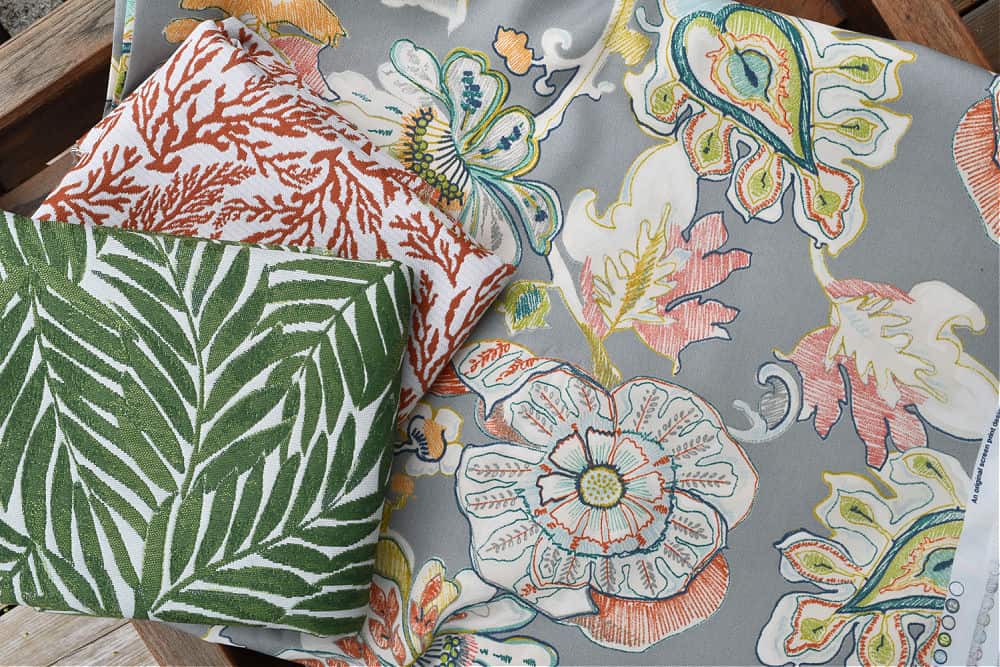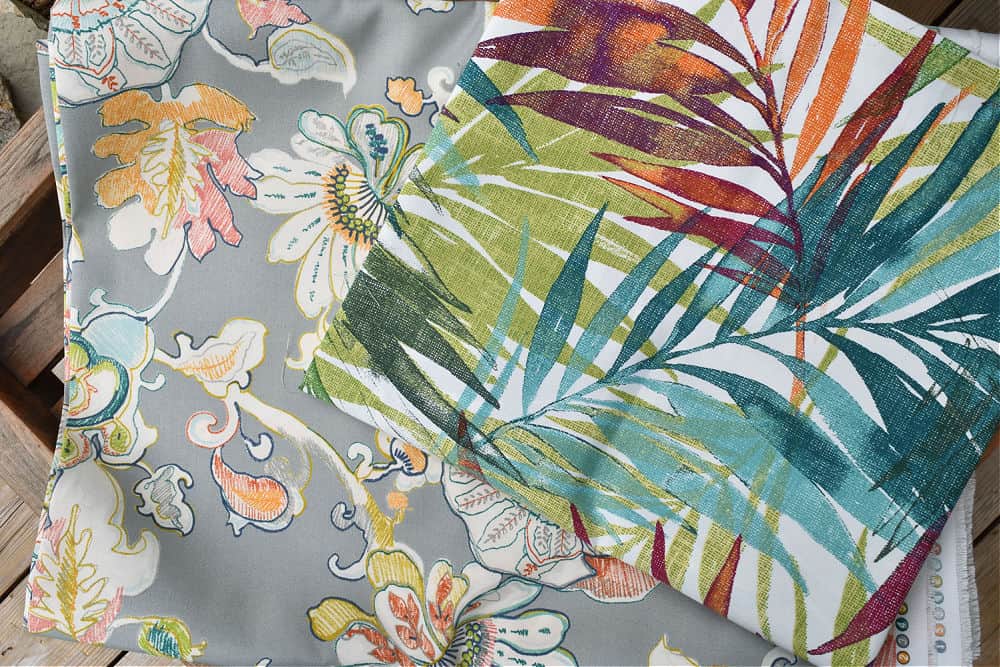 Lastly, Think About Texture
Most outdoor fabrics are smooth, but some, especially solids, have a rougher, linen-y texture. Combining different textured fabrics will add interest almost as much as mixing patterns.
The lighter aqua solid I chose has a linen-y texture and the palm frond and orange coral are thicker, too. It makes your decor more interesting when you vary your textures, whether that's with metal and wood, or different fabric textures.
If you're looking for Outdoor Fabrics online, check HERE.
(I found these fabrics at my local Joann Fabrics store, but know inventory can vary widely by store)
If you need to know how to re-upholster your chair seats, read "Refreshing Patio Chairs: Stapled Cushion How To".
I hope this will help you the next time you want to choose fabric for your outdoor or indoor decor! It doesn't have to be hard, and it can be fun, creating a home that reflects your style!
Thanks for reading 5 Tips for Mixing Fabrics in your Outdoor Decor. If you enjoyed your visit, keep the ideas flowing by becoming an Insider!
Pin and share!