How to Choose the Best Outdoor Rug for Your Space
Budget-friendly outdoor rugs create an inviting, comfortable Space. Here are simple Tips for choosing the best outdoor rug for your decor and Lifestyle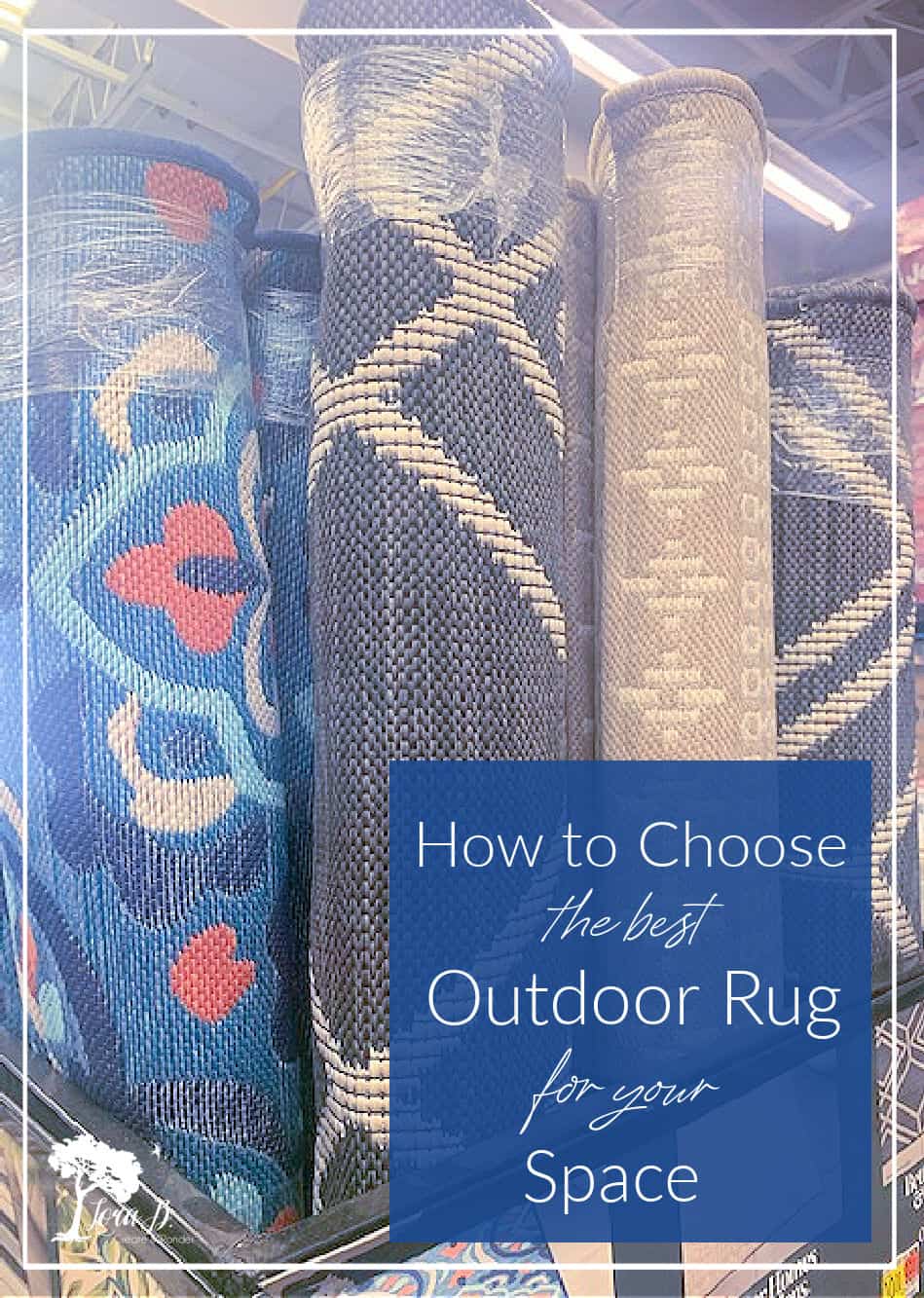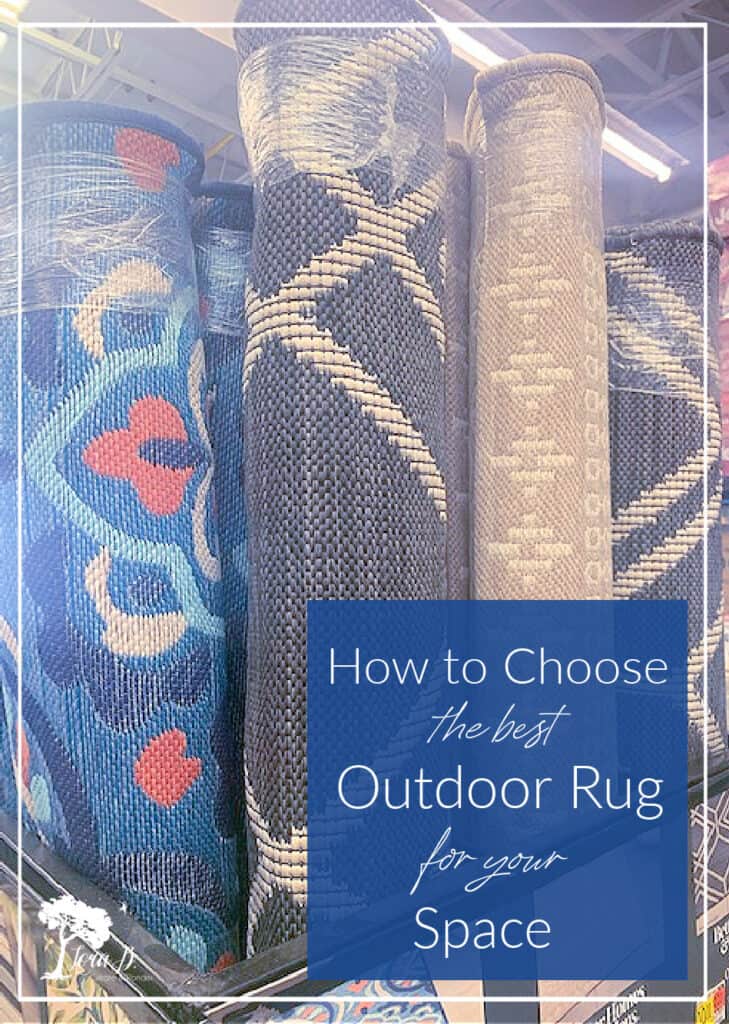 Maybe your first thought is, "Why do I need an outdoor rug?" Of course, need is a relative word. But what does an outdoor rug do for your deck, patio or porch? Good question! "How do I choose an outdoor rug?" is another common query when it comes to decorating your outdoor spaces. Today I'm going to cover all these questions, so you can know How to Choose the Best Outdoor Rug for Your Space.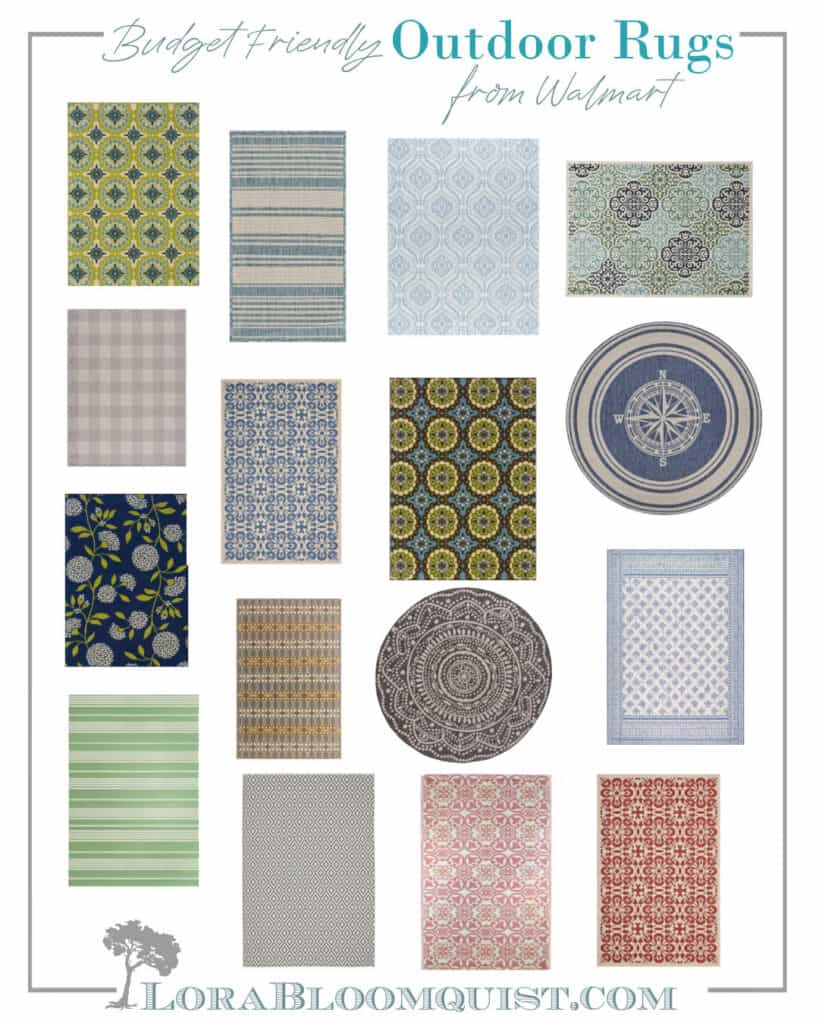 How to Choose the Best Outdoor Rug for Your Space
For your convenience, this post contains affiliate links. If you make a purchase, I may receive a commission. There is no additional cost to you. My full privacy policy is here.
Why Do I Need An Outdoor Rug?
Area rugs add a cohesive element to furniture groupings; they lay the foundation for an inviting, comfortable space. They also add another texture to your decor that elevates the style factor.
Yes, you can decorate your space without them, but you'll be amazed at how laying the foundation of an area rug will elevate the style of your decor. Outdoors or in, area rugs amp up the coziness of a space.
Where Should I Use An Outdoor Area Rug?
Outdoor area rugs can be used anywhere, thanks to new synthetic fibers that prevent mold and mildew from developing. Use them to pull together a group of furniture, or make a statement of a single piece.
If you have an outdoor sectional or sofa, chairs and a coffee table, an area rug will make the whole grouping cohesive. Whether it's on a deck, porch, or patio, the additional color, pattern and texture will add style (and a nice feel for your feet).
Placing a table and chairs on an outdoor area rug will anchor the setting and make it more inviting. Outdoor area rugs can easily be hosed off for cleaning.
A bench or larger chair and side table can turn it into a featured spot with an area rug underneath. Add a couple of pretty pots of flowers (maybe an ornamental tree) and your vignette will be stunning.
Outdoor rugs can also be used by an entryway or to create a hallway. Coordinate the colors and pattern to the rest of your home's exterior style.
Bonus…Outdoor rugs can also be used inside!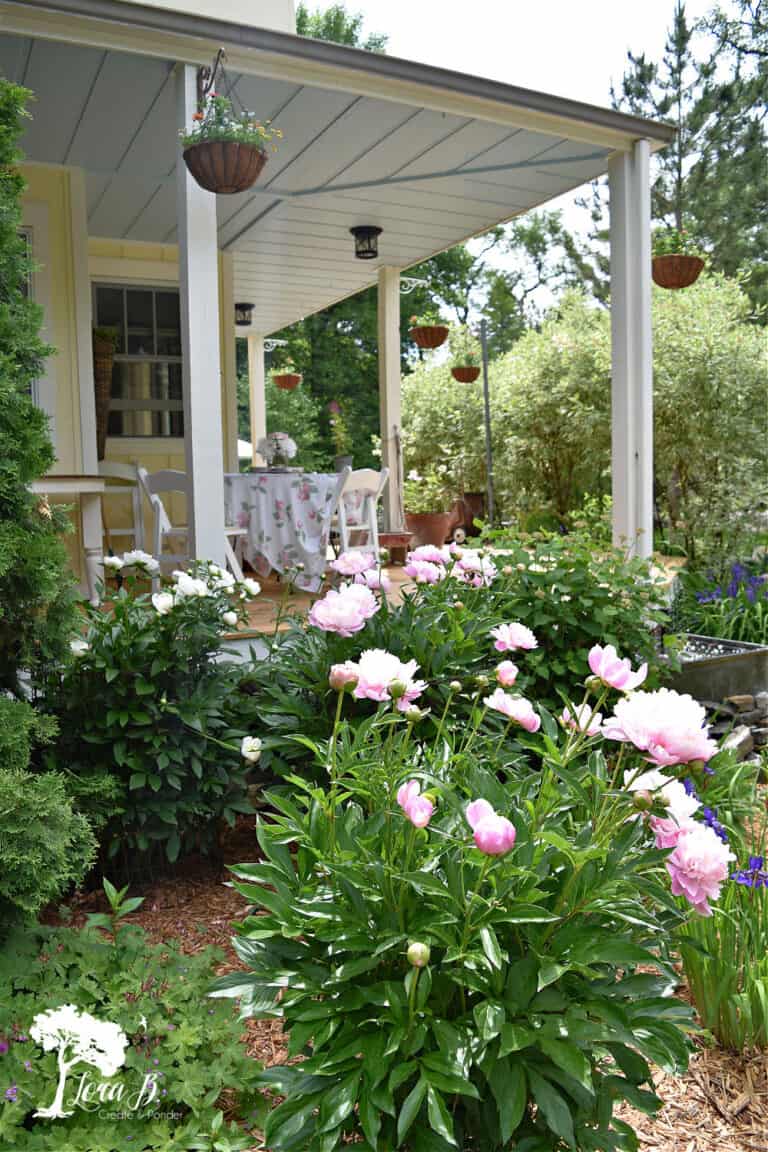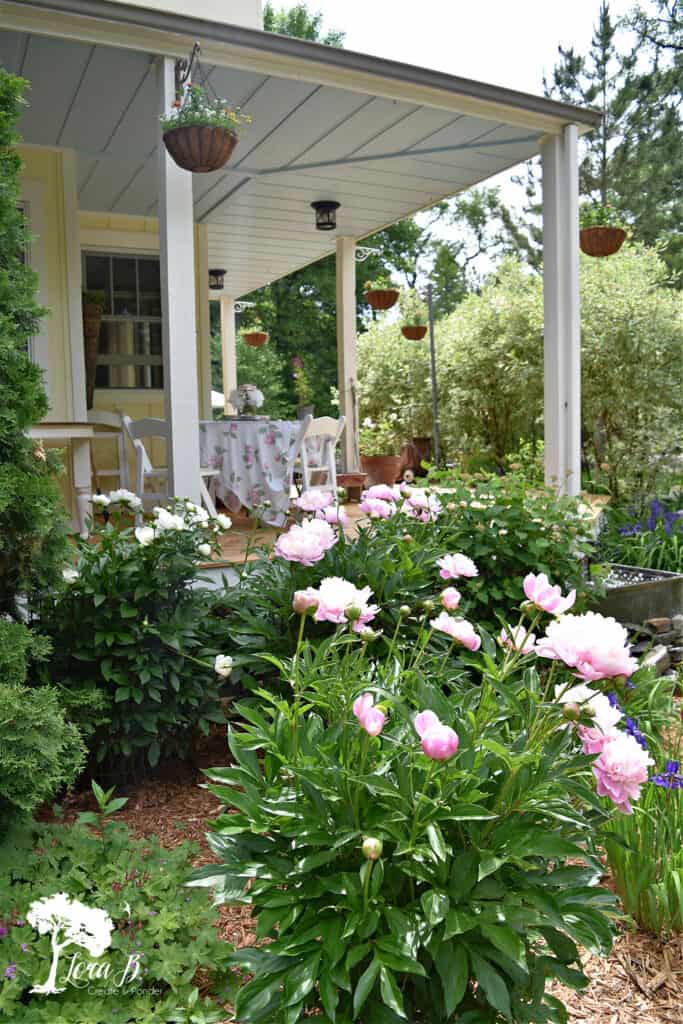 How Do I Choose the Rug's Shape and Size?
Luckily, modern outdoor rugs come in endless shapes and sizes. Most people tend to choose rugs that are too small for their furniture grouping. Larger rugs will look richer; too small rugs will look skimpy.
Here are a couple guidelines to help you choose a shape and size:
The front legs of upholstered-type furniture should be on the rug, preferable at least 1/2 the seat depth.
Your coffee table should be at least 18″ from your seating, to give adequate leg space, yet still be close enough to set your glass on.
Underneath a dining table and chairs, make sure the rug is large enough for a chair to be pulled out and still be on the rug.
If your furniture grouping is near a walkway, a round rug may prevent tripping on corners.
Consider walkways; either be walking completely on the rug, or off it.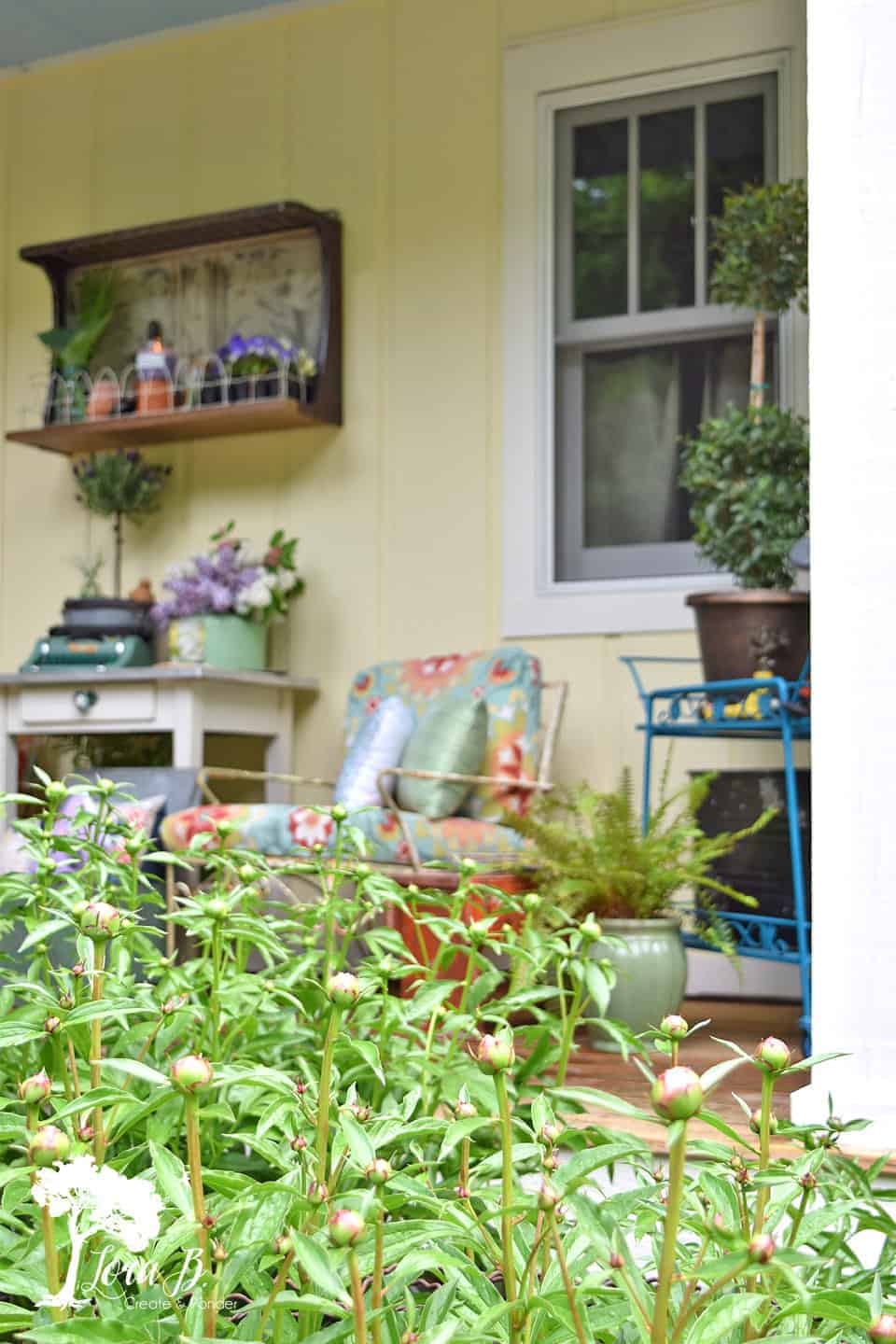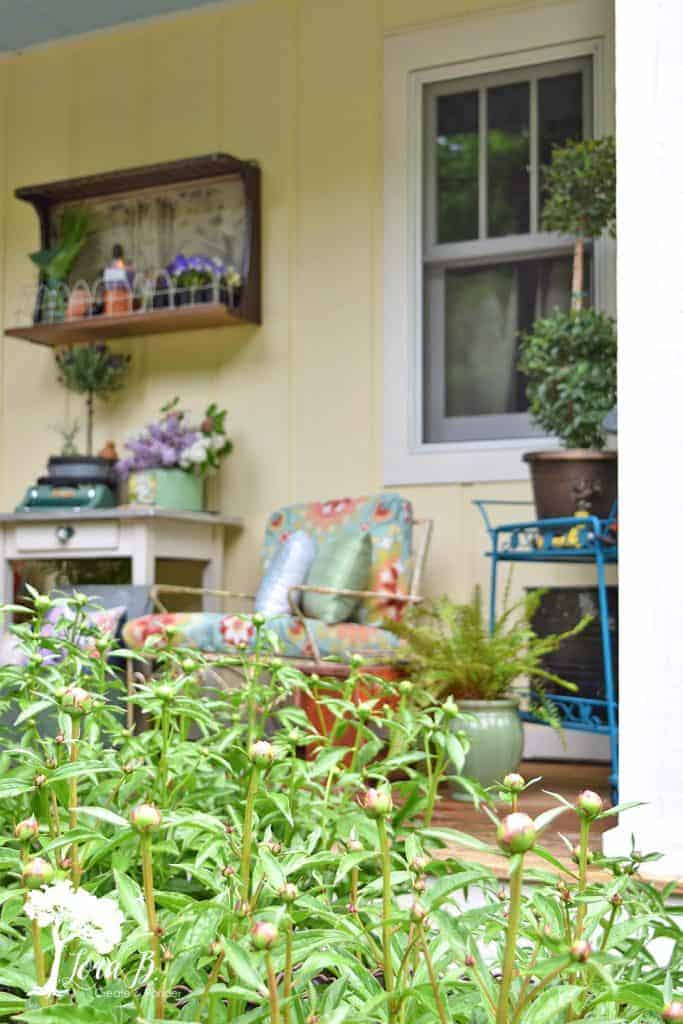 How To Decide the Pattern and Color of an Outdoor Rug
The sky is the limit for budget-friendly outdoor rugs, so how do you decide on a pattern and color?
If your furniture is plain-colored and generally neutral, go bold with color and pattern. The area rug and throw pillows are the perfect place to add some pizazz to your outdoor space. Choose a modern geometric or a fun floral; whatever fits your style.
If you've got a lot of patterned cushions already, a more subtle area rug in some of those colors will bring a cohesive look. If you've got florals, add some geometric. If you've got geometric, add some floral.
For color options, look to your flower containers and gardens. What color foliage do you like to surround yourself with? For a smooth outdoor/indoor transition, look to the colors you decorate with inside.
Last, but not least, consider usability. A patterned rug in a darker color will hide more than a solid, lighter color. Will your rug be near a pool or by a garden? Out in the open on a patio, or in a screened porch? Will people be walking on it with shoes on, or bare feet? How about the family dog's muddy footprints?
All of these considerations will help you choose the right outdoor rug for your space.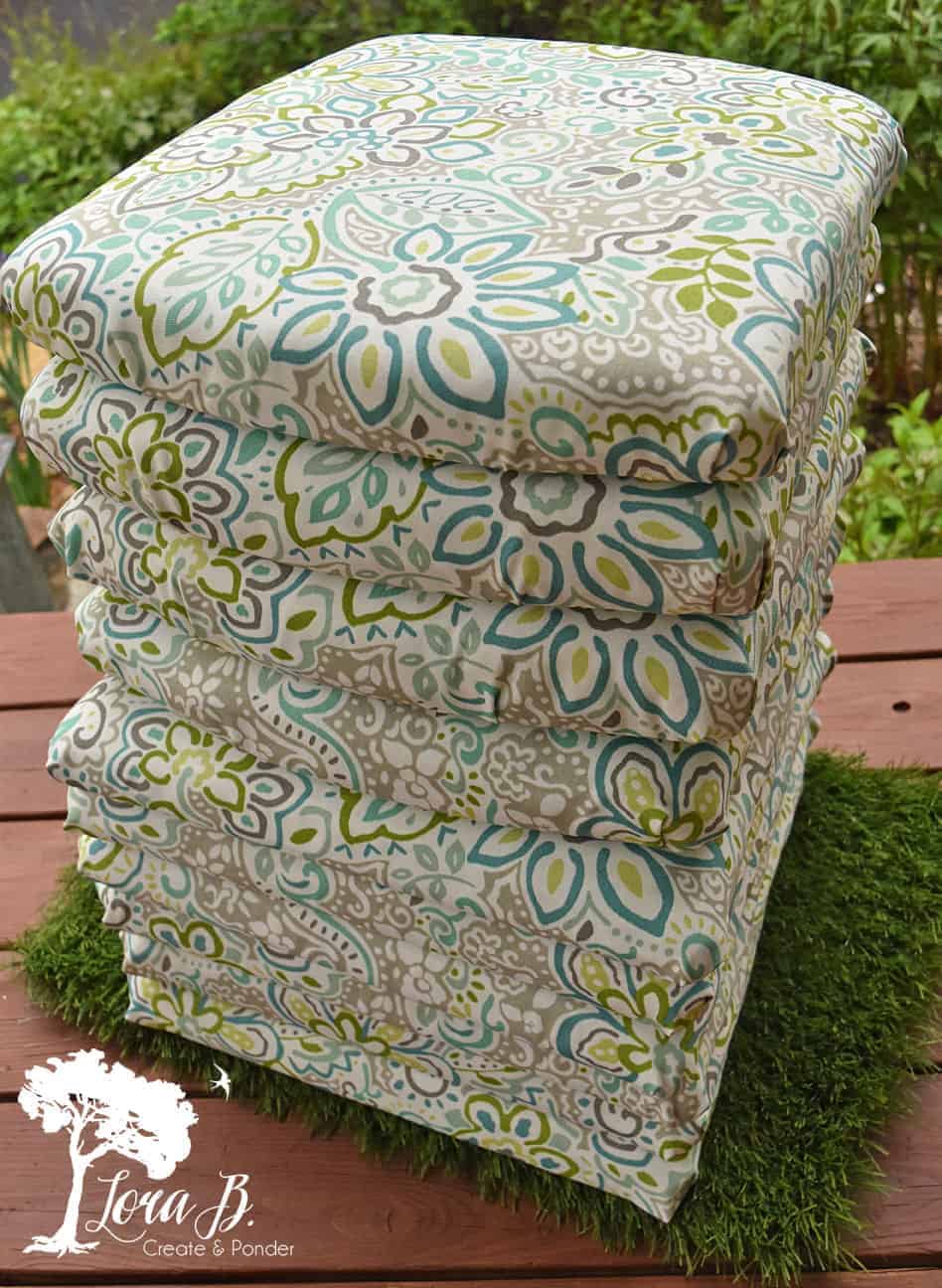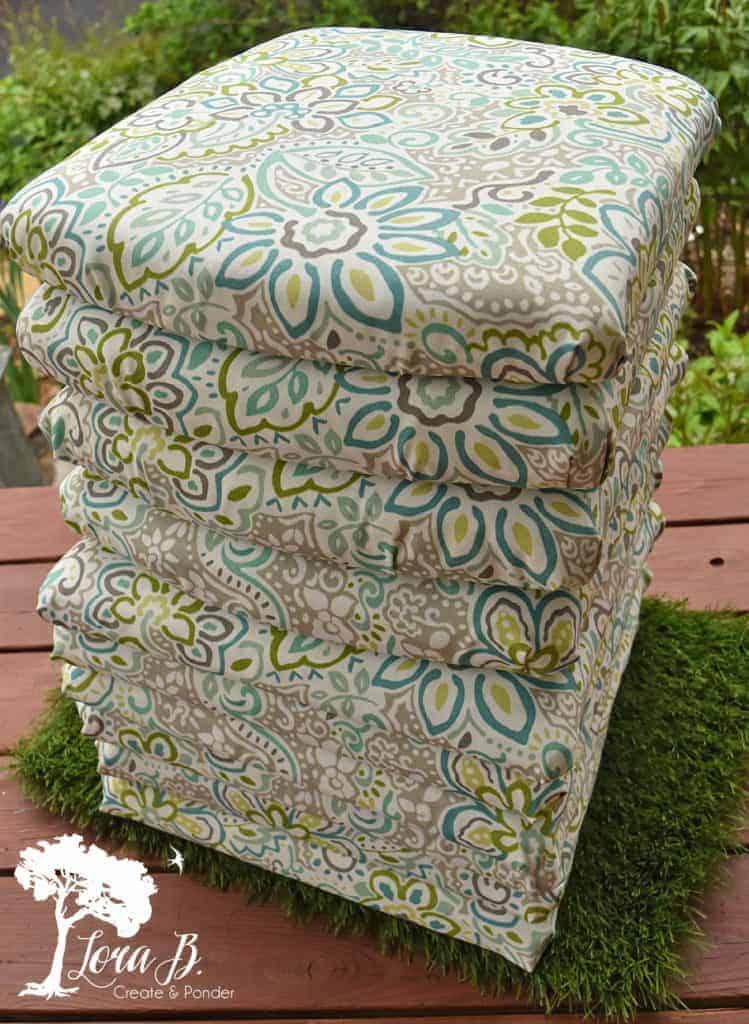 "Refreshing Patio Chairs: Stapled Cushion How-To"
Why to Shop for Outdoor Rugs Online
Shopping for outdoor rugs in person can be very frustrating. The options are limited and can be picked over. You may find one you like, but not in the size you need. Plus, trying to picture it in your space when it's in a shrink-wrapped roll is tricky.
Budget-friendly online options are endless. And so many companies are offering free or low cost shipping to compete with the big competitor;)
When you shop from home, you can sit with your laptop and consider all the options, keeping in mind all these tips! And if you want more than one to match, but in different shapes and sizes, chances are you can get it. So much easier and less frustrating!
My Picks for Stylish Outdoor Rugs
I've been shopping for outdoor rugs myself. Can you believe I've never had one? Here are some of my favorites to get you started! They're all from Walmart and are budget-friendly. Which means when you get sick of it in a couple of years, you can get a new one!

Hope these outdoor area rug picks will help you choose one to beautify your space! I'm still deciding, but definitely have a short list.
Follow more of my shopping picks, follow me on the LTK app (on your phone): HERE.
Thanks for reading How to Choose the Best Outdoor Rug for Your Space. If you enjoyed your visit, become an Insider to keep the ideas flowing!
Please pin and share!