Thrifting for Vintage Christmas Decor
Secondhand shopping is a great way to find Inexpensive Christmas decor for your home. Here's the vintage christmas decor i found, plus tips for thrifting.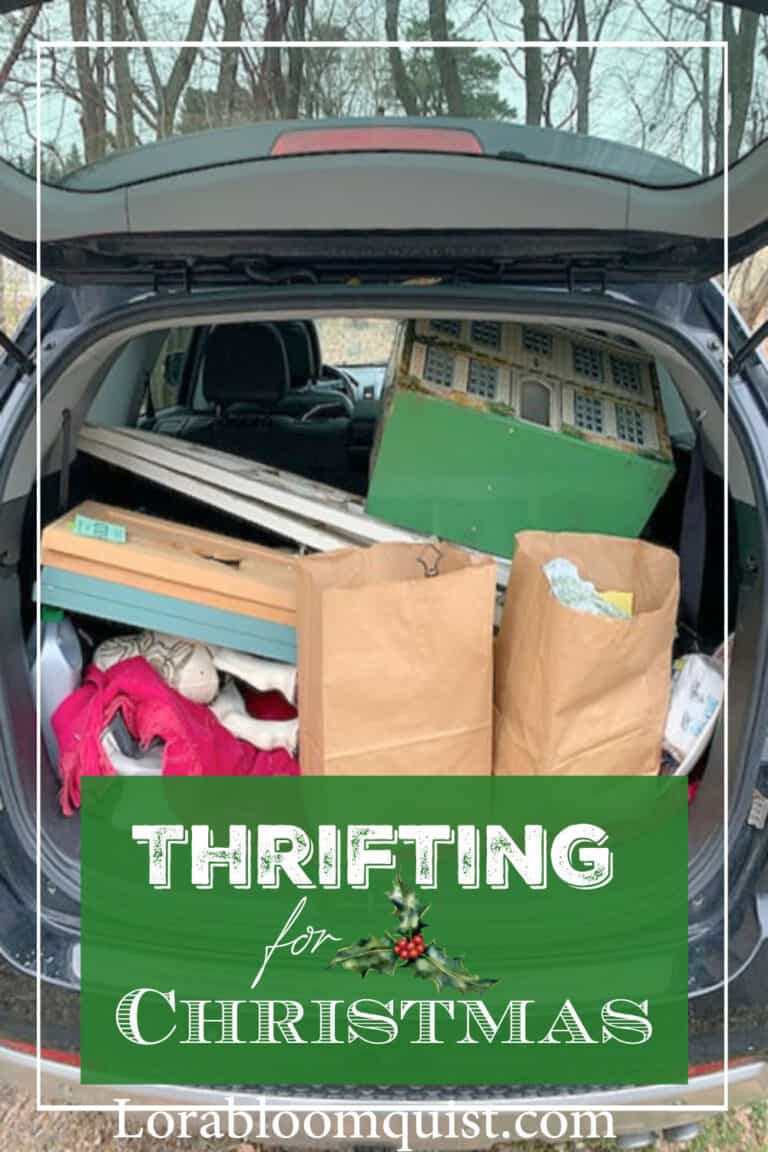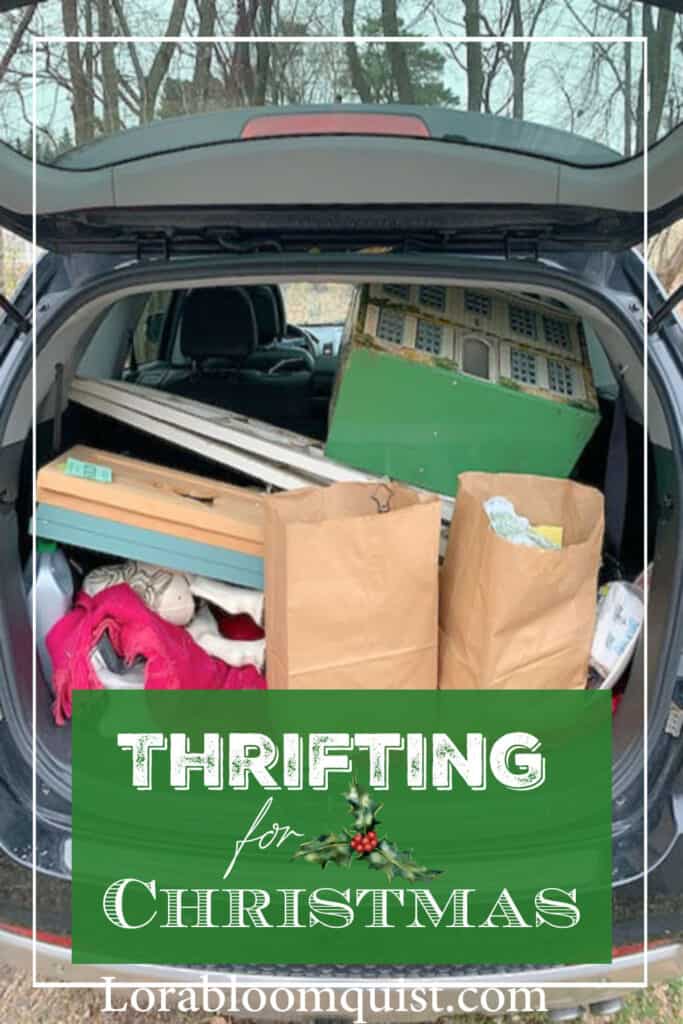 Decorating your home for the holidays can be so much more fun if you have a few new-to-you things to start with. And shopping secondhand is a great way to find unique pieces! Here are my recent adventures in Thrifting for Vintage Christmas Decor, plus tips to guide your shopping.
Thrifting for Vintage Christmas Decor
For your convenience, this post contains affiliate links. If you make a purchase, I may receive a commission. There is no additional cost to you. My full privacy policy is here
Tips for Shopping at Thrift Stores for Vintage Christmas Decor
If you're in a metro area, thrift stores can be a wonderful place to find vintage Christmas decor. I like to choose older neighborhoods where I'm likely to find old things. Each thrift store has it's niche; some have tons of clothes, others have more housewares, and some have great furniture. Try many different stores and compare their prices. You'll soon learn which ones are your favorites for finding what you like.
On my recent thrifting day I went to my favorite 3 stores, all relatively close. The first one overwhelmed me with all their Christmas items, but most of it was cluttery small stuff. I did pick up a few vintage linens and a few decor items.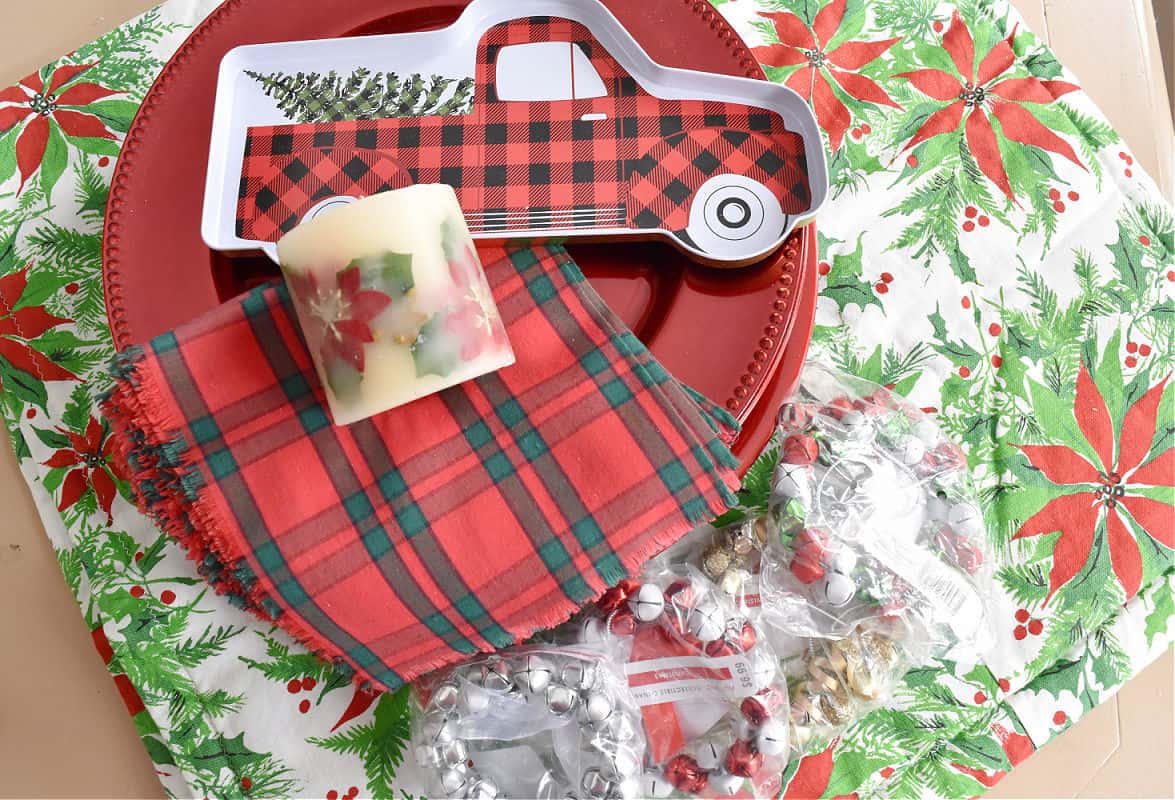 The second thrift shop was awesome. They had a ton of Christmas items from dishware to ornaments, candles, wreaths…a little bit of everything. They also had a lot of brand-new-in-the-box items that target must have donated. I walked out with a cart-full of Christmas dishes, boxes of bulbs, and then said yes to a cute child's riding horse sitting by the register! Another shopper who worked there said they didn't have any Christmas back stock, though, so early bird definitely got the worm!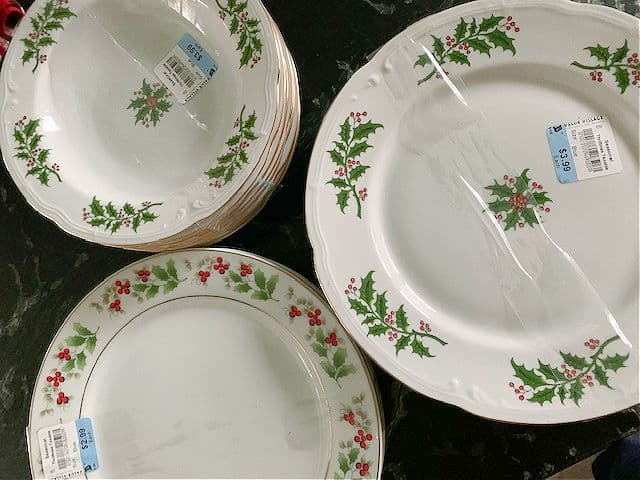 The third thrift shop is the largest and had a ton of clothes (it's located in an old grocery store). In past years I've found shelves overflowing with Christmas items, but there was nothing this year. I don't know if they hadn't pulled it out yet, or if it was gone already (yes, I should have asked). Instead, I went to the winter scarves rack and was very happy to find a whole stack of plaid scarves to decorate with! I'm going to give you all kinds of ideas for using them this year!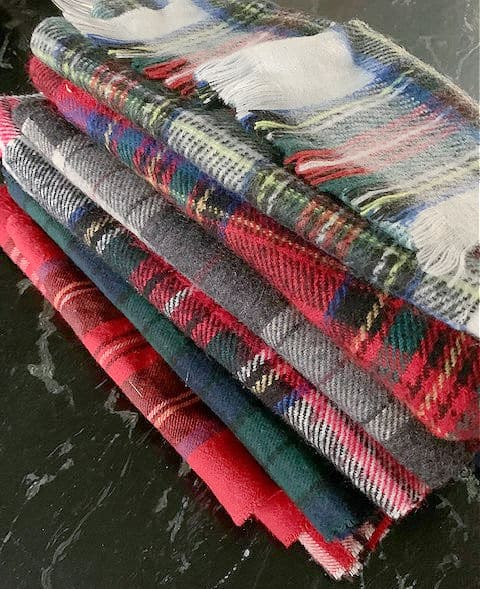 In summary, thrift stores are a great way to find household smalls for vintage Christmas decor. Dishes, linens, ornaments, florals and decorative items are plentiful if you shop at several stores. Shop early; ask when they will be pulling out their Christmas items so you get the best pick. And…make sure you donate a few bags on your way in to take advantage of their points system if they have one.
Secondhand Christmas Thrifting at Vintage Shops
Secondhand and Occasional shops are great places to find Vintage Christmas Decor. Their dealers have been hoarding Christmas items all year and can't wait to display them in their booths and shops. The fun part of shopping at these stores is that theres much more ambiance! You'll get Christmas music, friendly service, and may even a free treat!
I love to visit our local vintage Occasional shops during the holidays, because I used to own one! I love to soak in all the pretty displays and appreciate all the work the dealers and shop owners have done to make it special. Along with getting plenty of ideas, I make sure to spend some money to support their efforts.
Vintage Shops are a great place to find more unusual items that you wouldn't find at a thrift store. Their dealers are going far and wide to buy unique things. They're sitting for hours at auctions, picking through old barns and digging through the basements of scary estate sales. There's usually plenty of great medium-sized vintage items to decorate your home all through the year. You'll also find great parts of things and architectural pieces for unique style.
Here's what I picked up at recent Occasional vintage shops that I'll be using in my Christmas decorating.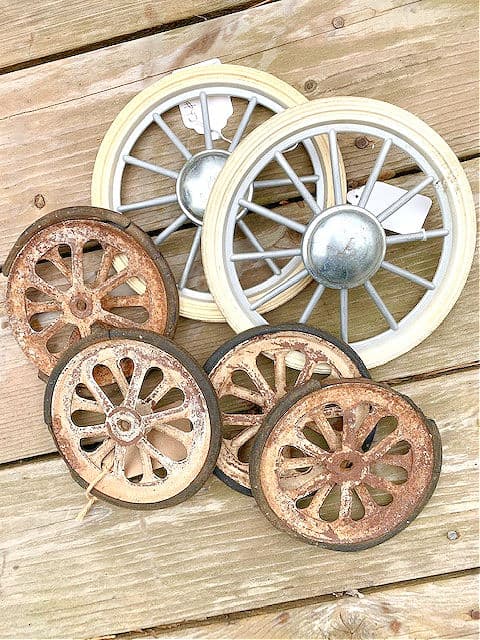 Shopping at Estate Sales
If you're up for a real adventure and have them in your area, estate sales can be a fun way to find old Christmas decorations. I've got a whole "Estate Sales 101" tip sheet in my free printable Resource Library; become an Insider to access all my free resources and to hear the latest (find out more HERE).
Nowadays you can scope out an estate sale online before you make the commitment to go. Estate sale companies will share pictures of all the items from inside the house. You won't know prices, but you can decide if it's worth the trip. Estatesales.com and Estatesales.net have listings for all over the country. Pop in your zip code and see if there's any in your area.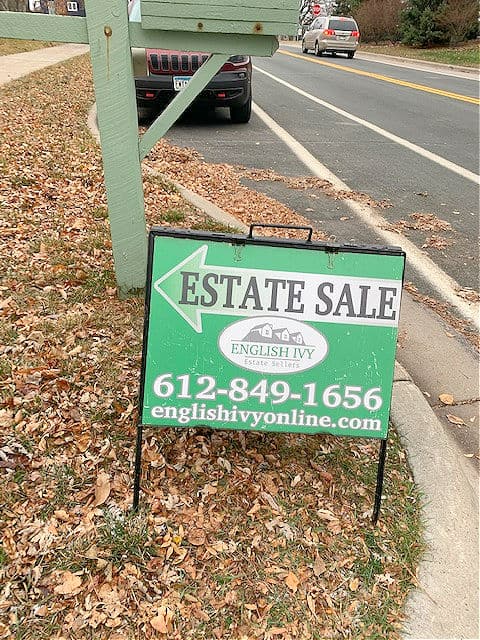 I recently found a sale that had some items I was wanting for my Christmas decorating. I went early and got #17; that's the order in which you enter the house. I had looked at all the pictures and was hoping for a few things, if the prices were right. I had a very successful day! Here's what I came home with.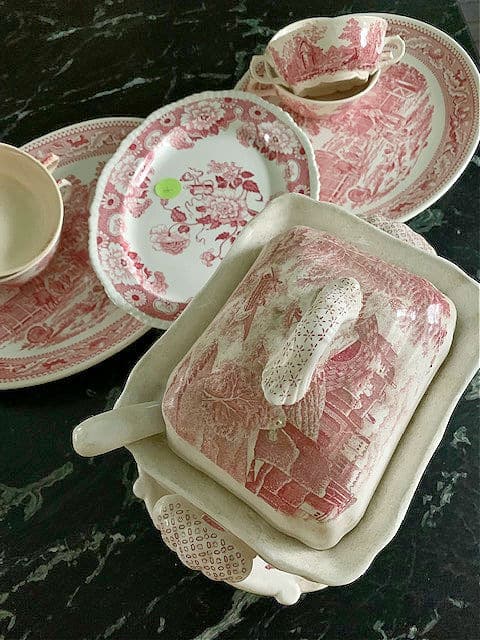 Of course everything needs to be cleaned. I bought a lot, but honestly held myself back on a few things, too. Who loves jadeite and ironstone? The prices are usually lower the second day, but I spent enough the first day. And storing that huge ironstone soup tureen…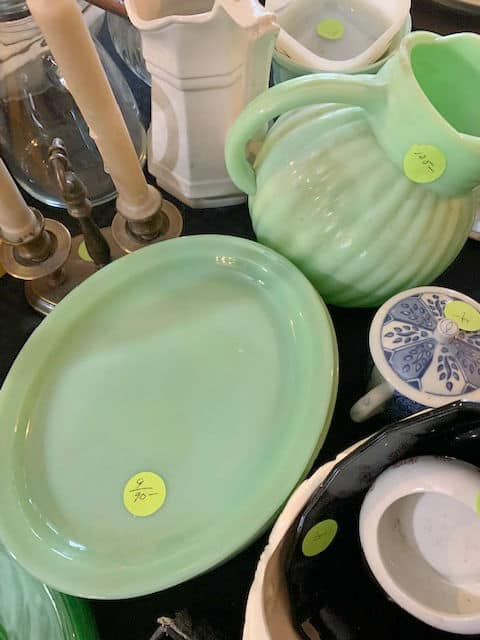 Anything and everything can be found at estate sales. It's like going to the source. It does take a commitment, but can be so much fun. If you love vintage, you should definitely try it some time. This sale did not have any vintage Christmas decor; I'm guessing they didn't celebrate it. Each home will have it's own unique decor style, that's what's fun about them!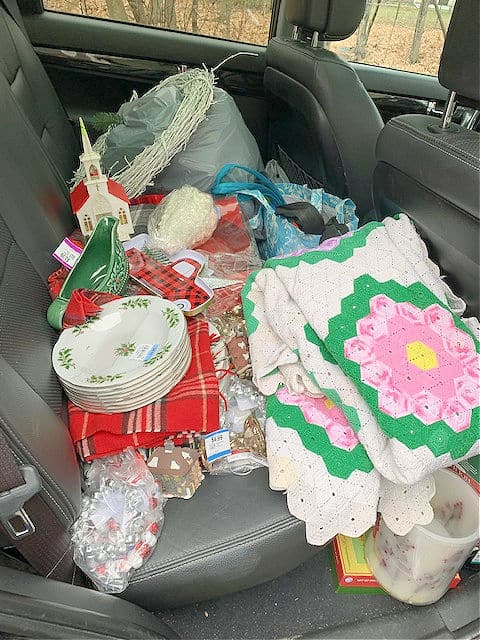 Cleaning Up My Finds
The last couple of weeks my car has looked like Santa's sleigh! Now to do the real work to get everything cleaned up so I can use it to decorate our home for Christmas. Having new-to-me vintage things makes Christmas decorating so much more fun. Plus, I'll be decorating a tree for my dad this year, too. (No, the crocheted bedspread is not for Christmas, but how could I say no for only $10?)
Make sure to read, "My 6 Best Christmas Decorating Tips".
Find all my Christmas DIY and decorating inspiration HERE.
I know many of you love these latest vintage finds posts the best! (Check my "Latest Vintage Finds and How to Refresh Them") Hopefully this Thrifting for Vintage Christmas Decor will inspire you to get out and find a few "new" things, too! It will definitely get you excited to decorate!
pin and Share!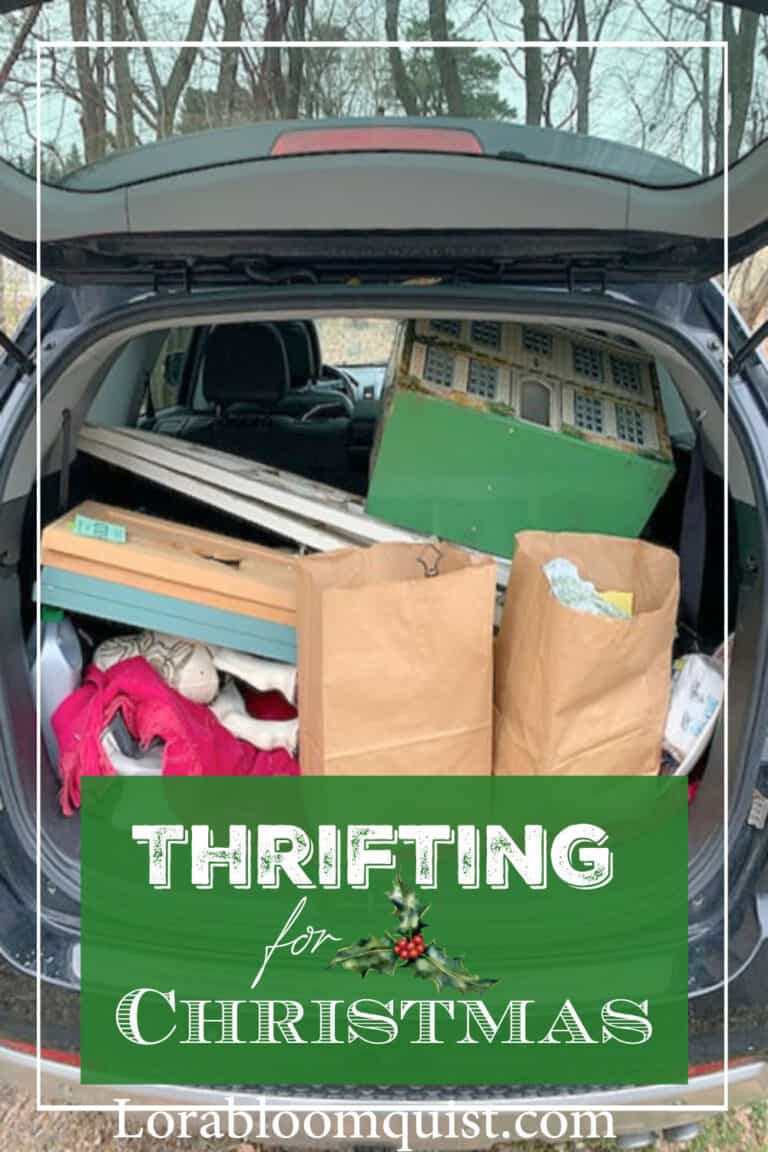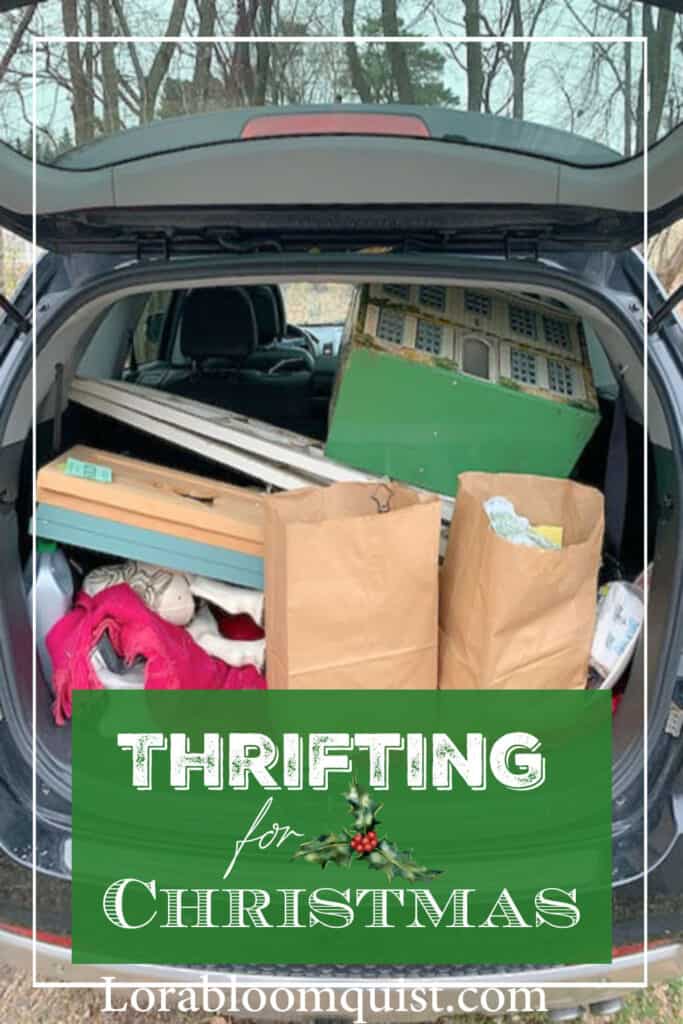 Sharing at these lovely parties: