How to Decorate to Thrift the Look, Dark Academia
How can you thrift the look for a Dark Academia Aesthetic? This dark academia decor with a music theme can be a fun design style to try, for a party or a corner of your home.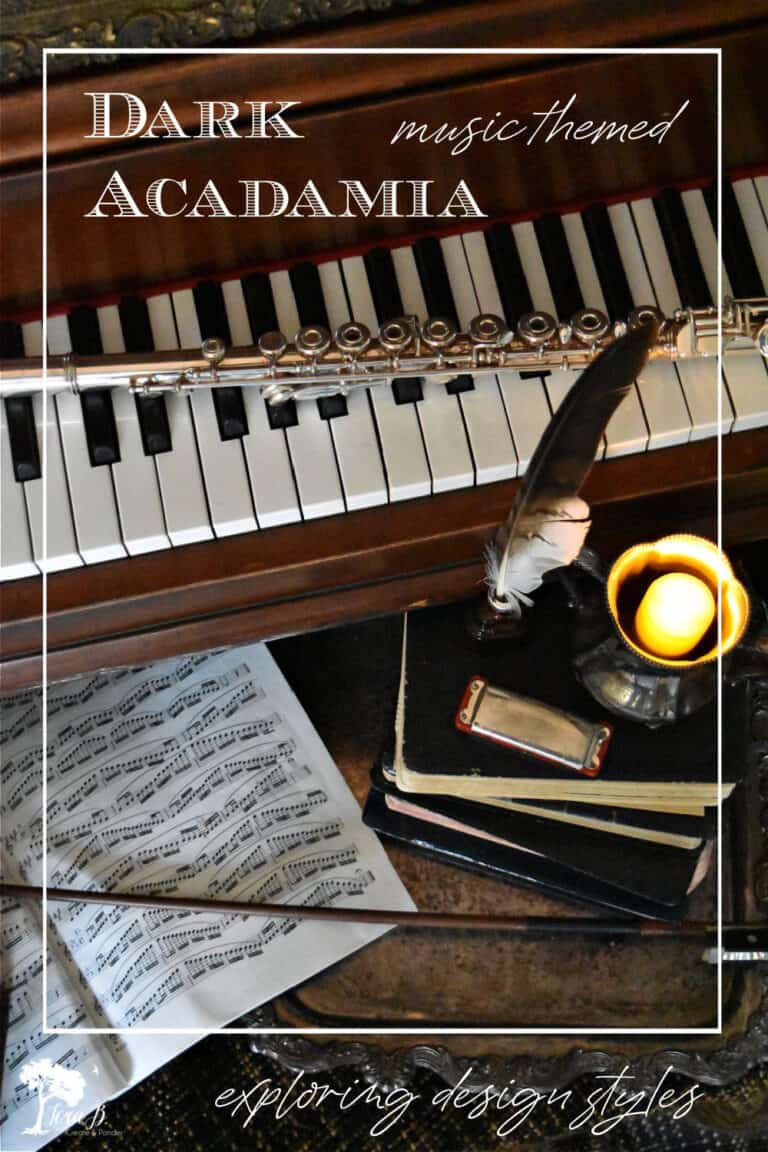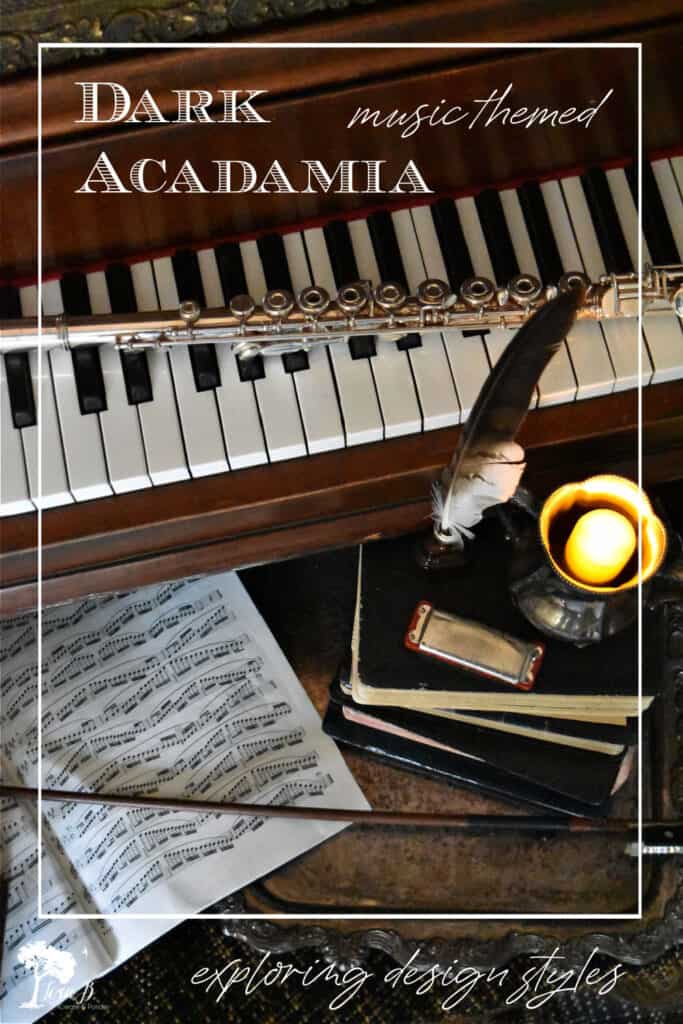 Dark Academia, like many decor styles can be interpreted in many ways. The look focuses on moody, dark interiors and a highly educated, artistic, cultural ethos. It's a classical, maximalist style that calls to mind English academia with an almost gypsy vibe. Moody, cultured and a little cluttered, this decor trend can be fun for a party or for a dramatic corner of your home. Today I'm sharing How to Decorate to Thrift the Look, Dark Academia to push your decorating boundaries!
Today's post is part of our Thrift the Look series, and I'm joined by some of my Creative Vintage Darlings Facebook friends, headed up by Sarah of Sadieseasongoods (join our FB goup HERE). You can read more about the Dark Academia decor trend at thespruce.com and apartmenttherapy.com.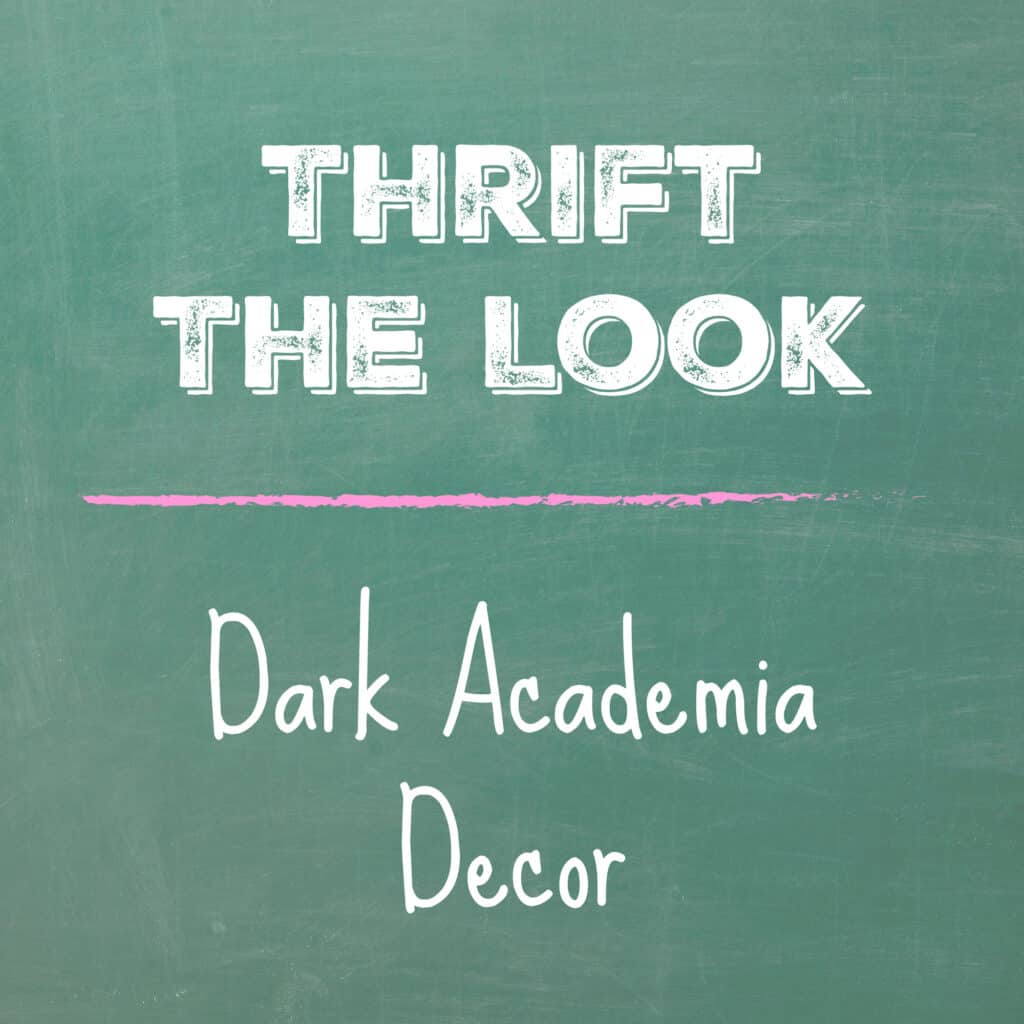 For more Thrift the Look Decor Challenges:
How to Decorate to Thrift the Look: Eclectic Decor
How to Decorate to Thrift the Look: Winter Cabin Style
How to Decorate to Thrift the Look, Garden-Inspired Decor
How to Decorate to Thrift the Look, Vintage Boho Style
How to Decorate to Thrift the Look, Vintage Lakehouse
I also created a special printable to guide you in the Thrift the Look process! It's available in my free Resource Library. Simply become a Lora B Insider (HERE) and I'll send you the password.
How to Decorate to Thrift the Look, Dark Academia
For your convenience, this post contains affiliate links. If you make a purchase, I may receive a commission. There is no additional cost to you. My full privacy policy is here. 
Dark Academia Design Aesthetic
Once again for these challenges, I couldn't find an inspiration picture that was in my head. I searched the name and looked at lots of pictures. My inspiration was the movie, Amadeus. Remember that movie? The over-the-top baroque, classical decor with a few half-crazy composers; that's the picture I wanted to create for this challenge.
I initially assumed the "dark" in Dark Academia meant having to do with evil. But this look doesn't have to go that way. Dark is about deep-colored paints and backdrops; a moodiness. Using this look is like creating a theatrical set; it would be fun for a store display, especially around Halloween. This look focuses on academia, especially literature, the arts and sciences. Think old English colleges with castle-like buildings and rooms.
Our big, antique piano is a dark spot in our dining room (and kind of a thorn in my side). I decided it was the best place to play with the Dark Academia style, focusing on a music theme. I'd love to get rid of it, but Happy Girl wants it someday, so it sits mostly unplayed in the middle of our dining room walkway. At least today it's earning it's keep!
A Thrifty Foundation
First on the agenda was to swap up the piano bench. The straight-legged bench that came with the old church piano is comfortable, but doesn't match the classic style. I raided the storage porch for a roadside find. (Thrifted find #1) Not an exact match, but much better!
And yes, this old piano bench needs more than a wiping down, but that's another project for another day! "Free" means "needs work"…and it's what my house is made of!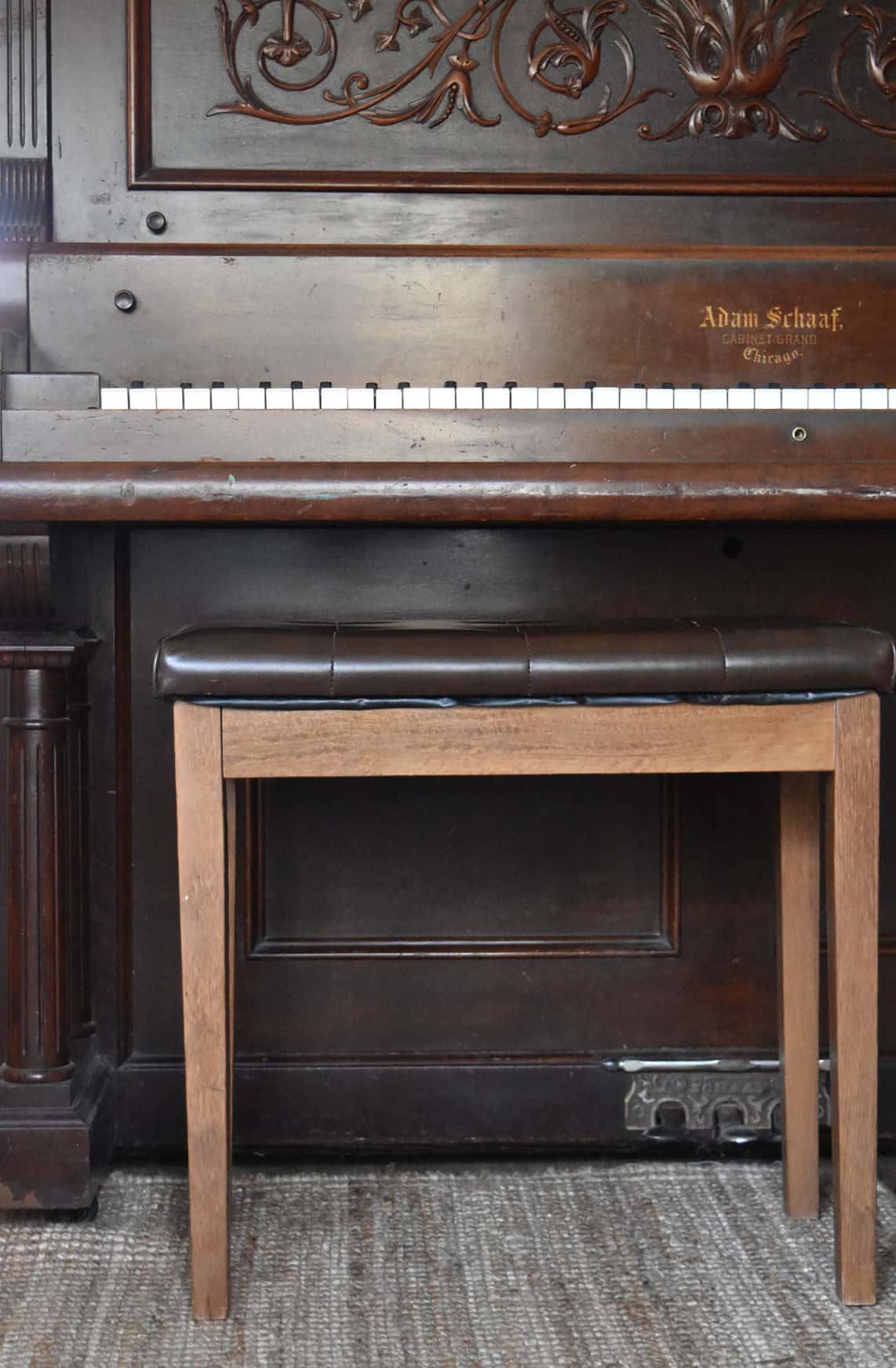 Gather Dark Academia Decor Accessories
Next was to round up the "thrifted" Dark Academia decor accessories from around the house (I basically AM a thrift store;) Many years of curbside junking). I luckily have a lot of music-themed things already, but wanted to find these items after looking at design aesthetic pictures.
Dark Academia with a music theme accessories:
music
old books
old glasses
gold and black frames
faceted glass/crystal
candles
clocks
rich textiles
portraits/landscapes
statues
feather in ink pot
candleabras/sconces
Thrifted Finds Styled with a Dark Academia Aesthetic
This look is anything but minimal; Gaudy, theatrical, baroque. It shouldn't look too perfect and be somewhat cluttered, like the composer just stepped away from his creative space. Vintage, thrifted finds are perfect to achieve this style. The more, the merrier!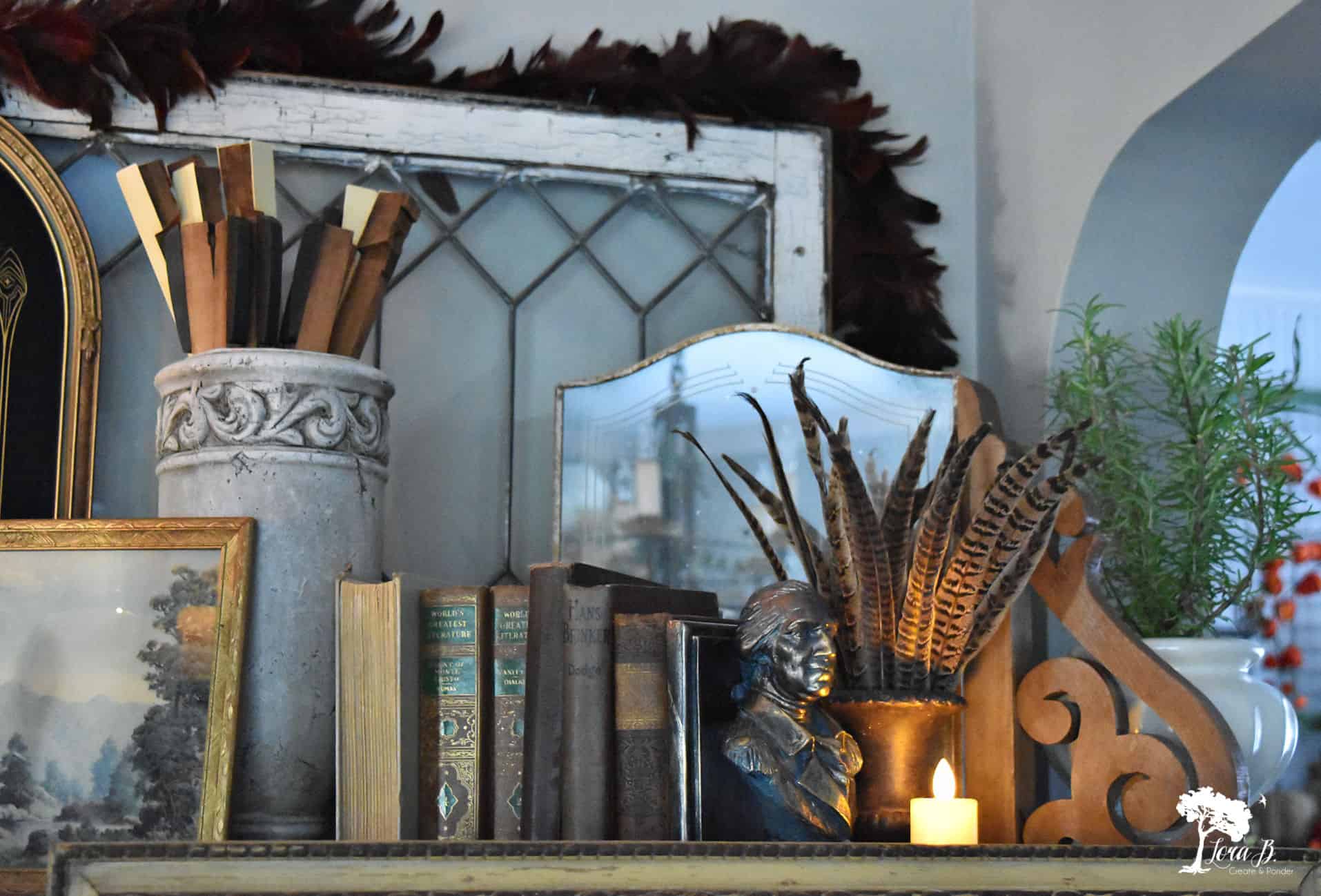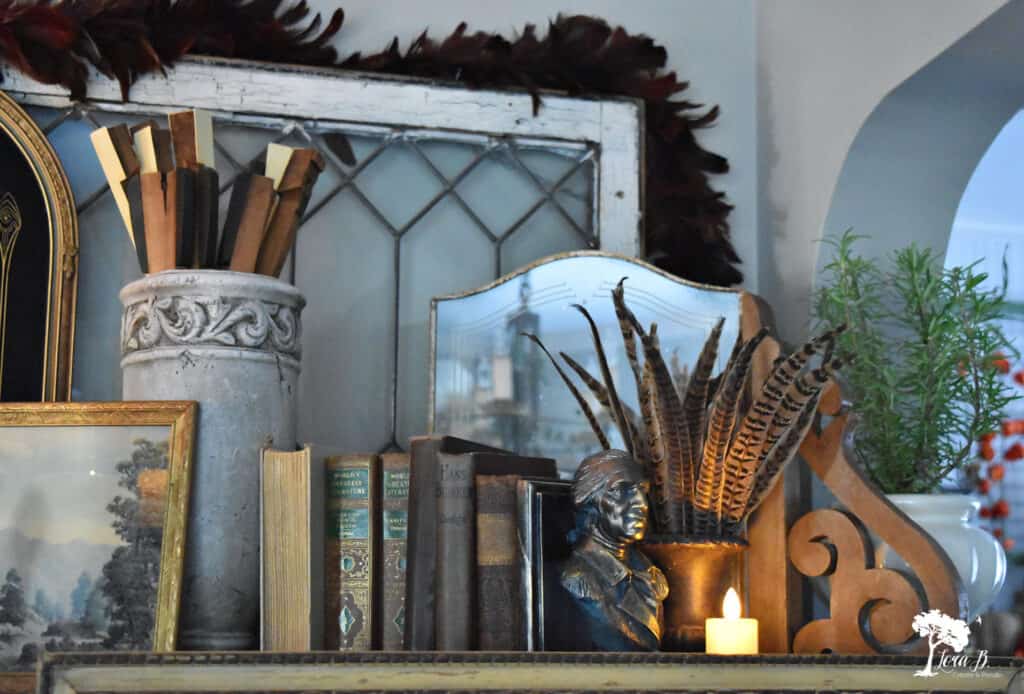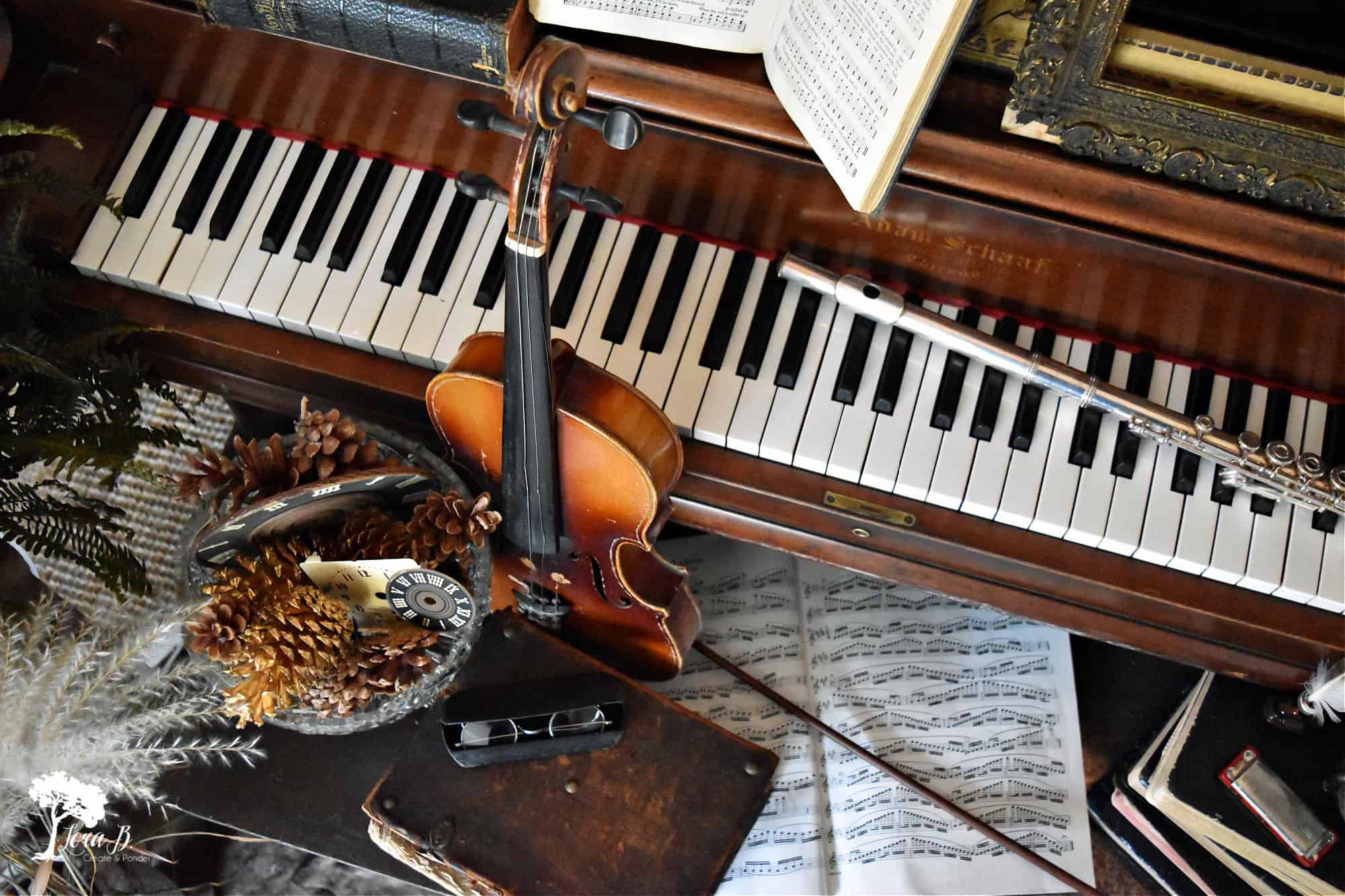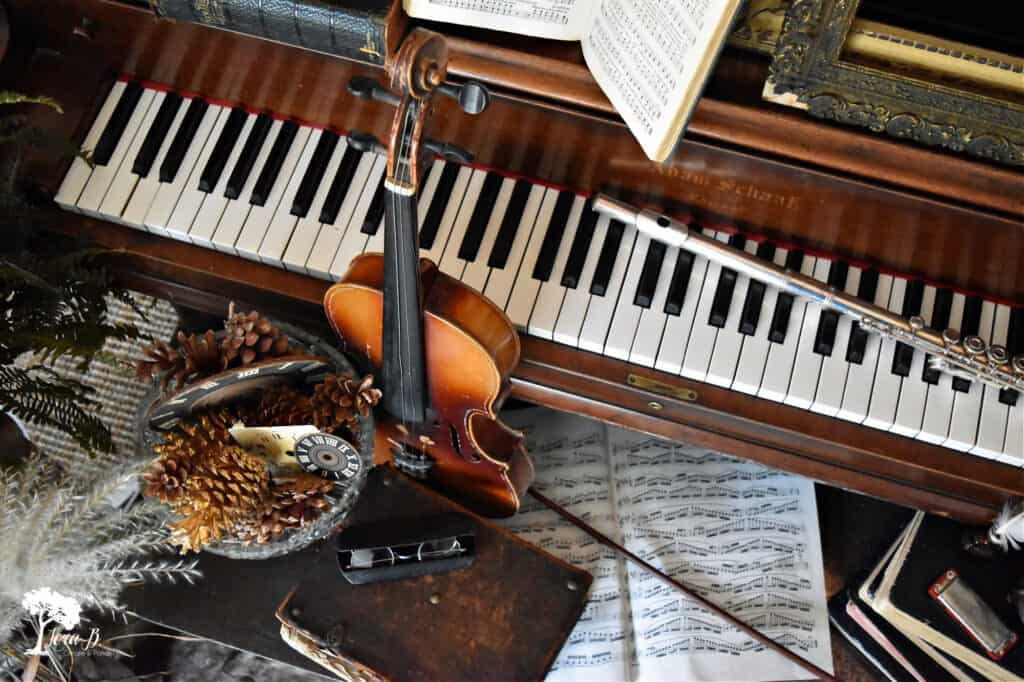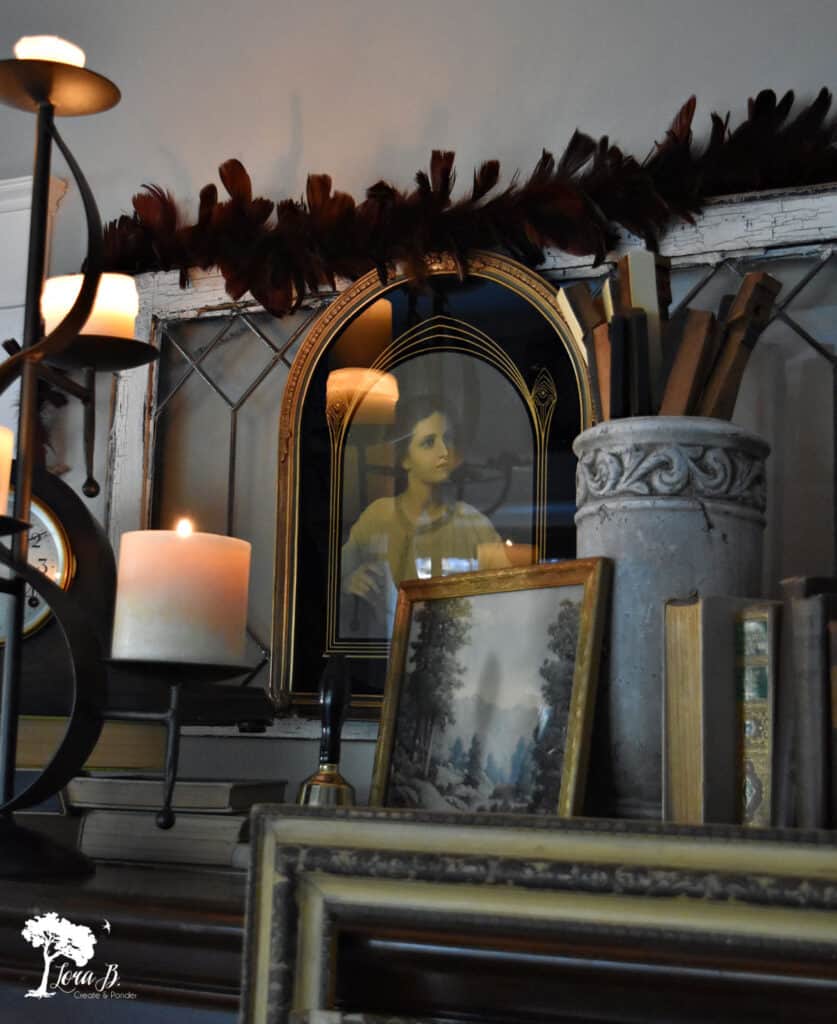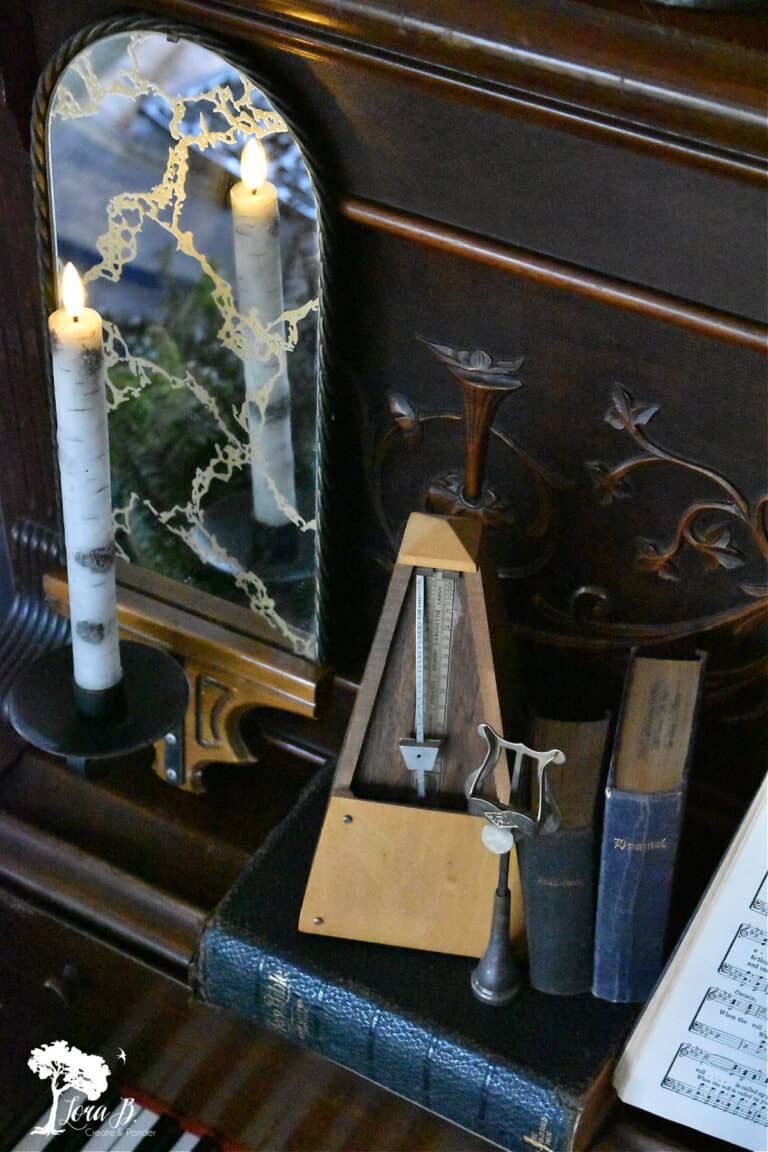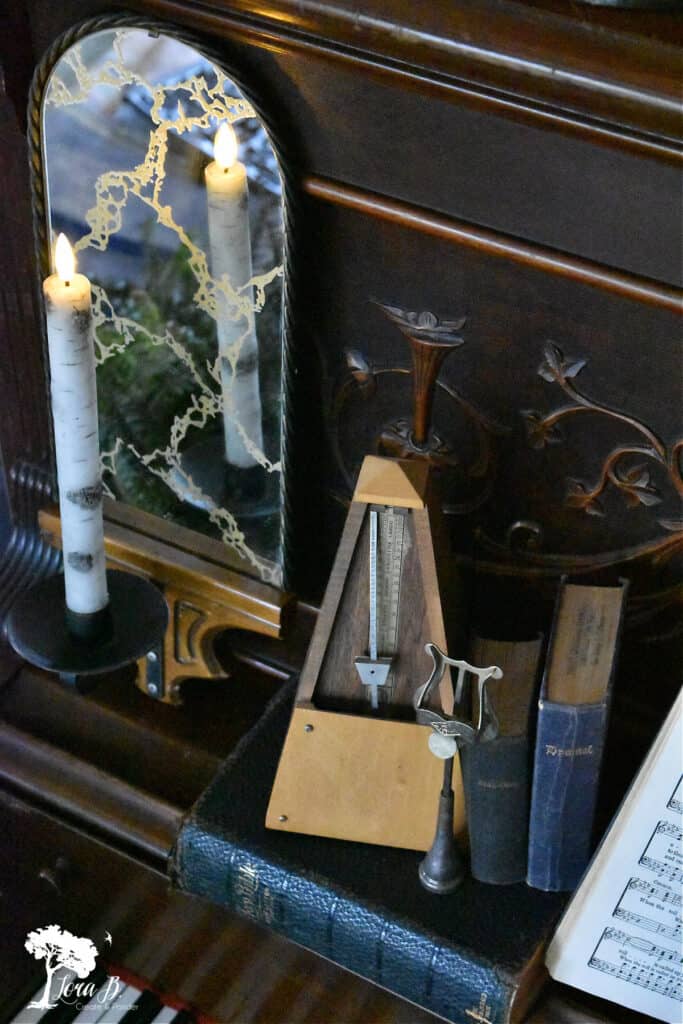 The portrait is of a young (very European) Jesus, the landscape probably done by R.A. Fox (learn more about collecting Fox prints HERE). I'm pretending the bust bookend is a famous composer, although he looks more like a military person. Just picked him up at the thrift store for nothing, since I had a credit from my donation points; bonus!
I used as many old hymnals and bibles as I could. They fit my neutral color scheme and made me think of the composers who wrote the old hymns, probably by candlelight.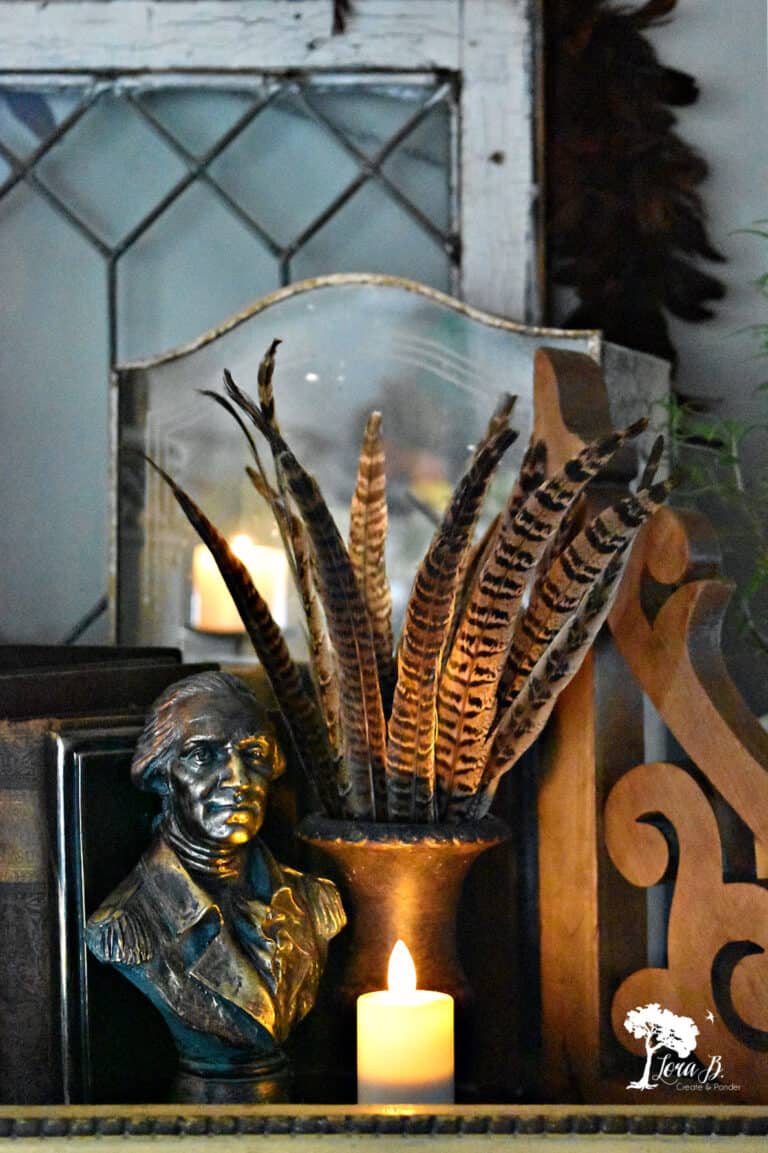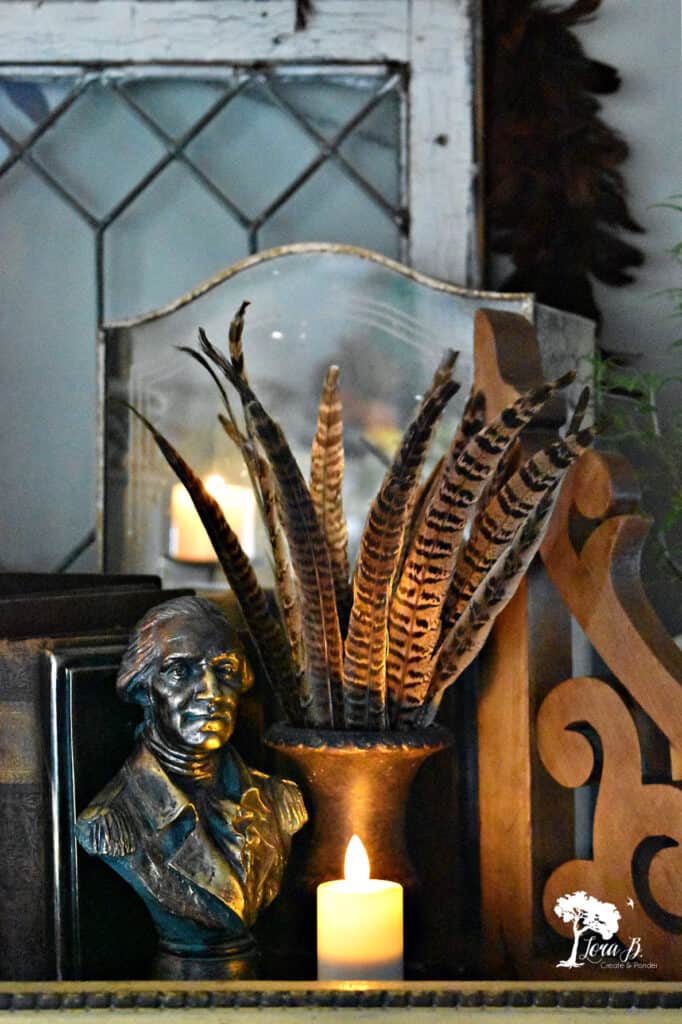 Battery-operated faux candles are my new favorite thing. They even have a remote! I'm loving the new birch tapers (You can get them HERE.) I also just bought the bouquet of pheasant feathers; they're so fun to decorate with around Thanksgiving. (You can get them HERE.)
Thrifted Finds for a Collected Look
Thrifted finds are the backbone of my decorating. They're from many years of curbside clean up days, church sales, estate sales and vintage shops. Yes, most things "need work", but that time worn character can't be beat.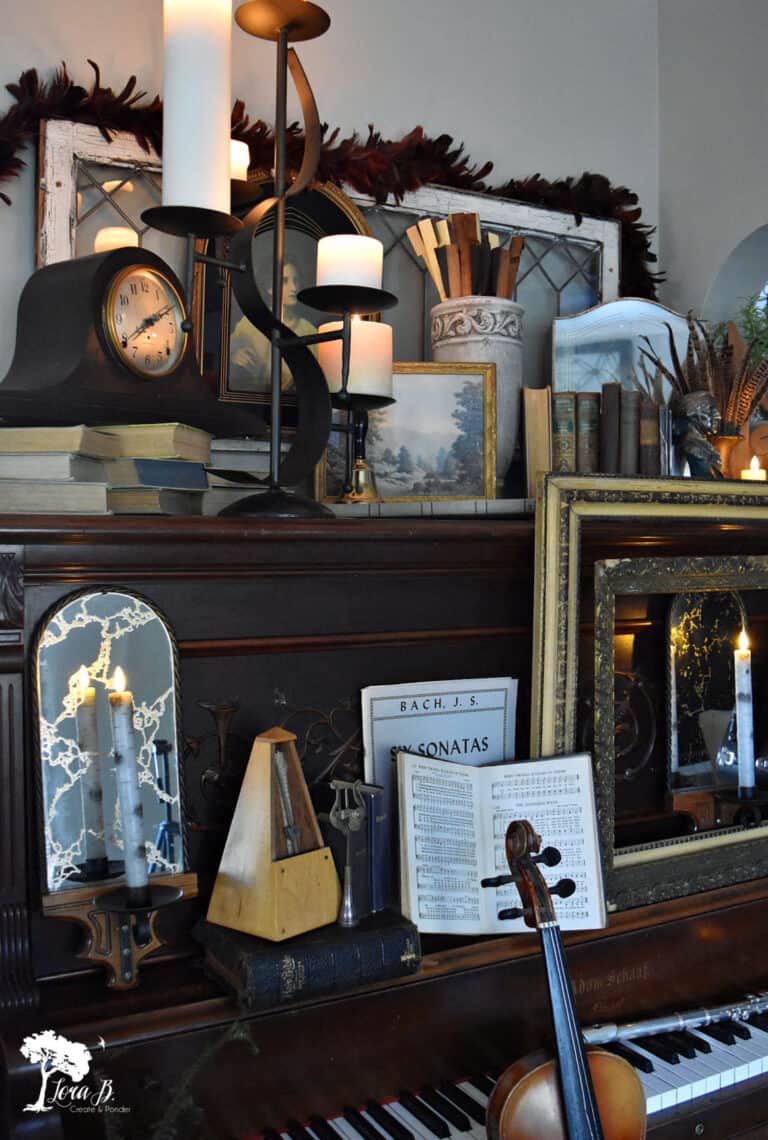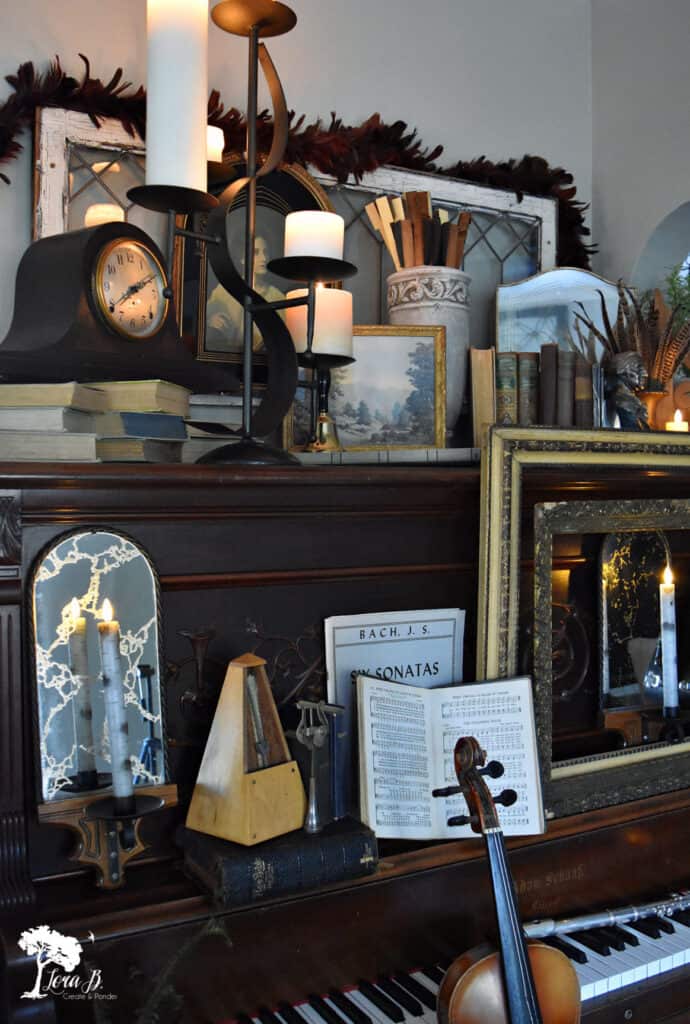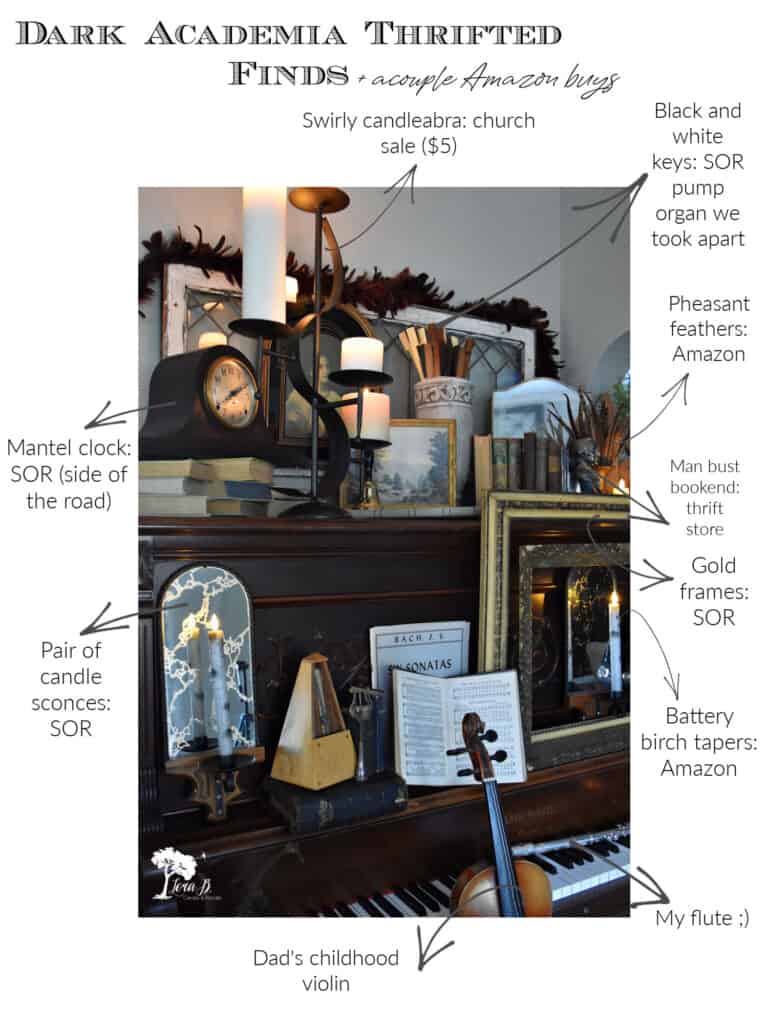 Dark Academia is Perfect with Vintage Decor
The Dark Academia design trend is perfect for vintage decorators. It's a collected look of timeworn finds, set against a deep-colored backdrop. Choose whatever theme you enjoy to go along with it from the study of plants or animals to great literature.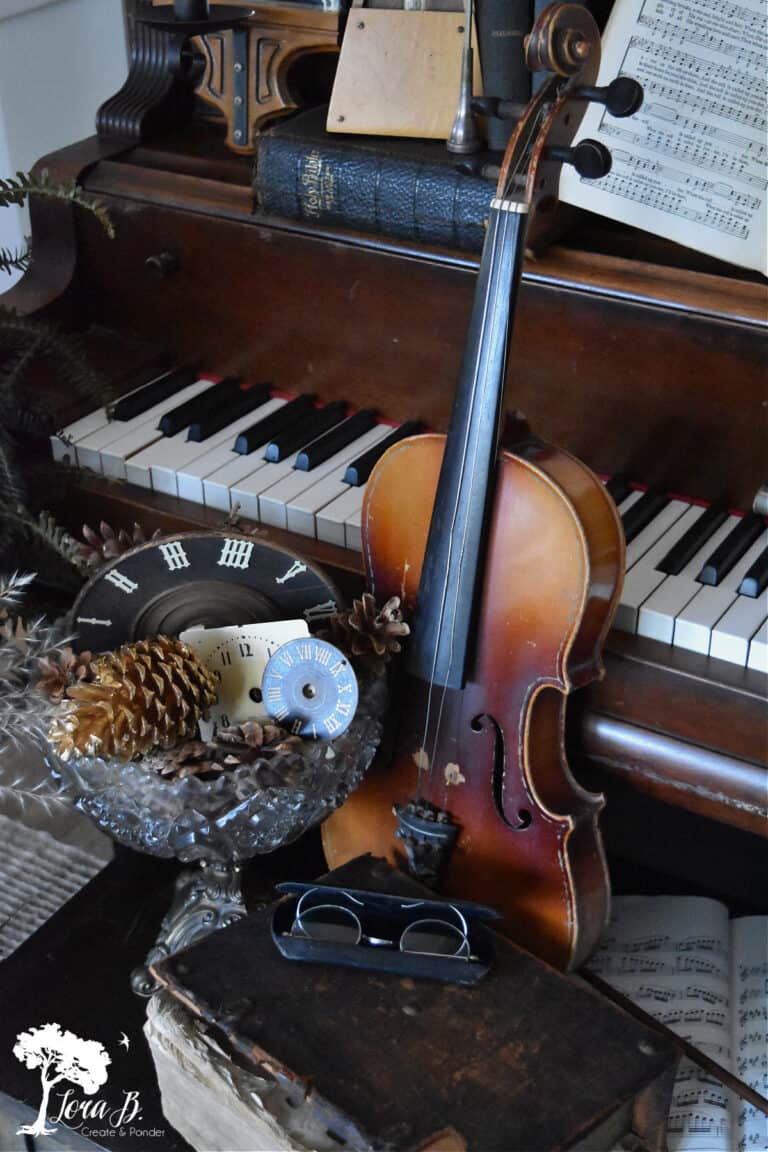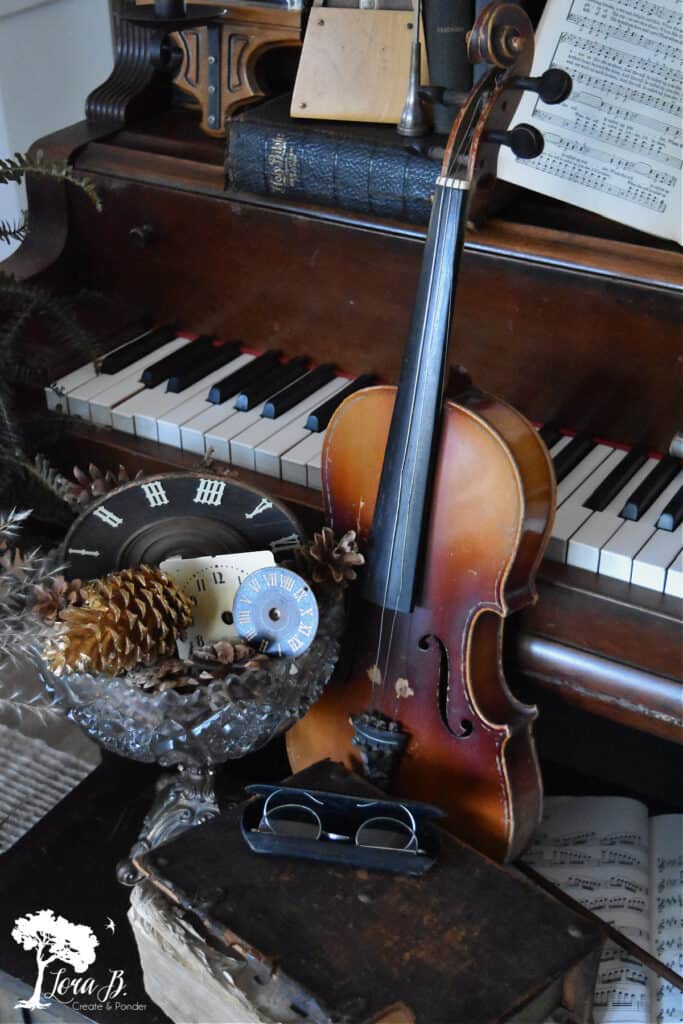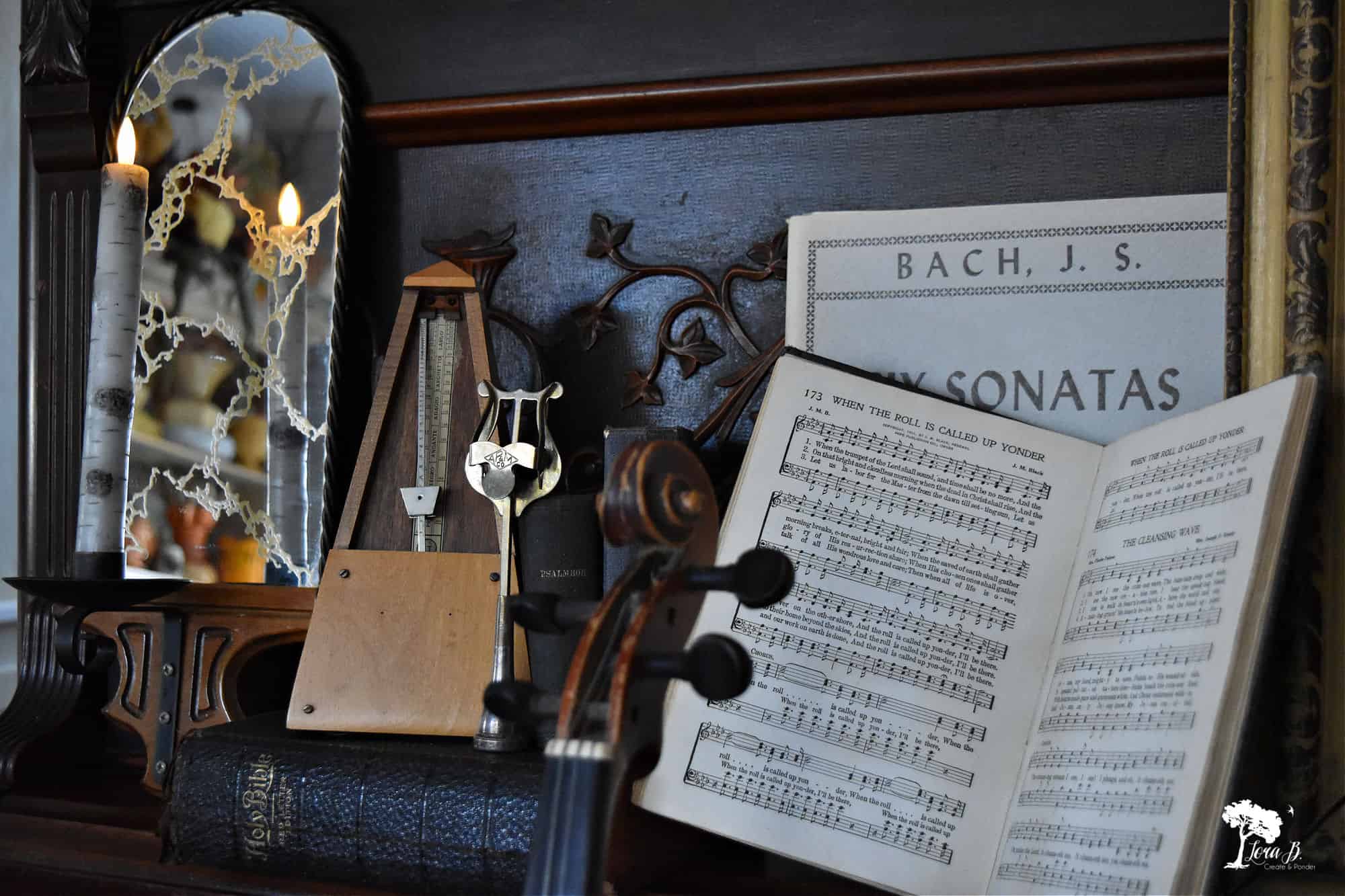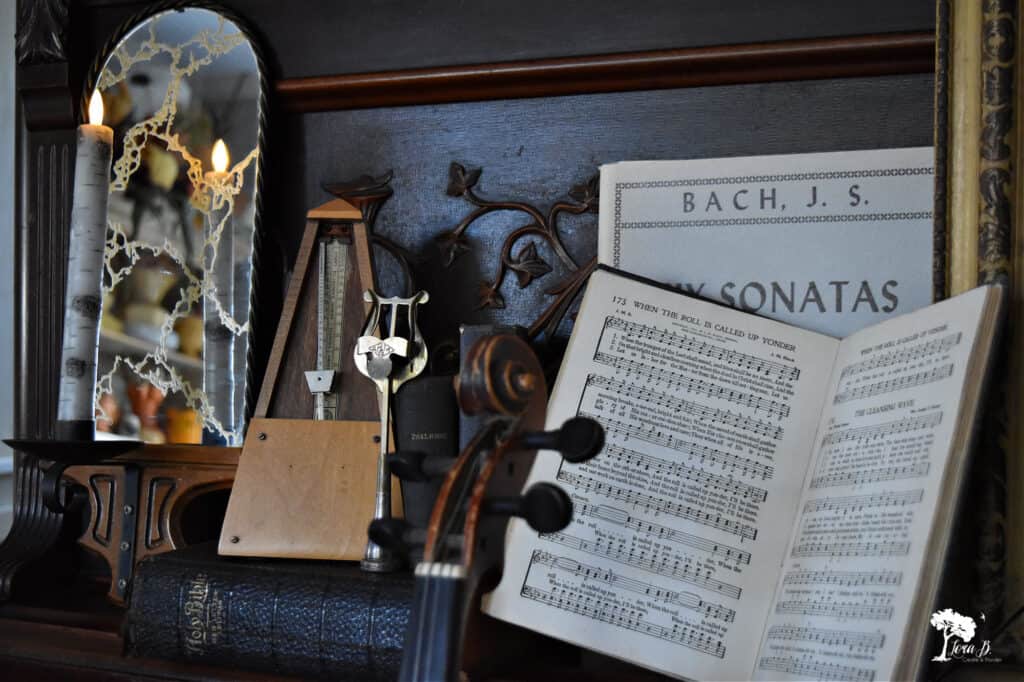 These Thrift the Look challenges are always fun to try in a small spot in your home for something different. If you love it, let it take over a whole room!
Hopefully you enjoyed this latest Thrift the Look Challenge, Dark Academia style. Can't wait to see what the rest of my friends designed, using this trendy style!
pin, share, and enjoy the rest of the inspiration!
"Shop the Look" Down Below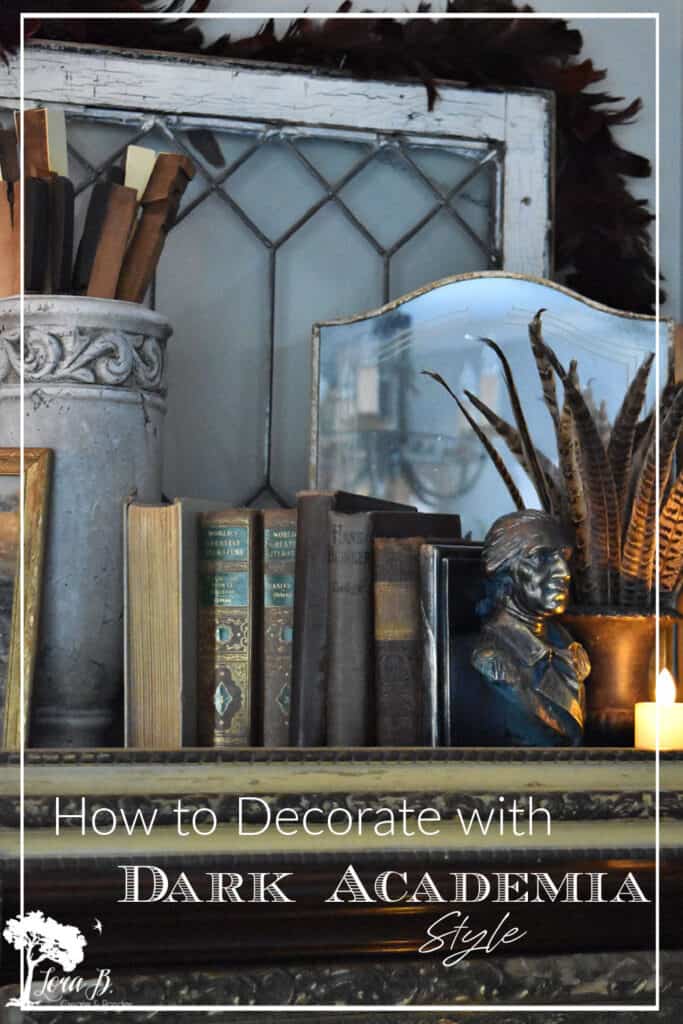 Thrift the Look: Dark Academia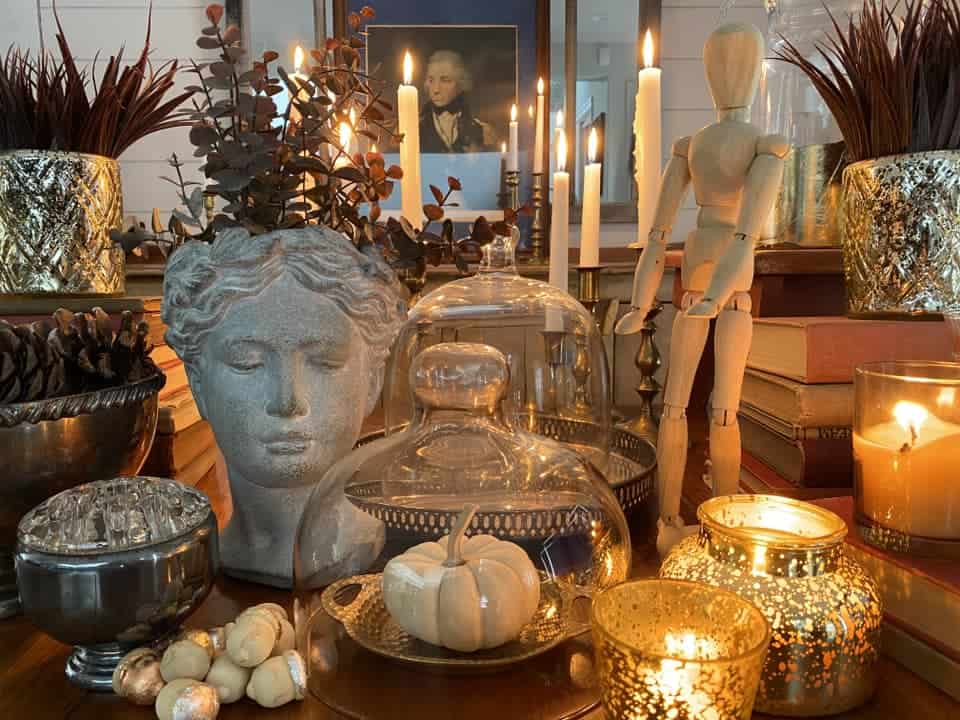 One House Two Barns, "Thrift the Look, Dark Academia"
Home to Heather, "How to Dark Academia"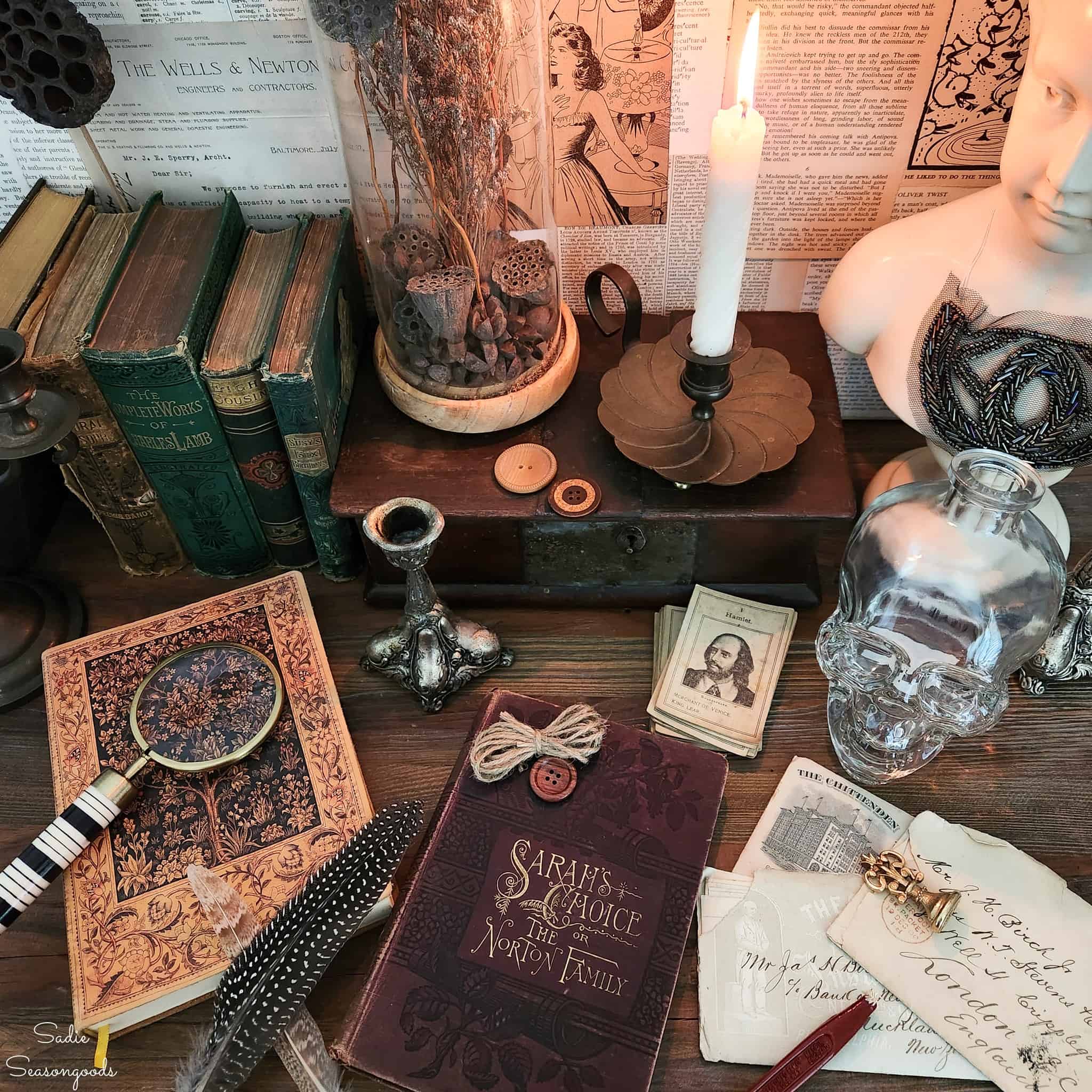 Sadie Seasongoods, "Dark Acadamia Decor"
Little Vintage Cottage, "Dark Academia Decor Thrift Look"



Sharing at these lovely parties: