How to Upcycle an Old Picture Frame
repurpose an old picture frame with this simple dIY. Decorative sheet metal turns this upcycled frame into a fun decor accent or pretty organization.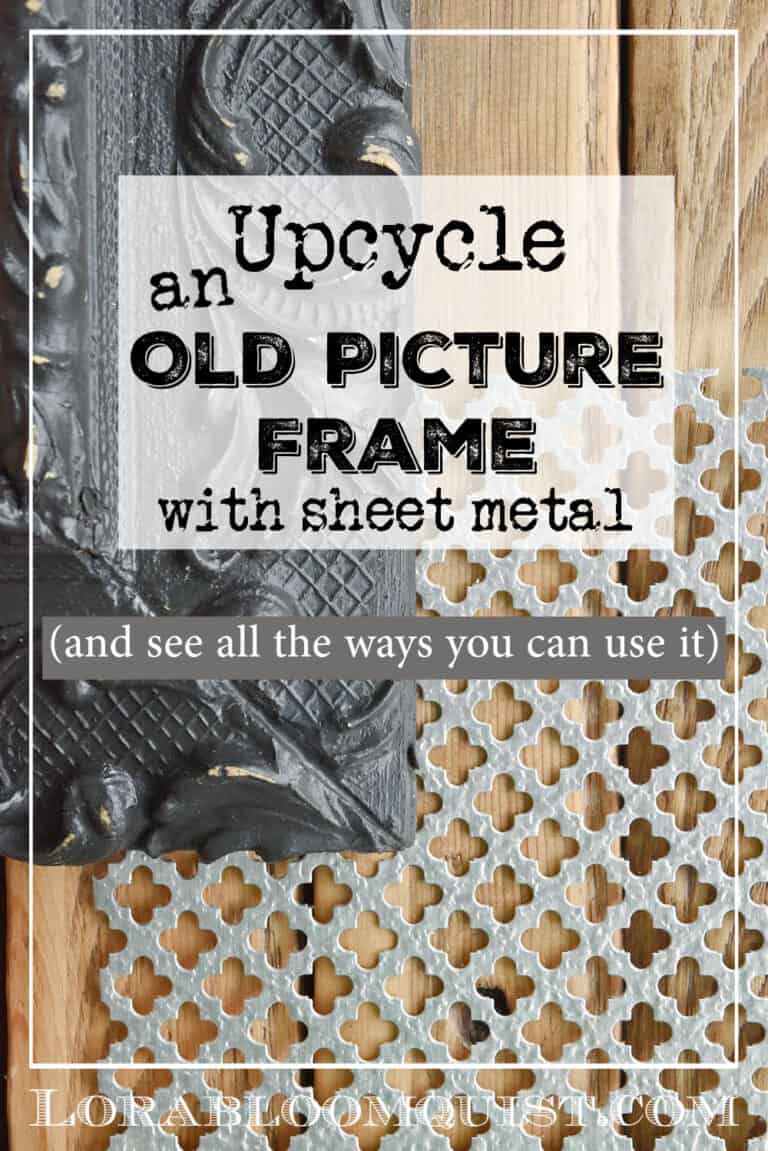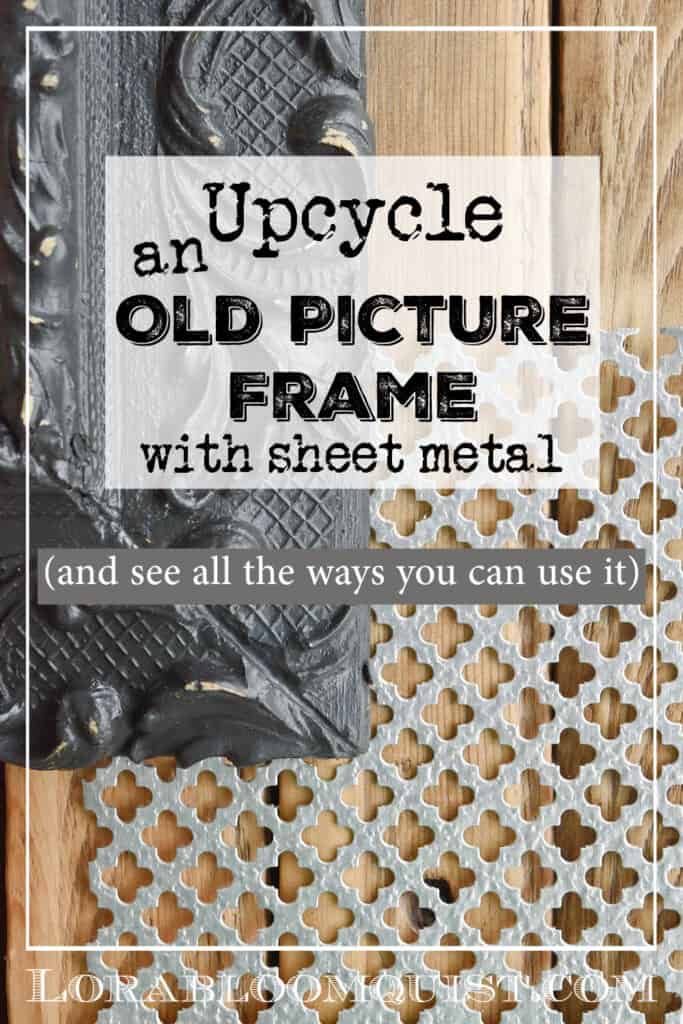 Old frames are plentiful when you're thrifting, and there are so many interesting ways to upcycle and repurpose them. If you've got DIY skills, today's project will be a great way to give an old picture frame new life. Here's How to Upcycle an Old Picture Frame using decorative sheet metal.
How to Upcycle an Old Picture Frame
For your convenience, this post contains affiliate links. If you make a purchase, I may receive a commission. There is no additional cost to you. My full privacy policy is here.
Materials Needed:
Old picture frame
Decorative Sheet Metal large enough for your frame (comes in several patterns)
Saw
Wood strips
pneumatic nailer or stapler
First, Choose Your Frame
Old frames can easily be found at thrift stores, estate sales, garage sales or flea markets. Choose a frame that fits your style. If it's not the color you want, simply paint it and distress, if desired.
I chose a thick, vintage frame and painted it classic black. Light distressing with sandpaper enhances all the pretty details.
Decide Which Design of Sheet Metal You Want
These stamped sheet metal sheets are what old radiator covers were made from. There are classic designs or more retro varieties. They can be left in their original silver or spray painted whatever color to coordinate with your decor.
How To Directions
Remove glass from your frame if you haven't already.
Cut sheet metal with tin snips to fit in the frame where the glass used to be.
Then nail or staple small strips of wood around the edges to adhere the tin to the recessed area of the frame.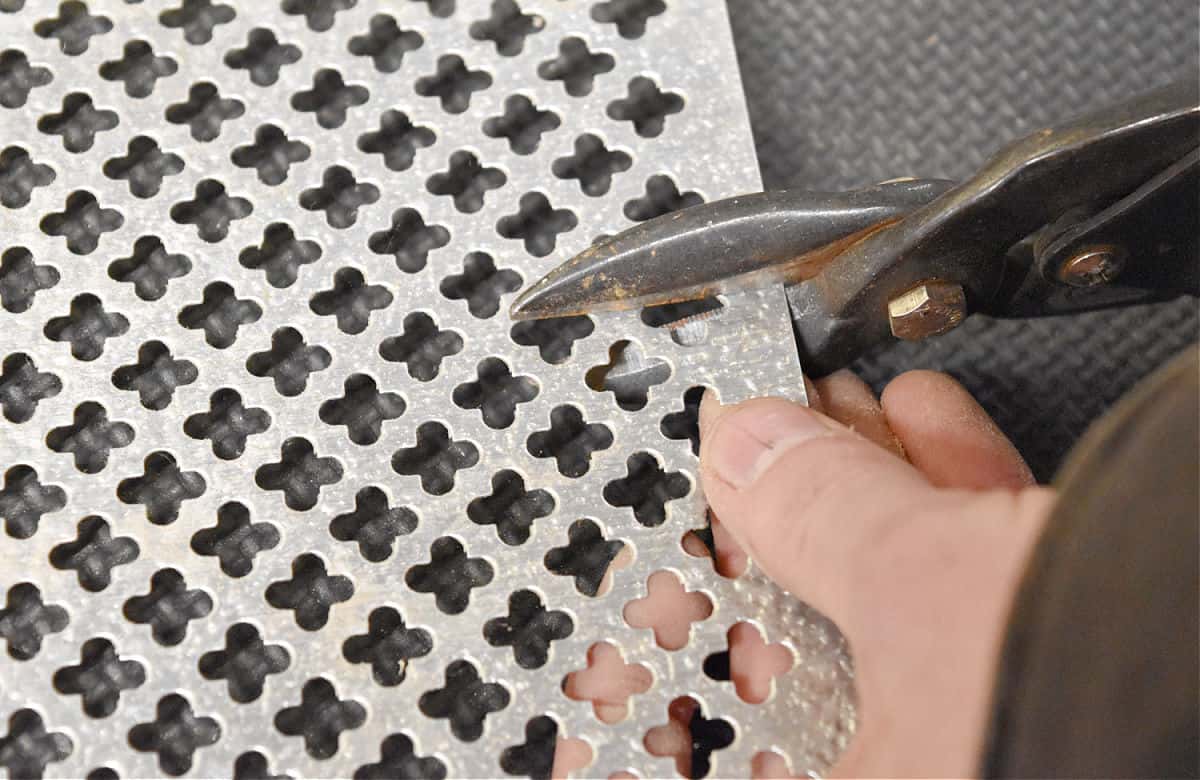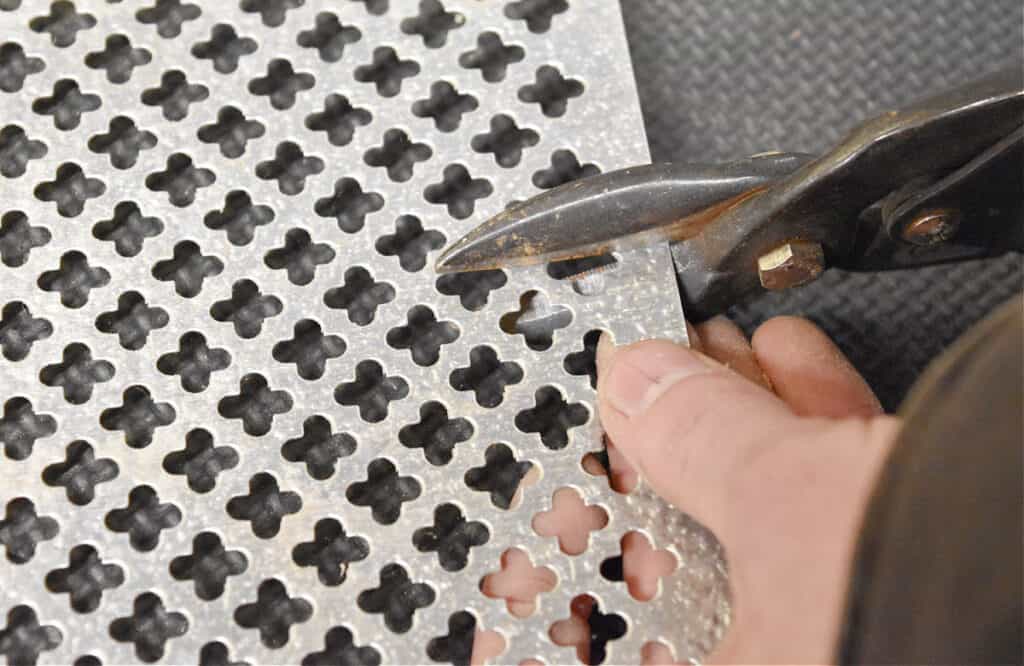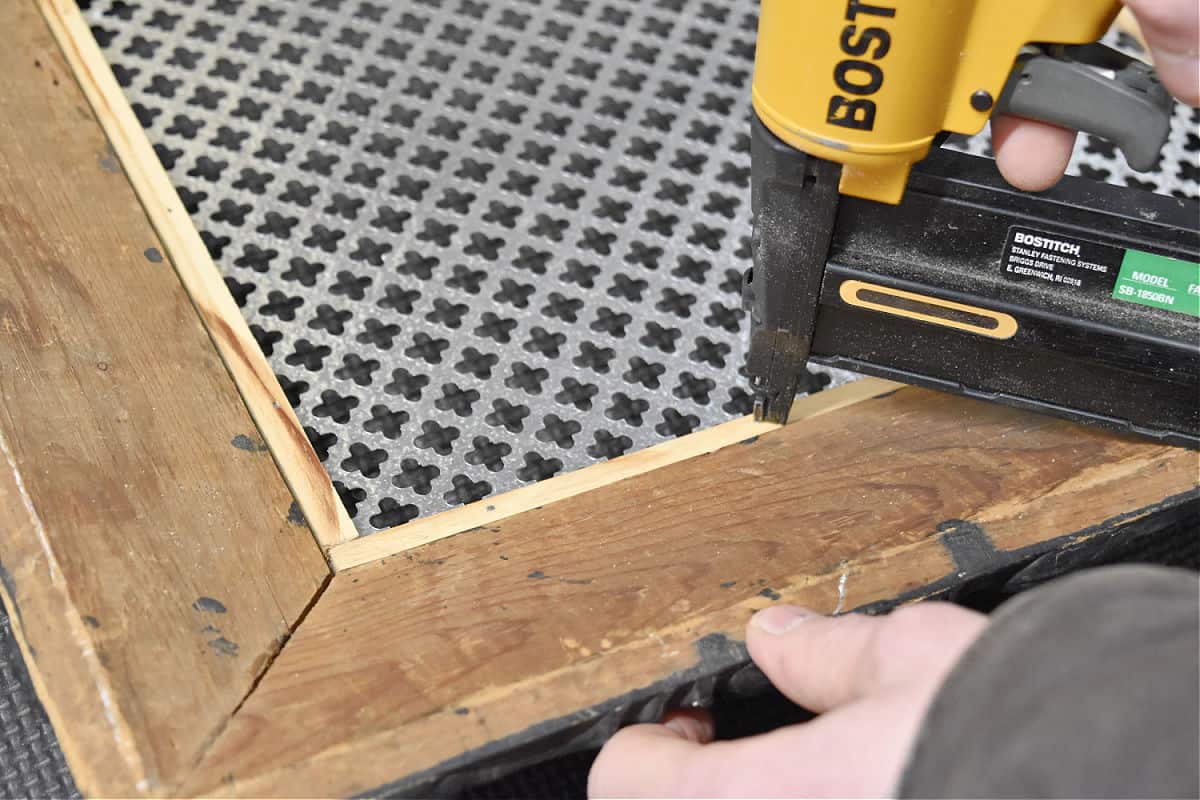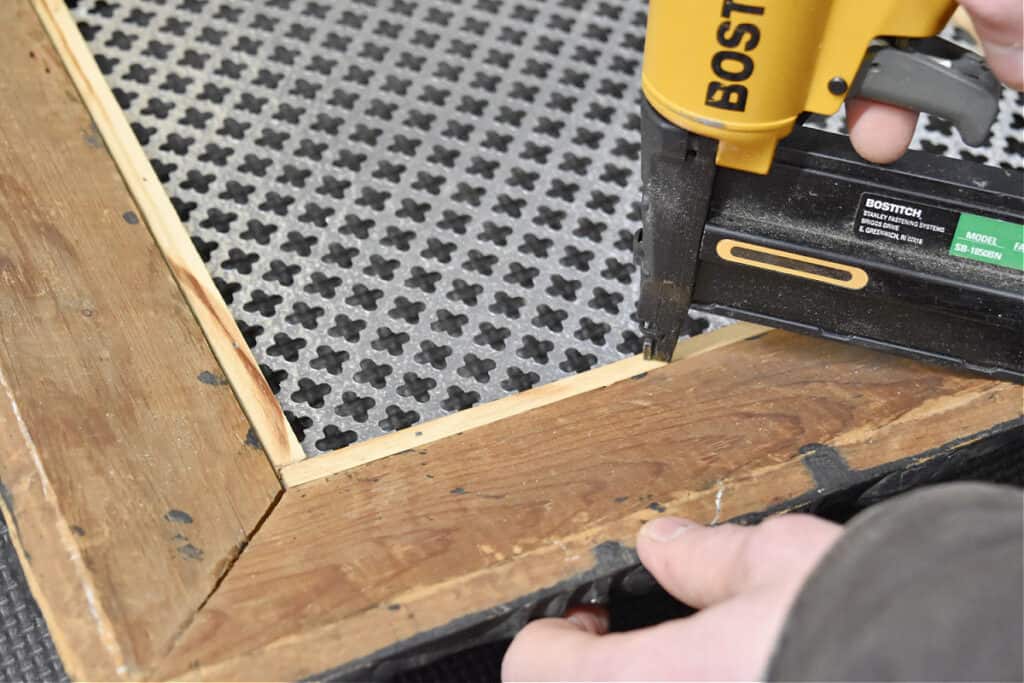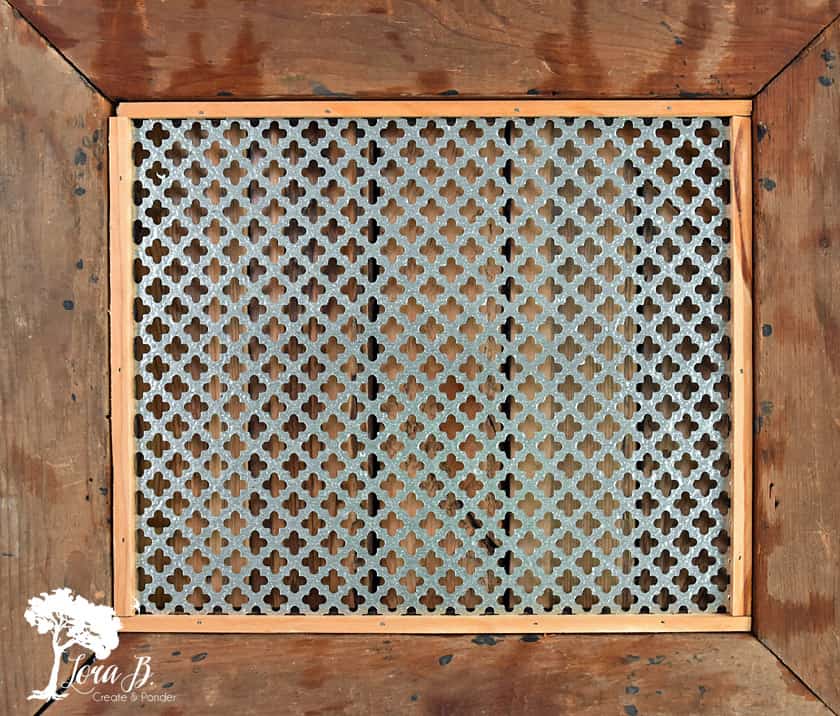 It's as simple as that!
How to Use the Upcycled Old Picture Frame
The decorating and organizing possibilities with these upcycled old frames is limitless! Here are some of the ways I use them around my home:
Use the Repurposed Frame as a Charger
Your repuposed frame can be used as a charger or foundation for a vignette. The pretty design sets off whatever you place on it beautifully.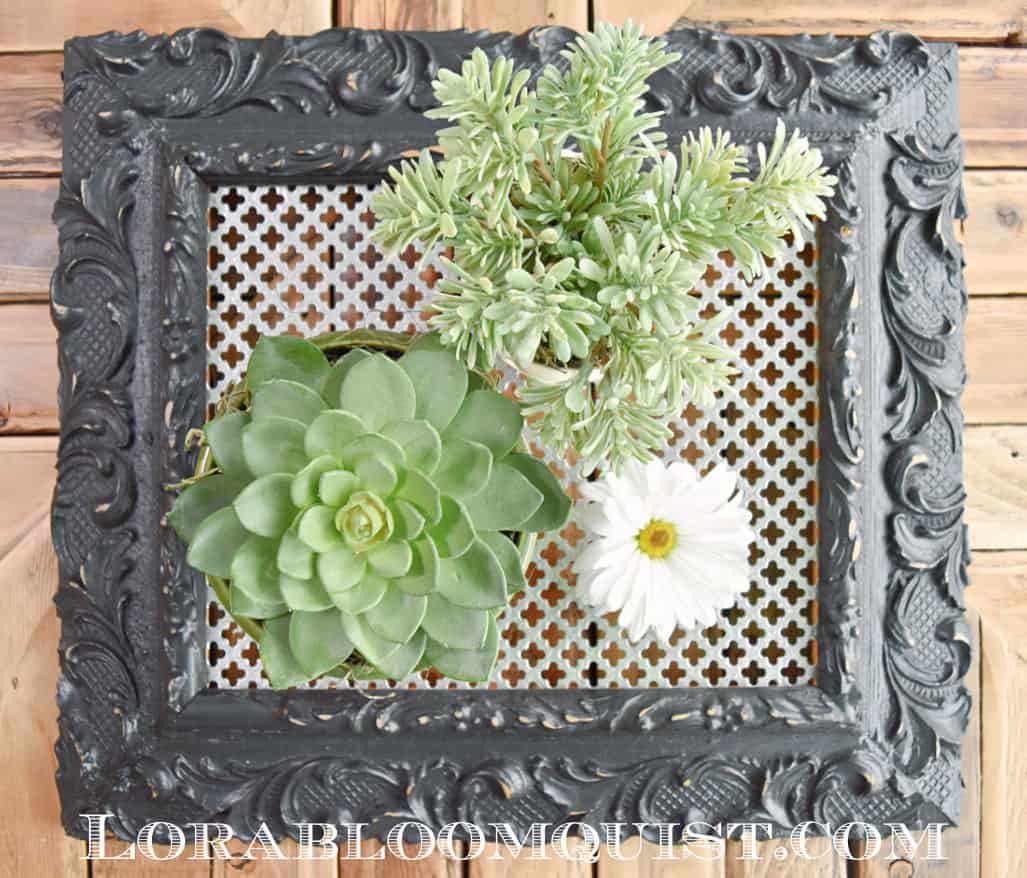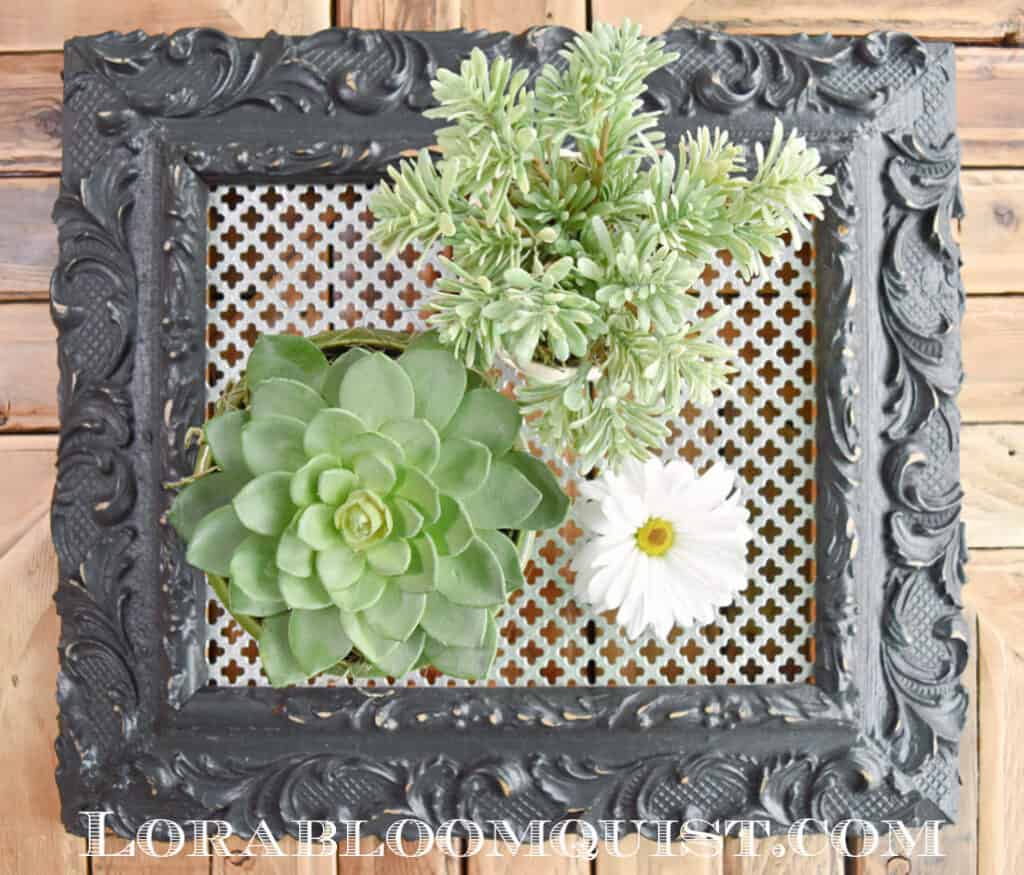 Organize Your Jewelry on an Upcycled Frame
Simple pegboard hooks (see them HERE) can transform your upcycled frame into a pretty and organized jewelry display.
If you place a picture hanger on the back, you can elevate your jewelry collection to art status, combining function and beauty: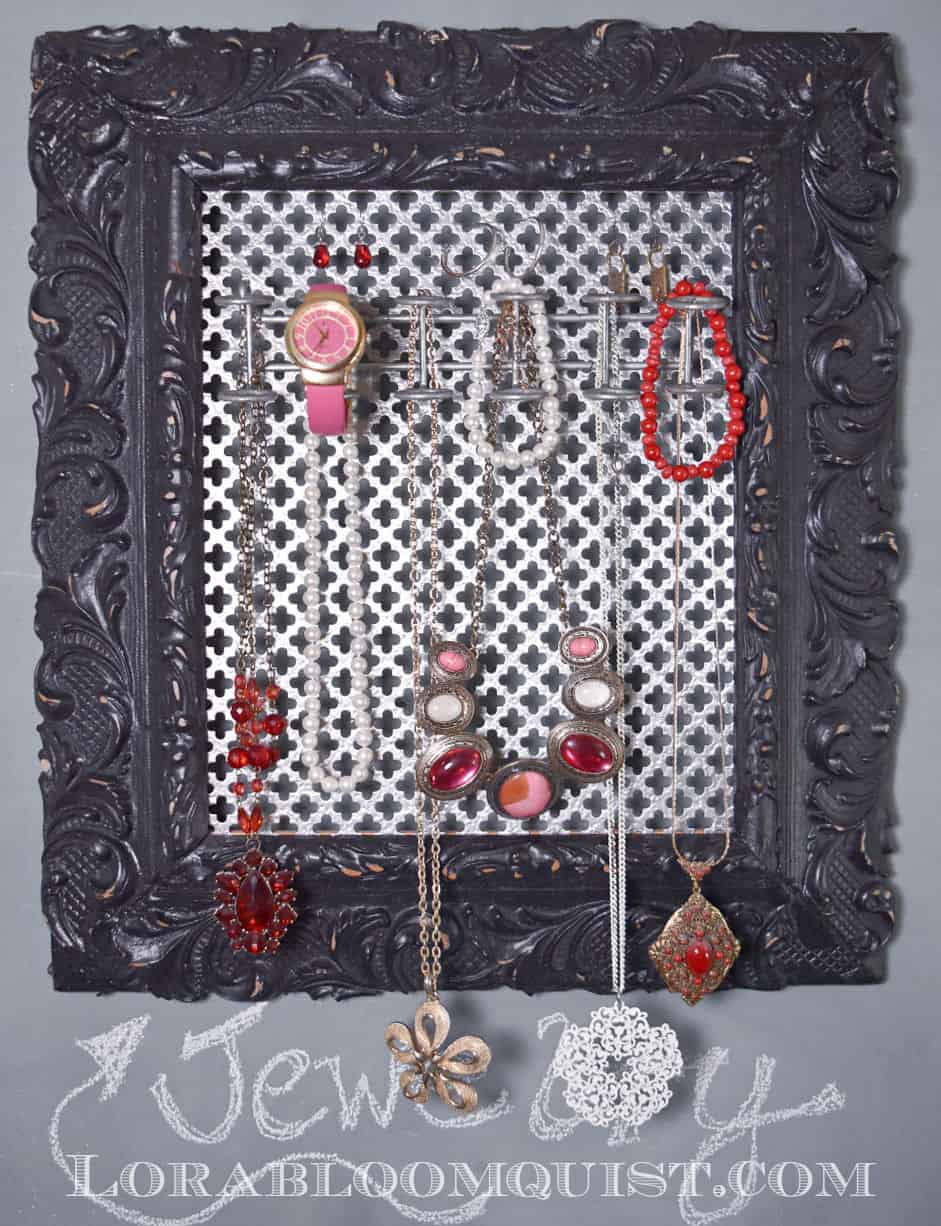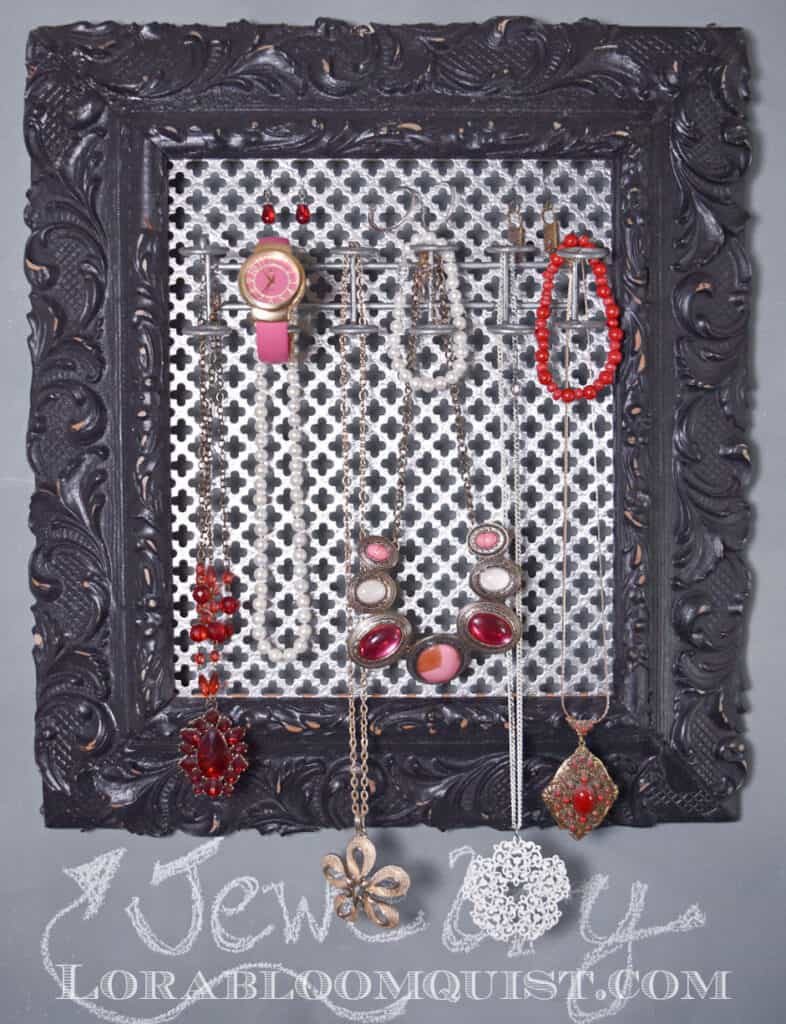 Hang a Vase on Your Upcycled Frame
My favorite way to enjoy these pretty frames with decorative metal is to attach a vintage vase and fill it with real or fake flowers.
Choose a vase or bottle with a skinny neck. Milkglass vases work well, or old medicinal bottles. Use wire or twine to tie the bottle to the sheet metal (you can find barkwire HERE). Tie a decorative ribbon over the top.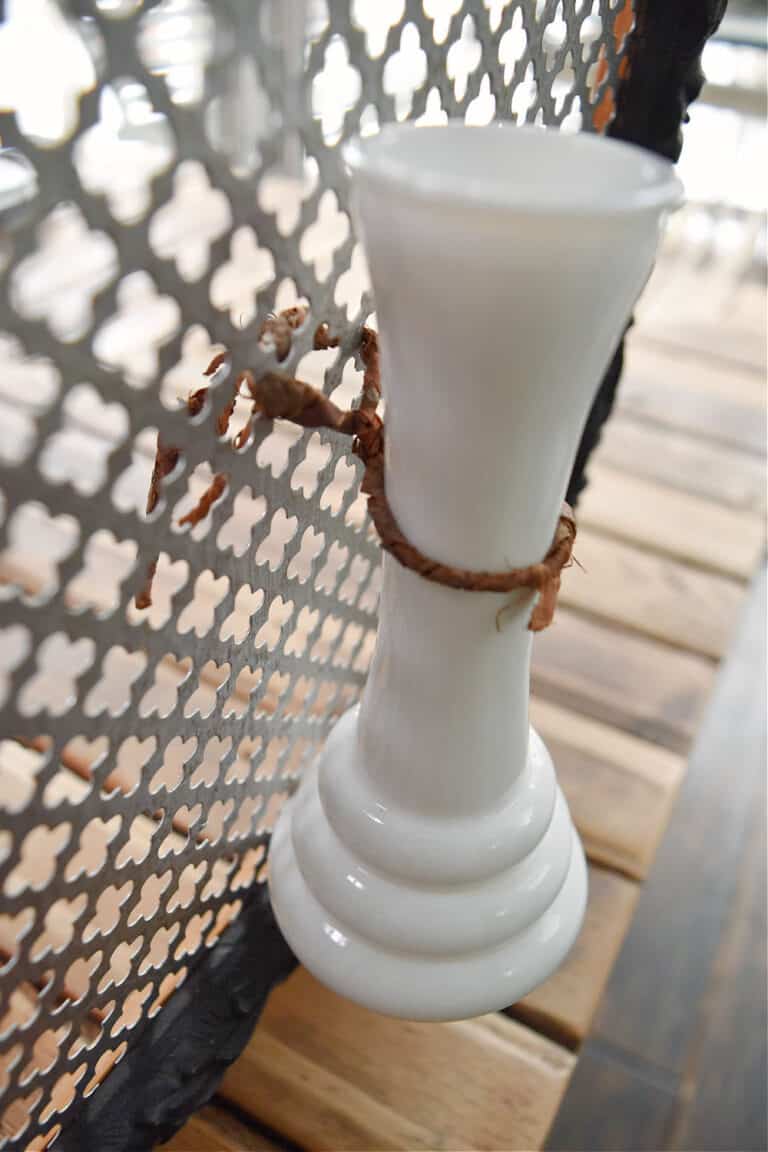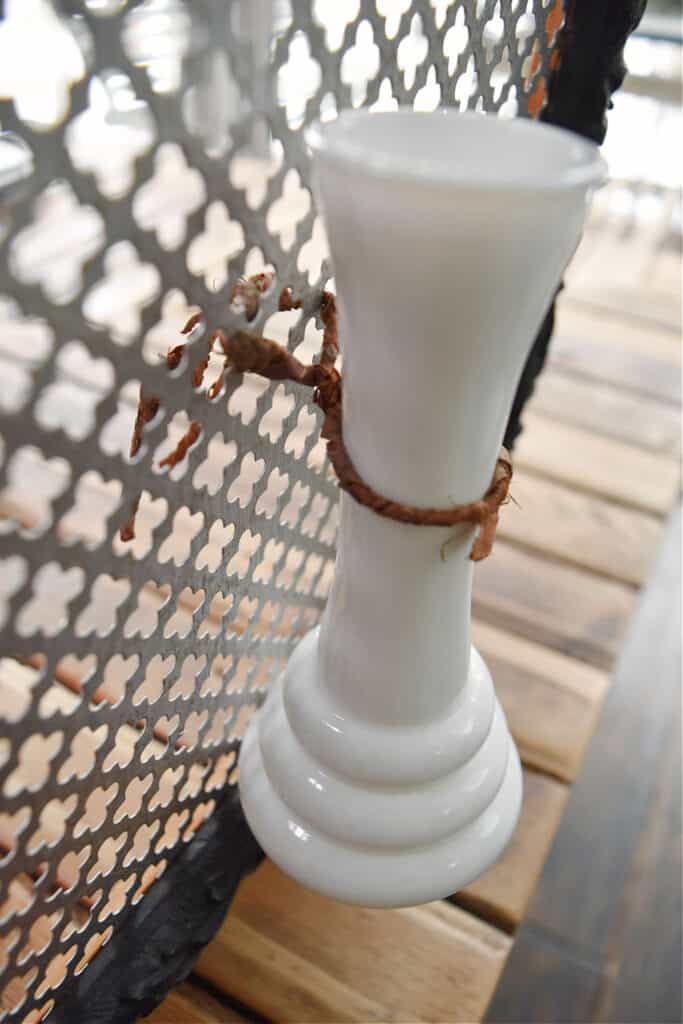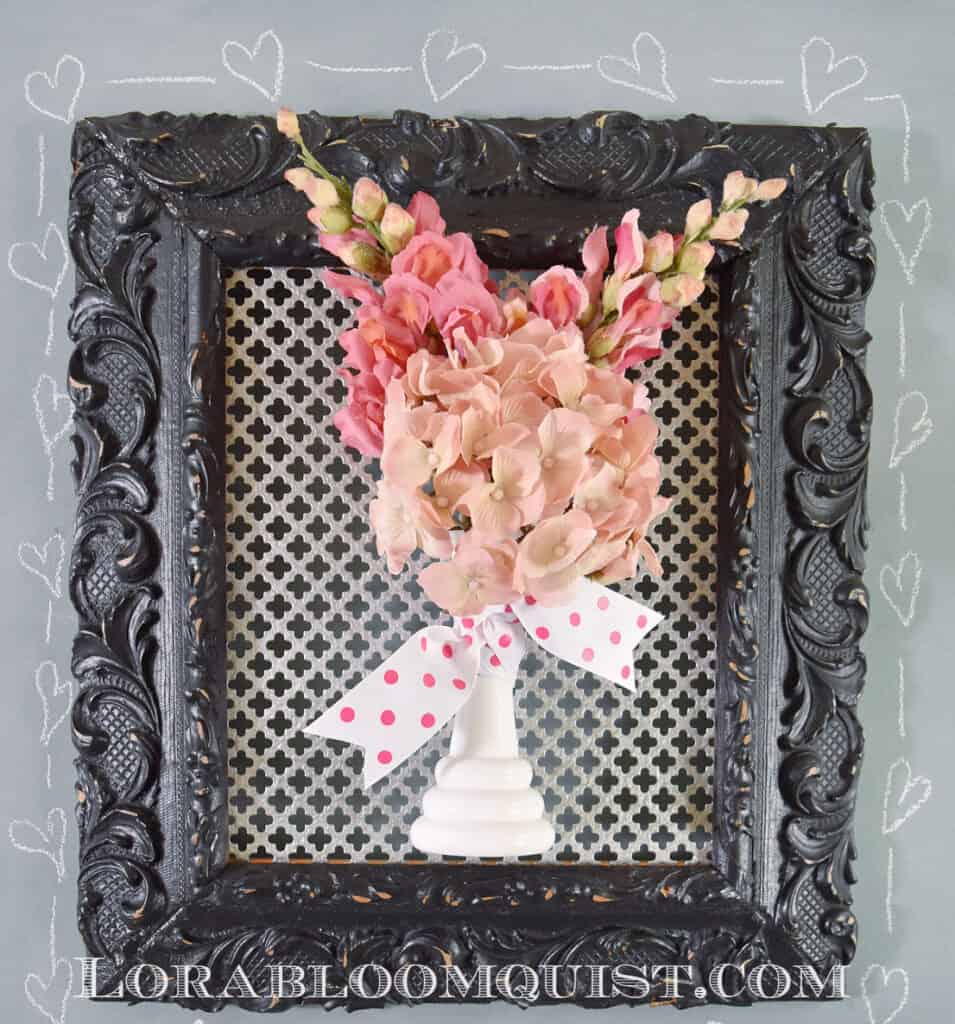 These upcycled frames are so easy and can be used in so many ways. I love decorating with a whole grouping of them. If you are a dealer, definitely whip up a bunch at a time in all sizes and show your customers all the ways they can use them. They would also be a beautiful backdrop for a wedding with vases-full of the wedding flowers, or even laying as centerpieces.
For more creative frame ideas, see the projects from my Thrifty Chicks friends below!
More of my Upcycled Frame ideas can be found in:
"Easy Ways to Repurpose and Decorate with Old Frames"
"DIY Repurposed Mirror Frame with Vintage Tin"
Hope you enjoyed this How to Upcycle and Old Picture Frame. Make sure to become an Insider to keep the ideas coming!
Pin and Share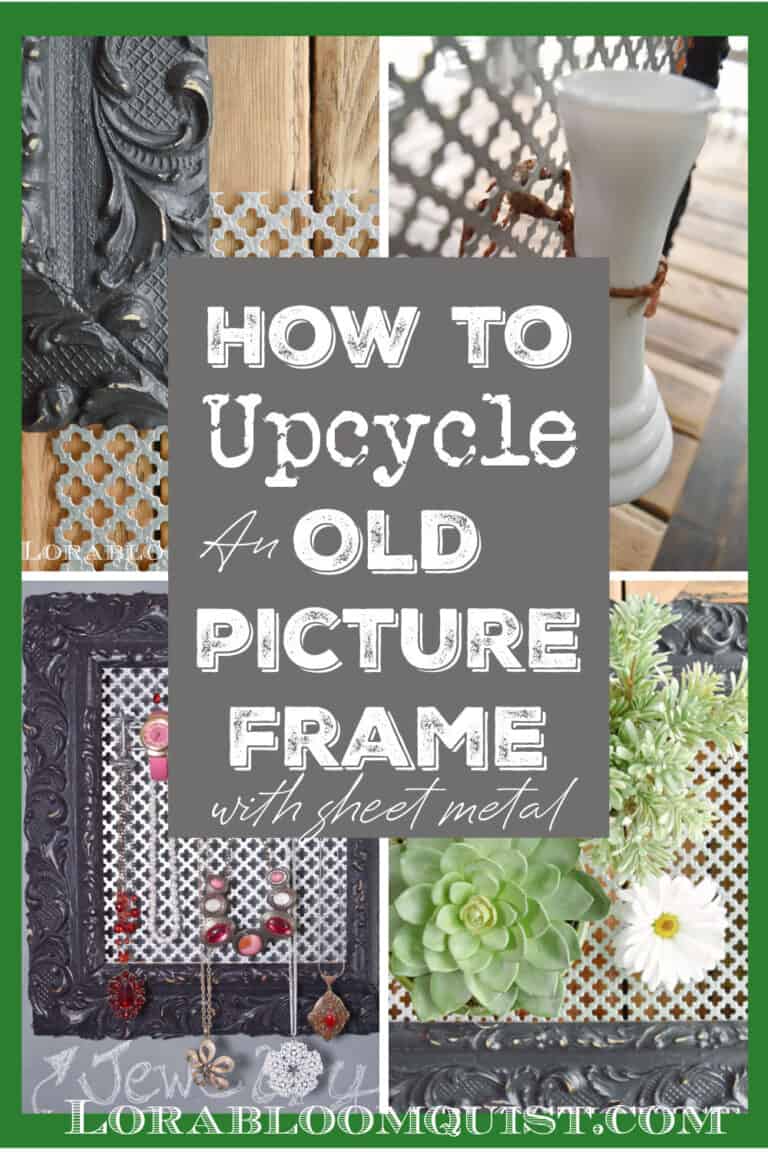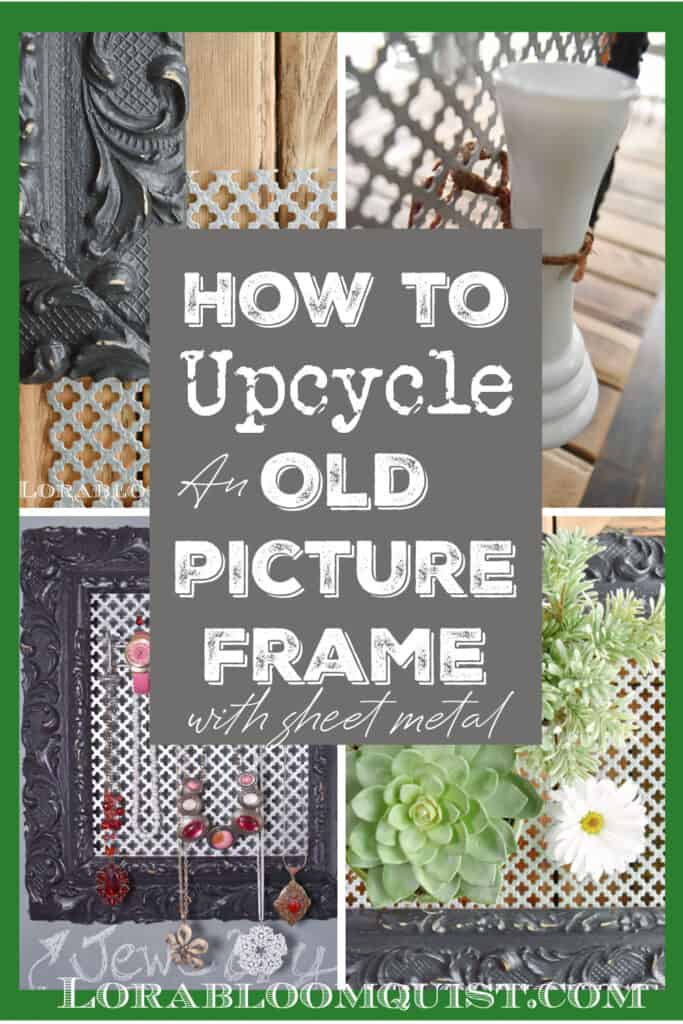 Thrifty Chicks Frame Makeovers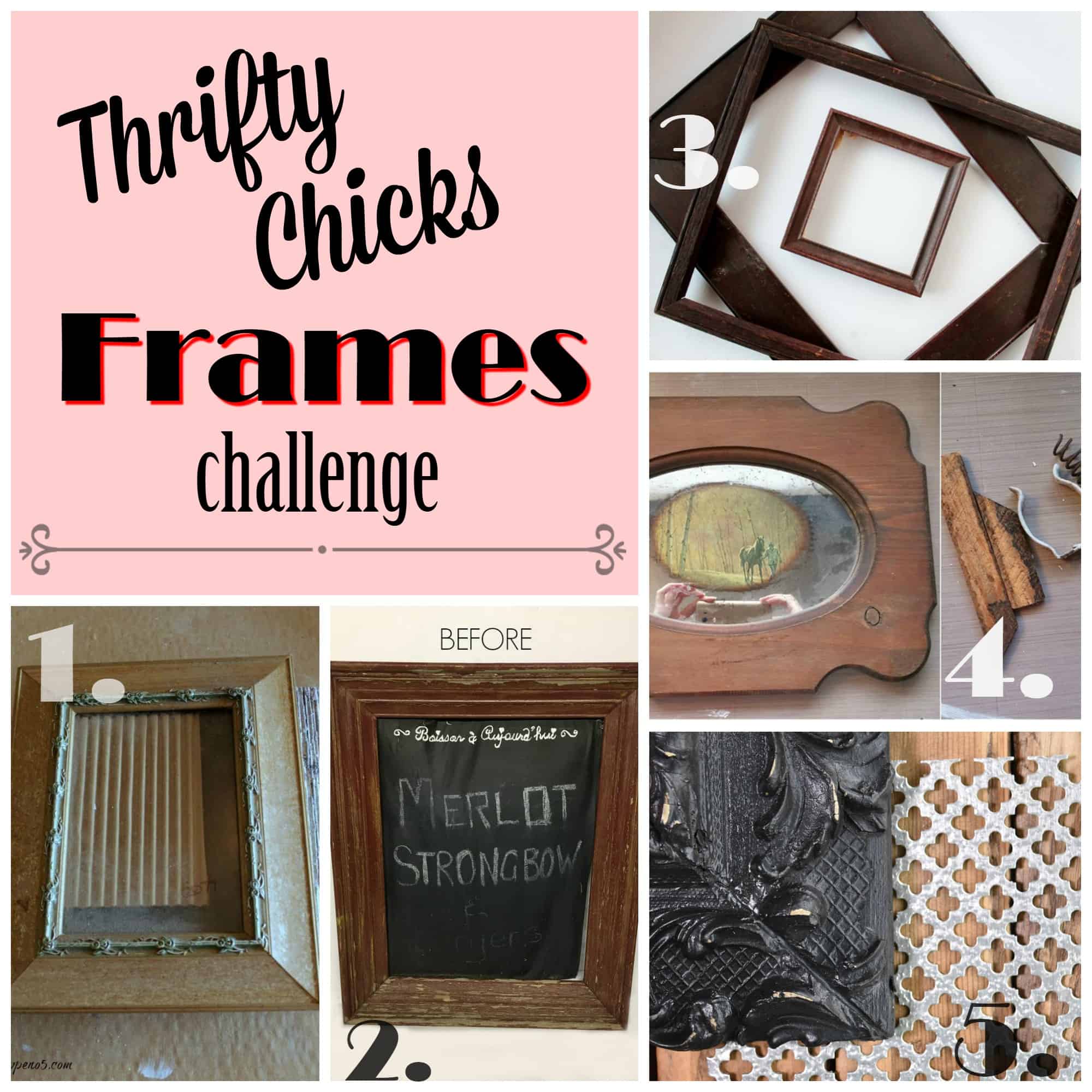 And here are the links:
Shoppe No. 5, "Update a Frame For Valentine's Day"
Interior Frugalista, "Coastal Picture Frame Serving Tray"
Adirondack Girl @ Heart, "Vintage Frame Transformation + Pretty Button Valentine"
Little Vintage Cottage, " Upcycled Valentine Picture Frame"
Me;)