How to Make an Easy DIY Fabric Bunting Banner for Unique Decor
How do you make a fabric bunting banner? this easy homemade fabric bunting DIY can be a charming garland accent as unique and personalized decor. Here are different ways you can make a cute banner in an afternoon!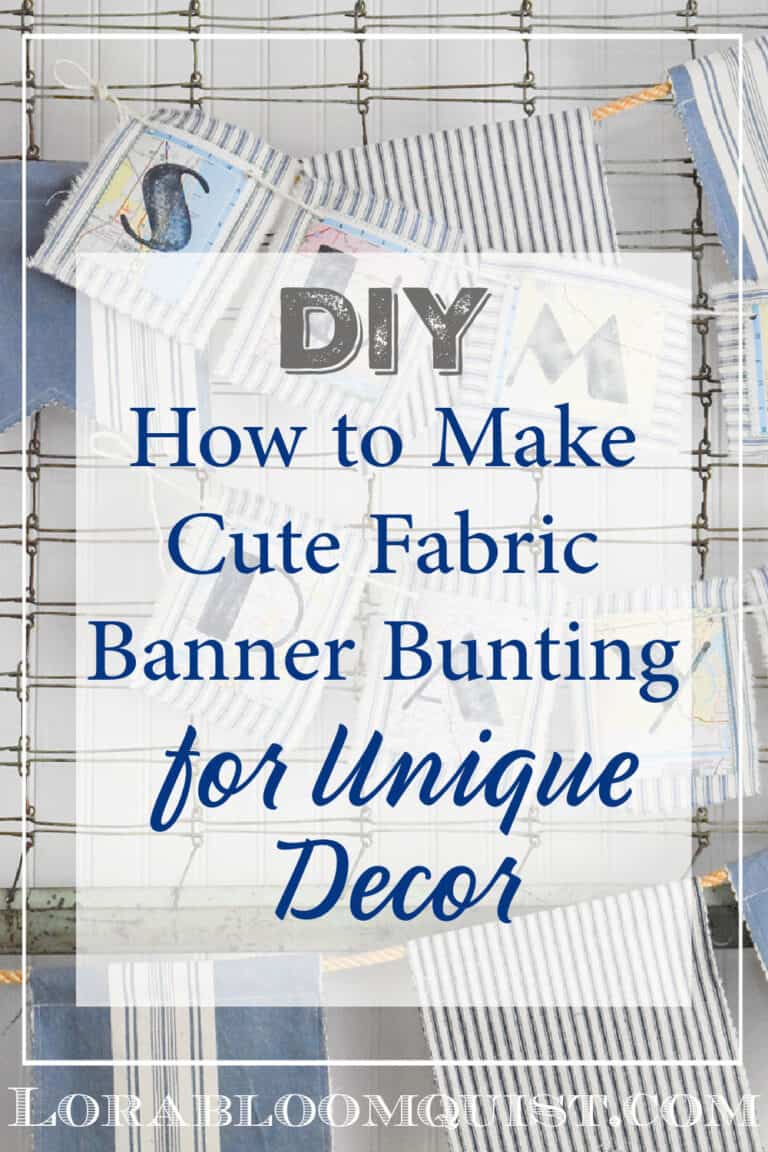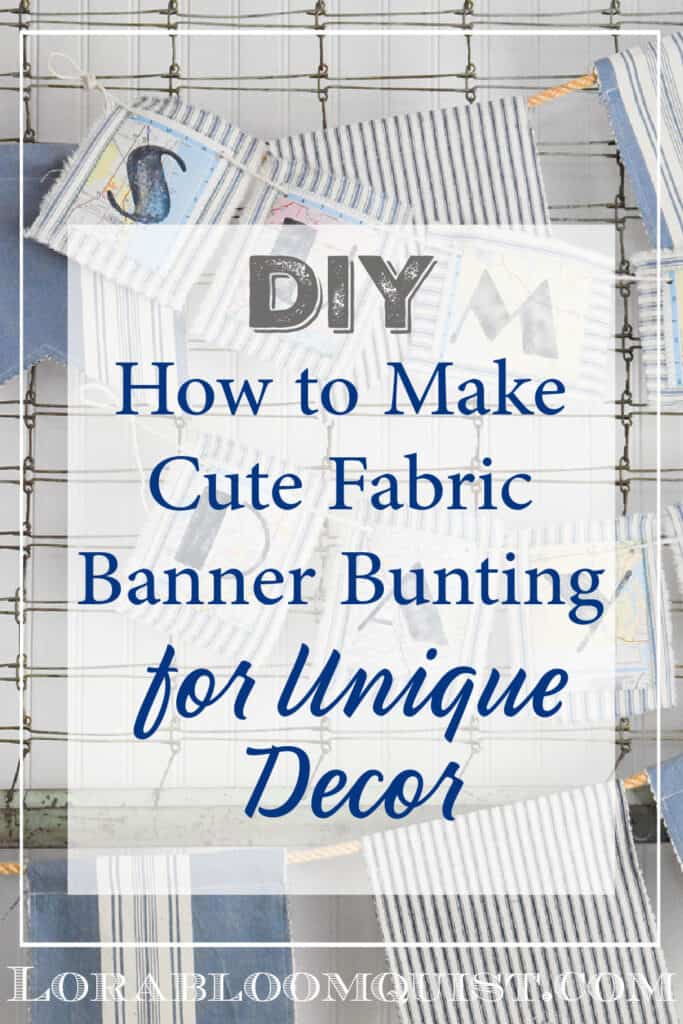 Adding a unique touch to your decor can be as easy as crafting a simple banner. Whether you want to add stenciled words to a garland or feature images that coordinate with your decor theme, this fabric bunting banner can be customized easily to your look. Here's How to Make an Easy DIY Fabric Bunting Banner for Unique Decor.
I've made several different versions of this simple garland through the years. When a reader recently asked how I made the Christmas banner she saw in our bedroom I decided to do a how- to post and explain how I whip these up. Of course each version has been a little different because I can never do the same thing twice, but I'll give you the options so you can make your own!
How to Make an Easy DIY Fabric Bunting Banner for Unique Decor
For your convenience, this post contains affiliate links. If you make a purchase, I may receive a commission. There is no additional cost to you. My full privacy policy is here.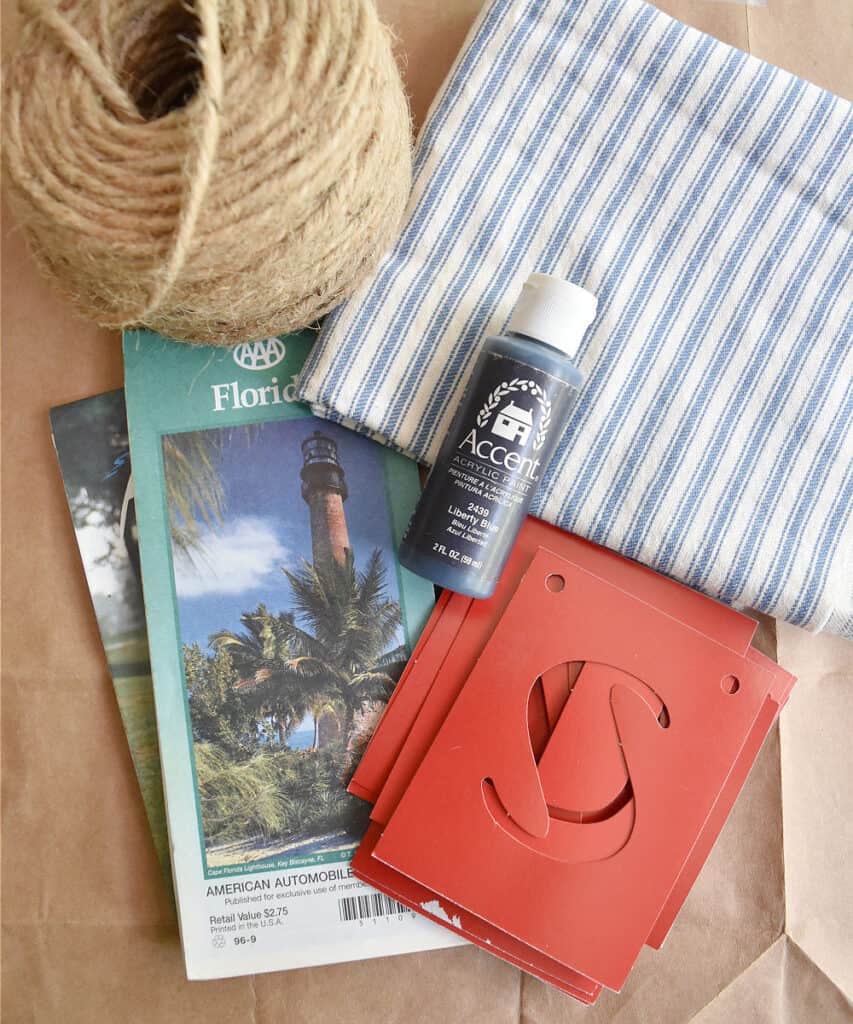 Materials needed:
Choose Paper for Your Banner
To start, choose what type of paper you want for your banner. I've used vintage music (for the Christmas version), printables I bought on Etsy (vintage seed packets) or free printables I printed out (I have Herb ones in my free Resource Library). You can also use printed crafting paper. For this project, I used an old map.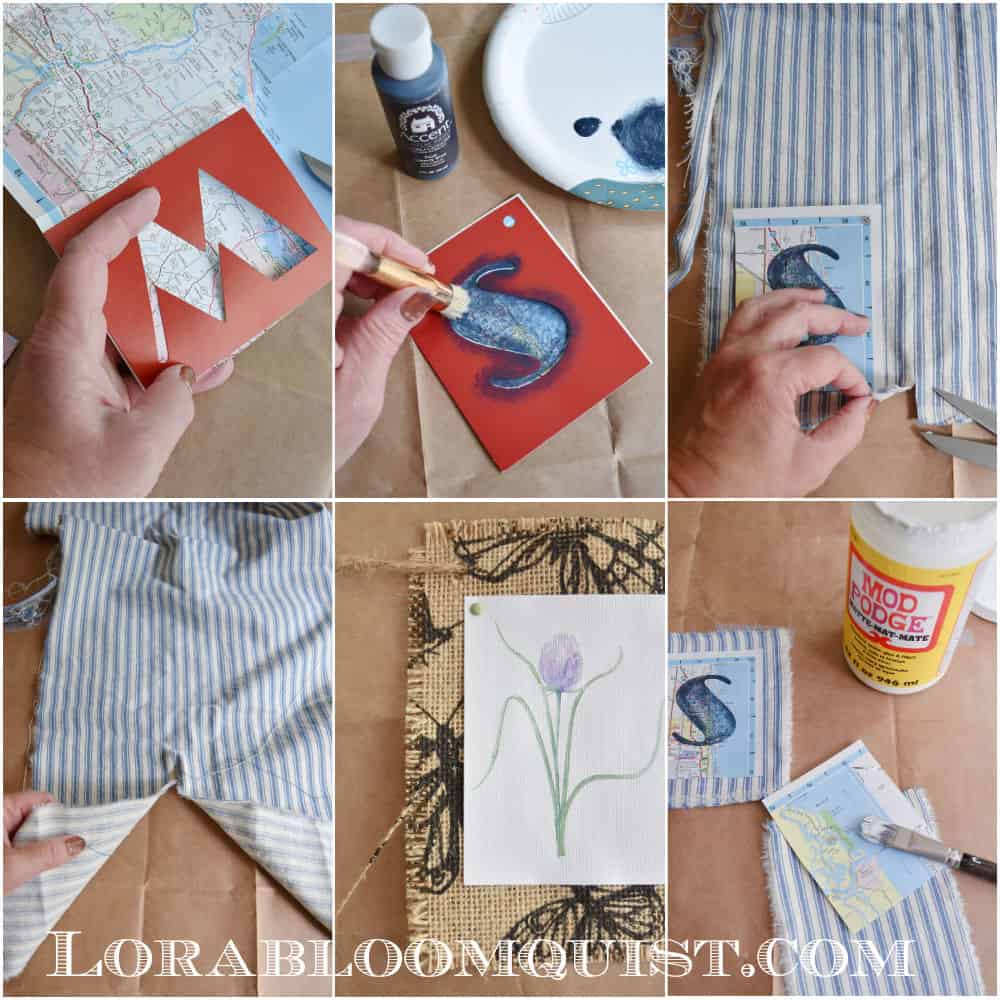 Cut Paper Squares
Once you've decided on a paper, cut squares or rectangles the size you want. I normally do 3 1/2″ x 4 1/2″, but it can depend on your stencil size and the size you want the banner to be.
Stencil Lettered Banner
If you are making a lettered banner, stencil the letters on your paper squares. When stenciling, use a small amount of paint and dab most of the paint off the brush. Use a swirling or pouncing method to paint. The letters don't have to be perfectly filled in; leave some spaces lighter on the inside and more color saturated around the edges.
Rip or Cut Fabric
The look of these banners are rustic; you don't want them to look like store-bought perfection. They will be a unique addition to your decor. To get a handmade look, rip your fabric into squares or rectangles rather than cutting. Start with a little snip to start and rip the rest.
If using burlap, cut squares but then remove threads for a folk-ish edge.
Glue Paper to Fabric
The easiest way to adhere the paper squares to the fabric squares is with modge podge. Simply brush a light layer of glue onto the back and press to the fabric. You can also modge podge over the front side of the paper if you want a more wipeable and pliable surface (like I did for this seed packet bunting).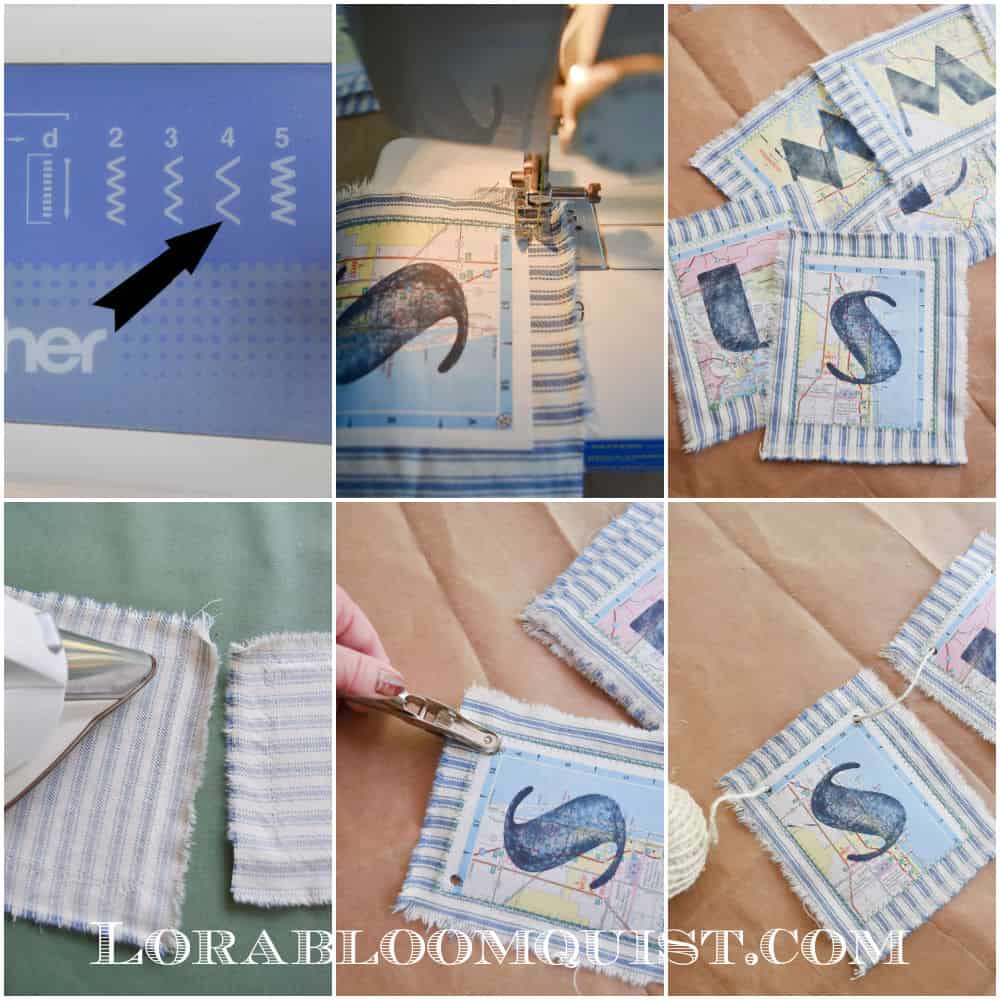 Add Decorative Stitching
Totally optional, but you can add decorative stitching using a sewing machine. I used #4 stitch style on my machine and stitched around each paper letter square with green thread. You could also add trims like buttons or brads for extra texture.
Iron the backside to straighten and keep corners down.
Make Garland Banner
For the easiest assembly, punch holes in corners of paper and string twine through. Another option would be to fold over the top edge and sew (or glue) a pocket that the twine can go through (the Christmas version is like this). Leave enough twine at either end so you can tie the garland up anywhere. Your letters should be able to slide back and forth or be taken off for easy storage.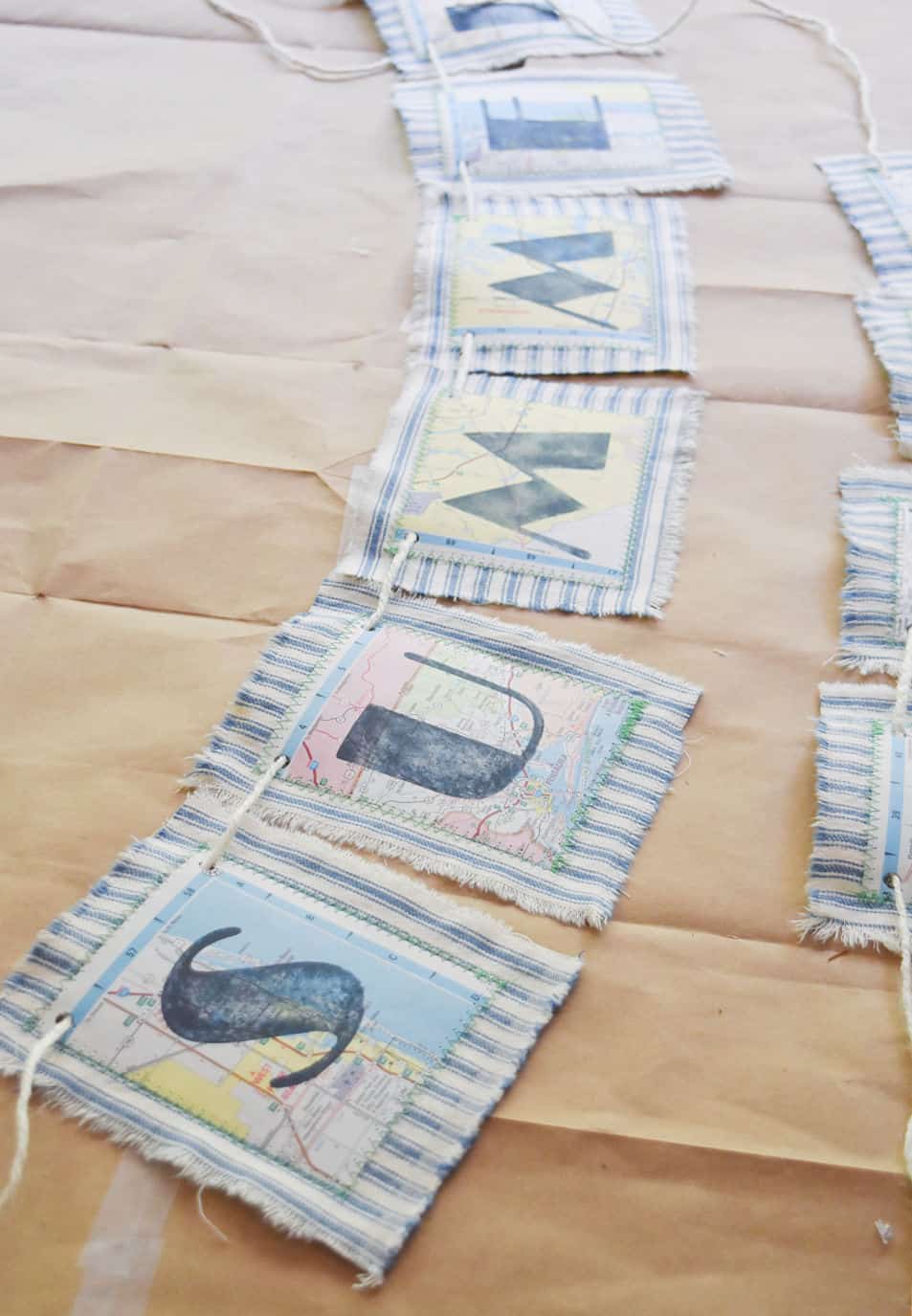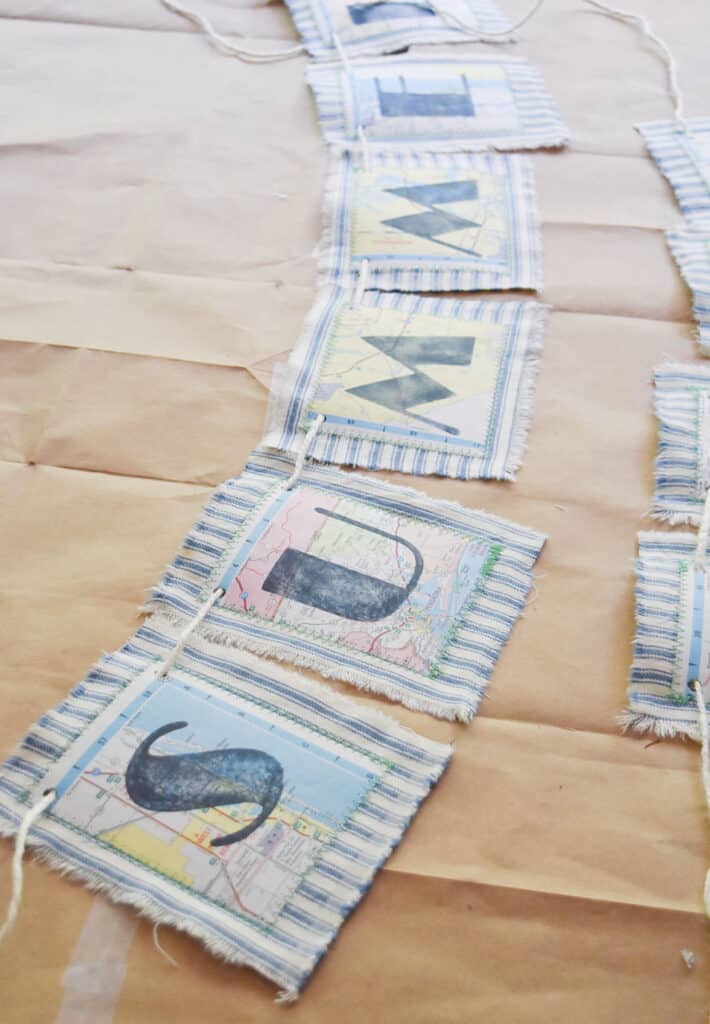 Add Your Custom Handmade Banner to Your Decor
These homemade banners are fun to make for parties or to coordinate with your themed decor. This Summer Days banner pulls together the look on our mantel. I used to make these for vignettes when I owned a store and customers always wanted to buy them. They could also be a fun DIY gift!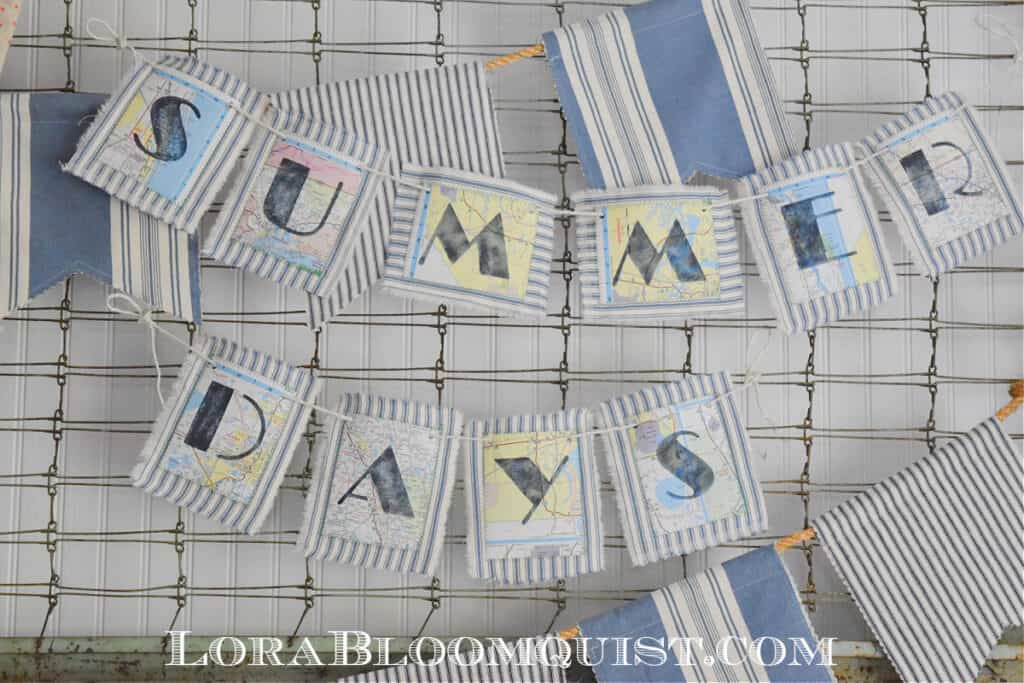 Here are some different versions I've made through the years to inspire your creative ideas: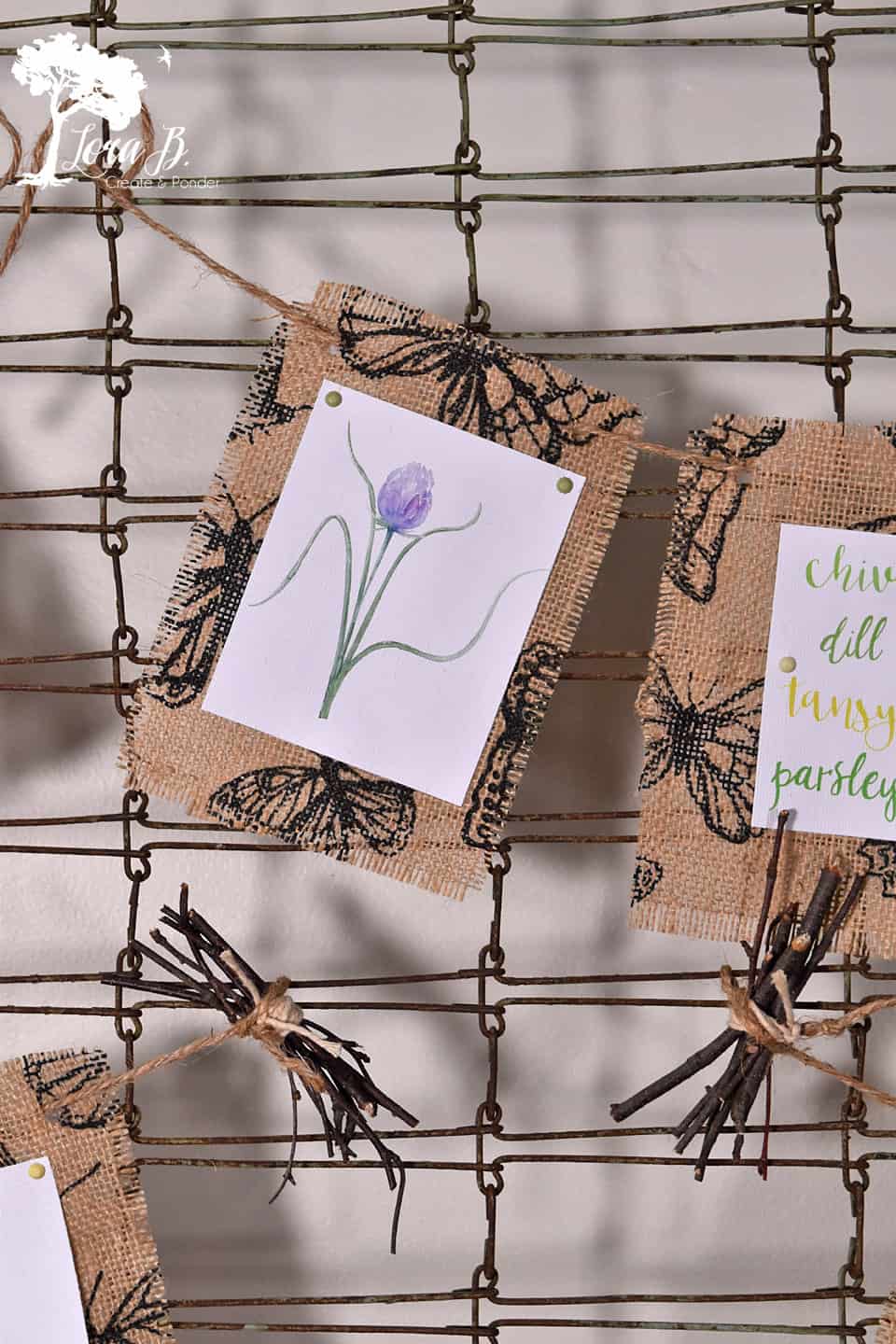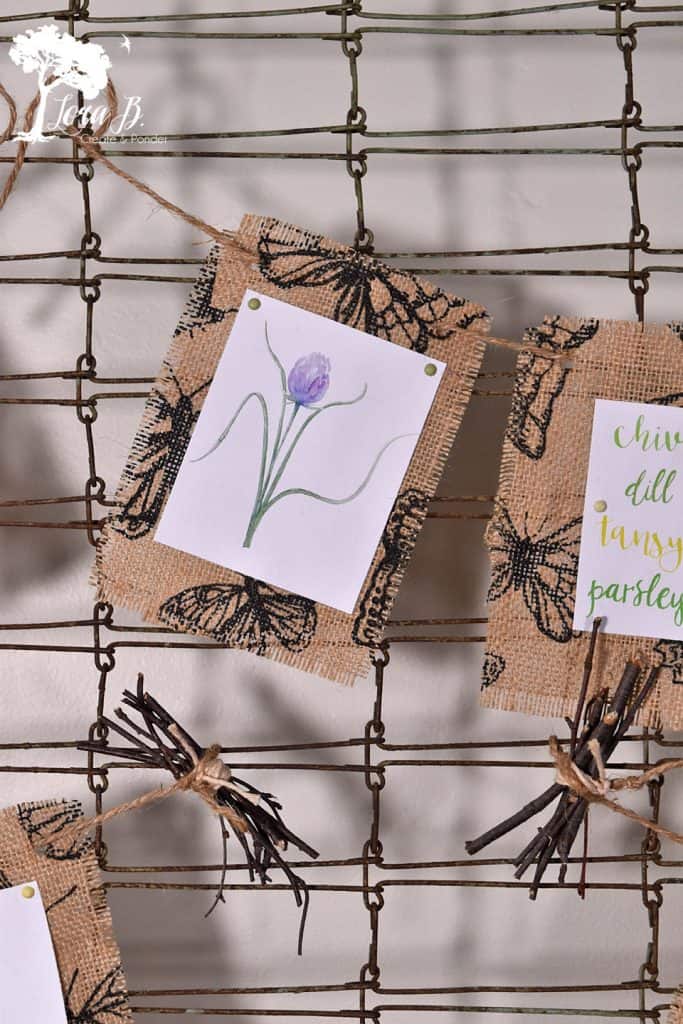 The herb printables can be found in my free Resource Library; sign up to be an Insider to get access HERE.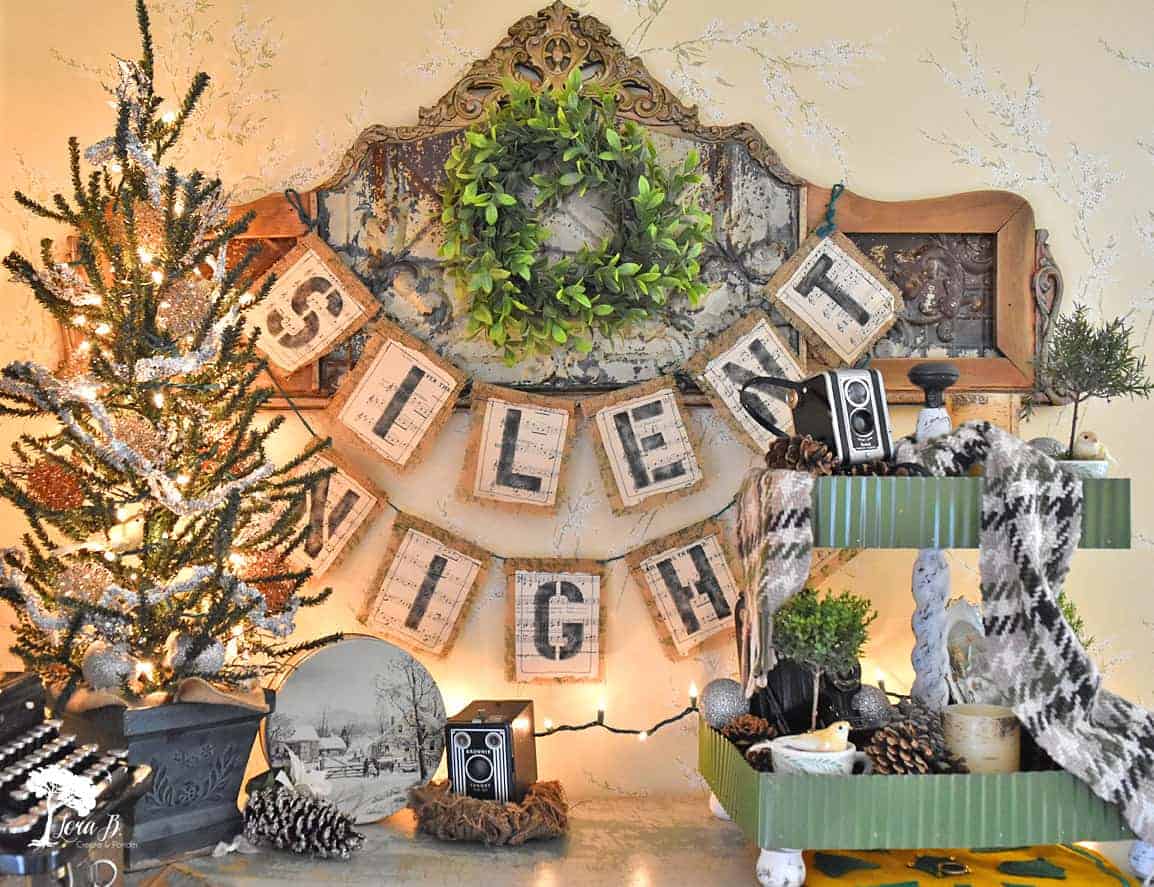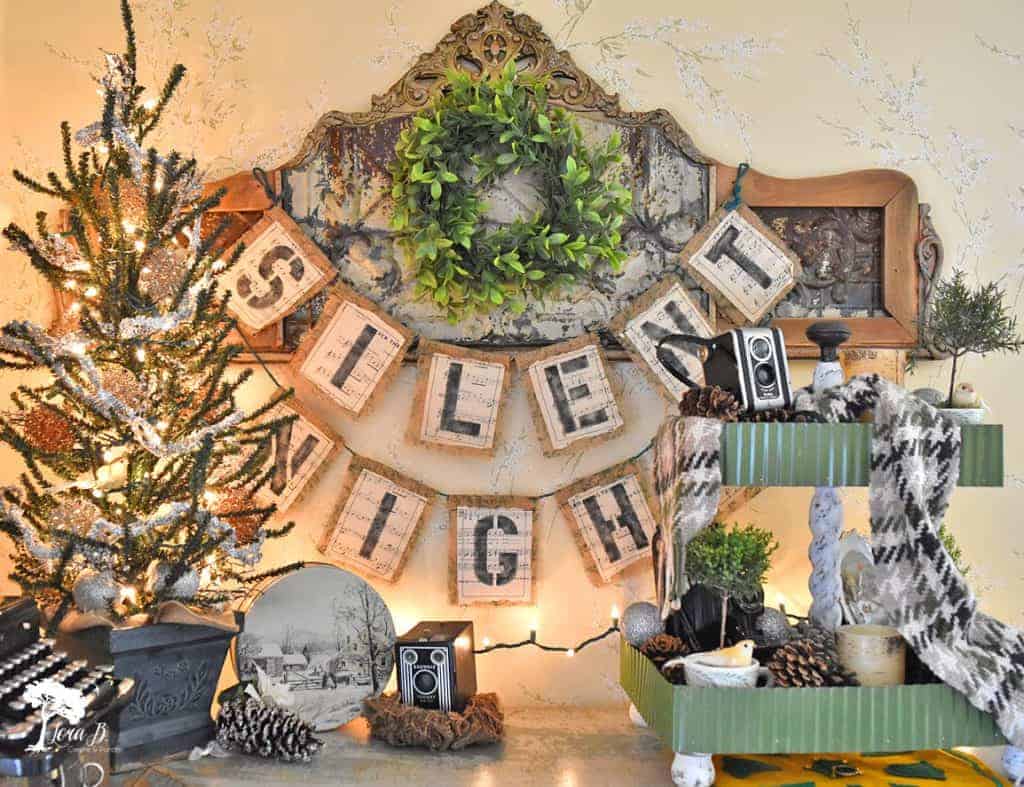 See my Vintage Lover's Christmas Bedroom Tour.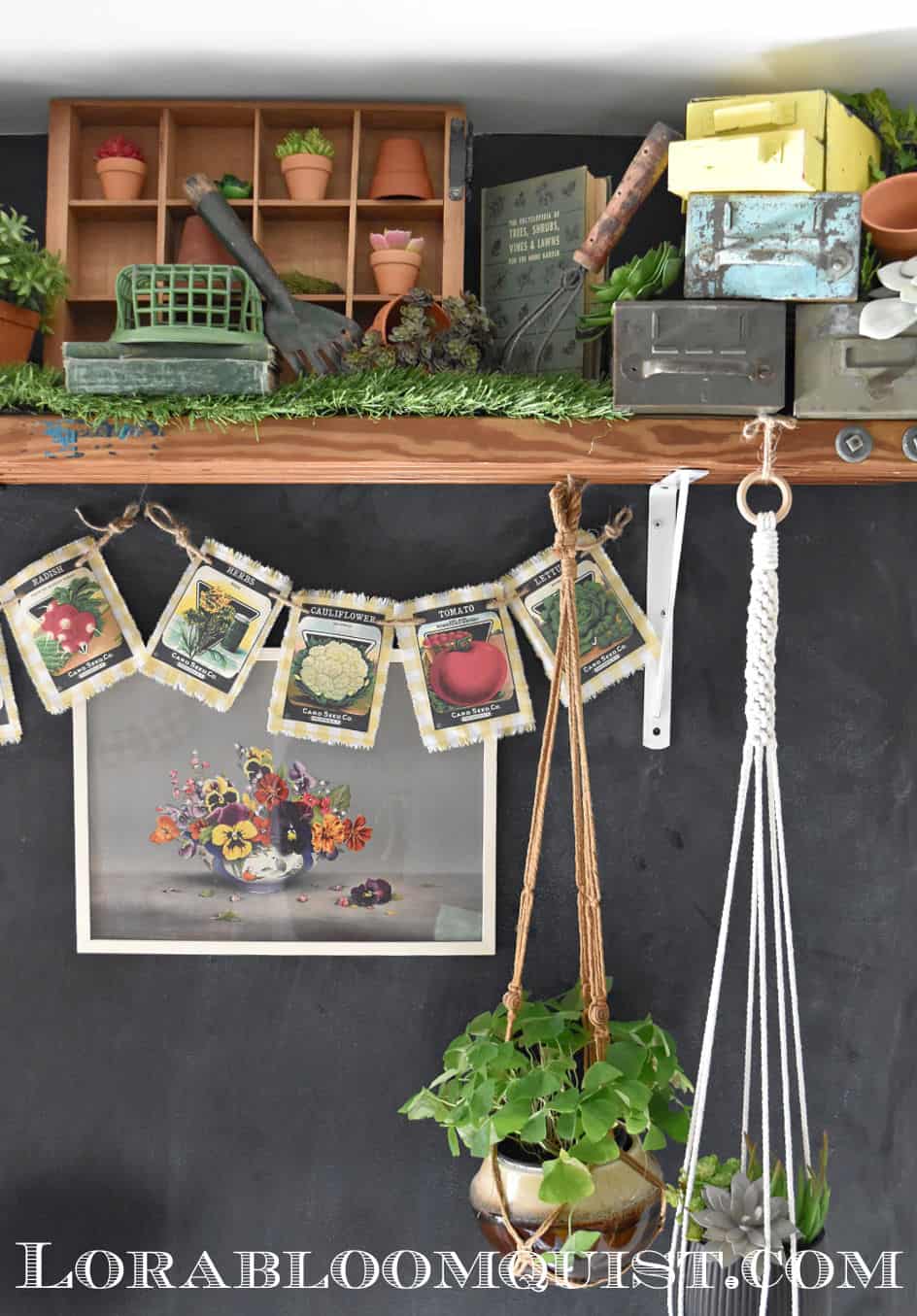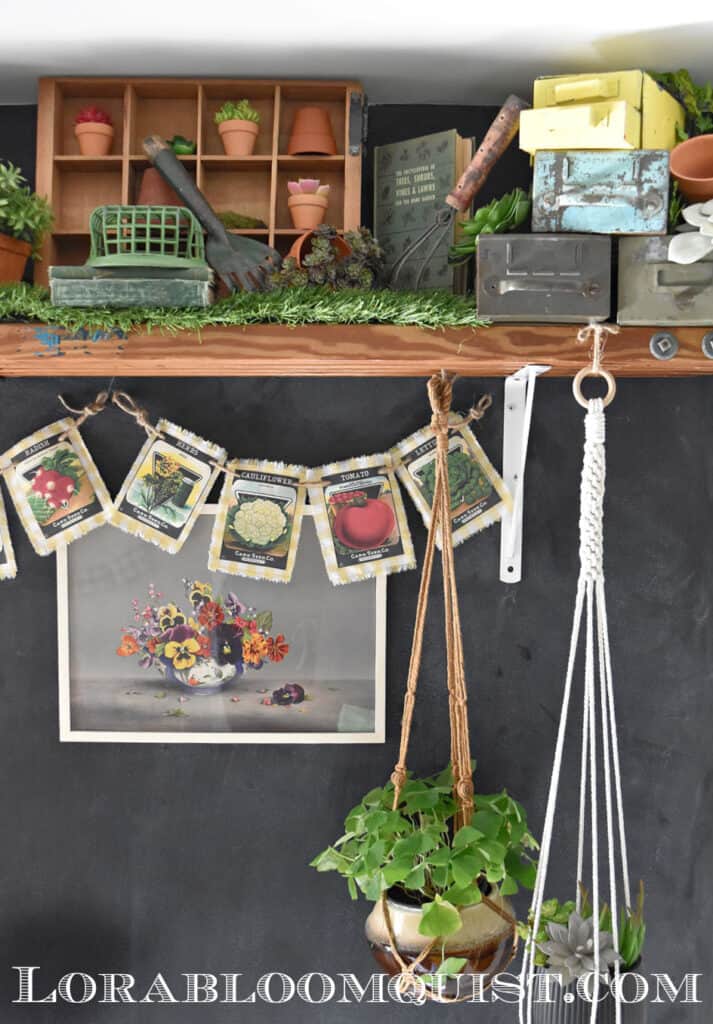 "Garden Shed Decorating Theme in the Studio"
As you can see, the sky is the limit for your creativity! You can use different kinds of paper, a variety of plain or printed fabrics and any color twine. You can also add embellishments or stitching for added cuteness.
Are the ideas coming to you? I hope so!
Thanks for reading How to Make an Easy DIY Fabric Bunting Banner for Unique Decor. If you enjoyed your visit, be sure to sign up to become an Insider, so I can send the ideas right to you! (see HERE)
Follow Me: LTK | Amazon | Pinterest | Instagram | Facebook
pin and save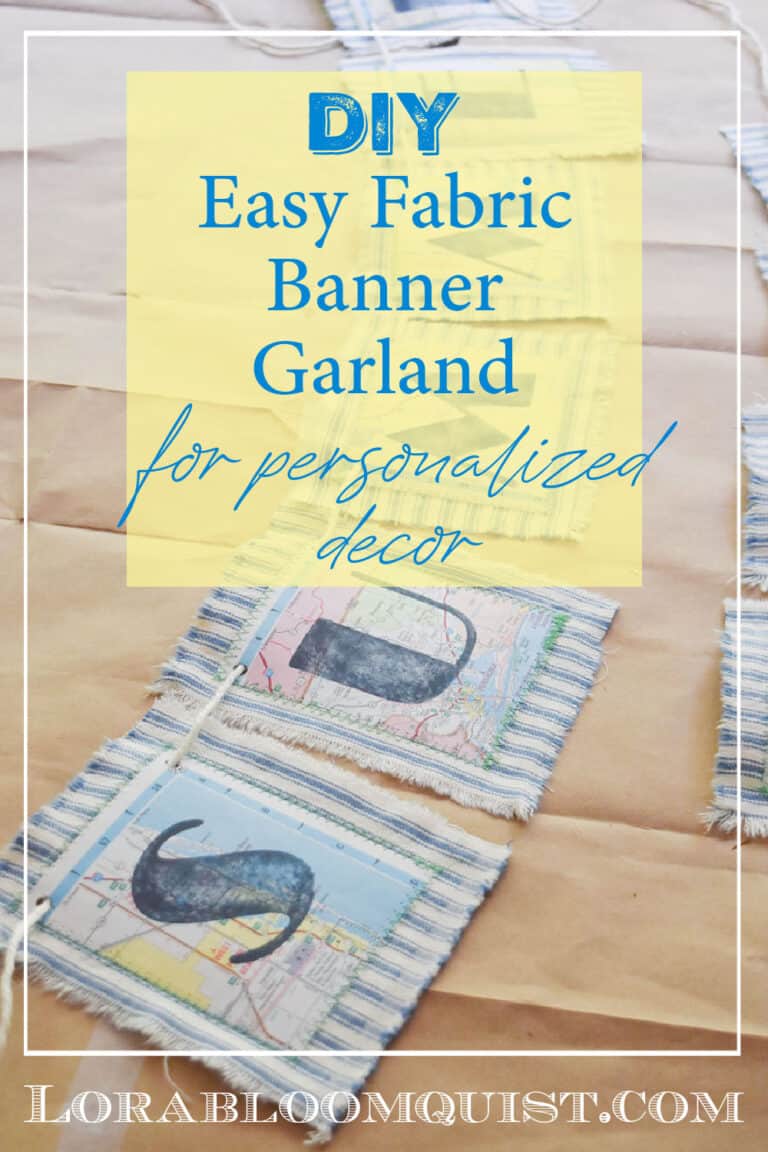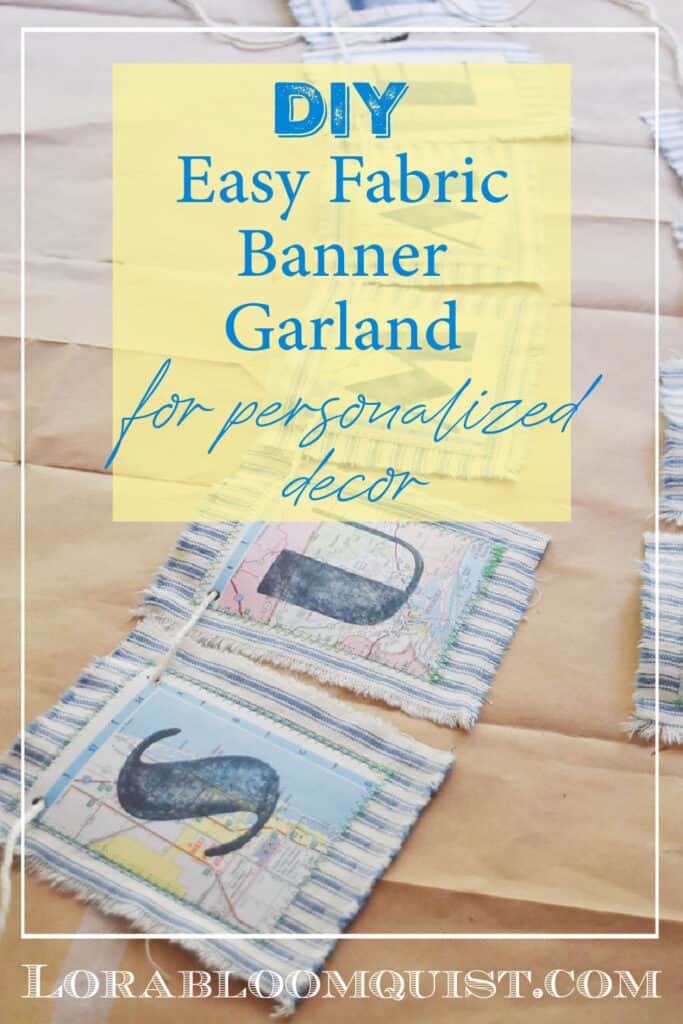 Sharing at these lovely parties: