How to Decorate a Simple Spring Mantel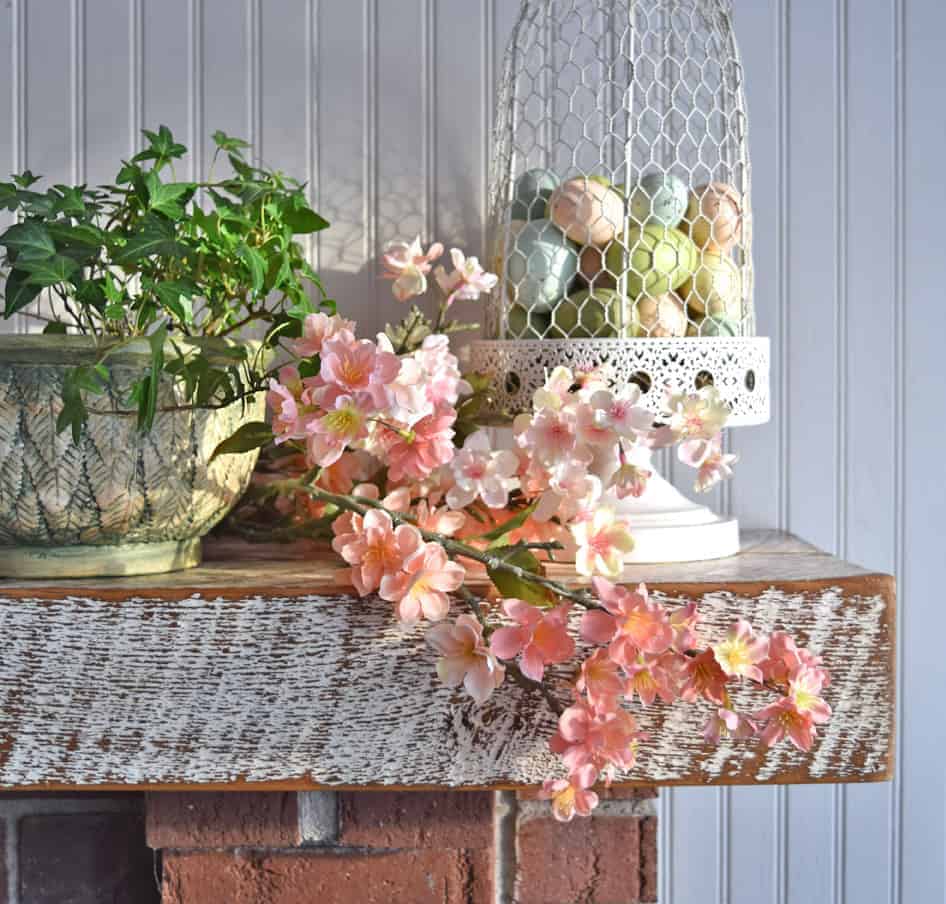 Spring is busting out all over, and it's time to switch up your seasonal home decor! A great place to begin is with your fireplace hearth mantel, if you have one. If not, substitute the top of a buffet or large piece of furniture. Starting your spring decor with a pretty display will inspire you to keep going! Here are some tips for How to Decorate a Simple Spring Mantle.
Today's post is part of a monthly Pinterest Challenge, organized by Cindy at County Road 407. If you're swinging over from A Stroll Thru Life, I'm sure you enjoyed Marty's classy style. Be sure to soak up all the inspiration from my talented friends down below!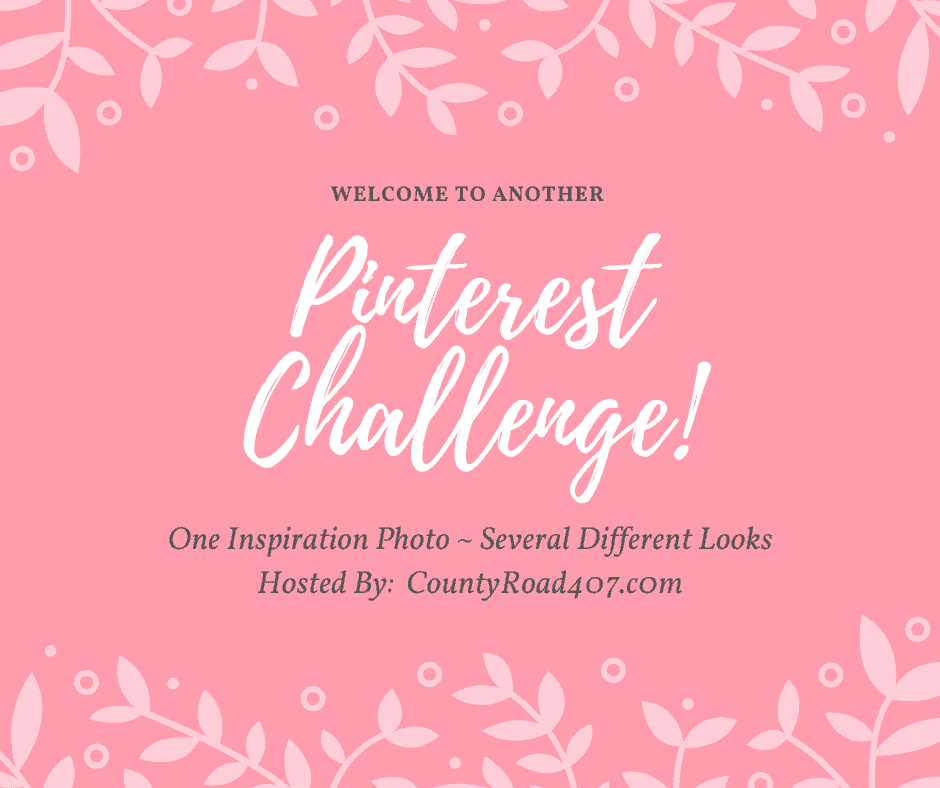 Every month, Cindy chooses an inspirational, seasonal pic from Pinterest we all design around. Today's pic is from Deborah at Hip and Humble Style. She has a great DIY for Faux Spring Cherry Blossom Branches. You can catch the how-to and a glimpse into her pretty home HERE. I could move right in!
Isn't this such a pretty spring decorated mantel? Simple and fresh. Let's take a look at some of the elements, so we can create our own, similar look.
Here are the design elements I noticed in Hip and Humble's pic: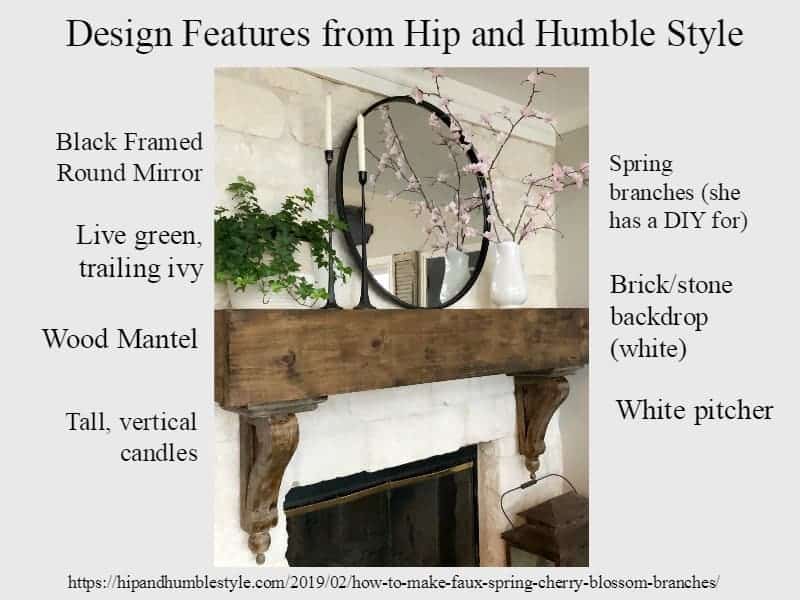 I really like the overall coloration of this scene, too. The wood against the white, the pop of black with the pastel pink, and the live green plant. I was excited to recreate this look for myself! Hopefully the ideas will inspire you, too!
How to Decorate a Simple Spring Mantel
For your convenience, this post contains affiliate links. If you make a purchase, I may receive a commission. There is no additional cost to you. My full privacy policy is here.
First, Choose a Backdrop for your Spring Mantel
With the days growing longer, a mirror is the perfect way to capture that spring sunshine and use as a backdrop for your display. Round mirrors are a hot trend right now and I almost bought one for this challenge. But sticking to my vintage roots, I decided to give our old bathroom mirror a refresh with a coat of black paint. Think this vintage mirror was originally from a vanity I split apart years ago.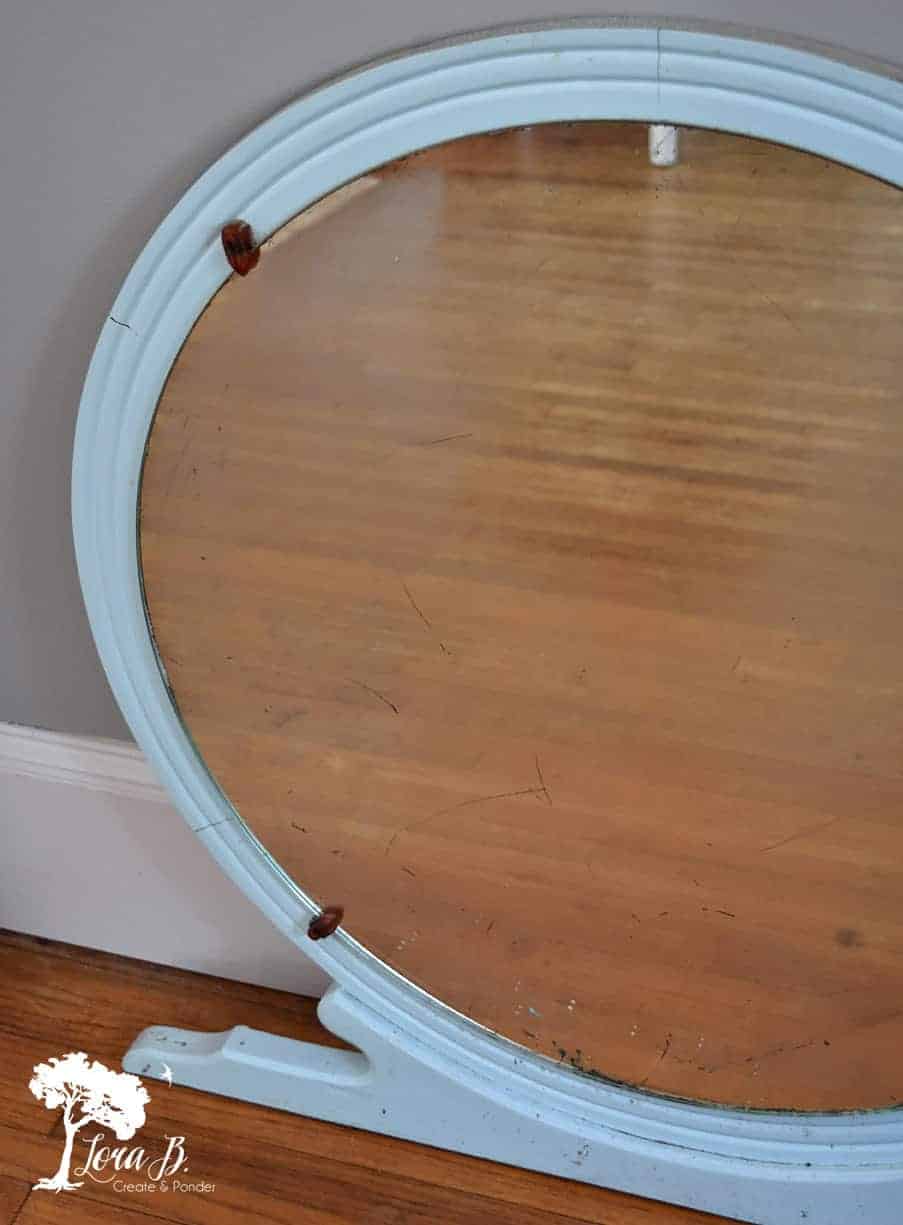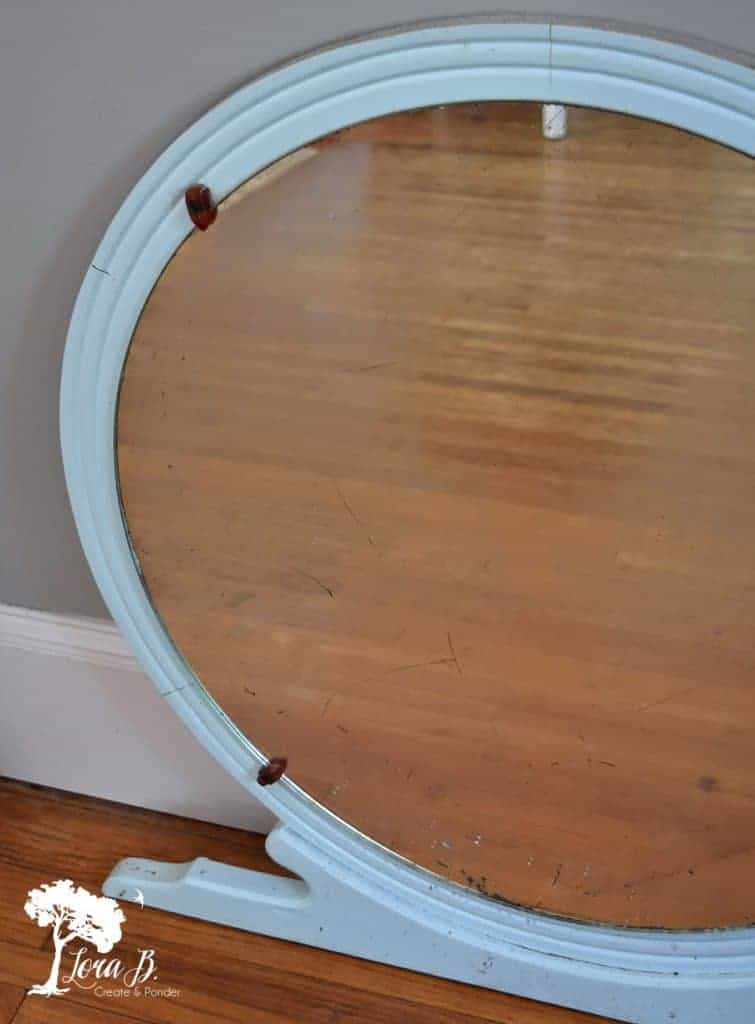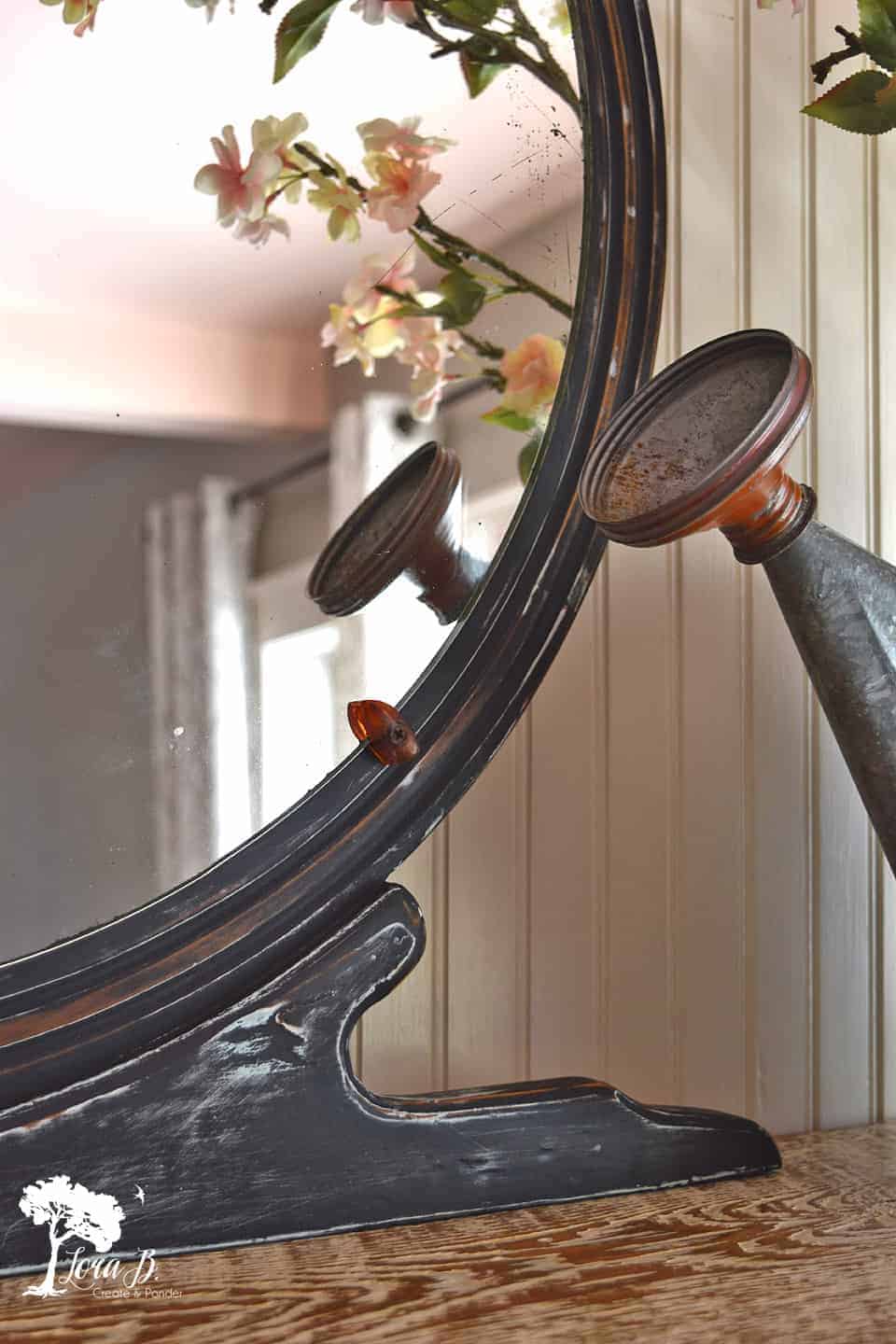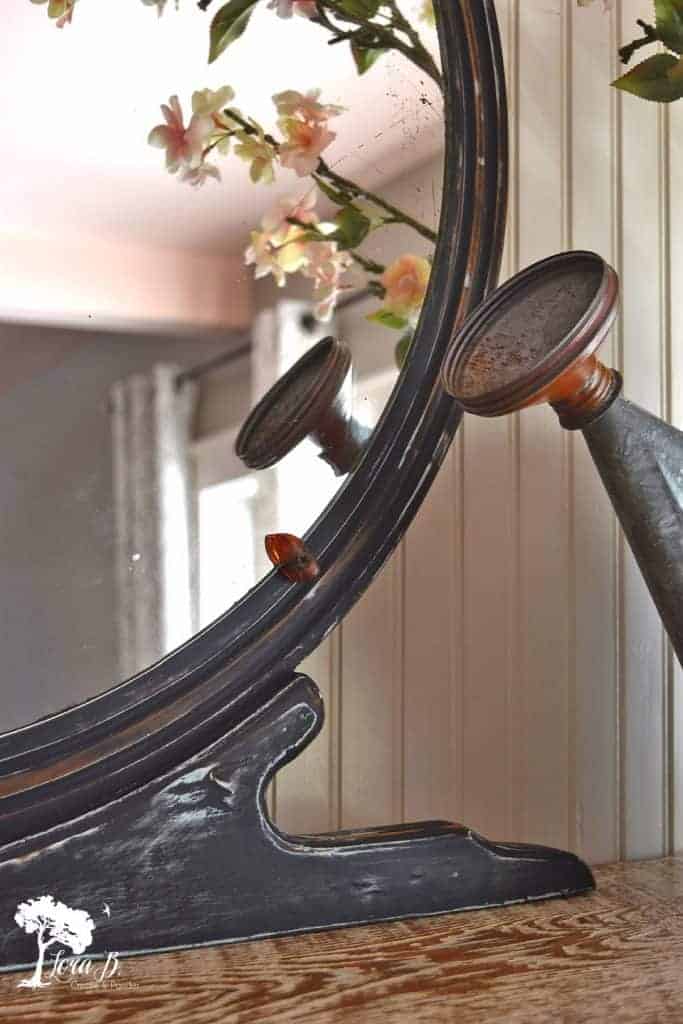 I took the mirror off and gave the aqua paint a little sanding with 100 grit. Then I brushed on 2 coats of Miss Mustard Seed's Milk Paint in Typewriter (you can get it HERE). Once dry, I distressed it by hand and wiped on a sealer coat of hemp oil (you can get it HERE). I love how a little bit of the aqua paint shows through and also a bit of the wood color. This mirror has always been one of my faves with it's Bakelite mirror holders; I love it even more now!
Add Spring-Blooming Branches to your Simple Spring Mantel
Springtime blooming trees hearken the beginning of spring. They're like seeing the first robin. I love spreading them around my home in their various colors of whites and pinks, along with yellow forsythia branches. This year I spotted some pretty coral colored branches that needed a spot on the mantel. Corals and pinks are a sure sign of spring!
Unfortunately my little pitcher was too small to handle the height of the tall branches like in the inspiration pic. A vintage galvanized watering can with some rocks inside brought a little of my junky style to the scene. (This is a "new" aquisition from "Latest Vintage Finds and How to Refresh Them") Use what you can find around your home that fits your style!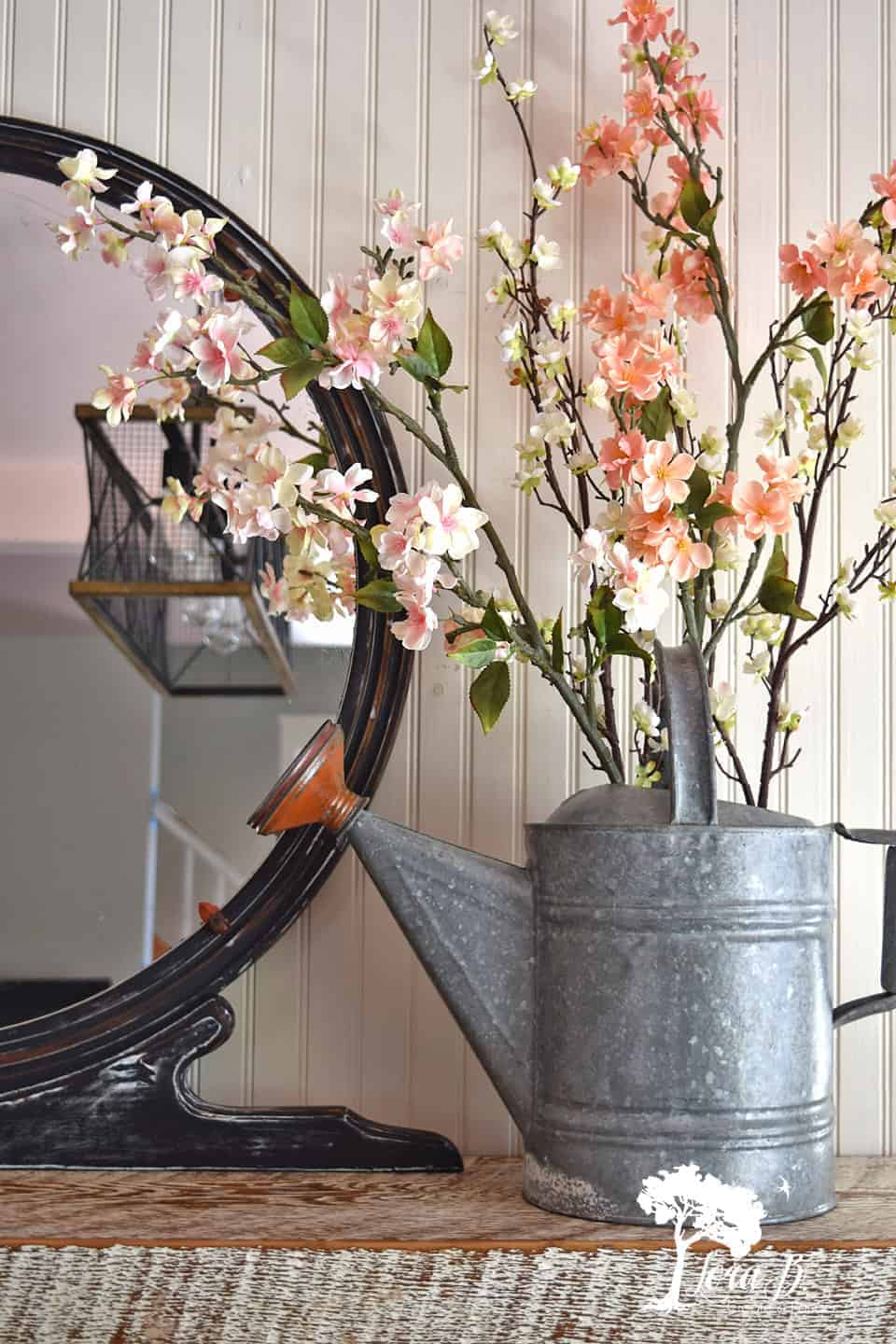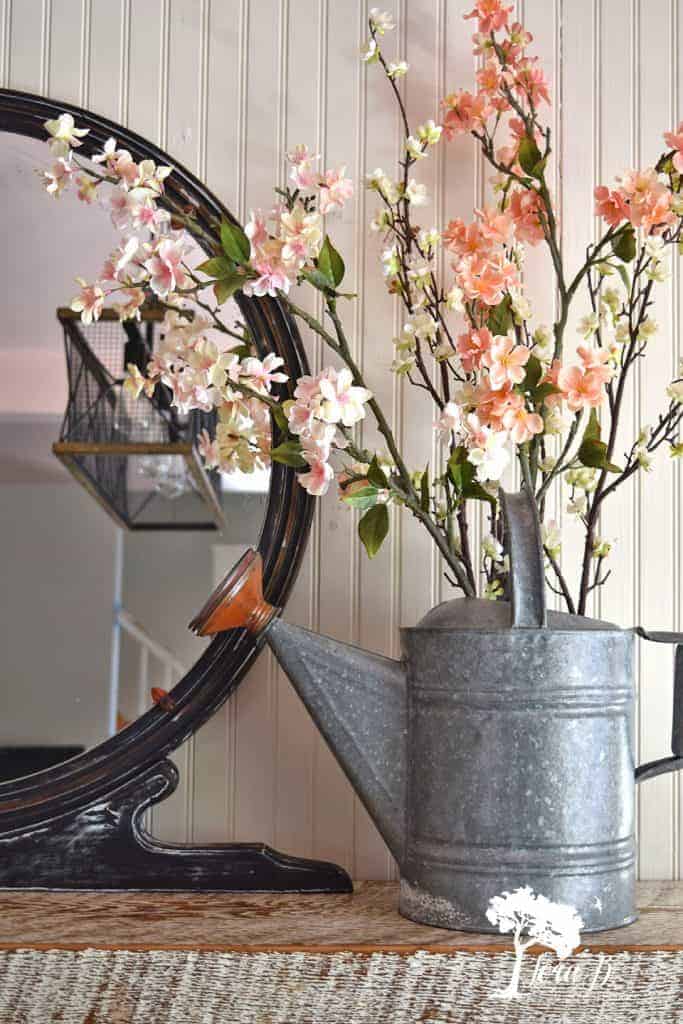 Add Springtime Eggs to your Spring Mantel Decor
The inspiration pic had 2 tall candleholders to the left of the round mirror. Very elegant looking, but I didn't have anything similar. For a different vertical effect, I placed springtime speckled eggs into a chickenwire cloche. To give it extra height, I placed it on a couple of vintage books.
Unfortunately 2 bags of eggs weren't enough to fill up the space in the cloches and I wanted the eggs to extend the eye upward. Rather than buying more eggs, I used a cheap excelsior grass filler between the layers. The added texture is great and the overall look is more vertical.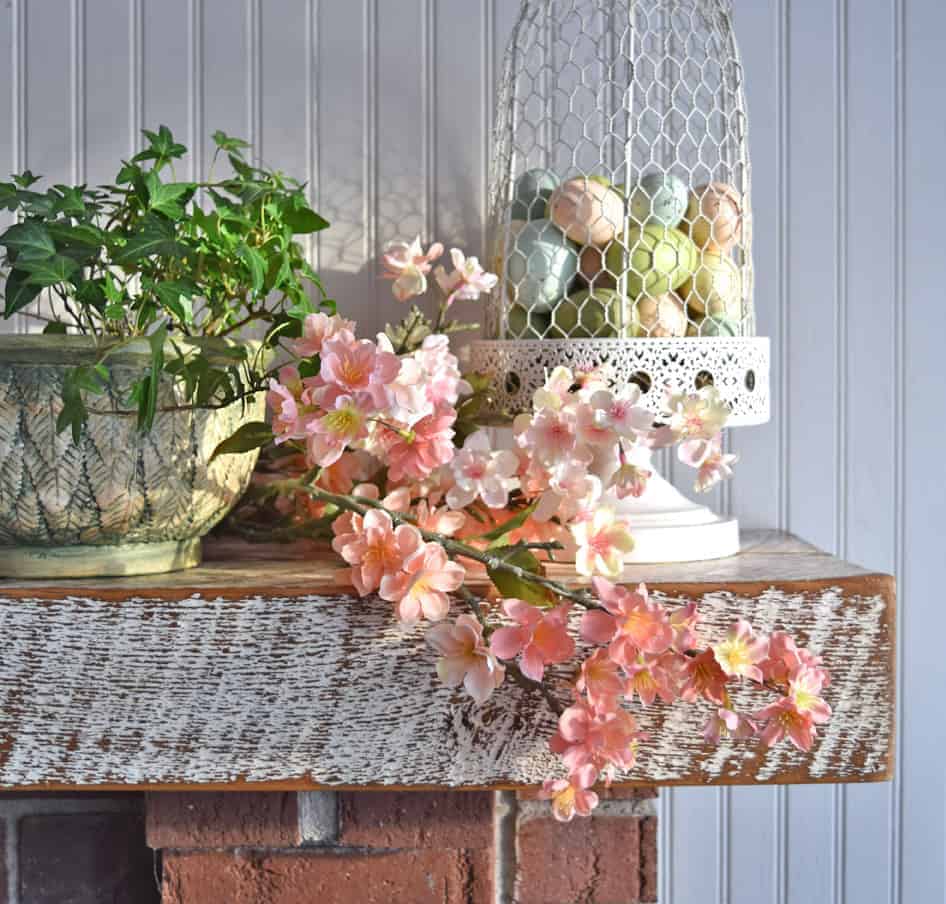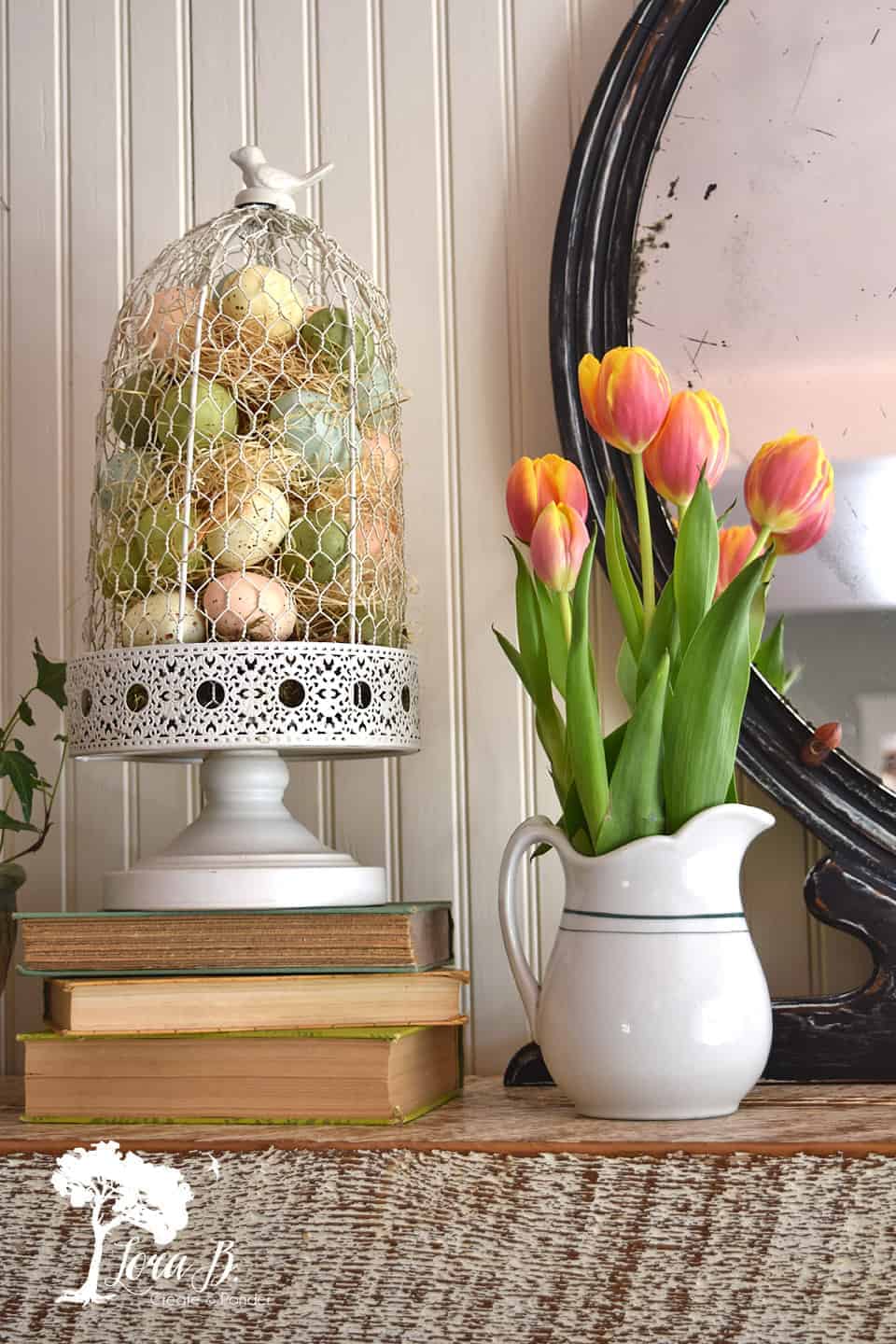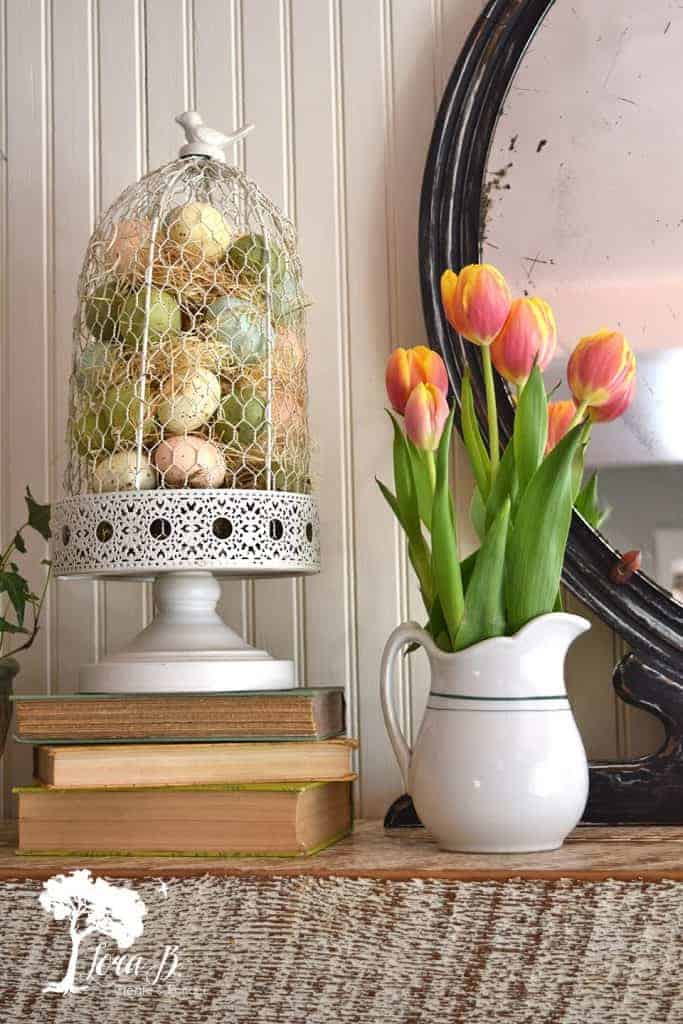 Fresh Flowers and Foliage Finish Off the Simple Spring Mantel
Tulips just bring a smile to your face, don't they? Luckily Costco has had some nice bundles available when I grocery shop:) My little vintage white pitcher had to get on the mantel and was the perfect place to show off some happy tulips. Along with the trailing ivy plant I actually kept alive all winter, the Simple Spring Mantel is complete!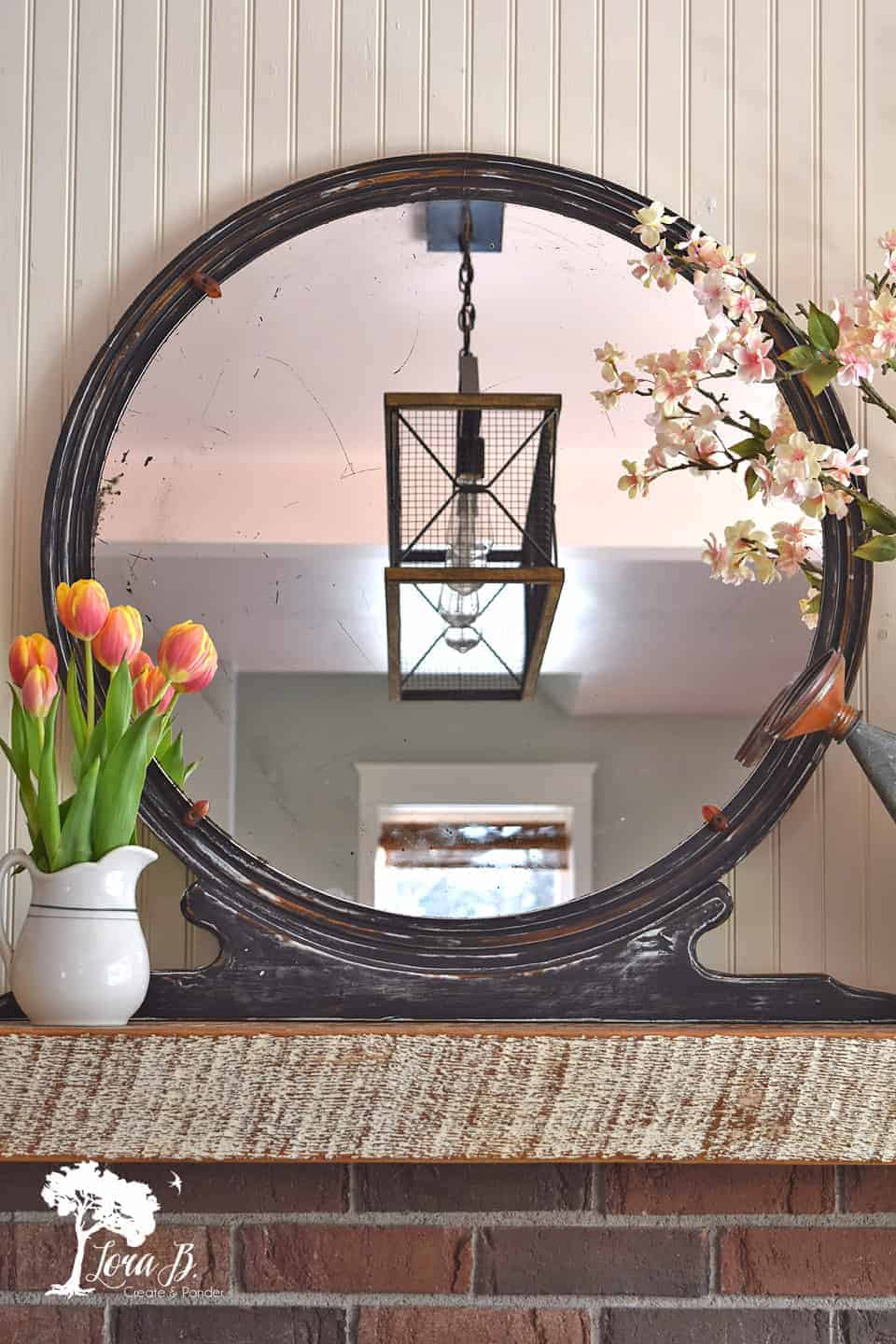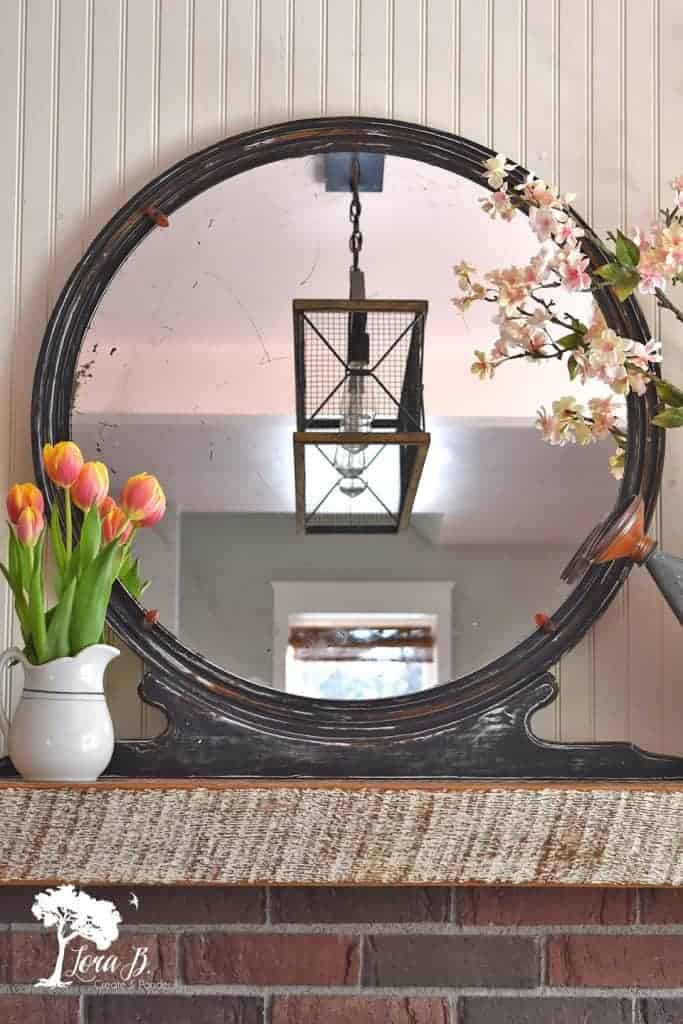 Yep, our ceiling is pink. And Mr. Fix-it has not complained…much. It shines a beautiful glow on everything in the room! I like a little bit pretty, a little bit rustic. If you like our light fixture, you can get it HERE.
The Finished Simple Spring Mantel and What I'd Add
Hip and Humble's mantle is probably a little more sparse than my personal style, to be honest. You can tell my version is more colorful, but think I will add a few more accessories. I'm thinking a rustic bunny to the right of the watering can would be cute. And maybe a couple vintage, colorful flowerpots with votive candles for some light.
Would you add anything more, or do you like the scene as is?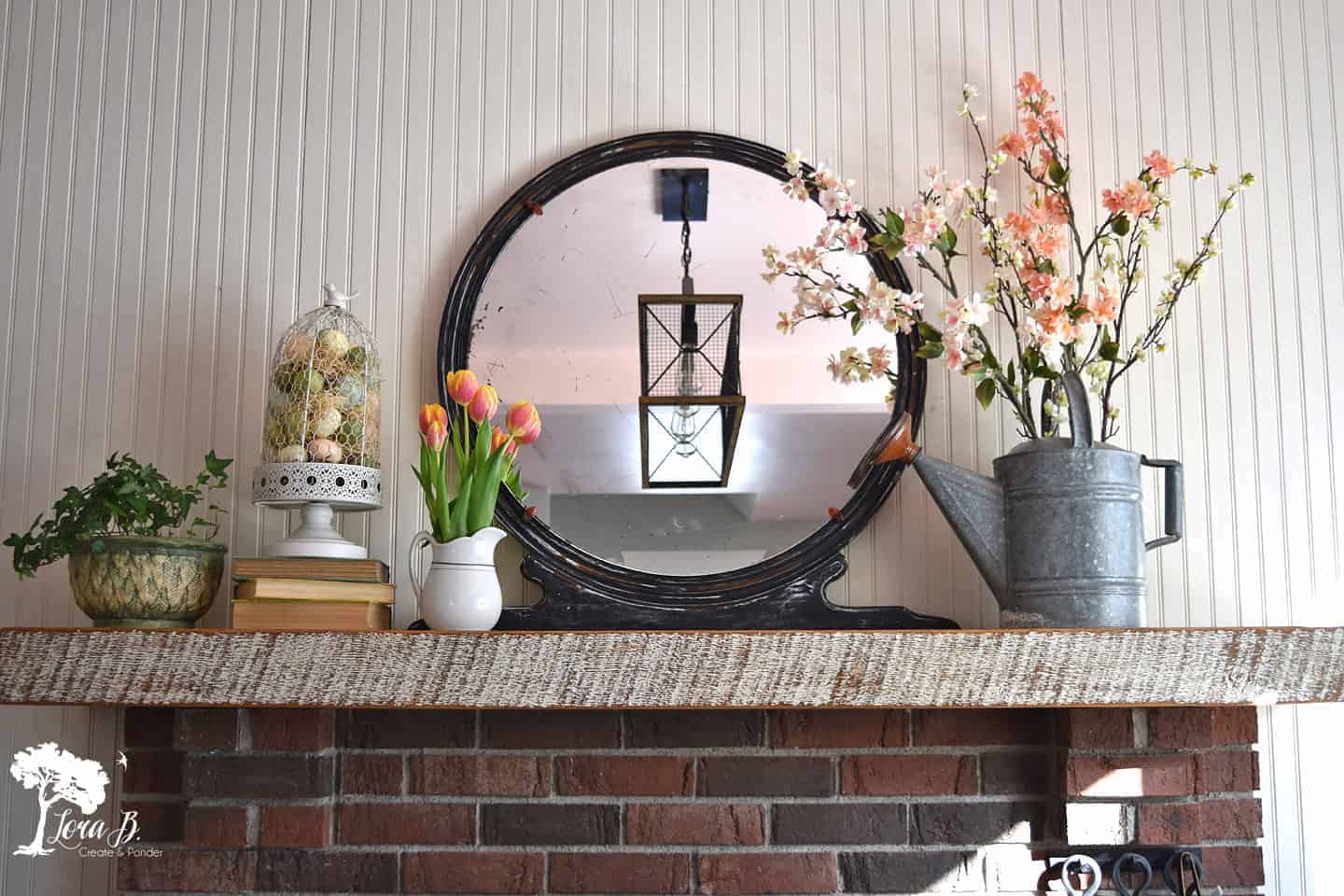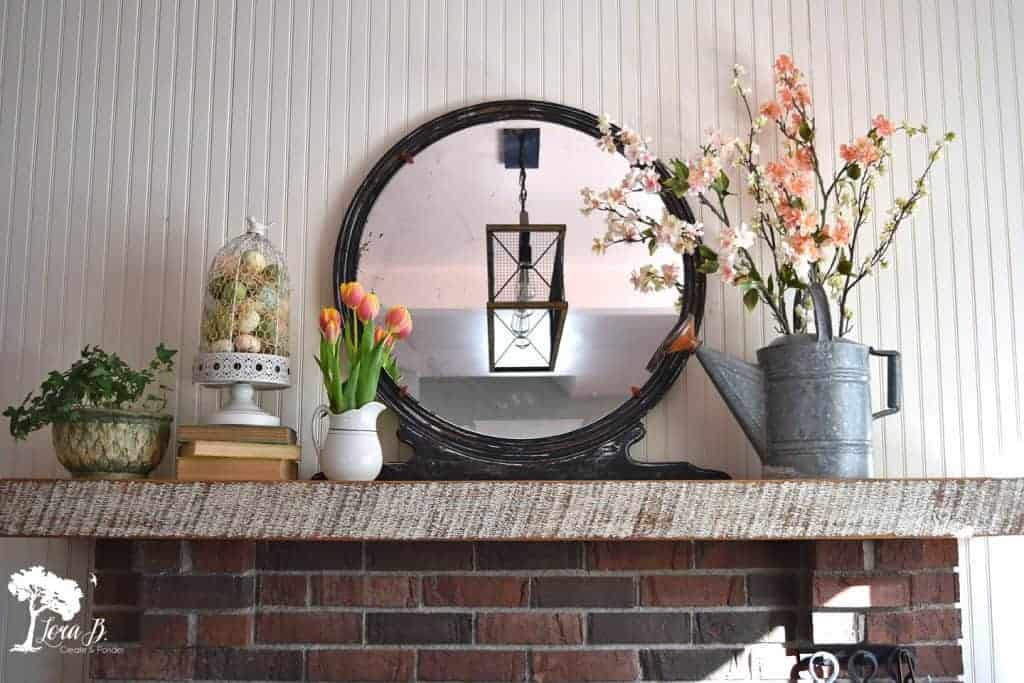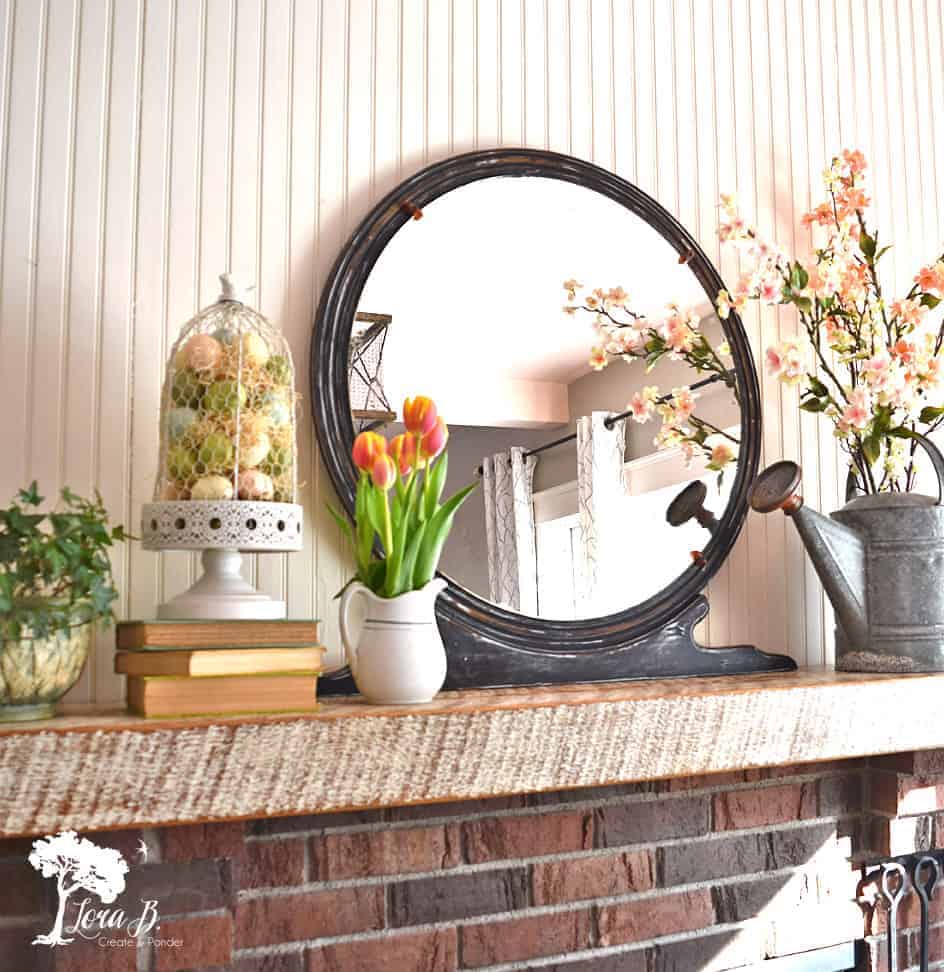 Are you getting all excited to decorate for spring? I know I am! Can't wait to see all the pretty mantels from the rest of the Pinterest Challenge gang! If you're hopping in order, pop on over to Sweet Pea next; I'm sure you'll love Paula's Pink and Green Spring Mantel! She's got vintage running in her veins, like me:)
Thanks for stopping by and reading How to Decorate a Simple Spring Mantel!
Please Pin, Share, and Enjoy the Rest of the Inspiration!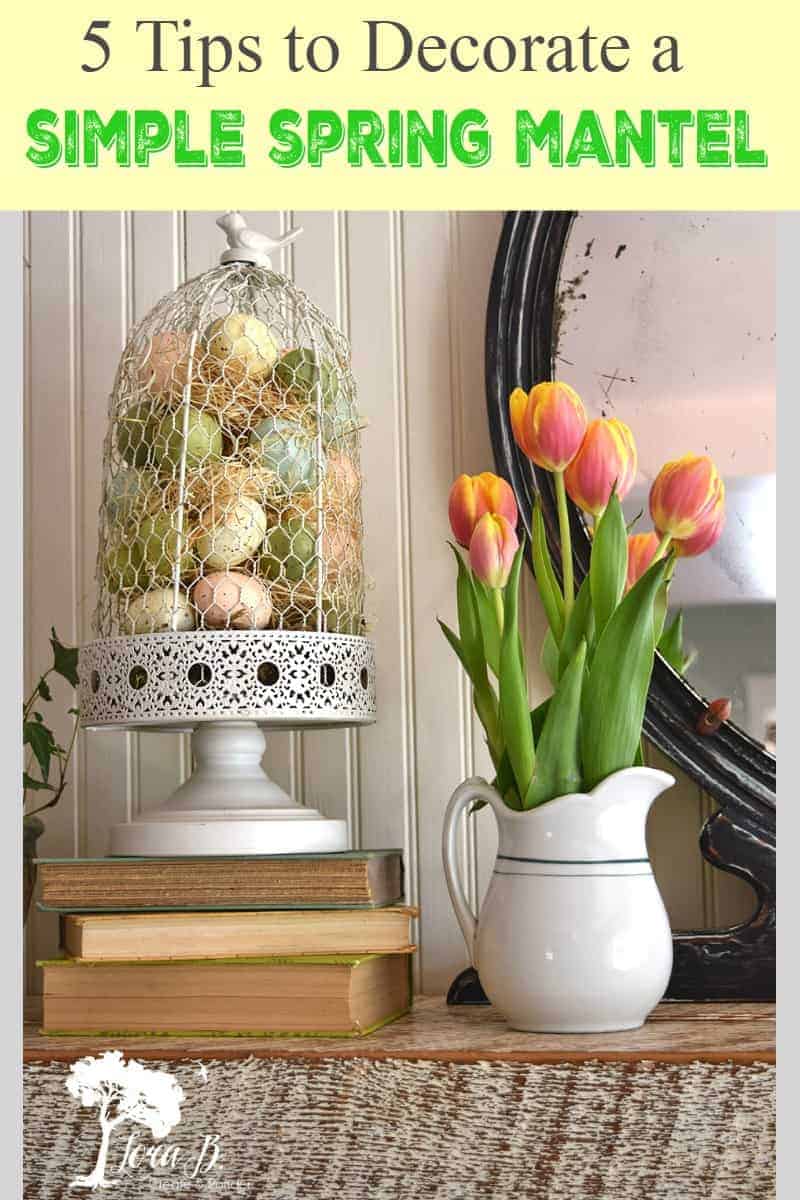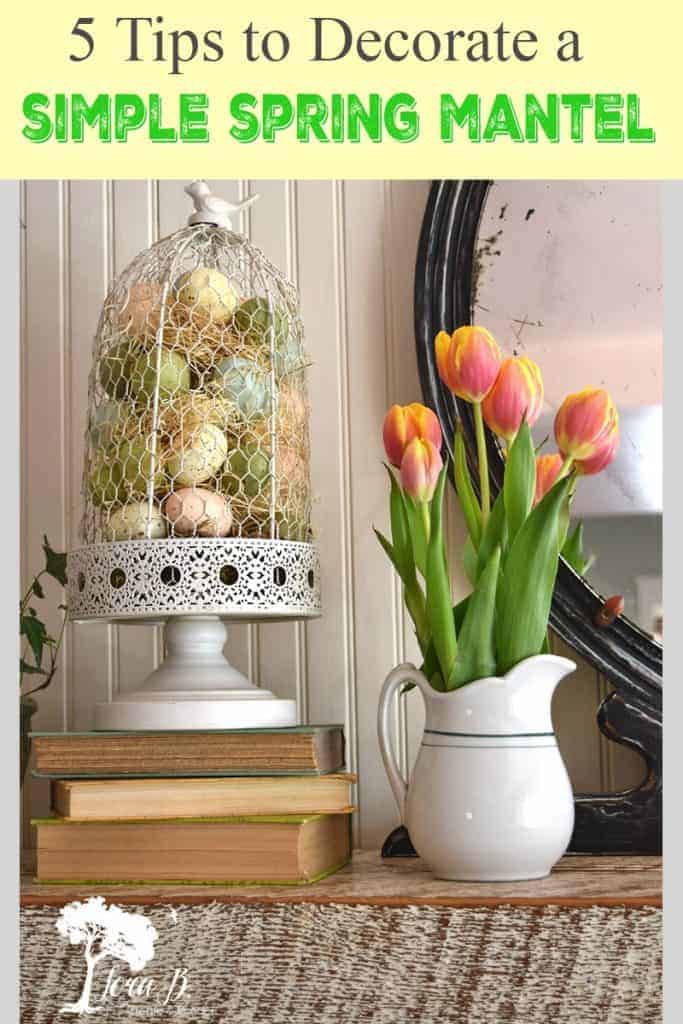 You are invited to the Inlinkz link party!

Sharing at these lovely parties: