DIY Vintage-Inspired Fiber Placemats
Many times project ideas come from seeing something else, don't they? These vintage woven casserole carriers always catch my eye when thrifting or second-hand saleing. I don't know the story on them yet, but they were obviously popular with the previous generation. Their happy colors and fruit and flower motifs make them fun to use on the table, or anywhere in home decor. Today I'm going to show you how you can get the same pretty look with natural round placemats. Your spring and summer table settings will enjoy these DIY Vintage-Inspired Fiber Placemats!
Today's project is part of our monthly Thrifty Chicks Junkovers Challenge, where a group of talented DIY bloggers create around a theme. Baskets and woven finds are finding new life this round. I've got all the project links down below; hope you can visit them all!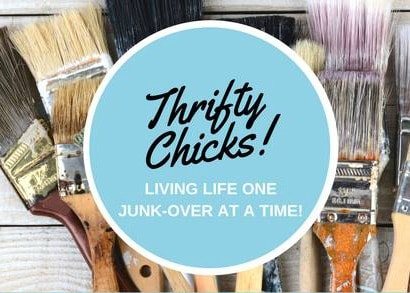 This challenge had me stumped for awhile, honestly. Then I picked up a 4 pack of natural fiber round placemats at the thrift store. They were still in the original package; love that. Woven placemats are on-trend right now and can give your table setting such an eco-chic flair. The texture adds so much to a tablescape.
But this challenge is about taking something old or boring and making it better, so I decided these fiber placemats needed some vintage-inspired embellishment! If you can thread a needle, you can handle this easy DIY, and will be so proud of your new spring-into-summer placemats!
DIY Vintage-Inspired Fiber Placemats
For your convenience, this post contains affiliate links. If you make a purchase, I may receive a commission. There is no additional cost to you. My full privacy policy is here. 
Materials Needed:
Cotton yarn in colors of your choice
To Begin, Thread the Needle with Pretty Yarn
Cotton yarn is the perfect texture for this project. I looked around at a few different possibilities at the craft store (colorful twine,rope), but the colorful cotton yarn seems to have the best weight to make designs on the woven fiber placemats. I was pleased with the colorful selection I found. I chose springy colors similar to the vintage casserole carrier.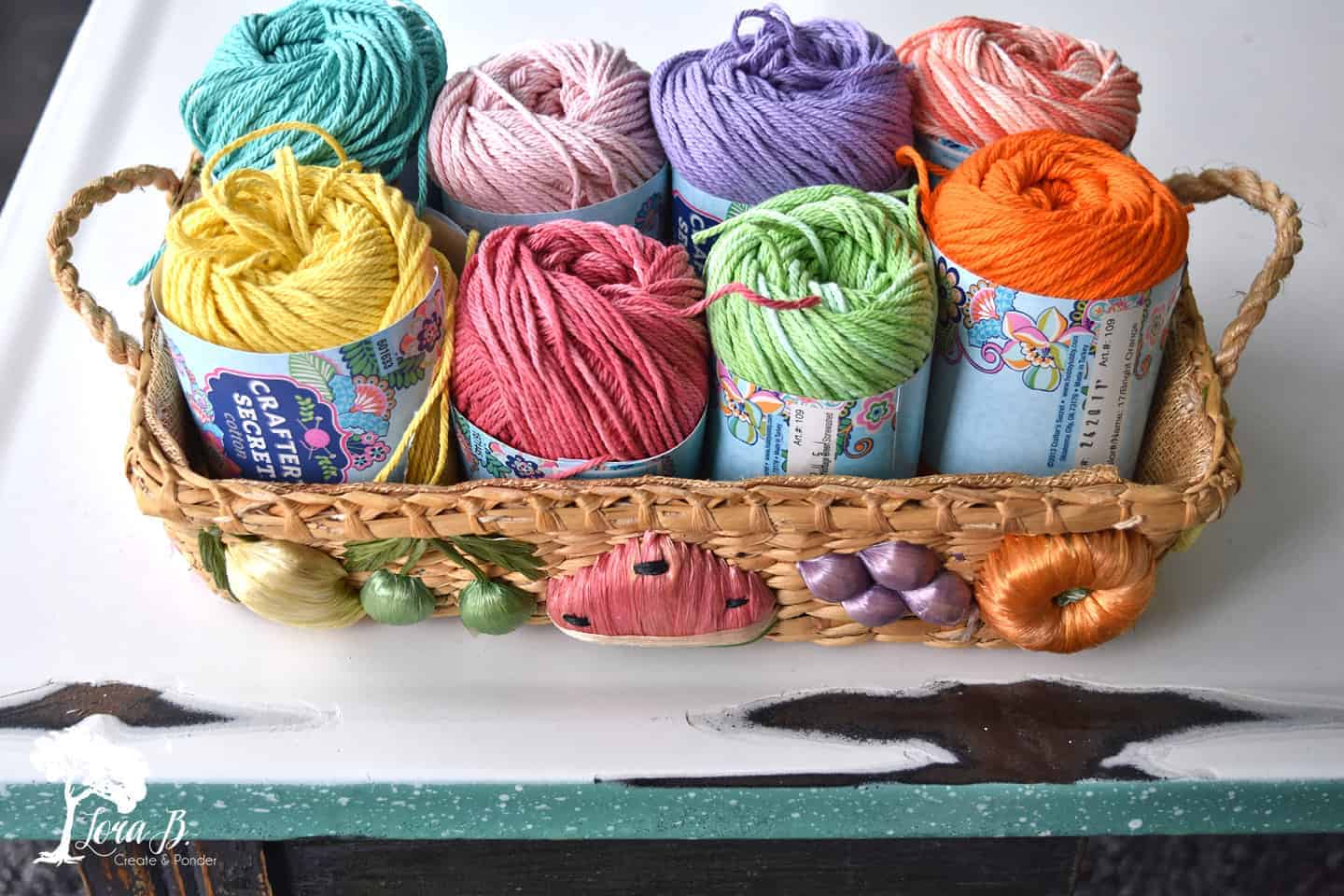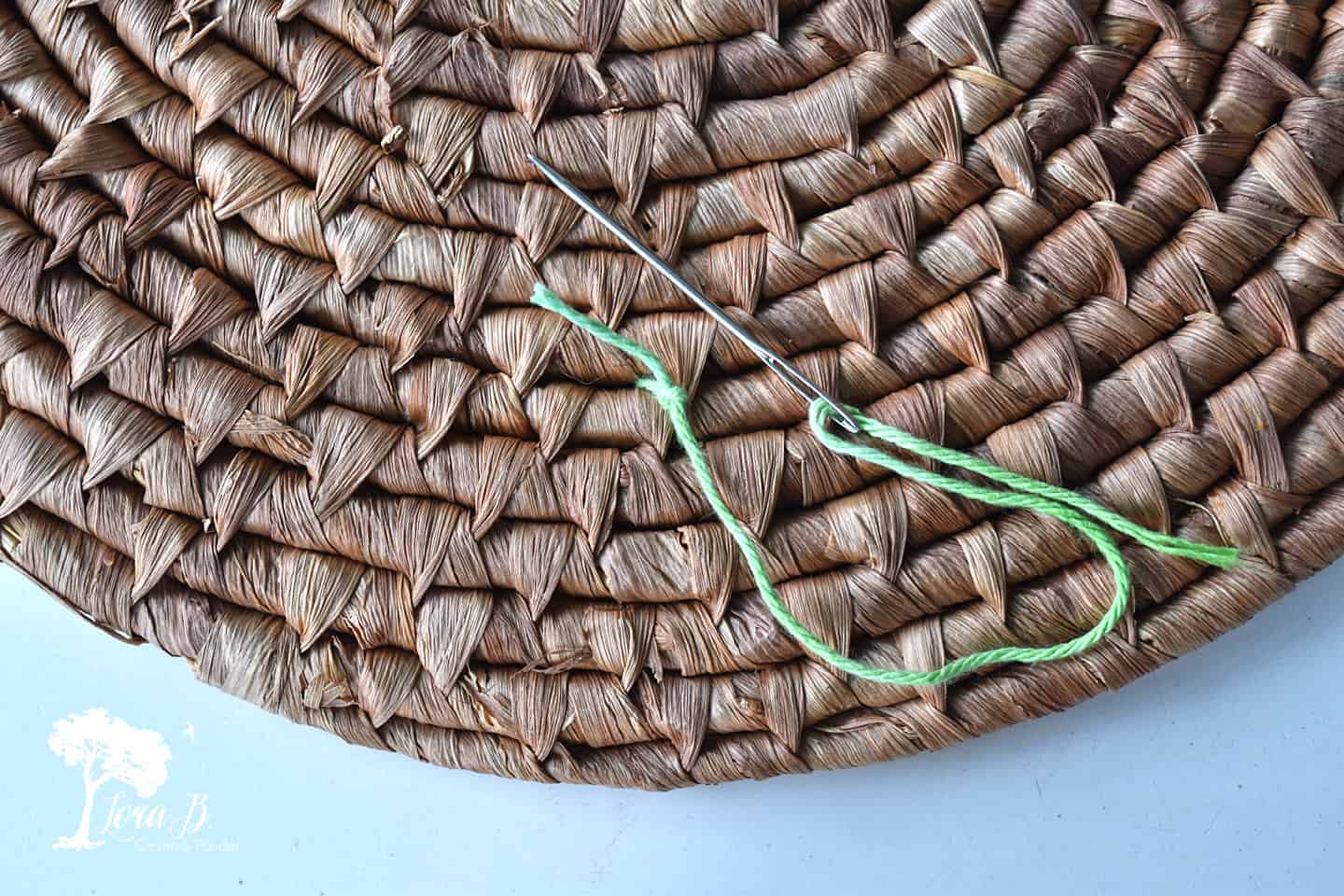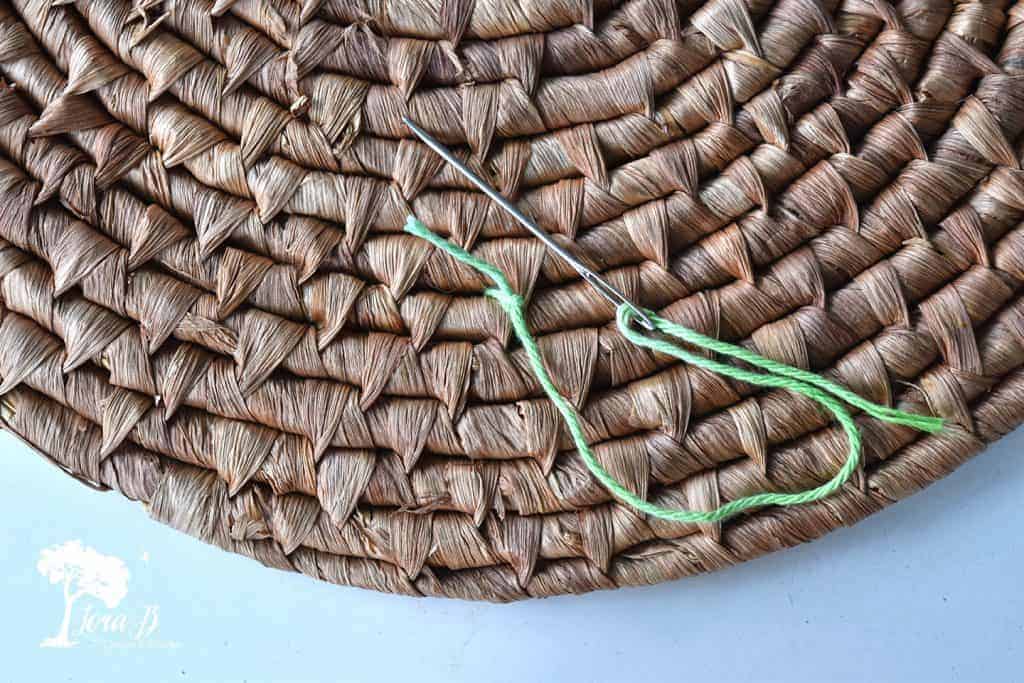 To anchor the start of your design, make a knot on the backside. Actually, I don't know what's supposed to be the front or back on these woven placemats, I just decided what look I wanted up.
Stitch Your Design Freehand
I know some of you are going to get scared right now, but honestly this is not scary. If you screw up a stitch or two and it doesn't look good (which I did), you just pull it through. I was looking at the casserole carrier for inspiration on what types of patterns and stitches to make. It does start to flow once you get going!
A couple tips:
Poke into the spaces between the woven design.
I usually went over the same direction/stitch 3 times to make a strong enough statement.
For a different look, wrap the yarn around your stitches like I did on the green stems.
Here is what I came up with: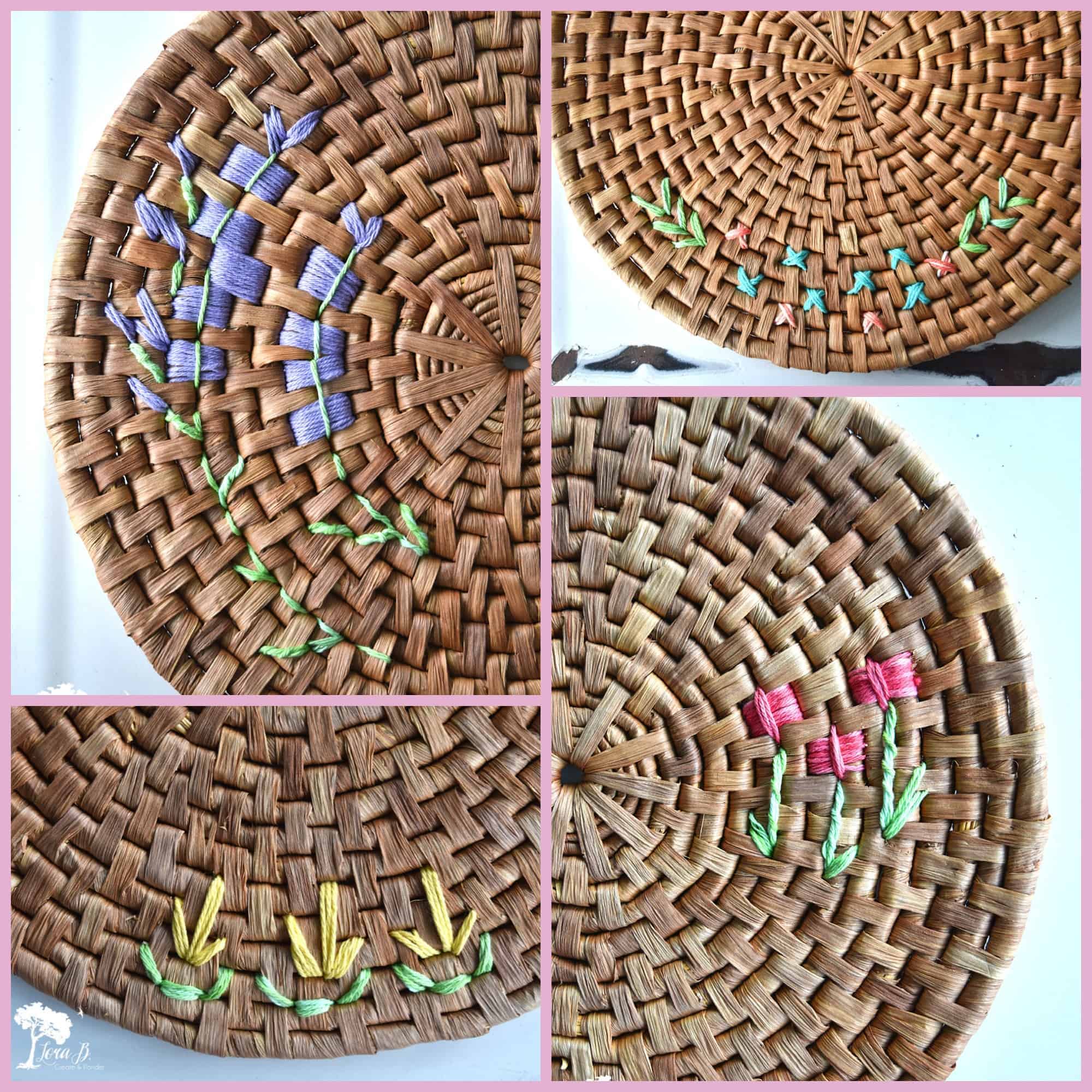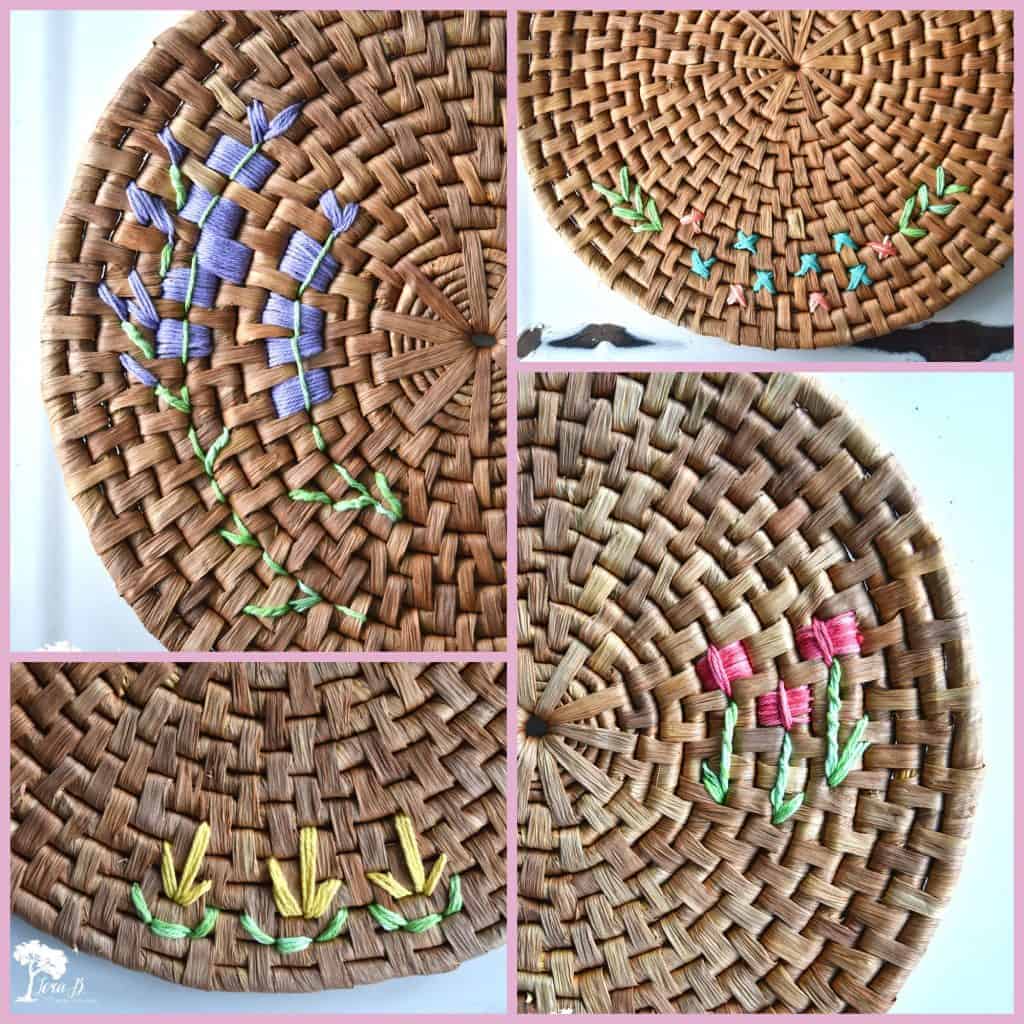 Some stitch patterns are straight, some are angled, some are in an X. My flowers maybe look like tulips, daffodils, and lilacs, but not exactly. Kind of a folk-ish, boho version. The fun is creating something totally unique and enjoying the process!
How to Finish off your Stitches
When you run out of yarn and need to start with a new piece, finish by pulling your needle through the completed stitches. It will basically knot the end. Then you can start with a new piece like you did before (with a knot on the back). Snip off the extra thread.
Here's a look at the back side: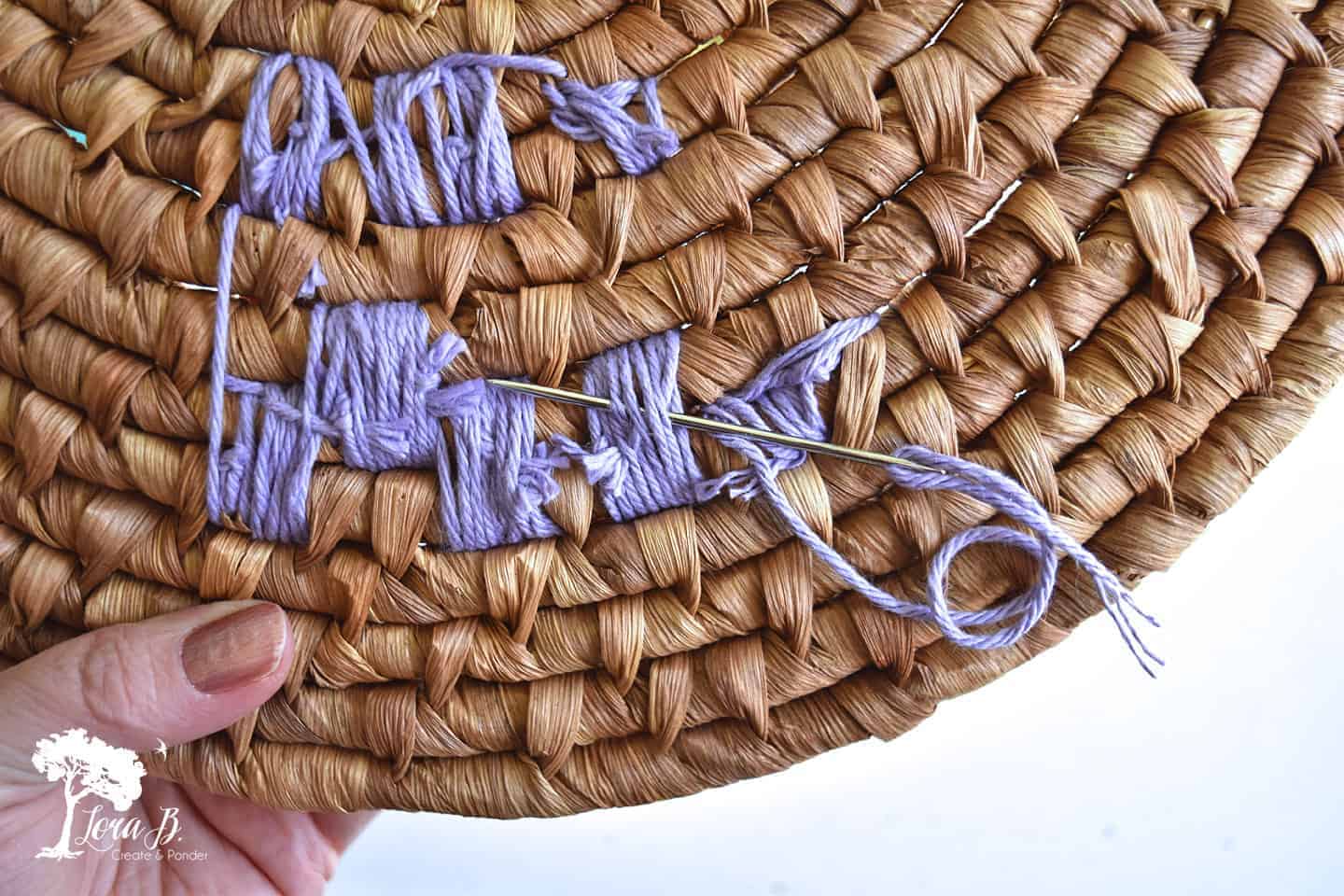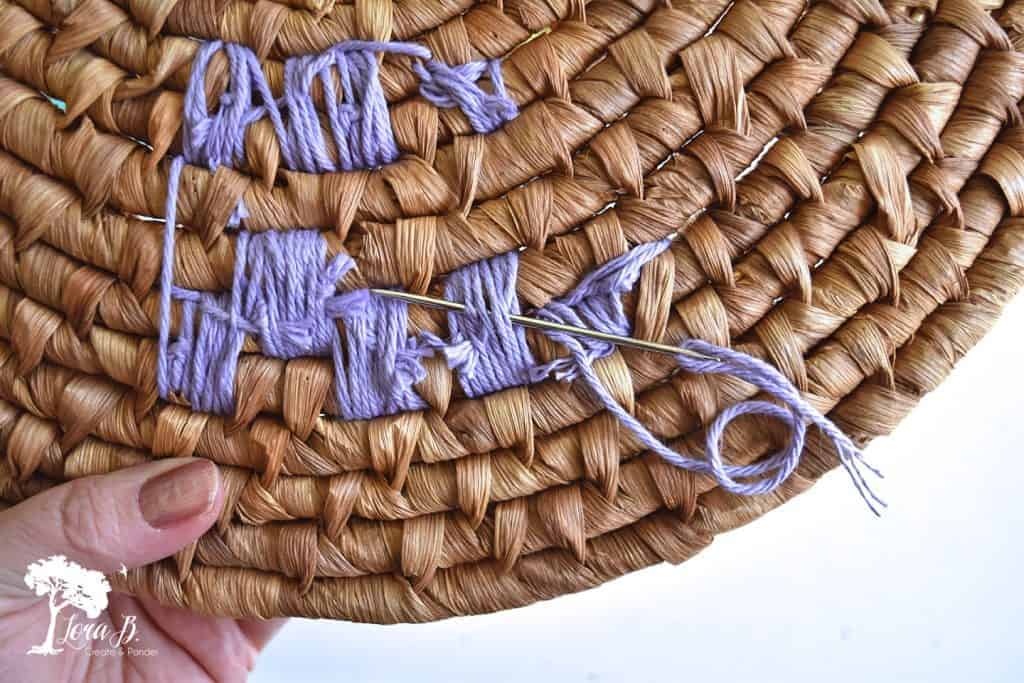 Enjoy Your Pretty DIY Fiber Placemats on the Table or in your Decorating
Adding extra embellishment to something store bought is a fun, easy way to be creative and to add unique decor to your home. These pretty DIY placemats can be used on the table, or even used in your decorating and vignettes. If the yarn gets soiled or dirty, you can always pull out the design and start over.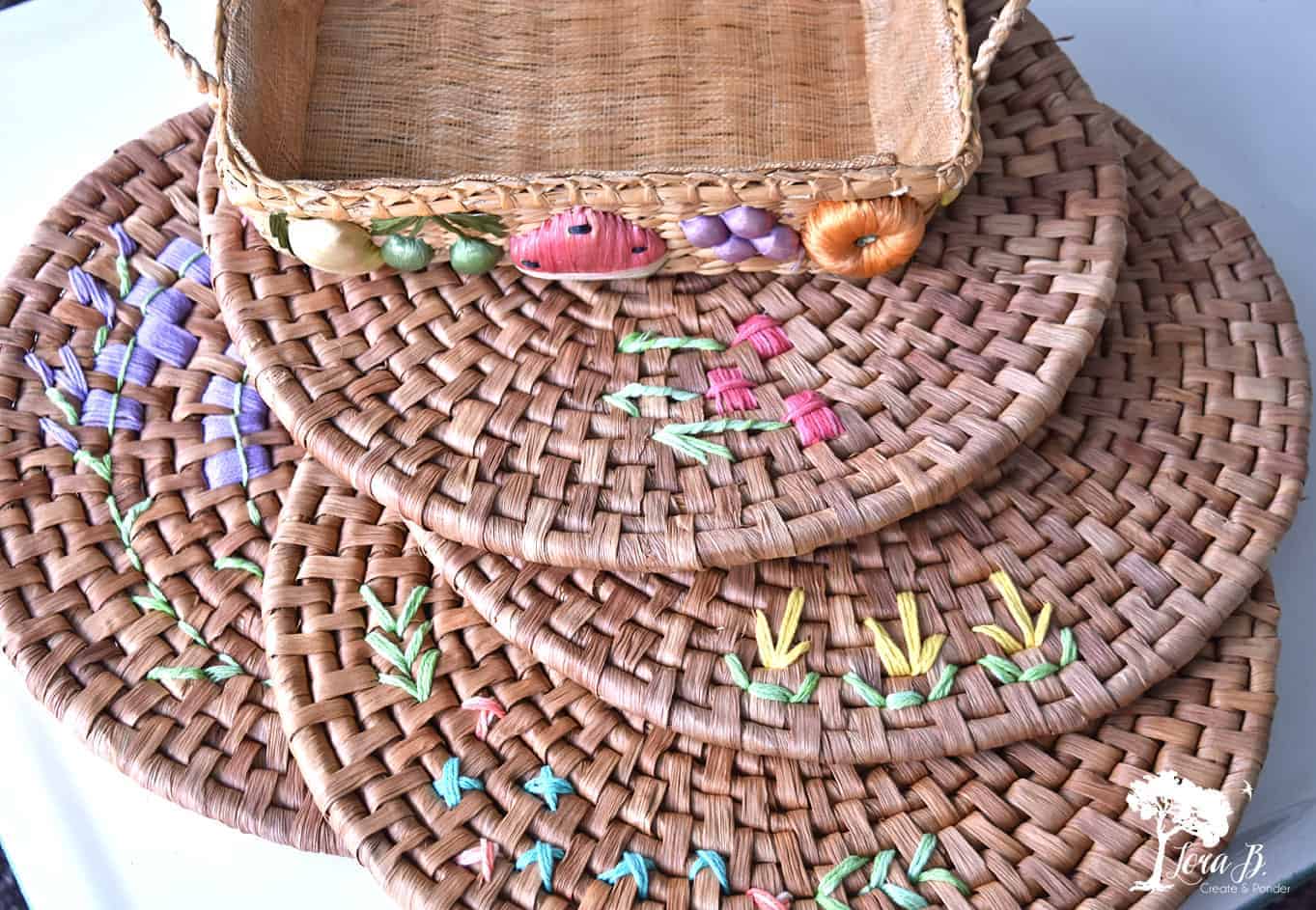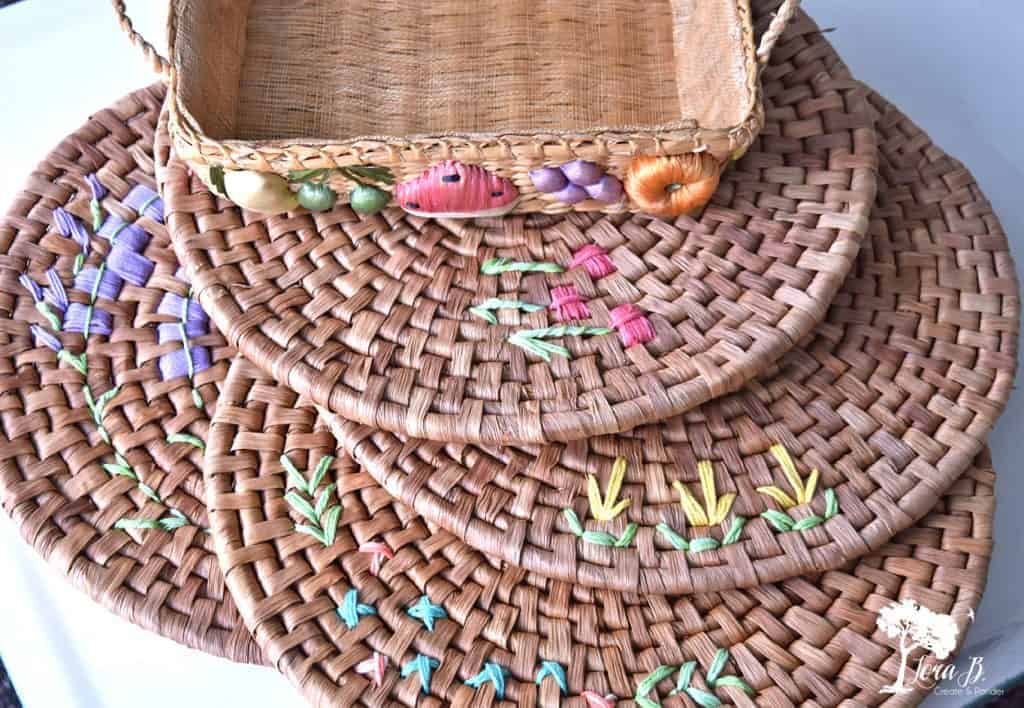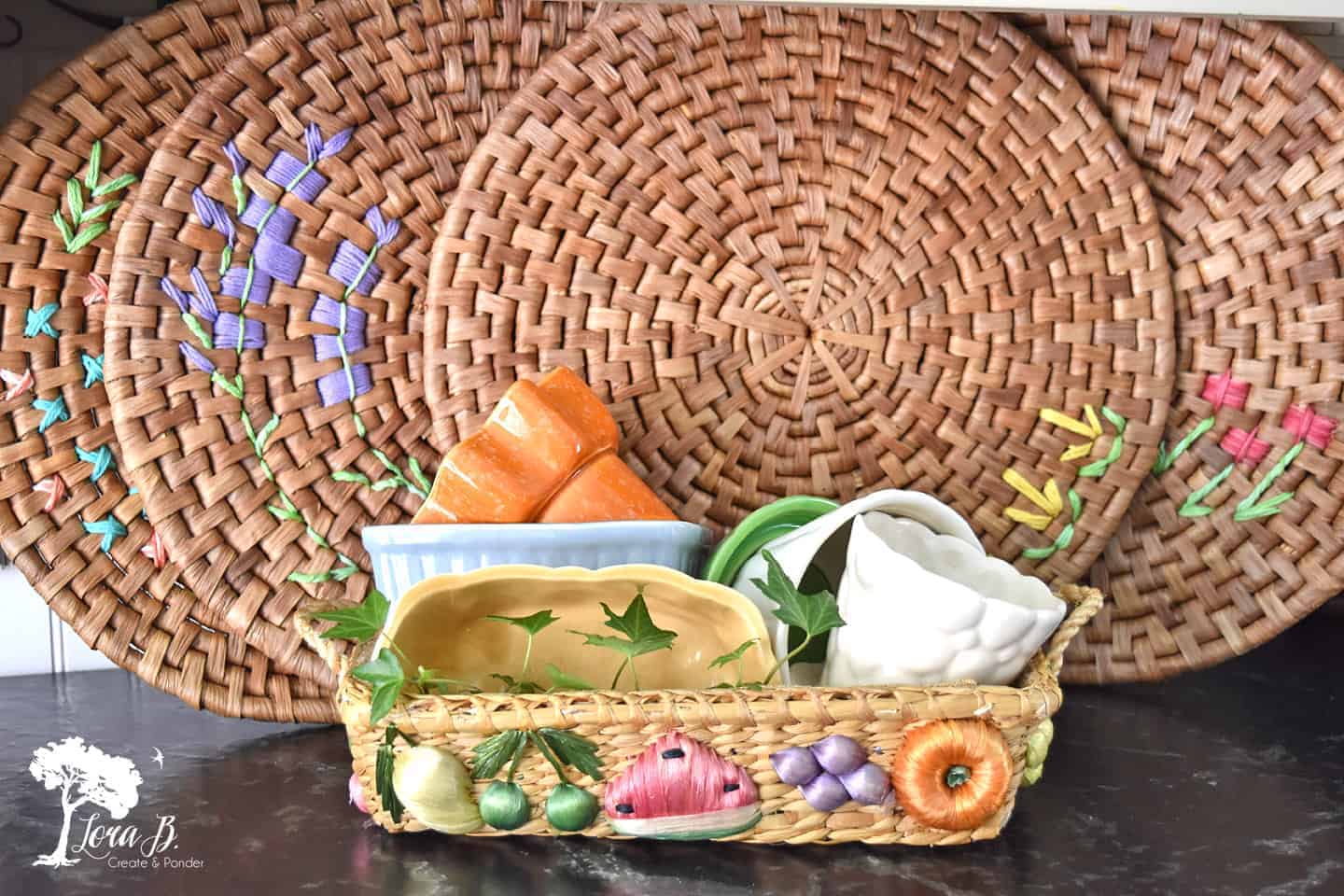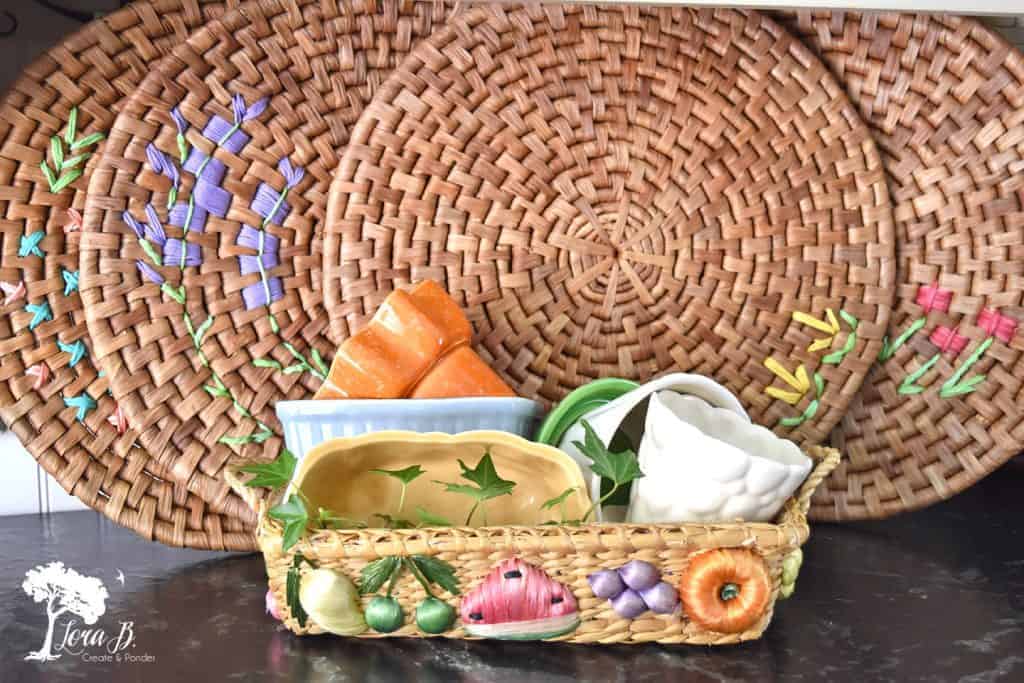 Shop to Create the Look: click on pics for more info

What do you think of this fun way to bring some unique pretty to store bought natural fiber round placemats? Do you think they have the same vintage vibe that the casserole holder does? I think it would be fun to set a spring or summer table with these upcycled placemats and fill the casserole holder with springtime bulb plants; maybe in my vintage pottery flower pots!
If you give these DIY Vintage-Inspired Fiber Placemats a try, I'd love to see how yours turn out! Now to check out all the other Basket/ Woven projects from my Thrifty Chicks friends!
Please Pin, Share, and Enjoy the Rest of the Inspiration!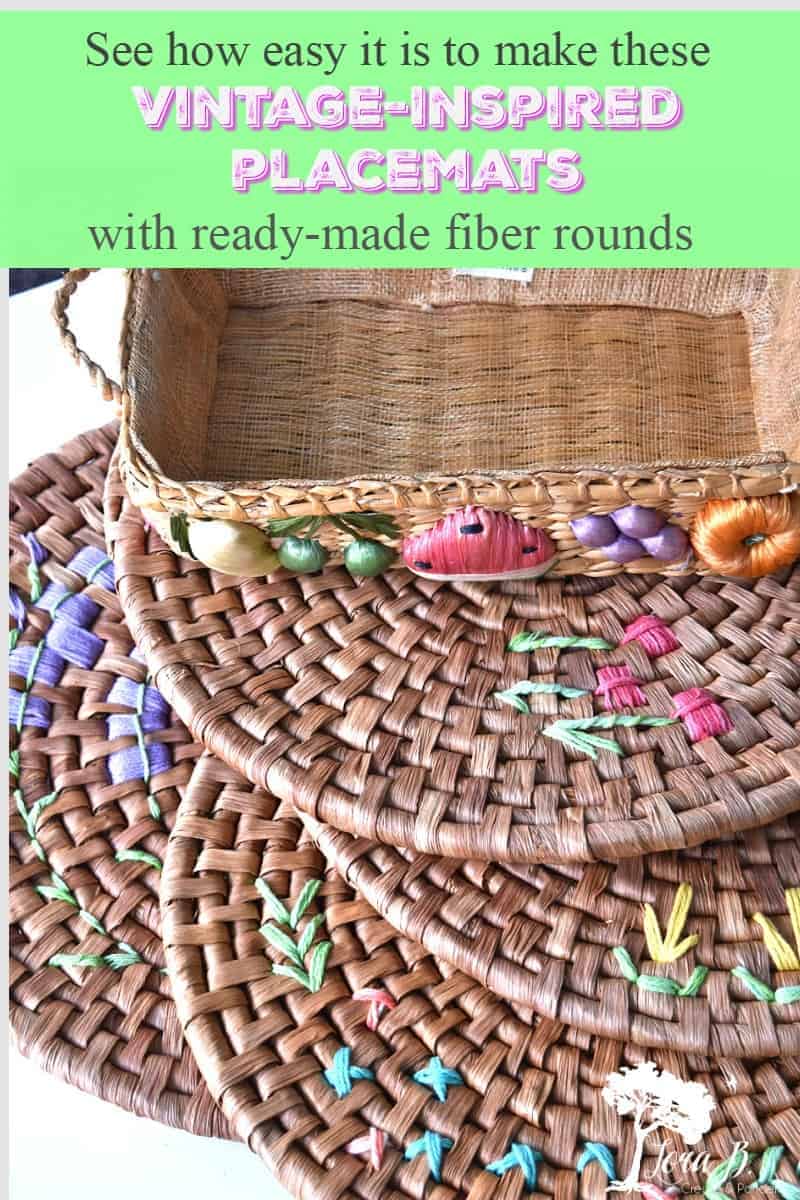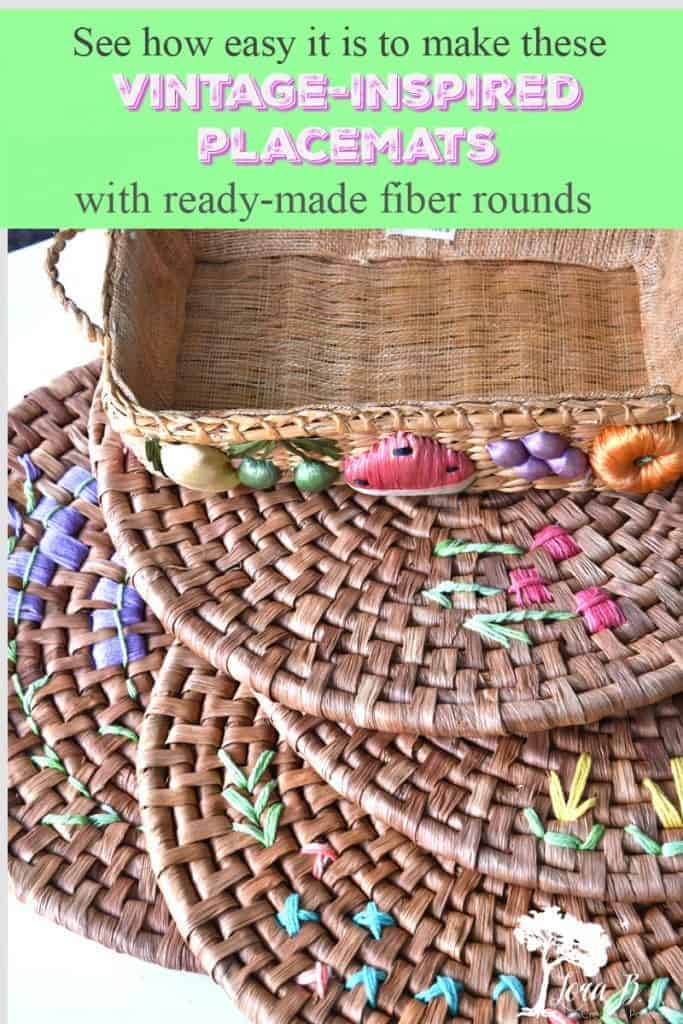 Thrifty Chicks Basket and Woven Challenge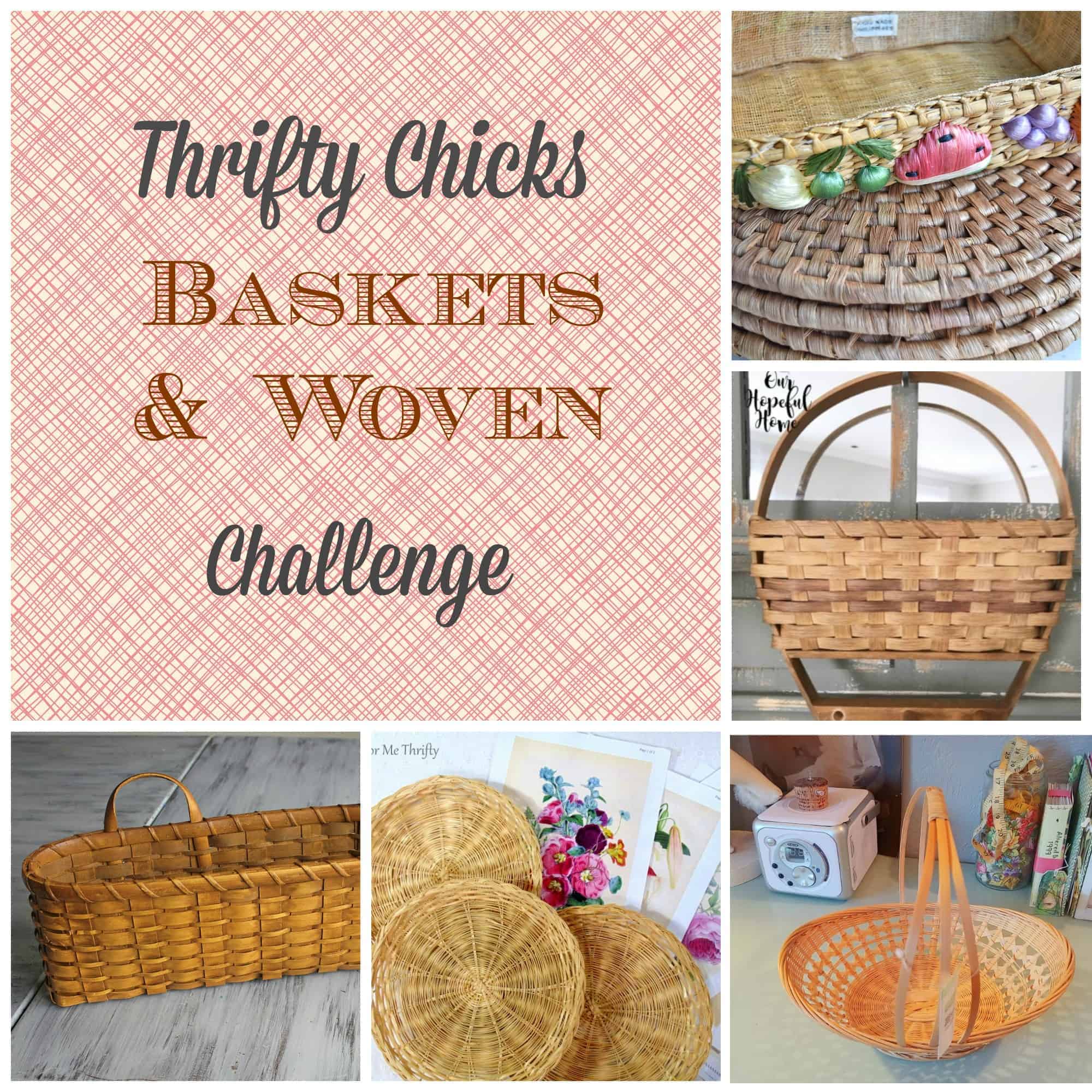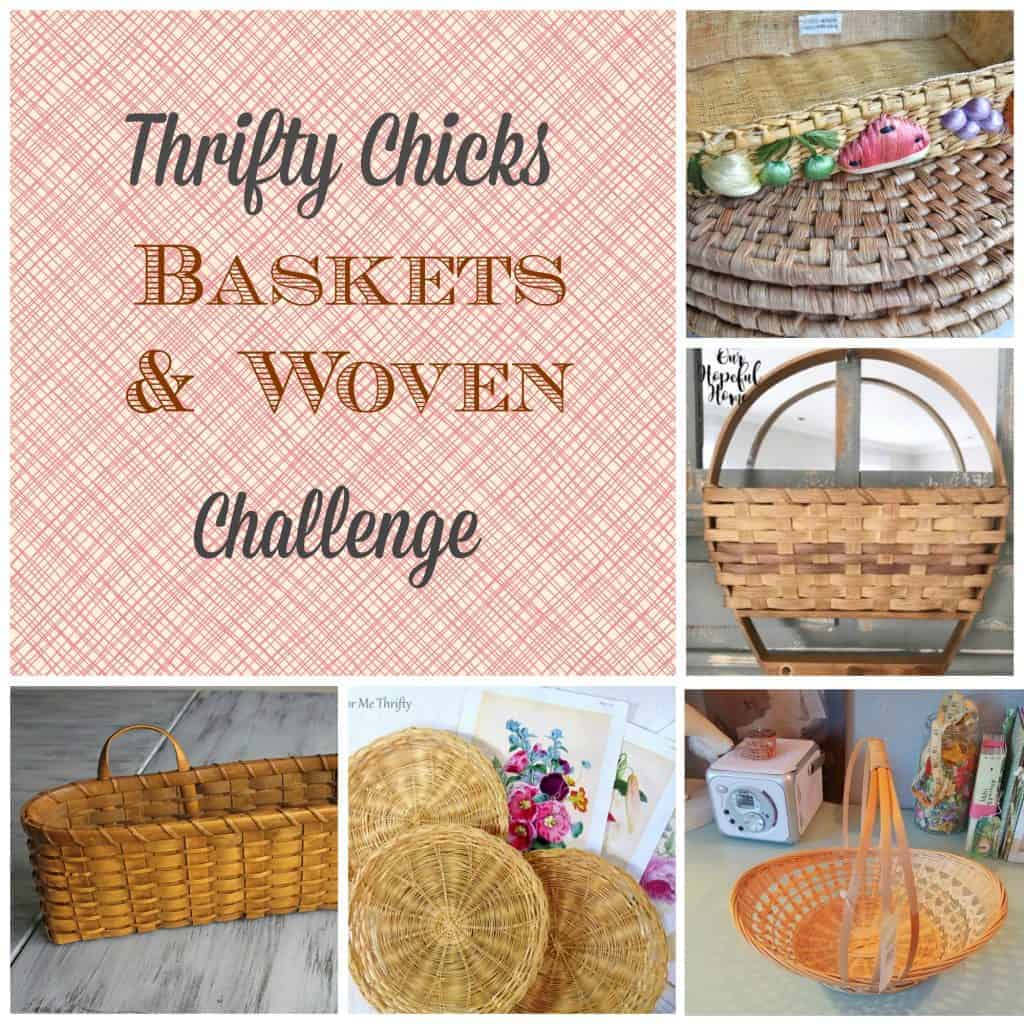 Itsy Bits and Pieces, " A Quick and Simple Farmhouse Basket"
Color Me Thrifty, "Repurposed Wicker Plates into Art"
Little Vintage Cottage, "Upcycled Boho Basket"
Our Hopeful Home, "How I Saved a Farmhouse Hanging Basket"
Me:)

Sharing at these lovely parties:
Tuesday Turn AboutVintage Charm