DIY Rustic Valentine Wreath with Origami Flowers
Pretty Origami flowers bring a fresh texture to this DIY mossy grapevine wreath. Here's the easy How To.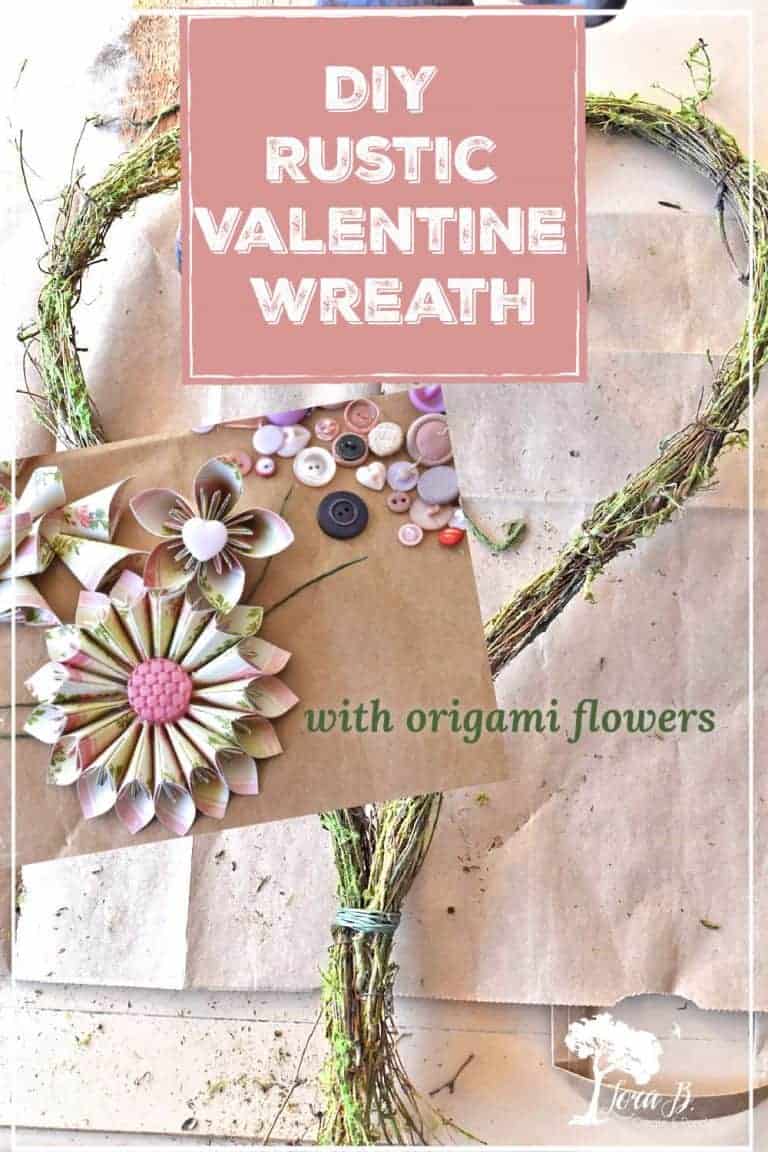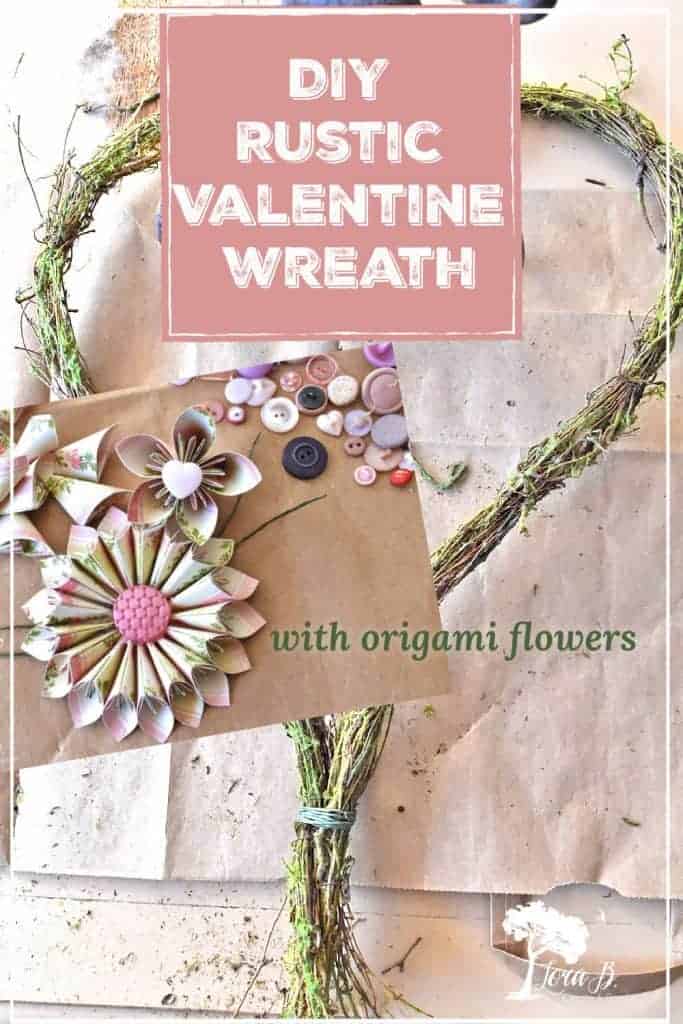 Valentine's Day is more than just a day; it's a season. A season to express love to those around us by adding pretty touches to our home and putting a little bit of extra special into everything we do. Yes, it's fun to pick up a few new accessories to sprinkle about, but it's also fun to kick in the creative juices and make things! Here's an easy DIY Rustic Valentine Wreath with Origami Flowers to craft up. Hang it indoors, where your loved ones will see it each day!
I'm joining my Pinterest Challenge friends today to bring you Valentine's Day Door Inspiration! Thanks to Cindy at County Road 407 for rounding us all up, and always picking out an awesome picture to inspire us! If you're visiting from Carol at Bluesky at Home, I'm sure you enjoyed her pretty Valentine wreath. I'll have all the rest of the inspiration down below.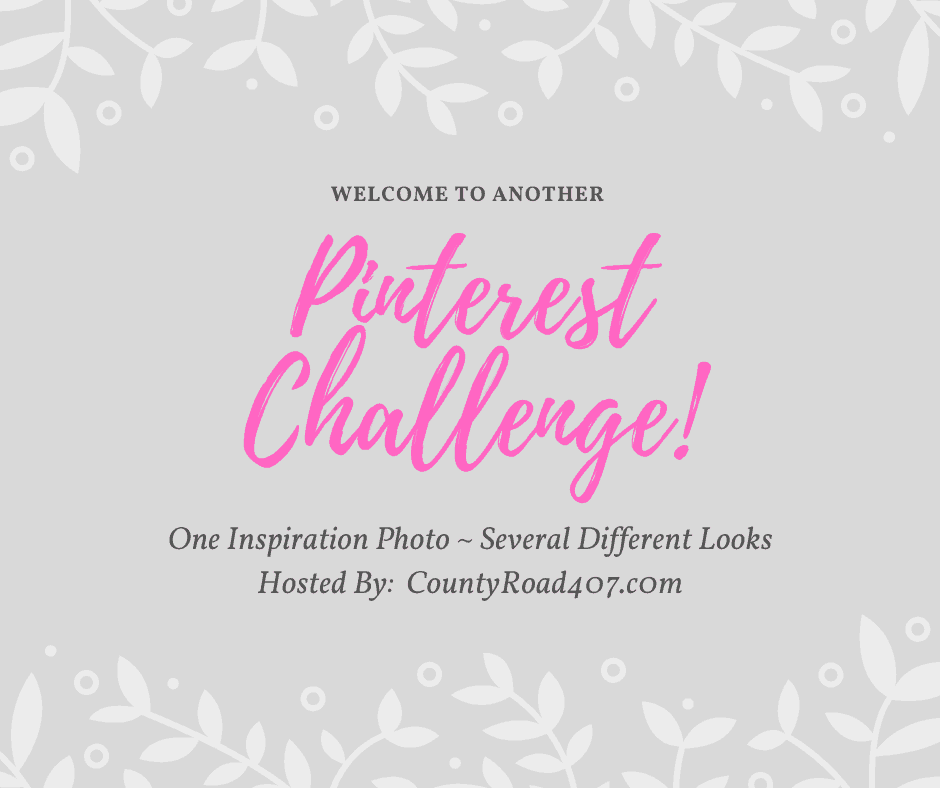 This month's Inspiration Pic comes from Sky at Capital B.It's a simple Valentine wreath, filled with cute paper hearts all around.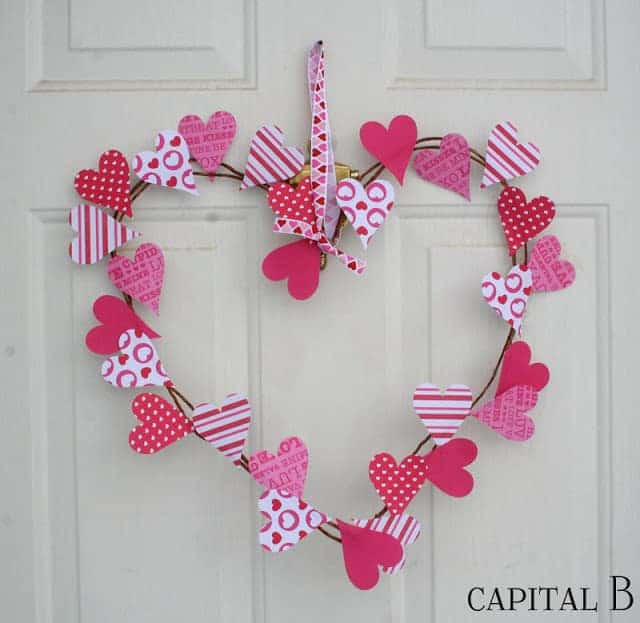 Some of the design elements I wanted to use:
a variety of background papers
grapevine texture
heart shaped wreath
Here's what I came up with!
DIY Rustic Valentine Wreath with Origami Flowers
For your convenience, this post contains affiliate links. If you make a purchase, I may receive a commission. There is no additional cost to you. My full privacy policy is here. 

Materials needed:
moss-covered grapevine roll or grapevine heart
background papers in Spring colors
buttons

To Start, Create Your Grapevine Wreath
I didn't have a ready-made heart-shaped wreath, and wanted to use what I already had for this challenge. Luckily I saw my friend Jennifer from Cottage on Bunker Hill make a wreath from a roll of grapevine garland, HERE.
So smart! I had a mossy version grapevine garland roll, so decided to give this Valentine wreath a Springy vibe.
Cut 2- 30″ lengths of the grapevine garland roll. Using bindwire (one of my favorite things to have on hand), bring together the top 2 pieces and wrap. Twist ends to close.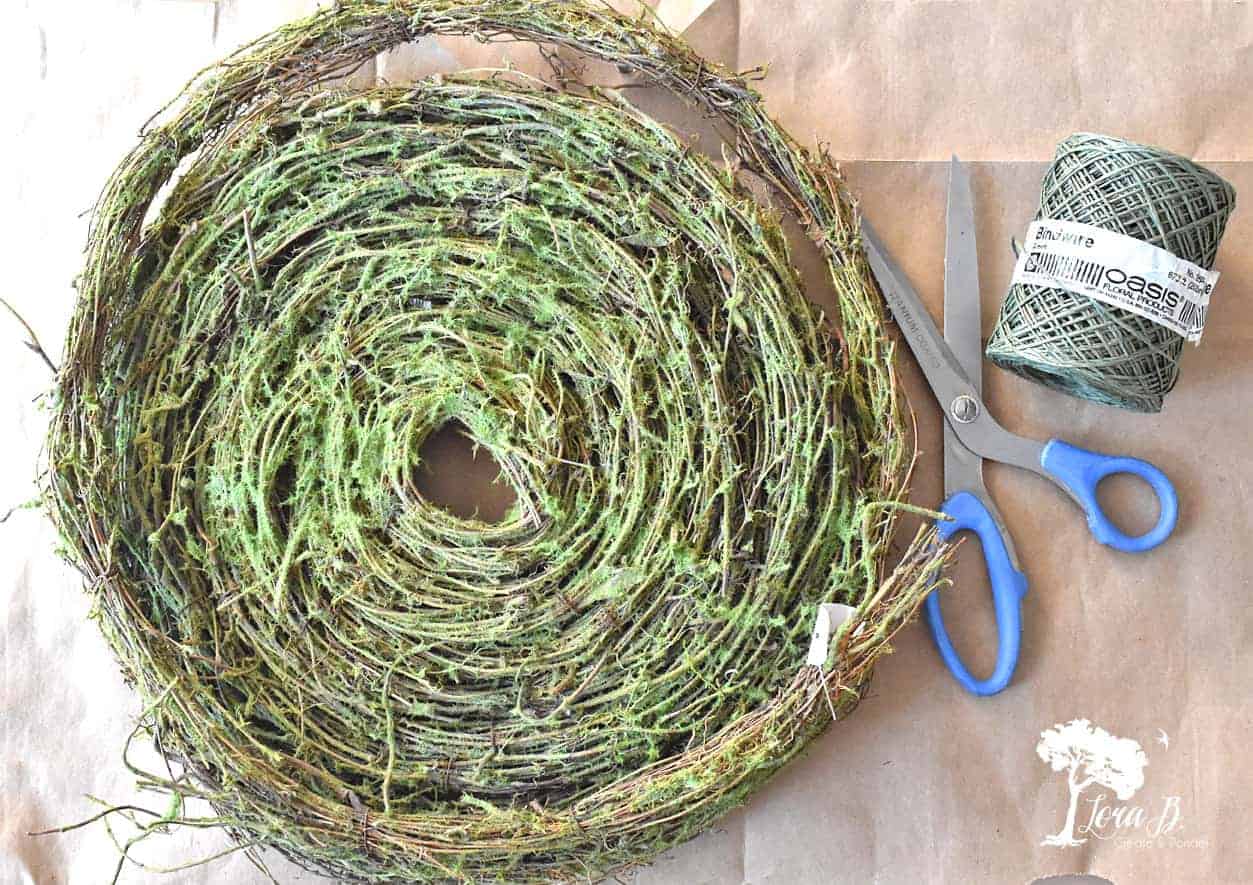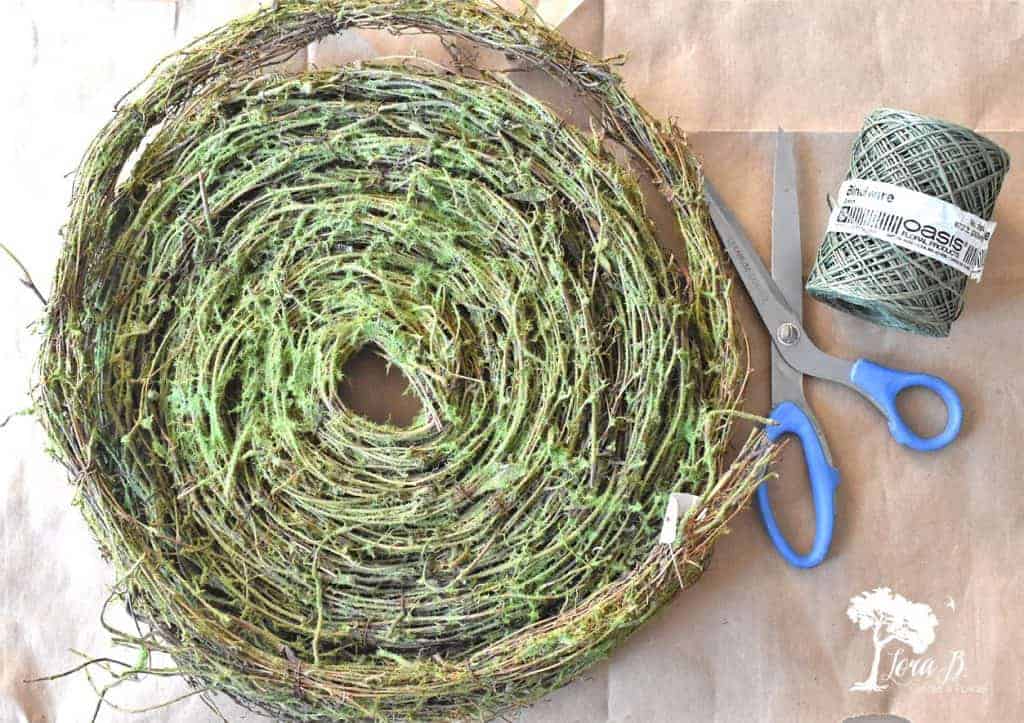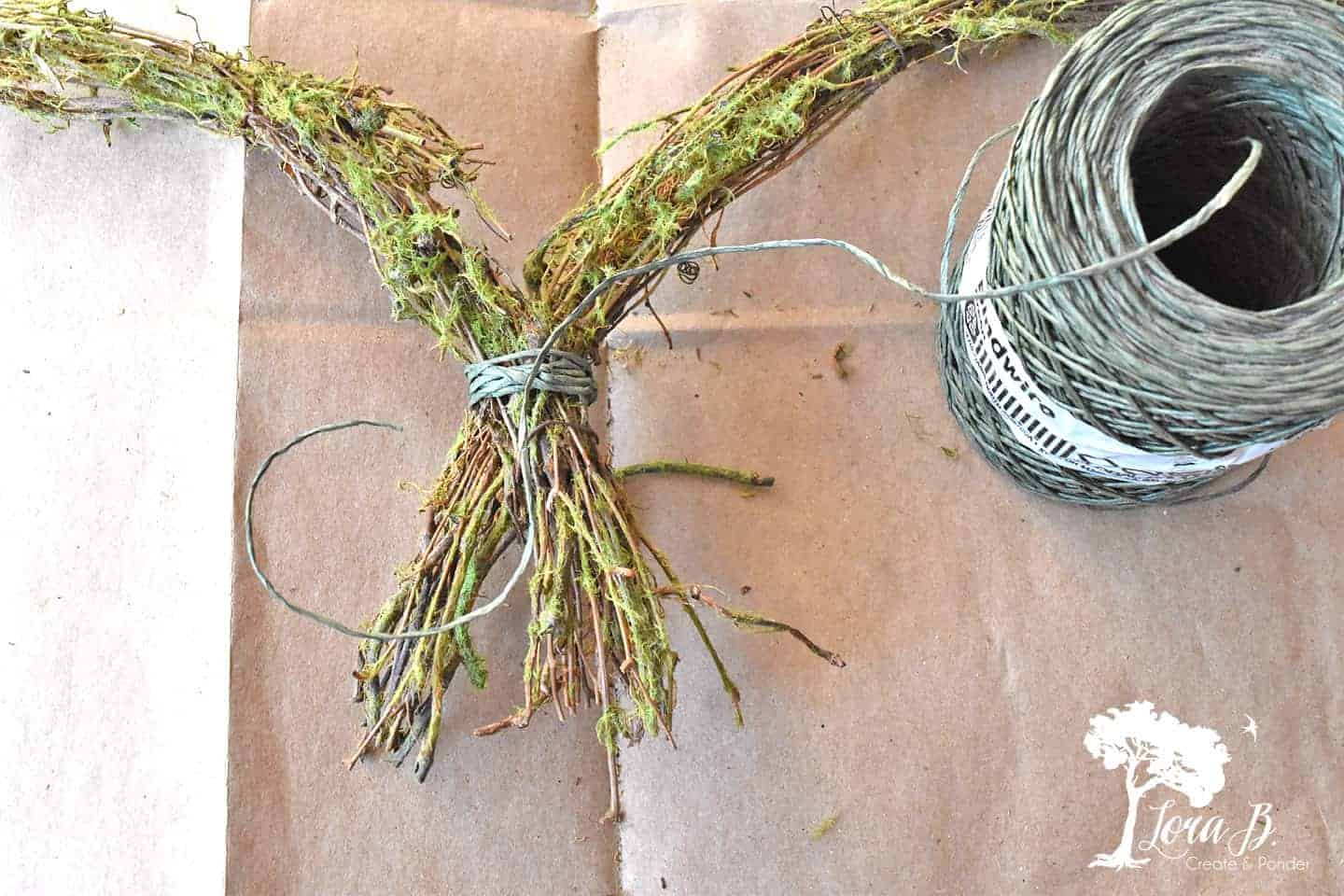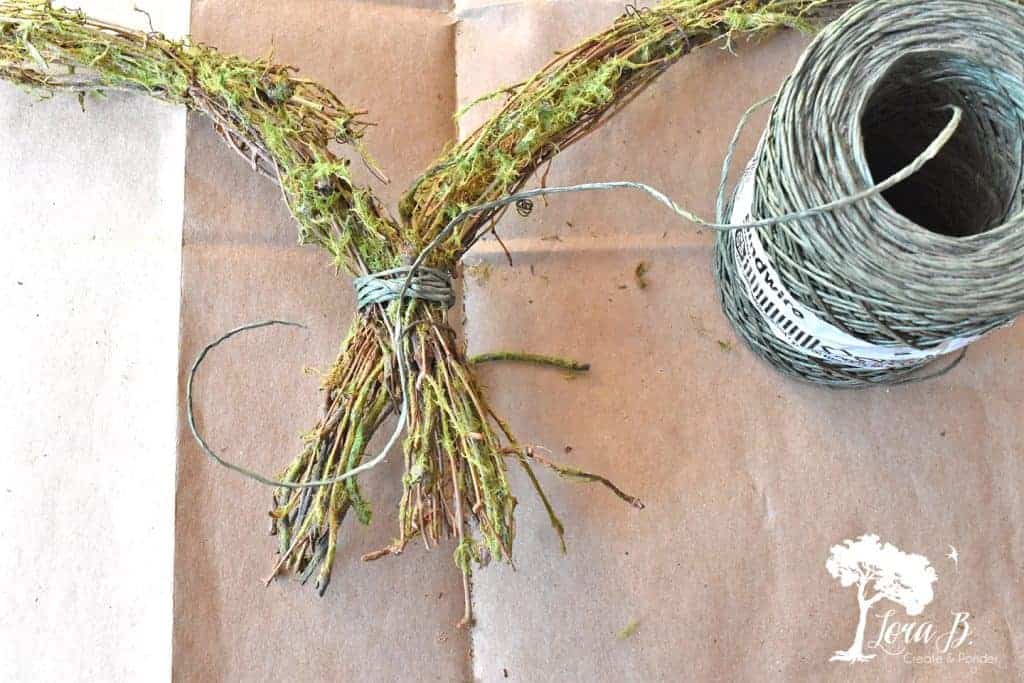 Set something heavy on the top part of the heart while you bring together the bottom ends. It wants to pop up, because it's been wound for so long.
Then bring together the ends to create the bottom of the heart. Wrap bindwire around and twist closed.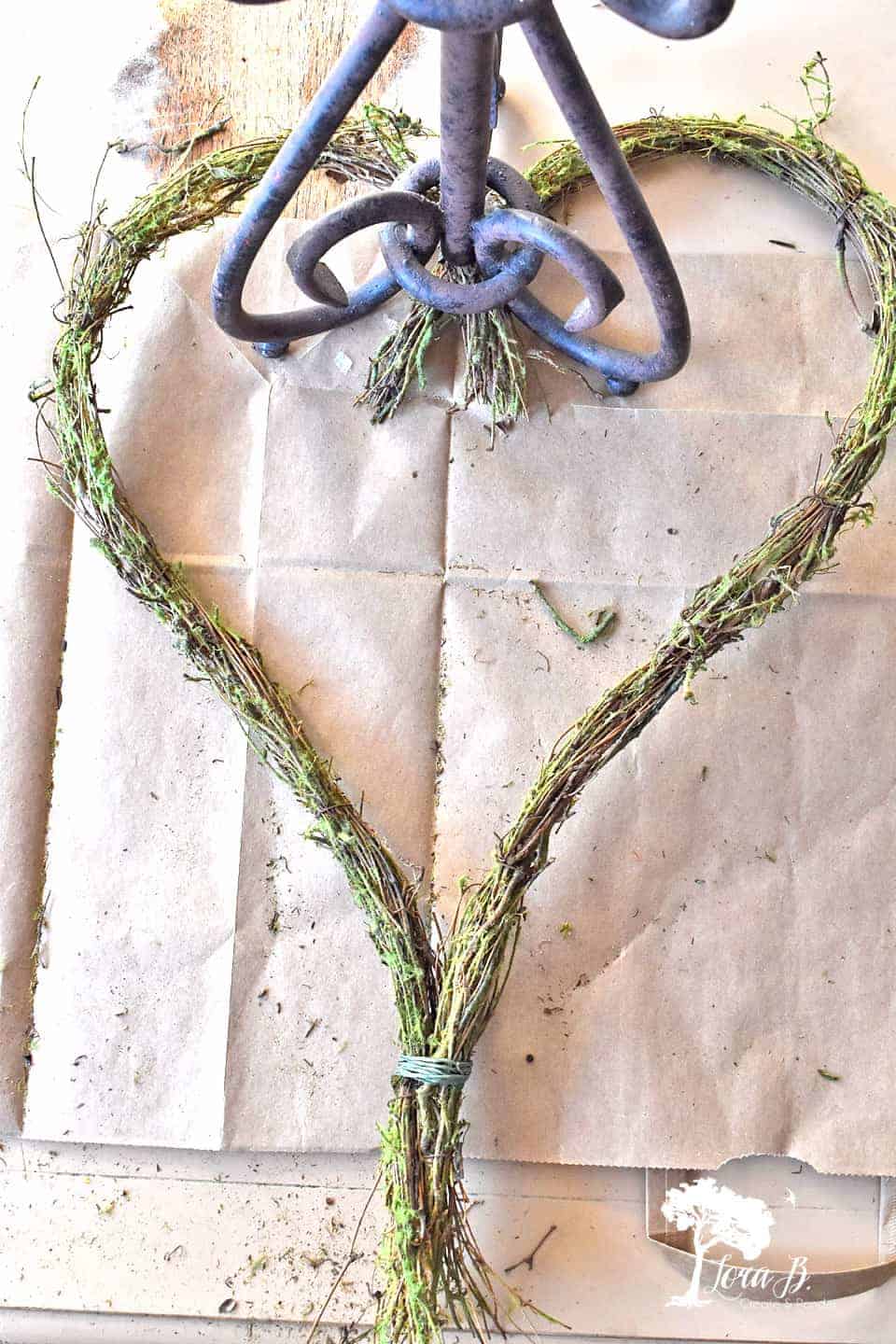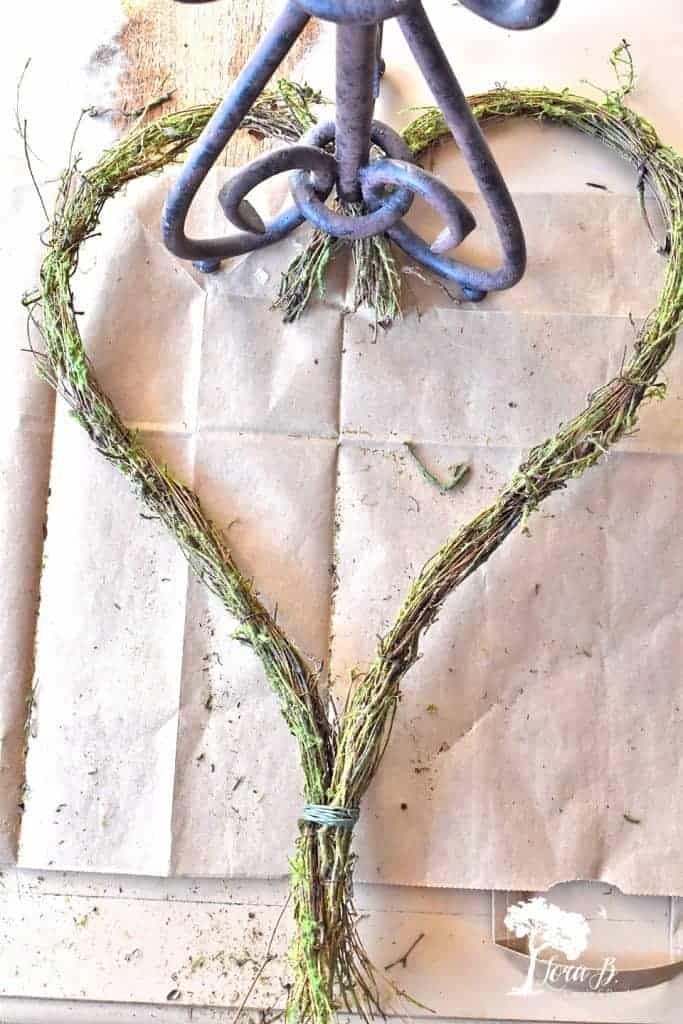 If your heart shape wants to jump around like mine did, bend the grapevine between your hands as you go around. You could also leave it overnight under some heavy books.
Next, Make Origami Flowers to Decorate the Wreath
Everyone loves making and decorating with these origami flowers. Once you've got the hang of the basic petal, you can make all kinds of different things. Get the full flower tutorial on my "How to Make Easy Origami Flowers" post.
I made a couple of the basic 5 petal flower versions and added heart centers. Then I made a medallion-type flower as the focal point. I also glued a couple larger petals together to form a heart. I used different patterned papers in pinks and greens for a Springy look, to go with the mossy grapevine.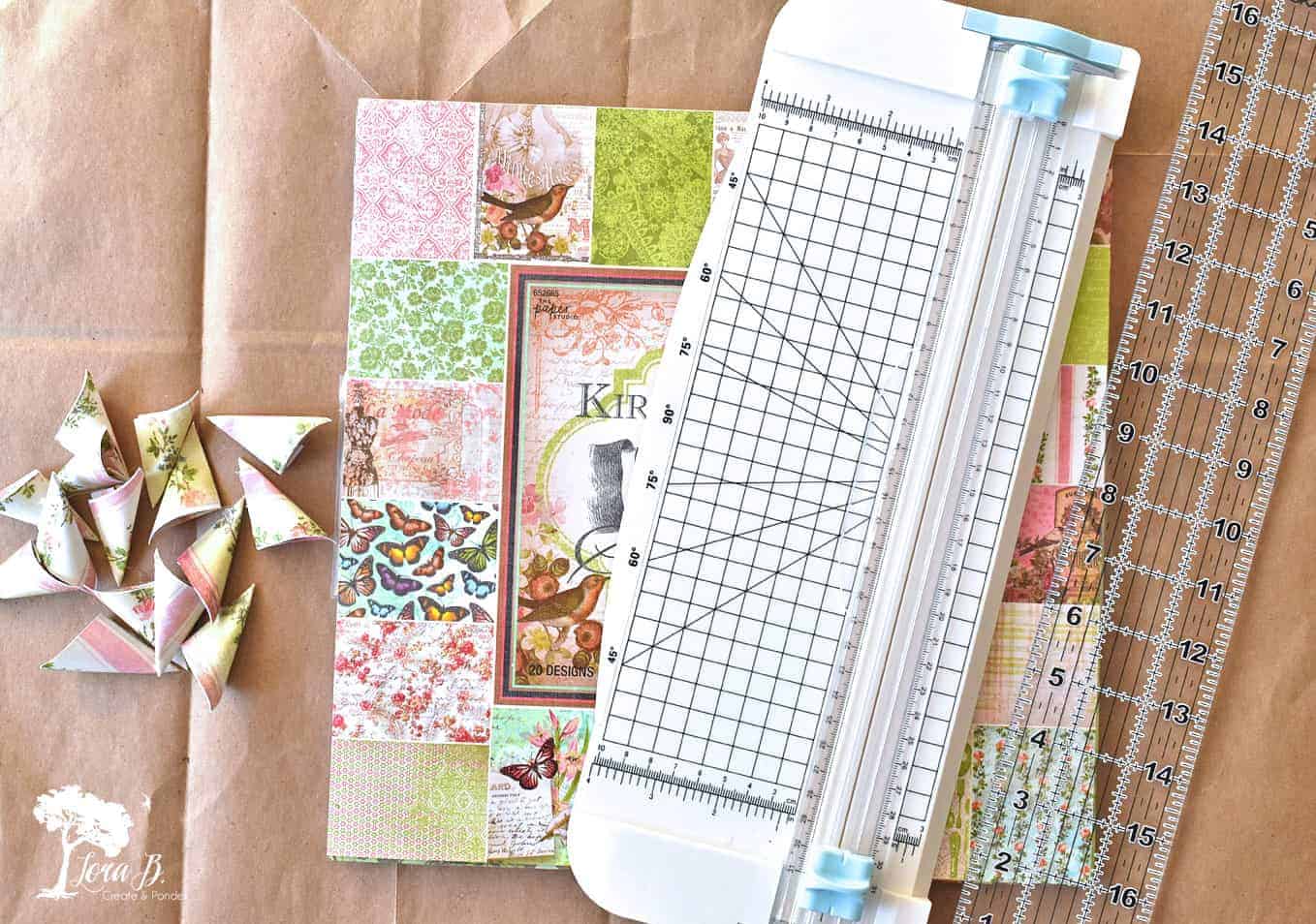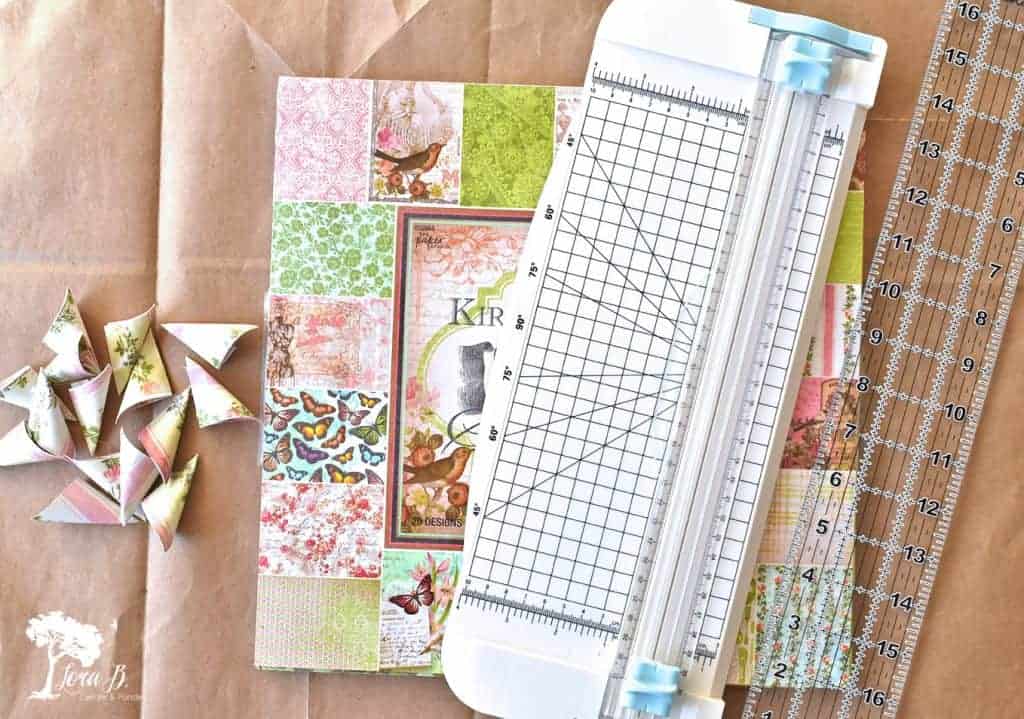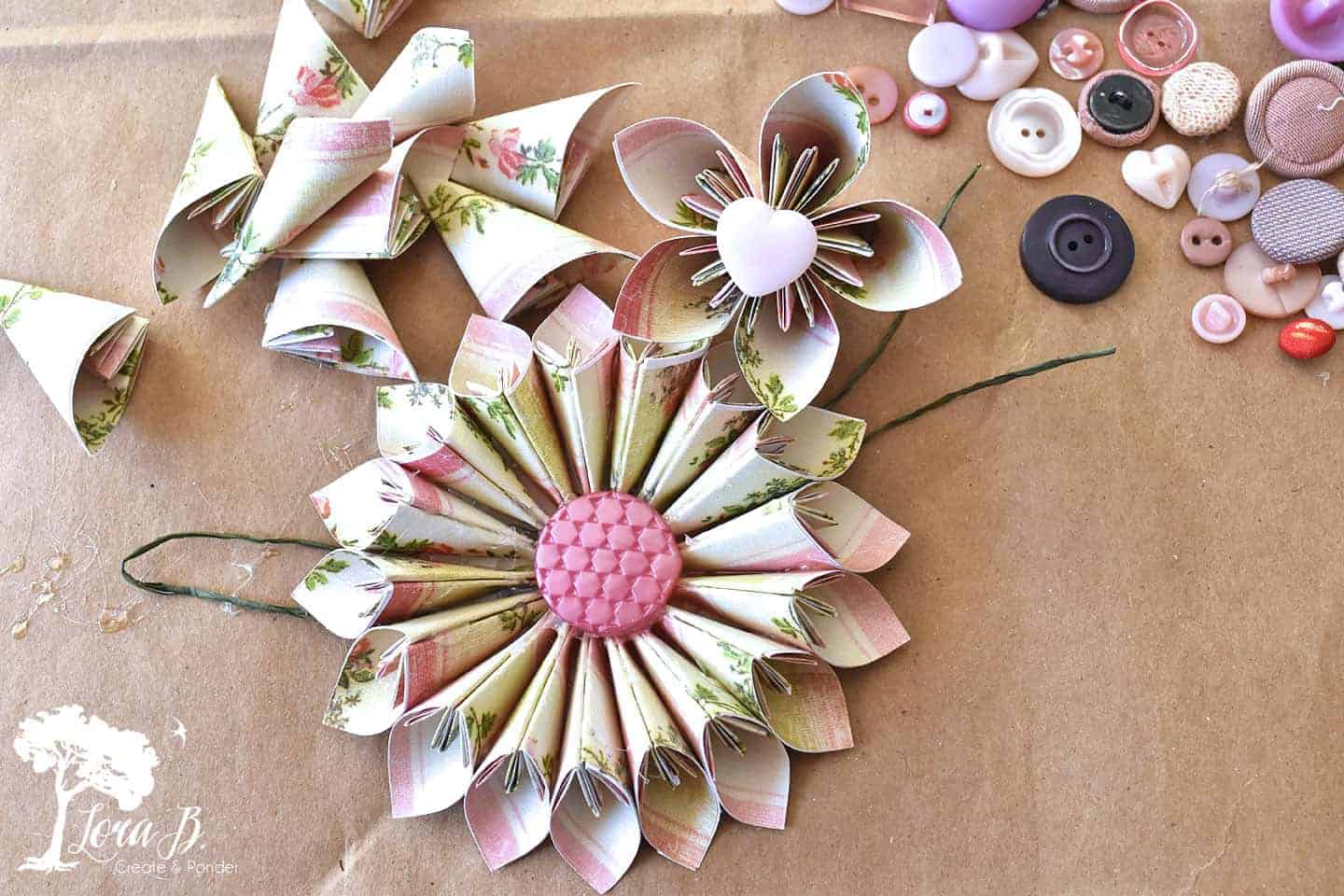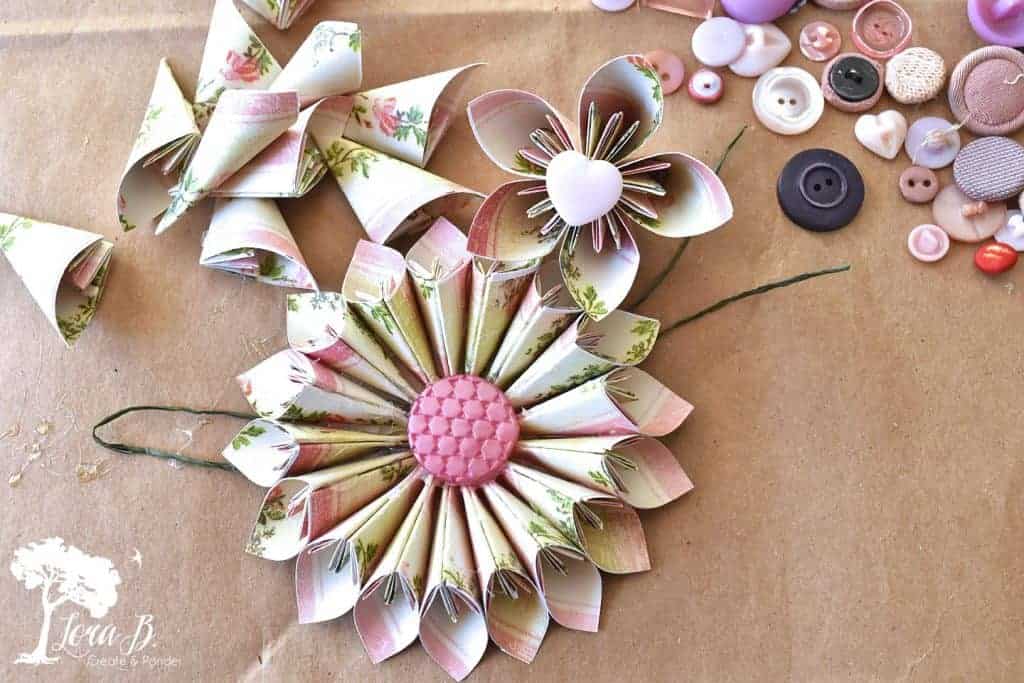 Attach Flowers to the Rustic Grapevine Wreath
Rather than just hot gluing the flowers to the wreath, I glued bindwire sections to the back and bottom of the flowers. I think the flowers will be more secure attached this way and can be taken off to store.
You can place as many flowers as you want on the wreath, wherever you want them.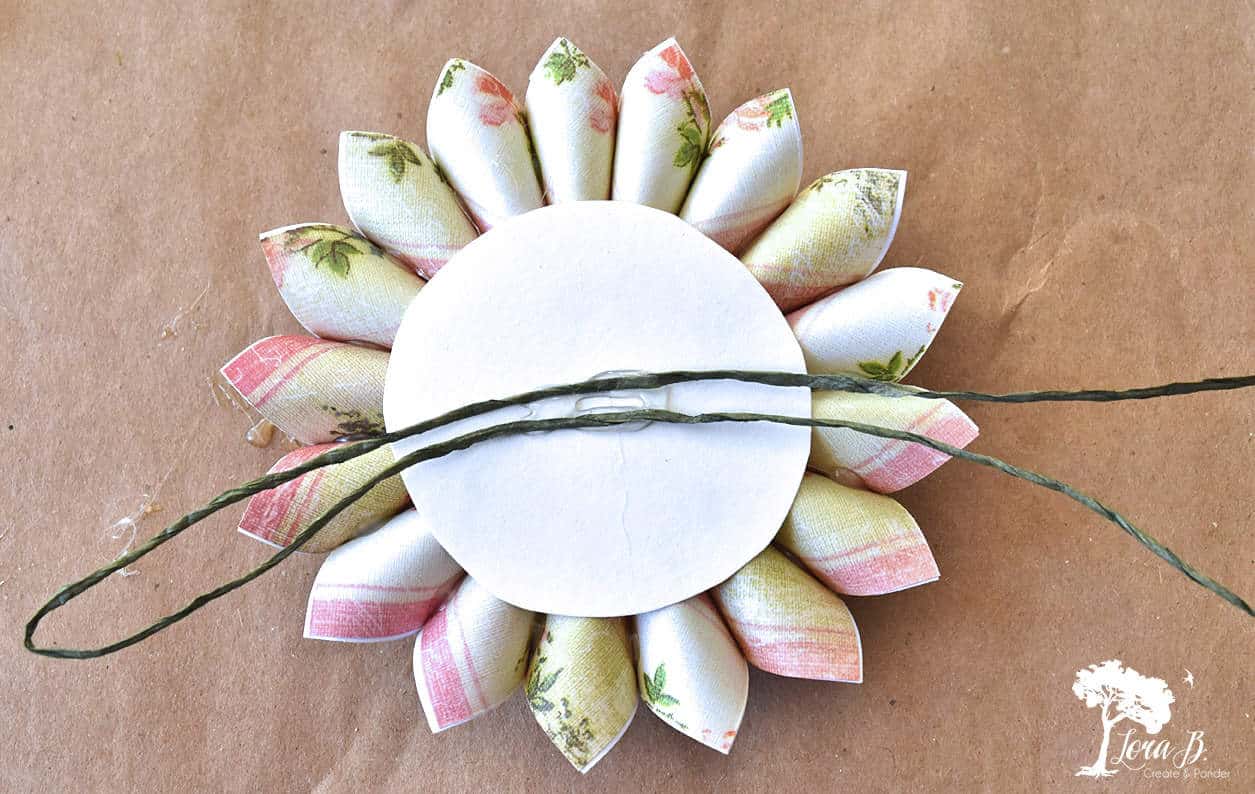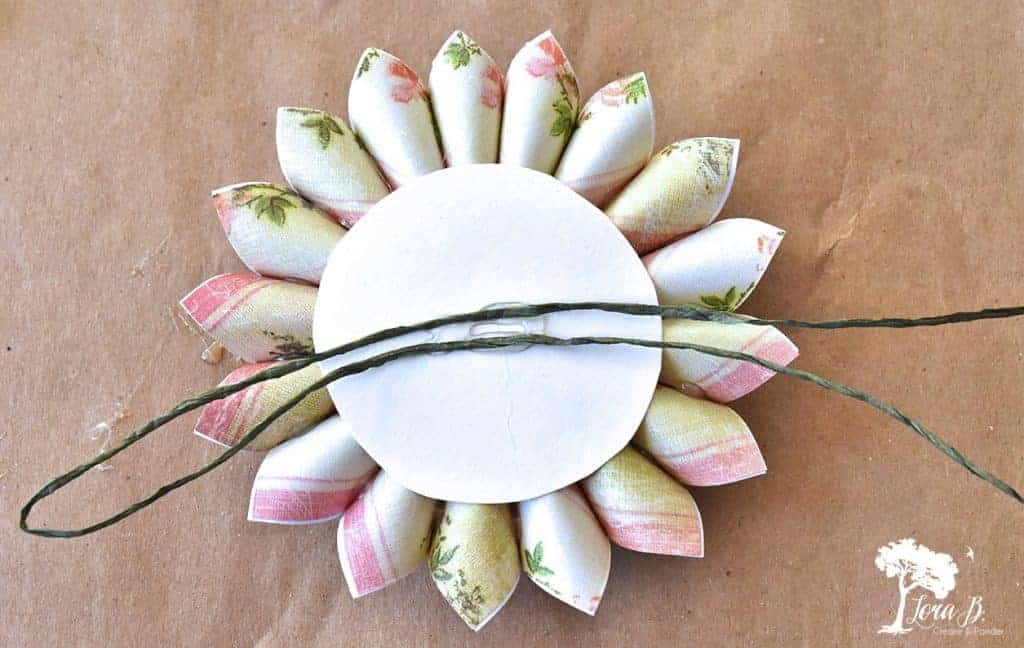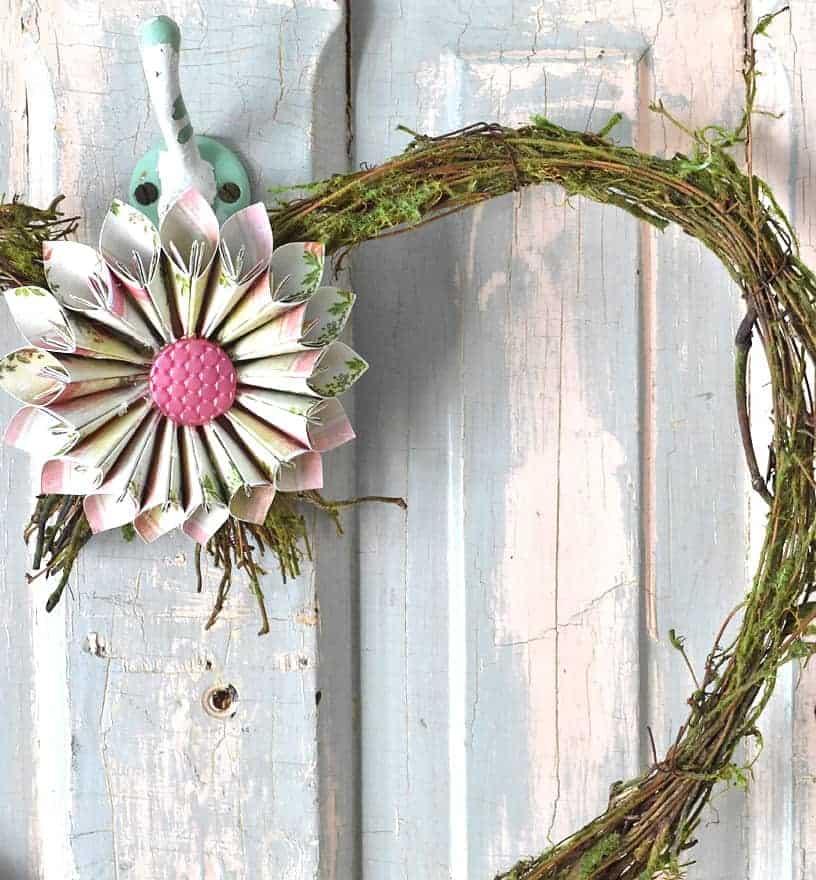 Hang Your Pretty Origami Flower Rustic Wreath on an Inside Door
Obviously because this wreath has paper flowers on it, it's meant for an inside door. Outside humidity would wilt the paper. Our "new" pantry door was the perfect canvas for this new Valentine's wreath. The pink and green of the wreath coordinates perfectly with the old chippy paint. And it spreads a bit of love around the kitchen!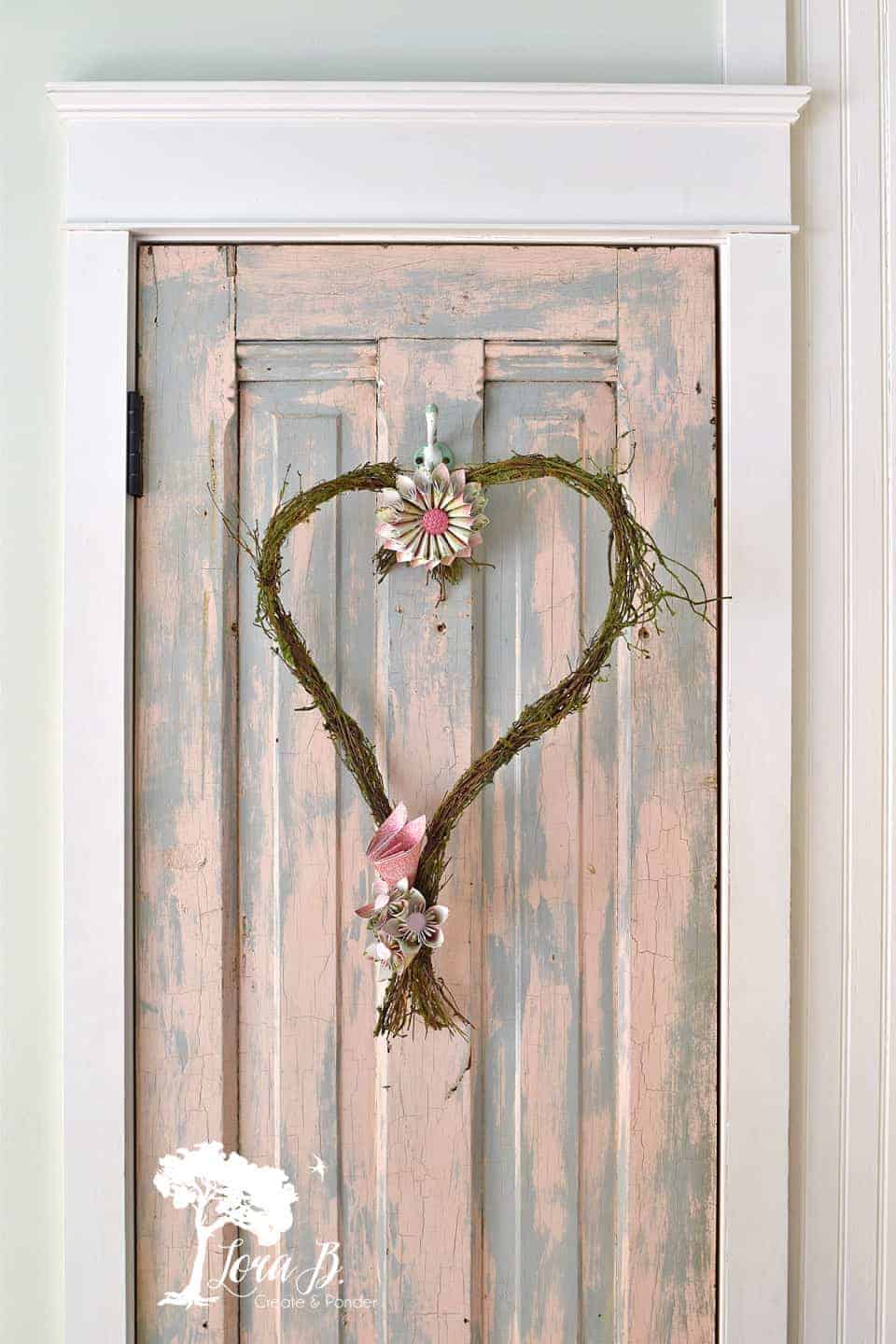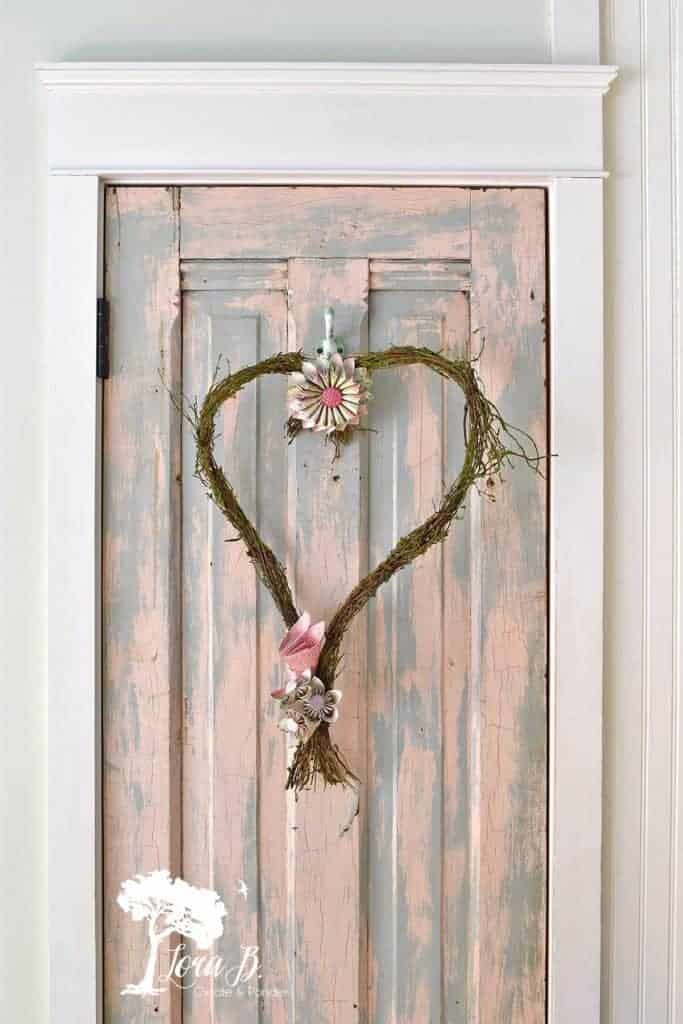 Our door is tall and skinny, so the long heart suits it perfectly. But you could string up a bit of clear fishline to tighten the space between the top and bottom for a more pudgy heart. Or, you could just use a ready-made heart grapevine wreath. 
Guess I'm ok with the imperfect, rustic look of this one…because that's how real love is, right? Messy and imperfect.
For more of my Valentine's Day Projects and Inspiration:
Valentine's Day Decor in the Kitchen
Valentine Handkerchief Charger
Hope this DIY Rustic Valentine Wreath with Origami Flowers got your creative juices flowing! It's so fun to be crafty during this season, especially on cold winter days and dark nights! Be sure to visit Julie from My Wee Abode next. She always comes up with something beautiful:)
Please Pin, Share, and Enjoy the Rest of the Inspiration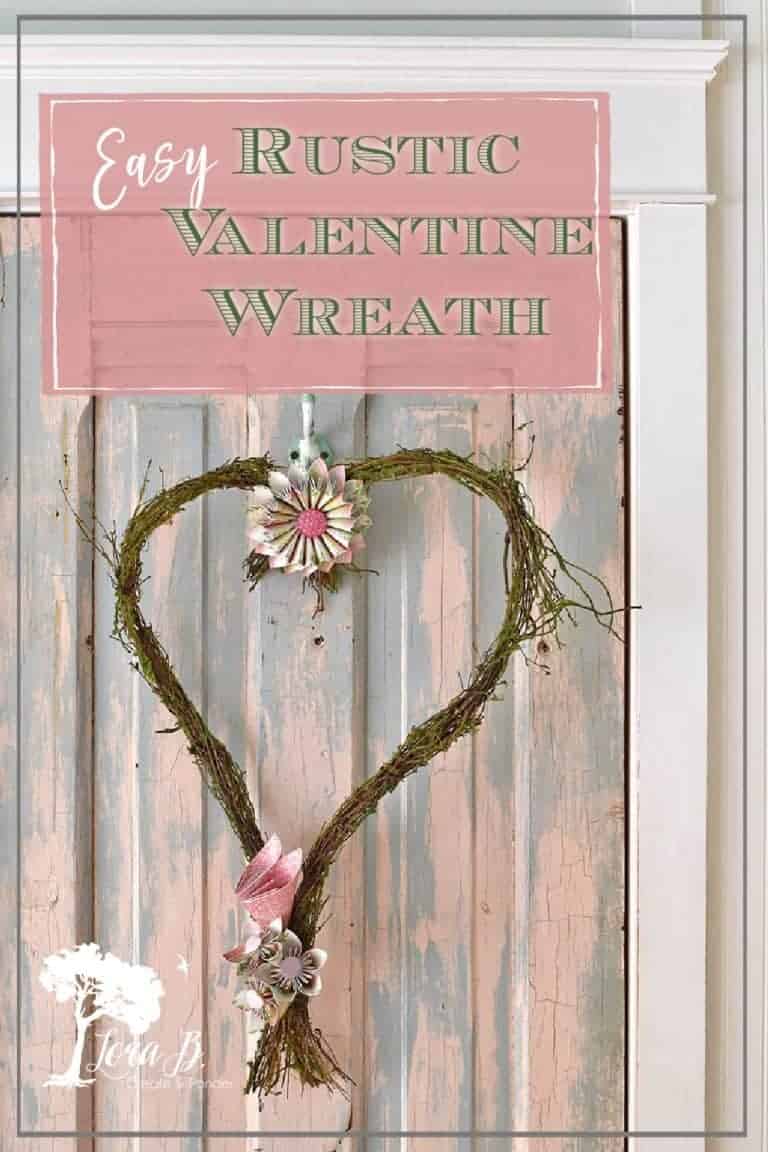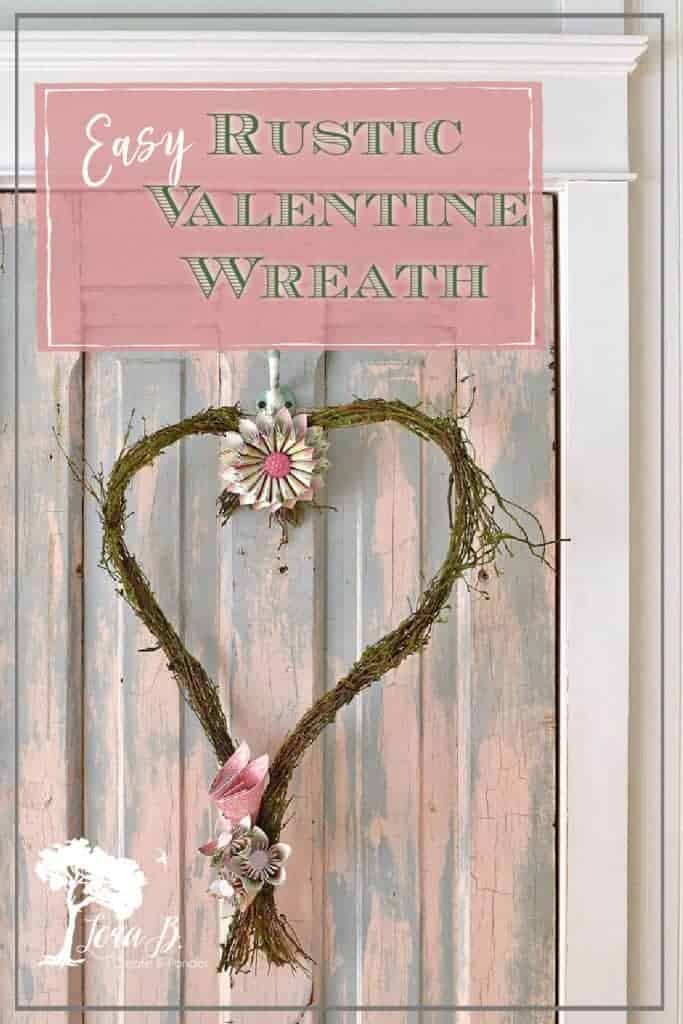 Valentine's Day Door Decor Pinterest Challenge
You are invited to the Inlinkz link party!
Sharing at these lovely parties: